This post contains affiliate links, and I will be compensated if you make a purchase after clicking on my links.
You must have heard a saying that if you have a roof over your head and a warm bed to sleep in, you are so lucky. And, that is actually the truth.
When you bring a dog to your home, you automatically sign up to take care of it and provide it with everything that the dog needs for a happy life. This also includes finding a nice and comfortable dog bed for him or her to sleep in.
Yes, even dogs need beds. People usually don't think about it, but especially for a breed such as Rottweilers, a dog bed is almost a bare necessity.
Unfortunately, Rotties can suffer from some joint problems, and having a comfortable dog bed can significantly reduce their pain and pressure.
But, what are some good dog beds for Rottweilers?
There are plenty of options on the market, but not all of them are suitable for your big boy. If you want to find out how to differentiate the good ones from the not-so-good ones, keep reading.
This article brings you everything you need to know about the best dog beds for Rottweilers, as well as our review and guide through the top nine picks.
Best Dog Beds For Rottweilers: Our Top 3 Picks
Big Barker 7" Pillow Top Orthopedic Dog Bed
Key Benefits:
Proudly handmade in a workshop in Northern Carolina, USA

The company offers you a "can't flatten, won't flatten" 10-year warranty

Specifically calibrated and clinically proven for big dogs

100% micro suede cover is soft to the touch and machine washable

Improves joint function, gait, quality of life, and helps reduce pain severity and joint stiffness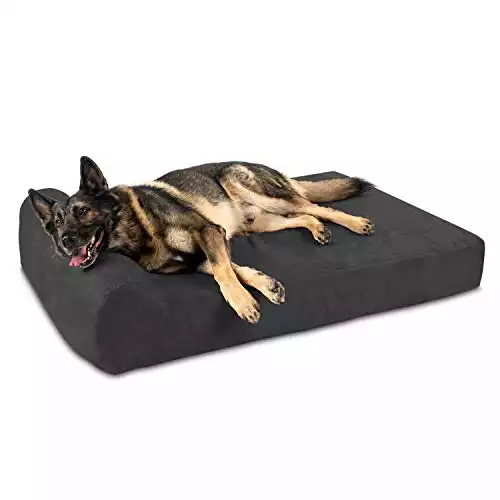 Veehoo Cooling Elevated Dog Bed
Key Benefits:
Made from mesh fabric that is heat-resistant, sturdy, and breathable

Perfect for staying cool during hot summer days, and also for cozy winter weather

Lightweight, durable, portable, easy to assemble, and slip-resistant

The unique design and high-quality fabric offer a load-bearing capacity

Healthier, cleaner, and dryer compared to other dog beds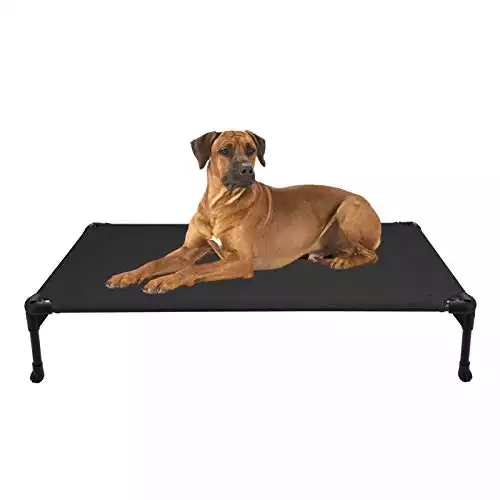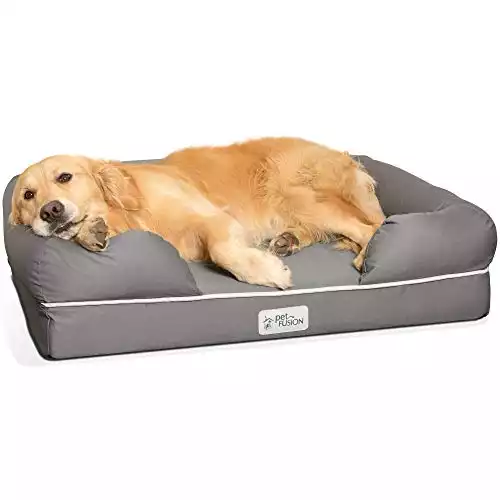 What Are The Best Dog Beds For Rottweilers?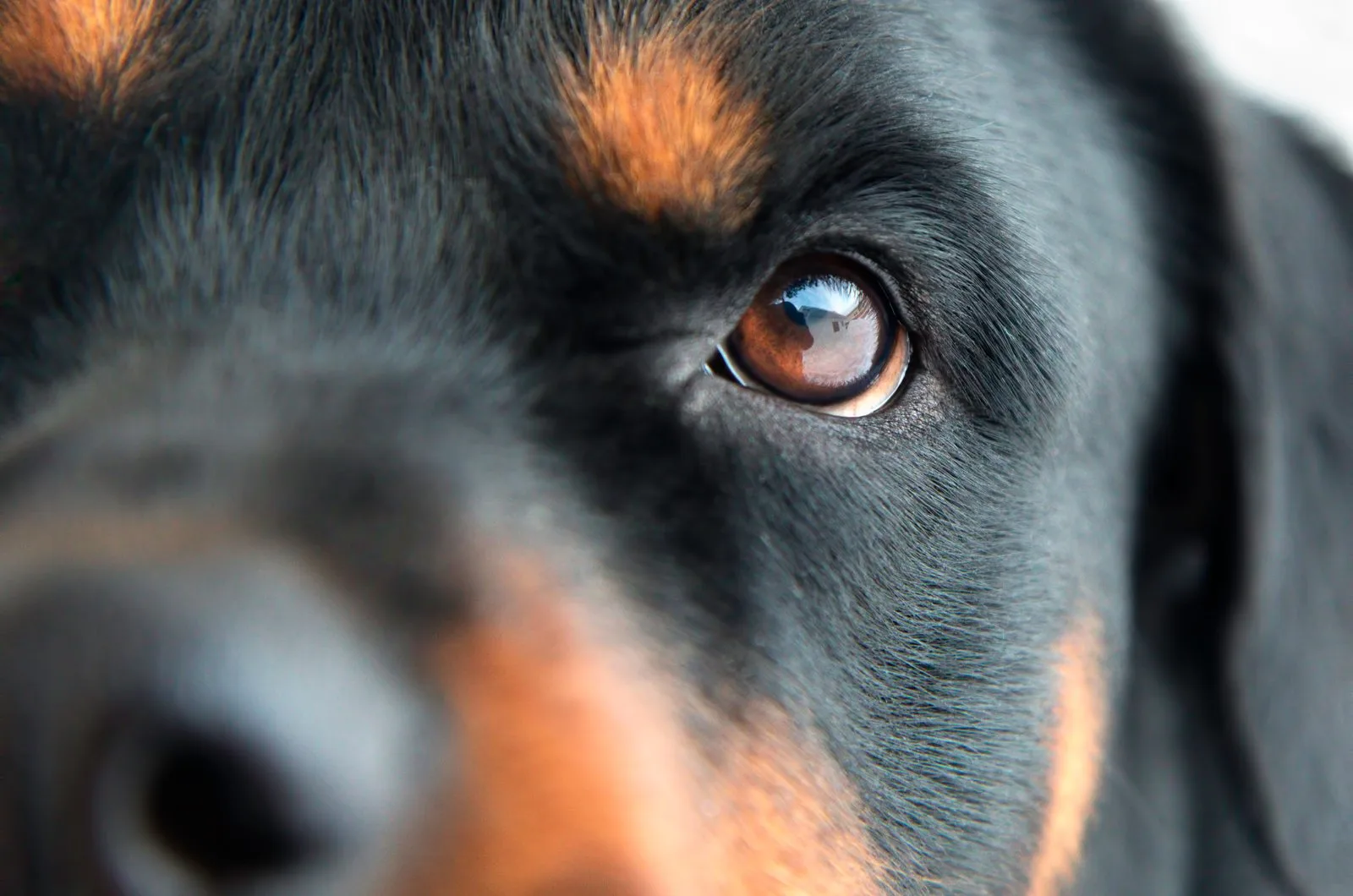 Furhaven Chaise Dog Bed
Key Benefits:
Offers comfort, security, support, and a cozy nesting place for your Rottie

Made out of 100% recycled fluffy bolsters, plush faux fur, and orthopedic support foam

Helps ease discomfort and encourage a deeper, more restorative sleep

Bed cover is removable and suitable for machine washing

Comes in five different sizes (small to jumbo plus), and four different color options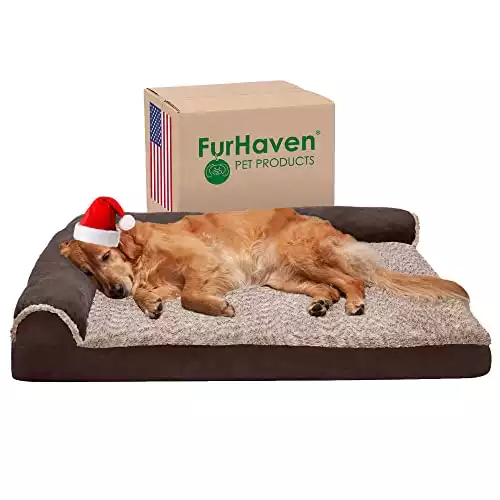 First on our list, we have the Furhaven two-toned, faux-fur, L-shaped orthopedic dog bed that comes in five different sizes and several color options. One of these will definitely be the perfect match for your home and your pet.
It features an egg-crate medical foam base that provides great support to doggies that have joint issues. This foam is 100% made in the USA, and tested through the CertiPUR-US program to ensure its quality.
The actual sleep surface is lined with soft, plush faux fur while the bolsters are fully-filled and supportive. For dogs up to 125 lbs., they recommend the Jumbo plus size.
The covers are removable and completely machine washable, which is very convenient, easy, and definitely a huge plus when it comes to cleaning.
However, if you have a puppy that is in his teething period or if your adult dog likes to chew, unfortunately, this is not the bed for you since it is not chew proof.
Bedsure Orthopedic Dog Bed
Key Benefits:
Offers even distribution of pet's weight, with orthopedic egg-crate foam

Features an ultra-soft flannel cover, which makes it a more comfortable sleeping area

Skid-free bottom prevents slipping on any floor

A TPU cover for the inner foam provides extra protection against accidents

Perfect for older or arthritic dogs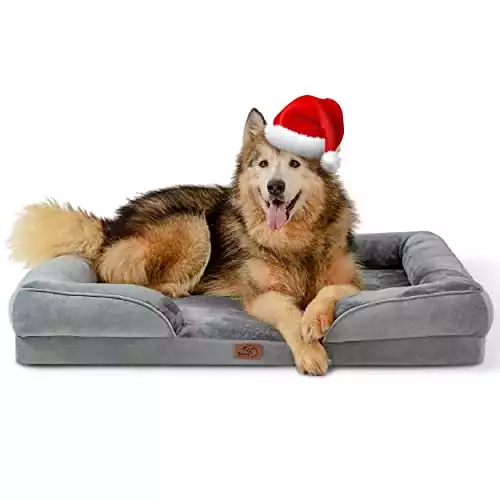 Bedsure's Orthopedic Memory Foam Sofa Pet Bed is especially designed for older or arthritic dogs. It provides them with extra comfort that they simply need.
There are multiple choices among colors and sizes. The bed comes with a skid-free bottom, with rubber studs that will prevent slipping on any floor.
It also features orthopedic egg-crate foam, and 3-sided bolstered side pillows. The foam comes with a waterproof inner liner, which is handy in case of accidents.
The sleeping area is covered with an ultra-soft flannel surface and laminated velvet exterior. The covers have a two-sided zip closure that makes them easy to remove and also clean.
Whether your Rottie is dealing with some health issues or not, this dog bed will definitely be the perfect little cozy place where he can rest and have his me time.
RELATED: Rottweiler Price: The Cost Of Owning These Gentle Giants
Big Barker 7" Pillow Top Orthopedic Dog Bed
Key Benefits:
Proudly handmade in a workshop in Northern Carolina, USA

The company offers you a "can't flatten, won't flatten" 10-year warranty

Specifically calibrated and clinically proven for big dogs

100% micro suede cover is soft to the touch and machine washable

Improves joint function, gait, quality of life, and helps reduce pain severity and joint stiffness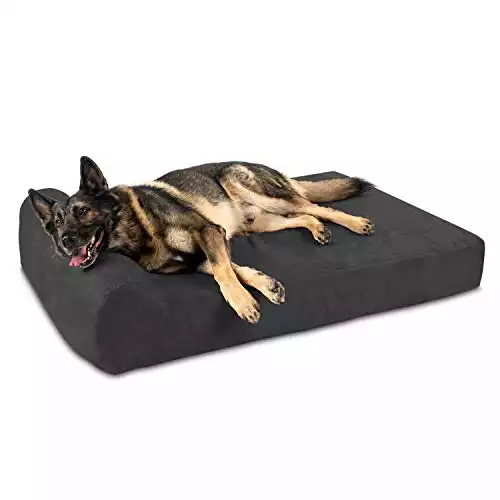 As you might have noticed earlier, this next product is also our top choice for the premium pick. Just a heads up: this comes with a high price tag, but it is definitely worth mentioning.
The Big Barker dog bed has been scientifically calibrated for large dogs and clinically proven to improve their quality of life. If you don't mind the price, this can be the perfect choice for your furry friend.
This product ticks all the boxes of a high-quality orthopedic dog bed. It has been proven by the University of Pennsylvania study that this bed indeed gives your dog a better life. It reduces pain and stiffness, improves function, and offers a restful nighttime experience.
Also, it is very easy to clean, and it looks good in your house. You even get a 10-year "Won't Flatten" guarantee, which is great.
It has great reviews. Many dog owners and their dogs love it very much, so there is no doubt that your dog will also love it.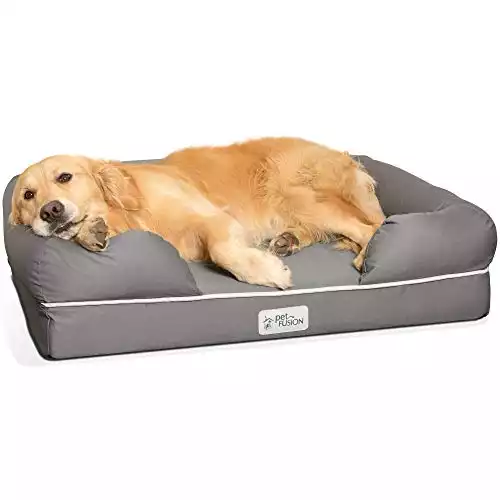 The PetFusion Ultimate Dog Bed & Lounge is a wonderful combination of modern and neutral design that provides your pup with the comfort and support he deserves.
This dog bed is suitable for all dog breeds, sizes, and ages. Just make sure that you choose the appropriate size. If you are not sure which size would be the best for your pup, you can even write to their team for help.
It is made out of solid, supportive foam that feels like you are on cloud nine. Generously filled bolsters provide great support and a place for nesting. Both parts come with a water-resistant, removable cover made out of skin-safe material.
All in all, it is a great, comfy bed that your dog will love. However, if your dog is an aggressive chewer, this might not be the best solution for you.
While the majority of the bed is fairly chew proof, according to some reviews, the bottom is not, so there is a chance that your furry chewer will be able to chew through this material. Other than that, it is a truly great product that you should definitely try.
READ ALSO: Are Rottweilers Dangerous? The Surprising Truth
Majestic Pet Poly-Cotton Bagel Dog Bed
Key Benefits:
Made in the USA from high-quality, premium materials

Soft, durable cotton, and high-loft polyester material that is easy to clean

Soft and comfortable bagel design and construction for maximum comfort

Designed with round bolsters that provide support and allow dogs to snuggle into the bed

The entire dog bed is machine washable, and suitable for a dryer on low heat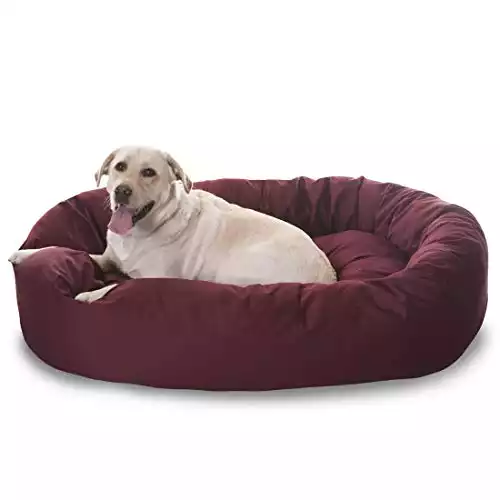 Whenever I see these types of beds, I imagine that they are sooo comfortable and cozy. At least, that is what they look like, and I suppose they are.
Majestic Pet Poly is one of the leading American pet product manufacturers that started its business in 1994.
This bagel design is not only very comfortable, but it also provides dogs with a calming effect. Those round bolsters give your dog an opportunity to snuggle into the bed, curl up, and enjoy all the warmth.
The bed is filled with a premium polyester fill that can be completely washed in a machine and tumble dried on low heat.
This is the best for dogs that like to sleep curled up. However, if your dog likes to stretch out while napping, this might not be the perfect solution.
Veehoo Cooling Elevated Dog Bed
Key Benefits:
Made from mesh fabric that is heat-resistant, sturdy, and breathable

Perfect for staying cool during hot summer days, and also for cozy winter weather

Lightweight, durable, portable, easy to assemble, and slip-resistant

The unique design and high-quality fabric offer a load-bearing capacity

Healthier, cleaner, and dryer compared to other dog beds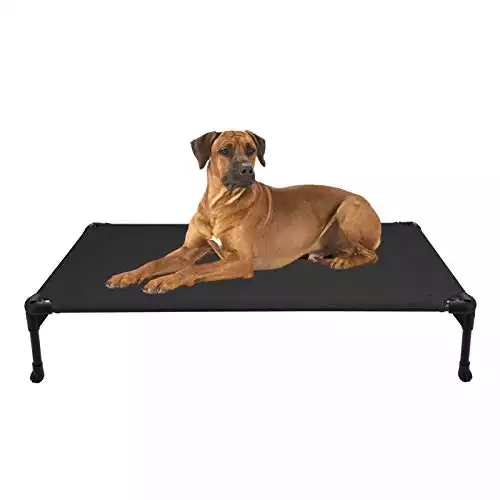 If you are on a budget, and you're looking for something convenient and comfortable for your pet, as well as suitable for warmer climates, then this is all you need.
The Veehoo Cooling Elevated Dog Bed will secure your pet's sleeping place anywhere you go. You can easily use it both inside the house and outside.
For an elevated dog bed, it looks good, and it seems to be very durable. You do have to assemble it by yourself, but it shouldn't be too big of a problem. The great perk of this product is that it is so easy to clean.
It is made out of premium-quality textilene mesh that is cool, breathable, easy to wash, and scratch resistant. You don't have to worry about the bed collapsing since it is strong, stable, and has a high load-bearing capacity.
An overall great choice for people struggling to keep their pet cool in the summer.
RELATED: American Rottweiler Vs German Rottweiler: Are They Different?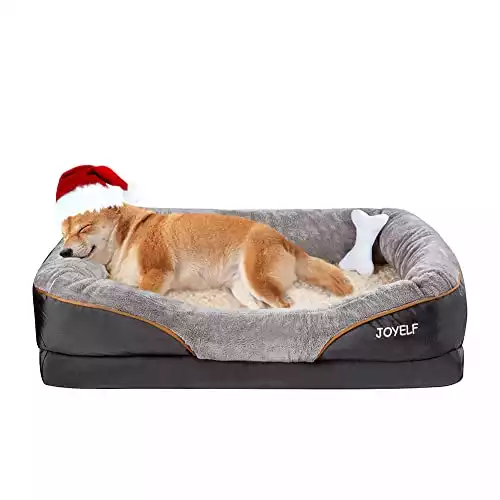 Next on our list, we have a comfortable and cozy dog bed that is a must for your furry friend. The Joyelf dog bed is made out of medical-grade memory foam that helps promote healthy bones and joints in your pet.
This foam is made out of flame-retardant material that will effectively reduce burning time in case of a fire or some accident.
The couch arms (or cotton-padded bolsters) relieve neck pain, fatigue, and any discomfort. The removable cover is machine washable… you just have to close the zipper.
As a gift, you also receive (or rather, your dog receives) a squeaky toy, which may bring him a lot of happiness.

The Friends Forever dog bed provides your dog with the perfect goodnight's sleep. Designed with extra care, it is said to provide dogs with a comfortable, safe place, and optimum bone support. This bed is made with human-grade mattress foam and plush, poly-filled bolsters.
It features a durable, anti-tear cover that will keep the bed in perfect shape for a long time, no matter how rough your dog likes to play. The covers are also water/fur resistant, and can be machine washed.
The non-skid and non-slip bottom will help the bed stay in place without you having to worry about the doggy slipping or injuring itself. The bed is, in itself, heavy and sturdy enough.
It comes with a significant "new product" smell, which can be a little too much for some people, but if you air it out properly, the smell should disappear soon.
RELATED: 10 Rottweiler Breeders, And How To Choose The Best One
Best Friends, By Sheri, The Original Calming Donut Dog Bed
Key Benefits:
Donut-shaped dog bed that is perfect for curling up

Filled with premium-quality fibers, and covered with cozy shag fabric that mimics the mother's fur, which helps with sleeping

Free of flame retardants, formaldehydes, skin-irritating chemicals, and harsh dyes

Available in various natural color options and sizes (s-xxl)

Medium to extra large sizes come with machine-washable zipper covers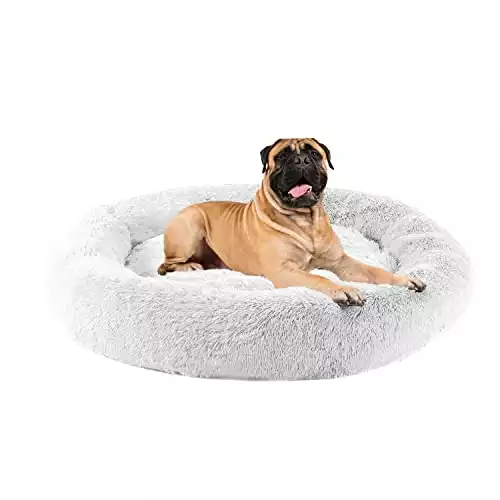 Last on our list is the calming donut dog bed by Best Friends by Sheri. The bed comes in various sizes, either for your big dog such as the Rottie or a multiple-pet household for doggies that like to snuggle together and share. If you have a cat, you can also get one for her, and have a matching set.
There is a variety of colors for you to choose from, and hopefully you'll be able to find something that matches your decor.
It is made completely out of pet-safe materials that have been tested and approved not to harm your pet. The round shape of the bed is, again, perfect for Rotties that like to curl up and snuggle a bit.
The super-soft bed filling will help relieve joint and muscle pain, and the equally soft bolsters will provide your pet with a sense of security and warmth.
While the beds that come in smaller sizes can be completely washed in a machine, sizes medium to extra large come with a machine-washable cover for easy clean-up. The bed comes with a waterproof and dirt-resistant bottom, so your floors always stay clean, even in case of an accident.
READ NEXT: Top 10 Best Collars For Rottweilers: Here Are Our Picks
Buyer's Guide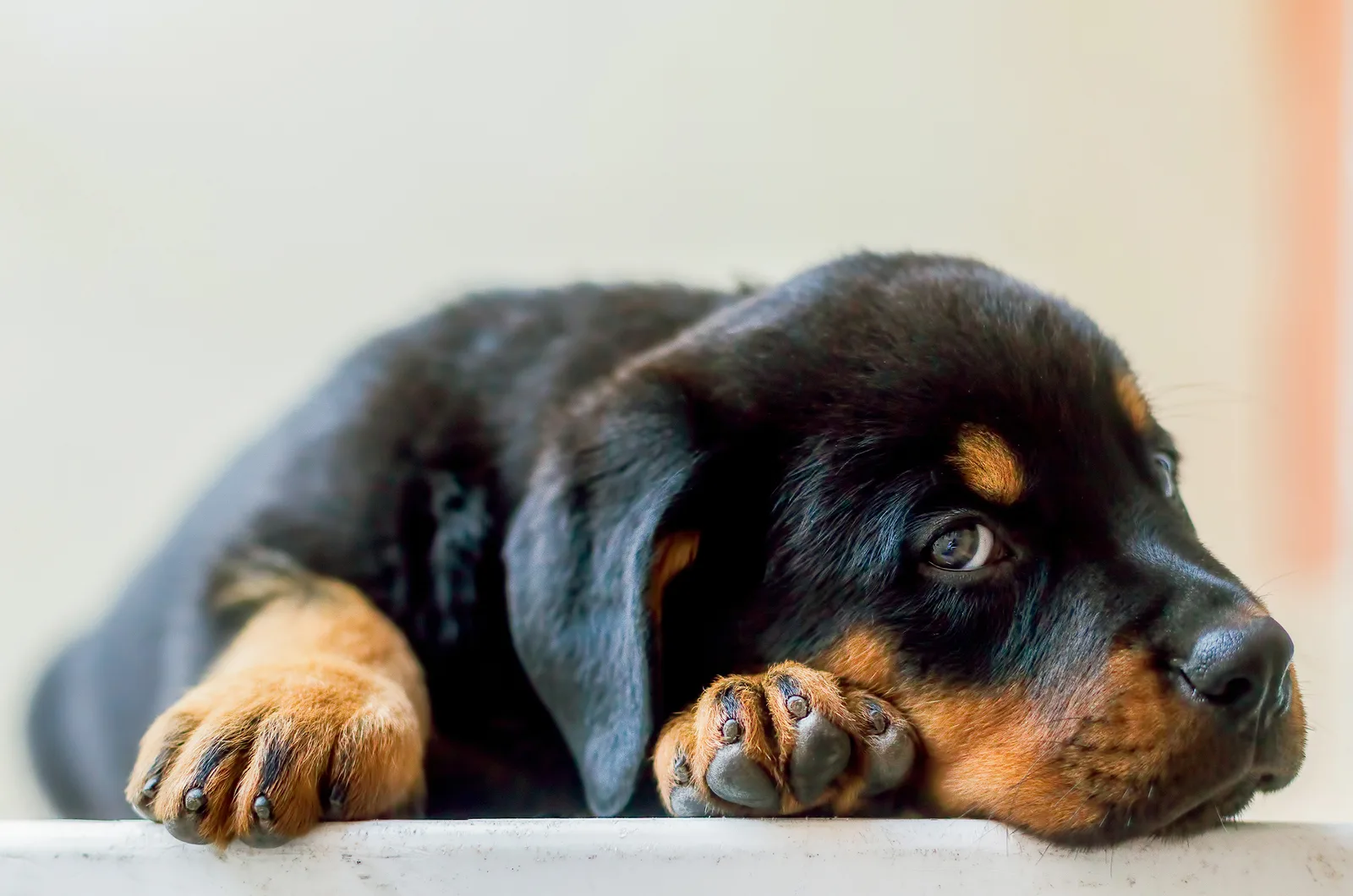 So, those were our top nine choices when it comes to the best dog beds for Rottweilers. However, if you're anything like me, you must now be thinking something along the lines of "how can I know which dog bed is good for my pooch and which one is not?"
This, and many other questions have pooped into my mind long before I started writing this article. So, I started researching. Each dog breed is specific, and carries its own special characteristics that make it unique.
The same goes for Rotties. So, I decided to custom-make a buyer's guide that will specifically cater to the amazing Rottweiler breed, and guide you to choosing the best dog bed for your beloved friend.
So, here it is. First things first, I think it is very important to learn what kinds of dog beds there are, and then what specific characteristics you should be paying attention to.
Types Of Rottweiler Dog Beds
There are various types of dog beds, but due to the fact that Rottweilers are a large breed of dog, only certain types actually make the cut in this guide.
Orthopedic Dog Bed
The word 'orthopedic' is definitely something you will hear a lot when looking for a dog bed. An orthopedic mattress is designed in a way that it provides support for your dog's joints and spine.
It should be highly effective in improving the quality of life of dogs that suffer from various health issues such as hip dysplasia (or elbow dysplasia), arthritis, or other joint problems. It is also great for senior dogs and large-breed dogs, such as our breed of choice today – the Rottie.
Orthopedic beds usually come with memory foam, which provides excellent support, and is highly effective.
I find it highly important to mention that nowadays, the word "orthopedic" in itself is very popular, and it sells very well. Unfortunately, brands often put this label on products without proper justification just because they want their product to sell out.
While these beds have many, many benefits for your dog, just beware of actually choosing the right orthopedic bed that will help your pooch.
Sofa Dog Bed
Generally speaking, dog-related stuff is not always aesthetically pleasing. This can be really frustrating, especially if your whole house is decorated in a certain way. Everything matches, looks nice, and boom… you have a not-so-nice dog bed in the corner that ruins the picture.
As someone who likes to have a nice, put-together living room, I know how this can be quite a dilemma. You still want your dog to have his comfy place in the house, but you also want it to look nice.
A great solution is a sofa-style bed. These beds are exactly what their name suggests – little sofas for your furry friends. Dogs love them, and they are quite comfortable and supportive.
You can find them in various styles, and made from various materials. In some cases, you can even find some that match your own sofa, and therefore, look very stylish in your home.
Donut Dog Bed
If your dog likes to sleep in a curled-up position, this style of dog bed might be the perfect choice for you. The donut-style dog bed got this name because its shape resembles a donut.
They are usually less expensive than some other types of beds, and are very easy to find. Almost every pet store will always have them in stock.
They come in various sizes, colors, and materials, so you can easily find one that will suit you and your pet. If you need an easy solution that looks good and feels good to your pet, this is the way to go.
Elevated Dog Bed
Truthfully speaking, most of these beds don't exactly look that nice and comfy at all, but they might surprise you.
These elevated beds are a great option for pet owners who live in hot climates because they allow Rotties to stay cool. Generally, they have a lot of benefits.
They are easily portable, and they can be used both indoors and outdoors. Not only do they keep dogs cool in warmer climates, but they also can keep dogs off of cold or wet floors. Also, most of the time, they are scratch-resistant and water-resistant, which is a great bonus.
What To Look For
Now that you know what dog beds there are for Rottweilers, we can discuss what you need to look for when choosing the perfect one.
Durability
As with any pet product, once you buy it, you want it to last for quite some time. A dog bed is not a small investment, so, of course, one of the main characteristics you will need to pay attention to is durability.
Look for high-quality materials and overall good construction. This will also be very important if your dog likes to chew, exhibit some destructive behavior, or is a bit harsh during his/her nesting periods.
Nylon, cotton, thick memory foam, and steel frames for elevated dog beds are some of the materials that are high-quality and durable.
Size
I have mentioned several times in this article that Rottweilers are large dogs. If you look at the Rottweiler growth chart, you will see that adult Rotties weigh around 100 to 120 pounds, and stand around 25 to 26 inches tall.
This is a very important fact that you need to know before you buy a bed for your pooch. The bed needs to be large enough to fit your pet comfortably, and sturdy enough to handle such weight.
So, our advice is to choose products that are either specifically made for large dogs or ones that have a good size selection; from extra small for small dogs to extra large, xxl, or jumbo size for huge dogs.
Comfort
The biggest reason why you are buying your dog a bed is because you want your Rottie to be more comfortable. So, logically, that bed will need to be comfortable; otherwise, there is no point in purchasing one.
This factor goes along with both the durability and the size. If the bed is not made from good and sturdy material, and does not fit your dog's size and weight, it cannot be comfortable.
RELATED: Why Does My Dog Sleep On My Head? 10 Reasons
You need to take your dog's sleeping position into consideration also, and choose the type of bed accordingly. It goes without saying that the bed should not be thin and flimsy, but well-cushioned, sturdy, and thick.
Weight And Joint Support
Unfortunately, since Rottweilers are large dogs, they are not immune to certain health problems that are common with big dogs.
There are certain problems that may occur during the development of your pup, such as joint dislocations, arthritis, and hip or elbow dysplasia. Choosing the right bed can significantly help reduce pain and provide much needed support.
An orthopedic dog bed with dual memory foam is a great solution for such cases.
Maintenance
Lastly, you should be looking for something that is easy to clean and maintain. Rottweilers are not big shedders; however, like most dogs, they do shed during the shedding season.
Besides hair, the bed is the perfect place to accumulate dander, dirt, fecal particles, and a lot of other substances that you don't want to be spread around your house.
Look for a dog bed that has a removable cover that you can easily wash in the washing machine. This will make your life much easier… believe me.
The best would be to find a water-resistant dog bed that would prevent any accidents damaging the mattress because the mattress is much harder to clean.
READ ALSO: Dog Urine Color Chart: What Does My Dog's Pee Color Mean?
*Bonus* Dog Bed Benefits
Our dogs are truly our family members, and we want nothing more than to make them as comfortable and happy as possible.
However, if you're just reading this and wondering why a dog would need a bed, let me tell you some of the benefits of owning a dog bed that might change your mind.
How would you feel if you were sleeping on the hard floor? Uncomfortable, in pain, tired? Yes, yes, and yes. So, why would you let your pup sleep that way? Even though they are animals, they still can get cold, and sleeping on the floor will not make them any warmer.
Additionally, having a dog bed will protect your floors (especially if you have carpets) since the dog will have his own place where he can be himself.
Teaching your dog to sleep in his own bed will most likely also protect your furniture since the dog will not climb into your bed or on the couch. It is cute to cuddle with your dog on the couch, but cleaning the drool from it… eh, not so fun.
RELATED: 13 Home Remedies For Dog Drooling — Stop The Slobber
Most importantly, a dog bed will have many health benefits for your pup. Besides joint problems, Rotties can also have back-related pain, which can significantly be minimized by sleeping and resting on a proper mattress.
FAQs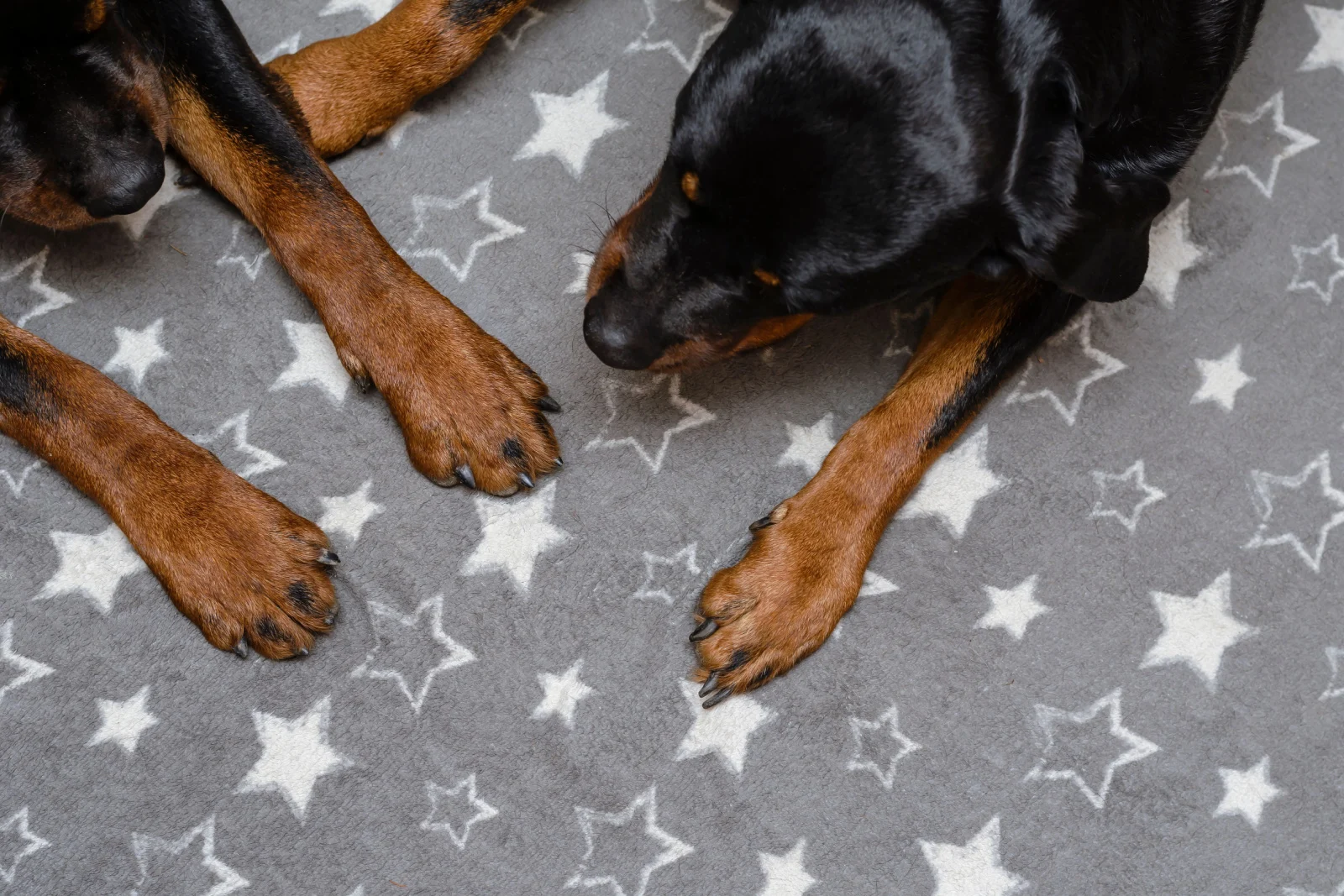 Do Rottweilers Like Beds?
Dogs need a comfortable and warm place to sleep. While dog beds are not necessarily a must for all dogs since they can survive just fine without one, a dog bed is definitely a nice addition that certainly has a lot of benefits.

Your Rottweiler will love having a place of his own where he feels safe and comfortable.

This way, he can enjoy all the benefits of a good night's sleep.

RELATED: Why Does My Dog Sleep So Close To Me? Dog Behavior Explained
How Long Should A Rottweiler Sleep?
A Rottweiler puppy will sleep between 16 and 22 hours a day, while an adult Rottie will sleep between 13 and 18 hours a day. Snoozing, dozing, and napping is also included in these numbers. Sometimes, a nap can be as short as 10 minutes or as long as one hour.

If your dog is well trained, he will sleep throughout the night or when you go to bed. When awake, both the puppy and the adult Rottie will be active and full of energy. These dogs require a good amount of physical exercise to tire them out, which also helps them sleep better.
Do Rottweilers Prefer Hot Or Cold?
Rottweilers can live in both hot and cold climates. According to the American Kennel Club, they shed twice a year to prepare for the upcoming seasonal change (spring and fall). In wintertime, their fur grows thicker to prepare for colder weather, and thinner for the warmer summer weather.

However, you still need to watch the temperature in case it gets too hot or too cold.
They can get pretty acclimated to hot weather, but when the temperature gets around 90 to 100 degrees Fahrenheit (37 degrees Celsius), they are at a risk of heat exhaustion, dehydration, and heatstroke.

On the other hand, once the temperature drops below 20 degrees Fahrenheit (-6 degrees Celsius), it can also be dangerous for your Rott if he spends too much time outside.

If we look at the history of the Rottweiler breed, and its origin, we can see that they come from the region called Rottweil, Germany.

Did you know that there are actually three different types of Rottweilers?! Read our extensive guide on Rottweiler types to find out all about this magnificent breed.

The climate in Germany is mostly continental, with an average temperature of 32°F (0°C) in winter, and 73/79°F (23/26°C) in summer, so this is probably the optimal temperature conditions that they were bred for.
Do Rottweilers Sleep On Their Back?
Rottweilers have different sleeping positions. One of them also includes sleeping on their back. There are different reasons why your Rottie might be sleeping on his back.

He might just like it that way, or perhaps there is an underlying reason behind this behavior.

Rotties might be sleeping on their back because they are overheated, and this is a great way to stay cooler. Many believe that when dogs sleep like this, it is because they feel safe and comfortable in their surroundings.

Other reasons might be health related, so your pup may be in pain, feeling bloated, stiff, unbalanced, or his skin is itching. If you think that his sleeping position is actually a sign of some medical issue, the best thing to do would be to talk to your veterinarian.

READ ALSO: Why Do Dogs Sleep With Their Bum Facing You? 10 Reasons Why
How Often Should A Rottweiler's Bed Be Washed?
A general recommendation is that your dog's bed should be washed at least once a week. The dog's bed is often the germiest place in the house.

They harbor germs, dead skin, dirt, and fecal particles, so it shouldn't surprise you that dog beds are often placed in the top eight germiest things you can find in one's house.

If you want to protect your dog, and also keep your house clean, we recommend that you stick with regular machine washing of your dog's bed. Most dog beds come with a removable cover that can be machine washed and dried, so this shouldn't be much of a problem.

Please, when you wash your dog's bed, follow the instructions that come with your model.
What Kind Of Material Is A Good Dog Bed For A Rottweiler?
Rottweilers are large dogs that often have some joint problems, so the best would be to choose an orthopedic dog bed with memory foam. This type of dog bed will help distribute the dog's weight evenly, and offer great orthopedic support.

This material is great for those pups that suffer from some health issues, and need some more support and comfort to help relieve their pain and aches. This material is also great if you have a senior dog that just needs extra comfort.

READ NEXT: 19 Best Dog Foods For Rottweilers + Nutritional Needs Guide
Final Thoughts
Finding the perfect bed for your dog doesn't have to be complicated. In the end, the most important thing is that your dog likes it, and it helps him get proper rest.
Indeed, there are some things that you should pay attention to when choosing one, but this is why we have made this guide. Hopefully, some of our tips and tricks will help you along the process.
Also, I really hope that some of the products that we chose will also work for you and your canine companion. I made sure to include different types of dog beds for Rottweilers as well as different price points, so that everyone can find something they like.
Until next time, good luck.
Related Content
12 Best Dog Beds For German Shepherds – The Comfiest Picks
Top 16 Best Dog Beds For Doberman Pinschers + Buyer's Guide
9 Best Dog Beds For Huskies: Good Deals And Best Overall
12 Best Dog Beds For Great Danes: Cozy King-Size Picks
13 Best Bulldog Beds For Optimal Sleep & Healthy Development