Disclosure: This post contains affiliate links, and I will be compensated if you make a purchase after clicking on my links.
Sleeping on the floor, inside the dog crate, or on your sofa is simply not an option for the Great Dane dog breed. These giant dogs always need a bit of extra space to stretch and curl. They are big dogs with big frames.
However, their bones are more fragile than you think. Did you know that Great Danes are highly susceptible to numerous orthopedic issues?
However, did you know that many of those issues can be prevented by using high-quality dog beds? Great Danes need orthopedic beds made of memory foam for ultimate comfort. Since a lot of them love snuggling and curling up to sleep, donut beds are in the game, too!
But, deciding which one is the best dog bed for a Great Dane is not that easy. There are tons of excellent dog beds on Chewy, and they all have a one-year warranty. That's why you have us!
Here, take a look at the top 12 best dog beds for Great Dane dogs, and thank us later when you pick your favorite!
Even though they're huge dogs, Great Danes love to crawl up in your lap and cuddle. These gentle giants are absolutely unaware of their size, and that's totally adorable, but sometimes enough is enough. If you want your sofa back, you'll need something big and extra comfortable for your huge doggo.
Well, look no further… we've got something extra for your taste. The FurHaven Ultra Plush Luxe Lounger is an orthopedic bed with great support; just what your Great Dane needs!
The bed is ergonomically designed, and it provides great neck and back support with its unique shape. Your big buddy will have a firm, but still soft place to relax and take a nap. The plush surface is gentle to the touch, and it gives warm feelings around the heart.
What's so great about this lounge is its shape. Older or disabled dogs can get in and out easily since it features a step-on design. The cover is machine-washable so you won't have to worry about your Fido staining its bed and sleeping in the dirt.
Chilling out was never easier! With the Frisco Cooling Pillow bed, your Great Dane will chillax all the time. In fact, you might even ask him to join and cuddle together. Yeah, that's how comfy this pillow bed is!
Orthopedic beds are the best choice for large dog breeds, especially those slightly larger like our Great Dane. Their bone structure and achy joints need good support; otherwise, severe orthopedic issues may appear.
You will want to avoid hip dysplasia, elbow dysplasia, and arthritis. That's why sleeping on the floor or poor-quality surfaces is not an option for these pups.
The Frisco Cooling Bed is really cool for its cooling fabric cover and a 1-inch layer of cooling gel memory foam. The additional layer of convoluted foam is there for more comfort.
The bed comes in grey and blue, and it fits all home styles. Most importantly, its design is simple and suitable even for disabled dogs. In case the cover gets dirty, just pop it into the machine and it's ready to be used again.
All dogs want a cozy place to crash after a long day of chasing squirrels. Even though your Great Dane might be over that squirrel-chasing phase, he still needs a place to call his bed. Well, the PETLIBRO Memory Foam Bed will be called his sanctuary.
This memory foam bed simply invites you to lay down and take a snooze.
The PETLIBRO Bed presents a cool gel memory foam, and high-density foam for those big bones and tired joints. Such comfort makes the PETLIBRO dog bed perfectly suitable for older canines.
They need more comfort than younger dogs because they're more prone to hip and bone conditions. The bed also features a non-slip silicone bottom so you know it will stay put and won't glide through the house.
This is one of the best dog beds on Chewy that combines great quality and an affordable price. For only $25.99, you'll get a comfy dog bed with a removable and machine-washable cover. You can't beat this offer!
You know how Great Danes love to cuddle? Well, then they'll love this dog bed! The Donut bed by BEST FRIENDS BY SHERI is the ultimate dog bed for cuddlers, and it offers premium comfort. Although it doesn't look like most of the dog beds on our list, this bed is still worth your Great Dane.
The Donut bed features a soft faux shag fur that will keep your dog warm at night. The bottom of the bed is water-resistant nylon, so nothing will ruin your hardwood floors.
Just like all Great Dane dog beds, this one has orthopedic support. Its raised edges are made for burrowing and serve as great headrests. Since the Donut bed is round-shaped, it makes a great bed choice for dogs that love to fall asleep all curled up.
With extra filling added, the Best Friends by Sheri bed will truly be your dog's best friend. His joints and bones will be thankful for this level of support and comfort. This donut bed will be the warm hug your pup needs when you're not home.
Here's another dog bed for those big cuddle monsters. The Frisco Velvet Round Bed might as well be called The Ultimate Snuggler because dogs like the Great Dane love to snuggle on it. With its round and poofy shape, the Velvet Round dog bed will make your pup feel like he's sleeping on a cloud.
This pillow bed has a cushioned bolster all around, so it provides excellent support for your dog's head and neck. The super soft velvet material is as gentle as your hand, so your Great Dane always feels loved even when you're not around.
Besides being comfortable like no other Frisco bed before, the Velvet Round dog bed is also fashionable. The three color options: blue, grey, and beige, will be suitable to any home style and won't clash with your decorations.
The cuddler bed has a machine-washable cover, so any accidents will be taken care of. Just unzip it, pop it into the machine, and shortly after, your pooch has its bed back.
Unfortunately, like all comfy beds, this one is not chew-resistant, so you might want to keep your Great Dane entertained if you want to keep the dog bed for a while.
In most cases, the simplest design is the best one. But, we love to add something extra to the basics. This FurHaven Deluxe Chaise bed has soft bolsters on two sides, perfect to rest the head and snooze a bit. But, that's not all this Deluxe bed has. Let's see why we all love it so much!
The Deluxe Chaise dog bed comes in several options for all dog sizes, but you'll want to choose the jumbo plus one for your Great Dane. The bed is crafted by using an egg-crate foam base.
This medical grade orthopedic foam will help your dog rest and build up energy for new adventures. No painful pressure points, no misalignment. Your dog's spine will be perfectly aligned, and its joints and achy bones will be rested. Thanks to the L-shaped bolsters, your dog has plenty of space to rest its neck.
This two-tone Deluxe dog bed comes in four colors: espresso, stone grey, dark sage, and marine blue. The best one is covered in soft faux fur for the comfiest experience ever. Just throw over a blanket and let your pooch snooze into dreamland.
From the brand that makes one of the coziest dog beds on the market comes a Calming Donut dog bed. The Best Friends By Sherri Calming Donut will guarantee that your Great Dane always has a relaxing night to recover its energy for tomorrow. This calming donut bed will do more than calm your dog.
This bed was designed by using polyfill material inside, covered with faux fur for premium comfort and coziness. This soft cover will keep your pup warm during cold nights, even if you don't throw over a blanket.
The bed also features a bolstered edge for neck and head support. Your dog's spine will be perfectly aligned, and pressure from certain points will be relieved. No more joint pain for your pooch after sleeping in this pet bed.
What else is amazing about the Calming Donut bed is the water- and dirt-resistant bottom that doesn't allow any accidents.
In case something does happen, just take the cover off, wash it, put it in the dryer, and it will still be ready until your dog goes to bed that day. This luxurious dog bed will be your buddy's best friend for sure… just don't get jealous, okay?
No more stealing the sofa. Now, your Great Dane will have its own couch! The FurHaven Comfy Couch is an orthopedic dog bed perfect for large breed dogs and their fragile bones. The bed is worth so much more than $53.99 on Chewy, and here's exactly why.
This Comfy Couch is crafted by using medical-grade memory foam that gives the bed orthopedic traits. The peak and valley design allows the bed to be breathable, and the egg-crate foam relieves pressure from certain points.
This bed features super supportive side bolsters for good head and neck support. This way, your dog's spine is perfectly aligned no matter in which position he sleeps.
The great thing about this dog bed is that it comes with a water-resistant base made of poly-canvas material that's both easy to clean and comfortable to your dog.
The bed comes in three designs: diamond grey, diamond brown, and diamond blue. All covers are machine-washable and easy to clean. Sadly, if your dog loves to chew on things, you might want to skip this awesome bed, which is absolutely sad.
So, you haven't found a dog bed for your snuggle bug? How about this Eyelash Bolster Bed, by Frisco? Did you know that Frisco makes some of the best dog beds on the market? If you're still not convinced, let us reassure you by presenting this excellent Great Dane bed.
Okay, it's a bed for them all: from small dogs to extra large ones. This fluffy round dog bed invites your Great Dane to come on over, curl up, and snooze 'til morning.
The all-around bolsters provide support for the dog's head, but they also give a bit of privacy, so your pooch sleeps without someone interrupting him. The bed's cover is faux fur; the perfect material for warm and cozy nights.
If home decor is your thing, and you hate to have something clash with your interior, you won't have to worry about getting the Frisco Eyelash bed.
This bed comes in three neutral colors: silver, grey, and sand. In case it gets dirty, just wash the zippered cover in the washing machine on a delicate cycle, tumble dry on low, and your pooch is ready to use it again.
Sometimes, Great Danes need more than just a memory foam dog bed. They need something heavy-duty that will last through all the years to come. In other words, they need something indestructible! And, that's exactly what the PetFusion Lounge Dog Bed is.
This bed comes with orthopedic memory foam with medium firmness for ultimate comfort. The jumbo size for giant breeds even has 4 inches of memory foam, which makes this bed one of the best dog beds for Great Danes.
The good thing is that the memory foam layer has a waterproof liner in case some accident happens. Just toss it into the machine and you're good to go.
The outer cover is durable polyester and cotton twill, soft to the touch. Even the zippers and liners are made by one of the world's largest zipper manufacturers, YKK.
The bed's bolsters are filled with recycled polyfill material, and provide good support for the dog's head. The PetFusion Lounge bed features a step-on design, which allows even disabled or injured dogs to climb in and rest.
The entire bed is covered in a water-resistant removable cover that your dog can't chew or destroy. This dog bed is so high-quality that it will outlive every dog you own.
An elevated bed isn't such a good idea for a Great Dane unless it comes with a pillow top orthopedic dog bed. The Kopeks Orthopedic dog bed features a design that's stable enough to support your Great Dane.
This extra-large dog bed sits on a sturdy powder-coated steel frame. The foam mattress comes with a water-resistant and machine-washable cover, which eases up the cleaning.
The actual sleeping spot is 46 inches long, which makes the Kopeks bed perfect for big dogs like your Great Dane. Since we're talking about an elevated bed, it's important to note that the elevated design allows good airflow and prevents the dog bed's bottom from developing mildew.
Why we love Kopeks so much is because it is suitable for outdoor use. In case your Great Dane loves sleeping outside, or you simply forget that the bed is outside and it rains, you can rest assured you will find a dry sleeping spot for your pupper. Besides the outdoor use, the Kopeks Elevated Bed is stylish enough to fit any home design.
The Big Barker 7″ Dog Bed is one of the best beds for large-size dogs. The dog's bed by Big Barker comes in three sizes (large, extra-large, and giant), and four colors (chocolate, khaki, burgundy, and charcoal grey). Let us see what else makes the Big Barker dog bed so special!
Even though the 7″ dog bed was designed for older dogs suffering from arthritis, other orthopedic issues, or recovering from operations, it can still be used by all dogs. In fact, sleeping on high-quality surfaces can reduce the risk of your dog developing an orthopedic problem.
This dog bed was crafted in the USA by using only premium orthopedic foam that's made to last. The foam mattress should retain 90% of its original form and won't flatten down.
The bed's cover is 100% microfiber for the softest touch ever! The reason why all dog owners love microsuede covers is that it's so easy to clean. Just take it off and wash it in the washing machine. With its supportive bolster, the Big Barker dog bed is made to last your dog forever!
FAQs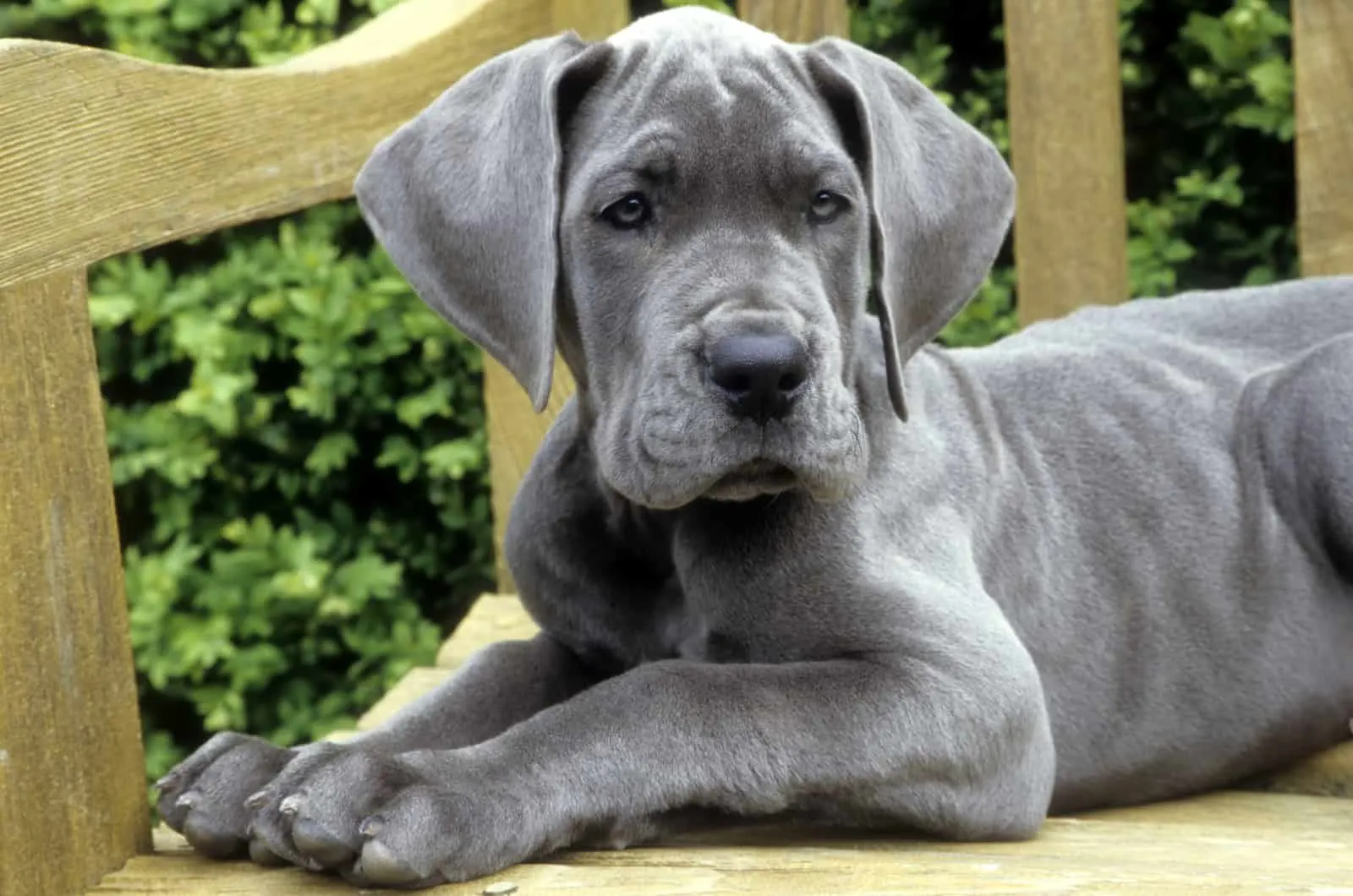 1. What's The Best Dog Bed Size For My Great Dane?
As we already know, the Great Dane is one of the largest dog breeds in the world. They need extra space to sleep, so getting a dog bed that is just too small is not an option. These pups need comfort for their large bodies; otherwise, they might end up with severe orthopedic issues.
Always check the bed's measurements before you buy. Your Great Dane needs an XL or XXL bed. In other words, just get the biggest bed possible. Dogs stretch, roll around, and sleep in weird positions. Get a big bed so your pup doesn't end up on the floor.
2. Are Orthopedic Beds Really That Good?
Orthopedic dog beds are a bit pricey, but they will pay off in the long run. Giant dogs need good support since they're prone to severe bone and joint health problems.
Orthopedic dog beds help a lot with joint and bone conditions, and they relieve pressure points. So, yes, orthopedic beds are really that good. Besides, they're made by using high-quality materials, so you know they will last for several years to come.
3. Which Bed Types Should I Not Consider?
Although elevated dog beds are convenient and easy to move around, they're not the happiest choice for your Great Dane. You might want to consider a memory foam bed with bolsters or a donut-shaped bed.
Whichever you choose, it's the size that matters the most, so make sure you get the one suitable for giant dogs.
4. What Are The Best Dog Bed Types For My Great Dane?
Great Danes are cuddlers. They love to curl up and snooze, so a donut-shaped soft bed will be a great choice for them. Also, any form of an orthopedic dog bed in the proper size is the happiest choice. If you add bolsters for extra support, you get the best dog bed for a Great Dane.
5. Why Is A Good Dog Bed So Important?
All dogs need a place to call their own. Sure, being adopted does mean the dog gets a forever home, but still, he needs a corner where he has some privacy. Dogs need beds to rest and restore their energy. Sure, your Fido can sleep on the sofa or the rug, but it doesn't mean he should.
Since many dogs love to circle around and burrow before going to sleep, your sofas and rugs will get damaged easily. Also, sleeping on the floor is bad for every dog's bones and overall health. It's always colder on the floor, and dogs like the Great Dane feel every temperature change. Yes, dog cold is a thing!
Do you see why your Great Dane needs a good bed?
These sleepy heads snooze for 16 to 18 hours a day. And, since they easily develop arthritis, hip dysplasia, or elbow dysplasia, they need a high-quality orthopedic bed to support them through these conditions.
If you buy an orthopedic bed for your puppy, and later, young adult Great Dane, you can even prevent these orthopedic health issues from happening. They may be a bit pricey, but they're an investment for years to come!
6. Which Great Dane Health Conditions Are Linked To Sleeping On Poor Beds?
Probably the less severe health condition linked to sleeping on poor beds or floors is allergies. Dogs can live with allergies, but you need to exclude what's causing them from their lives.
Some dogs can be allergic to certain fabrics and materials, or even to dust and mites developing inside low-quality dog beds. Get a treatment from your vet, and get a nice dog bed; possibly the one with hypoallergenic mattresses.
However, far more severe are orthopedic issues. Great Danes have giant frames, and it's only natural to experience some conditions such as hip dysplasia, wobbler syndrome, or osteoarthritis.
These conditions develop gradually and the result is low deterioration. If only you got that fancy dog bed sooner!
Also, adding the supplements named glucosamine and chondroitin may help out with achy joints. You either buy chewable supplements or get dog food rich in these two ingredients, so the dog's joints start feeling like new again.