Disclosure: This post contains affiliate links, and I will be compensated if you make a purchase after clicking on my links.
If you call yourself a lucky Great Dane owner, then we must congratulate you. You have one of the kindest, sweetest, most loving dog breeds of the canine world. Oh, and one of the biggest ones, too! Everything is big with these doggos, especially their hearts.
The Great Dane dog breed is a giant one, and it may look intimidating at first. However, soon, you'll realize these gentle giants have their nickname for a reason.
You've probably already experienced what it's like to cuddle with your Great Dane lying next to you on the sofa, but let's talk about this dog to other people who don't own this loving breed.
It's a mixture of eating, sleeping, cuddling, and playing a bit, then some more sleep, and yeah… extra sleep. Do you know what else is extra about them? Their appetite! Boy, these pooches sure can eat! No wonder… with such a large body build, the Great Dane can eat a lot, but it doesn't mean they're supposed to.
If you're a Great Dane owner, you must be really careful about your dog's diet. Great Danes need a lot of calories to get them through the day.
They also need a high-protein diet that doesn't go over 26% of the protein count. Lastly, they need vitamins, minerals, amino acids, and other supplements to make their muscles, bones, and joints strong.
You will want to prevent severe health conditions from happening, so you better find perfectly suitable dog food for your Great Dane. To help you out, we've put together a list of the 10 best dog foods for Great Dane.
The list consists of three puppy foods, four adult foods, and three senior food options. Pick the life stage your pup is in, then put a finger on a brand. All of them are excellent and Chewy approved!
A growing puppy needs a diet full of nutrients to support its fast growth. From a small puppy to a gentle giant, your Great Dane will need animal protein-rich food packed with probiotics, antioxidants, good carbohydrates, omega-3 fatty acids (DHA and EPA), and other natural supplements. The Hill's Science Chicken puppy food has it all… and more!
The first ingredient of this kibble is chicken meal, followed by whole grain wheat and oats, apples, broccoli, carrots, cranberries, and green peas.
This food supports controlled bone growth and good joint health, which is extremely important with large breed puppies. If your Great Dane grows up eating poor-quality dog food, it may affect its bone health and cause severe orthopedic health problems like hip dysplasia.
Hill's Science is rich in glucosamine and chondroitin, supplements that support lean muscles, as well as antioxidants, and vitamins E and C for a strong immune system.
This USA-made dog food is completely natural and free of preservatives, artificial flavors, and colorings. It's suitable for puppies up to 1 year of age. After that, you may switch to adult dry dog food made by this premium brand.
Speaking of premium dog food brands… Have you heard of the Diamond Naturals Puppy Formula? This dog food offers superior quality to support all your pup's nutritional needs. Diamond Naturals gets your Great Dane on the right path from the earliest life stages.
This dog food has high protein content featuring lamb meat, followed by whole grain brown rice, cracked pearled barley, and superfoods like kale, chia seeds, pumpkin, blueberries, quinoa, spinach, carrots, and papaya.
With 100% pasture-raised lamb meat, and high mineral content, your growing puppy will have plenty of energy to play all day, and to grow up to be a happy dog. Diamond Naturals is crafted with lots of antioxidants and omega amino acids for a shiny coat and elastic skin.
Each bag of this pet food contains species-specific K9 strain proprietary prebiotics for a healthy immune system, good digestion, and overall wellness. With Diamond Naturals, your puppy will have a happy puppyhood and never feel hungry!
Puppies have adventures every day. They see a challenge in little things like exploring the back yard, and that's absolutely adorable. But, they need the energy to keep those smart heads running and little bodies moving.
What is a better choice for an adventurous puppy than the American Journey Puppy Salmon food?
This dog food has real salmon as the first ingredient, followed by chicken and turkey meal, sweet potatoes, blueberries, carrots, and menhaden fish meal. The fresh salmon is good for the puppy's lean muscle structure.
Added phosphorus and calcium promote proper bone development, and DHA and ARA fatty acids are there to support good vision and brain development. This grain-free dog food has all the vitamins, minerals, and antioxidants your puppy needs.
American Journey Salmon kibble is made without grains, wheat, soy, corn, artificial flavors, colors, preservatives, and by-product meals. It's made using only nutrient-dense ingredients to follow the pup's natural growth.
Now that you have an adult Great Dane, you will need to find a well-balanced diet for your dog that will satisfy all its nutritional requirements. Large breed dogs have more needs than smaller pooches.
You can't just go to your local store and buy generic brands like Purina or Royal Canin. The Great Dane dog breed deserves more than that. And, that more is the Nutro Natural Choice dog food!
With chicken being the first ingredient, this dog food is packed with all the goodies like whole grain brown rice, dried pumpkin, kale, spinach, and chia seeds. Nutro Naturals is a natural source of glucosamine and chondroitin for healthy bones, as well as essential antioxidants for a strong immune system.
This GMO-free dog food is created for dogs older than 18 months of age. The ingredients list excludes chicken by-products, corn, wheat, and soy. Nutro Naturals is one of the best food choices for large dog breeds, including our gentle giant.
Switching over from puppy food to adult dog food can be a tough transition for some puppies, but with proper Great Dane food, that won't be such an issue anymore. Diamond Naturals has adult dog food, too, and it's as yummy as the puppy food!
This natural dry dog food gives your Great Dane superior nutrition, and allows it to function normally with plenty of energy for new adventures. Diamond Naturals contains lamb meal as the first ingredient, along with all the other fresh goodies like kale, spinach, blueberries, quinoa, chia seeds, and coconut.
Besides these yummy ingredients, this food contains l-carnitine, omega-3 fatty acids, and enough vitamins and minerals from natural sources for healthy skin and coat.
The abundance of l-carnitine serves to transfer fat into energy, leaving your Great Dane looking fit with excellent heart health.
Each serving of the Diamond Naturals Lamb Food includes species-specific K9 strain proprietary probiotics, prebiotics, and antioxidants for a well-functioning digestive system and good overall health. The formula is designed completely without corn, wheat, artificial colors, and flavorings.
The Great Dane's distant cousin, the wolf, had completely different dietary needs than today's dogs. Back then, it was only acceptable to hunt and feed on what was caught in the hunt.
Those canines were sharp, alert, and active. Today's Great Dane is a bit more laid-back, but it still needs to feel the taste of the wild.
You want premium quality? You got it! Here's a bag of Blue Buffalo Wilderness Rocky Mountain dog kibble – much better than any canned food, and healthier than regular wet food.
It's an alternative to raw food diets created by using deboned beef as the first ingredient, followed by beef meal, lamb, venison, blueberries, cranberries, sweet potatoes, peas, and carrots.
The Blue Buffalo Wilderness dog food is enriched with omega 3 and 6 fatty acids, as well as antioxidants for a healthy immune system and great outer looks!
This dog food is made without grains, corn, wheat, or soy, and it's perfectly suitable for dogs with sensitive stomachs. In case your Great Dane suffers from tummy sensitivity, this kibble would be the best choice you can make.
With the Wellness Complete Health Chicken and Rice kibble, your dog will feel completely healthy. This natural dry dog food was designed to support your dog's wellbeing, and it has been proven that a lot of difference can be made with the use of the right food.
The Wellness Complete health dog food is made by using deboned chicken as the primary protein source. Each bag is packed with fresh fruits and veggies like tomatoes, carrots, spinach, apples, and blueberries.
The formula is crafted by using omega fatty acids, antioxidants, probiotics, glucosamine, and taurine. Along with premium proteins, minerals, and vitamins, this kibble makes sure that your Great Dane's immune system, digestion, and overall body health are in great shape.
What this formula lacks are GMOs, fillers, meat by-products, and artificial flavors. Every dog kibble should be free of the listed ingredients if you want a healthy dog through all life stages.
We're proud to say that Wellness Complete Health is one of the premium dog food brands we'd recommend to every Great Dane owner out there.
When the senior years kick in, it's crucial to pay extra attention to your Great Dane. Giant breed dogs often have problems not only with their bones, but with their hearts, too.
Great Danes are prone to conditions like cardiomyopathy, and you should try to prevent it before it's too late. High-quality dog food will help you with that, precisely the Blue Buffalo kibble, which is designed specifically for senior dogs.
This formula is made by using real chicken as the first ingredient, supported by whole grains, and fresh fruits and veggies. This recipe is packed with L-carnitine, omega 3 and 6 fatty acids, antioxidants, calcium, phosphorus, minerals, and vitamins for good bones, immune system, digestion, and healthy skin and coat.
Senior doggos using the Blue Buffalo food will find that they have more energy to do stuff rather than to just snooze all day. An active dog is a healthy dog, so you better support that.
Blue Buffalo is proud to say that their recipe is completely wheat, corn, and soy free, and it is made by using only natural ingredients that provide excellent amounts of supplements needed for the dog's happy last years.
The Hill's Science Adult 6+ formula really protects your dog's life, and that's the only important thing in their senior years. Some of our senior pups don't handle the switch from adulthood to seniorhood that easily; therefore, it's up to us to make it a whole lot better. Well, with Hill's Science, that's possible.
This recipe has chicken meal as the first ingredient, supported with rice and barley for your old champ's good joints and cartilage. Each ingredient of this recipe has gone through a strict procedure to determine whether it satisfies purity and nutrient content standards. Guess what? They all do!
Senior dogs consuming this kibble will get their daily dose of glucosamine, chondroitin, omega amino acids, antioxidants, and vitamins E and C.
The Hill's Science Adult 6+ kibble is made by using only natural ingredients, without any artificial flavors, colors, or preservatives. It's a completely balanced diet made entirely in the USA, and it is ready to satisfy your senior Great Dane's needs.
We all want fresh food, even our dogs! That's why Now Fresh Senior food should be your #1 choice for your senior Great Dane. The name says it clearly: fresh food for dogs. But, there is more to that, and here's exactly what it is.
This dog food consists of deboned turkey as the first ingredient, followed by 20+ amazing natural superfoods! Here, you'll find blueberries rich in antioxidants, pomegranate for a good immune system, sweet potatoes, blackberries, cranberries, papayas, lentils, broccoli, spinach, etc.
Great Danes should take more than 26% of protein, so this moderate-level kibble is ideal for this dog breed. The L-carnitine takes care of the extra fat, turning it into energy and making your dog feel better and having a lean muscle structure.
The added New Zealand green mussels offer an abundance of chondroitin for bones and joints that are as healthy as a puppy's.
We love that Go Fresh senior kibble was designed by pet nutritionists. It's well-balanced and tailored for every stage of life. Besides, the formula is grain-free and made without artificial flavors, colors, and fillers. Your old pal will feel as good as new after nibbling on this kibble.
FAQs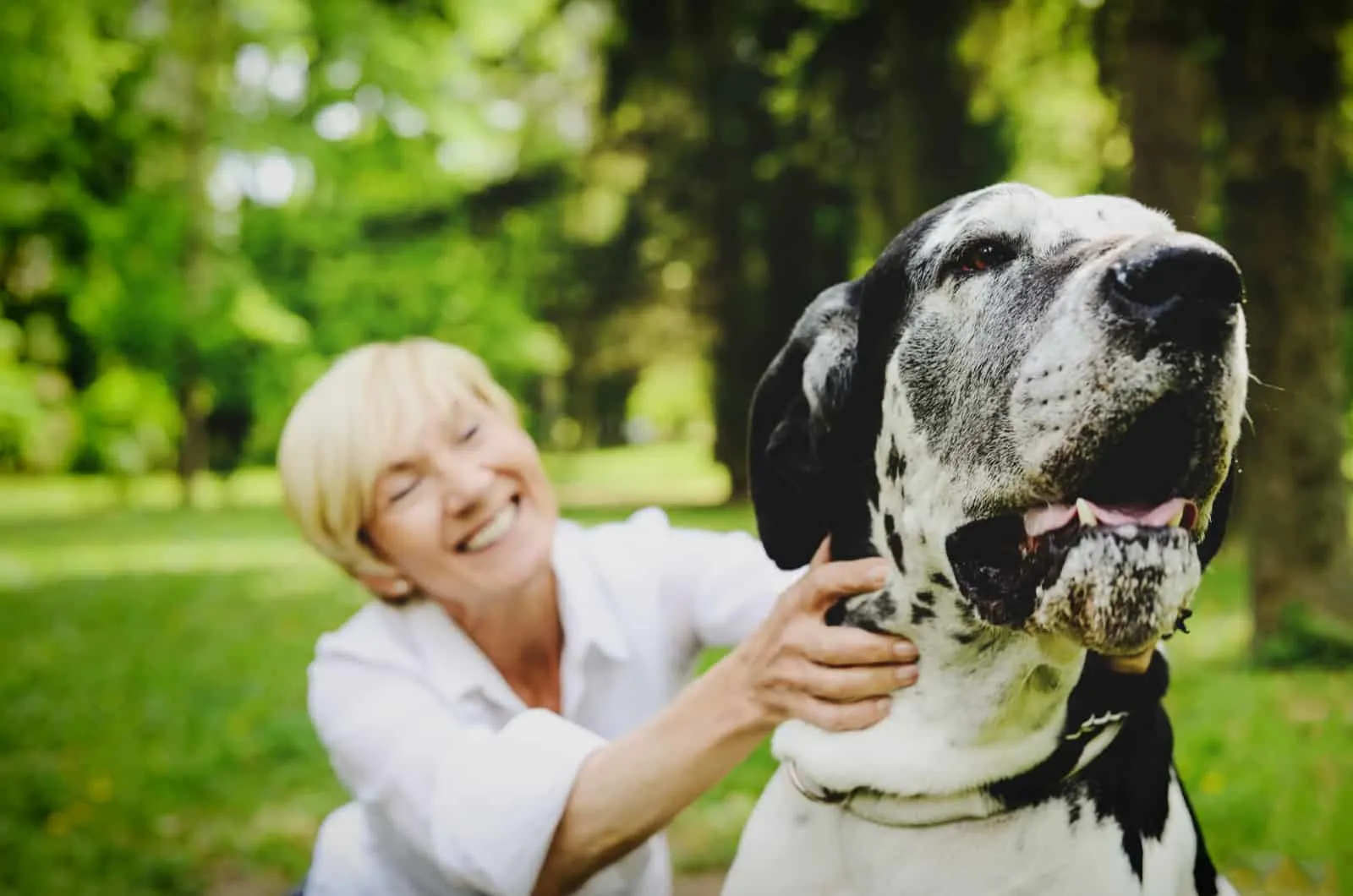 1. How Many Times A Day Should You Feed A Great Dane?
Great Dane dogs are a giant breed, and they need plenty of food to function properly. However, they should not eat all that food in one meal.
Large dogs are prone to developing bloat; a severe condition in which the stomach twists with too much air and blocks the dog from breathing. Dogs should eat 8 to 15 cups of dog food a day, divided into equal meals. In other words, stick with the recommended 2500 to 3000 calories a day.
In addition, don't allow excessive exercise before or after the meal in order to prevent bloat.
2. What Are The Best Ingredients For This Giant Dog Breed?
Great Danes should have a high-protein diet, but nothing over 26% of proteins. The source of protein should be real meat like poultry, lamb, beef, pork, and fish.
Two out of the first three ingredients on the list should be these proteins, followed by a healthy amount of animal fat (i.e., chicken fat), whole grains, fresh fruits, veggies, and natural sources of supplements. No artificial flavors or colorings should be on the ingredients list.
Also, fillers like potatoes shouldn't be the majority in any dog food. Dogs don't need just something to make their bellies satisfied. They need food that will bring them multiple benefits. So, don't be lazy… turn over that bag of dog food so you can see the ingredients list.
3. Which Ingredients Should I Avoid?
You can give any food you want to your dog as long as it's developed for dogs. Certain human foods are strictly off-limits. If you keep on giving your dog any of the foods from the list, you're risking severe health issues.
Remember, your Great Dane should never eat:
• Onions and garlic
• Avocados
• Grapes and raisins
• Dairy products, i.e., blue cheese
• Alcohol
• Chocolate
• Junk food and snacks (Doritos, Cheez-Its…)
There's a reason why brands produce puppy food, adult food, and senior food. They're all tailored to suit each life stage the best. Puppies are fast-growing, and they need food for energy. Adults are supposed to maintain a healthy lifestyle and a good weight while seniors should take high-quality dog food to make those old years last longer.
Do you really think that junk food and scraps off your table can help with that?
4. How Do You Switch From Puppy Food To Adult Food?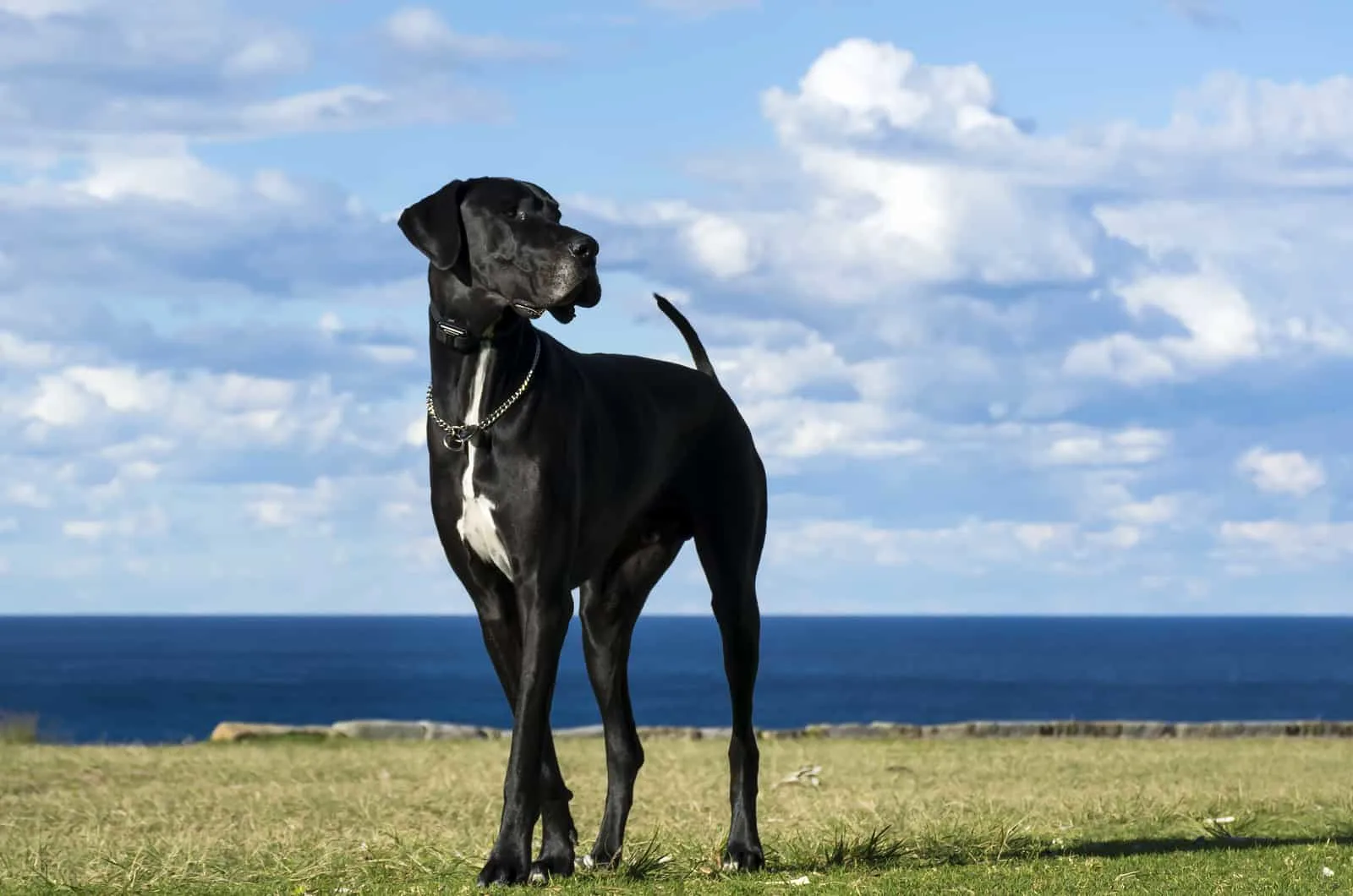 Any food transition should be consulted with your vet, especially if you're switching from puppy food to adult food.
At the age of 15 months, your Great Dane puppy is considered an adult dog. You can switch to adult food somewhere around that milestone.
The transition should be done gradually by switching a bit of your puppy's food with adult food until the complete meal is adult dog food only. This way, you prevent their tummies from becoming sensitive and causing issues like vomiting, diarrhea, or even loss of appetite.
If you see any of these symptoms, stop with the new food and consult your vet for a new one. Many high-quality dog food brands have dog kibble for all stages. Maybe the transition won't be an issue if you stick with trusted brands.
5. Best Dog Food For Great Dane With Sensitive Stomach
If your Great Dane is diagnosed with a sensitive stomach (which is not rare at all), you should change its diet to something more suitable for its tummy. Usually, dog owners switch to a grain-free and gluten-free diet since it contains grains that are not hard to digest.
Also, a limited ingredient diet is a good choice because it contains fewer ingredients, and you'll want to keep track of what your dog eats. If you're having trouble with deciding which dog food you should get, you should consult your vet.
Having a sensitive stomach is not to be played with. It's a condition including vomiting, diarrhea, blood in the stool, nausea, loss of appetite, hypersalivation, and excessive gas. If you notice that your dog is having one of these symptoms, you should contact the vet immediately.
Sometimes, your dog will have food allergies, so you better ask someone who's an expert about what to do. In some cases, a dog will get meds that will calm down the problem. But, for long-term results, a change of the dog's diet is a must.​​​​
6. What Are The Most Common Great Dane Health Issues Related To Food Intake?
The Great Dane dog breed is prone to severe joint and bone issues. However, being prone to something doesn't exclude other potential illnesses. There are numerous other health problems that a Great Dane can suffer from.
Here's a complete list of the most common Great Dane health issues:
• Hip dysplasia
• Elbow dysplasia
• Arthritis
• Dilated cardiomyopathy
• Bloat and torsion
• Wobbler syndrome
• Entropion
• Hypothyroidism
• Cherry eye, and
• Ectropion
Almost all of the listed health issues can be caused by poor food quality. The good news is that a lot of them can be treated with premium food choices. Also, no matter which food your dog takes, it can still be prone to the condition called bloat. Monitor your dog as he eats.
Prevent exercise before and after, and take count of its meals per day. If you can prevent something from happening, then do it.
Sadly, bloat is the #1 killer of Great Danes. But, it's also a condition that can never appear as long as you follow the rules, keep their diet on point, and don't allow free feeding.
7. The Best Dog Food For A Great Dane Puppy
Giant breed puppies are fast-growing, and they need plenty of nutrients for proper growth. The Great Dane dog breed needs lots of proteins and carbs from whole grains to keep them running.
The protein count should be up to 26%, and the fat content should stay at a medium level.
We've got amazing recommendations on our list, so whichever you choose for your Great Dane puppy, it would be a great choice. Hill's Science, Diamond Naturals, and American Journey are all dog food brands that actually care about what your puppy eats.