This post contains affiliate links, and I will be compensated if you make a purchase after clicking on my links.
All Lab owners can confirm that their dog is a true family member to them. These pups have a way of getting under our skin and making us want to provide them with high-quality everything! This includes getting the best dog bed for Labrador Retrievers you can find.
Giving your pooch a good dog bed is one of the best things you can do for his well-being. Just like humans, dogs need a good place to sleep, and a floor is not that.
A decent Labrador dog bed should make sure your pooch is comfortable and happy and that he can get a good night's sleep. This will give him a good amount of energy to do his everyday activities.
But when the market is saturated with good products and many amazing items can be found on websites such as Chewy and Amazon, how can you be certain which one is the right bed for you?
Fear not! To help you out, I have gathered a list of 10 products that can help you out in your quest to find the best dog bed for Labrador possible.
I have also included a buyer's guide and a list of some common questions Lab owners might have, especially if this is their first time getting a Lab puppy.
Let's get started!
Best Dog Beds For Labradors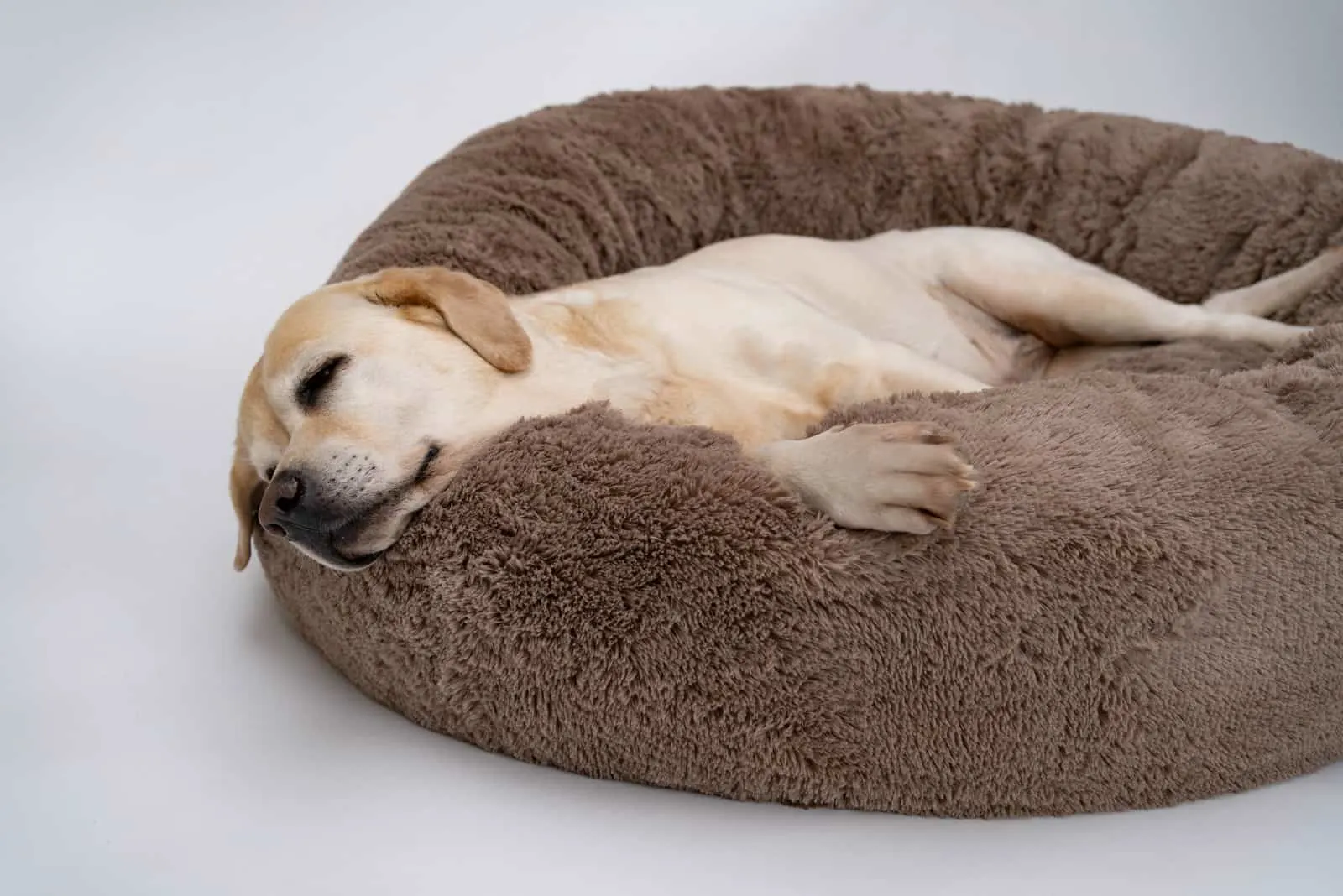 Ratings and reviews are important to help people understand what a product is really like. Of course, just because something is the best product for everyone doesn't have to mean the same product has to be the best one for you. However, it can give you a good indication of what to expect.
Before I get into more details, here are the ratings of some of the best products, so you can choose the best dog bed for Labradors yourself:
Best Dog Beds For Labradors Reviewed
Getting the best dog bed for Labradors is extremely important, and it's one of the first things you need to do when you're bringing home your new Labrador Retriever puppy.
But how can you know which products are truly good, and which have some flaws?
Fear not! Here are our top 10 best pet beds for Labs you have to look into: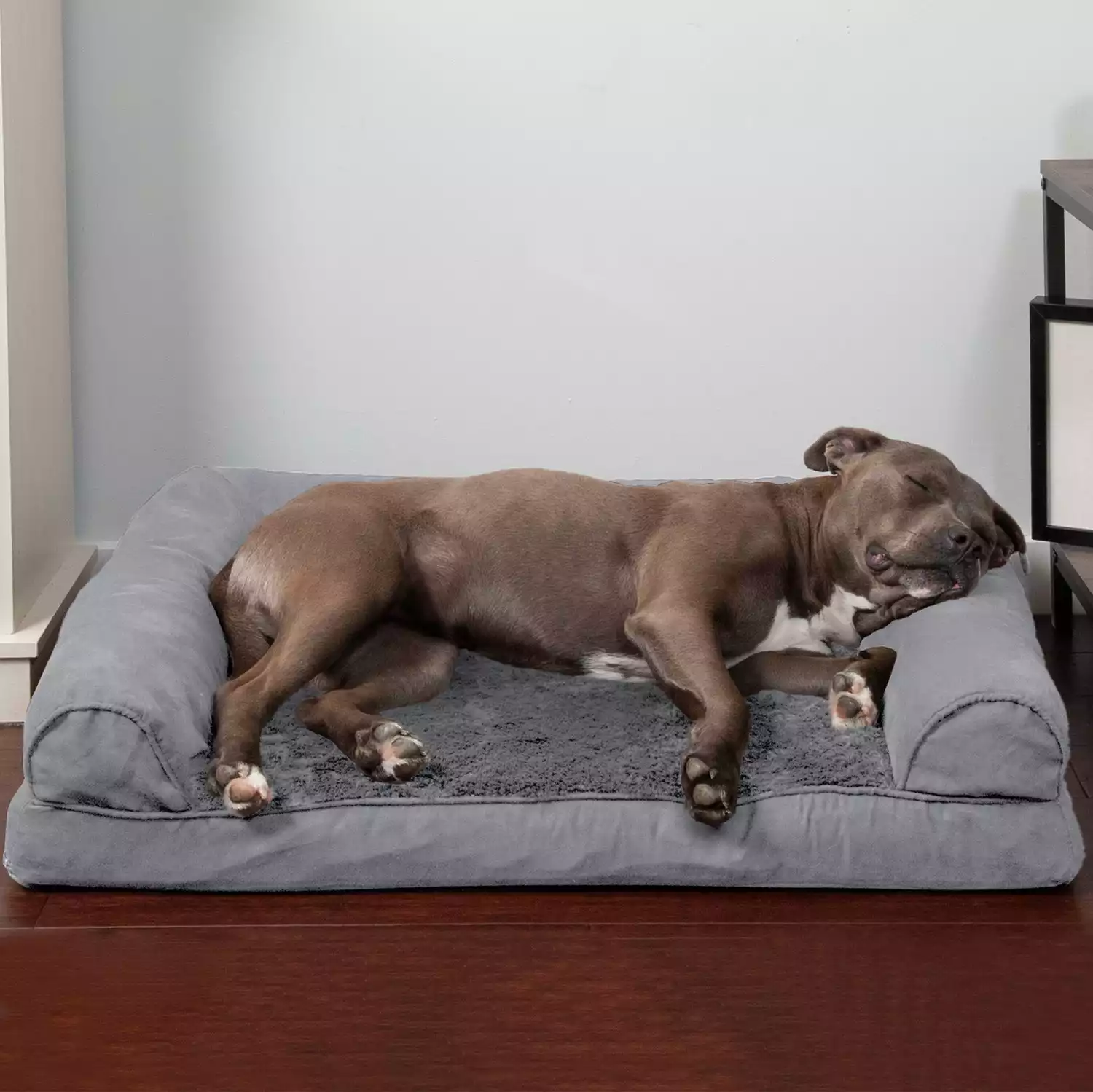 This might be the best dog bed for Labrador Retrievers if you're ready to pay some extra bucks for all the amazing features this pet bed offers.
The bed is made out of 5-inches thick orthopedic memory foam, making it extremely comfortable and supportive. As such, this makes it one of the best dogs for older dogs or even adults struggling with arthritis.
The product comes with a soft faux fur cover that will give the bed a luxe appearance you will love and your large breed dog will love.
At the same time, the bed has a non-skid base, so the bed won't slip everywhere during your Lab's bursts of energy.
Finally, the bed comes in several colors and 5 different sizes, so you'll certainly find the right one for you. For standard-sized Labradors, a large size might be enough. There is also a Jumbo size, in case you think your Lab requires a larger bed.
Editor's Choice
Big Barker 7-Inch Pillow
Key Benefits:
Orthopedic dog bed.

Retains 90% of its original shape no matter how much it was used.

100% microfiber.

Machine-washable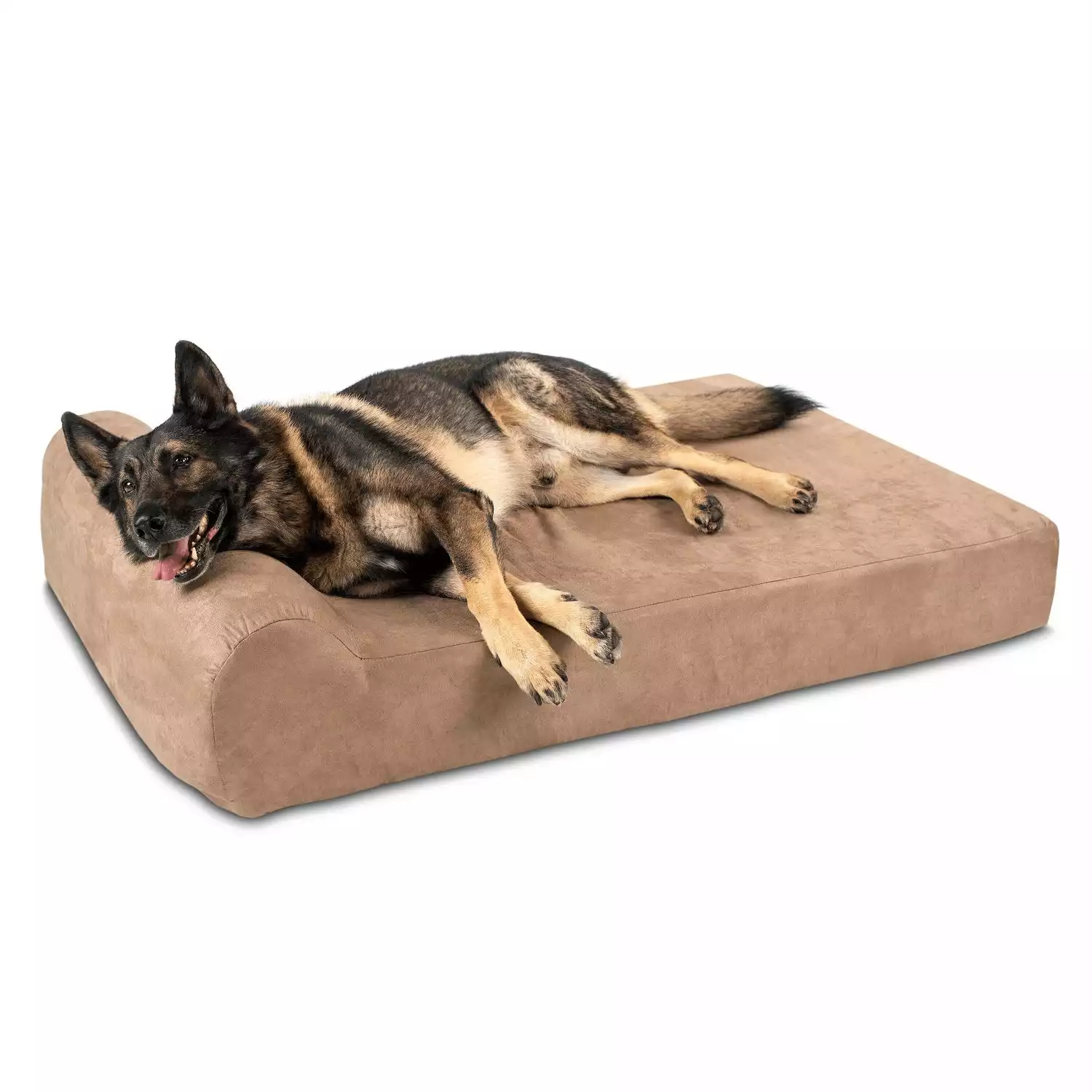 According to most reviews, this is the best dog bed you can find. It's an amazing choice not just for Labs, but for all large dogs.
While it might look simple, Big Barkers makes amazing products. This dog bed has ultimate features that make it stand out from the rest.
In fact, if you're uncertain how good it is, you should know that the bed comes with a 10-year warranty! This alone lets you know how happy these two are.
Actually, this type of bed isn't good just for your dog, but for everyone in the household instead. It can prevent joint problems and help relieve symptoms of existing joint issues.
Everything on this product is made in the USA, which is another proof of quality.
DogBed4Less Dog Bed
Key Benefits:
Orthopedic memory foam

Waterproof zipper cover

Easy to clean

Medical-grade materials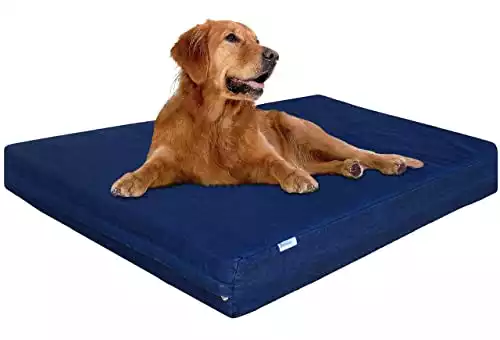 This is a luxurious option with premium memory foam that provides your dog with everything you can possibly want from a dog bed.
The bed is made out of memory foam that is four-inch-thick, which is amazing for older dogs that are struggling with their joint issues and arthritis.
Not just that, but the entire bed is designed in such a way to provide your dog with the best care possible. This includes a gel cooling memory foam pad that will keep your pooch from overheating by promoting airflow.
The bed has two covers: The denim one, which is the one you're supposed to use most of the time, and the second one is there to put on while the denim cover is in the washer.
As it's made out of top-quality materials, it can last for a very long time. Not just that, but due to its durability, it is also one of the best beds to use within kennels.
PetFusion Ultimate Dog Bed
Key Benefits:
Memory foam base

Waterproof liner

Water-resistant and anti-tear covering

Recycled poly-fill bolsters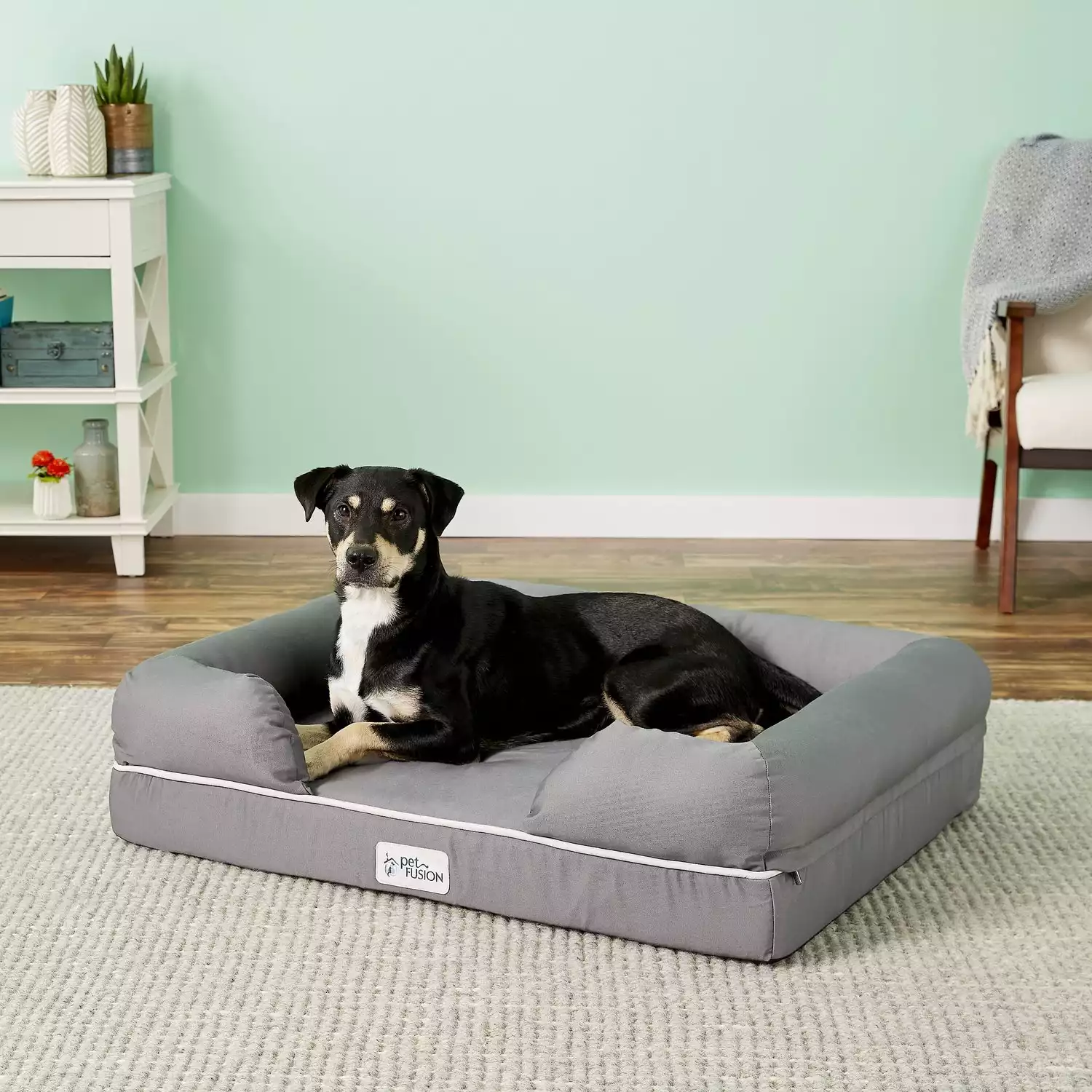 This is yet another premium orthopedic bed that your dog will love. It is comfortable, despite being fairly hard – something dogs tend to love.
It's made out of a memory foam base, enhanced with a waterproof liner that can protect both your floor and the bed itself from water damage in case of potty accidents.
Bolsters and the pillow top are made out of recycled poly-fill, ensuring the bed provides additional support to the dog's joints and spine, keeping them from harm.
Not just that, but the liners and zippers are made by YKK, one of the largest zipper manufacturers in the world.
Armarkat Pet Bed
Key Benefits:
Waterproof lining

Machine-washable

Non-skid bottoms

Removable covers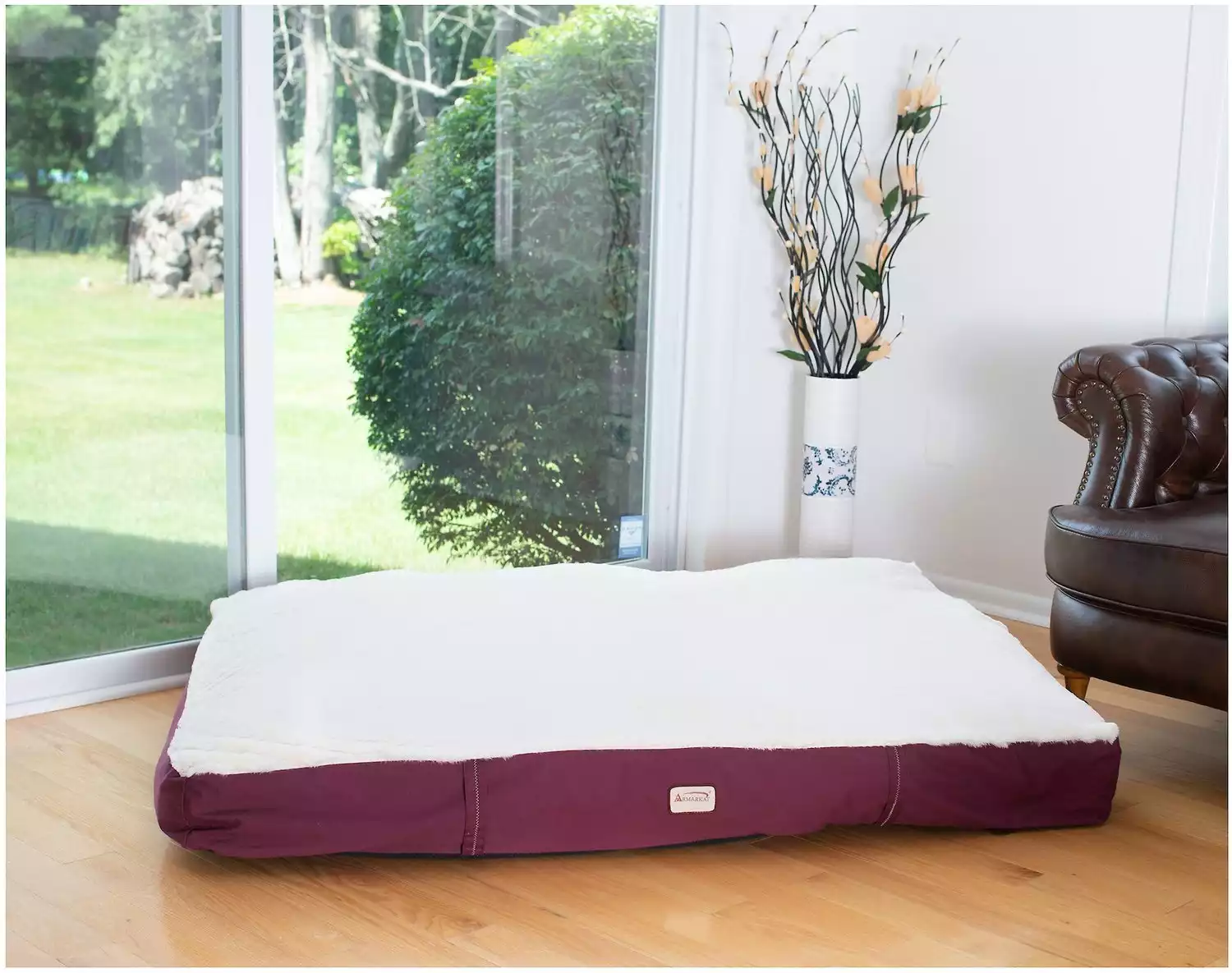 This is an affordable dog bed for Labs that offers all basic necessities without losing aesthetics and comfort.
This isn't an orthopedic bed. It's filled with thick 100% poly fill providing optimum comfort, but it doesn't provide joint support. As such, it's a good choice for an adult dog and puppies, but it's not made for older Labs.
In fact, non-skid bottoms are another reason why many people choose this as the best dog bed for Labrador puppies. It will be able to withstand even the most playful puppies that would otherwise push their beds everywhere.
This bed can withstand a playful puppy, but it's not designed for aggressive chewers as they might be able to bite through it. Still, the canvas is waterproof and strong, so the bed won't break down or fall apart.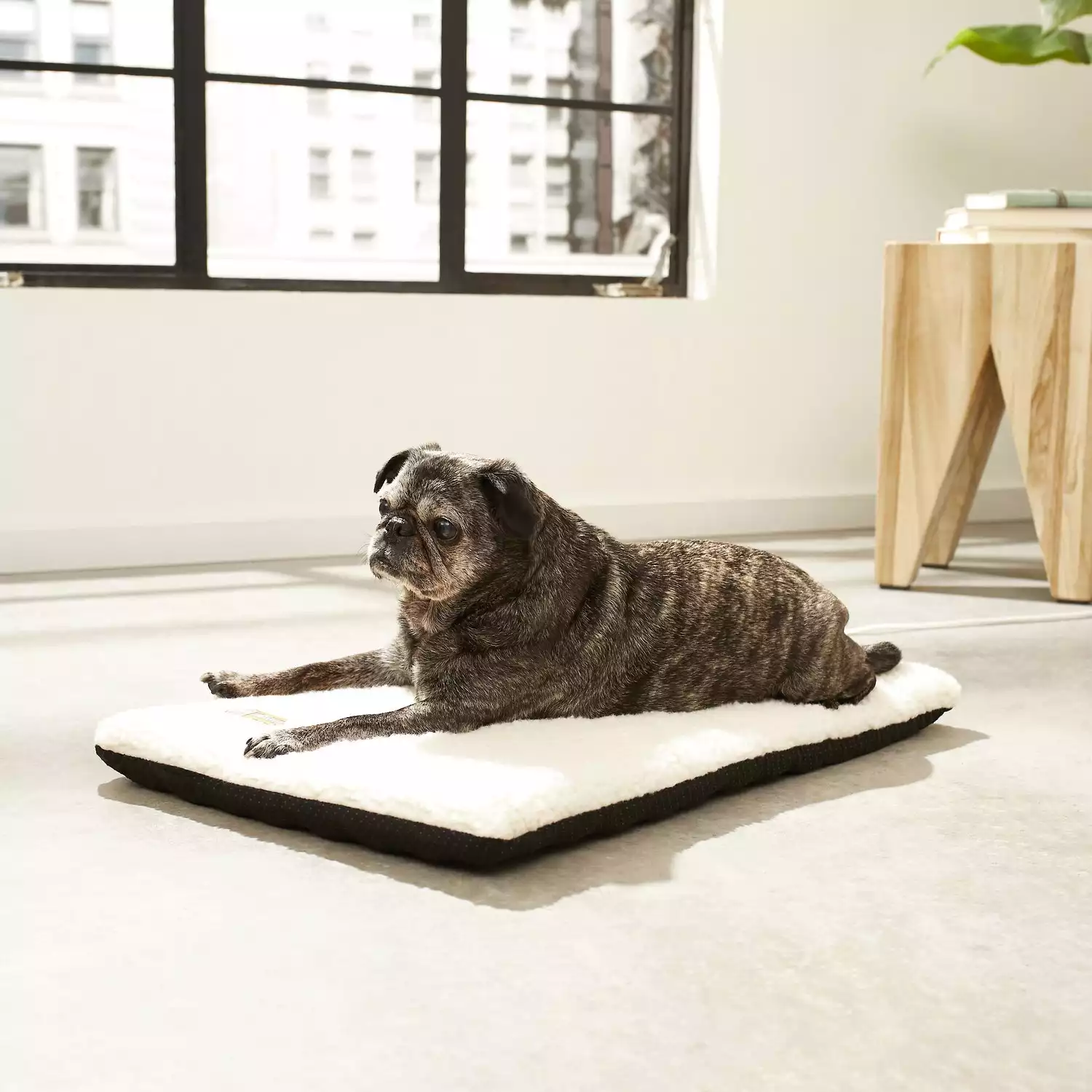 While thinner than many other beds on our list, this is a great product for dogs with arthritis or for older dogs that can no longer climb high places.
The cover is made out of heavy-duty, waterproof denim that you can wash in a machine, making it very easy to clean and maintain. In fact, there is even a lightweight cover you can use while the denim one is in the washing machine.
The materials this dog bed is made out of are hypoallergenic as everything is 100% cotton, so it won't cause issues to your pooch. Memory foam filling is temperature sensitive and very dense, offering orthopedic support and warmth.
The bed won't turn flat over time, making it extremely durable. If you have a young dog, this isn't a concern. However, for older dogs, you should always aim to get a dog bed that will stay intact.
At the same time, the bed has a weight capacity of 160lbs, which is enough for two Labradors instead of one!
Go Pet Club Pet Bed
Key Benefits:
100% solid memory foam base

Micro-suede and waterproof cover

Hypoallergenic

Won't flatten over time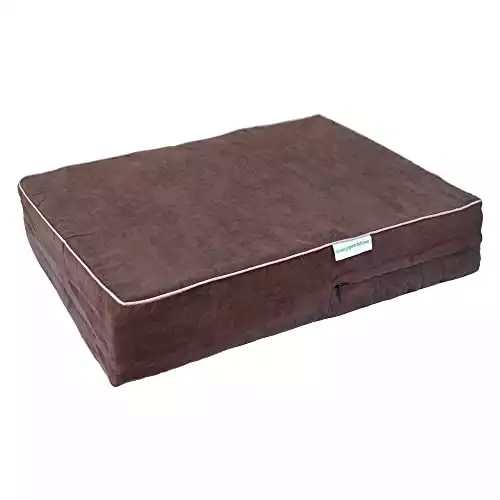 This is an amazing pet bed that is suitable for any size dog, as it comes in five different dimensions. It's even a decent choice to use within a dog crate. The suede cover gives it an elegant appearance, making it look like a part of home decor.
This is a slightly elevated dog bed that won't hurt your dog's joint. Also, all materials are non-allergenic, so they can ensure your pet's skin is safe and allergy-free.
The cover is water-resistant thanks to a waterproof liner that ensures the mattress won't get ruined. This also means you won't have too many issues ensuring this bed is clean.
It's important to note that this isn't the most affordable product. Also, it isn't made for teething puppies and other animals, as the materials aren't tear-resistant.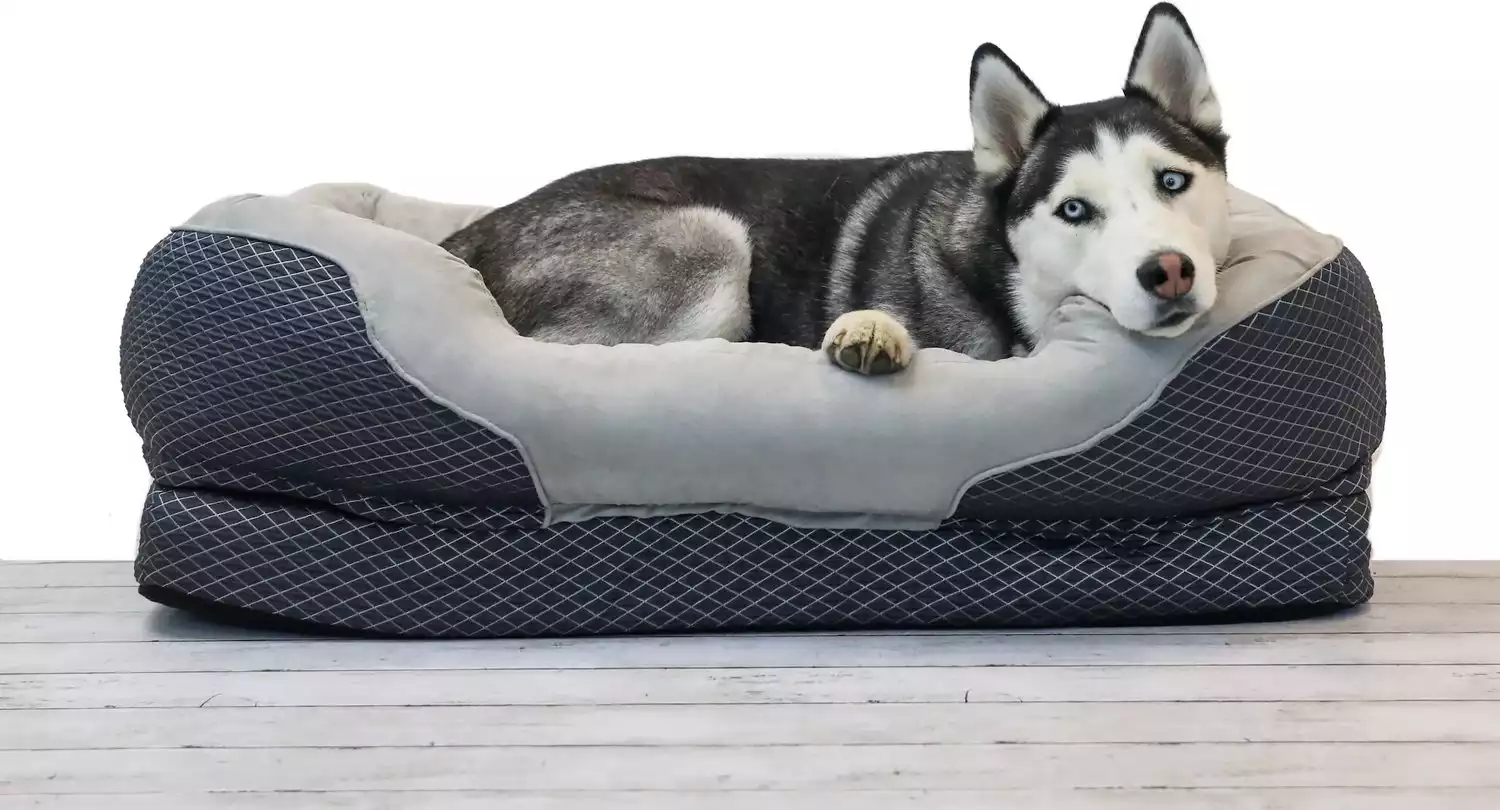 If you're looking for the best orthopedic dog bed for Lab but don't want to break the buck, you might want to consider this product. It has most features of other, much more expensive products, but at an affordable price.
It offers a four inches thick foam base that will support your dog's joints and hips, so the chances of arthritis and hip dysplasia are very slim.
The cover is machine-washable and effortless to clean, but also rather soft, so your pup will enjoy it. The non-slip rubber bottoms are there to ensure your Lab puppy won't push it too far.
The biggest issue with this bed is that it isn't really made for big dogs. As such, it's best when used for your adorable Labrador puppy.
FurHaven Pet Dog Bed
Key Benefits:
Medical-grade orthopedic foam

Removable cover with zippers

Machine-washable

Comfortable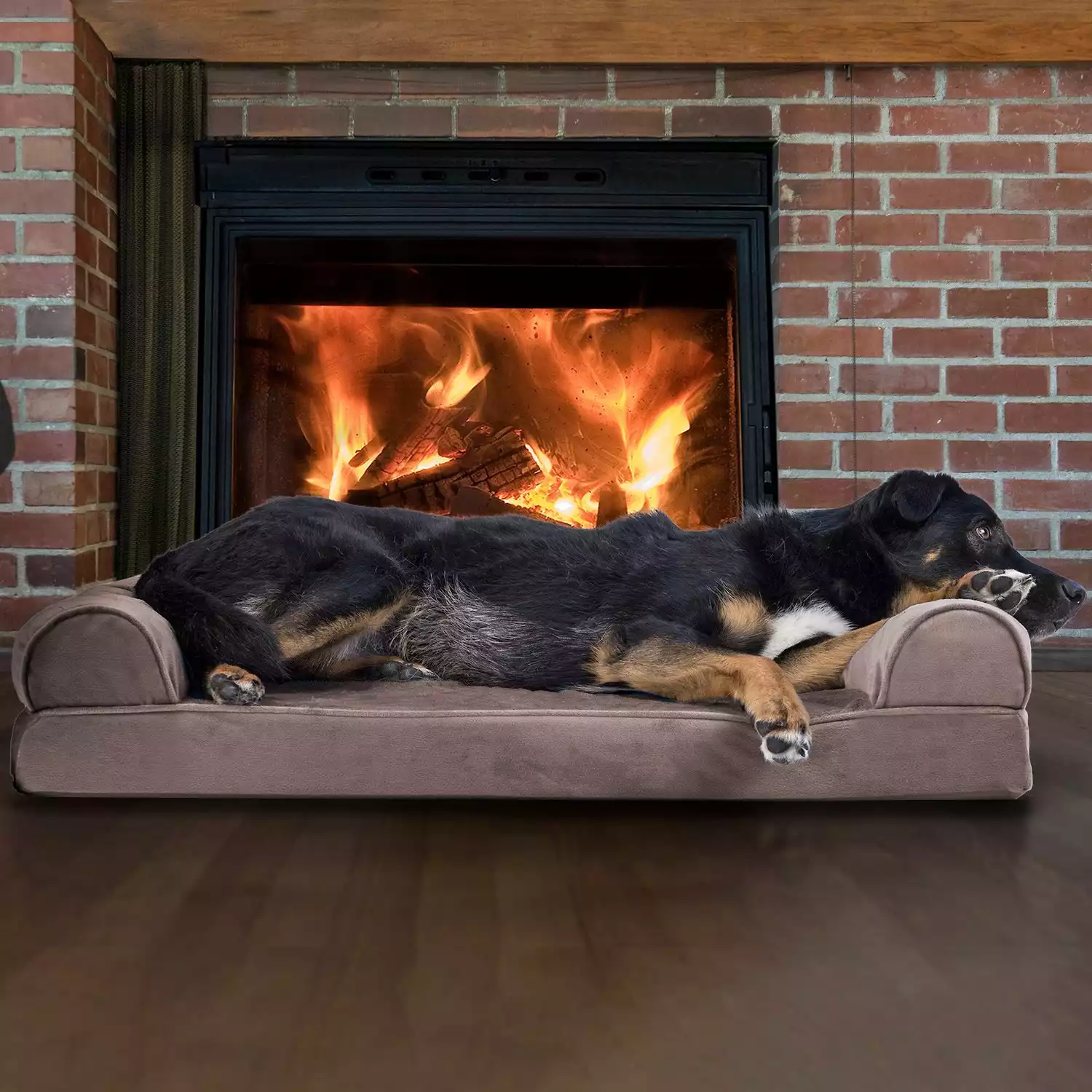 If you'd like to offer your Lab a deluxe yet affordable dog bed made with plush faux fur, this might be the right product for you.
It is three inches thick, made out of orthopedic foam that keeps your pooch elevated from the floor, but it isn't too high to keep older dogs with joint problems from climbing on it.
While it looks challenging to clean, this bed is machine-washable, making maintenance effortless. You can easily clean everything, from urine to dog food and shedded hair.
The bed comes in many gorgeous colors and various different sizes, including jumbo and extra-large. As such, you can surely find the one fitting for your pup.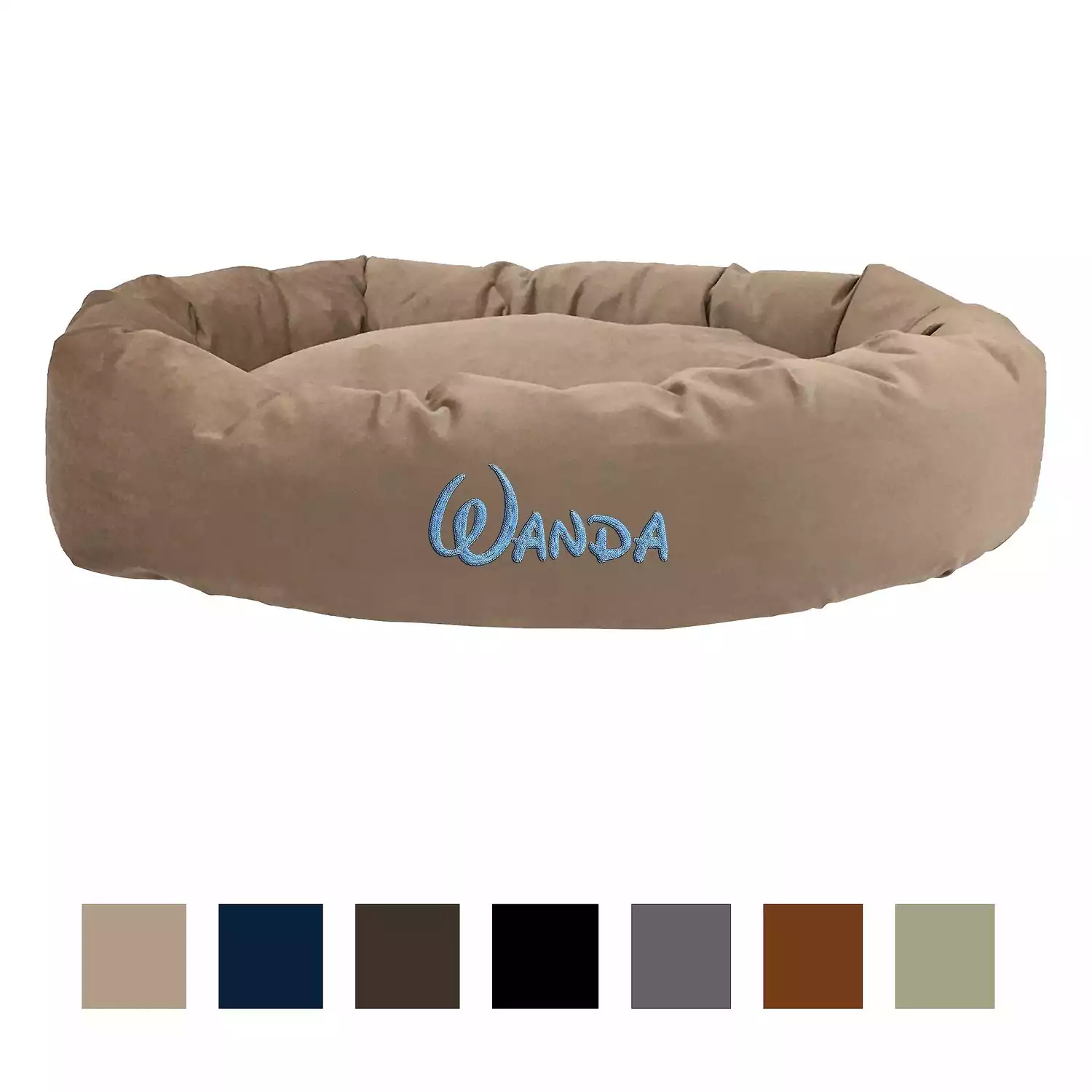 If your Labrador loves to snuggle, this should be one of your top picks. It's one of the few donut beds that comes in a large size and that can fit a large Labrador dog.
While this bed isn't orthopedic, it is very comfortable and dogs love it. The bottom is waterproof, so your floor will be protected in case of accidents.
The bed is filled with high-loft polyester and is very soft and fluffy, even though it can become flat over time. Also, it doesn't have non-slip bottoms, so it might not be the best choice for a dog who loves to jump into bed or run around.
How To Choose The Best Dog Bed For Lab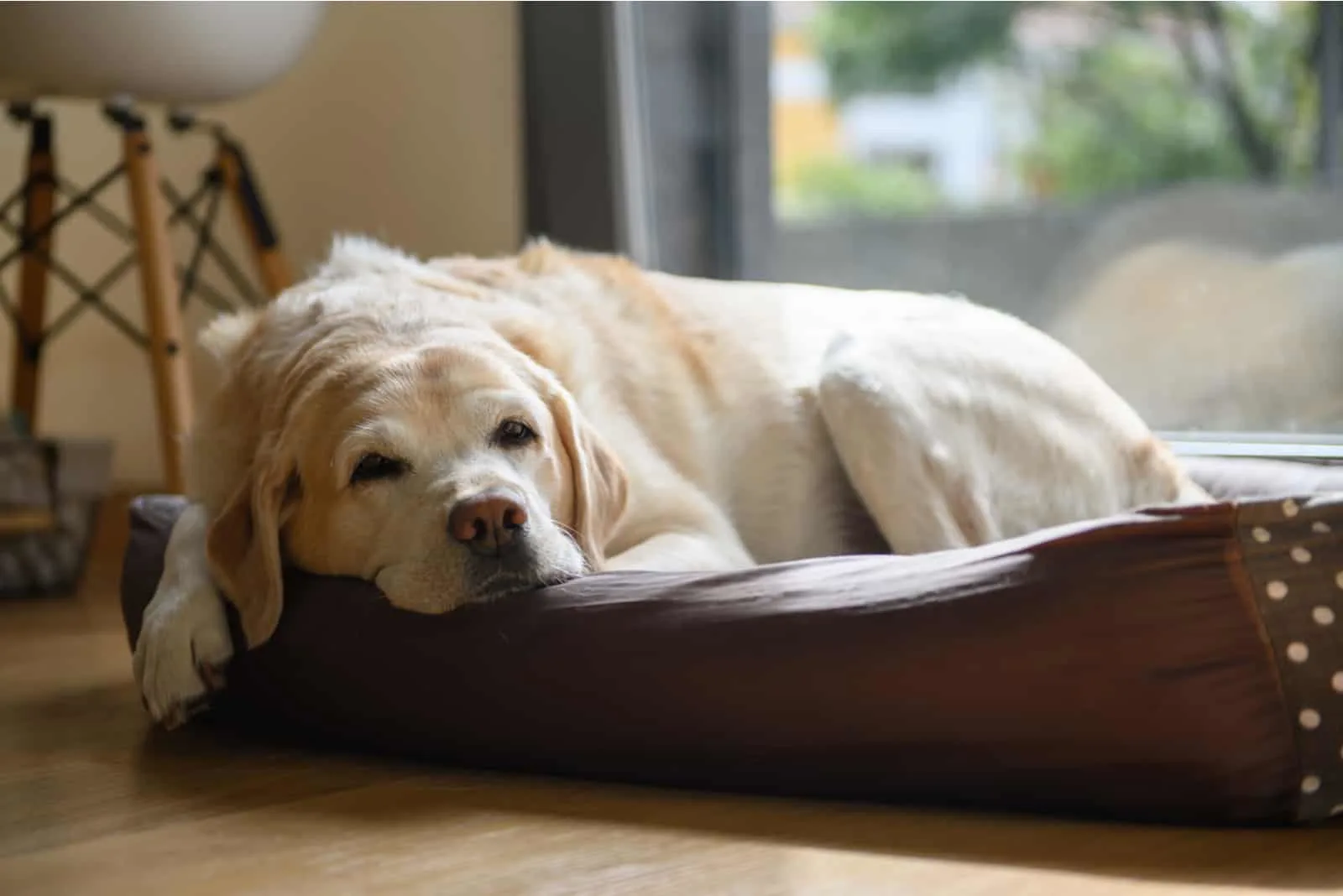 When choosing the best dog bed for Labrador, it's easy to simply go for the prettiest option, or for a product that catches your eye first.
However, this can be a huge mistake, as you should buy a bed based on its features and not its appearance.
But how can you know how to choose the best dog bed? This isn't an easy task for first-time owners who don't have experience buying good products for their four-legged best friends.
This is why I've collected a list of features every good dog bed should have.
Here's what they are:
Comfort
Humans aren't the only species who are struggling with joint pains and aches right after waking up. This is especially common if they're sleeping in a bed that isn't comfortable enough.
As such, you need to look for a high-quality dog bed that can allow your dog to sleep in it for hours at night without feeling sore once he wakes up.
This doesn't ensure just a good night's sleep. A dog that sleeps better is at a much lower chance of developing various health problems.
Proper Mattress
A proper mattress is the first thing that falls into the mind of most people that are thinking about good beds. Without a good mattress, a bed cannot be comfortable or any other feature you're looking for.
In general, a mattress should be comfortable and made out of top-quality materials.
If the mattress isn't suitable, your pooch is at a greatly increased risk of many health problems, such as patellar luxation, osteochondrosis, and elbow and hip dysplasia.
Durable
Labradors love to chew on things. They also love to play around, which is why their beds have to be simple yet effective.
As such, most dog beds for Labradors are made out of tough materials these pups cannot chew through. Also, many have a protective cover, precisely for these reasons.
Next to being chew-proof, the best dog bed for Labrador should also have a strong, hard surface, great for larger dogs that might scratch into it.
Right Type Of Bed
Finally, you should pick the best type of dog bed for your pooch.
Bed types aren't there just so you can pick the one you like the best. They each have their own benefits and downsides, and you should choose a bed based on what it can offer you and your doggie.
Here are the most common types of dog beds, and what are they used for:
Memory Foam Dog Bed
Memory foam dog beds are a great choice for dogs that need to stay comfortable while they are sleeping. This makes them suitable for senior dogs.
In general, this type of bed is the best choice for a dog in need of a comfortable place to sleep. It's made out of memory foam – a specific type of thick mattress material that molds to your pup's body.
This will eliminate pressure points, helping your pooch sleep throughout the night.
Orthopedic Dog Bed
Orthopedic dog beds are very similar to memory foam beds – in fact, these two types are often combined, as orthopedic dog beds often contain a memory foam mattress and comfortable bolsters.
This type of dog bed is designed for pups with joint pains – something very common in dogs such as Labrador and Great Danes.
It can provide your pooch with the right support for his back, neck, and bones. It is a comfortable choice for dogs of all ages, as all pups can enjoy a comfortable sleeping place.
Sofa Dog Bed
Pet sofa dog beds are an amazing choice for Labs that still think they are puppies and try to jump on couches and sofas. In the end, human furniture is extremely comfortable, so why should they stop?
Sofa dog beds provide pups with a huge amount of comfort while also providing good joint support. At the same time, they can help dogs of any age sleep well.
Not just that, but this is one of the most stylish types of dog beds. Even Lab owners will enjoy having one in their living room!
Donut Dog Bed
Donut dog beds are rarely used for large dogs, but some Labradors still love them.
This is an affordable type of dog bed that actually has a useful design as it provides your pooch with comfort and joint support.
In general, they are designed for dogs that love to sleep curled up. If your Labrador tends to stretch in bed, this might not be the right bed for him.
Cave Dog Bed
Cave dog beds are a truly enjoyable experience for some dogs, while others will hate them.
They are designed for pups that love to bury when they sleep, and they provide additional warmth and comfort. A pooch that sleeps in it will feel cozy, and if he loves sleeping under the blankets, this will be one of the best items for him.
However, just like donut dog beds, they are not made for dogs that stretch during sleep times.
Pillow Dog Bed
As their name suggests, pillow dog beds look like pillows we use on our beds. They are a great choice for people who want to give their dogs a bed that is inexpensive and simple but does what it's supposed to.
Most Labradors, however, require more supportive types of dog beds. Pillow dog beds don't provide any joint support as they don't have bolsters or any other feature that might help your pup's joints.
Still, if you love the simplicity and a product that's easy to maintain, you'll love getting a pillow dog bed for your Labrador.
Heated Dog Bed
Finally, you can get a heated dog bed for your pooch. Heated beds can help your pup feel warm during cold, winter months.
In general, a heated dog bed can be combined with any other type of dog bed. They work similarly to heated blankets, and most pups will love them.
Just keep in mind that a large number of heated pet beds work on electricity. In other words, you shouldn't leave them turned on on their own. Otherwise, you are risking a fire.
Easy To Clean
Even when a puppy is entirely potty trained, some accidents are still possible. Many times, the cause of diarrhea are viruses you are not even aware of, so don't think that cleanliness is important with senior due and puppies only.
Even if no potty accident occurs, it's important to have a dog bed that's easy to clean. Removable covers are a great option as they are machine washable, but many other solutions exist to help your bed last for as long as possible.
Hypoallergenic
Finally, a good dog bed should be made out of hypoallergenic materials.
Labrador is a dog breed with very sensitive skin. These pups are prone to atopic dermatitis which usually affects their paws and ears.
While materials from dog beds will rarely cause this condition, they can make it much worse. As such, you should buy a dog bed made without allergens.
FAQs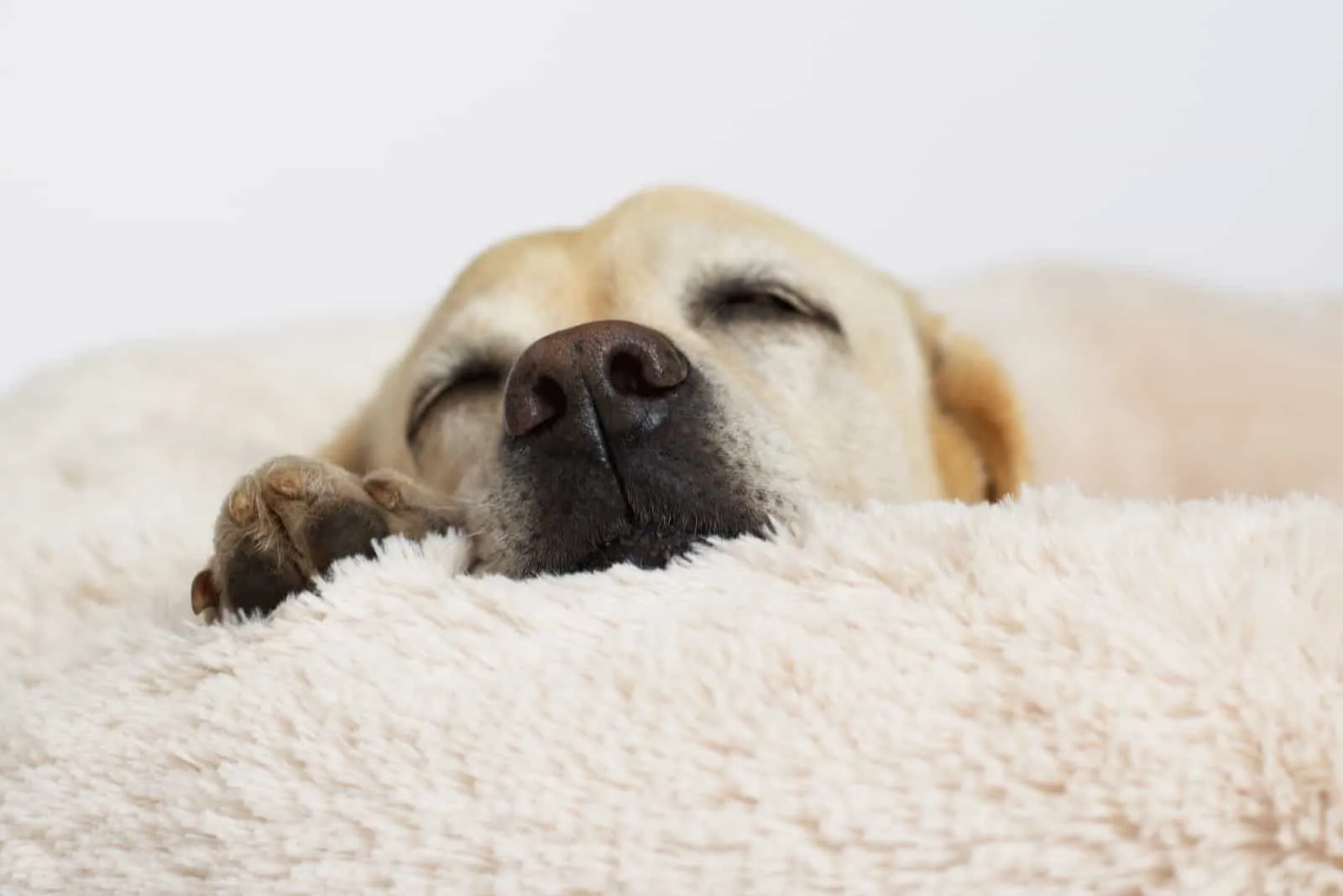 Is A Dog Bed Necessary For A Labrador?
While Labradors are certainly considered a low-maintenance breed, there are still a few items you need to provide them with. A proper dog bed is one of the essentials all Labs must have!
Sure, a dog can sleep on the floor or even share a bed with you. However, any location that isn't designed with Labrador's special needs in mind can worsen the state of their joints and cause some health issues.
Do Dogs Prefer Hard Or Soft Beds?
We, humans, love soft beds, however, this isn't the right choice when it comes to dogs.
Labradors should sleep on firm beds that will provide them with enough joint support to keep some of their health issues from developing or worsening.
Of course, this doesn't mean a dog should sleep on the floor. As stated previously, a dog bed is a necessity to keep your pooch healthy. However, it is a good choice to decide on firmer products that can give them enough support.
What Color Would Be Best For A Lab?
Dogs don't really care about the color of the dog bed they're going to sleep in. They only care that the bed is comfortable enough and that it isn't too far from the owners.
Yes, Labs are prone to separation anxiety. Their biggest concern is to sleep close to their owners and see how they can spend every additional minute in their presence.
This also includes buying a proper dog bed that can be inside a bedroom or right next to its door.
As for the color, you're free to look up some things that will match your living room, or any other color you'd like. The only reason why there are many color options is so the owners could choose a bed they consider fitting for their interior.
What Kind Of Bed Does A Labrador Need?
In general, Labradors could benefit the most from orthopedic dog beds.
These products give them all the comfort they need and ensure their joints and bones remain healthy. Also, they are comfortable enough to help your Lab sleep soundly throughout the night.
However, some pups might find orthopedic beds too firm and they'll refuse to sleep on them.
The best option might be to borrow a dog bed from your friend and see whether your pooch will like using
What Size Bed Should I Get For A Labrador?
To determine the right bed size, you need to look at your dog and his height and weight.
The average height of an adult male Labrador Retriever is 22.5-24.5 inches once he reaches full size. Females are a bit smaller, and their height is usually 21.5-23.5 inches.
Similarly, males weigh a bit more than females, as they can reach 65-80 lbs, while females rarely weigh more than 70 lbs.
The best dog bed for a Labrador Retriever needs to be large enough to accommodate your pooch. Your Labrador Retriever should be able to lie diagonally on his bed without falling off.
Also, the mattress should be thick enough to support your pup's entire weight.
If you've just got your new Lab puppy, it might be a good idea to buy him a smaller-sized bed than to go and buy a large one right off the bat.
This way, you'll make sure he develops properly.
Where Do Labs Like To Sleep?
Dogs are pack animals. They used to live in the wilderness, and their only chance of survival was to stick together.
As such, most Labs will love to sleep in the same room where their owners are. This will give them a sense of security and safety.
Also, they'll prefer a soft sleeping space made from naturally-sourced materials. This way, their skin will remain unharmed.
If you can manage to find a bed that will keep your Lab warm in winter and cold in summer, congratulations – you might have discovered the best dog bed for Labradors.