Disclosure: This post contains affiliate links, and I will be compensated if you make a purchase after clicking on my links.
Choosing a bed for your Siberian Husky can be a bit of a challenge. No matter how warm and fluffy your Husky's coat is, you should not let it sleep outside in a kennel.
These mischievous and intelligent canines need a cozy sleeping place inside the house to call their own, preferably next to their owner.
So, to give you a clear picture of what types of dog beds there are, and which of them are the best for your dog, we came up with our best dog beds for Huskies guide.
We will go over each product and give it an honest review so you will know what to expect. You will find the best bargain pick, the best pick for cold climates, and the best pick for hot climates, among other beds on our list. So, let's get started!
The Best Dog Beds For Huskies
Before we go into the reviews, here is a brief overview of the products we will review in this article, and their overall rating:
Best Beds For Huskies: Product Reviews
Editor's Choice
Furhaven Orthopedic Sofa
Key Benefits:
Comes with an orthopedic foam that gives proper support to joints

It also has side bolsters for head and neck support

The material is comfortable and soft

The bed cover is removable, and it can be machine-washed when needed

Good value for the amount of money it costs
Cons:
The sofa isn't suitable for destructive dogs or teething puppies

The foam comes with a strong smell that needs to be ventilated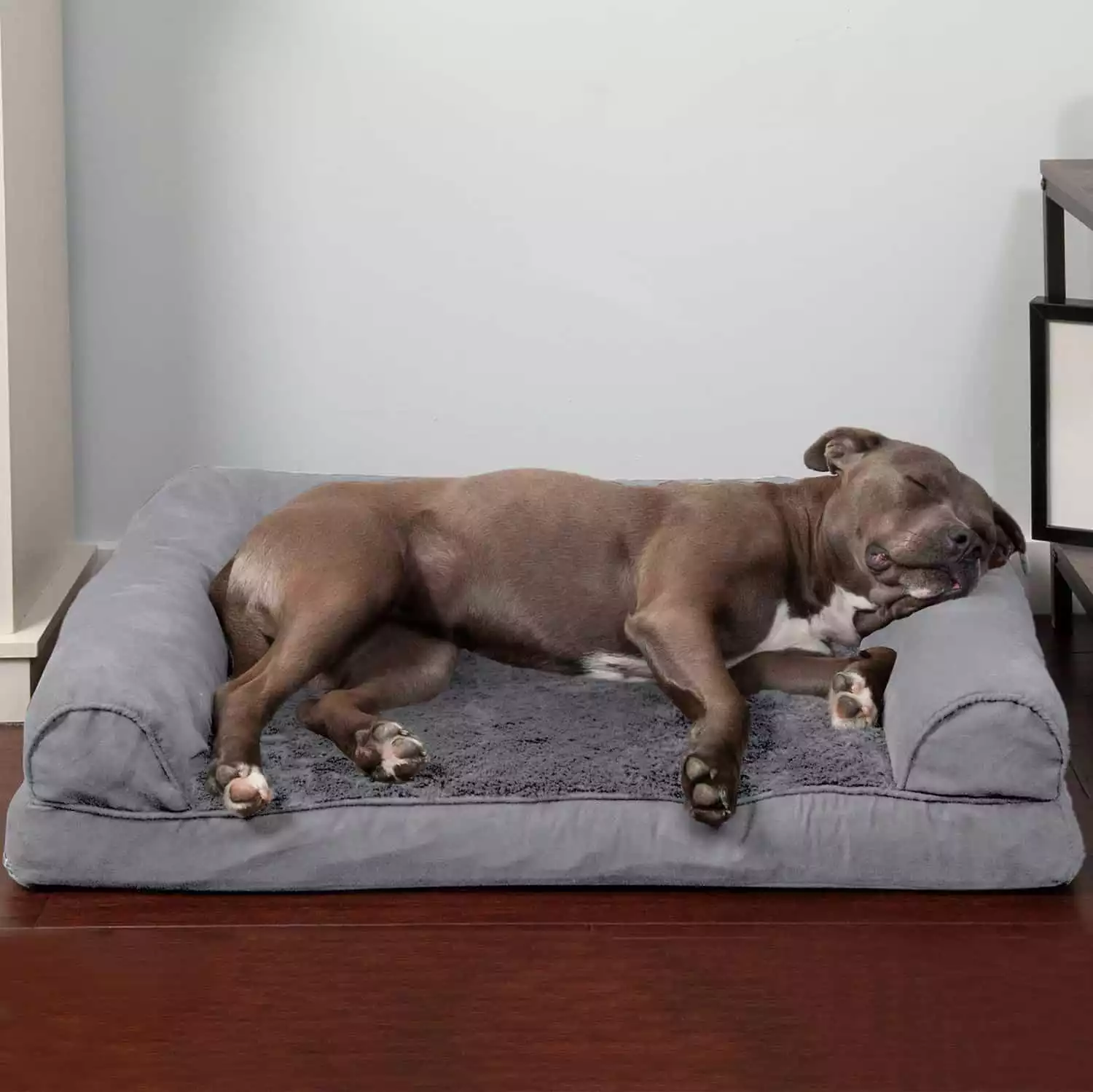 Most pet owners who purchased the Furhaven Orthopedic Sofa Dog Bed would agree that it is probably the overall best dog bed for Huskies at the moment. It strikes the perfect balance between support and comfort for your pooch at a wallet-friendly price tag.
This dog bed from Furhaven comes with an orthopedic foam mattress, which is great for middle-aged and even senior Siberian Huskies. The foam provides the necessary support, and reduces pain from arthritis and other agonizing joint conditions.
Now, you might have a young Husky at home and you might be wondering whether or not this bed is only for older Huskies. So, to clarify, the Furhaven Orthopedic Sofa Dog Bed is great for puppies, too!
The foam ensures your pup's body will develop properly, and the faux fur covering provides extra warmth. However, the softness is a double-edged sword, so to speak… The bed is relatively easy to destroy, so you should think twice about purchasing it if you have a teething Husky puppy or a destructive adult in your household.
One of the best features of this dog bed is that you can entirely remove the faux fur cover and throw it in the washing machine. Since Huskies are known as excessive shedders, you can imagine how this can come in handy.
Note that the bed can have a strong artificial foam smell when you bring it home. So, before allowing your pooch to claim the bed as its own, we recommend that you air the sofa out in a well-ventilated space for a couple of hours. With all of that said, we would recommend this Furhaven product for non-destructive Siberian Huskies of all ages!
K&H Coolin' Comfort Bed
Key Benefits:
The bed contains water that keeps the surface comfortable and cool

The orthopedic foam helps support aching joints

The bed is made from completely non-toxic materials

The hardy exterior is very difficult to destroy
Cons:
It is a bit more pricey than other options

The surface of the dog bed can be noisy

The bed is not machine-washable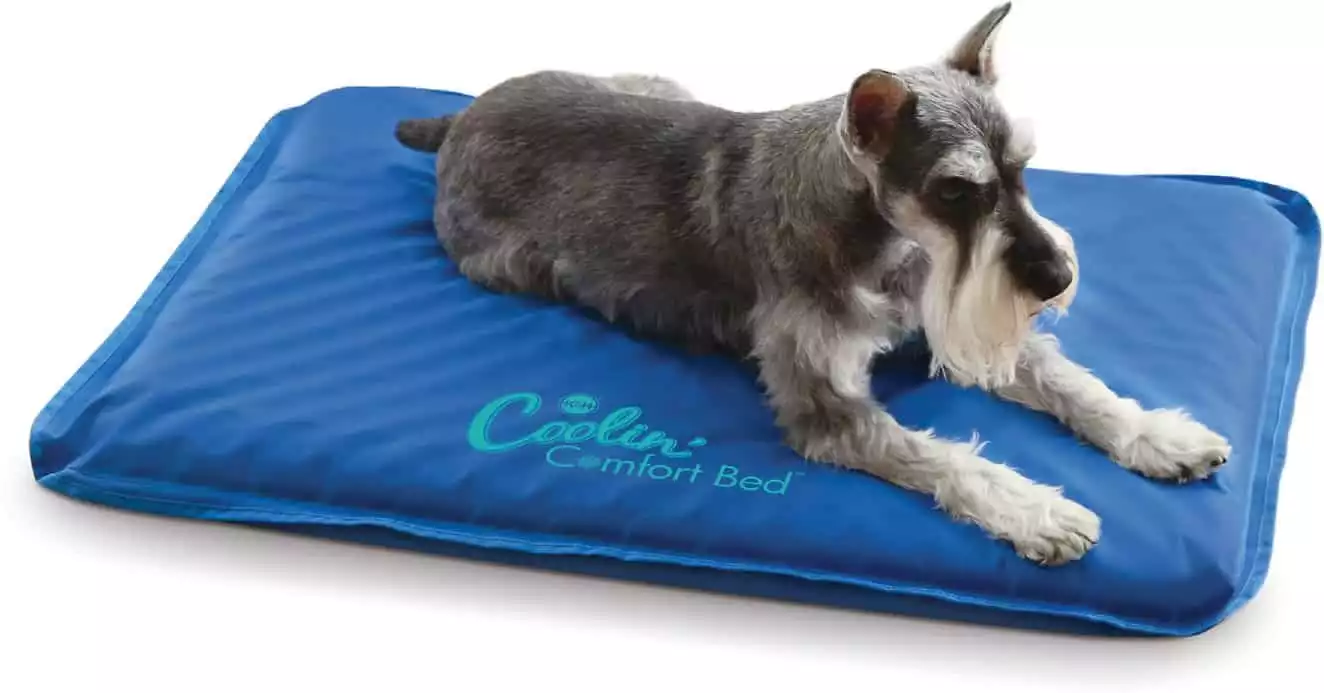 This cooling comfort bed from K&H is the perfect choice if you and your furry friend live in hot climates. This is especially important for the Husky breed since it sports a double coat and is sensitive to heat.
Unlike most other cooling beds you can find, this one doesn't use toxic gels or other harmful materials. The only thing you need to do is add water to the inside of the mattress and it will regulate your doggie's body temperature on its own. This can be a true blessing for Huskies, particularly in the hot summer months when they are panting more.
The inside of the mattress is made from orthopedic foam, which provides much-needed support for painful joints. If you have an older Husky, or one struggling with mobility issues, it will certainly appreciate the extra firmness in this mattress!
One of the best things about this dog bed from K&H is that it has a durable vinyl/nylon outer layer, which is far more difficult to destroy than other materials. So, if you have a relentless chewer in your home, you might want to consider getting this cooling bed.
However, even though the nylon/vinyl finish will prove to be quite a challenge for your Husky to destroy, it comes with a price… The material makes more sound than softer fabrics, and if your pooch is restless, the sound might get annoying.
Also, note that this dog bed cannot be washed in the washing machine, and you might need to resort to using cleaning chemicals and spot clean. So, if you have an incredibly messy dog in your household, you might want to consider a different option. Luckily, there are plenty of them on our best dog beds for Huskies list for you to choose from!
Sealy Lux Quad Layer
Key Benefits:
The layer of cooling gel regulates your pup's body temperature

The cover can be taken off and washed in the washing machineIt has a base that absorbs bad odors

The waterproof liner ensures that any accident doesn't stick to the surface

It has side bolsters

Quad Element foam provides support and comfort
Cons:
The edges or bolsters for the head and neck are a bit stiff

It comes with a high price tag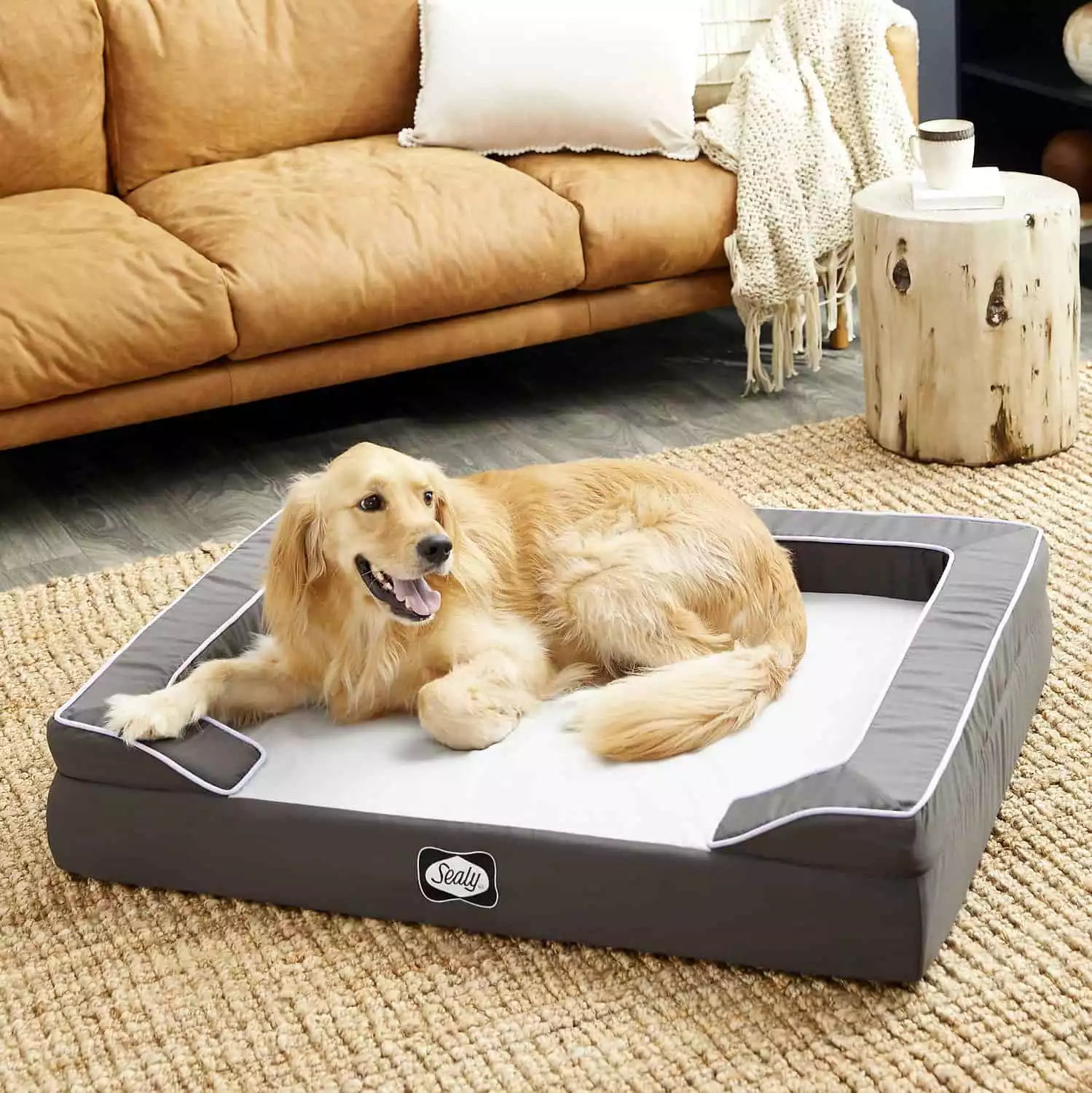 The Sealy Lux Quad Layer Orthopedic Dog Bed is a premium alternative that provides coolness in the hot summer days as well as comfort throughout the year. The bed is made from multiple layers that have different purposes.
This dog bed from Sealy Lux features a Quad Element memory foam mattress that has orthopedic qualities for injured and senior Huskies, or those with mobility issues. The mattress also contains a cooling gel that will help your fluffy companion regulate its body temperature.
This Quad Layer dog bed also comes with a water-resistant lining, which is perfect for seniors or young puppies that have accidents from time to time. On top of that, the cover is removable and you can put it directly in the washing machine for routine cleaning or because of larger accidents.
We would like to emphasize that this orthopedic bed absorbs bad odors. Even though Siberian Huskies are not considered smelly dogs, it is always a good idea to maintain a clean and fresh fragrance. This goes double if you let your furry friend sleep in your bedroom with you.
This pet bed from Sealy lux comes with side bolsters for head and neck support, but the corners are a bit stiff. This can be uncomfortable at first for dogs that prefer soft surfaces. Overall, we would advise getting the Sealy bed as a premium option for pups that need to stay cool and comfortable.
Furhaven Deluxe Orthopedic Lounge
Key Benefits:
The bed has an L-shaped bolster design for head and neck support

It is comfortable and soft to the touch

The mattress comes with orthopedic foam, with contoured edges for proper joint support

The lounge is very affordable

It comes with a washable, removable cover
Cons:
Not a good option for destructive chewers

The zipper is breakable

The foam mattress starts to sag after some time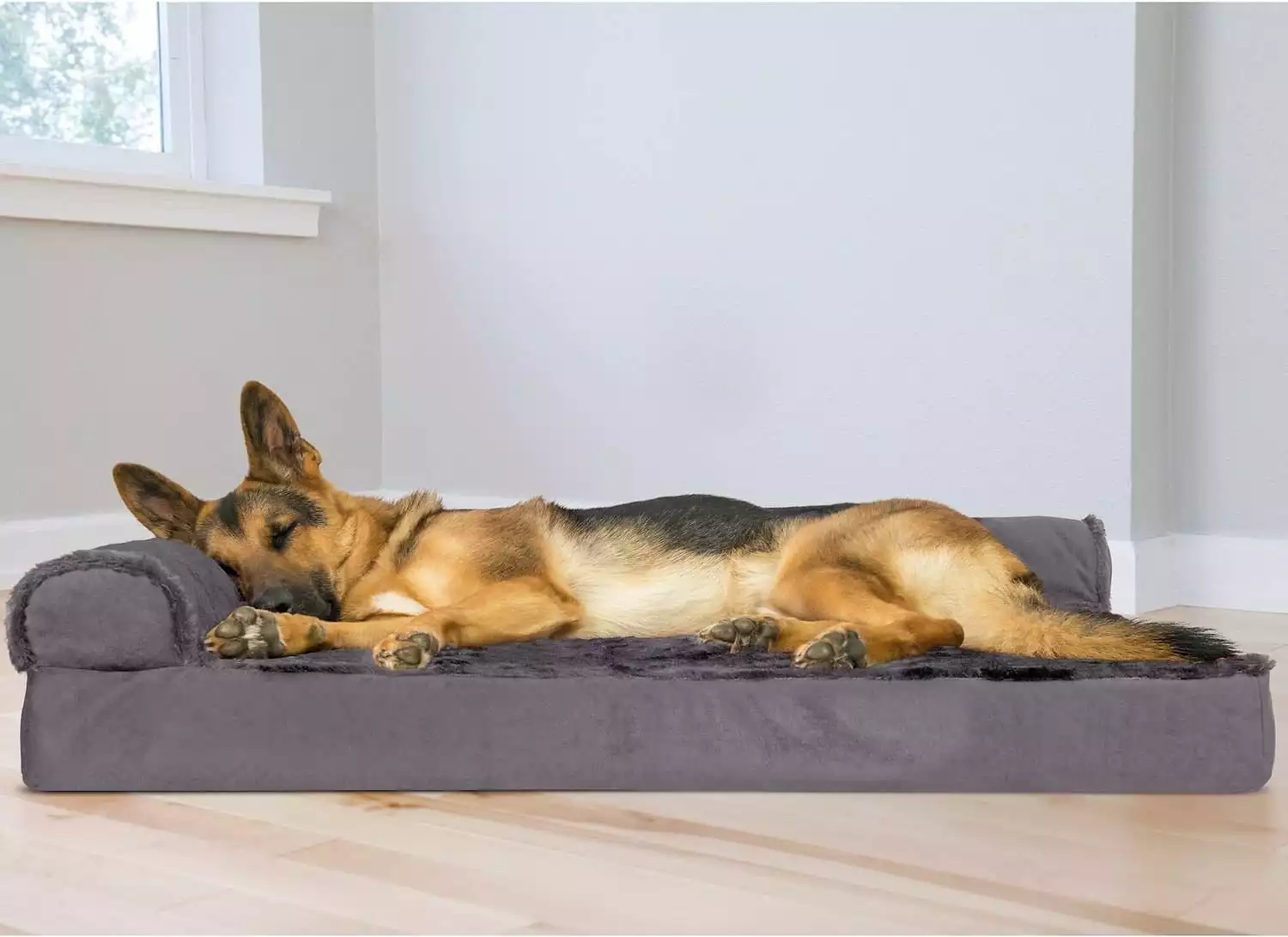 The Deluxe Orthopedic Lounge Pet Bed from Furhaven is the best budget pick for Huskies. It is highly affordable without being nasty and cheap as it provides some support and a lot of comfort!
Comfort is probably the best thing about this product. The removable cover uses soft and warm faux fur with a silky finish. The two L-shaped bolsters also provide the perfect corner for napping. If you and your fluffy friend live in a colder climate, this bed could be the perfect choice!
But, again, the softness of the bed is also its main disadvantage. It is quite easy to tear the faux fur cover, and destructive chewers or teething Huskies will make short work of the bed. So, if you have a young Husky at home, you might want to hold off on buying this dog bed until the teething stage passes.
Although the mattress cannot compete with other high-quality products on our list when it comes to support, it does come with orthopedic foam that provides some support to your Huskies head and neck. Also, the contoured edges will help alleviate some joint pain. But, with that said, it isn't memory foam, so you can expect it to sag after some time.
Overall, we think this is a great budget option for non-destructive adult Huskies and non-teething Husky puppies.
Furhaven Orthopedic Round Cuddle Nest
Key Benefits:
It comes with a blanket and a tubed hood that can be used to make a burrowing nest

A combination of contoured edges and orthopedic foam gives great support to joints

The bed is completely insulated in sherpa fleece for warmth

It has an easy-to-remove washable cover
Cons:
It is not the most affordable option

The soft material is rather easy to tear apart
This Orthopedic Round Cuddle Nest from Furhaven is one of the best dog beds for Huskies in cold climates. It will provide warmth and comfort even during the coldest of months.
The nest has quite a unique design that features a blanket, tubing, and a cushion base. You can assemble these three parts to make a burrowing nest for your Husky's extra protection and warmth. This is the perfect setup for an independent pooch that likes to snuggle into its own space.
Furhaven Orthopedic Round Cuddle Nest has a sturdy base made from high-quality orthopedic foam, with contoured edges.
Senior Huskies and those suffering from joint ailments will greatly appreciate the extra pain relief. The bed is covered in sherpa fleece, which is a super warm material. The cover can be quickly removed and safely washed in the washing machine.
The main issue we have with this product is how easy it is to destroy. The soft sherpa fleece can be easily torn apart, so we wouldn't recommend buying this bed if you have a teething puppy or a destructive adult by your side.
With that said, if your Husky is well-behaved, we would recommend getting this cuddle nest from Furhaven if you live in an icy climate.
Big Barker Pillow
Key Benefits:
Clinically proven improvement in joints

Made from hypoallergenic materials

A 10-year no flatten guarantee

7 inches of orthopedic foam

Made in the USA to support small businesses
Cons:
High-end price tag

No water-resistant cover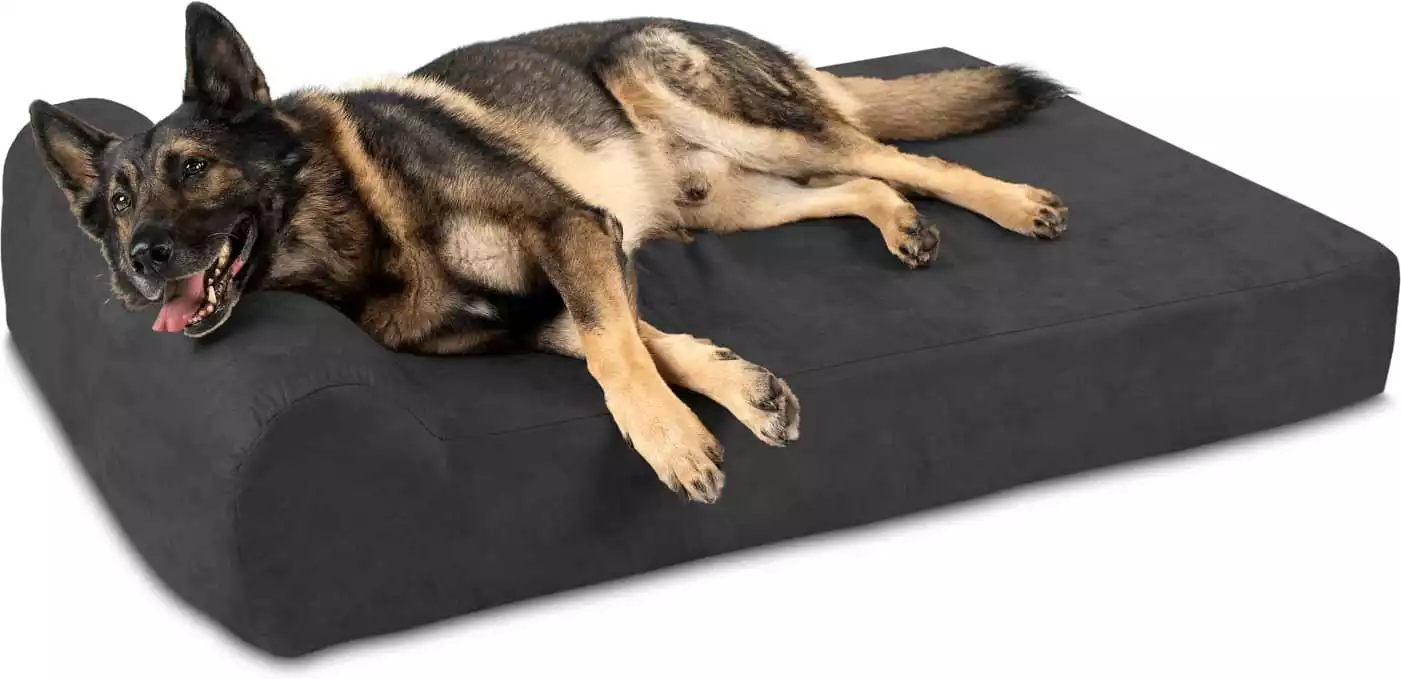 You should know that not all beds on our list provide equal orthopedic joint support. So, if your Siberian Husky struggles with hip, elbow, or any other joint pain, you need to provide it with a bed that has firm and long-lasting foam.
The Big Barker Pillow Top Dog Bed is an ideal solution for older dogs that need improvement in their sleep quality. The pillow is made in the United States, with seven inches of therapeutic memory foam. Note that most dog beds come in two- to four-inch thickness, so if other beds didn't do the trick for your pooch, this one might.
The materials used in this bed are of the highest quality, and they have a great impact on your pet's health. Both the cover and the foam are toxin-free and hypoallergenic as well! This means that if your Husky suffers from allergies, the Big Barker Pillow will not aggravate those symptoms.
During unique research of dog sleep, the University of Pennsylvania found that the Big Barker Pillow statistically improved joint function and pain reduction after over 28 days of use. Note that very few pet beds get scientific studies to confirm the effectiveness of their design, so even though it isn't cheap, this bed undoubtedly works.
Big Barker even offers a "10-year no flatten" promise on this product. The bed does come with some cons, but the strength and orthopedic support of the foam should not worry you at all.
The most obvious drawback of the Big Barker Pillow Top Dog Bed is the price tag. When it comes to the quality of this product, the value is certainly worth the cost. However, you should keep in mind that this is a pet bed on the higher end of the price range.
If your Husky suffers from joint issues and you have to frequently take it to a vet, you might save some money in the long run by getting this bed.
The second drawback of the Big Barker Pillow is the lack of a water-resistant cover. Many senior Huskies with joint problems also suffer from incontinence. Because of this, most owners would love a bed that has a waterproof seal or cover that protects the foam inside. But, this problem can easily be dealt with by getting a cheap waterproof cover/blanket to place over the bed.
With all things considered, this bed from Big Barker is perfect for Huskies with arthritis or any kind of joint issues. The seven inches of orthopedic foam offer the kind of support that is hard to match. We would recommend getting this bed as a long-term commitment to the health of your pooch.
Ultimate Orthopedic Dog Bed
Key Benefits:
Non-slip base for hardwood and tile floors

Removable bolsters to provide neck support

Orthopedic mattress made from sturdy materials provides excellent joint support

Three colors and four sizing options at your disposal

Three-year warranty included
Cons:
Not the most affordable option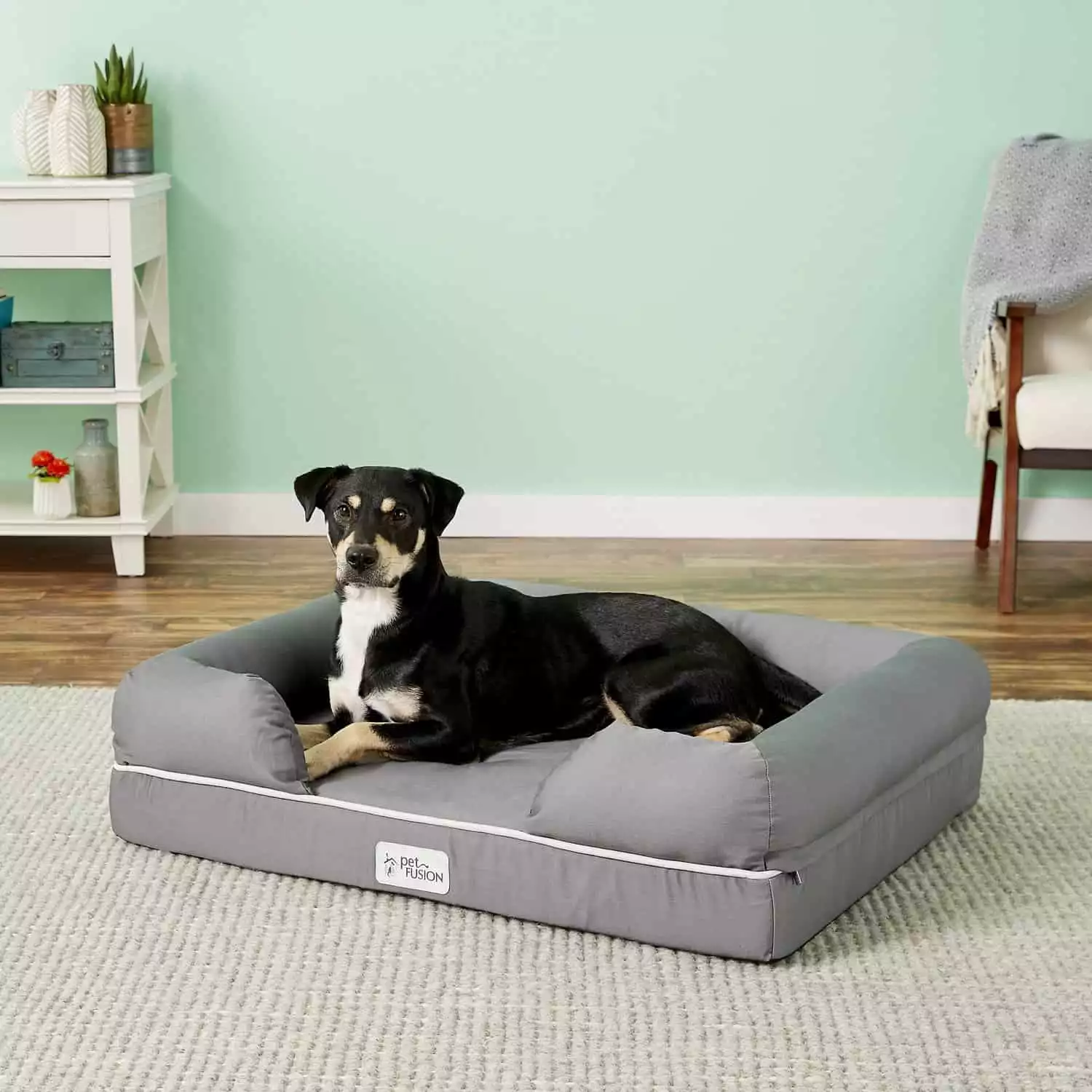 The Ultimate Orthopedic Dog Bed by PetFusion is made from the highest quality foam that provides firm, yet comfortable support for your Siberian Husky's joints after a long day of playing and exercise.
The thick bolster that lines the perimeter of the bed surrounding your sleeping pooch provides added neck support, and ensures your Husky won't roll off the bed. For easier cleaning, the bolster can be removed and washed separately.
This bed from PetFusion has a three-year warranty, but the manufacturers have done everything in their power to make sure you don't need to use it. The orthopedic mattress inside is protected by a water-resistant lining, and the outer cover is both tear-resistant and waterproof.
If you have any issue with this pet product after receiving it, don't worry! Many customers have reported that PetFusion's customer service is top notch!
The Ultimate Orthopedic Dog Bed comes in three different colors. We would recommend sticking to either the "Chocolate Brown" or the "Slate Grey" in order to hide shedding and muddy pawprints easier. Also, note that the "Jumbo" size is suitable for most Siberian Huskies for giving them enough space, but there are other sizes available to fit your needs!
Anti-slip Washable Dog Mattress
Key Benefits:
Multiple sizes and colors available

Very easy to machine wash

Can be used in crates, kennels, cars, over furniture, etc.

Anti-slip rubber bottom is excellent for hard floors
Cons:
The bed lacks thickness, which could be a problem for dogs suffering from joint issues

Can be easily destroyed by heavy chewers

All dogs are different, and not all Huskies want to sleep on a super padded bed, which is why we included the Anti-Slip Washable Dog Mattress, by Hero Dog, on our list.
Available in multiple sizes and colors, this flat mattress can be used in many different situations.
Is your Siberian Husky house and crate trained? Use this non-slip dog mattress to provide it with a comfortable sleeping place that can easily be cleaned in case of accidents.
Do you and your fluffy companion often go on trips together? This mattress will provide the perfect resting place in the trunk of your car! All you need to do is lay it out for your pooch to snuggle in and allow the mattress to collect the loose hairs that would otherwise stick to your car's upholstery.
Want to spend quality time with your Husky on the sofa but don't want the dog scratching the fabric? You can safely use this mattress to cover the sofa's cushions and keep them out of harm's way while allowing your fluffy pooch to snuggle up to you!
Is your Husky in its senior years and has trouble stepping up onto taller dog beds? No worries! This mattress provides a comfortable base that they can easily access without any help.
The list of uses for this product is only limited by your imagination, and we can't recommend buying this mattress enough! The mattress is completely machine washable and easy to keep fresh while the anti-slip rubber bottom prevents it from moving around on tile or hardwood floors.
Bully Beds Orthopedic Dog Bed
Key Benefits:
Hypoallergenic

Holds its shape and stability over time

Made to be medical-grade orthopedic

Has a waterproof liner
Cons:
The fabric covering is quite thin

The foam is thicker compared to other dog beds

Bully Beds are designed with large dog breeds in mind. So, if you have a Siberian Husky, the Orthopedic Memory Foam Dog Bed will be the perfect choice for it!
All Bully Beds are tested to have the right foam and thickness to support and relieve the pressure on a large-sized dog's joints. It has around 4.5 pounds of medically graded orthopedic memory foam, which helps dogs suffering from arthritis as well as aging canines.
Its cover is removable and machine washable. It is made from microfiber, and it comes with a non-slip base and a chew-resistant zipper. It is bound to improve your dog's health while giving you peace of mind.
We would like to highlight the waterproof liner with a twenty-year no-flat warranty on this product. Also, there are no harmful chemicals or heavy metals used in making it.
Buyer's Guide: How To Choose The Best Bed For Your Husky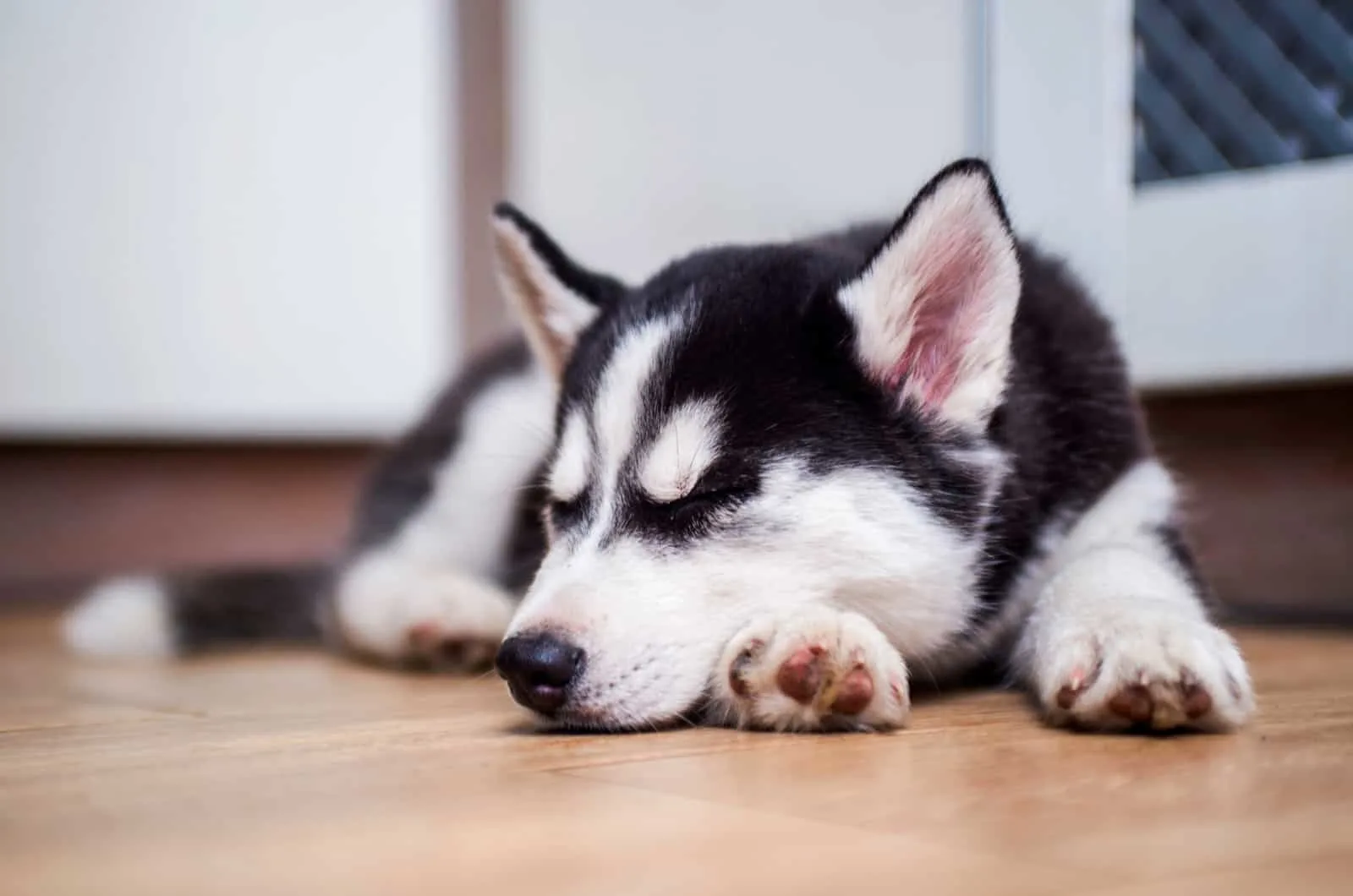 When choosing a bed for your pooch, there are several things to consider from size and cover to durability and the type of support it provides. To help you narrow down your search, here are a few things you should keep in mind.
What Size Bed Does A Husky Need?
A general rule of thumb is that a Husky needs a dog bed that can accommodate the diagonal length of its body. Depending on the size of your fluffy pooch, this can be a large or an extra-large dog bed.
Adult male Huskies usually weigh between 45 and 60 pounds while adult females are a little smaller, and weigh between 35 and 50 pounds.
When it comes to height, adult male Huskies reach a height of between 21 and 23.5 inches, while a female's maximum height ranges from 20 to 22 inches.
A puppy and an adult obviously need differently sized beds. However, it could be a good idea to buy a large size dog bed that will accommodate your pooch even when fully grown. By doing this, you can avoid the need to change beds as your dog gets bigger. Also, if you already own a dog crate or kennel, you should buy a bed that fits those dimensions.
What Makes The Best Dog Bed For A Husky?
Apart from picking out a bed that is large enough to accommodate your dog's body, there are some other factors you should take into account:
• Body support: Like most other large dog breeds, Huskies are prone to developing hip dysplasia at some point in their lives. HD is a genetic disorder that causes arthritis, and it can be extremely painful. Mattresses made of memory or orthopedic foam can give the proper support to your dog's joints and reduce any discomfort. If your pooch suffers from this condition, you should narrow your search down to the best dog beds for hip dysplasia.
• The right temperature: Siberian Huskies sport a thick double coat specifically designed for the Arctic climate. Unless you live in a similar climate, your pooch will be vulnerable to overheating. For this reason, you should choose a pet bed with cooling properties, such as cooling gel, to help with temperature regulation. Be on the lookout for cooling mats or cooling dog beds as that is how these options are advertised.
• Cushioning: Even though this breed is not known for heavy snoring, elevated cushions on a soft bed can provide neck and head support. They also function as a barrier that prevents your pooch from rolling out of the bed. A senior Husky will surely appreciate the support an elevated cushion provides, especially if it suffers from painful joints.
• Elevated dog bed: Huskies are medium-sized dogs, and they should be able to easily hop up on an elevated bed. A taller dog bed can also help keep dirt and dust away from your pooch while a fully elevated bed will help with temperature regulation and airflow. Some elevated dog beds come with a dedicated slot for dog food and water bowls, which can help your dog digest its food more easily.
• Chew-resistant material: As a highly energetic breed, Siberian Huskies are much more prone to destructive behaviors, such as chewing, than most other dog breeds. For Husky adults or puppies with strong chewing habits, a chew proof material is vital. Most elevated dog beds will give your pooch a hard time if it tries to chew it up; however, there are also orthopedic beds made out of durable materials as well.
• Hypoallergenic: Not every canine suffers from allergies, but some do. For those that struggle with allergies, you should provide a hypoallergenic bed to reduce the allergy symptoms at night. These types of beds are made with tightly packed fabrics that keep the dander and dust mites from pilling up. This greatly reduces irritation in pups that suffer from allergies.
A couple of other things you might want to consider but are not necessarily required are the following:
• Anti-slip bottom for slick floors
• Cooling layers or gels for warm climates
• Water-resistant covers for young puppies or senior dogs with incontinence concerns
• Cave top or large bolsters to ease anxiety
• Breathable fabric for better air circulation
• Indoor or outdoor use
What Should Be Avoided In A Husky Dog Bed?
Depending on where you live and the lifestyle and activities of your Siberian Husky, there are some types of pet beds you should steer away from:
• Excessively fluffy and hot materials: If you live in a colder climate, you can opt for a heated or lined pet bed to keep your pooch warm. On the other hand, if you live in a mild and warmer climate, you should steer clear of thick fabrics that might contribute to overheating.
• Easy to destroy: Huskies tend to become destructive, especially if they don't get enough physical and mental stimulation. If your pooch is famous for chewing furniture, shoes, socks, and almost any other thing in your home, you should aim to get a durable dog bed that is hard to tear apart.
• Hard to clean: Siberian Huskies are notorious shedders and the loose hair will quickly cover their bed. Because of this, you will need to clean the cover from time to time, so you should go for one with an easily removable cover. If you are unsure of whether or not your Husky puppy can be trusted with its own bed, a crate pad might be a good starting point.
Do Siberian Huskies Need A Bed?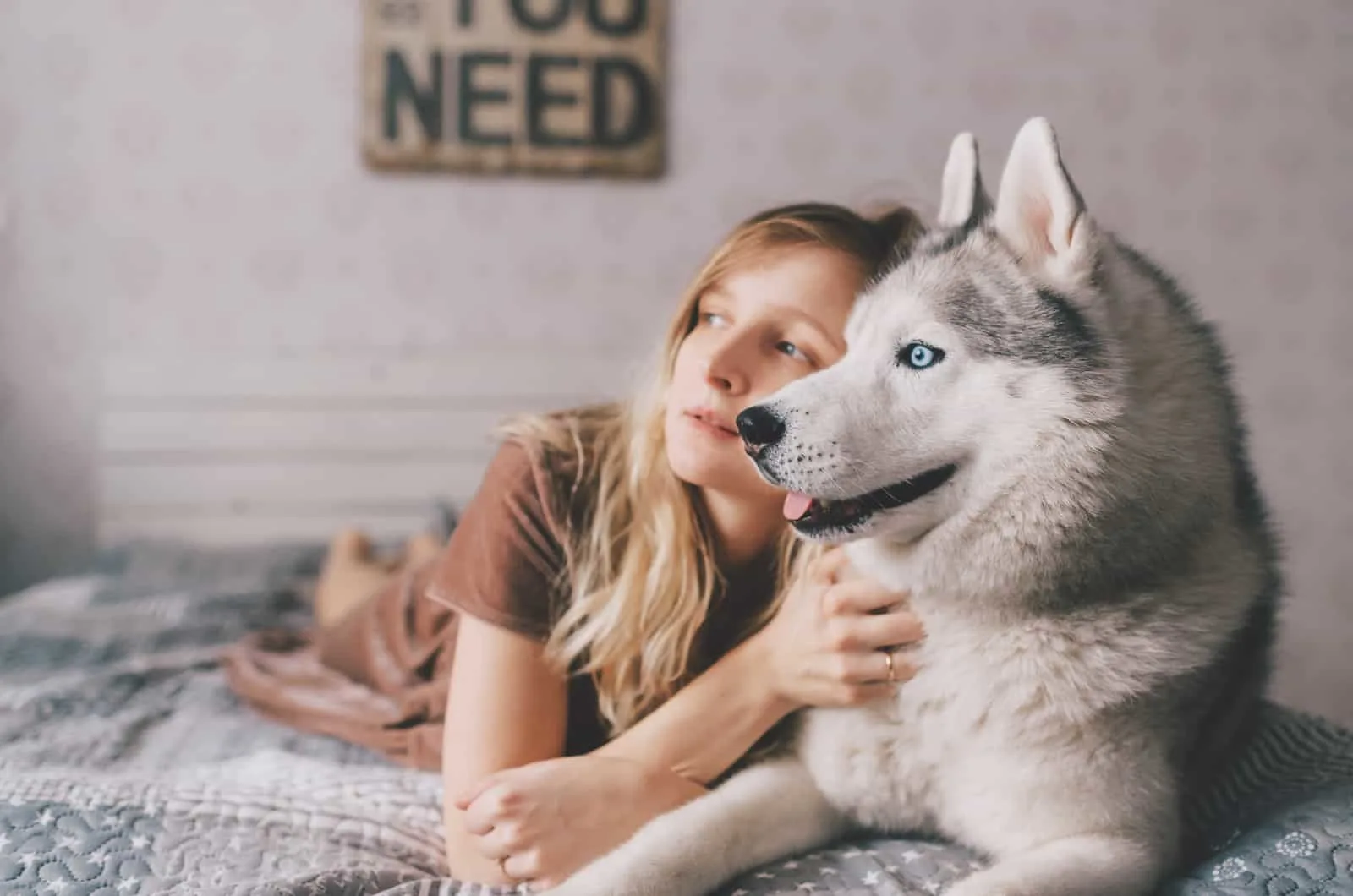 Even though your dog's sleeping position on the ground may convince you that the ground is all it needs, there are many benefits to getting your Husky its own bed. A high-quality pet bed will help both you and your pooch get better sleep.
This is especially true if you have an older Siberian Husky that needs a supportive bed to maintain your pet's alignment and relieve aching pressure points.
Many dog beds you can find on the market use orthopedic foam or memory foam that supports all parts of your Husky's body equally. This is crucial because big dogs, such as Huskies, have a higher chance of developing hip dysplasia.
Pet beds are also much easier to clean than regular beds. This can be a life saver if you have a high-shedding breed like a German Shepherd, a Labrador Retriever, or a Husky.
You can simply shake out the loose hair and remove the cover to wash it in the washing machine. Having a removable waterproof cover will be a true blessing if you have a puppy that isn't house-trained yet.
Apart from sleeping, a dog bed is also a safe place for relaxation. Canines can get stressed when there is a lot going on in the house, so a pet bed will provide a place for your Husky to escape.
Furthermore, Siberian Huskies are prone to separation anxiety, which can be decreased with their own cozy bed. In many cases, a pet bed leads to an overall healthier and happier doggo!
Lastly, if your Husky is resting and sleeping better throughout the night, the chances are that you are, too! Most dog owners know how tiresome it can be to be constantly woken up at night by a restless and uncomfortable pooch. Without your Husky turning and tossing, you will be able to get a good night's sleep, and that kind of rest is priceless!
Where Should Your Husky Sleep?
Throughout history, it was thought that dogs should sleep outside in a kennel. However, in recent years, it has been proven that letting your pooch sleep outside regardless of the weather and climate can be detrimental to its health.
Siberian Huskies have a low tolerance for being alone, and a high sensitivity level. These social canines have an undying need to be a part of their pack, which is you and your family.
This doesn't necessarily mean you should let your Husky sleep right next to your bed, or in the bed with you, for that matter. But, you should provide a space inside your house for it to rest. Other than your bedroom, a great place to put a dog bed might be the living room or the kitchen.
What Types Of Beds Are There?
There are numerous types and styles of dog beds on the market, but they can all fit into six different categories:
• Pillow bed
• Hammock
• Bolster-type
• Nest bed
• Cave-style
• Donut
All of them have their pros and cons, and your Husky might love all or none of them. To figure out which type best suits your dog, stick to our buyer's guide and you should have no problems!
Wrapping Up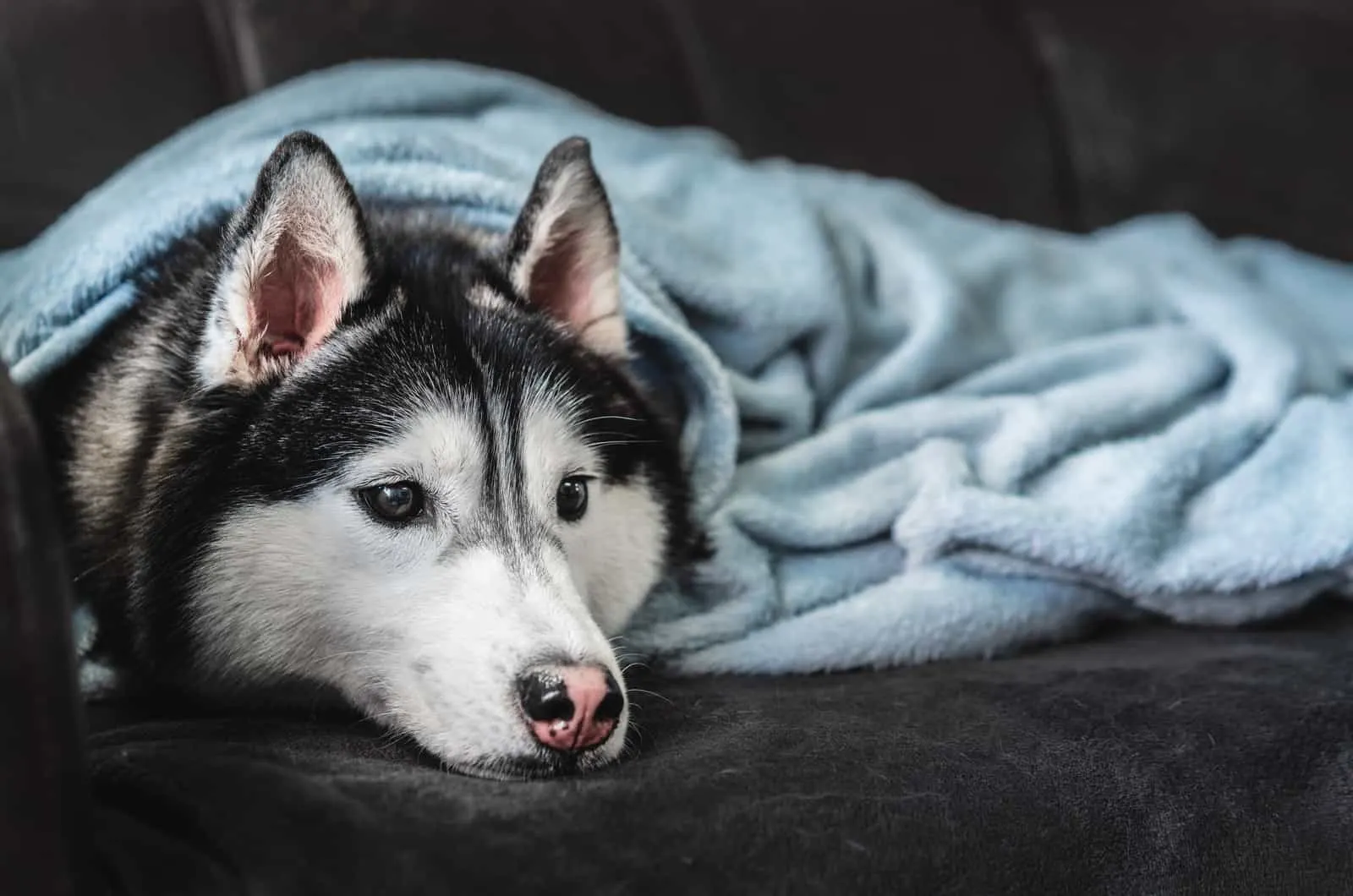 To conclude our best dog beds for Huskies guide, here is a quick recap of the products we mentioned above:
We think that the Furhaven Orthopedic Dog Sofa Bed is the best overall for this breed. It provides the necessary support without lacking comfort, at a budget-friendly price.
For hot climates, we would suggest getting the K&H Cooling Comfort Bed as it uses water to keep the top of the bed cool, and it is also quite hard to tear apart.
The Sealy Lux Quad Layer Orthopedic Dog Bed is a great premium choice for people who can afford it. It has a unique multilayer design that provides support and comfort, and it assists with your dog's body temperature regulation.
The Furhaven Deluxe Orthopedic Lounge Pet Bed is definitely our bargain choice on the list. It is incredibly comfortable and affordable, with a cozy L-shaped design.
The best pick for colder climates has to be the Furhaven Orthopedic Round Cuddle Nest. It provides a warm shelter for your Siberian Husky to burrow in and keep warm.
For the most practical one, we have to go with the Anti-Slip Washable Dog Mattress, by Hero Dog, as its uses are practically endless.