Disclosure: This post contains affiliate links, and I will be compensated if you make a purchase after clicking on my links.
If you are looking for detailed reviews of Bulldog dog beds that will help you decide which one to get for your pooch, look no further!
In this article, we offer you the most comprehensive guide to finding the best Bulldog beds and learning about the importance of choosing a bed that best suits your furry friend.
Dogs, just like humans, have different needs when it comes to a cozy and comfortable place to sleep. Apart from the size, which is the most obvious factor when choosing a dog bed, you should also consider your dog's personality, agility, weather, potential health issues, and other things.
To help you pick out the best bed for your canine companion, we've narrowed down the options and put them into different categories according to the most common needs of English Bulldogs. So, let's get into it!
Best English Bulldog Beds: Overview
Best Dog Bed For English Bulldogs
When it comes to buying a cozy and comfortable bed for your English Bully, you should really give Casper Plush Memory Foam Dog Bed a try!
It is designed by the same engineers behind all of Casper's sleep products, making it almost a human-grade mattress for dogs. It comes with a machine washable cover and hidden zippers so your pooch won't be able to destroy them.
This Casper bed is made with one of the strongest bonded microfibers. The microfibers used in making this mattress are similar to those used in performance footwear, so regardless of how rough your Bulldog likes to play, rest assured it won't be able to rip through the bed's cover.
The manufacturer created this awesome dog bed based on extensive dog-centered research to create a sleeping space that caters to a canine's natural behaviors.
You probably noticed how your pooch instinctively digs or scratches before laying down, or maybe you just haven't been paying attention. In any case, the designers know that this is true with most dogs, so they put extra material on top of the bed that mimics the sensation of pawing loose earth!
The engineers at Casper assure dog owners that the bed won't slump, sink, or sag over time. So, with all things considered, we think that this is one very comfortable bed your English Bulldog will love to snuggle up in and take its toys to enjoy them!
Best Dog Bed For English Bulldog Puppy
Are you on the lookout for the best bed for your English Bulldog puppy? Well, PetFusion Ultimate Orthopedic Memory Foam Dog Bed might just be your best bet!
The bed features a solid four-inch memory foam base and comes with supportive bolsters around the edges to give your Bulldog puppy a cozy and safe place to fall back into.
This PetFusion dog bed is simple to clean yet durable with an anti-tear outer cover that can be thrown in the washing machine or easily spot cleaned. It comes with a waterproof lining, so you don't have to worry about any potty accidents ruining the bed.
In addition, the soft and cozy microplush cover provides much-needed warmth and comfort for a young puppy. PetFusion uses high-quality materials, including Certi-PUR-US memory foam that contains no lead, mercury, phthalates, formaldehyde, or ozone depleters, making this product the safest, toxin-free environment for puppies to sleep in!
On top of that, the cover fabric is certified as completely safe for skin contact, which is great for protecting your English Bulldog puppy's delicate coat and soft skin. And, lastly, the bed comes in four sizes and three colors.
Best Raised Dog Bed For Bulldogs
Raised or elevated dog beds provide numerous advantages, including protection from the cold, hot, or dirty floor, and the Coolaroo Steel-Framed Elevated Dog Bed has to be our favorite pick for raised Bulldog beds!
Its off-the-ground design increases and promotes air circulation on all sides of the bed while your pooch sleeps safe and sound! This is a great solution if your Bulldog tends to overheat or you live in a super cool or warm climate.
The bed has the ability to elevate your Bulldog more than seven inches off the ground keeping it toasty or cool depending on the weather. In addition, the suspended platform provides extra comfort by creating low-impact areas for your dog's joints and pressure points.
The engineers at Coolaroo use 100% Greenguard certified phthalate-free and recyclable fabric for a healthier environment. The fabric is also mold, mildew, flea, and mite resistant for your Bulldog's optimal health.
So, if your Bully loves the outdoors, an elevated dog bed can be an excellent way to keep it raised off the mud, dirty ground, or wet grass. The bed is quite easy to clean and has almost unmatched durability thanks to its strong powder-coated steel frame.
Best Orthopedic Bulldog Bed For Dogs With Joint Pain
This Barkbox dog bed is designed with arthritis, joint issues, muscle stiffness, hip dysplasia, senior dogs, and mobility concerns in mind. Many dogs of the Bulldog breed face the same health concerns as people do as they grow older, especially when it comes to aching, arthritic bones.
Barkbox Memory Foam Orthopedic Joint Relief Dog Bed is an excellent option for Bullies that have one or more of the conditions we mentioned above.
The bed features three inches of high-density, high-quality gel memory foam to create the most advanced pressure point relief for aging dogs, especially those suffering from arthritis or other mobility issues and those recovering from surgery. Keep in mind that this bed will not flatten over time.
If your Bulldog is in its twilight years and has an occasional potty accident, don't worry, as this bed comes with two layers of protective covering. The inner layer protects the foam itself with a waterproof cover, while the outer layer, made out of faux suede, protects both! Note that both layers are easily removable for maintenance.
The bed comes in seven different colors and has great reviews. Most Bulldog owners report excellent durability as even the mightiest of chewers couldn't tear it down!
Best Dog Bed For Bulldogs With Anxiety
If your Bulldog is known to suffer from anxiety, the FurHaven Calming Cuddler Long Fur Donut Bolster Dog Bed might just help swing things around!
This dog bed features a nesting design that provides breathable warmth while creating a sense of security for better sleep. To put it simply, it promotes better health and overall behavior in your pooch.
The sunken interior area provides incredible comfort, nesting your Bully in cozy snuggles while providing a calm space that soothes anxiety and promotes a more restorative sleep for your English Bulldog.
This FurHaven calming donut bed has a luxuriously plush sleeping area with a thick vegan faux hair fabric, making it soft to the touch and great for snuggling. In addition, it comes with vegan wool that is soft on paws and snouts as well as a raised fluffy cushion for orthopedic support and comfort. Note that the bed is fully washable.
Best Dog Bed For Bulldogs With Allergies
Having an allergic doggy in your household can be quite tricky. Therefore, before deciding which bed to buy, you should determine the source of your Bulldog's allergies.
The key thing is to find a Bulldog bed made with a fabric that does not harbor allergens like mold, pollen, or dust mites that may have fallen off your dog's fur or paws.
Basically, there are two ways you can tackle this problem. You can either get a hypoallergenic bed or a hypoallergenic dog bed cover like Teton Dog's DIY Cover.
This amazing cover lets you fill it up with hypoallergenic, non-toxic fillings such as towels, pillows, clothing, or whatever suits your Bulldog best to end up with a bed as fluffy and full as your pooch likes.
The cover will protect whatever you decide to stuff it with, and it will never get smelly, dirty, or wet, entirely removing the need for washing!
You can even add it as a waterproof liner or a hypoallergenic cover on your current dog bed.
The cover is made with 100% waterproof NanoPore fabric, so rest assured it will act as an impenetrable barrier against dust, mites, fleas, and dirt!
Best Bulldog Bed For Bad Dog Odor
If your Bulldog's smell is, to put it mildly, slapping you on the nose, and the odor doesn't leave your dog's bed and your home, the Realtree Max-4 Water-Resistant Pillow Cat & Dog Bed might just be the best thing for you!
The foam core of this camo/khaki dog bed features fragrant cedar shavings for odor control, making it naturally resistant to mildew and odors to keep your furry friend and the rest of your family healthy.
This Realtree dog bed is odorous and can significantly reduce the dog odor in your household as well as your dog's body odor. The bed features a water-resistant, extremely durable cover and is filled with polyester fiber for supreme comfort!
Something you should know is that dogs with allergies don't go very well with cedar-filled beds. So, if your Bulldog has any allergies, you might want to stay away from this product; otherwise, it could be a great way to keep your immediate surroundings odor-free.
Best Bulldog Bed For Small Spaces
If you live in a small condo or apartment, there is a chance you are striving for uncluttered space in your home and would like to find a compact bed for your furry companion.
A corner tent bed like the Best Pet Supplies Linen Tent Covered Cat & Dog Bed is an excellent option to save space because it fits where most of your everyday furniture items don't.
This amazing corner bed is made with corduroy, faux suede, and a soft poly-foam liner that molds to your pet's favorite position every time, without fail, providing a strong but comfy bed. It is easy to disassemble and reassemble in case of traveling and comes with a cuddle-inducing pillow.
Best Bulldog Dog Bed Ramp
This isn't exactly a dog bed, but hear us out. As a Bulldog owner, you might have already deduced yourself that they are not the most agile creatures and can't jump on and off your bed or sofa like other breeds can.
So, a dog bed ramp like the PetSafe CozyUp Wooden Cat & Dog Ramp will make sure your Bulldog can safely get on and off the sofa or bed all by itself to make it easier on its bones and joints.
These PetSafe Bulldog stairs are quite sturdy and are independently tested to support pets up to 120 pounds. For additional safety of your Bulldog, the surface is made out of a ribbed heavy-duty carpet that prevents slipping and provides a sure footing.
Whether you like your Bulldog sleeping next to you in your bed or want to make it easier for him to access higher ground for cuddling time, this bed ramp for Bulldogs will help you and your pooch spend quality time together!
Best Bulldog Bed For Cold Climates
The Snoozer Pet Products Luxury Cozy Cave Orthopedic Cat & Dog Bed w/Removable Cover is the perfect bed for dogs living in colder climates.
This hooded bed from Snoozer has soft sherpa fabric that envelopes your pooch and keeps it warm during the cold winter months.
It can be filled with either poly or cedar mixture for extreme overstuffed coziness, depending on your choice, and the sherpa-covered hood tightly wraps your pup in comfort and warmth.
The bed also features an orthopedic foam insert that provides extra support. In addition, the sturdy stability of the orthopedic foam allows injured or senior dogs to climb in and out of the pet cave easily. This Snoozer cave bed is a perfect hiding place for dogs that love to dig and burrow under the blankets as the dense interior fabric will keep your Bully warm throughout the winter!
Best French Bulldog Dog Beds
The KOPEKS Orthopedic Pillow Dog Bed w/Removable Cover, apart from its medical purposes, can be the ideal place for your pooch to rest and relax!
It is specifically designed to help lessen your Frenchie's pain if they suffer from muscle and joint pains. The mattress is made from waterproof pure memory foam covered with an inner layer for extra protection.
It molds to your dog's body, giving it the highest possible level of comfort matched only by that offered by high-end mattresses.
The bed also comes with a suede exterior cover for skin comfort as well as anti-slip bottom and a chew-proof zipper for easy removal and maintenance.
Even though it will flatten over time, the mattress will remain in good condition for quite some time. And, with a color that complements most modern decors, the bed can easily be moved from one area to another.
The French Bulldog breed can be prone to developing separation anxiety, and an anxious puppy can be challenging to calm down.
If you are looking for a bed that will provide a good night's sleep for your pooch while also being able to calm it down when needed, then say hello to Best Friends by Sheri The Original Calming Shag Fur Donut Cuddler Cat & Dog Bed.
Not only is this bed among the most popular dog beds on the market, but it also received great reviews from dog owners.
The raised bolsters on the edges offer your pooch amazing comfort, while the covering made out of faux fur calms it down. Thanks to the overlocked-stitching, the zippered cover is super durable in addition to being washer and dryer safe.
Feeding your Bulldog a well-balanced diet is just as important as providing it with a comfortable bed. So, if you want to find out what is the best food for a French Bulldog, you can do that here.
The Importance Of Choosing The Right Bed For Bulldogs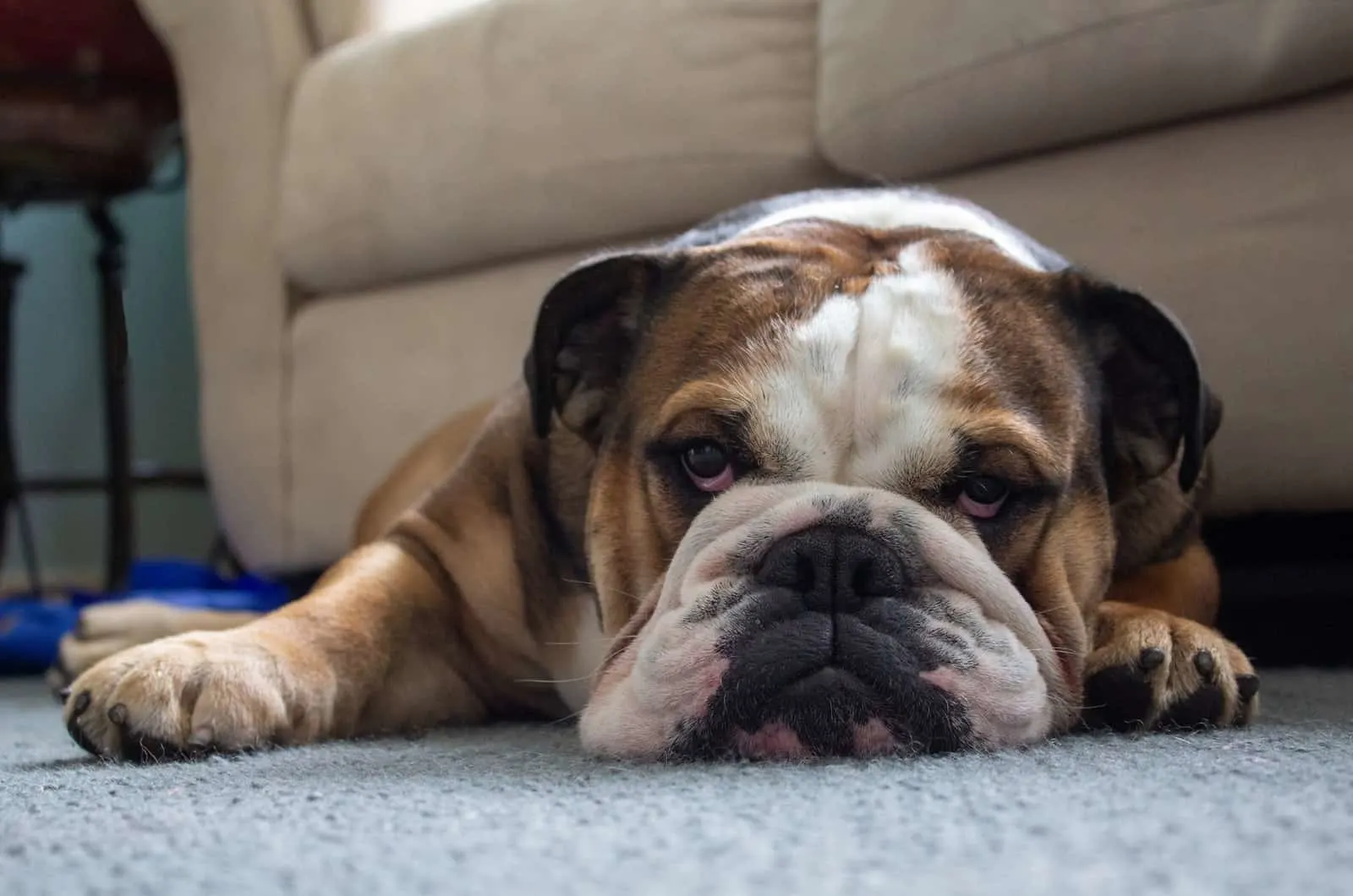 Even if your beloved pooch sleeps beside you in your bed or is allowed to try out different sleeping positions on the couch, it still needs its own bed.
The sleep cycles of dogs and humans are different, and sleeping together can affect the quality of sleep for both.
Picking the right bed for your furry best friend is crucial, especially if it suffers from arthritis, hip dysplasia, or other joint issues. Providing your pooch with a supportive, orthopedic bed will help it get a good night's sleep.
Most veterinarians agree that Bulldogs are prone to suffering from sleep apnea. This is a condition in which dogs temporarily stop breathing, which causes their bodies to wake them up to take a breath.
Sleep apnea is a common occurrence in short-nosed dog breeds like Bulldogs due to a health condition called brachycephalic airway syndrome, which makes breathing difficult.
If your Bulldog suffers from this ailment, you should consider getting a hypoallergenic, dust, and mite-resistant dog bed with no cedar, toxic, or allergenic filling. A bed with these qualities will ensure your pooch sleeps in an environment that will not worsen its breathing condition.
In addition, some foods can help you battle your dog's sensitivities and keep it full throughout the night. If you want to find out what dog food best fits your Bulldog, you can check out our best food for English Bulldogs guide!
If you have a Bully that snores loudly and frequently and takes long naps during the day, there is a good chance that sleep apnea is the cause.
Additionally, you should take into consideration your dog's physical condition and where you live. A Bulldog that lives in a warm place may not want to sleep in one of those cave or tent beds.
On the other hand, an older dog with arthritis or hip dysplasia would much rather appreciate a pillow on the ground than one of those elevated dog beds. Also, keep in mind that young puppies would greatly benefit from waterproof beds as they are prone to having potty accidents.
A good bed will help your dog sleep better. But, why is this important? Well, according to research from 2017, Scientific Reports journal found that good sleep helps a canine's memory, learning capacity, and brain development as well as its immune system. Moreover, sleep deprivation in people and animals can lead to infections.
Selecting The Right Bulldog Bed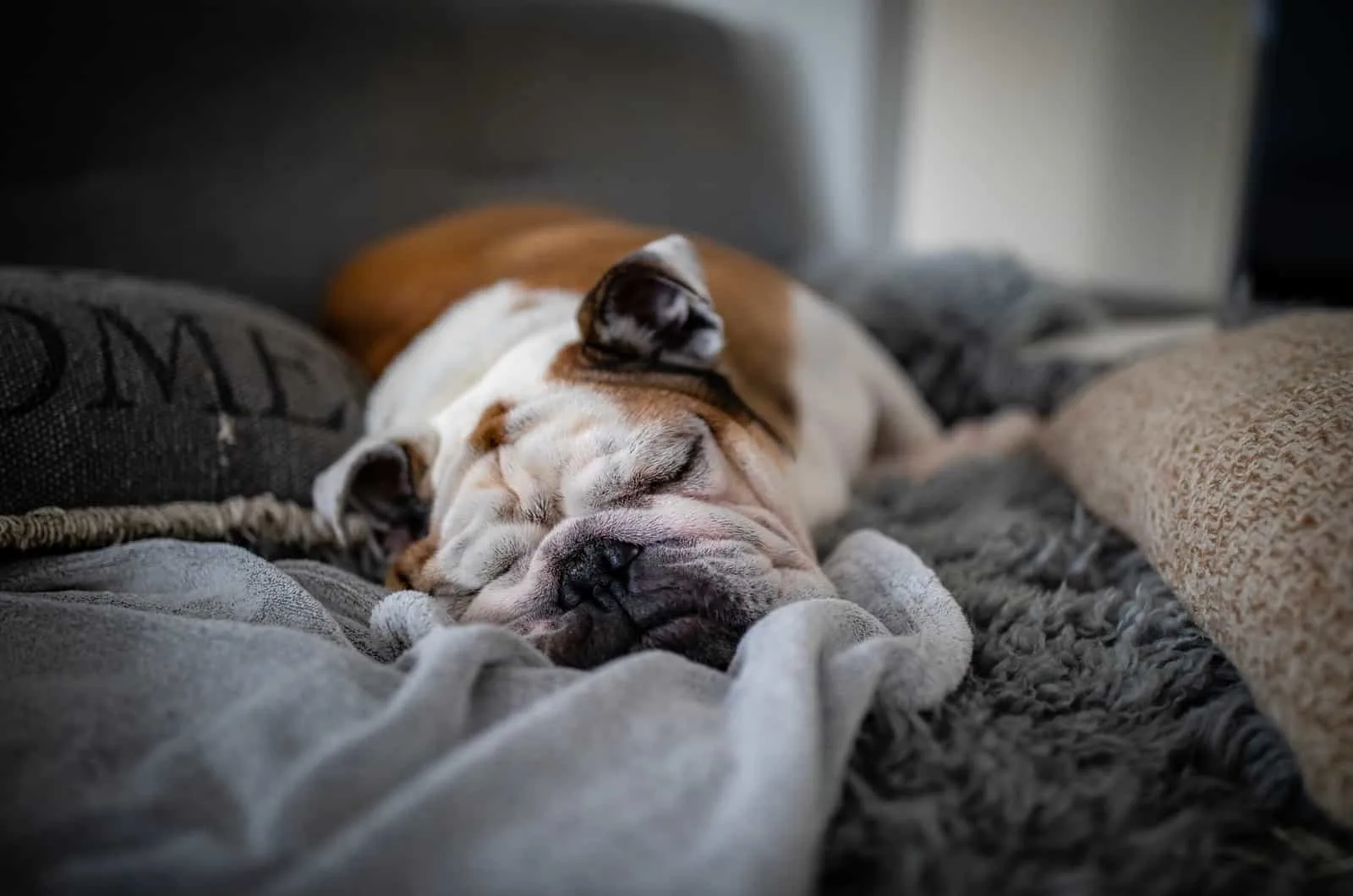 As a dog owner, you need to make sure your furry friend has a quiet and comfortable place where they can snooze without any disturbance.
To figure out what type of bed will best suit your pooch, try observing your Bulldog's sleeping positions. This will give you a hint on what type of bed your dog needs.
Here are some of the factors that can help you determine which of the available beds is right for your Bulldog:
• The Size
First and foremost is choosing an appropriately sized bed for your dog. The bed should be large enough for it to comfortably and naturally lie down. If possible, see to it that there is enough space for your dog to stretch out its legs. This shouldn't be a problem as most dog beds come in several different sizes, from small to extra large.
• The Type
If your Bulldog enjoys curling up, a round or oval-shaped bolster bed is ideal. If your dog loves to lie flat on its back or stomach, then mattress beds are the way to go. Try to give your pooch different options as each Bulldog will have its own preference. There are beds that regulate body temperature as well as elevated and covered-up beds. So, the best thing is to observe how your dog behaves while it's sleeping and start from there!
• The Material
The ideal Bulldog bed should be manufactured and padded using comfortable materials. But, easy cleaning should also be one of your main concerns. Purchase a bed that is made from more robust materials if you are planning on taking your pooch along on camping, garden explorations, or other adventures.
• The Area
It would be wise to put your dog's bed in an area free from draughts. Also, try to place the bed in such a way that your family's everyday activities don't disturb your dog's sleep. However, if your dog doesn't like being left alone or suffers from separation anxiety, make sure to keep the bed in a room where the whole family usually spends time together.
• The Luxury
There are dogs that have specific needs when it comes to sleep. It would be wise not to take this lightly to give back some of the love our furry companions unconditionally give us.
Dogs suffering from pain, joint problems, or other aches would greatly appreciate memory foam or an orthopedic dog bed as these types of beds allow them to easily get in and out.
A shy or anxious Bulldog will appreciate a somewhat closed bed, like an igloo, for comfort when things are too much for it to handle.
• The Elevated
While sending your dog outside for a night's sleep may not be a regular thing, an elevated bed can make it a bit less stressful when you are out camping with your family.
There are many types of raised dog beds made of canvas, making them resistant to destruction and abuse from Bulldogs.
Chewing through the fabric is borderline impossible since it is flat, and chewing through the frame would require teeth of steel. Most of your dog's urine will go right through the mat, while the rest of it can easily be sprayed off using a hose.
Moreover, Bulldogs and most other dog breeds usually scratch at their bedding first before laying down. This can leave marks on most beds but not on elevated ones.
Lastly, this breed does not cool down very well due to its short snout. However, elevated dog beds are raised off from the ground so that your pooch has better body temperature regulation due to increased airflow.
Frequently Asked Questions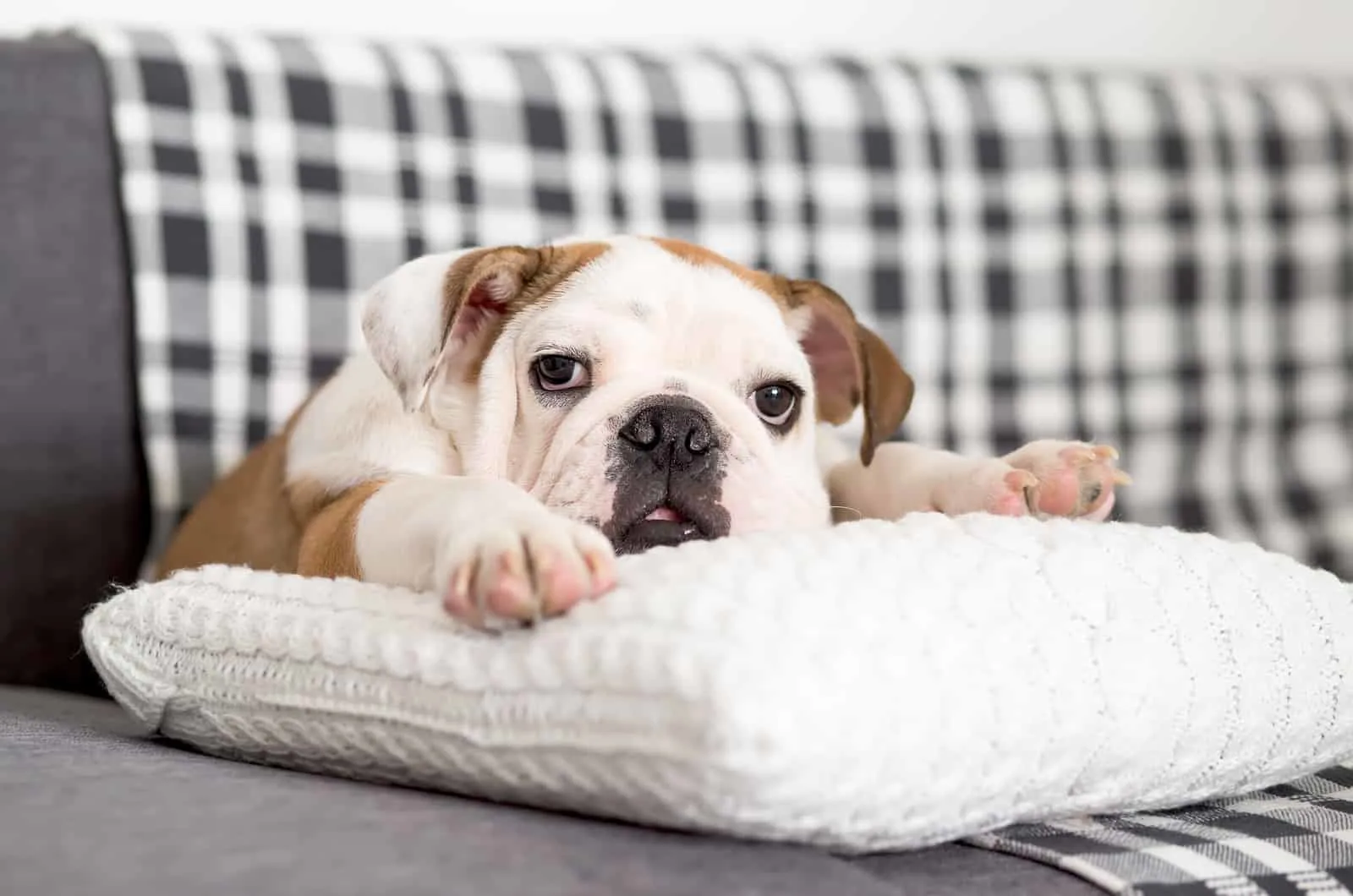 Which Are The Best Dog Beds For Bulldogs?
Whether a bed will suit your dog or not depends entirely on your Bulldog. For instance, your Bulldog's health, age, behavior, and sleeping patterns all make a difference when it comes to picking out the right bed type.
However, the best thing to do is to go for orthopedic dog beds with hypoallergenic removable covers to ensure your Bulldog stays away from skin problems and achy joints.
What Size Bed Does An English Bulldog Need?
Generally speaking, large or extra-large dog beds are your best bet when it comes to this breed. However, young puppies or dogs who like to cuddle may require smaller-sized beds.
Do Dogs Really Need Dog Beds?
Yes, our furry friends need at least one bed, if not two. If your canine companion doesn't have a bed of its own, it will end up sleeping on the floor.
This can cause issues, especially in dogs who are prone to orthopedic problems. Besides that, dog beds are a great way of keeping your pet ventilated in summer and warm in winter.
How Much Do English Bulldogs Sleep?
English Bulldogs, like their French cousins, are more sedentary than most other dog breeds. On average, English Bullies tend to sleep between twelve and fourteen hours every day!
If you have a middle-aged or senior dog, you may notice that it sleeps even more than this. Because of this, it is very important to provide your pup with a comfortable and supportive bed, or you risk it accumulating serious health problems in the long run.
Conclusion
So, which of the best Bulldog beds we listed above is your favorite? We are standing firmly with our decision that the Casper Plush Memory Foam Dog Bed is best overall!
This Casper bed is comfy, spacious, and makes the perfect snuggling place for your Bulldog!
However, this doesn't mean that other products on this list are not worth giving a try! They all have their merits and depending on your Bulldog's needs, you should aim to purchase the one that best suits him!