This post contains affiliate links, and I will be compensated if you make a purchase after clicking on my links.
Finding the best dog food for Rottweilers is likely the most important thing when it comes to taking care of Rotties.
The Rottweiler is a large dog breed with high energy levels. It makes one of the best guard dogs out there, but these big canines can also make amazing family pets with proper dog training and socialization.
Just like every other dog breed, these pups are prone to some health conditions, and one of the best things you can do to make sure they are healthy and happy is feed them with the best dog food for Rottweilers you can find.
But, how can you know what food is the best? And, how can you be certain you're giving your pooch proper nutrition?
Don't worry – we've got you covered!
To help you out, we've listed 19 products that could be considered as the best dog food for Rottweilers, and they are easily accessible, thanks to websites such as Chewy and Amazon. This includes not just food for adult dogs, but for Rottweiler puppies as well.
This is what we've found out:
Best Dog Food For Rottweilers
Among many other health issues, Rottweilers are prone to obesity. The best way to prevent obesity is to feed them with high-quality, healthy foods that will be good for them.
If you're unsure what brands of food to look at, here are some products you should definitely check out:
If you're looking for grain-free dog food for giant breed dogs with poultry allergies, this might be the best possible product for you. It lists salmon and ocean fish meal as the first two ingredients, and it's chicken-free.
This is a grain-free formula, but it does contain gluten, so be mindful of that. The high protein content will help your pup maintain a healthy weight while giving him enough healthy nutrients to stay active all day long.
The recipe is rich in amino acids, vitamins, and minerals that will keep your pup healthy and his coat shiny and luscious.
Just keep in mind that not all dogs love the taste of fish. If you have a picky eater, he might need some time to get adjusted to this specific food.
Royal Canin is a well-known dog food brand that produces some of the best foods for Rotties you can find. It uses chicken by-product meal as the main protein source, and it's also rich in chicken fat, brown rice, brewer rice, and corn.
The product also contains taurine, DHA, and EPA to help proper cardiac function. It's enriched with L-carnitine and just the right amount of protein that will keep your dog active and alert at all times.
This ingredient list will help your pooch maintain lean muscle mass, which is excellent news for both European and American standard Rotties as both can benefit from maintaining their classic, strong appearance.
The food is rich with ingredients and nutrients that will help bone development and keep the dogs from becoming obese.
Taste of the Wild is one of those brands that produces food according to the belief that dogs are carnivores. It consists of more than 30% protein, giving your dog plenty of energy to fulfill its needs.
This dog food contains various meat sources to ensure your pooch gets a diet that is as natural as possible. This includes buffalo meat, lamb meal, and chicken meal to create the optimal animal protein level. It also contains sweet potatoes and peas as a healthy source of carbs.
This food is great for dogs with sensitive stomachs as it doesn't contain any artificial grains, artificial flavors, or preservatives. It's made in the U.S.A. under the highest quality standards, so you can rest assured knowing that it's of top quality.
The recipe also contains plenty of essential vitamins that can help improve the health of adult Rottweilers. This is a scientifically advanced formula that is excellent for Rotties that need that additional source of protein.
This is a tasty dog food that is a great choice for all picky eaters while also fulfilling all nutritional needs for Rottweilers. Your doggies will love the taste of this healthy food!
It's rich in many high-quality ingredients, including beta-carotene, vitamin E, and L-carnitine. This will help burn fat and deplete the high energy levels these pups have, while also improving their immune system.
Not just that, but this dry food is also great for your dog's teeth. It uses the 3-D DentaDefense System that helps your dog's oral care and prevents tartar buildup. As more than 80% of adult dogs will have some form of gum disease, this is extremely helpful.
It lists chicken as the first ingredient, followed by chicken by-products, cornmeal, and whole grains. While all of these ingredients are healthy, this might not be the best choice for a dog with food allergies.
Wellness is another well-known brand that always produces the best quality of products. It's no surprise that it also has the best dog food for Rottweiler dogs, and it comes in their Wellness Core recipe.
This is a tasty and healthy formula that even the pickiest of eaters will love. It's also suitable for dogs with sensitive stomachs as it doesn't contain any grain or gluten.
The formula contains duck as the main protein source, but it's also rich in rabbit, lamb, turkey, and boar. This gives it a high number of protein sources, all of which can provide your pooch with enough energy for the entire day.
The kibble is fortified with probiotics, antioxidants, minerals, and vitamins, as well as omega fatty acids. This will ensure not just your dog's health, but also the quality of his coat and skin.
This Rottweiler dog food contains everything your dog needs. It's grain-free, which also means it's free of corn, soy, and wheat. This is great news for sensitive pets as it won't irritate their stomach.
It uses real, deboned salmon as the first ingredient, and it is also enriched with salmon oil to ensure high levels of healthy amino acids. This will help build lean muscle mass while also keeping his coat looking neat.
This food is rich in antioxidants, thanks to various nutritious veggies and fruits it contains. It also contains phytonutrients that are very beneficial when added to the regular Rottweiler's diet.
This food is good for your Rottie's overall body as it can help eye and brain development while also keeping his energy levels high.
The Blue Buffalo's famous Life Protection formula is designed to help dogs with high activity levels develop healthy bones and muscles. It is rich in glucosamine, which also improves the dog's heart health.
Not just that, but it contains antioxidant-rich ingredients as well as LifeSource Bits; a patented ingredient list that provides a blend of high-quality nutrients.
The main protein source for this food is protein-rich deboned chicken that many dogs will love. Everything is enriched with vitamins and minerals, so it will do wonders for your dog's health.
Blue Buffalo is known for using real meat ingredients, and this formula is no different. It also contains oatmeal, but it's free of corn and soy.
This is yet another grain-free recipe that will provide your Rottweiler with all the natural ingredients he needs for proper development.
This is a highly-digestible recipe that has great taste, aroma, and texture. If your doggie is a picky eater, don't worry – he'll surely love this pet food. The only problem that could occur is if he has allergies to some meat as this formula contains several high-quality protein sources. This includes deboned beef, lamb meal, and salmon meal.
Some other healthy ingredients that this dog food has includes sunflower oil, blueberries, apples, taurine, and vitamin B12 supplement. As you can see, it's rich in antioxidants and various other healthy ingredients.
The formula is free of any gluten, unnatural flavors, artificial ingredients, and preservatives. It's one of the best large breed dog foods you can find.
This food is entirely made for large dogs, and we're not just talking about ingredients. It comes in the form of large kibbles, so your pooch will love munching on it! This will also keep his teeth in good condition.
The two primary ingredients are real chicken meal and oatmeal, so the formula will keep your pooch healthy and happy. It has just the right protein content to keep your pup satisfied and filled with energy.
The formula comes with a unique Digestive Health Support System that will help your pooch's sensitive stomach. This is enforced with probiotics, active digestive enzymes, and healthy fiber.
This food is made in the U.S.A., so you can be certain it's of the best quality possible.
While this isn't as famous of a brand as some others on the list, this is still one of the best dog foods for Rottweilers you can find. In fact, it is a great diet option for dogs that have to get to a healthy weight as it's low in calories and has a low-fat content.
The multi-protein formula is mostly based on salmon and turkey meal, but it is enriched with various other ingredients such as peas, chickpeas, and flaxseed. This ensures your pooch gets everything he needs to have enough energy without the added calories.
At the same time, this recipe is rich in essential minerals, vitamins, and antioxidants. Despite all this, it's a limited-ingredient formula, so it'll go easy on your pooch's digestive system and it won't cause him any problems.
Overall, this is an all-rounder recipe that can provide balanced nutrition to your pooch.
If you've wanted to feed your dog raw food, but don't yet have the courage to fully switch to a raw diet, this dry kibble might be a good way to start.
It consists of a combination of dry food and freeze-dried raw ingredients, making it the perfect mix for these giant dogs that have a wild spirit. This is a great way to be inventive, yet not to stray too far from the regular food you've been feeding your pooch.
The primary ingredient is cage-free real chicken, so your dog will have many health benefits from these high-quality nutrients. Not just that, but the food is rich in probiotics, so it can help your dog's digestion.
This food is made in the U.S.A., so high quality is guaranteed. You'll know exactly what your dog's eating and how healthy it is.
With real chicken as the main ingredient, this is an excellent protein-rich food for active dogs such as Rottweilers. In fact, if you're looking at the superfood content, this might be the best dog food for Rottweilers on our list.
Next to chicken, it contains several other wholesome ingredients, including lamb meal, salmon meal, whole grain sorghum, and several other whole grain ingredients. Unfortunately, this also means that this dog food isn't suitable for dogs with sensitive stomachs.
All ingredients are sourced from reputable farmers and tested rigorously to ensure they are non-GMO, safe, and healthy. This way, you can know your pooch will get the best of the best ingredients.
This dog food doesn't contain any artificial preservatives or any other artificial ingredient. It also uses meat protein only, which means there is no soy or other fillers.
This might be the best dog food for Rottweilers with sensitive stomachs as it contains a single source of protein, which is wild herring. This limited-ingredient formula is an amazing choice for when you have certain foods you avoid as you can know precisely what's in it.
It's easily digestible, thanks to this simple formula, so even older dogs might be able to consume it. Of course, it's important to ask your vet whether this is a good decision for your specific dog.
The food is rich in omega-3 and 6 fatty acids, which will do wonders for your pup's coat, skin, heart, eyes, and brain.
If you have any suspicions about the quality, you should know that this food is made in Canada, which means it underwent rigorous quality controls.
This is a nutritious and delicious dog food that is perfectly suited for Rottweilers. It is rich in protein, which is an excellent choice for these energetic dogs, especially if you have them guarding your home.
This food is a great alternative to raw food as it mostly contains meat ingredients. However, it also contains some fruits and veggies such as cranberries, blueberries, parsley, and carrots. All of these will help your dog's immune system fight diseases.
It uses four different probiotic strains to further aid digestion, making it a healthy choice for your pup's digestive system.
The recipe is also made without grains, so it's good even for pups that are a bit more sensitive.
Fromm is known to make dog foods for all canines, and this includes some options for Rotties and other large breeds as well.
This dry dog food contains duck meal and chicken meal as the main sources of protein, as well as oatmeal and brown rice for its carbohydrate content. This makes it an excellent choice for giant dogs – in fact, it's advertised for dogs weighing 50 lbs. or more.
All ingredients that Fromm uses have been thoroughly inspected by the USDA, so you can rest assured that they are as safe as possible. This way, you'll know your pooch is eating only the best ingredients possible.
Not just that, but the formula contains a high ratio of omega-3 and omega-6 fatty acids. This will help your dog's coat and keep inflammation away.
This is a family-owned brand that is quickly gaining reputation due to the high-quality product it makes. This specific dog food is the perfect combination of top-notch ingredients and palatability, while also remaining fairly affordable for most dog owners.
The main ingredient is farm-raised lamb, making it a quality protein source. This will give your dog enough energy to go with its daily tasks. Also, as it's rich in prebiotics, it will ensure easy digestion.
This dog food is also rich in superfoods such as chia seed, blueberries, pumpkin, and kale. These will provide your pup with essential micronutrients, while also maintaining the balance inside your dog's body.
Since it's rich in fatty acids, it will also make sure your dog's coat is as healthy as possible. As everything is made in the U.S.A., you can be certain your dog is getting only the best of the best.
Best Dog Food For Rottweiler Puppy
Rottweiler puppies cannot eat most foods made for adult dogs. They have different nutritional needs as they are still developing.
Not just that, but their tummies are sensitive and not yet used to many ingredients. Some young puppies won't even be able to eat dry dog food for a while!
Here is the best dog food for a Rottweiler puppy:
This is likely the best dog food for a Rottweiler puppy that you can find. It's designed for purebred Rotties, with the large breed puppy's specific nutritional needs in mind. More precisely, it's made for dogs under 18 months old.
This food provides your puppy with a balanced diet that can help the healthy development of bones, muscles, and the immune system. It provides 100% of the nutrients a puppy needs.
The kibble is also designed to be just the right size and consistency for this large breed dog. In fact, Royal Canin claims to have hired a team of experts who have determined just the right kibble size for the dog's broad jaw.
The main protein source is chicken by-product meal, followed by brewers rice, wheat, brown rice, and chicken fat. This gives it just the right amount of protein to fat to carbohydrate ratio.
This is an amazing puppy formula suitable for pups that haven't yet weaned off of wet dog food. This is a canned food with a pate texture that your Rottweiler pups will love eating!
The formula contains high levels of DHA, thanks to the salmon oil inside of it. This is essential for the cognitive development of your puppy. With this food, he will grow up to be strong and intelligent as this breed is supposed to be.
At the same time, the recipe doesn't contain any grain or gluten, making it an excellent choice for a puppy's sensitive tummy.
You can even use this food as a dry food topper for puppies that are in the transition process. This way, you can help them start eating dry dog food much faster.
Blue Buffalo Life Protection formula is already well-known among dog lovers, and this is its adapted version designed for the little ones. It contains all the necessary ingredients for a proper puppy diet.
This is a great dog food that can be used from the moment your puppy starts eating dry food until adulthood.
One of the ways this is possible is thanks to its nearly-perfect phosphorus and calcium ratio, joined with high-quality deboned chicken as a protein source.
This food doesn't contain any meat by-products or artificial ingredients, and there are no fillers. However, it does contain whole grains such as oatmeal, barley, and brown rice, so keep this in mind.
Some other useful ingredients are fish oil and linoleic acids that serve as a source of healthy amino acids.
Rottweiler Nutritional Needs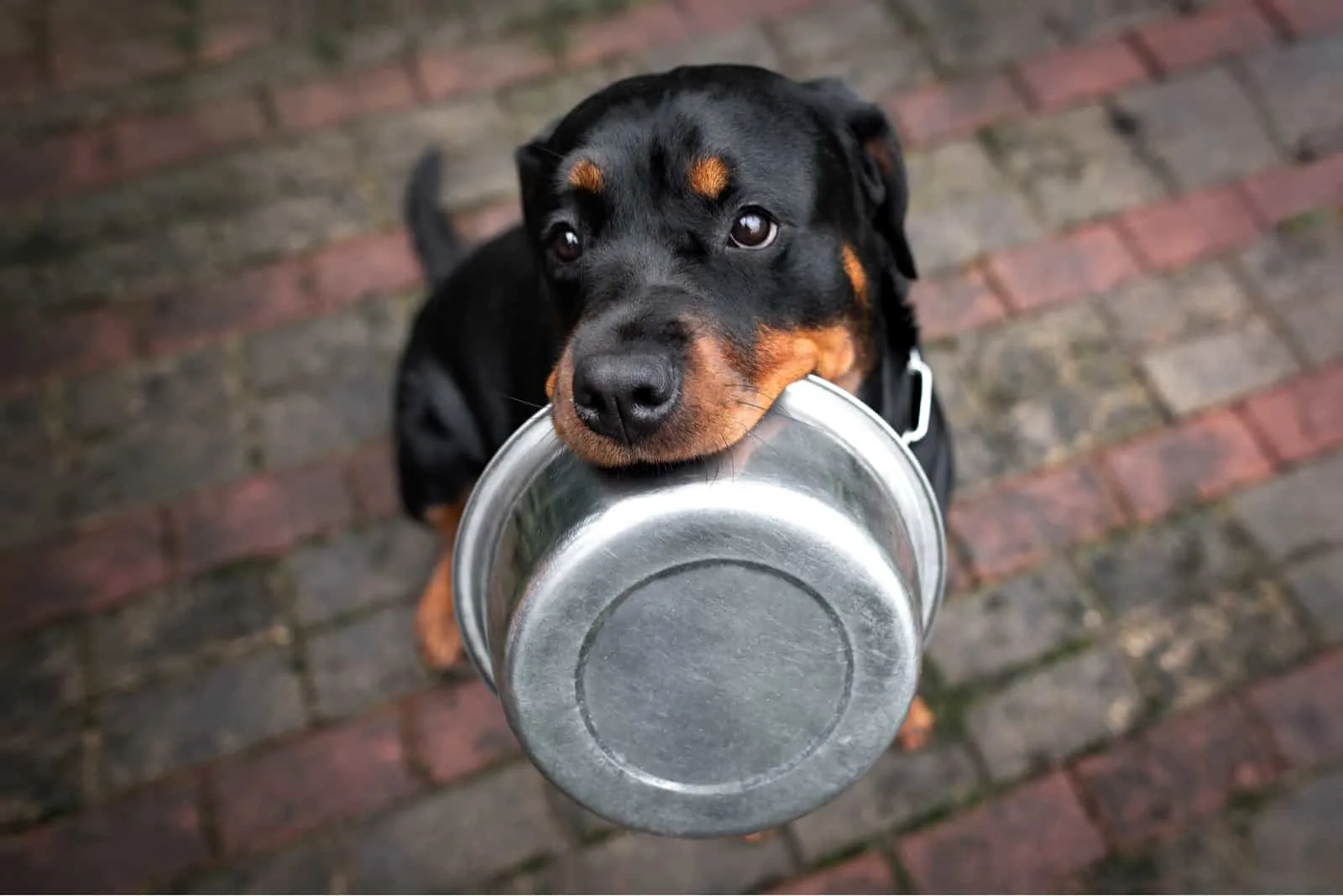 As mentioned before, Rottweilers are a large breed of dogs and, as such, they require lots of top-quality foods. However, this means little if you're not certain about your dog's nutritional needs.
In fact, no matter the dog breed, nutrition should be the most important thing to look at when choosing the right dog food for your pooch.
Dogs don't eat the same things as humans. Their nutritional needs are different from ours. For example, their main energy source comes from protein and not carbs, which is something many dog owners seem to forget about.
Here is a quick overview of what your dog needs in his food:
Protein
Protein is the main ingredient you should look at when checking out whether the dog food you've chosen has the right nutrition for your pup.
While dogs are omnivores, meat is still the main ingredient in their diet. As such, the best dog food for Rottweilers should have at least 22% of protein.
Fatty Acids
Dogs need amino acids – most importantly, omega-3 and omega-6 fatty acids – to ensure their coats and skin are healthy. These are nutrients that give Rottweilers a gorgeous shine that will make them stand out from the rest.
Fatty acids are also essential in order to prevent cardiac issues. They can help dogs have a healthy heart and lower the chances of conditions such as cardiomyopathy.
The best source of fatty acids is fish oil, but you can find it in coconut oil and other similar ingredients.
Carbohydrates
Dogs don't really need carbs in their diet; at least not in the same amount as humans. Their main energy source is protein, and carbs will usually just make dogs gain weight.
Not just that, but many carb sources are grains that can harm a dog's sensitive stomach.
Good sources of carbohydrates in dog food are brown rice and sweet potatoes. Avoid ingredients such as white rice.
Fiber
Fiber aids digestion and makes sure the dog's bowels work smoothly. However, too much fiber can cause diarrhea, which is why you shouldn't go overboard.
The right amount of fiber that dog food should have is anywhere between 3% and 5%. This is the optimal amount in order to promote regular bowel movements while also keeping their energy levels up.
Vitamins And Minerals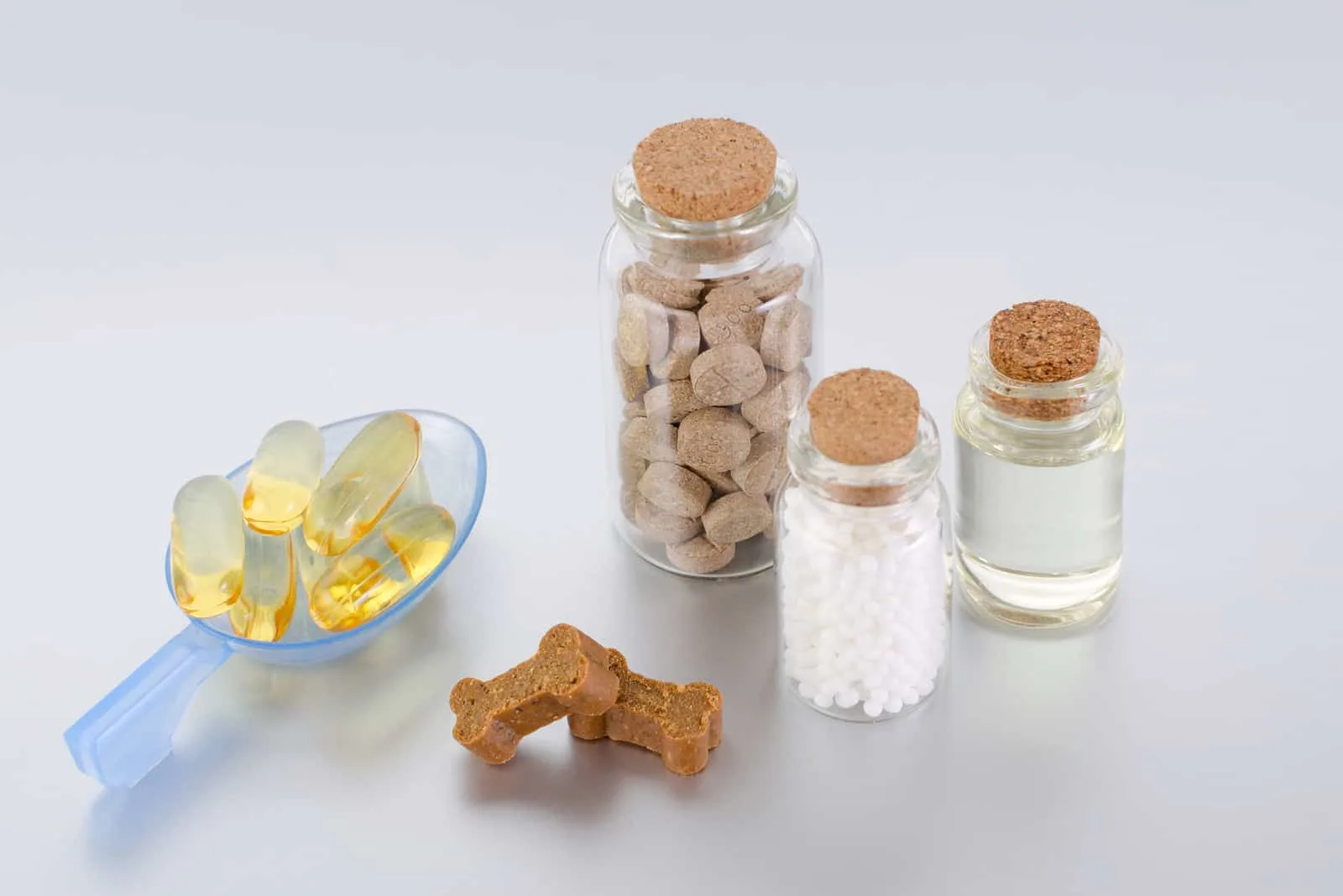 Vitamins and minerals are essential for the dog's immune system. They will keep your pooch healthy and reduce the chances of many health conditions.
Some of the good minerals include:
• Calcium
• Phosphorous
• Magnesium
• Potassium
• Chloride
• Sodium
• Zinc
• Sulfur
• Iodine
As for vitamins, some of the most important ones are:
• Vitamin A
• Vitamin C
• Vitamin D
• Vitamin E
• Vitamin K
• Vitamin B
There are two other important supplements that a dog food should have, and these are chondroitin and glucosamine. These two, especially combined, will keep cartilage healthy, which will reduce the chances of orthopedic issues, such as hip and elbow dysplasia.
Fillers
Finally, you may have also heard of fillers. Unlike other nutrients we've listed, fillers should be avoided at all costs. This includes ingredients such as soy, corn, and wheat.
Fillers don't add any nutritional value to the dog food, and they are not good for your dog's diet. Quite the opposite – most of them are very harmful and could cause your dog to gain weight.
Some fillers might even cause an allergic reaction, and this isn't something you'd want!
How Do You Choose The Best Dog Food For Rottweilers?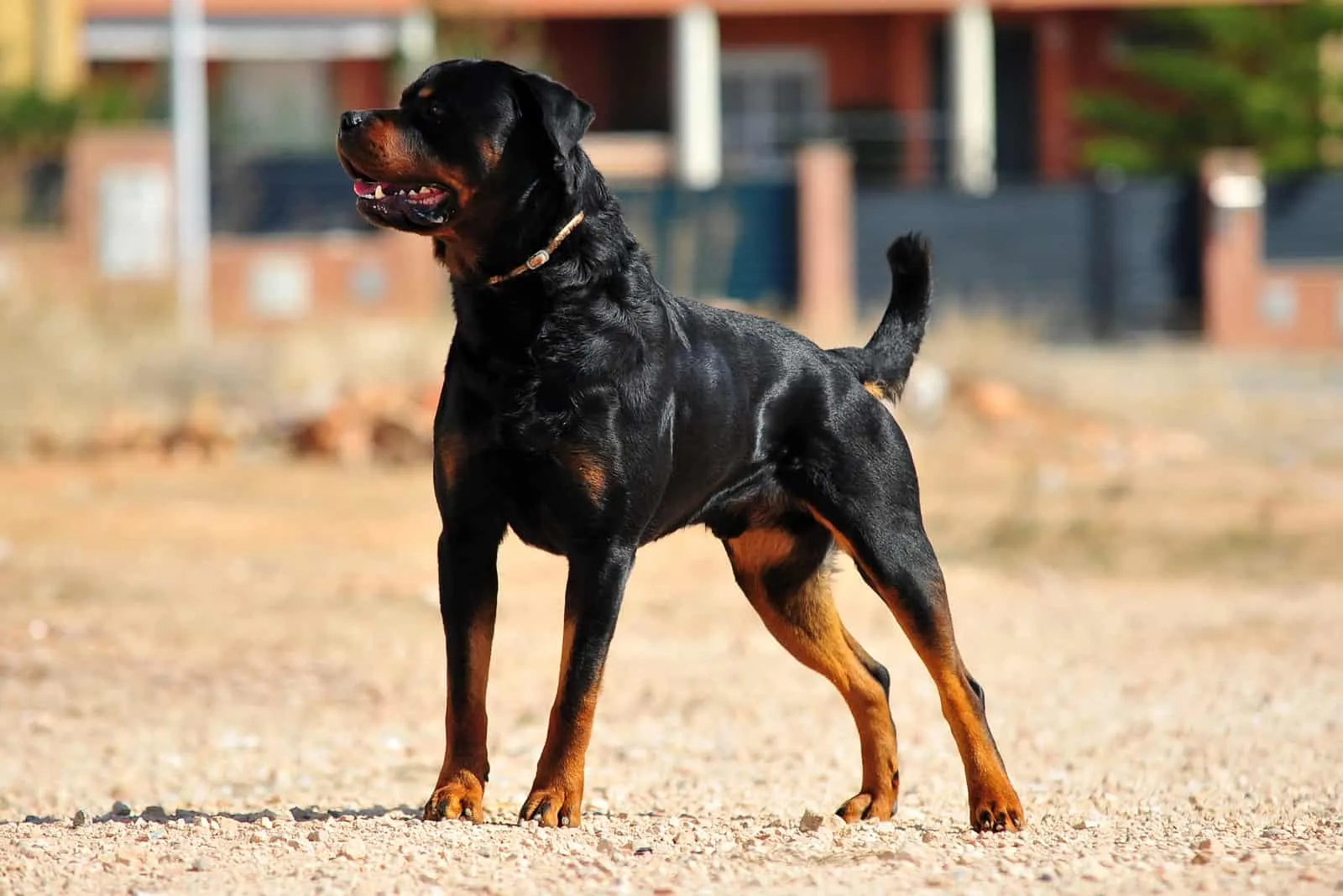 Once you've understood your dog's nutritional needs, chances are you think you know all there is to know about picking the best dog food for Rottweilers. However, things are not that simple.
Just because you know what a dog should and shouldn't eat nutrition-wise doesn't mean you know the exact ingredients that are good and that are bad.
Here are some features that the best dog food for Rottweilers should have:
It Shouldn't Contain Meat Byproducts Or Unidentified Meat Meals
While protein is the most important nutrient for dogs, it's important to know where this protein comes from. Many low-quality dog foods (but also, some rather expensive brands!) will use meat meals or animal byproducts.
Essentially, there is nothing wrong with using meat byproducts or meat meals – other than the fact that they don't look that appealing. Your pooch will likely love them, and they can fulfill your dog's nutritional needs.
The problem is when some brands don't specify what animal species are used for their meat meals. Not all animals are considered desirable, and not all meats are equally nutritional. As such, if the food simply uses the label 'meat meal', avoid it. Instead, look for foods that use labels such as 'chicken meal', 'pork meal', and 'turkey meal'.
Similarly, not all parts of an animal are considered nutritious or healthy. As such, it's always better to avoid byproducts of any animal. However, if you have to choose, always stick with labels such as 'chicken byproducts' or 'turkey byproducts' instead of unidentified labels.
It Features Whole Protein As The First Ingredient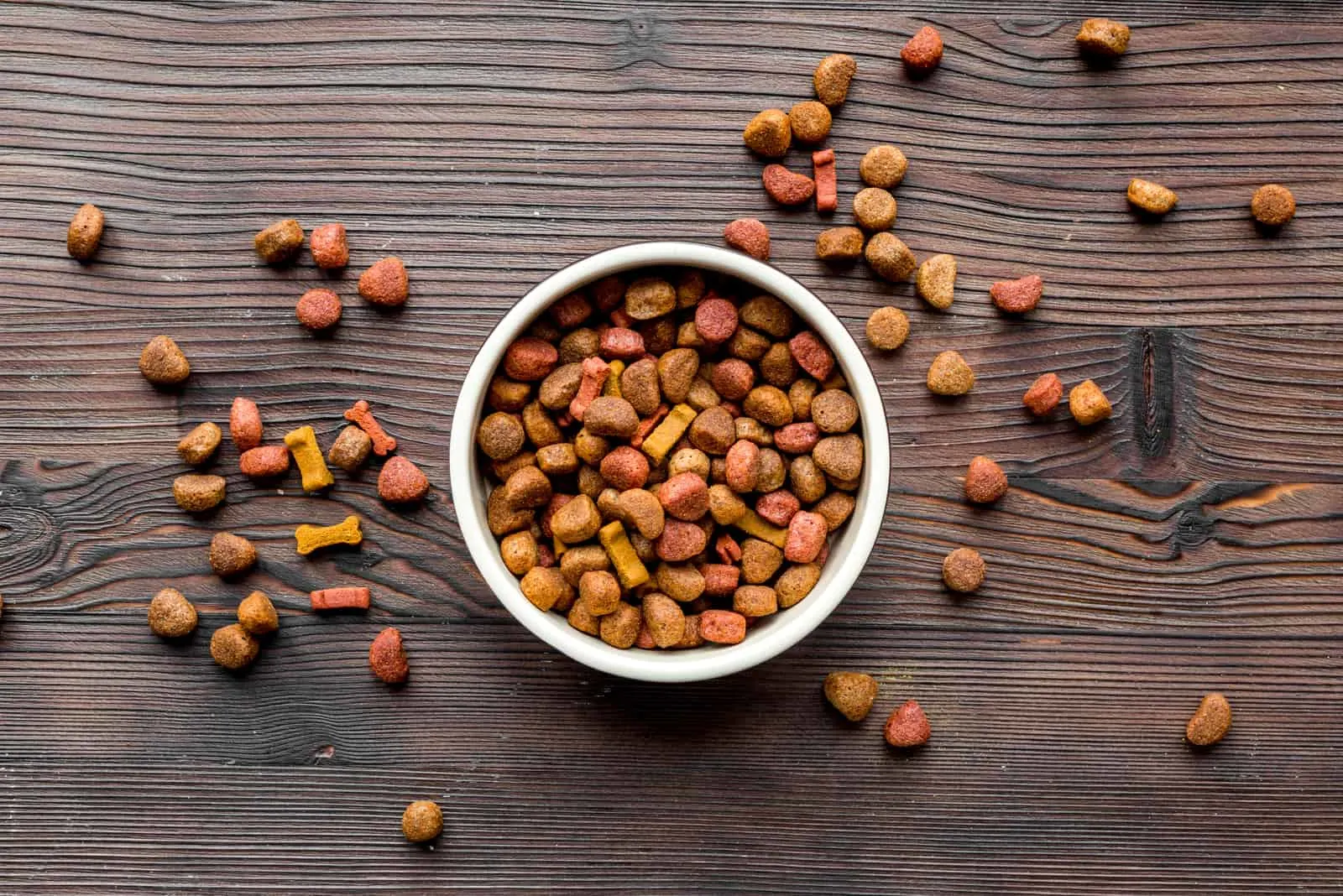 We've already mentioned that dogs are omnivores, not carnivores. However, meat and protein should still be the main ingredient in their food – especially when you're dealing with strong dogs such as Rottweilers.
The first ingredient on the ingredient list is the ingredient that is used the most in the creation of that dog food. As such, you should always look for foods that have whole protein at the top of the ingredient list.
One thing that many dog owners have heard is that whole proteins as well as some other ingredients, such as fresh foods, contain lots of water. This can cause some concerns as they'll believe this means they aren't as nutritious.
Not just that, but they think that this means that the true percentage of whole protein used is lower than indicated, as if you dry the food out, all the water evaporates, and carbs such as rice and potatoes, would truly be on top of the list.
This is one of the reasons why some Rottweiler owners prefer giving their dogs food that lists meat meal before whole meat.
To make it clearer as to whether the amount of meat is proper, you need to look at the protein percentage as it is a good indicator of whether there truly is enough meat in the dog food you're looking at.
If the protein percentage is suitable and whole meat is listed as the first ingredient, this is a great sign. In fact, this might be the biggest sign that the food you're looking at is of high quality.
It Doesn't Contain Artificial Ingredients
You should always aim for dog food that is made out of premium ingredients. This means that it doesn't contain any artificial ingredients such as color, flavors, or preservatives.
Artificial flavors make the food tastier; however, if the food is made out of quality ingredients, there is no need to use any artificial flavor. This is because the food is tasty enough without any additives.
Artificial colors are used for humans only, and canines don't really care for them – but they can be very harmful to dogs. Preservatives, on the other hand, make the food last longer.
All of these ingredients don't have any nutritional value, can cause allergies, and might even increase the risk of some health conditions.
It Has Plenty Of Antioxidants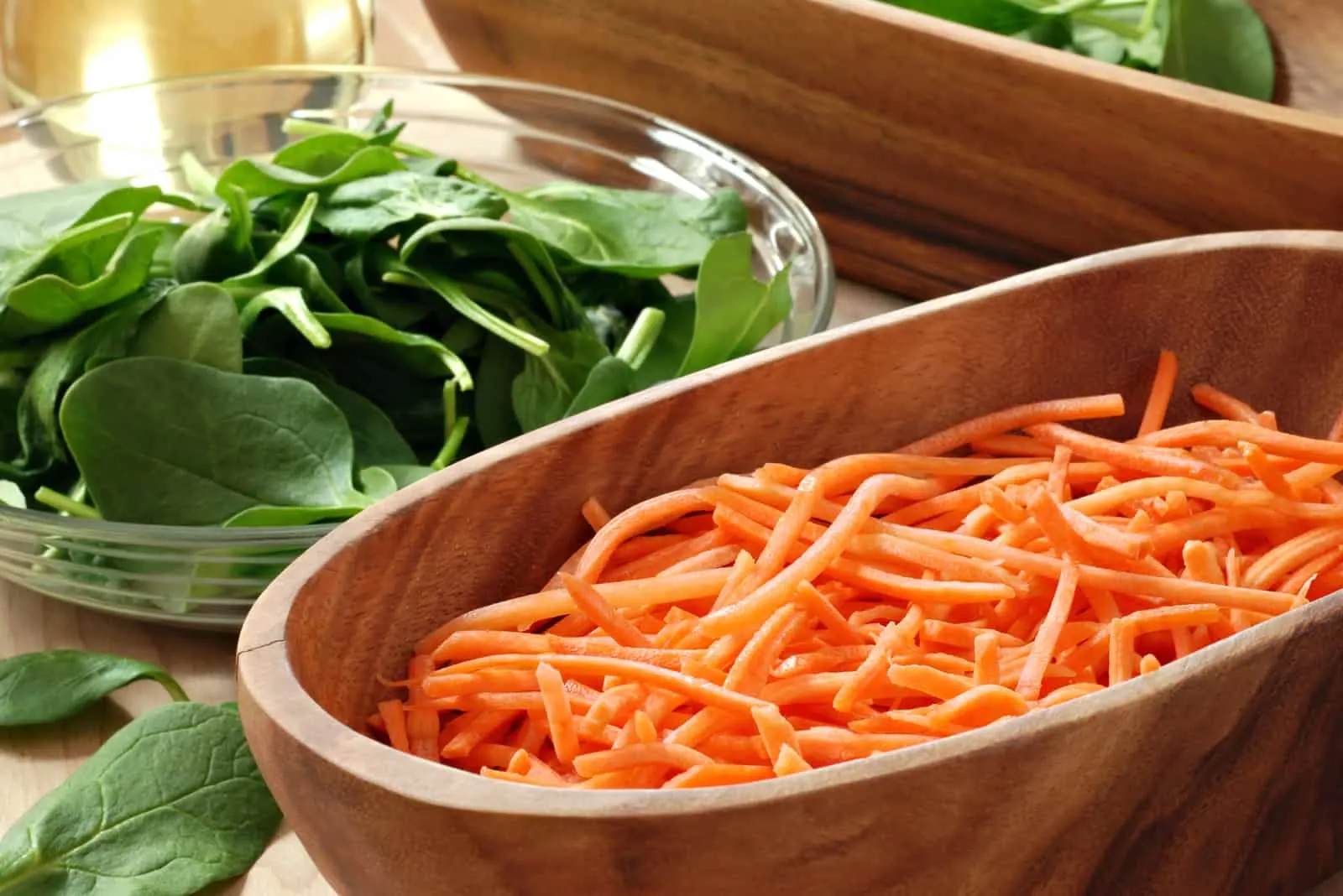 Together with the vitamins and minerals we've already mentioned, good dog food should also contain plenty of antioxidants. These are vital for your Rottie's immune system as they help the body get rid of damaging free radicals.
There is also some indication that antioxidants can help fight various severe health problems, including cancer. This is because they might be able to protect DNA within the cells.
Fruits and vegetables are rich in antioxidants, which is why the best dog food for Rottweilers should contain some fresh ingredients. This includes spinach, carrots, cranberries, blueberries, kale, apples, and so on.
It Includes Probiotics
​Probiotics are beneficial bacteria that naturally colonize your dog's intestines. They help proper digestion and keep harmful bacteria at bay.
As such, probiotics are essential for your dog's digestive system to work properly. Many high-quality dog foods include probiotics on their ingredient list. Look for foods with more than one probiotic strain.
It Is Rich In Omega-3 Fatty Acids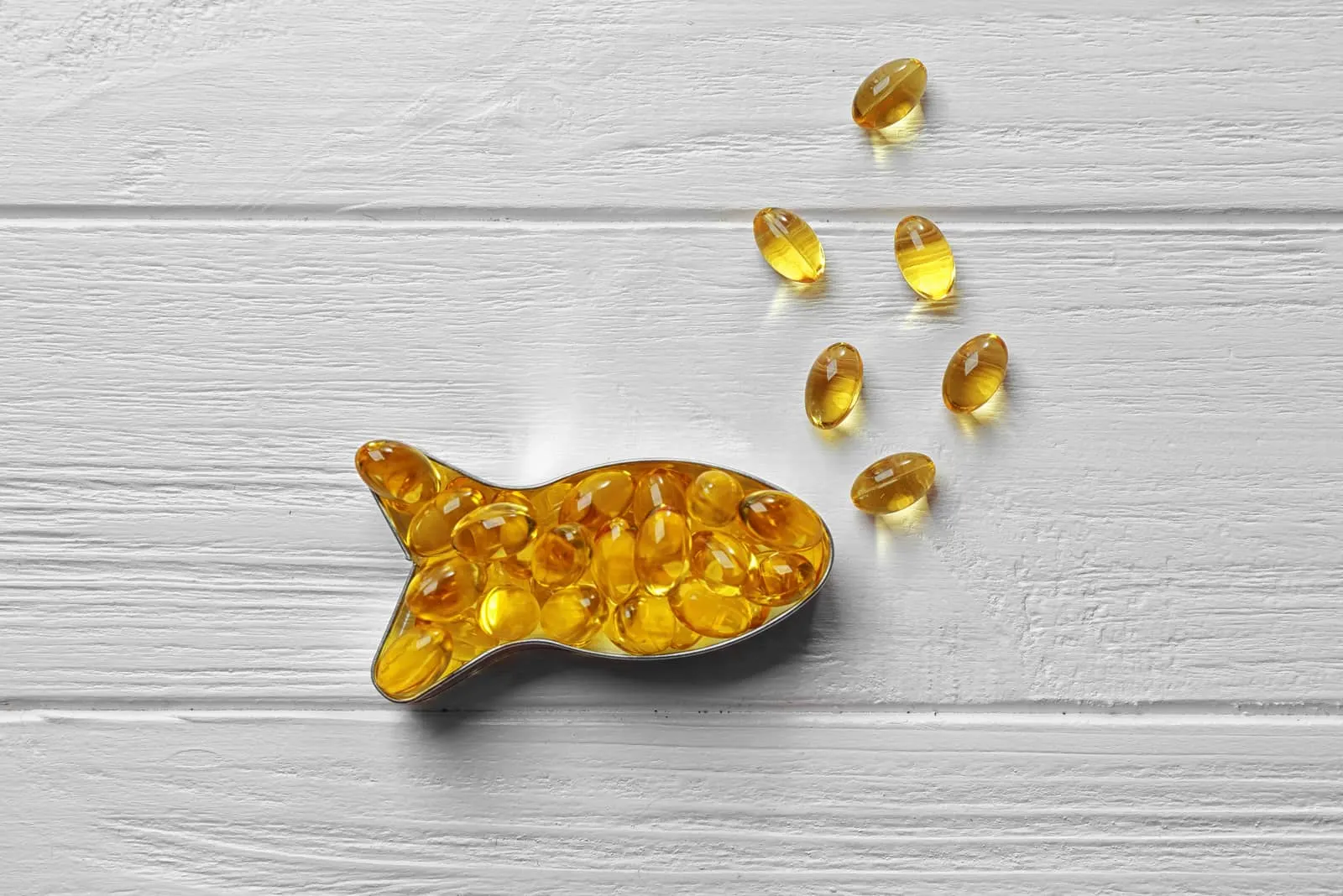 While both omega-3 and omega-6 essential fatty acids are beneficial, omega-3 take the lead. This is because omega-6 fatty acids are much easier to provide to your pooch. They are contained in many types of meats, veggies, and fatty foods.
Opposite of that, omega-3 fatty acids are much more challenging to provide. You can find them in flaxseed as well as in fatty fish such as sardines, anchovies, and salmon. You can also find them in fish oil.
Just keep in mind that if your dog food is already rich in omega-3 fatty acids, there is no need to use fish oil supplements. Your dog's body could have too much of these fatty acids, and that isn't good.
It's Made In A Country With High Quality Control Standards
There's nothing worse than buying contaminated food or getting food that isn't up to quality standards. In fact, this can be outwardly dangerous.
To ensure your food is up to high safety, you should stick to foods made in countries known for their high degree of control. This includes the U.S.A., the E.U., the U.K., Canada, Australia, and New Zealand.
Rottweiler Health Problems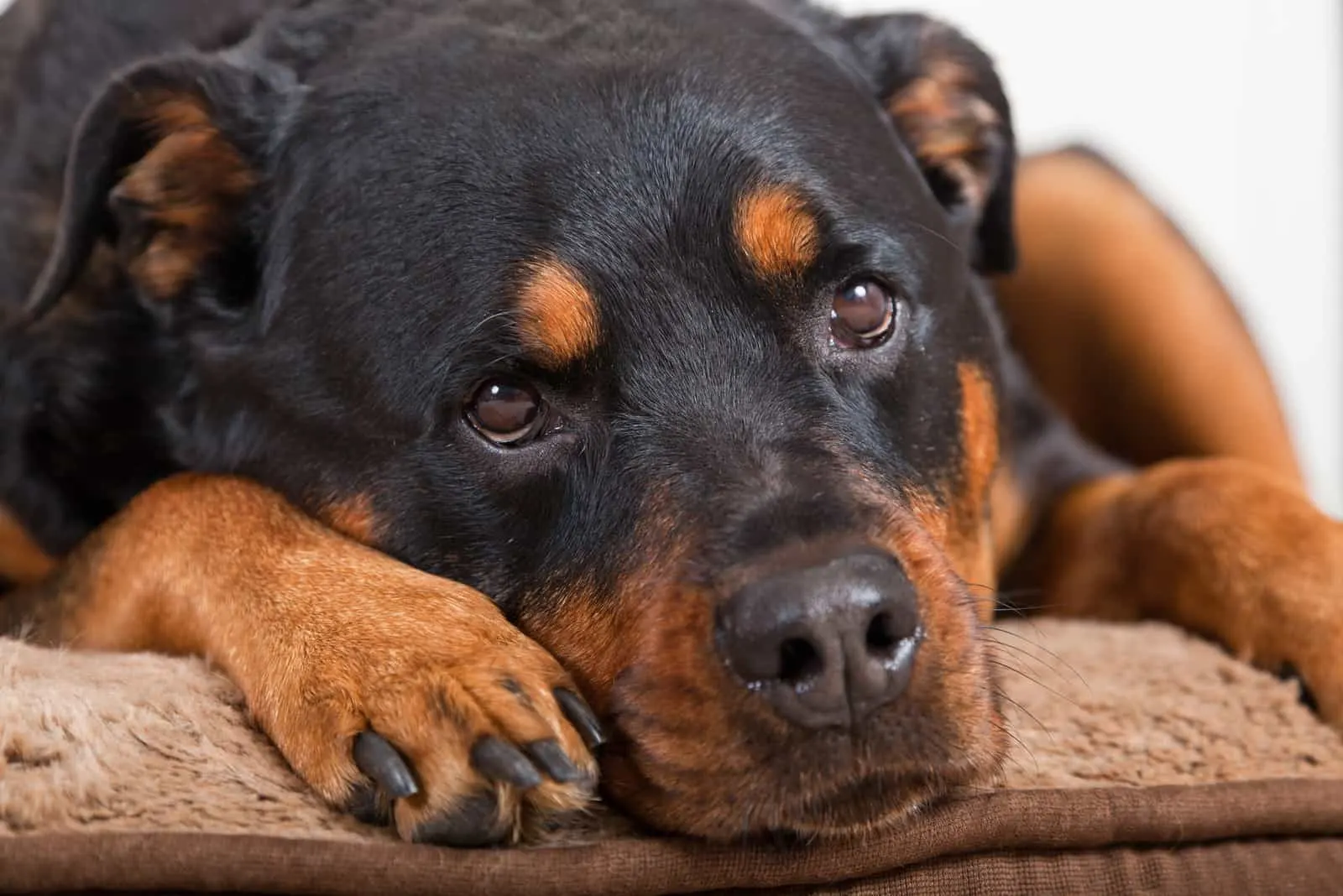 Rottweilers, just like any other dog breed, are prone to some health problems. Despite their large size, they can be rather sensitive, so you need to look for dog food that will help them stay strong and healthy.
Some health issues that Rottweilers are prone to that can be (partially or entirely) prevented with the best dog food for Rottweilers include:
• Obesity: Dobermans are extremely prone to obesity. This can result in many other health problems, such as joint and bone issues.
• Joint problems: Joint health is very important as Rotties are prone to orthopedic issues such as hip dysplasia, elbow dysplasia, and osteochondritis dissecans.
• Gastric Dilation Volvulus (Bloat): This health condition is likely the most sudden cause of death in fairly young Rottweilers. It occurs when the dog's stomach fills with gas, then twists, trapping the gas inside the guts. This is not just painful, but life-threatening, and it can take your dog's life in a matter of hours.
• Cancer: Rotties are at a fairly high risk of several types of cancer. This includes osteosarcoma, lymphoma, and transitional cell carcinomas. While the main cause of cancer is genetics (which is why you should only buy dogs from reputable Rottweiler breeders), you can lower the chances a little by giving your dog food that is rich in antioxidants.
• Food allergies: Rotties are prone to food allergies. Some are inherited, others will develop over time. This can result in dry, itchy skin, increased shedding, and an upset stomach. Common causes of allergies are artificial flavors and colors, grains, and gluten, but a dog can become allergic to almost any ingredient.
FAQs
What Is The Best Dog Food For Seniors?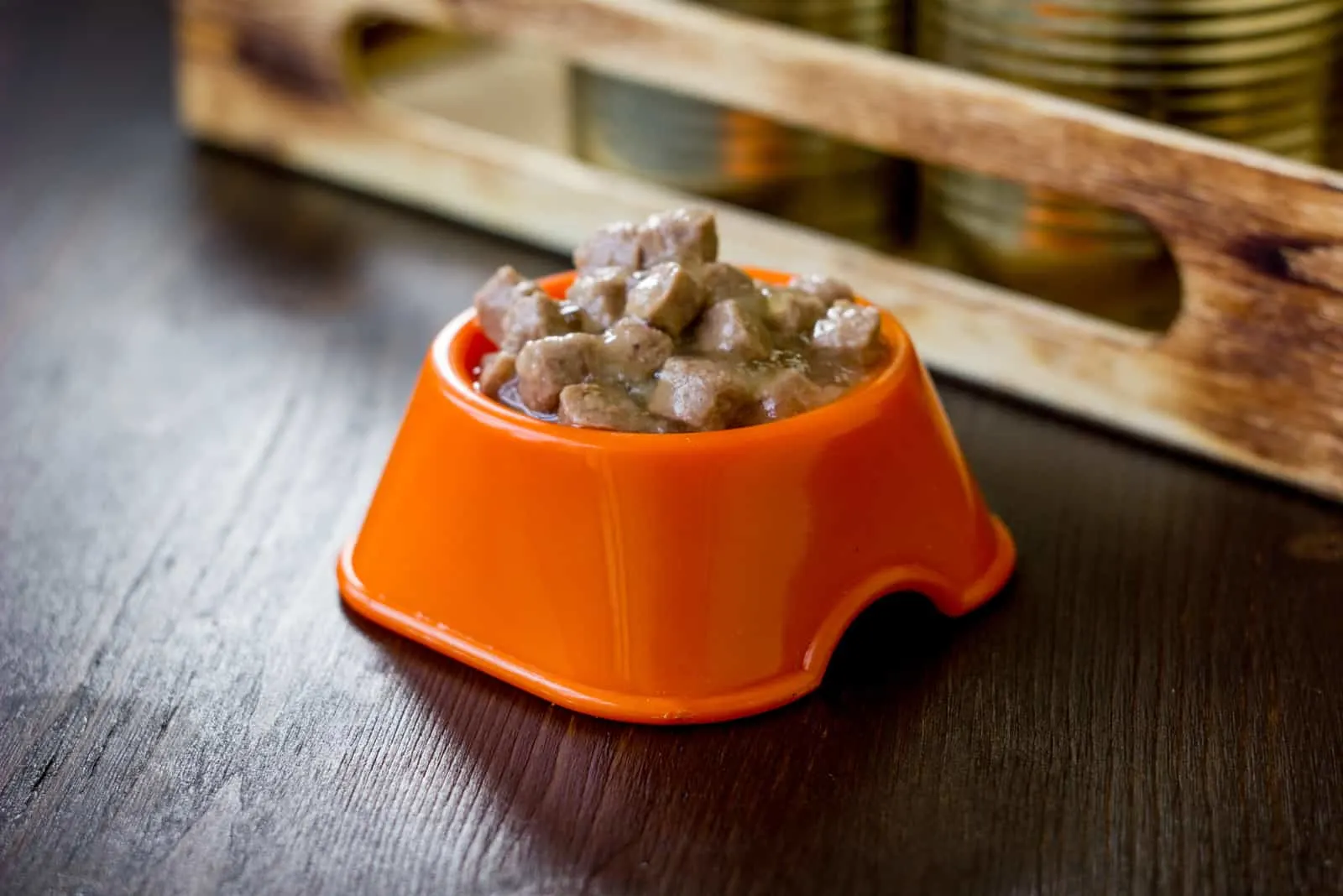 Older dogs have different nutritional needs compared to adults. They are less active, and their metabolism is much slower. This means they should eat fewer calories and lower amounts of protein and fat.
Also, many senior dogs will have oral health problems due to their age. They might have problems eating dry dog food, which is why you might want to switch to wet food instead.
Just remember that their tummies are more sensitive than adult dogs. As such, give them natural recipes without any artificial ingredients, and make sure they have lots of probiotics and antioxidants.
What Food Is Good For Dogs With Sensitive Stomachs?
​Rottweilers are a breed with a sensitive stomach. They are known to have problems digesting gluten, dairy, and even some ingredients that you would think are entirely healthy.
This is why it's important to feed them a balanced diet with foods rich in probiotics. Probiotics are a great ingredient to help canines with a sensitive stomach.
You should also avoid giving your Rottie treats, especially if they are filled with artificial ingredients, sugar, and flavors. The same goes for dairy, which is known to cause digestive problems.
What's The Best Dog Food For Rottweilers With Allergies?
Rotties can be allergic to a variety of things. Still, most of them seem to be allergic to ingredients such as chicken, turkey, beef, dairy, grains, fillers, and additives.
It's important to consult with your vet before you can be entirely certain that your dog has a food allergy. A professional will be able to let you know what the proper diet for your dog is and what you should feed him.
Many Rotties are also allergic to grain and gluten, so you can also consider giving them grain-free and gluten-free foods. However, don't do this before consulting with a veterinarian first.
How Often Should I Feed My Rottweiler Puppy?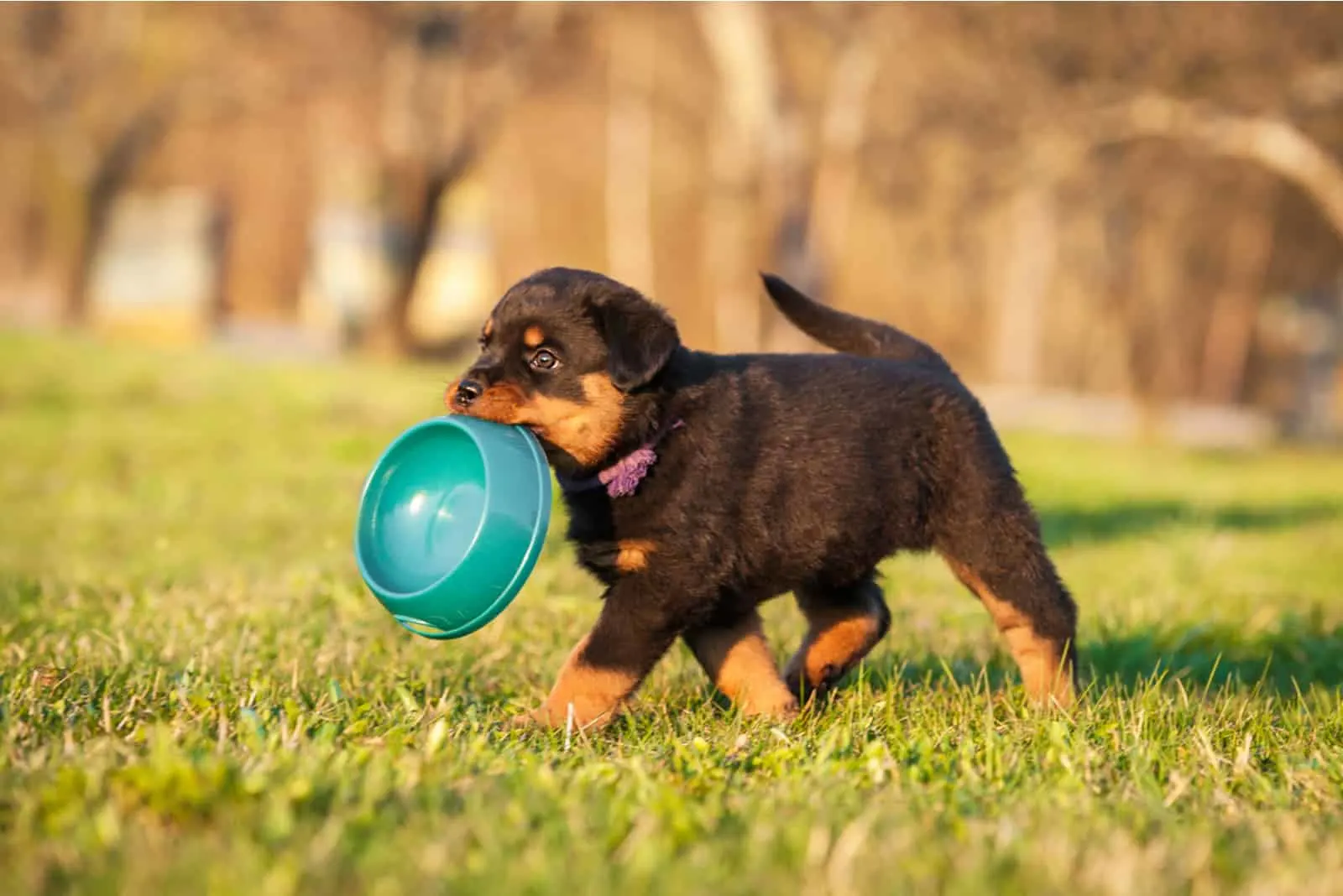 When the puppy has weaned off the mother's milk, you should give him many small meals – four meals a day should be ideal. As he grows older, this number should reduce.
A puppy that is aged five to six months should eat three to five cups of dog food per day, separated into two to three meals. Then, as he grows up, he should eat four to six cups, and the number of meals should be lowered to two.
What Should I Feed My Rottweiler Puppy?
Puppies need more energy than adult dogs as they are not just more active, but are also growing. As such, their food needs to have more protein – 30 to 35% would be the best, but even a higher percentage is perfectly fine.
Also, puppy food can have a higher amount of fats as they'll burn more energy faster. Just don't go overboard! If your puppy becomes overweight, he can develop some severe health conditions.
Is Wet Food Better Than Dry Food?
This entirely depends on your dog's age, health, and preferences. As mentioned, puppies should eat mostly wet food until they reach a certain age. Older dogs might prefer eating dry food.
There are good and bad sides to both. Wet food can help dogs intake more water, and thus, hydrate themselves, but this could lead to diarrhea. On the other hand, too much dry food can cause constipation, but it costs less, lasts longer, and is good for oral health.
Overall, it might be best to combine both as this will allow your dog to have the balanced diet he requires.