This post contains affiliate links, and I will be compensated if you make a purchase after clicking on my links.
They may not be as accepted as Poodles, but they should be! Our sweet Rottweilers aren't always sweet in the eyes of the world. They're often mistreated and judged as "a dangerous breed," just like Pitbulls, which is absolutely unnecessary! A well-trained and socialized Rottweiler is not a dangerous pet. They're kind, friendly, good with kids, and above all, loyal to their owners.
These adorable giants need grooming, like any other dog breed, even though most of them are short-haired and don't require much effort. But, where do you start when grooming Rottweilers? What's the best brush for a Rottweiler?
The Internet offers many sources to get your grooming supplies. Amazon always has great deals, and so does Chewy! But, the choices are endless. To save you some time, we've brushed through their websites, trying to find the top 7 best brushes for Rotties.
Did we succeed? Yes, we did!
Here are our top 7 picks, mostly consisting of bristle and pin brushes. Why is that? You'll find at the end where we'll discuss the Rottweiler's coat and which brushes suit them best.
So, let's start this Rottweiler grooming session, shall we?
Best Dog Brush: Our Top 3 Picks
Andis Premium Large Pin Pet Brush
Key Benefits:
Soft pin pad that prevents pins from falling out

Massages the skin and promotes hair growth

Detangling brush that removes dirt too

Anti-slip grip handle

The Andis Premium pin brush is suitable for medium to large dogs, making it a perfect choice for grooming a Rottweiler.
Pin brushes are always a safe choice for grooming all dog breeds. Most of them have plastic tips to prevent skin irritation.
The Andis Premium pin brush has a unique pin pad that prevents pins from falling out. You don't have to worry about finding pins all over the house. With this high-quality brush, all the pins will stay intact.
The brush removes tangles effectively, along with dirt and loose dog hair. The coat becomes shiny and clean. What's so great about this brush is that the long pins massage the skin, stimulating skin and hair follicles. The result is more hair growth.
This brush distributes the dog's natural oils and keeps the coat sparkling shiny. With this being said, frequent grooming will reduce the amount of dead hair all over your things. Vacuuming won't be your least favorite household chore anymore!
The Andis Pet Premium pin brush comes with an anti-slip grip handle for comfortable grooming.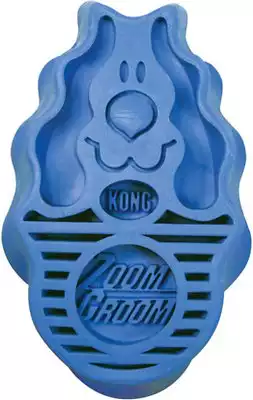 The KONG Dog ZoomGroom brush may look like a toy, but it's so much more than just a rubber thingy. The ZoomGroom is a dual-purpose brush, serving as a massaging tool and a de-shedding brush.
You can use the ZoomGroom brush when bathing your dog to lather on shampoo and give your pooch a nice rub all over its body. The massaging nubs will stimulate hair growth and make your dog feel more relaxed. Brush your dog after its bath to collect all the dead hair. This brush works like a magnet for loose dog fur.
The brush comes in several sizes, suitable for puppies and small breeds, as well as medium to large dog breeds. It's also suitable for all types of coat.
The ZoomGroom is manufactured in the USA using globally sourced materials. The maintenance is quite simple: rinse it and let it air dry.
This rubber brush has been one of the most innovative grooming items over the past few years. Even though it won't resolve the nastiest knots, the ZoomGroom will still remove 90% of the mess on a coat and leave it sparkling shiny.

Another great dual brush we have to recommend is the Hartz Groomer's Best Combo brush. Nothing beats a 2-in-1 grooming product, right?
For only $5 on Chewy, you get an excellent-quality brush that will help you groom your Rottweiler and even any other dog breed you own.
However, the Hartz Groomer's brush is specially designed for dogs with long, curly, and wiry hair. The brush comes with a pin side and a bristle side. The pin side features stainless steel pins with safety tips. They're gentle on your dog's skin but still remove loose fur. The nylon bristle side brings out the softness and shine in your dog's coat by distributing natural oils throughout the coat.
Your dogs will enjoy being brushed, and you will enjoy the brush's ergonomic design. It features a non-slip handle that will stay put in your palm and won't make your wrist achy or sore after a long brushing session.
Other Great Rottweiler Brushes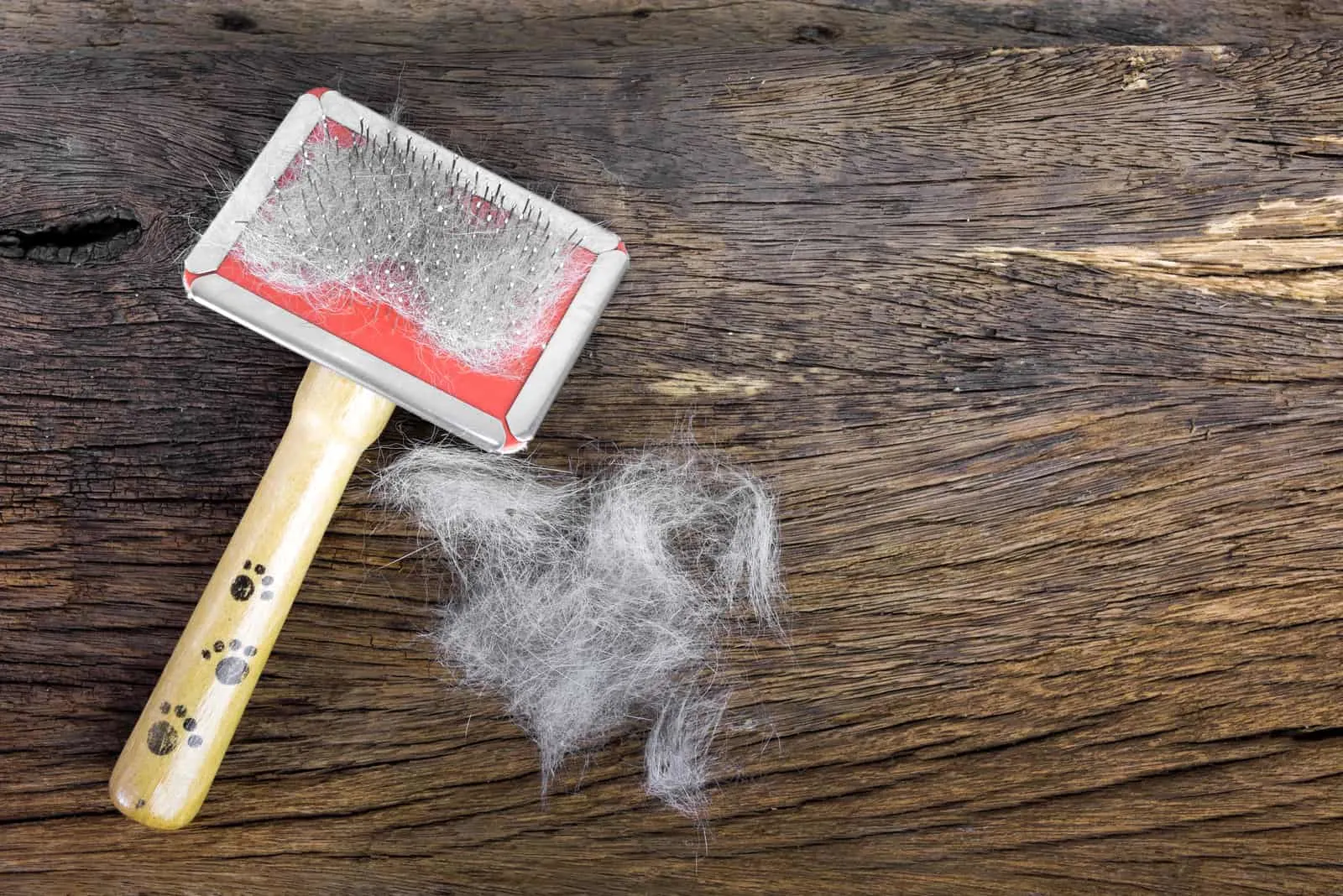 Don't get us wrong: all our picks are great. But, some are just a bit more innovative than others.
If you're not satisfied with the Andis, KONG, or Hartz brushes, then you should take a look at the following choices: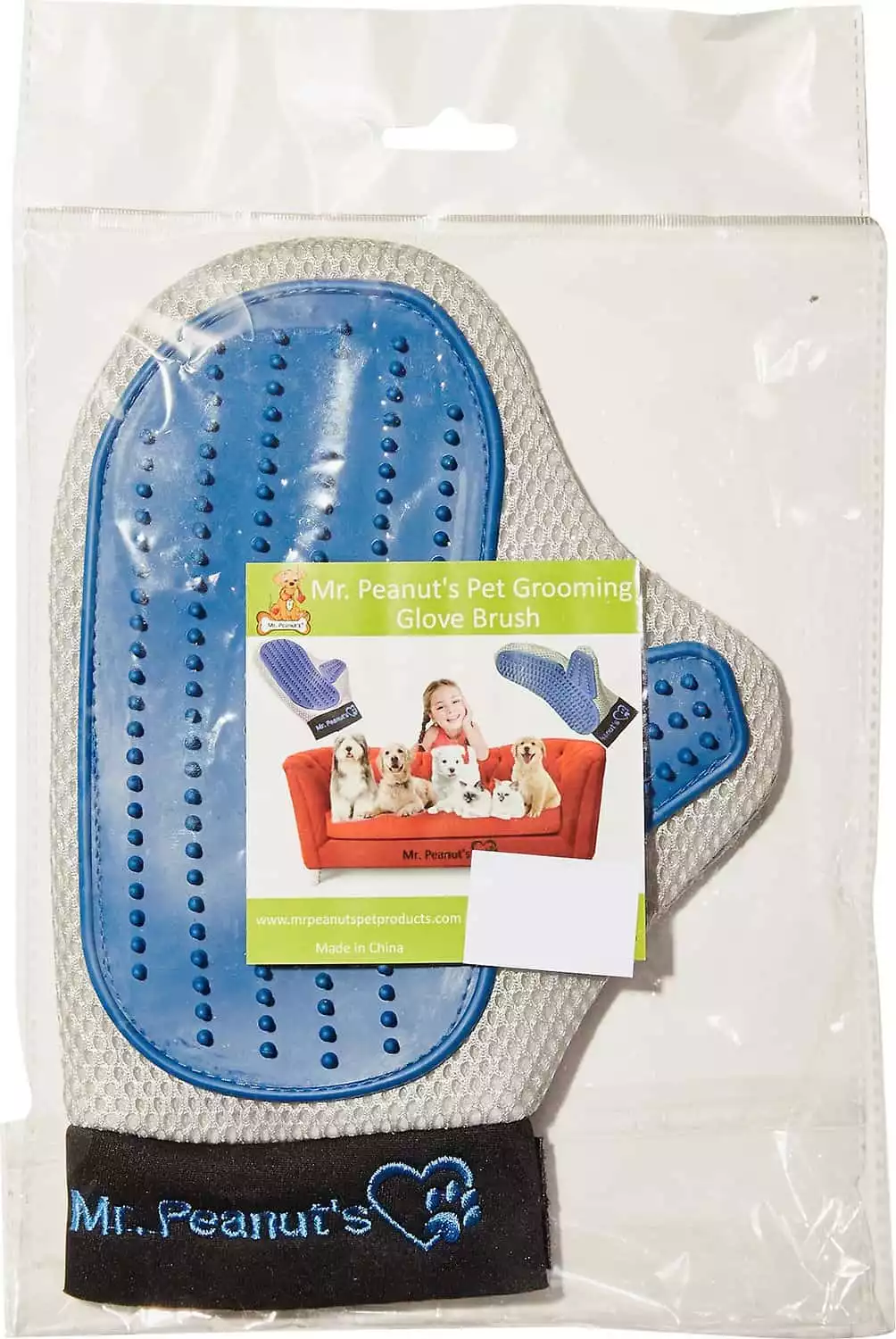 Here comes a brush that can be used wet or dry. Let us introduce you to Mr. Peanut's grooming glove. This one, for example, was specially designed for right-handed dog owners, but you can find one for lefties too.
The dog grooming glove is such an innovative tool. It suits all dog breeds with different coat types, including other pets like cats and bunnies too! The glove can be used as a deshedding tool and a massager. If you decide to use it wet, the Mr. Peanut's glove can serve as a bathing brush and comb. The glove will lather the dog shampoo, massage the skin, and collect dead hair. The rounded silicone nubs are good for detangling without pulling the hair.
One of the biggest reasons we love this glove so much is the easy-clean feature. The glove is machine washable and dries fast in the sun.
By using this glove, your dog won't feel like he's being groomed. Instead, he'll think of it as a petting session.
Safari Combo Brush for Dogs
Key Benefits:
Pin side and bristle side

Removes dead hair effectively

The bristle side distributes natural oils

Comfort grip handle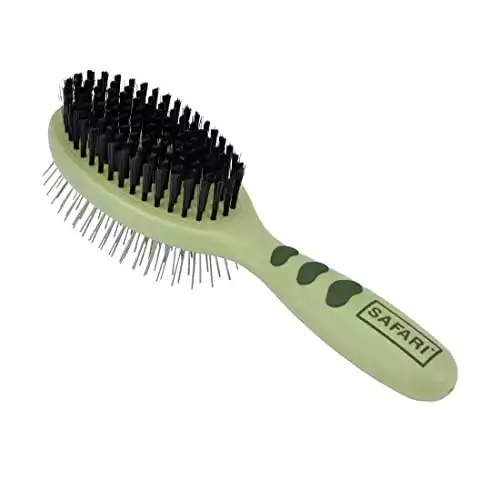 When it comes to combo brushes, we can't hide our excitement. Don't you just love dual-use products, two for the price of one? We sure do! The Safari Combo brush is one of the most popular hair brushes you can find on the market.
When you think of the many purposes of a pin brush and a bristle brush, you'll see why many dog owners opt to buy the Safari Combo brush.
This brush not only removes tangles but leaves the coat spotless! The bristle side distributes natural coat oils, keeping the hair healthy.
The manufacturer recommends the Safari combo brush for both short-haired dogs, like German Shepherds, and long-haired dogs, too, like Sheepdogs. So, you can use it to groom all Rottweiler types. Since Rottweilers are moderate shedders, regular use of this brush will bring benefits to your life in the form of less dog hair everywhere.
This Safari brush features an easy-to-grip handle with comfort-grip padding. It won't slip out of your hand easily or make your wrist sore.
This is exactly what you need if grooming your Rott takes a while.
We don't see many handle-free brushes, but when we do… we have to buy them all!
Introducing the ConairPRO metal pin brush. It fits snugly in your palm and makes the brushing experience comfortable for you and your Rottweiler.
The ConairPRO brush features a unique handle-free design with stainless steel pins with comfort tips to prevent skin irritation. The pins penetrate deep into the coat and remove tangles effectively while mimicking a petting motion. Your doggo will stay still even during the worst grooming sessions.
The brush was specially designed for long-haired dogs, making it an excellent choice for long-haired Rottweilers. We recommend using it on a regular basis to prevent the coat from tangling and to keep the hair smooth and shiny.
With its Palm-Petting Grip technology, the brush slips through your fingers for a comfortable and secure fit. You don't have to worry about the brush slipping out of your hand or your hand becoming too sore from all that brushing. The ConairPRO is a shedding brush that offers the professional experience your Rott needs.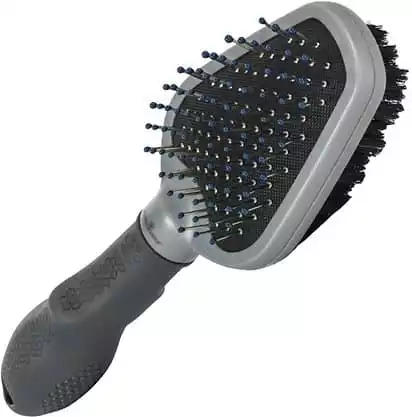 Raise your hand if you've heard of the Furminator!
Well, of course, you have! The Furminator, with its Furminator deshedding tools, is one of the most popular grooming brushes for dogs of all breeds and all coat types.
Will it suit your Rottweiler? Absolutely! The Furminator dual brush has two sides: one with pins and one with soft bristles. So, it will suit both short and long-haired Rottweilers. The pins side comes with protected tips for your dog's safety and will work the best on long coats.
The bristle side features dense nylon bristles short-haired Rotts will enjoy.
The Furminator dual brush follows the natural curves of your dog's body, removing matted fur, tangles, and nasty knots. At the same time, the brush massages your dog's skin, stimulates hair growth, and distributes natural skin oils throughout the coat.
The end result? A happy Rottweiler with a silky soft coat that can't wait for your next brushing session. When will that be? Well, it better be tomorrow if you want a well-groomed dog.
FAQS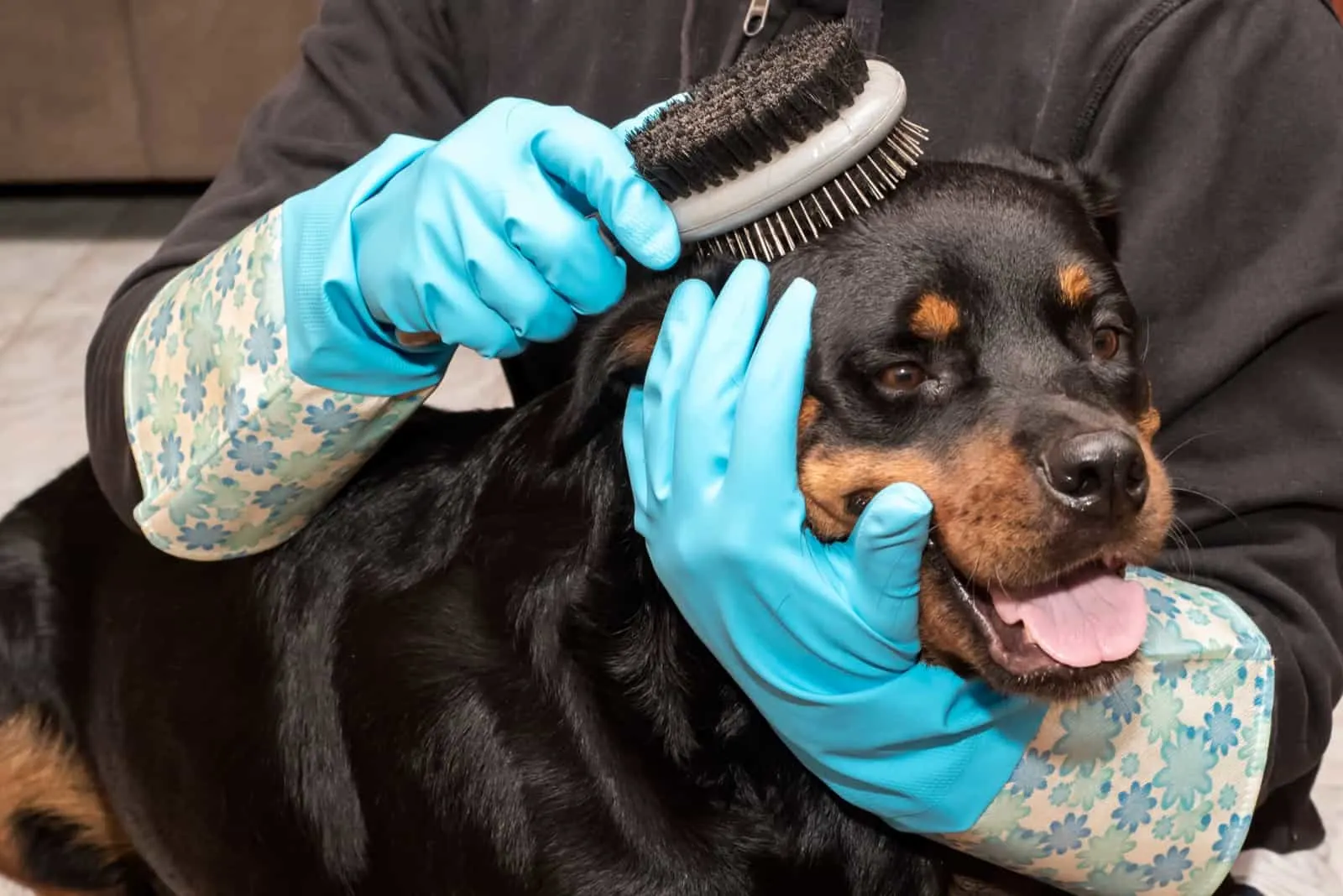 ​What's the best brush type for Rottweilers?
The most common brush for a Rottweiler is definitely a bristle brush. Rottweilers come with a short and sleek coat, with hairs close to the skin. You don't have to go too deep into the Rottweiler's coat to get it tangle-free. Bristle brushes will do just fine at removing dead hair and keeping the coat clean and looking healthy.
These brushes come with tightly-packed bristles on a circular or square padding. There's no need to apply too much pressure when brushing your dog. The bristles remove dead hair and massage the skin at the same time.
Although there isn't much of a chance you'll damage a Rottweiler's coat with a bristle brush, we still recommend being gentle while brushing them. There's no need to put too much pressure on your dog while using a bristle brush.
Another brush type that works well for Rottweilers is a pin brush. This type of brushes is suitable for short-haired and long-haired Rottweilers, but they remove dead fur and mats out of longer coats the best.
Pin brushes for dogs are actually similar to pin brushes for humans. They're usually oval in shape and have widely spaced pins. The pins usually have plastic tips to protect sensitive skin from scratching. Still, you shouldn't put too much pressure on the brush.
Pin brushes go deeper into the coat than bristle brushes. They're, in fact, the most common dog brush for all breeds.
When brushing a Rottweiler with longer hair, you should be careful not to pull too hard, or you'll tug at their skin.
Moving along, we come to undercoat rakes. These brushes aren't always necessary when grooming a Rottweiler. Rottweilers don't have thick coats, so you can probably solve mats with only a pin brush.
What does an undercoat rake look like? An undercoat rake looks like a simple razor with curved teeth that go into the top layer down to the undercoat layer of the fur. We use them to remove dead hair from the coat that sheds the most – the undercoat.
One of the most popular brush types, the slicker brush, is not a good choice for Rottweilers. They irritate the Rott's skin even with minimal pressure. Their bristles are tight and usually made of metal.
Slicker brushes are great for dogs with long hair but not for short-haired Rottweilers. Instead, simply use a pin brush.
Grooming combs are another good grooming tool for brushing Rotts. You can run the comb through your dog's mats and then use a pin brush to finish the job. Combs can be either metal or plastic, but we recommend plastic because it won't scratch the dog's skin.
However, combs are a supplemental grooming tool. They're okay for grooming Rottweilers, but they're not always necessary.
Which coat type do Rottweilers have?
Rottweilers are double-coated dogs with a thick, bristled topcoat and a soft, insulating undercoat.
This double coat means the dog doesn't have to regulate its body temperature. However, this means the dog will shed in season.
Actually, Rottweilers shed year-round, but the heaviest months are in spring and fall. During this period, the dog will shed its undercoat to warm up or cool down. What you need to do is to brush your dog more often to keep the loose hair off your furniture and clothes.
Short Hair
Even though Rottweiler shedding shouldn't worry you, it doesn't mean they don't shed at all. Rotts come with an undercoat that sheds to accommodate the body to different temperatures.
Chances are, you will end up with a short-haired Rottweiler since they're the most common type. But, they too need regular grooming. You should brush them a few times a week, but there's no such thing as too much brushing, as long as you're brushing gently.
Daily brushing promotes good habits and keeps the coat healthy and clean. This also reduces the amount of loose hair around the house.
For short-haired Rottweilers, let bristle brushes do their magic, leaving the coat shiny, and the skin untouched.
Long, Wavy Coats
Let's get to know the long-haired Rottweiler!
Rotts with long, wavy coats shed more often and require lots of attention. If you leave their coat unbrushed for too long, it will become matted. That's why you need to brush on a daily basis. Besides, regular brushing will reduce the amount of dead hair all over the place.
When brushing a long-haired Rottweiler, use a pin, bristle, or slicker brush. You will need to be careful with each brush not to harm the dog's skin.
What's The Verdict?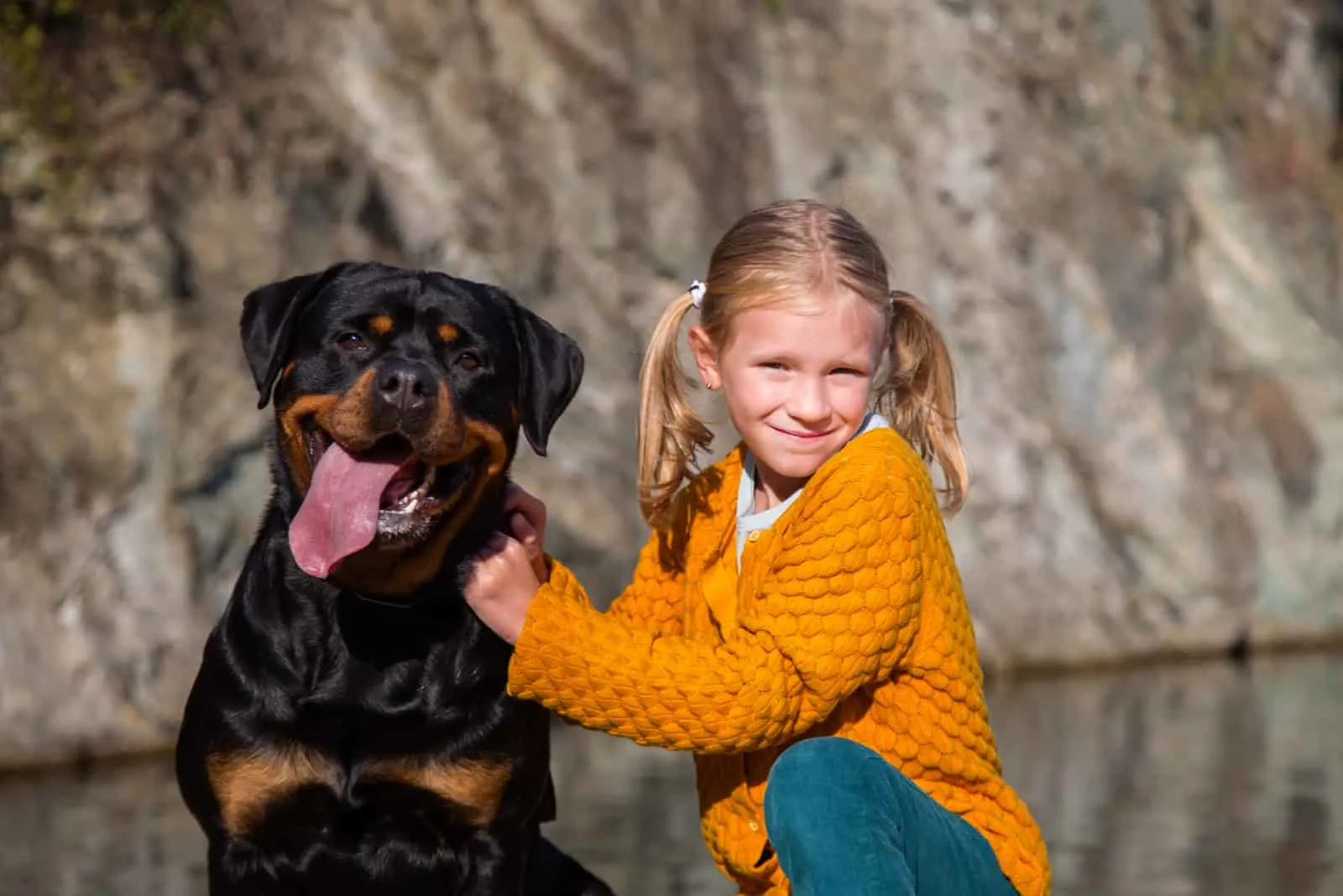 So, which is the best brush for a Rottweiler?
We can't really put our finger on only one brush that will work for all Rottweilers. Some doggos will prefer the Furminator, while others will go nuts over KONG's unique ZoomGroom rubber brush.
We suggest starting with an affordable brush off our list and working your way up until you find a good fit for your Rott.
But one thing is for sure: no matter which brush you choose out of these 7, you won't make a mistake. You'll end up saying: My Rottweiler never looked better!