This post contains affiliate links, and I will be compensated if you make a purchase after clicking on my links.
Is your princess or prince sleeping on a pea? Well then, your German Shepherd needs a new bed, STAT! But, where do you start looking? You certainly don't want to make the same mistake again and buy a bad bed that will wear out within months of use.
This is where we've come to help. Your GSD can't sleep in a kennel or a dog crate forever. It needs a comfy bed, one of those soft donut ones that guarantee a good night's sleep everyone craves. We've done the research for you and found the top 12 best dog beds for a German Shepherd. Did you know that these dogs need an orthopedic mattress? Indeed, they do!
If you don't want to hear your GSD howling in pain because of its arthritis or hip dysplasia, you should get one of these comfy choices. Many of them offer a year warranty, some even more, so your dog will have plenty of time to decide whether that bed is the best one for it.
Let's jump on some dog beds, shall we?
Because of their genetic predispositions to joint problems like elbow and hip dysplasia, German Shepherds should sleep on orthopedic beds, even if they're still puppies. Puppyhood is a crucial time for a dog's development. If you can afford the best for your German Shepherd, then go for orthopedic dog beds. The Frisco Plush orthopedic is one of the best dog beds for German Shepherds on Chewy.
This pet sofa is a combination of comfort and fashionable looks. It's easy to climb onto, which is a bonus for senior German Shepherds that have problems with their movement. Also, the sofa features a built-in entry dip, and it is as cozy as it looks. The plush center of the sofa is a 3-inch slab foam and 1-inch memory foam.
The bolster of this bed is polyfill material and provides much-needed safety and privacy. What all German Shepherd owners require from a dog bed is a removable cover that's also machine washable and easy to clean. The Frisco plush orthopedic dog sofa ticks all the boxes for $79.99!
On our list of the best dog beds for German Shepherds is this cool-looking lounger that's not only fashionable but comfortable too. The FurHaven Ultra Plush Luxe Lounger Orthopedic Pet Bed is actually another ergonomically designed dog bed fit for German Shepherds.
This orthopedic dog bed provides excellent support for the dog's back and neck, all thanks to its unique shape. The contoured shape features a lovely plush design with a soft but firm surface for a good night's sleep.
What's so great about this dog bed is its step-on design that helps dogs with mobility issues climb onto the bed and rest. But, what we love most is the machine washable, removable cover that doesn't stain easily.
If you own a German Shepherd, you know that they're big shedders. Keeping the area where the dog sleep clean is extremely important for both your and your dog's health. You don't want allergies to start, do you?
Besides the orthopedic foam, this bed has a gel-infused memory topcoat that is pressure activated and contains micro-gel beads that cool the bed and provide support. For $58.99, you get a premium dog bed with one of the best orthopedic support systems.
Large breed dogs need a high-quality dog bed with long-lasting durability and excellent support that will hold the dog's weight. It's not easy to find a dog bed that has it all, but the Frisco Cooling Orthopedic bed comes pretty close.
This bed features a cooling topcoat and a layer of breathable gel memory foam base that helps the dog maintain optimal body temperature throughout the night. The one-inch layer of cooling foam mattress offers the dog the most chilled relaxation ever.
We love its easy-clean traits. When the bed gets dirty, you just take off the machine washable cover and wash it with the rest of your dog's belongings that need a quick bath. Frisco has an excellent new bed for your German Shepherd that also matches the rest of your house, in case that's important to you.
There's plenty of good sides to this dog bed, one of them being the jumbo size the brand carries, but there are also some downsides. We do need to warn you that this is a durable bed, but it's not chew-proof. If your GSD is a big chewer, you should discontinue using this bed once it gets torn or damaged.
The BarksBar Snuggly Sleeper really gets your German Shepherd sleeping snuggly. Once your dog spends a night in this cozy bed, you'll see that it'll become his favorite snuggle place in the whole house.
This memory foam dog bed is made of human-grade orthopedic foam, making the bed durable and sleek. This soft but firm bed will help a lot with your GSD's joint issues. Sleeping on the floor is simply not an option. Your German Shepherd dog needs something nice like this support foam bed.
The bed also features a cotton-padded rim that supports the dog's neck. Besides the comfortable and effective design, the BarksBar Snuggly Sleeper has two other amazing traits: the easy to wash removable cover and a non-slip bottom made of rubber, so your dog's bed stays exactly where you put it.
The BarksBar Snuggly Sleeper is another dog bed that's not chew-proof. However, if your German Shepherd prefers changing sleeping positions over chewing on its bed, then this Snuggly Sleeper is the best dog bed for your pupster!
The FurHaven Faux Fur Memory Top Bolster Dog Bed is a true haven for your German Shepherd. This dog bed is as soft as an angel's touch and still firm enough to support your dog's body.
The FurHaven pet dog bed features fancy faux fur, luxurious to the touch, a velvet cover, and a center made of premium orthopedic memory foam. Even reading about this makes you feel comfy, doesn't it? Imagine how comfortable your German Shepherd will be lying on this ultimate dog bed.
The FurHaven's faux fur dog bed comes in five sizes and four colors, so there's a choice for everyone. But, there's more to this deluxe sofa-style bed than just its looks. The orthopedic features of this bed help prevent painful pressure points.
Another great feature of this bed is the water-resistant base made of poly-canvas material that's easy to clean. If your dog's bed needs a thorough wash, just pop it into the washing machine, and you're done.
We love FurHaven's memory bed for its supportive bolstered edges and premium quality comfort every German Shepherd deserves. For $70.99, you get a product worth every penny.
Your German Shepherd deserves some luxury, and that's exactly what he's going to get with the FurHaven Southwest Kilim Orthopedic Deluxe bed. Yes, it is as soft and comfy as it looks.
This lovely lounger will lift up any room and act as the perfect addition to your home. Your German Shepherd may not appreciate the lounger's attractive looks, but he'll love its comfort for sure.
The bed features L-shaped bolsters that provide extra comfort for the dog's neck, back, and hips. Properly shaped bolsters like these ones help the dog adjust its spine alignment.
The base is an orthopedic egg crate designed to relieve pressure and joint pain, as well as other pressure points. Older dogs will definitely appreciate the ergonomic design of this bed.
Since this dog bed is made of soft and plush microfiber material, it's a snuggly place your dog will love. If you've gone green and prefer products that support recycling and sustainability, then you should know that this bed's bolsters are made of 100% recycled fluffy filling.
If you ask us, that's 10 points to FurHaven for creating such an excellent German Shepherd dog bed.
The MidWest Quiet Time Defender Teflon Geometric Orthopedic Nesting Pet Bed is a real comfy nest for all dogs, including your German Shepherd. This stylish, comfy dog bed is a safe haven for your pup after a long day of playing in the park. The MidWest Nesting dog bed is a safe and supporting bed that provides much-needed support for your GSD's joints and body in general.
This dog bed stands out from all the others because of the extreme comfort, which makes it a terrific choice for older dogs, injured pups, or doggos with special needs. The bed's waterproof liner is made of Teflon fabric that's also stain-proof and dirt-repellent.
These features make the bed extra durable. If you add to it features like the non-slip bottom made of rubber, zippered case that is machine-washable, and the many sizes this bed comes in, you've hit the jackpot!
Does your big barker need a big bed? Have you heard of the Big Barker 7″ Orthopedic Pillow Headrest bed? This large size bed for larger dogs imitates an actual bed with a comfy base and an even comfier pillow. Seriously, take a look at all the awesome features of this dog bed!
It's specially designed for older dogs suffering from arthritis, larger dogs with a risk of joint problems, just like our German Shepherd, and dogs going through post-op treatment. The Big Barker will soothe any pain your dog may have and make it tolerable.
A fun fact about this dog bed is that it was used in a clinical study at the University of Pennsylvania that focused on the quality of life impact on larger dogs. The sole purpose of this dog bed is to extend the dog's years and make them a lot happier because nothing compares to a good night's sleep.
The Big Barker dog bed is made completely in the USA using premium orthopedic foam that will keep 90% of its shape. There's no worry that your new dog bed will lose its sturdiness and shape within a few months.
The foam will stay firm, and the 100% microfiber cover will always provide warmth and coziness.
A waterproof dog bed that's also orthopedic? Yes, please! Even your German Shepherd will say a big "woof" to this. The KOPEKS Waterproof Orthopedic Pillow dog bed comes with a thick density memory foam that provides comfort and relieves your dog's pain.
KOPEKS specially designed this classic rectangular dog bed for dogs suffering from crippling arthritis, hip or elbow dysplasia, muscle spasms, and other joint problems. A pup in need will be thankful for a bed like this.
Let's talk a bit about that waterproof trait. This bed has a waterproof inner cover and an outer cover that can be removed and washed as needed. This is such a great plus, especially if your dog is still a puppy learning to go potty.
The base of this bed is a hypoallergenic foam, perfect for sensitive dogs prone to allergies. We all know that German Shepherds can suffer from major allergies. Let's avoid them by only giving your pup the best, and that's the KOPEKS waterproof bed.
The price of this dog bed may be a bit hefty, but you're getting a premium product for $119.99 and also orthopedic memory foam, one faux suede cover, and one waterproof liner cover. Best offer for the money, if you ask us!
Now, even though orthopedic dog beds are the best dog beds for German Shepherds, it also isn't wrong to buy your German Shepherd an elevated dog bed. One of the finest ones on Chewy is this K&H pet products elevated bed.
This dog bed is especially great if you're living somewhere with a hot climate. The bed features a mesh center on top of raised feet. Such a design provides good airflow and helps your pup to cool down.
The breathable outer fabric is also waterproof 600 denier nylon with double stitching and double backing. This ensures the dog bed stays firm to support the dog's weight up to 150 pounds. Perfect for a large dog like the German Shepherd!
What makes this dog bed so great is its outdoor use feature. It's easy to assemble it anywhere, and you need no tools. If you're not that handy, this would be the perfect bed for your home.
The bed has a raised design with non-skid rubber feet that won't leave marks on your hardwood floors. Can it get any better than this? Hardly.
Does your German Shepherd love to hang out on your sofa? Is your sofa brand new, and every time your dog jumps on, does your heart skips a beat? Then why don't you get your dog its own little sofa?
Okay, it's not little because this is a bed for large dogs, but you get the point. The Enchanted Home Pet Library Sofa dog bed is a comfy sofa for your dog you can put right next to yours. You can watch your favorite shows together now!
This deluxe dog bed fashions a faux-leather cover with lovely brass nail heads as accents. This tiny piece of pet furniture is completed with wooden legs that boost the dog bed off the ground. Being made of faux leather makes this dog bed very easy to clean. Just use some wet wipes, and you're done.
The bed is deep enough for dogs to roll over and stretch out and sturdy enough to support up to 90 pounds. The only downside is that it's pretty pricey, but luckily it's frequently on sale. Take a good look at this dog bed, and you'll realize it's really worth the money.
Here's an updated take on the simple elevated bed: a PetFusion Ultimate Elevated Bed with comfy bolsters. If you spend a lot of time outside or just live in a hot climate, you'll need a bed like this one.
This outdoor dog bed is made with breathable and water-resistant fabric that provides your German Shepherd the ultimate chillax time.
The frame of this dog bed is strong and sturdy, built to last for years. The above-mentioned bolsters are there to provide extra comfort and neck support. The bolsters, as well as the base, have removable covers that are machine-washable. Also, the bolsters are easily attached to the bed with velcro.
The assembly is simple, and the bed even comes with a protective cover so your dog's bed will stay dry when the dog's not using it. This is one of the comfiest loungers; you'll even want to crawl in with your dog and take a snooze under the warm sun.
What Is The Best Orthopedic Dog Bed?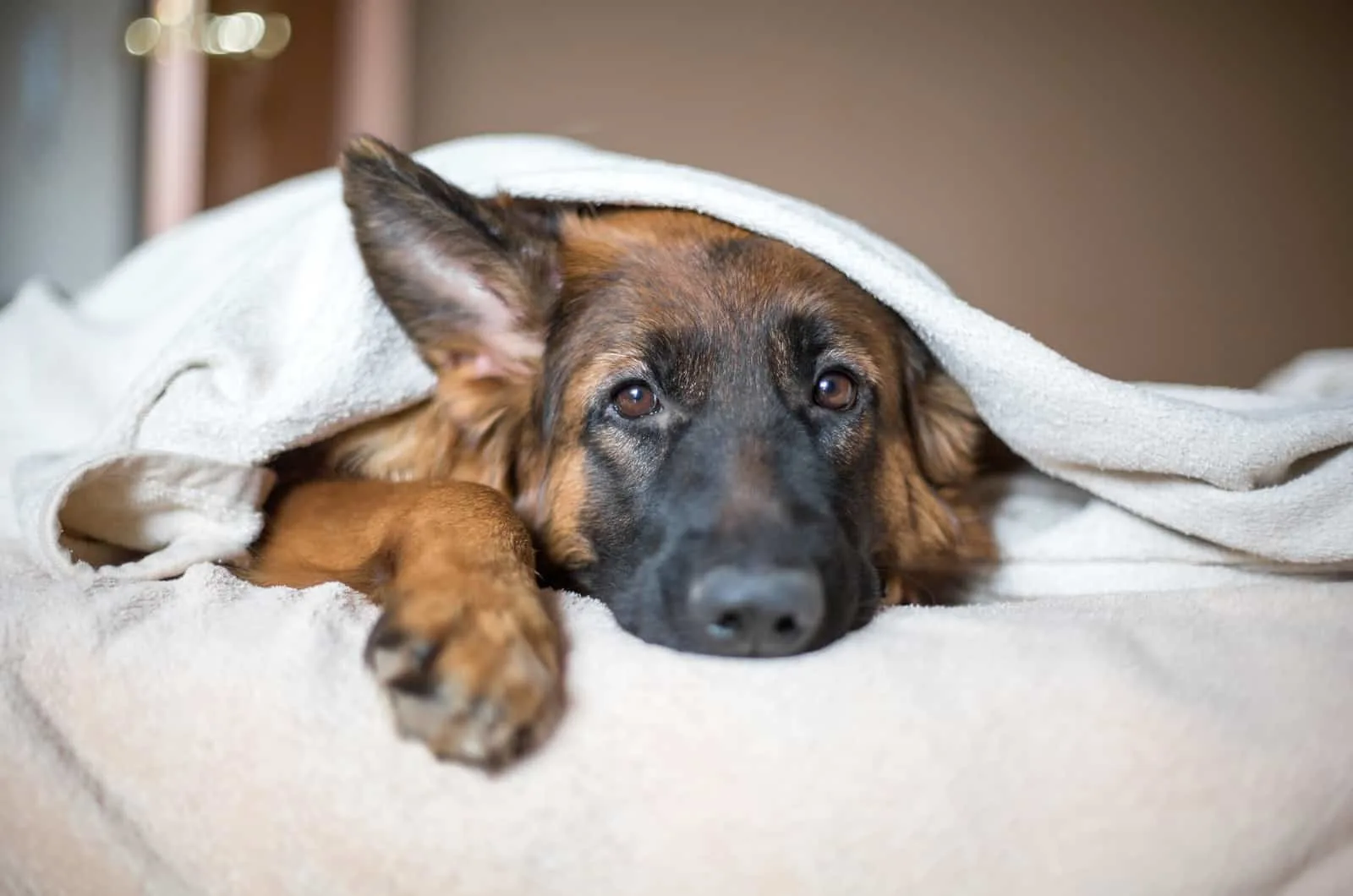 Any orthopedic dog bed is a good bed. We've come up with a list of some amazing orthopedic dog beds. All you need to do is check which one fits your budget and if it meets some special requirements you might have.
All in all, if you're searching for an orthopedic dog bed for your German Shepherd, you won't make a mistake buying any of the ones listed above.
What Is The Best Dog Bed For Large Dogs?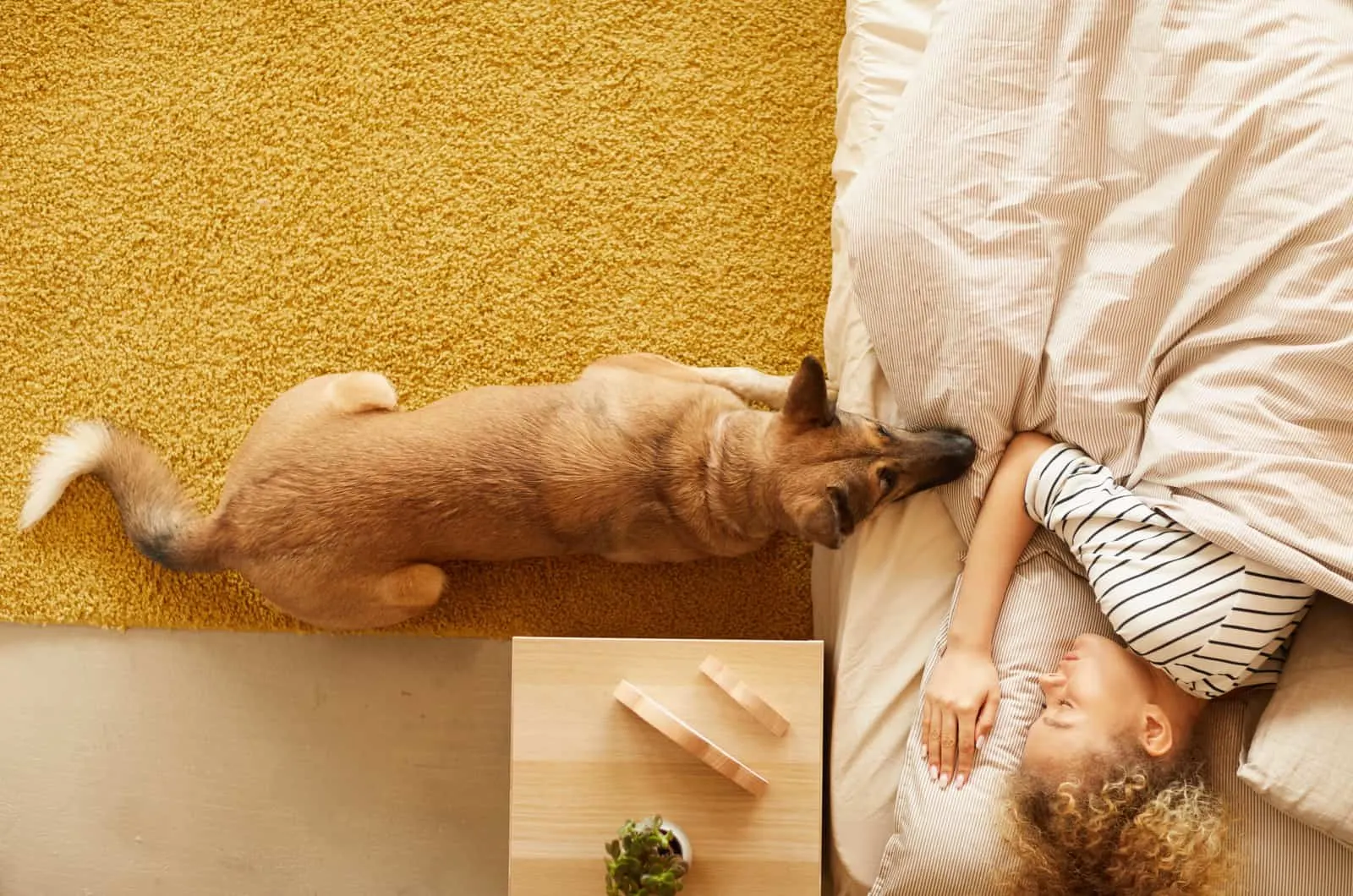 Large dogs, like our German Shepherd, often have genetic predispositions to bone and joint problems. The German Shepherd dog breed is prone to severe conditions like arthritis, hip dysplasia, elbow dysplasia, Legg-Calve-Perthes disease, etc.
Thus, a large dog shouldn't sleep on firm surfaces or the floor. Also, such dogs shouldn't be sleeping on mattresses that are too soft either. They need something just in between, and those are orthopedic dog beds. They support the dog's joints, back, and neck and relieve pressure points.
When buying a bed for large dogs, make sure you take your measurements correctly. Your dog needs to have extra space to roll over, stretch, and sleep in any position he loves.
FAQs
1. What Bed Size Does Your German Shepherd Need?
If you have a little adorable German Shepherd puppy, don't be fooled by its size. They won't stay little for too long. You need to keep the dog's adult size in mind when shopping for a dog bed.
Most German Shepherds need a large or extra-large dog bed. An adult male German Shepherd can grow anywhere from 26 to 28 inches, while a female can grow from 24 to 26 inches tall. Both genders can weigh 75 to 95 pounds.
When shopping for a bed, always consider your dog's diagonal length since the dog has to have a place to stretch comfortably.
2. Which Factors Should I Consider When Buying A Bed For My GSD?
There are several factors you need to keep in mind when shopping for a dog bed. First of all, German Shepherds need beds with supportive mattresses.
This dog breed is prone to hip dysplasia and elbow dysplasia, two genetic disorders that cause crippling pain that limit the dog's movement.
A supportive mattress, especially one with orthopedic memory foam, will reduce pressure on the dog's joints and ease the pain.
Next, since German Shepherds can easily be named German Shedders, you need a mattress with a removable cover that's easy to clean.
Besides the mentioned genetic disorders, German Shepherds are dogs prone to some allergic reactions. Just to be sure, choose natural materials for your dog's bed, like cotton. What's lately become a hit is the dog bed with a cooling effect.
These dog beds have a gel or water inside the mattress, which helps the GSD regulate its body temperature. If you live somewhere where the climate is harsh and cold, a heated dog bed is an option too.
Lastly, since GSDs are big chewers, go with a bed made of non-chewable material, something resistant and durable.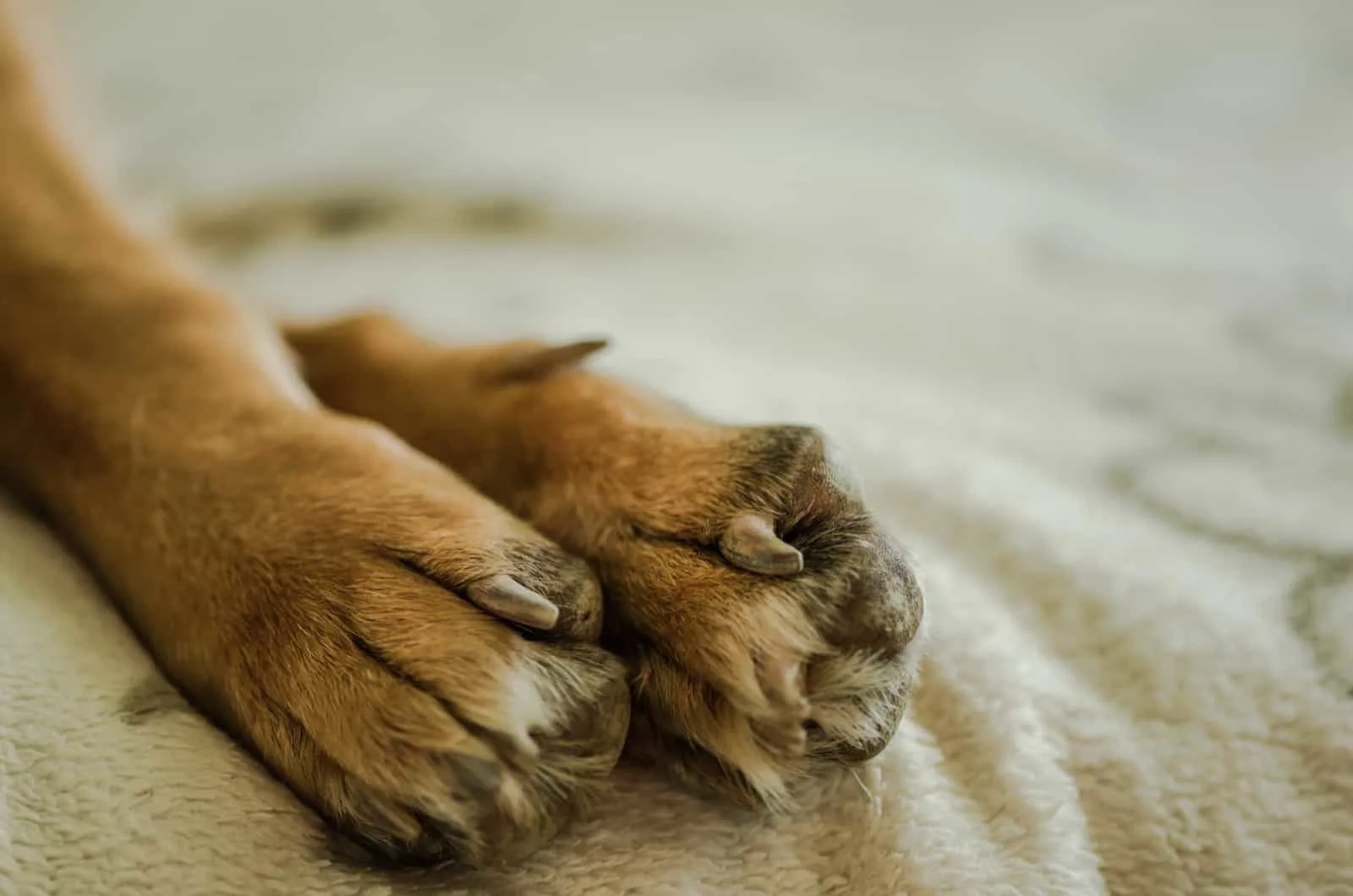 3. What Kind Of Beds Should My GSD Never Use?
It's only natural that not every dog bed suits the German Shepherd, and we're not talking about the size. We're talking about its shape, materials, and functions. A German Shepherd should never sleep on a firm surface because of their joint problems.
Beds that are too soft, comfy, or fluffy shouldn't be your first choice either. Also, pay attention to the materials once again. Scratchy materials will cause you more harm as they can aggravate allergies.
4. Where Should A Dog's Bed Be Placed?
Even though they have thick double coats, German Shepherds shouldn't be sleeping outside. They're social creatures and need to feel the love from their family. Putting a dog bed somewhere close to you is the best option.
Maybe there's a spare corner in your bedroom or a place that would be perfect for your GSD in your kitchen or living room. Either way, the important thing is to keep them inside.