This post contains affiliate links, and I will be compensated if you make a purchase after clicking on my links.
Whether you like them or not, Rottweilers are unique dogs. Being so awesome means that they need the best collar for a Rottweiler that Amazon or Chewy has to offer.
Rotties are large dogs; bigger than most other dog breeds. Together with German Shepherds, Mastiffs, Pitbulls, and other working dogs and guard dogs, they make pretty powerful dogs that are worthy of admiration. Their size and power make other animals (and people, too!) feel intimidated. Seriously, these doggos weigh over 100 pounds. Their necks are wide, muscular, and thick; thus, they need a strong collar that will hold up.
The best collar for a Rottweiler is the one that will suit your needs. Forget about the old chain collars… they're uncomfortable. Dog harnesses, or even better, dog collars are what you need! Are you looking for a training collar or an e-collar? Maybe a simple Martingale for daily walks is what you need! Either way, we've got you covered.
Let's sniff through our list of the best dog collars for Rottweilers you can find online. There's something for everyone's taste, and we're sure any of the listed types of collars will be the perfect fit for your Rottie.
Our Top Picks: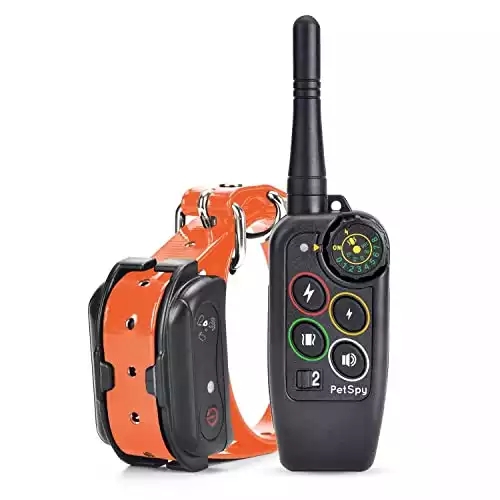 The popularity of shock collars has decreased. We'd say "luckily", but shock collars are somewhat still helpful when it comes to dog training or obedience training. For example, if your Rottweiler is a barker or a runner, or even showing a bit of aggression, you will need one of these babies.
We present to you the PetSpy M686 Premium Collar! It's a best seller, and you'll hardly find a better training collar on Amazon or Chewy.
The PetSpy M686 allows you to train your dog with four different modes, from vibrations to convulsive shock. The collar works within an 1100-yard range, with four different modes that range from eight levels of vibration and sounds to convulsive and continuous shock.
This device will help you control your Rottweiler if he's barking excessively, pulling the dog leash, walking up to strangers, wandering off, etc. It can be used on dogs that weigh 10 pounds or more.
This collar is rechargeable and waterproof. It also includes a power-saving movement sensor, and innovative contact points with rubber tips to prevent skin irritation.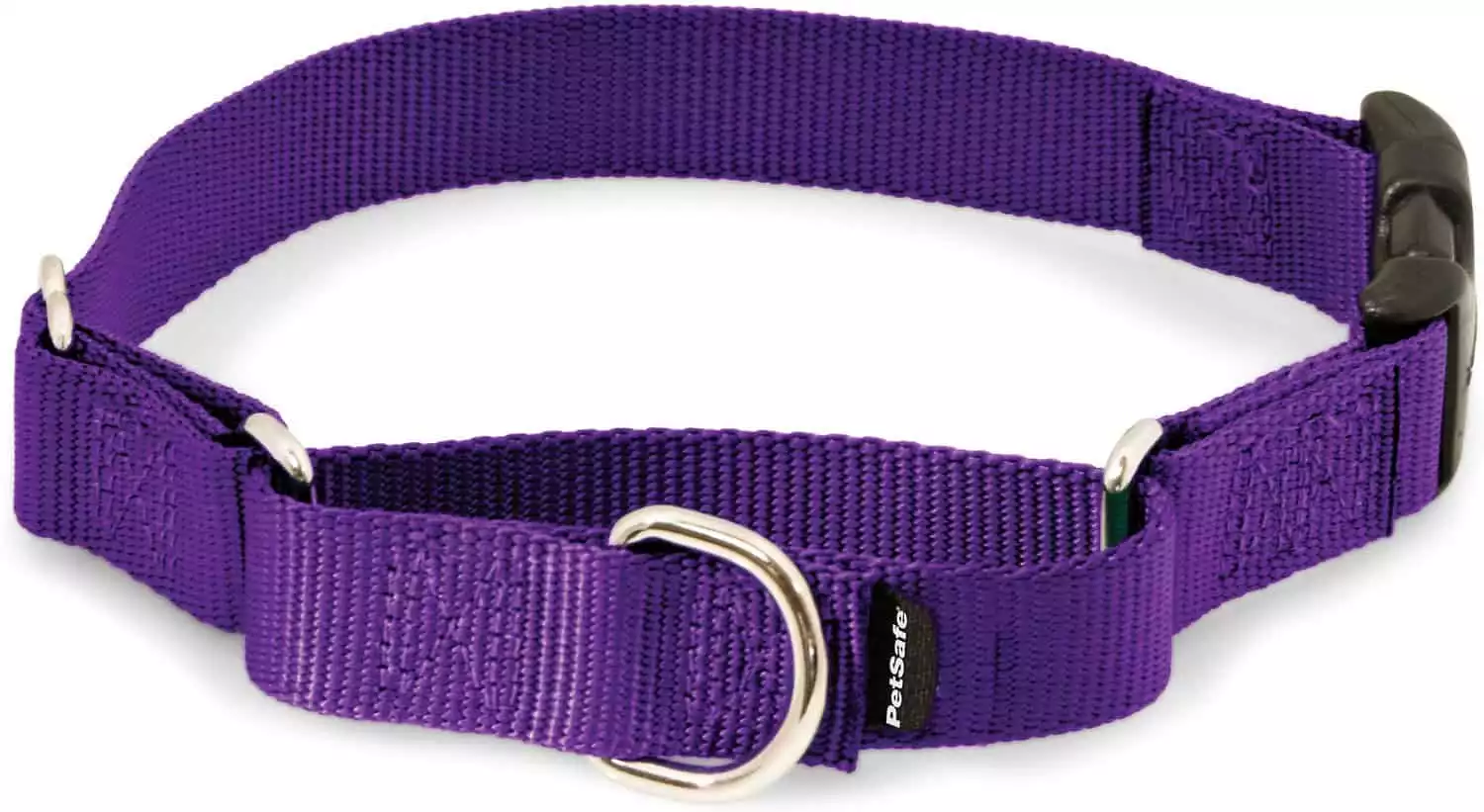 Sometimes, it's the simplest collar design that will fit your dog. Rottweilers are big doggos, and they often have issues with pulling the leash.
If prong collars or choke chains aren't your thing, then you should try a plain old Martingale collar!
The PETSAFE Martingale collar comes in nine sizes, suitable for all dog breeds. We suggest you measure your Rottweiler's neck size, and pick a collar that's not too tight or too loose.
This quick-snap collar is made using durable nylon that won't irritate your dog skin or cause matting or bald spots.
You shouldn't use this collar during tie-out or play sessions. Use it only when you walk your dog with a leash or with your hand. The collar tightens as the dog pulls on the leash, and releases as he slows down. This teaches him to walk properly next to his owner.
The PETSAFE Martingale comes in five different collars, and costs only a couple of bucks. It's practically a steal!
Rottweilers are dogs with dark coats; hence, seeing them in the dark is quite difficult. And, you know this will come when the two of you will have to go for a walk in low-light circumstances.
To stay safe, even in the dark, we suggest using a reflective collar. In some cases, it can even save a life! Introducing the Mighty Paw All-metal Reflective collar.
This collar features a reflective stitching you simply must notice. Drivers or pedestrians walking past you will see what a cool collar your Rottweiler has. But, the first thing you'll notice is the all-metal hardware and the durability of the collar. Rottweilers are strong dogs, and they need something that will last.
Besides the extra safety that the metal features offer, the collar is comfortable and lightweight. It's also quiet, and it keeps the ID tags from jingling and making noise when around the house.
Coming from Rochester, New York, Mighty Paws is a family business that gives you one of the best collars for Rottweilers on the market.
Nite Ize NiteDawg LED Collar
Key Benefits:
High-quality nylon material

Glow mode and flash mode

Long-lasting battery light

Suitable for all-weather conditions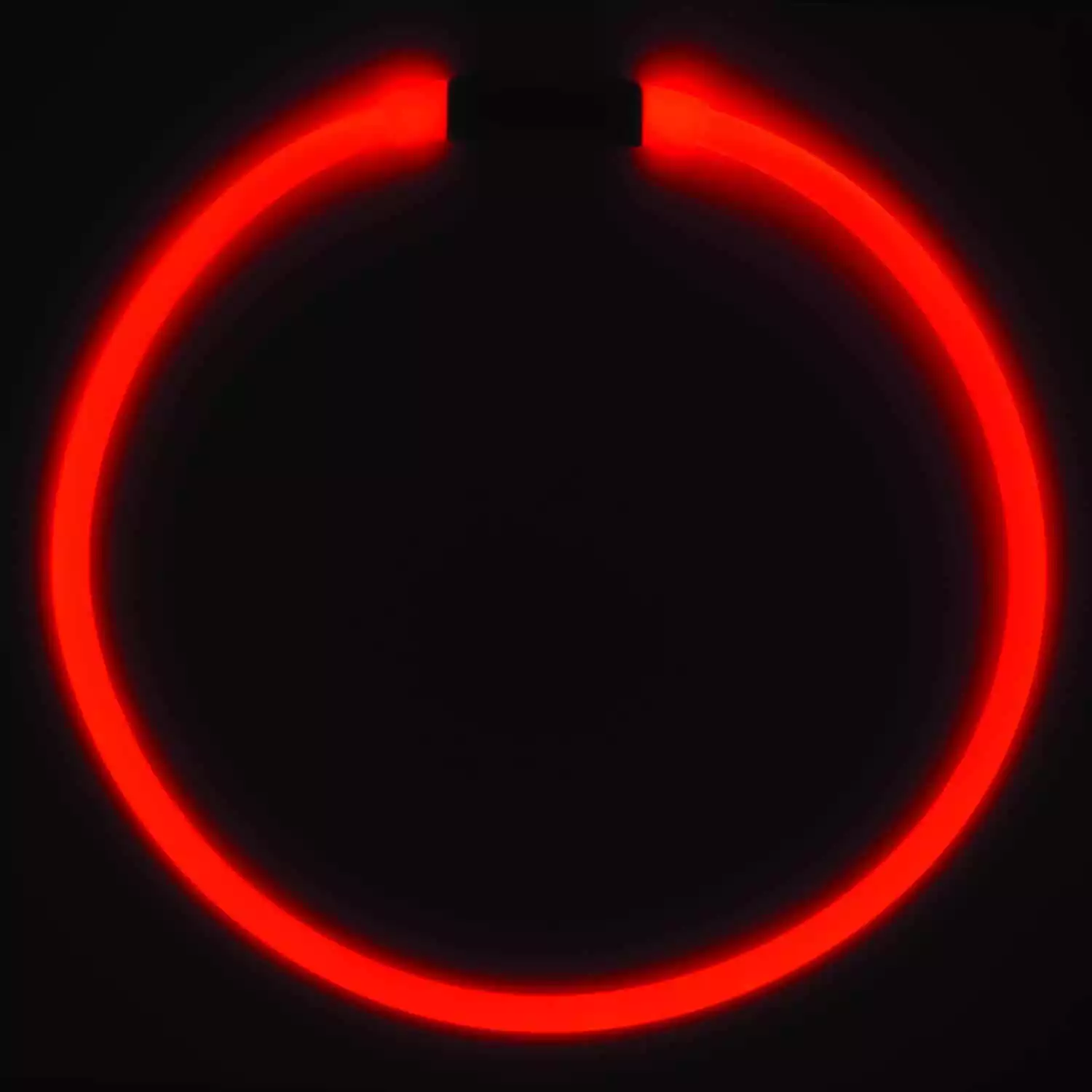 Speaking of reflective collars… here, we have a treat: the Nite Ize NiteDawg LED collar. It's a collar that lights up, and it can be seen even in pitch dark! Perfect when you're out and about at night and want to keep an eye on your Rottie.
The Nite Ize LED collar is designed using high-quality nylon, with a transmitting polymer core that lights up when you switch on the collar.
If you don't need the light-up function, this collar can always be worn like a regular one. Switch it off to save battery. However, you don't have to worry much about batteries since they're replaceable.
Also, the collar features long working hours. If you choose the glow mode, it will give you 75 hours of light. The flash mode can last up to 100 hours.
The NiteDawg is suitable for all weather conditions, so you don't have to worry about the collar breaking down if heavy rain catches you guys.
Some dog owners will choose a nylon or polyester collar, while others will prefer genuine leather. We love seeing a Rottweiler wearing a leather collar, and we believe that this GoTags Personalized Leather collar is the perfect choice.
The collar was designed using conditioned, full-grain Italian leather. Not a single part of the collar is unauthentic. It's soft to touch, and comfortable for your Rottweiler's neck. One of the best parts is, you can personalize the collar!
Add your dog's name and your phone number on the collar so your dog doesn't get lost if he wanders off. But, keep it within 25 characters.
Another way of personalization is to choose one of the 15 available threading colors. As for the leather collar itself, it comes in light and dark brown.
This is an open-end collar, with four holes to fit perfectly, and a stainless steel buckle and D-ring for ID tags and a leash.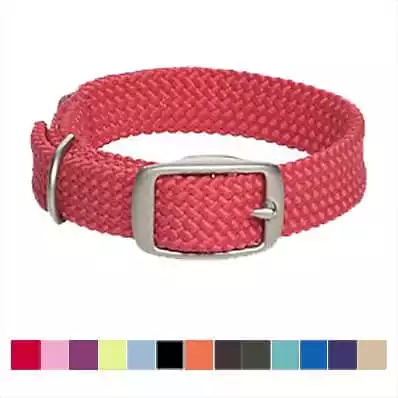 When purchasing a collar for your Rottweiler puppy, your biggest issue will likely be the fit. Not only can it be a challenge to find a collar that fits your dog's current measurements, but it can also feel impossible to get one that will grow with your Rottweiler.
Fortunately, the Mendota Products Double Braided Dog Collar is designed to provide your Rottweiler with the most custom fit possible. Since the collar is braided, there aren't any size holes — you can just push the buckle prong through any spot you need.
Unlike polyester collars, the braided design gives the collar a "broken-in" feel — making it much more difficult for it to chafe or irritate your Rottweiler's skin.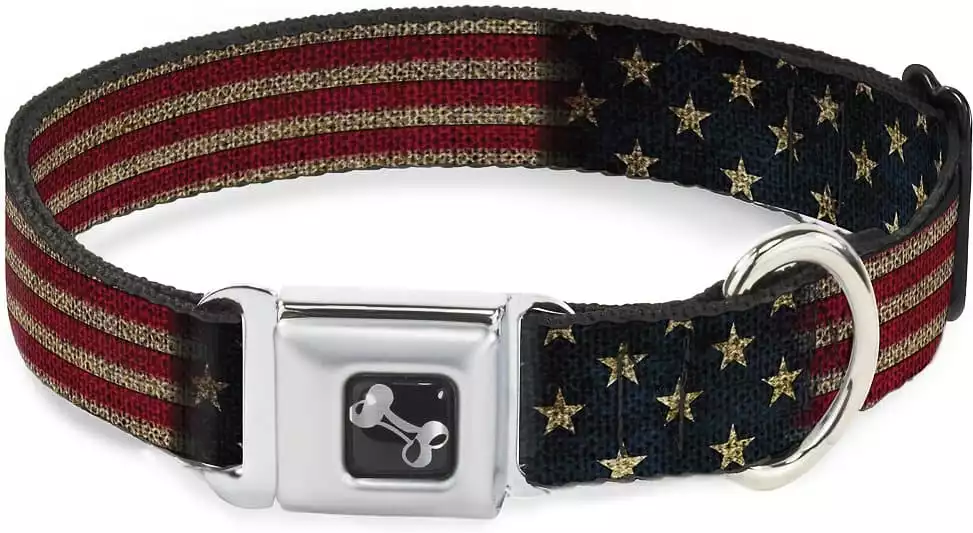 Sometimes, you have to watch for the stylish factor when it comes to buying a dog collar. Rottweilers are pretty dogs with amazing, dark coats. Therefore, they need something that will make them stand out even more.
Just imagine this pawsome Bucke-Down Vintage U.S. collar on your Rottweiler! There's no better choice for a patriotic pooch than this collar. This head-turning piece will make your Rottie the star of your dog park.
The collar is made using high-density polyester webbing, with stainless steel D-rings for dog tags and leash attachment. With a push-release button, the collar comes on and off easily. The buckle is more like a seatbelt buckle clasp, so you'll definitely know your way around it.
Pets First MLB Nylon Collar
Key Benefits:
100% durable and wear-resistant nylon webbing

Ideal as a gift

Durable silver hardware

Detailed sports team logos and design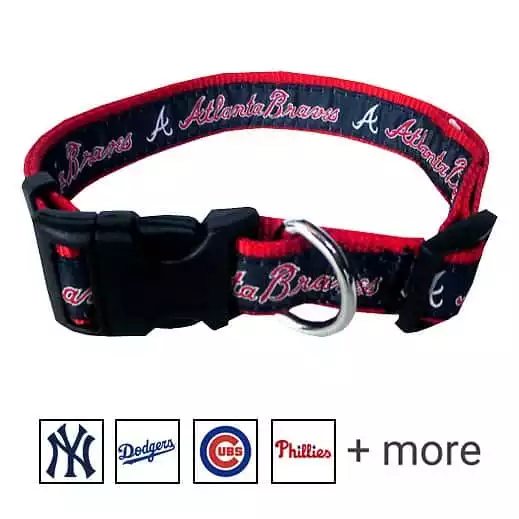 Do you and your Rottie enjoy watching sports together? Well, you two probably have a favorite team, don't you? That's why we believe you should get your dog a sports team-inspired collar.
From the Atlanta Braves to the Washington Mariners, the Pets First MLB collar will suit any sporty doggo and make him feel like a part of the team.
The collar is made from 100% durable and wear-resistant nylon webbing, suitable for heavy duty use. It features the extra durable silver hardware that will keep your dog's ID tags and leash in place.
The Pets First MLB collar has high-quality and detailed woven logos and design. You can rest assured that the team logo won't fade over time, and everyone will be sure which team you're supporting.
C4 Solid Waterproof Collar
Key Benefits:
Personalized collar

Made using medical-grade thermo-elastomer

Waterproof and easy to clean

Stink-proof and stain-resistant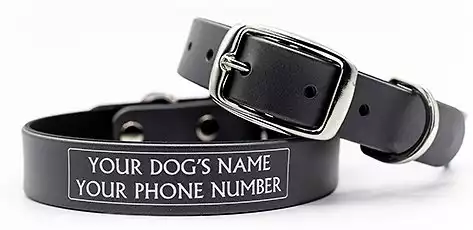 We always recommend that you get a personalized collar for your Rottweiler. Rotties are runners. They're curious creatures, and they will break out of their collar, fenced yard, or kennel if they get a chance. It's always best to have your phone number, along with the dog's name.
Instead of dog ID tags that can be a bit noisy, you should pick the C4 Solid Waterproof collar. You can have your dog's name and your number written all over the collar.
But, don't think that this is only a statement piece for showing off. The C4 collar is actually quite comfortable, and it is crafted using medical-grade thermo-elastomer. This makes the collar waterproof and easy to clean.
Another amazing thing about this collar is that the material is stink-proof and stain-resistant… perfect for Rotties who love getting dirty in the park! But, don't worry about the collar being aggressive on the dog's skin. It's actually hypoallergenic and suitable for sensitive skin.
Illumiseen LED Collar
Key Benefits:
Illuminating LED collar

Fast charging with a USB

Steady, rapid flash and slow flash modes with one click

Battery lasts for up to 5 hours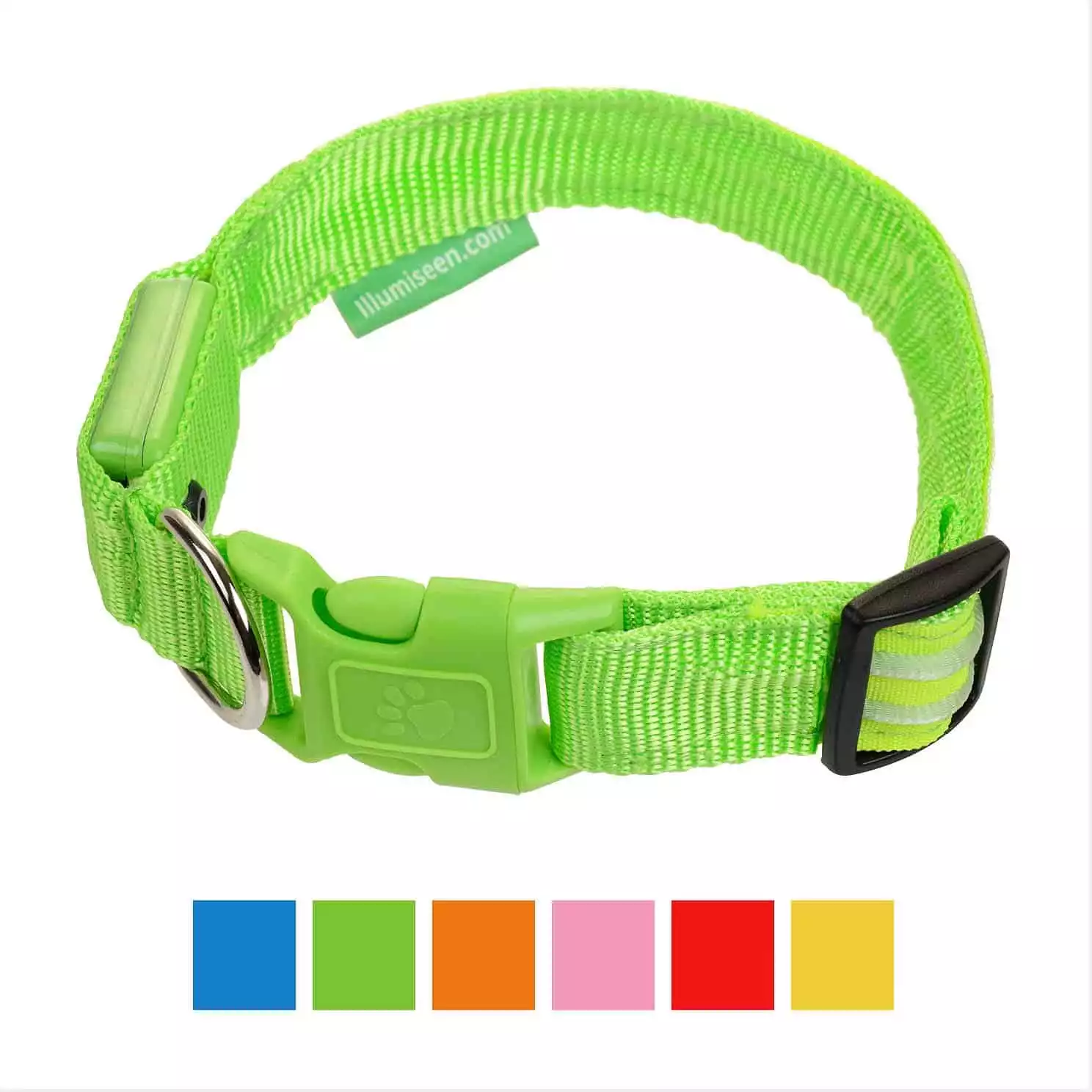 Remember how Rottweilers have dark coats? You are aware they will need to go potty sometimes in low-visibility settings? Then, you need a collar like this one! Introducing the Illumiseen LED collar, a fully rechargeable USB collar you'll love!
Your Rottie will be visible thanks to the illuminating strips. The collar features a rechargeable battery lasting for up to five hours. But, you can charge it quickly within an hour using a USB port.
The collar's light can be adjusted from steady, rapid flash, and slow flash modes with one click. No worries about not being seen at all!
But, the collar is not only a showstopper… it's also quite durable and made to last for years to come. The Illumiseen is a comfy and safe choice for your dear Rottie.
Tips You Should Know When Shopping For A Rottweiler Dog Collar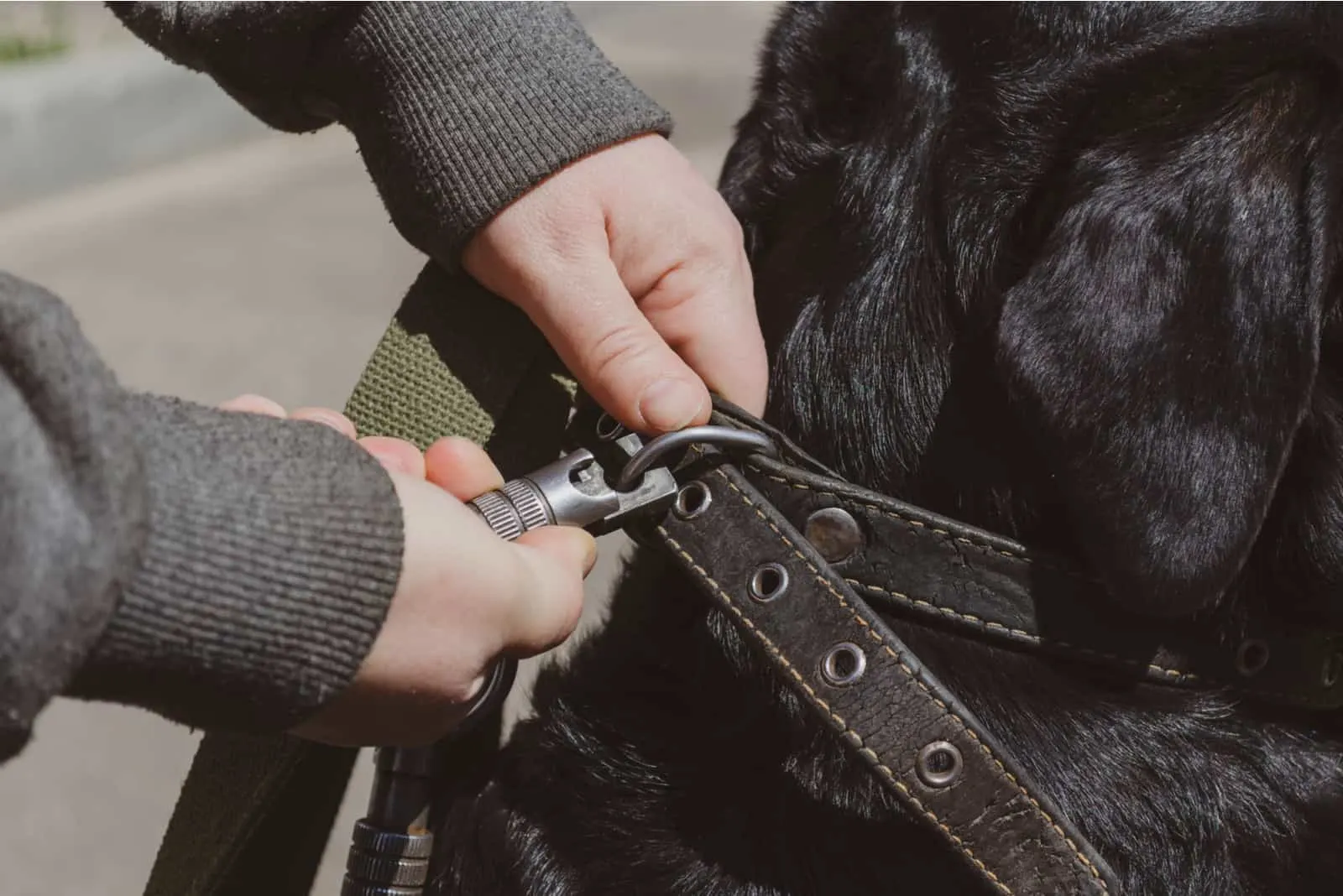 A Rottweiler's collar should be strong enough to hold the pressure when the dog pulls on the leash. Any buckle or D-ring should be reinforced or your Rott will break out easily.
Rottweilers are dogs with a thick neck and a big head. Some can be a bit smaller, with jaws and neck in proportion. This is the case with American female Rottweilers, unlinke German Rotties. In fact, there is a general difference between American and German Rottweilers, and it's the breed standard. The German Rottie is closer to the breed standard. Their body is bulkier and their head is larger.
So, you better know which Rottweiler you own!
If a Rottie's head is smaller and its jaws are narrow, the collar will slip over the head. Once the dog sees how the collar can slip off easily, he will try to break out. You need a collar that won't slip off, but still won't be too tight. A Martingale is always a safe choice! If your Rottie has a larger head, then a simple buckle collar secured and fastened properly will make it.
Rottweilers are dogs that seem to put too much pressure on the collar, so you will need to pick a comfortable one. We recommend soft-padded collars that are wide enough so they don't cut into the dog's skin. Make sure the collar is not smaller than one inch wide.
We don't often think about safety when picking a dog collar, but it's more important than we think. Since Rottweilers have black coats, they are invisible at night. They need a reflective collar to keep them visible in low-light settings.
Since this breed has a bad reputation, it won't be bad to get a collar that shows everyone which dog breed you own. Maybe someone who's really scared of your Rottie would like to cross the street.
The style of the collar is the least important thing. Rottweilers are impressive dogs, and personally, we believe they deserve a nice-looking collar that will only emphasize how stunning they are.
FAQs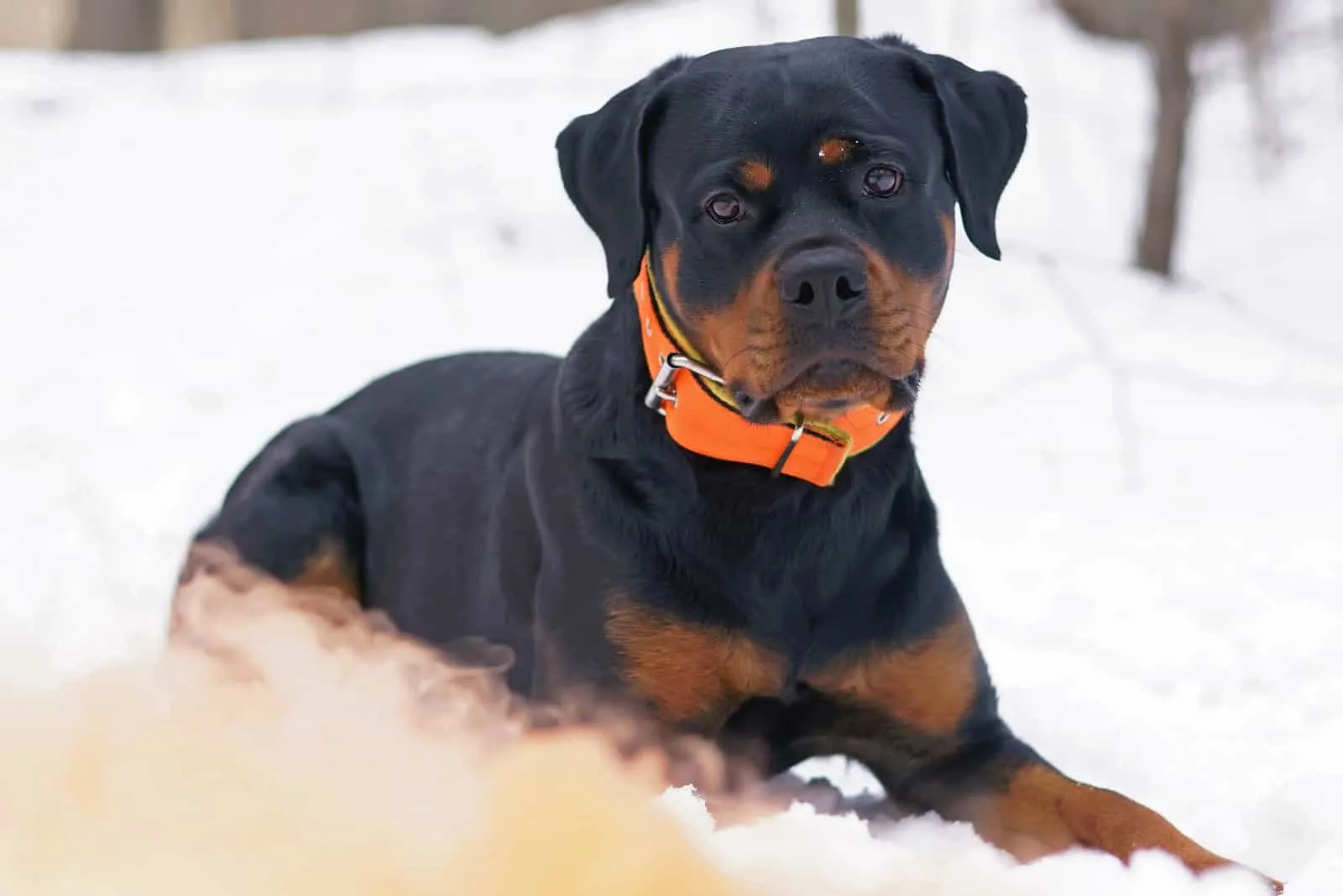 Which Collar Size Does My Rottweiler Puppy Need?
A young Rottweiler puppy needs a small collar. However, by the age of six months, Rottweiler puppies grow significantly and will require a medium-sized collar.
When picking out a collar size, you should keep in mind that your Rottweiler puppy will grow up and need space around the neck. A Rottweiler's neck can become pretty wide, so a collar should come with adjustments.
Is My Rottweiler Allowed To Be Out And About Without A Collar?
Some states will require a collar while in public, while others won't. You should check out the laws in your area as to whether to put your Rott into a collar or not. Although they may not hurt a fly, Rottweilers have a bad reputation of being aggressive, and people could gawk at you for not putting a collar on your dog. Also, there is a threat of paying a hefty fine if you break the law.
Inform yourself about the laws in your state and any other state you're planning to visit with your dog in order to avoid unpleasant situations.
Which Collar Size Does A Rottweiler Need?
Your adult Rottweiler is a big dog, and it should wear a collar ranging from 24 to 30 inches. Always make sure you compare the size of your dog's neck to the product's chart.
How Do You Know If The Collar Is A Good Fit?
There is a general rule that might help you determine if the collar fits your dog or not. You should be able to slide two of your fingers between your Rottweiler's collar and its neck. If you can't slide two fingers underneath, the collar is too tight. If you fit more than two fingers, it's loose.
Conclusion
So, which do you think is the best collar for a Rottweiler?
We have to agree that sometimes, the price doesn't equal the quality. Even the simplest and cheapest collars will do the trick as long as they can hold up to the pressure coming from this large breed of dog.
With their huge necks and wide heads, Rottweilers are pretty hard to shop for. Luckily, you have our little shopping guide that will lead you through the process. Between all these choke collars, Martingales, and simple leather collars with metal buckles, which is your choice?