Disclosure: This post contains affiliate links, and I will be compensated if you make a purchase after clicking on my links.
Doberman Pinschers are known for their bad reputation – but they are amazing family dogs that people love to keep. Even some canine lovers are afraid to keep them because of their black coats and somewhat scary appearance.
Despite this reputation, these dogs are no more dangerous nor aggressive than any other dog breed. Sure, they were bred to protect a German tax collector, but in the modern day, they are family pets as often as they are guard dogs.
The truth is, the Doberman is a loyal, playful, and affectionate breed that is rather intelligent. While these big dogs do require some additional socialization because of their background, they are eager to please, so this isn't a challenge.
They are defensive, but not vicious, and they can easily be their owner's best friend and protector. While they'll defend their owner at all costs, they can also be attention-seeking and cuddly.
While most people know Dobermans by their slick body, short coat, docked tail, and cropped ears, their appearance changed once ear cropping and tail docking had been prohibited in many countries. In fact, this change of image helped fix their reputation a bit.
As this large dog breed has moved inside our homes, the quest began for finding the best dog beds for the Doberman. We cannot let our pooches lie in uncomfortable beds that are inadequately sized. They deserve high-quality products.
Still, choosing the right bed from such a huge variety of products can be exhausting. This is why we have compiled a list of the top 16 best dog beds for Doberman Pinschers. If this is something that interests you – keep on reading!
Best Dog Beds For Doberman – Top 16 Products
All dog owners want only the best for their four-legged companions. Providing them with the best possible spot to sleep is one of the most important things in dog ownership.
Here are 16 best dog beds for a Doberman that you can purchase online:
If you're looking at the best dog beds for Dobermans, you can hardly miss this large dog bed by Big Barker. It's one of the most popular products for large dog breeds in the U.S. and even outside of the states.
In fact, this is likely the best orthopedic dog bed out there. This isn't just the title – this bed will provide your pup with all the comfort he'll need, even if he has some orthopedic issues, such as hip dysplasia or arthritis. It's made out of the finest orthopedic memory foam and it stays true to its name.
This is a durable dog bed that will keep your dog feeling well rested for years to come. While it comes in three large sizes, most Doberman owners have reported that the X-Large one is the adequate size for their pups.
The bed comes in four beautiful colors, so it will likely fit with your interior. At the same time, it's effortless to clean, and you can clean most imperfections simply by wiping with a wet cloth.
This is a luxurious bed that offers orthopedic support for your pooch. It will give your Dobie's hips and back the support they need for a comfortable all-night sleep. Your pup will love it!
It has an open design, and it comes in six different sizes, so you will certainly find the right one for your pup. Even a large dog such as a Doberman will be able to stretch out and snooze at will!
The contoured form provides additional comfort, together with the soft and plush sleeping surface. The base of the bed is made from a thick and dense orthopedic foam base. This will deliver both sturdy comfort and insulation.
When it comes to design, the bed comes in twelve different colors, so it can suit most interiors. The bed cover is machine-washable, so cleaning it will be a breeze as well. Just don't let your dog chew on it as it can get damaged.
If your Dobie loves to sleep in warm dog beds, this large, fluffy pet bed might be the best choice for him. It has a faux fur cover with a fluffy texture. If your Doberman likes to snuggle during bedtime, he'll just love this bed!
The jumbo size (which we recommend for Doberman Pinschers) has a weight capacity of 150 lbs, which is more than you'll need. It's also durable enough to withstand some nesting in case your pup likes to do that as well.
The bed comes with a zippered shell that you can remove if you find it unnecessary. The round shape and raised rim will help your pooch feel safe and secure.
The bottom of the bed is waterproof and dirt resistant, so it won't make your floor dirty. The machine washable cover helps with cleaning as well. Not only will your Dobie like this bed – you'll love it, too!
PetFusion is a brand known for producing the highest quality dog products out there, and this bed isn't an exception. It was designed not just for comfort, but to fit inside every home. The aesthetic design was made to give it the feeling of belonging inside your house.
This dog bed is made of optimum material, including a solid 4-inch memory foam base. This will ensure comfort and help reduce any joint pains. Also, it will help improve the health, mobility, and energy of your pup.
The support bolsters are made of recycled material that, sadly, isn't machine washable, but it's still durable and generously filled. Together with the base, it will provide supreme support and security for your sleeping pup.
The cover is tear- and water-resistant, and the non-skid bottom makes it suitable even for the most restless of sleepers. In case something does happen to the covers, you can purchase replacement ones.
This is yet another large dog bed suitable for Dobermans. It is made from orthopedic foam that is as soft as cotton and designed to be comfortable enough for humans. This only means your dog will love it.
The cover is made from ultra soft polyester, and it's designed to fit modern standards. The headrest cushion has a padded rim, and it will perfectly contour your dog's neck, keeping him comfortable and pain-free.
The bed is designed to be almost like a decor inside your home, and it will nicely fit into most interiors. Also, there is a non-slip rubber backing built into it, so it won't damage your floor or move around when your pup is dreaming.
When it comes to cleaning, this is one of the beds with the lowest maintenance on our list. The cover is removable and machine washable, and the rest of the bed is vacuumable. Overall, this is a bed that your dog will love, and you won't have any complicated tasks around it.
If you're looking for the best dog beds for a Doberman that you can use in a kennel or a crate, this product might be good for you and your Dobe.
It comes with a washable cover made from firm-hand cotton duck canvas, and a water repellent covering that is easy to remove. It also has a waffle-constructed interior cushion that allows the polyester filling to stay in one place without falling apart or misplacing itself. The cover is removed via a hidden zipper.
The bed is very durable, and even heavy nesters aren't likely to break it. Unfortunately, it isn't entirely chew-proof, and some avid chewers might damage it.
This dog bed can be placed inside a crate, so if this is how your dog likes to sleep, you might consider buying it.
This is a high-quality bed made to maximize comfort, thanks to the soft, plush faux fur covering. This cover is also machine washable, and you can clean it with ease in just a few steps.
The base of the bed is made from dense, medical-grade orthopedic foam. It allows good airflow while cradling your Doberman's body and relieving his joints from pressure. This can help him get a good night's sleep no matter his preferred sleeping position.
The bed has three suede side bolsters that can serve as a headrest. The third side is low enough for dogs with joint problems or young puppies to climb on, making a comfortable place to get in or out of bed.
The bed comes in five sizes, and large or jumbo ones seem to be the best fit for this large dog breed. It also comes in four colors to fit most interiors and furniture.
This is one of the best dog beds for Dobermans that are used to sleeping outdoors. It can be used every day, or for those occasional rests when your Dobie gets tired from running around in the back yard.
The bed is elevated to prevent mold while also allowing it to breathe, creating the optimal temperature for sleeping outdoors even in the summer heat. The PVC fabric is designed to last for a very long time while providing enough comfort and support for large dogs.
The feet are skid-resistant and stable. They are gentle enough to be used indoors if this is something you'd prefer – although the bed is intended for outdoor use.
This bed is easy to clean and assemble. You can simply spray it with a hose and wait until it's dry, and your pooch will be able to use it once again.
While this might not be the right product for the inside of your home, it is a great backup large dog bed for travel. It is portable, foldable, and comes with a stuff sack that you can pack it in and carry it around hassle-free.
The cover is made from nylon and suede, and the entire bed is machine-washable. It's also water-resistant, so you don't have to worry about buying it for your puppy or senior dog.
Still, as this is a portable option, it isn't as comfortable as memory foam dog beds, and it doesn't provide the same amount of joint support. However, it is durable enough to withstand most of the chewing and clawing, and you can even use it outdoors!
This dog bed is also a great option to be used in a car, an RV, or in a tent during camping. And, it won't break your budget!
Are you one of those dog owners who loves personalized pet products from dog toys to collars to dog beds? Then, this is the perfect dog bed for you and your pup.
This is a pillow bed that is customizable according to your desires. You can have up to ten characters embroidered in either red or black color, and you can choose between block cap or flair script fonts. This is a fun addition if you have more than one dog in your house and want to have a personalized bed for each one.
The bed is stuffed with fluffy Virgin Polyfill, so it's as cozy as it can be. The outside of it is covered with a machine-washable microfiber cover. You can also reverse it, so you can choose between solid silver and a silver geometrical pattern.
While this pet bed comes in only one size, it is large enough for Dobermans, even if they tend to toss and turn a bit in their sleep.
This is a versatile dog bed that is suitable for both indoors and outdoors, as well as for dogs and cats alike. It is one of the most comfortable beds out there, sporting a mix of an elevated mesh bed and a sofa-style bed all in one.
It has fluffy bolsters that serve as the perfect headrest, and they are an excellent choice for nestling. The mesh center allows the bed to stay breathable, and the elongated legs keep the bed above the ground, keeping it safe from mold, pests, and mildew. Of course, this does make it somewhat challenging to climb into for dogs with orthopedic issues or for a Doberman puppy.
The assembly is simple, so you can carry this bed around with you on travels. It requires no tools, and the non-skid rubber feet make it suitable for indoor use.
While the bolsters aren't chew-resistant, the rest of the bed is. It's also very easy to clean as the cover is made of waterproof nylon that is odor-resistant.
Do you like Disney? If you do, then this surely belongs on your best dog beds for Dobermans list. It is a pillow-style bed with Disney's Pluto design – and it's Chewy's exclusive product.
This bed features the ultra-plush fabric that is perfect for chilling all day, snoozing, lounging, or falling into a deep sleep. Seeing your pup sleeping surrounded by tiny Plutos will certainly make you go 'aww'.
It has a step-on design, so even your Doberman puppies or senior dogs with joint pain can climb onto it with ease. The fluffy polyester fiber filling makes it the perfect new bed as no pet will be able to resist its coziness.
Durability, however, isn't this bed's strongest side as it isn't chew-resistant. However, it is machine-washable and easy to keep clean, which is always a good thing.
This is yet another pillow bed on our list – but it's also a good one. It is filled with high-quality polyfill that helps relieve pressure points on your Doberman's body, making it comfortable enough for even older dogs, and giving them a restful sleep.
This bed is a good choice to use inside a dog crate or a kennel as it's lightweight and easy to fit inside. It is suitable for puppies as well, as it isn't too high and dogs of every size can climb onto it.
The bed is machine-washable, and the bottoms are enforced with a waterproof liner so they won't make your floor dirty. The outside of the bed is made from soft velvet, so it is comfortable and soft.
This bed comes in three different sizes, and it has a nice combination of burgundy and white color, giving it a luxurious look.
Does your Doberman require an extra large dog bed? If he does, then this might be the best dog bed for you. It is large, comfortable, and sports bolsters on every side, providing 360-degree support. This will give your dog all the security he might need.
The bed's cover is made from quilted velvet, making it look luxurious, and it will fit into most homes. It is shaped for dogs that love to cuddle up, but it might not be the best choice for dogs that sleep in a spread-out position.
The cover is machine-washable, so it's easy to clean. The fill is made from recycled materials, so you'll also stay eco-friendly by making a purchase.
This bed doesn't require any assembly, and you can just place it in the right spot and it'll be good to go. However, it is not chew-proof.
This dog bed is somewhat different from the rest. Serta is the No. 1 mattress company in many countries, including the USA. However, not many people know that they also make some of the best dog beds for a Doberman.
​This dog bed is made with the same technologies used to make high-quality human beds. It's designed with orthopedic foam, enabling exceptional comfort. In fact, this can be the ideal bed for dogs with joint pain as it will make them feel soothed and relaxed.
The surface is soft and plush quilted, and it's surrounded with really high bolsters on three of its sides. This will help your dog lie comfortably, and also help relieve their joints from pressure.
As if this isn't enough, this bed comes in two sizes and several colors. This allows you to choose the best possible bed that will suit your interior.
This is one of the best dog beds for Dobermans that simply cannot get off of your sofa. It imitates the shape and the feel of a human lounger, making it comfortable for lap dogs that can't seem to get away from your furniture.
This is one of the largest beds on our list, and it's perfect for Dobies that love to stretch and toss and turn. The cover is removable and machine-washable, so you can clean it with convenience.
The fill is made from 100% recycled polyester fiber, giving your dog as much comfort as possible. The two bolsters will provide your pooch with the perfect headrest, making it feel comfortable and pampered.
The bed is made with the official Realtree camo cover that is very stylish. It will be the perfect addition for most rooms, adding a sense of fashion.
What To Look For In The Best Dog Beds For Dobermans?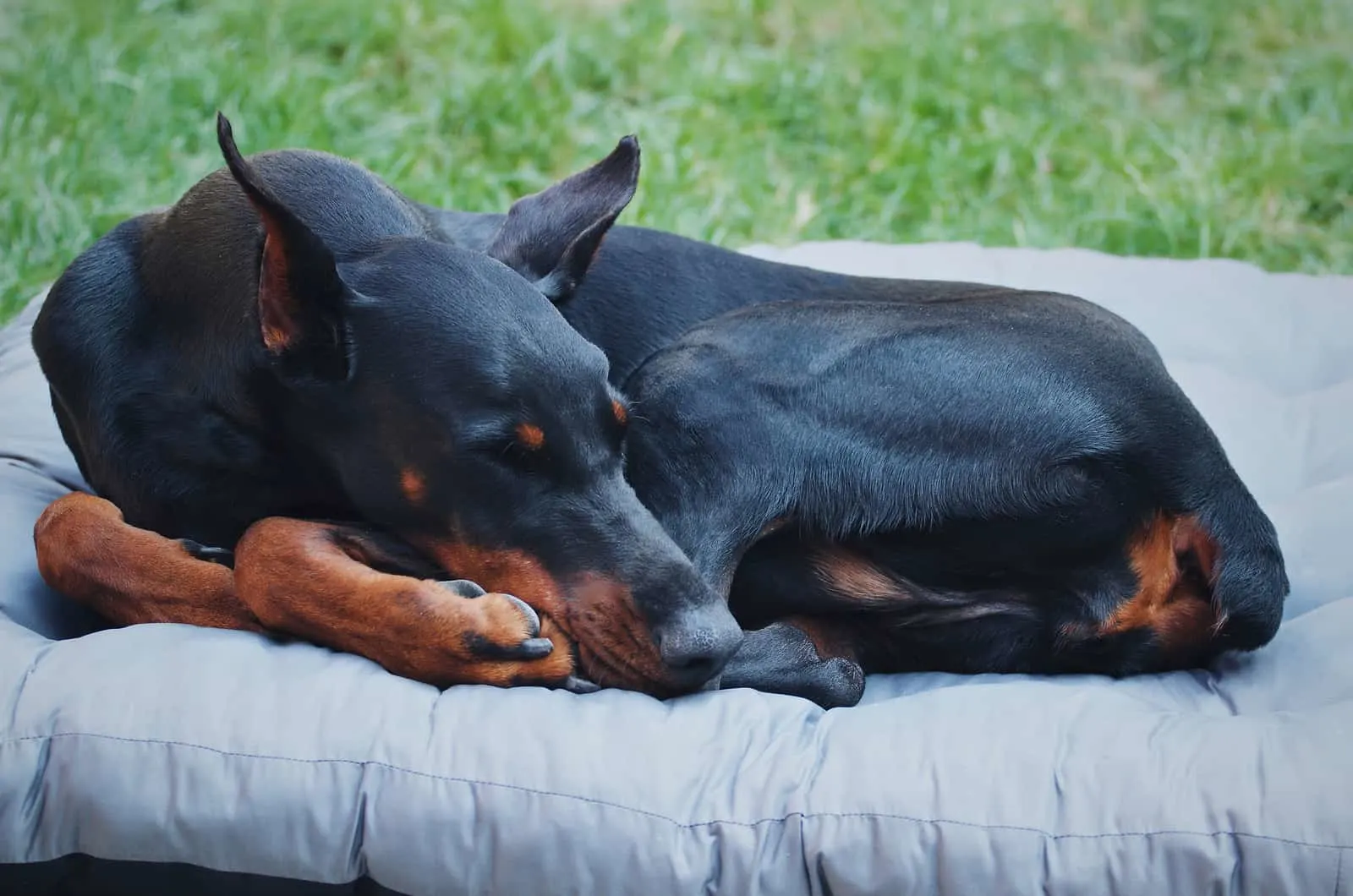 While many people simply buy the first dog bed they like, there are a few things you should consider before getting the product home with you.
Most dogs are slight sleepers. However, when you have highly alert dogs such as Dobermans, this is something you really need to be mindful of. If they don't like their bed or if it isn't adequate, you might end up with a tired or hyperactive Dobie that won't sleep during the night.
When looking for the best dog beds for a Doberman, there are a few things you need to think about. Most of them have to do with your pet's size and temperament.
Does your Doberman love to nest before sleep? Do you plan to put the bed in a crate? Does your Dobie like to get dirty, so you'll need to clean your bed a lot, or is this not an issue? Does he have some health problems that will keep him from getting into bed easily? These are all the things you need to consider.
Of course, the best thing would be to bring your dog with you to the pet store so you can see in person whether the bed is accurate. Unfortunately, this isn't possible in many cases, especially when you're buying online from sites such as Amazon or Chewy.
This is why we've created this quick buyer's guide for you. Here are all the things you should consider before choosing the best dog bed for you and your dog:
Your Dog's Age
Puppies and senior dogs cannot sleep in the same bed. Even adults might have their own specific needs that you have to think about.
For example, if you have a puppy, you need to get him a large but short bed. Otherwise, he might not be able to climb into it, or he will struggle, so he won't use it.
Both puppies and senior dogs can wet their beds, so the materials need to be washable and waterproof. Puppies might even prefer having a bed they can tuck in as this will make them feel more comfortable.
Adult dogs are restless sleepers, so get them a bed that won't slip. Senior dogs, however, dislike drafts. Best dog beds for Dobermans that have reached their 'golden years' tend to be raised ones.
Your Dog's Style Of Sleeping
Look at your Doberman while he's asleep. How does he like to sleep? Keep in mind that dogs don't usually sleep on their backs. This is simply the position to cool off so they can feel comfortable enough to sleep.
On the other hand, dogs that curl up usually feel more secure if they have a lounge bed with sides.
If your dog turns around a lot while sleeping, you'll want a bed with a non-skid bottom. Otherwise, you might have to put the bed on the carpet, and this isn't a good solution for many dog owners.
Your Dog's Activity Levels
Overall, all Dobermans are extremely active dogs with high energy levels. While this can make it difficult to help them deplete such high energy, this will mean they will be tired when it's finally their bedtime.
A dog that is very tired will rarely want to struggle when getting into bed. Just like humans after a long day at work, tired pups will just want to collapse into bed and fall asleep instantly. The more active the dog, the less he'll be ready to deal with beds.
The Bed's Material
Dobermans like to chew on things – especially teething puppies or anxious and frustrated dogs. They are huge chewers with sharp teeth and strong jaws. While they'll rarely use them to hurt you, they might hurt the bed.
The more your pup likes to chew on things, the more you need to pay attention to the bed's material. The best dog beds for Dobermans are chew-proof as they're made from resistant materials. This will keep you from coming home to a ruined bed.
If the bed isn't chew-proof, try looking for products with at least a one-year warranty. This will keep you safe in case your dog's temper gets the best of him.
Another thing you should consider is the dog's health. Many large dog breeds suffer from joint pain, and Dobermans are no different. Beds made with memory foam can help them get relief.
Memory foam was first developed by NASA to help astronauts sleep comfortably. After that, it was used in hospitals for people with muscle problems. As you see, it was made to be as comfortable as possible for humans – and it will do the same for your pup.
Best Dog Beds For A Doberman Buyer's Guide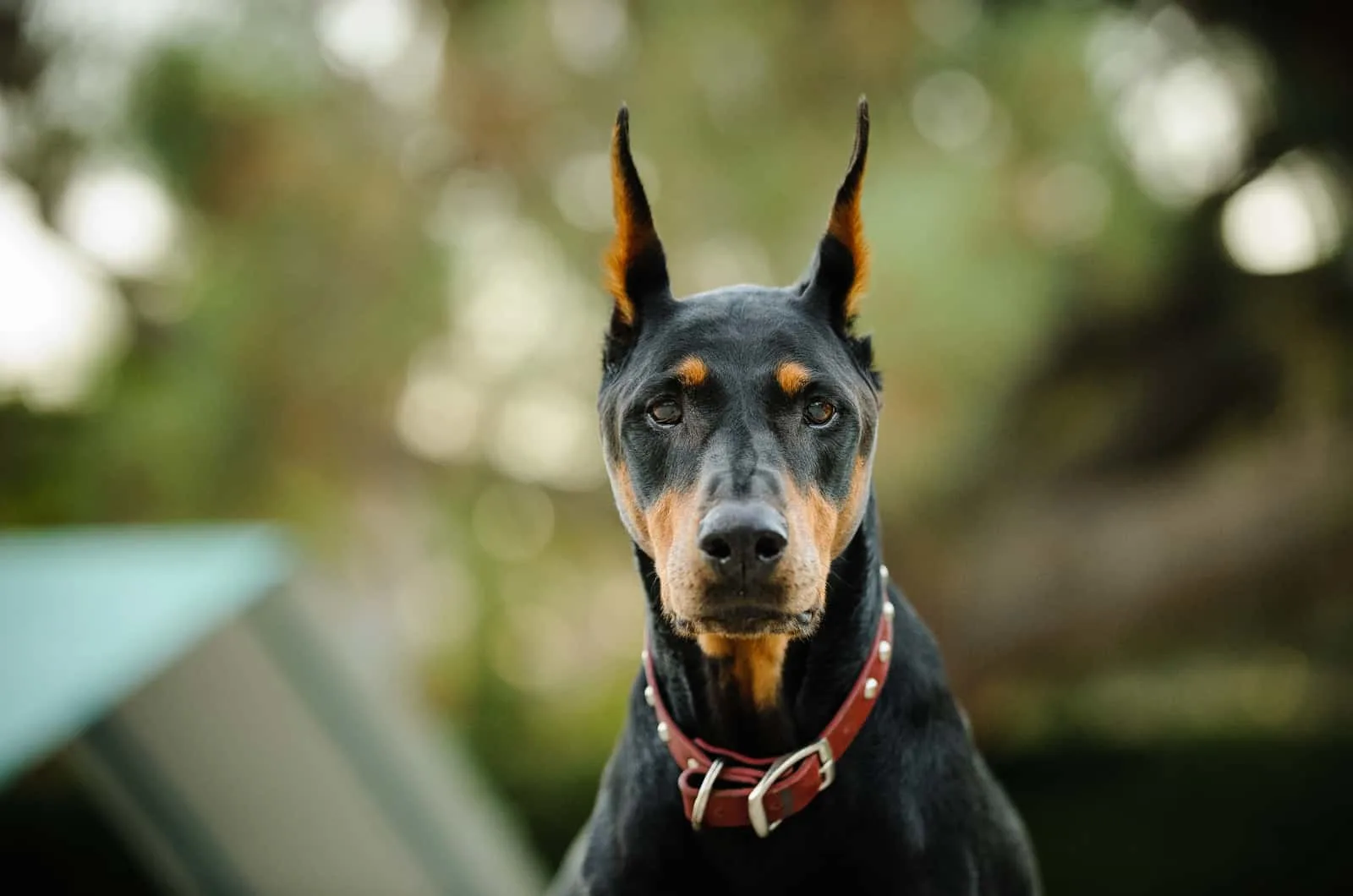 Even after you've considered all of the things we've listed, you might still find that there are many good products on the market. At the same time, there still aren't as many great beds for smaller dog breeds. Many people still think that large breeds should sleep outside, so there aren't as many unique options for Dobermans.
Still, here are a few things you should look for in the best dog beds for a Doberman:
Size
This is the most important thing you need to think of before going shopping. If you get a bed that is the wrong size, nothing else will make it good.
To determine what size of bed you should look for, measure your dog's body. Then, add four to six inches. This will be the minimum size requirement for the dog bed. Anything smaller than this will make your pooch feel uncomfortable.
Odor-Resistant Materials
Unfortunately, all dogs can have that terrible smell that their owners don't really like. After a while, you might get used to it – until your guest tells you that your house reeks of 'wet dog smell'. This phenomenon is unofficially known as nose blindness, and it can result in many embarrassing situations.
Chances are your dog will spend most of his day inside his large dog bed. This means that this is the place that will smell the most. Sometimes, the smell can go in so deep that you won't be able to get rid of it even after hours of washing!
Fortunately, many best dog beds for a Doberman are made with odor-resistant materials that won't pick up any bad smell. This is surely helpful.
Hypoallergenic Materials
Just like humans, dogs can have allergies to various materials. Dobermans are especially known as dogs with sensitive skin, so this is something you need to think about when choosing the best dog beds for them.
Allergies are most common in spring or summer because of the mildew, mold spores, and dust mites. If your dog bed isn't made of hypoallergenic materials, it will serve as a house for all allergens. This can cause serious skin irritations and health problems for your Dobies.
There are many hypoallergenic materials out there. Look for a bed made of materials that won't cause problems for your pooch.
Waterproof Materials
Dobermans are intelligent dogs that love to please their owners. Potty training Dobermans is an easy task that can be completed rather quickly. However, with very young dogs, or older dogs that have bladder issues, accidents can happen.
The same goes for anxious dogs or adopted dogs with a challenging past. Such issues can make a dog incontinent, preventing them from controlling their bladder.
Because of this, it isn't a bad idea to think in advance and get a bed made of waterproof materials. This will not only prevent the formation of mold, mildew, and bad smells, but it will help your dog bed last longer.
Cool-Down Features
Sure, Dobermans have a short coat. However, it is also dense and dark, which can make them prone to overheating.
Dobermans tend to handle heat better than they handle cold, but this doesn't mean you should test their limits. A good sign that a dog is overheated is if he sleeps on his back most of the time.
Memory foam is a good material that isn't only comfortable and strong, but will keep your pooch from overheating.
Easy To Clean
All dog owners want a bed that's easy to clean. While we love our four-legged companions, we also don't want to have to clean after them for more than necessary, and getting a bed that's effortless to keep clean is a dream come true.
Some beds are machine-washable, so you won't have to do much other than disassemble or tuck them and place them inside a washing machine. Others can be cleaned with just a single spray from the hose.
Another good feature that best dog beds for Dobermans has that helps with the cleaning are materials that are resistant to hair buildup. While Doberman dogs don't shed much, there will be some loose hairs, especially on the place they sleep in.
Not to mention that these dogs usually come in brown or black, so if your furniture or the bed is made from bright materials, the hairs will be extremely noticeable. A good dog bed should make all this fallout effortless to get rid of.
Comfort
Just like humans, dogs love to feel cozy and comfortable in their beds. If you buy a bed just for your Dobie to lie inside the shipping box, you've only wasted your money.
Dogs love soft beds that are big enough for them to turn around in. While some pups love bolsters, others don't, so this is something you should experiment with. As long as your Doberman loves sleeping in it – you know you've picked the best dog bed for him.
Value For The Price
Finally, the price can influence our decision to purchase something. While you shouldn't try to save money on your pets, you still don't want to purchase something that isn't worth the price.
Cheap dog beds aren't always bad, and expensive ones aren't necessarily of the highest quality out there. Always read the reviews and try to pick the product that is best suited for your budget, and that will be worth every cent. And, of course, check the price before making the big decision.
FAQ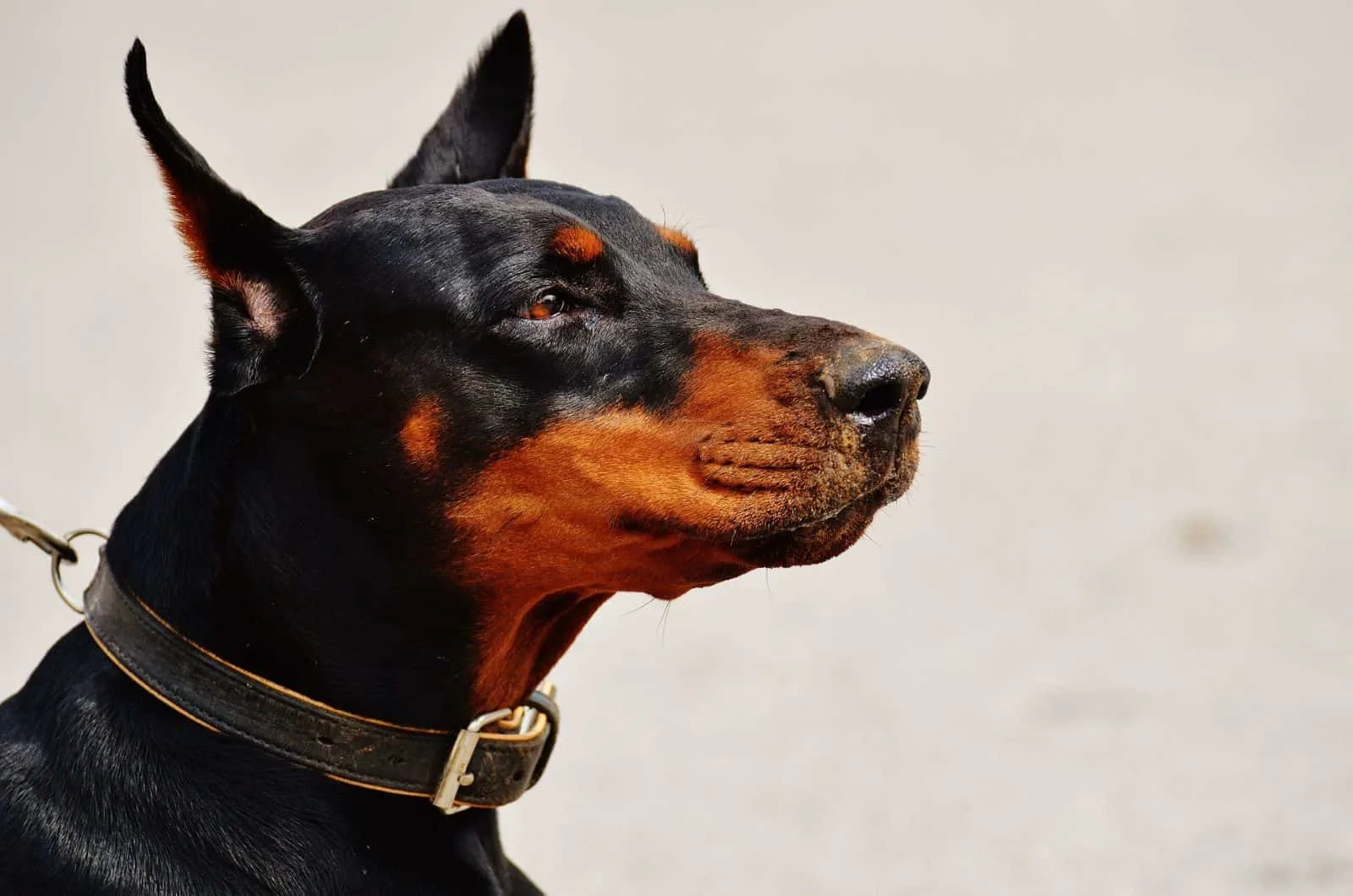 What Type Of Bed Do Dobermans Prefer?
Dobermans are big dogs, and the only logical conclusion is that they need a big bed. Even if your pooch sleeps curled up, you have to take his size into consideration.
Dogs can toss and turn in their sleep, and Dobermans are especially prone to this. Don't let their beds slip. Also, these pups are chewers, so make sure the bed is chew proof and fit for their nesting instinct.
If you get a puppy, keep in mind that no dog likes to sleep in a wet bed – and with young pups, accidents are likely to happen. Dobermans are clean dogs, so this can make them rather finicky. Try finding a bed made of waterproof materials.
Why Does My Doberman Lick The Bed?
You've chosen from the best dog beds for a Doberman only to have your pooch lick it until it's soaking wet. As annoying as this is, this can be a rather normal activity as it's a way your dog will settle down before bedtime.
Of course, some behavioral or health issues can be the culprit behind this. If your dog has suddenly started doing this, get him to the vet or behaviorist to rule out conditions such as obsessive-compulsive disorder, separation anxiety, early maternal separation, growing or nausea pains, allergies, infections, or gastrointestinal issues.
What Type Of Bed Is Best Suited For Dobermans?
There are a few things that best dog beds for Doberman has to have. Even if you have a puppy, get him a large-sized bed as he'll grow into it.
Dobermans are prone to joint problems, such as hip dysplasia and elbow dysplasia. Because of this, memory foam is recommended as the best material possible.
Following our buyer's guide should be enough to let you know what to look for in the best dog beds for Doberman Pinschers.