This post contains affiliate links, and I will be compensated if you make a purchase after clicking on my links.
Summer tends to hit dogs hard, so it's nice to offer them a bit of a reprieve every now and then. One way of providing them with such is getting them a cooling bed, but what are the best cooling dog beds?
Well, the best cooling dog beds provide air circulation even under the intended laying area, allowing your doggo to lounge in any position he so chooses.
Aside from that, you still want it to be comfortable, made from quality material, and waterproof to a degree just in case it gets left out in the rain on accident.
Given how likely it is to mostly be used outside, the bed should also be easy to clean, and, as always, it shouldn't carve too much out of your budget that is reserved for your doggo.
Even with all those parameters in mind, there's just way too many choices out there on online marketplaces such as Chewy and Amazon.
But, I've sifted through a good portion of them to provide you with a list of what I believe are the best beds that fit a good portion of that criteria.
Hopefully, it will help you find exactly what you're looking for.
Read on to find out what these beds are as well as find answers to some questions people usually ask about these beds in general.
8 Best Cooling Dog Beds
First up is a well-known brand, FurHaven, coming in with their own fantastic bed option – the Southwest Kilim.
Orthopedic
Designed like a fantastic dog sofa, this orthopedic dog bed is made from memory foam infused with a pressure-activated gel that will both relieve pressure on your dog's neck and other joints while providing top-quality comfort.
Heat Relief
Said gel is also great at absorbing body heat, which provides a pseudo-cooling effect for your canine companion, allowing him to relax on hotter days with ease.
Ergonomic Support
The bed has two connected bolsters for your doggo to lean on in order to further help with pressure relief, especially for his spine.
It also gives his head a nice spot to rest on while still letting him move it freely to observe his surroundings.
The cover on the sleeping surface is easy to remove and completely machine washable, making it easy to maintain with even the furriest of dog breeds.
Honestly, you may even get jealous of your doggo with just how much comfort this bed provides. Sadly, they don't make them human-sized, but they do offer three different dog sizes – medium, large and jumbo.
It also comes in three different patterns for some added customization so it can fit your interior decor better.
The price is somewhat up there, but it's honestly worth it. Trust me when I say your dog will be thanking you for it when summer rolls in.
Next up is a more traditional cooling bed… one more that is intended for outside use with its design – the Coolaroo elevated dog bed.
Durable Construction
Made from an extremely durable and lightweight steel frame that is elevated several inches above ground and covered with a high-density polyethylene, breathable mesh fabric, this bed may look simple, but it certainly does its job well.
Great Air Circulation
This cooling elevated pet bed helps circulate air underneath, eliminating any hot spots underneath that would normally get trapped in conventional dog beds; thus, providing constant airflow that naturally cools your doggo down.
The cover isn't just durable, though… it's also resistant to mold and mildew, and it keeps away any mites or fleas that may try to get to your doggo from underneath.
Ergonomic
Thanks to the elevation of the bed, the sleeping area isn't pressed up against any hard surface, but instead, helps relieve any joint pressure, adding even more comfort to your canine companion's chill time.
Furthermore, the cover is free of parabens, phthalates, and even lead. It's even GREENGUARD certified, meaning it emits very low amounts of harmful material into the environment, if any, and it's fully recyclable, too.
Easy To Clean
Yet another thing that this seemingly wondrous cover is capable of is being extremely easy to clean by just hosing it down and passing over it with a brush to get any dirt and other filth out, then letting it dry out relatively quickly.
The cover comes in six different color options for you to choose from for some added personalization.
Should any of them get too damaged or worn, you can even buy replacement ones instead of getting a whole new bed, ensuring your initial purchase stays good even after years of use.
The bed itself also comes in four different sizes, allowing small dogs as well as larger ones to enjoy this simple, yet wondrous doggy bed.
It's even affordable cost-wise, not taking too much out of your canine comfort budget while providing you with so much.
The only thing that I could find that would slight this bed is that it's somewhat tough to assemble, even though it looks simple, so do keep that in mind when buying. Hopefully, you know your way with tools.
With two of the more standard options noted, here's more of a luxury pick for those of you who can afford it – the Sealy Lux Orthopedic Dog Bed.
Sealy is normally a company that makes mattresses for human beds, but they've decided to delve into the world of pets to provide your doggo with one of the best products out there in terms of canine comfort.
Orthopedic
With the orthopedic memory foam seated comfortably under your pooch, he'll get to feel immense pressure relief in all of his joints, letting him melt into his new bed and take a well-deserved rest.
The said foam also comes in four different layers to allow for a greater level of adjustability in the foam itself so it doesn't go flat from overuse like most others tend to do, while also providing greater comfort to your furry friend.
Heat Relief
The cooling gel infused in the orthopedic foam will also help wick away and absorb the body heat he radiates outward instead of letting it bounce back at him.
But, that's not all – the foam is also infused with charcoal, which helps keep odors at bay, not letting them stink the bed up, so to speak.
There's also a water-resistant liner to it in order to prevent the foam from forming mold or mildew over time.
The bed features an easily removable cover that cleans up just as easily with a simple toss in the washing machine.
You'll also find that the bed has a non-slip bottom in order to prevent any unwanted movement should your dog throw himself on the thing or shift around too much due to a bad dream.
The bed comes in two different color variations if you're the kind of person who likes a little bit of extra personalization or simply getting something that fits your home's interior design.
It only comes in small sizes, though, as it's more tuned to smaller dog breeds – certainly a downside for a lot of dog owners.
The price, as touched upon a little earlier, is a bit more than double the average of some of the other options out there, but if you're willing to splurge a little for your small, furry friend, then it's well worth the investment.
I figured I'd throw a curveball your way after that big-ticket product… something a bit more tame, but a tad more unusual – a cooling pad.
A great option for both the outdoors and the indoors, this bed just needs some water to provide your pet with the cooling sensation of a lifetime.
Heat Relief
The patented Cool Core utilizes the liquid by distributing it around the bed while the air valve helps cool the insides, removing any hot spots that would get created if this was any other bed.
Durable Construction
With a mix of nylon and vinyl fabric serving as construction material, the bed is relatively durable while remaining comfortable.
The fact that the pad is filled with water also adds a level of comfort – a buffer between the hard ground and your doggo's body, helping alleviate pressure from his hips and joints, and just letting him relax.
Easy Storage
Because the interior is basically just water, simply emptying it out and folding it lets you move it around with ease, making it a great choice for not just the backyard and the inside of your home, but for camping trips as well.
The pad comes in three different sizes: small, medium, and large, corresponding to the differently-sized dog breeds that may end up using it.
Price-wise, it's not as expensive as some of the other options out there, but it's still pricey considering there are cheaper options. However, the experience of a portable 'water bed' may be worth that extra asking price for some.
It's worth noting that the pad isn't exactly chew-proof, and it will get absolutely destroyed by aggressive chewers considering the nature of the pad itself.
This is another one from FurHaven, mostly because they practically have the market cornered, and something a bit fancier in the catalog won't hurt.
Comfortable
This bed is shaped to look like a great sofa for dogs, allowing them to lounge in it whenever they want to.
And, they'd want to as well since the insides are made from comfy memory foam infused with cooling gel that wicks away the body heat it absorbs from your canine companion while the foam itself provides orthopedic properties.
Head And Neck Support
The bed features two bolsters connected on a corner that give your doggo a place to rest his back and head on, helping ease pressure off the neck and spine.
The two-tone suede and faux fur cover adds an extra layer of comfort and makes it feel like your little buddy is snuggling up to his mom, making the experience even more enjoyable for him.
Easy To Clean
The cover itself is easy to remove and easy to clean – just chuck it in the washing machine. There's very little hassle when it comes to bed maintenance.
The bed itself has four different size varieties to choose from, scaling from medium all the way to jumbo plus, depending on how generous you want to be with your furry friend's sleeping surface allotment.
Aside from that, you can get the bed in four different colors, finding something that either fits with the room's decor or with your dog's fur.
As far as cost goes, it's about standard for any FurHaven bed… a little on the expensive side in terms of dog beds in general, but always worth it in my opinion, at least if you want to go all out for your dog's comfort.
Here's another alternative to a cooling bed for dogs – a cool pet pad from The Green Pet Shop.
The thing that makes this pet mat special is the non-toxic gel that can be found on the inside, helping keep the radiating body temperature from bouncing back on your doggo during hot summer days, and also preventing potential overheating.
Pressure Activated Heat Relief
It doesn't need any water or electricity to function – it simply activates off of the pressure that your pet dog's weight puts on it, and it works for a good amount of time until the gel absorbs enough heat.
After a few minutes of non-use, though, this mat for dogs recharges, and can be used again, making it ideal for short rests in between play sessions to recharge the dog's own batteries.
But, it's not all in the cooling… the pad is quite comfy, too, with the cooling effect providing relief to sore spots or stiff joints – great for older dogs or large dogs with joint issues.
Because of the way it functions, the pad easily folds up, making it a good portable option whenever you and your pet decide to go out on a longer trip.
It can even be used to line a dog crate in order to provide a nice cool sensation for your canine companion while traveling.
Easy To Clean
The mat is easy to clean, too – simply wipe it down or wash it by hand and it'll be as good as new.
It comes in five different sizes, accommodating dogs of every size category all at once.
The price could be a bit lower considering that it's not a full-blown bed; just a cooling pad, but it does have its own separate strengths that may justify it for some buyers.
If the one above wasn't to your liking, maybe this next self-cooling mat from Arf Pets is.
High Quality Construction
Made from durable, high-quality nylon material, the mat offers a similar cooling method to that of The Green Pet Shop – the non-toxic cooling gel that helps absorb and wick away the body heat that your doggo radiates outward.
This, in turn, helps bring the heat down and cool him off, providing a uniquely relaxing experience.
It also requires no prior refrigeration, added water, or any electricity to run, and it functions for up to three hours while needing only about 20 minutes of non-use to fully expel the stored temperature and be as good as new.
The cooling effect functions like a pad that you'd normally apply to a swell or a painful area, helping reduce the amount of pain or discomfort, and making it an ideal choice for any dog suffering from such health issues.
Given its portability, it's a good choice for both indoor and outdoor use, and it can be used to line dog beds as an extra layer of comfort, or doggy crates, to cool your buddy down during travel.
It has three different sizing options so you can find the adequate one for your canine companion.
It does suffer from the same pricing issue as The Green Pet Shop does, with the price feeling a little too high, but again, those who travel often with their pets will find great use for it.
The last product on this list is yet another one from K&H, though this time, it's a proper bed (or a cot) in this case.
Durable Construction
Made from a nice and sturdy steel frame construction, and covered with a breathable, water-resistant mesh, this bed provides the ultimate comfort both inside and outside.
Excellent Air Circulation
The said mesh helps the air circulate from underneath, pushing away any accumulated heat under your doggo, and pushing cool air in its place, providing him with a refreshing feeling.
Easy To Clean
The bed's cover slides over the top of the frame, making it easy to remove and replace if it gets damaged, and you don't even need to get a whole new bed for it either.
You can just buy a cover separately and be done with it.
Because it removes so easily, the cover is fully machine-washable, making maintenance a cinch.
The elevation of the bed also provides added relief to your pooch since there's no added pressure to your dog's joints, allowing him to lounge in his pseudo-hammock and relax.
It's extremely easy to assemble, too, so you don't need to worry about handling complex instruction manuals.
The cot comes in four different sizes, with a maximum capacity of 150 pounds, so it's not well-suited for the largest of dogs.
It also has three colors to choose from for all you pet owners out there who like a little bit of customizability with your products.
The price is on the more average side, though it does lean into the more expensive side. It should still be affordable to all, but the most budget-savvy dog owner.
The one downside is that it's not exactly the most durable – at least the cover isn't, as it won't be able to withstand aggressive chewers.
Things To Note Before You Buy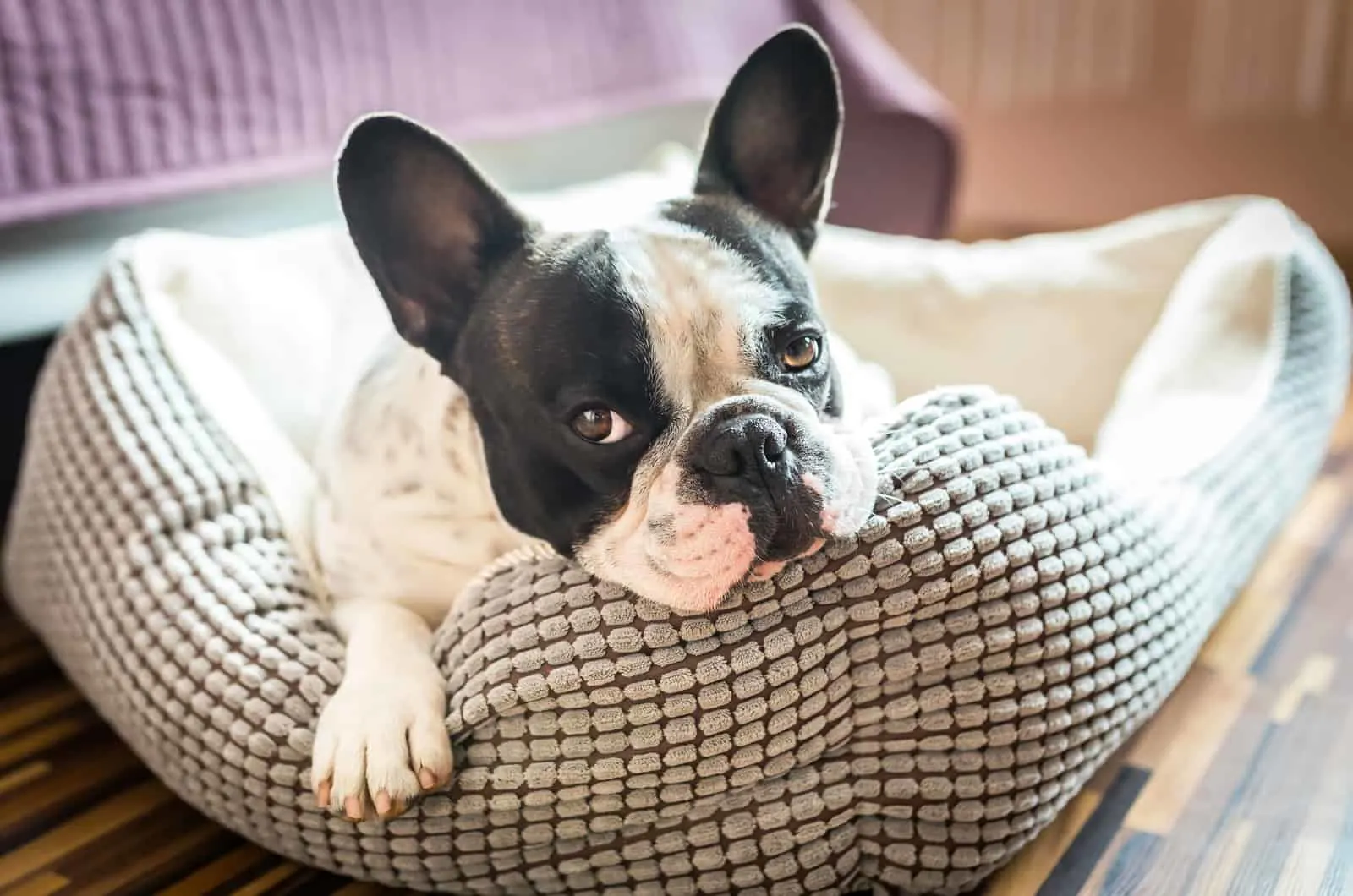 When trying to find the ideal cooling dog bed for your canine companion, there are a few key things that every bed should have that you should be on the lookout for.
They don't need to have every single one of these traits, but the more they do, the better the option is overall.
Here they are:
Effective Cooling
The main reason why you're buying a cooling dog bed is for the cooling factor. The best cooling dog beds will be able to function well by using their given method.
Bed Size
When it comes to any bed, size always matters. Only go for beds that can accommodate the size of your doggo, and can withstand his weight in case of a larger dog.
Durability
Beds need to be made from quality material to justify the large price tags many of them tend to have. Nobody wants to get a bed that'll get ruined after one slightly aggressive chewing session.
Thankfully, a lot of manufacturers will provide details on how durable their product is, but it's always worth checking the reviews for further info.
If it's liable to damage, then it's worth looking into the next thing – a warranty.
Warranty
Even if the bed will stand the test of time, the promise of a warranty provides an extra level of integrity between the brand and the customer to help you feel safer and more secure about your purchase.
Easy To Clean
Dog beds will get dirty often, whether from the dirt your dog tracks in, the dog food that he eats, or some accidental spills.
The best cooling dog beds, and beds in general, are ones with an easy-to-remove cover that you can chuck into the washing machine or clean by hand instead of having to scrub away for ages to get the stains and smells out.
Level Of Portability
While lower on the list, this is still a trait that many folks look for, especially in cooling dog beds since owners want to use them both inside and outside. Dog beds that are easy to assemble/disassemble are usually more favored for this very trait.
The Price
Finally, affordability is always a key factor in any product. Something that's high in quality, but also low in price compared to other competitors will always score higher than the said competitors for obvious reasons.
FAQs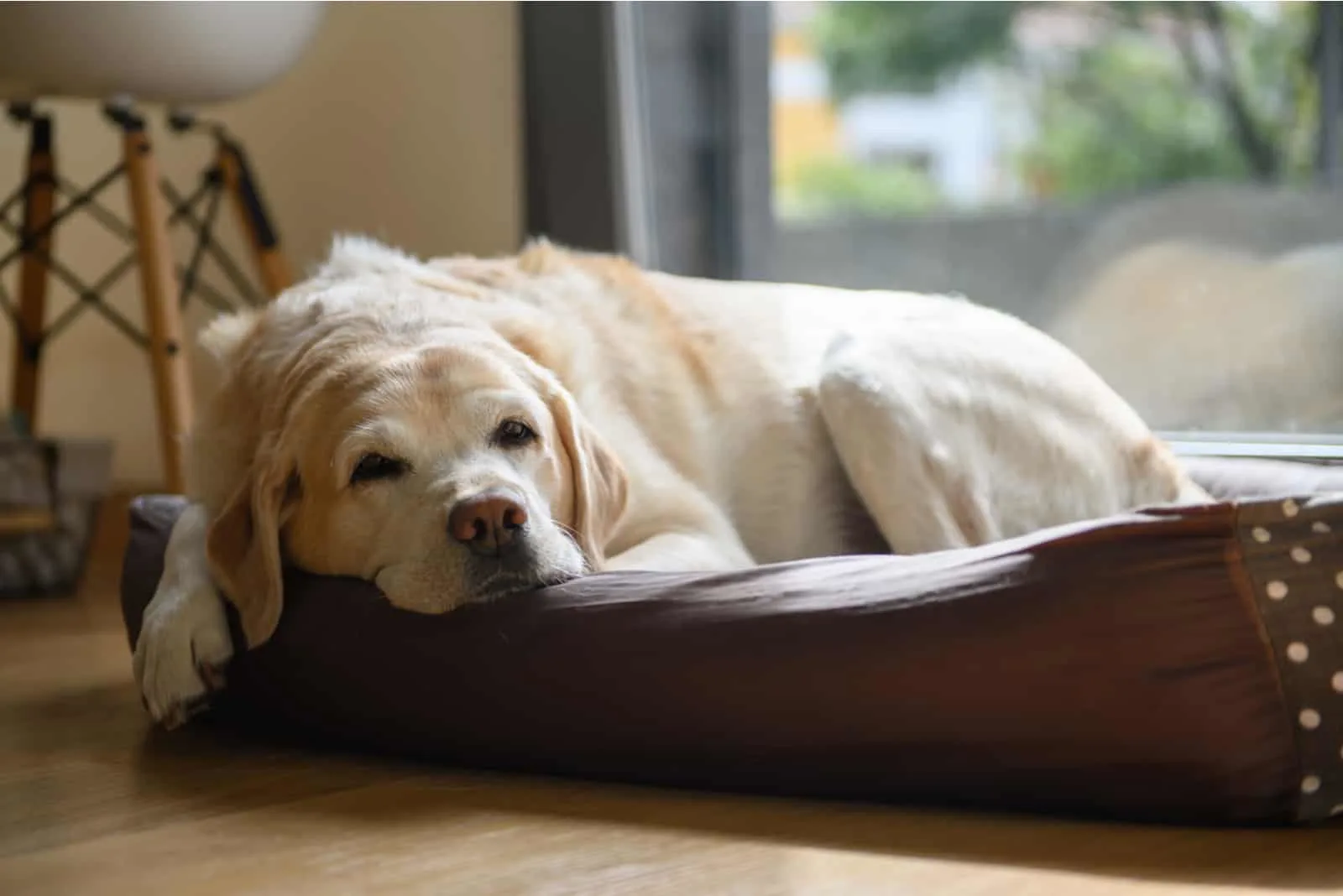 What Is The Best Cooling Dog Bed?
Personally, my top pick for the best cooling bed would be the classic Coolaroo.
It may not look like much, but an elevated dog bed is all my dog really needs. I don't need it to be as portable as a pad because nature tends to be cool enough on its own.
Plus, I can put it inside and out depending on where my doggo wants to lounge around at the time, and it's also affordable, so it is a win in almost every aspect.
Do Cooling Dog Beds Really Work?
They do in different ways. The gel one absorbs and wicks heat away, elevated ones circulate air through it, and water ones use water to cool your doggo off.
In Conclusion
The best cooling dog beds are ones that do the cooling job well, and are affordable, comfortable, and easy to clean.
There are many of them out there on offer, but I hope that at least some of the ones listed here fit your idea of the ideal one, and that your dog will enjoy it regardless. I'm sure you'll make the right choice. Until next time.
RELATED LINKS:
• 8 Best Dog Beds For Basset Hounds
• 8 Best Dog Beds For Pugs: Reviews And Buyer's Guide
• 10 Best Dog Beds For Labrador Retrievers: Reviews And Buyer's Guide
• 7 Best Dog Beds For Pomeranians: The Best Choices
• Best Dog Bed For Corgi: Ratings, Reviews, And A Buyer's Guide!
• 12 Best Dog Bed For Great Dane: King-Size Bed For The Canine King
• 9 Best Dog Beds For Huskies: From Bargain Pick To Best Overall!