This post contains affiliate links, and I will be compensated if you make a purchase after clicking on my links.
A donut-shaped bed, a rectangular one, a sofa-style… The one with a year warranty, two, three, a lifetime… Blue, grey, pink, chambray… A princess or a prince-style bed? Memory foam or no memory foam? With bolsters or no bolsters?
There are so many choices! How on Earth can you decide which is the right dog bed for your Cane Corso? Cane Corso dogs have relatively long lifespans, so they're gonna need something of good quality. Well, with our list of amazing Cane Corso dog beds, the decision will become quite simple. We've got your back, buddy! Our experts have done the research so you don't have to.
We present to you: a dozen excellent Cane Corso dog beds so your doggo sleeps like a king!
A large dog like the Cane Corso needs to have plenty of exercise to keep its activity bar drained. A bored Cane Corso is dangerous for your belongings. The dog becomes destructive, and sometimes, even aggressive. So, when you return from the park after a long day of playing fetch, your Cane needs to have a spot in the house where he'll just drop down and rest. The best snooze spots in the house have the FurHaven Plush & Velvet orthopedic bed. This deluxe lounger features a comfy foam base, perfect to rest upon.
The bed is designed to stimulate good blood circulation and relieve pressure from certain points that may be painful for your dog. The Plush & Velvet bed also supports the dog's hips and back, and gives the head a nice resting spot for better spine alignment. The velvet bolsters are filled with 100% recycled fill that provides ultimate comfort. Why FurHave is a great choice for your Cane Corso speaks to the fact that the bed has a removable and machine-washable cover.
There's no worry that your pup will stain the bed. Just unzip it, pop it into the machine, and let it dry in the air. We guarantee you that your dog will be excited to have its bed back.
Cane Corso is a big dog with big needs. This large breed can't have just any pet bed you see in the store. It would be best if you could afford an orthopedic memory foam dog bed for your XXL buddy. But, with so many good beds, how do you know which one is the best dog bed for a Cane Corso? Simple: just pick according to your preferences. All of the beds on our list have support foam mattresses suitable for all sleeping positions and all dog conditions.
Take the FurHaven Microvelvet Luxe Lounger for example. This dog bed has it all for a good night's sleep, or, you know, for a quick snooze. The bed is made with an ergonomic foam that supports the dog's body and provides relief for painful spots. The contoured design of the bed with a headrest is there to support the dog's neck and back, which makes this bed ideal for all sizes and ages, as well as for disabled pets.
Your dog will love how comfy the bed feels, and you'll love the removable cover and the lovely quilted microfiber material that you can wash on a gentle cycle in the machine. It almost makes you wanna join your dog for a snoozefest.
A dog's bed doesn't have to be fancy-schmancy to work. Sometimes, the simplest design like a standard rectangular bed will do all the necessary magic. That is if the bed is made of special memory foam with orthopedic functions.
The Brindle Waterproof Orthopedic bed has all that and more. This pillow bed is truly luxurious, with 2 inches of high-density support foam, and soft orthopedic memory foam on top.
When a large dog like the Cane Corso lays in such a bed, the orthopedic features help reduce pressure on certain points, which helps the dog to relax.
Since it's made of memory foam, the bed will adjust to the dog's body and shape it snuggly, so the dog's back is aligned properly, ensuring the ultimate rest fest.
We love Brindle for their design and the materials they use, too! If a bed has a waterproof cover, it instantly gets a higher grade. This bed actually has a water-resistant layer that ensures any accidents while potty training or sudden jumping in the bed after a walk in the rain go by without much fuss.
You can remove the cover, wash it in the machine, and make sure your dog always sleeps where it's clean. As for the materials this brand uses, the bed comes with a soft microfiber cover. The bottom of the bed is secured with a non-slip base material so your pooch stays put.
One of the stars of our dog bed reviews is the well-known Big Barker 7″. Even if you don't own a Cane Corso, you've probably heard many good things about this dog bed. But, is it worth all the fuss? Absolutely! The Big Barker 7″ bed may not look extra special at first, but inside, it's quite a special dog bed. Let's hear why!
This brand actually uses three layers of foam to create their mattress: 2″ comfort foam at the bottom, 3″ support foam in the middle, and 2″ comfort foam on the top.
Such a constitution allows the dog to rest completely without the feeling of pressure on the dog's joints. The Big Barker was even a part of the study conducted by the University of Pennsylvania on the quality of life impact on large dog breeds.
Large dog owners will find the Big Barker amazing since it comes in three big sizes: large, extra large dog bed, and giant! The bed is completely made in the States, and it has a soft microfiber finish on top.
The price is a bit hefty, $300, but you'll get a premium dog bed with a removable cover that's worth every penny. If we can't persuade you to buy the Big Barker, one look at your dog's adorable puppy eyes and it's sold!
We all love when dog furniture is easy to clean. Even though our boys and girls are clean, they're still dogs and they're not 100% clean. Constant use of dog beds will get them quite dirty.
What else can a dog owner wish for than a water-resistant, stain-proof, and oil-resistant dog bed that stays clean for a longer time? That's exactly what the MidWest Double-Thick Orthopedic dog bed is: an ultimate dog bed that repels odor, stains, and liquids.
We love MidWest for its hygienic features, but we love it even more for its orthopedic quality. This bed has a double-thick egg crate cushion that provides both comfort and support. The egg-crate design benefits the dog's joints and muscles, especially if the dog is suffering from hip dysplasia, arthritis, or any other orthopedic illness.
This bed will stay clean for a longer time, but you still need to wash it from time to time. Good thing the MidWest dog bed has a removable cover that's not only machine-washable, but dryer safe, too! Just pop it into the machine and within an hour or two, your dog's bed is ready for the tired pup to rest. One look at the cozy white fleece of this bed and you'll wish to take a nap, too!
For all those pets that steal your spot on the sofa, here's the right choice. No, such dogs don't belong in a dog crate or a kennel. They need something comfy and cool like the Frisco Chambray orthopedic sofa.
A little sofa only for your doggo! How great is that?! One nap in this dog bed and your dog will wonder why on Earth he was always on your sofa when this dog sofa is so cozy.
The Frisco Chambray sofa comes with a soft, plush finish, a one-inch convoluted base, and four inches of fluffy poly-fill inside. Your dog will sink into the coziness of this dog bed, but its joints and muscles will still have good support.
What else has support when sleeping in this dog bed is the dog's neck, thanks to soft bolsters on three sides. The front of the bed is left without a bolster to ensure easier getting in and out, especially for older canines in pain.
Besides being ultra comfortable and practical for its removable cover, the Frisco Chambray dog sofa is also fashionable. Coming in a neutral grey color, this dog sofa won't bother you if you pay attention to home decor and details. It's not noticeable in the house, but your Cane Corso will surely notice the difference between sleeping on this dog sofa and sleeping on the floor.
Are you tired of the classic, rectangular, or bolstered-up dog beds? Are dog sofas and tiny furniture-like pieces not working for you? Well then, we've got something completely different for you and your Cane Corso. We guarantee the fashionista dog lovers among you will go nuts about the PawBrands PupRug. But, why is the PupRug so special?
The PawBrands PupRug is exactly what it sells to be: a comfortable rug for dogs with comfy memory foam. The bed not only looks great, but it benefits the dog and reduces pressure on some points. The bed's memory foam is actually human-grade foam, which only means your dog will rest like never before.
Even though it looks fluffy and furry, the PupRug has a water-resistant base so sleeping on a wet bed is not an option. In case the cover gets dirty somehow, just zip it off and toss it in your washing machine. The PupRug also has a non-slip bottom, so if you leave your dog sleeping in the living room, you won't find the bed in the kitchen later in the day.
Finally, a dog bed that looks like… a bed! Dogs don't really need real pillows, but when a dog bed has a bolster like this one on the KOPEKS orthopedic pillow bed, it's always a good thing. Well, a pup has to lay its head somewhere. Let's learn about the rest of this bed's qualities.
The KOPEKS orthopedic dog bed uses 7-inch thick 100% orthopedic-grade memory foam mattresses. The foam is actually hypoallergenic, which makes it the same as in any high-end mattress.
The bed offers your dog comfort for a tired body, and relieves pressure on joint points and muscles, leaving the dog relaxed and without feeling any pain. In case your dog has some hilarious sleeping positions, don't worry: they can sleep in any position on this dog bed and the foam will not flatten over time!
The KOPEKS pillow bed has not only one, but two removable covers: a waterproof fabric interior cover, and a plush suede exterior cover. If your Cane Corso is prone to some allergies, then sleeping on this hypoallergenic dog bed won't trigger any more issues, and may even calm down symptoms.
If dogs could read, they'd want a personalized dog bed… You know, the one with their name written on it? Well, YOU can read, and if you have more than just one dog, getting them personalized dog beds isn't such a bad idea. You'll know exactly which dog was mischievous!
The Carolina Pet Ortho sleeper is our second pick and with full right to be named as such. This dog bed offers not only one, but three ways for a good night's sleep. The bed features a reversible and removable cushion covered in berber fleece. It will become your dog's best buddy since the cushion can be taken on journeys. The bed's three-inch-thick orthopedic foam supports fragile joints and sore muscles, and it can be combined with the berber pillow for ultimate coziness.
The bed is covered in velvety microfiber material, and it has high-loft fill polyester bolsters. You don't have to worry about keeping this soft material clean. The bed features a removable cover and an inner cushion that can be washed in the machine. Always a bonus if you ask us!
When rainy days kick in, even dogs want to crawl under the cover and sleep. Well, you don't have to share your cover anymore, especially if your Cane Corso takes it all for himself. With a Snoozer CozyCave dog bed with a cover, your doggo will enjoy every drop of the rain because it means nap time.
This cozy cave is absolutely a cozy nest-style bed with 3-inch thick orthopedic memory foam, topped with double layer padding and comfortable cushions with support.
Thanks to the hooded design, your dog will have some privacy along with comfort, but he'll still be a part of the activities at home if he wants to. Inside, the dog bed has sherpa lining, but on the outside is a fabric that is resistant to water, fading, and mildew. The filling is polyester, which ensures no bad odors will get trapped inside.
In case you're worried about getting this unique-style bed dirty, let us assure you that the upkeep is quite simple. Since it contains a removable cover, just toss it into the machine and voila!
The Snoozer Cozy Cave is completely made in the USA and completely adored by all dogs. We guarantee your Cane Corso will love snuggling in this dog bed.
We all want our dogs to get their rest. Sleep-deprived dogs are as cranky as toddlers. You gotta let them catch some Zs. What better place to sleep than on the Sealy Lux Premium dog bed! This dog bed is truly luxurious, and it offers an ultimate sleep experience for your Cane Corso. It's like sleeping on a cloud, we guess!
The Sealy dog bed is designed using Sealy technology for human mattresses. In other words, all the good work this company has done for humans is now helping canines sleep better.
The Lux Premium dog bed is actually designed using quad-layer technology with four layers of foam; precisely memory foam and cooling gel. Such a design helps the dog's joints and muscles feel relaxed and pressure-free.
The firm foam base is not only good for the dog's comfort, but it also has other benefits! The high-density foam is infused with charcoal that keeps the bed smelling fresh and odorless. The waterproof liner and non-slip bottom will keep the bed dry and in one place, while the removable cover will help a lot with the cleaning.
Our pups sure love sofas. But, they love sofa-style beds even more! Last on our list of best Cane Corso dog beds is this sofa bed from FurHaven; one of the finest dog bed makers. The Velvet Waves Perfect Comfort is an orthopedic dog bed that all dogs will love for its coziness.
This bed is designed with oversized bolsters that provide your dog with the best spot to lay its head and snooze.
They're lined with plush faux fur, and are filled with insulating filling, meaning only one thing: the softest place in the house! This bed's orthopedic foam base supports the dog's joints, bones, spine, and muscles, and it also improves overall blood flow.
This personal dog sofa by FurHaven has a removable cover attached with a zipper, so wash day won't be such an issue. This brand really thinks of everything: your convenience and your dog's comfort.
The only downside is that the bed is not chew-proof. So, if your Cane Corso is a chewer, you might wanna go through some anti-chewing training. But, if your pup is a polite non-chewer, then the Velvet Waves will prove it's a really heavy duty dog bed.
FAQs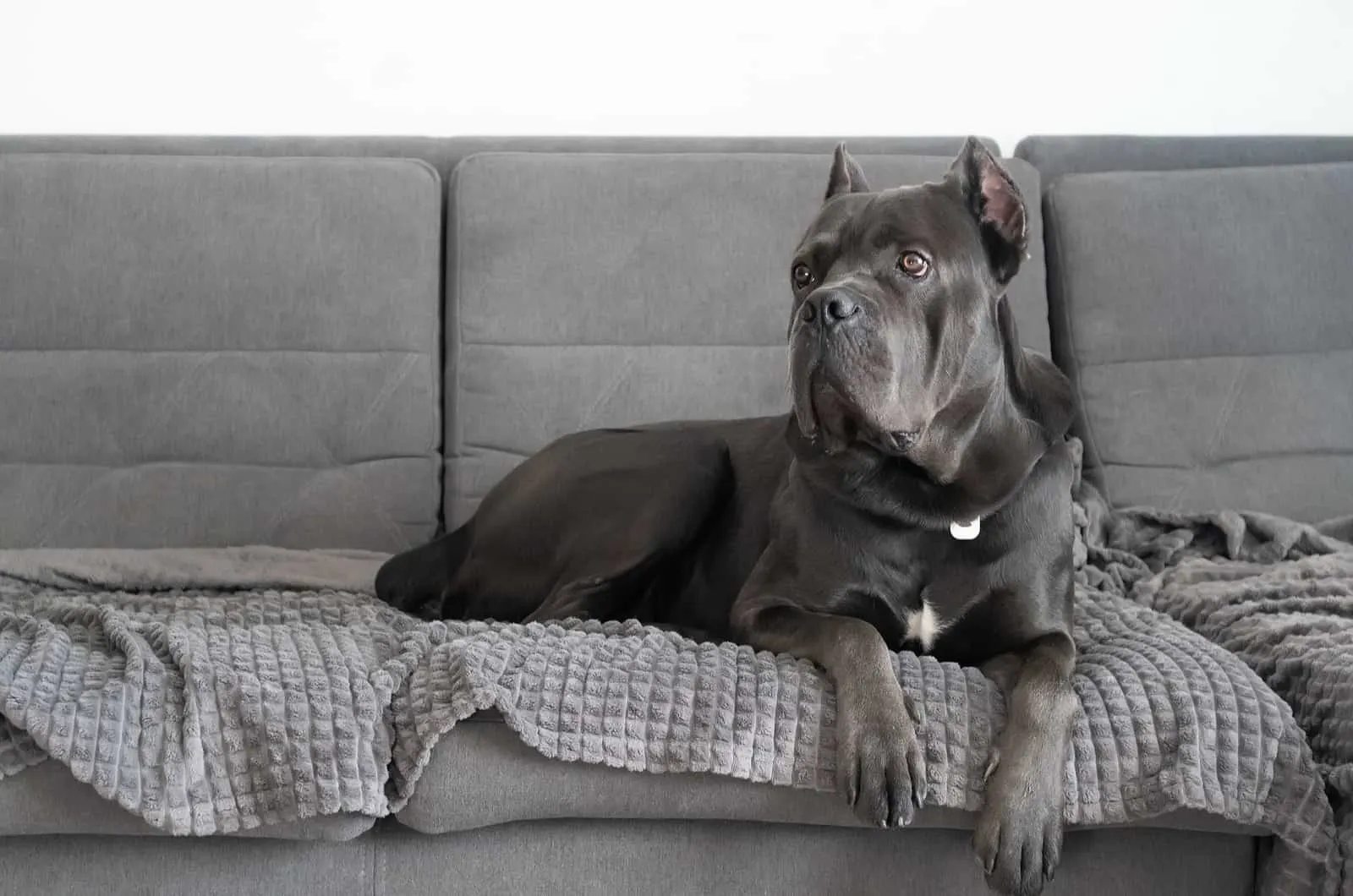 1. What bed sizes does my Cane Corso need?
Your adorable little Cane Corso puppy won't stay little for too long. This dog has a Neapolitan mastiff for a cousin; not a tiny Chihuahua. The Cane Corso may grow from 23 to 27 inches in height, and they can weigh over 100 pounds! Female dogs are always smaller. If you own a Cane Corso puppy, you might want to consider buying an extra-large or even an XXL dog bed. These giants are not chubby; they're just big doggos with big needs.
2. Is there a buyer's guide for buying Cane Corso dog beds?
When buying a dog bed, especially one for a Cane Corso, there are several crucial factors you need to keep in mind.
First of all, base materials, but not just any kind! A large dog breed like this one needs good support for the bones and muscles, especially since the Cane Corso is prone to many orthopedic health issues. If your budget can take it, always stick to orthopedic beds with memory foam. Any orthopedic bed is a great one!
Cane Corso may not shed that much, but these dogs can drool. A lot! Keeping their bed clean seems like mission impossible. You need a bed that's waterproof and has a removable liner for easy washing and drying.
In case your Cane Corso suffers from allergies, make sure you check our dog beds with hypoallergenic mattresses. They calm down energies and even reduce their intensity.
Overall, look for these features in a sturdy bed and you won't make a mistake.
3. Why does my Cane Corso need a high-quality bed?
The better question is: Why wouldn't your Cane Corso need a high-quality dog bed? Large dogs mean they're mightier and tougher to satisfy if bored. A bored Cane Corso might destroy a poorly made dog bed within seconds. You need something sturdy for your dog, but nothing too tough.
The bed still has to have a comfortable base since the Cane Corso dog breed is highly prone to orthopedic issues, like all big dogs.
If you love your dog, then you'll want only the best for its health and happiness. Go with quality Cane Corso dog beds and they'll provide a lifetime of happiness for you, your budget, and your Fido.