Disclosure: This post contains affiliate links, and I will be compensated if you make a purchase after clicking on my links.
Pembroke Welsh Corgis are precious little creatures with sweet natures and active lifestyles. Like any other dog breed, they need a cozy and comfortable dog bed so they can maintain a healthy condition.
Welsh Corgis are loved by Queen Elizabeth II, and some owners of this breed really treat their furry friends like royalty! These dogs still remain as one of the most preferred breeds in the world, and it is all due to their irresistible energetic nature.
However, bringing one of these pups home could also be the beginning of your struggles in regards to maintenance, especially when it comes to keeping it healthy. As a part of canine care, Corgi owners are advised to invest in a comfortable dog bed for their pooch just as they would invest in their own.
This is because apart from a well-balanced and nutritious diet, sleep is considered a key thing when it comes to your dog's healthcare. After all, we all know how much our four-legged friends love to sleep at night and nap during the day!
So, the best way to approach this problem is to pick a good-quality bed for your pooch. However, with countless options available on the market, the challenge you are probably facing is figuring out the brands and beds that are worth investing in.
Luckily, we are here to help! In this article, we will review and showcase samples of recommended Corgi beds. But, we will also take it a step further by giving you a complete buyer's guide to help you choose the best dog bed for a Corgi! Ready? Let's get started.
Best Bed For A Corgi: Overview
Best Dog Bed For Corgi: Reviews
PetFusion Ultimate Lounge Memory Foam Bolster Cat & Dog Bed w/Removable Cover has the best possible features that provide your fluffy pooch with an amazing amount of comfort to easily relax its body.
The padding on the bed is four-inch deep memory foam made from high-quality, premium material designed to provide your pooch with the best experience during sleeping and napping sessions. It is especially beneficial for middle-aged and older corgis or those with muscle and bone issues.
However, this dog bed from PetFusion is also suited for energetic dogs of this breed that want a comfortable and cozy place to rest. The bolster and the base are designed to provide maximum support and security to your Corgi or Corgi puppy.
Furthermore, the cover of the bed is water- and tear-proof, and it will be safe from teething puppies and even the mightiest of chewers. This awesome Corgi pet bed comes in large, medium, or small sizes, and it has a 36-month warranty!
If you are looking for a cozy and affordable dog bed for your Corgi pup, the Laifug Orthopedic Memory Foam Extra Large Dog Bed with Pillow and Durable Waterproof Liner might be your best option.
It comes with bolster pillows on both ends so that your furry friend can rest its head in a position that doesn't put a strain on its neck. Additionally, the bed's padding consists of orthopedic memory foam that will perfectly adjust to the shape of your Corgi's body.
The manufacturer also promises that the memory foam will keep its original shape for at least three years!
The bed cover is made from soft, waterproof microfiber, and it will not irritate your Corgi's skin. This means that if your senior dog or Corgi puppy has an accident, you can just wipe it dry with ease!
The exterior cover is easily removable, and you can wash it in the machine without worrying about damaging it. The bed comes in several different sizes, and we guarantee your Corgi will love sleeping in this bed!
The Dogbed4less Orthopedic Small / Medium Cool Memory Foam Pet Dog Bed is, as its name suggests, an orthopedic pet bed designed to provide peace and comfort to your Corgi's joints.
Your furry friend will greatly appreciate an orthopedic dog bed, especially if it is in its senior years or if it suffers from hip dysplasia, arthritis, or other similar joint problems.
This orthopedic dog bed from Dogbed4less has a durable build, amazing craftsmanship, and a very affordable price compared to some other dog beds you can come across.
The bed also features four-inch-thick orthopedic memory foam with a density so high that it will keep its shape for many years of usage!
Furthermore, this dog bed comes with two outer covers! One is brown microsuede while the other one is blue denim. Both are very comfortable and stylish, and they will provide the coziness that you want in a bed for your canine companion.
The inner cover of this bed is water-resistant, and it will provide protection from any saliva or fluid that will certainly find its way onto the surface of the foam. And, don't worry about whether or not you will find the right size for your pooch as there are seven sizes for you to choose from!
The FriendsForever Orthopedic Dog Bed Lounge Sofa Suede Mattress is the perfect match for a smaller Corgi pup that loves to sink into its bed. Your pooch can sprawl into the bed or curl into a ball to relax whenever it feels like it is time to sleep or nap.
The bed comes with raised rims that give your Corgi a sense of warmth and security. Donut dog beds are known to help canines stay calm.
So, if your Corgi is energetic or gets anxious easily, it will certainly appreciate this bed from FriendsForever!
The faux fur bed cover is soft, warm, and breathable, while the raised edges will provide excellent support to your dog's neck and head.
Furthermore, the bed is made from completely non-toxic materials, and it is completely safe for dogs of all breeds.
The cover can be washed in the washing machine without being damaged, and it can also be tumble-dried. Also, you can find this donut dog bed in three available sizes, with the smallest one being suitable for dogs weighing around 25 pounds.
This means you will most likely want to get the medium size since dogs of this breed grow to 30+ pounds. Finally, this dog bed from
FriendsForever can be found in five different colors to match any household decor!
The Best Friends by Sheri, The Original Calming Shag Fur Donut Cuddler Cat & Dog Bed is called a donut because of its round shape.
This premium-quality dog bed has a zippered cover filled with soft polyurethane filling. It is the perfect match for Corgi pups that like to curl up while they nap or sleep. The raised rims on the sides will give your pooch a feeling of warmth and security while its body snuggles into the bed, which helps ease its anxiety.
Moreover, the polyurethane filling of this dog bed by Sheri is ultra-soft, but at the same time, firm enough to provide the right support for your Corgi's joints. The filling is actually a Certi-PUR-US certified type of polyurethane foam fiber that is completely safe for canines.
The cover of this donut dog bed is vegan faux fur made out of polyester. When it is laid down, the bed forms crevices where your pooch can safely burrow its head. On top of all of this, the bottom of the bed is water- and dirt-resistant while the cover is removable, washable, and you can safely tumble-dry it.
The Coolaroo Steel-Framed Elevated Dog Bed offers something different compared to the usual dog bed designs you can come across today. Elevated dog beds are usually the way to go if you happen to live in a humid place.
Its elevated design will keep your Corgi off the ground, ensuring that it stays cool during the summer and preventing it from sleeping on a cold surface during the winter. This stainless-steel-framed bed comes with a breathable polyethylene surface, which provides proper support for dogs and pets of all shapes and sizes.
The durability of the bed's surface is equally seen on its frame, which is made with lightweight but sturdy powder-coated steel. However, the flexibility of this dog bed from Coolaroo is what we are most impressed with.
Most dog beds are portable enough, but none can come close to this elevated dog bed. The portable design makes it suitable for all of your outdoor and indoor pet needs. Additionally, rest assured that it will fit even in the smallest of spaces because you can assemble and disassemble it with ease whenever you need it.
There are a few memory foam dog beds on our best dog bed for Corgi list, but if you want to have a true therapeutic orthopedic dog bed, this is your best bet!
The Big Barker Jr. Headrest Edition Orthopedic Pillow Bed brings nothing but comfort and quality to your Corgi's life due to the amazing craftsmanship involved in its hand-making process.
This foam mattress' sleeping surface is covered with a removable suede cover, which is surprisingly easy to clean. The cover can also be safely washed in the washing machine, thereby making maintenance and cleaning much easier.
From its name, you can deduce that the bed is designed with smaller dog breeds in mind. However, Big Barker also offers this foam bed in large, extra-large, and jumbo sizes if you think your furry friend needs the extra space.
The Big Barker Junior Pillow is perfect for both Corgi puppies and senior dogs of the breed. As an orthopedic bed, it is also a good choice for dogs that suffer from hip dysplasia, arthritis, or other joint problems.
The FurHaven Quilted Orthopedic Sofa Cat & Dog Bed w/ Removable Cover is a budget-friendly dog bed as it offers both effectiveness and affordability.
This is something you can rarely come across in a pet product whenever you are shopping. This heavy-duty dog bed from Furhaven Pet features a unique sofa design, making it a friendly place for dogs that love to cuddle up on the sofa.
In addition to the dog-friendly design, there are three side bolsters that give the necessary support to the hips, neck, back, and joints of your Corgi. This ensures that all of your dog's sleeping positions are properly supported.
The sleeping surface of this budget-friendly pet product reveals fabrics that are soft to touch and easy to clean, as well as being friendly on your dog's fur.
One of the main things that make this dog bed budget-friendly is the fact that it doubles up as an orthopedic bed. So, if you want to get something therapeutic for your pooch while also looking to save money in the process, this Furhaven Pet bed is your best option.
The bed features orthopedic memory foam that improves air circulation, distributes your dog's weight evenly, and cushions pressure points.
This Corgi dog bed is also versatile in terms of cleaning as it comes with an easily removable cover that can be thrown in the machine for a quick wash whenever needed.
Petmaker has always been known for their products that are designed to give our canine companions nothing but comfort. Now, they have outdone themselves by making this amazing duplex foam bed.
The Petmaker Foam Pillow Dog Bed w/Removable Cover doubles up as an orthopedic bed, having two inches of orthopedic memory foam on top of two inches of regular memory foam.
This combination works perfectly in that the two inches of top memory foam distributes your dog's weight evenly while the two inches of orthopedic foam underneath supports its weight. This results in limiting the pressure points, so your pooch can cuddle up in any sleeping position.
Petmaker has all canine sizes covered with this product being that it is available in extra-large, large, and medium sizes. So, regardless of how old or big your Corgi is, you will still be able to find the size that suits it. Also, this gives you the option of choosing a large-sized bed so you don't have to purchase replacements as your pooch grows.
The entire bed is made with suede so you will barely come across any cleaning difficulties. To simplify it further, the manufacturer designed the bed with a zippered cover for easy removal. This makes the bed usable anywhere without worrying about how you will maintain it.
The Frisco Sherpa Orthopedic Bolster Cat & Dog Bed comes in a range of styles and sizes so you are bound to find one that fits your Corgi and your home decor!
The inside cushion is easily removable for maintenance and cleaning. It is also reversible so you can choose the warmer Sherpa or the patterned twill for your pup's sleeping surface.
The base of this dog bed is made of convoluted foam, which provides proper support to your Corgi's muscles and joints. The bed features four walls that ensure your dog has an excellent place to rest its head or neck, and they also serve as a safe den-like space for anxious Corgis.
The walls are high enough to provide an excellent headrest, but just low enough to make getting in and out of the bed easy for short-legged dogs like Corgis. When all is said and done, you won't find a better orthopedic bed at this price tag.
Best Dog Bed For Corgis: Buyer's Guide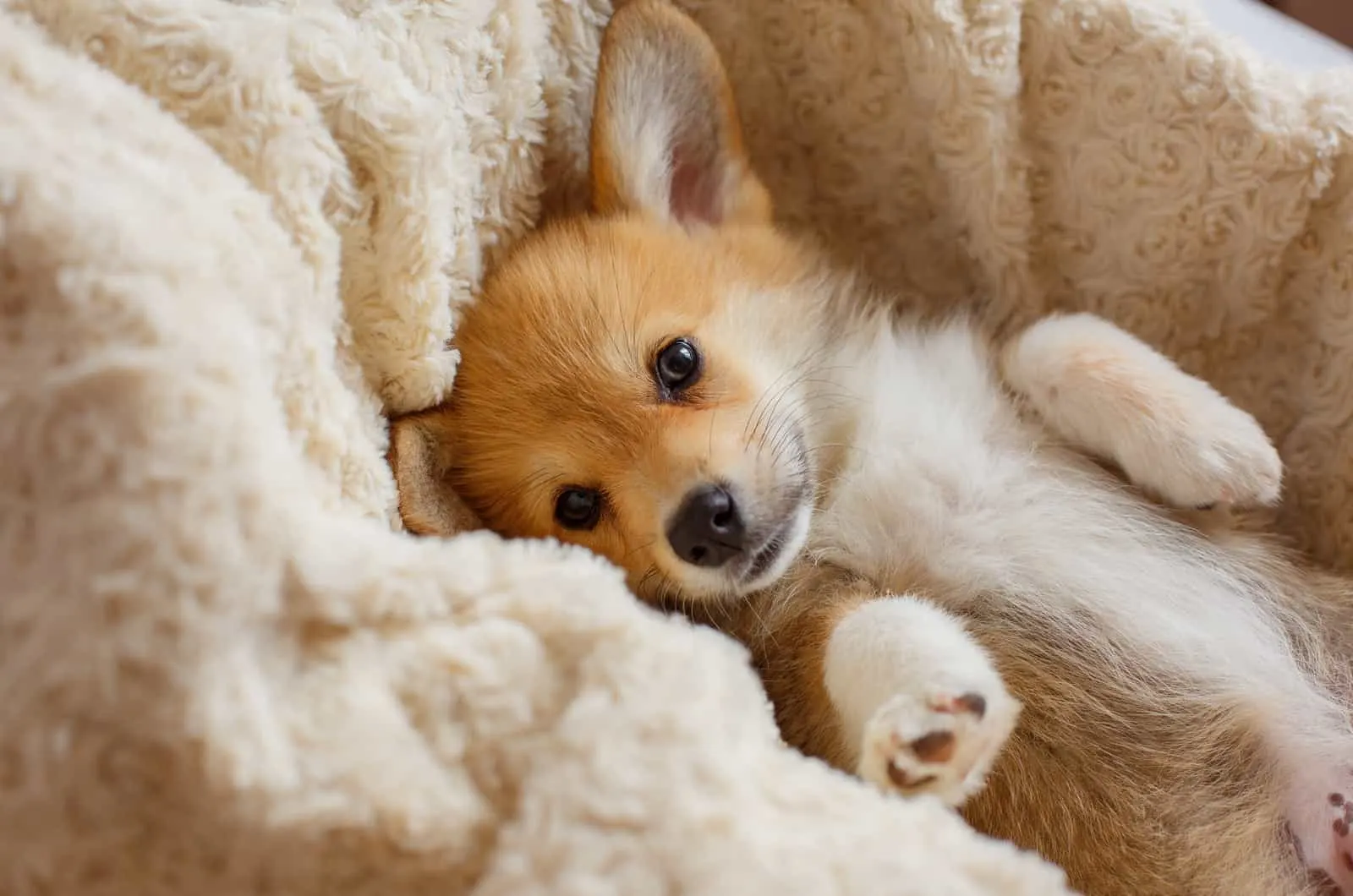 Corgis are a small- to medium-sized breed, that weighs (on average) between 24 and 37 pounds, and has a height of between 9 and 13 inches. The first thing you should do before choosing a dog bed is to measure your pooch in terms of weight, height, and length.
If your Corgi is still a young puppy, you can estimate how big it will grow based on its parents. The next thing you should figure out is your dog's favorite sleeping positions. You need to figure out its size while sleeping since not all dogs sleep in the same position.
After getting the precise dimensions and weight of your beloved Corgi, you should move on to the main thing – choosing the right bed. To help you with this, we've gone ahead and put together this buyer's guide containing important points you should consider when choosing the best dog bed for a Corgi.
Needs Of The Dog
Not all corgis, nor dogs of other breeds for that matter, are the same. Because of this, in our reviews above, we selected the products based on different needs. For instance, what your puppy dog needs will probably be totally different from what an adult dog of the Corgi breed needs.
However, it all pretty much boils down to the same thing – keeping your pooch comfortable. One upside to owning a Corgi is that their fur is usually more manageable compared to some other breeds, but during shedding seasons they still shed quite a lot of fur.
What this means is that you should try to get a bed that you can clean and vacuum daily and effortlessly without worrying about damaging the cover or mattress. Another key thing to consider when picking out the bed is how well your Corgi is trained, especially when it comes to bathroom matters.
So, if you are unsure as to whether your pooch is fully familiar with what you expect of it, you should invest in a bed with a waterproof cover. This will provide easy cleaning, and also keep the mattress in its original shape for an extended period of time.
Shape And Size
The size of the dog bed you choose should be in alignment with how small or big your pooch is. Your Corgi should be able to snuggle in properly and still have enough space left to stretch its paws and freely move around.
The thing to keep in mind is that dogs grow very fast, and sometimes they might drastically change in size in a short period of time and then, before you know it, the bed no longer fits. This is why we would advise that you always lean to the higher side when it comes to the size, so that you don't have to look for replacements for a few months or even a couple of years.
This will help you decrease your expenses as well as time spent on going to the store for a new bed every time your pooch outgrows its current one.
On the other hand, as we briefly mentioned in this section, the shape of the bed you buy depends on your dog's dimensions and sleeping pattern, as well as the place where you want to keep it around your home.
The Environment
This boils down to the type of pooch you have… more precisely, whether the dog is an outdoor or an indoor type. Since our furry friends tend to sleep in for the better part of the day, they won't be napping indoors all the time.
In such cases, the best option is to get one indoor- and one outdoor-friendly bed. However, this can be a bit expensive, and if you are on a budget, you can choose a versatile dog bed that can be put both inside and outside of the house.
To do this, you will need to rule out materials that are prone to extreme temperatures and dirt. The best products for these situations are those with easily removable and washable covers, along with bed fillings.
This will provide a fresh place for your pooch to snuggle in without restrictions on how far they can go when having their naps.
When it comes to the environment, you also need to consider the temperature and weather conditions of the area in which you live. If you live in a humid or a cold part of the world, all you have to do is invest in a dog bed that is designed to keep your pooch warm. In particularly humid areas, you should aim to provide your Corgi with a dog bed that is water- and mildew-resistant so that it stays comfortable.
Cost
This usually comes as the coup de grace on the list as it is defined by the features you want in the product. But, at the same time, you need to figure out how much you are willing to spend.
A thing to keep in mind is that you shouldn't compromise your Corgi's comfort by going for a cheap option. The best thing you can do is part with a few extra dollars, which will translate to durability, so you basically don't lose much but gain a lot.
With all the other factors we mentioned in place, you should think about how frequently you want to change your dog's bed, and how long it will be using the same bed. Note that it is still perfectly fine if you choose a more affordable option when browsing a bed for your pooch, but when you land on what suits them the most, you should stick to it regardless of the cost.
This will guarantee that the investment will payout for the longest amount of time. With that said, we all know that a high price tag doesn't necessarily mean that the product is of high quality, so users and brand reviews are still important.
Luckily, we've already done the hard part for you and narrowed down the search. Rest assured that all of the dog beds mentioned in this article are top-quality products meant to provide your pooch with comfort for a long period of time.
Frequently Asked Questions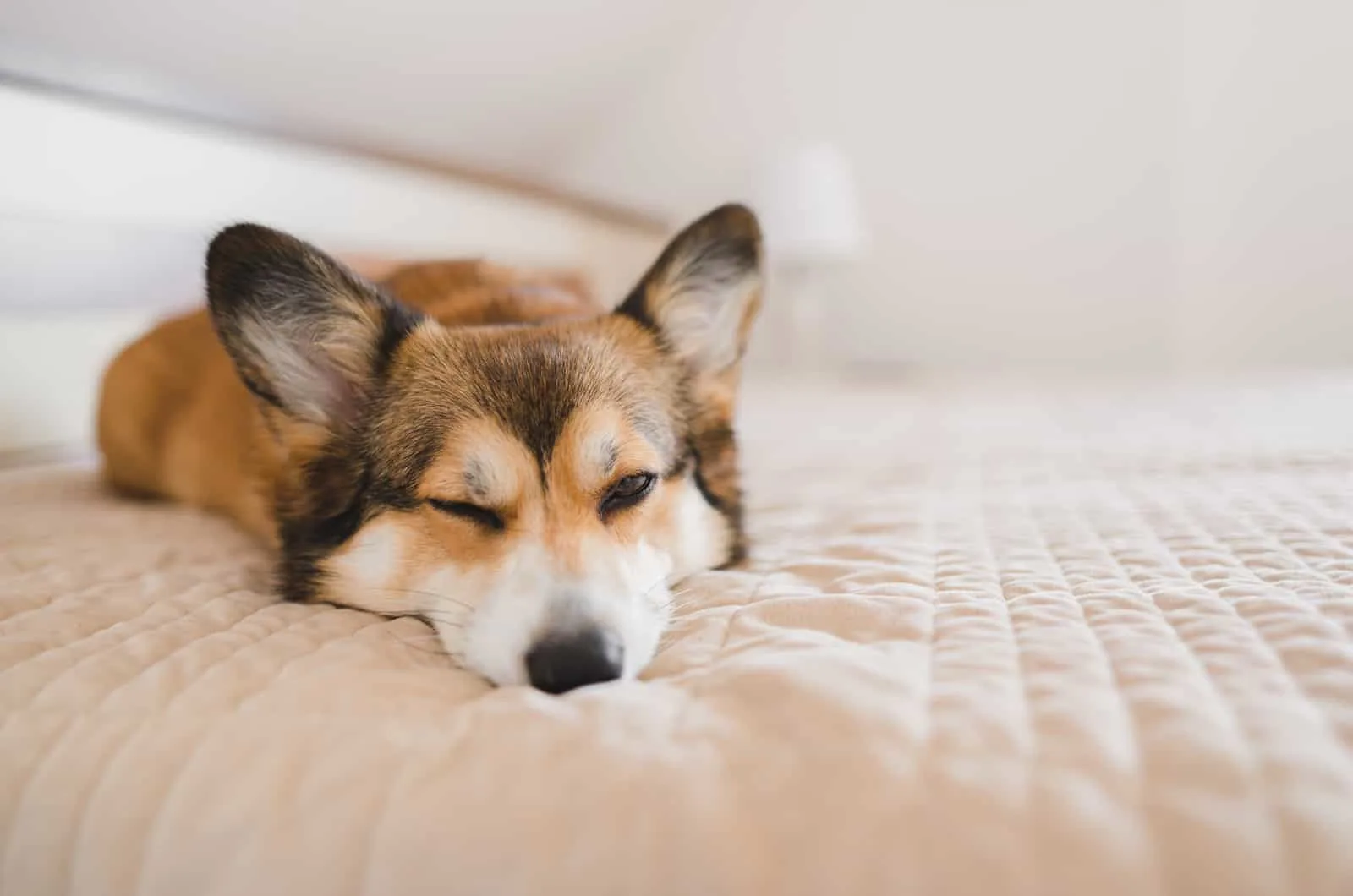 1. Do Corgis Need Beds?
When all is said and done, Corgis, as well as dogs of other breeds, need a place to rest, just like humans. Providing your furry friend with a bed can be beneficial for their bones, muscles, and joints.
A bed is more than just for sleeping when it comes to dogs. Often, it serves as a safe haven for your pooch to go to and feel safe. Because of this, we strongly suggest that you buy your Corgi a cozy and comfortable dog bed.
2. Are Softer Beds Good For Dogs?
Generally speaking, a dog's bed should neither be too hard nor too soft. You should make your decision depending on your dog's daily routine and how it likes to sleep.
For senior dogs, you should aim to get a softer bed made with orthopedic or memory foam while younger pups should be perfectly fine on harder beds.
3. What Are Orthopedic Beds?
Orthopedic beds are those filled with foam. Most veterinarians recommend getting an orthopedic bed because they help the muscles and joints of your Corgi due to the appropriate amount of firmness and the ability to support their weight and distribute it evenly.
The average price for this kind of bed is between $100 and $200, but you can also find cheaper options.
4. Is A Fabric Bed Safe From Chewers?
Many of our canine companions can't resist chewing everything around the house, including fabric beds.
However, if your Corgi is more aggressive and tends to chew really hard, you should opt for a bed with a denim cover or some other durable material.
5. Should I Get A Cushion Bed For My Dog?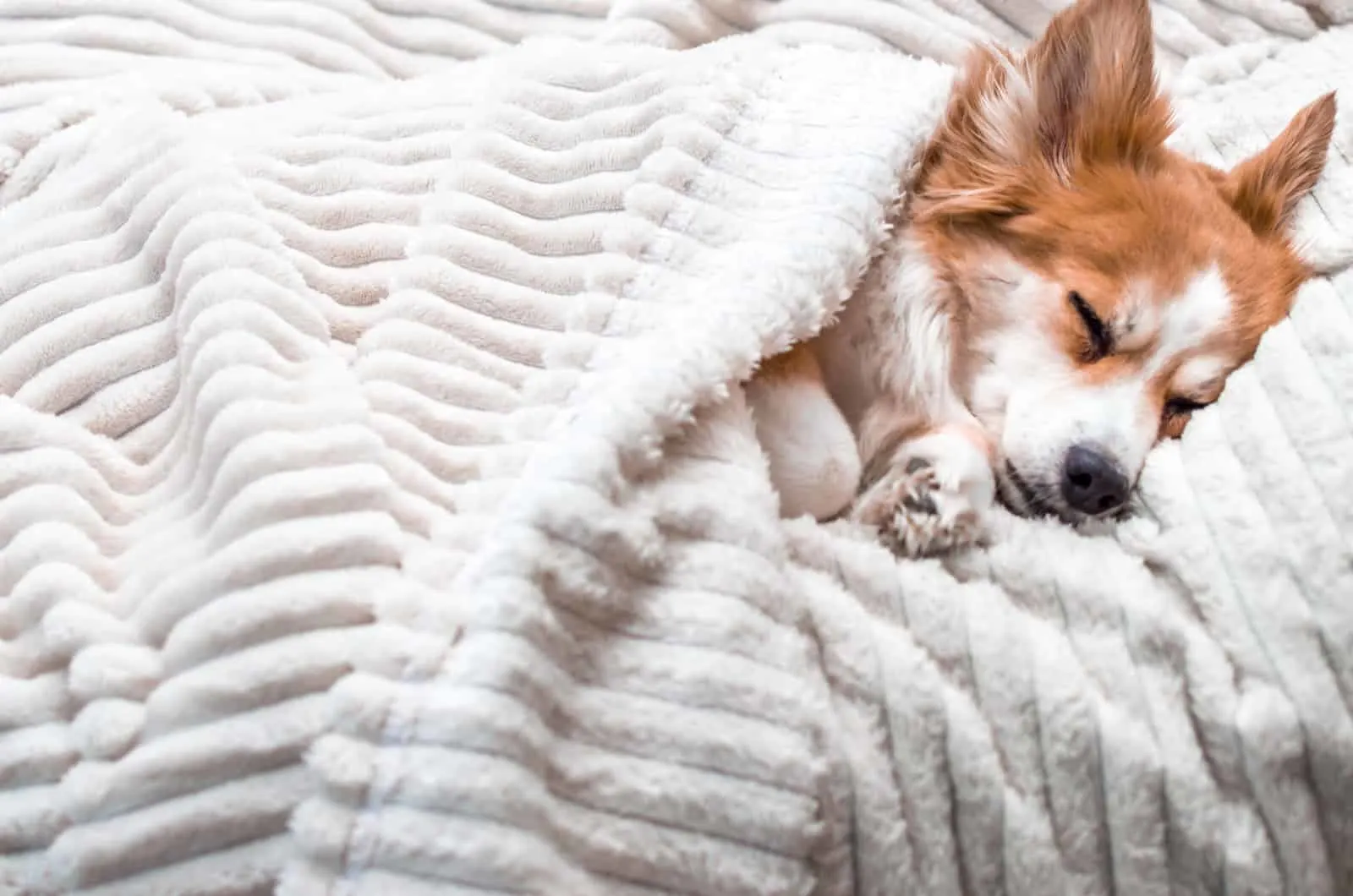 You can think of cushion beds like oversized pillows. They come in a variety of colors and sizes, and they usually blend in any household decor.
Now, whether or not you should get one for your Corgi depends upon your dog's sleeping positions. If your pup likes to stretch its legs regularly, it would be wise to buy a cushion bed. On the other hand, if your pooch is more of a curl-up type, then you should go for a round bed.
6. How Do You Stop A Dog From Destroying Its Bed?
The best way to keep your Corgi from destroying its bed is to spend its energy by taking it out on regular walks and exercises.
Also, you can keep them busy with toys or simple tasks to do around the house. If none of this works, perhaps you should look for beds that are made out of durable materials or those that are chew-proof.
7. What Is The Best Material For A Dog Bed?
Generally speaking, there is no specific material preferred for dog beds. The thing you should be looking for in a bed is durability and comfort as well as how easy it is to clean and maintain.
The challenge with some of the more comfortable materials is keeping them in the right shape, especially if your Corgi is on the destructive side.
However, some dogs may be allergic to certain materials. If your Corgi is one of them, or if it has any skin sensitivity, you should aim to provide it with a hypoallergenic bed.
8. Do Dogs Need Blankets?
Yes, they do! Even though most dog breeds have thick fur covering their skin, it isn't enough to keep them warm, especially during winter.
However, nowadays, the problem has been solved with insulated beds, which can save you from the hassle of buying extra blankets.
9. How Often Should You Replace Dog Beds?
As dog owners, you should be prepared for a situation where your pooch rejects that bed you went all in for. In some cases, it has nothing to do with training, and that could be a clue that there is something wrong with the bed.
In such cases, where the bed is no longer comfortable for your pup, the only way out is to replace it (the bed, not the dog). You can also do this the moment you notice that the dog bed is showing signs of wear and tear.
Conclusion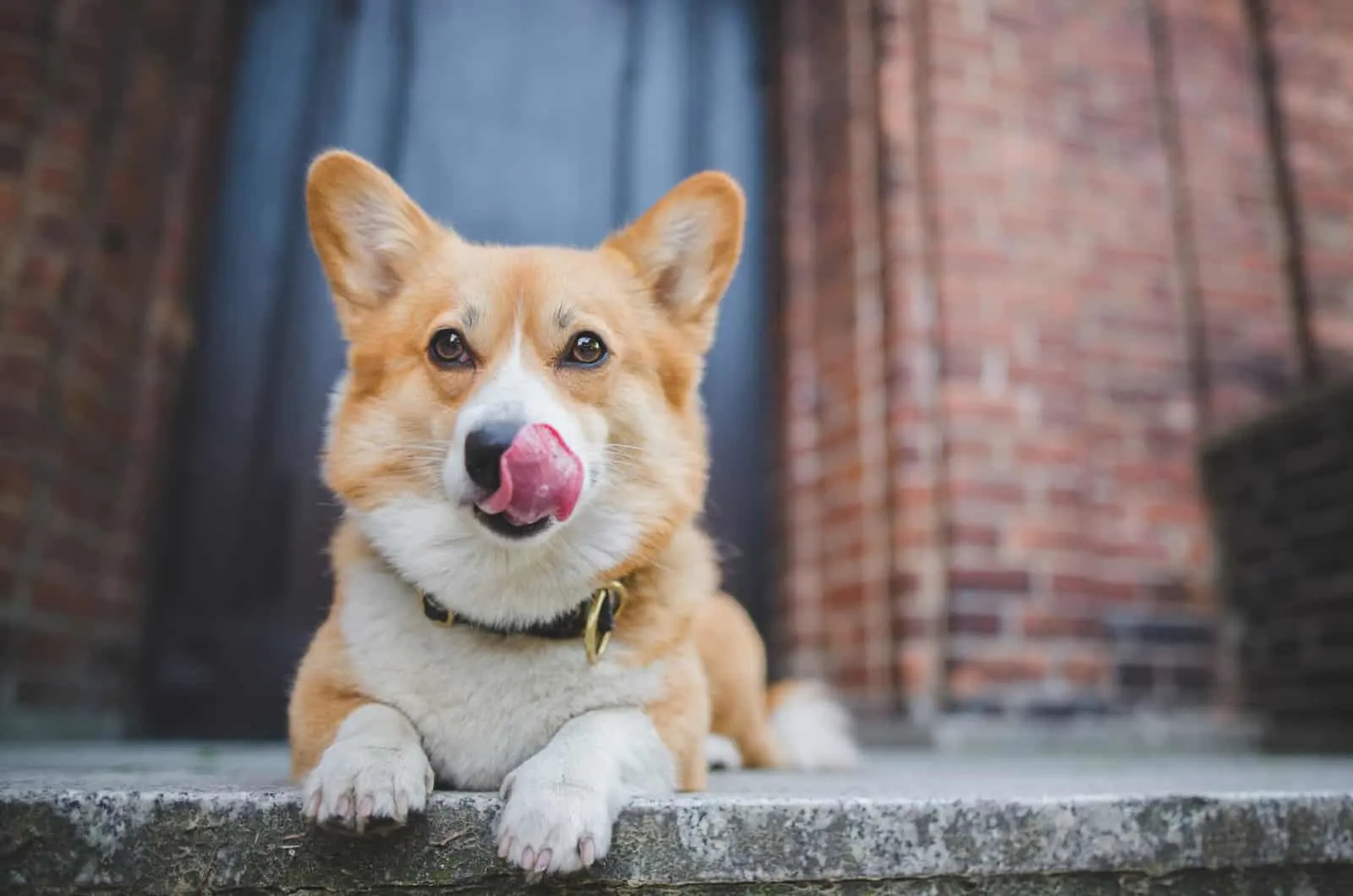 With the right bed for your Corgi, you will realize that your furry friend will hardly spend any time on the chair or sofa as it has found something much more cozy and comfortable.
An advantage of most of the beds we reviewed today is that they are built for flexibility and versatility. This means you can easily move the bed anywhere your Corgi prefers, or carry it with you when it's time to travel.
A thing to keep in mind is that giving your pooch a restful sleep or nap doesn't end at buying the best dog bed for a Corgi; it further comes down to how well you maintain the bed.
For this, you have to inspect the condition of the bed and clean it more often so that you notice changes and have replacements ready in due time.
With all that said, if you still haven't decided which bed would best suit your Corgi, how about getting our favorite PetFusion Ultimate Lounge Memory Foam Bolster Cat & Dog Bed and start from there?