This post contains affiliate links, and I will be compensated if you make a purchase after clicking on my links.
Do you love to sleep? You are not the only one – your little family companion enjoys this activity (if you can call it that way) as well!
In fact, proper sleep time can affect many things in your dog's everyday life. This is why it's important you buy one of the best dog beds for Pugs you can find.
Pugs are huge sleepers. They can sleep almost as much as cats. If they don't get enough sleep, they can become anxious and they'll get tired more easily – and you know that when you have a brachycephalic dog, you want to do all you can to ensure he doesn't get tired too fast.
Pug's sleep is essential for his comfort, behavior, and even health. Yes, there are even some health problems your pooch might get from sleep deprivation!
Pugs love to find a comfortable place to sleep in. They can be picky about their favorite spot, which is why finding the right bed can be so important.
But can you decide, with so many products being labeled as the best dog beds for Pugs on the market? Websites such as Amazon and Chewy seem to be flooded with items aimed to help your pooch sleep!
I'm here to help. Below is the list of the eight best Pug beds I've found. I've also included a buyer's guide, so you can keep on looking on your own if this is what you prefer.
Here's what I've found:
Best Dog Beds For Pugs
Before I start going into more details about the best dog beds for Pugs, I have included a quick rating list so you can know how these products rank in comparison, based on the numerous buyers:
| Product: | Rating |
| --- | --- |
| 1. K&H Pet Products Bolster Bed | 4.7/5 |
| 2. Furhaven Comfy Couch | 4.3/5 |
| 3. PetFusion Ultimate Lounge Bed | 4.7/5 |
| 4. Frisco Plush Orthopedic Bolster Bed | 4.7/5 |
| 5. Snoozer Microsuede Cozy Cave Bed | 4.5/5 |
| 6. Best Friends By Sherry Shag Donut | 4.5/5 |
| 7. Petmate Suede And Plush Antimicrobial | 4.0/5 |
| 8. Frisco Sherpa Hexagon Bolster Bed | 4.8/5 |
Best Dog Beds For Pugs Reviewed
The best pet bed isn't just the one your dog loves sleeping in. It should also provide your doggie with some benefits they wouldn't get from sleeping on the couch or on the floor.
Without further ado, here are my reviews of the best dog beds for Pugs and what makes them stand out from the rest: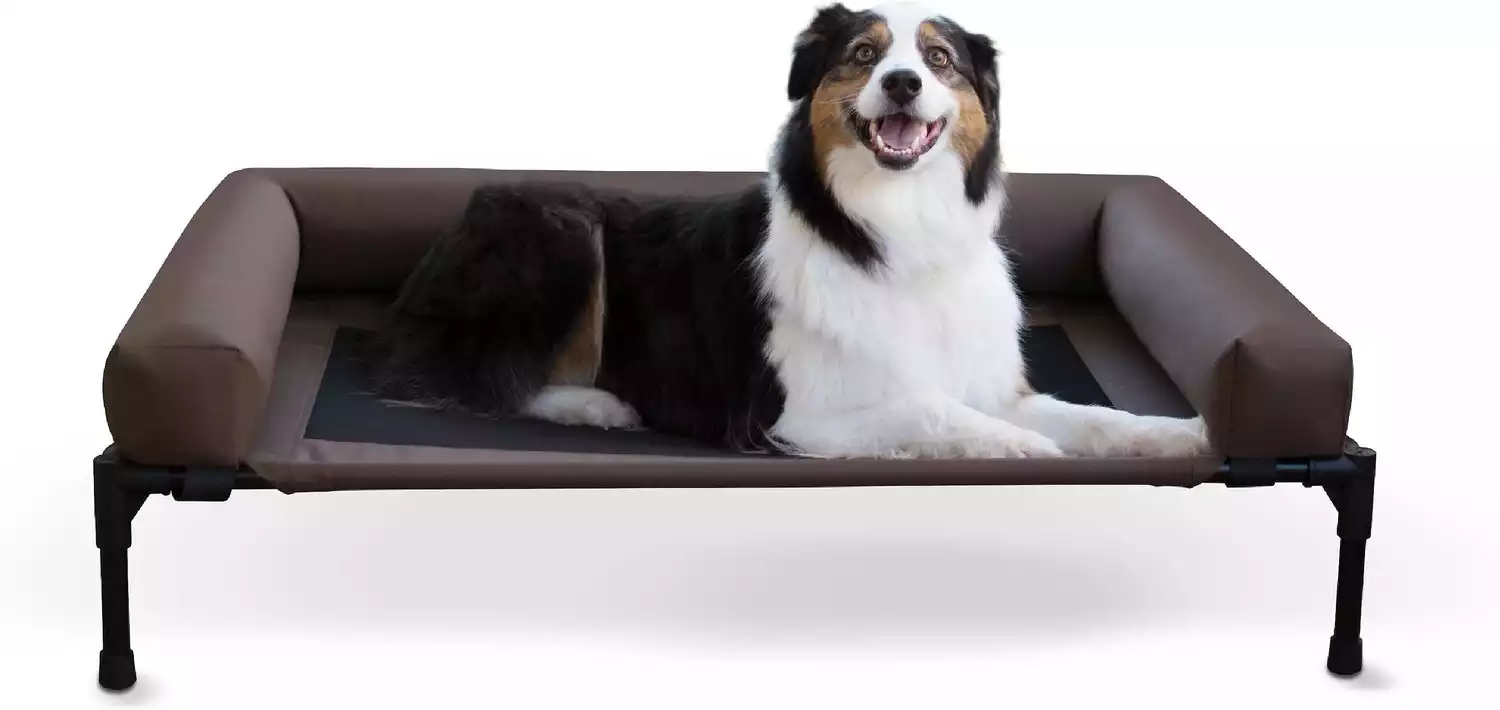 This is a rather unique bolster dog bed in that it is designed for outdoor use.
It contains bolstered sides and elevated bottom, so your pooch will stay away from wet land, all the while feeling safe and sound.
The center is made out of mesh materials to ensure the bed is breathable, keeping your pooch from overheating. The entire pad is removable and machine-washable, so cleaning should be a breeze.
The waterproof liner ensures the bed is safe from not just the weather, but also any accidents that might happen if you happen to have a puppy that isn't potty trained.
The only issue is that this is an elevated dog bed, but it's short enough not to cause issues for most dogs.
Furhaven Comfy Couch
Key Benefits:
Made out of medical-grade orthopedic memory foam

Supportive bolstered edges

Water-resistant base

Machine-washable cover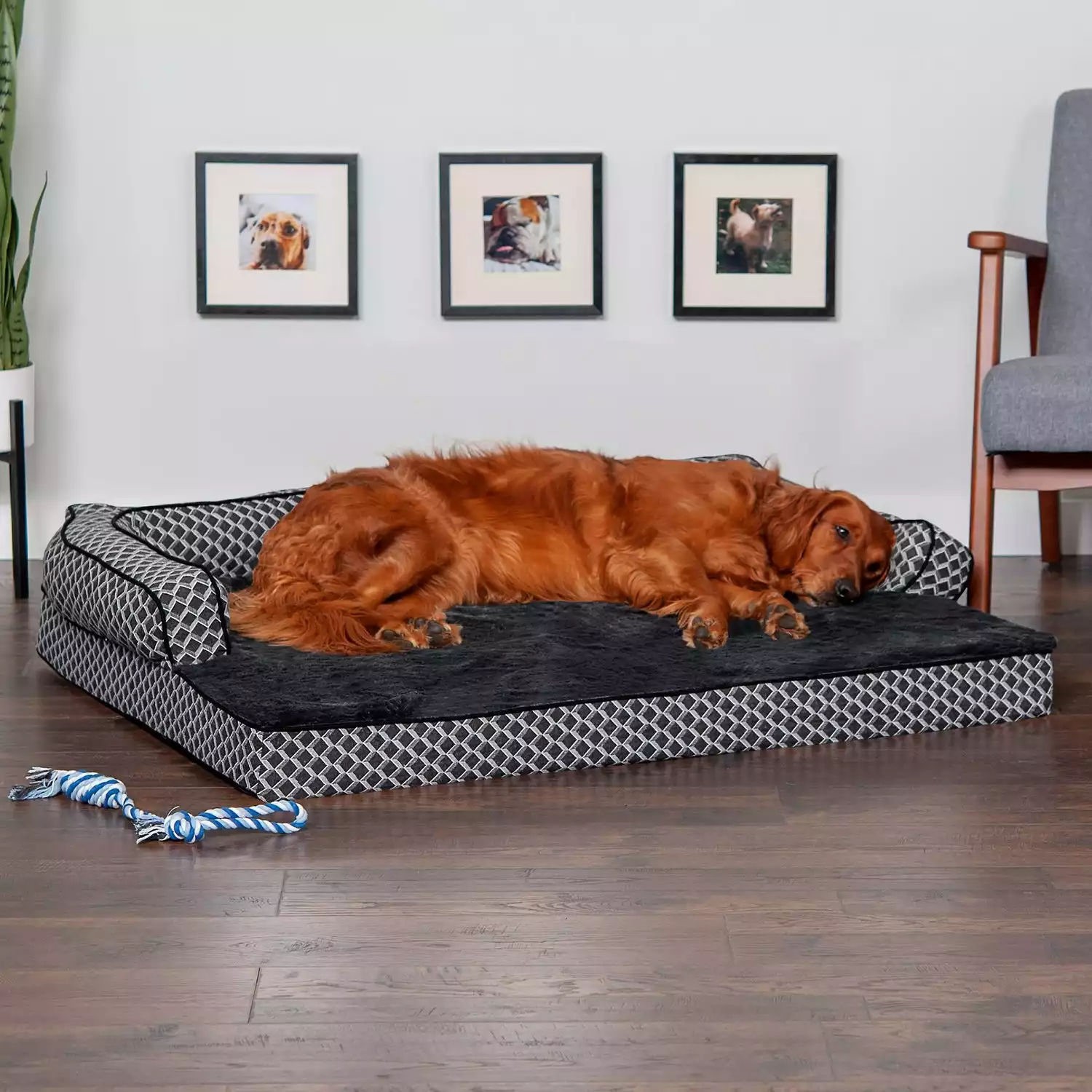 The Furhaven pet bed is a high-quality product made for cuddlers that love to sleep in bed all day long. It's made out of orthopedic memory foam, which means it's great for your dog's joints.
Once your bed gets dirty, you can simply remove the cover and put it into a washing machine to make sure it is sparkly clean once again. Also, the base material is designed to enable airflow, making sure your pooch isn't overheating.
While this is a couch bed, it isn't elevated, making it an excellent choice for most dogs. Don't worry – even Pugs with arthritis will be able to use it without a hassle.
Supportive bolstered edges ensure your Pug can sit properly, and they might also keep him from snoozing! If you and your pet share a bedroom, this is great news for you.
Furhaven offers a one-year warranty or more on most of its products. If there is anything you don't like about this dog bed, there will likely be a way to return it cost-free.
Finally, this long-lasting dog bed comes in many stylish colors, so it will likely be a centerpiece of your entire outfit.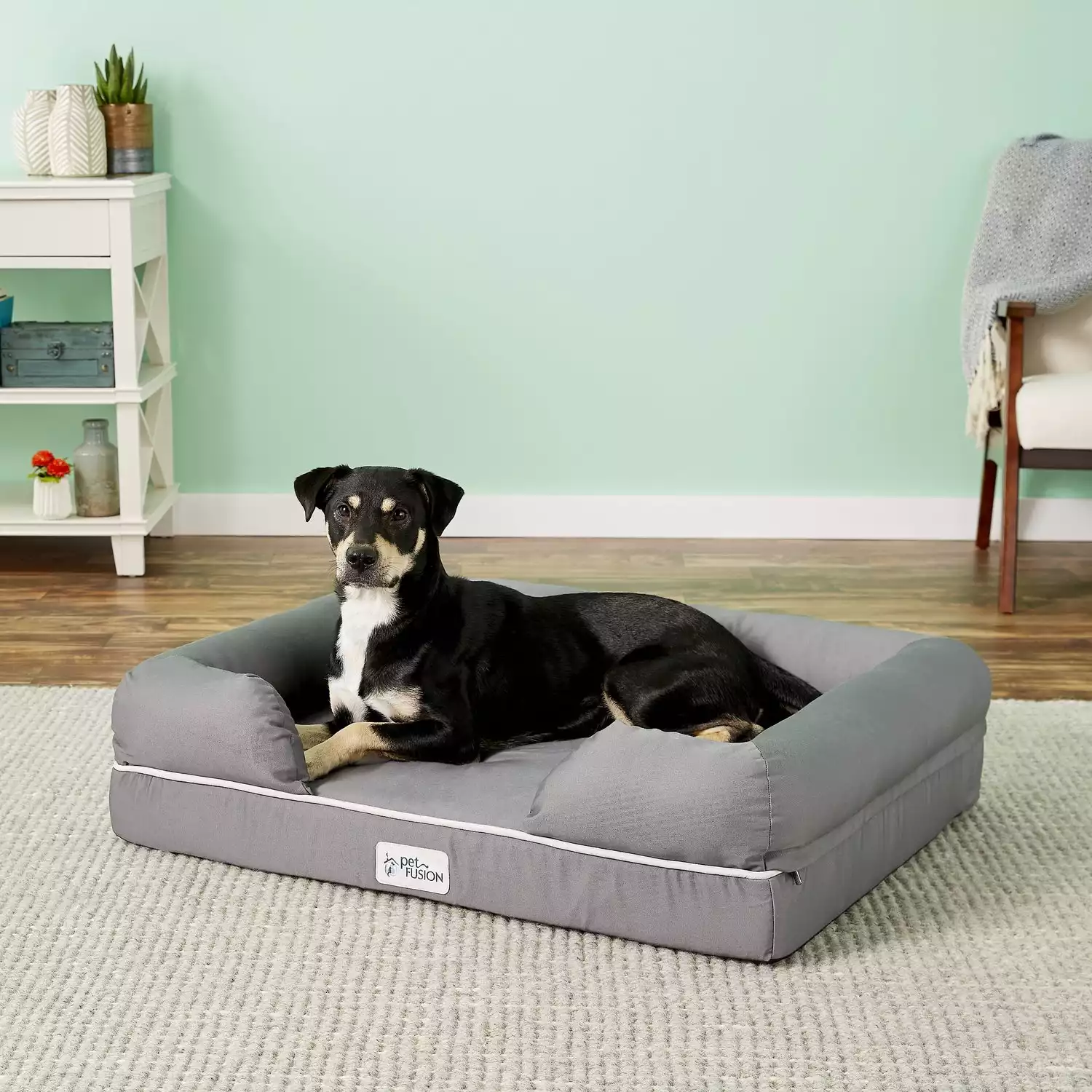 This is a great Pug dog bed for your very active pooch. It's non-slip, so your dog won't slide it all the way through your house during playtimes.
There is a waterproof liner that protects the floor from any potential potty accidents, something that is common with small dogs with small bladders.
This dog bed is designed with recycled polyfill bolsters that ensure comfort and pain-free life for your pooch. At the same time, the cover is durable and easy to clean, which will greatly help you.
Not just that, but the zippers on this dog bed are made by one of the largest zipper manufacturers – the YKK.
In general, this is a high-quality bed that will greatly improve your Pug's long night sleeps.
Editor's Pick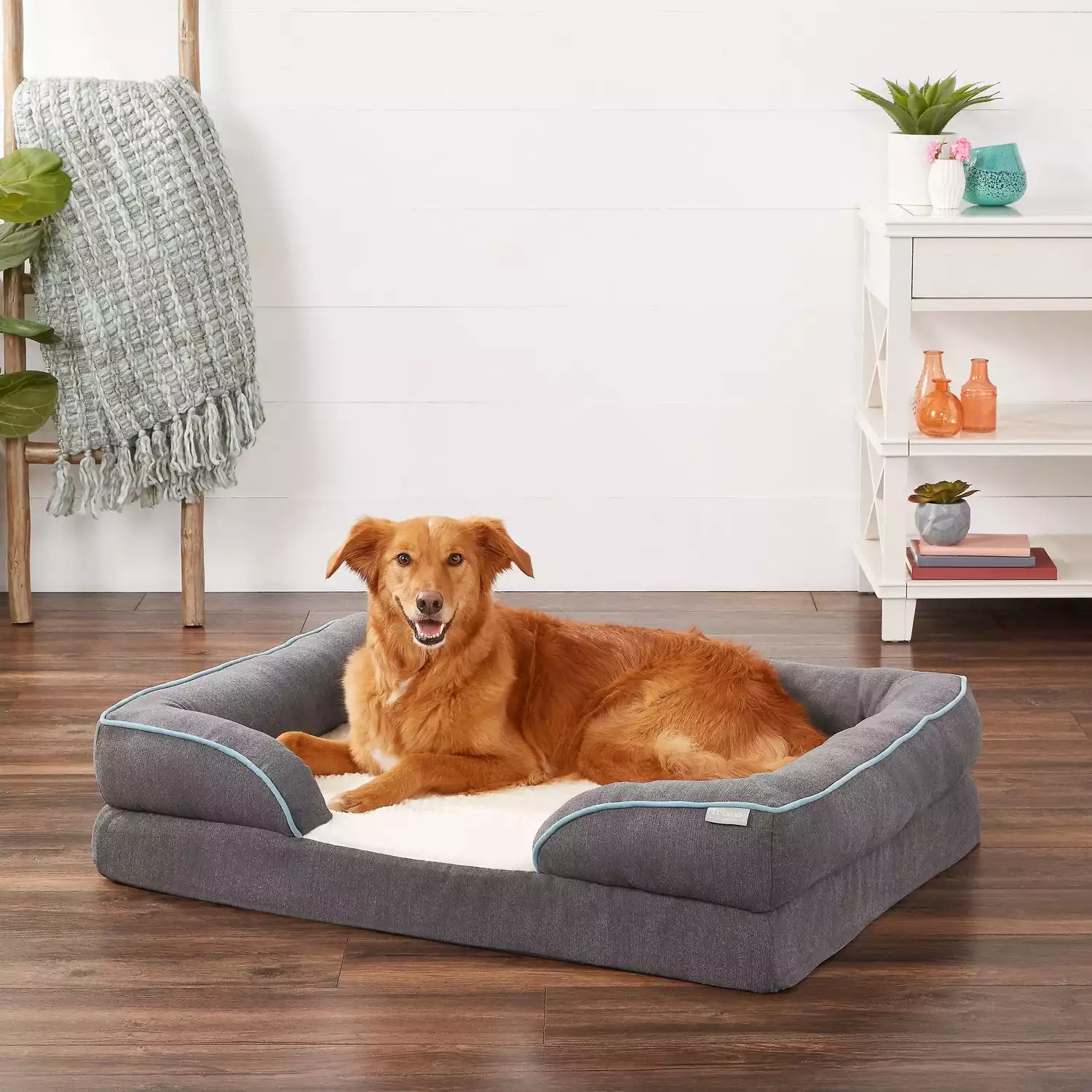 This might easily be one of the best dog beds for Pugs on the market – at least according to the number of satisfied dog owners.
This is a great product if you love to combine luxury, practicality, and a good design. In fact, one might argue that it has everything you're looking for in a dog bed.
Your pooch will enjoy the comfort, and you'll enjoy calm nights as your pooch will stop snoring thanks to elevated bolsters. This is ensured thanks to the memory foam combined with a plush center and slab foam.
At the same time, the cover is removable and machine-washable, so you can make sure it's pristine clean without a hassle.
Most importantly, this dog bed will ensure your dog's joints are free of any additional pressure they might be feeling throughout the day.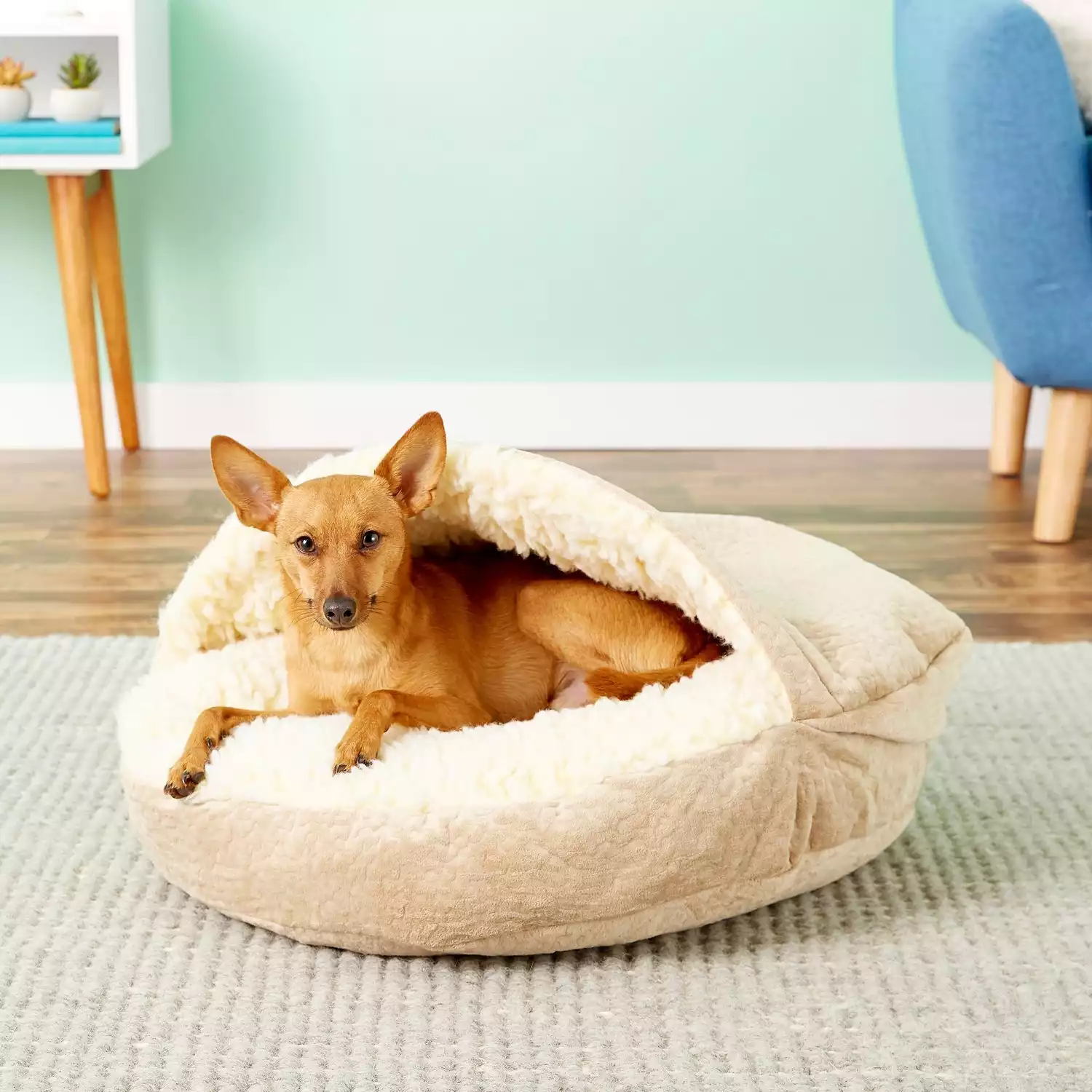 This is a great dog bed for chewers, as it can withstand teeth of even much larger dog breeds, let alone tiny pugs.
The bed allows your dog to burrow if he feels like it, but this isn't necessary. Your doggie can also lie on top of the bed, making this a rather versatile product.
The bed is machine-washable, making the cleaning easy. To ensure the base of the bed is also clean, the polyester fill contains cedar which will keep the bad smells away, giving the impression that your Pug bed is as clean as possible.
Finally, the bed comes in various shades and sizes, so you can certainly make it a part of your decor.
This is a fun combination of a donut bed and an orthopedic dog bed. It is shaped like a donut with all the properties you need to help your dog's achy joints. It's great for dogs such as Pugs and Bulldogs that might be picky about the places they are sleeping on.
The bed has a faux fur covering which is warm and soft and your Pug will love it. Also, the comfortable bolsters will help your dog sleep comfortably and have a place for his head and joints.
The bed is easy to clean and you can simply put it on machine wash programs. This way, you'll keep it clean in no time.
Also, this type of dog bed might help dogs with separation anxiety, as they'll feel cozy and warm.
This dog bed comes in several colors. When combined with the fur material, the color choice makes it a very unique and chic dog bed.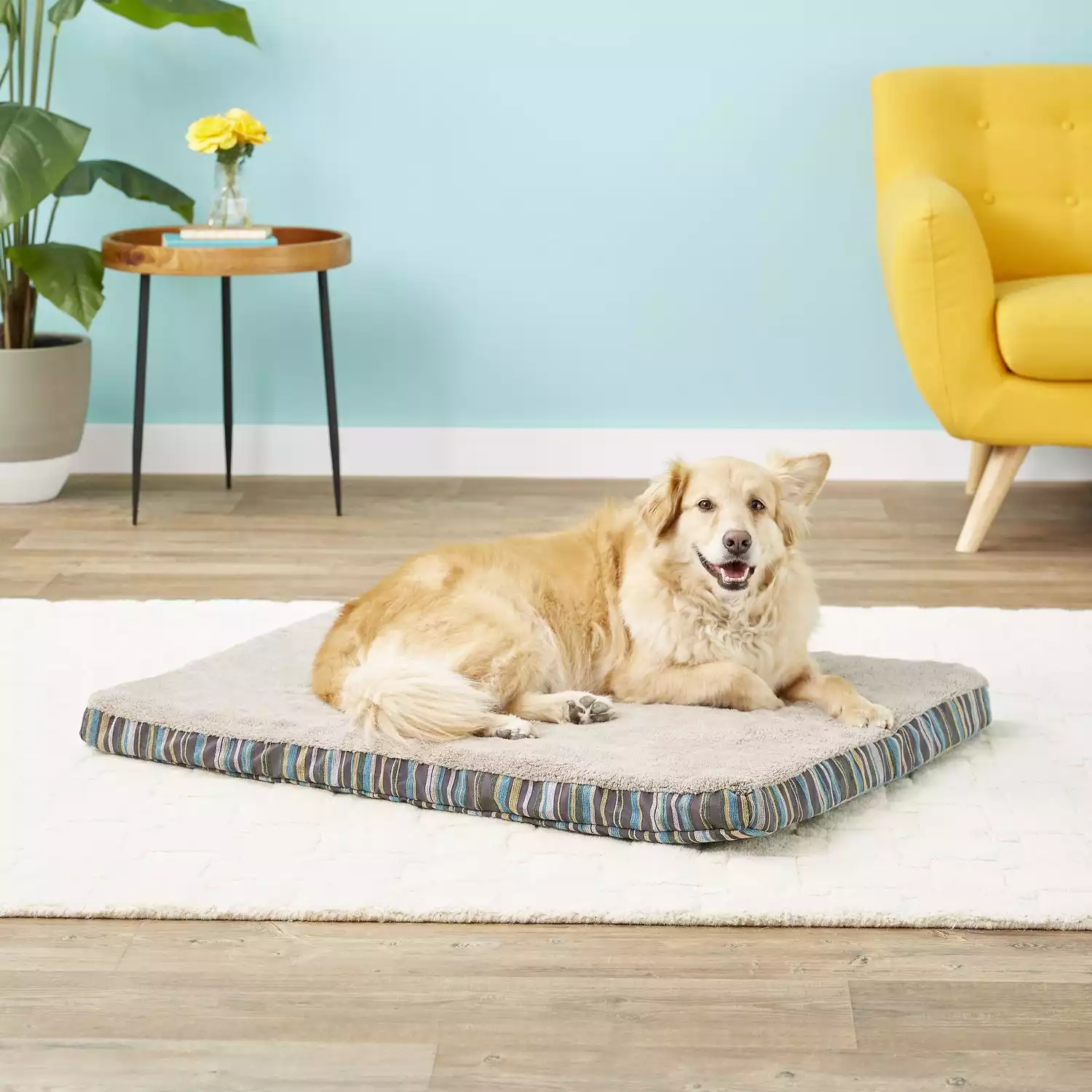 This is a rather simple dog bed that does its job better than most. It looks like just a simple piece of cloth, but in reality, the bed is made out of Microban, an amazing antimicrobial material
The material prevents mold and mildew from growing on the bed – but they aren't likely to grow, anyway, as the bed is so easy to clean you'll probably want to wash it once a week without too much hassle
Other than that, this is a pretty standard dog bed for Pugs who are looking for a simple yet effective place to sleep on.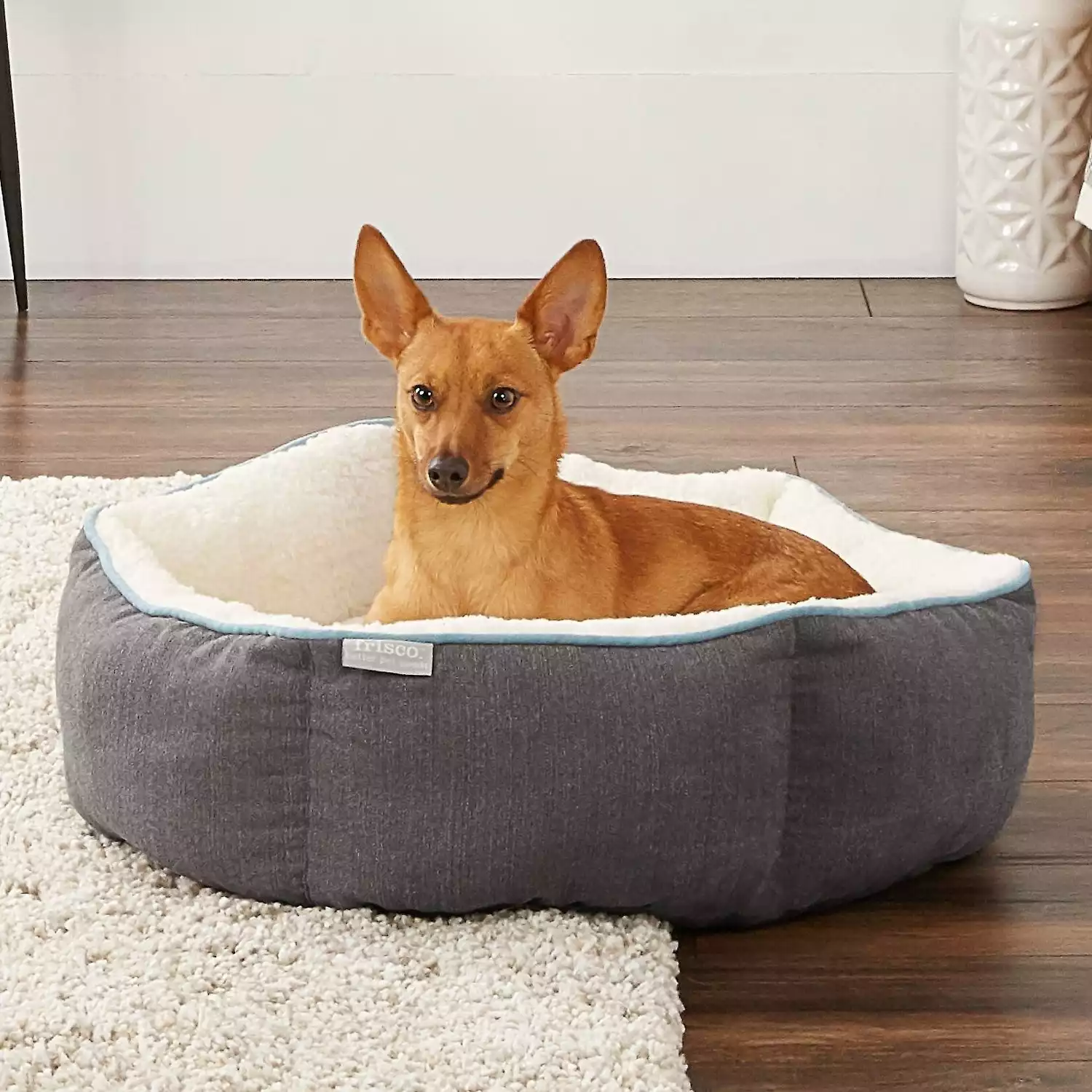 If you have a dog who loves to cuddle, or if you're looking for the best dog bed you can use with a dog crate, this might be the product for you.
It's small enough to fit into most Pug crates, but also big enough to ensure your Pug gets all the comfort he needs. In fact, this dog bed can fit anyone from English Bulldog to a Chihuahua when it comes to size!
The product features a unique, modern design that truly makes this bed a statement piece. Polyester filling ensures comfort while staying firm enough to make sure your dog's joints are properly positioned.
Also, the bed is easy to clean, even if your pooch happens to walk into it with moody paws or dog food stains – and we all know how our Pugs love to do just that.
What To Look For
When you're on the quest to find the best dog beds for Pugs, you cannot just walk into a store or open a website and purchase the first item you see. Instead, you should focus on finding the one with top-quality features.
Of course, not all features are equally important. For example, while you might want to buy a bed that comes in a specific color, this isn't of crucial importance for your pooch.
Make sure to differentiate important traits from the ones that aren't as necessary.
Below are some important features that make all the difference when picking the best product for you and your beloved Pug:
Types Of Dog Beds
The first thing you should consider is the type of dog bed.
Not all dog beds are the same, and some types are better for certain situations than others. While this is something you can choose on your own, some are not as suitable for Pugs as you might think.
Here are some types of dog beds you can find:
Memory Foam Base Bed
Memory foam dog beds are best suited for older dogs, but younger pups can also have great use of them, especially if they enjoy comfort.
Memory foam is a material that is known for molding itself according to the dog's body shape. This will eliminate pressure points, helping your pooch have a comfortable sleep free of stress.
Orthopedic Dog Bed
Most young, healthy dogs don't require orthopedic beds, but they certainly can benefit from them.
These beds are designed for breeds prone to orthopedic issues, such as hip dysplasia or arthritis. They can help dogs feel comfortable even when they have some special requirements.
They use orthopedic foam that can help your pup sleep in such a position that his joint pain will be reduced.
Donut Dog Bed
This is one of the most common types of dog beds you can find. They have a raised part for your dog's head, giving them a significant donut shape.
Donut beds are a great choice for pugs that love to sleep curled up. However, if your Pug prefers sleeping overstretched, this might not be the right bed type for him.
Cave-Style Dog Bed
If your Pug is a borrower, get him this bed!
Cave-style beds are there for dogs to have fun with. They mostly have a sleeping spot with an alcove that your pooch will jump into. This will give your Pug a sense of security he'll have in nature.
Pillow Dog Bed
This is a pretty simple do bed that can end up being one of your dog's favorite pillows – and yours, too, when you realize how affordable most are.
This type of bed might not be suitable for Pugs with orthopedic issues, but they might be a great choice for a standard Pug pup.
Pet Sofa Dog Bed
Pet sofa dog beds are a stylish option that can look great in most interiors. They are also a good option to confuse dogs that love to climb on your sofas and couches no matter how much you scold them.
However, due to their height, sofa dog beds are not that useful to Pugs, especially if you have an older dog.
Heated Dog Bed
This is a luxurious type of bed that will ensure your pooch stays warm no matter the season.
These products are controlled by an electrical device, whether that be remote control or just a button, that will heat up the entire bed. Your Pug will love it!
Just keep in mind that these types of beds shouldn't be left turned on overnight, as they can be a fire hazard if anything happens to your power source or the bed itself.
Outdoor Pet Bed
The outdoor pet bed, as its name suggests, enables your pooch to sleep in your backyard without having to lie on the floor.
Keep in mind that this isn't the best bed for Pugs. Pugs should always sleep indoors, and having an outdoor pet is a good idea only if you plan on using it during meal times.
Proper Base
The memory foam base is the best possible option for Pugs, as it immediately gives any dog bed orthopedic properties.
This material can help your pooch feel more comfortable, especially with bulky dogs such as Pugs.
If the bed is too soft, it might sink, which will ruin the comfort of your Pug. Not just that, but having your Pug sleep in such a bed can ruin his health, and this includes leading to joint pain and breathing problems.
A memory foam dog bed can help your dog have a proper spine alignment and help him get rid of back and muscle pain.
Still, these beds won't be as strong as true orthopedic beds, and this is something you need to be mindful of.
Hypoallergenic Materials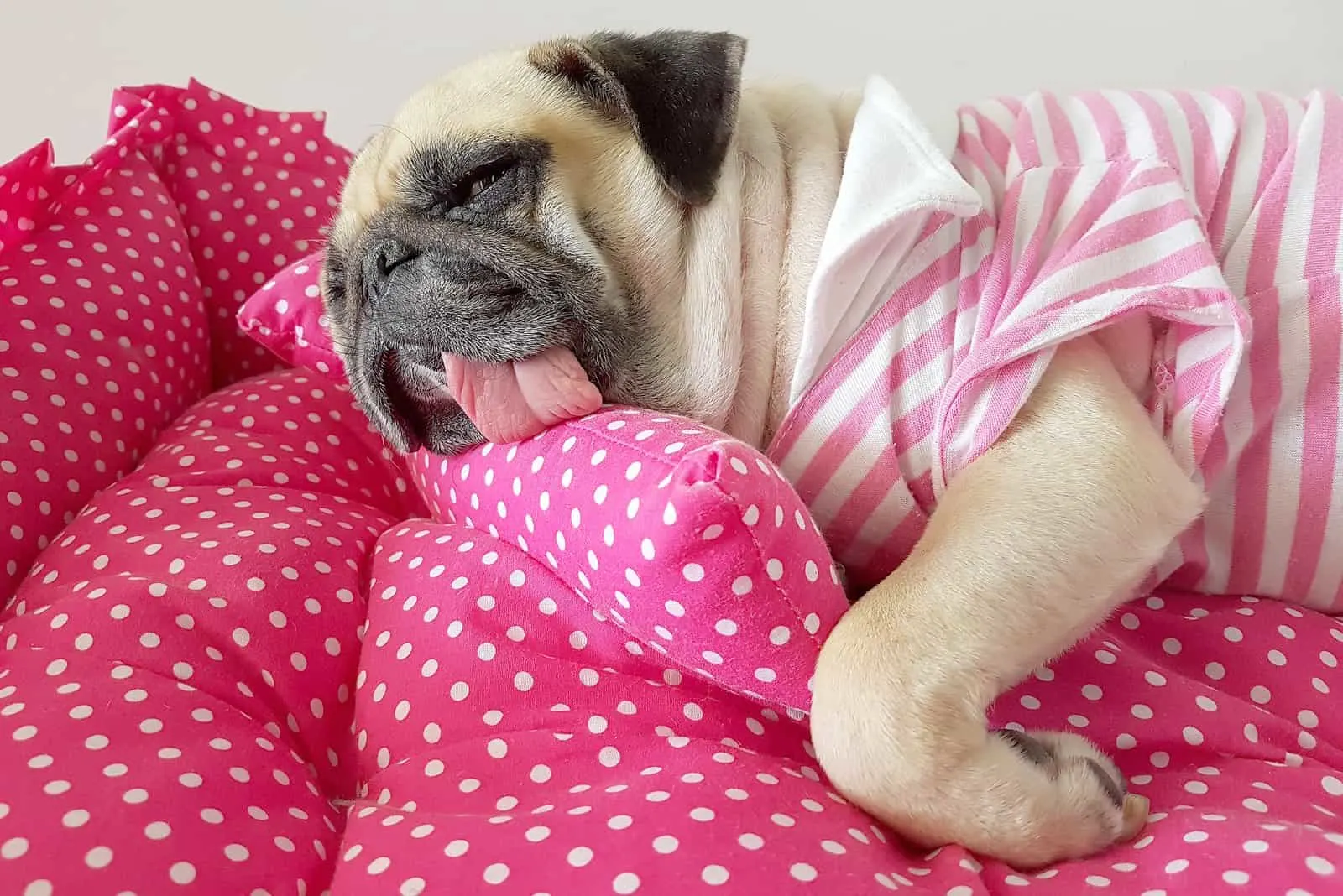 Pugs are very prone to various allergies. They'll commonly have allergy symptoms on their nose and eyes, and they can be very sensitive.
To keep your dog's allergies from flaring up, you need to look at dog beds made out of hypoallergenic materials that are resistant to mold spores and dust mites, the two most common allergens your Pug can get in touch with.
A good choice might be to pick a dog bed made out of silk or microfiber, but keep in mind that these can end up being quite expensive.
Breathability
Breathability is important for all dog breeds, but it's essential for breeds with breathing and overheating issues.
If a dog such as Pug sleeps on a bed that isn't made out of breathable materials, his breathing problems might worsen over time. He'll sweat overnight and his heart will beat faster, which will make his health deteriorate.
As such, you need to look for a dog bed made out of polyester and cotton. While other materials might work, these two are the most breathable ones.
Pug beds made out of this material won't lead to your dog overheating during the night. As such, they'll help them have a better full night's sleep without any distractions.
Easy To Clean
A good dog bed should also be fairly easy to clean, or even be entirely water-resistant. Such options are especially important for Pug puppies or senior dogs, as accidents are fairly prone with them.
Also, Pugs tend to drool, and having a dog bed you don't have to clean every few days is probably one of the things you can do to ensure your life as a Pug owner is a bit more straightforward.
Not to mention that the best dog beds for Pugs should have a removable top cover. This will help you keep your dog's bed clean, which will also help reduce allergies.
Many good dog beds are machine-washable, so you can simply put them in a washing machine and let it do the dirty work. If anything, the top layer of the bed should be removable, allowing you to clean it up easily.
When it comes to materials, polyester is probably the best material cleaning-wise. You can simply wipe it down with a damp towel or cloth and it'll look as good as new.
Things To Avoid
Of course, next to knowing what to look for, you should also know what are some features and traits you should entirely avoid when buying the best dog beds for Pugs.
Dog beds with the following properties might not be suitable for a Pug:
• Synthetic fabrics. Artificial mattresses aren't breathable, your Pooch might not be able to regulate his body temperature properly
• Elevated mattresses. Pugs are small dogs. They might have a hard time climbing mattresses that are too high for their size. If the bed is closer to the ground, your Pug's joints won't be under so much pressure, which is always a good thing. If the bed has bolsters, make sure it has a gap so your Pug can access it easily.
• Flat beds. While I'm at bolsters, they should be a necessity for your Pug. If the bed is entirely flat, your Pug's breathing problems will worsen. This is because bolsters are necessary to ensure your Pug's head and neck are raised. Otherwise, your Pug might snore, which is not good for not just him, but you, as well.
• No cushioning. Pugs hate cold climates. They need to stay warm during winter nights, and the only way to do so is to get him a dog bed made out of warm fabrics. If the bed doesn't have any cushioning, you need to provide your pooch with a blanket. Otherwise, he'll be uncomfortable.
• Lack of removable cover. Pugs are not the cleanest of dogs. Their beds will need to be cleaned regularly. If a bed needs to be washed in its entirety every week or so, or if it isn't machine-washable, it will ruin your experience. Also, it might result in your pup not having his dog be available all the time.
FAQs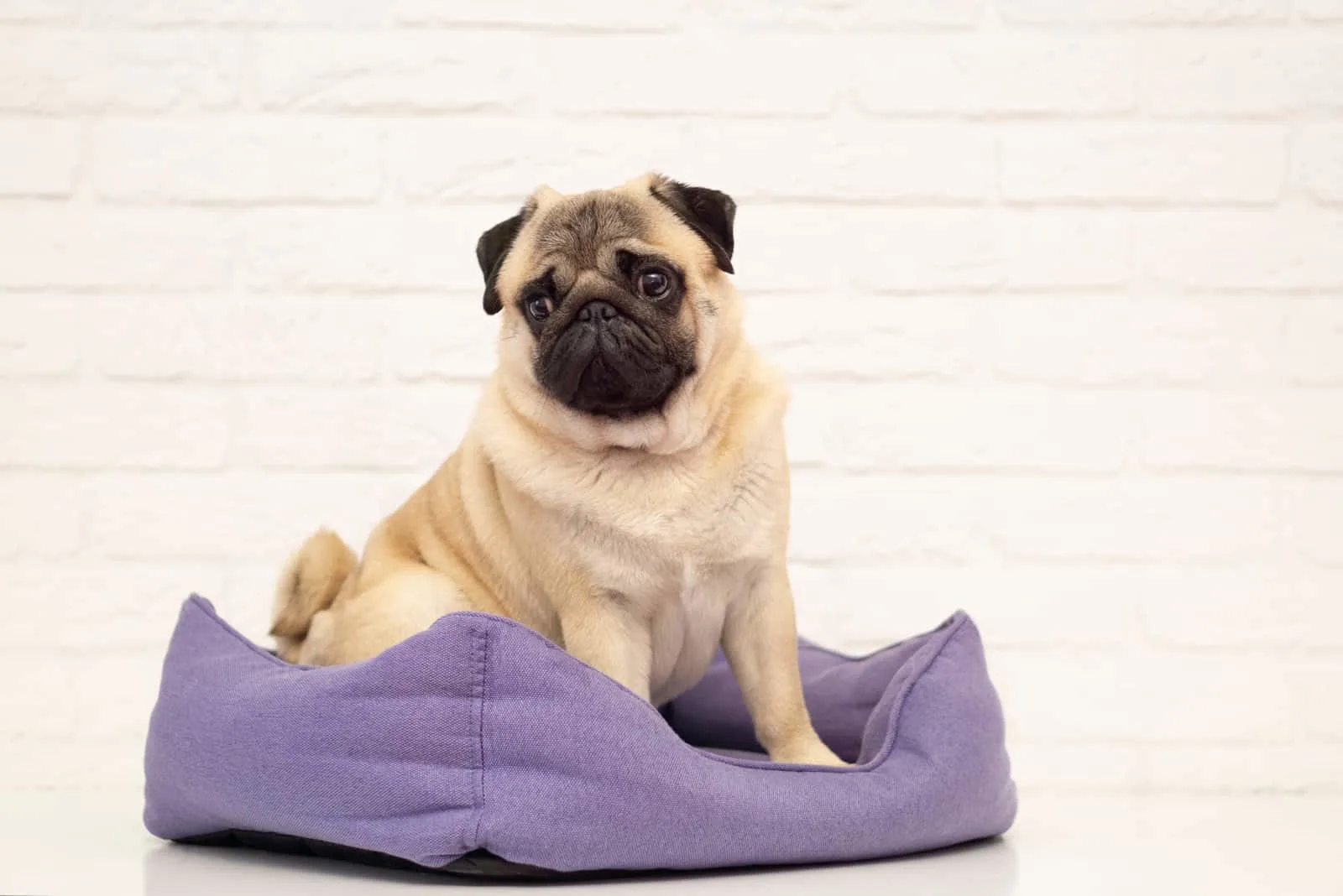 What Kind Of Bed Is Best For Pugs?
There isn't a one-style bed that can be considered the best type of bed for a Pug. It all comes down to your preferences and your dog's specific needs.
In general, most Pugs seem to thrive when they have a good bolster bed. This type of bed can help your Pug get good head support and stretch its neck to breathe better throughout the night.
This is a good bed whether you have a puppy or an older dog, as well.
However, an orthopedic dog bed can also be a great choice, especially for senior Pugs that have started having bone and joint problems.
Where Do Pugs Like To Sleep?
Pugs should always sleep indoors, in their own bed. They are not good at handling cold or cold weather, so you should always play it safe.
Inside the house, your walls and insulation will ensure the temperature is controlled, so your pooch will always feel comfortable and soothed.
As Pugs are friendly dogs, they'll likely want to spend the night near you. They love sharing your bedroom, but this might not be the best option all the time. Instead, you might want to let him sleep in the next room, where he can be close to you but the wall will still separate you.
Still, you can teach your Pug to sleep wherever you'd like. As long as you're consistent with dog training, he can learn to spend his sleep time in any room of the house.
Can Pugs Sleep In Your Bed?
Theoretically, yes, Pug can sleep in your bed. There is nothing preventing you from sharing a bed with your little family pet.
However, your Pug should have his own sleeping place.
Sure, sharing a bed is cute and it can strengthen the bond between you and your pooch. Still, human beds are not made for dogs, and there are many reasons why any dog, especially a Pug, shouldn't regularly sleep in it.
First off, a human bed is designed to fit our comfort levels. This might not be the same firmness as your dog requires, which means he'll be uncomfortable. This can not just ruin his quality of sleep, but it might also endanger his joint health.
Next, sleeping separately can help you sleep better, as well. Due to their flat faces, Pugs can snore. I am not talking about cute loud breathing – no, I am thinking of snoring that will keep both you and your roommate awake throughout the night.
By having his own bed, your Pug is learning that he is having his safe space where he can go and have some alone time. This is especially important if you have a large family or live in a large household.
How Much Are Pug Beds?
Best dog beds for Pugs come in various price ranges. You can find a proper one no matter your budget, which is amazing!
As such, you should simply focus on the bed that will be the best possible choice for your Pug.
For example, you might want to get him a premium option and buy a bed with a heating pad, or you might simply get him a good pillow bed.
One thing that you'll be happy to hear about is that Pug beds are rarely expensive anyway. Pugs are a small breed that requires less space, so their products are more affordable compared to dog beds for large dogs, such as Doberman Pinschers.
Do Pugs Need Blankets?
Many dogs love to sleep under covers. While this looks adorable to owners, it's actually the result of ancient natural instincts.
Dogs used to burrow in the wild when safety wasn't a part of their everyday life. When a dog would burrow or huddle together with his pack members, he'd be safer from predators, but also from the cold.
As such, it is in your Pug's nature to burrow under a blanket, given the opportunity. Still, most of the time, they don't really need a blanket – they simply love having one for that additional feeling of warmth.
However, during the cold days, you might consider giving your Pug a blanket so he can get warmer. Many of the best dog beds for Pugs come with a blanket that you can use at will. This will add some versatility to the product.