This post contains affiliate links, and I will be compensated if you make a purchase after clicking on my links.
The Pom, a small dog breed, is a precious little pooch, loyal and intelligent, but one that needs a place to sleep in, too. That's why this article is going to be all about the best dog beds for Pomeranians.
Luckily, Poms aren't too needy when it comes to grooming purposes.
They adapt quickly and can work with almost any surface that's comfortable enough for them to sleep on – your lap undoubtedly being the most common one as they're notorious cuddlers.
However, it never hurts to spoil your pet dog from time to time and give him his own personal place to sleep or take naps in that isn't the sofa, a lounger, or your own bed.
Someone still has to vacuum all the hair up afterwards, after all.
Given their small size, you'll find that you have a bigger catalog of options. That, in and of itself, can get quite overwhelming.
That's why I've taken the time to go through sites like Amazon and Chewy to form a list of some of the best options, with a product review for each of them.
Read on to see what they are and to see whether or not they work for your furry little friend.
7 Best Dog Beds For Pomeranians
First up on the list is a nice and comfortable option that works as both a dog and cat bed in case you have more than one pet.
Old-School Feel
But, that's not the real charm here. It's that 60's feel where everything was shag carpeting and had a relaxing vibe to it all brought to life for this doggy bed.
Comfy Donut Shape
The bed in question has a nice and cozy donut shape to it that your Pom can just leap into and nest himself nicely, keeping all the warmth inside to curl up in while the relatively high, padded edges help keep the heat in.
It makes the dog feel like he's nestled safely on your lap, helping reduce his stress levels and making it easier for him to fall asleep.
It's what makes this orthopedic dog bed the wonder that it is, and why so many small dogs and cats love lounging in it.
The Dimensions
The intended size fits a 19 to 21 lbs. dog on average, with some room for leeway given his proportions.
The donut itself is 24" x 24", with the inner circle measuring 12" x 12". The blanket that comes with it is a bit bigger than the actual ring, measuring 30" x 40".
The Materials
Speaking of which, both the bed and the blanket are made out of soft and vegan faux-fur shag fabric, completely animal-friendly for anyone who is worried, and an absolute dream for your Pom to just snuggle into.
The bottom part is made from material with a strong grip, helping prevent the bed from turning into a sled on slippery flooring.
Something else that might catch your eye is the fully machine-washable cover – the same goes for the blanket. Simply chuck it in the washing machine, follow the instructions, and you're good to go.
This way, you avoid having to deal with any unwanted smell or dander or fur contaminating the air.
Affordable
To top it all off, the pricing is relatively cheap compared to some of the others that you'll find on this list.
There are a few downsides, however.
The first one is that the bed isn't exactly made to hold up against heavy chewers despite it being made for anxious dogs.
If your Pomeranian fits this description, he'll tear the bed to shreds in a matter of weeks.
The other issue is that the bed isn't waterproof, or even all too water-resistant for that matter, so if your dog isn't potty trained, you'll have to wash those covers often.
This next contender is for the more cost-conscious dog owner who still wants to provide good quality pet products to his dog while managing to save a few bucks along the way.
Comfy Donut Shape
It's quite similar to the first bed, the donut shape and the faux fur making for quite comfortable pairing as well as providing breathable fabric so it's not too hot for your precious pupper.
This combination ends up imitating the feeling of a mother dog wrapped around her dear pup, helping soothe any anxiety that he may have and producing calm and comfort that he can fall asleep in easily while feeling completely secure.
The Materials
It does have one thing over the Pet Craft bed, though, and that's the better quality of material of the bed itself. They're completely non-toxic, and are a lot tougher for chewers to tear through.
Easy To Clean
The same high-quality material is also completely machine washable, making it easy to clean up when the need arises.
The stuffing itself provides excellent neck and head support making it a good relief pillow for older pets that suffer from arthritis or joint pain due to prolonged wear.
Multiple Size Options
The bed comes in three sizes: small, medium, and large, each able to withstand pets of up to 25, 45, and 100 lbs., respectively.
The Dimensions
The one that's being talked about at the moment is the small, which is 23" x 23" in size; slightly bigger than the standard, but your dog will surely appreciate it.
Affordable
The price is pretty low considering the quality of the product. I'd definitely snag one if you are the budget-conscious kind since I doubt there are any cheaper ones that offer the same or better benefits.
Color Variety
Finally, for those of you who like to personalize your dog's personal space, the bed comes in five different color variations for you to choose from, so hopefully you can get one that matches your Pom's aura.
The only real complaints I've seen are that people would like more stuffing to make it a bit more comfortable for the pets, and that some models are less durable than others.
This entry is oriented more toward older dogs, but any pet can really use it.
Relaxing Sofa Shape
Shaped like a little sofa bed, it provides a nice surface for your Pom to lay down on and fall asleep peacefully.
The side pillows surrounding the sleeping surface provide support for the dog's head and neck, helping alleviate joint pain by carrying some of the weight itself.
The Materials
The three inch thick inner egg crate orthopedic memory foam adds an extra layer of comfort, making him feel like he's floating on air when laying down, and allowing for an easier and more peaceful night's sleep.
The bottom of the bed is covered in high-grip, non-skid, studded plastic to allow use of the bed on smoother surfaces like tile or hardwood, meaning even night terrors won't cause your dog to shift the bed and wake himself up on accident.
The Dimensions
The size of the doggy bed comes closer to that of beds intended for medium dog breeds than smaller ones, but the 28" x 23" dimensions still work for the latter. Besides, they won't complain about having some extra legroom.
While the cover isn't machine washable, it can still be easily removed for hand washing, and it cleans up quite nicely.
Waterproof Lining
One other benefit that it has is that the inner lining around the foam is waterproof, meaning the bed won't get stained by pee, poo, or anything else for that matter, making clean-up a breeze.
The price itself isn't too bad either, being quite affordable compared to some of the more expensive beds. Certainly, a worthy investment if you have a dog that is suffering from any joint related problems and just wants a place to rest comfortably.
And, for all you pet owners who want to add an extra personal touch to your dog's space, the Bedsure bed comes in four color variants that you can choose from upon purchase in order to better fit your interior décor.
While normally marketed as a bed for cats, this one is equally as viable to be a good dog bed for Pomeranians and other small dog breeds.
The Materials
Constructed out of ultra-fine air loft microfiber, the bed provides good heat insulation, allowing pets to warm themselves up with their own bodies and stay cozy enough for a good night's sleep.
The bottom part of the bed is covered with a high-grip, non-skid surface to help keep the bed steady during nightly bed shifting, so your furry friend doesn't drive off on the floor, while the top part is entirely faux fur.
Comfy Donut Shape
The donut shape with elevated walls imitates the mamma dog's embrace, adding that extra layer of safety and security in order to make your pet feel more comfortable.
Ergonomic
The sides help support your dogs' neck and head to alleviate pressure from the spine while also allowing the muscles to relax for a bit.
The Dimensions
It comes in four different sizes for you to pick your pet's ideal size from. The 20" and the 23" should be perfect for a Pom while the 30" and the 36" will be a bit too big for the little guy.
Machine-Washable Bed
The one odd thing is that there's no removable cover, but the bed itself is machine washable, though it's recommended that you do it separately, with no bleach, and on a gentle cycle given its size and the label on the back.
The former would ruin its fluffiness after all.
Speaking of which, once the bed is fully dry, make sure to pat it down in order to make it look as good as new.
Personalization Options
Other than that, the bed has three variant color options, each a simple one that fits with any interior – it's just a matter of your own preference.
Surprisingly enough, this small dog bed is also relatively cheap and can be afforded by any dog owner with ease.
Here's another neatly designed dog bed for Pomeranians, and it's one of Amazon's #1 best sellers – the Furhaven bed.
Relaxing Sofa Shape
It has a great sofa corner design that'll fit into any household well and be a great canine relaxation spot.
Ergonomic
This is a bed made for the dog owner who wants to give his furry best friend the peak of comfort, especially older dogs that suffer from hip dysplasia and other doggo health issues.
The said comfort comes from the elevated corners that serve as a neck and headrest, lined with comfy suede material and stuffed with orthopedic memory foam that'll make it seem like your pupper has melted into his doggy bed.
The Materials
The main sleeping area is covered in faux fur, making your pooch feel like he's huddled up next to another dog, which only adds to his level of comfort and security, letting him fall asleep a lot easier.
The memory foam dog bed is surprisingly helpful in improving canine health, not just for neck and head support, but for other joints as well, and also for improving overall air circulation around the bed.
The Dimensions
The size covers slightly larger dog breeds, but I'm sure your Pom won't complain about having a bigger territory to lord over.
It comes in at 30" x 20" x 6.25", though there is a variant for smaller dogs, albeit too small in comparison to competitor sizes, or bigger variants if you want to spoil your doggo a little.
Easy To Clean
The plus side for anyone on clean-up duty is that the cover is completely removable, and it can be washed easily. Just put it in your washing machine according to the instructions on the label and you're good to go.
Different Personalization Options
For those looking to have the bed match the rest of their décor, the dog bed comes in eight amazing colors that go well with any modern household.
Purchase Warranty
Finally, for those who end up dissatisfied for whatever reason, or end up getting a defective product, there's a 90-day warranty as well as a 60-day worry-free program as long as you bought the bed from an official retailer.
Considering the quality of the product, it's still relatively affordable, though the material wasn't really made for heavy chewers. They'll tear it to shreds within a week if they're too anxious or eager to gnaw on their new rest stop.
Something a bit simpler this time – a neat outdoor bed for your pupper to relax on.
Practical Outdoor Lounger Shape
It is like a doggy lounger that can be put next to his kennel for him to soak in the sun without having to lay directly on the ground or the hot concrete through the summer season.
The Materials
They are something a bit different from all the indoor ones while still retaining most of their functionality, namely the use of HDPE, also known as high-density polyethylene fabric, that's both breathable and flexible.
These aspects, paired with the elevated nature of the bed, provide a comfy, cool space that's flexible enough to keep a small breed dog like the Bulldog or a Pomeranian above ground, making him feel like he's floating on a cloud.
Bigger dogs can work, too, but they'll have significantly less space.
The bed itself is easy to set up, and is portable in case of bad weather, not to mention that the fabric is easy to clean up with some cleanser, water, and a slightly damp towel.
It's weather resistant, too, so you don't have to panic about bringing it in once a storm hits, though I wouldn't keep it out there for too long, or your dog for that matter, so that neither gets soaked.
Various Color Options
It comes in six different color options for you to choose from, though be careful of losing track of it if you choose Brunswick Green!
This is another choice from Furhaven, one that's sure to excite you and your Pomeranian puppy.
Multi-Form Miracle
This bed is soft, easily portable, and can be folded into a variety of different shapes: canoe, mat, couch, or nest.
The Materials
This cozy, faux fur bed is lined with mylar, an insulative material that helps keep the dog's radiated body heat inside the dog bed's area, providing a comfortable atmosphere in which to rest or sleep.
This helps give them that feeling of motherly love – one of the first comforts they experience and is imprinted on since their birth.
The Dimensions
The dimensions are relatively standard for a small breed dog (23.5" x 20" x 0.5") – not terribly big, but nice and snug to help keep the doggo nice and toasty.
Easy To Clean
There is no removable cover, but the bed itself is machine washable – just make sure you have enough room for it and that you read the tag, as always. The rest should be fairly simple.
Various Color Options
The bed itself comes in four different colors for that extra touch of personalization of your pupper's nest.
The only real downside, just like it is with the earlier Furhaven bed, is the fact that the bed isn't very durable against dogs that like gnawing on beds, and also, some of the smaller parts present a choking hazard.
And, just like with the prior product, there's a 60-day, worry-free program, and a 90-day warranty against damage, so long as you've purchased it from a legitimate reseller.
What To Look Out For When Buying A Dog Bed For Pomeranians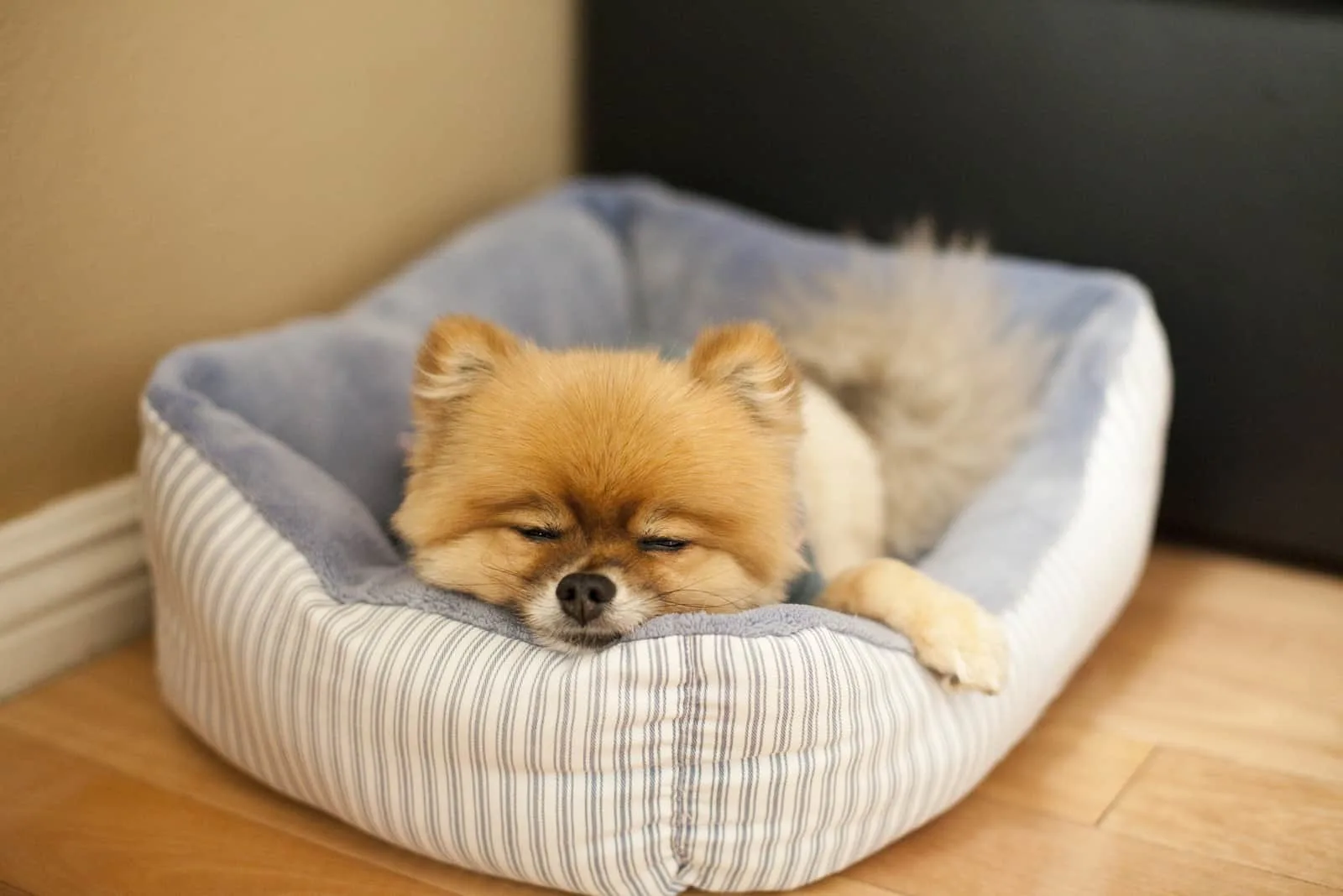 Poms, thankfully, aren't overly demanding when it comes to beds. They are small dogs that won't break any of them, and they're often well-behaved, so you only have a few things to really bother with.
The Size Of The Bed
The main thing would be the dimensions. Make sure the bed can at least fit an average-sized Pomeranian dog, and then add a few inches extra on each side so he's not cramped up.
You can go even bigger if you want to, but that's really up to the price that you're willing to pay. Just don't make it too big since your Pom won't find it as appealing as a small, cozy space.
What It's Made Of
This is only applicable for dogs with allergies. Although rare with Poms, if yours qualifies, make sure to look for hypoallergenic material that offers coziness and comfort as well.
How Easy It Is To Clean
Dog beds that have removable and, more importantly, washable covers should take priority over those that don't.
No matter how clean you may keep your dog, they will leave hair and errant smells behind, which will need to be scrubbed or washed out if you don't want to be throwing the bed out every month or so.
FAQs
Is It Okay For A Dog Not To Have A Bed?
While they can sleep on the floor, dogs, much like humans, prefer the comfort of something soft, so getting a bed would be ideal unless you're willing to offer to share yours.
Where Do Pomeranians Like To Sleep?
It depends from dog to dog, but Poms like sleeping either in their own bed, in a dog crate, or even in your own bed.
Do note that a Pomeranian needs some sort of ramp or small staircase in order to have easy access to your bed if you choose to go that route.
You don't want him getting injured, after all.
What Size Bed Does A Pomeranian Need?
The size of a Pomeranian dog bed depends on the Pom himself, but the bare minimum should be 20" x 15" x 6.25".
In Conclusion
Poms aren't the most demanding of dogs. All they really want is a nice, cozy surface to nestle in for their daily nap time and they're good to go.
The best dog beds for Pomeranians only need to tick three boxes: ease of cleaning, material, and size, with the optional 4th being price.
This low criteria opens up many options – too many to list, but I do hope that the seven listed here help you at least get a better idea of what to get your furry friend when you go bed shopping.
If you don't end up satisfied with any of the ones listed here, feel free to use the guidelines listed above to make your search for the ideal doggy bed that much quicker. I'm sure your dog will love it regardless.