Disclosure: This post contains affiliate links, and I will be compensated if you make a purchase after clicking on my links.
Your dog gives you unconditional love, and it is truly your best friend. Both of you share a life, unique moments, and all sorts of adventures that you will cherish forever.
So, as pet owners, it is only natural that we think of our dogs' needs and do anything we can to make their lives a little bit better.
Sometimes, when you are tucked away in a comfy, warm bed all night, it may cross your mind that your number one fan might also appreciate the same level of comfort. Now, we are not saying that you should invite your pooch into your bed, but it sure is an option!
However, if you would rather have your dog sleep somewhere else but also enjoy nights of pure relaxation and joy, we've got you covered! In this article, we will dive deep into specific needs for French Bulldogs when it comes to bedtime.
Being such a fascinating and unique breed, French Bulldogs' requirements tend to differ from other dog breeds. Therefore, we want to provide you with the knowledge to make the right choice when it comes to picking your next dog bed for your furry friend.
We've gone ahead and narrowed down the search to only the best dog beds for French Bulldogs to ensure that your Frenchie gets the bed it needs while also keeping everyone in the household happy. So, let's dive into our top picks!
What is the best bed for a French Bulldog? Ratings
French Bulldog Bed Rating
Best Dog Bed For French Bulldog: Reviews
Editor's Choice
PetFusion Ultimate Lounge Dog Bed
Key Benefits:
It comes with bolsters that support the neck and head.

It is water and damage-resistant.

It comes in multiple sizes.

It has an anti-skid bottom.

The memory foam wraps around your dog's body.
The PetFusion Ultimate Lounge Memory Foam Bolster Cat & Dog Bed with removable cover is our top pick among the best dog beds for French Bulldogs. The main advantage of this bed is its four-inch-thick memory foam that comes with a water-resistant cotton and polyester cover.
Not only does the memory foam support your sleeping pup's body, but it is also highly unlikely to cause any allergic reactions. This is an excellent feature if you have a senior French Bulldog or one with more sensitive skin.
All dogs of this breed will appreciate the added side bolsters. They are there to support your pup's neck and to also keep it from rolling off the bed. The neck support is particularly beneficial for Frenchies because of their tendency to snore during naps.
This PetFusion bed also features a non-slip bottom that will keep it in place even on tiles and wooden floors. So, even if your Frenchie tends to toss and turn during the night, neither the bed nor the dog will be going anywhere.
There are several sizes to choose from, so you can accommodate a solo sleeper or multiple pups in your household. All of the sizes feature an easily removable cover that is, as the manufacturer claims, resistant to damage and water.
This is a perfect choice if you have young puppies in your home that are still potty training. However, one drawback of the cover is that it can tear easily in the washing machine. Because of this, we would recommend hand washing it to avoid damage.
Overall, we think this PetFusion dog bed is an excellent option for French Bulldogs, especially those that need a little extra support and safety during the night!
JOYELF Memory Foam Bed
Key Benefits:
The bed features a solid memory foam base for proper body support.

It comes with an easily removable and washable cover.

The edges of the bed have bolsters for neck support.

The bed comes with a squeaky toy gift.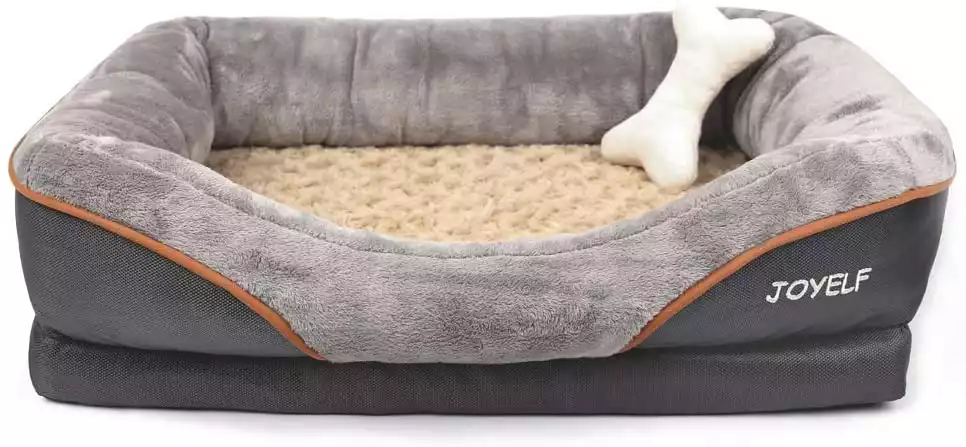 The JOYELF Orthopedic Dog Bed Memory Foam Pet Bed with removable, washable cover could be your best bet if you have a middle-aged or senior French Bulldog in your household.
The bed features a thick memory foam base that will provide proper support to your dog's aching joints from arthritis, hip dysplasia, or other similar disorders. It comes with one side lower to the ground so that senior dogs and those with mobility issues can hop in without a problem.
This awesome JOYELF dog bed comes with a waterproof, removable cover. This means that if your senior Frenchie or young puppy has an accident, you can simply throw it in the washing machine. However, we wouldn't recommend using a dryer with the bed's cover because it can tear in the process.
All four sides of the bed include cushion bolsters that provide proper support to both the neck and head of your pooch and also prevent it from falling out. If your Frenchie has trouble breathing during the night, the elevated head support will certainly be appreciated.
The main disadvantage of this product is its smell and firmness. Due to the orthopedic quality of the mattress, the surface of the bed might be too hard for puppies or younger dogs that don't need the support.
With all that said, this JOYELF dog bed could be a good option for a French Bulldog in its twilight years. Your dog will appreciate the support and comfort this bed has to offer.
Furhaven Plush Orthopedic Sofa
Key Benefits:
The bed is highly affordable.

It comes with an orthopedic foam mattress.

It has a warm, soft lining.

The cover can be easily removed for maintenance.

Several colors are available.

Features three bolsters for neck support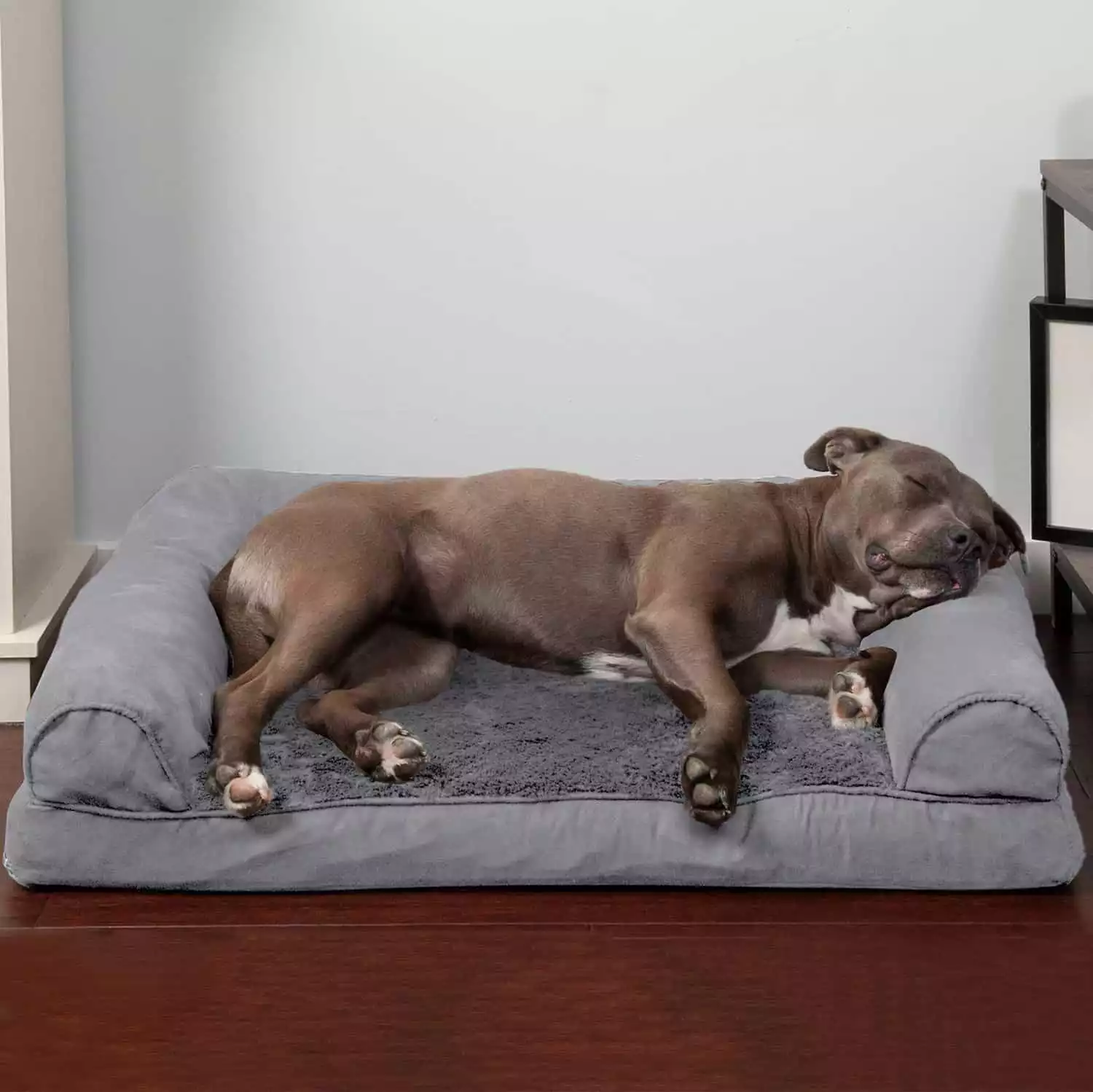 The FurHaven Plush & Suede Orthopedic Sofa Cat & Dog Bed has a unique and interesting design that looks just like a mini replica of your couch. The bed has three comfortable side bolsters and one open side. This design allows your French Bulldog to easily climb in and rest its neck and head while sleeping and napping.
This FurHaven sofa bed has just the right combination of firmness and comfort. It features an orthopedic foam mattress that will provide much-needed support for senior Frenchies.
The bed also comes with a faux fur lining that is both warm and soft to the touch. So, if you live in a colder climate, this could be a great option for your Frenchie!
The removable cover found on this product is completely machine washable and can be dried on the line. This will certainly come in handy if your senior dog has accidents or your puppy isn't potty trained yet.
However, you should maybe look for another option if you have a destructive chewer in your household. Frenchies that love to chew on furniture will have no problem destroying this bed. Note that the zipper for the cover is also not very durable, so your dog could take apart the entire bed.
With all this in mind, we think that this Furhaven dog bed is an affordable option that would be best suited to calmer dogs. We recommend getting this product for Frenchies that need comfort and a little extra support.
Furhaven Pet Orthopedic Mattress
Key Benefits:
The orthopedic memory foam is supportive of your dog's joints.

The bed comes in multiple sizes and colors.

It features a soft, faux fur lining.

The bed is wallet-friendly.

The cover is machine washable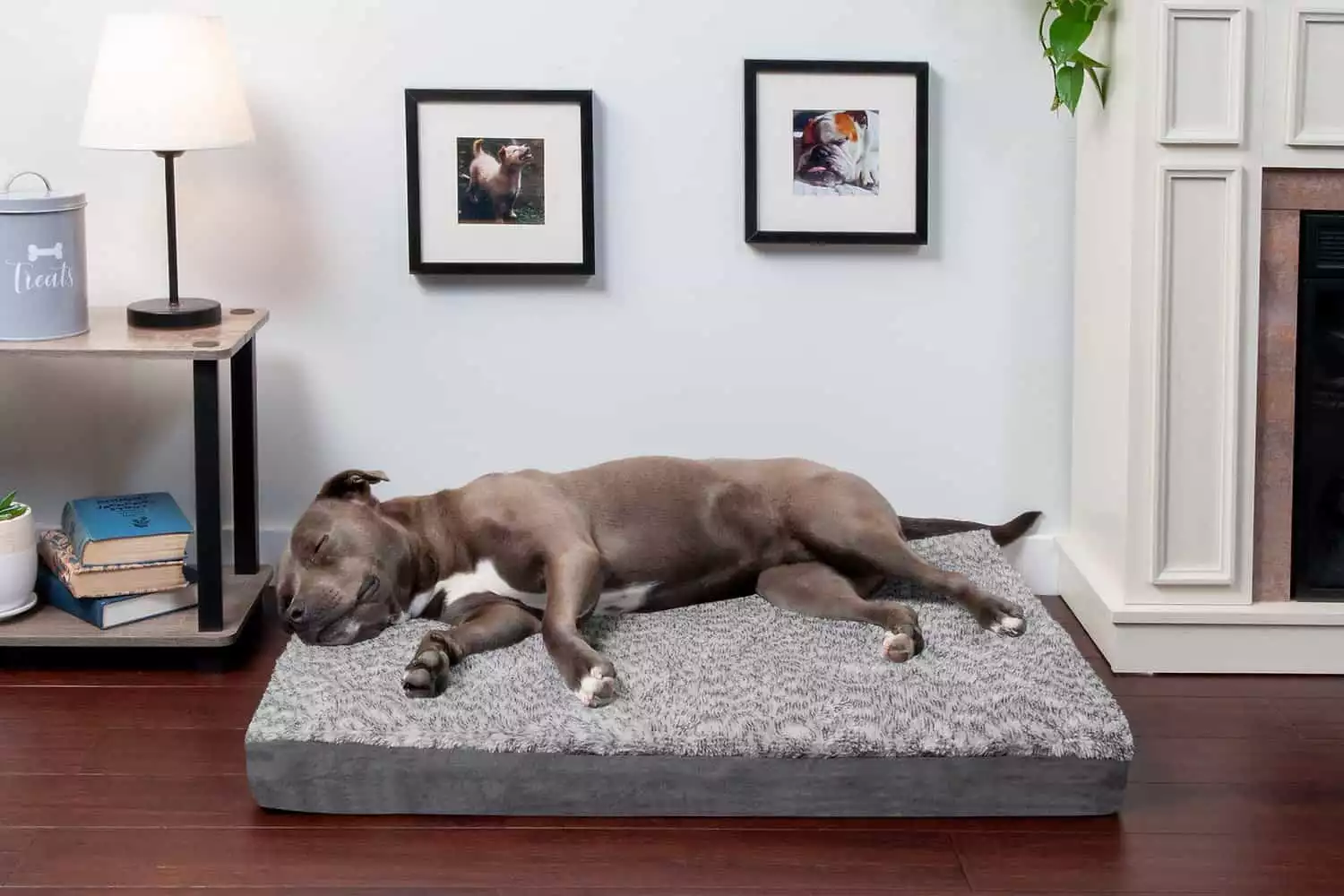 If you are looking to provide your dog with comfort while trying to save some money in the process, you should consider getting the FurHaven Faux Fur & Suede Deluxe Orthopedic Dog & Cat Mattress.
This Furhaven bed features a foam mattress that increases circulation and also supports sore limbs! If your Frenchie struggles with joint issues, such as arthritis or hip dysplasia, this firm mattress could help him get a better night's sleep.
The bed is covered with a soft, faux fur lining that provides both warmth and comfort, and it is an excellent choice during winter or if your pup is sensitive to cold weather. There are multiple sizes and colors available, so you will certainly find one that fits your pup and your home decor.
This high-quality French Bulldog bed also comes with a removable cover that you can safely wash in the washing machine. However, the soft, faux fur cover and the entire bed are easy to destroy, so it might not be a wise choice if you have a dedicated chewer by your side.
We also think that the design of the mattress is a little too simple. The bed lacks the side bolsters that most other dog beds have. This means that your pooch won't be able to elevate its head, so you may have to endure some snoring.
Furthermore, the mattress also flattens over time, so you may have to look for a replacement a bit earlier than you would have hoped.
However, with all things considered, we think that this bed is a good budget option for your Frenchie.
Barkbox Platform Dog Bed
Key Benefits:
The bed features a supportive gel memory foam mattress.

The outer lining is water and damage-resistant.

The bed comes with a free squeaky toy.

The bottom is anti-slip.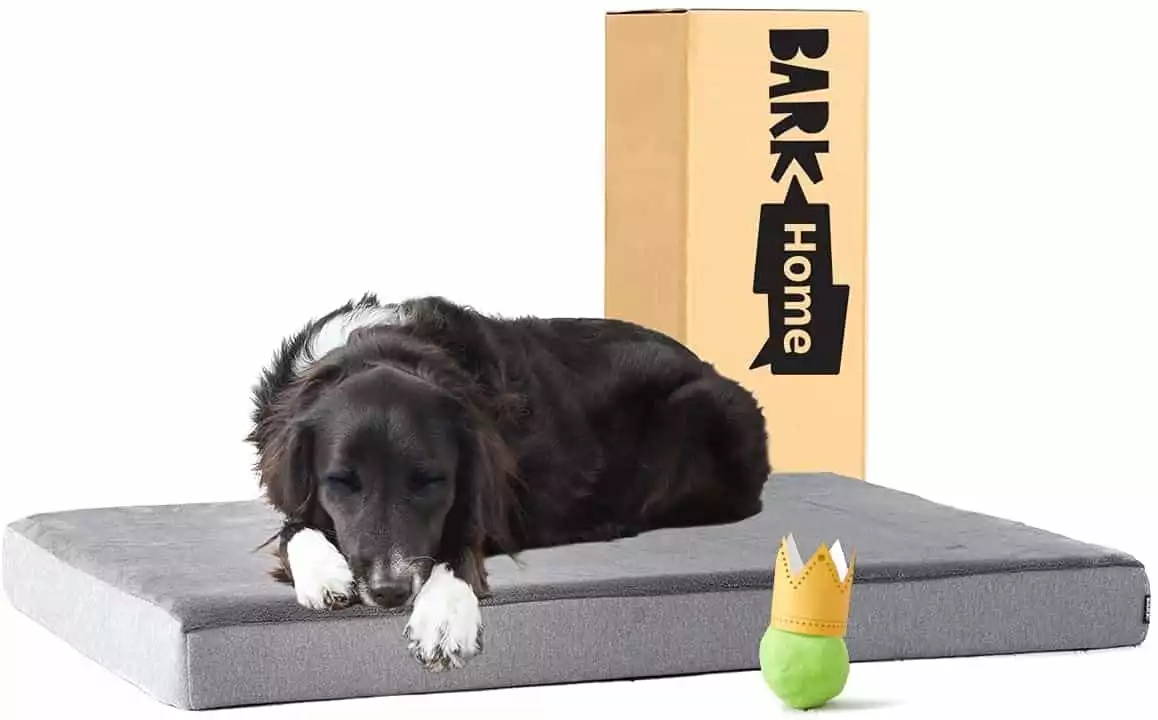 If your older dog suffers from arthritis, hip dysplasia, or from joint pain in general, it might appreciate the support that the Barkbox Memory Foam Platform Dog Bed, Plush Mattress for orthopedic joint relief has to offer.
This pet product features a gel memory foam composition that provides both support and cooling properties. This means that this comfortable bed will help your doggy stay cool in the summer months while relieving its pressure points at the same time!
Because of its low design, small dogs and dogs that suffer from mobility issues will have no problem getting in and out. This orthopedic bed comes with a removable, washable cover and a waterproof liner.
This will be a blessing if your French Bulldog puppy is not yet potty-trained or if your senior doggo is prone to accidents. The cover will guard the mattress from any fluids that may come its way and also make the cleaning and maintenance of the sleeping surface a lot easier.
Barkbox is well-known for its toys, and the company provides a squeaky toy with this memory foam dog bed. While the squeaky toy is unlikely to help your dog sleep better (or you, for that matter), a new thing to play with is always welcome!
The main downside of this Barkbox bed is that it doesn't come with bolsters on the side. So, if your pooch tends to snore during the night, has neck problems, or needs a sense of security while sleeping, you will probably need to supplement this dog bed with a cushion.
Overall, this Barkbox dog bed might help relieve joint pain in small dogs like French Bulldogs and large dogs as well.
Best Friends By Sheri
Key Benefits:
The bed features thick faux fur material that prevents your dog from getting cold.

The round mattress design is excellent for Frenchies who love to curl up while they sleep.

The mattress is soft but supportive.

The material is resistant to water and dirt.

It comes with a machine washable cover.

Features raised rims for neck and head support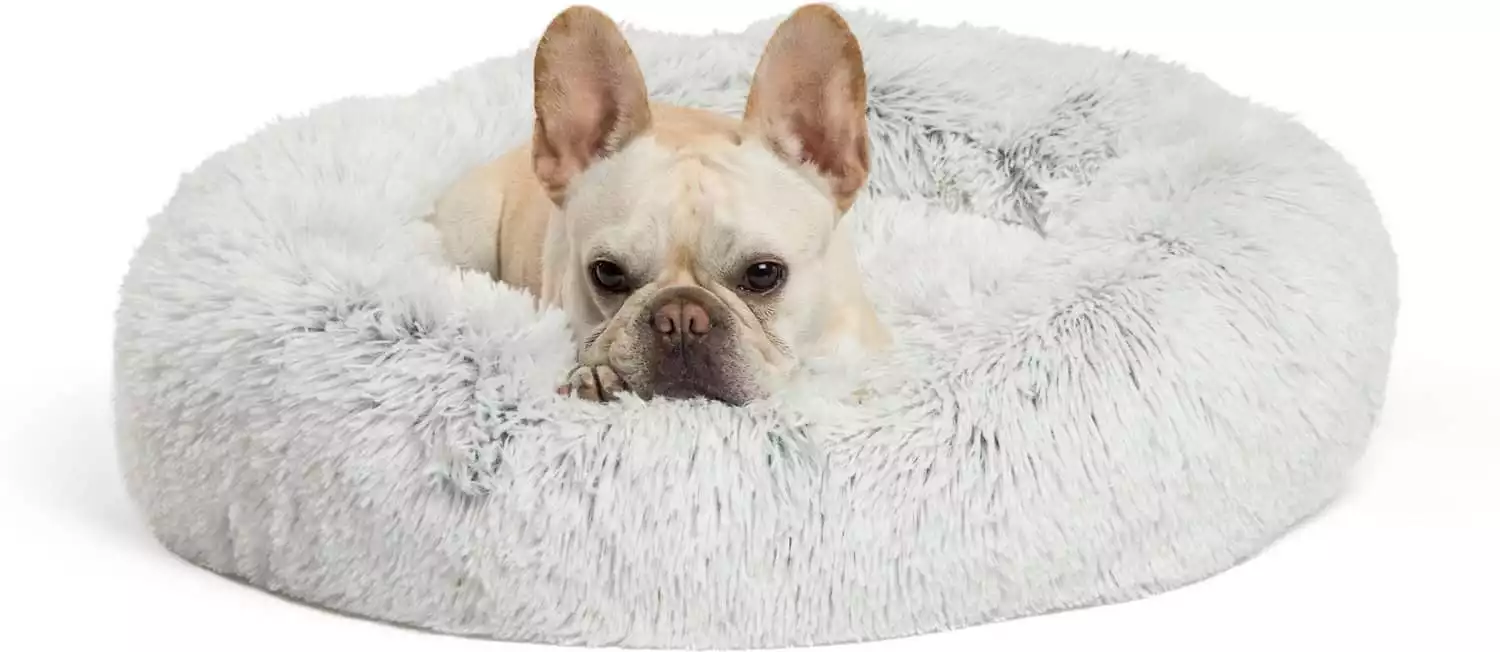 The Best Friends by Sheri Original Calming Shag Fur Donut Cuddler Cat & Dog Bed is the perfect choice for French Bulldogs during winter or those living in a colder climate.
Due to the soft but dense faux fur fabric, the bed generates extra warmth for your pooch while its shape supports curling up to sleep.
The raised rim is perfect for Frenchies as it elevates their heads and prevents snoring. It also helps reduce pressure and supports your pup's body. And, if your dog suffers from joint problems, such as arthritis or hip dysplasia, this Sheri dog bed will provide some comfort.
Furthermore, the entire bed is resistant to dirt and water, and you can wash the cover in the washing machine without damaging the material. However, the biggest downside of this donut bed is that the fabric is too soft for relentless chewers. Destructive dogs will be able to tear this bed apart in no time.
Overall, even though this bed does not have the most supportive mattress, it is warm and comfortable for colder nights.
AmazonBasics Cooling Elevated Pet Bed
Key Benefits:
The product is budget-friendly.

The breathable fabric and off-the-ground design work together to keep your pooch cool.

It is easy to assemble and disassemble.

Cleaning and maintaining the bed is easy.

The bed is dirt-resistant and durable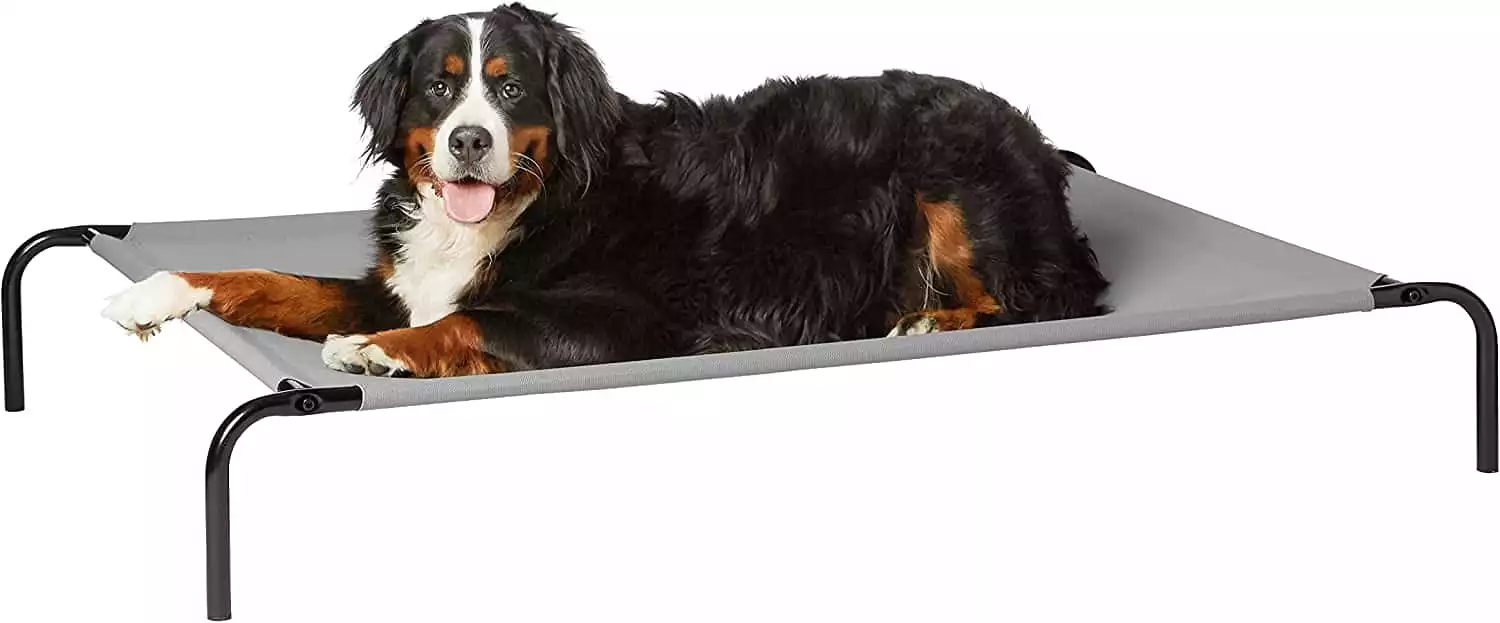 If you live in a hot climate or your Frenchie is prone to overheating, then the Amazon Basics Cooling Elevated Pet Bed might become your best friend's best friend!
As you probably know already, French Bulldogs aren't too fond of hot weather, so the best thing you can do for your canine bestie is to invest in a bed that can keep it cool!
This AmazonBasics bed has a mesh fabric design and an elevated base. Both of these factors increase air circulation and allow your Frenchie to regulate its temperature more efficiently, thus avoiding overheating.
You can clean the bed and put it together with minimal effort. It is a relatively durable, long-lasting, and low-maintenance option that comes with a wallet-friendly price tag.
However, it may not be a good idea if your French Bulldog's sleeping positions require a soft sleeping surface. Moreover, the bed can slide on smooth surfaces as it doesn't come with an anti-slip bottom. This can damage your hardwood floors unless you add tips to the legs or place the bed on a carpet.
Petmaker Orthopedic Pillow Dog Bed
Key Benefits:
Made with two thick layers of foam.

Features memory foam and high-density foam for extra comfort.

Provides extra joint support.

Comes with a 100% polyester microsuede with sherpa top removable cover.

Available in different colors and sizes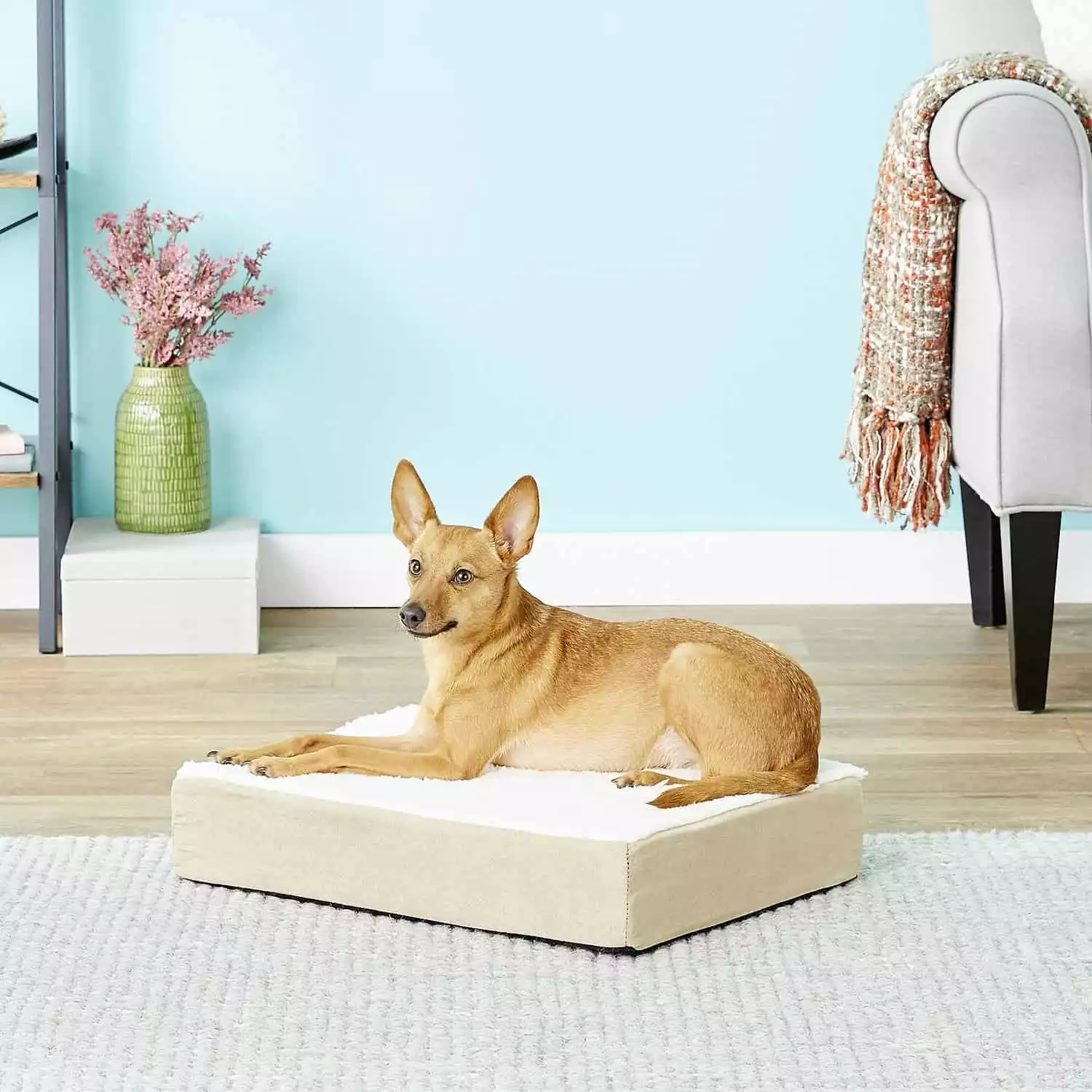 The Petmaker Orthopedic Sherpa Pillow Dog Bed with removable cover has a simple design and can fit underneath most household furniture for easy storage.
The entire bed is a simple rectangle of memory foam that adapts to your dog's needs. The mattress keeps your dog's spine straight and reduces the pain around pressure points. If your pooch has mobility issues, don't worry. This bed is low to the ground and has no bolsters, so your pooch can hop on it from any side it wants!
This Petmaker bed is great for French Bulldogs that like to sprawl out while they relax and don't need the side bolsters for security.
It comes with a completely machine-washable cover and features a second layer of high-density foam that provides more support than the typical type of dog bed or even orthopedic bed! On top of all this, it may even fit into your dog's kennel if you pick the right size.

If you are looking for a budget-friendly good dog bed, the Friends Forever Orthopedic Dog Bed Lounge Sofa with removable cover might be just the thing for you!
This Friends Forever bed comes in four different sizes that will accommodate even the chunkiest of Frenchies. With the average size of this dog breed in mind, you are more likely to find the extra-large version better value. Your furry bestie will certainly appreciate the extra room in its very own bed.
This orthopedic lounge sofa is designed to provide your pooch with the utmost comfort. The cushioned poly-fill bolsters are ideal for dogs of all shapes and sizes, especially those suffering from joint pain or arthritis.
Durable, long-lasting, and very easy to clean, this Friends Forever bed will tend to both your and your dog's needs with ease. Being hair and fur resistant is a wonderful thing when it's time to tidy up!
Even though there are cheaper alternatives, none compare to what the Orthopedic Dog Bed Lounge Sofa from Friends Forever has to offer!
BarksBar Orthopedic Dog Bed
Key Benefits:
Easily holds up to 100+ pounds.

High-quality craftsmanship with top-of-the-line materials.

The non-slip rubber bottom stops the bed from moving on tiles and hardwood floors.

Removable and machine washable cover.

Easy to maintain and clean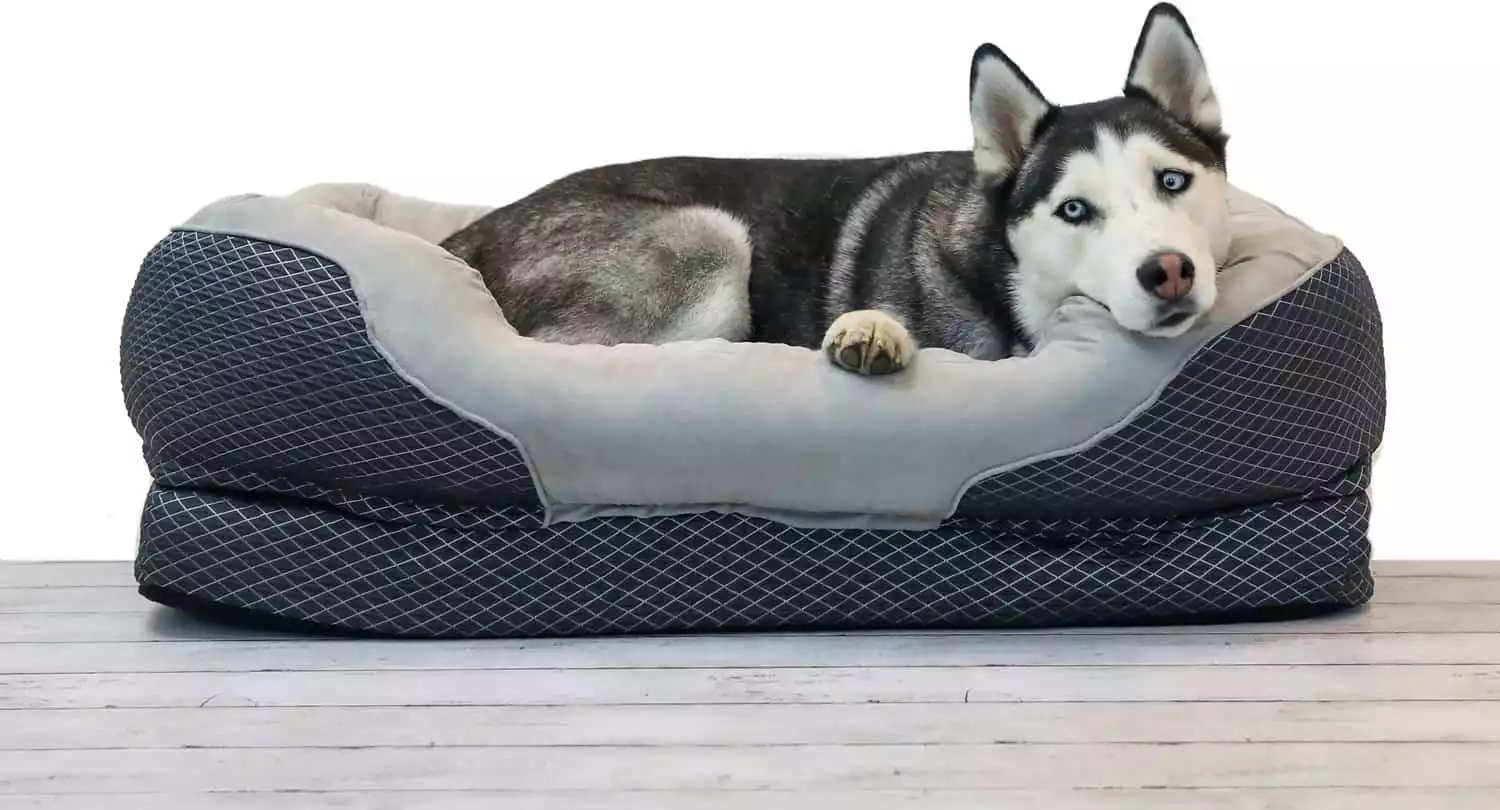 Last but certainly not least on our list is the BarksBar Snuggly Sleeper Orthopedic Bolster Dog Bed with removable cover. This option will probably come as a blessing to your wallet as it is priced at almost half the amount of some of the other options in its category.
Spacious, comfortable, and durable, this bed will also look after pups with arthritis and other joint issues due to its solid orthopedic foam base and ultra-soft polyester cover.
On top of that, the extra comfy cotton-padded rim bolster makes the entire bed an excellent choice for your French Bulldog.
The craftsmanship is remarkably beautiful, and the bottom is covered with non-slip rubber, preventing the bed from slipping around the room. And, with a removable and machine washable cover, you will have no problem keeping your bestie's bed fresh and clean!
What Types Of Dog Beds Are There?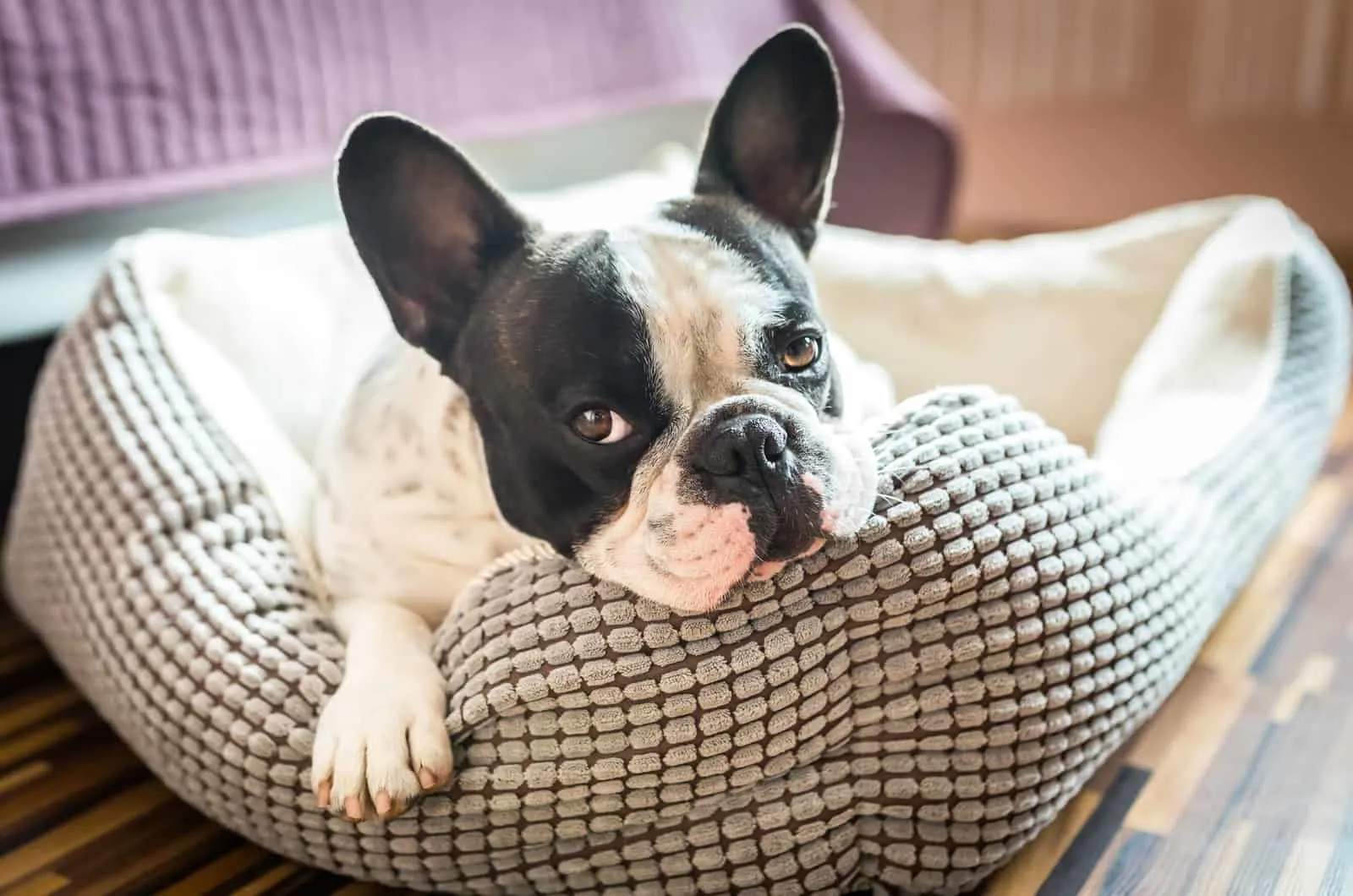 Because our four-legged friends are such a big part of the family, they quickly become one of the most pampered pooches you've ever met!
And, of course, a pampered pup needs a bed of its own to match!
When it comes to picking out the right bed for your French Bulldog, you need to know what is on the market that is best suited to your dog's needs. You also need to take into consideration your dog's health requirements and comfort levels.
Here are the most common types of beds available:
Orthopedic Bed
​Firstly, you have the orthopedic style pet bed that is great for aging or ailing Frenchies as it provides much-needed support for their backs, muscles, joints, and hips.
Moreover, this type of bed features memory foam, which can help with arthritis, hip dysplasia, and degenerative myelopathy.
Older dogs tend to sleep for longer during the day, and they will greatly appreciate a bed that will keep them comfortable while relieving joint pain at the same time.
Elevated Bed
You may want to consider this type of dog bed if you want to better maintain your dog's body temperature. Imagine sleeping on a cold, hard floor all night; no one should want that for their pup.
Another big advantage of getting an elevated dog bed includes them being much easier to maintain and clean as they aren't full of stuffing.
Furthermore, these beds are easy to move around the house because they are essentially lightweight pieces of furniture. However, this doesn't mean that these beds are not comfy.
On the contrary, in fact, elevated beds will provide your Frenchie with a consistent level of support for their precious limbs and joints, keeping them healthier for longer!
Donut Bed
This type of bed can be an excellent choice for a pooch who likes to curl up and snuggle into its safe space. The round shape of a donut bed means that your dog will not only feel safe but that its body will get optimal support while resting as well.
Dogs love spending plenty of time getting the bed squished just the way they like it, and a donut bed allows just that! In addition, this type of bed doesn't take up much room, which makes it a great addition to any household.
Tent Bed
If your Frenchie is anxious or suffers from separation anxiety, a tent bed might be just the thing you are looking for. It only makes sense that a dog breed that loves being around humans may struggle with having its own space at bedtime.
However, dogs do need a space of their own, and Frenchies are no exception. The perfect solution would be to get a tent bed so that your pooch will feel safe throughout the night.
This type of bed gives your Frenchie the feeling of sitting on its owner, making it feel far more secure and willing to sleep.
The cherry on top is that tent beds come in all sorts of shapes and multiple sizes, so you will never get bored of them!
Soft Pillow Bed
You might also consider getting a pillow bed that will allow your furry friend the pleasure of sprawling out and being cozy and comfy at the same time!
If your Frenchie is nursing a litter or has trouble with joint or muscle pain, then this might be the perfect bed for them. A soft pillow bed will allow them to be supported by a large stuffed pillow while they sleep!
Another great thing about this type of bed is that it is easy to put next to you so you can give your Frenchie all the hugs and pets you want while they are relaxing.
Cooling Pad Bed
Some French Bulldogs tend to suffer in the heat, and if your pooch is one of them, you can consider getting a cooling pad bed that will help them stay cool during hot winter days. This is a great way to ensure that your canine companion maintains a healthy condition even in the highest temperatures.
Cooling pad beds are usually filled with cooling gel or water, which provides instant relief and helps your dog keep its body temperature at an optimal level.
Best Dog Beds For Frenchies: Buyer's Guide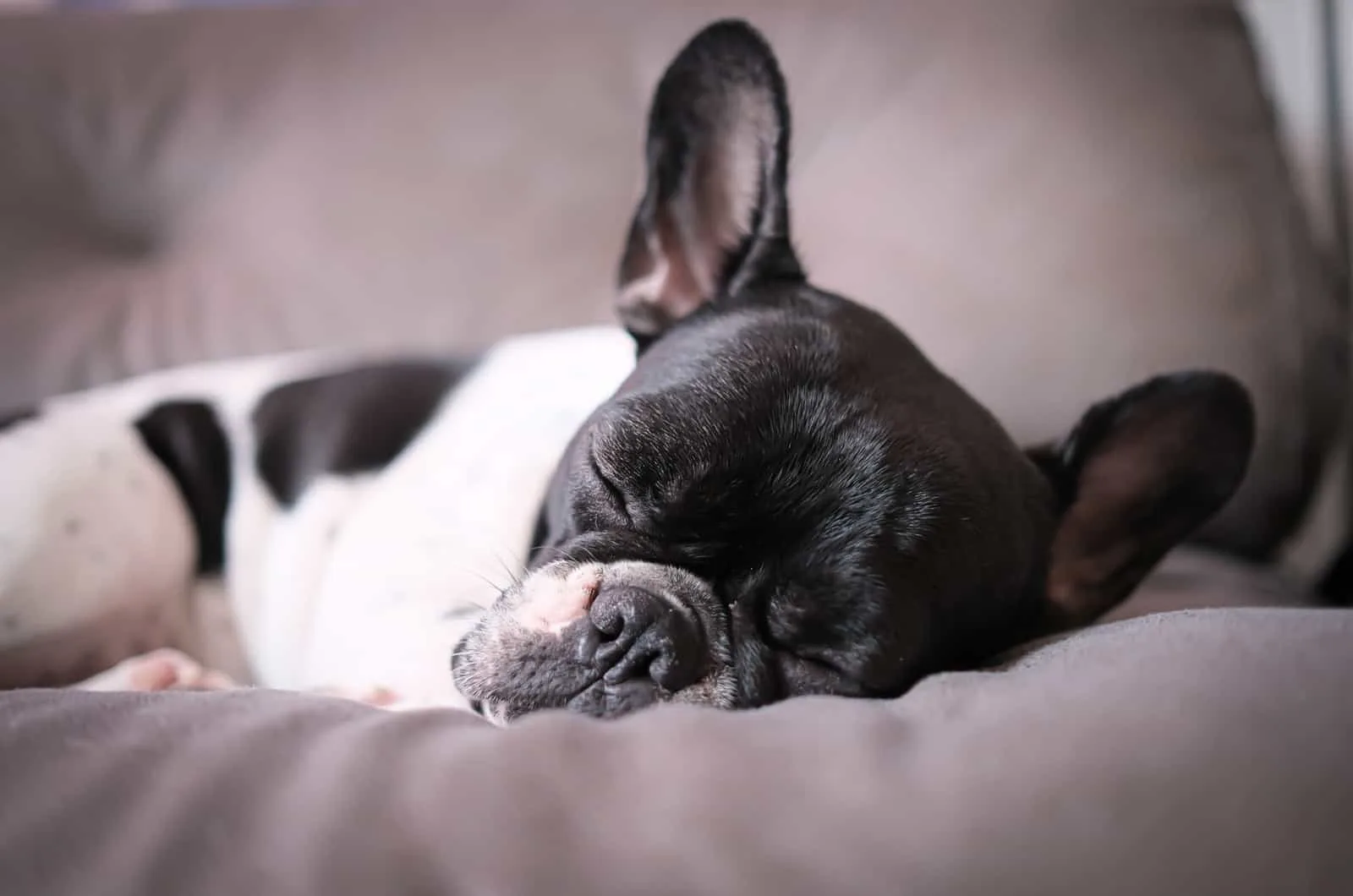 What Makes The Best Dog Beds For French Bulldogs?
There are more than a few factors you need to take into account when choosing the right bed for your beloved companion:
• Size: Adult dogs of this breed usually weigh between 16 and 28 pounds and have a height between 11 and 12 inches. So, you should pick out a bed that is large enough to accommodate your Frenchies body, even when it is fully sprawled out.
• Elevation: Since French Bulldogs are small dogs with short legs, the ideal bed for them would be one that is lower to the ground. This allows them to hop on and off the cushion easily.
• Neck and head support: Frenchies are a brachycephalic dog breed, meaning they have short snouts. This can cause breathing difficulties and contribute to less serious issues such as snoring and those more serious such as sleep apnea. A pet bed with an elevated cushion or side bolsters can help your furry bestie sleep easier.
• Material: Frenchies are prone to skin sensitivities and allergies more than most other breeds. Because of this, you should look to invest in a hypoallergenic bed with fabrics like hemp, microfiber, or cotton. Also, if you have a teething puppy or a dedicated chewer by your side, you might want to invest in a durable, chew-proof dog bed.
• Mattress: You should always aim to provide your pup with a memory foam mattress, especially if you have an older pup or one that suffers from mobility issues. A memory foam mattress will support your dog's joints and be more comfortable for your pup to sleep on overall. In addition, thicker foam filling also prevents dust mites from living in your dog's bed.
• Sleeping position: Just like humans, every dog is unique, and each of them enjoys a variety of sleeping positions. If your Frenchie likes to lay on its side while napping, you may want to get a bolster bed for neck and head support. On the other hand, if your pup is more of a curl-up, snuggling kind of dog, then a donut bed might be a better option.
• Location of the bed: If you want to place your dog's bed in a crate or dog house, you should measure the dimensions first. Also, take into consideration your dog's needs. Does your Frenchie suffer from separation anxiety? Placing a donut bed in your bedroom might be calming for your furry friend.
What Should Be Avoided In A French Bulldog Bed?
Because French Bulldogs as a breed have specific needs, some dog beds are not suitable for them:
• Hard surfaces: You should generally steer away from hard dog beds, but even more so if you have an older Frenchie at home. Firm surfaces can cause more harm than good, especially in dogs with arthritis or other joint issues.
• Irritating materials: Mattresses and bed covers made from artificial materials are much more likely to carry allergens that will trigger allergies in your pup. It can also be a problem if the mattress is loosely woven or not dense enough because mites and dust can build up in the mattress, leading to more severe allergic reactions.
• Cold surfaces: Frenchies have a hard time regulating their body temperature because of their short snouts. Cold conditions restrict their already small airways and can make their body temperature drop significantly. We would advise placing a warm bed on a cold floor so that your furry friend can control its temperature.
How To Train Your Dog To Sleep In A Bed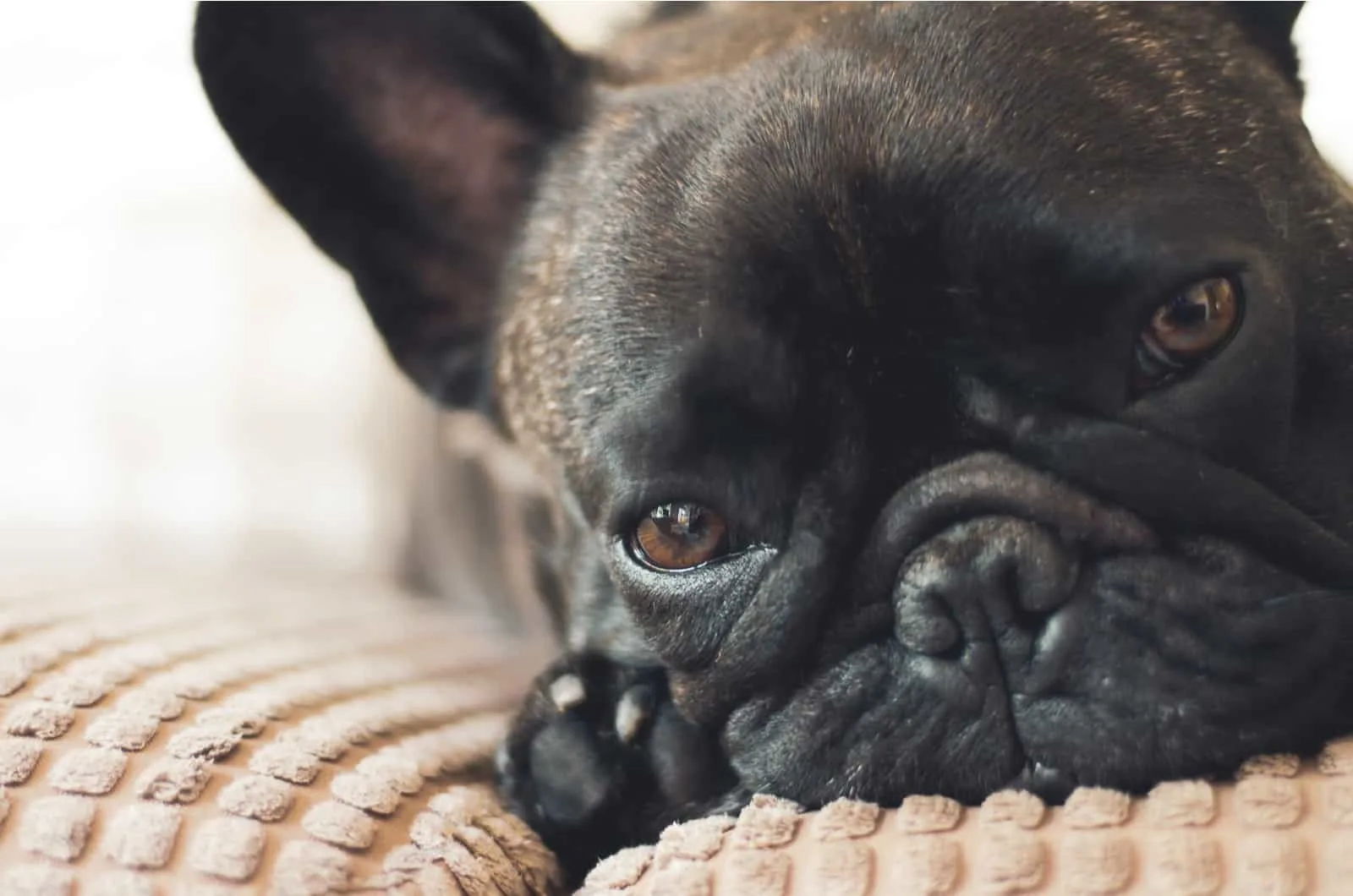 Once you've figured out what kind of bed best suits your Frenchie's needs, the next big hurdle is convincing your furry friend to sleep in it!
This is something that may require effort and time on your part, but if you are encouraging and patient enough, your pooch will enjoy its new sleeping accommodation in no time.
The main thing you should avoid is letting your Frenchie sleep in your bed. If you make this mistake, you will spend a lot of time trying to undo it before even moving on to teaching your dog to sleep in its own bed.
Next, choose a room other than your bedroom but one that's comfy enough for your pup to sleep in. A good choice is the living room so your pup can still smell you and feel close to you.
Now for the hard part – put your dog on the bed while saying "bed." You can expect your pup to get up multiple times, which is completely normal. However, you need to remain firm, say "no," and return your pup straight back to the bed.
Make sure you have some treats at hand to reward your pup when it remains in the bed. Also, try to increase the amount of time your pup stays on the bed before giving it a treat.
With patience and perseverance, your Frenchie will be a pro when it comes to going and staying in bed in no time!
Maintaining A Dog Bed
So, you've finally made a decision and picked out a bed for your pooch, and they love sleeping in it. Now, you might think that you've got it all sorted out, but there is a thing or two you still need to do or keep doing, for that matter.
You need to take into account how you are going to maintain that amazing dog bed you purchased. There is really no point in investing a lot of time, money, and training if you aren't going to maintain the bed you purchased.
Here are some things you should keep in mind:
• A dog bed should be cleaned at least once a week. If you notice your Frenchie's health going down since it started sleeping on the bed, you should increase the amount of cleaning to make sure you are getting rid of any dust, mites, or germs that may cause a reaction in your dog.
• Make sure to hoover the bed once in a while to remove any shedding. This will not only keep the bed clean but will also ensure that you don't end up with dog hair everywhere around the house.
• Remove any washable parts and throw them in the washing machine. Just make sure to follow the advice on the label and apply stain remover if possible so that the parts come out fresh and ready to be put back on.
• Wash down and disinfect any non-removable parts of the bed to keep bugs and germs at bay. Don't forget this part if you don't want any bugs brought in from outside to lay eggs in your dog's bed.
• Lastly, make sure the bed is completely dry before assembling the pieces back together. If you rush things and put the bed together while the parts are still wet, it could cause mold and pose a real danger to your Frenchie's respiratory system.
Final Thoughts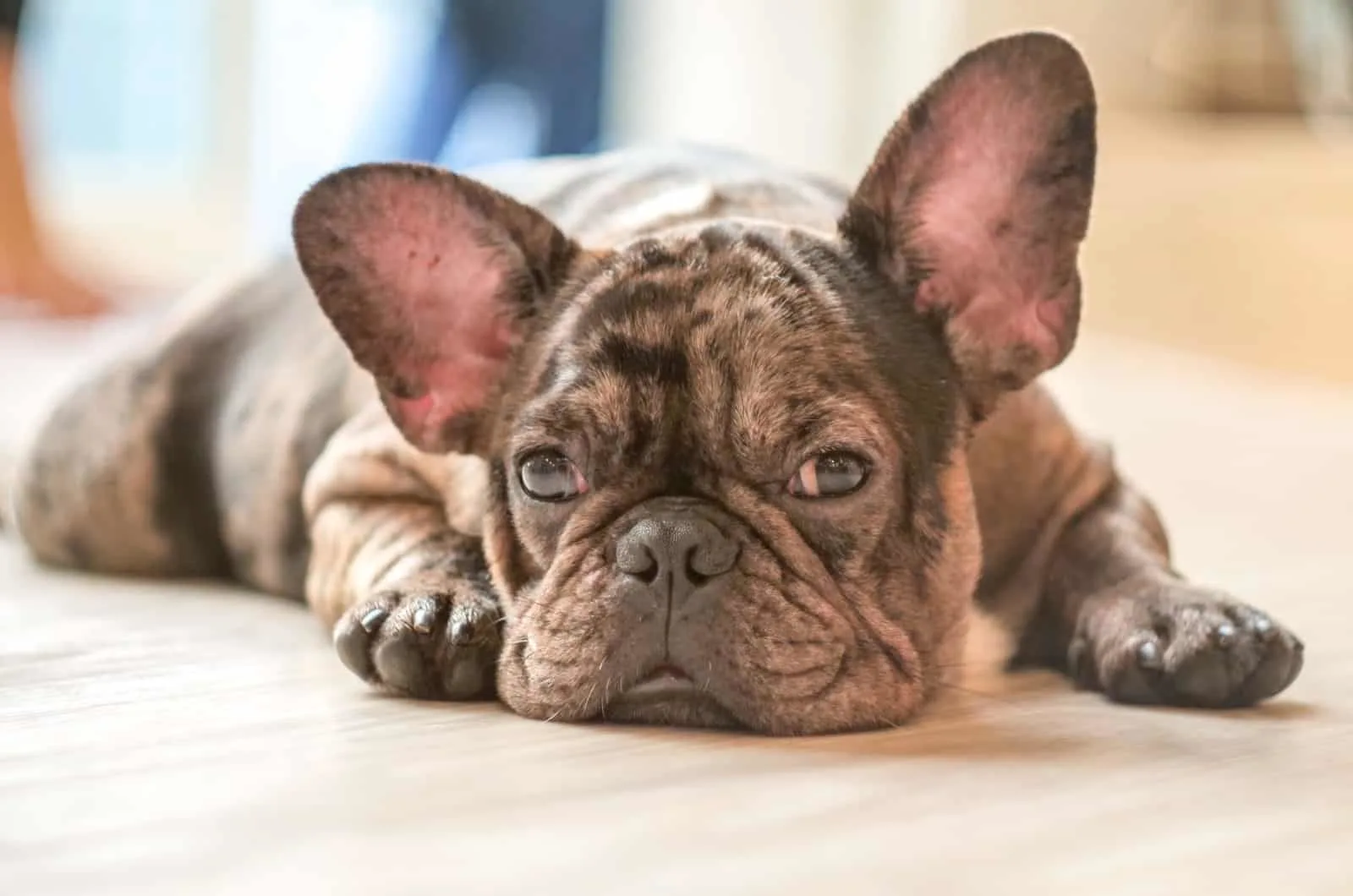 Having a pup by our side brings so much joy and happiness, but we must think about how we can return the favor. French Bulldogs are loving, caring, and giving dogs that wiggle their way into our families and leave us wanting the best for them.
By providing your pup with the right dog bed, you are not only making them happy and relieving muscle and joint pains, but you are also giving them a safe, cozy, and comfortable place they can relax.
We recommend taking your time and figuring out what your dog needs before going through our 'best dog beds for French Bulldogs' list and choosing the right bed for your pup.