This post contains affiliate links, and I will be compensated if you make a purchase after clicking on my links.
Everyone needs a good place to sleep after a tiring day – dogs, too, especially Basset Hounds, but what are some of the best dog beds for Basset Hounds?
The best dog beds for Basset Hounds are ones that are comfy, easy to clean (preferably machine washable), and hypoallergenic given how prone Bassets are to allergy issues.
They prefer a lot of space in the said dog bed in order to be able to stretch and lounge around, so getting an extra-large dog bed would go a long way if you can afford it.
However, that doesn't really narrow the number of dog bed options down a lot – there are plenty of ones that are on offer that tick some of those boxes on both Chewy and Amazon.
But, don't worry – I've scoured through a lot of them so that I could make this list of the best ones to hopefully make your choice a little easier.
So, read on if you want to find out what they are as well as find out some frequently asked questions regarding beds for your furry friend, and about Bassets in general.
8 Best Dog Beds For Basset Hounds
First up is a shining example of what a pet dog bed ought to have in order to provide the ultimate comfort experience for your darling doggo.
The first thing is the sheer amount of comfort that it provides. Make sure not to get jealous of your own canine companion for being showered in such quality.
The PetFusion ultimate dog bed is made out of a memory foam base that has just the right amount of firmness in order to feel like you could melt into it, while still being able to traverse it.
The thickness of it depends on which of the four bed sizes you choose – 2 inches for the small, 4 inches for the large and extra-large options, and 6 inches for the jumbo-sized bed.
Though, it's best not to go too big – staying in that large to extra-large range should be plenty of room for man's best friend.
This memory foam dog bed also has bolsters on the side for your doggo to lean onto and rest in a different position should he so choose. This will give his back and neck a rest from time to time.
They're made from polyfill, which provides a good amount of comfort and protection.
The base itself has a nice waterproof liner in case your doggo is still not done with his potty training, or in the odd case where he may misbehave.
While that may not necessarily happen, it's nice to know it's there should the worst come to pass.
The inner cover is made from a mix of polyester twill and cotton – a material blend that's both durable and gentle at the same time.
The outer cover is made to be tear and water resistant, but also extremely easy to clean either by hand or through the use of a washing machine.
That's not all, though, as the bed also offers some personalization options, with two different colors to choose from for the outer cover!
It's everything you'd want in a dog bed all in one place, though it is quite pricey because of that, but if you're willing to splurge a little in order to provide your darling doggo with a top-tier bed, then this is definitely the way to go.
While the fabric on the inside is durable, it's not indestructible, so if you have a real heavy chewer, I'd keep him supervised around the bed.
Next up is a bed that works for both your dog's indoor and outdoor lounging needs – the Frisco Deep Dish Cuddler.
Picture what is essentially a nice little enclosed space surrounded by bolsters with a comfortable center to lay on – that's what the Frisco bed is, and it allows your doggo to curl up comfortably inside and snuggle up to his favorite stuffed toy to get some rest.
The cushion and the bolsters are covered in quality, mildew- and water-resistant polyester fabric, making it easy to clean up since none of it should seep under the covers.
It's machine-washable, too, making it all the easier.
The bottom cover features an arrow print, which isn't anything too special, but it at least changes up the dynamic from a bland single color, with the bolsters being a contrasted black to the cushion's white.
Minimalistic… sure, but your Basset won't mind as long as he has a nice place to rest.
It comes in three different sizes, with the medium and large being my recommendations for Basset Hound dog owners – leave the small option for Pugs and other small dog breeds.
That said, medium-sized dogs that are bordering on large should definitely go for the larger option as the medium seems to fit a medium dog on the smaller end of the spectrum, with the former finding it a bit too small.
Price-wise, it's a lot more affordable than the 1st option on this list, and it is certainly on the cheaper side of dog beds available.
Dogs love to cuddle just as much as humans do, so it's no wonder that this Sheri Cozy Cuddler finds itself in contention for one of the best dog beds for Basset Hounds.
Ideal for pets that seek the comfort of others, but aren't allowed on your actual bed, this lovely bed is there to provide them with the comfort that they so desperately need.
Made from a mix of corduroy and faux-fur, it simulates the feeling of the embrace of a doggy mom, especially when your furry friend tucks himself in under the attached blanket, providing him with the necessary warmth on colder days.
Alternatively, he can simply sleep atop the blanket when summer hits in order to stave off the heat – he will choose whatever works best for him.
The walls are further bolstered to provide some extra support for both the head and neck when your doggo just wants to lounge around and relax.
The material is resistant to staining and water, making it a solid choice for dogs that haven't been potty trained just yet, or in case of a rare accident even if they were.
But, don't worry – even if it should happen, the bed is machine washable, so cleaning it will be a cinch.
The bed comes in two different sizes – standard and jumbo, allowing you to choose just how much room you want to give your little Basset buddy.
But, that's not all as the bed also comes in four different color variations to best match your own doggo.
And, cost-wise, it's on the cheaper side of things, especially considering the amount of comfort you're providing your canine companion.
That said, there are a few complaints related to incorrect sizing, so double check that you've gotten the correct one sent to you should you buy one.
For a true orthopedic experience with easy access, FurHaven has you covered with their own little sofa-style bed.
The foam base perfectly adheres to your darling doggo's chosen lounging pose without making them apply any extra muscular effort to keep themselves up, helping relieve tension in joints where needed.
A great option for older dogs or any doggo that has to deal with joint pain.
The bolsters that curve around three of the edges help provide extra neck and head support to your Basset buddy, and keep him from falling out if he likes to move in his sleep, while leaving part of the fourth side open for easier access in and out of it.
The cover is made out of faux fur, providing a comfy feeling to your dog as if he was cuddling up against another one.
The best part is that the cover is easy to remove, and it can be cleaned in a washing machine – just unzip it, get it in, and it should be done relatively quickly so your best friend doesn't lose out on a place to sleep for long.
It also comes with three different color options to allow you a little bit of extra personalization if you like having a theme with your doggy gear.
The bed comes in five different size options, with medium and large being the best options for your Basset bud.
When looking at the price, it sits somewhere on the middle ground of expected prices, so it's worth giving it a few considerations if it's potentially out of your budget at the moment.
Do keep in mind that the sizing is a little bit deceptive, though, as it measures the size WITH the bolsters included instead of measuring the internal size, so sizing up may be a good option.
The foam base has been reported to be relatively shallow, too, so you may need to put something underneath it for support in case it ends up being too low for your doggo.
For all you outdoorsy types who want to have a more portable dog bed that doesn't take up much space, then the Chuckit! one may be exactly what you're looking for.
Designed to be easy to set up and pick up, this travel pillow dog bed was made for camping and other outdoorsy activities, though that doesn't mean you can't use it indoors, too.
Made from a mix of nylon and suede, the bed is nice and comfy for your canine to lay on, and it's easy to clean seeing as it's machine washable.
The breathable material means that it dries quickly, too, so even if it does get wet due to rain, it should be reusable soon enough.
Aside from that, you also get a stuff-sack included in order to save space in your trunk, which every camper knows is invaluable in the given situation.
It's a great budget option for the home, too, as it's priced below most other beds on the market.
That said, there's a reason for that, which is somewhat obvious, given the lack of bolsters, only offering one size, and not really offering much in terms of ergonomic support.
But, for those on a budget, or people who frequent the outdoors and want to have a more portable option for it, it's a pretty decent pickup.
This is one of the big-ticket items out there intended only for the biggest of spenders – the Big Barker orthopedic dog bed.
Specifically designed to cater to medium-sized dogs, this bed is ideal for any dog suffering from joint pain or any other issue involving mobility, bones, joints, or muscles.
The supportive foam found within allows your doggo to rest his body without applying any extra pressure, making him feel like he's floating on a cloud.
That, alongside the microfiber cover, make for an ideal pairing for the ultimate in canine comfort.
The foam itself lasts longer than some of the lower-quality ones, easily retaining its shape for well over a decade, and retaining the orthopedic properties all throughout.
The product is fully handcrafted, and all of it is done in the United States, so buying one helps support the local businesses.
The cover itself is removable and quite easy to clean, so any mess from dog food or dirt can be gotten rid of with ease.
It's offered in three different sizes depending on the size of your doggo, and four color variations to make the bed line up with your living room decor.
The price, however, is pretty high, and I only recommend it for dog owners who have senior dogs that deal with severe joint issues.
Next up is a pretty solid option if you have a yard, and you can afford to be around your Basset often enough for him to enjoy this bed – the Coolaroo Elevated Dog Bed.
While it may not look like much at first, this bed is essentially a better hammock for your four-legged friend, which is made from breathable polyethylene fabric that doesn't trap your dog's body heat underneath him, but instead, allows air to circulate properly.
The circulation doesn't come from the breathable fabric alone, however, but the elevated position leaves some empty space for the air to circulate around in the first place, constantly providing your doggo with a nice, relaxing breeze.
The elevation helps avoid pressing into the hard ground with his body, and is instead relaxing on the fabric itself, meaning that he's not stressing his muscles or joints all that much.
Apart from being breathable, the polyethylene fabric is also extremely resistant to mildew and mold accumulation as well as not letting any fleas or mites attack your good friend from down below.
Finally, it's extremely easy to clean – all it needs is a good hose-down with adequate pressure and it's as good as new after it dries.
The steel frame that keeps it all together is of high quality, it is durable, and it is relatively lightweight, making the bed easier to move if needed.
And, while I did say that it's ideal for outdoor use, nothing is barring you from using the bed in the house either if your furry friend takes a big liking to it.
Size-wise, there are four different ones on offer so the bed is accessible to a variety of different dog breeds and sizes.
It also comes in six different colors, allowing you to personalize your doggo's own lounger to what you feel fits him best.
Price-wise, it's incredibly cheap given its simple construction, though it may be a bit too simple, lacking key components.
The bed is somewhat tough to assemble, too, unless you are good with tools.
The final choice for this list is another easily portable one for indoor use – the Armarkat Pet Bed Mat.
Designed to act as a form of pillow bed, this extraordinarily comfy surface is made from velvet that is filled with plush to give your Basset buddy the comfort that he deserves.
The sides are made with water-resistant, heavy-duty canvas, with a non-slip bottom to prevent any skidding from too much movement; thus, allowing your canine to have a nice and uninterrupted rest.
The mat is a great option to line a dog crate or a cage with, turning it into a cozy little cave for your darling doggo, and making for comfier trips.
The mat cover can be removed easily via a zipper, and it is safe for machine washing, making cleaning a whole lot easier.
The price is a little below average, which is pretty decent for a bed this versatile. Sure, it may not have bolsters, but at least it rolls up nicely and does not take up too much space. It can be placed almost anywhere with no issue.
The lack of any sizing options, or color variations for that matter, is a bit of a bummer, but it's not the biggest deal.
BEFORE YOU BUY: What Makes A Good Dog Bed For A Basset Hound?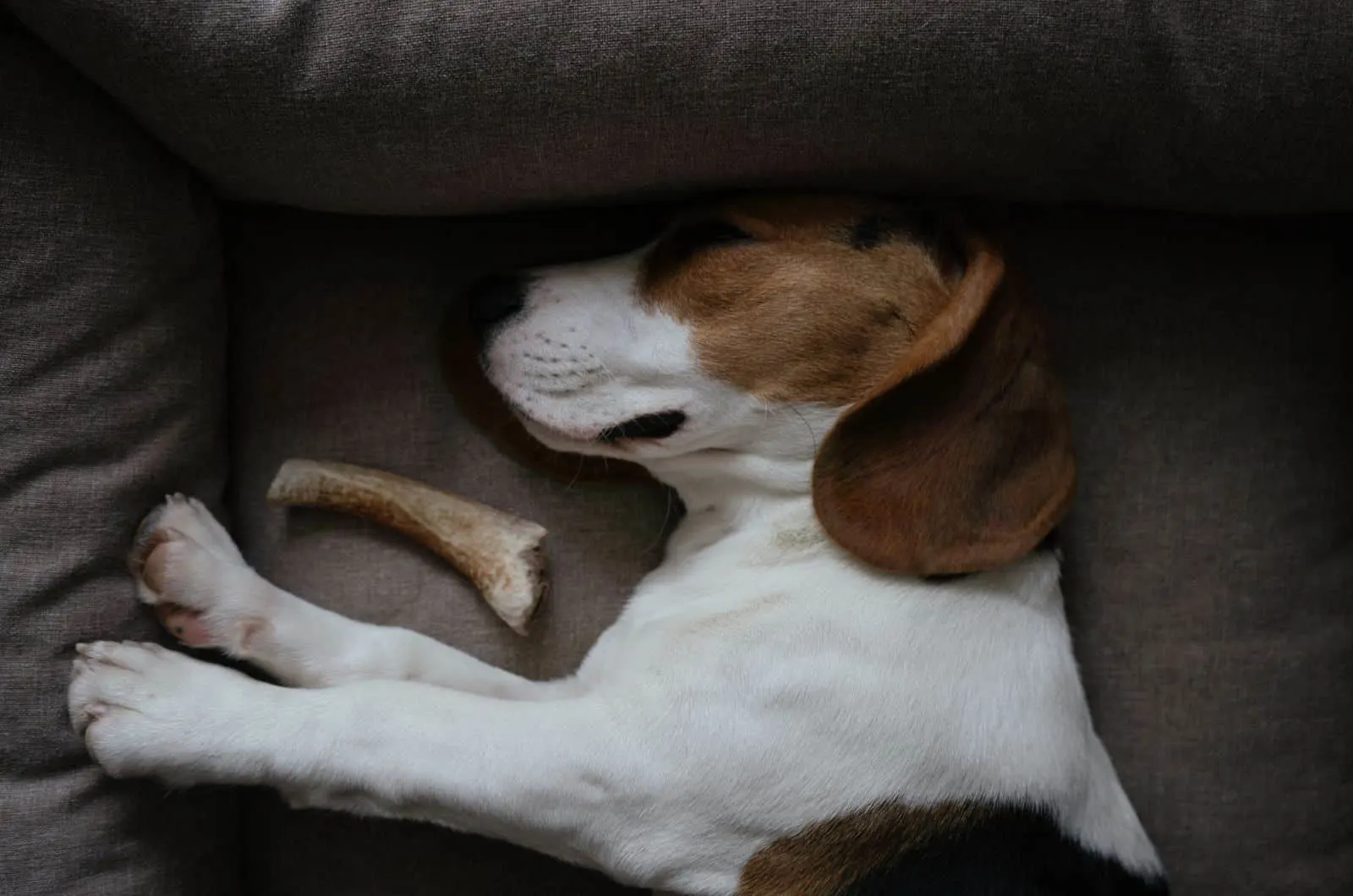 So, now that you've seen a number of the better options out there, I hope that you've also picked up on the commonly desirable traits between all of them.
Not all of them have every single one, but they do possess a good number of these, which makes them so popular in the first place.
But, in case none of them struck your fancy, I at least wanted to point out the positive traits in question so you could have an easier time looking on your own should you choose to do so:
Durable And Comfortable Material
High-quality dog beds will come with covers made from material that will last you a while, or, in case of more aggressive chewers or accidents, they are under warranty so you can replace the product.
The insides will be soft, and will help alleviate any pressure around the neck or head as well as provide support for them.
Whether it's plush, memory foam, or something similar – it doesn't matter as long as they provide your Basset buddy with a good place to lounge in.
Size And Accessibility
Given the nature of the Basset to grow relatively long and be on the heavier side of medium breeds, it can be hard to pick between a medium or a large size when buying a bed for him.
If you can afford it, I'd say always go for the large one as your doggo will likely want to have more space to relax in – if not, then the medium is more than adequate.
However, given their short legs and how prone Basset hounds are to health issues regarding mobility, you also want a bed that's easy to get in and out of in their old age.
That's why beds with openings on at least one side, with the bottom being low to the ground, are the most desirable options.
Water-Resistant Cover
Something that'll make your life a whole lot easier is a water-resistant cover given how much Bassets drool on a daily basis, not to mention potential incontinence problems in his later years.
This would ruin some of the cheaper options out there on the market that don't possess such a quality, but the higher-quality ones have accounted for this issue.
Easy To Clean, Removable Cover
While on the topic of covers, you'll also want one that's easy to remove, and can be tossed in the washing machine to get cleaned up with ease, or just hosed down in the case of elevated beds.
It'll cut down on the amount of free time you lose by having to clean the bed up, and it will allow for more time to hang out with your dog or tend to other duties.
FAQs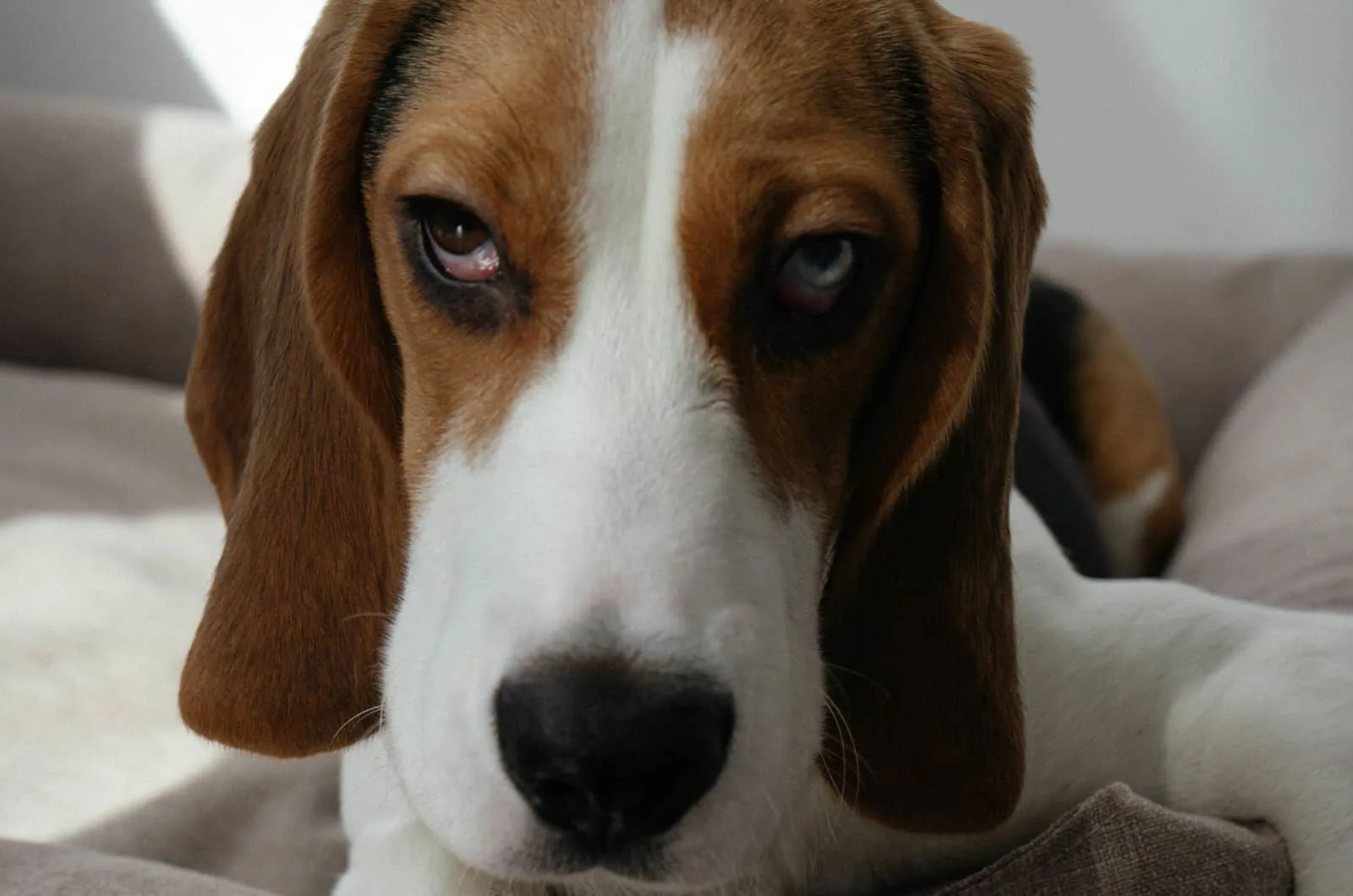 What Is The Best Dog Bed For Basset Hounds?
My personal choice would be the Furhaven Velvet Waves. While most people list the lower bed to be a detriment, it's actually a good thing for most Bassets since it doesn't force them to exert any extra effort when all they want to do is rest.
It's easily accessible, comfortable, and easy to clean.
Of course, that's my subjective opinion – every dog is different as is the opinion of his owner, and has different needs, so cater to what you think your furry friend needs in order to find the truly perfect dog bed for him.
What Size Bed Does A Basset Hound Need?
While the Basset belongs to the rank of medium dog breeds like the Beagle or the Labrador Retriever, and a medium bed can do him just fine, you can always opt for the extra room by going for the bed size that big dogs use.
It won't cause him any harm – only your wallet may suffer a few extra bucks in cost.
RELATED: Basset Hound Vs. Beagle: Which One Is The Breed For You?
In Conclusion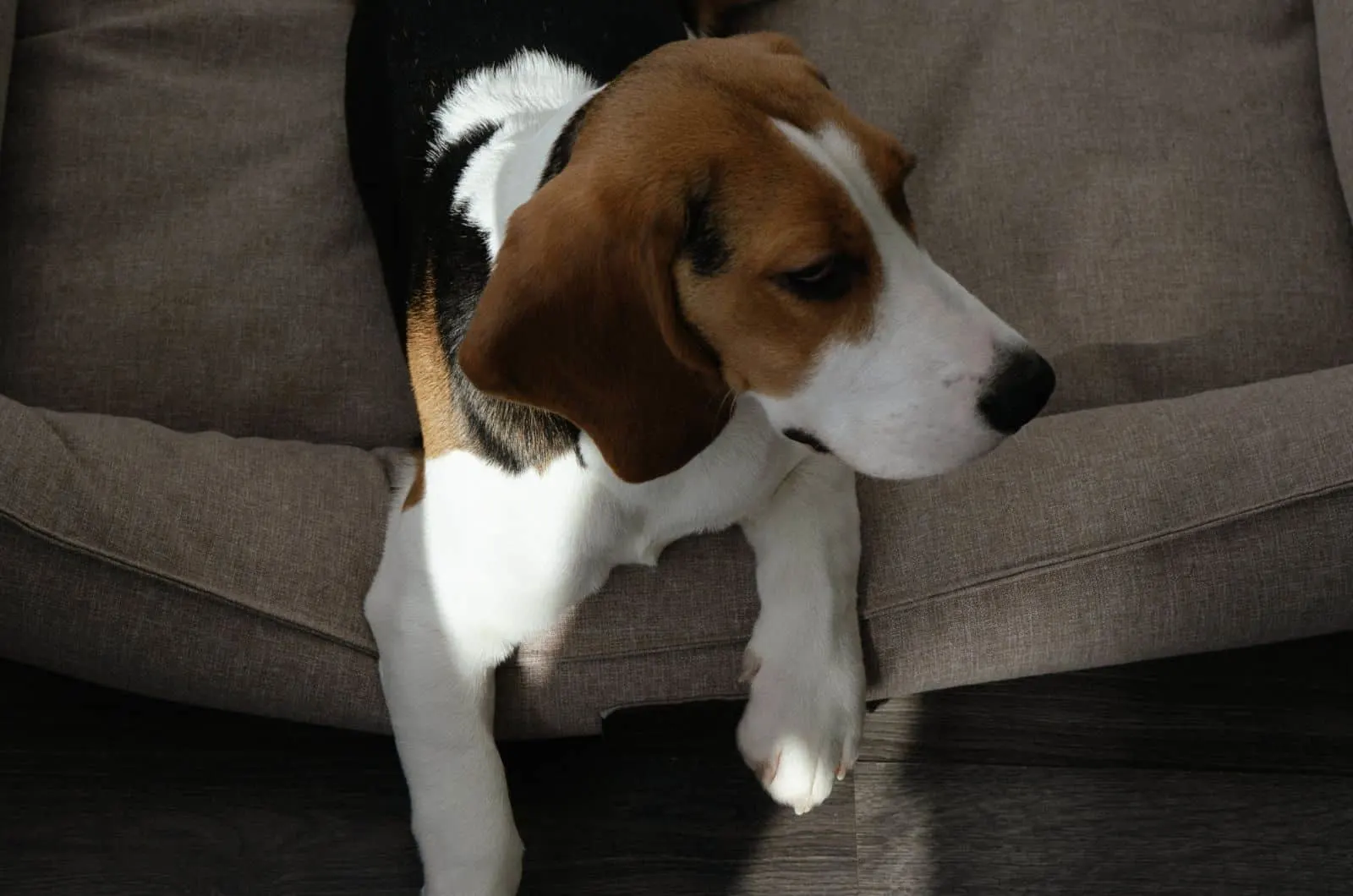 Some of the best dog beds for Basset Hounds are simple by nature instead of complex, ensuring that your Basset buddy has all of the quality-of-life benefits covered that help him get proper rest without too much effort.
As long as accessibility and comfort are covered, you'll have yourself a fine dog bed option, barring a few exceptions.
I do hope that my list has at least somewhat helped you find the right bed for your canine companion. I trust that you've made the best decision for him. Until next time.
RELATED LINKS:
• Do Basset Hounds Shed? Grooming & Care For Basset Hounds
• Male Vs Female Basset Hound: May The Best Basset Win!
• European Vs. American Basset Hound: Are These Dogs The Same?
• Best Basset Hound Rescues For Adoption: 26 Organizations From All Over The USA