No, they're not giant Poodles. They're Portuguese Water Dogs and you're gonna love them!
You might recognize this dog breed from President Barack Obama's family. Their beloved PWD, Bo, spent many years with the family, along with his friend, Sunny.
Although the Obamas aren't the first family anymore, the popularity of the PWD has not declined. In fact, these dogs are more popular than ever.
That's why we have so many excellent Portuguese Water Dog breeders at our disposal.
Our top 8 PWD breeders in the States and Canada have all been in love with the breed for many years. Thanks to the sudden popularity of these dogs, their breeding practices are flourishing.
If you want a medium-sized dog with hypoallergenic traits, someone that will spend a long lifespan with your family, this is the dog for you.
The PWD is super sweet and super attractive. I guarantee, you guys will be the envy of the dog park!
Portuguese Water Dog Puppies For Sale In The States And Canada
1. Matres Matrix San Diego, CA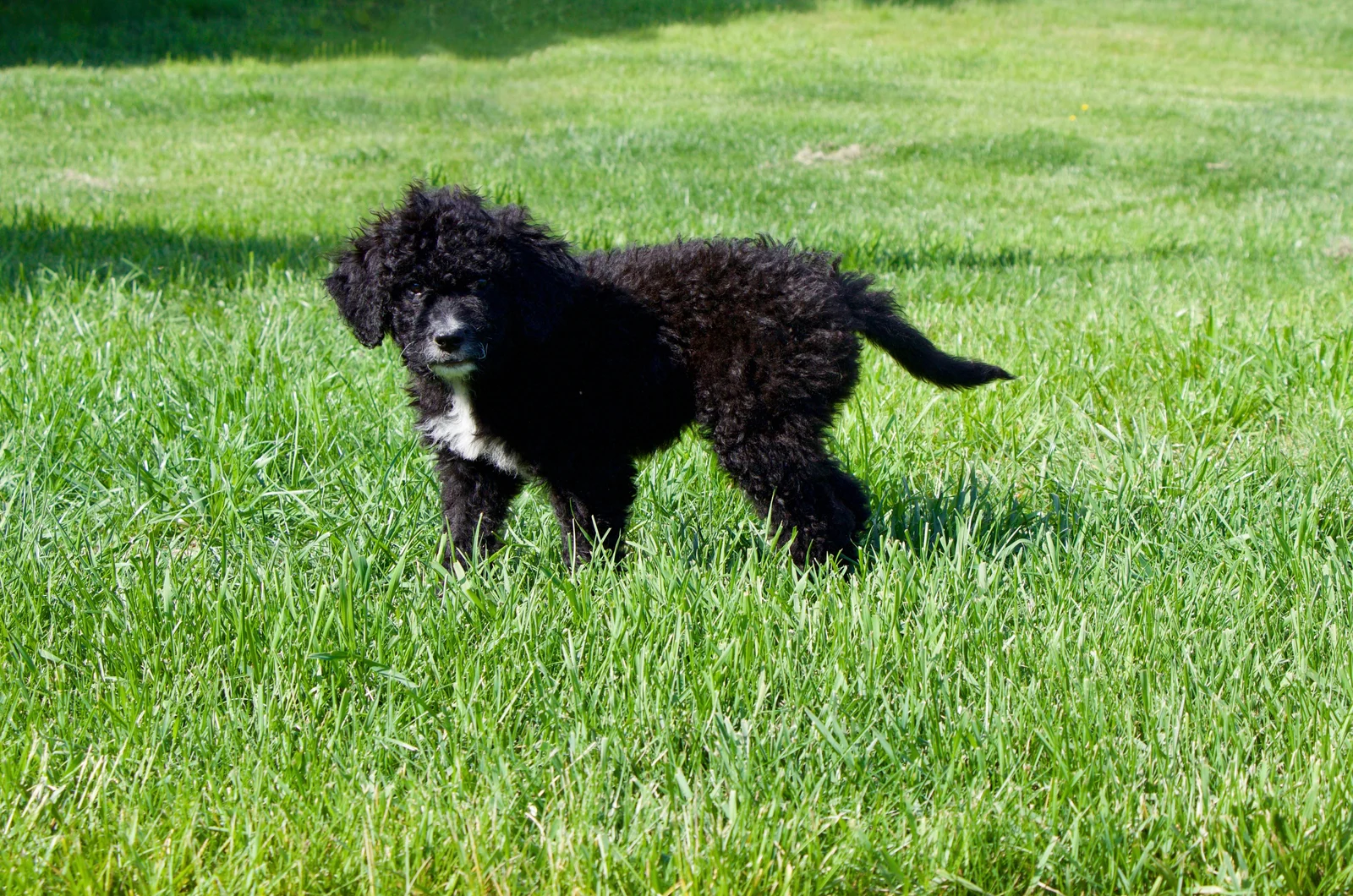 If you want a PWD puppy from champion lines, then you should contact Matres Matrix from San Diego. These guys are so deep into breeding PWDs, that it's not a hobby anymore. It's a lifestyle, where Portuguese Water Dogs dominate.
Once a Matres Matrix PWD puppy is born, a team of devoted breeders will take constant care of the litter. That means 24/7 care of the puppies, with zero sleep hours. Just kidding, they sleep, but even then, they think of their little PWDs!
All their dogs, especially those that will be bred from, are tested for hereditary health problems. If any dog has even a minor issue, it won't be bred from. This way, they ensure 100% pure, healthy PWD litters.
You won't find issues like dilated cardiomyopathy, hip dysplasia, progressive retinal atrophy (PRA), or improper coats with these pups! If they say the puppy is healthy, it is healthy. That's the most important thing about your Portie.
Before you get to bring your new pup home, you too will be submitted to evaluation, to see if you're a good fit for their dogs.
Breeder's details
Website: Matres Matrix San Diego
Location: San Diego, California
Email: [email protected]
Social media: Facebook
2. Caladesi Portuguese Water Dogs, FL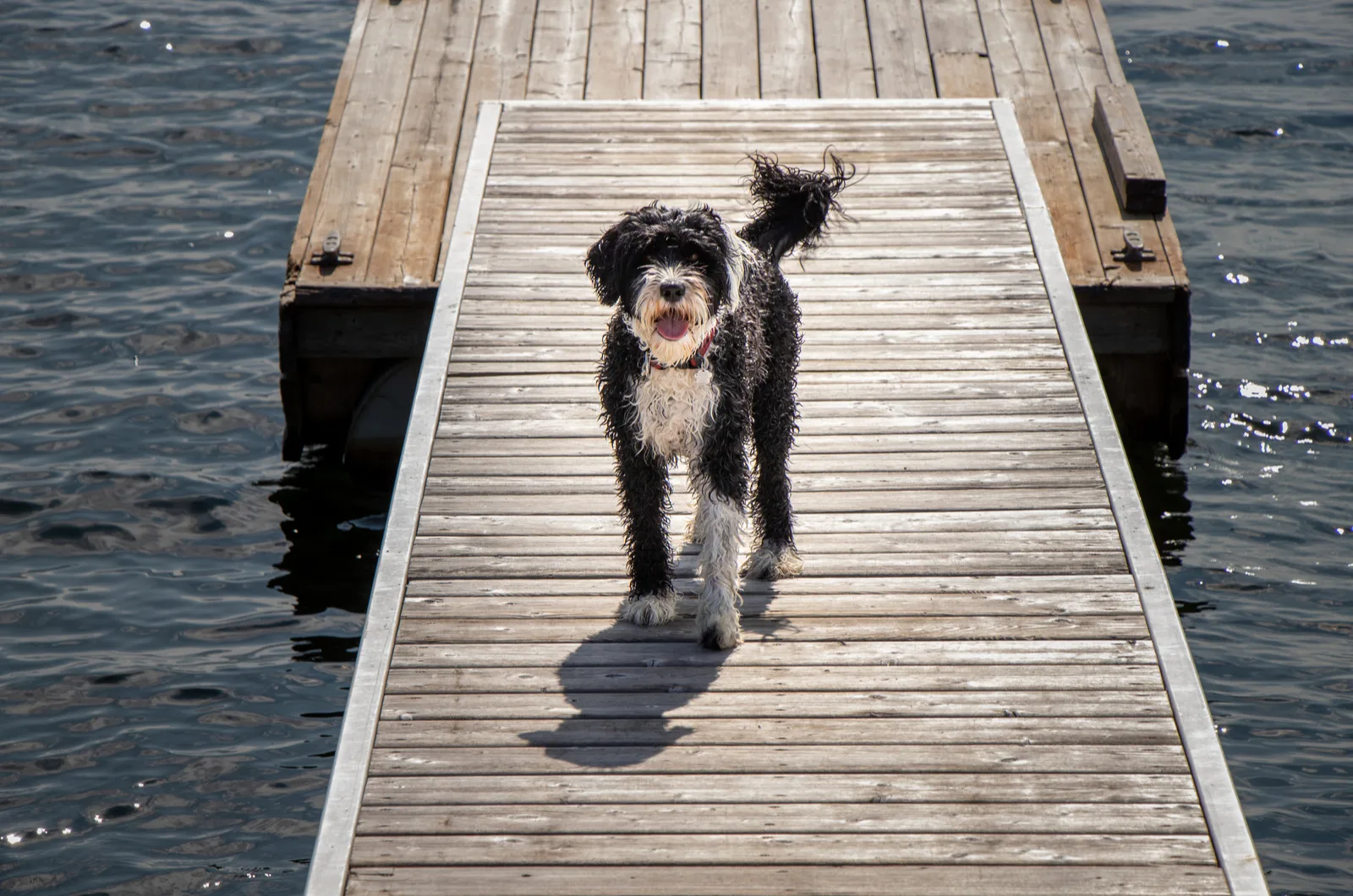 The breeding program of Caladesi Portuguese Water Dogs goes back four generations. All of their PWDs are AKC champions and registered with the American Kennel Club. All of them have produced (and still do!) the finest Porties on this side of the States.
The Caladesi PWDs are real specimens of working dogs. As such, you will need to treat them properly and give them tasks to complete. If you think you can't handle a Caladesi PWD, then you should pick another dog breed. This might not be the best dog for you.
All Caladesi PWDS are tested for various diseases. In other words, if the results say the pups are healthy, then they definitely have no known health issues.
This breeder is also a member of the official breed club, the Portuguese Water Dog Club Of America (PWDCA), which only proves how committed they are to their breeding practice. All of their litters are bred up to the highest breed standards.
The owner, Lisa McClish-Boyles, is a well-renowned breeder with stellar accomplishments in basic obedience, Puppy STAR, conformation, and therapy. She's also an AKC Breeder of Merit.
Before your adoption process is complete, Lisa will ask you to fill out a questionnaire to help her figure out if you're a good fit for her PWDs and which pup is the right one for you!
Breeder's details
Website: Caladesi Portuguese Water Dogs
Location: 12022 NW 25 Drive, Gainesville, FL 32609
Phone: 727-215-9422
Email: [email protected]
3. Stowaway PWDs, AL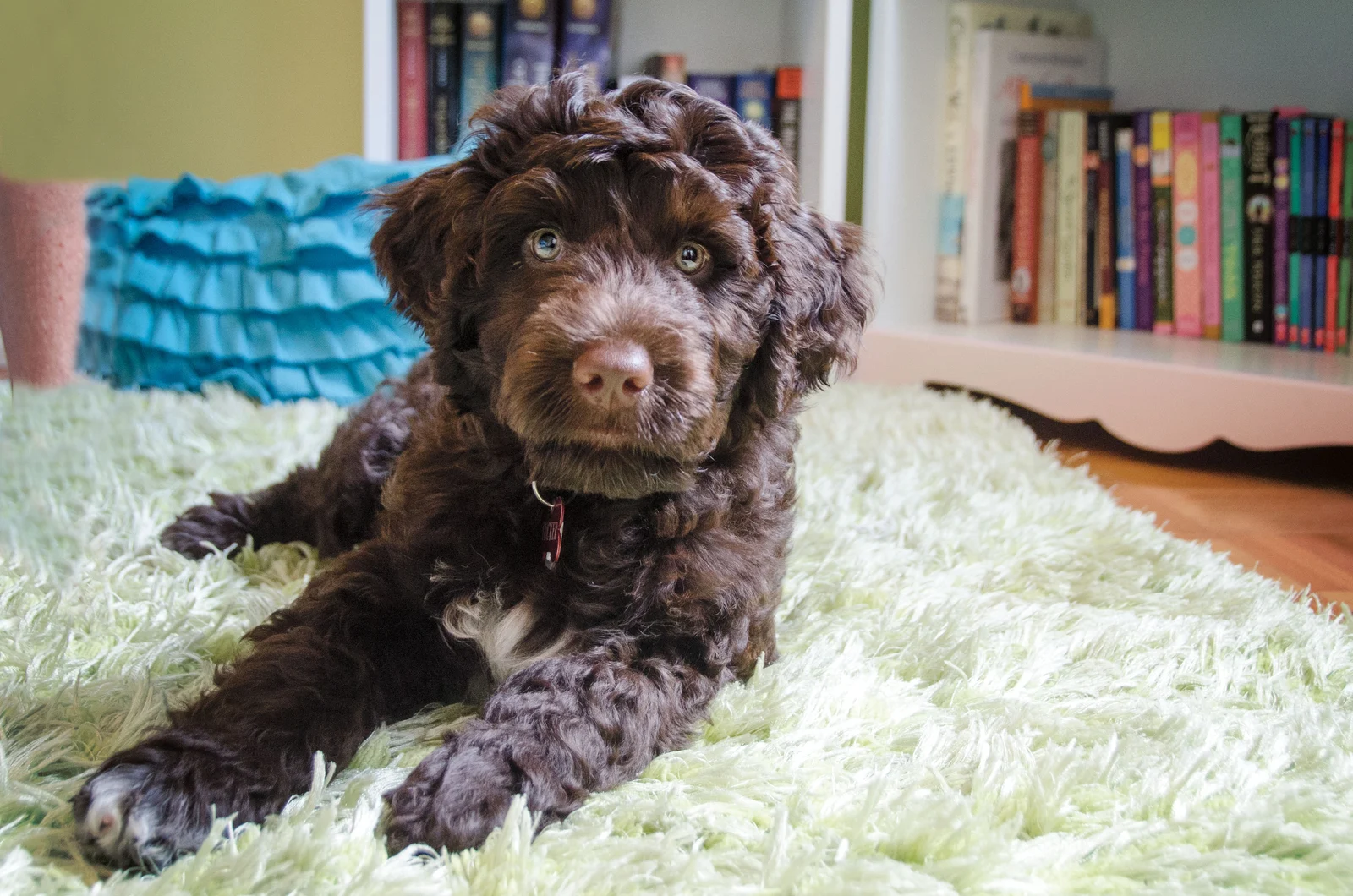 Stowaway Portuguese Water Dogs come from northeast Alabama. Even though life has led the owner and breeder to many places, she ultimately went back to Alabama, a place where her love for pups started.
Stowaway's pups are not only PWDs. They carry Alaskan Malamutes too, which is quite an unusual combination of puppies to breed.
Janet, the owner, is very proud of her volunteer work as the director of the Pacific Northwest Portuguese Water Dog Club (PNWPWDC) and a board member of the PWDCA.
Her journey with PWDs began in 1995, when she received a two-year-old PWD. She's been in love with the breed ever since.
Thanks to her three supreme PWD females, Janet is able to breed perfect PWD litters, all according to the highest Portuguese Water Dog breed standards. All her pups are submitted to numerous health tests, including OFA testing. And they all score remarkably!
This is a home-based breeder. Her dogs are born and raised inside and treated as equal family members. Janet makes sure her puppies are well-socialized, so they will fit into any new home without any major issues.
Each puppy will go through a temperament evaluation and will be matched to the right owner, based on their preferences.
Breeder's details
Website: Stowaway PWDs
Location: Northeast Alabama
Email: [email protected]
Social media: Facebook
4. Sea Dog Kennel, PA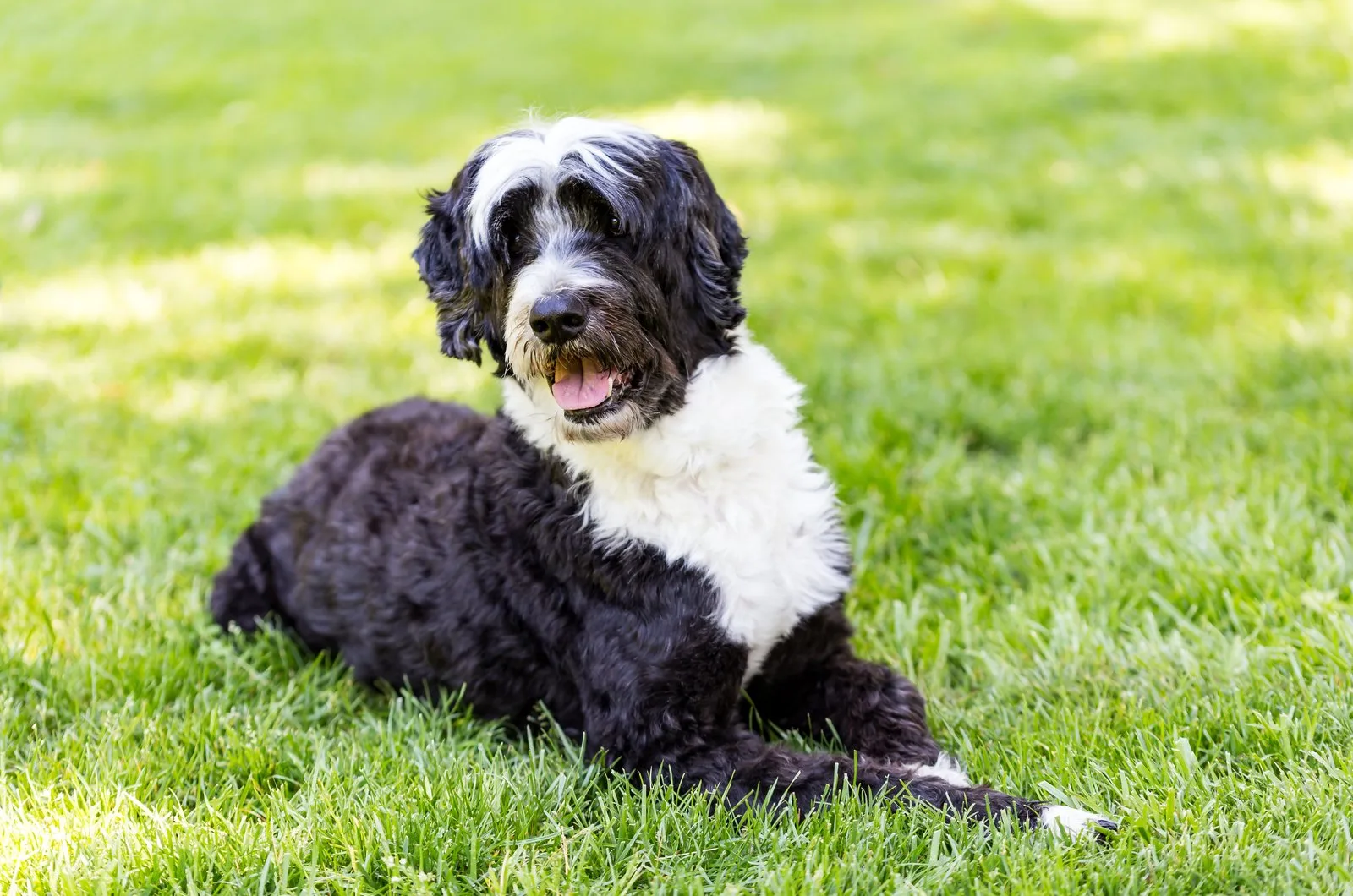 The Sea Dog Kennel PWDs are all dogs with champion bloodlines. They can easily win any dog show, but the family has decided not to put them in show rings. Instead, they've decided to spoil them with love and care. I can't help but agree that they did the right thing.
This family of avid dog lovers makes sure all their dogs stick together, right in the family home, where they can show love for each other every day. If you're looking for a companion dog, this is the place to start your search.
Sea Dog Kennel pups are a mixture of European and American bloodlines. They have top-notch pedigrees and even better temperaments. Meaning, you won't like them just for their hypoallergenic coats. You'll love them for their incredible temperaments too!
Besides the Portuguese Water Dog breed, the family also raises Bernese Water Dogs. As you can see, they're primarily focused on breeds of dogs that love hanging out in the water.
The family doesn't breed their pups all the time. There will be planned litters of both dog breeds, so make sure you stay in touch with the breeder to be the first in line for their PWD puppies.
Breeder's details
Website: Sea Dog Kennel
Location: Northeast Pennsylvania
Phone: 570-871-1661
Email: [email protected]
5. Mariposa PWD, OH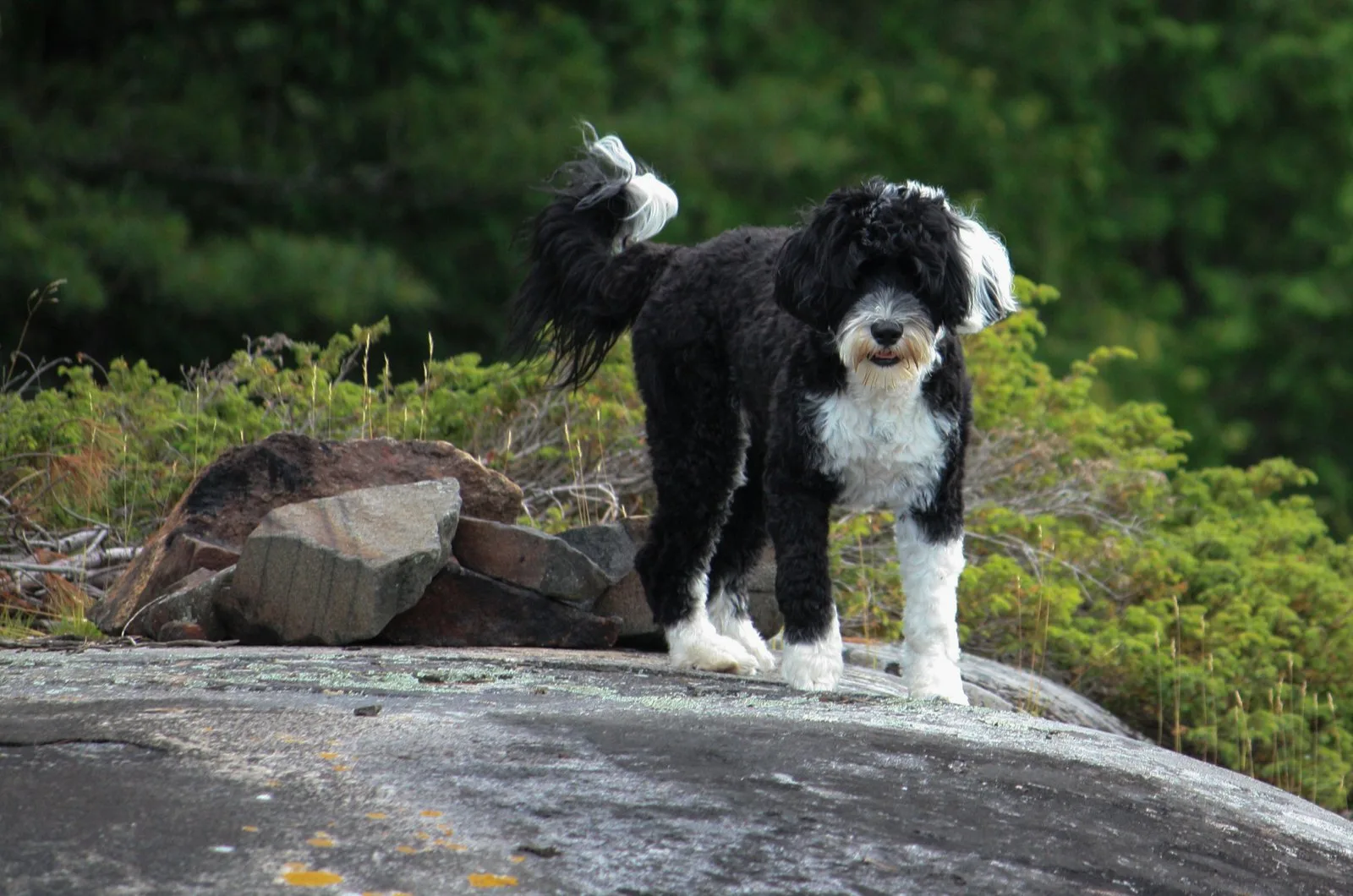 For over 25 years, Mariposa PWD has been breeding exceptional Water Dogs from Portugal, as well as English Springer Spaniels. No wonder they've been declared as the 2021 National Specialty Winner.
But, that's not all! The Mariposa breeder has produced over 50 champion dogs in more than 15 countries over the years. They're truly the place where champion Portuguese Water Dogs are born.
Mariposa pups are loving dogs with old-fashioned temperaments. The breeder breeds them for the preservation of the breed, not to get rich from them. All their pups are house born and raised, and only go outside to play in the nearby pond. And trust me, their energy levels are so high, they really need the outside time!
Mariposa PWDs have only planned one or two litters for the year 2022. If you're looking for a puppy that will come as a 100% healthy dog to your home (and stay that way), then you need to contact Mariposa! Their dogs are registered with OFFA and PWDCA health databases.
That's more than enough for me to pick Mariposa as a breeder!
Breeder's details
Website: Mariposa PWD
Location: 4160 LaPlante Road, Monclova, Ohio 43542
Phone: 419-861-3819
Email: [email protected] or [email protected]
6. Luna Nova PWD, ONT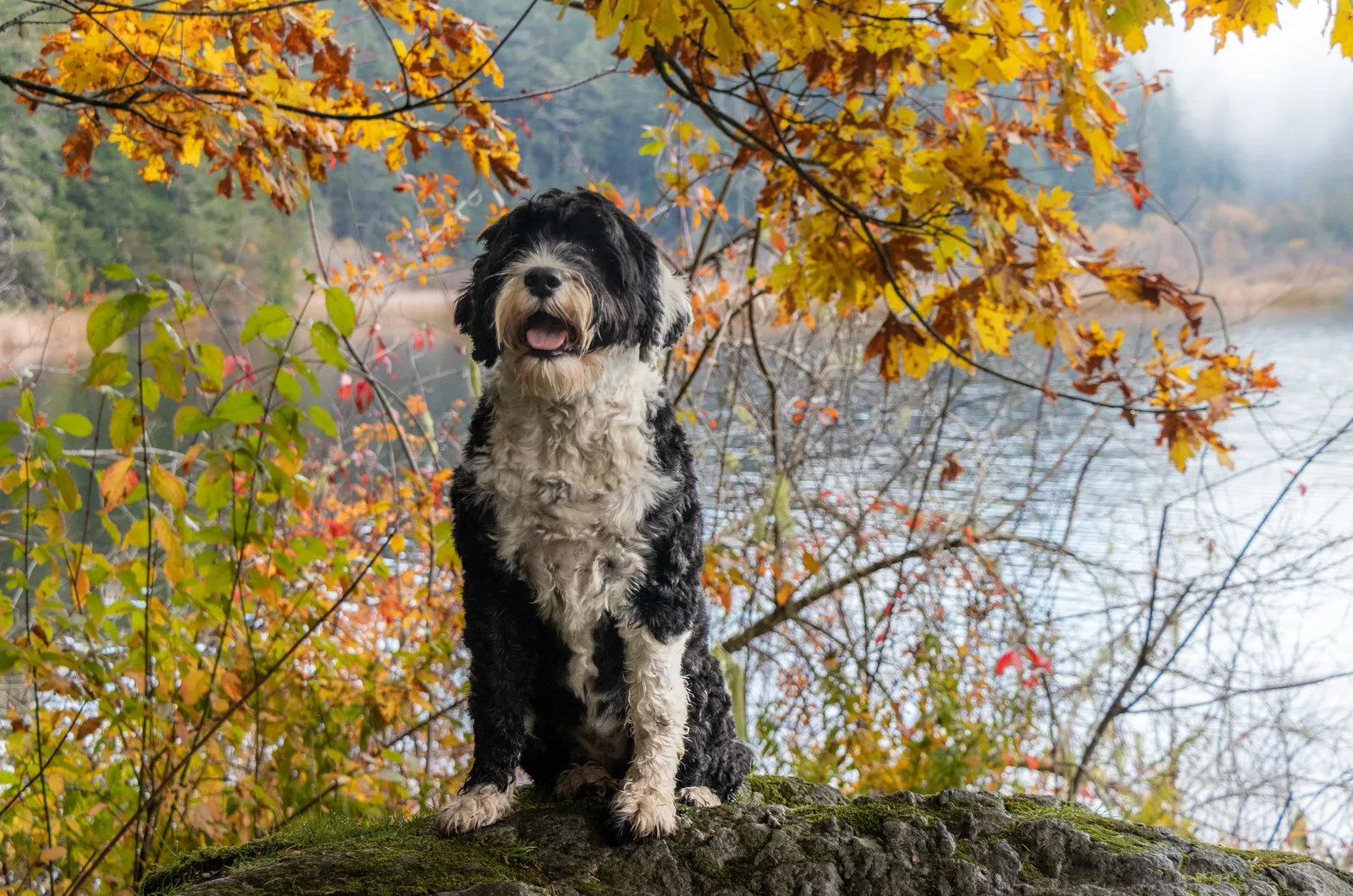 How would you react if I told you that this next breeder is so deep into breeding Portugese Water dogs, they even have a separate puppy room in their house? The family raises puppies inside their home, never separating them from the family kids.
At Luna Nova PWD, one of the finest Portuguese Water Dog breeders from Ontario, Canada, you can find puppies from Champion parents. The moms are Canadian Champs, while the dads are either Canadian or American Champions.
But, don't think that these guys haven't been around for long. Luna Nova PWDs date back for generations. Each litter has been blessed with superstar pups that either turned into competing dogs or loyal companions.
All Luna Nova pups are descendants of dogs with excellent temperaments, fine structure, impressive trainability, and great health status.
At the moment, Luna Nova has an incredible breeding stock of eleven PWDs! They don't have any available puppies for 2022, but the good news is that there is a planned litter for the start of next year!
Breeder's details
Website: Luna Nova PWD
Location: Cambridge, Ontario province
Phone: 519-590-4619
Email: [email protected]
7. Overlook Portuguese Water Dog, GA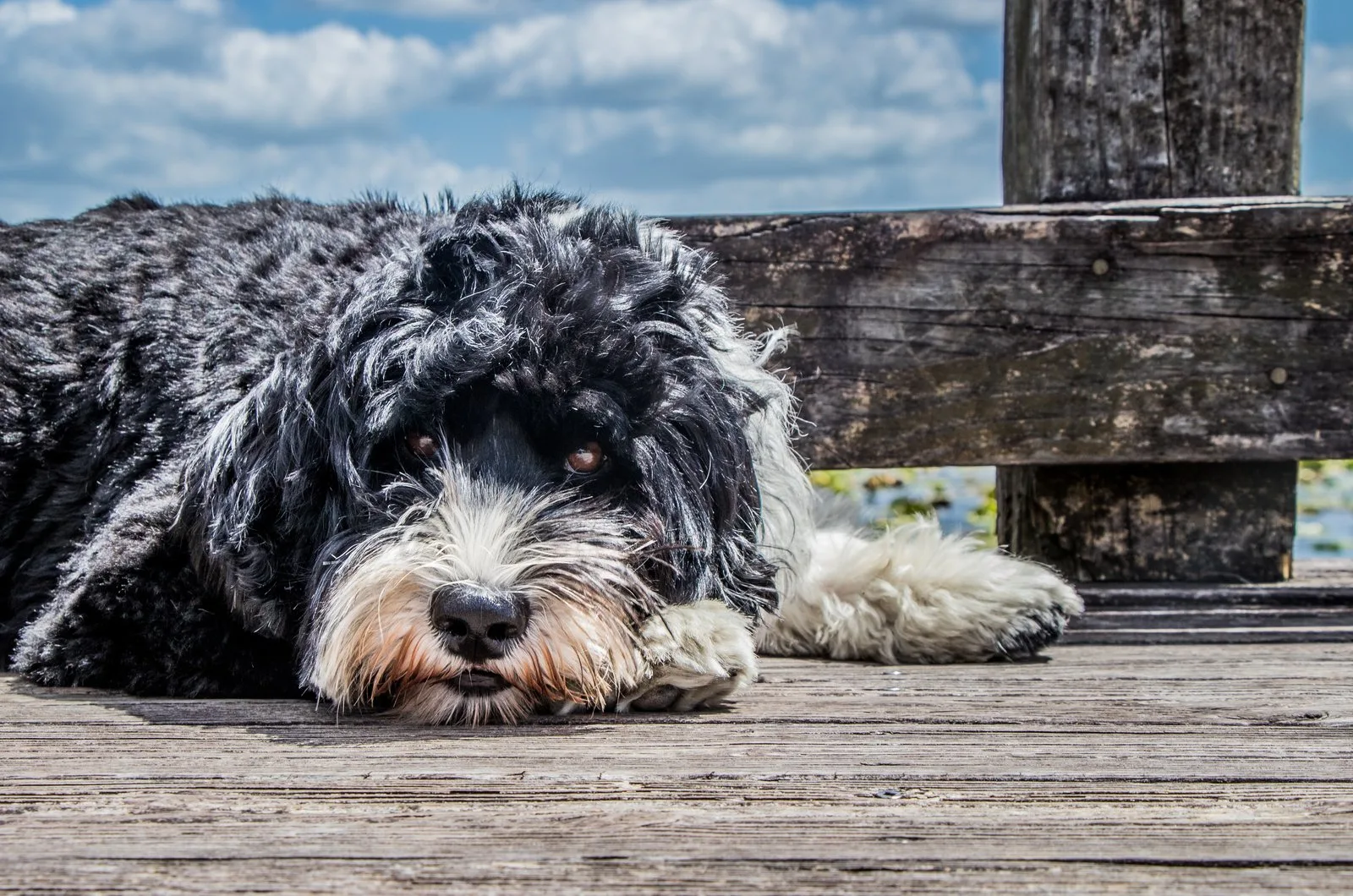 Portuguese Water Dogs and Border Collies live in harmony here at the Overlook PWD facility. This Georgia-based Portuguese Water Dog breeder has had a breeding program for over two decades.
Over the years, Overlook PWD has managed to become a supreme breeder, nurturing only kind temperaments and strong work ethics. This breeder works to preserve the breed, so you can expect only the finest quality. If only puppy mills could stop what they're doing and follow this practice!
Overlook PWD's motive is to breed dogs with a purpose or a task, just like the original pups on the Portuguese Fishermen's boats. They want to achieve the highest possible quality by following the PWD breed standards.
Besides being excellent companions, Overlook Portuguese Water dogs are also dominating dog shows, no matter if it's in agility, obedience, or conformation. What's so great about this breeder is that they encourage their puppies' owners to enroll the puppies into competitions too!
As valued members of the PWDCA, Overlook is highly focused on breeding litters without any health issues. Therefore, they submit their breeding stock, as well as their puppies, to regular health tests.
Breeder's details
Website: Overlook PWD
Location: Columbus, Georgia
Phone: 706-577-2524
Email: [email protected]
8. Doceu Kennel PWD, NY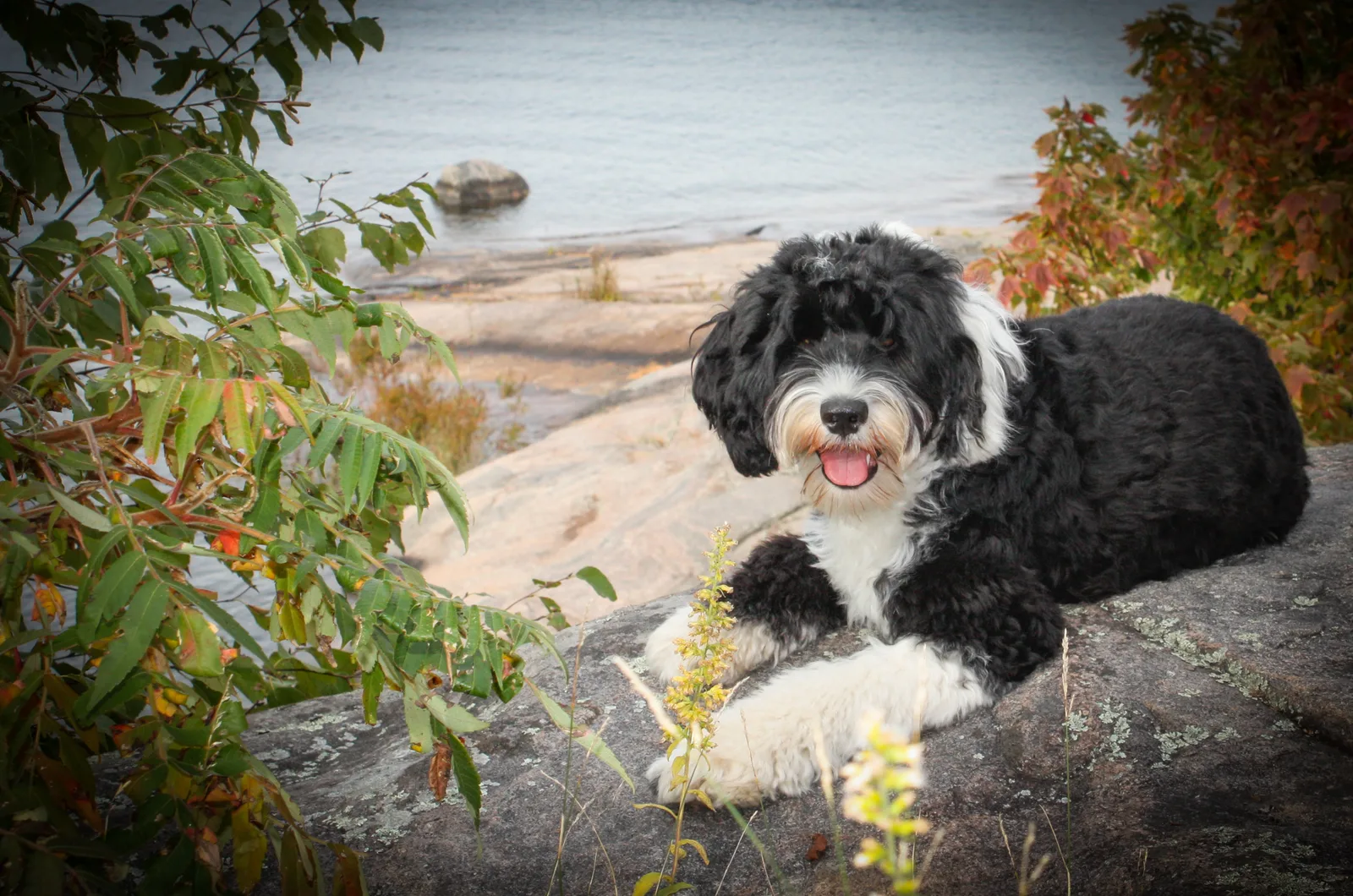 When Ellie, one of the Furmanek daughters, developed dog-related allergies, the family decided it was the right time to introduce a dog into their lives that wouldn't shed heavily or trigger allergic reactions.
Today, Ellie, her sister Katie, and the rest of this small family near Buffalo, New York, enjoy living with Portuguese Water Dogs. And yes, the extensive research on the ideal dog breed for them, really brought fantastic results.
That's why the family decided to introduce the rest of the dog-loving community to fun-loving PWDs!
This is a passion for the entire family, not just a breeding business that will grant them a premium income.
The Doceau Kennel PWDs are puppies bred with immense care. They receive all their shots in time. Also, all the pups will be cleared from parasites, microchipped, and thoroughly checked by the Ophthalmologist for any eye problems.
Once your pup is ready for adoption, you'll get him with a nice puppy package, featuring treats, a blanket, toys, as well as a written health guarantee.
Breeder's details
Website: Doceu Kennel PWD
Location: Grand Island, New York
Phone: 716-435-9922
Email: [email protected]
Social media: Facebook
Other Hypoallergenic Dog Breeders
If you want a different type of hypoallergenic dog, I can help you with that too. Below, you'll find some of the best hypoallergenic dog breeders in North America!
Mini Bernedoodle breeders in the USA
Goldendoodle breeders in the USA
Toy Poodle breeders in the USA
Conclusion
Portuguese Water Dogs have come a long way from being retrievers and couriers from the shore to the ship and vice versa.
Today, these pups make remarkable family pets, hence, all of these Portuguese Water Dog breeders.
If this dog breed wasn't as amazing as I claim they are, we wouldn't have so many trustworthy people to list today.
To help you with your search for your ideal puppy, I've come up with a list of Portuguese Water Dog breeders in the USA and Canada that you can absolutely trust with your new BFF.
I really hope they have a pup available for you pretty soon. If they don't, you'll soon realize that PWDs are worth the wait!
Read Next:
• Portuguese Water Dog Mixes: You'll Love These 13 PWD Crosses!
• What Shapes The Portuguese Water Dog Cost