It's a good question! Though it applies to all dog breeds, we're focusing specifically on the Goldendoodle because, well, it's an amazing pooch. In 2021, the Goldendoodle breed jumped to 5th place in America's most popular dogs! Anyone who owns one or has met them can understand why.
Maybe you've seen these teddy bear dogs, and you're thinking about getting one? You've started looking around, but you've heard that some breeders aren't trustworthy, so where do you begin?
It's a sad fact that there are people out there who will take advantage of our love for beautiful dogs just to make a quick buck. So, how can you tell genuine, reputable Goldendoodle breeders from those who are only after your money?
We'll answer that question later, but first, we'll look at a selection of some of the best Goldendoodle breeders in the US.
Goldendoodle Breeders In Florida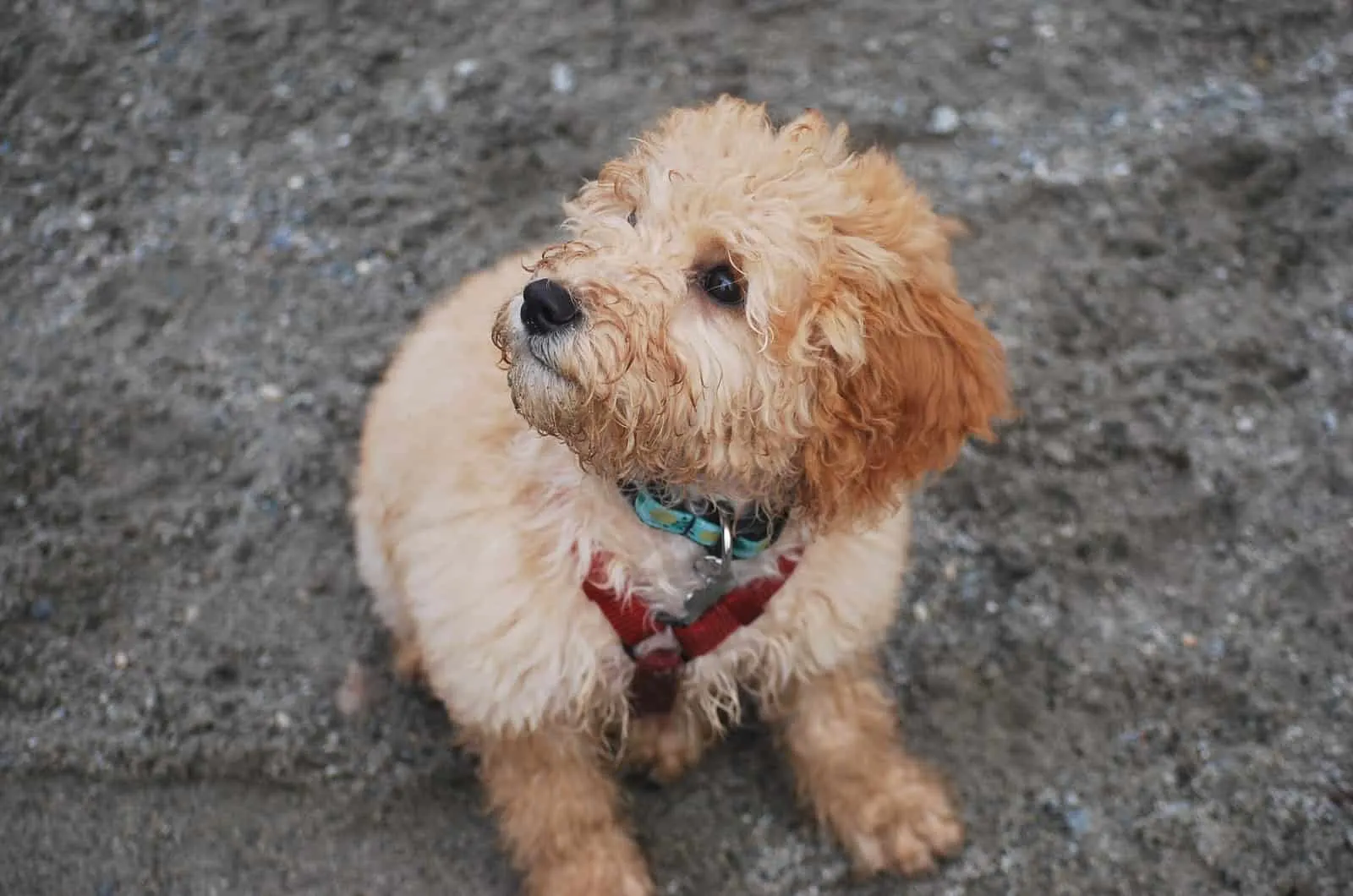 Murphy's Doodles, based out of Wesley Chapel, Florida, is our first example.
They stand out for several reasons, the first of which is the word family. It appears many times throughout their website, and they are keen to stress that this is a family affair. The pups are raised in the home, and no dog is kept in kennels. The parent dogs are pampered in guardian homes in the neighboring area.
Murphy's Doodles strives to produce the most allergy-friendly pups, which is why they breed F1bb or F1b Goldendoodles* as these have low-shedding coats and don't produce much dander. They offer a teddy bear allergy testing service, which is a good way to check for any allergic reaction before buying.
Another reason to choose Murphy's Doodles is that they breed their dams (mother dogs) a maximum of one or two times! These dogs aren't retired and rehomed but treasured as family members.
All of Murphy's Doodles' dogs are treated to long walks on the beach or in the park, fed the best food, and are thoroughly health-tested before breeding. They are well-trained and socialized and have wonderful temperaments that make them ideal family pets.
Puppy training begins at 4 to 6 weeks of age, and all pups are exposed to a wide variety of sounds, textures, and experiences, including being introduced to household pets and children.
Murphy's Doodles have three puppy starter packs available. The basic one is free and includes a toy, a leash, a harness, a blanket with mom's scent, puppy food, the first set of vaccinations, and a health certificate. The next two options have extra items, but you'll pay $69 or $129 to get these.
Prices start at $4,500 for a Standard Goldendoodle and rise to between $7,000 and $8,000 for a mini or toy version.
You can contact them for more information here:
Website: Murphy's Doodles
Email: [email protected]
Phone: 813-331-6719
Facebook: @murphysdoodles
*F1b Goldendoodles are 75% purebred Poodle and 25% purebred Golden Retriever. F1bb means 87.5% Poodle and 12.5% Golden Retriever. For perspective, an F1 Goldendoodle is 50% Standard Poodle and 50% Golden Retriever.
Goldendoodle Breeders In Texas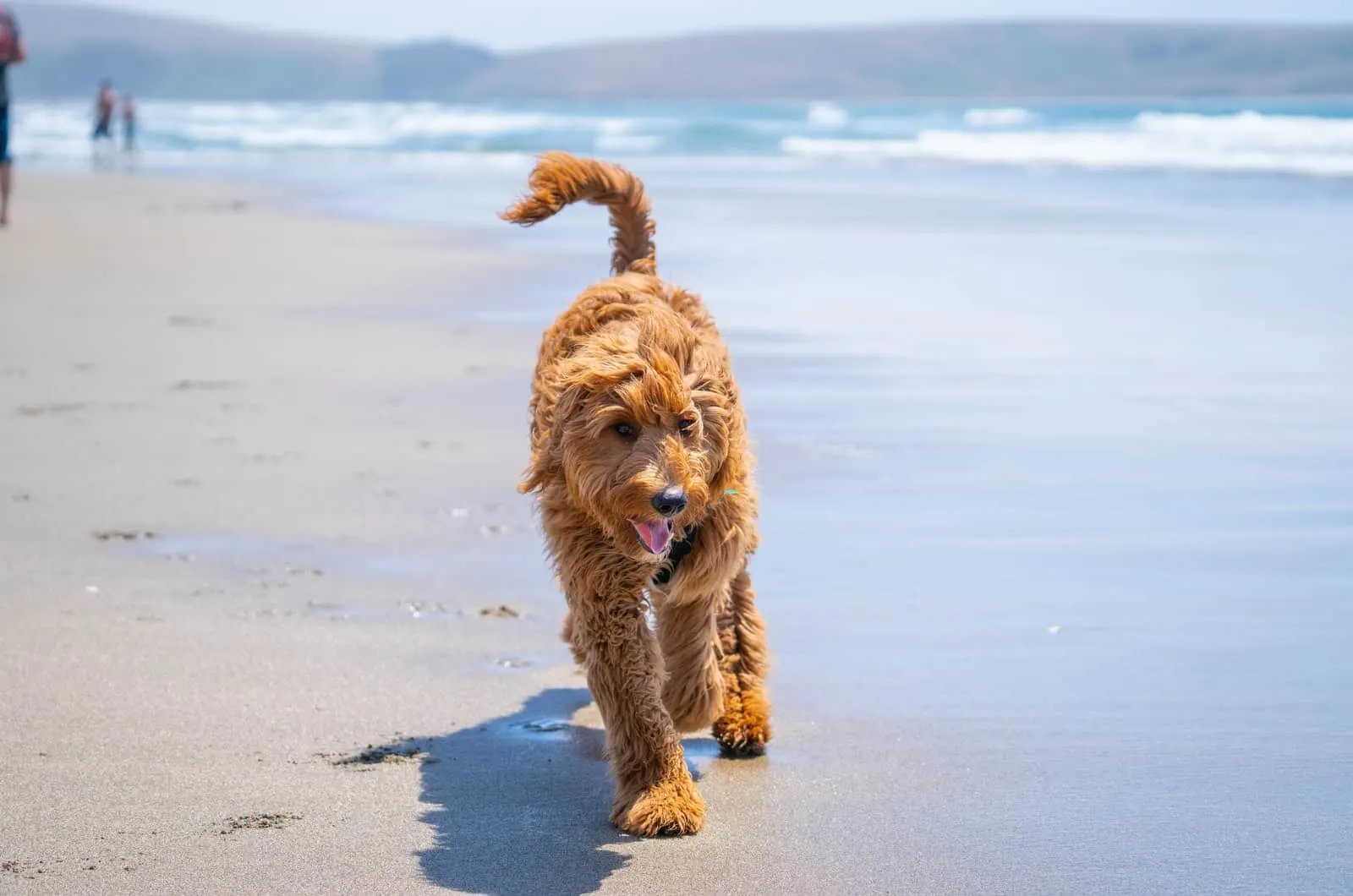 When someone describes themselves as a hobby breeder, you wonder whether they have the knowledge, expertise, and commitment to produce quality dogs.
While it's right to be cautious, there are some amazing hobby breeders out there! One shining example that definitely deserves a place on a list of best Goldendoodle breeders is Gunter Goldendoodles, based in Gunter, Texas.
Expertly run by Andra and her family, Gunter Goldendoodles is situated on a 3-acre site where every pup is treated as a family member until it's time to go to a forever home.
From day one, the pups are trained and socialized using a Biosensor program developed by the US military. This prepares the pups for life ahead through neurological stimulation, which reduces stress levels and makes for a stronger, well-adjusted dog.
Pups are introduced to a range of scenarios, animals, people, sounds, and smells, but great care is taken to never push them too far. Andra and her family invest so much love and care in their pups that it's a real wrench when they are taken away to their forever homes!
However, contact doesn't have to end there, as the family team at Gunter Goldendoodles is always ready to make new best friends and be on hand for help and advice. And to check on their adorable pups, too!
If you're curious (or confused!) about the codes used for the different generations of Goldendoodles, such as F1, F1b, multi-gen, and so on, Andra has a special section explaining this on her website.
All Gunter Goldendoodle pups are sold with a strict spay/neuter clause, and you need to complete a pre-adopt form to help them match you with the right pup.
As it says on Gunter Goldendoodles' website, Good dogs come from good breeders.
And they don't come much better than Gunters!
Be sure to check them out:
Website: Gunters Goldendoodle (email is via their contact form)
Phone: 254-289-0585
Goldendoodle Breeders Georgia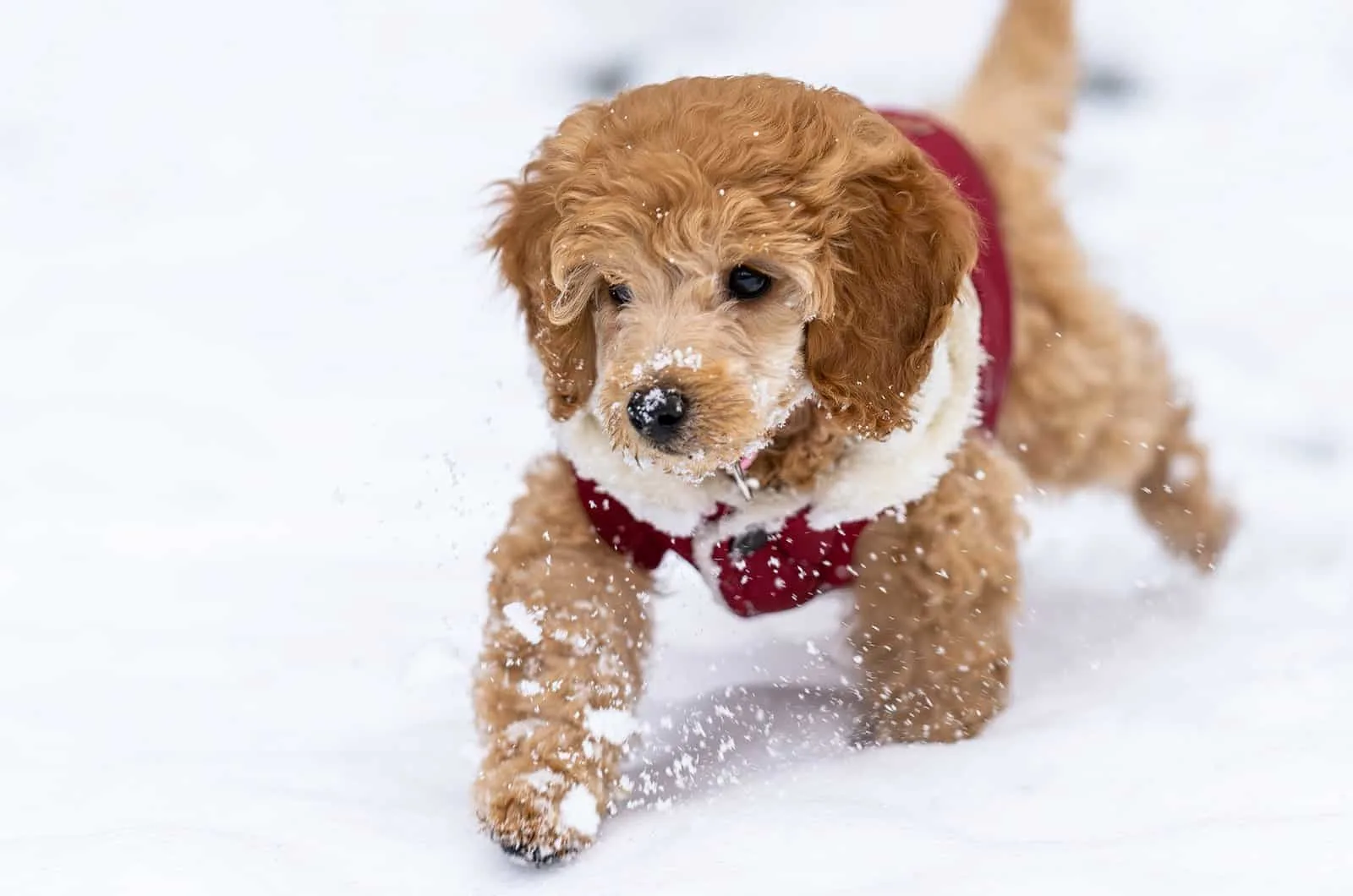 At Golden Honey, based in Duluth, Georgia, they have a simple philosophy: happy families = happy puppy = happy breeder!
This is a small, private breeder that aims to produce just one litter of puppies every once in a while so that they can focus on each individual pup and give them the care and attention they need.
The adult dogs are kept in the family home, and every puppy is cared for from the moment it is born. The parent dogs are extensively health tested to ensure that the pups are as healthy as possible. All of the pups are well socialized from day one, and they start potty training at 3 weeks and crate training at 6 weeks.
Golden Honey makes sure that someone is home most of the time, and definitely all day when the pups are born! These pups are given a lot of love, preparing them for the day they leave the breeder to go to their forever homes.
Golden Honey pups come with the following:
• 2-year health warranty
• Health certificate signed by a vet and a health record
• First set of vaccines
• Microchip
• Dewormed, and flea, tick, and heartworm treatment
• Goldendoodle Association of North America (GANA) registration
• Pedigree and health test results of parents
• Lifetime support of advice on raising your pup
• Puppy pack, including puppy shampoo, 30 days pet insurance, SmartPetLove Snuggle puppy, blanket with mom and siblings' scent, premium puppy food.
Golden Honey do not ship their pups and will only release them at 9 weeks of age.
Want to know more? Then contact them here:
Website: Golden Honey
Phone: 770-757-3409
Facebook: @goldenhoneykennel
Goldendoodle Breeders North Carolina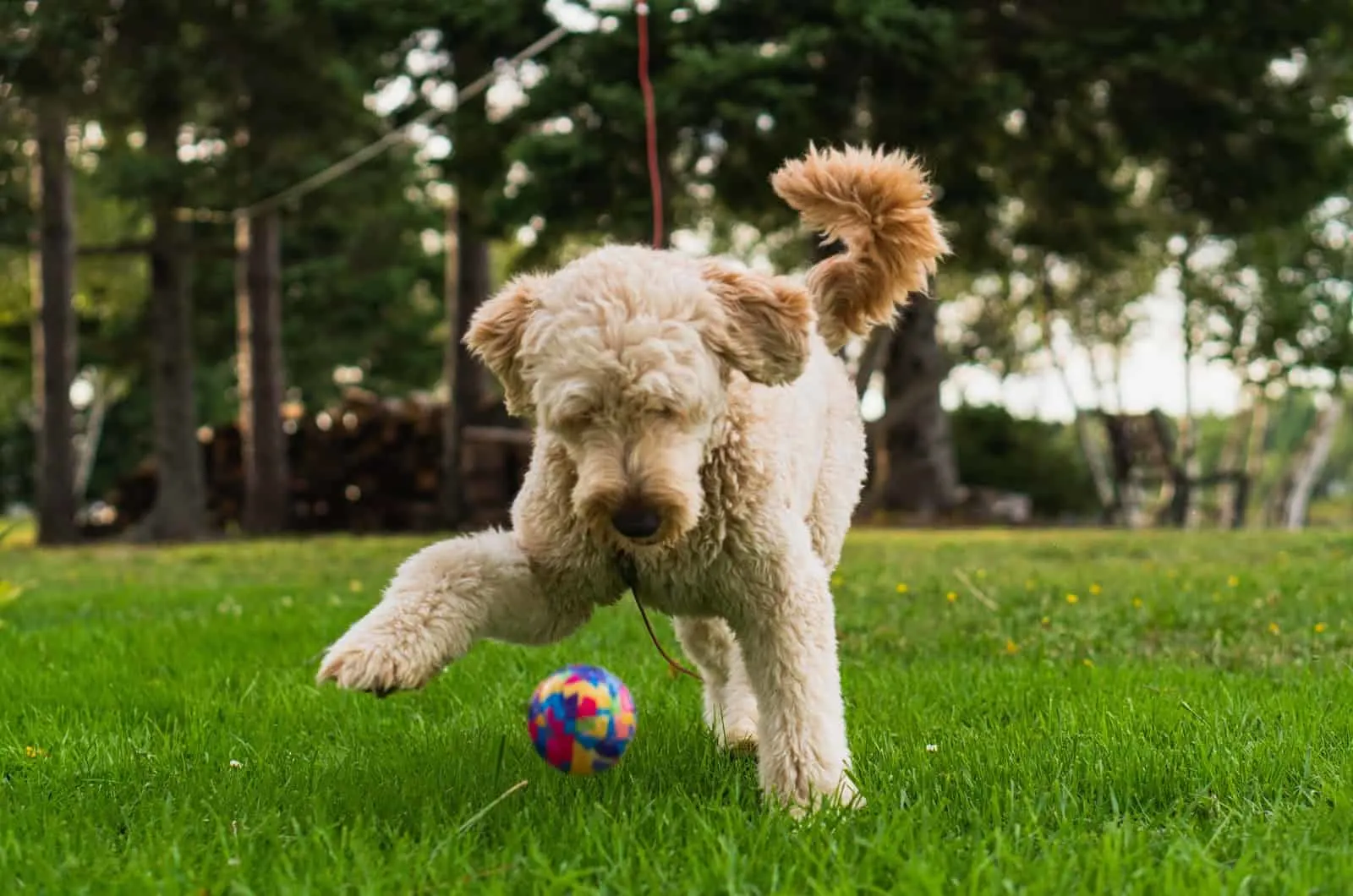 At Strong Oaks Goldendoodles, they believe that the Goldendoodle is the perfect family dog. And with 25 years of experience breeding them, they would know!
This is another family-run breeder that keeps the dogs in the home, which is always a reassuring sign.
You can find them at Morganton, in the foothills of North Carolina, from where they produce healthy dogs with wonderful temperaments that are the perfect family pets.
Their Goldendoodle pups are the surprisingly reasonable price of $2,000, with a $350 non-refundable deposit.
All pups include a 2-year health guarantee as well as the following:
• Deworming history
• Vaccination record
• Gallon bag of dog food
• Blanket with siblings' and mom's scent
• Leash and collar
• Toys
• CKC registration
On top of this, your pup will receive ENS 'super puppy' treatment! From day three to day sixteen, they will undergo neurological stimulation that includes exposure to a variety of sounds, textures, people, animals, and a lot of fun. This increases resistance to disease and strengthens their adrenal and cardiovascular system, as well as helps the pups to cope better with stressful situations. You get a calm, smart, healthy, and very well socialized dog!
From day 16 until the pup goes to its new home, the breeder spends more time on socialization, getting their family to help out.
And finally, they get a last bath and grooming session before setting off on their new adventure with you.
If you want to know more about Strong Oaks Goldendoodles, here are there details:
Website: Strong Oaks Goldendoodles
Email: [email protected]
Phone: 828-408-3108
Facebook: @strongoaksgoldendoodles
Goldendoodle Breeders Indiana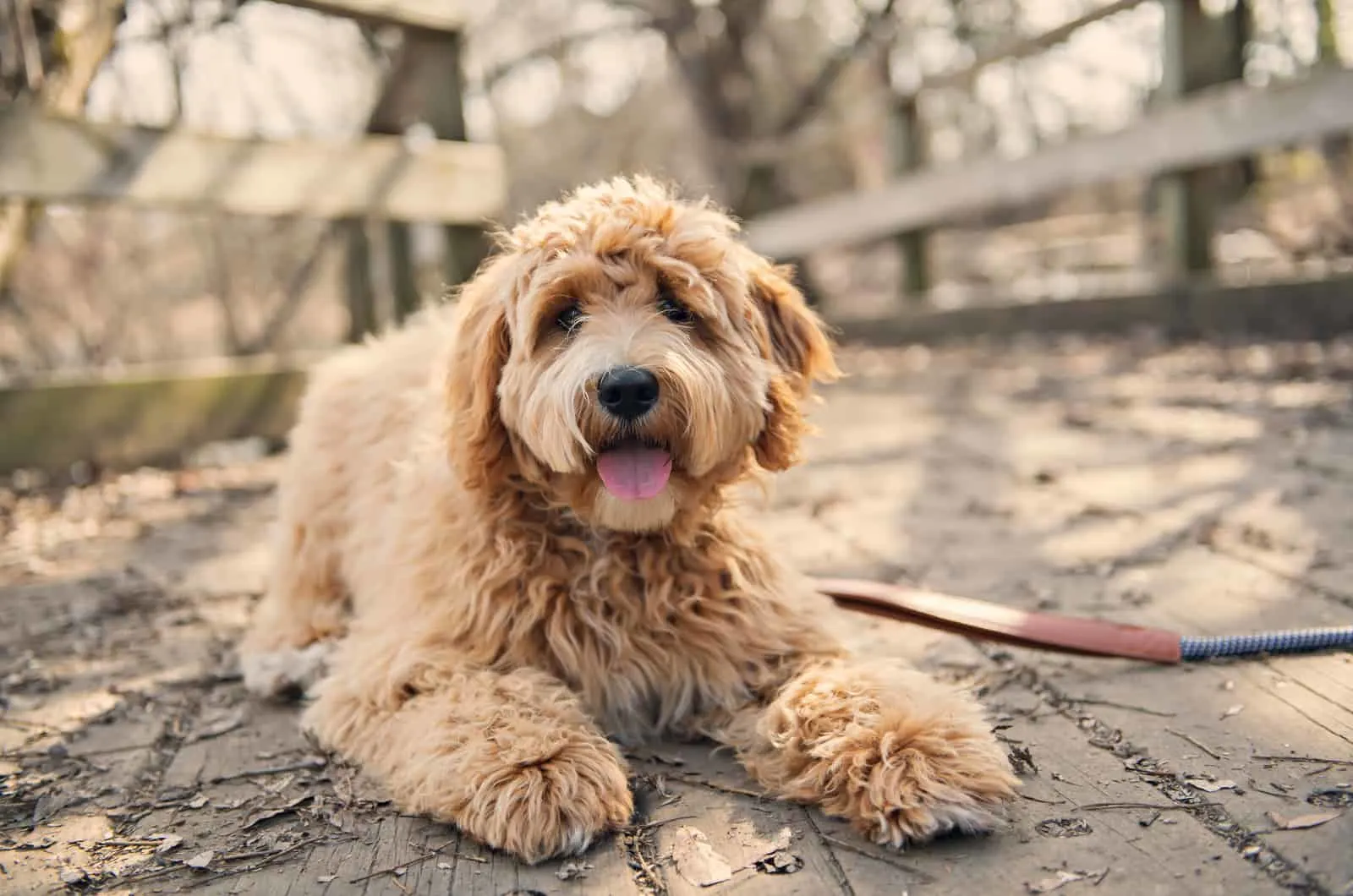 Tim and Margaret are the husband and wife team behind Gertie's Goldendoodles, a family-run breeder based in central Indiana.
They also run Purpose Driven K-9, a professional dog training business, which has provided them with skills that come in handy when raising new pups.
Their parent dogs are fully health tested and only bred if they are of the right temperament.
On the homepage of their website, you will find a YouTube video of an interview with Margaret explaining how to find a reputable breeder! This is comforting and tells you all you need to know about Gertie's Goldendoodles.
Their FAQ section is helpful, with lots of information about their services and the breed in general, so be sure to check this out.
Gertie's Goldendoodles come with a 2-year health warranty and are microchipped. They are up to date with their first shots, and will be extensively socialized before being allowed to leave.
The purchase contract includes a spay/neuter agreement.
You might find that their application form is a little lengthy, but this just tells you that they care! It also helps them to match the right pup with the right family.
Each pup has professional temperament testing and personality matching, as well as a private consultation with a professional trainer.
You'll receive a guide on house training and crate training, a starter pack of puppy food, and your pup's first toy.
Gertie's Goldendoodles cost around $3,000 with a $500 deposit.
You can get in touch for more information here using the 'contact us' form :
Website: Gertie's Goldendoodles
Goldendoodle Breeders Wisconsin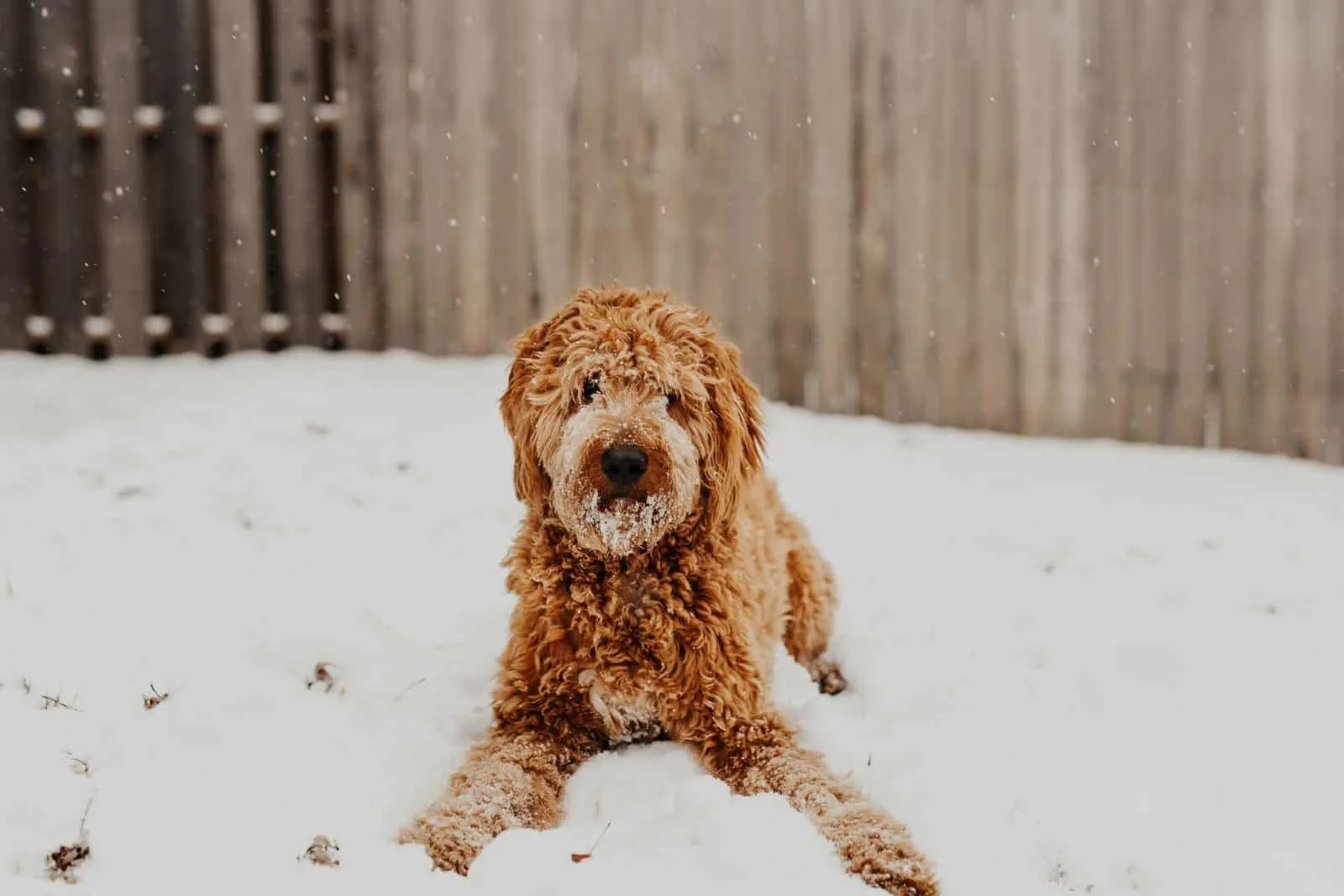 Beck Kennel Goldendoodle Breeder has an excellent mission statement on its website that is a joy to see. You can tell that these are genuine, reputable breeders with a real passion for Doodle dogs.
Here's a snippet from that statement:
"We are 100% committed to producing healthy, well-tempered, well-trained, and above all – incredibly loved and socialized Goldendoodle puppies that will be beloved members of your family for years to come."
Now, that's reassuring! In addition to this, there's a very good section on finding a Goldendoodle breeder that's well worth reading.
There's also a section devoted to their Puppy Culture training and socialization program explaining what they do and why. This is accompanied by some adorable videos of the pups going through various challenges.
Pups come with the following benefits:
• Microchip and free activation
• Temperament testing
• CKC or GANA registration
• Photos and videos of your pup up to the date he/she becomes yours (via email on request)
• Sample of NuVet supplements
• Health record, including deworming and vaccination schedule
• Signed health warranty and purchase agreement (including spay/neuter and rehome clause)
• Puppy starter pack with approximately $80 worth of goodies, including a Snuggle Puppy with extra heat packs, cool teether, and a snuggle blanket
• A lifetime of expert advice and support
Beck Kennel requires a $500 deposit, and all pups cost $2,500.
Here are their contact details:
Website: Beck Kennel Goldendoodle Breeder
Email: [email protected]
Goldendoodle Breeders Michigan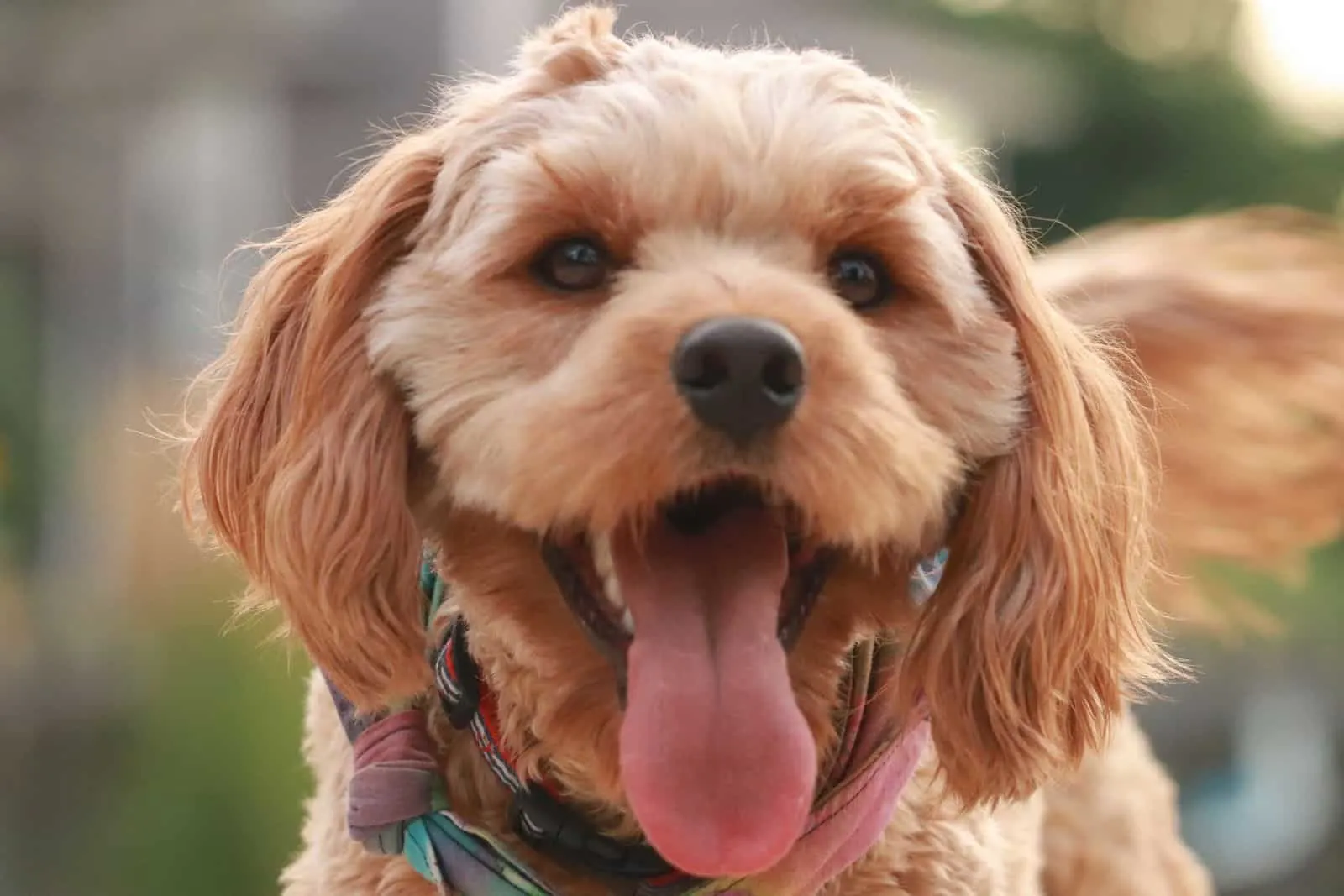 Nolan and Jeanna, owners of Grand River Doodles, are lucky enough to live by the lakes at Grand Rapids, MI!
Their dogs have full use of the 'backyard,' which covers an area of 5 acres. These dogs are treated like Nolan and Jeanna's children and are pampered at every opportunity.
They come from a family background with 35 years of breeding experience behind them, so you can be sure that they know what they're doing.
All pups receive at least 15 minutes of snuggling, grooming, and handling three times a day. Socialization starts at an early age and continues until they are ready to go to their forever homes.
Grand River Doodles cost around $3,200 with a $500 deposit.
For more information, contact Nolan and Jeanna here:
Website: Grand River Doodles
Email: [email protected]
Phone: 296-806-4996
Goldendoodle Breeders Colorado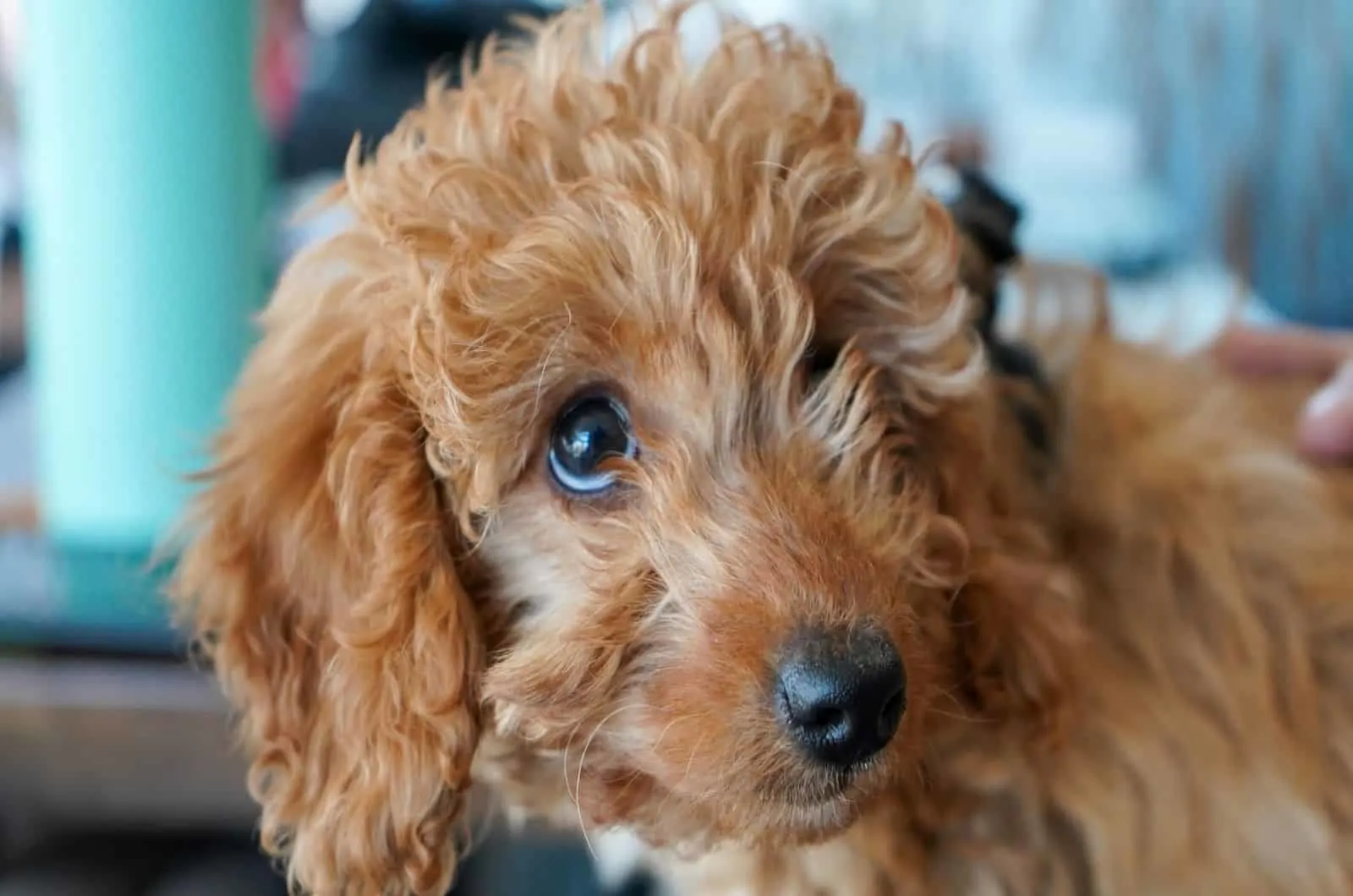 Although we've mentioned many great breeders here, few come across as well as Red Rock Golden Doodles in Colorado.
Again, they're a family-run business that raises pups in the home. What sets them apart is the extraordinary lengths that they go to in order to socialize their pups!
You can see this for yourself on their website in a section called how we raise our pups, which shows the steps they take week by week.
Starting with ENS (the super-puppy training mentioned earlier) in weeks one and two, they progress to early potty training and nail-clipping in week three, moving on to problem-solving and confidence building in week four. At this stage, they start Puppy Culture, which teaches them good puppy manners!
By week five, they will start adventure training and start to learn that chewing and 'mouthing' hands and fingers is wrong. They will also learn simple command words, such as 'come.'
In week six, the pups will be going out on field trips, getting used to car travel and different terrains. They'll also continue problem-solving, which builds confidence, and they'll be taught to sit while waiting for their food.
At week seven, they have a Volhard aptitude test, and their field trips continue, along with leash training if weather permits.
When they reach weeks eight and nine, the pups are almost ready to leave the litter. Socialization and field trips will continue until they are microchipped and ready for their new homes!
This procedure is among the best we've seen and is perfect for raising healthy, happy, even-tempered Doodles.
All of Red Rock's pups come with a 3-year health guarantee and a spay/neuter agreement.
If you want to know more about Red Rock, check them out here:
Website: Red Rock Golden Doodles
Email: [email protected]
Facebook: Red Rock Pups
Goldendoodle Breeders In California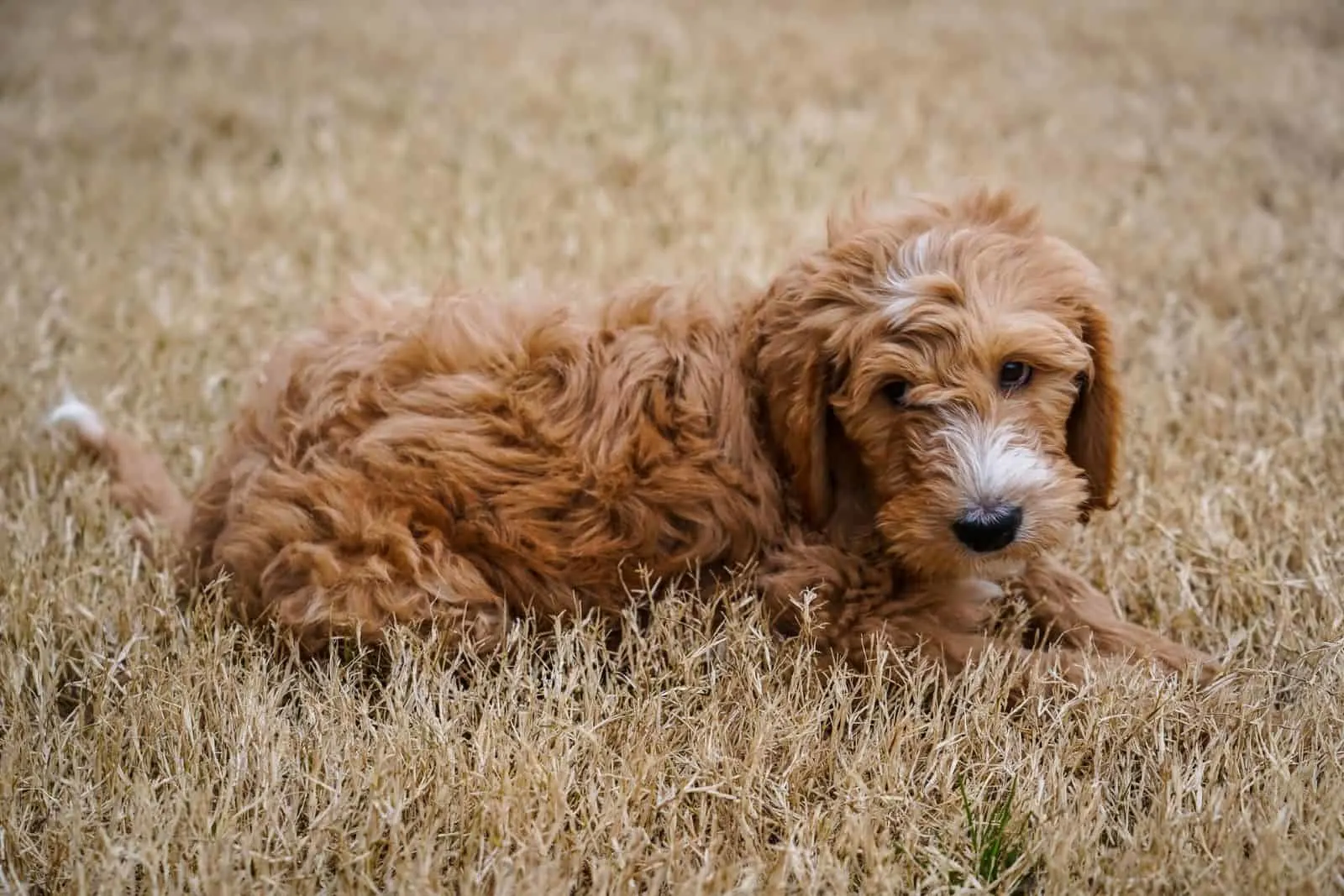 Sheryl and Kelsey, the mother and daughter team behind Coastland Goldendoodles, ensure the health of their breeding dogs through genetic testing and health screening, with help from the OFA (Orthopedic Foundation for Animals), Paw Print Genetics, and PennHIP (a screening tool for hip dysplasia and osteoarthritis). They specialize in English Goldendoodles using imported English Golden Retriever bloodlines.
As with all the best Goldendoodle breeders, Sheryl and Kelsey keep their dogs in the home as pampered pets rather than in kennels. The rest of the parent dogs are kept in guardian homes nearby. All of these dogs are treasured family members!
This means that the pups begin socialization from the moment they are born.
If you need proof of the results of Sheryl and Kelsey's hard work, then check out their testimonials page for some happy reading!
Coastland Goldendoodles provides a 2-year health guarantee, and all pups are microchipped with prepaid lifetime registration. Pups are also dewormed and have appropriate shots for their age. They are sent home with a leash and collar, a chew toy, a plush toy with their siblings and mom's scent, a Goldendoodle brush, and a binder with all your pup's health records and information.
Prices start from $3,200 and can be as high as $4,000, depending on the litter.
Feel free to contact Sheryl and Kelsey in the following ways:
Website: Coastland Goldendoodles
Email: [email protected]
Facebook: @CoastlandGoldendoodles
Phone: 805-509-3303
Goldendoodle Breeders In Ohio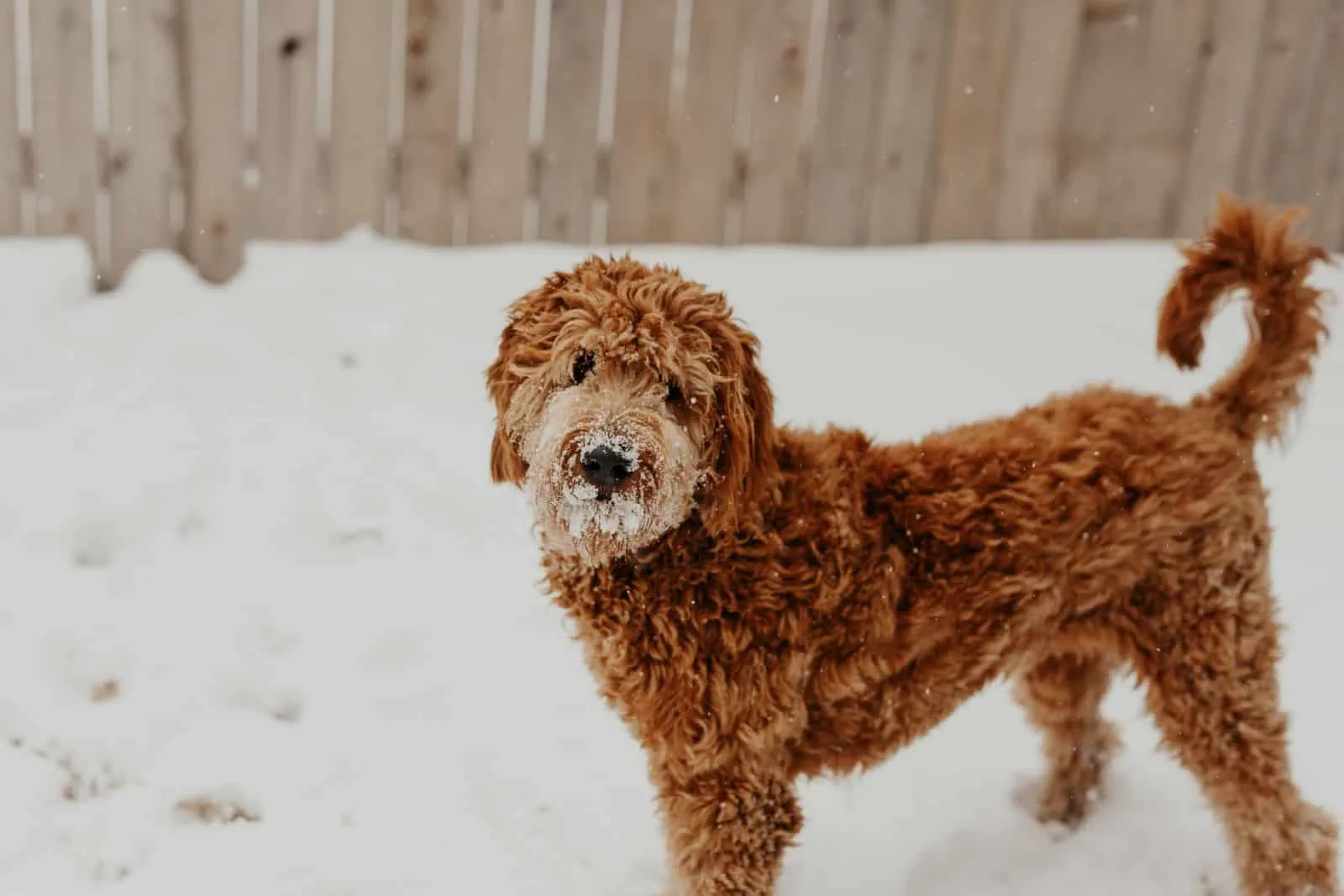 Ohio Goldendoodle, based in Waverly, Ohio, is run by the Williams family, and they make you feel very welcome when you visit their website.
You don't have to search around for information, as it's all there, especially if you're looking for contact details. Other sites are rarely as helpful, and you can waste a lot of time trying in vain to find an email address or phone number!
Owners Eric and Jenny clearly have nothing to hide, and you get a real sense that these are reputable breeders that you can trust.
Each of their parent dogs is health tested (using Wisdom Health) and only approved for breeding if it has the best temperament. This ensures that the pups are the healthiest and happiest around!
Eric and Jenny are eager to help you find your new best friend, and in the meantime, they keep all the pups in the family home to help them become acclimated to the sights and sounds. Each puppy comes with a goody bag containing a toy and a blanket from the living area, a bag of food, and a packet of puppy training treats. You'll also get a puppy care booklet, and your pup will have received basic potty and crate training.
The pups will have their early shots and deworming treatment and will come with a 2-year health guarantee.
Eric and Jenny will be on hand to offer any advice or assistance you may need with your pup at any stage of its life.
Prices for Ohio Goldendoodles are $2,250 and $2,500, with a $300 deposit.
If you like the sound of Ohio Goldendoodle, you can contact them here:
Website: Ohio Goldendoodle
Email: [email protected]
Phone: 740-285-6607
Goldendoodle Breeders Maine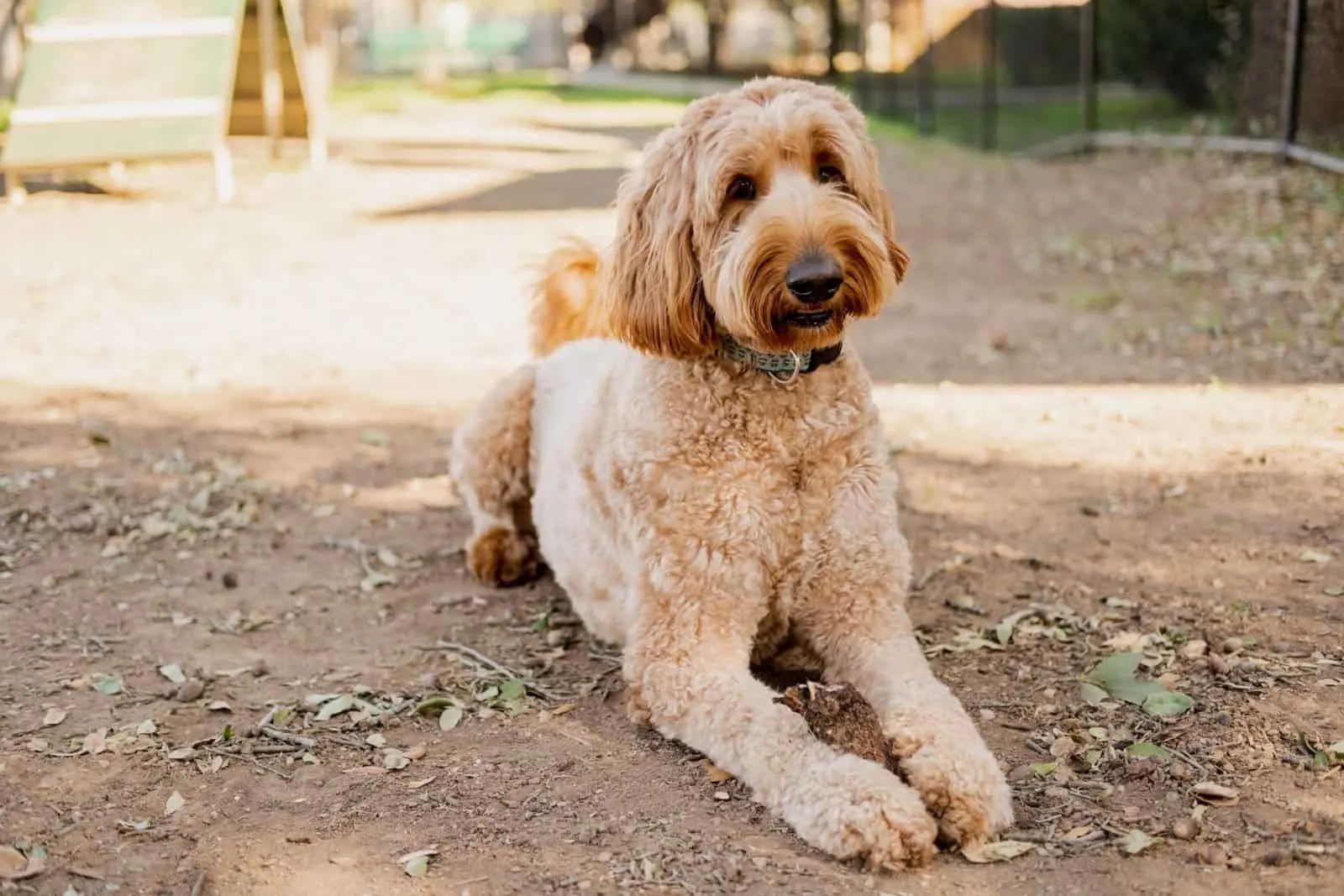 One theme that you'll have noticed so far is that many of the Goldendoodle breeders listed here use guardian homes. This allows dogs to live in a loving family home environment rather than being stashed away in kennels and only used as breeding machines.
Goldendoodles of Maine is another breeder that uses guardian homes for its breeding dogs, which is a good sign. You can see from the about us section that these are people who really care for their dogs!
Another good sign is that the contract includes a section stating that the buyer agrees to look after the pup properly and that they will have the pup spayed or neutered within a year of buying. There is also a 'welcome back' clause to ensure that the buyer will offer the dog back to the breeder if they plan to get rid of it at any time. Pups must be at least 8 weeks of age before they are allowed to leave.
Prices are in the region of $3,000 with a non-refundable deposit of $200.
Contact details:
Website: ​Goldendoodles of Maine​​​
Email: [email protected]
Phone: 207-399-9912 / 207-991-0402
Goldendoodle Breeders Massachusetts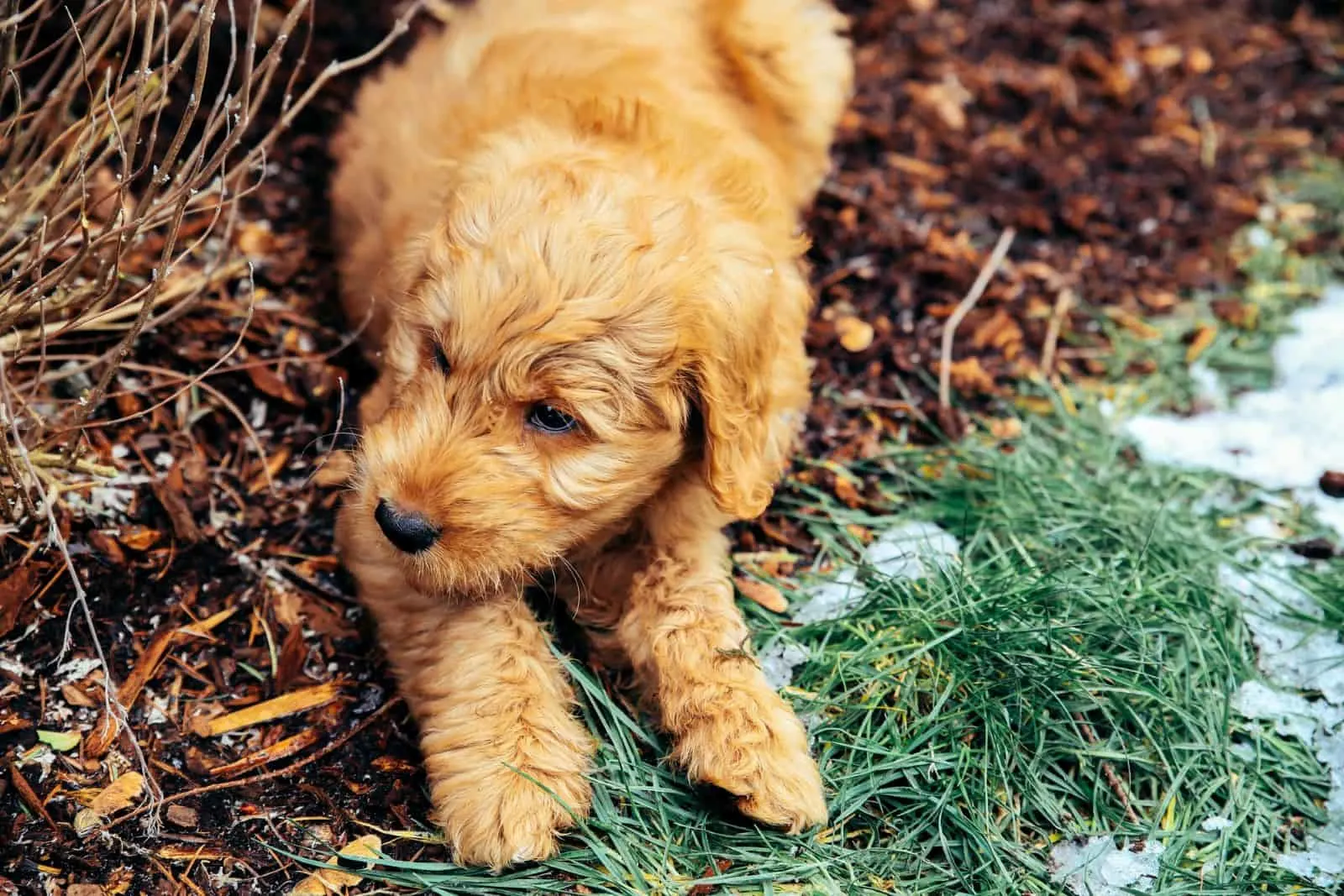 Brenda Germain of Morningstar Goldendoodles has over thirty years of experience in breeding Golden Retrievers and Goldendoodles, and she firmly believes that being close to these wonderful dogs has made her a better parent!
She also believes that raising the pups with her family helps to create a mild-tempered and well-behaved dog. The adult dogs are also treated like family, providing a safe and loving environment that makes everyone happy.
Although most of Brenda's pups become family pets, she is proud of the fact that many have become therapy or service dogs.
Brenda doesn't release her pups until they are between 10 and twelve weeks old, and they come with first vaccinations and a deworming schedule. You'll also get a puppy starter package, including a scented toy, collar, leash, probiotics, and some puppy food.
In addition to the starter package, you can find some helpful information on the Morningstar website that will guide you as to what you'll need to care for your pup.
Prices start from $3,200 with a $200 deposit.
Feel free to contact Brenda here for more details:
Website: ​Morningstar Goldendoodles​​​
Email: [email protected]
Goldendoodle Breeders New Jersey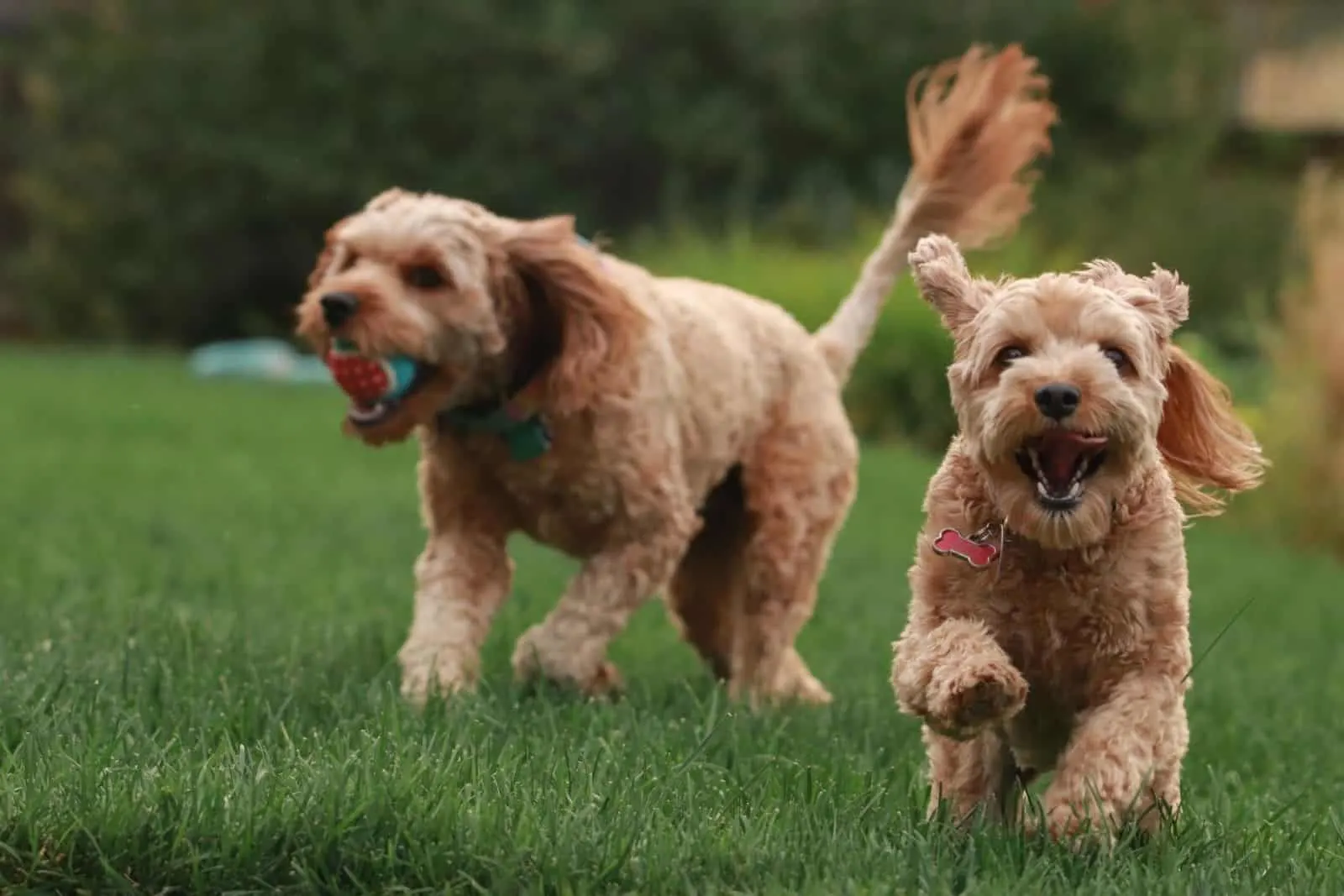 When you're searching for a reputable breeder, it's good to read these words: healthy pups are happy pups.
You can find this sentence on the Bella Pups website run by Patricia Hess, near Princeton, NJ.
Patricia is yet another great example of the kind of person you can trust when it comes to buying your Goldendoodle pup. She believes in treating each puppy as an individual with its own unique personality. Also, Patricia strongly believes that the puppy's first contact with humans should be positive, loving, and kind.
To this end, she only uses large, open whelping boxes and puppy playpens. You won't find any cages here! Patricia ensures that these areas are kept immaculately clean to avoid any risk of contamination. She also makes sure that the pups are handled continuously and lovingly.
These pups are sold purely as companions and never for breeding.
Before they come to your home, you can be sure that these pups have been seriously pampered. They'll receive 6 hours of supervised play every day, as well as daily lap time and brushing. They'll get a manicure and pedicure every week! On top of this, they'll receive puppy manners training and will be almost fully potty trained.
All pups will have had their first set of shots and will be dewormed. They'll be double-checked by a vet and come with a one-year health guarantee.
For information about prices, and any other details, contact Patricia here:
Website: ​Bella Pups​​​
Phone: 609-937-1651 (no texts, please!)
Email: [email protected]
Goldendoodle Breeders New York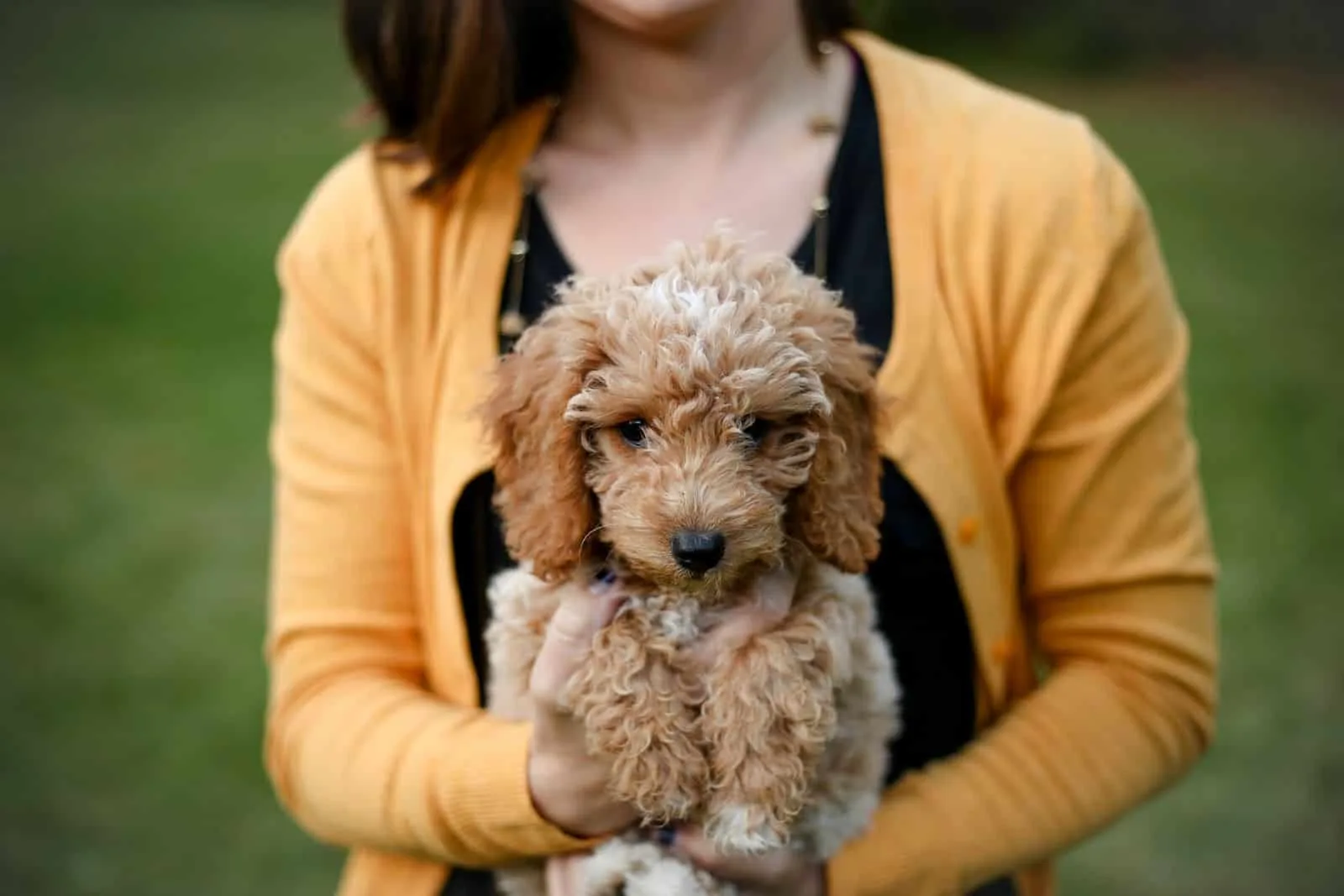 Lakeview Doodles is situated in upstate New York and is another great example of a successful, reputable, family-run breeder.
They specialize in petite, mini, and tiny Goldendoodles, Labradoodles, and Doubledoodles! Established in 2004, Lakeview Doodles has been delighting dog lovers with its beautiful pups for some time, and each family member has had a role to play. Even though some of their kids are grown up and run their own businesses, they still have time to help out.
Once again, this breeder uses guardian families to home some of their breeding dogs.
Pups come with a 2-year health guarantee, and buyers must agree to a spay/neuter contract. All pups must be returned to the breeder in the event that the buyer can no longer care for them, and they must not sell the pup or give it away to any other third party.
Lakeview Doodles points out on the website that they only sell their pups to responsible families who they feel can offer a safe, happy, loving home. They use the application form to determine this, and you can be sure that they'll use this wisely to find the best homes.
All pups are microchipped and vaccinated, and they will be sent home with a collar, leash, blanket, a soft toy, and a 10-day supply of puppy food.
There is a registration fee of $250 (effectively a deposit), and pups are priced between $4,000 and $4,500.
If you feel that you have what it takes to care for one of Lakeview's pups, then contact them here:
Website: ​Lakeview Doodles​​​
Email: [email protected]
Phone: (585) 732-5892
Goldendoodle Breeders Pennsylvania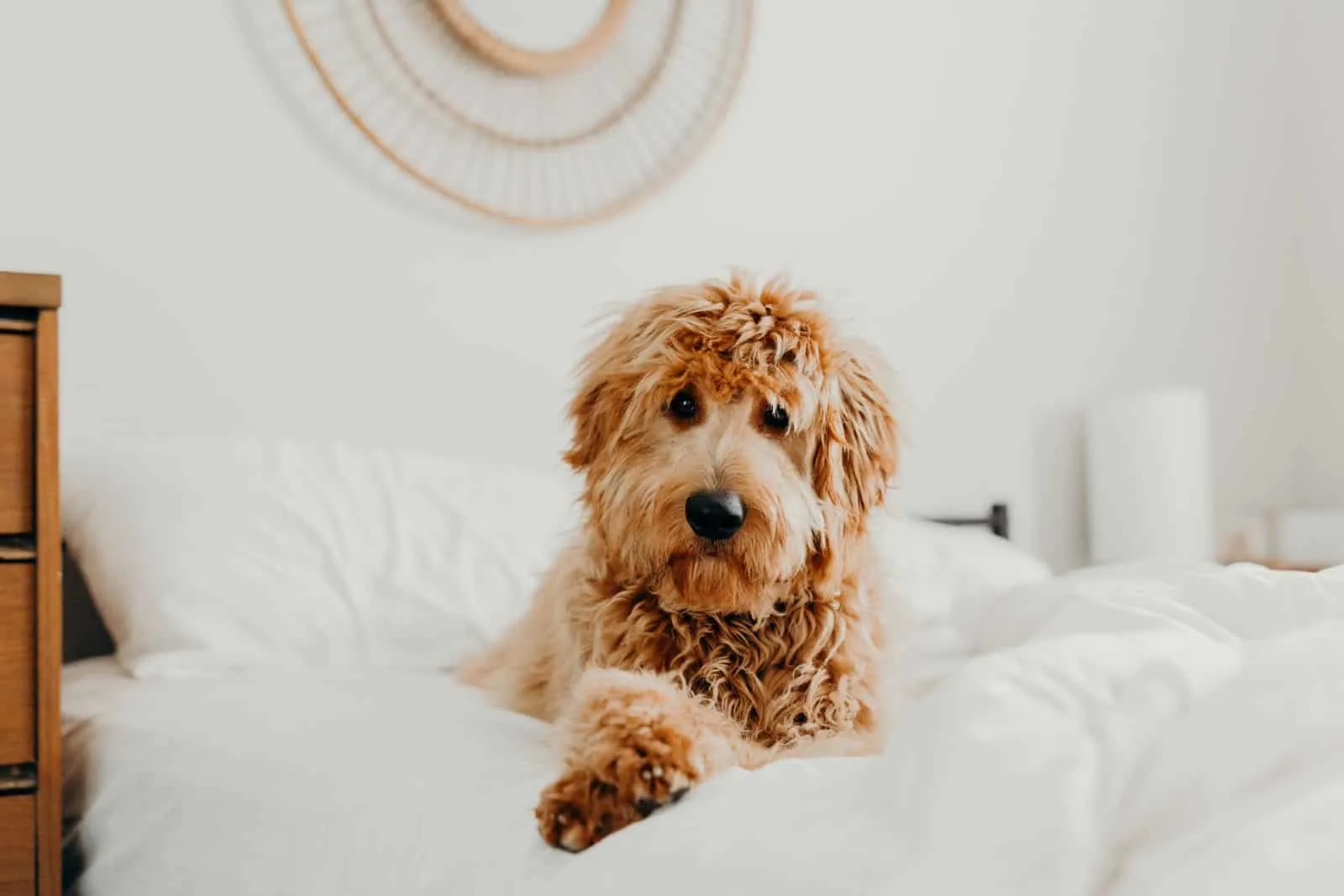 Bear River Doodles, situated in a small town in South Central Pennsylvania, is run by avid Doodle-lover Barbara Schwab.
Barbara houses some of her dogs in guardian homes, and all pups are raised in her own home. Their sleeping area is close to the living room to ensure that they experience all the sounds of normal family life. The pups are handled daily and will be exposed to cats, big dogs, and children. They also have a large, safe yard in which to play, all set in a 2.5-acre site surrounded by farmland.
All of Bear River's breeding dogs are rigorously health tested to ensure they are up to the required standard. Barbara has made it her goal to ensure that each generation of pups is healthier than the last!
Like many others listed here, Barbara includes a spay/neuter clause, a rehome policy, and a two-year health guarantee.
Pups cost around $3,000 and will come with all the usual things, such as a microchip, first vaccinations, and they'll be dewormed. You'll also get a food sample, a toy, a leash, and lifetime support from Barbara.
Here's how to get in touch:
Website: ​Bear River Doodles​​​
Email: [email protected]
Goldendoodle Breeders Illinois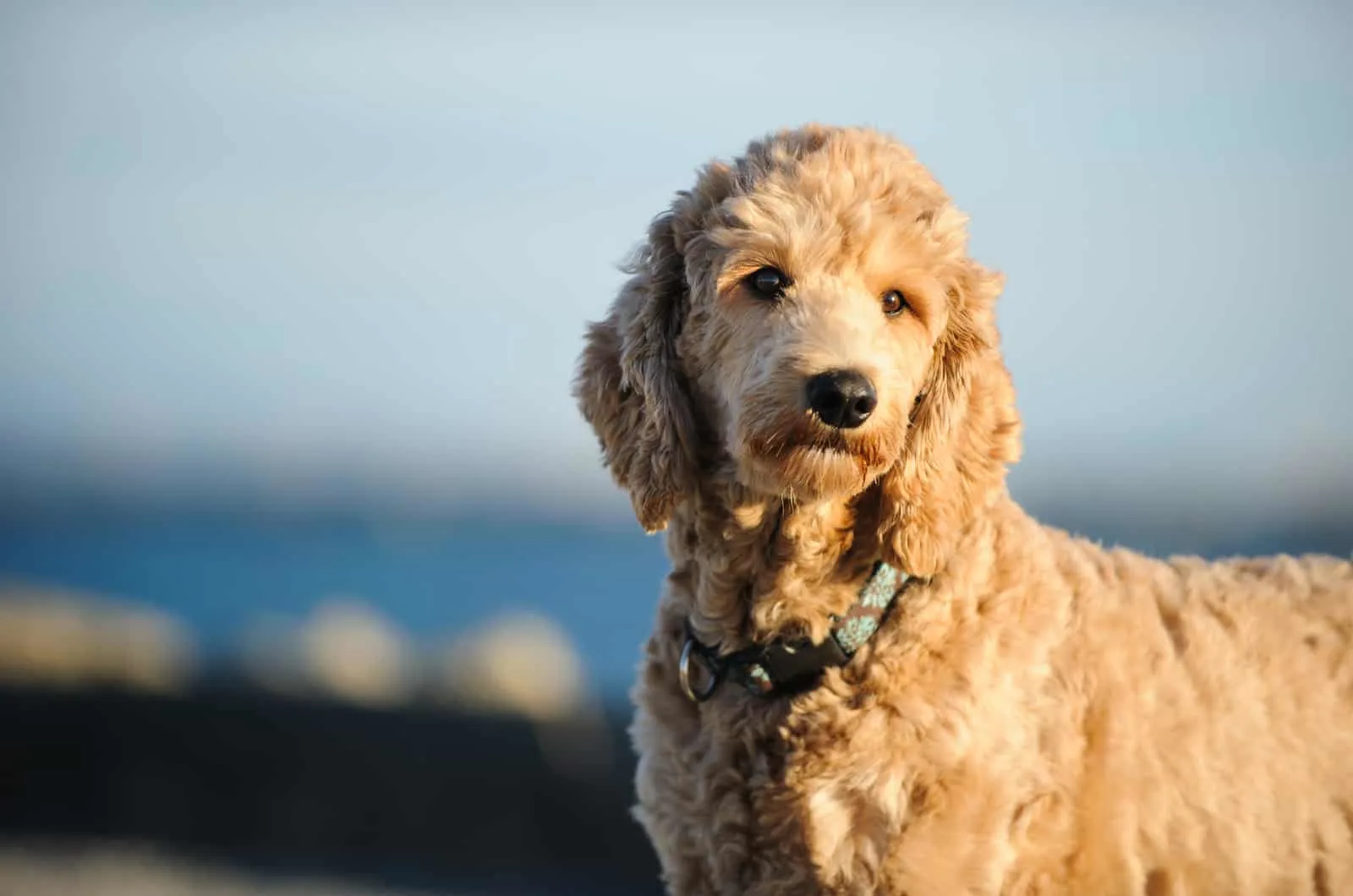 If you make a checklist of all the things that make a good breeder, then Erica's Doodles of Beecher, IL, will meet all of the criteria!
There's plenty of room for the dogs to run and play, as they are set in 10 acres of grounds. The pups are raised in the home and handled from birth onwards by a loving family, including kids. Parent dogs are carefully selected and tested for genetic conditions, such as hip dysplasia. Erica's Doodles is state-licensed and offers a 3-year health guarantee on all pups. The pups will also receive early neurological stimulation to make them strong and healthy.
Prices run from $3,000 to $3,800 depending on the color, with merle/phantom pups being the most expensive.
Socialization is central to Erica's Doodles' program, and they aim to breed the most beautiful and healthy puppies that will bring happiness and joy in any situation.
And who can argue with that?
The pups will start crate training and potty training before they leave home, and each one will be dewormed, have its puppy shots, and be treated for parasites.
They will also come with a leash, collar, a toy with mom's scent, and five days worth of puppy food.
If this sounds like your kind of breeder, contact them here:
Website: Erica's Doodles
Email: [email protected]
Phone: 708-424-0712
Facebook: @EricasDoodles
What Is A Goldendoodle?
It's an adorable hybrid of the Golden Retriever and the Poodle (usually standard or miniature). The idea is that they offer the best of both breeds, often with the curly or wavy Poodle coat.
They are generally friendly, smart, and very affectionate! Goldendoodle owners will share stories of their pet's infectious goofiness and placid, loveable nature, and at the same time, tell you how amazing they are at agility or flyball. They also make fantastic therapy dogs and service dogs – there seems to be no end to their talents!
You will find these wonderful pooches in three sizes:
• Standard (45 to 100+ pounds)
• Medium (30 to 45 pounds)
• Miniature (15 to 30 pounds)
Because of the Poodle's reputation as being a hypoallergenic dog, the Goldendoodle is often promoted as being allergy-friendly. However, be wary of any Goldendoodle breeders who claim that their dogs are 100% hypoallergenic. This is a misuse and misunderstanding of the term. Anything hypoallergenic is simply less likely to cause an allergic reaction.
Dogs that produce less dander and don't shed as much can usually be regarded as allergy-friendly for people with mild allergies, but no dog breed is completely allergy-free!
Even so, some Goldendoodle breeders produce pups that carry a lower risk of causing an allergic reaction. For anyone who has concerns about this, they provide (usually at a cost) a teddy bear that has been rubbed on the pups or spent time being snuggled by the litter. This is then taken by the prospective buyer and can be exposed to an allergy sufferer in a controlled environment to check for a reaction.
Most Goldendoodles will be a classic golden color, although you can find them in cream, apricot, black, copper, red, white, and copper! Now we've learned a few facts about this loveable Doodle dog, let's turn our attention to finding Goldendoodle breeders you can trust.
How To Find A Reputable Goldendoodle Breeder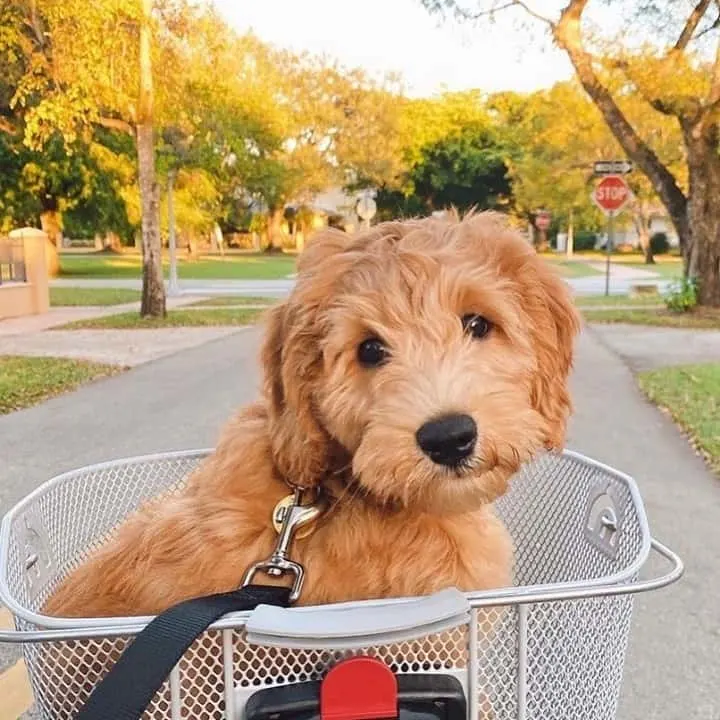 Photo from: @goldendoodlestagrams
Wouldn't it be great if everyone was honest? Wouldn't it be good to know that everyone loved and cared about dogs (and all animals) as you do?
Unfortunately, that's not the world we live in. So, we have to be very careful about where we buy our dogs.
But don't feel too despondent! There are good folk out there who are devoted to dogs of all kinds, including Goldendoodles. They invest most of their time, effort, and money into breeding healthy and happy dogs, and they regularly have litters available to sell.
The trick is to spot the signs, so you can make the right choice.
Here are a few tips:
• Check out the premises. Reputable breeders will allow you to inspect the kennels or their homes (though this might be difficult at the moment due to Covid-19). Premises should be well-kept and clean. Many good breeders don't use kennels, but if there are any, they should be in a sanitary condition. All dogs should have access to an outdoor area for exercise or be taken out for regular walks. Some breeders use guardian homes where the parent dogs live until they are needed for breeding, so home visits might not be possible.
• Ask to see the parent dogs. A reputable breeder will be happy to do this and will provide pedigrees and health records on request. The dogs should be even-tempered, happy, and healthy. Observe how they act around you and the breeder, and make a note of any signs of nervousness or fear.
• Ask questions. Most breeders will happily talk all day about their dogs and pups! They'll willingly offer information and won't try to hide anything. It's in their best interests to be open and honest. An untrustworthy breeder will not be happy to discuss details – they just want you to buy a pup and go!
• Check out reviews on social media. Focus specifically on bad ones. It's pretty easy to create fake reviews that say how great everything is. However, there's no point in faking a bad one! You can learn a lot from these reviews. First, it might give you a clue as to what the breeder is like as a person or how they treat their dogs. Second, if the breeder provided a response, you can see how they handled the problem. If they responded positively and resolved the problem to everyone's satisfaction, then they might be worth a shot.
• Do they offer a health guarantee? All reputable breeders include a health guarantee of at least one or two years. Some even offer lifetime guarantees! These are always limited to genetic health problems and don't cover transmittable diseases, poisoning, or injury.
• Do they have a health testing program? Many Goldendoodle breeders start their breeding programs with the aim of improving the breed. The only way to do this is by finding the healthiest parent dogs, which means health testing is essential. Without it, there's no way of knowing whether the pups will inherit any genetic defects. A breeder who doesn't even have a basic screening program in place certainly doesn't care about the health or wellbeing of the pups and is one to avoid!
• Do they claim that their dogs are AKC registered? The Goldendoodle is a crossbreed and therefore not recognized by the American Kennel Club. Any Goldendoodle breeders who state that they are AKC registered are lying. Instead, look for breeders who are members of the Goldendoodle Association of North America (GANA), as this organization maintains a registry of accredited Goldendoodle breeders.
• What sort of training and socialization do they offer? Do they use ENS (early neurological stimulation), puppy culture, rule of sevens, etc.? At the very least, they should be introducing the pups to other dogs, animals, children, and people. They should also begin the grooming process at an early age, as this is important with Goldendoodles.
• At what age are the pups released? Puppies must never be taken away from the mother before 8 weeks of age. All the best Goldendoodle breeders keep the pups until they are between 10 and 12 weeks of age. This allows weaning to take place and for the mother to teach her pups naturally. Most experts believe that allowing the pups to stay with the mother until 12 weeks of age makes a happier, healthier, and stronger pup. Anyone selling 5 or 6-week old pups should be avoided as they are by no means ready to leave the mother and will become fearful, nervous, and unhealthy.
• At what age are the parent dogs retired? Breeding dogs should not be overworked and treated like puppy factories! Females especially, as they do all the hard work, should never be forced to produce too many litters. It is dangerous to breed them when they are too young or too old. And although they can technically produce two, maybe three litters a year, no respectable or ethical Goldendoodle breeders would ever do this. Ideally, the females should be no younger than 2 years old when they produce their first litter. They should then be retired by age 5, having produced an average of one litter every 18 months to give her time to recover. There's more flexibility with males, but they should still be retired by age 6. Both should be spayed or neutered to give them a chance to live a relaxed, family life.
• Do they have a welcome back policy? Breeders who care about the pups they've produced, raised, and nurtured will be anxious about their welfare. They include a clause in the contract stating that if you can no longer look after the puppy at any stage of its life, then you must contact them, and they will accept it back, no questions asked. Some will try to rehome them, but the main thing is that they are not sent to shelters, and by no means must they be destroyed.
• Do they have a spay/neuter agreement? All true dog lovers hate that there are so many dogs without loving homes, many of which end up in shelters. Thousands are euthanized every year. To reduce this number, good breeders insist on a strict spay/neuter policy, where the buyer agrees to take care of this when the pup is the right age. Some of these policies carry heavy penalties if they are not fulfilled!
• How many breeds do they deal with? Some Goldendoodle breeders have other breeds on-site, but usually no more than two or three. If you come across one that claims to deal with many different dog breeds, especially if they're vastly different types, then this should set alarm bells ringing. Puppy mills are notorious for cramming in as many breeds as they can. These places are run by people who have no love for dogs. They are kept in filthy, cramped conditions and fed poor-quality food. Every corner is cut to maximize profits.
• Do they vaccinate, microchip, and deworm their pups? The best Goldendoodle breeders make sure that the pups have their first set of vaccines and are microchipped and dewormed. Any breeders that don't do this are probably best avoided.
They should ask you lots of questions. A breeder that doesn't ask about your lifestyle, home, and circumstances should immediately raise suspicions. Someone who truly cares about where their pups are going will want to know what kind of person you are, why you want this particular pup, what your accommodation is like, and how you plan to look after this precious little life. They will want to keep in touch, and you'll feel like you've become part of a wider family. A backyard breeder or puppy mill will sell you the pup regardless.
• Seek personal recommendations. Ask around and try to find people who have bought from the breeder. If they have repeat customers, that's a good sign.
• Is there a waiting list? It might be annoying to have to wait for your new pup, but a breeder who has dozens of new puppies readily available is likely to be a puppy mill. All of the best Goldendoodle breeders will only produce a few pups once in a while. A waiting list is a good sign!
Now, that's a lot to take in! But it gives you a clear idea of the kind of thing that makes a reputable breeder.
How Much Is A Goldendoodle Puppy?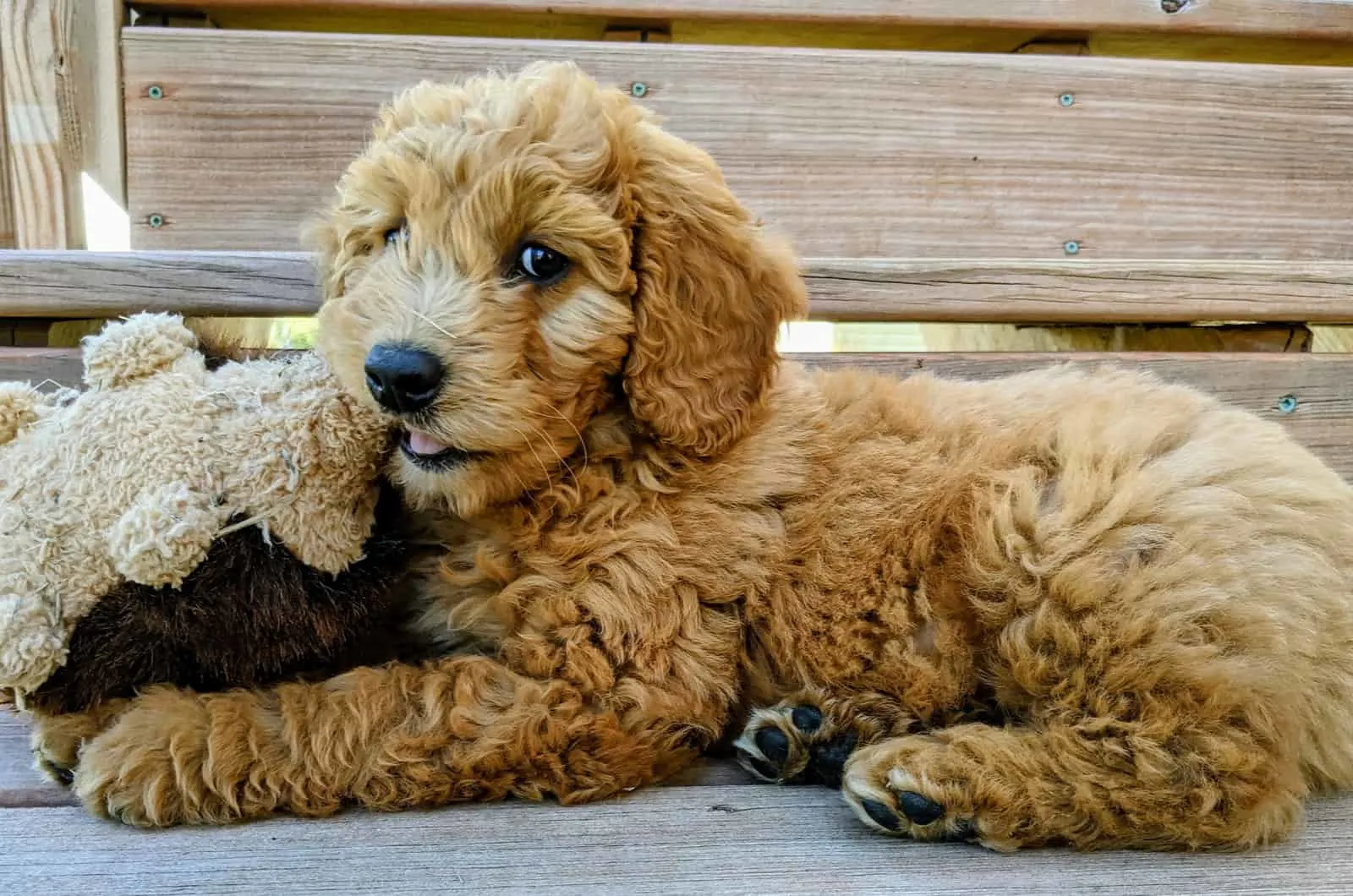 The average price of a Standard Goldendoodle is between $2,000 and $3,000 from a reputable breeder, although prices have risen recently due to higher demand, driven by the Covid-19 pandemic.
However, prices can vary widely, between $500 and $5,000. It all depends on what color you want or whether it's a Mini Goldendoodle. Generally speaking, the smaller the dog, the higher the price tag! This is because breeding small dogs is notoriously difficult, and there is a higher element of risk. Small dogs often require C-sections to help them give birth, which adds to the breeder's expenses.
Unethical breeders may try to get away with charging high prices but more likely will try to sell off the pups as quickly as possible at a large discount. It's best to avoid them either way.
If your budget doesn't stretch to $2,000 or above, don't buy from an untrustworthy breeder and never use a puppy mill. Instead, try a local shelter to see if they have any Goldendoodles, as you never know your luck. If Doodles are your thing, you could check for Labradoodles or Bernedoodles, as they are equally wonderful dogs!
However, you are unlikely to find a new puppy there as most shelter dogs are adults. It's a big compromise, but you'll save a big wedge of cash, and you'll save a beautiful life.
What Have We Learned?
Well, we've certainly given you a lot to think about!
Hopefully, we've shown that there are trustworthy, reputable breeders out there and helped you to tell the good from the bad.
The best Goldendoodle breeders might charge more for their pups, but they don't make much money out of it. In fact, they often incur a loss on many of the litters they produce. It's not about money – it's about an all-consuming love for the breed.
This is what separates them from unethical breeders, such as puppy mills and most pet stores. A good breeder will invest in their dogs' health, while others will sell sickly animals without a second thought. Many people have been fooled by the fact that pups in pet stores look cute, cuddly, and healthy. However, genetic diseases aren't usually apparent until the dog is at least 6 months old.
Also, it's unlikely that the pups will have been dewormed or vaccinated.
If you buy from these places, you are helping them to stay in business. Maybe you'll be lucky, and your pup will be healthy. But the chances are that it will get sick pretty soon, and it's more than likely that it will fall victim to a genetic disease as it develops. You'll then be saddled with a hefty vet bill and a poorly pooch.
This is why it is so important to find a reputable breeder, someone who really cares about dogs and wants the best for them and for you.
So, before you set out to find your new Goldendoodle puppy, be sure to check out the breeder thoroughly. If you don't like what you find, look for another! Listen to your instincts and only go with one that you feel happy with.
This is an important decision, as it involves your hard-earned cash and a precious life. It's in your best interests to choose wisely, as a good-quality, healthy pup will bless your home for a very long time.
It's tempting (and understandable) that you want to save money. If you can get a pup for $800, then why spend $3,500?
As the old saying goes, You get what you pay for! Ethical, reputable, respected breeders spend thousands of dollars on health tests, vaccines, veterinary examinations, microchipping, registration fees, tests for conditions such as hip dysplasia and PRA (progressive retinal atrophy), and so on. And if the mother dog needs a C-section, then it could cost the breeder around $2,000. Everything the breeder does is geared towards producing healthy, happy dogs. And most of the money they make goes towards this process.
You won't get any of this from a backyard breeder, puppy mill, or pet store.
Now you have all the information you need – the choice is yours!
Read Next: Dog Breeders In America: Meet 50 American Breeding Stars