Do you want to buy a Cavapoo puppy? This adorable designer dog is quickly becoming everyone's favorite! Just don't spend any money before you're certain you're dealing with the best Cavapoo breeders in your area.
Cavapoos are a crossbreed of a purebred Poodle and a purebred Cavalier King Charles Spaniel. They are what is known as a hybrid dog – a mixed breed dog that has two purebred parents.
The reason why designer dogs are so popular is that they can give people combined traits of two amazing dog breeds. By doing this, the breeder has eliminated some flaws that exist in a specific breed or rather added an additional trait a certain breed didn't have.
In the case of Poodle mixes – also known as Doodles – the great advantage is usually the chance of producing hypoallergenic puppies and reducing the amount of shedding while keeping some traits of the other parent's breed.
Researching mixed dog breeds is a rather fun and enjoyable part of preparing to become a dog owner. However, it's just as important but not so interesting to research where you're going to buy your new puppy from.
Not all breeders are the same, and they sell dogs of different qualities. I'm not just talking about the dog's appearance, but its health, as well.
So, where can you find good Cavapoo breeders in the U.S.?
To help you out, I've compiled a list of the top 12 breeders I could find. Of course, I invite you to do your own research so you can be 100% certain you're getting the Cavapoo dog you deserve.
Without further ado, below are some of the best Cavapoo breeders you can find:
Cavapoo Puppies For Sale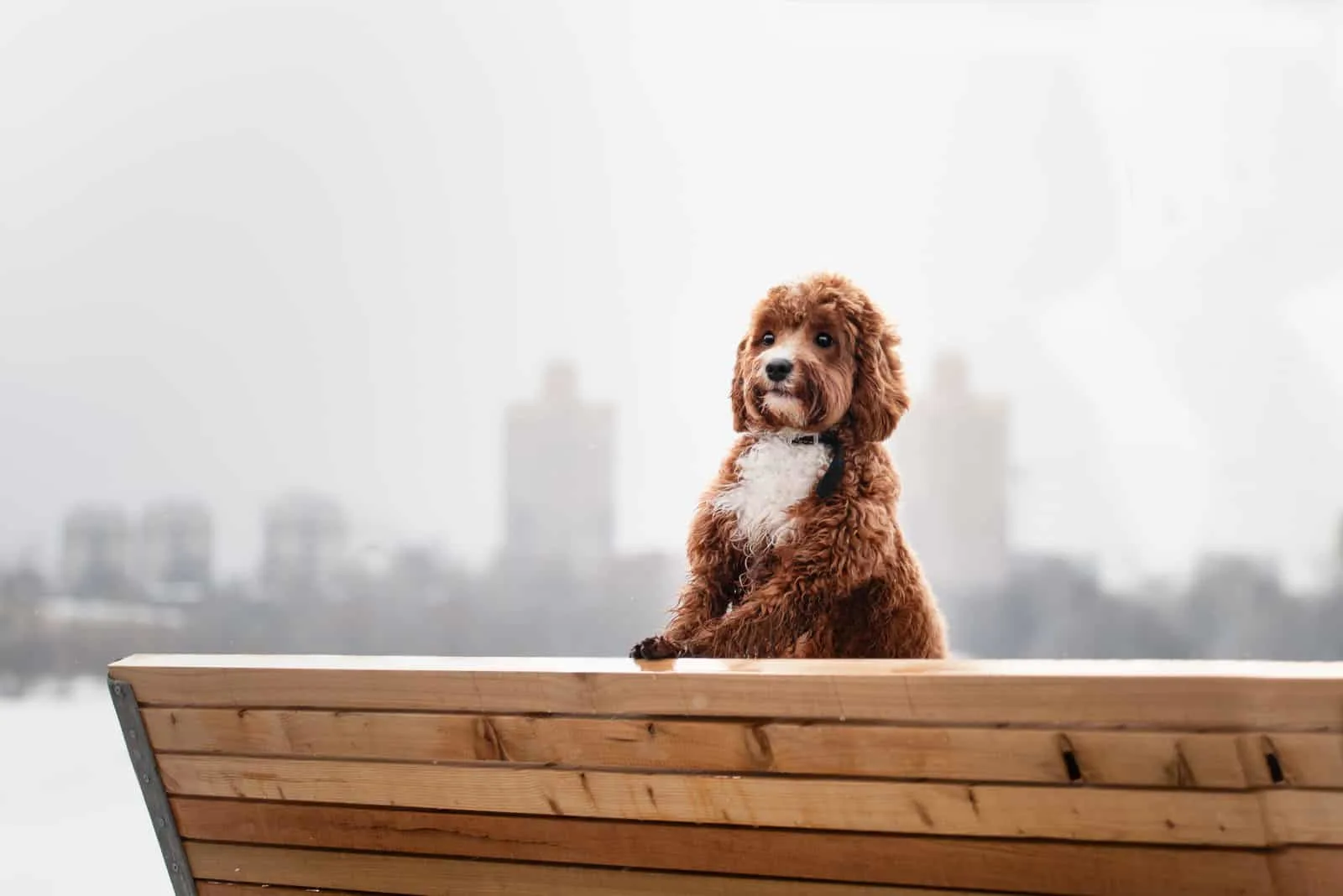 To get Cavapoo puppies, a breeder breeds a Cavalier King Charles Spaniel dog with a Poodle – usually, a mini Poodle or a toy Poodle, to preserve the dog's small size.
The size of the Poodle will determine the gender of the parent, as it is a general rule to have a larger dog breed be the mother dog. This will usually be the Poodle, but in the case of really small toy Poodles, the genders might be switched.
When looking at Cavapoo puppies for sale, you need to know how to pick the right puppy for you.
First off, take a good look and ask to see the parents. Cavapoos can look similar to Cavapoochons and Cavachons, and some irresponsible breeders might confuse the three – either intentionally or by accident.
Also, you should never pick a dog that stands out too much behavior-wise. A dog that is active to the point of bullying other puppies from the litter or so quiet he is not playing with other pups is likely to have some behavioral or health problems in the future, and this probably isn't something you want.
Choose a puppy that looks healthy, with shiny eyes, a slightly wet nose, and a soft, silky coat. If a pup doesn't look healthy – whether that be low weight, lethargic movements, or even balding spots – chances are that's because he isn't.
Finally, always ask for health certifications. Cavalier King Charles Spaniels are known for having many health issues. While mixed breed dogs are fairly healthy thanks to the hybrid vigor, there is always a chance of them inheriting their parent's health conditions.
Because of this, it's important to choose a healthy pup from healthy parents.
Best Cavapoo Breeders
Choosing a good Cavapoo breeder is the first step to becoming a new dog owner. However, people who don't have experience buying dogs might feel confused when they see all those names listed online.
I'll explain how you can recognize a good breeder a bit later. But first, as a good starting step, here is my list of the 12 best Cavapoo breeders you shouldn't overlook:
1. River's Edge Cavapoos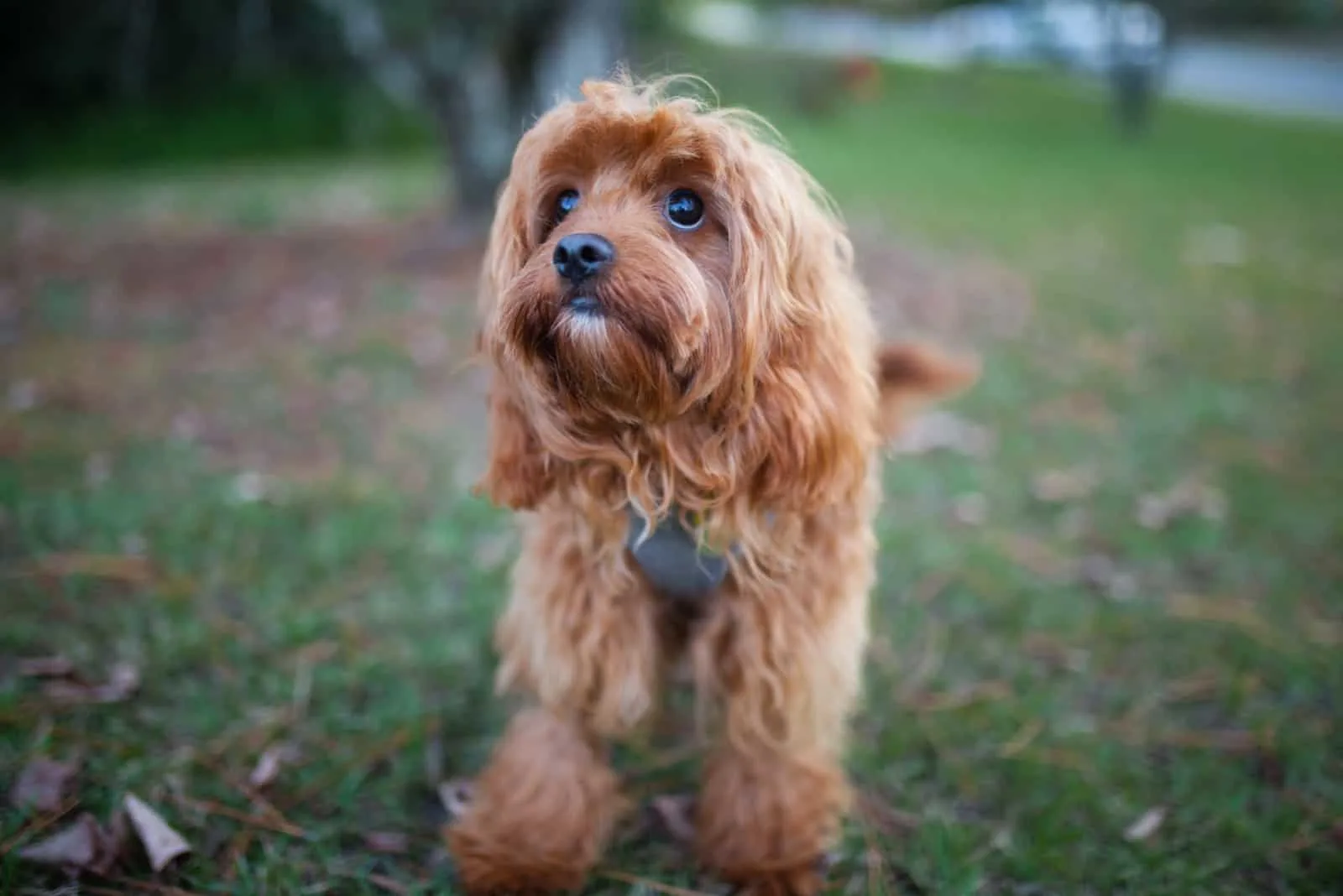 Location: Lowville, NY
This is one of those Cavapoo breeders customers seem to have a lot of trust in. When you see the love and professionalism these people use when approaching Cavapoo breeding, it's easy to realize why.
This breeder raises their adorable puppies in a home environment to make sure they are fit to live in their new home.
They love their dogs, and they care for them even after they go to a new home. Because of this, they make sure to provide you with all the necessary guidance and help.
All of their puppies have been checked by the vet, and come with all the necessary deworming, vaccinations, health certificate, and a 2-year health guarantee.
For a guarantee to be valid, you need to get an additional health certificate from the vet of your choice up to 72 hours after you've taken your new pup. This serves as proof that the dog was healthy when he arrived into your care.
Website: River's Edge Cavapoos
Email: [email protected]
Phone number: 315-286-4544
2. Mulberry Farm Cavapoo Puppies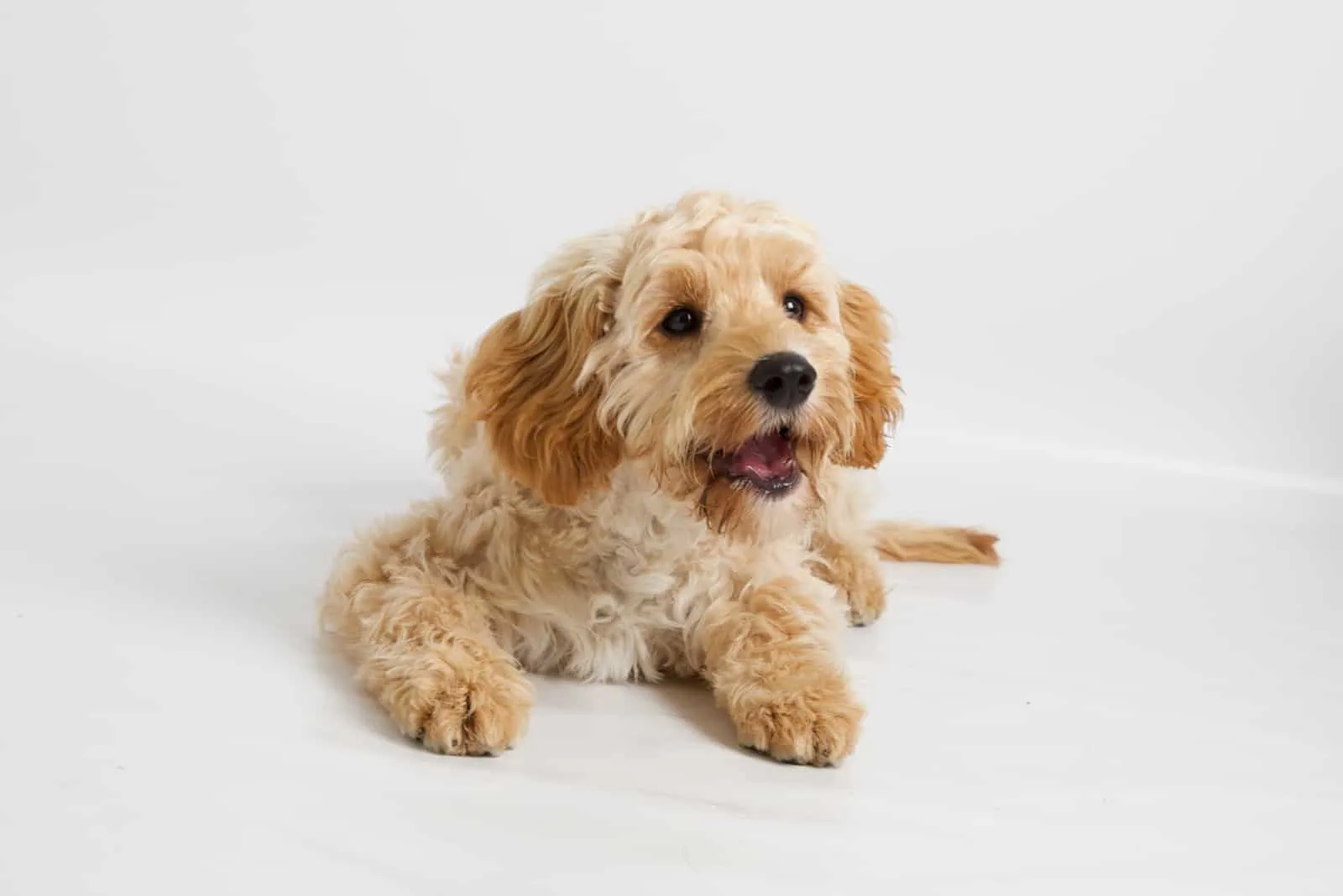 Location: Pleasant Valley, NY
If you live in New York, this is one of the best Cavapoo breeders in your area. They are also one of the oldest, as they started selling dogs back in 1966!
Next to Cavapoos, they are experienced in breeding Snoodles and Cockapoos, as well.
They raise their puppies in a home environment and their goal is to produce pups with the best possible temperaments.
The breeder will help you decide on the best dog for you. They'll pick based on your and your dog's personality and size, your property, and how long you have been on the waiting list.
Another important factor is that the breeder has the right to refuse to sell you the puppy or even to annul the sale at any moment before the dog has been picked up. They do this to make sure you are the proper owner for their dogs.
The biggest issue for buyers might be the $500 non-refundable deposit they have to pay before they are able to select the puppy. However, if something happens to your pup before you can pick them up, you'll get a replacement dog.
Website: Mulberry Farm
Phone number: 845-635-9609
3. Dream Dogs By Christine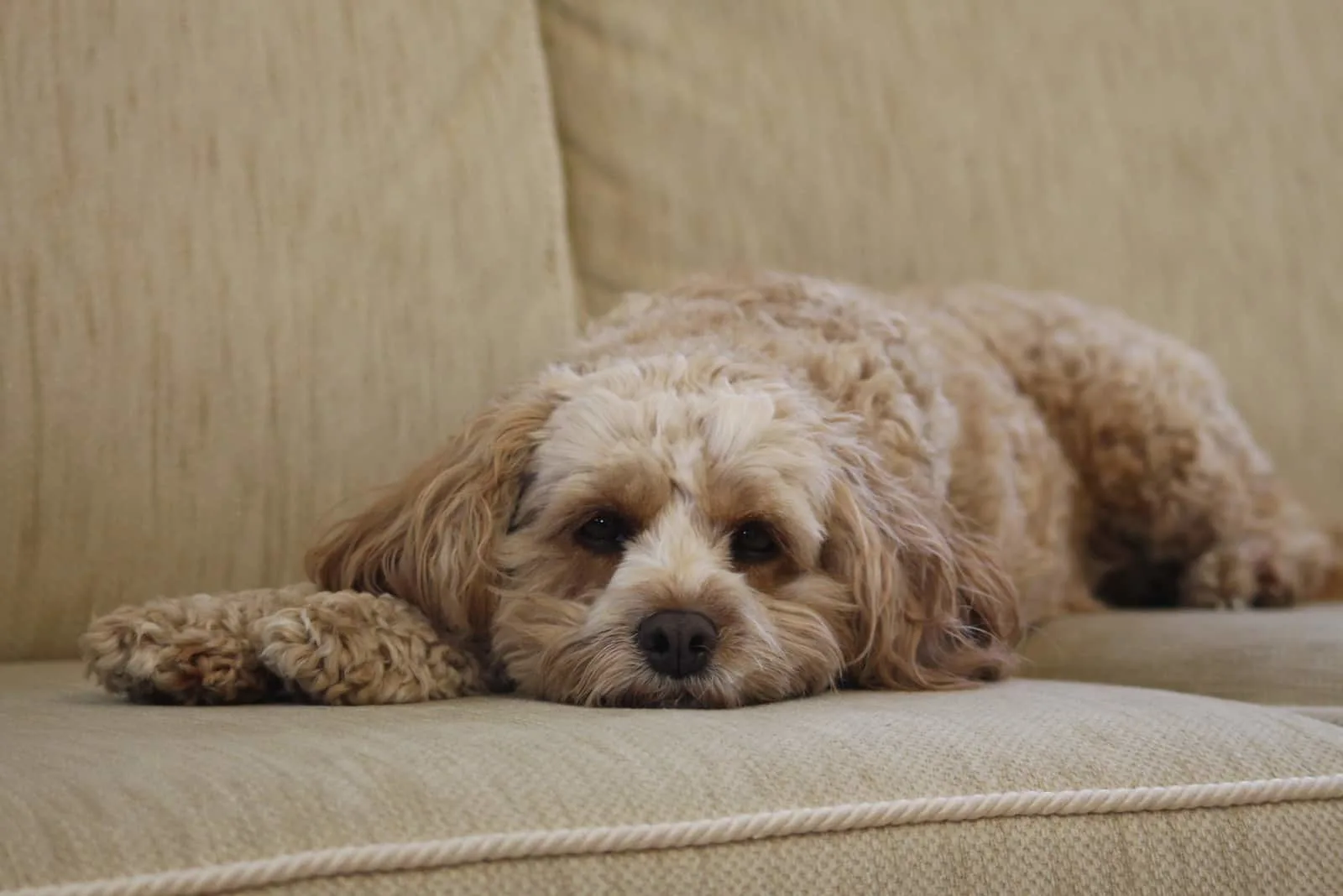 Location: Montgomery County, PA
As their name suggests, Dream Dogs are focused on producing happy puppies that look like they came from your dream.
Christine Egbert, the owner of the Dream Dogs, is very experienced in the canine industry. She worked as a Trick Dog Instructor, the Avidog Breeder Associate, and the American Kennel Club (AKC) instructor. She is also a certified dog trainer! All of this gives her a good knowledge about her job.
Dream Dogs make sure all their dogs have exceptional temperament they've picked from their CKCS parent, while keeping the adorable looks and non-shedding coats from the Poodle parent.
Christine and her associates look for purebred dogs of great bloodlines to produce their high-quality puppies. They will do all they can to make sure their pups are socialized and friendly, with good temperaments.
Next to dog breeding, Dream Dogs is a good location if you're looking for dog training. They provide amazing services and can help you make your pooch the best dog possible.
Website: Dream Dogs by Christine
Phone number: 215-817-1830
4. Whistle Hill Puppies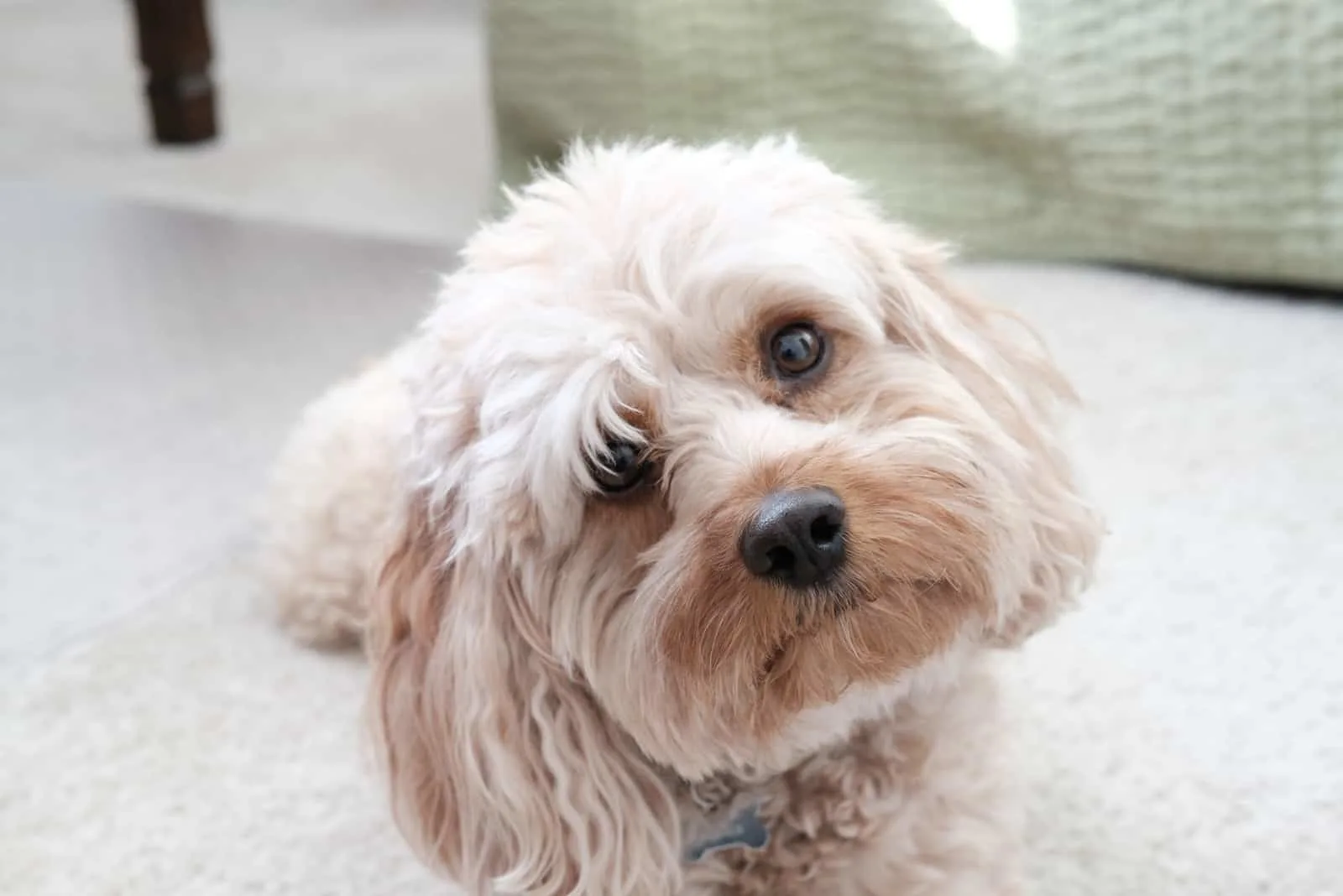 Location: Stevens, PA
This is a small, family-owned Cavapoo breeder that treats their dogs like family members. Their goal is to create top-quality Cavapoo puppies, and for this, they were even recognized by the
American Canine Association which gave them a 5-star breeder rating.
They use some of the best breeding practices to ensure the wellness of all of their litters. They ensure all of their pups have healthy genes and are free of many health conditions that plague the parent breeds.
At the same time, they give all of their buyers detailed veterinary records with all the vaccinations, parasite prevention, and other interventions that the vet conducted.
Also, they'll give you everything your dog needs for a smooth transition to a new home, including his favorite blanket and a bag of puppy food.
Not just that, but your dog will come with a 2-year genetic health guarantee, but you'll have to take your new pup to the vet within ten days of purchase.
Website: Whistle Hill Puppies
Email: [email protected]
Phone number: 717-335-1392
5. Maryland Cavapoo Puppies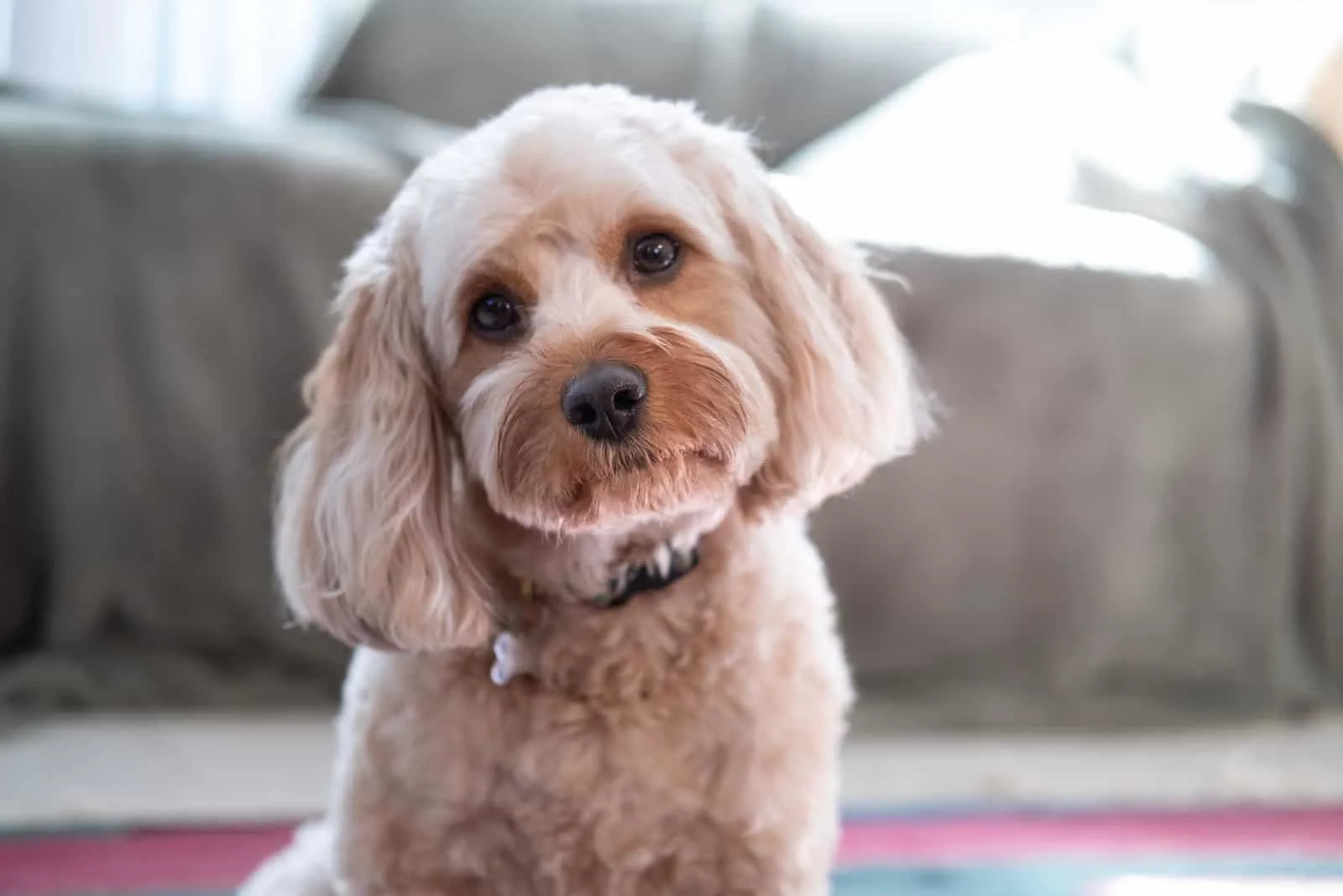 Location: Bel Air, MD
This is a family breeder that has been operating since 2004, giving them more than 15 years of experience. You can see all of their available puppies on their website, which they use as a way to connect future owners with their desired dogs.
However, they won't let just anyone buy dogs from them. Instead, they'll conduct a quick screening process to ensure you are a good fit for their dogs.
They spend a lot of time socializing their puppies, and they even conduct early dog training to make sure you have very little problems raising your pups.
This Cavapoo breeder works with veterinarians to make sure all of their dogs are in optimal health before they go to their forever homes. Also, they ensure the dogs have had their vaccination and deworming medicine.
Not just that, but if you happen to have any questions regarding raising your Cavapoo pup, the staff of the Maryland Cavapoo Puppies will be more than glad to help you with the resources.
Website: Maryland Cavapoo Puppies
Phonenumber: 443-752-2264
6. Bliss Kennels Cavapoo Puppies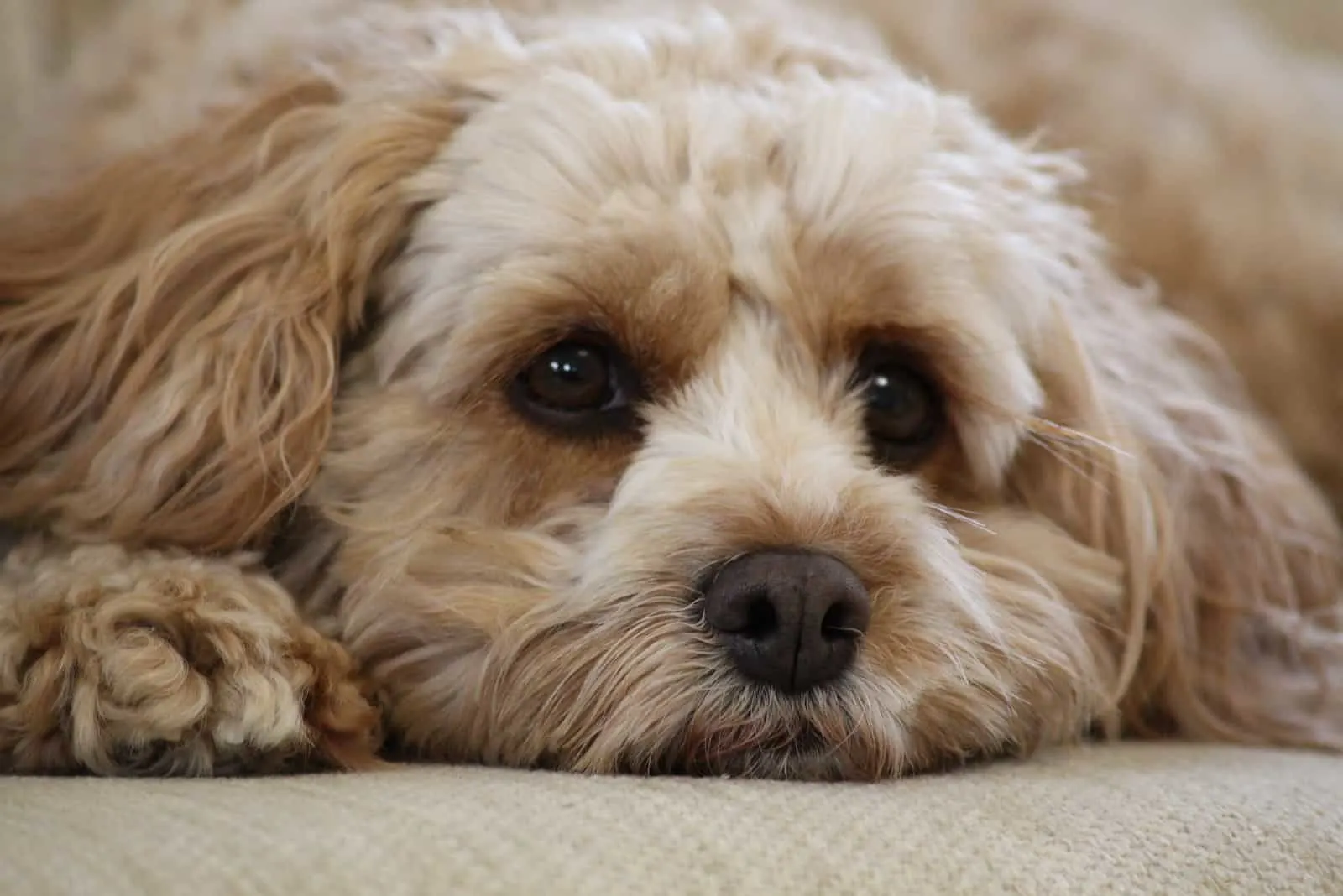 Location: Sussex County, NJ
Bliss Kennels has been operating for almost two decades, giving them enough time to perfect their Cavapoo breeding skills.
All of their puppies are raised on a family farm, and the dogs interact freely with other animals. This ensures they are socialized from an early age and are fit for families with many other pets or even kids.
They follow the NJ Pet Lemon Law Act, which states that all puppies must have a 100% health guarantee for the first six months of their lives, so this is something you can count on.
They will also make sure all of their dogs go to the owners who know how to raise Cavapoo puppies, which is why they'll provide lots of helpful resources to everyone.
By doing this, they make sure they still have a part in raising their puppies, which just shows how much they care about all of their dogs.
Website: Bliss Kennels
Email: [email protected]
Phone number: 973-876-1680
7. Carolina Cavapoos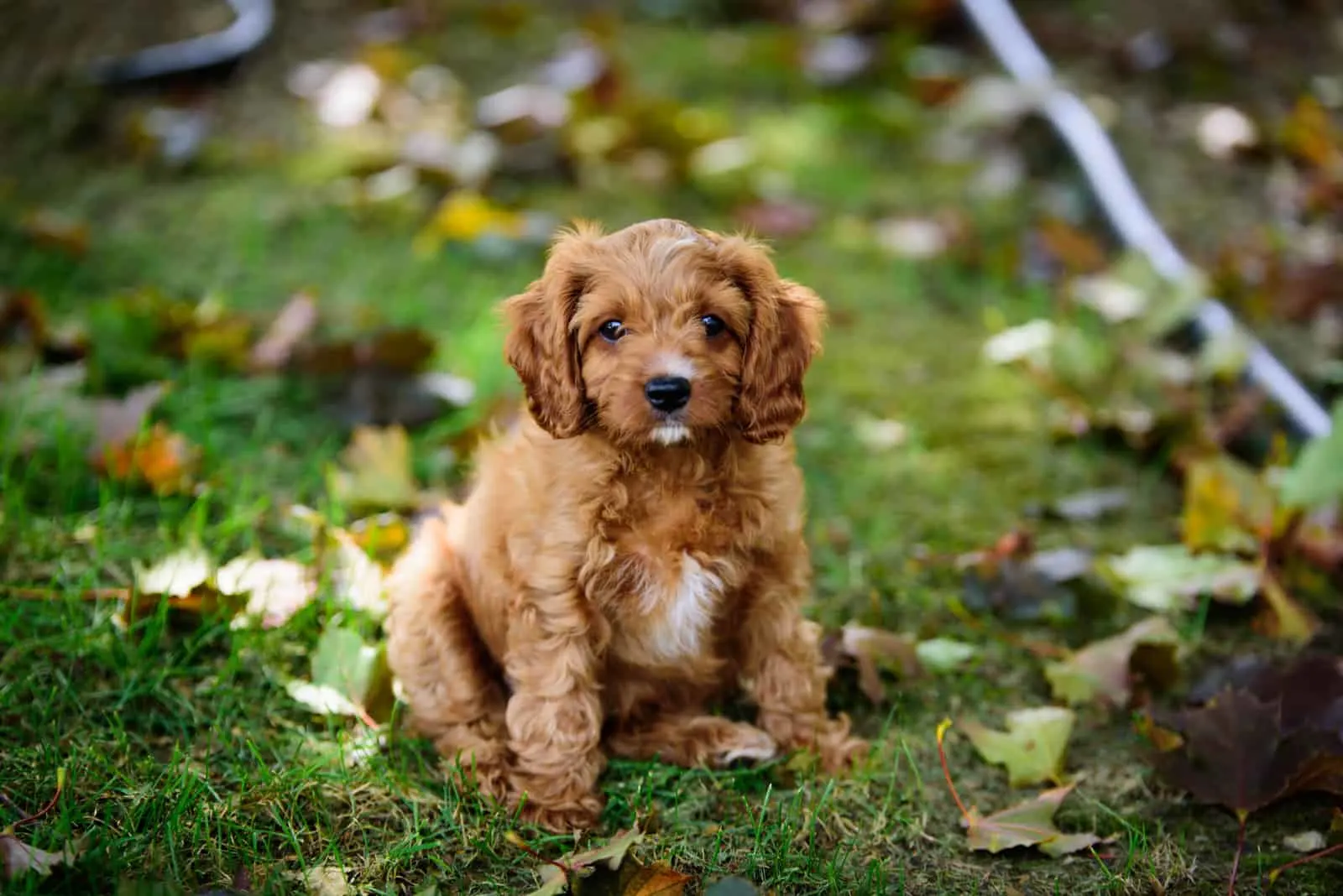 Location: Waxhaw, NC
This Cavapoo breeder does their best to find high-quality parents to provide top-quality puppies that will be up to everyone's standard. Most of their parent dogs have been registered by the AKC and gone through various health tests.
To buy a dog from them, you'll have to pay a non-refundable deposit for the upcoming Cavapoo litter. Then, you'll be able to choose a dog for yourself. Once the puppy is eight to ten weeks old, you'll be able to take your new family member home.
All of their dogs come dewormed, with necessary vaccinations and vet checks. They have a 1-year health warranty, so you can rest assured your puppy is as healthy as possible.
Website: Carolina Cavapoos
Email: [email protected]
Phone number: 704-905-1797
8. Brooklyn Cockapoos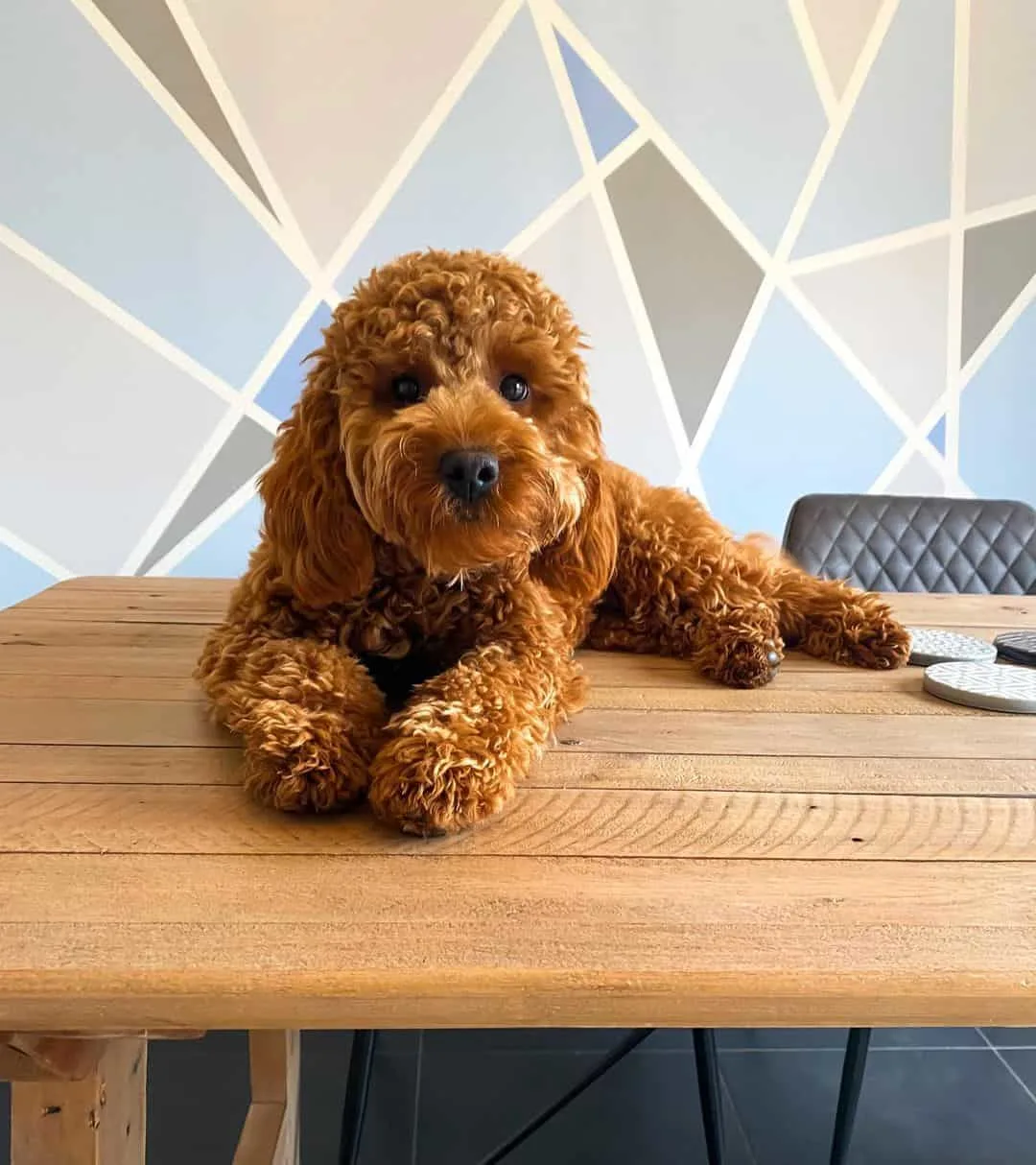 Location: Brooklyn, NY
The Brooklyn Cockapoos is a reputable Cockapoo breeder that also sells Cavapoos. They produce healthy puppies with some of the best temperaments you can find.
They want to make sure all of their dogs stay in family environments, which is why they breed them either at home or with guardian families. This helps them keep a constant eye on their puppies and to make sure they are as socialized as possible.
Not everyone can buy from Brooklyn Cockapoos. You need to go through a screening process and fill out a questionnaire on their website to be placed on the waiting list.
All of their dogs are health tested to make sure they are of the best health possible. They come with a 2-year health guarantee.
Website: Brooklyn Cockapoos
Email: [email protected]
9. King Mountain Doodles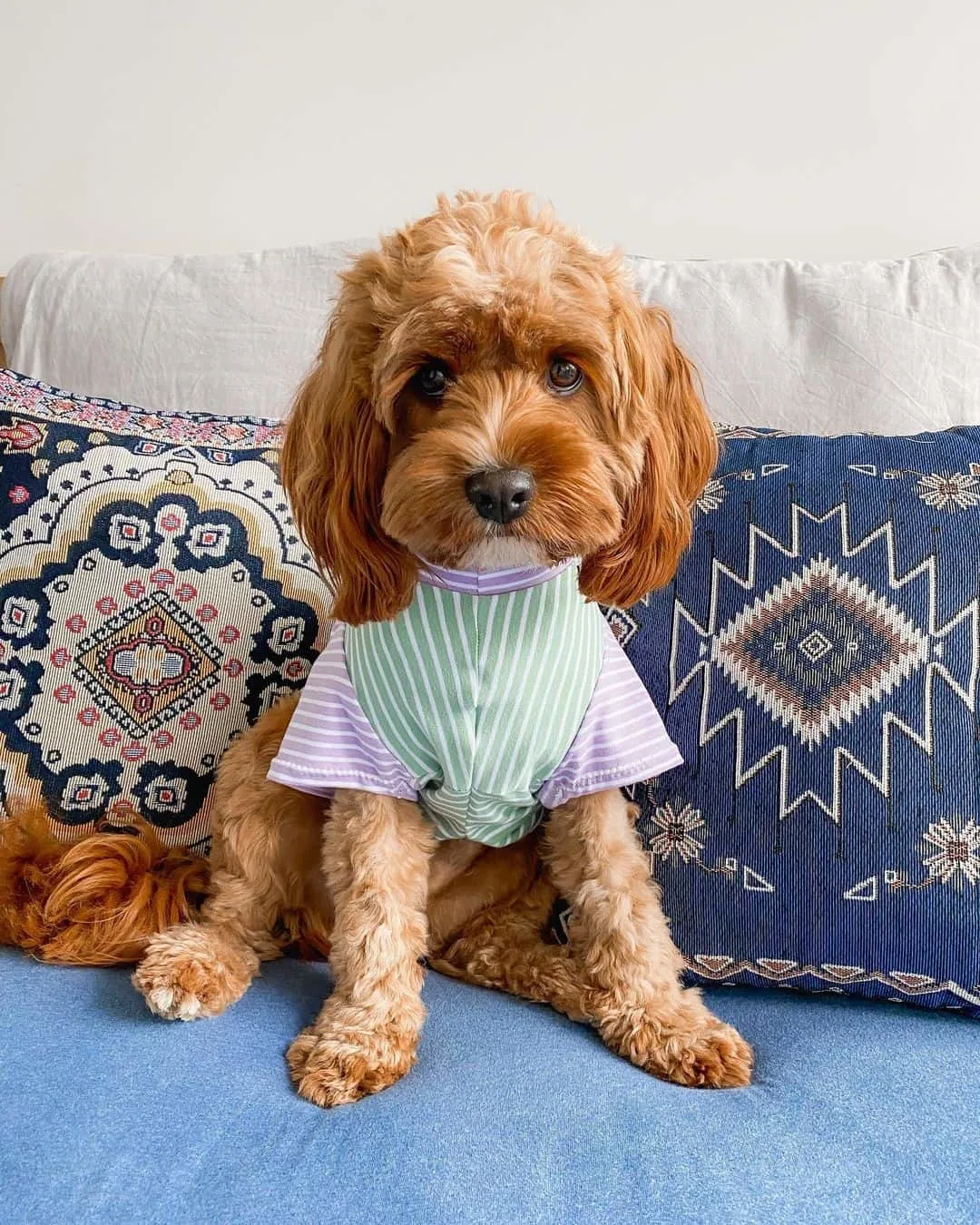 Photo from: @oscar_thecavapoopup
Location: Mcveytow, PA
This is a reputable Doodle breeder that also sells Bernedoodles and F1 Cavapoo puppies. Their dogs are bred and raised on their 100-acre property that has woods and fields for their dogs to play in.
They have a strict breeding program and carefully choose the dogs they want to reproduce. It can take them over a year to find the right parent for the next litter.
Also, they are selective about the people they sell to, as they want to make sure their pups go to the right hand. It is their goal to find a forever home for all of their dogs.
Their goal is to produce pups with good temperaments. While they do consider appearance to be an important part of a Cavapoo breed, they think this is nothing without good behavior.
They make sure their puppies are good for families and kids and will provide lifetime support in case you ever need help raising your Cavapoo pup.
To ensure their pups are healthy, they'll feed them high quality puppy food and various health supplements based on their life stage.
All of their dogs come with an information binder with all the necessary details about the suggested daily schedule, crate training, and potty training. They also come with a veterinarian record, as well as a 2-year health guarantee.
Website: King Mountain Doodles
Email: [email protected]
Phone number: 484-331-4484
10. The Left Paw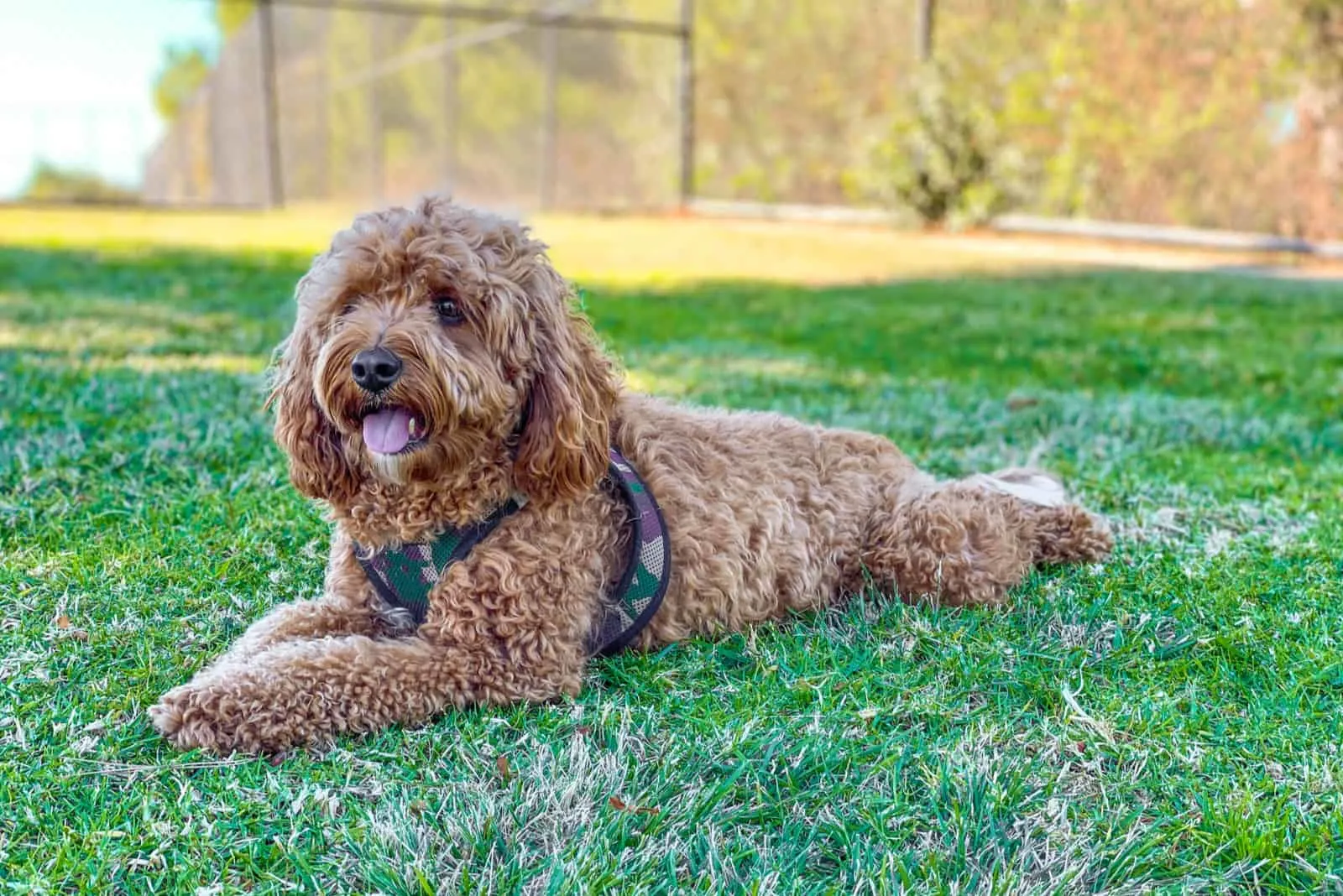 Location: New Hyde Park, NY
The Left Paw is a versatile place that also happens to sell Cavapoo puppies. They are not a breeder in the exact meaning of the word, but they work with reputable, licensed breeders who want another way to reach new buyers.
All of their Cavapoos come from reputable, registered breeders. They make sure that all of them have necessary paperwork as a proof of their legitimacy.
Not just that, but they take puppies to their Puppy and Dog Camp before they are listed for sale, where they conduct further health tests to make sure they are really as healthy as the breeder claims.
They also take it upon them to vaccinate their dogs and to give them any other medical intervention that might be needed.
However, what makes them stand out from the rest is their transparency. They will be more than happy to provide you with any information you might require about their dogs, the documentation of the parent dogs, and anything else you might be interested in.
Website: The Left Paw
Phone number: 516-305-4220
11. Dobralco Silky Terriers And Cavapoos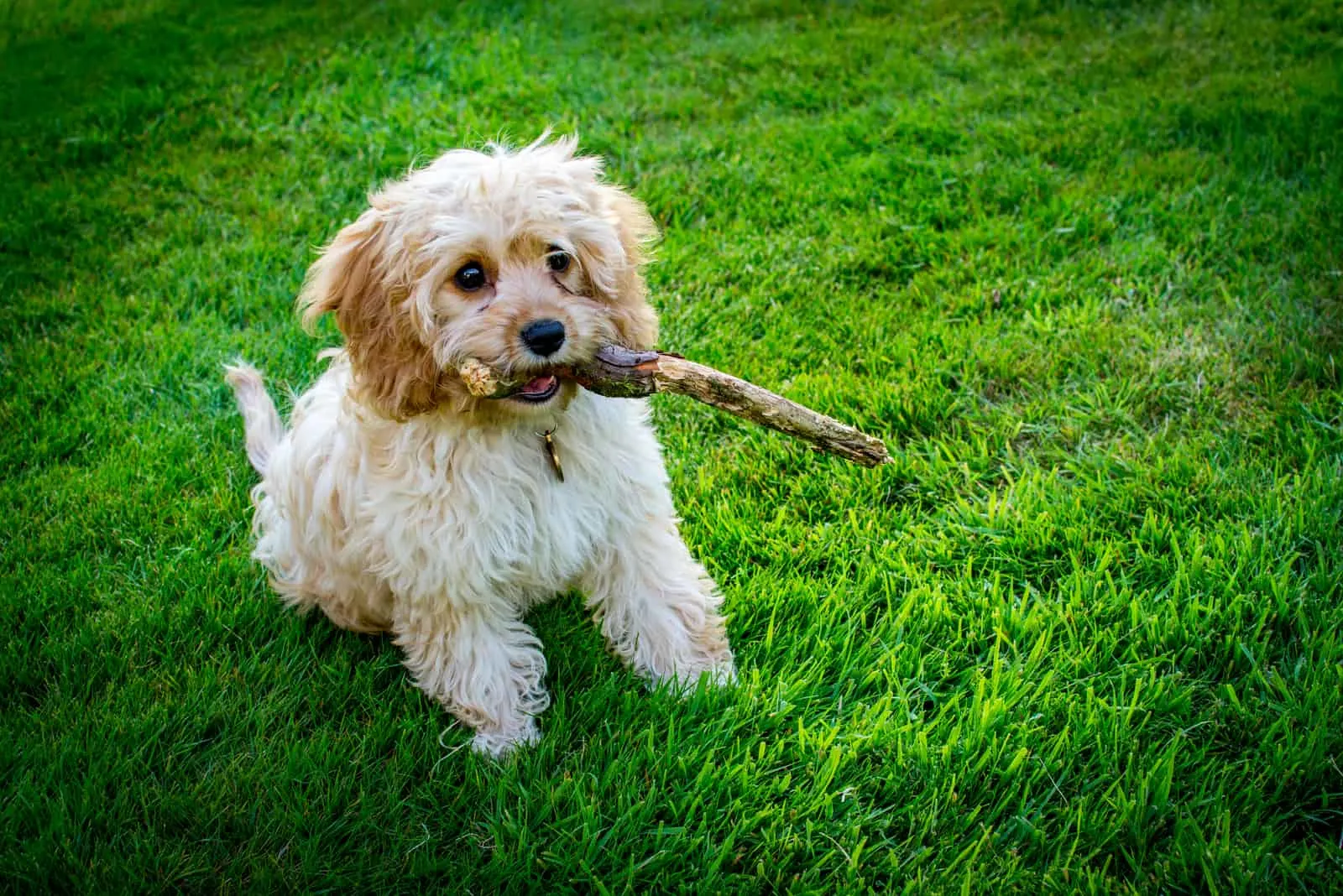 Location: NY
This is a small-scale Cavapoo breeder that breeds and raises Cavapoo puppies from the comfort of their home. All of their puppies are exposed to three generations of caregivers, so they are properly socialized and used to the children from a young age.
All of their puppies are checked by the vet and come dewormed, with the first set of vaccinations.
They are ready to go to their new home once they are 8 weeks old and come with a one-year health warranty.
While this breeder has a fairly long waiting list, most people would agree that the dogs they produce are worth the wait due to the quality they have.
They request a $200 non-refundable deposit to place you on the waiting list, but I dare say this is one of the most affordable deposits out there.
Website: Dobralco Silky Terriers and Cavapoos
Phone number: 607-267-6255
12. 2-Sisters Cavaliers And Cavapoos
Location: Kandiyohi, MN
This is a fairly new Cavapoo breeder that quickly gained its good reputation due to the credentials and amazing reviews it got. They started by breeding purebred Cavalier King Charles Spaniels, but quickly added Cavapoos to their list, as well.
They are a hobby breeder with a couple of carefully-selected dogs that are not just health tested, but checked annually for any possible changes.
The dogs are raised on family land with four children on a 10-acre farm. This helps them get all the socialization and exercise they need.
All of the puppies at this breeder come with vet clearances and with a puppy pack that contains a bag of puppy food and a blanket.
Website: 2-Sisters Cavaliers And Cavapoos
Email: [email protected]
Phone number: 320-979-9168
Types Of Cavapoo Breeders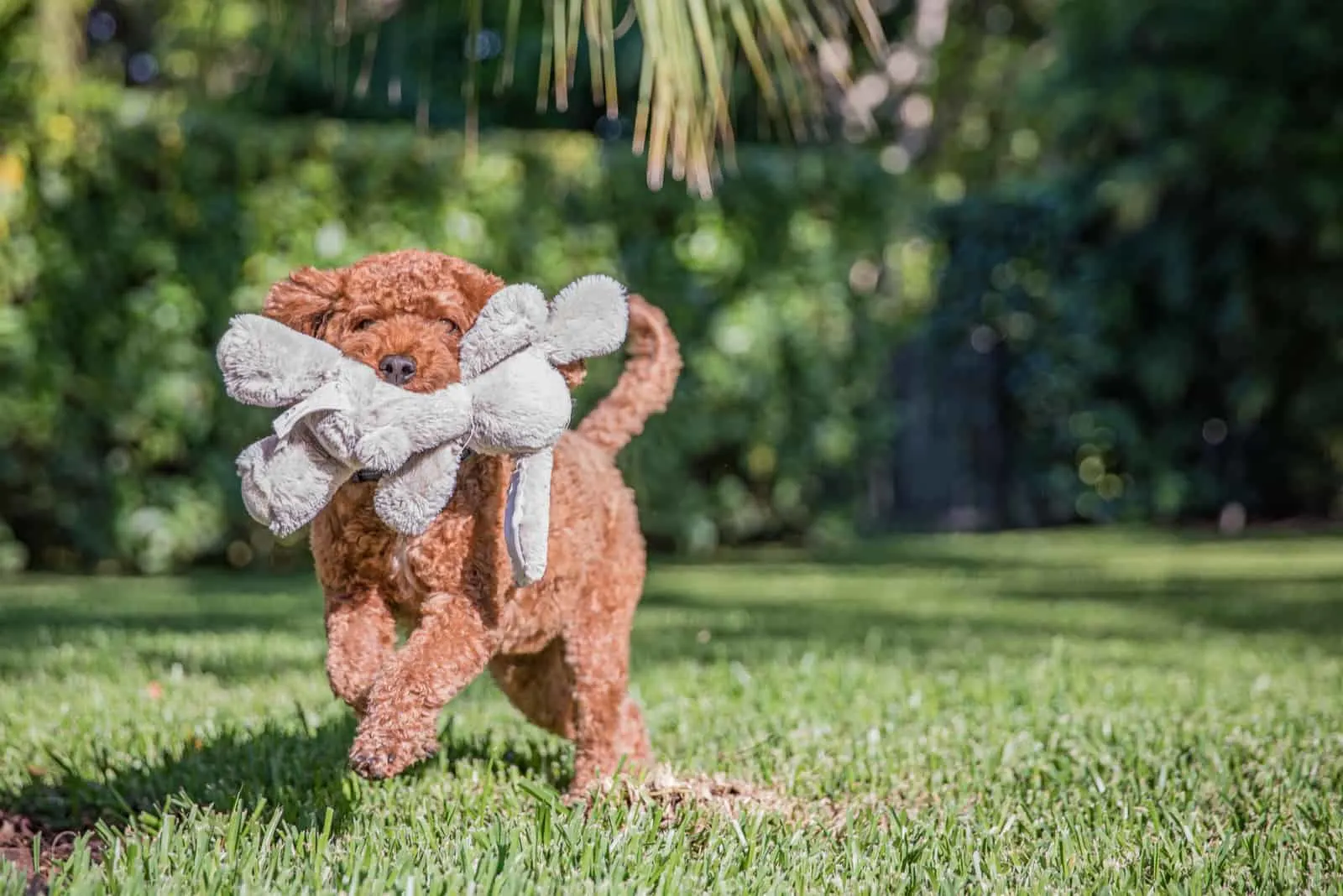 Not all breeders are the same. This can be quite obvious the moment you try searching for Cavapoo puppies, as you've probably noticed the huge discrepancies in the price.
This is because not all breeders produce dogs of the same quality.
Different breeders follow different breeding practices, and some are better than others.
When breeding mixed breed dogs, everything is more challenging to regulate compared to purebred dogs, as there isn't a traditional breed standard breeders have to follow.
Because of this, it can be challenging to find reputable breeders who will sell top-quality dogs and provide you with all the right paperwork.
To help you understand what I mean, below are the three types of breeders you can run into:
Reputable Breeders
All of the breeders from this list are reputable breeders. These are organizations with knowledgeable people who have experience in breeding mixed dog breeds.
Most reputable breeders breed parent dogs that have been registered by the AKC, so you'll know the exact bloodline of your crossbreed pup.
Also, they'll make sure all of their parent dogs go through various health tests, so the offspring is as healthy as can be. Since one of the parents is the Cavalier King Charles Spaniel, this type of health screening is essential.
By doing this, they'll make sure the health flaws of the CKCS parent aren't inherited to the offspring.
They'll also make sure all of their puppies have gone through the beginner stages of socialization and dog training, so you can be certain you'll end up with the puppy that is fully prepared to live with their new family.
As reputable breeders invest a lot of time and money into their dogs, they need to charge more for their puppies so they can be able to continue breeding dogs for many more generations.
Backyard Breeders
Backyard breeders look similar to reputable breeders, but the difference is they lack the knowledge and good breeding practices. They are rather inexperienced, and many of them are simply dog owners that have ended up with a litter they cannot keep.
At the same time, many backyard breeders don't even know the background of their puppies, or rather who the father is. As such, there is no way of knowing whether you're truly getting a Cavapoo or not!
These people don't conduct health tests on their dogs, and there is no way of knowing whether the dog you're buying is healthy or not.
Also, they don't really know how to properly take care of their puppies and how to socialize and train them, so you might need to work with them a bit more than you would with dogs from reputable breeders.
As they don't provide the same amount of care to their dogs as reputable breeders do, their Cavapoo puppies usually come at a fairly affordable price.
Of course, not all backyard breeders are bad and not all of their dogs are experiencing health issues. You can find very healthy, well-behaved dogs from backyard breeders, as well.
However, buying from this type of breeder is very risky, and you can never be entirely certain that you'll get a dog of good quality.
Puppy Mills
Lastly, you have puppy mills. Puppy mills produce and sell dogs for profit. For them, dogs are a way to earn money, and sadly, they treat them like that.
Puppy mills don't care about the dogs they are selling. They only want their female dogs to give birth to as many puppies in the shortest amount of time possible so they can sell them and profit.
As you probably can guess, this means they don't take good care of their dogs. They overbreed their females and they don't provide good veterinary care for not just puppies but adult dogs, as well.
Also, many will keep their dogs in unsanitary conditions.
As a result, many of their dogs will have health problems. Others will even express some destructive behaviors, as they were never properly socialized.
Puppy mills also sell their dogs in pet shops, which is why I would, personally, never advise anyone to buy from such locations.
Since they have nearly no investments, puppy mills are able to sell their dogs for cheap. This is why many people feel tempted to buy dogs from such locations. However, I would still advise you to stay away from them.
In the end, what you don't pay at the initial price you might end up paying in medical bills if your dog ends up sickly.
How To Recognize Reputable Breeders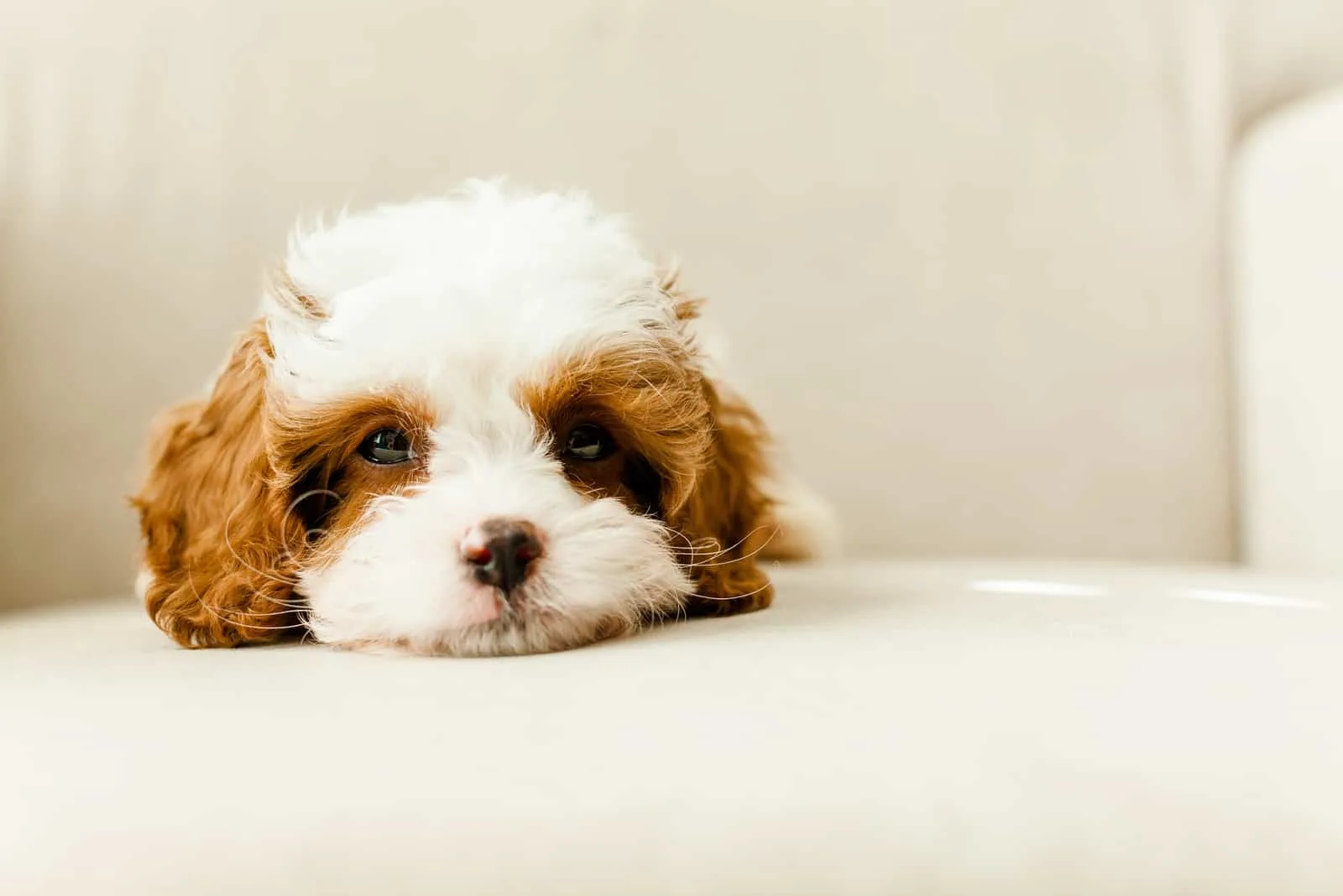 Puppy mills are fairly easy to recognize, as they sell their dogs at a very affordable price and their dogs are often visibly sick or in bad condition.
But how can you set apart backyard breeders from reputable breeders?
Noticing the difference between the two can be really challenging, even for an experienced dog owner.
Sure, one of the things is the price, but even this isn't a guarantee. Many backyard Cavapoo breeders have realized they can charge more for their dogs, so they've raised their prices to match the cost of Cavapoo puppies from reputable breeders.
Because of this, you shouldn't let the price be the determining factor.
Instead, look at some other traits. For example, these are some of the things only reputable breeders will do:
• Provide you with health certifications and health guarantees.
• Allow you to come to the premises to meet the parent dogs, or at least the mother as fathers can be absent.
• They'll want to meet you, either in person or via video call, as they want to know who they're selling their dogs to.
• They'll provide their dogs with vaccinations, microchipping, and even spaying and neutering. Also, all of their dogs will be up-to-date with their vet check-ups.
• Many will have long waiting lists as they don't breed their females more than once or twice a year. Keep in mind this isn't mandatory, and not all reputable breeders will require you to reserve a puppy in advance.
• They'll focus on breeding only a few dog breeds, and all of them will be of a similar type. For example, a good Cavapoo breeder might also breed Cavapoochons and other small Doodles, Poodles, and CKCS, but they'll rarely also breed Golden Retrievers and German Shepherds.
• They'll be entirely transparent about their dogs, including the Cavapoo generation they're selling, and the fact that it isn't always entirely possible to predict every single detail about the mixed breed puppy's appearance.
• While they might sell on sites such as PuppySpot, they'll never sell on Craigslist or similar websites for general sales.
Also, remember to check the references and testimonies of former buyers and dog owners. Unfortunately, there isn't an official registry of licensed breeders, as we're talking about crossbreeds, which does make things a bit harder.
Why Are Breeders Important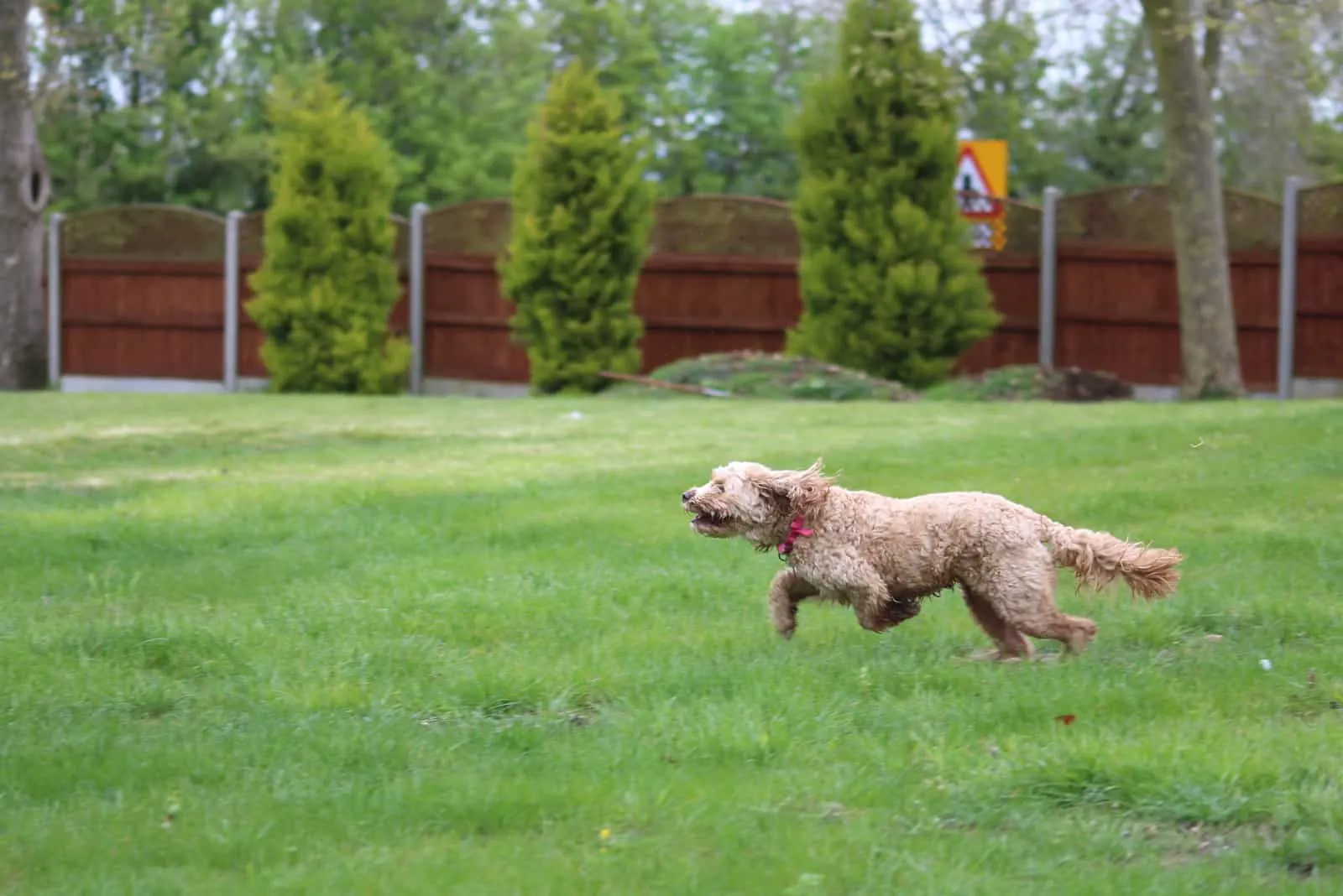 Some dog lovers oppose buying family pets from breeders and think everyone should adopt their dogs. They think that breeders are one of the reasons behind so many abandoned dogs, and that they are contributing to animal abuse.
While I am entirely up for adoption, as I own a rescued dog myself, it's important to make a difference between reputable breeders and breeders who don't follow breeding practices.
Despite what many people are thinking, reputable Cavapoo breeders are, in fact, helping keep dogs off the streets.
They are doing all they can to ensure their dogs don't fall into the wrong hands, and this will help reduce the number of abandoned dogs.
Just in case a Cavapoo owner can no longer take care of their puppies, most responsible dog breeders will agree to take the dog back and help find them a new home.
Also, they are funding many charitable events and organizations that help provide homes for abandoned puppies and dogs, or to pay for treatment and spaying and neutering of strays.
You can see just how much reputable breeders are doing to help not just the dog breed they're selling, but to the entire canine world.
Not just that, but many Cavapoo breeders are fighting to get kennel clubs to recognize some
Doodles and to give them the same status purebred dogs have.
While Cavapoos aren't likely to be the first on this list, if major kennel clubs would recognize
Goldendoodles or Labradoodles, this could be a great step for all mixed dog breeds out there.
In the end, all purebred dogs were once considered mixed breeds. Once they were bred for enough generations to ensure the breed standard, they were registered within the kennel clubs to ensure the positive features of these dogs were spread to the offspring.
FAQs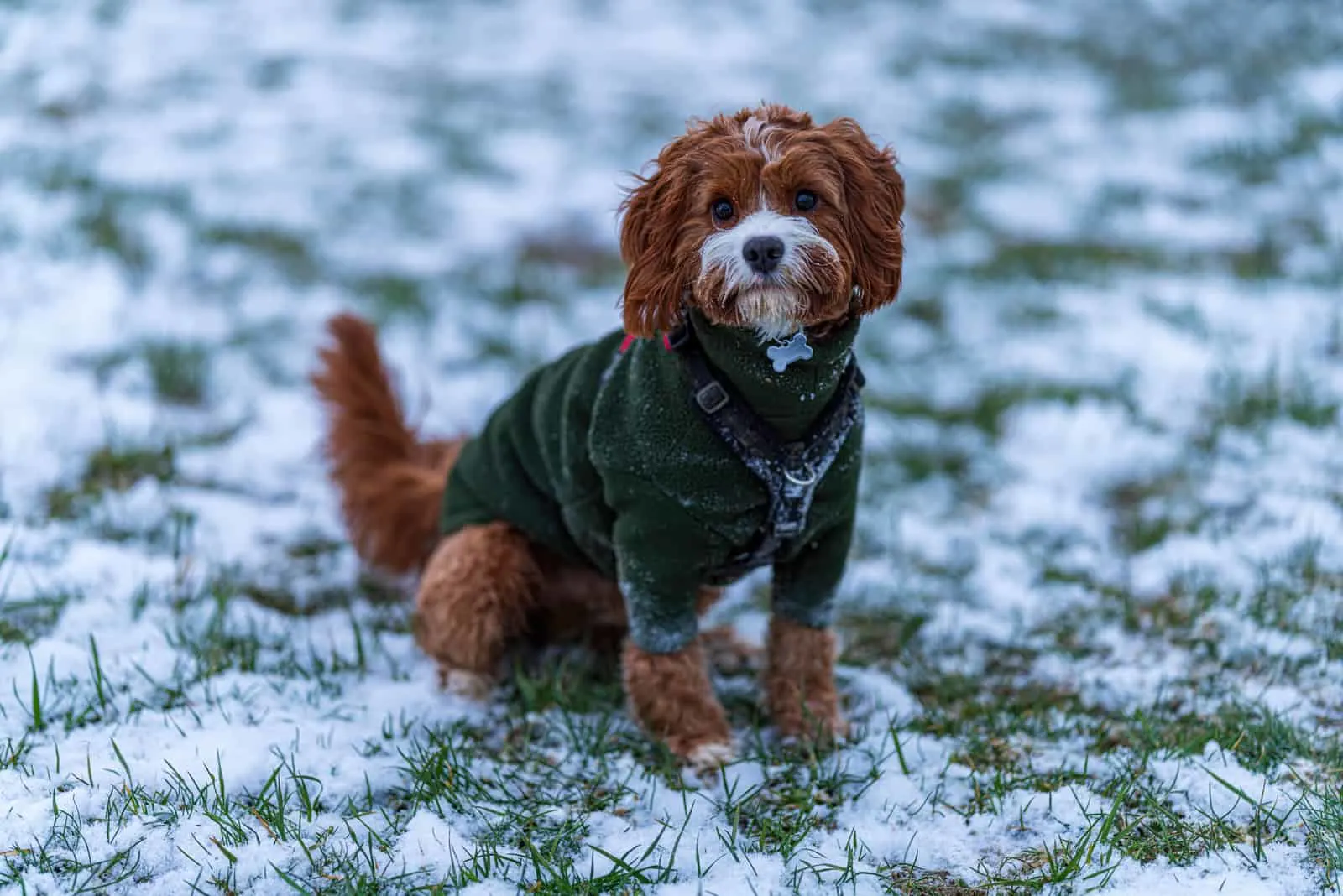 Are Cavapoos Hypoallergenic?
Before I answer this, it's important to make a disclaimer: There is no such thing as a truly hypoallergenic dog.
The term hypoallergenic means that there are no allergens in the said item, food, or pet. This can be easy to avoid when it comes to things such as food, makeup, or clothes. However, it's challenging when you're dealing with pets.
When it comes to dogs, many people think that it's dogs' hair that's causing them problems.
However, the issue isn't in the hair itself but rather in dead skin cells, or dander.
All dogs produce dander. This dander gets stuck on the dog's hair and then it flies around, getting stuck to your clothes, furniture, and falls onto your floor. When you touch it or breathe it in, you're getting in touch with dander.
This is why you think a dog's hair is causing you allergies.
Dander isn't the only issue. The protein found in dander that causes an allergic reaction is also found in the dog's urine and saliva.
All dogs secrete urine, saliva, and dander. This is why it would be a lie to say that a dog is entirely hypoallergenic.
However, some dog breeds are almost entirely safe for even the most severe cases of dog allergies. These pups don't shed, don't drool that much, and are generally clean.
Two of these dogs are Poodles and Cavalier King Charles Spaniels. This means that Cavapoos can be considered hypoallergenic dogs.
If you still happen to have symptoms of allergies, it might be smart to contact your doctor and ask them about some antihistamines or some other way to help keep your allergies at bay.
Are Cavapoos Easy To Train?
Cavapoos are loveable, obedient dogs. They are not too stubborn and are eager to please. This means that dog training isn't a challenge with them.
You might have slight issues with potty training, though, as these pups are rather small, which means they also have a small bladder. They can find it challenging to hold it in, which is why you might end up spending a lot of money on training pads.
Most of the time, there is no need to take your Cavapoo to a professional trainer. As long as you don't give in to the dog's puppy eyes, you should be able to train them rather easily.
Is Cavapoo A Recognized Breed?
No designer dog is considered a recognized breed by major kennel clubs, such as the AKC or United Kennel Club (UKC).
This is because there has to be a breed standard in order for the dog to be signed into a registry. A breed standard cannot exist until all puppies from all the litters look very similar.
There need to be many generations of dogs before such a thing can happen. As long as it's impossible to tell for sure what a puppy from two parents will look like, chances of a crossbreed being recognized as a purebred don't exist.
This isn't to say that Cavapooos won't end up recognized one day. All purebred dogs have once been considered a crossbreed.
However, a lot of time needs to pass before such a thing can happen.
Dogs that aren't recognized by kennel clubs aren't necessarily faulty. There is nothing wrong with a dog that cannot get registered within the AKC.
AKC is there to regulate breeders and to ensure the breed standard is followed. Also, it is there to determine which dogs are eligible for dog shows and other competitions.
If you're looking for a new family companion and not a show dog, the lack of AKC registration doesn't mean much for your Cavapoo pup.
However, you should still be looking at breeders whose breeding stock is registered by the AKC. This will ensure the dog is truly a Cavapoo, but also that he is safe from some genetic diseases you might not be aware of.
Should You Adopt A Cavapoo?
I've already mentioned that not all people are agreeing with the idea of buying your new family pet. These people think that adoption is the best option for bringing a new puppy home.
While I am not here to say what the best option is, you really can adopt a Cavapoo from a rescue shelter. There are many dogs in need of a new home, and many dogs end up abandoned – purebred and designer dogs alike!
While it might be challenging to find a mixed breed dog you want at the shelter, this can happen. There are many adult dogs and even Cavapoo puppies being left at the doors of rescue organizations.
The biggest issue with adoption is that you'll have no way of knowing your dog's background. In other words, you won't know if he is truly a Cavapoo, or maybe a Cockapoo puppy. Everything is just an estimation.
Not just that, but these dogs didn't go through expensive health tests and screening processes. Chances are they might be struggling with some genetic disorders, especially since this is very common with dogs that come from Cavalier King Charles Spaniel dogs.
Reputable Cavapoo breeders are the only ones who can tell you with certainty that your dog doesn't have the genes for some terrible health problems. Not only are these diseases expensive to treat, but I am also certain it is terrible to see your beloved pooch suffering.
Finally, many dogs that have been left for adoption have been neglected or abused. This can result in many behavioral problems or even aggression.
If this is something you can handle, then I say – go for it! Adoption is a wonderful way to meet your new best friend, and you'll know you've done a good thing by rescuing a dog in need of a home.
No matter if you choose to adopt or to buy from a good Cavapoo breeder, I am certain you won't think you've made a wrong choice.
All Cavapoos are amazing family dogs that will love everyone! As long as you get a healthy puppy, it doesn't matter where he came from.
Read Next:
• Reasons Why You Must Own A Mini Cavapoo
• 5 Cavapoo Breeders In Virginia For Mixed Breed Enthusiasts