There are plenty of Cavapoo breeders in Virginia who have experience and expertise in breeding these amazing pups.
I have gathered some of the best Cavapoo breeders who offer only high-quality pups with a solid temperament and great well-being.
Cavapoos, also known as Cavadoodles, are a designer breed that will make you fall in love with them in a matter of seconds as they're adorably-looking canines and great family pets.
They are one of the most adorable Poodle mixes as they're a cross between a Cavalier King Charles Spaniel and a Miniature Poodle.
Without further ado, it's time to present you with the best Cavapoo breeders in Virginia!
Cavapoo Puppies For Sale In Virginia
1. Virginia Poodles And Doodles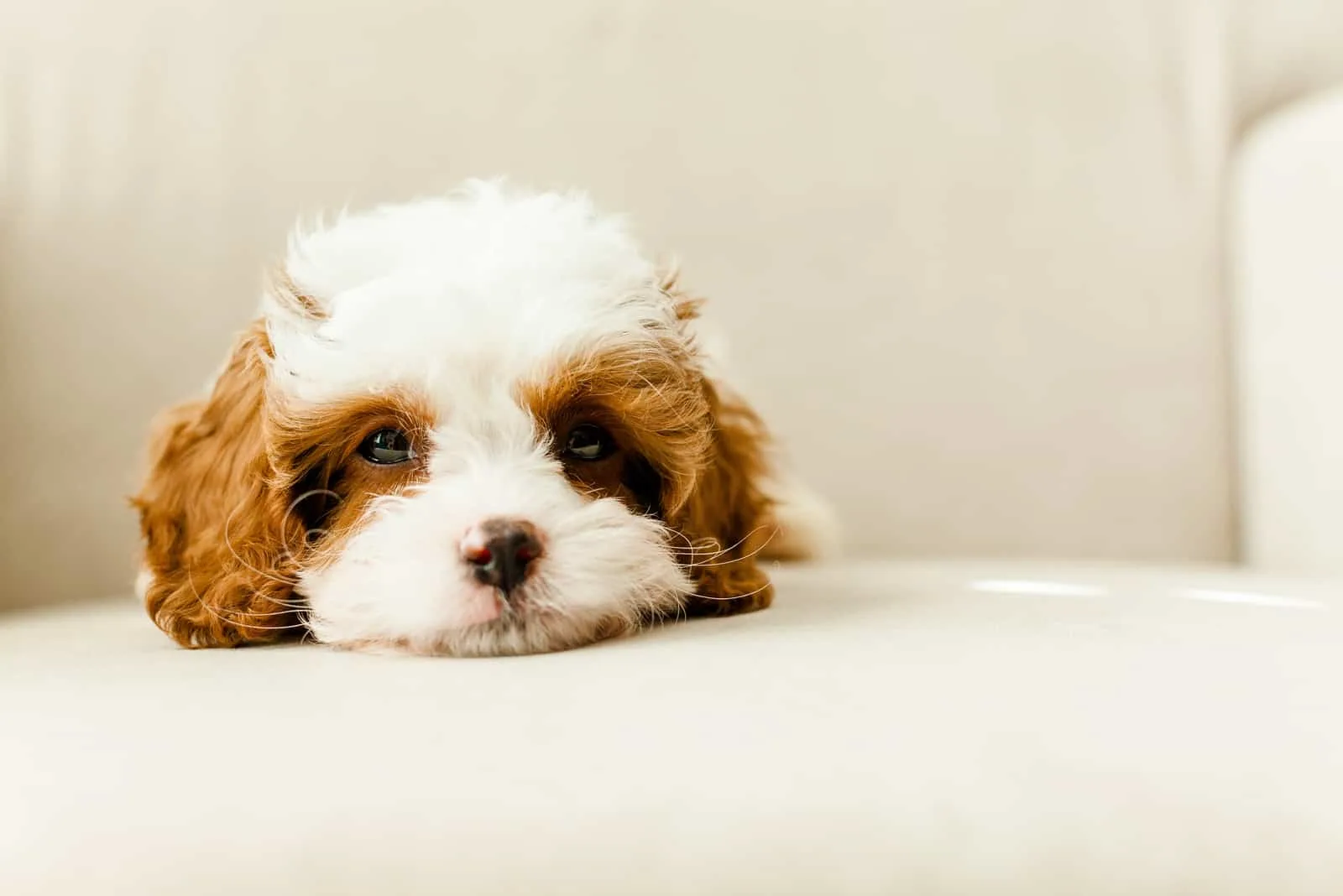 A small dog breeder with a great heart and lots of love for Cavapoos can't produce anything else but adorable pups that are filled with love and affection from their breeding family.
This breeding outfit is located on a small farm that has five acres of land, prepared for mischievous acts from little pooches as soon as they come outside.
The adult canines love to goof around as well, and by living on this farm, they're able to let the puppy in them experience the joy of running around and playing with other dogs and kids.
Puppy Quality
When it comes to the quality of Virginia Poodles and Doodles, it's important to say that the adult canines that are used for breeding are genetically tested to make sure there are no faults in their bloodlines.
The health testing includes Paw Print Genetics examinations, along with OFA standard tests for hip and elbow dysplasia, as well as cardiovascular issues and Patella Luxation.
The canines that aren't up to the standard of further breeding are usually spayed/neutered, so they don't continue passing on any of the genetic conditions that might have an impact on the breed and the puppy's health.
All of the puppies from this breeding program come with a 12-month health guarantee, which proves their quality.
Cavapoo puppies are microchipped and vaccinated, and they also receive tick, heartworm, and flea prevention.
Purchasing Process And Pricing
You can choose between Poodles, Goldendoodles, Cavapoos, or Bernedoodles; however, there might be occasional litters of Cavachons available as well.
RELATED: The Standard Bernedoodle: A Doodle That Will Steal Your Heart
An American Kennel Club (AKC) registered purebred Poodle will cost you about $1200, F2 Goldendoodles are available for $1800, and Cavapoos go from $1800 up to $2000 depending on the gender, size, and shade of the coat.
The best way to get a pup from this breeding place is to fill out the questionnaire that is available on the breeder's website, after which you'll be contacted by the owner and given details on further steps of the procedure.
Breeder Details:
Location: Louisa, Virginia
Official website: Virginia Poodles And Doodles
Email address: [email protected]
Contact number: 434 906 3607
2. Black Creek Doodles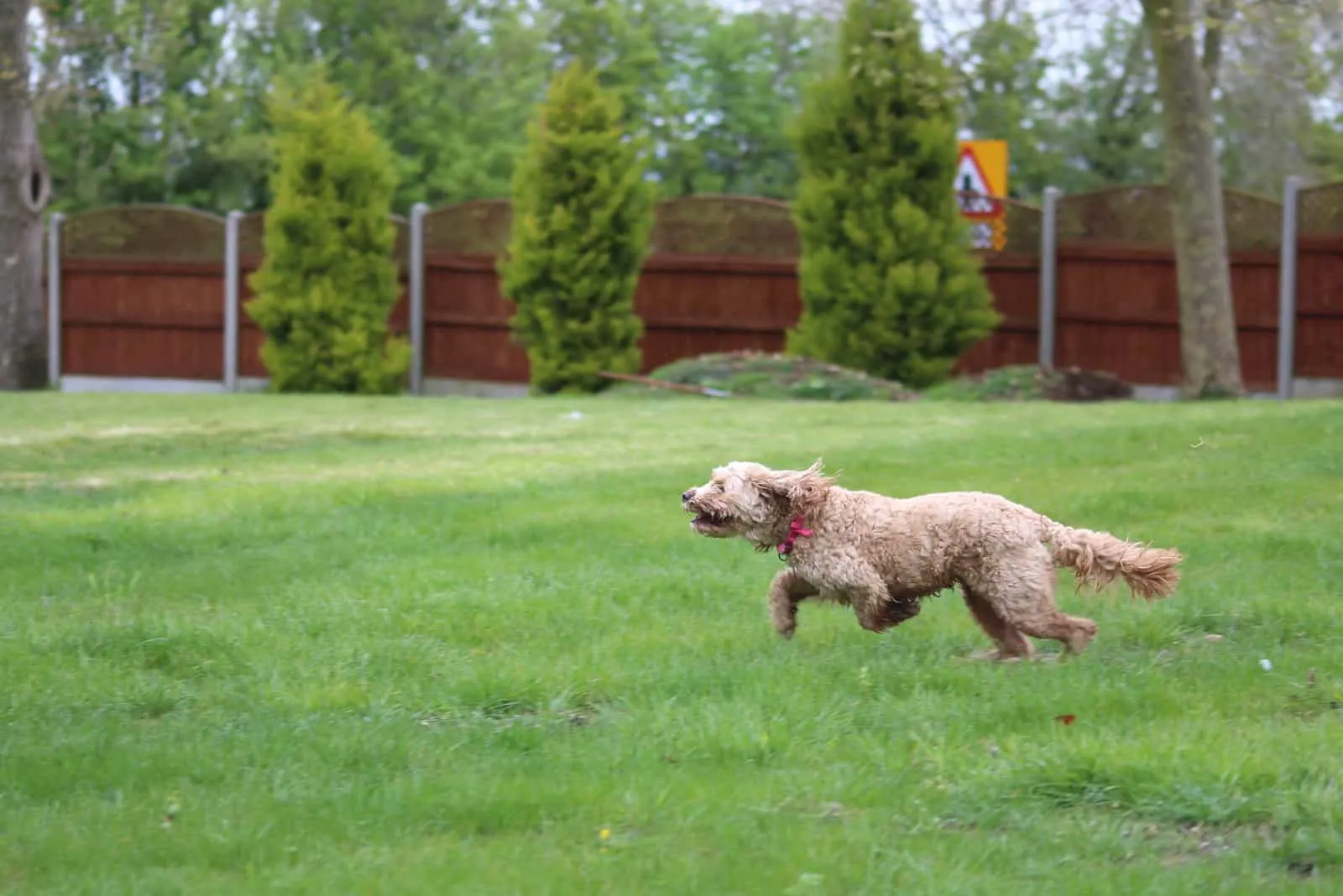 This is considered one of the highest-quality breeding programs in Virginia when it comes to Cavapoos, Cockapoos, and even Havapoos.
The breeder has had plenty of experience with small dog breeds, such as these three, and they're transferring all their love and knowledge toward their kids.
They are dedicated to a breeding program that highlights and improves the greatest characteristics of the parent breeds, and they raise puppies that have been screened for diseases and genetic defects.
Puppy Quality
The breeder is deeply committed to raising healthy pups with no major health issues, which is why all of their adult dogs go through different health tests.
All of the puppies from this breeder are taken care of in a special way as all of their requirements are fulfilled, including the need for cuddling since they're considered lap dogs.
The breeder states that their pups are actually among the best Cavapoo pups not only in Virginia, but beyond because of their will and hard work to make these pups valuable family members.
All of the pups are vaccinated, dewormed, and microchipped, so you don't have to worry about any procedures being done during the first two months of their life.
The breeder proves all of the claims regarding the wellbeing of their puppies with a two-year health guarantee, which mostly refers to genetic conditions that might occur by birth or during early puppyhood.
Purchasing Process And Pricing
If you'd like to get a pup from this breeder, all you need to do is go through a short phone interview with the breeder, after which you'll be able to make the advanced payment of $300 to enter the waitlist.
Most of the pups aren't even born while deposits are taken, but you will be notified on time with photos and videos placed on the website about the litter and puppies, which will be shown when they turn at least six weeks of age.
The price of the Cavapoo pups depends on the fur pattern, so you might be expected to pay $3000 for regular Cavapoos and $5000 for merle pooches.
Shipping is available, but only with a flight nanny as the cargo planes might be too stressful for them.
Breeder Details:
Location: Mechanicsville, Virginia (near Richmond)
Official website: Black Creek Doodles
Email address: [email protected]
Contact number: 804 814 4903
3. My Next Puppy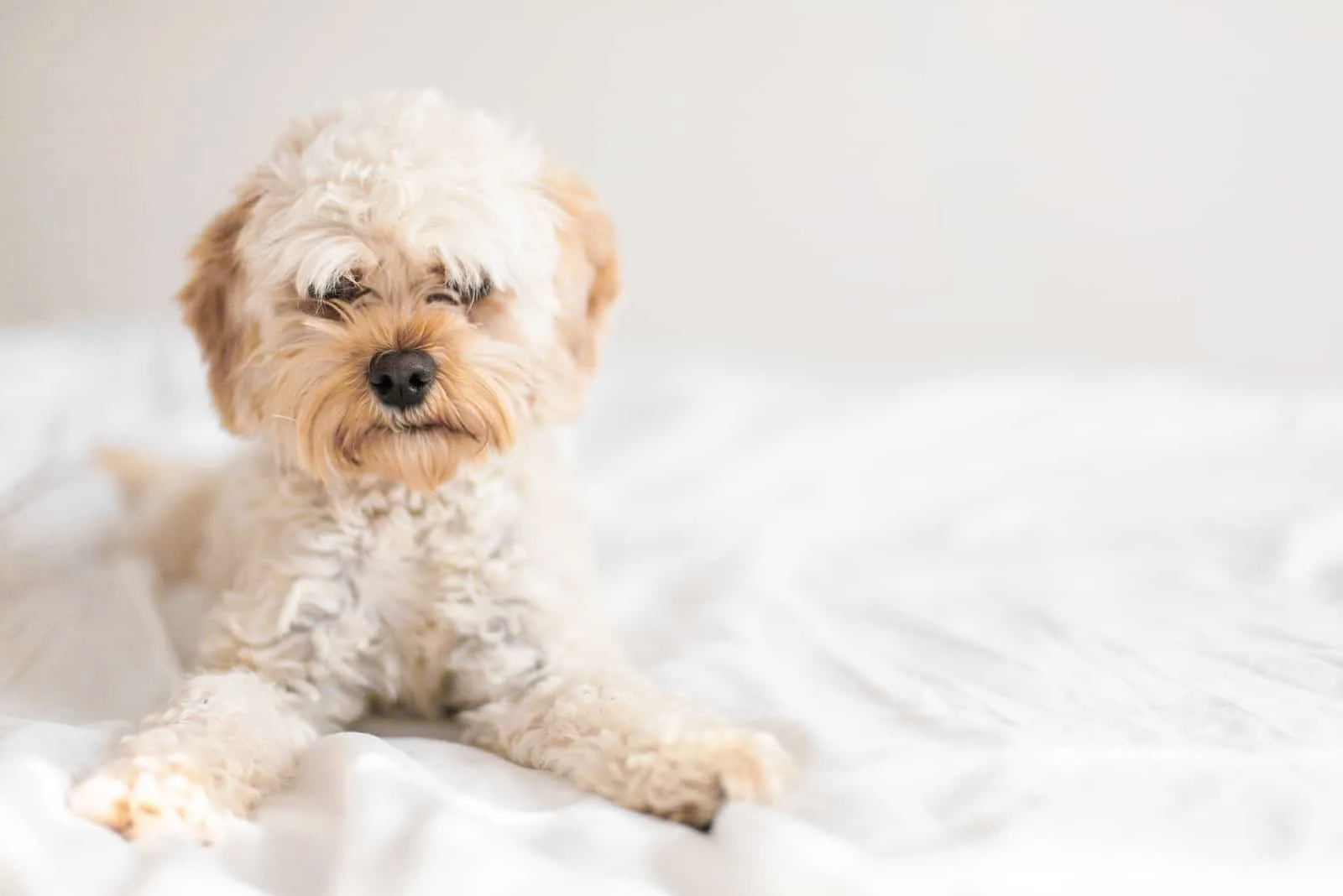 This is a breeding program that gathers breeders who have been completely dedicated to breeding and raising high-quality puppies with solid temperaments and excellent social skills.
If you're looking for the perfect puppy, I'm sure you won't be disappointed by getting a pup from these reputable breeders.
Unfortunately, many great program ideas like this one turn out to be puppy mills or scams, but according to the reviews from a great number of customers, My Next Puppy seems to be completely trustworthy.
In order to confirm their trustworthiness, they state on their website that all of their breeders are licensed and comply with the regulations and standards of the USDA.
Puppy Quality
My Next Puppy provides their clients with 1Fb Mini Goldendoodles, American Eskimos, 1Fb Bernedoodles, Bichon Frises, Bichapoos, Boxers, Boston Terriers, Cavalier King Charles Spaniels, Cockapoos, Cavachons, and plenty of other dog breeds.
RELATED: Male Vs Female Bichon Frise: Should I Choose A Sire Or A Dame?
You will receive a new puppy that has been microchipped and has been given all of the vaccines that are recommended for its age, as well as a guarantee against genetic health issues.
One of the things that make Cavapoo pups a favorite among people with allergies is the fact that they're hypoallergenic. However, you should still be quite careful around them as allergic reactions might be activated by the dog's saliva as well.
The efforts of a community of loving and responsible breeders who are dedicated to raising happy and healthy pups as well as finding wonderful homes for them are the source of the advantages that have been described above.
Purchasing Process And Pricing
There is a lot of information available on their website, except for the pricing and details regarding the adoption procedure.
However, all of this information can be obtained through one call or an email sent to the staff, who will further instruct you on your next steps.
Unfortunately, there are no available Cavapoos at the moment, at least according to the data available on their website. However, you can check once again when you contact this breeding facility.
Breeder Details:
Location: Chantilly, Virginia
Official website: My Next Puppy
Contact number: 703 870 7555
4. Blue Diamond Family Pups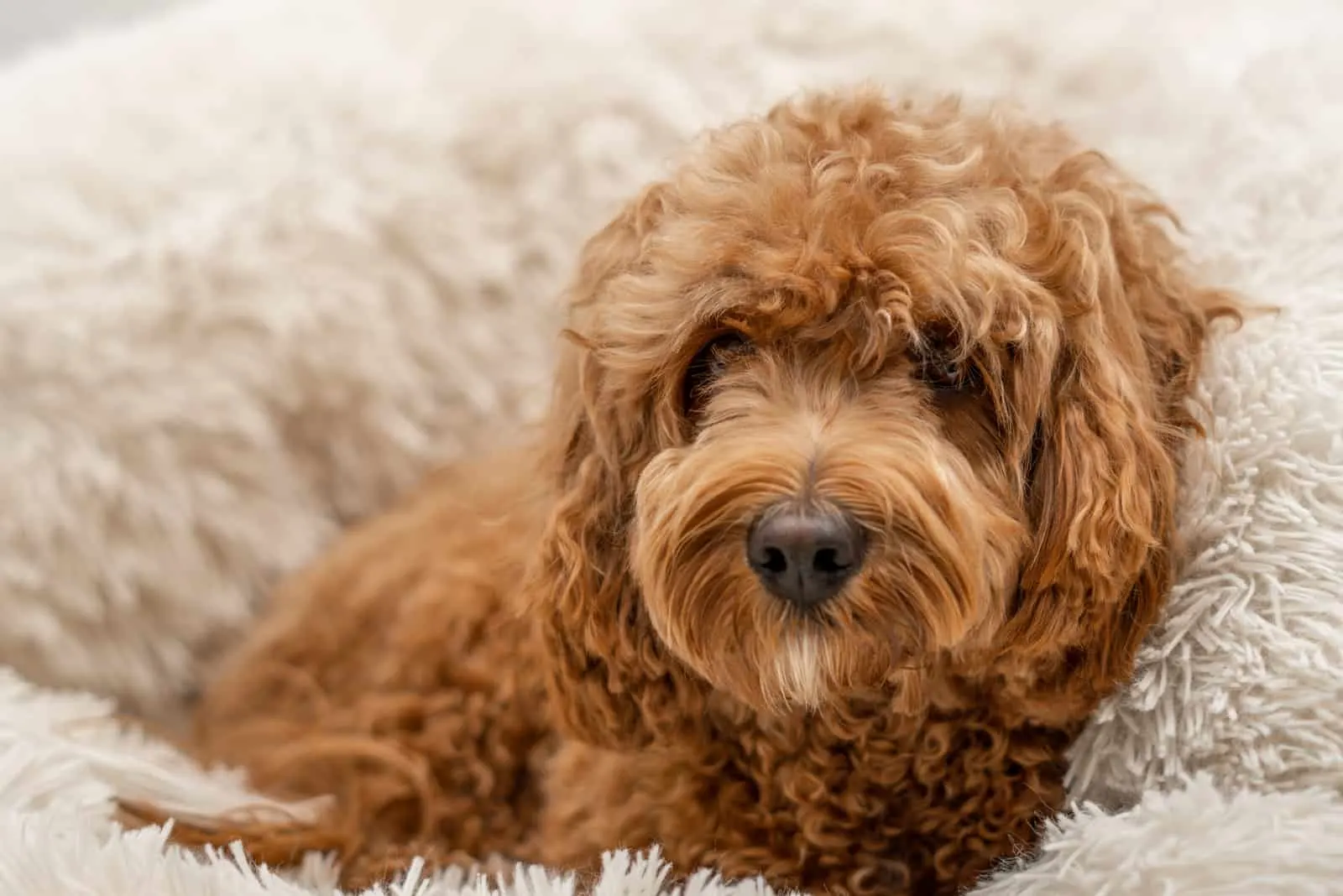 Here is another small breeder that has been living with and raising their canines on a farm, along with their five children.
The love for animals is one of the main reasons why the breeder decided to produce and raise pups that become excellent family dogs.
They have been in love with several breeds, which is why they decided to share their love by producing good-quality puppies and sharing them with other dog enthusiasts.
They are focused on breeding Mini Goldendoodles, Mini Labradoodles, Mini Bernedoodles, Bernese Mountain Dogs, Cavapoos, Beabulls, and Bernedoodles.
Puppy Quality
All of their puppies, without regard to the breed, are bred with great care in order to provide only healthy pups without any major health issues, and a low risk of any illness in the future.
The Cavapoos from this breeder are dewormed, microchipped, vaccinated, and ready to leave the breeder at eight weeks of age.
One of the best things about these pups is that they're raised together with children, which is why they're used to them and won't cause any trouble. However, they still need to continue socialization training, along with obedience practices, in order to be the best pets in their forever home.
The fact that they're raised on the farm also helps Cavapoo dogs to interact with other animals and adult humans as well.
When it comes to the colors of the Cavapoos bred by the Blue Diamond Family, they're specifically focused on breeding white, red, and apricot Cavapoos.
The breeder also includes a one-year health guarantee, which serves as excellent proof of their trustworthiness.
Purchasing Process And Pricing
The best way to get this crossbreed of Cavalier King Charles Spaniel and Poodle is to contact the owner, who'll give you further instructions.
What we do know is the price of the Cavapoos, which depends heavily on gender, coat colors, and other factors.
The price is quite different between female and male Cavapoos, so you'll pay around $3500 for a female, and about $3000 for a male.
F1 Cavapoos that are older than 10 weeks of age won't be as expensive as they usually cost between $2000 and $2500.
You can check how many available puppies there are on the breeder's official website.
Although the breeder is located in Ohio, the puppies can be delivered to Richlands, Virginia, without any issue!
Breeder Details:
Location: Sugarcreek, Ohio
Official website: Blue Diamond Family Pups
Email address: [email protected]
Contact number: 330 260 4600
5. Premier Pups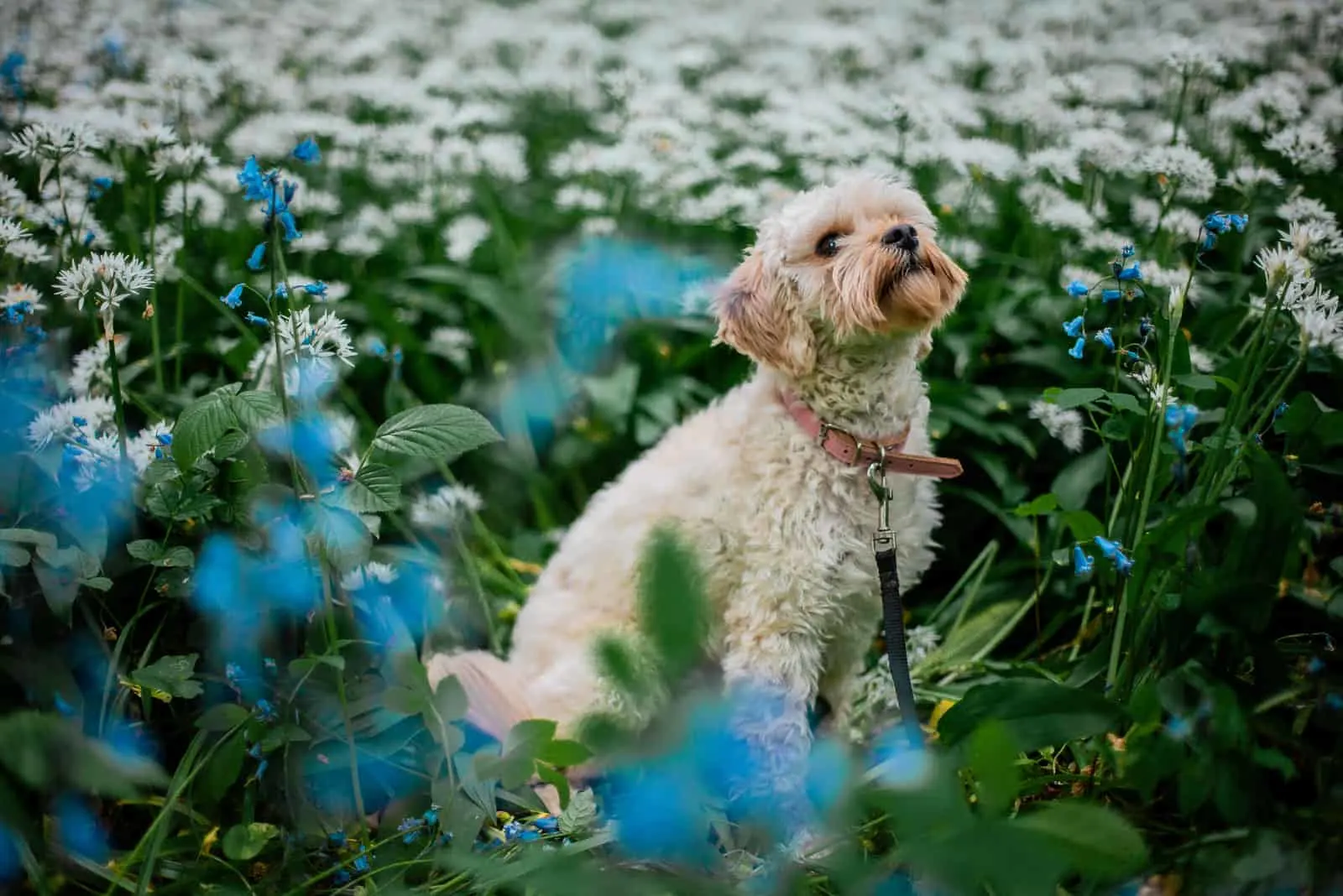 Premier Pups is a puppy adoption service that is committed to providing you with the best experience possible while searching for a Cavapoo breeder.
They are accessible to their customers at all times, beginning with the breeder selection process and continuing well after the animals have been delivered to their new home.
At the kennels where the dogs are bred, there are regular inspections performed in order to verify that the dogs are receiving proper care and are in excellent health.
However, Premier Pups also makes certain that all breeders adhere to the criteria that have been established in order to protect the health and welfare of the breed's offspring.
Purchasing Process And Pricing
This adoption service offers beautiful teacup and mini purebred and crossbred puppies, including a mix between Labrador Retrievers and Poodles, Maltipoos, Cavapoos, Goldendoodles, Pugs, Yorkies, etc.
The price of each puppy is stated on their website, along with other details regarding a certain dog. A Cavapoo's price range is between $1800 and $2500, which is pretty much the price of these pups in other breeding places.
Although they're located in Ohio, this service ships their pups all over the USA, including cities in Virginia, such as Virginia Beach, Chesapeake, Norfolk, Richmond, etc.
If you decide to get a pup from this service, all you need to do is select the puppy you're interested in, and then follow the further instructions after you click on the 'adopt' button.
There is also a detailed step-by-step video that will help you understand each step of the adoption more easily.
Breeder Details:
Location: Johnstown, Ohio
Official website: Premier Pups
Email address: [email protected]
Contact number: 740 809 3074
How Do You Find A Reputable Breeder In Virginia?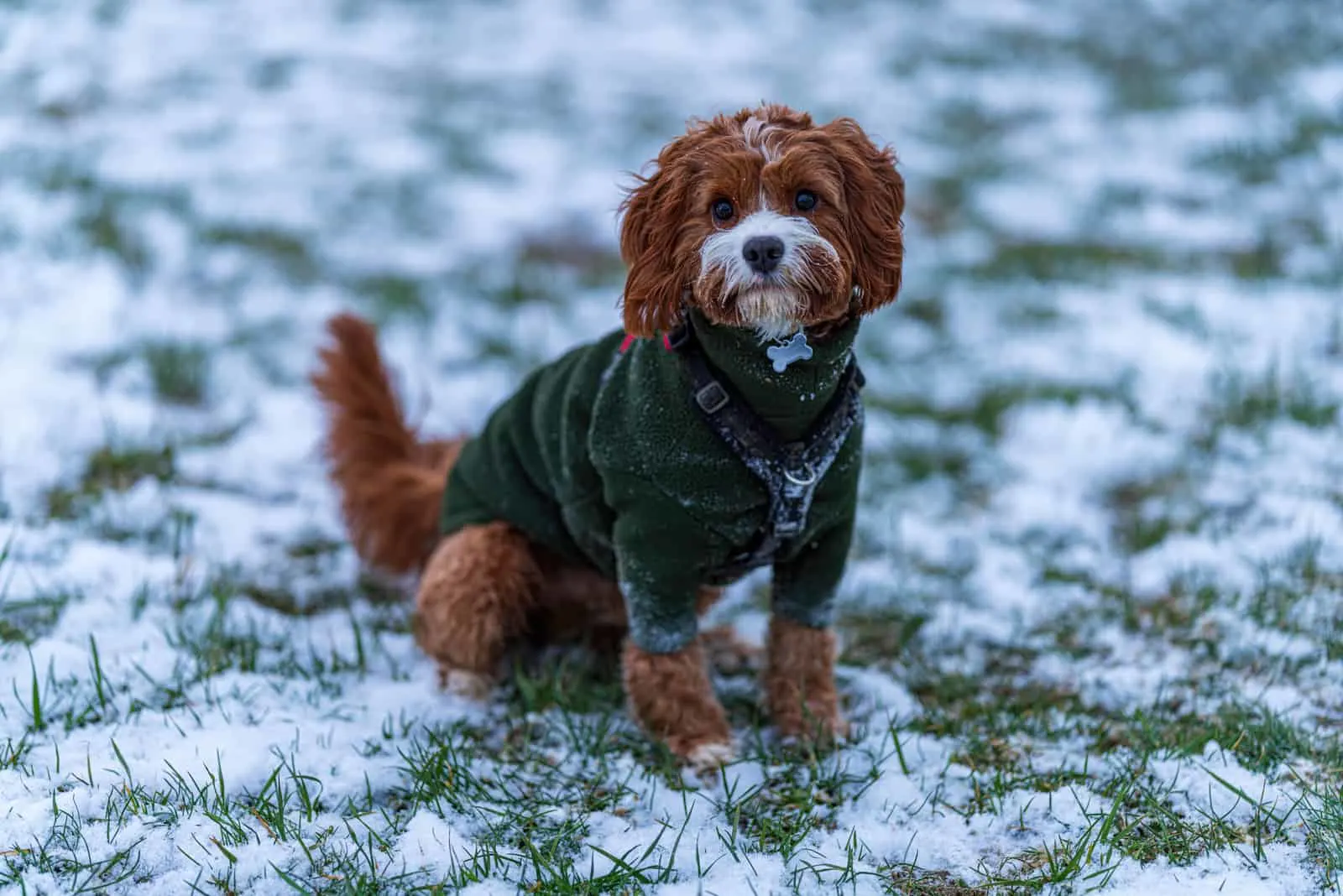 Finding a trustworthy breeder in Virginia that you can put your faith in is the first step toward bringing home the Cavapoo puppy of your dreams.
Almost every health issue that happens to your pup during its lifetime will be related to the breeder in some way, so you need to be sure that you choose the right breeder.
Before settling on a certain Cavapoo breeder, you need to conduct exhaustive research, just like you would do for any other significant choice.
The following are some guidelines that are usually recommended by a great number of dog experts:
• Visit the Cavapoo breeder – Going to a breeder's location in person is the most effective approach toward learning about them and how they run their business.
If you are unable to see your breeder in person, you might think about using alternative communication methods like video calls instead.
Verify that the breeder has a real interest in Cavapoos, that the dogs receive adequate nutrition, that the environment is clean, that the dogs appear to be in good health, and that the kennel or residence is in good shape.
• Don't be shy – Create a list of questions for the breeder to answer, basing them on the findings of your investigation.
When it comes to prospective puppy parents, there is no such thing as a silly question, and there can never be too many of them.
By asking these questions, you will be able to determine whether or not the breeder has an in-depth understanding of the Cavapoo breed, how well they explain certain ideas, and whether or not they are patient with you.
Because they want to ensure that their Cavapoos are placed in homes where they will be cared for and loved for the rest of their life, respectable breeders will not only encourage you to ask questions, but will also have questions for you.
• Check certificates and parent breeds – Observing the Cavapoo's parents can provide you with the clearest picture possible of how the offspring will develop.
You will be able to receive an accurate impression of the temperament, size, and look of your prospective Cavapoo.
In addition to this, the breeder of your Cavapoo should be able to provide you with a comprehensive medical history as well as relevant certificates, such as OFA and CERF.
In the event that the breeder possesses certificates from OFA and CERF, as well as PawPrint Genetics, and has their parent canines registered with the AKC, examine the websites of both of these entities, as well as those of the big organizations.
What Are The Signs Of A Puppy Mill/Scam?
Unfortunately, many puppy mills today are difficult to recognize as they're getting better and better in representing themselves as reputable breeders.
There is a chance that you may come across advertisements that read "Cavapoo puppies for sale in Virginia," or even puppy mills that will pose as respectable breeders.
The following advice will assist you in determining if the establishment in question is a puppy mill, an online scam, or a backyard breeder:
• The breeder has a great number of puppies available at the moment
• There's no chance to meet the parent breeds
• The address doesn't match on all websites and social media
• There's no proof of puppy vaccination
• There's no written contract or health guarantee
• The puppies look rather unhealthy in person or don't possess even basic social skills
• The pictures on the website look too fake / no pictures with the actual breeder
• The origin of the pups is not known
• You're supposed to pay the whole amount before the pups turn at least six weeks of age
• The price of the puppy is unusually low. Puppy mills are known for attracting customers with great prices and "discounts," which cost them a lot more in the end.
Final Thoughts
Unfortunately, it's quite a challenge to find reputable Cavapoo breeders in Virginia, but we finally managed to do so by successfully avoiding puppy mills and other pup scams that offer "family pets", but deliver either sick puppies or no pups at all.
If you're not interested in any of the breeders mentioned in this article, you can also check breeders in North Carolina, Florida, Pennsylvania, Maryland, New York, or other places you can travel to and pick up your pup.
Fortunately, those from West Virginia are able to get a pup from any of the local state breeders, but they should also be very careful about the choice of the breeder and their reputation.
Places like PuppySpot are questionable as they possess both trustworthy and unethical breeders, so it might be difficult to differentiate between the two.
READ NEXT:
Top 6 Cavapoo Breeders In New York: 2022 Edition
6 Cavapoo Breeders In California – Find Cavapoo Puppies For Sale
Cavapoo Puppies In Iowa: Top 5 Best Breeders