Cavapoos, Cavoodle, or Cavadoodle are all names for the same designer dog breed. This is an adorable dog that goes perfectly with any type of family.
They are cuddly, cute, and have adorable round black eyes and noses. It's a Cavapoo — a perfect designer dog for a family with children of all ages.
These adorable pooches are becoming more popular all around the world. They have found their way to our hearts too. We want a Cavoodle puppy, and we want to find one from an excellent breeder!
I understand how hard it can be to find a good breeder that won't turn out to be a scammer or, even worse — a puppy mill. And, if you focus on one area specifically, it can be even harder.
So, here is a list of Cavapoo breeders in New England where you can find your perfect Cavapoo pup to take home without fear you might be tricked.
Most of these breeders come from Massachusetts, but most of them also ship their puppies. That means whether you are in Maine, Connecticut, or somewhere near New England like New York — you can buy a puppy from one of these breeders.
Cavapoo Puppies For Sale In New England
A Cavapoo is a hybrid or a designer dog. That means it was made by mixing two purebred dogs. In this case, those purebred dogs are a Miniature Poodle or a Toy Poodle and a Cavalier King Charles Spaniel.
The outcome is a wonderful hypoallergenic dog that looks like a Teddy Bear! If you are looking for an intelligent and affectionate dog that is at the same time absolutely adorable and perfect for allergy sufferers — it is time to get a Cavapoo puppy!
Your new puppy has to come from someone you can trust. There are lots of puppy mills out there trying to make a profit without taking care of the dogs. If you suspect a puppy mill — call this number 1-877-MILL-TIP, or you can send a message directly to the Humane Society of the United States.
But that's why there is a list of 5 Cavapoo breeders in New England. There aren't many of them up in the northeast of the US, but the ones we have listed are some of the best Cavapoo breeders all around the states, not just in New England.
1. Poodles And Doodles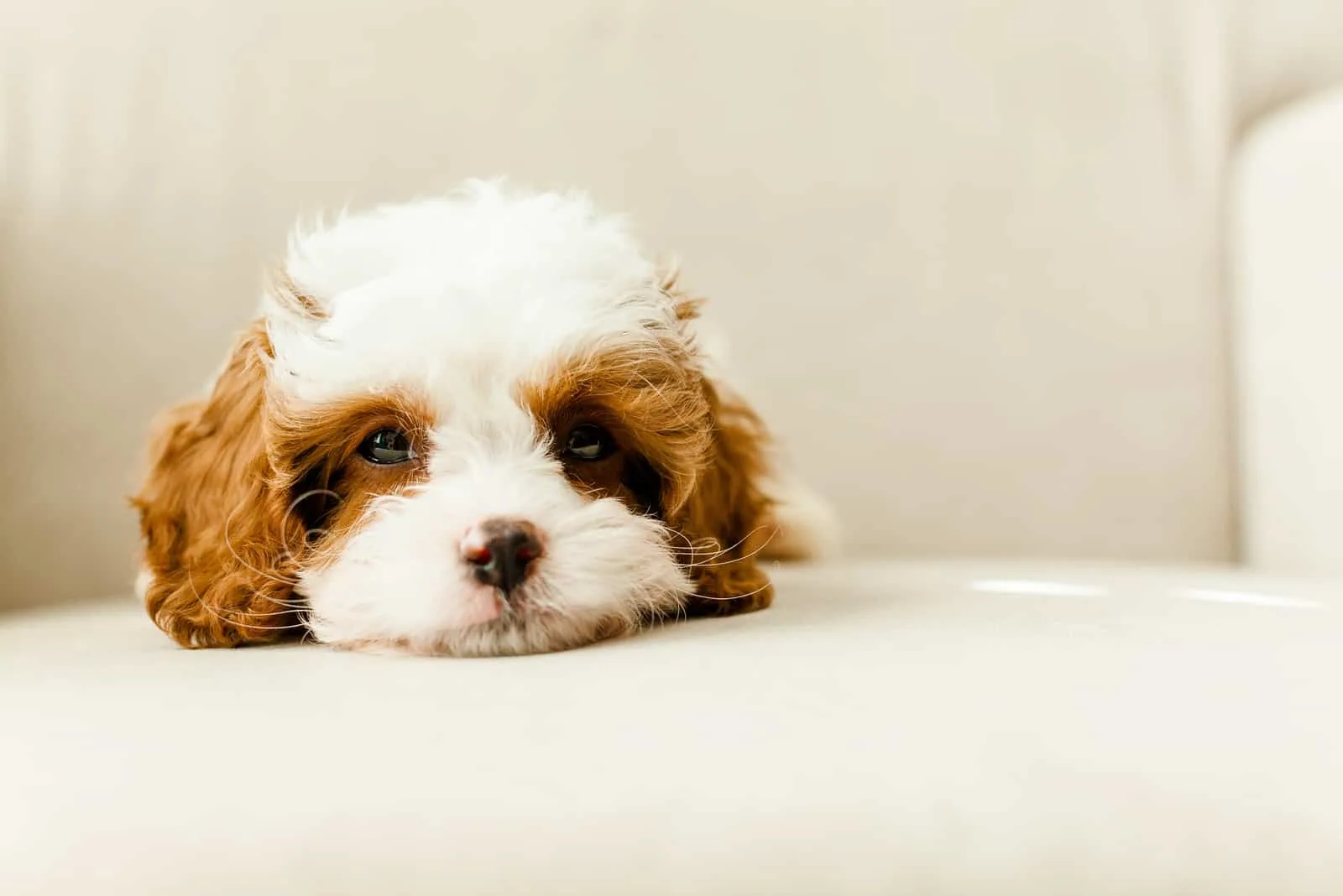 Let's meet the first on our list of the Cavapoo breeders in New England. It all started in 2017 for this breeder. That is when they got their first Poodle dog.
Poodles and Doodles is a place to go to find your perfect puppy! They have more than Cavapoo pups. They also breed Goldendoodles, Maltipoos, and mini Poodle puppies. These are all adorable Poodle mixes. All of their dogs are gorgeous, and they will steal your heart in the blink of an eye.
If you want to buy a puppy from Poodles And Doodles, you don't have to make any deposit. All you need to do is be quick! They sell their puppies by the first come, first served rule. So, if you really want a pup from them, check out their website or call them to see if they have any available puppies.
All of the dogs are vaccinated and regularly dewormed. They have been checked by a vet, and they come with a one-year health guarantee. You can also come and visit Poodles and Doodles to see your pup.
You will have to make a phone call first to arrange the meeting. But this is an amazing opportunity to see your new puppy's parents. You can also check the premises where the dogs spend most of their time; you can see the relationship between the dogs and the breeder, etc.
Poodles and Doodles are open seven days a week, and they answer calls from 9 AM to 9 PM. They will be more than happy to answer any questions you might have about the puppies and the dogs they have.
Address: Massachusetts, United States
Phone: +14017022488
Website: Poodles & Doodles
2. Blue Diamond Family Pups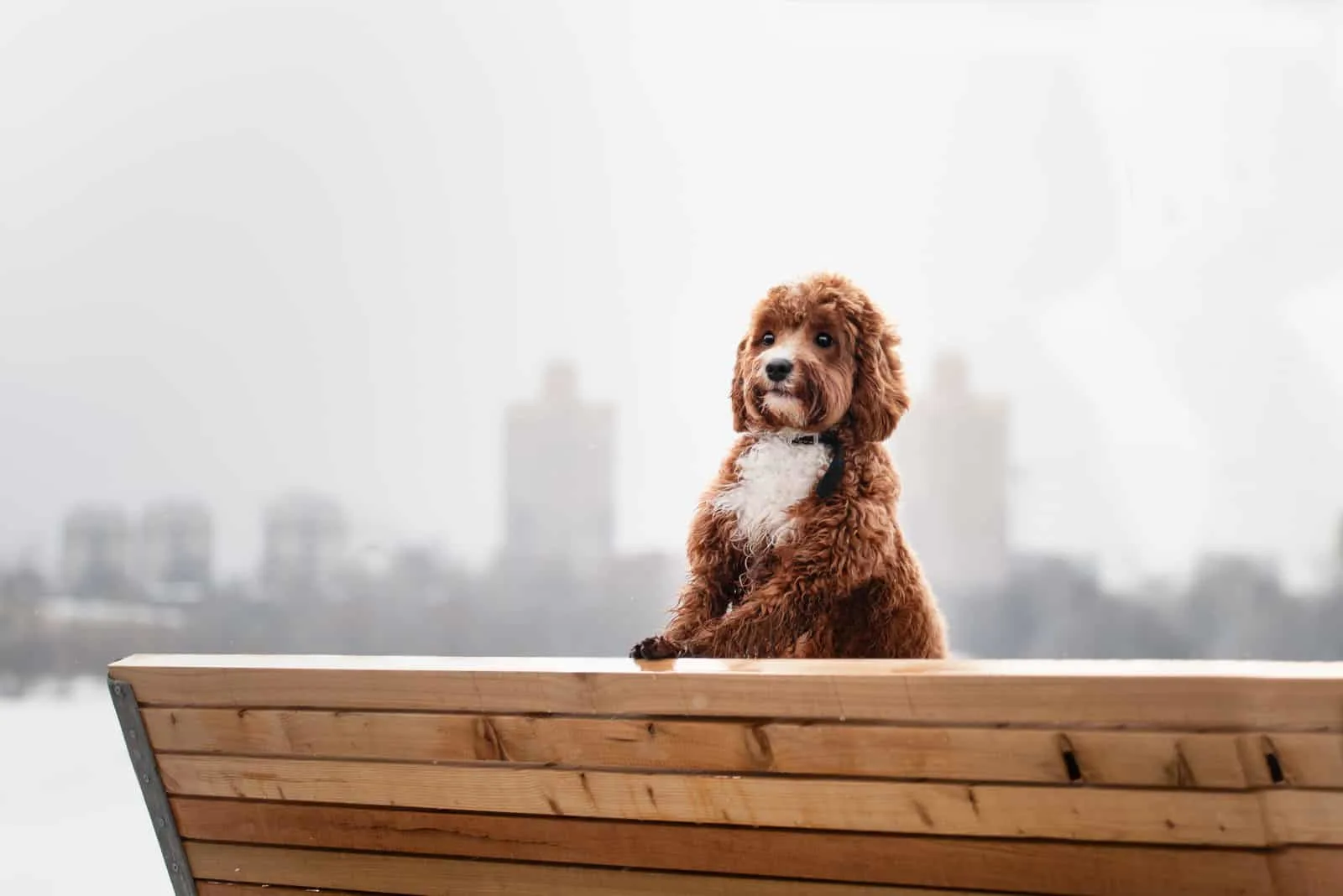 We are still in Massachusetts. But this time we are moving to Harwich. That is where we'll find a Cavapoo breeder with the breeding company name of Blue Diamond Family Pups.
The owners' names are Dean and Esther. They and their five children live on a 10 acre farm. They are true animal lovers.
They breed F1 and F1b Cavapoo puppies. The F1 Cavapoo is the first generation of a Poodle and Cavalier King Charles Spaniel mix. And the F1b is a mix of an F1 Cavapoo and a purebred dog. The other parent is usually a Poodle.
The Blue Diamond Family Pups only breed and raise red, apricot, and white Cavapoo puppies. The colors dominantly come from the Poodle parent. In this case, it comes from either a white, apricot, or red Poodle dog parent.
All breeding dogs at the Blue Diamond Family Pups have been DNA tested. These health tests or genetic testings ensure that the parent dogs cannot transfer any genetic diseases to their offspring. This is a very important fact when it comes to choosing a new family dog.
If the breeder doesn't test the breeding dogs for the most common hereditary diseases, then these health issues might come up when your dog becomes an adult dog. And we all want a healthy puppy.
This is one of the many great reasons Blue Diamond Family Pups is a breeder on our list of the 5 best Cavapoo breeders in New England.
Address: Harwich, Massachusetts, United States
Phone: +13302604600
Website: Blue Diamond Family Pups
3. New England Cavapoos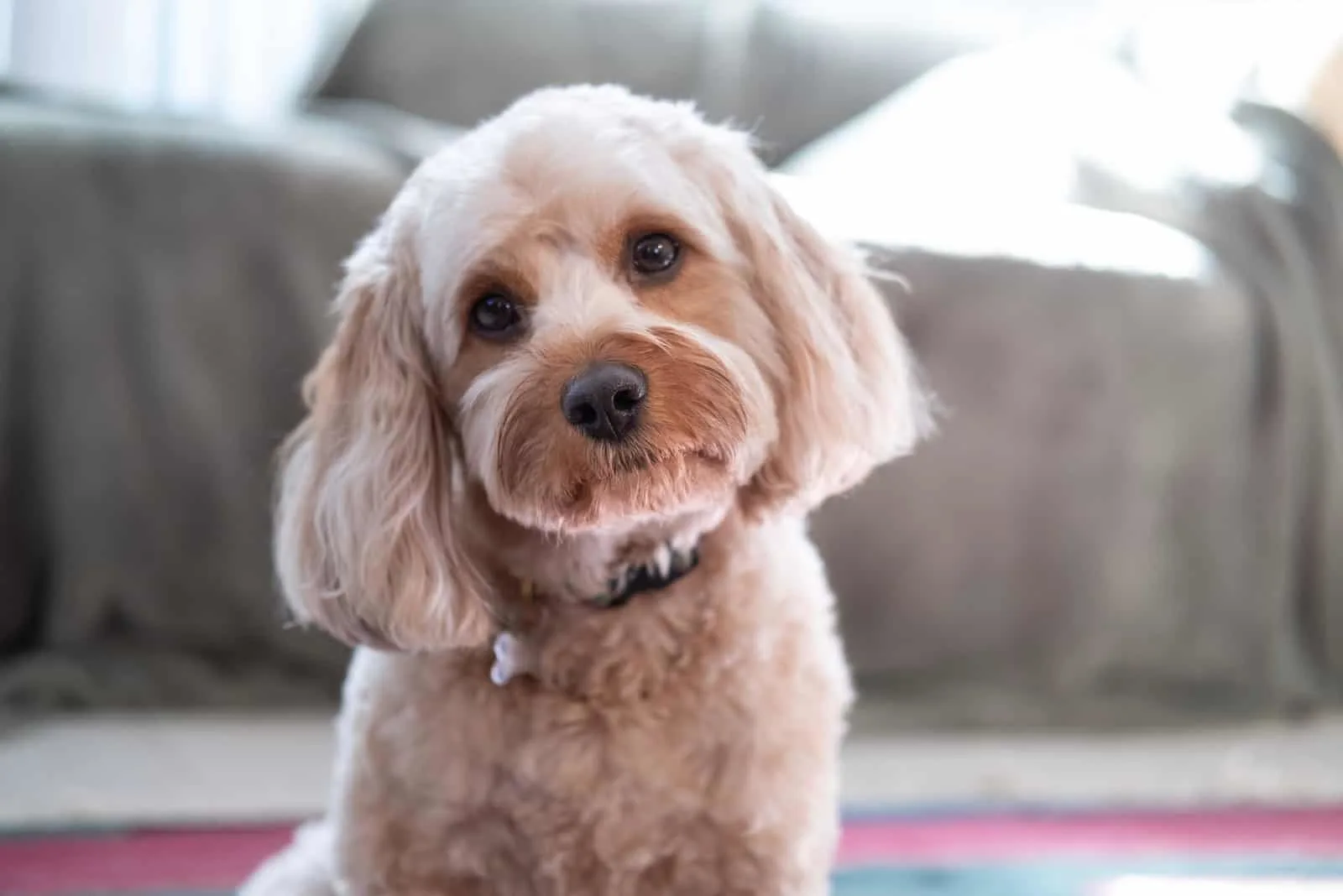 We meet Jennifer Chen and her New England Cavapoos. She is located in Lexington, and she enjoys a farm life! The reason why she became a breeder is that she once wanted a Cavapoo puppy for her and her family.
But there weren't many Cavapoo breeders in her area. She felt disappointed when she realized someone she thought was a good person turned out to be a scammer. So, she took the matter into her own hands and became one of the best Cavapoo breeders in New England.
And we are very happy she did! Her dogs go through early socialization and are exposed to all kinds of sights, smells, and sounds. They are also in contact with children. That is a crucial step if we want our dogs to become excellent family members for a new family.
Dogs that go through a good socialization process during puppyhood will grow into stable, confident dogs that won't have problems with anyone, whether it's a new dog owner or an experienced one.
Jennifer goes to a great deal to make sure her puppies are ready for their new forever home. She starts potty training her puppies. She also starts teaching them commands like no-chewing or the sit command.
She had her dogs genetically tested for various diseases and health conditions, from VonWildebrand disease (all three types) to Degenerative Myelopathy. Her breeding dogs are healthy and happy, just like all of their puppies.
Jennifer also offers a one-year health guarantee for all of her puppies.
Address: Lexington, Massachusetts, United States
Website: New England Cavapoos
4. Hopeful Dreams Family Puppies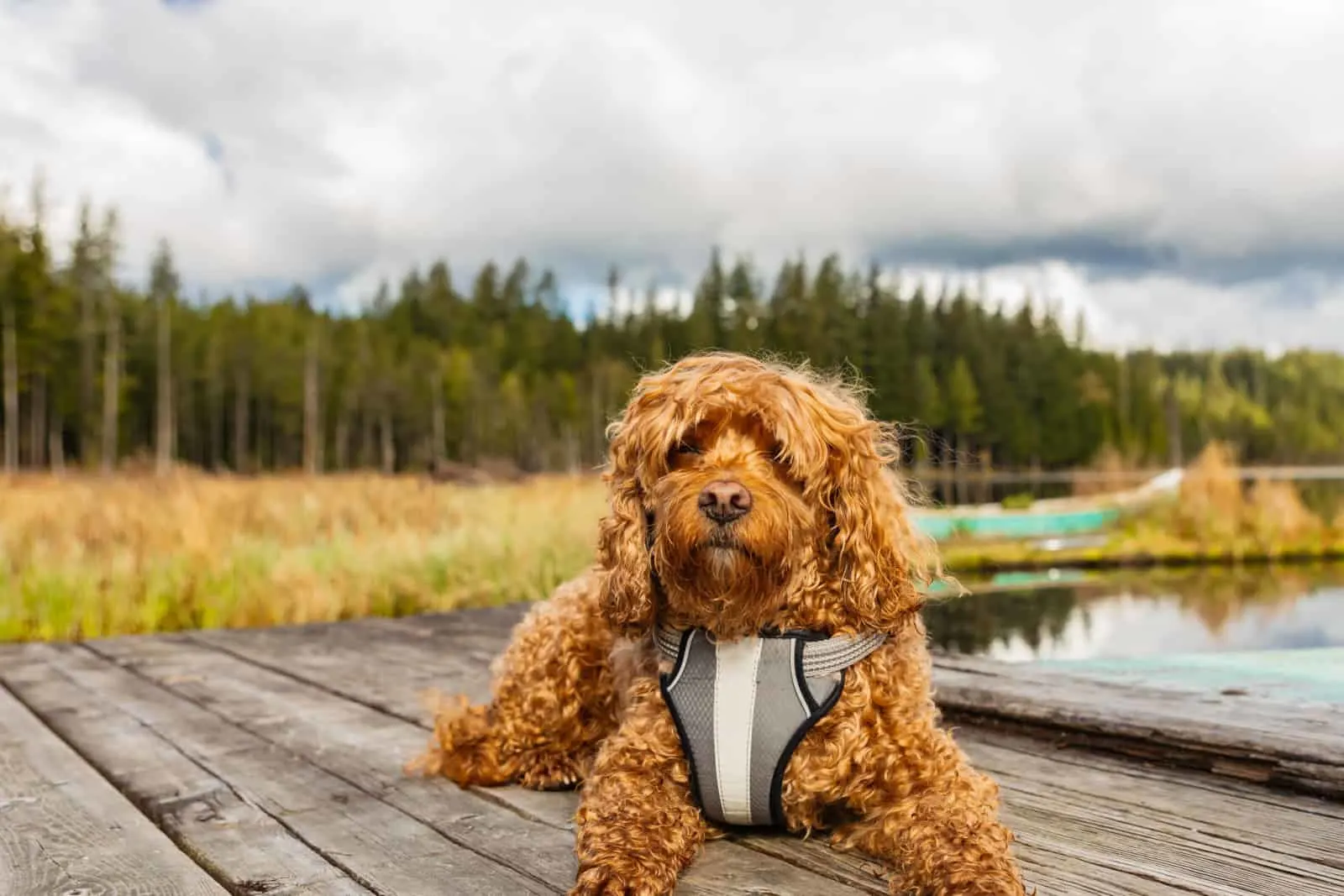 This is not a breeder but a dog lover that wants to put together responsible small family breeders with responsible new dog owners. The owners are Clinton and Kristina Martin.
They offer other dog breeds, of course, for example, Cockapoo or Cavachons, but the important thing is that they have beautiful Cavapoo pups.
The dogs you will find at Hopeful Dreams Family Puppies are all raised in a family home. They are well-socialized and perfect for joining a new family living in a home or an apartment. These dogs are designer dogs, after all.
That means they were purposefully bred to have all the best traits of both AKC (American Kennel Club) accepted purebred parents. So, pick up your phone or go to the Hopeful Dreams Family Puppies website and find your new Cavapoo doggo!
When you find your perfect Cavapoo pup, you can make the reservation right away. When the puppy is ready to join you, there are two options for you to get the dog. You can pick up the puppy by yourself, or you can arrange for them to bring the puppy to you.
But that's not the end. They won't just shut their doors and forget about you. If you have any questions about the puppy and its health or training, feel free to contact them. Clinton and Kristina will be more than happy to answer any questions you have.
Hopeful Dreams Family Puppies might not breed Cavapoos on their own, but they sure do deserve to be on our list of Cavapoo breeders in New England because they do more than 90% of "breeders" you can come across during your internet search for Cavapoo puppies.
Phone: +15184831304
Website: Hopeful Dreams Family Puppies
5. Richard Luxury Kennels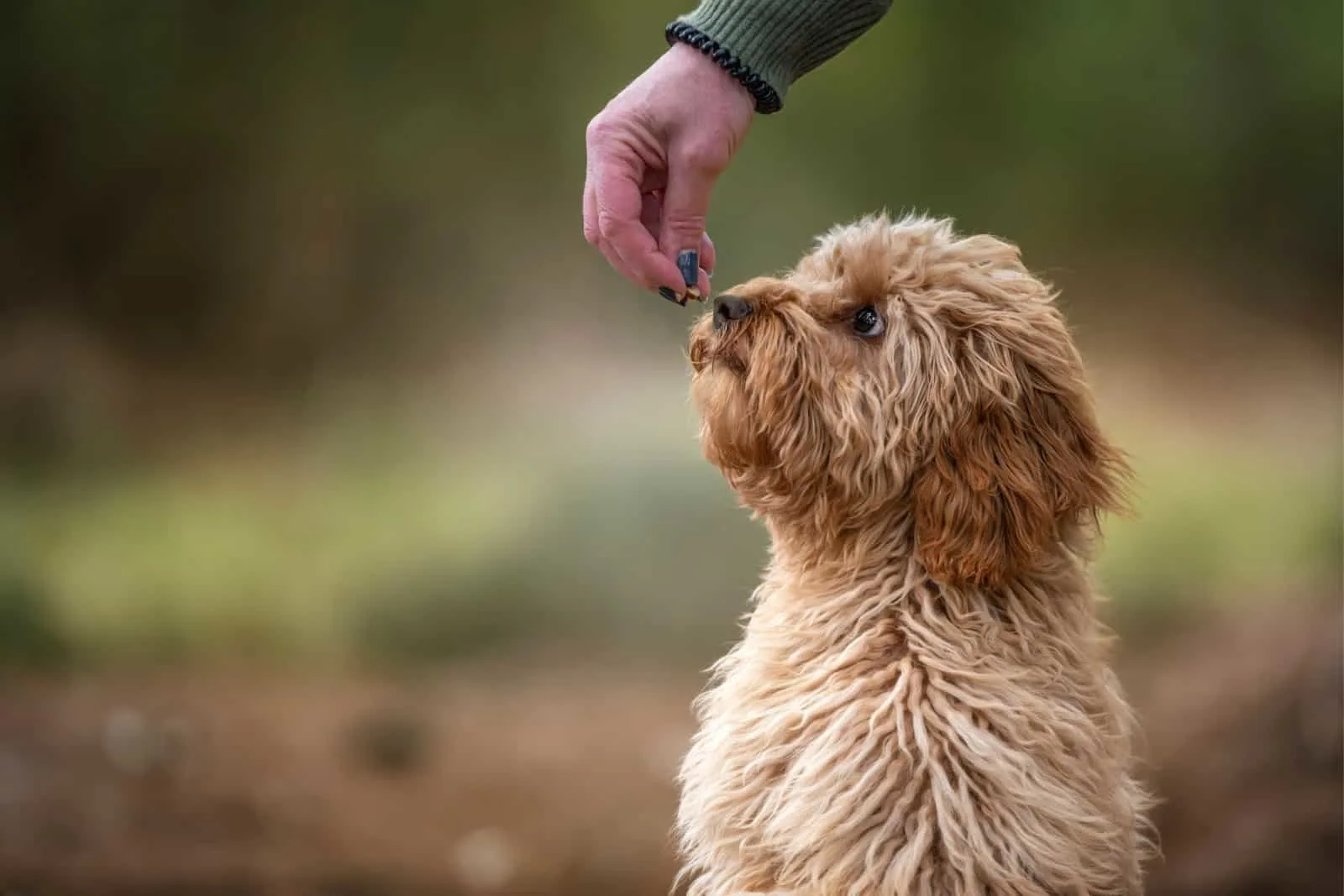 This is a breeder that has been in the business for more than 50 years! They are a family business located in Leominster, Massachusetts.
Besides breeding different types of Mini Poodle hybrid dogs, they also offer other services. They have their own grooming business, training center, and boarding business as well. So, if you need to groom your Cavapoo, train it or get one, Richard Luxury Kennels has got it all covered.
Because they have different Poodle mixes, you will have to make a call and ask questions about the upcoming litters or about the waiting list. But this family-operated business is always available to answer any questions you want to ask.
You can also go to their Facebook page and take a look at some of the pictures of their previous litters. You'll see happy doggos and their new owners.
Richard Luxury Kennels is the last on our list of the 5 best Cavapoo breeders in New England. This is a place to go to find an excellent breeding program, healthy pups, and professionalism.
Address: Leominster, Massachusetts, United States
Phone: +19785375485
Website: Richard's Luxury Kennels
What Is The Average Price Of The Cavapoo Puppy?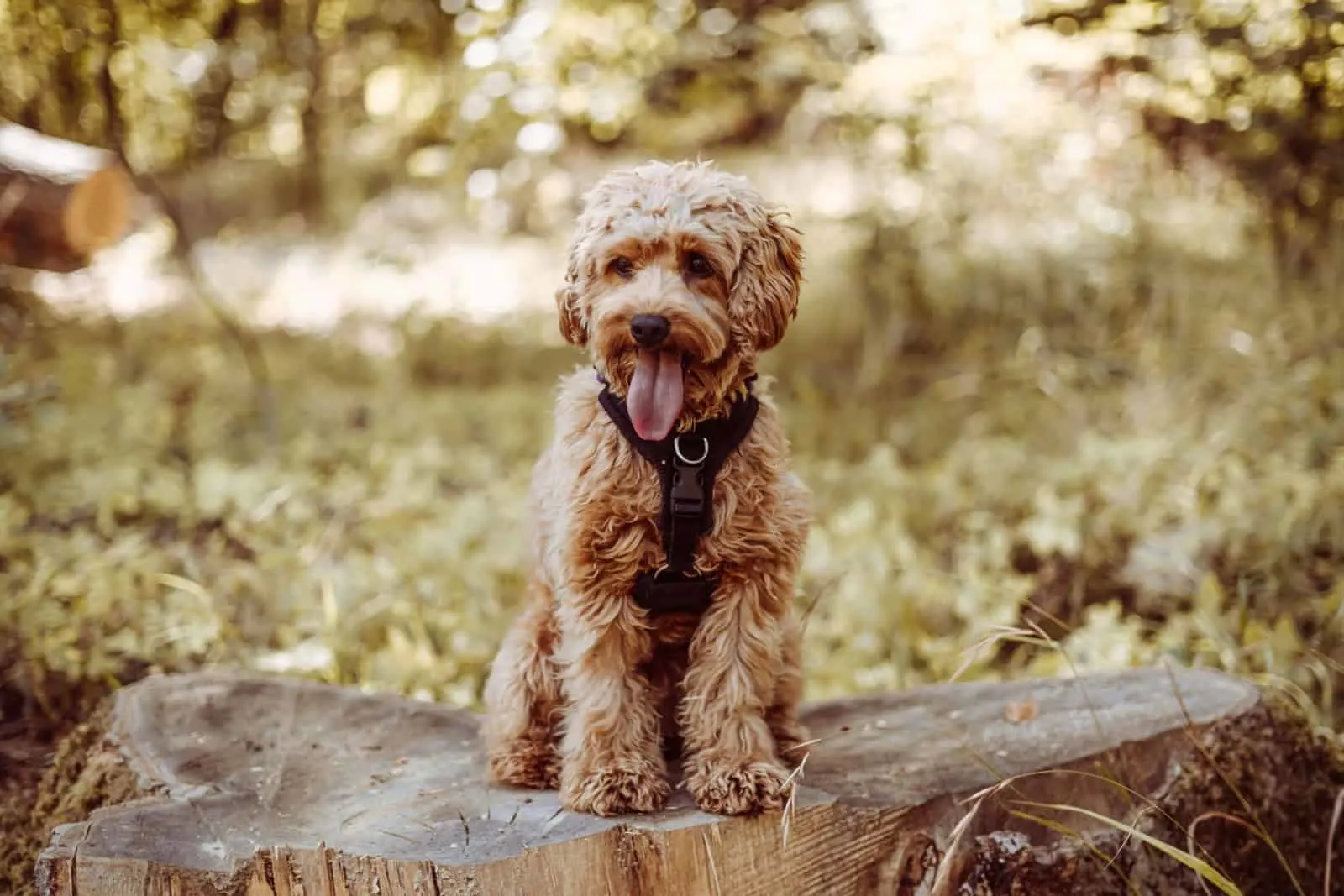 Cavapoo dogs are very popular designer dogs. They are a mix of two purebred dogs with amazing temperamental and physical traits. One of their parents is the famous and hypoallergenic Poodle (usually a miniature Poodle), and the other parent is an elegant and beautiful Cavalier King Charles Spaniel.
The price of Cavapoo puppies can be as high as $4000. This happens when the breeder has famous purebred bloodlines that they use to make a Cavapoo pup.
But the average price is usually between $1500 and $2500. This is still quite pricey for a mixed dog. But remember all the wonderful traits of this pooch, and you can understand why it has such a high price.
Don't forget that these breeders are reputable Cavapoo breeders in New England that take excellent care of all of their dogs. Taking care includes testing dogs for various diseases and health conditions.
All of this can be expensive, and if we include the high-quality food they give to their dogs… it is understandable why these breeders raise their Cavapoo price so high.
Can I Adopt A Cavapoo?
If you are interested in having a Cavapoo pup (who isn't?) but you are not ready to give a lot of money, or you are unable, there is another way.
You can try adopting it. There are many rescue and adoption services in the States, and you can try your local rescue center for starters. Cavapoos are very popular, and with popularity comes overbreeding.
Overbreeding is often a problem with popular dog breeds. This happens when a person who is not a responsible breeder or a dog lover, in general, decides to breed the Cavapoos. They do it for profit, and if they don't sell the puppies, they just throw them out.
The pups end up in a shelter or a rescue center — if they are lucky. This is a sad story but a true one. So, if you want a Cavapoo but cannot afford one of the pups from our Cavapoo breeders in New England — the rescue center is a solution.
There are also some online places for you to check out. For example, here are some websites you can take a look at. They are either in New England or near:
What Are The Pros And Cons Of A Cavapoo?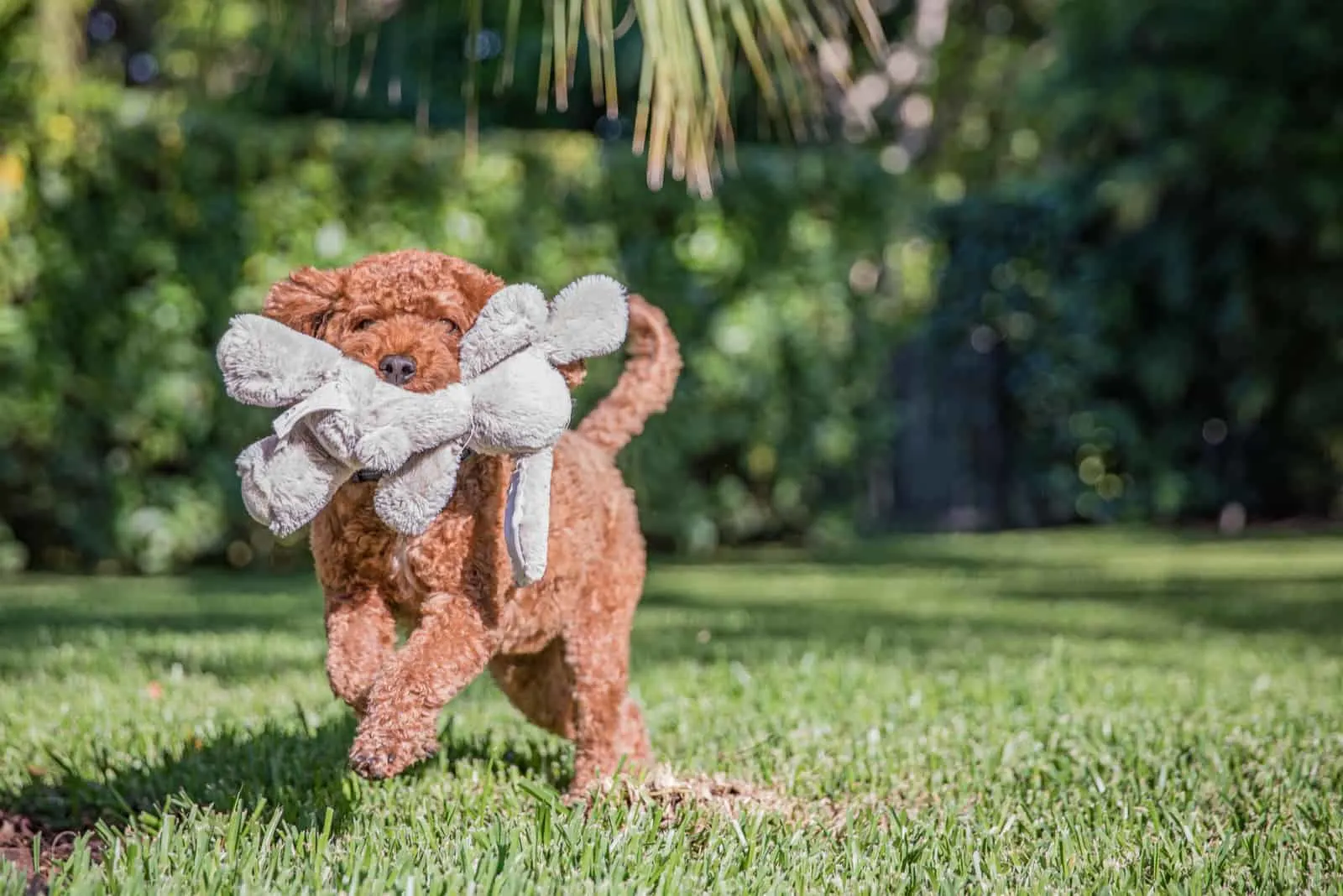 Now, if you are looking through our list of the 5 reputable Cavapoo breeders in New England, then you already know you want to buy a Cavapoo pup. But, before you buy one, here are some pros and cons of this dog crossbreed.
I am going to be honest and tell you that there are not many cons. But, nonetheless, let's start with them first.
Cons
Grooming
Mental stimulation
Separation anxiety
The first on our cons list is grooming. The Cavapoo dog will need regular daily brushing and a bath every two weeks to keep the fur healthy and shiny. That can be a lot of work for some people. The solution to this problem can be keeping your dog's fur short.
Mental stimulation is a must for any intelligent and active dog. They got the clever Poodle genes. That means you will need to play with them and give them something to do or solve in order to keep them entertained and happy. You can help yourself by giving your doggo some interactive dog toys while you are at work.
These are affectionate dogs that can easily become over-attached and suffer from separation anxiety. But, this can be solved with proper socialization and teaching your dog how to behave from the first day he comes to your home.
Pros
Small and cute
Intelligent
Hypoallergenic
Affectionate
Friendly
Adaptable
As you can see, there are many more pros than cons. We will highlight the hypoallergenic and adaptability traits. They are the most important traits when it comes to bringing your dog to your home.
They can do well in an apartment or a house. And allergy sufferers can be great friends with these doggos. They inherited the Poodle's low-shedding and hypoallergenic traits, which makes them excellent pets for any family — with or without allergy sufferers.
The Conclusion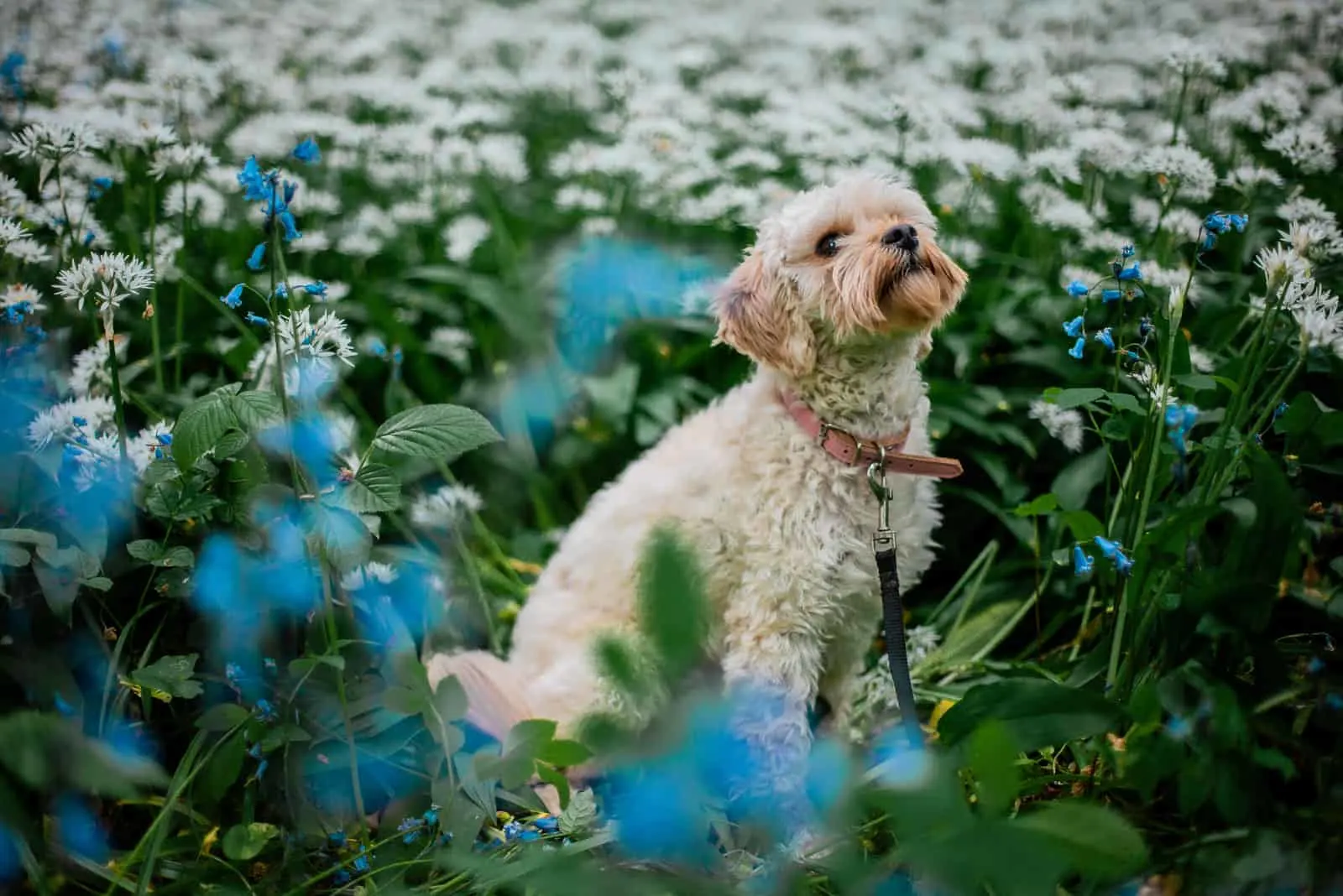 When you decide to buy a Cavapoo puppy, and you happen to be in New England, you'd be surprised how many puppy mills and scammers you can come across.
The more popular the dog breed is, the more scammers there are. It can be exhausting and disheartening. Sometimes, you'll lose your faith in humanity when you read all about the puppy mill industry.
But luckily, there are always those who truly love animals and dogs and do their best to breed healthy and happy puppies. They do not look for profit as an ultimate goal that overshadows everything else.
They want their pups to be happy and well-taken care of in their new homes, just as they were while they were with them. That's why we made this list of 5 Cavapoo breeders in New England.
We want to help you find a responsible and reputable breeder where you can get your new Cavapoo puppy.
See Next: Cavapoo Breeders In New York