This post contains affiliate links, and I will be compensated if you make a purchase after clicking on my links.
Cavapoos are beautiful Teddy bear dogs, but they are very high maintenance when it comes to grooming. They require regular brushing and simple haircuts to keep their coat looking shiny and sleek; otherwise, it will easily become matted and tangled.
Whether you decide to have your dog professionally groomed or not, you'll still need to find a high-quality brush that will make frequent brushing a more bearable task.
Here, you will find our top nine picks for the best brushes for Cavapoos carefully reviewed, so you can find the perfect one that works the best for you and your pooch. At the end of this article, you'll also find a buyer's guide and some tips on how to find the right one.
If you have ever had any doubts about Cavapoo grooming, keep on reading because this is the place where the answers are revealed. So, let's get started!
Best Brushes For A Cavapoo: Our Top Three Picks!
9 Best Brushes For A Cavapoo Reviewed
Cavapoos are a mix of a Cavalier King Charles Spaniel and either a Toy or Miniature Poodle. In order to find the perfect brush for a Cavapoo, we need to know what we are dealing with, so let's briefly describe the Cavapoo's coat type.
They are double-coated dogs, with thick and dense fur that can come in various textures. There are Cavapoos with long hair, short hair, a wavy or a curly coat, or even a straight coat (although it is very rare).
With helping you take care of your Cavapoo's fur as the main goal in our mind, we thoughtfully searched the market, tested, and carefully made this list of the best brushes for a Cavapoo. Let's check it out together.
READ ALSO: Cavapoo Colors: 11 Coat Colors You'll Fall For
Let's start our review with one great choice that will not break your bank. The Hertzko Self-Cleaning Slicker Brush for dogs is one of the very popular choices among dog brushes on the market.
According to the description, this brush is suitable for all fur types, which is great if you have several pets at home with different coat types. Not everyone can buy several grooming tools for every pet that they own, so having one unique tool that works for all is a great solution.
It is designed in a way that makes dog grooming sessions a bit easier for you and more bearable for your pup. One thing that certainly every dog owner hates about brushing their dogs is eventually collecting all of that loose fur.
Worry not because this Cavapoo brush has an innovative push-button retraction that allows you to collect the fur much easier and quicker.
Next on our list, we have an amazing grooming set that comes at a very affordable price, especially if you take into consideration everything that you are getting.
The Ruff 'N Ruffus grooming set comes with one self-cleaning and de-matting slicker brush, high-quality precision nail clippers, and an ergonomic comb that will let you save some money while providing your pup with good-quality grooming from the comfort of your home.
No need for hiring a professional groomer when you have top-quality tools that let you do the same job for much less cost. This brush has many amazing characteristics, with some being a high-quality and sturdy design, easy to use and safe, and the ability to effectively remove tangles and dead hair.
If you want to provide your Cavapoo puppy with professional-like care, you definitely need this Chris Christensen Big G Dog slicker brush. It may be expensive, but it is definitely worth it.
Chris Christensen is a big name in the dog show and pet care world, and there is certainly a good reason behind it. Since day one, they have been providing pet owners with the highest-quality products that only improve the way we look at canine coat care.
That being said, let's see what this product has to offer, and whether it truly justifies the price.
This brush is suitable for Goldendoodles, Labradoodles, and Poodles, but also for various types of Poodle mixes. It comes in three different sizes, but the large one lets you do the job effectively in a fraction of the time.
It features dense and long pins that help you reach into the thick, double coat of a Cavapoo for easier de-matting and detangling. This brush will leave your dog's coat looking fresh and very fluffy.
If you don't mind the price, we definitely recommend trying this product.
Next on our list, we have another one of Amazon's top choices when it comes to the best dog brushes. The Pet Portal dog brush comes in the all-time favorite black color, with green accents.
The best advantage of this brush is that it features stainless steel soft and angled bristles that make grooming very gentle and easy on your dog's skin and coat. Brushing your Cavapoo with this Pet Portal brush will be easy, effective, and most importantly, pain-free.
No one wants to cause any harm or discomfort to their pups, so choosing a very gentle brush is very important. This brush also comes in two different sizes, which allows you to customize it to your dog's size.
If you are dreading brushing your dog because you always end up with a house full of dog hair, don't worry – with an easy push of a button, you can easily collect your pet's hair without having to clean it up around the house.
If you have been online lately, and following social media, you must have heard of the FURminator grooming rake. Personally, I have seen many videos on TikTok of people using it, and it prompted me to try it myself on my dog.
I realized very soon why so many people love it. The FURminator dog brush is specifically designed to deal with a dense and thick double coat, which also makes it great for Cavapoos.
It features rotating metal teeth that allow you to easily reach the undercoat and brush out any tangles and mats. Additionally, this updated model has a convenient nonslip handle that provides you with maximum control and comfort.
The time spent on brushing should be the perfect time to bond with your pup, and in order to do that, both sides have to enjoy it; therefore, it is very important to find one brush that is going to be equally liked by you and your beloved pooch.
Let's introduce you to our top budget pick — the Glendan Slicker Pet Grooming brush. Often, people think that cheap things are not exactly high-quality products; however, while this may be true, sometimes it happens that cheaper things are better than those expensive ones, so don't judge too quickly.
This brush is suitable for both short- and long-haired dogs, and it is very durable, strong, and comfortable. It features safe and comfortable bristles that brush and massage your dog's skin at the same time.
Massaging is great for your dog's health as it increases your dog's blood circulation and prevents skin diseases from happening. The large size works better for most people because it lets you cover more space much easier.
The only downside of this brush is that it doesn't have any kind of push-button retraction, which means that cleaning afterward is not as easy as with others. You'll have to get a little bit creative with cleaning, but other than that, it is a great product, especially for the price.
Our next product is one of Amazon's #1 bestsellers with a lot of fans all over the world. This Maxpower Planet pet grooming brush offers you a double-sided design for a more practical and effective use.
One side with nine teeth is great for dealing with those stubborn mats and tangles while the other side with 17 teeth is perfect for thinning and de-shedding, which will give your grooming the final touch.
With this brush, you don't have to worry about it scratching or causing irritation to your beloved dog because it is designed in a way that allows you to effectively remove any knot, but at the same time, be gentle and safe.
It will keep your dog's coat looking shinier than ever, and your house hair-free – the perfect win-win situation.
Our next product is definitely a tool that every pet owner must have, especially if you have a Cavapoo as your furry friend. The Quadow Tuffer Than Tangles slicker brush is a great choice that many professional groomers also recommend.
It offers you a lightweight and easy-to-use grooming tool that can easily reach all those areas of your dog's body that are usually hard to reach. It has angled and extra-long bristles that allow you to effectively remove all mats and tangles in a flash.
It will re-fluff effectively, and make your Cavapoo's beautiful coat tangle-free without causing any discomfort to your pooch. This is the goal of every brush for a Cavapoo, and this one does its job very amazingly.
It is also suitable for various other dog breeds, which is great if you have multiple pets at home.
At the end of our list, we present you with one of the best-rated products when it comes to Cavapoo grooming. Let us tell you more about this wonderful Andis steel comb.
This comb can be used in so many ways; it is very sturdy and good for thick Cavapoo hair, it can easily access those hard-to-reach places, it can be used for cleaning and for combing conditioner through the hair.
It is also very lightweight and easy to use, so you don't have to worry about getting tired while brushing your pup. The duality of coarse- and fine-comb teeth will allow you to deal with any kind of knot and loose hair while also making your pup's coat fluffy and beautiful.
With its excellent quality, it is definitely worth the price since it will keep your Cavapoo matt-free all year round.
Buyer's Guide: What To Look For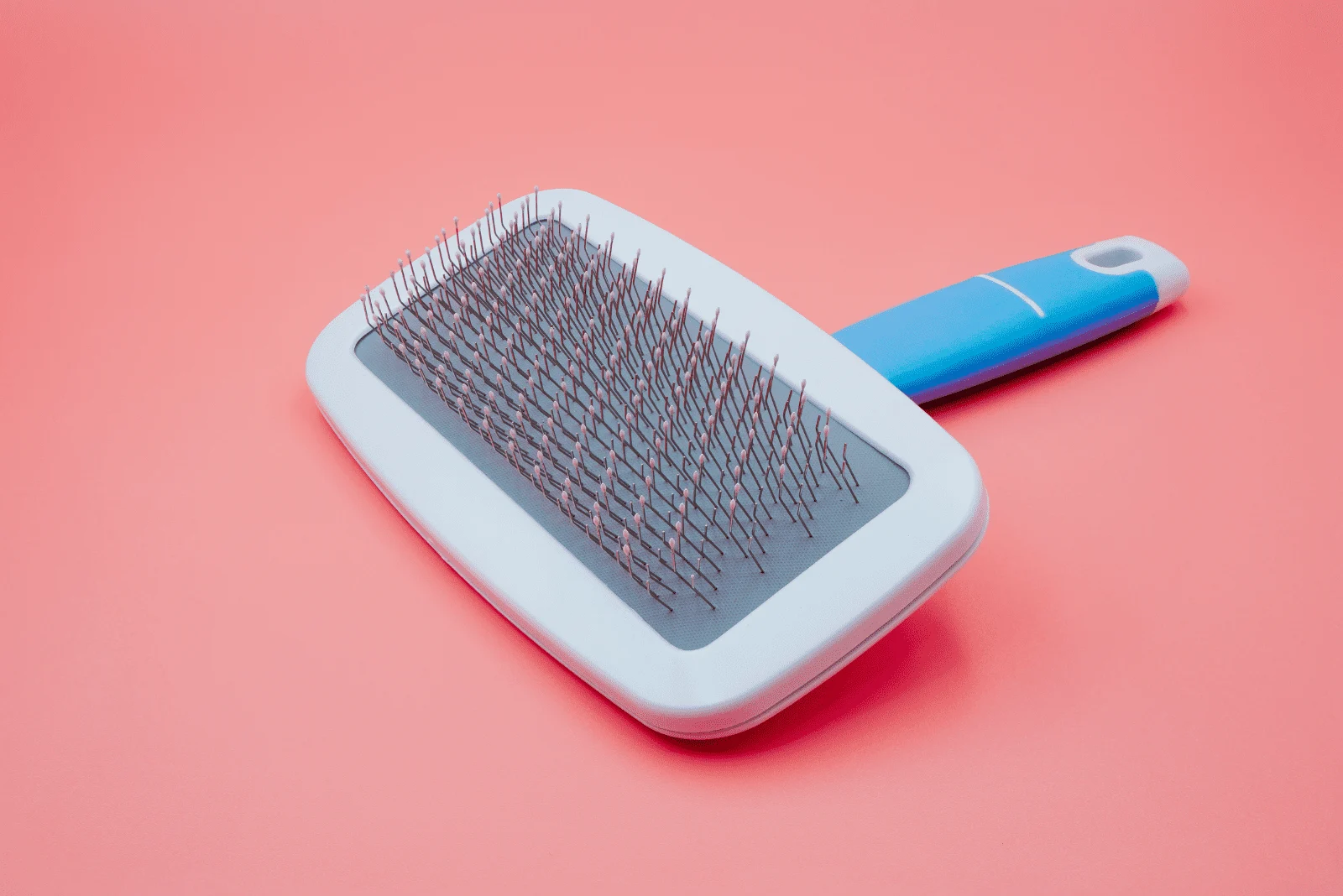 Not every product is made the same or has the same characteristics, so it is very important to know what to look for in order to choose a good product that will last you a long time.
Quality
The first on our list of things to look for is, of course, quality. If you choose a tool made from high-quality materials, you will be able to use it for many years to come, which is definitely what everyone needs.
Some dog brushes may be advertised a lot as one of the best on the market, but quickly after using them, you notice bristles or pins coming out and the brush falling apart, so it is very important to find a sturdy and well-constructed brush that is going to serve its purpose for a long time.
Ergonomic Design
Brushing can be very tiring sometimes, especially if you don't have the right tool. Look for something that offers you good control and is designed with an ergonomic handle and a unique rubber coating for better grip and comfort.
A properly designed brush with anti-slip characteristics, and a sturdy handle, will allow you to use less of your energy and strength (prevent wrist pains), and therefore, make this more of a positive experience even for you.
Easy To Clean
Most of us hate brushing our dogs because the hair flies everywhere, and you end up with a house full of dog hair that you have to also clean. Well, there is an easy solution for this.
There are brushes with a self-cleaning mode that will make brushing your Cavapoo (and your life) much easier. Look for brushes that have a push-button retraction, which allows you to easily and simply collect the fur without it flying everywhere.
Easy To Use
Lastly, look for brushes that will be easy to use and make the brushing a more enjoyable experience for you as well as for your pup. Brushes with a wide and flexible face will allow you to cover more area, and therefore, speed up the process.
Flexibility is also very important because then, you can easily reach those dense and hard-to-get areas of your dog's body.
FAQs
How often should you brush your Cavapoo?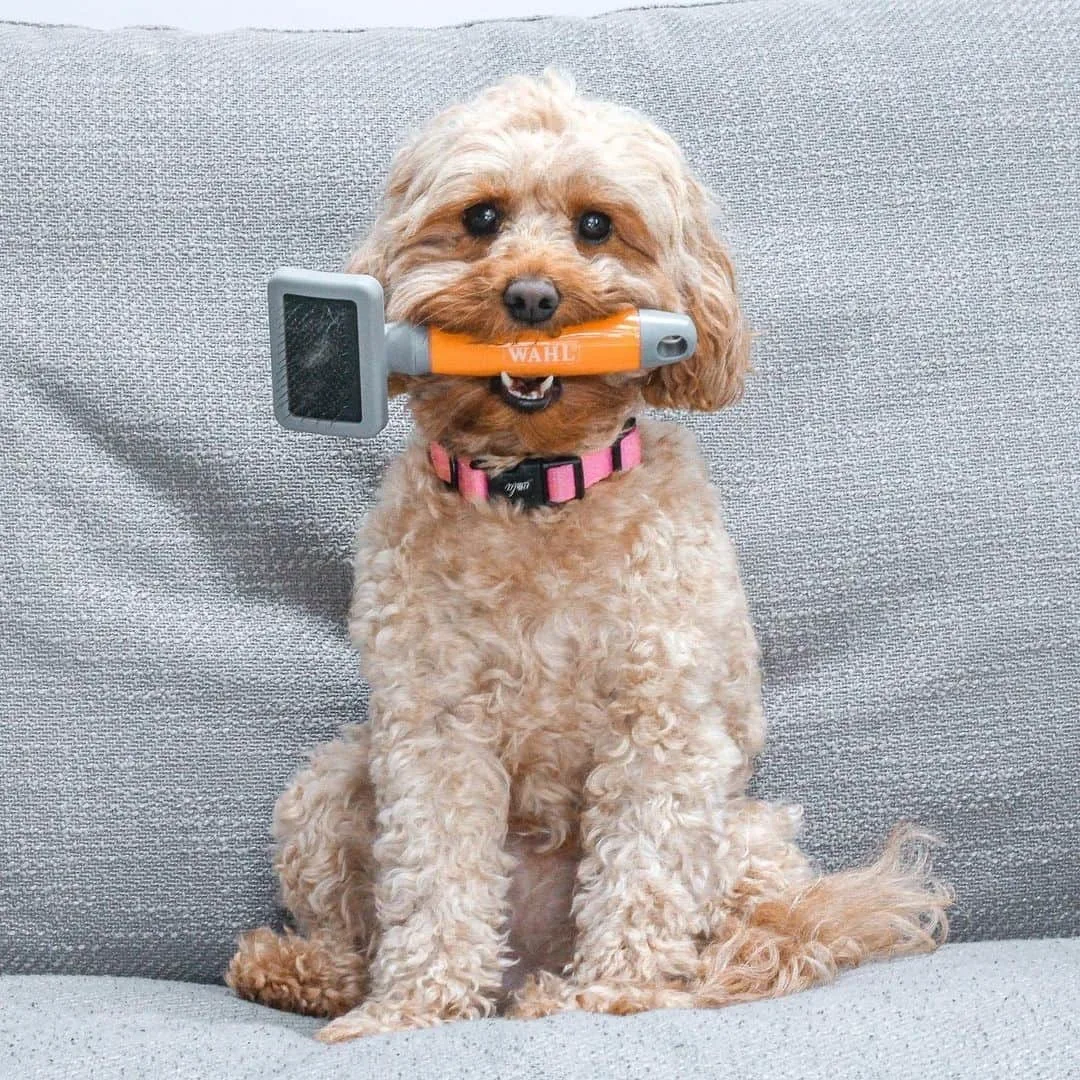 Photo from: @wahlpetgroominguk
Cavapoos are considered to be a hypoallergenic breed due to their Poodle genes; however, no dog is fully non-shedding.
Cavapoos might be low-shedding dogs, especially when compared to dogs like Huskies, which shed a ton, but they are definitely not low-maintenance when it comes to grooming and brushing.
They have a beautiful coat that can come in various types and colors, but they can get tangled and matted very quickly, which is why they need regular brushing to keep their coat looking as beautiful as ever.
If it is matted, it will trap dirt and debris easier, and therefore, be very challenging to keep clean. Brushing will help avoid this, so it is recommended to brush your Cavapoo as much as possible.
Most groomers recommend brushing twice or thrice a week, but if you have time, there is no harm in brushing even daily, especially if you have a long-haired Cavapoo. Brushing is also required after bathing your pup as its hair can get very frizzy, and therefore, tangled.
Regular brushing does not only remove loose hair, knots, and tangles, but it also helps promote your dog's coat health as it distributes the natural oils throughout the hair.
RELATED: The 22 Best Smelling Dog Shampoos For All Coat Types (2022)
How do you brush a Cavapoo's hair?
Although brushing might seem like an easy and self-explanatory task, sometimes it can become very challenging, especially if your pooch doesn't like it. Luckily, there are some tips and tricks that can help you brush your pup like a pro.
The most important thing to keep in mind when brushing your Cavapoo is to work in small sections. Start with a small area at a time (for example, the head) and work your way gently throughout the rest of your dog's coat.
It is very important to be gentle, and not to pull too hard on your dog's hair, especially if you encounter any knots and tangles. If you want to brush out the knots, you have to do it step by step. Just remember how you would brush your own hair, going from the ends slowly to the root.
For brushing out knots and tangles, we recommend using a metal comb with wide teeth as it will be gentler and tug less.
Before you move onto the belly, it is a good idea to do all your dog's legs first since usually, the tummy is their most sensitive part. Remember to always be gentle, and don't do it too vigorously as it will cause discomfort or even pain for your pup.
Do your brushing in a calm and peaceful environment, and also when your pups are calm (preferably after long walks when they are very tired and won't cause any problem). Try to make this experience as positive as possible because it will be easier for you and also your pup.
Don't forget to reward him/her for being a good boy/girl while brushing. When you are done, run your hand once more through your dog's hair to check if there are any knots left.
What kind of brush is best for a Cavapoo?
Generally, there are different kinds of dog brushes on the market, but not every single one is good for your Cavapoo puppy. Let's see what those good ones are and what their benefits are:
Slicker Brush
Slicker brushes are probably the most common type of grooming tool used for brushing Cavapoos. They are also a good choice for many other dog breeds because they come in various shapes and sizes that can work for either small dogs or those larger ones.
They are usually wire brushes with densely-packed metal pins that are perfect for dealing with knots and removing any dirt and debris. This is why so many dog owners prefer this type of brush.
Although they can come in various sizes and shapes, we recommend getting a rectangular one with slightly bent bristles because it will help you cover more area and not cause any damage to your dog's skin.
For best results, it can be used in combination with a bristle brush, which will leave your dog's hair beautifully shiny.
Pin Brush
Another great choice for brushing your pet is a pin brush. Pin brushes are great for dealing with medium to long hair and distributing natural oils throughout the hair. They are also great for removing mats, tangles, knots, loose hair, and brushing out dirt and debris.
As opposed to slicker brushes, these pin brushes are made from stainless steel pins that are usually more widely spaced.
If you have a long-haired Cavapoo, then a pin brush with fewer pins is going to work better, whereas a brush with more pins is going to be a better choice for a short-haired pup.
Combs
Every dog owner has to have a comb in their household. A good-quality comb is a great overall tool for brushing out tangles and knots as well as removing ticks and fleas from your dog's coat.
This simple but very effective tool is a staple in dealing with shedding hair and all kinds of coat problems. Look for a high-quality steel or metal comb that has both coarse and fine teeth for a greater variety.
READ ALSO: Cavapoo Cost: Is This Doodle Worth The Price Tag?
To Sum Up
Cavapoos might be low-shedding dogs, but they certainly aren't low maintenance when it comes to taking care of their coat. These beautiful dogs require regular brushing to help keep their fur sleek and shiny since it can get matted very quickly.
A high-quality dog brush is what every Cavapoo owner must have in their household in order to stay on track with Cavapoo grooming. Here, we have provided you with nine examples of the best brushes for a Cavapoo that will certainly make this task much easier.
Related Content
Best Brush For Goldendoodle: Top 12 Tools To Make That Doodle Coat Golden
9 Best Brushes For Maltese Dogs: Take A Look At Our Top Picks
13 Best Brushes For Havanese: Tools That Will Make You A Groomer
10 Best Brushes For Cane Corso: Brushes For A Luxurious Shine
17 Best Brushes For A German Shepherd: PAWesome Choices For Your GSD