Disclosure: This post contains affiliate links, and I will be compensated if you make a purchase after clicking on my links.
The Havanese dog breed certainly doesn't leave anyone without a comment. With their long and silky coats, the Havanese is an admirable pup. The national dog of Cuba is also known as "velcro dog", but not for its sticky coat.
Its unusual moniker comes from the fact that they attach easily to their owners, and they love showing affection. But, their coat? Oh, their coat is something extra: shiny, silky, long, and soft in both layers.
However, it won't stay that way unless you treat it well. The Havanese coat needs proper dog food, frequent bathing, and brushing to stay nice and healthy. To do that task successfully, you will need some good tools.
You'll need good clippers, spray bottles, shampoos for sensitive skin, toothpaste, toothbrushes, combs, and of course, good grooming brushes. But, you can't use just any dog brush!
Did you know that there are right brushes for long-haired dogs and right brushes for short-haired dogs? Not every brush works the same on each dog. Even show dogs require special brushes.
Since the Hav is a long-haired pooch, we've come up with a list of the best brushes for a Havanese. After reading this, you'll turn into a real groomer, mark our words!
| Name | Rating |
| --- | --- |
| 1. FURminator Dual Dog Brush | 4,4 |
| 2. Safari Shedding Comb (Editor's pick) | 4,4 |
| 3. Kenchii Boar & Nylon Bristle Brush (Editor's pick) | 5 |
| 4. Hertzko Long Blade Comb | 4,3 |
| 5. Hertzko Self-Cleaning Slicker Brush | 4,5 |
| 6. Martha Stewart Double-Sided Dog Comb | 4,1 |
| 7. Hertzko Dog & Cat Mat Remover | 4,1 |
| 8. Safari Wire Pin Bamboo Handle | 4,6 |
| 9. FURminator Long Hair Dog Deshedding Tool | 4,7 |
| 10. Hertzko Dog & Cat Hair Brush & Hair Dryer | 4,2 |
| 11. Safari Double Row Undercoat Rake | 4,6 |
| 12. Frisco Grooming Glove | 4,2 |
Almost every pet owner, no matter if you own a Poodle or a Havanese, has heard about the FURminator. It's presented as the ultimate dog brush every owner should buy. But, is it really like that?
The FURminator IS really that good. We have here a double-sided dog brush with pins on one side and bristles on the other. The FURminator Dual Dog brush is exactly what it says it is: an ergonomically designed dog brush that both brushes and removes matted fur.
The pin brush is usually used on long-coated dogs. The long pins penetrate deep into the dogs' coat, reaching all the knots, mats, and tangles. The bristle brush, i.e., the one made of nylon, can be used on all coat types and lengths. It gives the coat its final look and promotes the natural shine all dogs have.
The FURminator now has a complete line of grooming products. If you use this brush along with their shampoos, conditioners, or detangling sprays, your Havanese will have a nice, shiny, and most importantly, healthy coat!
With a price of only $15,99, you can say it's really a bargain considering how much help this brush provides in terms of less dog hair around the house.
All long-haired dogs need to be combed thoroughly. If you own one of these pupsters, then you probably know what kind of stuff can get messed up in the coat: from leaves to dirt, and dead bugs.
That's why you need a shedding comb, and this Safari Shedding Comb for long-haired dogs is one of the finest (and cheapest!) choices on Chewy.
This is a specially designed grooming tool that lifts out dead coat hair. With its long teeth, this comb penetrates deep into the undercoat, brushing it out and massaging the skin underneath.
The short teeth are there to collect the loose hair. Even though it may look pointy and potentially dangerous, the Safari Shedding comb actually has smooth and rounded teeth. They can't hurt your dog at all. In fact, they're quite gentle!
Dog groomers claim that combs like this one do their job better than any brush. The Safari comb is effective and pain-free. A bonus side is the contoured wooden handle that's easy to grip and very durable.
If you're on the lookout for the best helper when it comes to solving those tangly problems, the Safari Shedding comb is your buddy.
This brush may be on the expensive end, costing $26, but once you get it, you won't need another bristle brush for life. The Kenchii Boar & Nylon bristle brush can be used on both dogs and cats! But, can it be used on your Havanese? Of course!
This brush is one of the best brushes for a Havanese because of its antistatic boar and nylon bristles. The coat becomes stunningly shiny after using this brush!
When we said you won't need another bristle brush ever, we really did mean it. This brush comes with reinforced bristles to help prevent bristle loss over time. In other words, it's extremely durable, and even professional dog groomers are using it. Made to last, the brush is made of Maplewood construction with a high-quality and sturdy design. If you drop it, you won't break it easily!
Some people call it "the finishing brush" because it ensures your dog has a smooth, soft, and silky coat finish. You won't feel sorry for buying the Kenchii bristle brush.
A long-haired dog owner or a Havanese dog owner shouldn't be left without a good dematting comb. Any matting will trap not only dirt like mud, leaves, or bugs, but it will also trap moisture and unpleasant odor. Such conditions are ideal for bacterial growth. You don't want your dog to suffer from infections or skin irritations, do you?
Well then, get a good dematting comb! This one from Hertzko works wonders, even on cats! At first, this comb may look quite professional to you. That's because it is. The Hertzko dematting comb is a high-quality grooming tool that removes dead hair, dander, knots, and tangles.
The special blade design was created to go gently through matted hair without pulling it out and causing pain. The comb may look dangerous, but it really isn't. It has rounded ends that won't hurt your Havanese.
When using the Hertzko dematting comb, you'll be both combing your dog and massaging its skin. Massaging its skin promotes good blood circulation and ensures hair growth.
The handle design of this comb is nicely done, with a comfortable grip and anti-slip rubber handles. In case you've got a lot of dematting to do, your hand won't hurt while using Hertzko. The price is a bit expensive, $29,98, but Chewy often has some good deals so make sure you follow the sales.
Rarely anyone enjoys cleaning after brushing their dogs. Well, with Hertzko's Self-Cleaning slicker brush, that won't be an issue anymore. This slicker brush comes with the powerful ability to brush your dog's coat and leave it with a sparkling shine.
An even more powerful ability comes with a push of the automatic retraction button, which pulls the brush bristles back into the brush. The brush is instantly hair-free, and you don't have to clean it yourself or chase stranded dead hairs around the house.
This slicker brush has specially designed and curved bristles that penetrate deep into any fur (even the thickest ones) without making a scratch on your dog's skin.
The brush is quite easy to use, and it fights even the nastiest knots and the tangliest tangles. After using Hertzko slicker, your dog's coat will look healthy and shiny, and that's what we all want. A scruffy Havanese is a painful sight.
The brush is more on the expensive end, costing $24,99, but it's often on sale at almost 50%. Make sure you grab yours!
You can never have enough combs if you own a long-haired dog. And, if you're also a baking fanatic, then you'll love this Martha Stewart Double-Sided dog comb. This is a 2 in 1 product for the low price of only $9.99, which you'll definitely find useful.
The comb was specially designed to help fight knots and tangles. But, those aren't the only things this comb removes. It also takes care of dander, fleas, and flea eggs! You never know when those nasty pests will strike, so it's better to have a comb like this one at home.
The comb feels light in the hand, and it sits comfortably while you brush your Havanese. You can use it on dry or wet fur. Either way, it does its magic.
The good thing about this comb is that it has rounded tips that cannot hurt the dog. Instead, combing actually massages their skin and promotes good blood circulation. When combing, use the line brushing technique for better results.
We're glad Martha Stewart didn't stick to baking only. Dog grooming tools are slowly but steadily becoming her thing.
Every pet wants a smooth coat. Every pet does not want to be pulled or scratched during grooming time. Every pet wants the Hertzko mat remover! This tiny, but powerful little tool is worth every penny.
For the price of $29.98, you get an excellent dematting tool that not only doesn't hurt your dog, but removes matted hair effectively. The blades are made of stainless steel, and they're meant to cut through the toughest matts without pulling the hair. The rounded points provide extra safety when handling.
This mat remover is designed to both remove knots and mats, and to massage the skin underneath. Hertzko has been updating its tools, coming up with non-slip ergonomic handles that are easy to grip, and a thumb rest for better control of the tool.
The only thing that might bother some buyers is that this mat remover is designed for right-handed people. But, in case you're left-handed, give it a try or two. You can definitely get used to handling the Hertzko mat remover.
Sometimes, the simplest tools are the best. If you're not a person who loves many gadgets, tools, and ultra-modern trends, then you should stick with the classics. We present to you the Safari wire pin bamboo handle dog brush. It's one of the ultimate grooming tools, and the perfect brush if you're new in dog grooming.
The Safari pin brush can be used in two ways: distributing long and/or short strokes. When you brush using short strokes, the brush is able to remove dirt from your dog's hair. Long strokes are used to distribute the dog's natural oils, leaving the coat shiny, healthy, and stunning.
The Safari brush is designed for all coat types, including the Havanese dog breed! In case you're a newbie groomer, you'll find that the eco-friendly bamboo brush is a nice touch since it's quite easy to use and provides a steady grip.
Keeping up a steady grooming routine can be tiring, but with the use of the right tools like the FURminator deshedding tool, it feels more like a walk in the park. The FURminator deshedding tool is the most expensive of them all, but is it worth the $39.99 price? Let's see what kind of magic this dog brush does!
The FURminator deshedding tool comes with stainless-steel tiny blades that go through the dog's topcoat removing loose hair. If you use this tool as it's planned, you will never hurt your dog. It's proven that regular use of the FURminator reduces shedding overall.
But, the blade isn't the only excellent thing about this tool. The handle is superb, too! It's ergonomic and provides comfort during usage. Long story short: the FURminator deshedding tool is definitely worth the money.
We really love 2 in 1 products. The Hertzko dog and cat hair brush and hair dryer has it all. You only need a good shampoo and your grooming session can start. This dual-purpose tool fights knots, mats, and tangles effectively. Also, it functions as a hair dryer.
The dryer has two heat levels, both of them are mild enough not to hurt the dog's skin. The motor of this tool was especially designed to make little noise. Dogs get easily scared by loud noises, especially if they're too close to their ears. That's why a silent dryer motor is extremely important.
The Hertzko brush and dryer has many awesome features, like a long power cord for easy handling. Also, the brush bristles are made with round, plastic points that prevent hurting the dog's skin.
This innovative product is great when your dog gets wet from walks in the morning. Just plug it in, give a little trim, and dry along the way.
The Undercoat requires extra care, too. This is where debris, dirt, and moisture get trapped. If your dog has a dirty undercoat, it becomes the ideal place for bacterial growth. You need to make sure the undercoat is dry, clean, and tangle free. Could you imagine a better grooming tool than the Safari double row undercoat rake?
This rake has round and rotating pins that reach the undercoat easily, without pulling the hair or breaking it. Frequent use of this tool ensures less shedding and promotes good coat health. The Safari rake is the perfect size for small dogs, just like your Havanese.
When using it, think of the session like a pampering one instead of regular maintenance. Your Hav will surely enjoy being combed thoroughly with the Safari rake. Combing also massages the skin, promotes good blood flow, and thus, ensures good coat condition and hair growth.
This is technically not a brush, but it does have the same purpose as any other brush or comb on our list. The Frisco grooming gloves are the best buddy of those owners whose fury buddies won't cooperate during grooming time. By putting on these gloves, you'll be brushing your dog and petting it at the same time.
The Frisco gloves collect loose fur and hair of all coat types. It even works on wet fur! These gloves have palms covered in soft rubber tips. One size fits all since they come with adjustable fasteners.
The gloves aren't non-stick. The hair does fall out easily, but it only emphasizes how efficient they are. Give your pup a brush over a sheet, outside, or in the tub. It's really as easy as it seems.
Give this innovation a try. Your Havanese will think it's a petting session and will enjoy it.
Best Brush For A Havanese Puppy
Every dog needs its rubber ducky. The Frisco brand has made a twist on the classic rubber ducky and created a rubber ducky curry brush!
Besides making bathing and brushing time more enjoyable, the Frisco ducky has proved its efficiency. Its soft rubber teeth clean any dirt that might be trapped in your Hav's coat, and it also leaves the coat tangle-free and shiny.
Besides dry brushing, you can use this rubber ducky curry brush to shampoo your dog, massage it, and stimulate good blood circulation. Your Hav puppy will enjoy a nice massage that will promote natural oil distribution and support new hair growth.
We love this puppy brush because it has proven that it reduces shedding between two baths. Even pups with sensitive skin can use it, but make sure you don't use too much force while brushing your dog.
How Do You Brush A Havanese Dog?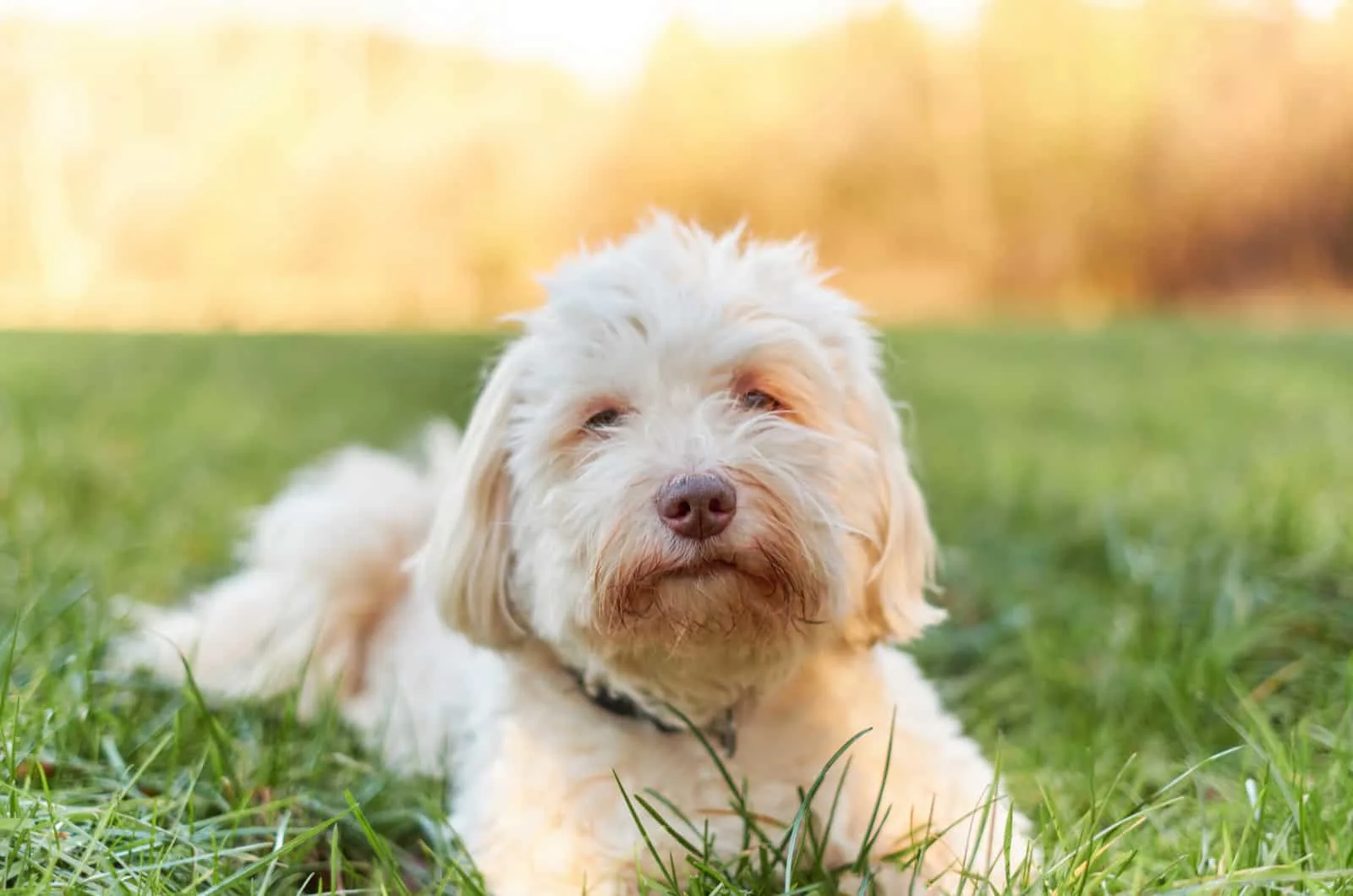 If you can commit to daily brushing, that would be amazing. Your Havanese needs constant care, and if you want a healthy puppy, you better learn how to brush a dog the right way.
First, spray one area of the coat with a detangling spray. Then, brush all the way down to the dog's skin to comb through tangles.
You shouldn't brush just the outer coat. Brush using the line technique. Make a line going horizontally from the nose to the tail so you can see the skin.
Brush the hair up and down, starting from the feet and making your way up to the middle of the back. Always keep your brush flat because angled brushes may hurt your dog.
FAQs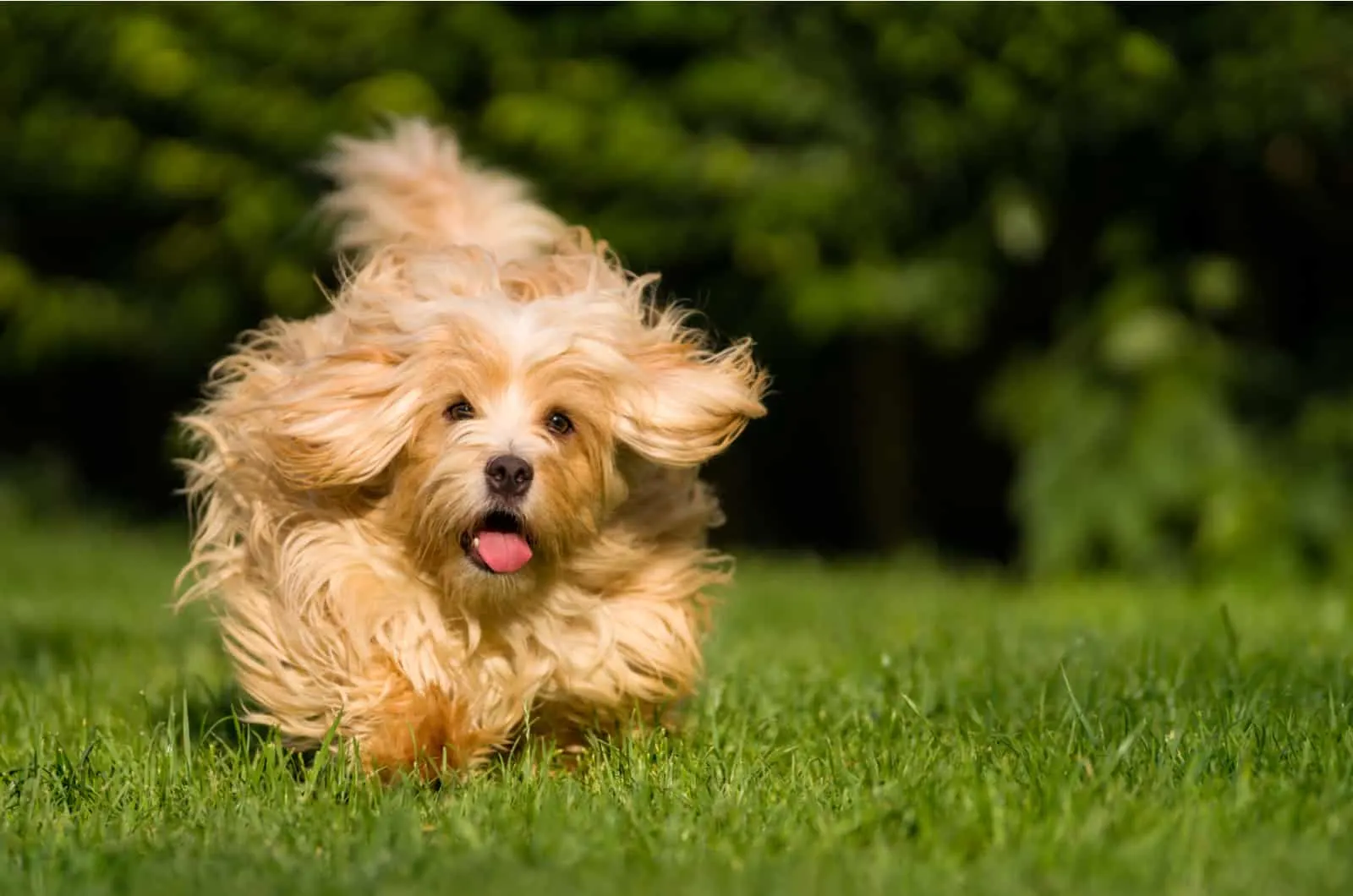 1. What Type Of Coat Do Havanese Dogs Have?
At birth, Havanese puppies have a smooth and short coat, not longer than 0.3 inches. As the puppy grows, the coat begins to form. By the age of 8 to 12 weeks, your Hav puppy should have a longer coat of around 1 to 2 inches.
After the first-year milestone, a puppy should have a 5 to 6 inch long coat, or even 7 to 8 inch long coat for fast-maturing pups.
The first biggest coat change happens from 8 to 15 months when the puppy coat transitions to the adult coat. The transition coat may look a bit scruffy, but that's nothing to be afraid of.
An adult Havanese has a double coat, with a soft overcoat and undercoat. It takes up to 4 years for the perfect Havanese coat to develop. The Havanese's coat is long, but never floor-sweeping like with the Afghan Hound.
2. Is A Havanese Hypoallergenic?
Since their coat is low-shedding, Havanese dogs are considered hypoallergenic. People prone to allergies may stick around Hav puppies without that tingly feeling up their nose.
However, there is no such thing as a 100% hypoallergenic dog. Some severe cases may find that the Hav triggers their allergies, but it's mostly not the case. So, yes, in case you're prone to dog-related allergies, but you still want a dog, the Havanese is your boy!
3. How Often Should You Brush Your Havanese?
If you can commit to daily grooming, that would be just amazing. But, in case you're too busy, a full brush-out 2 or 3 times a week would be great, too! Even if your Havanese sports a short trim, weekly brushing should still be done.
You should be aware that dry brushing is a huge NO. Always use a light mist or a detangling spray. In case you can't detangle some hard knots, you can visit a professional groomer for a special Havanese grooming treatment, but those trips can be quite pricey. Better study hard and become your Havanese's personal groomer.
4. How Often Should You Bathe Your Havanese?
Havanese dogs require a strict bathing and grooming schedule. We advise you to bathe your Hav once a week. The time between two baths shouldn't be shorter than one week, but it also shouldn't go over the 3-week period.
Regular Havanese bathing promotes good skin and coat conditions. Always use mild and natural products that don't have a harsh impact on your dog's skin.
5. How Many Brushing Tools Should I Own?
You will need around six brushes if you want your dog to have the full treatment and a shiny, silky coat. Bristle brushes work the best on long-haired dogs, but slickers, wire pin brushes, combs, rakes, and shedding tools also do their magic.
In case of a flea emergency, always have a flea comb in your grooming kit.