Disclosure: This post contains affiliate links, and I will be compensated if you make a purchase after clicking on my links.
A crossbreed between a Poodle and a Golden Retriever, the Goldendoodle is one of the most popular dogs in the States. In fact, because of their kind temperament and adorable looks, Godlendoodles are becoming widely popular. And, we couldn't be happier!
This crossbreed is one of our favorite, and lovely pups like these deserve good treatment. Besides taking care of the dog's inner health, food, and healthy habits, your pooch needs to have good looks. A healthy coat means a happy dog! So, you better start assembling your own grooming kit, that is, unless you want to spend lots of money on professional groomers.
Chewy and Amazon have excellent, high-quality dog brushes, combs with different teeth spacing, clippers, and deshedding and other tools that will make you a star of the grooming process.
Why don't you take a look at our list and go shopping for the best brush for Goldendoodle?
The pin and bristle brush from Frisco is something that every home with a Goldendoodle should own. Why? Because it's more than efficient, and it saves you money. The double-sided brushes are always a good idea.
You don't have to waste too much money on multiple brushes, and you always have what you need right there.
This brush has soft bristles on one side that help to distribute natural coat oils. After brushing with the bristles, the coat stays shiny and smooth. Then, the pin side is there to help you get rid of the nasty mats and knots.
It removes any dead hair and debris, and it fluffs out the coat. It's best to use both sides for a premium grooming experience. If you use it regularly, you will notice how your dog's coat changes for the better. It becomes shinier and healthier, guaranteed.
The Frisco Pin and Bristle brush is a regular-sized one. For only $12.79, you get one excellent product that will serve you for years. It's not one of those brushes that cramp your hand. Thanks to the rubber anti-slip handle, grooming will be an easy-peasy task for you.
Slicker brushes are terrific for grooming Goldendoodles. We love the FURminator brand because it always has excellent products that do exactly what they're supposed to. Their firm slicker brush will pick up any dead hair off your dog's coat. The name, FURminator, is absolutely justified!
This brush features two bristle sides: one with straight bristles, and the other with curved bristles. It was specially designed for dogs with medium, long, and curly coats to help fight those nasty mats.
Luckily, the brush removes mats and dead hair efficiently without damaging the coat. Thanks to the dual-flex head, the brush follows your dog's natural contours and penetrates deep into the coat. While brushing, the bristles stay in their ideal positions.
The reason why we love FURminator so much (besides its great efficiency) is because the brand actually cares about the dog owners or groomers.
This professional grooming tool is designed with an ergonomic handle and an anti-slip grip that fits snuggly into everyone's hand. The material is antimicrobial plastic, which prevents bacteria and germs.
Slicker brushes for grooming Goldendoodles are very helpful. They remove tangles and loose hair efficiently, leaving the coat looking lustrously shiny. And, if they come with a self-cleaning function, it's even better. Well, the Safari self-cleaning slicker has all that and more!
This brush comes with gentle, stainless steel pins that groom the coat efficiently, without irritating the skin. The pins are retractable. With one press on the button, you'll have all the dead hair to collect and toss in the bin.
No more mess, no hair everywhere, no half-groomed dog coat. This brush delivers and proves how worthy your money is. For only $20, you get a premium grooming tool that will last you forever. Use it regularly and you'll see how a minimum of effort gets the coat shiny and healthy.
The handle of this slicker is made for your comfort, with a sturdy grip and anti-slip rubber. It provides complete control of the movement, and doesn't tire your wrist.
No matter how tangled your Goldendoodle is, he or she will look brand new after a grooming session with the Safari self-cleaning slicker brush.
There are some knots that simple brushes just can't get, especially if your dog has an undercoat. Different undercoat types can get quite messy if you don't groom them regularly. That's why owning a grooming rake wouldn't be such a bad idea. You'll get the work done, and you won't get tired at all. Dematting won't be your least favorite thing to do from now on.
With the FURminator dog grooming rake, you can consider yourself a Goldendoodle grooming expert. Yes, that's how good this FURminator line is.
This rake comes with rounded stainless steel pins that rotate completely and remove dead hair, along with minimizing tugging and skin irritation. Now, you won't have to spend an average salary for monthly groomer's visits.
The FURminator grooming rake comes with an ergonomic handle, and the entire tool is made by using antimicrobial plastic. This way, germs and bacteria are kept on a minimum level.
It's not enough for a grooming tool to remove loose hair. It should have other features, i.e., being made of antimicrobial plastic benefits the dog's health and keeps its coat infection-free.
Many dogs hate the thought of being groomed. It's not that they don't like looking pretty and sporting around a healthy coat. It's because they get hurt while being groomed.
It's either their skin being irritated and scratched or their hair being pulled. With regular use of the PetBrush by WetBrush Detangler, all of that will be history.
This detangling brush offers only a superior grooming experience for your Goldendoodle. The brush was specially designed to detangle knots quickly and efficiently, while still being gentle.
The IntelliFlex bristles glide smoothly through the hair and leave it looking sparkly. If you use it every time you groom your Doodle, you can even reduce the amount of damaged hair.
This brush can be used on a wet and a dry coat, but make sure you apply conditioner if you're using it while bathing. This way, you won't pull on your dog's hair that much, and you'll get rid of those mats faster.
The PetBrush by WetBrush Detangler comes with an ergonomic design that cuts the grooming time in half. The brush is being sold in two sizes, which is perfect for all pups, from small dogs to large buddies.
Well, hello there, self-cleaning slicker brush! Long time no see, eh? We're happy to see another self-cleaning brush on our list because, honestly, they're amazing. These innovative brushes are everything a newbie groomer needs. If you're trapped in a never-ending cycle of brushing and loose hair flying everywhere, this is the brush that will save you from drowning.
The Hertzko Self-Cleaning Slicker Brush is one of the simplest grooming tools to use. With a retraction button, the pins pull back up and leave you a ball of dead hair you just need to throw away.
These bristles go deep into the coat and leave it tangle-free. Besides brushing, we love how well these bristles massage the dog's skin. It stimulates good blood circulation and natural oil production. Your pup will not only look amazing, but it will feel good, too!
The Hertzko slicker comes with a comfortable, anti-slip handle for your comfort. No more hand cramps. This brush will stay exactly where you put it – firmly in your hand! If you own more dogs or even cats, then buying the Hertzko Self-Cleaning Slicker Brush will be your best investment.
Once you try the ConairPRO Soft Slicker, you'll wonder where it was your whole life. This small but powerful grooming tool will make a pro out of any newbie groomer in no time. Designed especially to solve knots, the ConairPRO Slicker claims that there's no tangly situation it cannot solve!
This slicker brush has reinforced coated tips that won't harm your Doodle accidentally. Also, these pins remove dead hair, dander, and debris, leaving the coat super shiny and healthy.
Besides brushing, you can use the ConairPRO Slicker to fluff out your pup's coat. When you brush against the direction of hair growth, you add more volume to your dog's coat, leaving it looking pretty like never before.
The reason why many dog owners love this slicker brush lies in the fact that its handle is soft and filled with gel. This will make grooming a whole lot better and more comfortable for you. Just make sure your pup doesn't get near it; otherwise, it may chew on the soft handle and destroy it.
We rarely see any palm grooming brush on Chewy and Amazon, and frankly, we don't understand why that is so. Palm brushes are the practical innovation everyone needs. If you're a beginner groomer or are simply looking for an easy way to style your pooch, this is THE brush for you.
The Burt's Bees palm bristle brush features soft hemp bristles that remove debris and dead hair, but still style the coat and leave it soft and pretty. These bristle brushes are gentle on your dog's skin, leaving it without any scratches or irritations.
The reason why Burt's Bees palm bristle brush is on our list (besides having excellent-quality bristles) is because it's made by using bamboo and recycled materials. Burt's Bees really cares about sustainability.
Since this is a palm brush, we don't have a standard handle as with all the other brushes. Instead, we have a soft, adjustable strap that's easy to grip and makes grooming a piece of cake. This brush is completely made in the USA, and it can be yours for only $12.99. What a steal!
What's better than a rake with one row? A rake with two rows! The JW Pet brand knows this very well; hence, their amazing Gripsoft rake. This small but mighty tool will turn your grooming sessions into enjoyable playtime!
The JW Pet Gripsoft rake features two rows of rounded, tipped teeth that lift up dead hair and smooth out matted parts of the coat. The coat remains spotless, clean, and shiny.
The rake's teeth were designed to turn 90 degrees away from the skin, staying parallel to prevent raking or skin irritation. The JW Pet brand specially designed this grooming tool for grooming your pup's undercoat.
As for the handle, it's made by using Gripsoft technology, with a non-slip grip and an ergonomic handle to help you control the brush. This rake fits snuggly into every hand, and it doesn't tire out your wrist. You will actually look forward to your grooming sessions if you buy this grooming product.
Grooming gloves are the innovation that all dog owners need. Almost nothing can top their practical use! Just slip them on, give your dog a petting session, and you'll remove excess hair. As easy as that!
The HandsOn bathing and grooming gloves are a proud part of our list because they've proven how great they work. These gloves have a dual use: for removing dead hair, and for massaging and applying shampoo while bathing.
The revolutionary nodule design massages the dog's skin, promotes good blood flow and the production of natural oils, and creates a bond between the two of you. You won't have to be worried about the gloves slipping off while being wet.
They will stay put and allow you to grab shampoo bottles and other tools, thanks to the tactile touch nodules. The HandsOn gloves double as a deshedding tool. They remove loose hair, but the hair doesn't stick to them, making this tool a delight to clean.
What's so great about grooming gloves, especially these from HandsOn, is the fact that they can be used to groom problematic areas that standard brushes just can't reach, i.e., the face and armpits. The gloves are pretty lightweight and durable, and they won't crack after many uses. Also, no mildew will form, ever!
The Chris Christensen brand of grooming tools is a well-known brand, with terrific products. Their Big G slicker brush is one of the best brushes for Goldendoodles. Okay, it's great for other dog breeds and other types of coats, too, and here's why.
The Big G slicker comes with a padded cushion that is packed with scratch-free wire bristles. These wire pins have covered tops for extra caution. The pins are also larger than standard, and they are perfectly suitable for grooming all coat types, from curly coats to straight ones.
The Big G slicker was specially designed for professional use, and it suits dogs like Poodles, Goldendoodles, and Labradoodles the best. It removes tangles, solves matted fur, and fluffs out the coat for an ultimate adorable look.
This slicker comes in three sizes, along with a unique GroomGrip rubber handle. It won't slip out of your hand, even when it's wet. Keeping in mind the brush was meant for professional groomers, we can only say this is our editor's pick and probably the best brush for Goldendoodle pups.
We have so many different types of brushes on our list, but we didn't have a hybrid brush. What's a hybrid brush? It's a brush with a dual purpose that cuts your regular brushing session in half. Here's what makes the Bass Brushes Hybrid Brush the star of any grooming process!
This brush comes with a combo of natural bristles and alloy pins that detangle mats, style the dog's fur, and leave your Goldendoodle's coat looking lustrous. In only one brush, you have everything you need to style your dog.
No need for multiple pet grooming products. No more wasting money on a lot of products. The Hybrid Brush treats them all, from long coats to thick coats, and curly hair.
One of the best dog brushes is made by using eco-friendly natural bamboo. The handle is sleek, and it has a luxurious finish. It's still quite lightweight and easy to use. Different brushes have their flaws, but the Hybrid Brush is gentle on sensitive skin, does its work efficiently, and has no flaws at all!
FAQs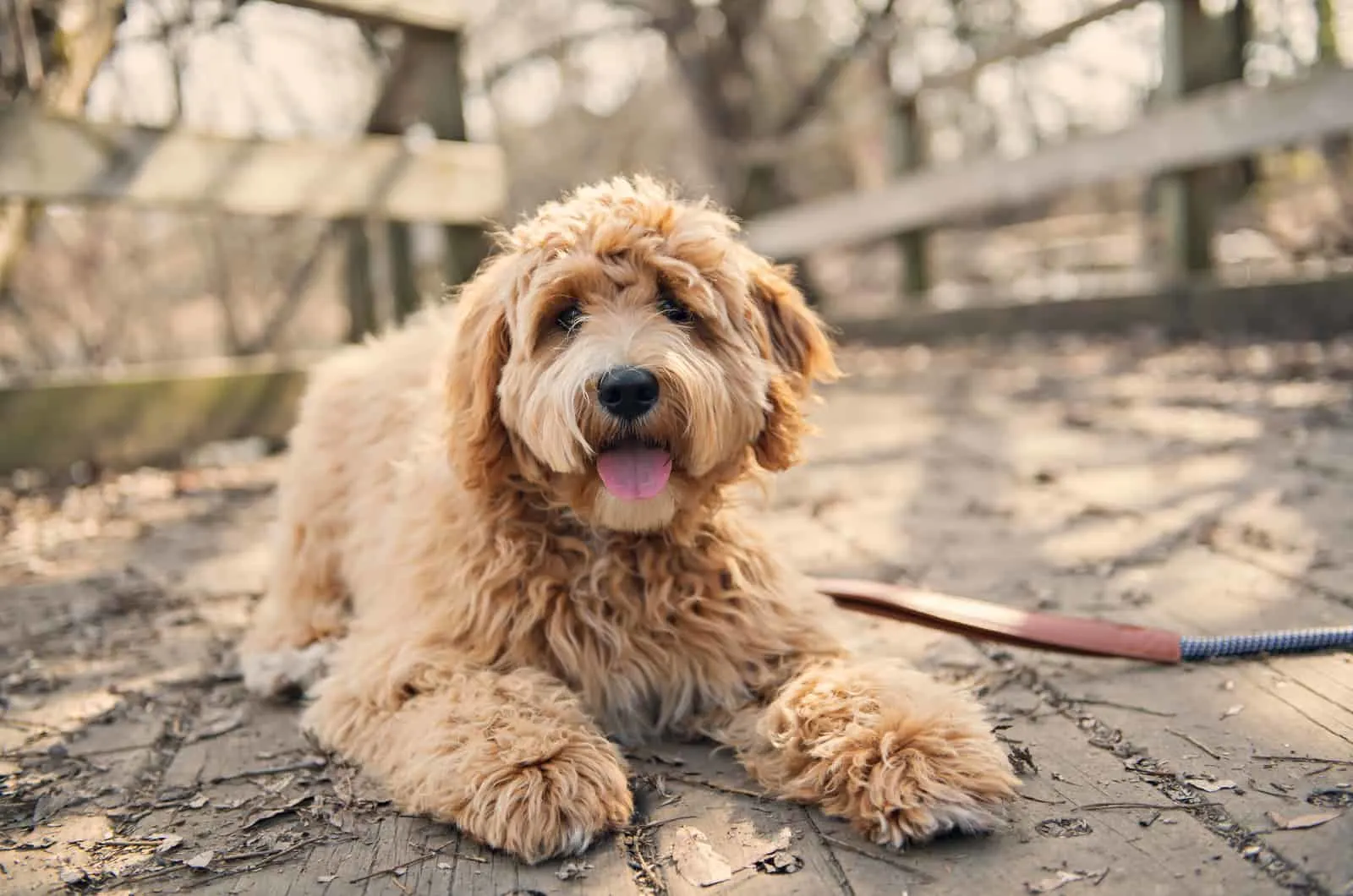 1. Which Coat Type Do Goldendoodles Have?
Besides their sweet temper, it's the soft and fluffy coat that makes Goldendoodles so lovely at first glance. These adorable pups come in several colors (chocolate, cream, red, apricot, champagne, white, black, black and white, blue, silver, gray, tan, and silver beige), so you can definitely find a Doodle for your own.
Goldendoodles can fashion a straight, wavy, or curly coat. Their coat length can be either short or long, depending on their parents. Like all the other crossbreeds, the way a cross puppy will look depends on how the parents look.
One thing is certain: a Goldendoodle shouldn't be shaved!
2. How Many Times A Week Should I Groom My Goldendoodle?
You should devote time to grooming your Goldendoodle at least once or twice a week. However, daily grooming gives better results and ensures your Doodle has a shiny and healthy coat. It's only 10 minutes a day. How hard could it be?
3. What's The Best Brush For Goldendoodles?
A simple boar bristle brush would be the best brush for Goldendoodle pups since they're not huge shedders. However, other brush types are equally efficient. For example, pin brushes work out knots effectively, while grooming gloves are great for everyday use.
We can't put a finger on a specific brush and say "That's the best brush for Goldendoodles". Go through our list and you'll find the one that suits your preferences best.
4. What's The Best Comb For A Goldendoodle?
Whether it's about simple stainless steel combs or innovative dematting combs, one thing is sure: these grooming tools are more than helpful. We love combs from Andis, Hertzko, and Safari. Maybe one of them could be your favorite, too!
5. What's The Best Brush For A Goldendoodle Puppy?
Many Goldendoodle puppies don't need brushes. Their coats can be brushed with only your fingers. However, the Kong Dog ZoomGroom brush is an excellent, maybe even perfect brush for a Goldendoodle puppy. With its rubber nubs, the ZoomGroom is a great brush to be used both wet and dry.
6. How Do You Brush Goldendoodle Dogs?
Although we recommend combing stubborn mats with your fingers when they're puppies, it's still a good idea to do this when they're adults. This will solve mats so you can use grooming tools without having their hair pulled.
Some dog owners like to wash their dog before brushing. In such cases, it's best to use a leave-in conditioner to prevent further tangles.
When brushing a Goldendoodle, you need to be careful not to hurt your dog's skin. After finger-combing, you can use a slicker brush for extra shine and a smooth coat. Certain areas like their face, private parts, feet, or armpits need trimming every now and then.
It's not that difficult to groom a Goldendoodle dog. Still, Goldendoodle puppies need a gentler approach. Their coat is fine and thin, and you often can get by with only finger-combing.
7. What's The Best Slicker Brush For A Goldendoodle?
We've got quite a few slicker brushes on our list, but our favorites are self-cleaning slicker brushes. They're innovative, ease the worst part of grooming (cleaning), and are comfortable on your dog's skin and coat. Check out which slicker brush we recommend!