This post contains affiliate links, and I will be compensated if you make a purchase after clicking on my links.
Probably, every human being in the world is familiar with the German Shepherd dog breed. These dogs have a stunning appearance that leaves no one without comment. The German Shepherd is truly a dog with a regal attitude and a heart made of gold.
They may seem a bit intimidating and aloof at first, but once you get to know them, you'll realize how sweet this dog breed is.
Besides their kind heart, what else is recognizable about these dogs is their coat type. Whether it's long-haired, medium-haired, or short-haired, the GSD's coat usually comes in the popular black and tan combination. It's soft, sometimes fluffy, but always majestic to the touch.
This dog's fur can come in many colors, but the grooming only depends on the coat's length. If you're a new German Shepherd owner, you'll probably feel a bit worried about grooming and brushing your dog's coat.
The truth is, there's nothing to be afraid of. With this list of best brushes for a German Shepherd, you'll be able to enjoy grooming time with your new best pal.
Short-coated German Shepherds require a pin brush and an undercoat rake for general grooming purposes. This Safari wire pin brush is ideal for daily grooming for both small and large dog breeds. The brand has come up with a tool so simple and yet so efficient.
This type of brush is made of quality wood that won't break easily. The pins are sturdy but not sharp to harm the dog. They lift up loose dog hair and dirt or debris. When the peak of the shedding hits, you're going to need this wire brush.
The Safari wire pin brush comes to help every time there's a stubborn knot to be treated. Combined with other Safari products, the brush will solve any matted hair and leave the coat mess-free and shiny. The long wire pins help distribute natural oils in the coat.
With frequent use, your GSD's coat will look healthy, and the shedding will be reduced. The other usage of this brush is for fluffing out the coat. You may not want a fluffy German Shepherd, but it's good to know this feature of the brush, too!
This Bass Brushes pin brush is specially designed to solve nasty tangles and work wonders on medium coats to long-haired German Shepherds. It's one of those brushes that makes the grooming session enjoyable, and we all know how problematic they can be.
One look at this brush and your German Shepherd will know he's in for a treat: a massage and brushing, both in one session.
The brush is designed with premium alloy pins that glide smoothly through your dog's coat like through butter. There is no pulling of the hair or scratching. This makes sure your dog stays calm during brushing time.
If you use this brush on a daily basis, you can promote good coat health and provide a nice shine. In case your dog was out and about and came home quite dirty, the Bass Brushes pin brush will help you get rid of any dirt, debris, and even dander.
What we love about this pin brush is that you can use it for both styling and detangling. It's a 2 in 1 product, and every dog owner's must-have. Your German Shepherd will enjoy it and so will you.
With its luxurious bamboo handle, the Bass Brushes pin brush is threatening to become the best brush for German Shepherds!
We're used to regular-shaped dog brushes… you know, oval, chubby, and firm. But, what about something unusual like this BIO-FLEX brush from Bass Brushes? You've probably never seen a brush like this one.
Shaped and curved like a leaf (and colored green, too!), this BIO-FLEX brush is made to detangle your dog's coat without any pulling. The flexible nylon brushes have rounded tips at the end to ensure the dog's skin won't be harmed or scratched. Besides, those tips also massage the dog and promote good blood flow.
What's so amazing about BIO-FLEX is its eco-friendly characteristics. The entire brush handle is made from plant material and the whole thing is 95% biodegradable. The BIO-FLEX brush is such a nice ode to sustainability.
You'll feel a bit better for your German Shepherd shedding so much and polluting the environment. All jokes aside, if you can go green even while pet grooming, then go.
If you want a deshedder tool that will improve the condition of your dog's coat, then the Safari Singlerow Rake is the one for you. This tool has a single row of precision tapered pins that solve tangles, knots, and mats. But, don't worry about hurting your dog while using this rake. The pins are actually rubber tips!
The rake leaves the coat looking smooth and shiny. It's designed specifically for medium-dense undercoats, and it's the ultimate rake for grooming German Shepherds. What we love about this rake is its ergonomic handle.
The rake fits into the hand nicely, it doesn't weigh much, and it allows you to work on your German Shepherd pooch without your hand getting tired. The handle allows you supreme control and comfort. You'd be surprised at how much work this tiny tool can do.
No matter how we try, sometimes the work we do at home is nowhere near the one a professional grooming salon does. What could be the issue? Have you thought about changing your pet grooming tools?
With FURminator dog grooming tools, you'll find that grooming can be a piece of cake and as effective as a visit to a professional groomer.
The FURminator grooming rake is one of the best all-purpose grooming tools that helps fight difficult knots. Frequent use of the FURminator rake removes stubborn mats from undercoats and breeches.
The rake is made of rounded stainless steel pins that rotate fully. Skin irritation and tugging with this tool is not an option. For maximum comfort and control, an ergonomic handle was created. It's easy to use and doesn't feel heavy. A bonus of this rake is that it's made of antimicrobial plastic that helps keep bacteria at the lowest level possible. This prevents infections and skin irritations.
If you use this rake every time you groom your German Shepherd, you'll notice a lot less hair on your sofa, your pants, and your home overall.
You can't have enough grooming tools that reduce shedding. And, if it's a tool that has a self-cleaning function, even better! The Four Paws self-cleaning rake is one of those golden grooming tools you can't afford not to buy.
This tool is adjustable, removes dead hairs, solves tangles, and strips matted fur in the blink of an eye. It's even suitable for all coat types. You just need to adjust the teeth length and you'll be ready to groom a long-haired Havanese or a short-haired German Shepherd.
In case you own some other dogs than the German Shepherd, the Four Paws rake will help you manage all furry buddies in the house.
What did we say about the self-cleaning button? Oh, yes! With one click of a button, all the dead hair you've collected is gathered in one place. No mess in the house, no stranded hairs flying everywhere!
After one use of this tangle-fighting tool, you will fall in love with Four Paws so much that you'll use it for every paw in the house. Give this innovation a try for only $20.99.
To say German Shepherds are heavy shedders is an understatement. Boy, do these dogs shed! Owning a slicker brush for daily brushing is mandatory for all German Shepherd owners.
This large FURminator firm slicker brush is one of the best dog brushes for German Shepherds. And, it's not that expensive! For only $13.99, you get a premium grooming tool that makes your grooming attempts look like a professional's work.
With some practice and frequent use of the FURminator line, you won't need to go to the groomer, ever!
This slicker brush is double-sided. It features straight bristles on one side and curved bristles on the other. If your dog has a medium, long, or curly outer coat, then the FURminator firm slicker will be your second best friend.
When brushing with this slicker brush, the flexible head follows the dog's natural contours while the bristles stay in their predicted working position.
The FURminator uses antimicrobial plastic that keeps bacteria at a minimum. The brush's ergonomic handle makes it easy to use for a significant period of time. Dealing with those stubborn knots won't be an issue anymore, nor will your hand hurt like crazy.
We truly love our self-cleaning brushes! Think about it: isn't it tiring to collect stranded dog hairs trapped between the brush's pins or teeth? You can never collect them all. But, with the Hertzko self-cleaning slicker brush, you definitely will catch them all like Pokemons!
The brush comes with a retract button that pulls the bristles up into the brush and leaves it clean for the next use.
The brush comes in two sizes: small and regular, but for grooming a German Shepherd, we suggest a bigger one, of course. Hertzko has a special design with bristles that curve slightly to penetrate the thick coat without causing any damage to the dog's skin.
It ensures your dog will have a nice and shiny coat, and if you use it 3 to 4 times a week, the coat will become even healthier. Since you will need to use this slicker brush often, you don't have to worry about your hand getting tired.
Some brushes are just too heavy and difficult to use, especially if you're dealing with lots of knots. The Hertzko slicker brush has an anti-slip handle that makes the brushing part an easy task to do on a daily basis.
See? Never enough with the self-cleaning brushes! Safari has come up with its own self-cleaning slicker brush. With a comfort-grip handle and stainless steel pins, the Safari self-cleaning slicker brush gives maximum with minimum effort.
The pins of this brush are gentle, and they will make sure your dog's coat will be groomed without causing any damage to the hair or the dog's skin.
One of the best sides of this brush is the comfort-grip handle that makes the brushing simple and painless. Your wrists will be thankful. Sometimes, the simplest designs will perform better than some expensive tools.
This Safari brush is in the mid-price range. For $18.99, you'll get a handy tool that you and your German Shepherd will love.
The Li'l Pals slicker brush is proud to present a pad of flexible wire pins that go through even the toughest mats. The pins move as you go down the dog's body, contour to it, and provide efficient grooming and a nice massage. Massaging the skin promotes nice blood circulation and supports natural hair growth.
If you brush your German Shepherd regularly, you distribute the coat's natural oils and make the coat shiny and silky. The peculiarity of this brush is that it's made for small dogs. So, why is it on our list? We thought it would be the perfect slicker brush for German Shepherd puppies.
You can start introducing your lil' German Shepherd to the process of grooming early, and we think this Li'l Pals brush will do the trick. Also, it's safe enough not to hurt the puppy and efficient enough to get rid of the knots.
Are you tired of seeing little fuzz balls of hair all over your home? Well, your dog needs a good deshedding treatment. But, for such a treatment, you need a good deshedding tool. Have you tried the FRISCO deshedding brush?
It's designed with stainless steel blades made to last you a lifetime, angled teeth, and an ergonomic handle. FRISCO will help you fight those nasty knots that all the other brushes can't manage to solve. Also, with regular use of this brush, the overall shedding problem will be reduced.
Handling the FRISCO deshedding brush is quite simple since this is a lightweight tool with a soft, non-slip handle. Also, the ergonomic handle gives you full control of the brush. But, you need to be careful while grooming with the FRISCO.
Never use excessive force or you may hurt your dog. Gentle strokes will be just fine. Always brush in the direction of hair growth. Lastly, you should not use this tool on wet fur. This deshedding brush is designed to give optimal results only on a dry coat.
Once again, the FURminator brand has proven why their products work like a charm. With the FURminator adjustable dematter, your dog will be shiny and happy. And, most importantly, free of matted fur!
The FURminator blade is made of curved cutting edges that pull out the loose undercoat and knots safely without harming your dog's sensitive skin.
What's so amazing about this dematter is its blade-adjusting function. You simply adjust the blades according to your dog's coat length. The stainless steel edge and the slide tab will lock in place and you can proceed with safe grooming.
The FURminator adjustable dematter comes with an ergonomic handle with a non-slip grip. Working with this tool is not difficult since it's lightweight and suits all coat types, from short-haired dogs to long coats.
No matter which hair length your German Shepherd has, you will enjoy grooming time with this little but powerful brush. For only $19.99, you get a premium product that all the professionals use. Remember the FURminator undercoat deshedding tool? It's as good as that handy tool we all once loved.
Most of our brushes have an ergonomic handle, but this one is something different… something refreshing on the grooming scene. The Burt's Bees palm detangling brush may remind you of similar brushes for horses, but truly, this one is made for dogs.
This palm brush is a handy tool designed to remove knots and give your dog's coat a luxurious shine. Easy to use, with an adjustable strap that fits every palm, the Burt's Bees palm brush is made of bamboo and recycled materials. Another brand on our list that actually cares about sustainability and has gone green.
The rounded pins of this brush will do their magic, but won't leave your dog with bruises or scratches. For the ridiculously low price of $14.99, you get a high-quality, easy-to-use detangling grooming brush that will brush away all your pup's troubles.
Last, but not least on our list are some innovative gloves for dog brushing. We have three pairs you're gonna find quite helpful, especially if you have a dog that hates being brushed. German Shepherds are dogs with a double coat that sheds a lot.
If you can commit to daily brushing, that would be just amazing. This is where Mr. Peanut's grooming gloves come to help. You just put them on, give your dog some light petting, and you'll see how loose hairs get trapped between the rubber bristles.
The bristle brush is soft, but also firm enough to capture all dirt and stranded hairs.
These gloves can groom all coat lengths. Also, it doesn't matter if you're grooming wet or dry fur. They work both ways. With adjustable straps, Mr. Peanut's gloves will fit every dog owner. You get two gloves that are easy to use and clean. You simply wash them out and let them air dry. Bonus points go for their machine-washable trait.
If you want a pair of these durable grooming gloves, you'll only have to pay $10.99. It's really a bargain for such a product.
What makes Katziela different from other dog grooming gloves is its removable silicone cover. The gloves feature small rounded tips that are soft enough to massage the dog and still capable of capturing stranded hairs.
What's so great about such grooming gloves is that you can brush areas that are difficult to reach with regular brushes. Need some combing around the dog's face? Use the fingertips of your brush and thank us later.
The Katziela mitts leave the coat looking shiny and healthy. They fit all dog coat lengths and all owners' hands. With an adjustable strap, you will be sure the gloves won't fall off your hands.
They stay put no matter how long you brush your German Shepherd's coat. Also, these gloves are anti-bacterial, meaning you can brush your other fur babies with a double coat and nothing wrong will happen.
If you have followed our lists closely, you already know how much we love our 2 in 1 products. Here's another dog brush that has two usage options. First of all, you can use HandsOn gloves while bathing your dog, and then brush out its coat.
HandsOn gloves have a revolutionary design featuring rubber nodules scattered all over the palm and fingers. Using them while bathing your German Shepherd has proven many benefits.
You can massage the shampoo in and help it penetrate deep into the dog's skin; thus, providing a premium shine. Massaging while bathing is a great bonding experience. Face it: we all love the sensational feeling when someone washes our hair!
These gloves will stay on your hands no matter how soapy the water is and how long you're washing your dog. But, what won't stay on are the stranded hairs. Dead dog hairs will fall off these gloves even if they're wet!
Another amazing thing about HandsOn bathing and grooming gloves is that they're lightweight, very durable, they won't break easily even after long baths, nor will they ever develop mildew. Do you need more reasons to buy this awesome product?
Bonus: Best Brush For German Shepherd Puppy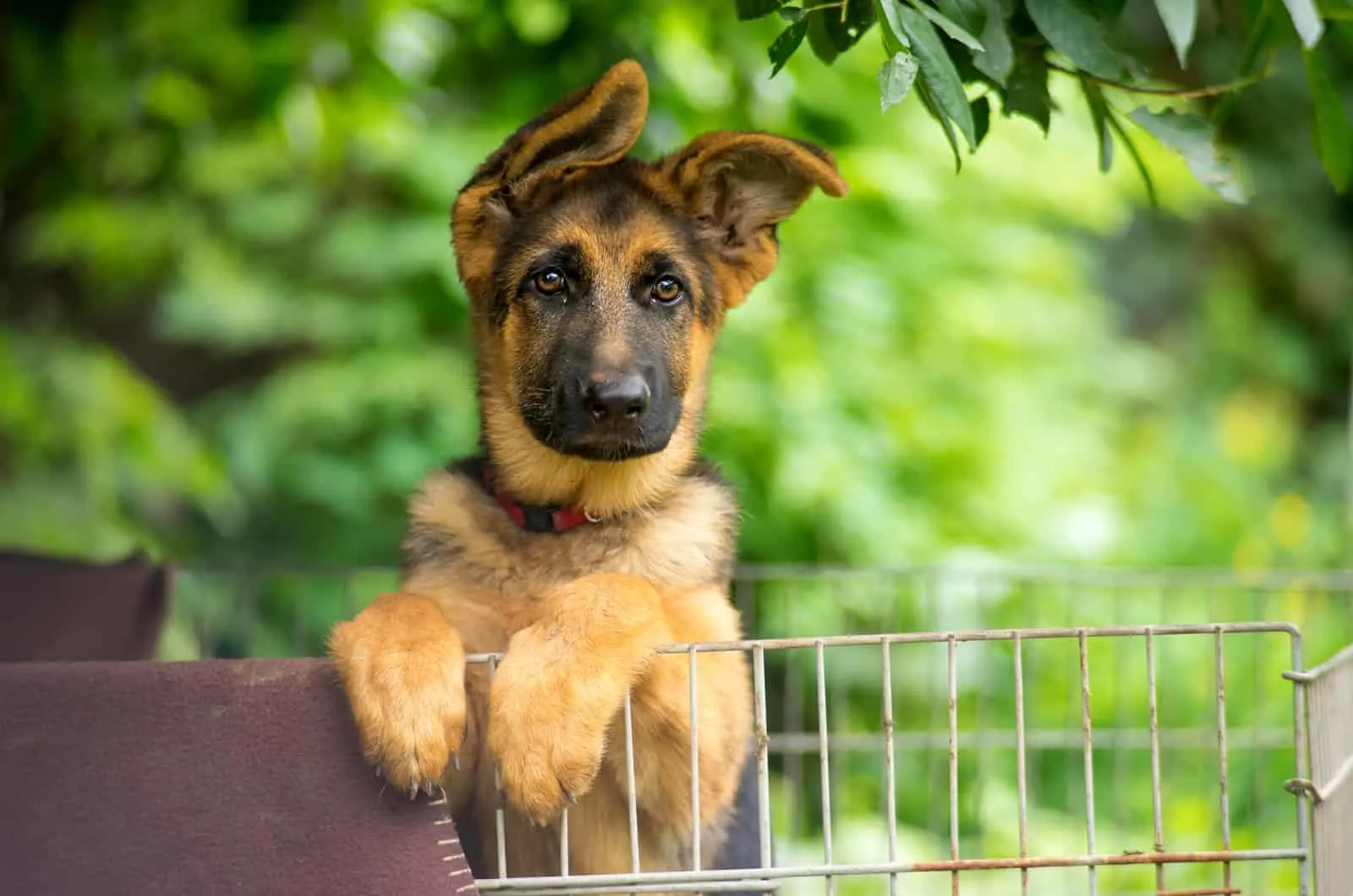 Puppies need to be brushed, too! It's important to establish a healthy grooming routine in their puppyhood, so your dog won't be afraid of grooming in the future. Many dogs are not used to grooming, and it's a big problem when it comes time to groom them. Avoid making such a mistake and get your German Shepherd puppy used to grooming with this adorable, but efficient, puppy brush.
Meet the ZoomGroom dog brush; the best brush meant for shampooing and grooming your puppy. This brush captures loose hair and works like a charm! Also, the gentle rubber nubs stimulate blood circulation and natural oil production for a shiny coat and healthy skin underneath.
This 2 in 1 product is all you'll need for your dog's puppyhood. Not all rubber brushes collect stranded hair efficiently, but the ZoomGroom gets them all. It leaves your puppy with a soft, luxurious coat, and eager to wait for the next grooming session.
FAQs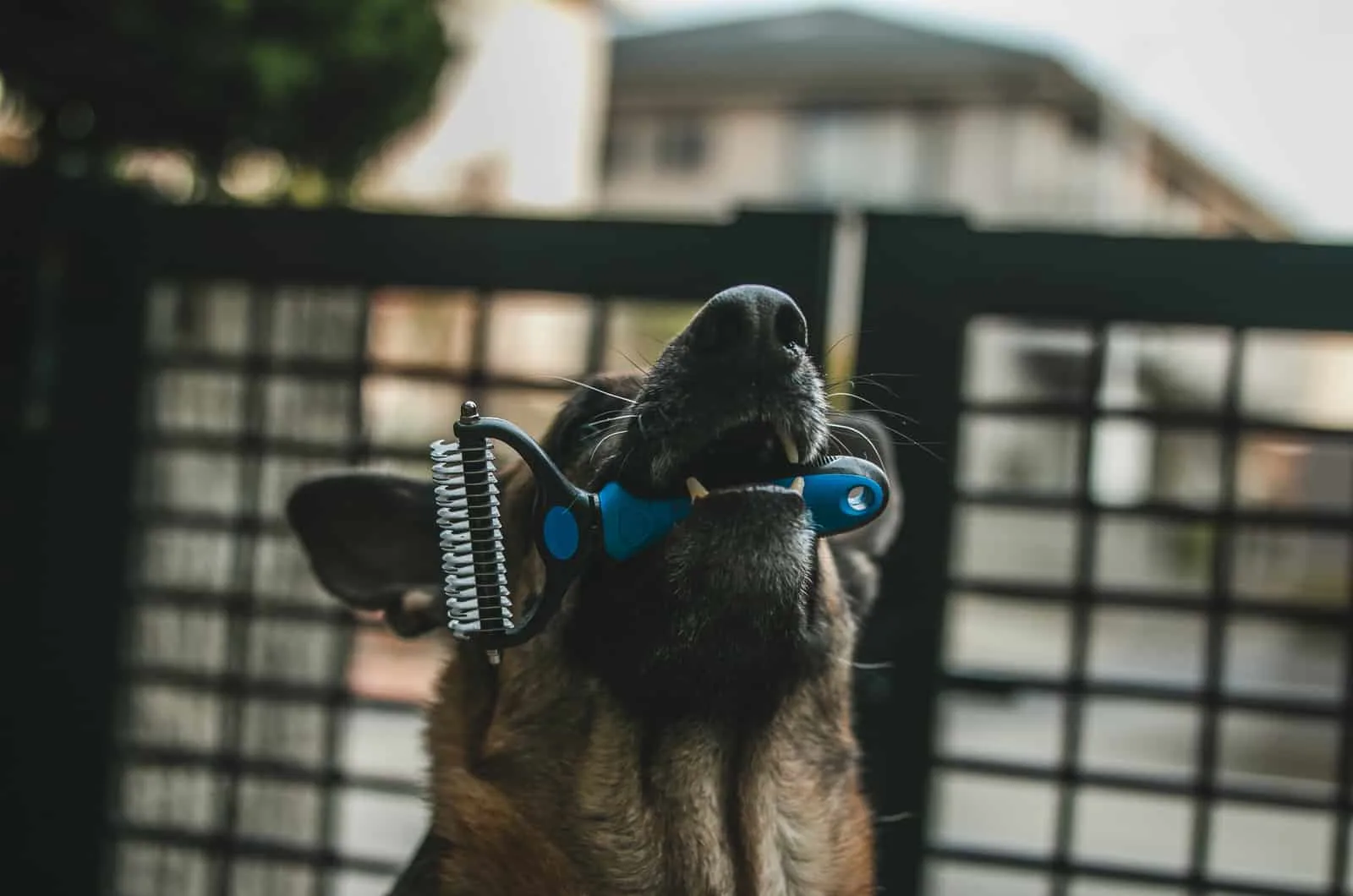 1. How Often Should You Brush Your German Shepherd?
Regular dog grooming and brushing are extremely important for all dogs whether they have long hair or they have a short coat. Your German Shepherd needs to be brushed at least 3 to 4 times a week.
This dog sheds all year round and has its coat blown twice a year. Frequent grooming should help you go through the heavy-shedding season.
2. What Kind Of Coat Do German Shepherds Have?
German Shepherds are double-coated dogs, meaning they have two layers of fur. Their topcoat or guard coat is coarse and wiry, while their undercoat is softer, fluffier, and of a lighter color.
3. What Do I Need To Know Before Buying A Brush For My German Shepherd?
When buying a brush for your German Shepherd, you need to know a few things. For starters, you need to be aware of what kind of coat your German Shepherd has.
You can't buy a brush that's meant for a pooch with short hair if your dog is a long-haired German Shepherd.
It would be a waste of time and money, and you might even hurt your dog if you try to use it. Furthermore, choose products that are labeled as "long lasting" and "durable". Pick out a brush that won't break easily and will last you a lifetime. Also, brushes with pointy and sharp pins or razors should be avoided.
Lastly, try out how the brush feels in your hand. If it's too heavy, it will be hard to use it, especially when dealing with matted fur. Go with lightweight brushes. If you can find an ergonomically designed brush, that would be the best.
4. Can You Minimize Shedding?
Of course, you can! But, it's not a one-task mission. Shedding can be minimized with the use of the right dog food. If you give your German Shepherd food scraps and junk food like Doritos, its coat won't be that shiny. Proper dog food will ensure a healthy and shiny coat.
Along with a good diet, frequent brushing with any of the brushes from our list will reduce shedding. In case you suspect your dog might have fleas, give it a bath and try to stick to a regular bathing schedule. Pests like fleas affect the dog's coat and skin negatively.
5. How Do I Effectively Brush My German Shepherd?
When brushing a German Shepherd, you're supposed to go down the hair. It'll be easier to pull out loose fur. Brushing the opposite way will make your German Shepherd look fluffy, and it increases the chance of the dog's hair being pulled. Brush your dog with gentle strokes and repeat the strokes as much as it's needed.
The dog will show you if he's uncomfortable or in pain, so you can be gentler or switch the brush for a better one. You can do something to make your dog more relaxed during the grooming session.
Talk to your dog all the time in a calm and soothing voice. Also, it would be great if you could brush him somewhere where it's quiet and safe.
Brushing time can be excellent bonding time. German Shepherd grooming sessions may be tiring, but with the right tools, they can be quite enjoyable.