This post contains affiliate links, and I will be compensated if you make a purchase after clicking on my links.
A happy dog is a healthy dog. And a healthy dog has a healthy coat. You don't need a professional groomer or hours-long grooming sessions to keep your Cane Corso puppy looking great.
You only need some good tools, clippers, shampoos, and high-quality dog brushes. The amount of hair Cane Corso, the cousin of the Italian Mastiff, loses is not that big. Cane Corso grooming is quite short and simple, not like other pet grooming that may take hours.
Large dogs with double coats like our Cane Corso look regal when groomed properly. Wouldn't you wish to own a dog everyone finds stunning? The Cane Corso is truly a stunning dog breed, no matter if yours is a rescue or from a professional breeder.
This gentle giant is a loving creature that attaches snuggly to its owner. All you've gotta do in return is provide enough love, yummy dog food, and the best brush for a Cane Corso that will give its coat a shine.
But, which is the best brush for a Cane Corso? How do you know which one to buy when there are so many choices? Well, you'll know for sure after going through our list of best brushes for a Cane Corso!
Although Cane Corso brushing doesn't take much time, it's always best to work with a brush that's light in hand and doesn't slip all the time. Something like a palm brush would be perfect, wouldn't it? That's why the first choice on our list is Burt's Bees Palm Bristle Brush. Designed specially to fit all hand sizes snuggly, this bristle brush offers you complete control when brushing your pup.
This type of brush is made for all dog breeds of all sizes, but it works wonders on short-haired dogs. The hemp bristles remove any debris and dirt trapped in the dog's hair, leaving its topcoat smooth and shiny. The brush also reduces the amount of shedding off-season. Burt's Bees want to make brushing a pleasant experience for both owners and their dogs. This soft brush is efficient, but its bristles won't ever harm the dog's skin.
As for the owners, the brand has come up with a palm brush design, comfortable for easy grip. The brush is easy to manipulate and gives excellent results. When you think that bamboo and recycled materials were used in the manufacturing process, you'll see why we love this palm brush!
Of course, at least one FURminator brush has to be on our list. This brand makes excellent grooming tools, and many dog owners will tell you the FURminator deshedder is the first brush you need to buy. Let's see why this brush is so great for your Cane Corso!
First of all, this is a deshedder for short-haired dogs, and the Cane Corso has a short coat. Still, these dogs shed and need a nifty tool to get rid of their knots and tangles. The FURminator moves smoothly through your dog's topcoat, smooths it out, and reaches deep into the undercoat. Don't worry, your dog's skin will stay intact. Even though the tool has a stainless steel sharp edge, it's still not sharp enough to harm the dog or damage its topcoat. If you use the FURminator regularly, you will reduce your dog's shedding, guaranteed!
Why many dog owners love the FURminator is because of its ergonomic design. A lot of dog brushes are good, but their handles are terribly heavy and difficult to work with. Not the same case with this grooming tool! It was designed by a professional dog groomer, and its ergonomic handle fits perfectly into every hand.
If you've ever owned short-haired dogs, you definitely know that grooming gloves are very helpful. This innovative grooming tool is extremely useful for everyday grooming. Even though the Cane Corso doesn't need daily grooming, it won't harm to brush your dog gently using these gloves. Think of it as a cuddle session with purpose.
Frisco Grooming Gloves make brushing feel like a game, not an obligation. These gloves won't stress your dog out. Instead, the dog will enjoy and think he's being petted, not brushed.
Every stroke removes dead hair and traps it in the gloves. Also, gloves promote good blood flow and massage the skin for better hair growth and distribution of natural oils.
Hands down, Frisco has some of the best grooming gloves on the market. This pair is extra durable and won't tear or crack easily. The gloves are lightweight and easy to use. They can even be used on wet fur! But, don't worry; thanks to the tactile touch, grabbing wet things, dog shampoos, or simply keeping your dog in the place won't be an issue at all.
Every dog with an undercoat needs a dematting rake. If you don't get rid of that nasty matted fur, your dog may become susceptible to allergies, inflammation, and skin irritations. Besides, matted fur hurts, but your canine buddy can't tell you that. You will need to find it yourself and use a good grooming tool to get rid of it.
The Pet Republique dematting rake is one of those good grooming tools that solve mats quickly and efficiently. In fact, this rake removes matted fur completely and effortlessly!
Our Cane Corso may not have a thick undercoat, but it still needs some brushing every now and then. This rake features a stainless steel rounded blade with 6 teeth for detangling fur and 11 teeth for thinning out the fur. These teeth are very hygienic and easy to clean. Grooming is hard, but cleaning afterward is a nightmare. Not with this tool!
Every brush with an ergonomic handle and a compact size is a good brush. Pet Republique agrees with us! That's why they've come up with this dematting rake.
Do you know what else they have come up with? A terrific charity program that gives 15% of its profit to the American Animal Rescue Society for cats and dogs in need. We need more good boys like Pet Republique!
There are dog grooming brushes, and there are self-cleaning dog brushes. Hertzko has come up with the second version. Their self-cleaning slicker brush is the ultimate one every dog owner must have in their home grooming kit. It's an easy-to-use grooming brush that gives pawfect results!
The Hertzko self-cleaning slicker brush removes stubborn knots and smooths out the top coat leaving your dog looking sparkling and shiny.
The bristles of the brush curve slightly and go deep into the coat, leaving it mess-free without making a scratch on the dog's skin. What else this brush does is massage the skin, stimulating good blood circulation and leaving the dog feeling refreshed.
Dog owners love this Hertzko brush for its many functions, but the ergonomic anti-slip handle and self-cleaning retraction button are everyone's favorite. The handle allows you to work with the brush without making your hand tired.
When it comes to cleaning, there's nothing worse than dog hair flying everywhere. But, with one snap of the button, the bristles retract, and you're left with all the dead hair in one place. Easy to clean, easy to use, easy to love!
Brushes with two functions have always been our favorite, but there are not many of them on the market. Well, not many like the Kong ZoomGroom brush. This is the best grooming and shampooing dog brush available on Chewy and any other dog-related website! How do we know this? Let us assure you why we're right!
First of all, nothing beats the 2-in-1 function. Wouldn't you like to wash your dog and brush it using minimal products? Using too many brushes can be tiring. Just grab the ZoomGroom, shampoo your Cane Corso and brush him afterward. All the work is done with this little brush!
The ZoomGroom stimulates blood flow, massages the capillaries, and spreads natural oils throughout the coat. The result is a shiny and healthy coat. With regular use of the ZoomGroom, the shedding will be reduced, and no dead hair will be flying all over the place. This brush works like a magnet for loose hair, but all you've gotta do to clean it is to wash it under warm water.
The good thing about the ZoomGroom is that it doesn't remind you of a dog brush at first. Your dog will have a more pleasant experience, and you two could bond better if there's no scratching or pulling of the hair.
To detangle and restore shine – that's Safari's main goal. Every dog deserves a shiny coat, but with the Safari Combo Brush, that is ensured. The Safari brand has come up with an efficient brush with a price for everyone's pocket!
The pins of this brush penetrate deep into the coat, remove any dirt or debris, and detangle knots and matted fur. The bristle side helps to distribute natural oils throughout the coat, leaving it shiny. If you use this brush regularly, not only will the shedding be reduced, but your dog's coat will become more healthy.
Safari is a dual-purpose brush every dog owner needs, especially if they own more dogs. You'll only need this brush to keep that fur mess-free. Besides its dual purpose, we love Safari for the wooden handle that's made to last you a lifetime.
Yes, that Martha Stewart! This lady knows more than making a delicious meal! The Martha Stewart brand has developed an excellent dog brush that not only brushes the coat, it also massages the skin! The massage bristle brush is the whole package!
The bristles are soft and come from a natural source. They're also efficient and remove loose hair and debris. The little rubber nubs you see massage the dog and stimulate natural oil production. Natural oils in the coat are extremely important. Without them, the coat wouldn't be shiny, and the skin would become irritated.
This dual-purpose brush is not your ordinary brush because it doesn't have a handle. Instead, you just strap it on with an adjustable strap on your palm. It's easy to use, comfortable, and fits all hand sizes and all dog types.
Thank you, Safari, for another self-cleaning brush. This slicker brush cleans up the mess with one press of a button. The brush stays clean for the next use and your dog, free of dead hairs.
The curved design with stainless steel pins penetrates deep into the coat and removes tangles and knots. However, the pins aren't sharp or harsh enough to harm your dog's skin. When brushing, always go in the direction of the hair growth. Stroke gently and work in small areas, parting the hair in sections. Start at the front and work your way to the back. Once you're done, just press the retraction button, and the brush is clean. You can't find a brush that's simpler to use!
This Safari brush also comes with an ergonomic handle, is comfortable to use, and has non-slip features. Your home will be mess-free, your dog's coat smooth, and your hand… never tired of the Safari Self-Cleaning Slicker!
Yes, the Furbliss by Vetnique Labs is an actual dog brush. This multi-purpose grooming tool is excellent for pets with short hair. But, what exactly does it do?
The Vetnique Labs Furbliss brush covers bathing, massaging, and deshedding. Rarely does any brush have these three functions. The 3-in-1 feature made Furbliss one of the best dog brushes on Chewy.
This rubber brush massages the dog gently and stimulates hair growth, leaving the dog feeling relaxed and calm. If you use it on a dry coat, the Furbliss removes dander and sebum, two of the biggest allergy triggers for canines.
Besides its triple-purpose, the Furbliss brush has other amazing features too. It can be used on other animals too, like horses, cats, guinea pigs, etc. But, the biggest discovery is that you can actually clean and sterilize the Furbliss in your washing machine or dishwasher, so it stays perfectly clean for the next use.
FAQs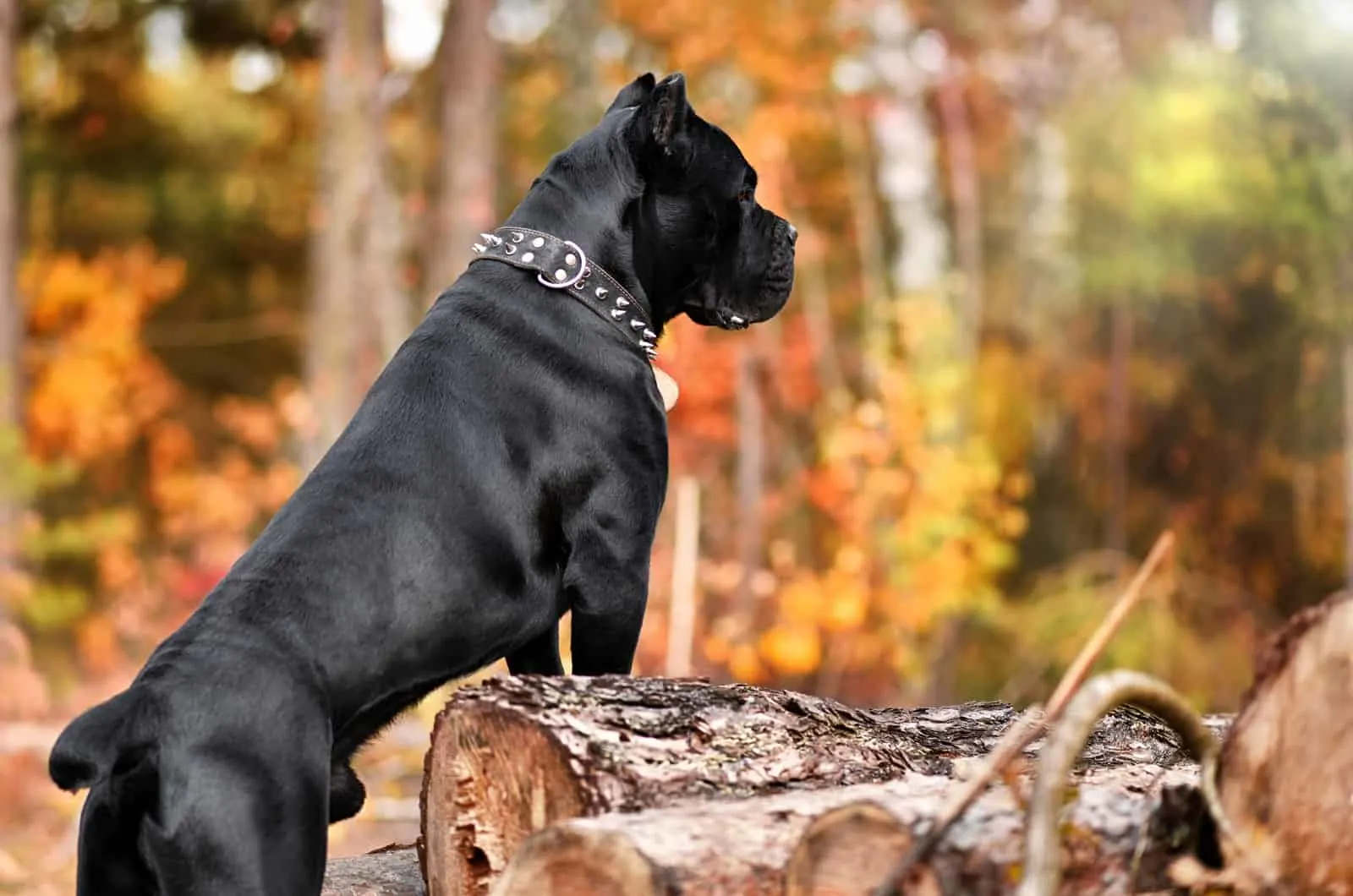 1. What's the Cane Corso's Coat Type?
The Cane Corso is a short-haired dog with a stiff overcoat and a light undercoat. You probably don't know this, but the dog's color may actually affect the amount of undercoat it has.
For example, a black Cane Corso has less undercoat. This dog comes in many colors, including black, blue, grey, fawn, brindle, red, tigrato, formentino, reverse blue brindle, etc.
2. Are Cane Corso Dogs Heavy Shedders?
Not as heavy as a German Shepherd, but they still shed. The Cane Corso sheds heavily twice a year, and you're gonna need a good brush, a powerful vacuum cleaner, and strong nerves to get through this period. Outside of this, the Cane Corso sheds normally, like any other dog breed.
3. How Often Should You Brush A Cane Corso?
Keeping a Cane Corso's coat nice and tidy is a pretty easy task. These guys don't require frequent brushing like the Havanese. Brushing them once a week will be absolutely fine.
4. How Often Should You Bathe A Cane Corso?
If you bathe your Cane Corso too often, the dog may develop a rash, sensitive skin, or even allergies. Frequent bathing removes natural oils from the skin that make the coat shiny and healthy. You should bathe your Cane Corso only when it's dirty or every three months. Anything more in between is just too much.
5. Tips For Taking Care Of The Cane Corso's Coat!
A long brushing session should be done once a week, but no one is stopping you from using a brushing glove or a rubber curry brush to smooth out your dog's coat when needed. Your Cane Corso will actually benefit from frequent brushing during shedding season.
In shedding seasons, dogs develop matted fur rather quickly, which must be prevented. Loose hairs should always be removed. It's really not that big of a deal. Only ten minutes of your time a day will help your dog keep its coat shiny, healthy, and mess-free.
6. What To Pay Attention To When Shopping For A Brush
You can't brush your Cane Corso using the wrong brush. It may damage the dog's coat and injure the sensitive skin. When brushing, you need to go all the way down through both coats to reach the skin.
It's the only way matted fur can be prevented. But, you shouldn't be harsh. Using a brush with no rounded points or with harsh bristles will definitely hurt your dog and make all future brushing sessions problematic.
You need the right brush like a good slicker brush, some deshedding tools, or even a rubber curry brush or gloves with rubber nubs. Just make sure all brushes are free from sharp pins, edges, or bristles, so your dog won't get hurt. Any brush satisfying these terms will work.