The Cane Corso is a majestic dog breed with an imposing appearance. Both male and female representatives of the breed are serious dogs for people who are serious about having a dog as a companion. Corsis need an owner who can provide them with the loving and firm guidance they need to become great pups!
You shouldn't expect a Cane Corso to buddy up with everyone it meets as it has no interest in people or other pets outside its family. But, those within the family will have his undivided protection and loyalty. They are most often compared to Rottweilers and Pitbulls for their loyalty and commitment to family.
Now, when it comes to choosing one of the Cane Corso dogs for yourself, there are some things you should consider. You should know what type of coat these pups have and in what colors they come.
If you wish to buy a Cane Corso that fits in the original breed standard, as well as the American Kennel Club standard, you will need to watch out for the various Cane Corso coat colors.
Coincidentally, in this article, we explain everything you need to know about Cane Corso colors and coat types, and provide you with more information about this breed.
So, whether you are already prepared for a Cane Corso puppy or you just want to learn a thing or two about this majestic breed, read on and soak it all in.
History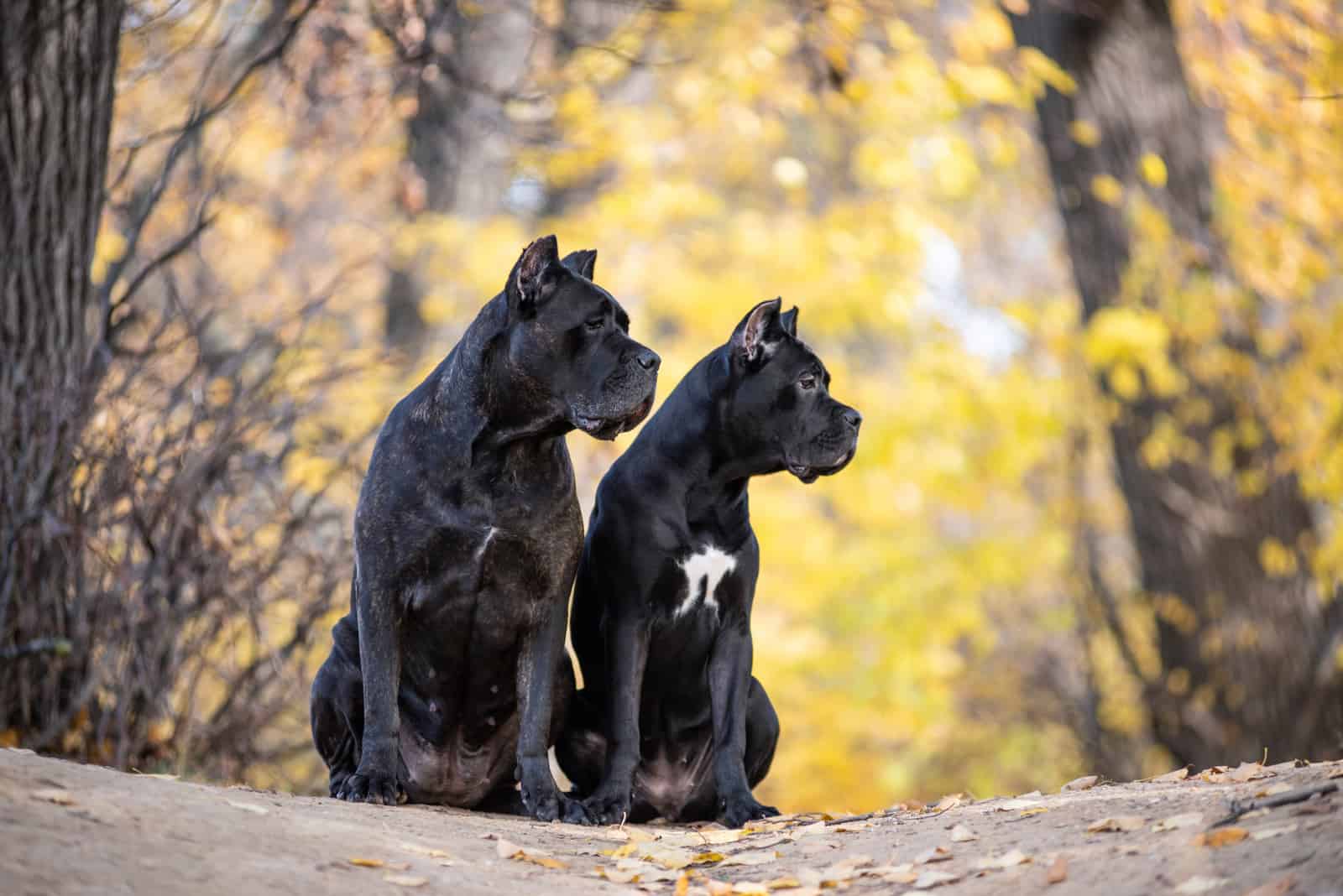 The Corso is one of several Mastiff-type dogs. This particular one was developed in Southern Italy and is claimed to have descended from Roman war dogs.
Corsos are more lightly built than their cousins, the Neapolitan Mastiffs, and were bred to hunt game such as lions, wild boars, and reindeer. They were also used as guard dogs to protect their owners and their possessions, and this is why they make such good watchdogs today.
One more purpose of these dogs was to be an all-around farmhand. Like most other dogs, with the title of "farmhand", their job included rounding up cattle or pigs and helping to drive them to market. We can safely say that Cane Corsos are working dogs above all.
The first word in their name, "Cane", of course, is Latin for dog and comes from the word "canis". But, how they got the name "Corso" is a little more mysterious. Some say it came from "cohors", meaning bodyguard, while others claim it came from "corsus", an old Italian word that means robust or sturdy.
Whatever the case may be, the name stuck and it's used to describe the powerful, loyal, and loving dogs we know today. However, this breed hasn't always enjoyed the best of times. The Cane Corso breed declined as farming became more mechanized, and they nearly faced extinction.
But, starting in the 1970s, dog enthusiasts worked to rebuild the Corso breed. This led to a slow recovery of the breed's numbers, and the Society Amatori Cane Corso was formed in 1983. Later, in 1996, the Federation Cynologique Internationale recognized the breed.
Michael Sottile was the first man to bring a litter of Corsos to the United States in 1988, and a second litter closely followed in 1989. The International Cane Corso Association was formed in 1993.
Eventually, this association sought recognition from the American Kennel Club (AKC), which was granted in 2010. The breed and its standard are now governed by the Cane Corso Association of America.
The Cane Corso coat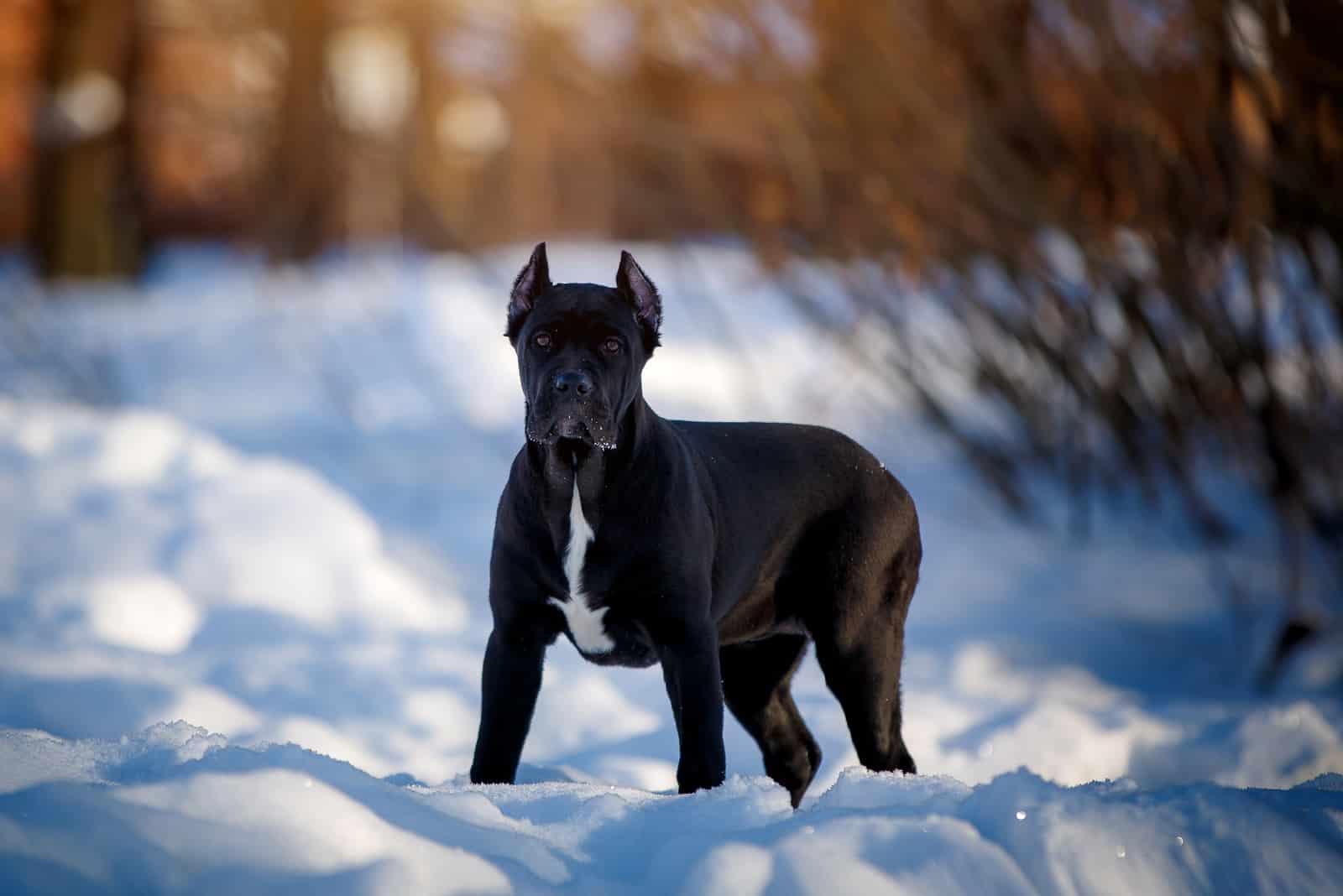 Often, you will hear Cane Corso fanciers talk about a short coat, and probably, many of them really don't have a clear notion of what "short" means.
A short coat is a centimeter, maybe a centimeter and a half (roughly one-third to a little over half an inch long), and when a coat gets longer than that, it is no longer short. It is considered a long coat, at least in terms of the Cane Corso.
In the breed's standard, in commentary and in the old texts, the Cane Corso breed is frequently described as noble and elegant. And, this nobility and elegance are lost with an excessive length of coat or with an oily coat.
A Corso shouldn't have a coat that is too heavy, with clumps of hair sticking out all over. Some people call these "rustic" Cane Corsos, but in reality, they are incorrect. The Italian Mastiff should be an elegant and noble breed, and a relatively short coat helps them accomplish that look.
Of course, there are areas on the dog, such as on the britches and on the sides of the neck where their coat can be a little bit longer. But, this breed should have an overall clean silhouette.
If a coat is impermeable; if it has to keep the water out, it is by definition shiny, regardless of the dog breed. This is because the water-resistant topcoat is very keratinized, and keratin (the substance that makes up the nails) is shiny and reflects rays of light.
This is an important characteristic of the correct type in the Cane Corso breed. These pups shouldn't have a coat that is flat or opaque; it should always be shiny.
The part of the coat that is not shiny is the undercoat. This breed has a short coat, and more importantly, not a rough one. If it was rough, the dog couldn't have an undercoat, which would not permit the Cane Corso to live in a climate that is sometimes cold.
This might be a bit surprising to some people because the breed comes from Italy. But, make no mistake in thinking that Italy has 100-degree weather on every part of the "boot". If you venture into the mountains in Calabria in wintertime, the temperatures can be below freezing.
This is one of the reasons why some colors in this breed come more frequently with a coat that is usually short and rarely rough, such as brindle. Dogs with this pattern were used mostly for hunting, so they could hide in the underbrush. And, this type of water-repellent, shiny coat was essential for a dog that went out to work first thing in the morning.
You can see that color plays some role in this breed, given that the brindle Corsos are mostly used for hunting. But, does color really matter when it comes to everyday stuff? Are there any hidden concerns you should be on the lookout for with certain colors? Read on to find out.
Does color really matter?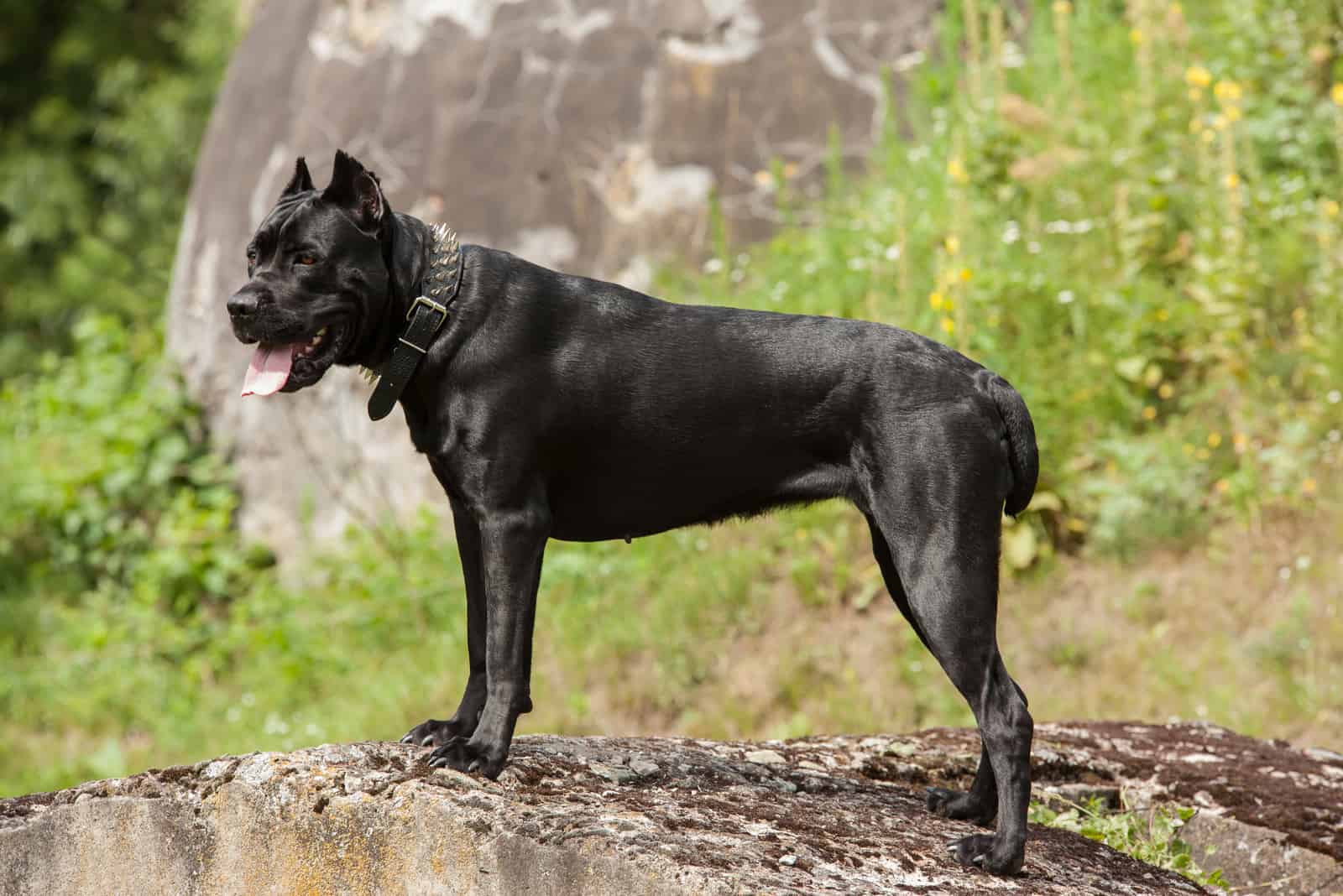 The short answer is yes, a dog's coat color does matter, even though there is very little proof that it affects its behavior or temperament.
But, why does the color matter?
Well, there is a lot of scientific proof that some shades reflect congenital problems that a Cane Corso puppy may possess. For instance, a study from the University of Sidney, published in Science Daily, stated that the color of a puppy's coat directly impacts its life expectancy.
Also, they pointed out that pups with liver or chocolate coloration are more likely to suffer from obesity, joint conditions, and ear infections.
Other research was led to look at how 11,000 canines would perform at the BAER test (Brainstem Auditory Evoked Response). Results suggested that white, piebald, and merle coat colors are at a greater risk of suffering from congenital hearing loss.
So, if you aren't aware of these potential health issues related to a dog's coloring, then you might purchase a pup with a poor health condition. This can lead to a significant amount of cash for veterinary expenses in the long run.
What colors do Cane Corsos come in?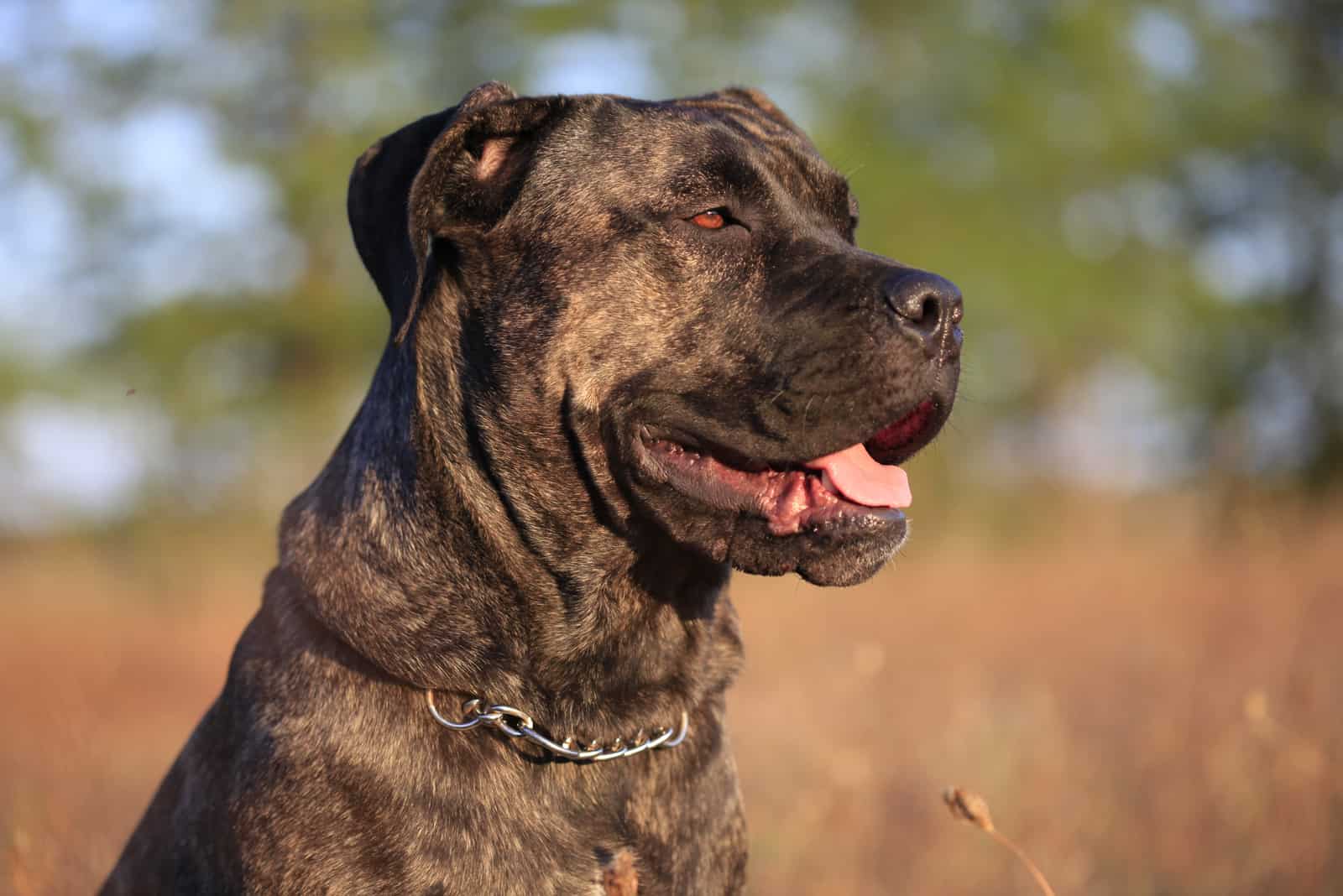 Before we dive into all of the Cane Corso color combinations, let's see what the AKC and the FCI have to say about them, and which ones are recognized.
As per standards set by these two clubs, the only acceptable colors are the following:
• black
• grey
• brindle
• red or fawn (black mask)
• chestnut
• formentino (gray mask)
The solid fawn and red-colored pups may have a black or gray mask, but it should not go beyond their eyes.
These are the standards set by the clubs, but as we know, nature tends to have a way of its own. Combine that with breeders who want uniquely colored pups and you have various color combinations at your disposal. So, let's get a look at the Cane Corso colors and what you can expect from each one.
Black Cane Corso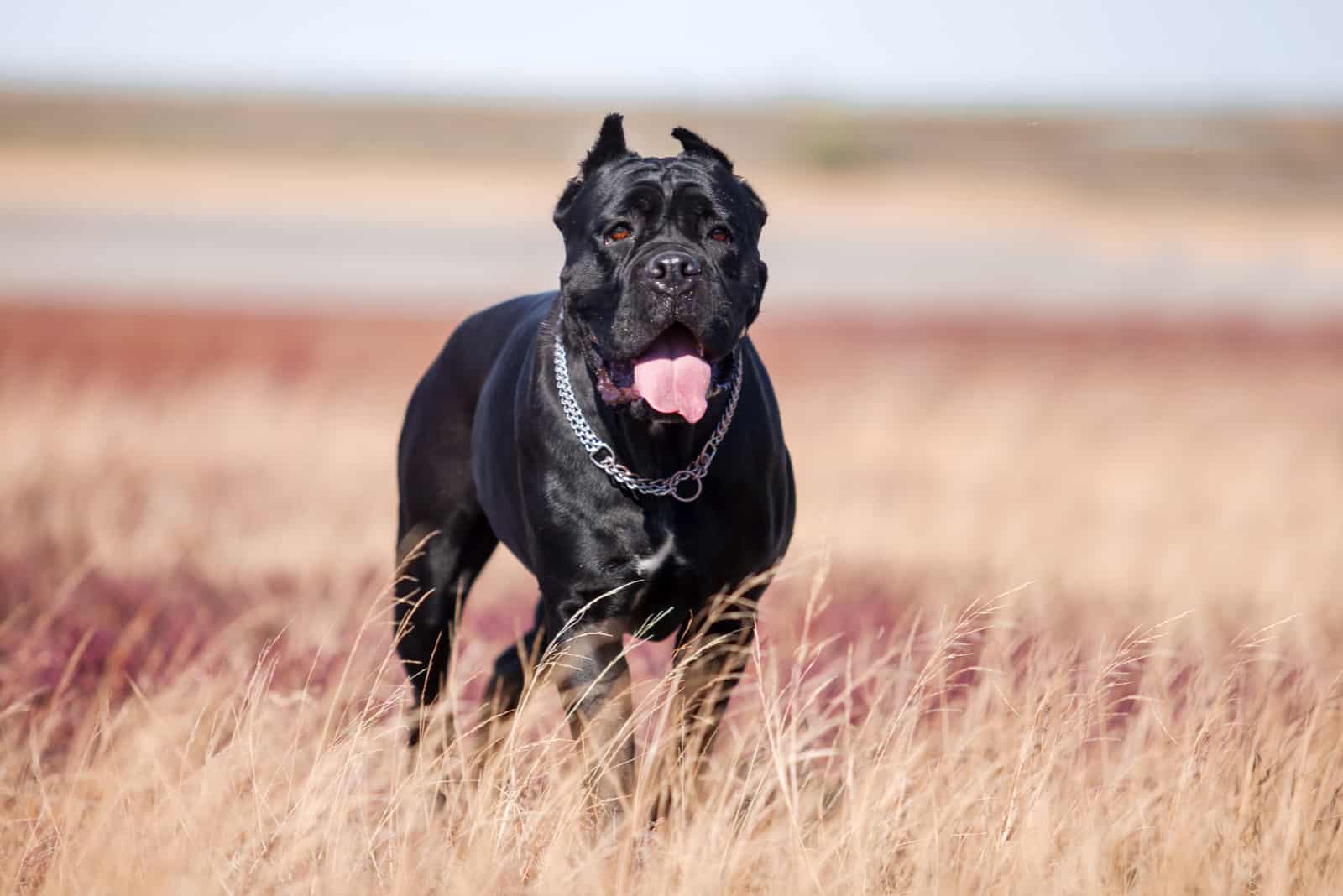 Black is one of the most sought-after colors of Cane Corsos because it makes the pup appear more menacing. The black color comes from one of the two pigments that occur in dogs called eumelanin.
Since black Cane Corsos aren't homozygous for dilution, their eumelanin remains black; thus, leading to a solid black coat. However, these pups can tend to have a problem with incorrect coats.
The undercoat of black Corsos is always less dense than those of brindles or fawns. And, it is not uncommon to find black dogs with a coat that is too short and oily. Even if a black Corso has the correct length of coat, the undercoat they have is always less than the brindles and fawns.
There is a logical explanation for this. Black absorbs the rays of the sun. So, if you have a black dog, a fawn dog, and a brindle dog that live in the same location with the same temperatures year-round, the black pup will be warmer because its coat absorbs the heat of the sun, and it overheats.
Aside from being phantom-looking, black Cane Corsos have other notable features, such as a black nose and brown eyes. These canines' appearance exudes strength and power, and this is why any intruder would probably take a step back and run at just the sight of them.
Grey Cane Corso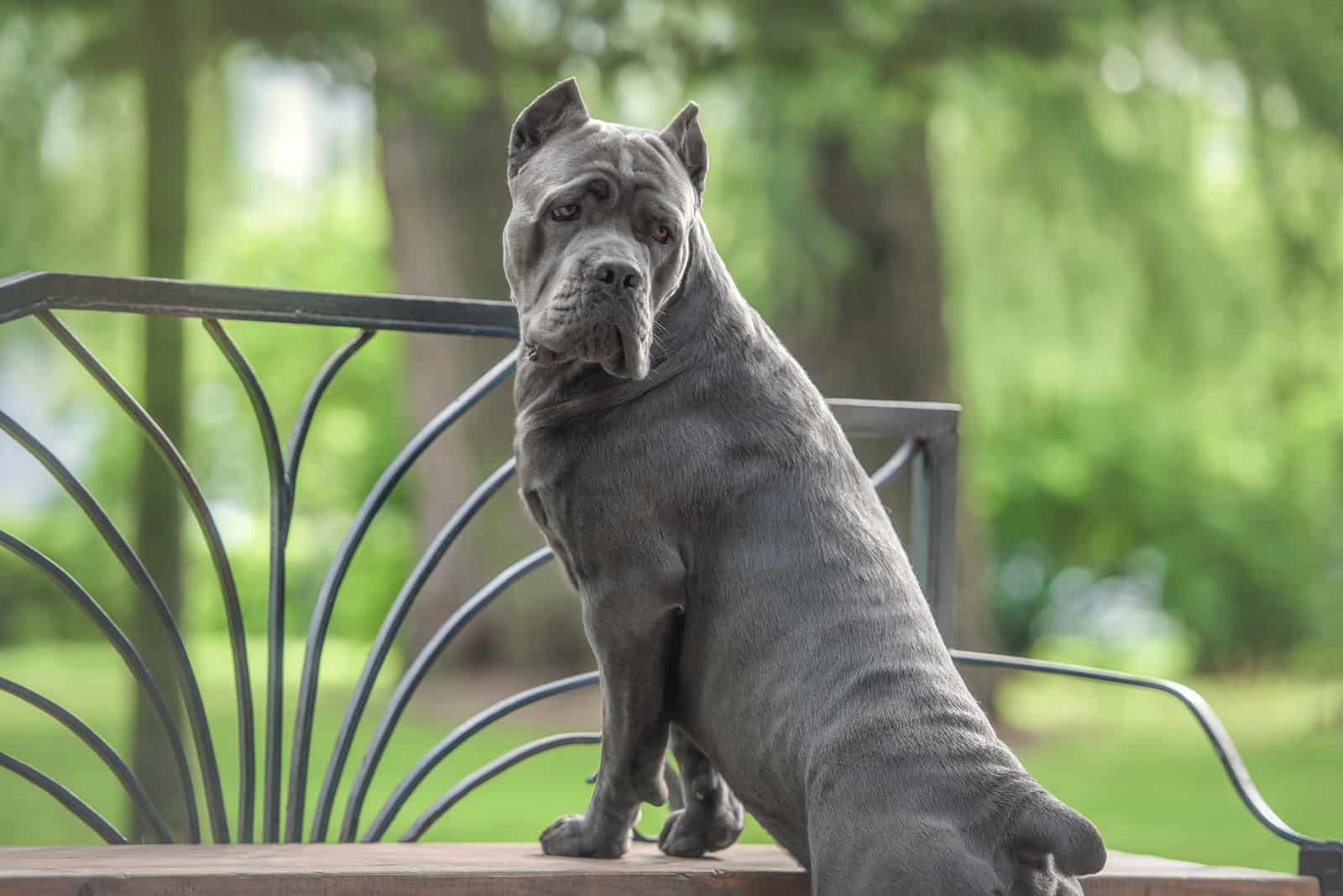 Grey Cane Corsos get their coat color from the recessive dilute gene (d), which prevents eumelanin production in a dog's coat.
This usually happens when both Corso parents who carry this dilute gene pass it on to their offspring and produce a grey shade. This shade is also called blue by many breeders, but we will get to that shortly.
Formentino Cane Corso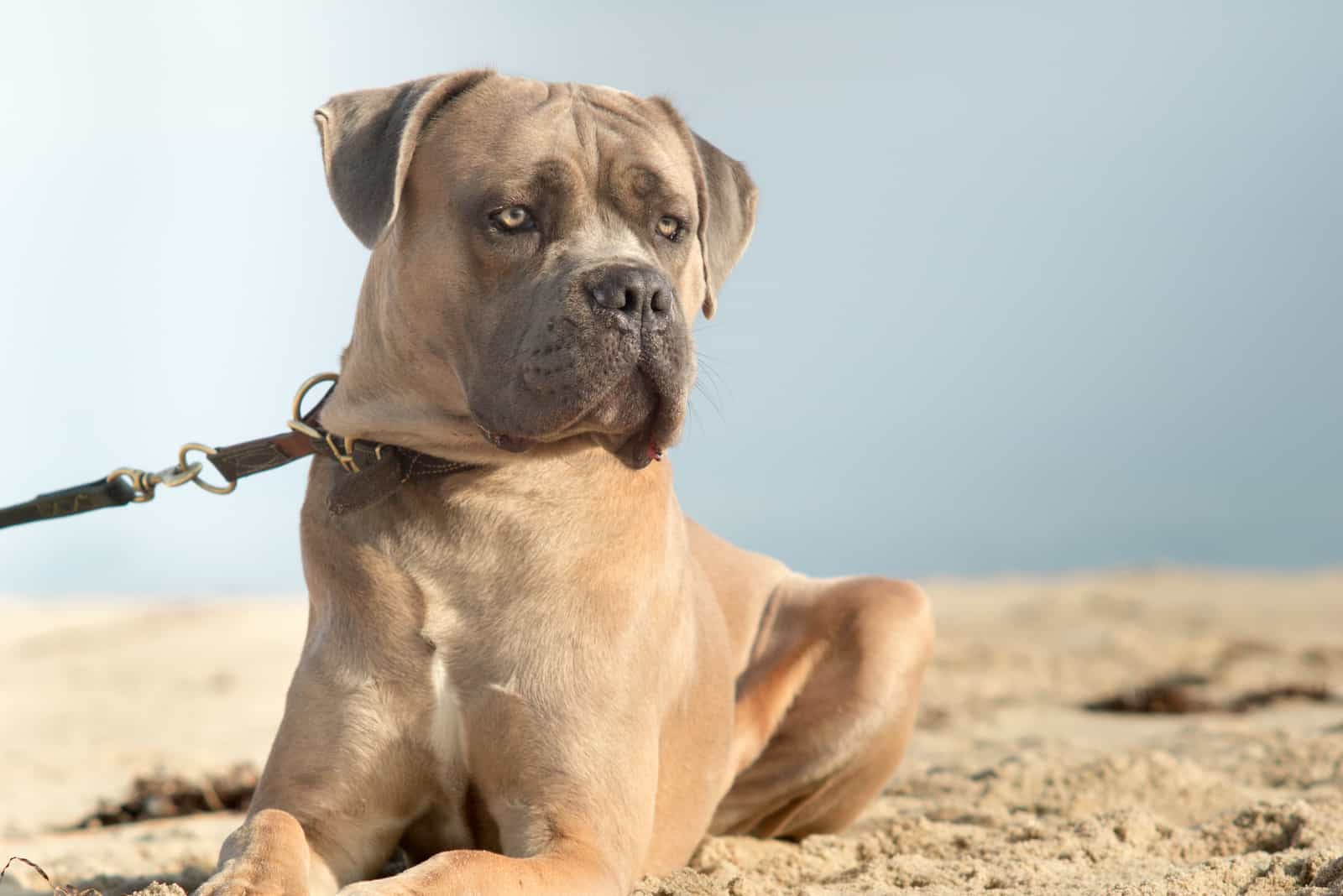 Cane Corsos with a very light fawn color and a gray mask are commonly referred to as formentino. But, the term you will find in Italian dictionaries will be "fromentino", which literally means the color of fermented wheat.
Puppies are born with this coat color if they received a red/fawn gene from each parent in combination with the dilute gene that makes their mask appear grey.
A solid formentino is probably one of the rarest coat colors you can find in the Cane Corso breed.
Just be wary of breeders utilizing siblings for their breeding programs. Due to the formentino coat color being highly desirable on the market, many breeders will outright ignore inbreeding in order to make a profit.
That majestic coat may cost you a hefty amount at the vet, but more importantly, the puppy will suffer as well.
Cane Corso colors, fawn and red
As mentioned above, a fawn or red Cane Corso puppy is only possible when both parents carry the genes. The parents can be either red/fawn or black themselves.
The color of a red Cane Corso comes from the pigment on their fur called pheomelanin. This red pigment concentration varies between different genetic pathways, which results in an array of red/fawn shades.
This coat color is always accompanied by a black mask, and the colors range from light creamy fawn all the way to bronze and very rich red coats.
Cane Corso Brindle colors
The brindle Corso color pattern sits on top of the base color, fawn or red. The variations of brindling are the following:
• black brindle
• grey brindle
• reverse black brindle
• reverse grey brindle
The effect of the grey brindle (and reverse grey brindle) is the same as with solid grey. This means that the puppy needs to have a diluted gene from one of its parents in addition to having the red or fawn genes for the base color.
Reverse coloring happens due to the lighter brindling that highlights the fawn or red base color. This suggests that a lightly black brindle Cane Corso on a powerful red base can resemble the coat of a tiger.
However, it is not known what exactly causes the degree of brindling on a Corso. Also, the brindle pattern can range from very light to very heavy.
Black brindle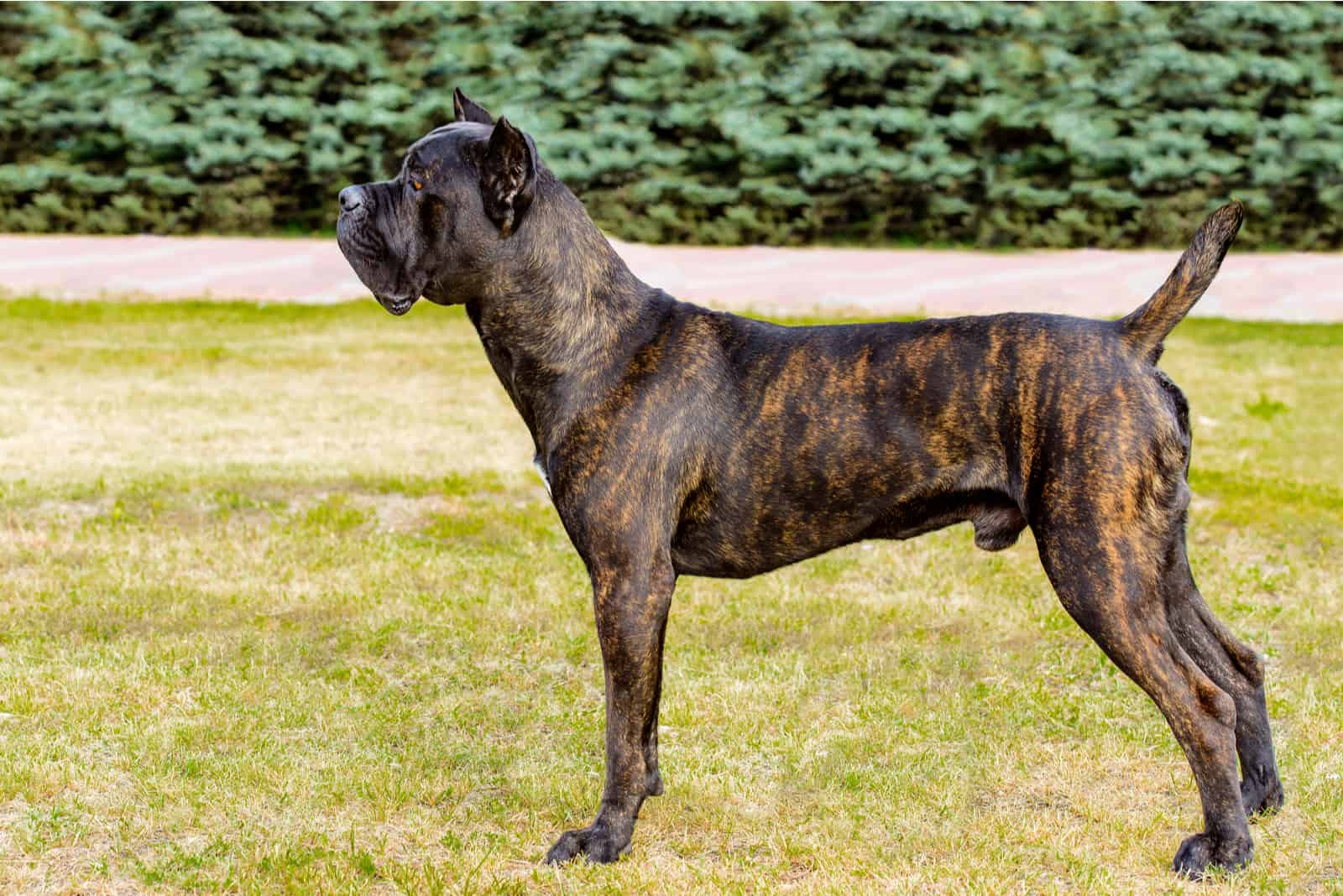 The AKC and the FCI also recognize the black brindle Cane Corso as we've mentioned above. These pups are notable for their red or brown base and their so-called "tiger stripes", which are typically black in color.
A Cane Corso with this coat color is perfectly normal, and they do not reflect any genetic anomaly. To solidify this claim, a study was conducted by a Czech breeder named Evzen Korec.
He discovered that Black Brindle Cane Corsos have the longest life expectancy among other breed colors, with an average age of 10.3 years.
Grey brindle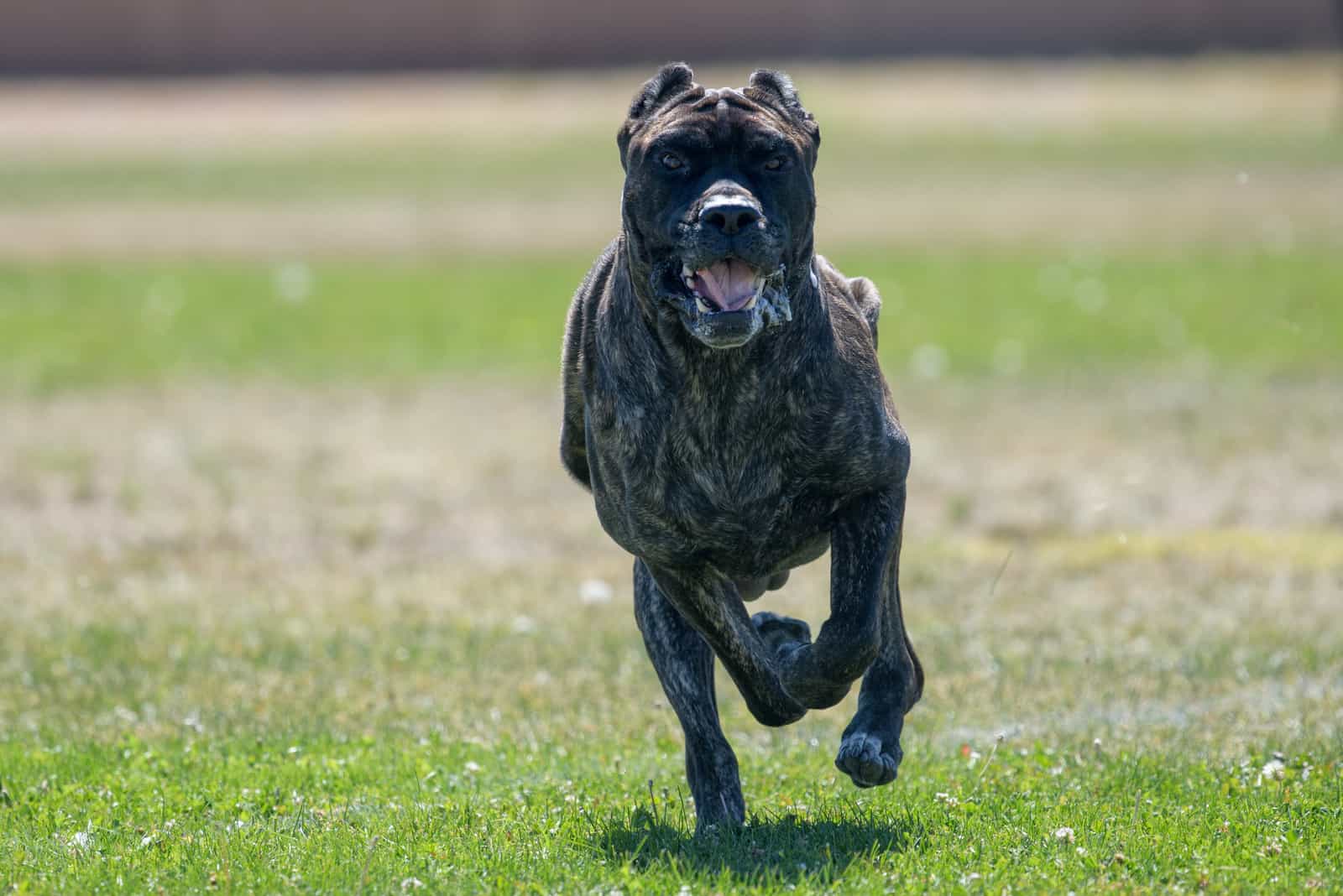 A grey brindle Corsi isn't as common as a solid grey pup. These pups have a brown base color just like the black brindle, and their stripes can be blue or greyish.
Their coat patterns can appear blotchy at times and are equally as stunning as other brindle Cane Corso puppies.
Cane Corso chestnut brindle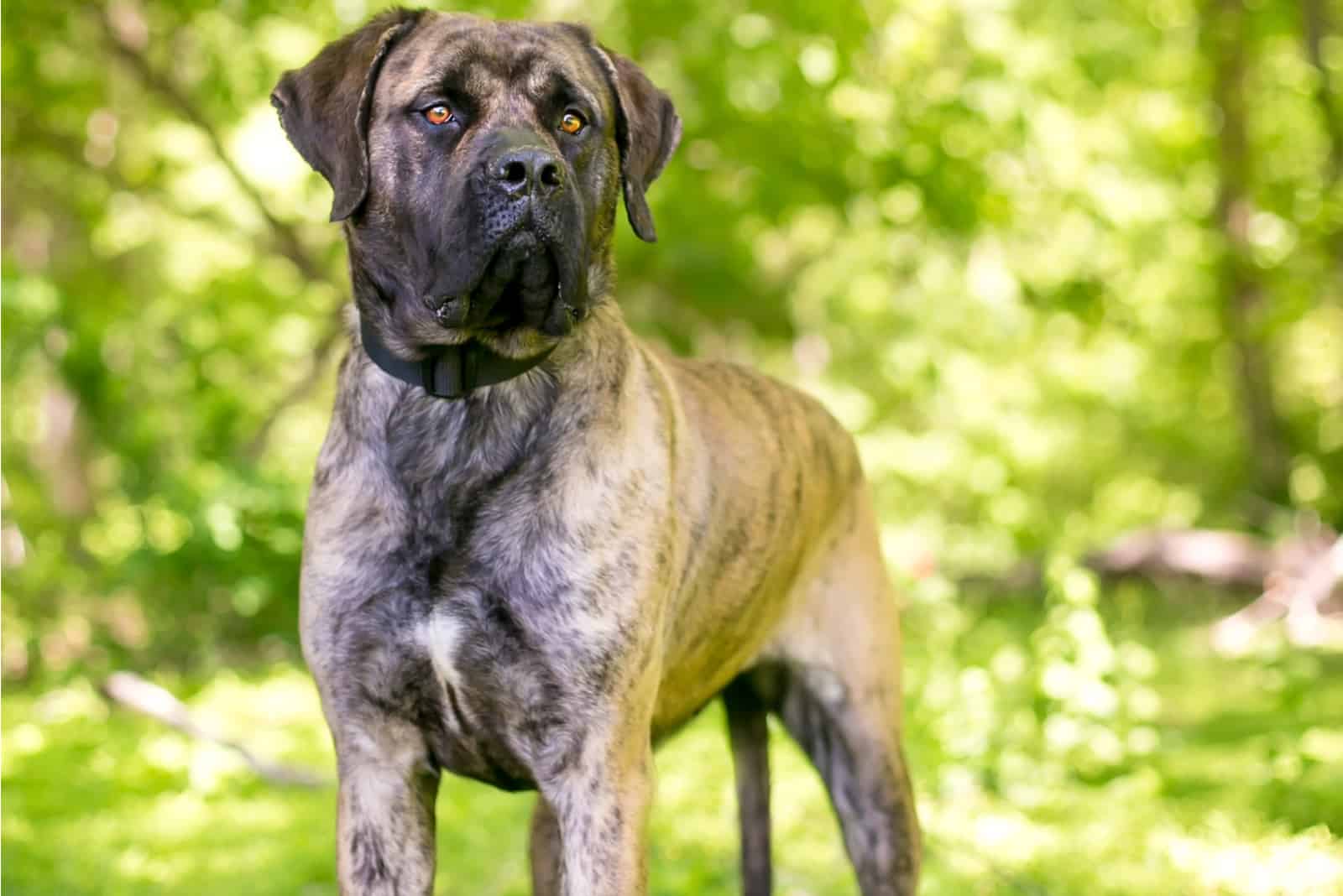 The chestnut brindle Corsos are another striped dog variety that isn't as common as the grey and black brindle. These pups feature a red or brown tone for their base, while their stripes are highly saturated reddish-brown.
Chestnut brindles appear almost like the black brindle in dim lighting, and people often mistake them for black brindles. But, the difference is very visible in natural light.
Other rare Cane Corso coat colors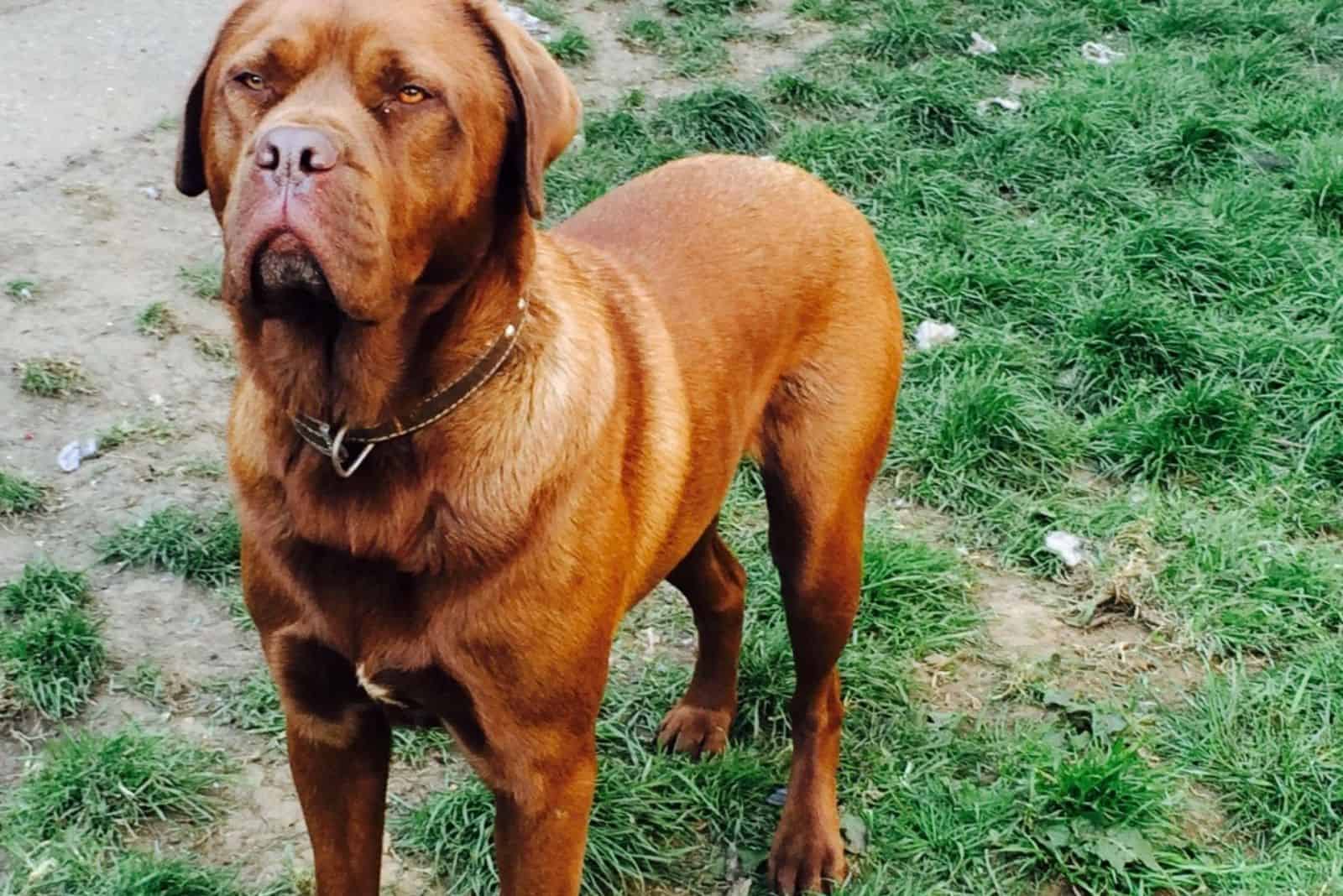 The AKC doesn't officially recognize the following Corso colors, but this wouldn't be much of a complete guide if we didn't go over all the coat colors of this breed, would it?
The other reason to list out all the other colors is that some breeders sell these "rare" Cane Corso colors at much higher prices in order to take advantage of interested but uninformed buyers.
Breeders claim that these color varieties are just rare, and they do not carry any illnesses. But, the truth is that these pups are usually predisposed to most canine health issues.
So, let's have a look at some of the colors you might encounter.
Chocolate/Liver Cane Corso
The Liver or Chocolate Cane Corso almost resembles the red Corso, but they are completely different. Moreover, this color is considered a fault in a number of kennel organizations.
You can easily distinguish a Chocolate Corso from other pups because the skin around their eyes and their nose has a pink-purple tone. Some of these pups come with a black mask, but they all have green-toned hazel eyes.
Sadly, even though these doggos look strong and powerful, they are more prone to diseases than other Corso colors. This is because breeders usually breed them for their coat with little regard for their health.
Isabella/Tawny Cane Corso
The Isabella Corso is tagged as a serious fault by distinguished kennel clubs because it is also bred for coat color and not for their health.
Their coat is a dilute liver color, and their nose and mucous membranes have a pink-purple shade. Similar to a Chocolate Cane Corso, most Isabella ones have green-toned hazel eyes.
Do blue Cane Corsos exist?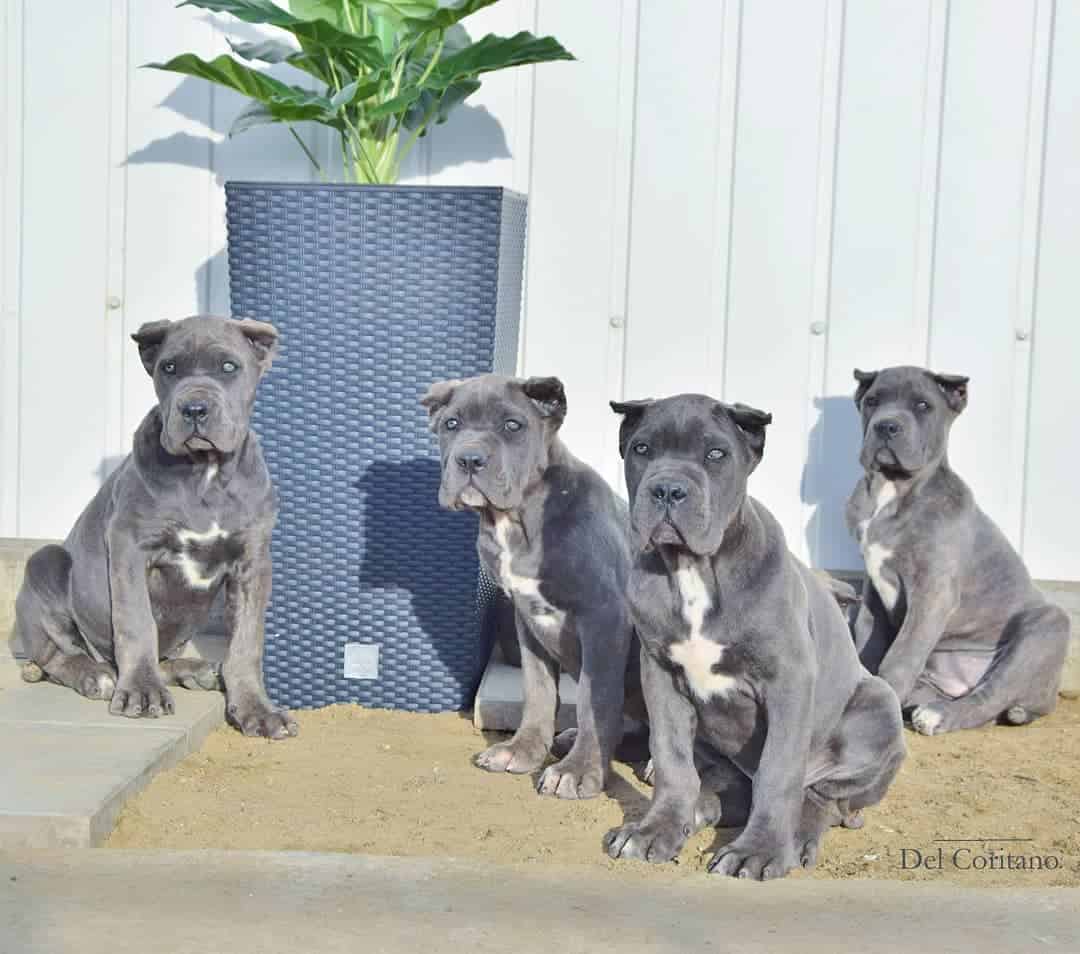 Photo from @delcoritano_canecorso
The confusion about whether or not the blue Cane Corso exists comes from the terms used by the FCI and the AKC on their breed standards for this dog.
Instead of using blue to label a dilute of black pigment, they named this type of coat color grey. To clarify further, in the context used in the Cane Corso breed standard, the grey coat is also referring to blue, even though it is not stated.
This is why you can come across some pet owners who address their steely-gray-toned pup as a blue Cane Corso.
If you ever come across a breeder who claims that blue Corsos don't exist, be extra careful. You wouldn't want to do business with someone who did not bother to look up whether grey and blue are the same.
Is there a Cane Corso tri color?
Sadly, there are no Cane Corsos that come in tri color patterns. The closest you can get to a multi-colored pup is the brindle variety. They are not exactly the same as tri color, but they do have nice stripes that sometimes look like camouflage.
If you come across breeders that advertise their pup as a tri-color Cane Corso, you should stay away from them. These are most likely ads to bait you in and see what else these breeders have to offer.
Cane Corso eye and nose colors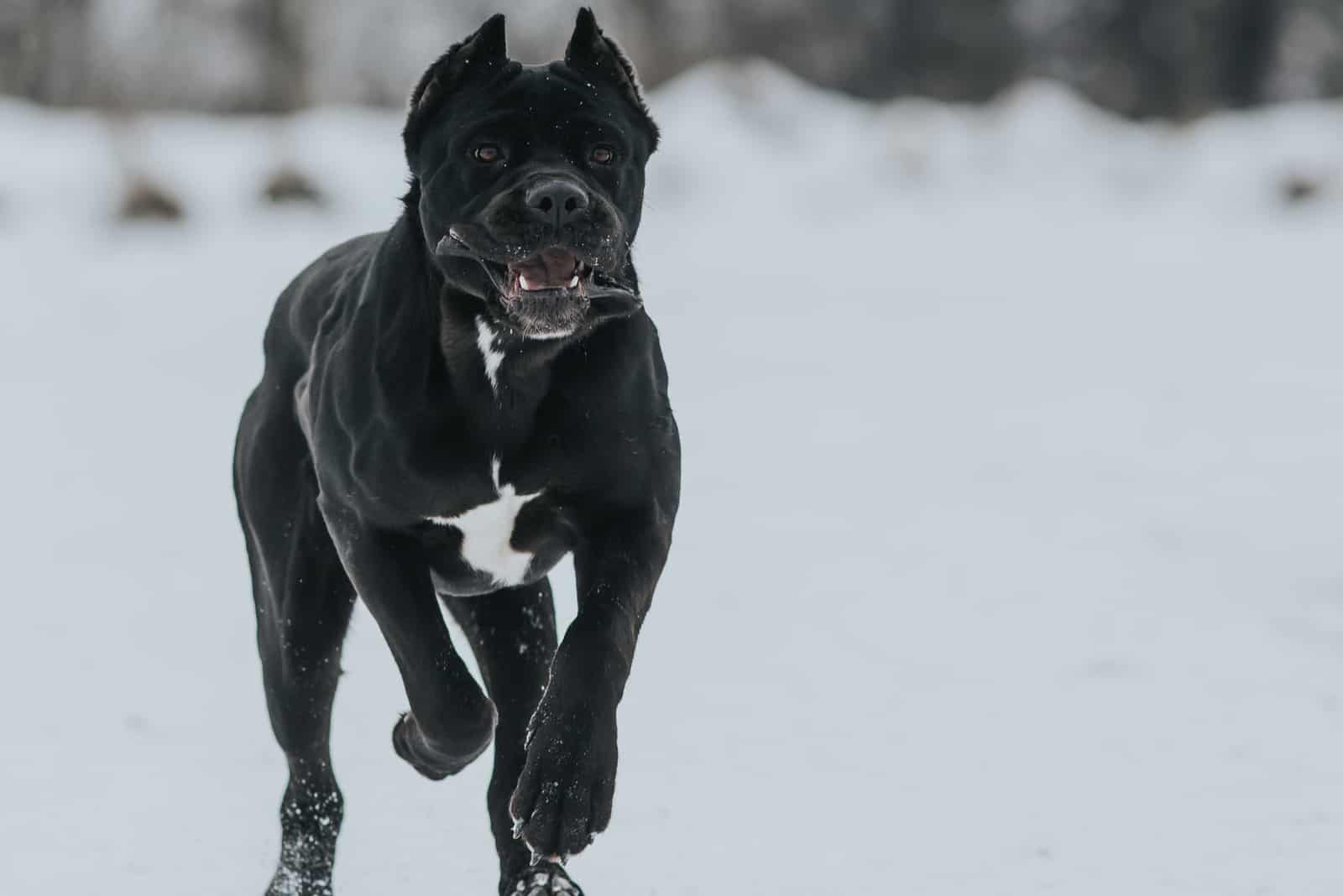 According to both the FCI and the AKC, there are only two acceptable Cane Corso eye colors:
• Dark hazel eyes – these are for dogs with black muzzled and coat colors of black, fawn, red, and black brindle.
• Lighter shades – for pups with grey pigmentation on their muzzles, and coat colors of grey, fawn, red, and grey brindle.
These eye colors naturally lighten as the pup matures, but the general rule of thumb is that the iris should be as dark as the dog's coat color. Blue and yellow eyes are a straight disqualification from shows.
As for the nose colors, the AKC states that it should match the dog's coat. For instance, pups with black coats should come with a black nose. Likewise, dogs with grey coats should have a grey nose, and so on.
Do Cane Corso puppies change color as they grow?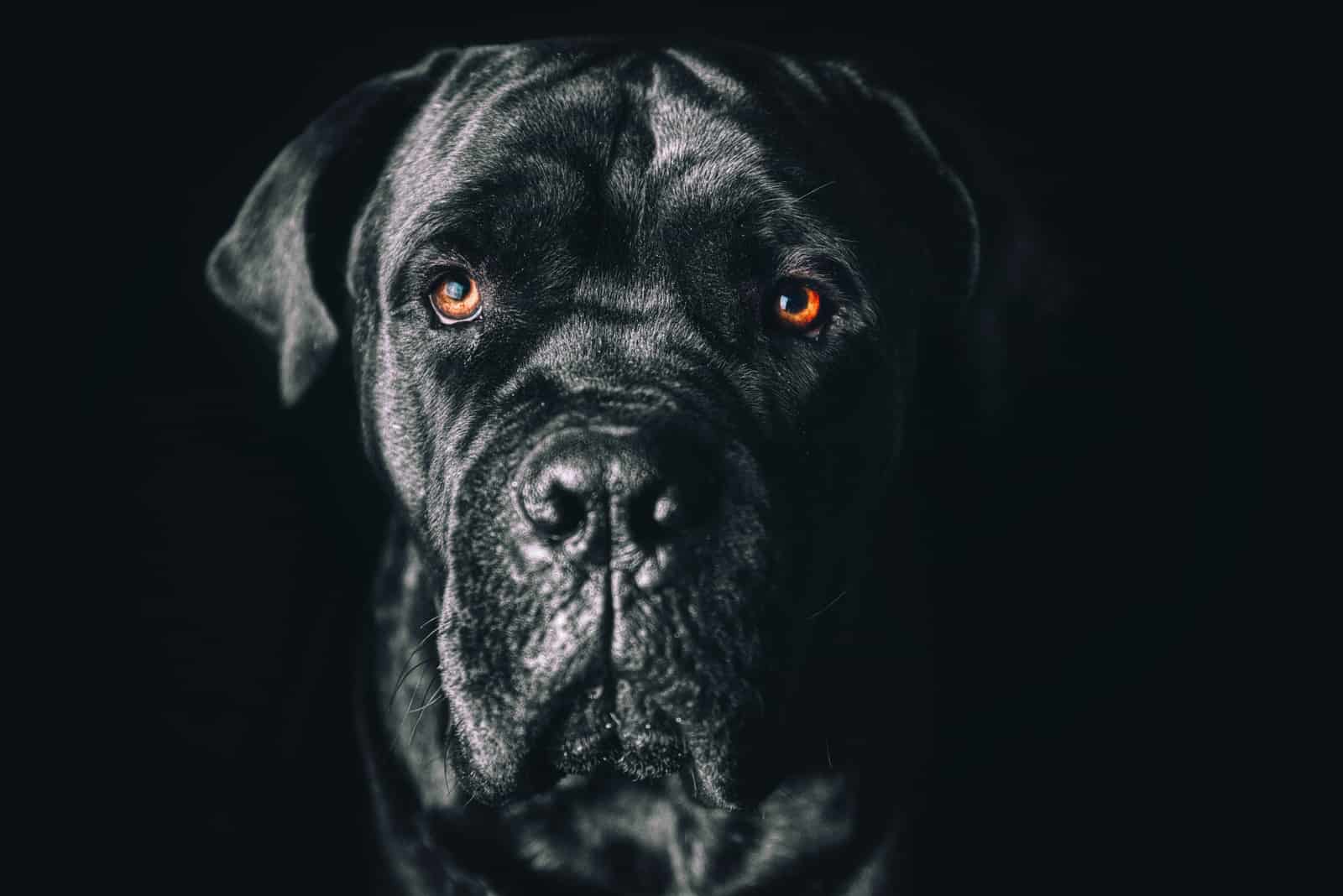 The answer to this question is not exactly black and white. Cane Corso puppies can and cannot change the color of their coats.
To clarify, it is possible for a light grey Corso to change into a much deeper shade of grey, but it is not possible for it to turn into red or formentino. That is simply how genetics works.
As puppies get older, their markings may expand or shrink, but they will never turn into a color on the opposite end of the spectrum. These changes in the color of their coat are subtle, and they are often brought by the following factors:
• maturity
• sunlight
• nutrition
• medications
• skin disease
Given what we now know, you might be wondering if pups change colors, when is the right time to register them?
Well, the AKC actually requires registration to be submitted within twelve months of the litter being registered. Generally speaking, though, most dog owners register their pups after the twelve-week mark.
However, it doesn't really matter if they change colors after being registered. As we've seen above, it cannot vary more than simply a few shades lighter or darker.
Do Cane Corso's eyes change color?
If you are curious as to whether your Cane Corso's eyes will stay blue, the answer might disappoint you. A puppy's blue eyes will dilute and change color within the first couple of weeks or months.
Their blue eyes can turn brown once they are adults. Formentino or fawn doggies look stunning with cute blue eyes, but don't be fooled by a Cane Corso breeder charging you extra for these puppies. If that is the case, you should reconsider buying from that breeder.
What are the most common and the rarest Cane Corso colors?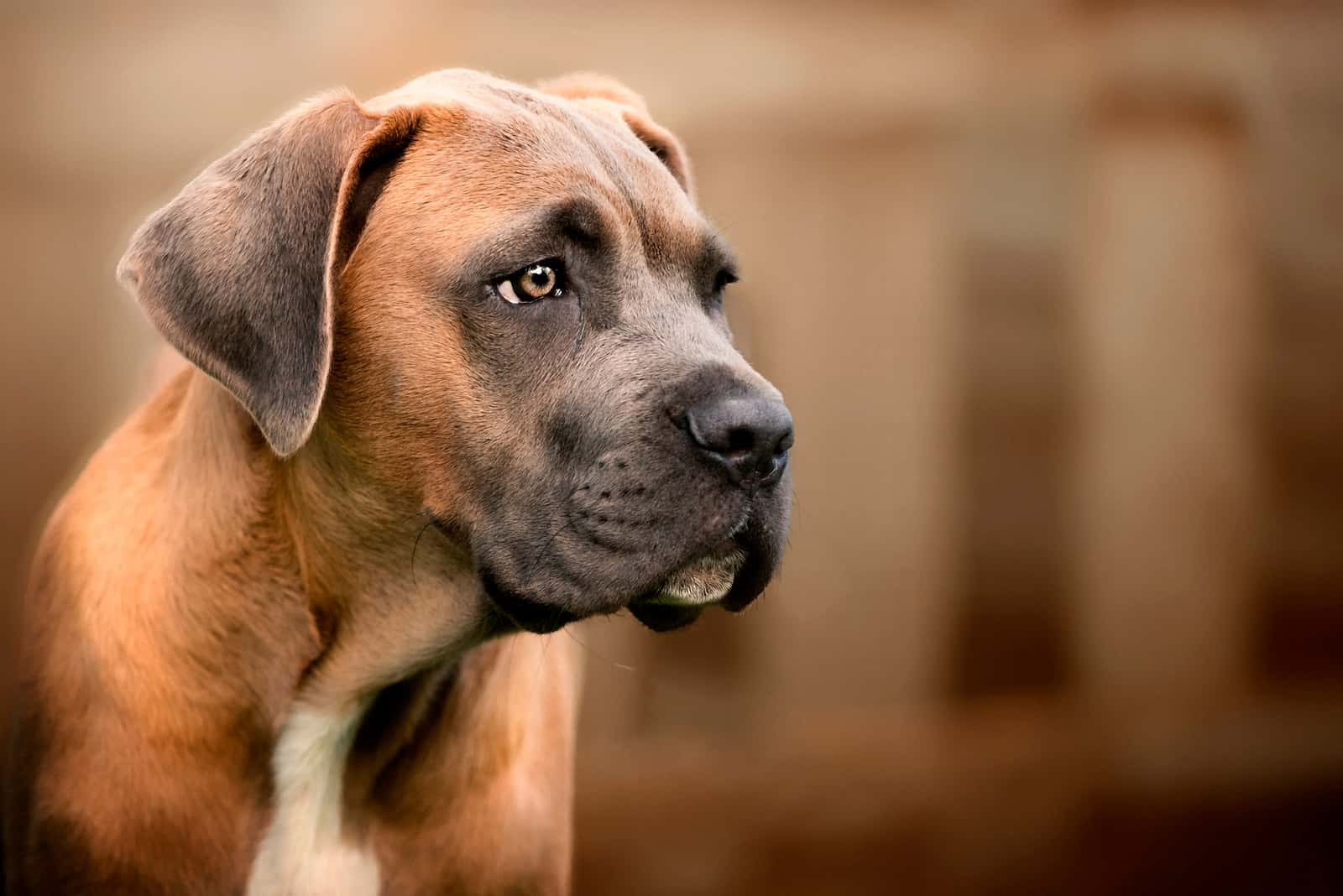 According to the study of the aforementioned Czech breeder, Evzen Korec, titled, "Inheritance of coat color in the Cane Corso Italiano dog", the most common color for these dogs is black.
However, the remaining colors in the breed standard are not considered as rare because they can easily be found in licensed kennel facilities.
In terms of the rarest Corso colors, you may refer to the following list:
• Chocolate or liver
• Isabella Fawn
• Formentino
These tones are rare because they are a result of recessive genes. They don't indicate crossbreeding since they can occur even without genetic manipulation.
However, there are many irresponsible breeders today who breed Cane Corsos just to achieve these rare shades. They then sell the puppies for a high price, even though they are perfectly aware that the pups might carry congenital diseases.
Cane Corso color genetics: Why do they have many different colors?
Explaining why Corsos have different coat colors would require a deep genetic analysis of each shade. You probably don't have time to do that, so we will try to give you the information you need in the shortest way possible.
There are two types of pigments that determine the color of your Cane Corso: eumelanin and phaeomelanin, and we mentioned them both earlier. Both eumelanin and phaeomelanin have a default color modified by the genes inherited from the pup's parents.
Since eumelanin's default color is black, it can only turn to brown, grey/blue, and pale brown when diluted.
On the other hand, phaeomelanin produces orange, gold, red, tan, cream, and other related colors when modified. Genes can control the intensity of the phaeomelanin as it influences eumelanin.
Now, what distinguishes these two pigments from each other are the parts of the dog's body they affect. While eumelanin is responsible for the color of the Corso's coat, nose, and eyes, phaeomelanin only affects the dog's coat color.
Does the coat color affect a Cane Corso's health and behavior?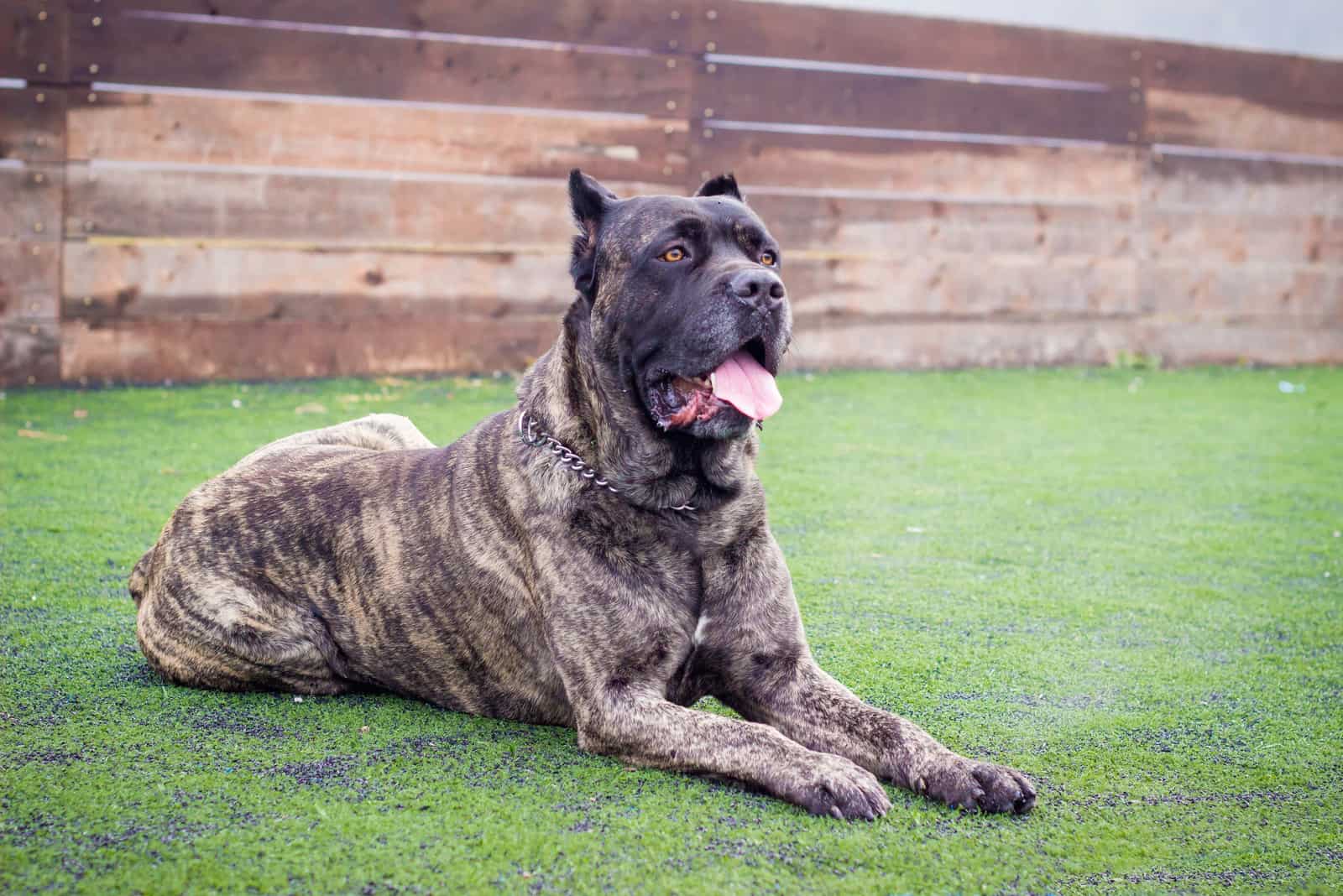 As we stated above, there is very little evidence that proves that the color of a dog's coat has anything to do with its behavior. This also applies to our Cane Corsos because no research is conducted as of yet that reveals a connection between the two.
You are free to scour the internet and look for proof of any kind, but you will just come across a bunch of myth-based articles that do nothing to shed light on this topic.
But, what you should do is focus on understanding the different health problems associated with pups that are bred for color. This topic has been thoroughly investigated by vet scholars for many years, so we can assure you that it is well worth your time, especially if you are new to all of this.
Let's have a look at some of the health problems experienced by dogs that are bred for color:
• Deafness – Deafness is characterized by loss of hearing due to a chronic ear infection caused by a genetic defect. Most merle-colored dogs suffer from this condition.
• Eye deformities – Eye deformities in pups bred for colors such as chocolate, formentino, and Isabella fawn include subluxated pupils, anisocoria, and microphthalmia. These conditions impair their vision, which ultimately leads to blindness.
• Sunburn – Pups that lack pigments are naturally more sensitive to sun exposure. This leads to sunburn, which is one of the major sources of skin infection, and it can lead to more serious illnesses, such as cancer, if left untreated.
• Skin cancer – Skin cancer in canines is ultimately caused by their skin pigments and their exposure to the sun (see sunburn above). Pups bred solely for color are susceptible to three types of skin cancer: squamous cell carcinoma, mast cell tumors, and malignant melanoma.
• Color Dilution Alopecia – This is another genetic disease that leads to hair loss and skin problems. Isabella fawns are the most likely to develop this condition.
• Black Hair Follicular Dysplasia – This ailment targets dogs with a chocolate, liver, or black coat. The most common symptoms are dull coat quality, dry and scaling skin, hair loss, and skin infections.
• Otitis Externa – This condition occurs when the external ear canal of a pup becomes inflamed. Most liver-colored Cane Corsos are afflicted by this.
• Pyotraumatic Dermatitis – Dogs that suffer from this condition have lesions that are swollen and plaque-like. If left untreated for just a few hours, the dog's hair may mat or crust. This is also common in pups with a liver coat.
Can different Cane Corso Colors have different lifespans?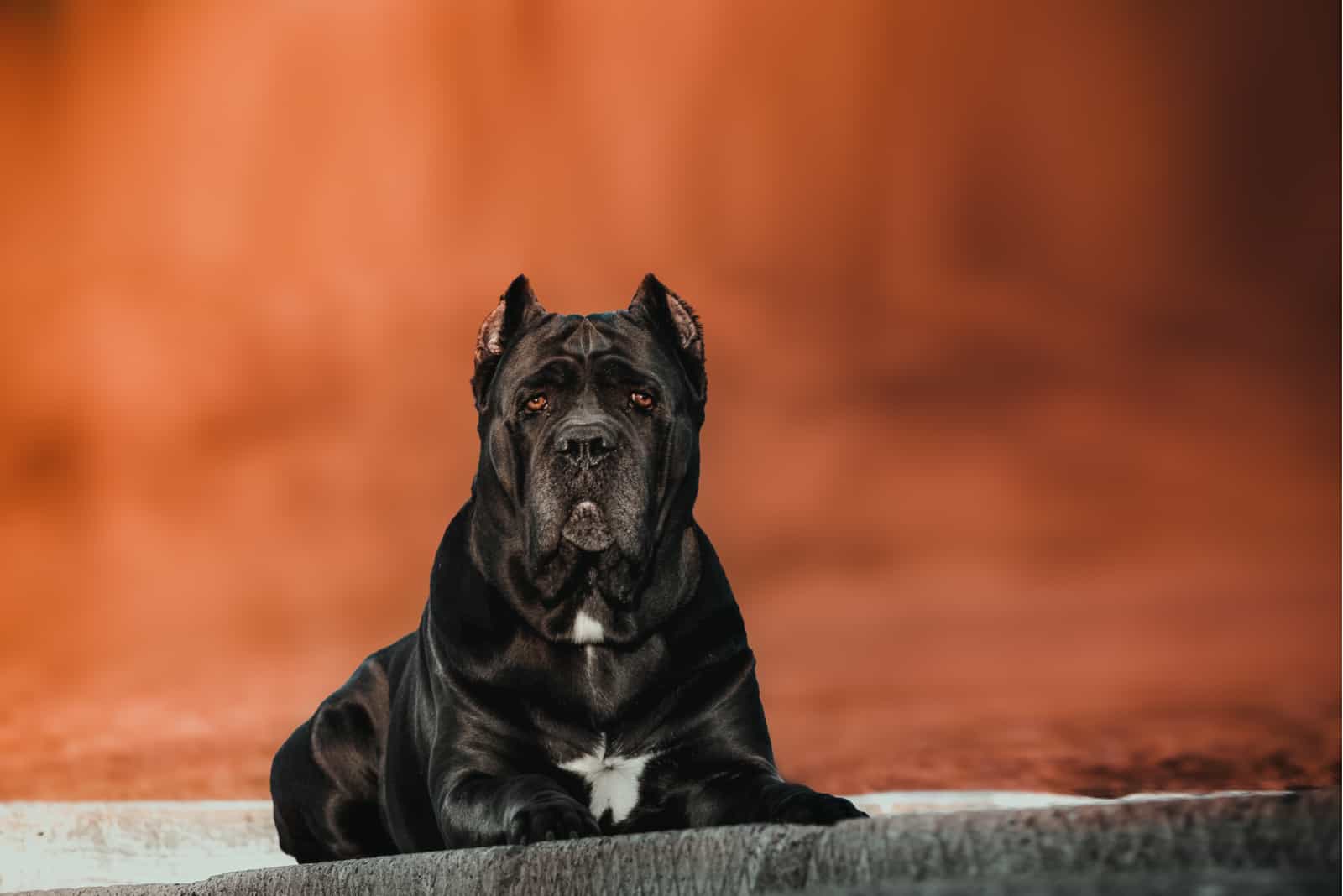 This might come as a surprise, but according to some studies, there seems to be a correlation between lifespan and coat color.
One study obtained data from over 232 naturally deceased dogs (no poisonings or accidents), owned by 73 kennels/individuals, and living in 25 countries.
While this does seem like one of the biggest studies of this specific kind, it is not exactly a huge sampling size. Also, the fact that there are, on average, over 3.17 dogs per individual, it might make for even less reliable data.
One more thing to note is that the data comes from various different countries, but the main focus was on Eastern Europe.
So, you should take the following results with a grain of salt:
1. Black Brindle: 10.30 years
2. Brindle: 10.13 years
3. Grey Brindle: 9.84 years
4. Fawn: 9.01 years
5. Black: 9.00 years
6. Grey: 9.00 years
7. Other: 8.09 years
A quick fact to lift your spirits up: There are Corsos reported being pretty healthy for up to eighteen years.
The Italian Mastiff's health
These dogs are generally healthy, but like most breeds, they are prone to certain health conditions. Note that not all Corsos will get any or all of these diseases, but it is important to keep them in mind if you are considering this breed.
A Cane Corso can be prone to:
• hip dysplasia
• eyelid abnormalities: entropion, ectropion, and cherry eye
• demodectic mange (which can be inherited)
• gastric torsion, also known as bloat
Cane Corso breeders should have up-to-date health clearances certifying that a pup's parents are free of hip dysplasia and eye diseases.
These clearances should be in the form of an eye exam by a certified veterinary ophthalmologist, with the results registered with the Orthopedic Foundation for Animals. For hip dysplasia, the evaluation of hips should be registered with the OFA or Pennhip.
Commonly asked questions
What are the best Cane Corso mixes?
If you love the colors of the Cane Corso breed, you will love them, even more, when they are mixed with some of the best dog breeds around. Here are the best Cane Corso mixes you should be on the lookout for:
• Cane Corso Labrador Retriever mix
• Cane Corso German Shepherd mix
• Cane Corso Bullmastiff mix
• Cane Corso Bulldog mix
• Cane Corso Poodle mix
Can a Cane Corso be white?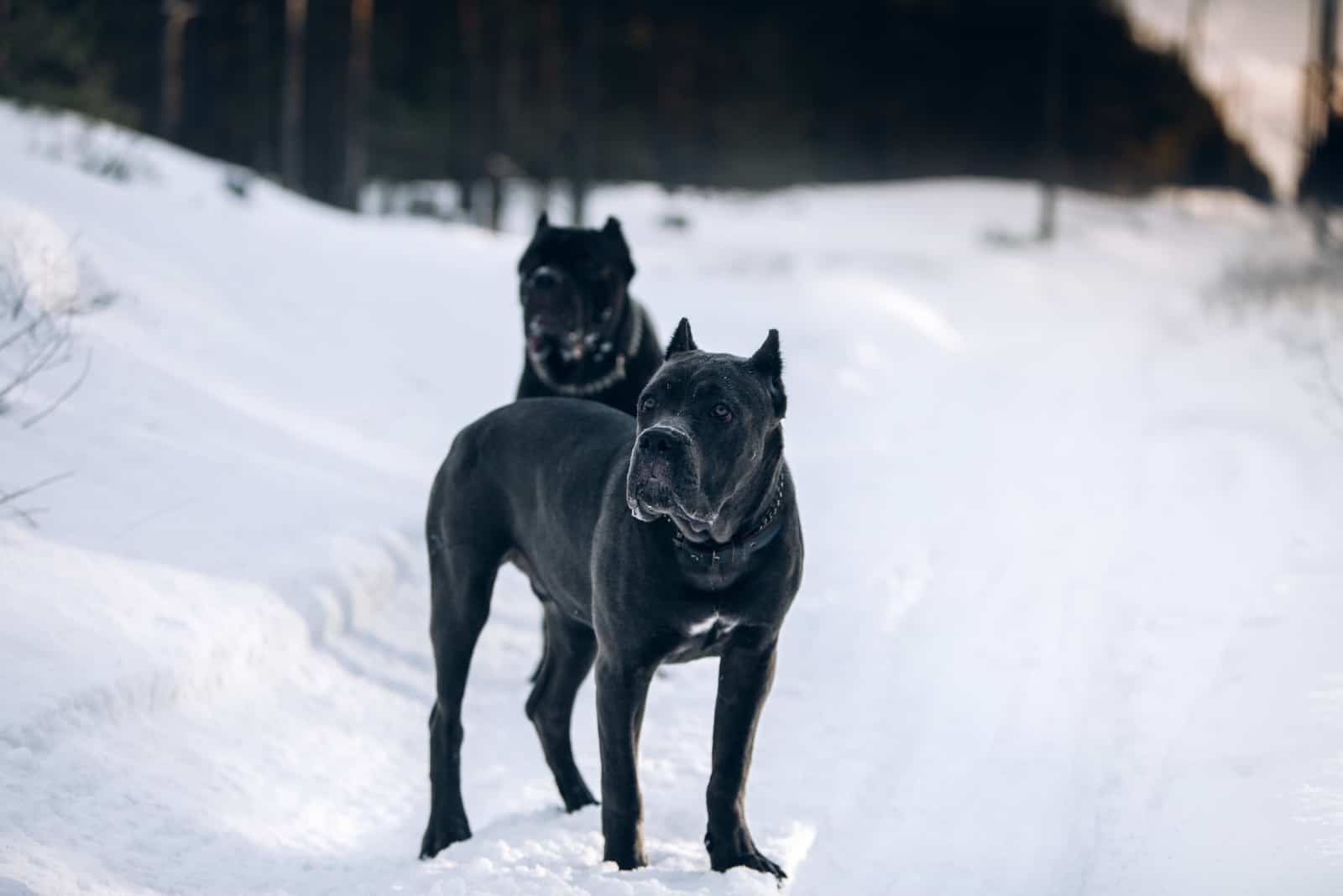 Sadly, for some, a solid white Cane Corso does not exist. What most dog owners mistake as a white Corso is actually a formentino one that has a washed-out carbon color.
However, it is crucial to add that this dog breed may have white patches on its throat, chin, backs of the pasterns, and toes.
What do the grey mask and black mask mean in the AKC breed standard?
The terms "grey mask" and "black mask" used in the AKC breed standard pertain to a melanistic pattern that extends from the dog's muzzle to its ears.
These masks are most often seen on puppies with the following coat colors:
• fawn
• yellow
• red
• tan
• brindle
How to improve your Cane Corso's lifespan
Ensuring that your Corso lives healthy until old age can be done through several ways:
• Plenty of love and great care
• A low-stress environment
• Plenty of exercise
• A healthy and balanced diet
Cane Corso colors – final thoughts
We've gone over the most common, the most sought-after, and the rarest of the Cane Corso colors. Now, all that's left for you to do is figure out which one fits best within your family.
Each of the colors is stunning in its own way and brings out the best this breed has to offer. Purebred Cane Corsos are some of the most majestic and perhaps most expensive animals in the dog world.
They exude nobility and elegance, and show tremendous loyalty to their owners. But, these pups do need a firm and loving owner to teach them everything they need to know in order to become well-mannered and loved adult dogs.
As with most breeds, especially large ones, early socialization is a must for Corsos. So, if you don't think you can spare.