This post contains affiliate links, and I will be compensated if you make a purchase after clicking on my links.
If you ever wanted a canine bodyguard, you're in the right place. The Cane Corso dog breed is probably the finest canine bodyguard you can ask for. Its name even stands for "bodyguard dog" in Latin!
More intimidating than a Doberman or a Rottweiler, a Cane Corso is a mighty doggo with a heart made of gold. This working dog was always used to help people defend themselves, their properties, and their livestock. And, they did their job brilliantly. Today's Cane Corso is a beloved family member that doesn't appreciate newcomers or new friends.
They keep their friends circle pretty tight and don't open easily to other people. But, if a Cane Corso accepts you, consider yourself blessed. This mighty pup will do anything for your love and approval once he decides you're worthy of their trust.
When we look at the Cane Corso dog breed, we immediately notice their size. Did you know that there are numerous health issues related to their size? For example, the Cane Corso is prone to bone and joint health issues, which only get worse if the dog is bulkier.
Therefore, pushing the dog's limits and making it overweight isn't such a good idea at all. A Cane Corso should never be overweight because it brings additional pressure to their joints and bones. Keeping a Cane Corso fit requires frequent exercise, controlled meals, and proper dog food. But, which is the best dog food for a Cane Corso? The choice is definitely a tough one!
The Cane Corso is a giant breed, and it needs food designed especially for giant and large breed dogs. Such food has to have a high protein percentage and a low fat count. Opt for Cane Corso dog food with protein sources coming from beef, venison, lamb, chicken, turkey, salmon, etc.
This protein-rich dog food will be ideal if it has other ingredients that satisfy a dog's nutritional needs. We're talking about ingredients like salmon oil, other fish oil, amino acids, whole grains, fresh fruits and veggies, etc. Extra fat is not an option, but some chicken fat is good for the dog.
When shopping for Cane Corso puppy food, we must bear in mind all the dietary needs a large breed puppy could have. They're fast growing and need to maintain good body weight, healthy muscle mass, and strong bones.
Otherwise, their senior days would be troubling. Since we're talking about seniors, you should be aware that our old pupsters have special needs. They need good sources of vitamins and proteins to stay healthy and fight health conditions successfully.
Down below, you'll find the best dog food for the Cane Corso available on Chewy. There's got to be a food choice for your puppy, adult, or senior Corso!
Best Dog Food For Cane Corso Puppies
Large breed puppy food needs to be high in protein in order to follow the puppy's growth. We've found some of the best puppy food available on Chewy. It's all gluten free pet food made with natural ingredients, and enriched with goodies like amino acids, antioxidants, and probiotics.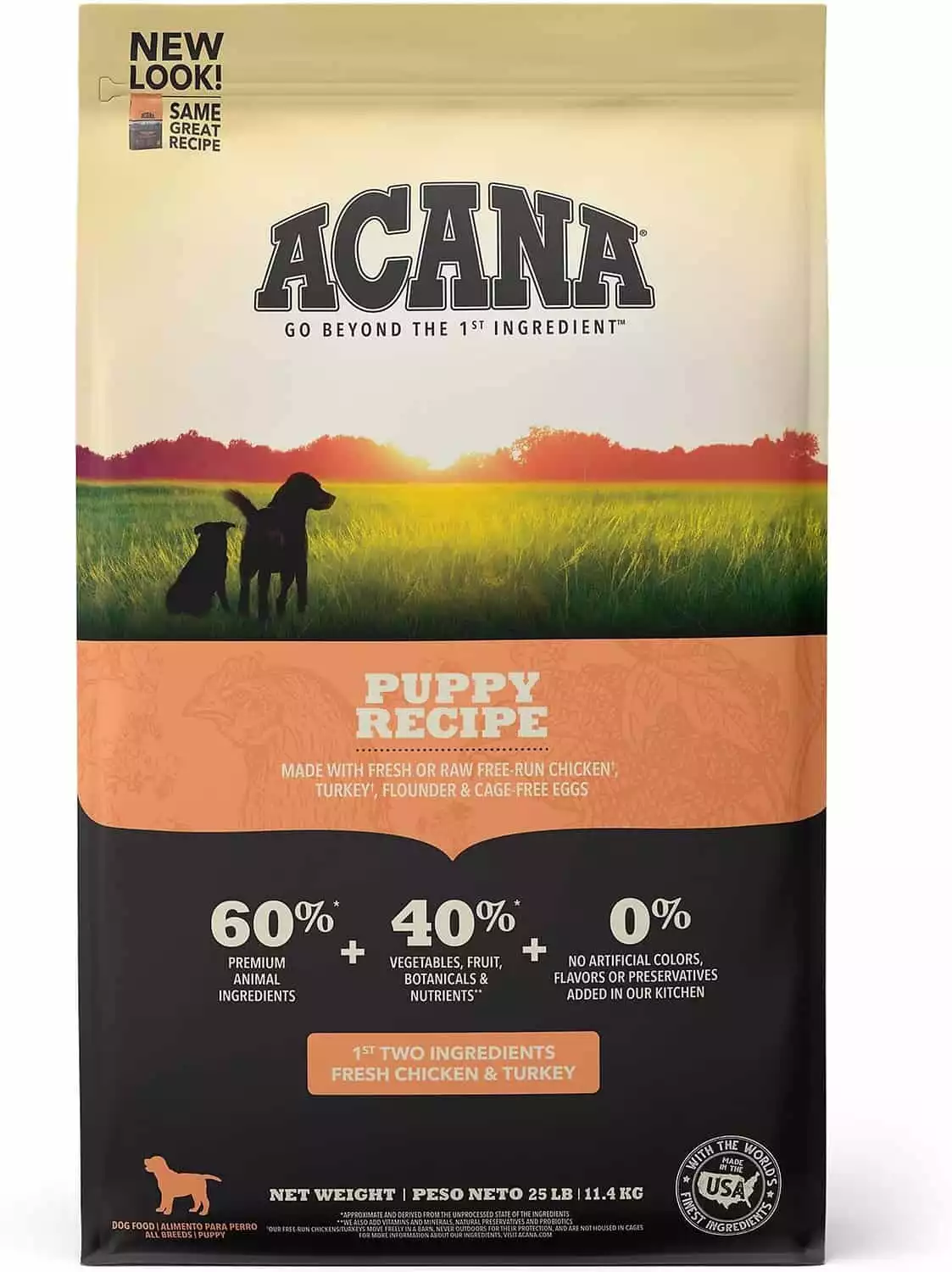 With the first five ingredients being deboned chicken, deboned turkey, chicken meal, whole green peas, and whole red lentils, the ACANA puppy recipe grain-free food is one of the best dog foods for a Cane Corso. This is a high-protein recipe, and that's exactly what growing Cane Corso puppies need.
Besides the protein content, other significant ingredients of this recipe are apples, pumpkins, collard greens, pears, rosehip, juniper berries, etc. If we talk about math, we can say there are 60% of high-quality animal ingredients and 40% of fresh fruits and veggies.
The ACANA puppy recipe is also enriched with many vitamins and minerals that affect the dog's overall health. The recipe is rich in fiber, which promotes good bowel movement. You don't want an obese Case Corso. Such dogs are prone to numerous health problems, including bloat.
What makes this dog kibble tasty (approved by pups) are the real bits of freeze-dried chicken and turkey. Delicious! With such a good ingredients list, ACANA doesn't need fillers like soy, wheat, corn, or tapioca. This brand really knows what growing puppies need.
Wellness CORE RawRev Dry Food
Key Benefits:
High-protein recipe

Enriched with superfoods like sweet potatoes

Contains omega-3 fatty acids, antioxidants, glucosamine, taurine, and probiotics

100-year long tradition of producing quality dog food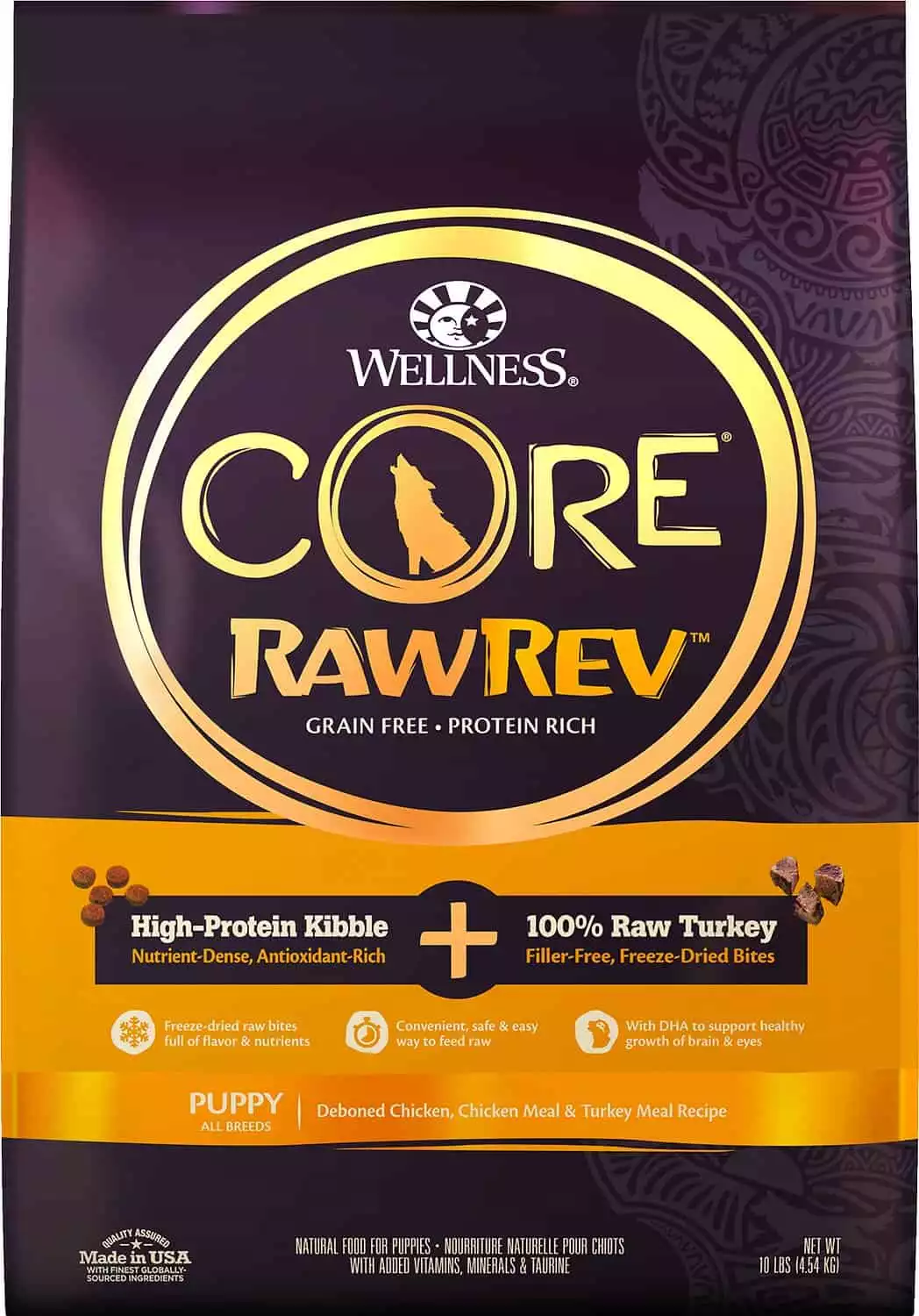 Wellness CORE RawRev Grain-Free Puppy Recipe contains deboned chicken, chicken meal, turkey meal, potatoes, and peas as the first five ingredients. Besides the high-quality protein ingredients, Wellness CORE is packed with fresh nutrients like spinach, broccoli, carrots, parsley, apples, blueberries, kale, and sweet potatoes.
Some of these ingredients, like sweet potatoes, are actually superfoods that give a boost of vitamins, minerals, and fibers. The recipe is designed by using DHA to support good brain and eye development, maintain a healthy body and muscle mass, and give the dog a nice and shiny coat.
The Wellness Core recipe truly takes care of your dog's wellness. It's enriched with omega fatty acids, antioxidants, glucosamine, probiotics, and taurine. There is no fluff or fillers like soy, wheat, or corn. All the ingredients are naturally preserved and organic.
The Wellness puppy food has an awesome feature of freeze-dried turkey bits. Your dog will be eager to start every meal if you switch to this brand.
For over 100 years, the Wellness brand has been producing high-quality dog food. Today, these guys can proudly say that their food is one of the best dog foods for the Cane Corso.
Merrick Backcountry Puppy Recipe
Key Benefits:
Freeze-dried turkey recipe

Rich in omega-3 fatty acids

Rich in glucosamine and chondroitin

Fit for sensitive stomachs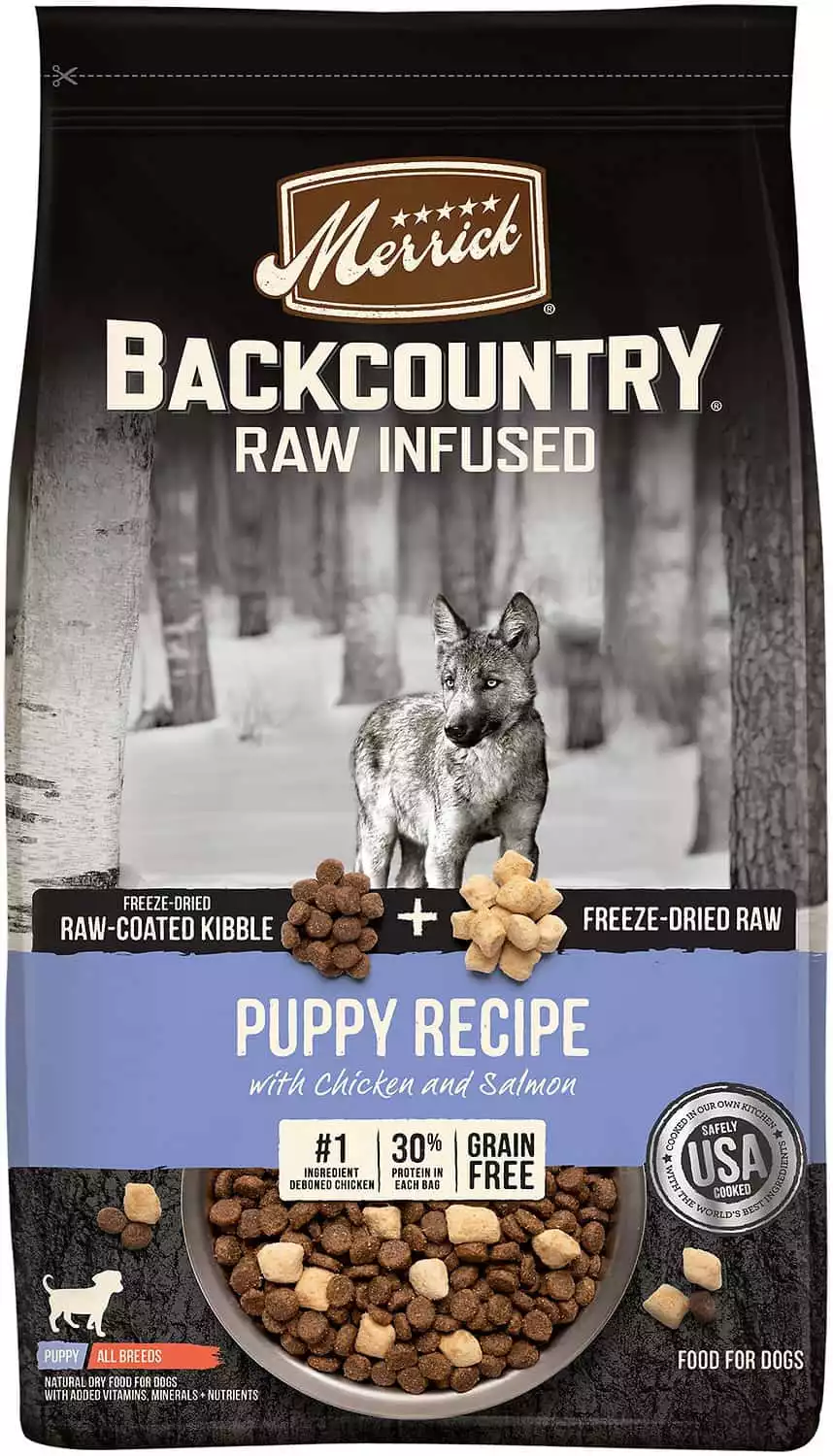 The Merrick Backcountry Freeze-Dried recipe features deboned chicken, chicken meal, sweet potatoes, potatoes, and turkey meal as top ingredients. Real animal protein comes first with this food brand, and Cane Corso puppies love their philosophy.
The recipe is high in glucosamine and chondroitin; two ingredients that support good joint condition. A Cane Corso puppy will grow into a large dog, so he'll need premium ingredients to make his bones stronger.
What else a growing puppy needs is a shiny and healthy coat. That's where omega-3 fatty acids come to help. These fatty acids promote good skin condition and give your puppy a luxurious coat. But, what growing puppies don't need is grains used as fillers.
Luckily, the Merrick Backcountry recipe has no fillers like corn, wheat, soy, etc. It's completely grain-free and fit for a puppy.
Besides being a premium option for Cane Corso puppies, this dog food is also good for puppies with sensitive stomachs and those that need some weight control. We can't stress enough how dangerous it is for a Cane Corso to become overweight. For your dog's sake, don't overfeed your pups.
Editor's Pick
ORIJEN Puppy Grain-Free Food
Key Benefits:
Premium quality poultry and fish proteins

Contains superfoods as other ingredients

Doesn't use grains and fillers

Meat comes from the most succulent parts of the prey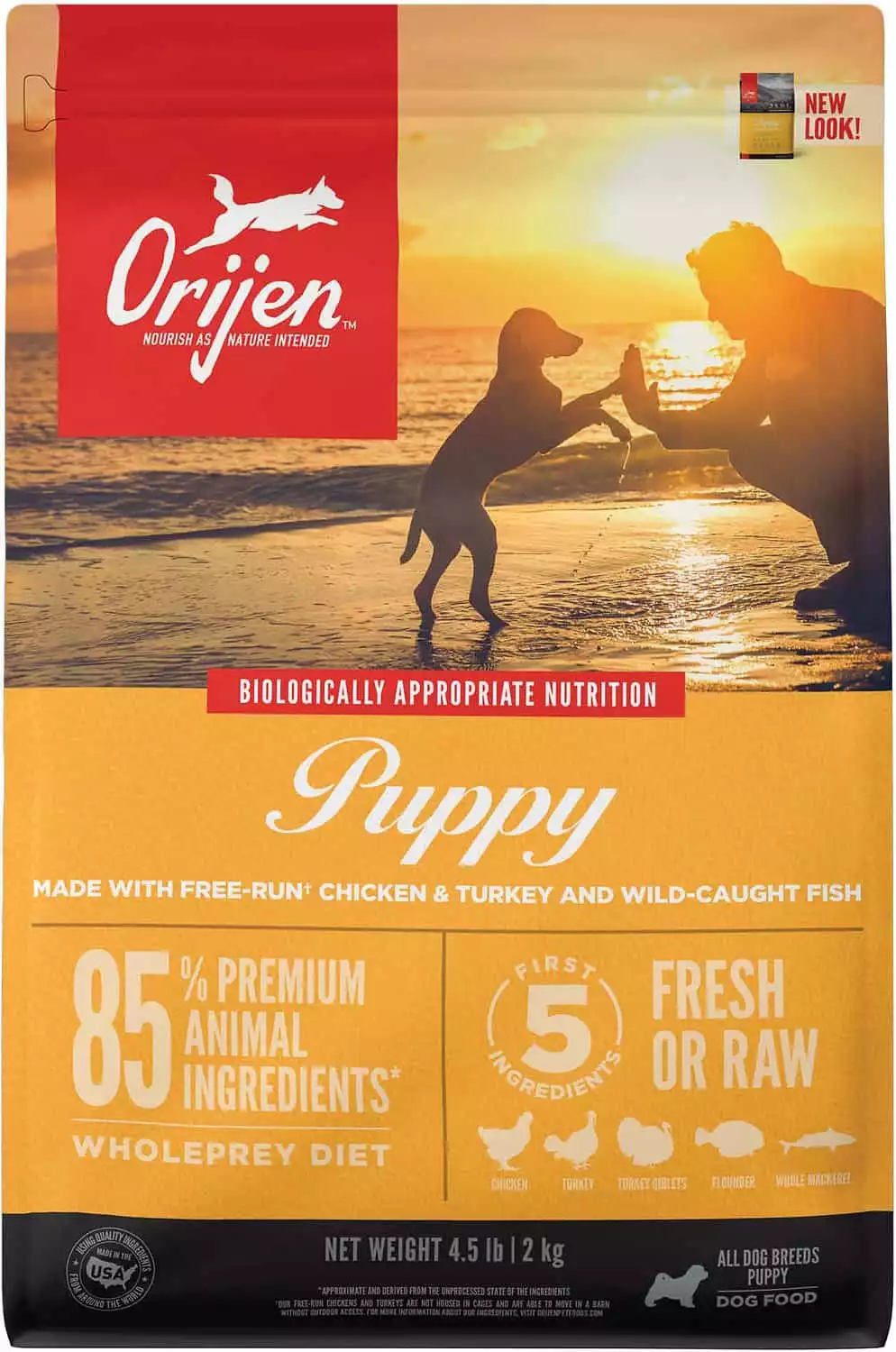 What can you say about dog food that features the following ingredients: chicken, turkey, turkey giblets, flounder, whole mackerel, eggs, chicken liver, whole herring, pumpkin, butternut squash, collard greens, pears, apples, cranberries, dried kelp, etc? Nothing! The recipe is brilliant! With so many amazing ingredients, there was nothing else left to do than to mark the ORIJEN puppy food as our editor's choice!
All of the listed ingredients are preserved by using freezing methods at the peak of their fresh condition. The creators of this recipe surely did their homework and used 85% of premium poultry and fish ingredients. But, they didn't use scraps! All the animal ingredients come from the most succulent parts of the prey. You can rest assured your dog is eating real meat without any fillers.
The freeze-dried coated kibble is what puppies like about this dog food. The ORIJEN grain-free food is grain free, with no soy, corn, or wheat. With this brand, your Cane Corso puppy will grow into a strong dog worthy of every praise.
Best Dry Food For Cane Corso Adult Dogs
Blue Buffalo Life Protection Formula
Key Benefits:
High-quality ingredients like deboned chicken, barley, and brown rice

Super 7 antioxidant-rich ingredients

Enriched with glucosamine, antioxidants, vitamins, and minerals

No soy, corn, wheat, or poultry by-products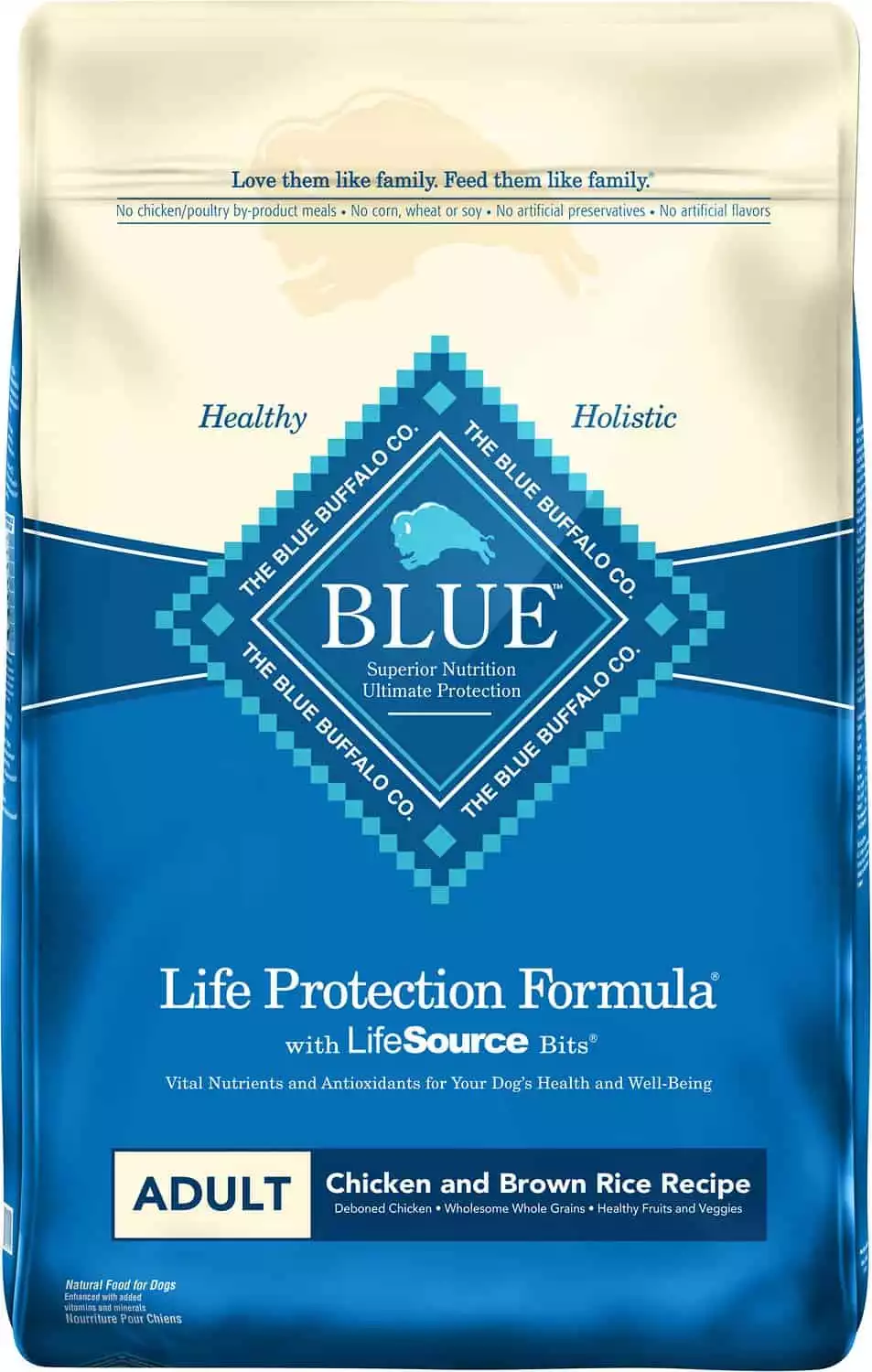 The Blue Buffalo Life Protection formula has no artificial preservatives, no soy, no wheat, no corn, and no chicken by-products. But, what it does have is quality ingredients like deboned chicken, brown rice, and barley. A Cane Corso's diet should consist of lots of proteins, carbs, and fats that keep the Corso needs satisfied.
The Blue Buffalo Life Protection formula is enriched with LifeSource Bits. But, what are those Bits? LifeSource Bits are a blend of Super 7 antioxidant-rich ingredients. This formula supports healthy muscle development, the dog's strong bones and teeth, healthy skin and coat, and a powerful immune system.
The Blue Buffalo brand is focused on avoiding ingredients like soy, corn, wheat, and poultry by-products in their recipes. Instead, they have glucosamine, vitamins, minerals, and antioxidants that actually benefit your dog's health. When feeding your Cane Corso this Life Protection formula, you know you're doing the best to protect its life.
Taste Of The Wild High Prairie Food
Key Benefits:
Buffalo and bison meat are the main ingredients

Rich in omega-3 fatty acids, minerals, vitamins, and antioxidants

Contains special K9 Strain Proprietary Probiotics

Grain-free recipe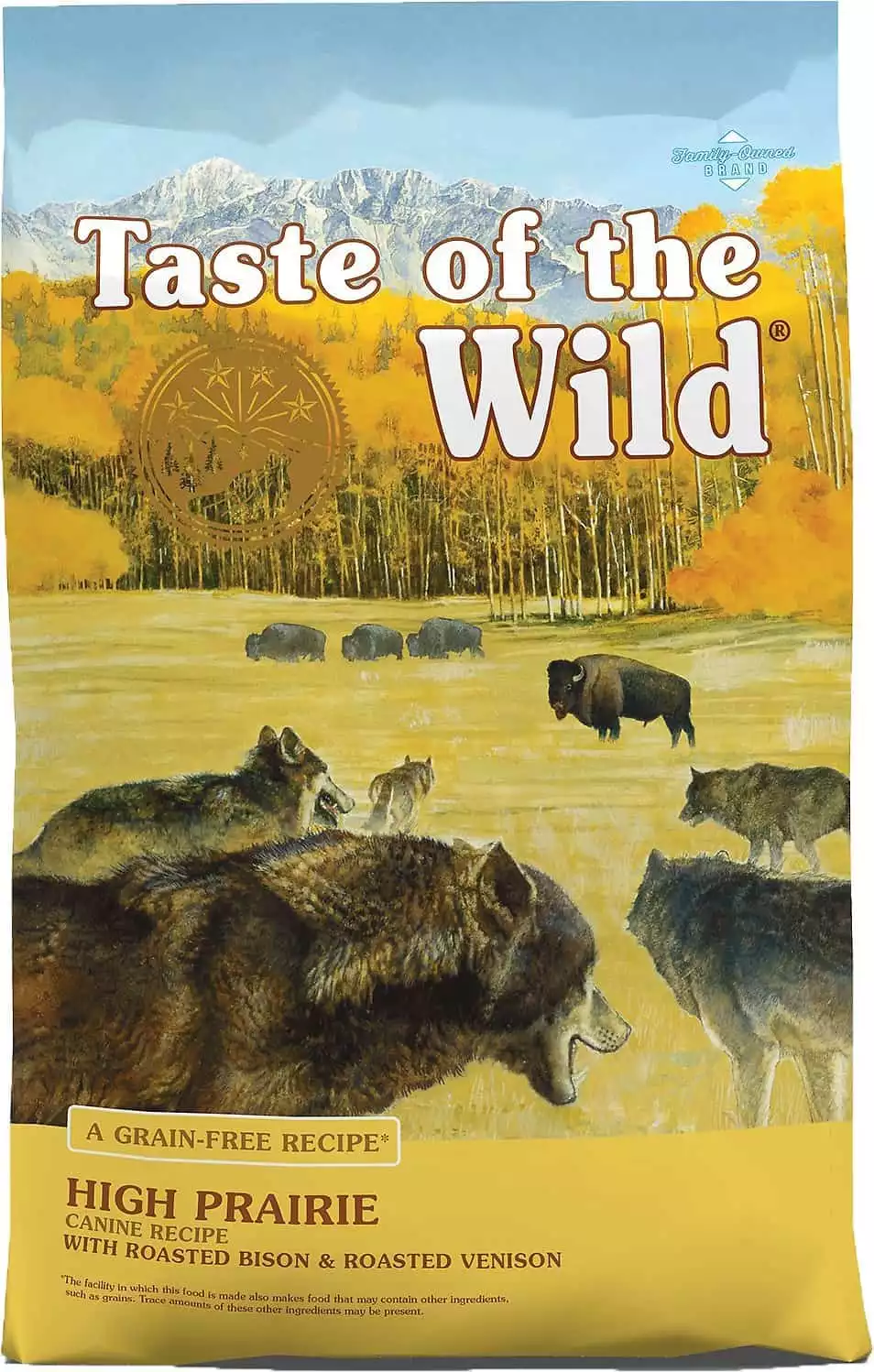 The Taste of the Wild High Prairie dog food ensures a completely balanced diet for your Cane Corso. While most dog foods are poultry-based or contain beef, lamb, or fish, this formula is created using buffalo and bison meat, with lamb and chicken meals as second sources of proteins. Besides proteins, the TOTW dog food contains sweet potatoes and peas. These ingredients provide antioxidants and highly-digestible energy for your active Cane Corso.
The great thing about this dog food is that vitamins and minerals come from fresh fruits and superfoods. Omega-3 fatty acids take care of the dog's healthy coat and skin. What makes The Taste of the Wild different from other dog foods is that it contains special K9 Strain Proprietary Probiotics.
These probiotics, along with prebiotics and antioxidants, promote a good digestive system and support a mighty immune system and the dog's overall wellness.
We love TOTW dog food for its grain-free policy. Also, they don't use corn, wheat, or artificial colors or flavors. Only natural ingredients coming from quality and sustainable sources are being used in the process.
Nature's Recipe Salmon Kibble
Key Benefits:
Salmon-based dog food

Sweet potatoes and pumpkin instead of grains

No corn, wheat, or artificial colors and flavours

Promotes a good immune system, healthy muscle mass, and an overall stellar condition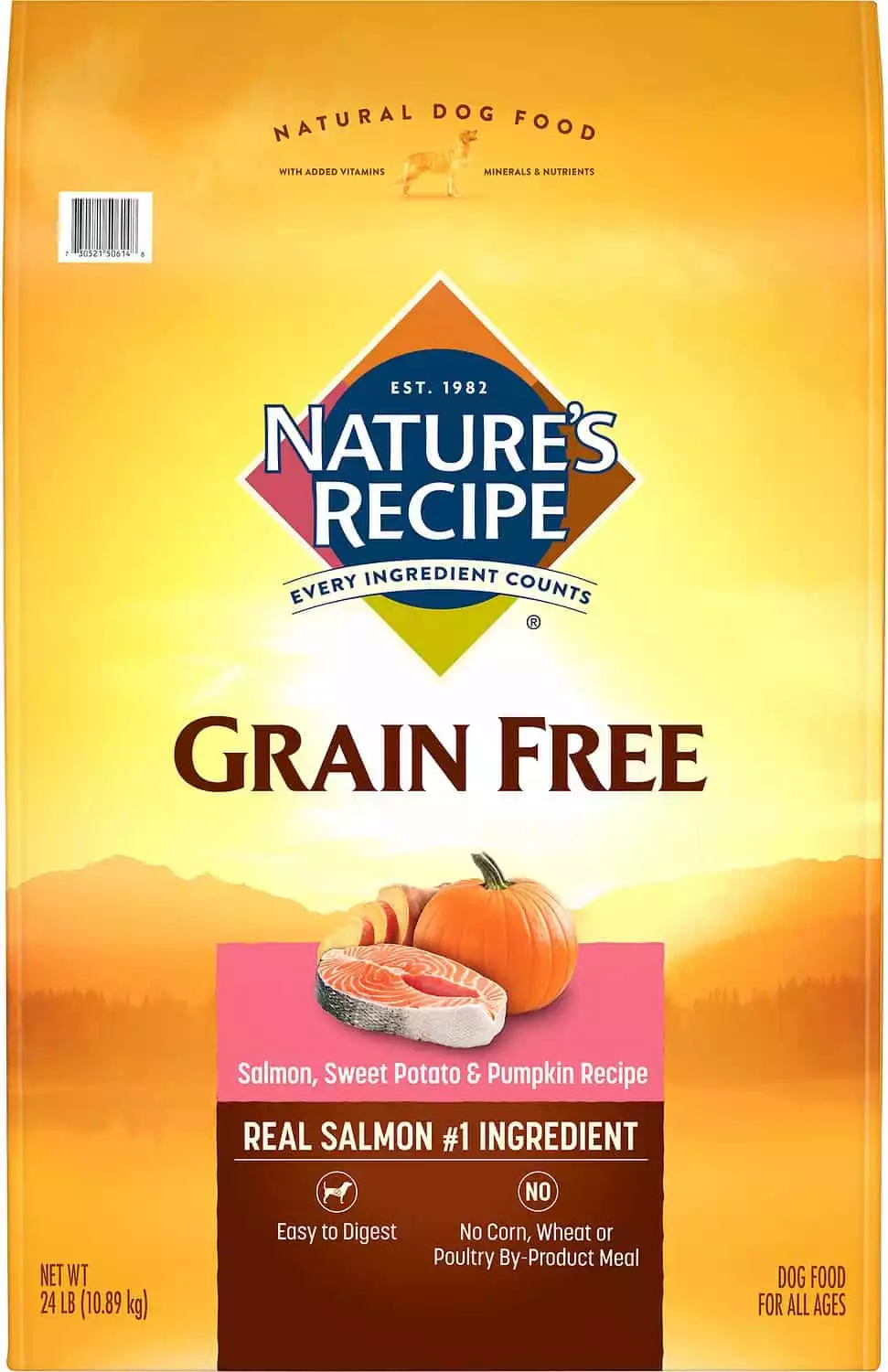 Nature's Recipe salmon dog kibble is enriched with sweet potatoes and pumpkin, making it one of the finest fish-based dog foods on the market. We are all aware of the many benefits that salmon fish has. It contains high-quality protein that helps the dog develop a healthy muscle mass.
The sweet potatoes and pumpkin in this recipe make sure your Cane Corso gets enough carbohydrates for sustained energy. With these healthy veggies, the brand didn't need grains for their recipe. This formula doesn't even contain corn or wheat, nor does it have artificial colors and flavours. All of the ingredients are natural, and they ensure that your Cane Corso gets enough vitamins, minerals, and other nutrients necessary for an active life.
Other fruits and veggies in this formula are rich in antioxidants, and make sure your dog's immune system is strong enough to fight inflammation and possible diseases. Coming from all-natural ingredients, Nature's Recipe Salmon kibble is even suitable for dogs with sensitive digestive systems.
Editor's Pick
CANIDAE All Life Stages Formula
Key Benefits:
Formula for all dog breeds, ages, and sizes

Chicken, turkey, lamb, and fish meal proteins

Vet-formulated recipe

HealthPLUS Solutions trio of omega fatty acids, probiotics, and antioxidants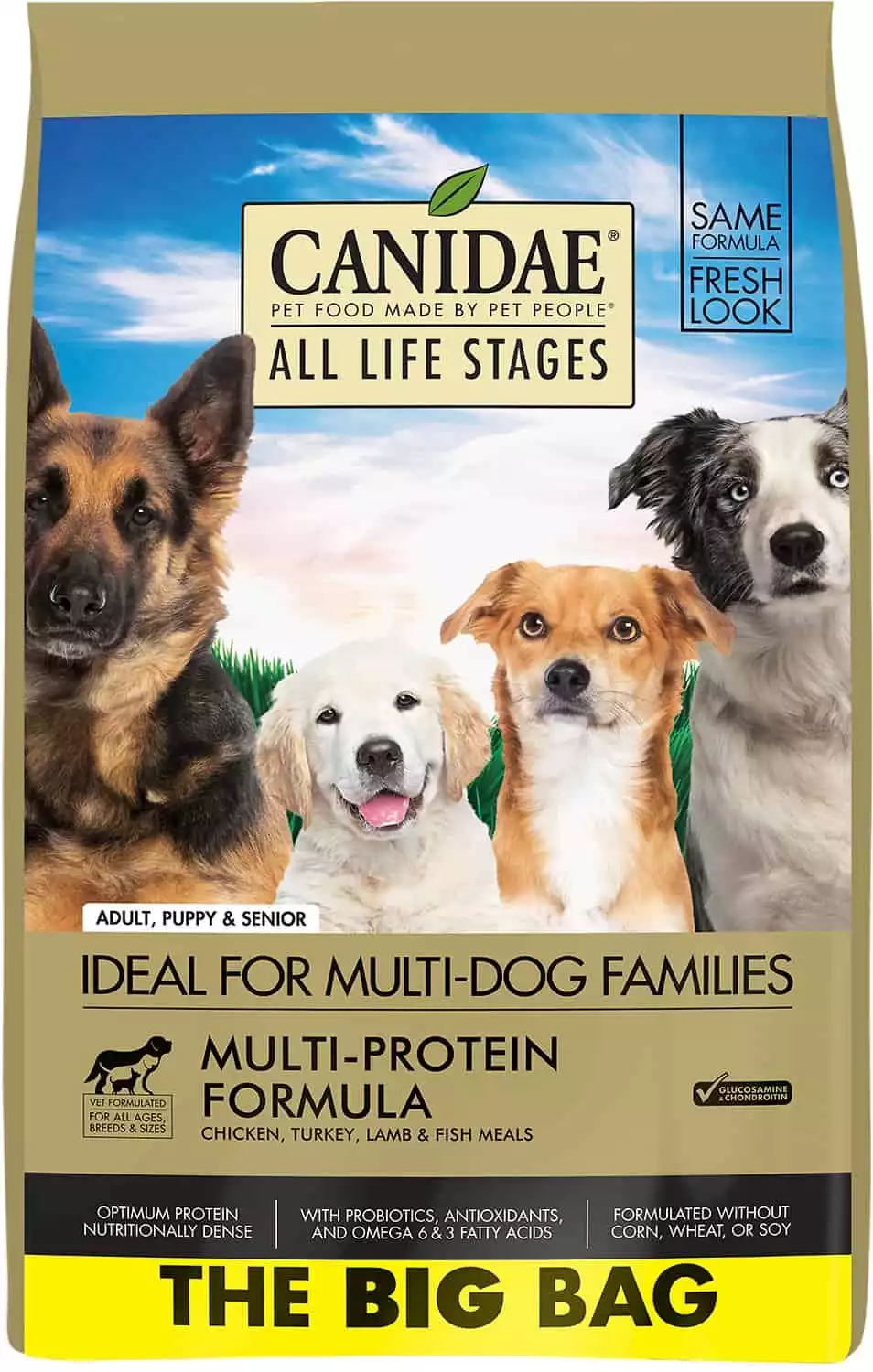 If you own another dog breed besides a Cane Corso, we're happy to inform you that there's dog food suitable for families with multiple dog breeds. Seriously, who buys three different dog foods for three different dog breeds? Well, in case you are that person, now your trouble is over. One bag fits them all!
Meet the Canidae All Life Stages dog formula, based on proteins from chicken, turkey, lamb, and fish meal. This recipe is packed with good nutrients, and it will provide your dog everything it needs on a daily basis. This dog kibble is actually vet-formulated, and it is designed specifically to fit all breeds, sizes, and ages. With enough premium ingredients, there's no worry your pup will lack something.
This recipe is completely without soy, corn, wheat, and artificial flavours. Instead, it carries only the good stuff like omega-3 and omega-6 fatty acids, probiotics, and antioxidants, also known as HealthPLUS Solutions. If your pup should be on a limited ingredient diet, then look for other Canidae dog foods on Chewy. This brand has it all!
Once your pup(s) try the Canidae All Life Stages formula, they will never ask for another dog food brand.
Best Dog Food For Cane Corso Seniors
Chicken Soup For The Soul Dog Food
Key Benefits:
Chicken and turkey protein

Enriched with omega fatty acids and L-carnitine

Prebiotics from chicory root

Ultimate delicious flavor, like a bowl of warm chicken soup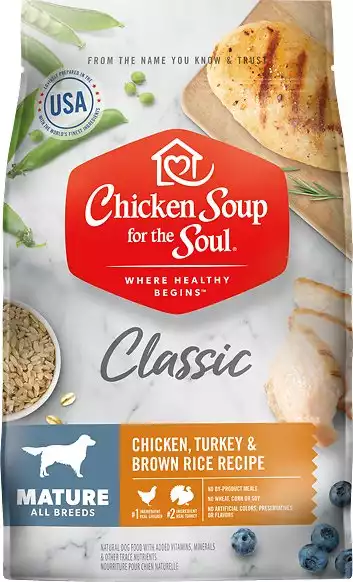 As we grow older, we want something to warm our souls just like a warm bowl of chicken soup. Well, senior dogs want the same. But, in their case, it's a bag of Chicken Soup For The Soul dog food. This interestingly-named kibble has more interesting ingredients inside. Let's see what makes this soup for the dog's soul!
The recipe is chicken and turkey protein-based, with added barley, brown and white rice, peas, oatmeal, and faba beans for the ultimate flavour. The healthy omega-3 and omega-6 fatty acids are there to ensure that your senior Cane Corso's coat and skin are healthy. The recipe enriched with L-carnitine actually turns fat into energy, so your dog doesn't put on extra weight, but instead, it gets more energy for a healthy lifestyle.
Digestive problems are a major issue with senior dogs. That's why fibre-rich food is crucial. Ingredients like chicory root, and a blend of vitamins, minerals, and antioxidants are there to make the motor run smoothly. There's no wheat, soy, corn, or other ingredients that may cause major food allergies. Chicken Soup for the Soul is one of the finest dog foods for senior dogs. It is approved by dogs, of course!
Hill's Science Adult 7+ Food
Key Benefits:
Chicken, barley, and rice as its first ingredients

For dogs over 7+ years

Enriched with vitamins E, C, and antioxidants

Restores vitality in only 30 days
Adult Cane Corsos, as well as other dogs over 7+ years, can be sure they have quality dog food that will satisfy all their needs. We're talking about the Hill's Science Adult 7+ dog food. This recipe is enriched with chicken meal, barley, and rice for a delicious taste that no dog will turn down. The biggest advantage of this dog food over some others is that its excellent quality helps restore a dog's wellness in just 30 days. The dog's youthful energy will be back, as well as a shiny coat and a functioning digestive tract.
Since senior dogs are especially prone to developing some health conditions, they need a good dose of vitamins and minerals to stay intact. Vitamins E and C, along with antioxidants, fight to support a good immune system. There are no preservatives and no artificial flavours or colors. Your senior pooch gets only natural ingredients.
Our senior Cane Corsos need more love and care since they're so vulnerable. Hill's Science brand knows that. For over 70 years, they've been producing high-quality dog food, and we ask them politely to never stop. Delicious and healthy are the two words to describe this premium kibble.
Victor Purpose Senior Food
Key Benefits:
Beef protein is the main ingredient

Rich in L-carnitine

Packed with glucosamine and chondroitin

Special VPRO Blend supports the immune and digestive system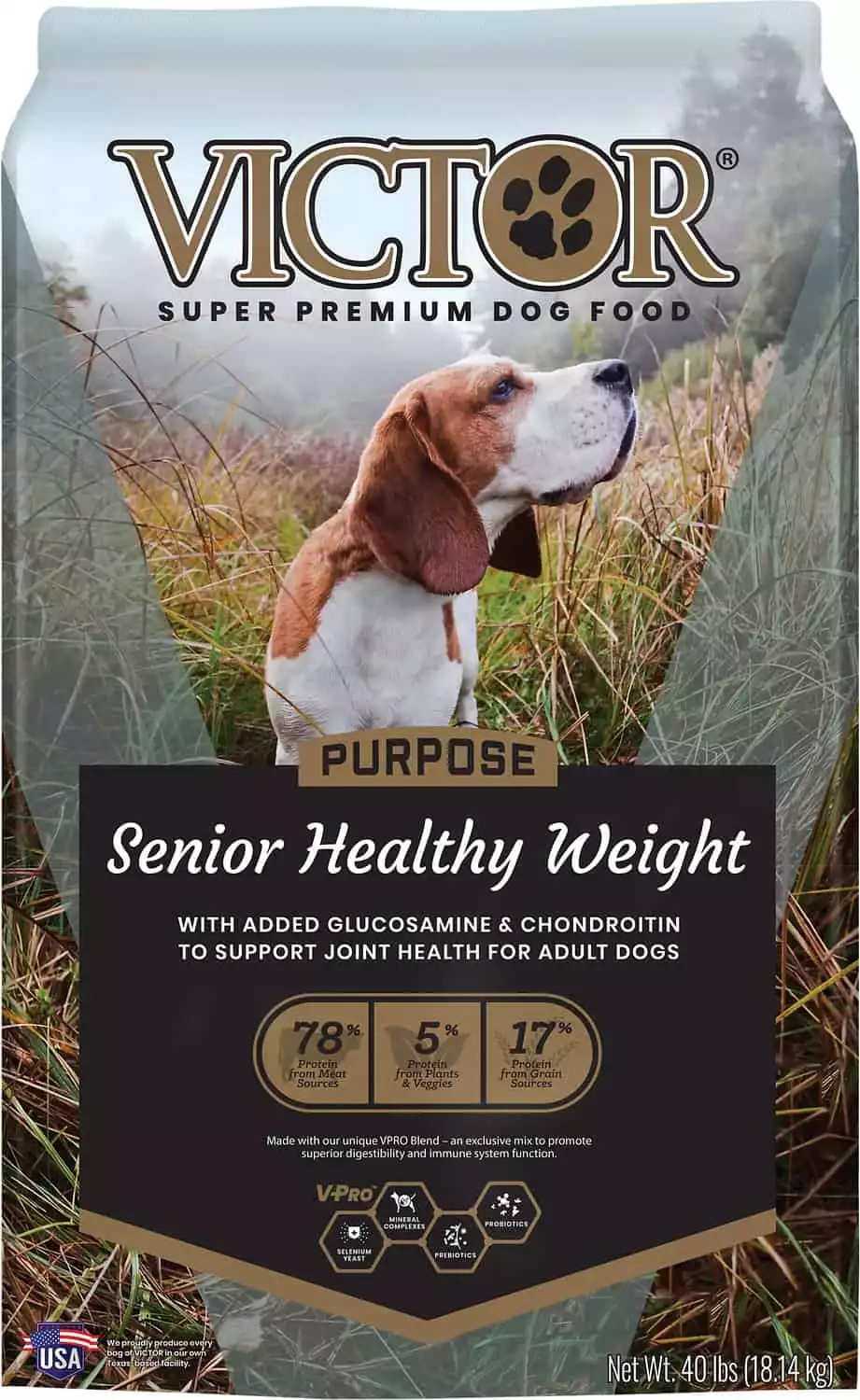 With Victor senior dog food, your ol' Cane Corso will be exactly that – a victor!
This Texas-based company produces dog food made from high-quality local ingredients. Victor Purpose Senior dog food is a beef-protein based dog food that is enriched with glucosamine and chondroitin. Glucosamine and chondroitin affect the dog's joints and make them stronger. This dog food is targeted for dogs with severe joint and mobility issues, and we all know that with age come many orthopedic health problems.
Victor senior food is also packed with L-carnitine; an important component that turns fat into energy and keeps the dog fit in its old days. Besides taking care of the dog's bones, Victor kibble (thanks to many antioxidants, minerals, vitamins, and fatty acids) guarantees a shiny and healthy coat and skin. A healthy coat means no skin-related diseases should strike your senior Corso.
The peculiarity of Victor Purpose senior dog food is the VPRO Blend that ensures proper functions of your dog's digestive system as well as a powerful immune system. A healthy and well-balanced dog food like this one will help your dog avoid some serious health problems. You want your dog to have happy final days; not to spend them being ill.
Sojos Turkey & Salmon Food
Key Benefits:
Simple preparation with warm water

Packed with glucosamine, chondroitin, fatty acids, and other nutrients

One pound equals five pounds of fresh dog food

Easy to eat and digest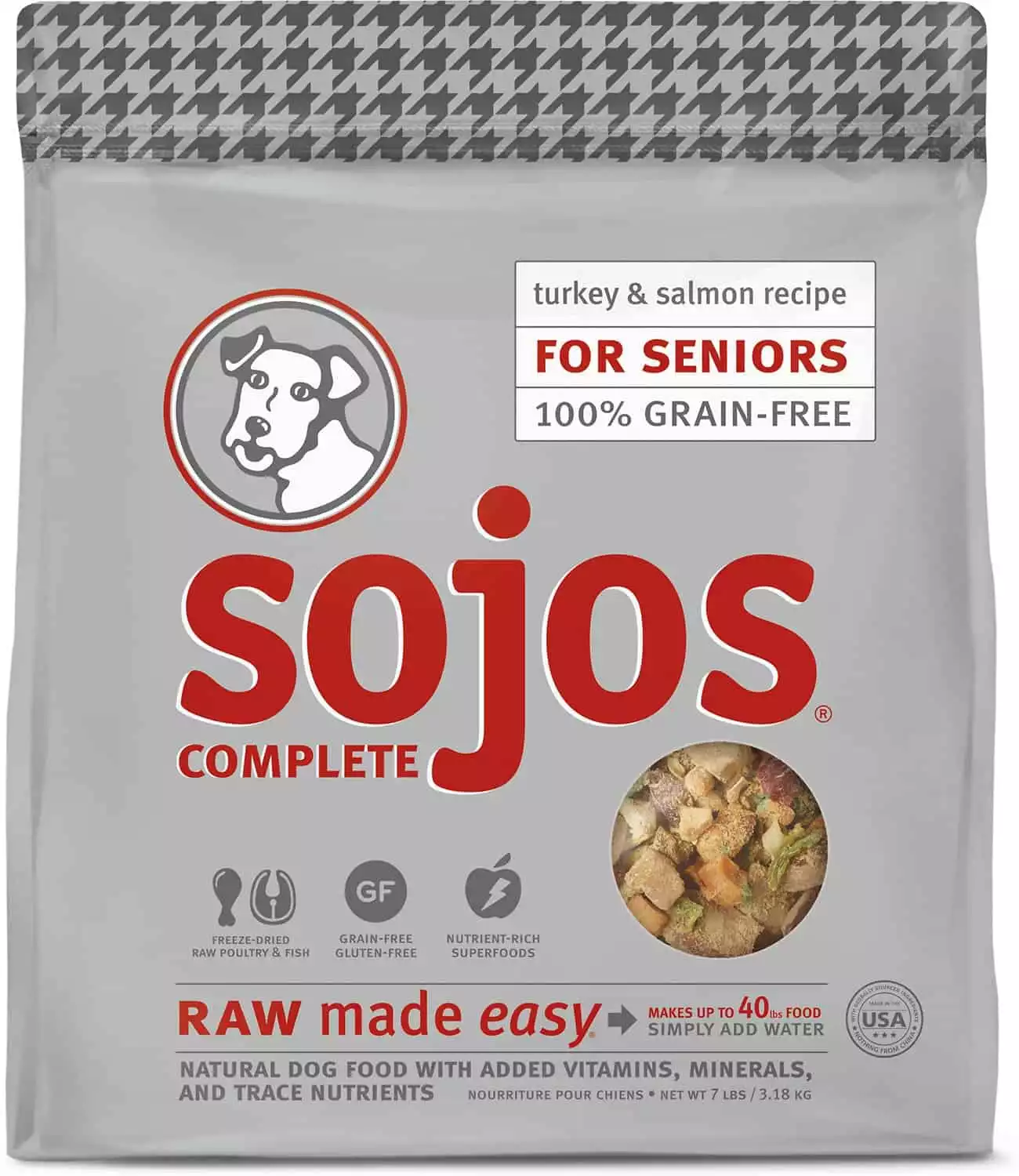 Is your Cane Corso a picky eater? Well, you need a special formula for picky eaters! All jokes aside, the Sojos Turkey and Salmon dog food fits all dogs, even those that are too picky to eat just anything.
Many senior dogs have problems with their teeth, with chewing, and with digesting dry kibble. And, let us tell you something: there are kibble brands that can be quite hard to chew on. The Sojos brand has come up with a senior dog food that needs to be soaked first with warm water. This way, it's easier for the dog to eat and digest it.
The special recipe is packed with goodies like glucosamine, chondroitin, and fatty acids. No fillers, preservatives, or artificial flavours are used in the process. The kibble is tasty and nourishing, too! What's interesting about this senior food is that it is a freeze-dried and shelf-stable food. One pound of this dried mix is equal to 5 pounds of fresh dog food. It's innovative, it provides more nutrients, and senior doggos love it!
FAQs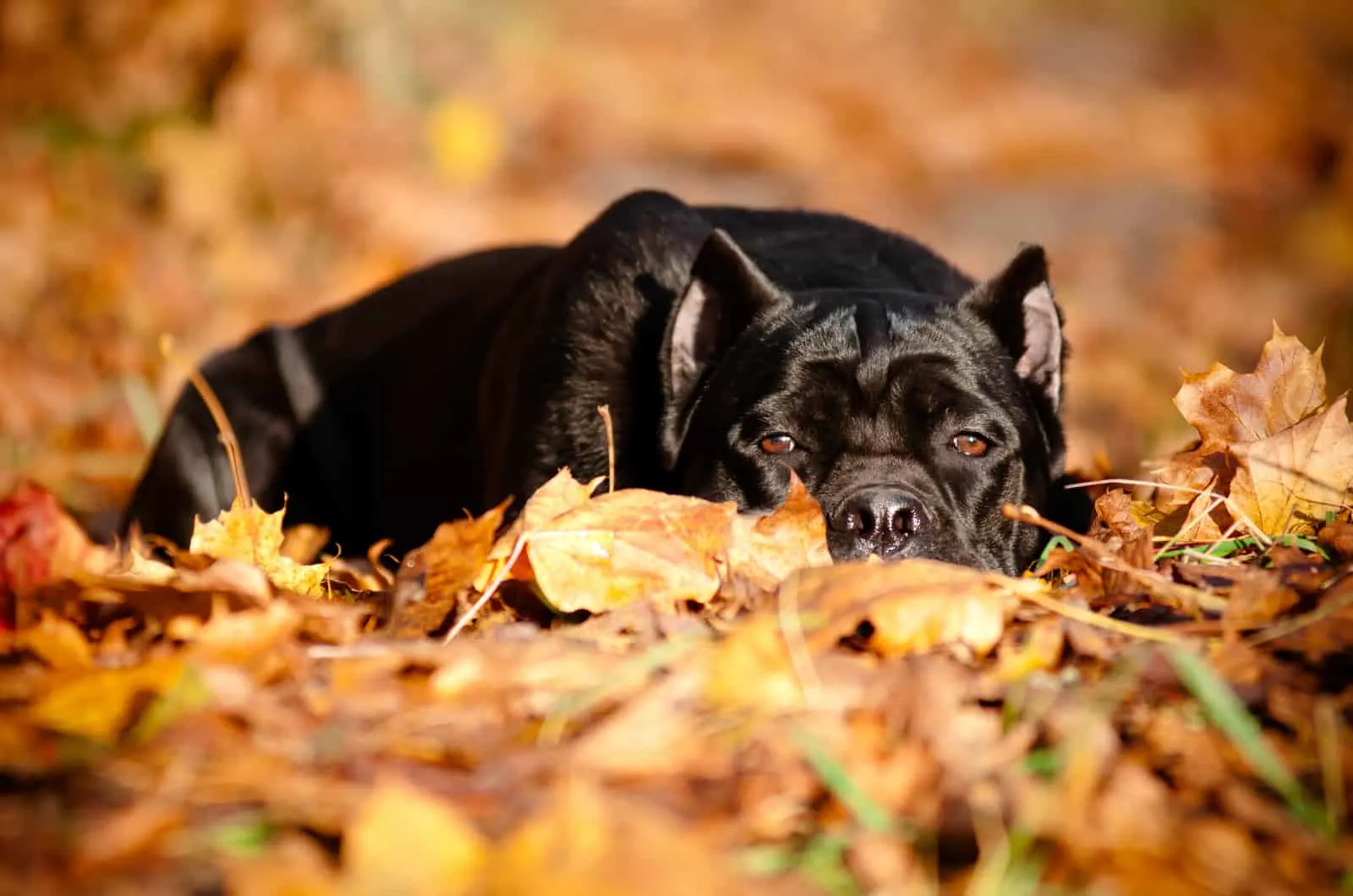 1. How Many Times A Day Should You Feed A Cane Corso?
A Cane Corso needs a diet rich in protein, but low in fat. Feeding a Cane Corso dog is not similar to feeding other dogs. For example, a Cane Corso puppy needs four meals a day. The number of meals will decrease to only 2 by the time your Cane Corso reaches adulthood. An adult Cane Corso needs 6 to 9 cups a day divided into those two meals.
2. What Kind Of Health Issues Strike The Cane Corso Breed?
The Cane Corso is a big and mighty Mastiff dog, but even he can suffer from severe health conditions. But, did you know that with a proper diet, you can avoid some health issues and even improve the dog's current condition? It all starts with good dog food that is rich in nutrients, and free of fillers and harmful ingredients like meat by-products.
A Cane Corso dog is prone to bloat, also known as Gastric Dilation Volvulus (GDV). That's why it's important to control your dog's meals and don't let them overeat, especially after strenuous exercise.
Besides the GDV condition, your Cane Corso is prone to hip dysplasia, demodicosis, eyelid problems, allergies, cancer, etc. High-quality dog food will give your dog much-needed nutrients and help fight these severe health conditions.
3. Can A Dog's Diet Prevent Bloat?
Of course, it can! Your Cane Corso may come from Italy, but this doesn't mean he or she should devour pasta!
Are you aware that dogs that have only one big meal a day have more of a chance of developing bloat than dogs that have several meals. Scientists have also discovered a correlation between eating a meal fast and exercising immediately afterwards. Dogs that eat out of a raised dish are prone to developing bloat, too!
Preventing bloat has more to do with controlling the way your dog eats than with what he eats. But, when it comes to food choices, dry dog food moistened with water or dog food with high fat or oil increases the risk of bloat.
Give your dog high-quality protein-based food enriched with omega-3 acids, vitamins, minerals, and probiotics to reduce the chance of it getting bloat.
4. Does A Dog's Diet Affect Its Orthopedic Health Status?
Every puppy owner needs to ensure that their puppy has normal bone development. You get that by controlling the food intake, preventing it from jumping off higher grounds, and jumping on firm surfaces.
Besides this, you need to provide enough phosphorus and calcium through the puppy's diet. The AAFCo recommends 1.2 to 1.8% calcium, 1.0 to 1.6% phosphorus, and a calcium-to-phosphorus ratio of 1:1 to 1.8:1.
Calcium and phosphorus can be used as supplements, but it's always best for the puppy to take them through dog food. Find a dog food that is enriched with omega-3 fatty acids, omega-6 acids, chondroitin, and glucosamine. These ingredients fight inflammatory processes in the dog's body.
Obesity is the biggest problem with adult Cane Corso dogs. Being overweight puts pressure on the dog's bones, and causes orthopedic problems like hip dysplasia, or joint inflammation. Control what your dog eats. Make sure the dog food you're buying is low-glycemic and doesn't contain much fats. Focus on proteins, minerals, vitamins, and fibers.