Disclosure: This post contains affiliate links, and I will be compensated if you make a purchase after clicking on my links.
Maltese are sweet, cuddly pups with a flowing white coat that owners sometimes cut short to make them resemble a puppy. They are a curious and intelligent breed often praised for their impeccable lap dog abilities.
These precious creatures were initially bred for royalty, but now they bond with their humans to provide a lifetime of companionship. Even though these dogs have long hair, people tend to keep it short unless they are in competitions.
However, although their silky white coat makes them instantly recognizable, it is also one of the downsides for owners due to the amount of time and effort that goes into grooming one of these pooches.
Maltese dogs don't have an undercoat. However, if you decide to keep your dog's coat long, you will have a lot of grooming and upkeep on your hands to keep it free of mats and knots.
On the other hand, if you want to keep it short, you can do so with a medium-cut and a topknot to ensure your pooch sees clearly.
A good-quality brush can help you tackle the most common problems, such as persistent tangles or mats before they become a bigger issue. Brushing will also encourage bonding between your and your white furry friend as it is an activity always welcomed by most dogs.
The most important thing is to find the right brush for your single-coated dog. A brush that can tackle long hair without damaging the skin. Keep in mind that not all brushes have the same purpose, and you might need a few of them to get the job done.
We've gone ahead and put together the best brush for Maltese guide, so you have a clear idea of what your dog needs. Without further ado, let's take a closer look at our top picks!
Best brush for a Maltese: overview
The one truly distinguishing feature of the Maltese breed is its long hair. But, long hair is usually accompanied by a lot of shedding.
Shedding can lead to serious tangles in your dog's fur, which may result in serious health problems. So, to make sure you removed all the tangles that may be hidden in your Maltese fur, you will need this pin brush for cats and dogs with long or short hair by Hertzko!
This brush is specifically designed to remove even the messiest of tangles under your dog's coat. It has gentle, round tips that ensure your dog's skin will remain intact during grooming, as well as wire bristles that remove dirt and loose fur with ease, leaving your pooch tangle-free and clean at the same time!
As such, this brush is an excellent ally in your fight against loose hair, especially during the shedding seasons. What's more, this brush from Hertzko is excellent for pups with short fur as well!
This makes it a versatile brush for removing loose hair, tangles, and mats regardless of how short or long you keep your Maltese's coat! Its thumb rest design is also very comfortable and gives you enough control when brushing your furry friend. To maximize the brush's efficiency, you should aim to use it daily on your pooch.
This dual-sided grooming tool is excellent for Maltese pups with a short coat. The thicker bristles on one side are for detangling and separating mats, while the more delicate bristles on the other side help remove grime and dirt and help your dog's coat lay back down correctly.
The thinner head design helps you reach around your dog's legs more easily, while the softer bristles guarantee there will be no irritation on the surface of the skin.
The handle fits comfortably in your hand, and the patented materials fully capture the debris and dirt while keeping your Maltese's coat ultra-soft. Note that this brush might not be the ideal tool for longer haircuts, but it is a great option if you keep your Maltese's coat a short length.
The Safari Combo Pet Brush has one side designed to smooth the coat, while the other has amazing detangling bristles. The two sides help both smooth out tangles and capture loose hair.
The finishing brush is excellent for helping your Maltese's coat lay back down and also ensures the distribution of natural oils to the surface of the coat.
The handle on this dual-sided brush is ergonomically designed for a good grip. Additionally, the soft grip rubber helps keep things comfortable.
The brush comes in several sizes, but we would recommend getting the smaller size so that you can get into places that are hard to reach and to make brushing sessions more manageable. Another cool thing about this product is that it is pretty affordable so you can keep one around whenever you need it.
There are several reasons this comb is one of the best tools for grooming your Maltese pup. First, the comb is made with round and gentle tips. These tips not only make the grooming process safe for your pooch but also excel at removing dirt and loose hair from its coat!
Furthermore, the teeth are great at detangling and removing dander from underneath your dog's coat. This makes this comb quite versatile, and it will adapt to every need your pooch has!
This comb and undercoat rake combination also comes with a comfortable, rubberized grip. It also features an anti-slip design, meaning you will have more control during your brushing sessions.
Apart from removing dirt, dander, and loose hair and detangling your dog's fur, this comb also gives your Maltese a well-deserved massage! The round and gentle tips are not only perfectly safe for a dog's skin but also boost your pup's blood circulation, which leads to overall health improvement.
On top of all of this, the comb also comes with a lifetime warranty that has no risk, and as such, your investment is protected. And last but not least, the product comes with an ebook included in the price that will guide you on how to brush your pooch!
Li'l Pals Double-Sided Dog Comb is a finishing comb designed to help you quickly detangle your dog's hair and handle mats while gently smoothing out the coat.
On one side, it has teeth spaced further apart to tackle big tangles and mats. On the other side are teeth spaced closer together to remove dirt and debris and help the coat lay back down.
This Lil' Pals brush has a steady grip handle and a pleasant weight. The handle is coated in rubber so that it doesn't slip even when battling the hardest of tangles.
The teeth are made of durable metal, but the curved ends help protect your dog's delicate skin. It can be used on both long and short-haired Maltese pups because it both smooths the coat and removes debris. So, no matter which haircut you choose for your small dog, you will be able to use this comb effectively.
Mats are more likely to occur on long-coated Maltese dogs, and they call for an efficient de-matting comb. What makes the Safari Dematting Dog Comb ideal for these situations is its highly efficient stainless-steel teeth with rounded edges.
These blades are dual-sided to increase the rate at which they remove mats. Additionally, they are serrated to comb out any tangles in your dog's coat, thus removing the loose hair. This comb from Safari is an excellent option for dogs with a medium to long coat!
However, pets with a coarse or short coat can benefit from it as well. It comes with a soft and comfortable, ergonomic handle with a rubberized coating that makes it slip-resistant, so you will have more control and an easier time during your Maltese grooming sessions.
Besides being highly efficient in removing mats, the comb also gets rid of loose hair that may be hiding underneath your Maltese's coat. Through regular daily brushing, the comb prevents any future mats from forming.
All in all, the excellent mat removal performance and ergonomic design make this comb a worthy investment if you like to keep your Maltese's coat at a medium or long length.
The Four Paws Magic Coat Professional Series Instant Mat & Tangle Remover is a simple tool designed to quickly and easily handle mats that have formed in your Maltese's beautiful white coat.
It also helps remove debris and dirt and keep your dog's coat in all its glory. The Four Paws Instant Mat & Tangle Remover is a specific tool designed for a particular purpose. So, if you wish to keep your Maltese's coat long and shiny, it will come as a game-changer.
The product is sturdy and well designed. The weight and grip are comfortable, and the brush features a smaller head that gets into places that are hard to reach easily, making pet grooming a breeze.
The tips of the bristles are covered, so you don't have to worry about damaging your Maltese's sensitive skin. At the end of the day, this brush from Four Paws will quickly detangle mats without bending or breaking, and it is a great tool to have for occasional use.
The Chris Christensen 000 Fine/Coarse Buttercomb is a lightweight stainless-steel comb that will glide through your Maltese's hair with ease. It features a set of close-spaced teeth on one end and a set of wider-spaced teeth on the other.
Note that it is a very sturdy metal comb, so it can be a bit painful if your dog has a lot of mats and tangles. However, it will easily identify tangles and matted hair and cut down on the time you spend grooming your pooch.
Best brush for Maltese puppy
The Poodle Pet Round Bristle Pet Brush is made out of a combination of plastic and rubber. Its purpose is to enhance shine, detangle, and smooth out the fur.
The plastic is strong and will resist any wear and tear, while the sides are made of rubber to provide a comfortable and sturdy grip. This is especially important since puppies can be extremely fidgety.
There is a thumb rest, making it easier to apply just the right amount of pressure, and a hanger hole, which makes putting away the tool easier. The bristles are soft and have round edges, so you don't have to worry about accidentally hurting your Maltese puppy.
The Poodle Pet Round Bristle Brush is great for de-shedding but keep in mind that this type of brush is not great at removing mats.
Best Brush for Maltese dogs: type of brushes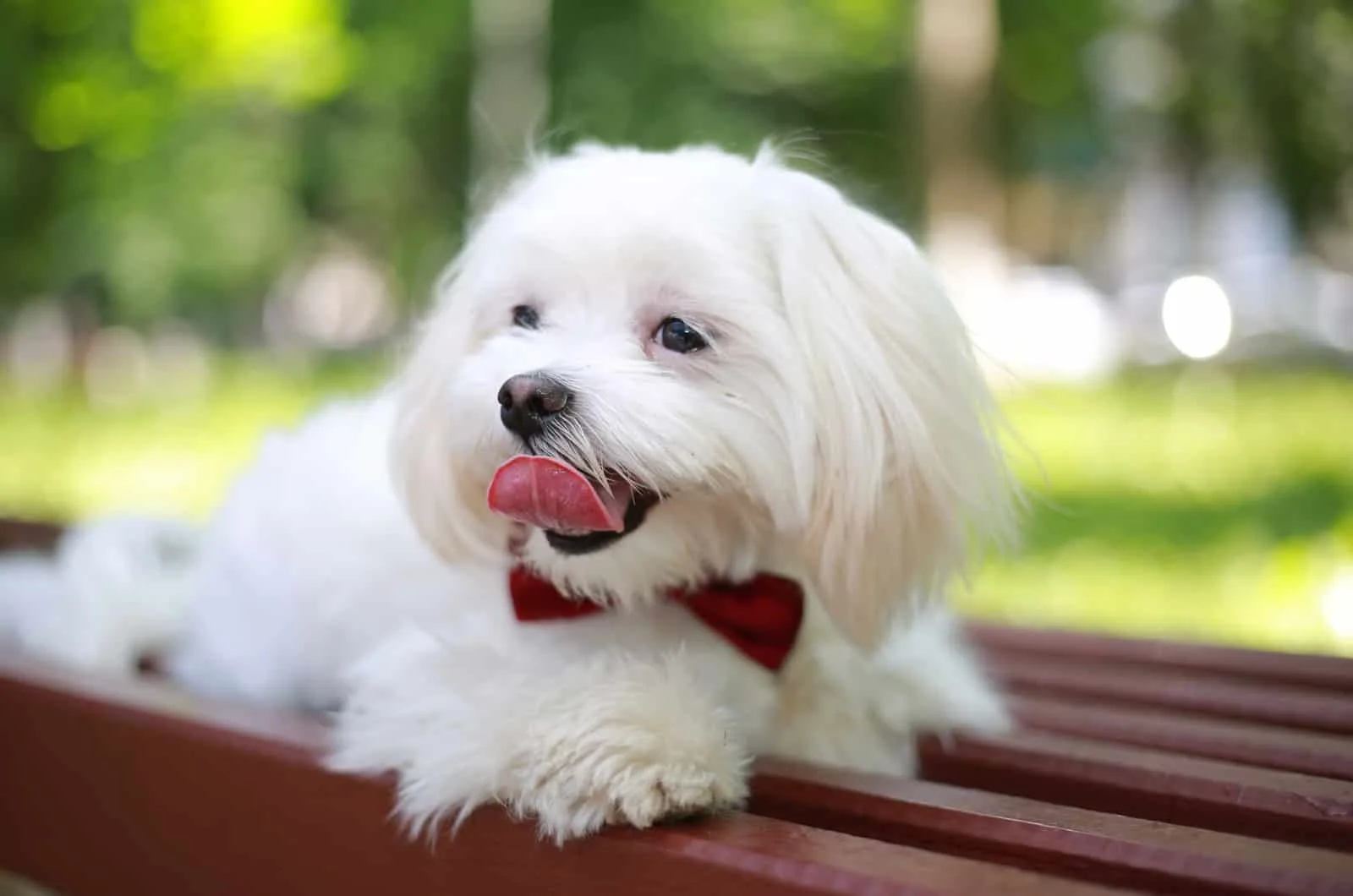 The brushes we listed above are made to do different things. Dog hair varies widely from one breed to another, so what works for your neighbor's German Shepherd or your friend's Chihuahua may not have the same effect on your Maltese.
​Brushes need to address the type of hair your pooch has. So, let's take a look at a few different types of brushes, so you can determine which one is the best for your Maltese.
Rakes
Rakes are designed with double-coated breeds in mind. The single row of teeth found on this type of brush gets down through the topcoat to gently loosen and rake out the undercoat.
This type of brush may be a bit too rough on single-hair breeds like the Maltese, but some rakes are designed to detangle mats without hurting them. Make sure you find a brush that is small enough to remove a piece of debris or untangle a mat. This will ensure you don't have a serious coat situation on your hands later on.
Bristle Brushes
Bristle brushes are undoubtedly designed for finishing the coat, but they may not be the best tool for getting mats out. If you have no problems with your Maltese grooming, a bristle brush will come in handy to settle the coat back down.
This type of brush will help distribute the natural oils, which gives your dog's coat a polished look. A bristle brush will also keep the coat laying cleanly, even in short-haired pups of this breed. On top of this, most dogs love the way this brush feels on their skin, so it can be a great bonding tool.
Slicker Brushes
This type of brush could be irritating to the skin of your white pooch. The metal teeth usually found on slicker brushes are great for taming double coats, but they could cause discomfort or even pain on single-coated breeds.
Since they are designed for large breeds, most of these brushes come with larger heads, making it difficult to get into hard-to-reach spots. So, we would advise skipping these unless you have a Maltese with an incredibly tough coat to handle.
Grooming Gloves
Grooming gloves aren't going to remove loose hair as a grooming brush would, but they are a great bonding tool! Similar to finishing brushes, grooming gloves gently massage your dog's skin and distribute the natural oils across the hair.
This serves as sort of a conditioner for your dog's hair and keeps it protected. Grooming gloves are the easiest to use of all the grooming tools, and you don't have to worry about hurting your dog in the process.
How to brush Maltese hair: 5 simple tips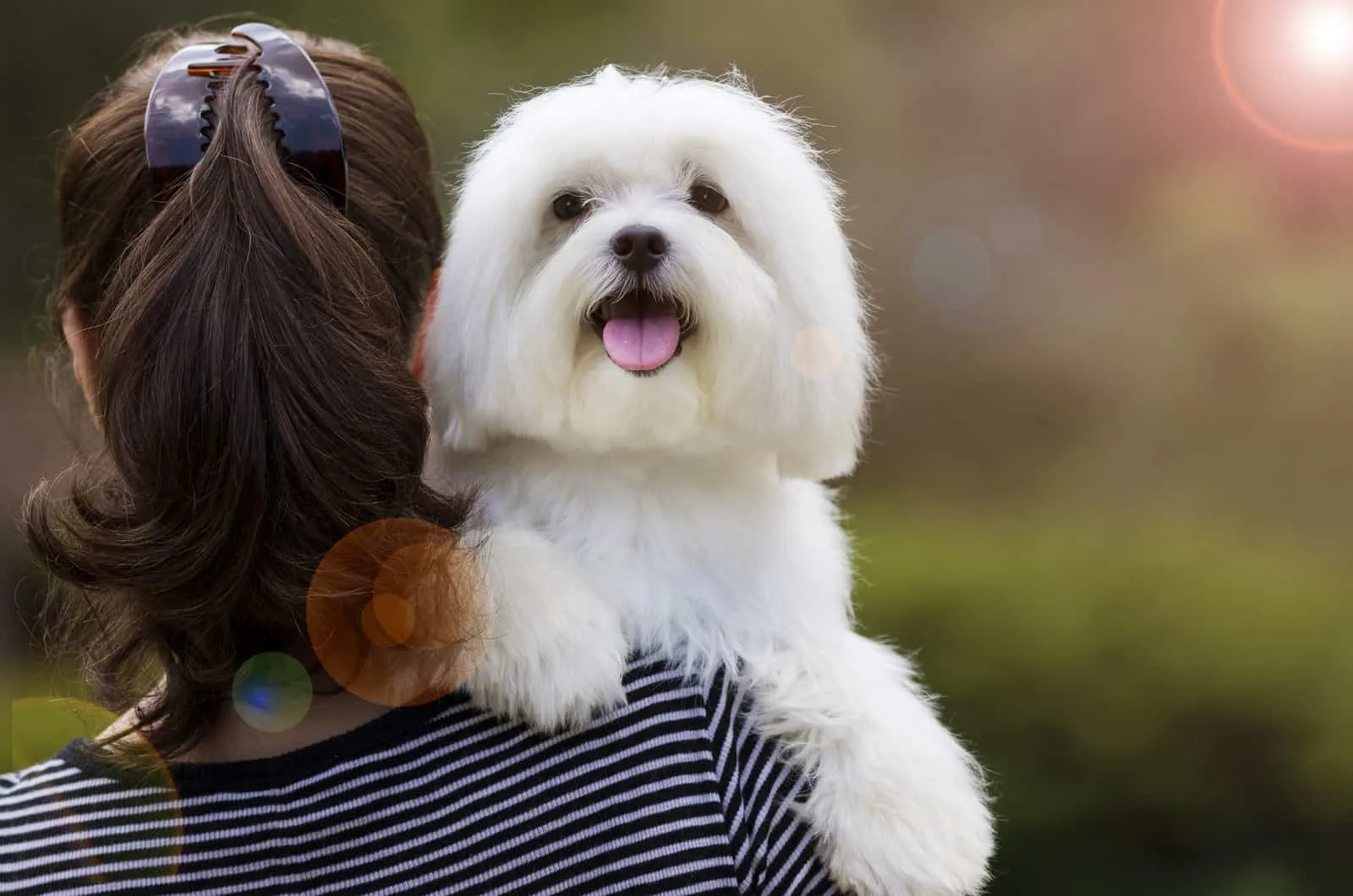 1. If grooming really isn't your cup of tea, consider keeping your dog's coat at a short length. That way, you will only need to brush your dog's hair for a few minutes daily and have the rest of the day off. Most pet owners who don't show their pets opt for this style of haircut because it is much more manageable and very comfortable for the dog.
2. If you wish to keep your Maltese's hair at a longer length, you should invest in a few different tools. Make sure you have the essential detangling brush as well as a de-matting tool if necessary. A finishing brush will help you smooth the coat out and make it much easier to gather into a topknot. Keep in mind that these tools will be needed every day to keep the coat and skin of your Maltese healthy.
3. Always go slowly when handling brushing, especially on Maltese puppies and long-haired dogs of this breed. Start your brushing sessions by checking for any debris or mats that could get caught in a brush and work your way from there. This is an important thing to keep in mind as it can cause a lot of pain if any of your tools catch a mat and you pull it out without detangling it first.
4. Be gentle! Gentle brushing is not only best for the comfort of your pooch but for efficient detangling as well. The fur of your Maltese can break, leading to split ends and a dirty look. To achieve the smooth, silky coat the breed is known for, you need to take your time and be as gentle as you can. Plus, there is a higher chance your pup will sit still through the grooming session if you make it a pleasant experience.
5. Make it a daily routine! A Maltese, or any other dog for that matter, needs regular brushing to maintain the health and wellbeing of its coat. This is especially the case if you want to keep your dog's coat long. Waiting to brush your dog's coat until you've got a serious problem on your hands leaves you with only one choice – to cut out the mats. This will ruin the overall finished look of your pooch and can lead to health issues, so make sure you are ready for the grooming commitment before deciding to get a dog.
Frequently asked questions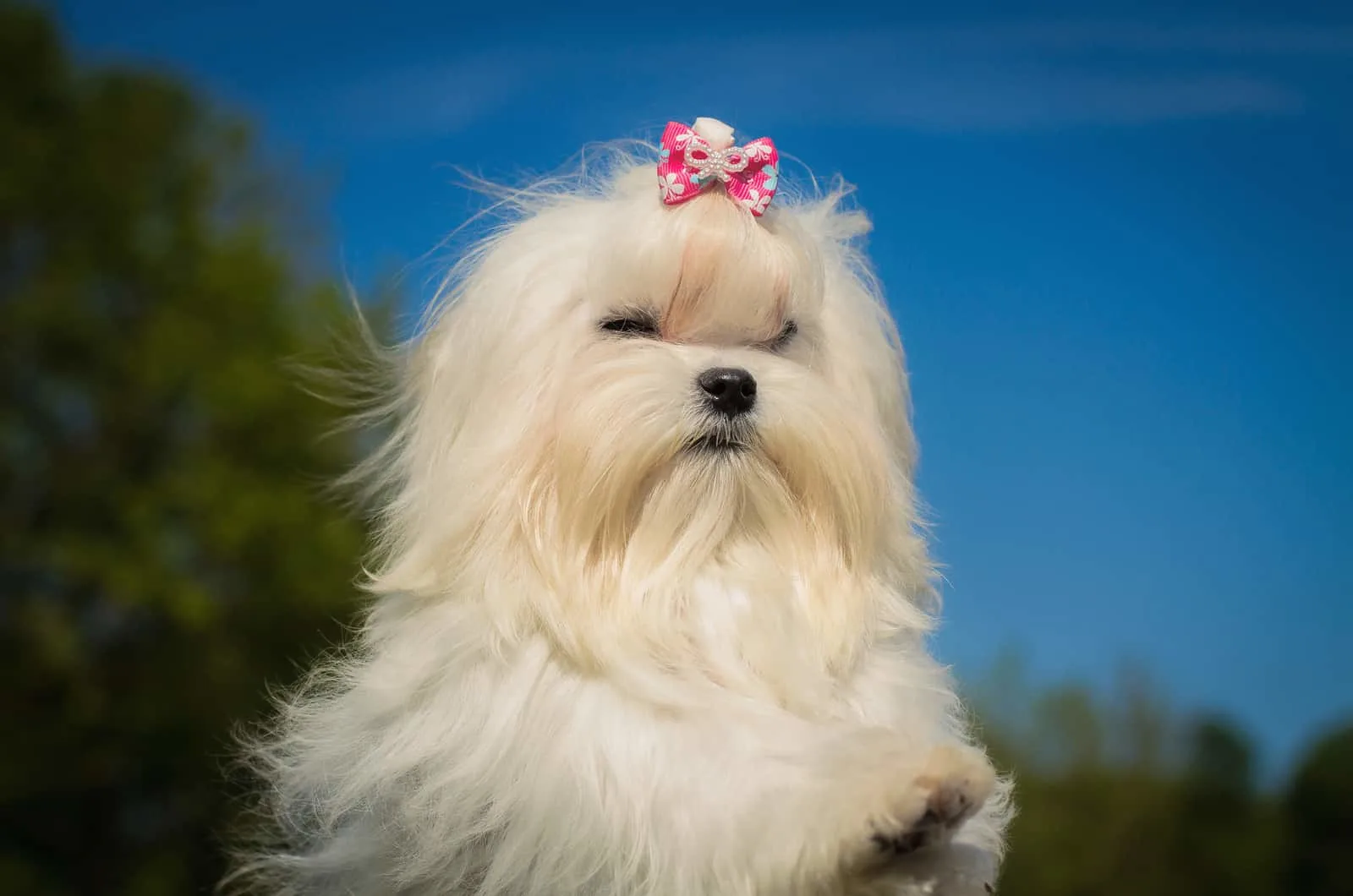 How often should you brush a Maltese?
If your Maltese has a long haircut, the answer is undoubtedly at least once a day. If you decide to cut your dog's coat short, the answer is once a day.
The grooming process should be a steady ritual that can help your pooch stay calm and ensure it is free of any tangles and mats. It can also help reduce the amount of loose hair flying around your home.
Do Maltese dogs shed?
Even though most dog breeds shed to some degree, a Maltese doesn't shed as bad as you might think. The benefit of their single coat is that it doesn't have much to get rid of.
However, there will still be some hair as your Maltese sheds similar to how humans drop hair from their heads. The less time you spend on grooming your pooch, the more you are likely to notice the loose hair, especially if you keep your Maltese's coat long.
Can you overbrush a Maltese?
Brushing once a day is wonderful and has numerous benefits, but you must have a gentle hand. Overbrushing your Maltese pup could result in irritated skin and hair loss. However, this will only happen if you are brushing way too hard.
Instead, try to keep a gentle touch and stick to five to ten-minute grooming sessions. This is more than enough to detangle your dog's coat completely and remove any loose hair and debris. Also, make sure you use a brush that doesn't irritate your Maltese's skin or tear the hair.
Can I shave my Maltese?
Keeping your Maltese's coat short is one of the acceptable styles for this breed. Their single coat isn't damaged by cutting it short.
It is highly recommended to choose a short haircut for your pooch if you aren't showing it and if you are unwilling to take on the extra labor of making sure the longcut is well cared for.
A short coat can keep your small white companion more comfortable during outside walks, and it makes brushing really simple. With a shortcut, you only need to spend a few minutes daily making sure there aren't any mats forming in common areas like underneath the arms or the haunches.
Best brush for Maltese: summary
The best way to reciprocate the unconditional love a Maltese gives you and your family is to take proper care of it. This means providing it with a well-balanced, nutritious diet and regularly brushing its coat to remove loose hair, mats, and tangles.
But, to get the job done, you will need various brushes. Luckily, you now have the information you need to pick out the best brush for Maltese.
As a result, caring for your beloved furry friend will be much easier, and grooming its coat daily will lead to beautiful hair and better health!
All that's left to do is figure out which type of dog food will best suit your pooch, and you will have a happy and healthy pet for many years to come.