With their silky soft double coat and so many amazing coat colors, Shih Tzus are one of the most popular lap dogs. No wonder why Shih Tzu breeders are so in demand in the States. Everyone wants to have such a sweet dog with a kind temperament and incredibly good looks.
But, not everyone can breed high-quality Shih Tzus. Today, many unreliable breeders and puppy mills are trying to scam innocent people and trick them into believing they're honest breeders. You must be extra careful with who you trust.
Or, you can just take a look at this list of best Shih Tzu breeders I have for you.
Shih Tzu Breeders in Florida
Email: [email protected]
Social media: Facebook | Instagram | YouTube
Sheila, at Blessed's Shih Tzus, is truly blessed for having these adorable pups as a huge part of her life. Actually, her pups ARE her life. For over 15 years, this dog lover has been breeding Shih Tzu puppies of exceptional quality.
To get one of Sheila's Shih Tzus, you will need to put down a small deposit of $200 that will go into the purchase price. But, for her puppy, you will need to pay a bit more. Shih Tzus from this breeder will cost you $2,500 to $3,000. But, you will get more than just a puppy.
Blessed's Shih Tzus come with their full vaccinations, dewormed, all health guarantees, required certifications, and AKC registration paperwork.
Still, you will need to sign a contract that obliges you to spay/neuter your Shih Tzu and promise you won't breed them further. Sheila's raising quality pets, not breeding machines. Let's keep it that way.
In case you live far away from Apollo Beach, Florida, Sheila will arrange a delivery to you via pet nanny for an additional fee. Isn't this neat?
Shih Tzu Breeders in Georgia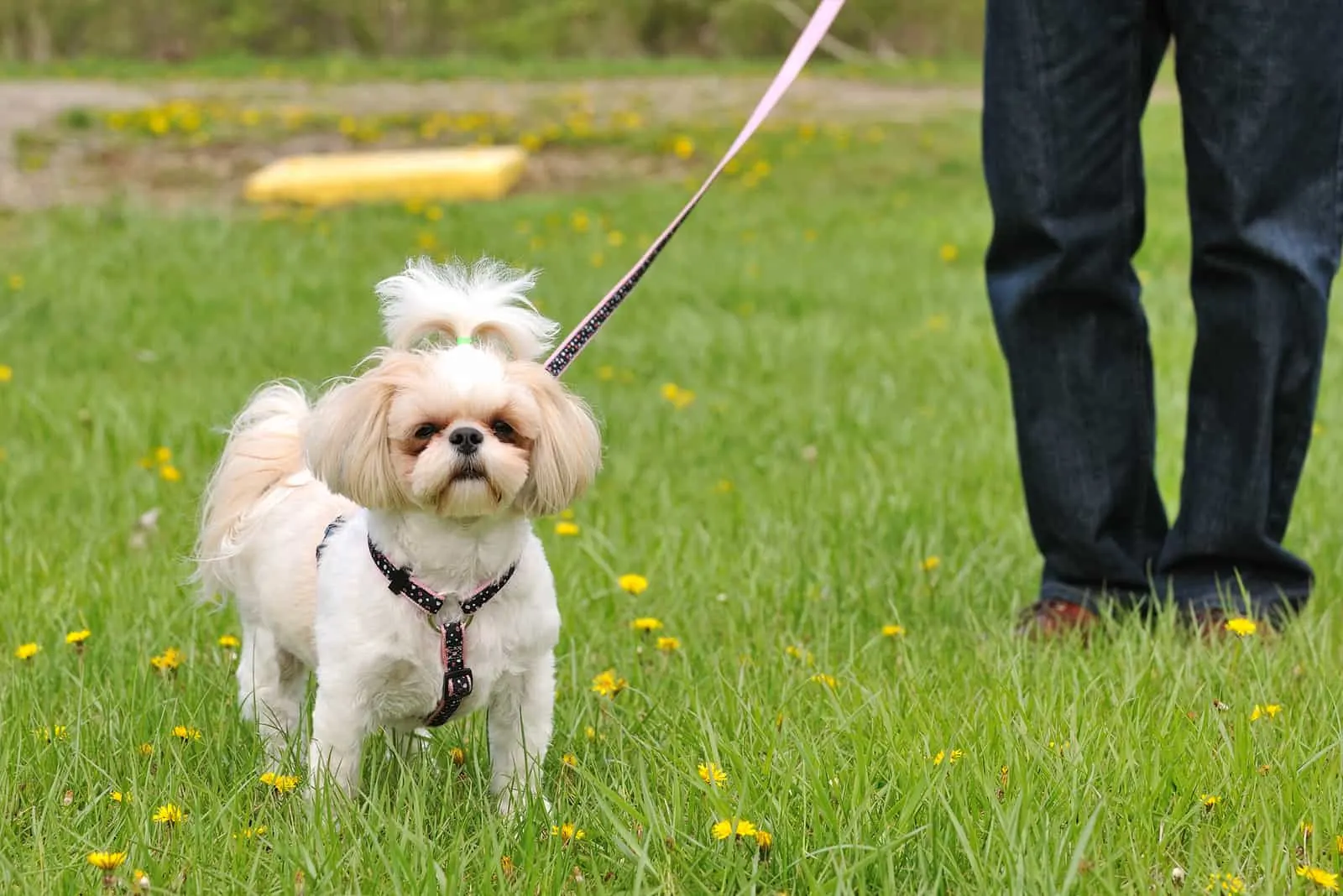 Phone: +1 706-296-5239
Email: [email protected]
Social media: Facebook
Location: Athens, Georgia
When Matty and Lisa first met, it was love at first sight. Well, it WAS for their adorable Shih Tzus. Slowly but steadily, these two fell for each other, too. Lisa was an experienced groomer. She has bred Shih Tzus since 2000. When the couple fell in love, they joined in the business of breeding high-quality Shih Tzu puppies.
The couple specialized in home breeding, raising little lion dogs with the utmost love and care. This brought their breeding program to the top of the ladder, making them one of the best Shih Tzu breeders in Georgia.
Southern Magnolia offers Shih Tzus of all sizes and colors, including teacup, standard, imperial, tuxedo, gold and white, black and white parti, black, white, black mask gold, tri-colors, as well as rare options: liver, red, blue, and Dobie.
If the road ever gets you to Athens, Georgia, and you want a purebred Shih Tzu, bring along $3,000 and visit Southern Magnolia.
You will get a Shih Tzu dog with a pedigree, AKC- registration (limited), and all the necessary paperwork guaranteeing your new puppy is 100% healthy. And, as a cherry on the top, Lisa will make sure your pup is perfectly groomed.
Shih Tzu Breeders in Michigan
Phone: 616-340-5594
Email: [email protected]
Social media: Facebook
The previous year brought Prides Poodles the title of being one of the most reputable Shih Tzu breeders in the States. Previous years, 2018 to be precise, brough other titles, including a membership at PETA and the Humane Society International.
Pride Poodles don't have many years of experience. They've been around since 2014. However, they've managed to establish themselves as experts at breeding dogs, precisely lap dogs.
Prides Poodles offers Havanese, Havapoos, Shihpoos, Toy Poodles, and, of course, Shih Tzus! At the moment, there are no Shih Tzu puppies available, but there is an upcoming litter scheduled for next year. This is the perfect time to put yourself on the waiting list for a Prides Shih Tzu.
Becky is simply amazing with all her pups. She makes sure they go into good homes, so expect to be interviewed and evaluated. She will provide all the screening results so you'll know your new puppy has no severe health issues.
Shih Tzu Breeders in Texas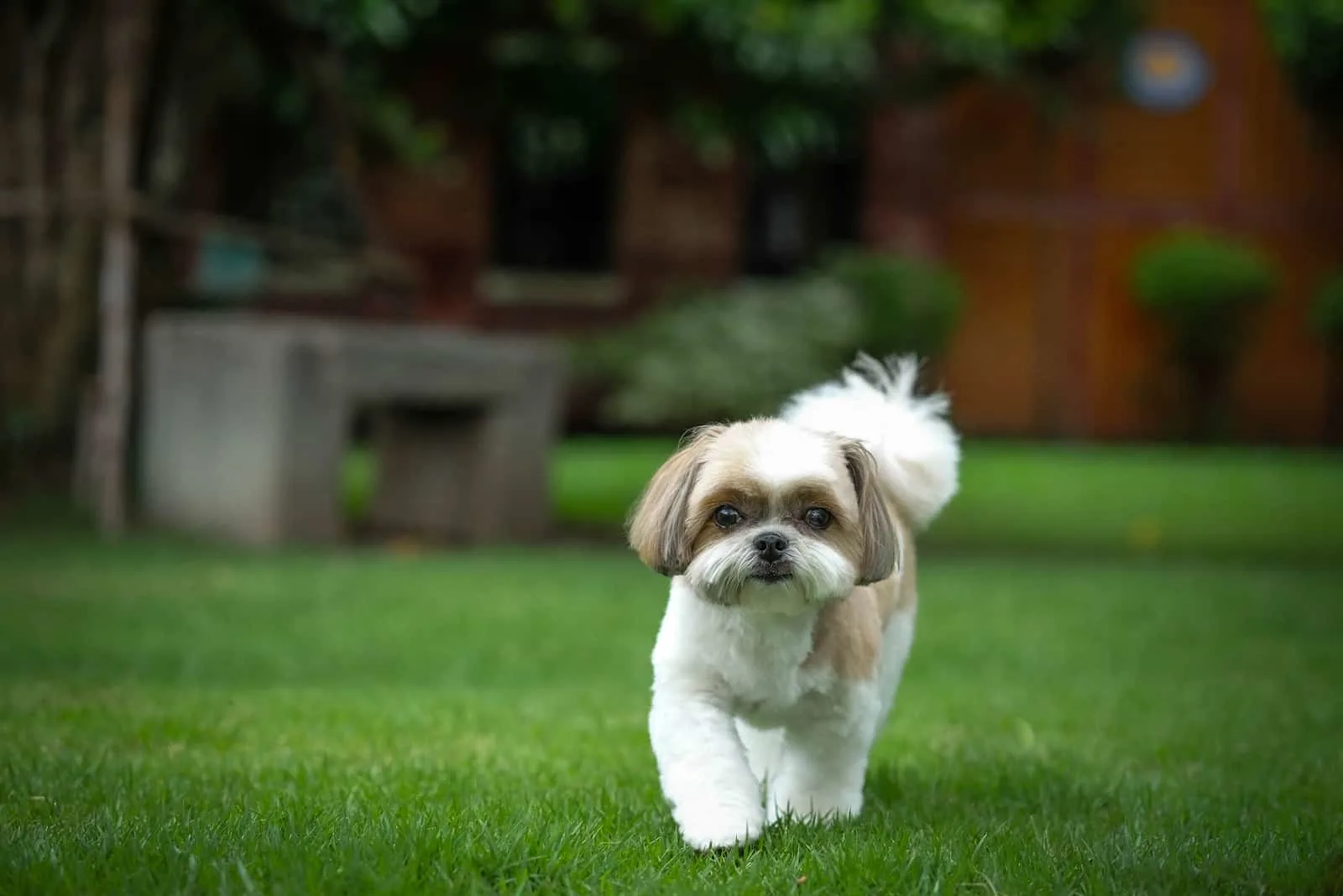 Phone: 512-694-1137
Location: Jonestown, TX.
Social media: Facebook | Yelp | Instagram
Since 2012, the Austin area has been enriched with a terrific breeder of small dogs. Meet Prettiest Puppies; a breeder raising the prettiest puppies of them all: Shih Tzus, Maltese, Yorkies, and some designer dogs.
The Shih Tzu breed is absolutely wonderful, and the real dog lovers of Texas have recognized it. That's why Prettiest Puppies enjoys a great reputation in this state. They offer premium puppies with health guarantees and all vaccination records for a price of $1,800 to $2,200, with additional taxes. Sure,
Shih Tzu dog breeds are a bit on the higher end of the price scale, but trust me, they're worth every dime!
To obtain your health guarantee, you will need to have your new pup examined by a vet within 72 hours of purchase. In case something happens and your puppy turns out to be unhealthy in some matter, Prettiest Puppies will issue a full refund with a return to the breeder.
I don't see many breeders offering this, so kudos to them!
Shih Tzu Breeders in New Jersey
Breeder's name: Michael Shea-Zackin and Richard Zackin
Location: 31 Longview Rd., Lebanon, NJ 08833
Email: [email protected]
Meet an AKC Shih Tzu Breeder of Merit! Michael and RIchard, from Olive's Grove, have been in love with Shih Tzus for decades. It was the late 1980s when Michael first saw a Shih Tzu and fell for their stunning looks and sweet character. But, the breeding business started in 1990, with a gold and white Shih Tzu named Olive.
Ever since, Olive's Grove has been breeding and raising top-notch Shih Tzu puppies for conformation and agility shows. So far, they've got 18 champions! And, more to come!
The puppies get to move to their furever home at 12 weeks of age, unlike eight weeks with most other breeders. Michael encourages you to pay them a visit and see how the pups are doing. The dogs live surrounded by nature, kids, other animals, and people. Their socialization skills are as good as their looks.
Shih Tzu Breeders In California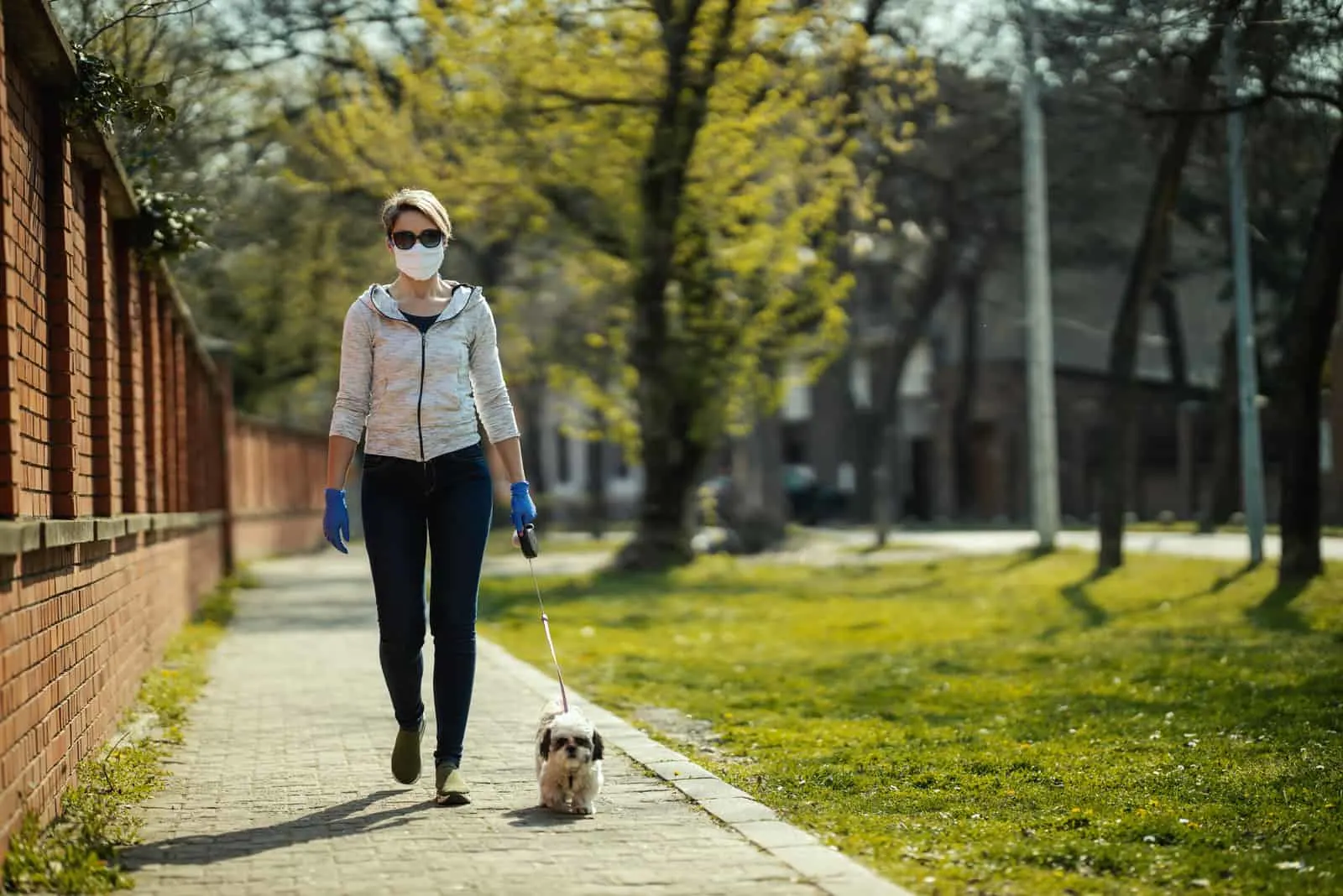 Phone: 209-612-5359 or 209-456-3913
Location: Martinez Family Bail, Manteca, CA 95337
Email: [email protected]
Social media: Facebook | Instagram
For over 15 years, this mother-daughter team has been breeding the best dogs possible of the Shih Tzu breed. Their eight girls and two boys have brought into the world the sweetest standard Shih Tzu puppies. All you have to do is pick a puppy and pick its name!
Sensational Shih Tzus are all AKC and CKC registered. They will come with a vaccination booklet, checked previously by the breeder's veterinarian.
You will need to check the price with the ladies, but what I'm going to tell you will amaze you. Sensational Shih Tzus come with unlimited AKC registration at no additional charge! I mean, which breeder does that? Rarely any!
When you pick up a puppy, you will also get a going away present containing dog food, treats, chew toys, a blanket with the mom's scent, a grooming brush, useful information paperwork, the pup's birth certificate with their first photo, and even an outfit for the pup! Check out their website to see the cutest Shih Tzus in tutus!
Shih Tzu Breeders In Illinois
Location: Sterling, IL 61081
Phone: 815-499-8170
Email: [email protected]
Jessica Ryan says she got into the dog breeding business in her late age, but I'd say it's never too late to start breeding and raising puppies. She has been breeding Shih Tzus from her home in Illinois all according to breed standards. In fact, Jessica's goal is to improve the Shih Tzu breed, bringing only premium pups into the world.
To purchase one of her babies, you will need around $2,300. This includes the puppy (of course!), some toys, a vaccination booklet, an agreement guarantee, a one-year health guarantee, trears, useful info on raising Shih Tzus, and Jessica's patent – a water bottle adapter!
If you scroll through the Ryan's Shih Tzu website, you'll see they're offering water bottle holders for pups perfectly designed to fit small size dogs. I recommend you check out this product because bottled water is always better than a bowl, which often gets filled up with food bits.
If you live in Illinois, Wisconsin, Michigan, or the area, you can pick up a puppy in person. But, if you're from another state, you have a choice of picking a pet nanny that will bring the puppy to you for an additional $450.
Shih Tzu Breeders in Massachusetts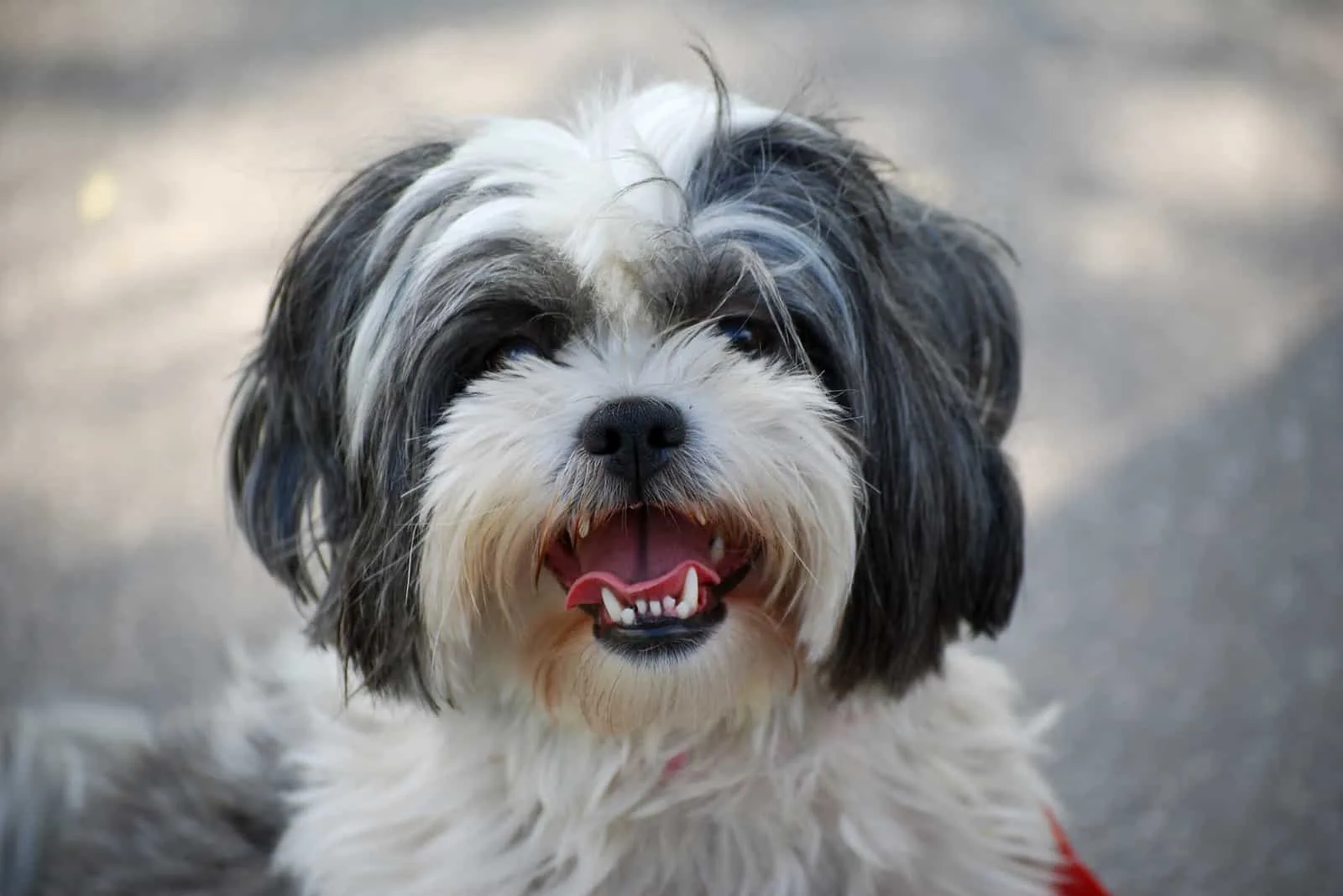 Phone: 508-656-7774
Social media: Instagram Facebook
Email: [email protected]
Location: Framingham, MA 01701 US
I have to include Tay, from Majesty's Shih Tzus on the list of the best Shih Tzu breeders. This breeder from Massachusetts is amazing for many reasons. Not only do they bring top-quality Shih Tzus, they raise future family members that will enrich your life.
Tay has been breeding Shih Tzus for over eight years. This is a small, home-based breeder with pedigreed Shih Tzu parents. All the adult dogs are purebred and registered with the AKC. The puppies come with an amazing five-year warranty, which knocks me off my feet. I wouldn't mind paying a hefty price for such a puppy.
Speaking of price, I have to say it is a bit high, but look at what you get! The puppy comes with a puppy package containing dog food, toys, a crate if being shipped, American Kennel Club paperwork, health check results, vaccination shots, and 30 amazing days of free health insurance.
The price of these puppies is individually based on their coat, size, gender, and overall quality. It ranges from $3,500 to $6,000. If you're a repeat buyer, you can get a discount of $200 per puppy. In order to pick first or second, you will need a reservation for $500. In case you live far away from Tay's place, a flight nanny will charge you $500 to $700 for delivery.
Shih Tzu Breeders in North Carolina
Breeder's name: Patrice Chappell
Location: Spruce Pine, N. Carolina
Email: [email protected]
Phone: 828-387-1365
Hidden far away in the mountains of North Carolina, Carolina Shih Tzu is a home breeder raising spectacular Shih Tzu pups, preparing them to go to their new homes. This breeder carries only imperial and toy Shih Tzus. So, if you're looking for a tiny pup, you're in the right place.
Patrice makes sure that all her pups are first and foremost healthy. Secondly, she makes sure they're all spoiled to the bone! I don't find this to be a downside. I would love to spoil a Shih Tzu on my own because I know they give a lot of love in return.
Carolina Shih Tzu has AKC-approved and registered parents. However, the puppies don't come with the same paperwork. This is absolutely fine because the breeder has rights to register or not to register a puppy. Hence, the lower price of a puppy at only $1,600.
But, don't let this discourage you. The price is lower because it isn't plumped up with additional costs. You get a healthy Shih Tzu puppy that has been through all the necessary health testings. Patrice will provide you with records… just ask.
Shih Tzu Breeders in Ohio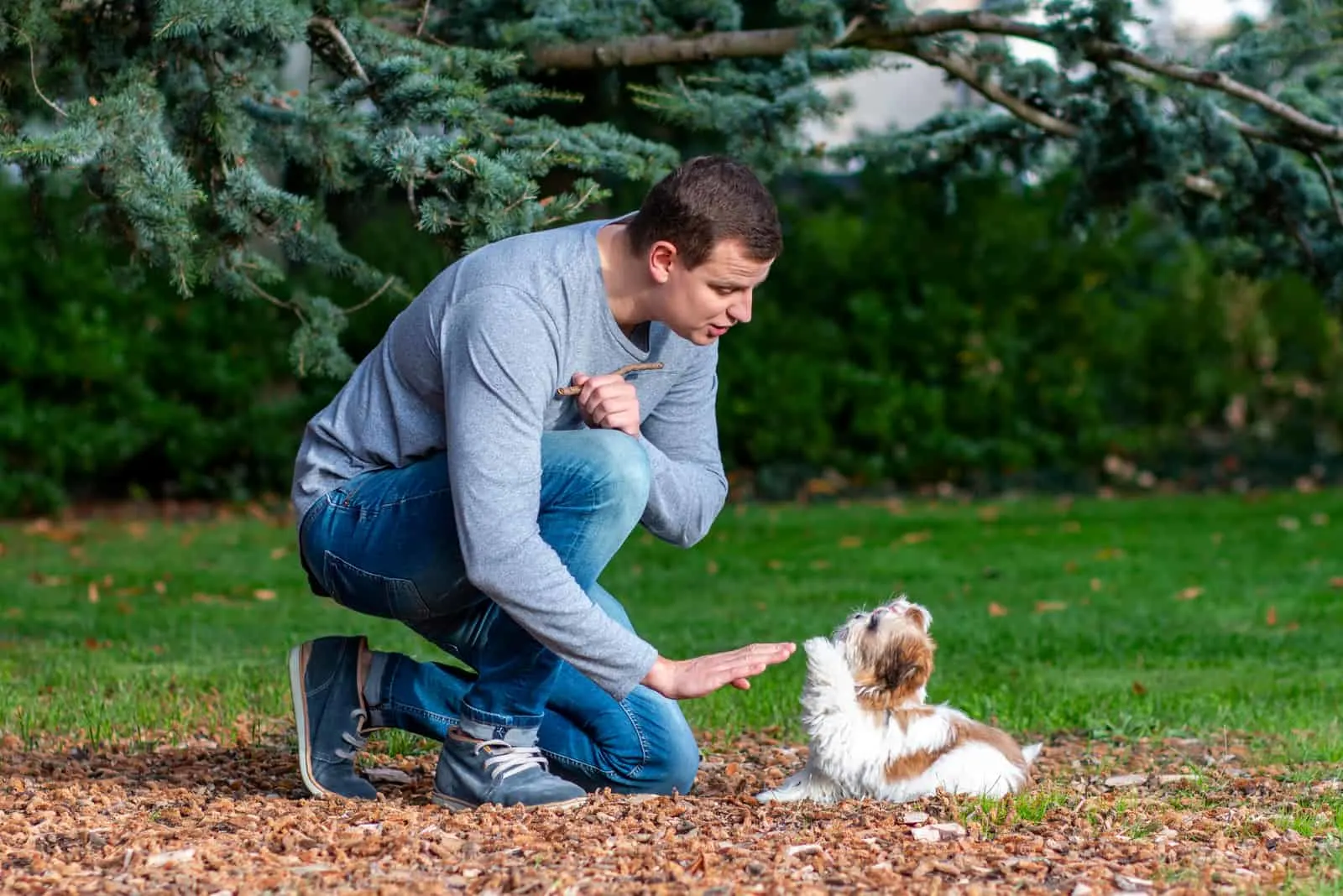 Breeder's name: Terri
Phone: 513-232-1133
Social media: Facebook | Pinterest
A decade and a half has brought Terri and her family to the top of the ladder of best Shih Tzu breeders in Ohio. Terri and her daughters are all in love with wonderful Shih Tzus. Everyone of them owns a Shih Tzu, but her daughter, Alexandra, is the only one competing in dog shows. And, let me tell you something: she rocks it!
This is a home breeder, with a huge fenced yard where puppies can engage in playtime. They're all imperials, checked by the vet and guaranteed to be healthy. Also, the puppies come with AKC registration.
I won't bug you with further details. I would urge you to check out Terri's website and read how amazing Alexandra is at dog shows. They're a family of Shih Tzu owners turned professionals, with an exceptional breeding history.
Shih Tzu Breeders in New York
Phone: 631-234-5374, 631-882-0417
​Email: [email protected]
Elaine doesn't have only Shih Tzu puppies for sale, but she also has teacup Yorkies and Shorkies – Shih Tzu and Yorkie mixes. This small hobby breeder has her lovely home to breed and raise these little pups. The puppies stay there for eight to 12 weeks until they're ready to go to their new home.
Before you adopt one of her puppies, Elaine would like to meet you in person and decide whether you're a good fit for her puppies. She is strictly against dog shipping, so you will have to meet her one way or another.
Puppies from this breeder come with a genetic health guarantee, and sometimes with AKC registration paperwork. Ask Elaine about this! They're also all dewormed and vaccinated.
To get one of Elaine's Shih Tzus, you will need to issue a $200 deposit to keep your spot on the waiting list. The final price can be discussed with Elaine, so make sure you give her a call.
Shih Tzu Breeders in Arizona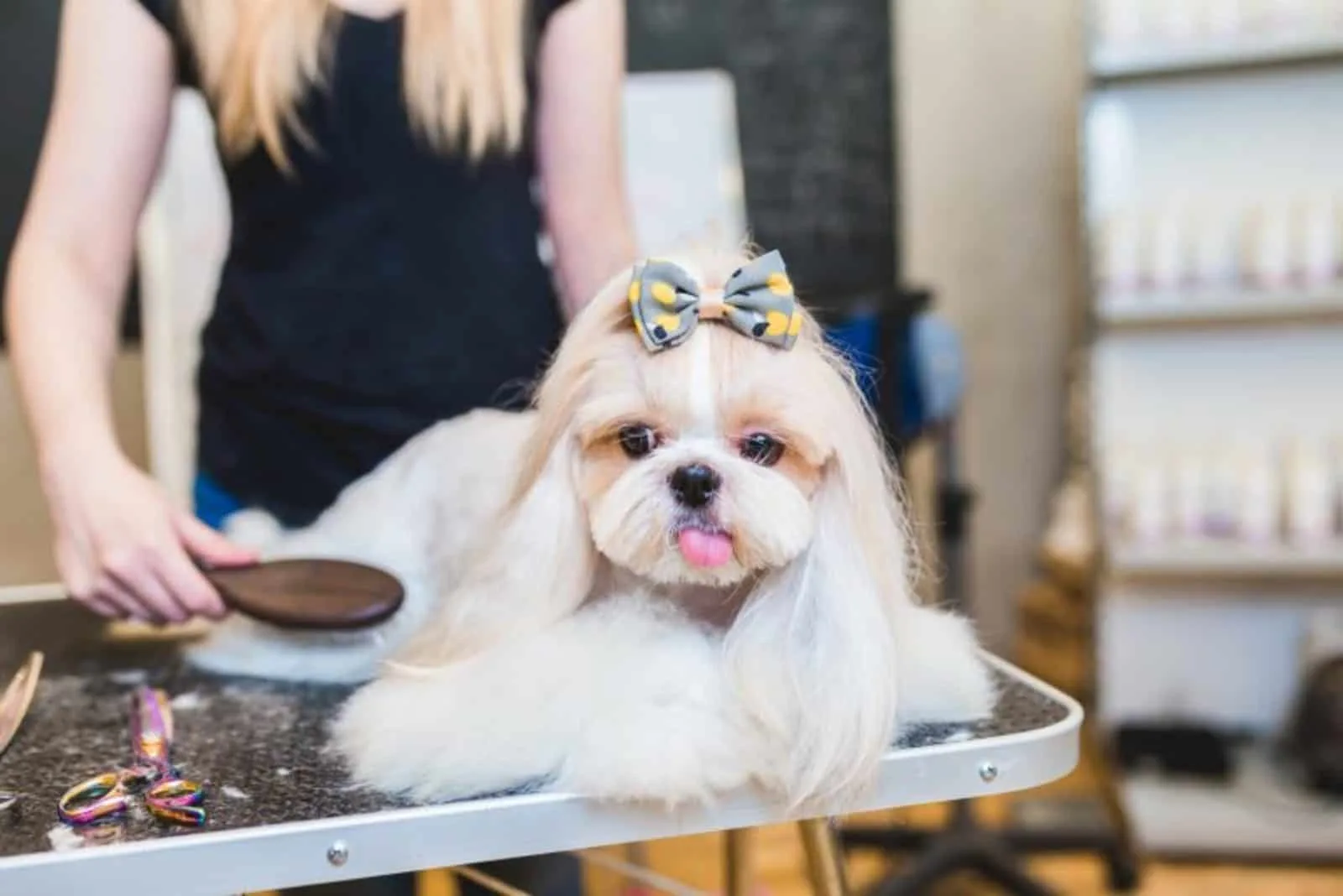 Location: Scottsdale, Arizona, United States
Phone: 206-930-4393
To get the best imperial and teacup Shih Tzus in Arizona, you will need to visit the Shih Tzu Corral. This is another home-based breeder, raising terrific hypoallergenic puppies. They are all APRI and AKC registered.
Each puppy gets examined by the vet and comes with a written guarantee that they're vaccinated and fully dewormed. You can even get AKC paperwork, but only with a spay / neuter contract.
To adopt a Corral Shih Tzu, you will need $3,000 to $3,500, and a hefty $500 deposit. But, the deposit goes into the initial purchase price.
Come and visit Shih Tzu Corral. The breeder encourages you to meet their puppies in person. Trust me, the puppies are even sweeter in person!
Shih Tzu Breeders in Virginia
Phone: 434-589-4033
Email: [email protected]
Meet another AKC Breeder of Merit on our list. Tina Derosario has been in the breeding business for 15 years, and six years in the dog show ring. She has a rich experience of handling dogs, and much love for all their little paws!
Tiamaria Shih Tzus are AKC and ASTC approved (American Shih Tzu Club). They're premium pooches from champion bloodlines, home-raised, checked by the veterinarian, vaccinated, and ready to meet their soulmates.
Tina offers her puppies with a spay/neuter contract. They have a two-year health guarantee and a strict no-shipping policy. Tina wants to make sure you're 100% honest and want only a pet, not a breeding machine for making money.
Want a Shih Tzu puppy that will love you for many years? Give Tina a call!
Shih Tzu Breeders in Minnesota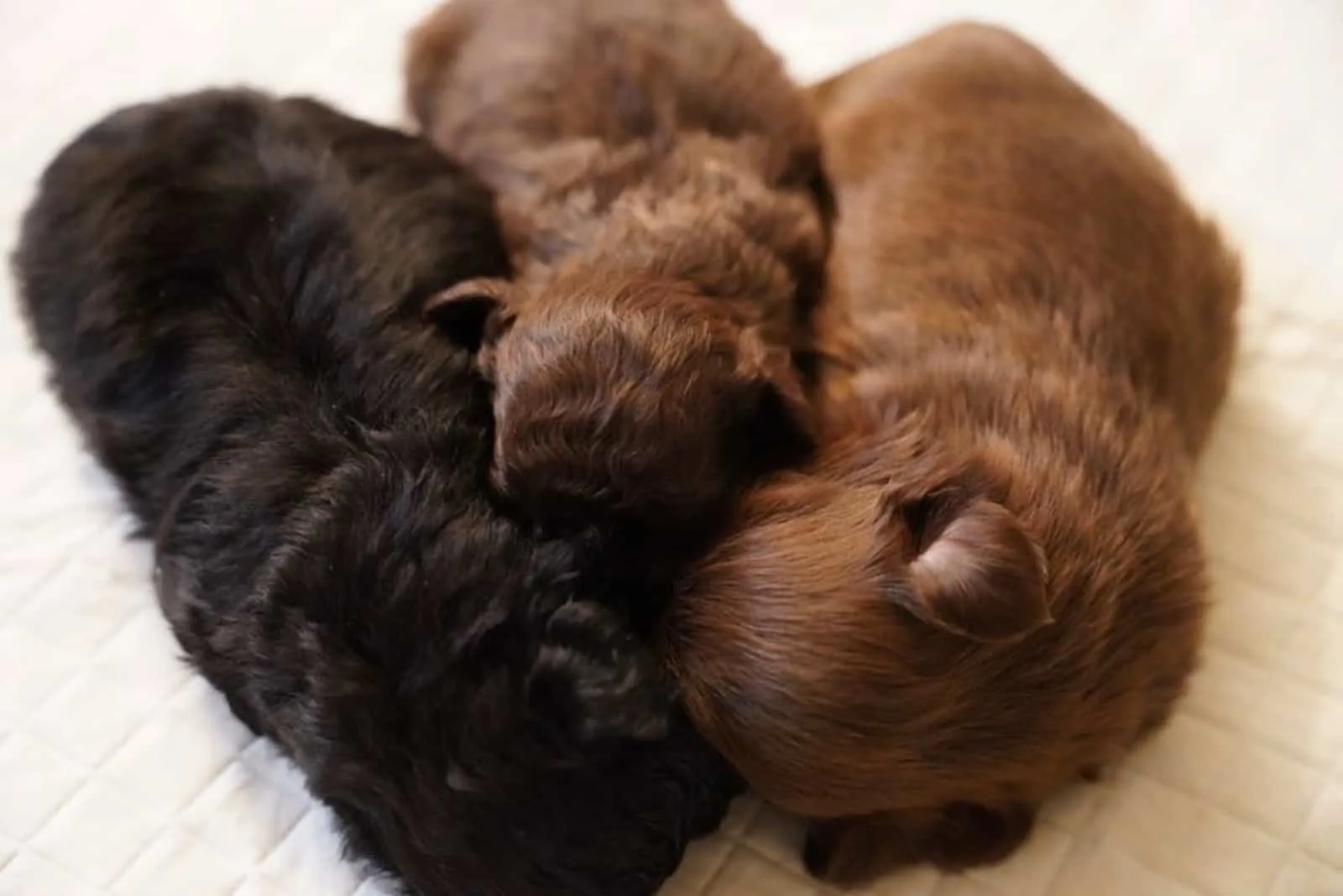 Location: Little Falls, Minnesota, United States
Email: [email protected]
Phone: 320-416-0666
In Jessica's home, every now and then, you'll hear newborn puppies squeaking. Yes, this AKC-registered breeder home-breeds and raises Shih Tzu puppies of the utmost quality.
Her doggos come with a vaccination booklet, dewormed, examined by the vet, and with a one-year health guarantee. Also, all puppies are microchipped and have 30 days of free insurance. I mean, who wouldn't like that?
Luckily, these amazing puppies aren't as expensive as with some breeders. All you need is a $300 deposit and $1,200 for a Tough Shih Shih Tzu.
By the way, do you like their word play? Tough… Shih… Ring a bell?
Shih Tzu Breeders in Missouri
Location: Warsaw, Missouri
Phone: 816 529-2413
Email: [email protected]
Ever since 1986, Karen, from Glory Ridge, has been breeding the best Shih Tzu puppies in Missouri. She's a veteran breeder with exceptional experience and knowledge. But, this doesn't mean she's outdated. No! Glory Ridge kennels are always one step in front of trends, developing modern facilities and kennels where dogs enjoy themselves all the time.
Well, they do sleep inside, but they spend their days out and about.
Glory Ridge parents are AKC-registered and show great quality. The puppies aren't far behind either. If you want a Glory Ridge Shih Tzu, you will need to wait until Karen evaluates her pups at the age of four weeks. That's the time when you find out their price.
I urge you to act kind and have understanding as Karen is a strong cancer fighter, and not as fast as she used to be. But, the terrible illness didn't stop her from breeding and raising her lion dog pups. I believe that gave her the strength to carry on.
Conclusion
So, which one of these Shih Tzu breeders will you pick?
I know picking a puppy is hard, but picking the right breeder is even harder.
I want to put a little disclaimer here. You see, at the time of this research, all of the listed breeders were 100% true and reliable. But, that doesn't mean that one of them won't change their breeding practice or start behaving unethically. I'm not accusing anyone. I'm just saying people change. You shouldn't trust blindly. What you should do is ask questions.
Conduct a little interview with the breeder. Get to know their terms, and their way of breeding and raising pups. Especially ask for health testing results! If you think something is fishy and you're not sure whether to trust someone or not, don't.
There are other breeders on this list that would be happy to answer your questions and match you with the perfect Shih Tzu puppy.
Read Next:
• Top 11 Pekingese Breeders In The US
• 13 Best Teacup Shih Tzu Breeders In The US
• 15 Best White Labrador Breeders In The United States