These flat-faced lapdogs stole the hearts of people around the world, not just in their country of origin – China. Their special looks and affectionate and loyal nature found their way into the hearts of many Americans as well.
Whether you want a Pekingese puppy to show or to be your companion and nothing more, it is important to know where to find the right puppy for you – the healthiest and happiest Peke pup there is!
You can spend hours and hours searching for information on your own, or you can let us help you and take a look at our list.
We're here to tell you where to find the most trusted breeders and how to reach them. From the East Coast to the West Coast, let's find the top 11 Pekingese breeders in the US.
The Pekingese Puppies For Sale In The US
The Pekingese is one of the Chinese dog breeds, but the exact date of its origin is unknown because it is one of the oldest dog breeds in the world. Some books tell stories about Buddha himself making this dog by shrinking a lion!
But, we're sure that the Chinese Emperor and the people working for the court first bred the Pekingese in Beijing. They were so adored and considered royalty that only the members of the Chinese Imperial palace could own them.
Later, in the 1860s, the British troops took them back home with them and introduced them to the rest of the world. They were registered by the AKC (American Kennel Club) in 1906.
With that being said, let's see the top 11 Pekingese Breeders in the US.
1. Royal Pekingese Puppies, Cincinnati, OH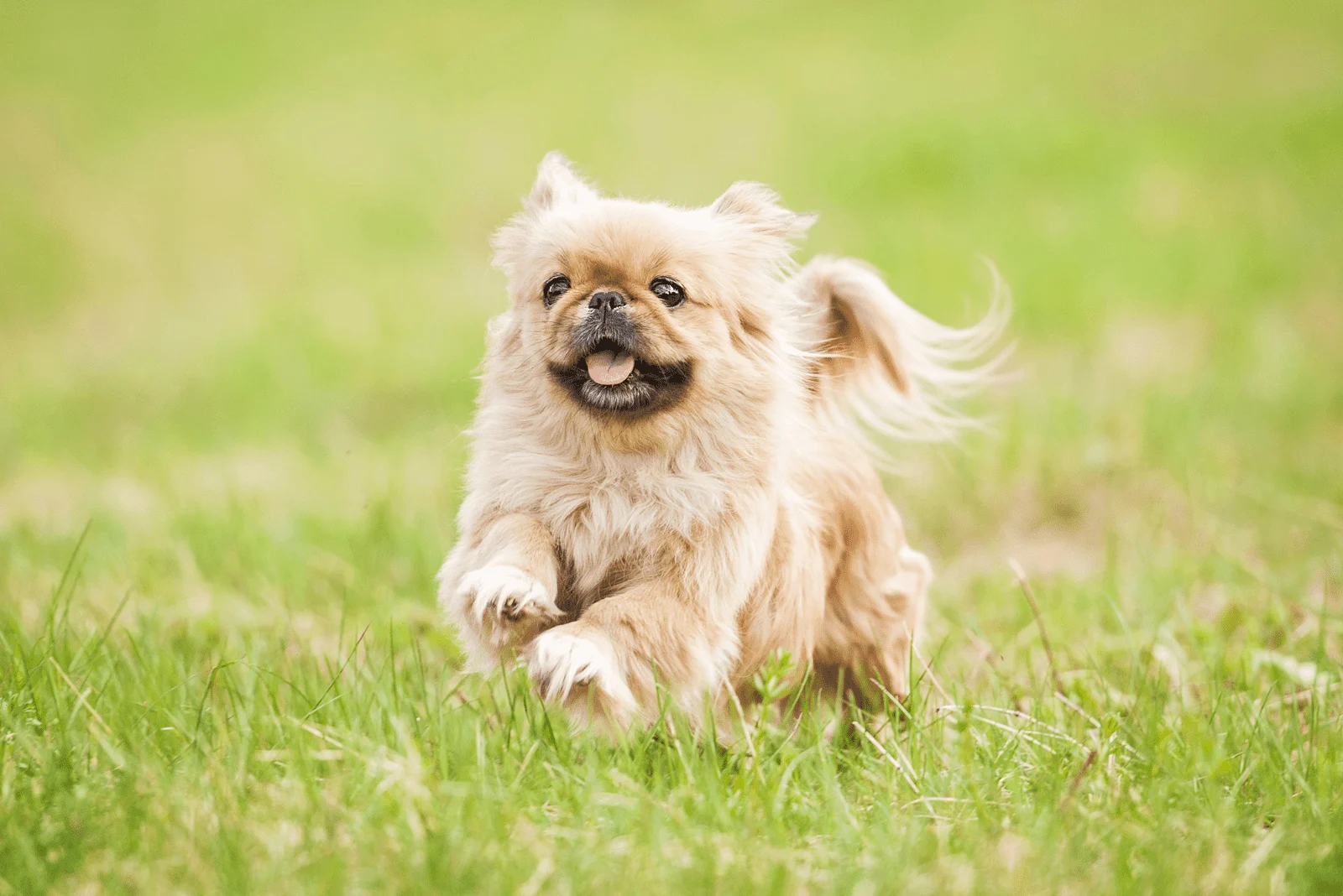 This amazing breeder from Ohio has been breeding Pekingese puppies for the last 18 years. Now, that's a lot of time to hone the skills. What I always love in a breeder and what makes me trust them, even more, is when they are serious about checking the new family of their Peke pups.
That is exactly what these breeders are adamant about – making sure their Pekingese puppies are going to a safe and responsible family.
They offer a one-year health guarantee, but they take great pride in their puppies and them all being healthy and happy. Another excellent thing is that they choose air transport to the home address by a professional who can make sure that the puppy is safe and unharmed.
If you are looking for a best friend in this lovely toy breed, this is one place where you can find your perfect Peke puppy.
Address: 202 Glenwood Ave, Cincinnati, OH 45217, United States
Phone: +12098130748
Website: Royal Pekingese Puppies
2. Tao Pekingese, Minneapolis, MN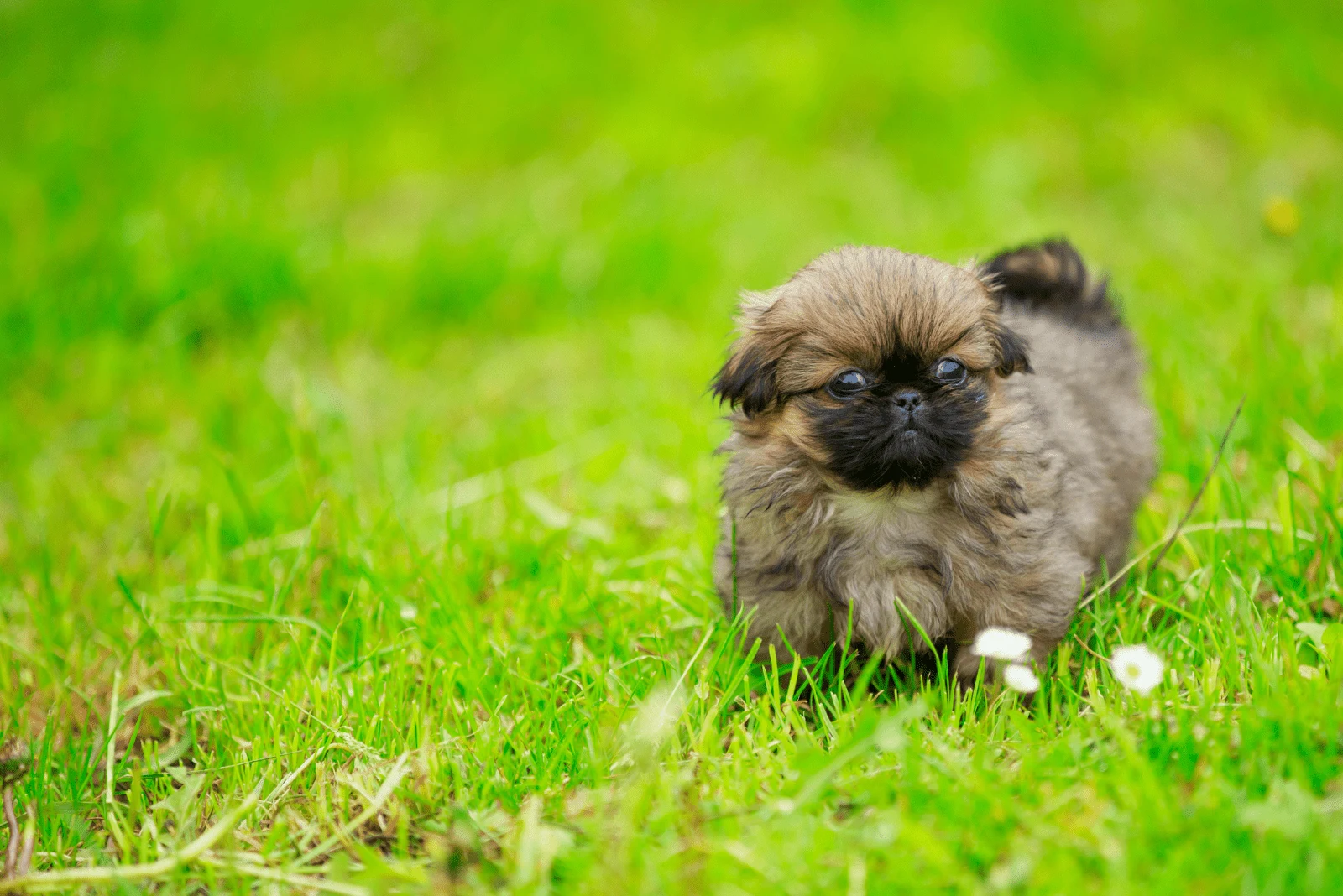 Tao Pekingese is a great representation of what I love about small family-run breeders. They treat their Pekingese puppies like family members and you can simply feel the love, even through the photos and videos on their website.
They have been working with the Pekingese dog breed since 2017. The dogs have a large place to run around, enjoy the fresh air and express their full nature. They have a couple of champion bloodlines too, but what is so great about them is that they take care of their puppies' wellbeing foremost!
All of their dogs are healthy and happy, with high energy levels characteristic of this amazing toy dog! They care for their behavior as well, using proper early socialization and potty training techniques.
Tao Pekingese is definitely one of the top 11 Pekingese Breeders in the US. If you decide to contact them, I am sure you will agree with me! You can check their Facebook profile too.
Address: Minnesota, MN
Phone: +16514178041
Website: Tao Pekingese
3. Sassy's Forever Pekingese, Amarillo, TX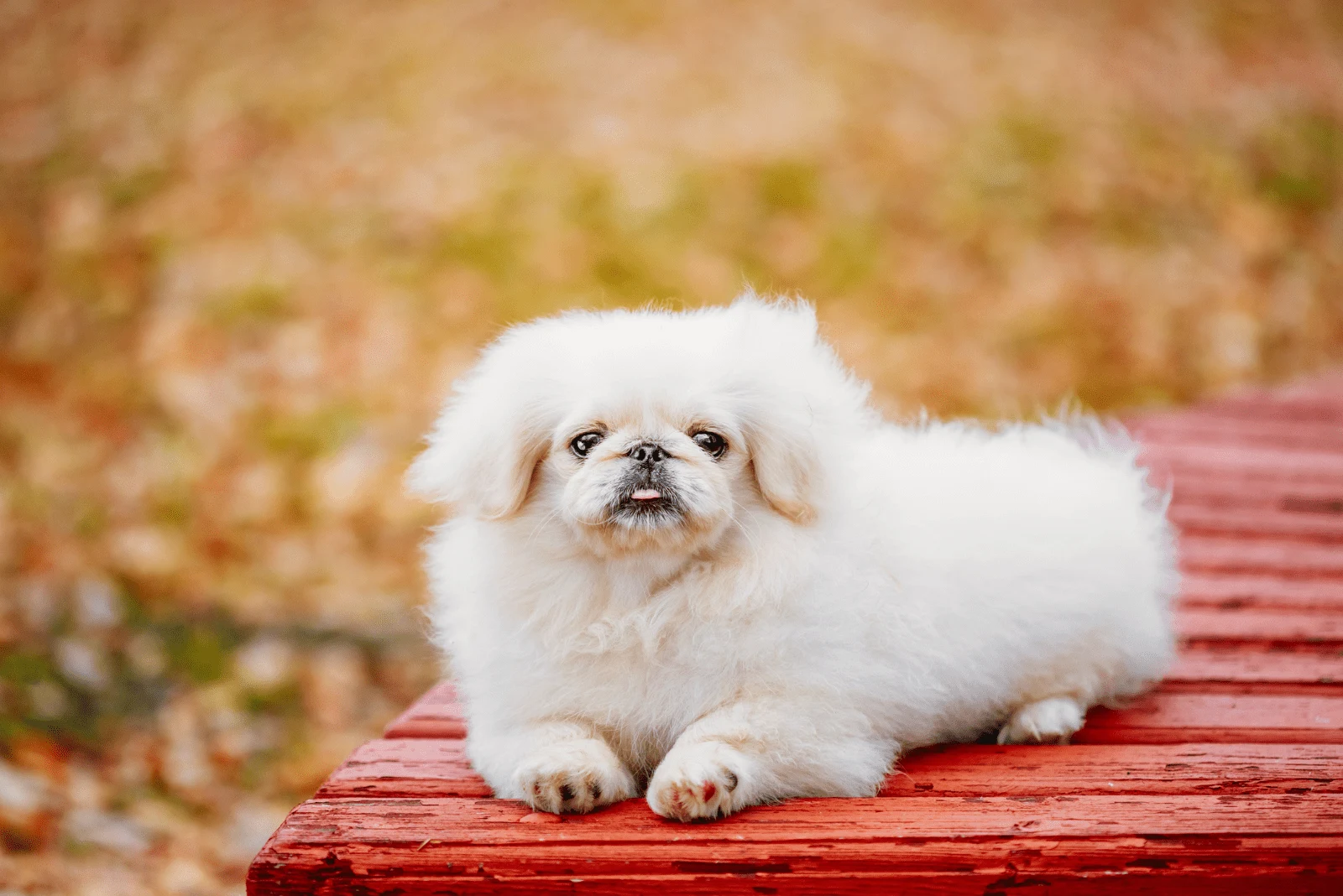 With their breeding experience starting way back in 1987, Sassy's Forever Pekingese is a highly professional dog breeder.
They have a beautiful bi-colored Valentino stud and a biscuit-colored Minka lady. They are both AKC accredited, with full medical history making sure that their pups will be just as healthy.
They are home-based and dedicated to bringing healthy and high-quality Pekingese into not only homes, but the hearts of their new forever homes.
The newborn puppies stay with them for 8 weeks and are well socialized. They all have genetic health tests done, as well as the OFA eye testing and certificates. Also, they offer a one-year health guarantee to all of their puppies.
When you get a puppy, you get a blanket with a littermate's scent, a food starter bag, and a blanket with a mom's scent too! This shows they care for the transition process of the puppy from one home to another.
Address: Amarillo, TX
Phone: +18066767524
Website: Sassy's Forever Pekingese
4. Montana Twins Pekingese, Butte, MT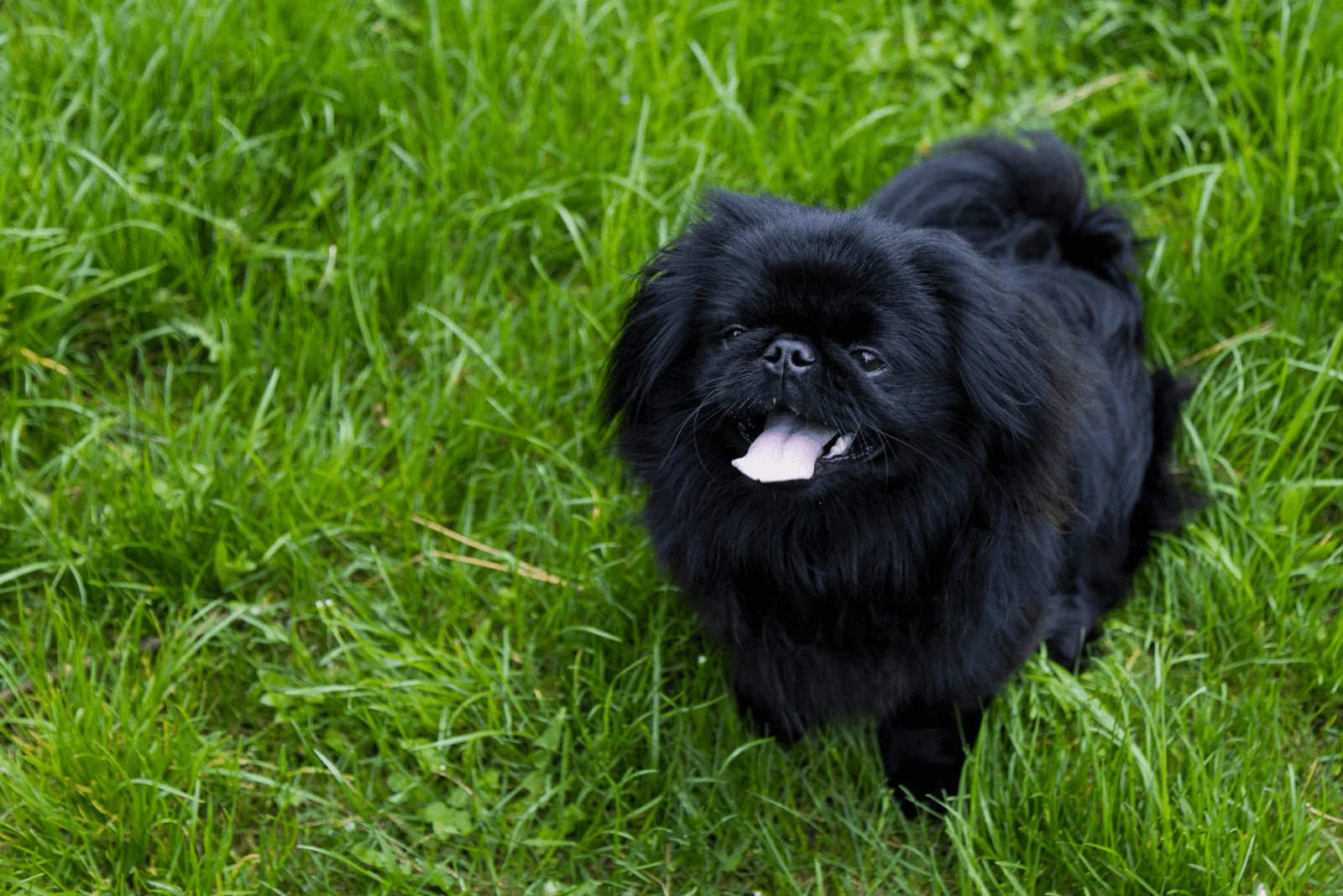 They are small Pekingese breeders that have a goal to breed the finest Pekingese dogs, striving for health, loving temperaments, and impeccable standard breed characteristics.
The twins are in charge here – Darlene and Carlene! They take their Pekingese dogs to shows and they are very proud of their success all around the US.
They are making sure their beloved Peke dogs are healthy and happy, not making them over exhausted, so their litters are not large and they might not have litters too often, but you know they are healthy and of absolutely perfect standard quality!
If you are looking for a new show dog, getting in contact with these two lovely ladies is a must!
Address: George St, Butte, MT 59701, United States
Phone: +14065601145
Website: Montana Twins Pekingese
5. Oakhill Pekingese, Silverton, OR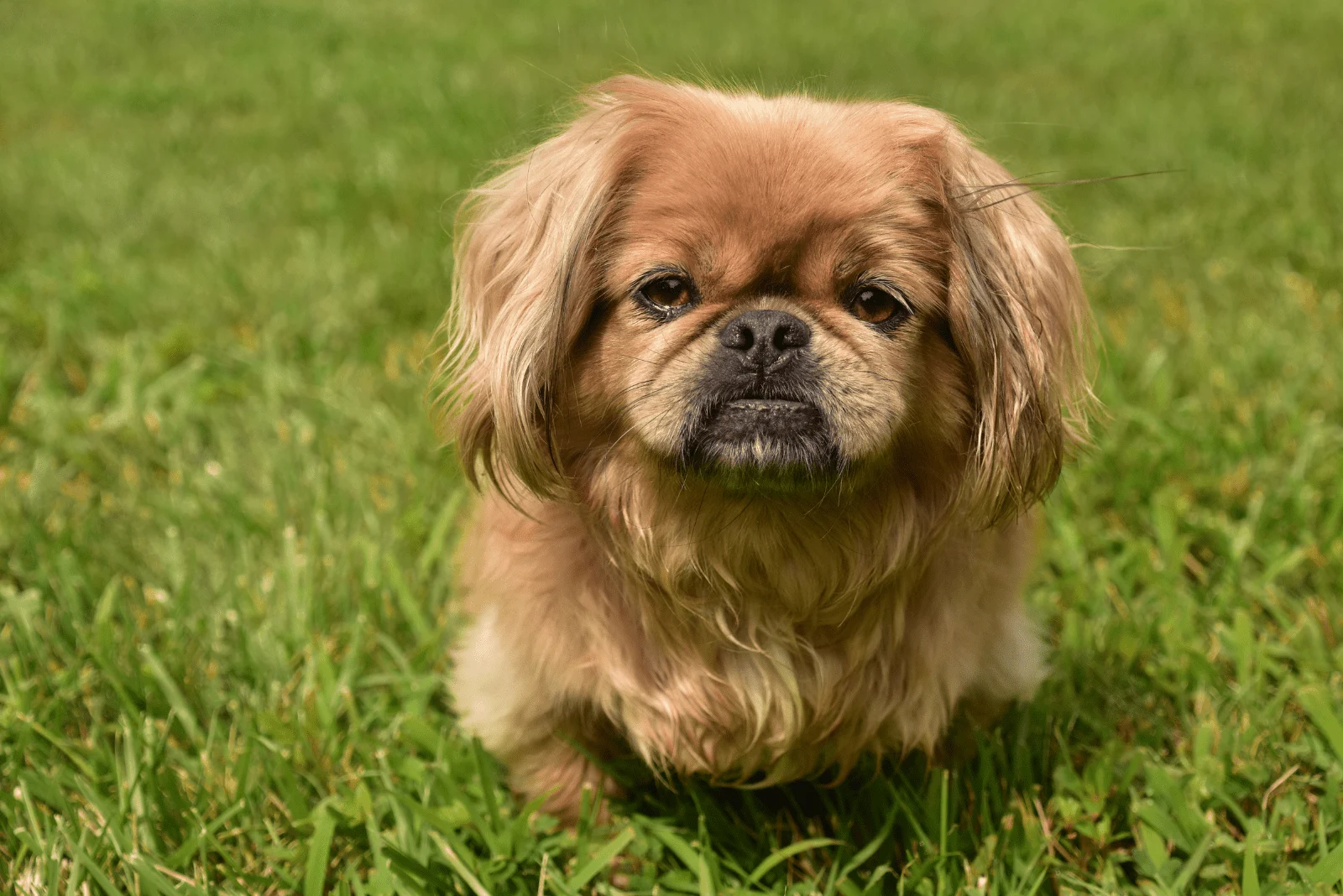 You know the Oakhill Pekingese breeders are serious Chinese dog lovers with just a glance at their website. There are photos, breed info, and even Chinese language symbols! They do not play! Well unless it's with their cherished and beloved dogs, then they do play! But, they don't play with their standards and goals of making the happiest and healthiest Pekingese puppies.
They do shows, but they are direct and open in telling us that the dogs are their family companions first, and then show dogs. That is the kind of home for their new puppies they are looking for, and they won't settle for less.
Also, they are proud members of the Pekingese Club of America and, as such, they have signed their Code of Ethics. Their puppies are raised in a home with lots of love and affection. All of their puppies are vaccinated and dewormed, as well as microchipped, and they offer a health guarantee for all of their dogs.
Address: Silverton, OR
Email: [email protected]
Website: Oakhill Pekingese
6. MonTai Pekingese, Martinez, CA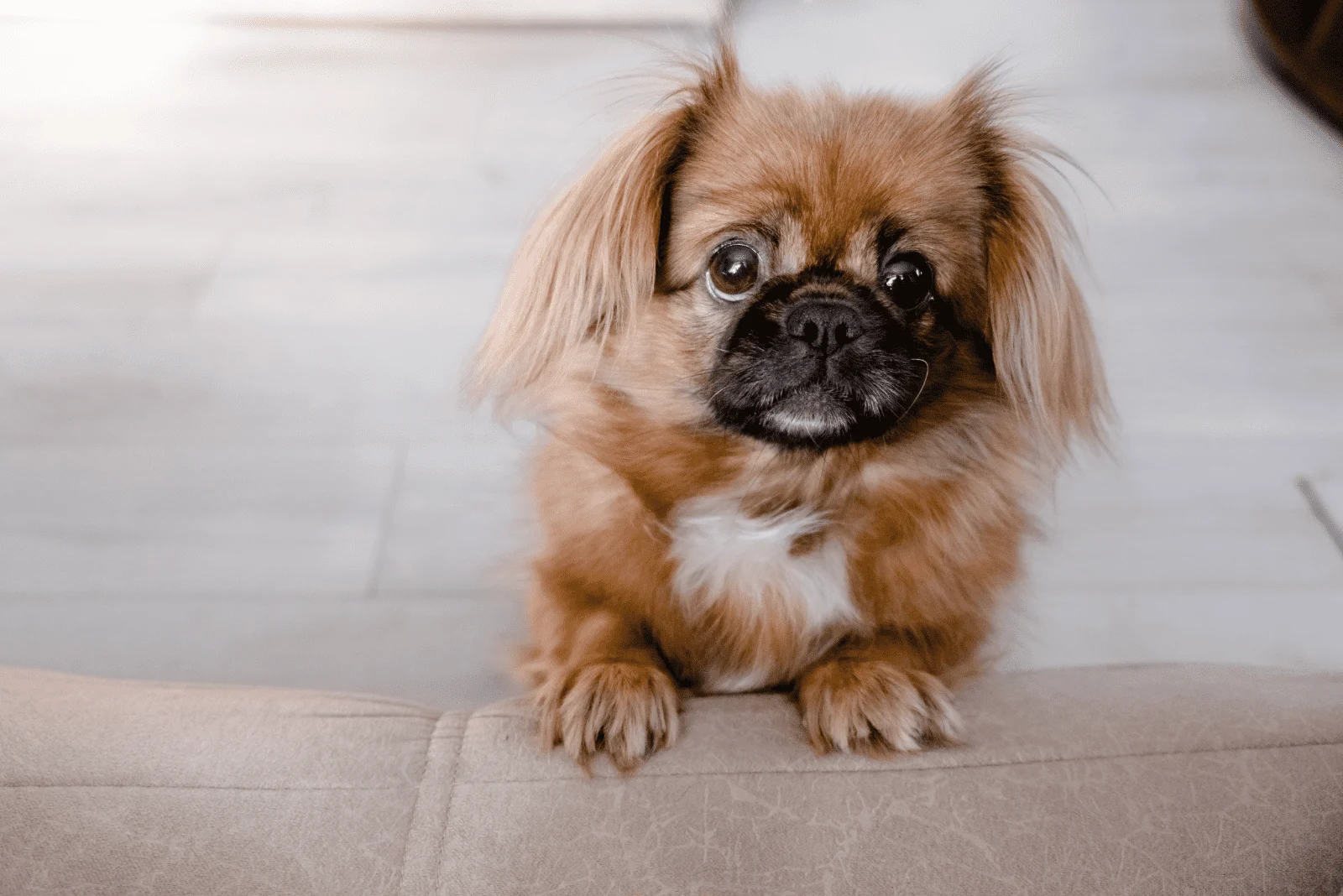 The names of these amazing Pekingese breeders are Heather & Justin Ginochio. They have a strong connection with taking care of dogs with Justin's father being a veterinarian and breeding Jack Russell Terriers in his time.
They started breeding the Pekingese dogs in 2016 after they imported the beautiful dogs from Spain and the Philippines. Their goal is to breed healthy, and great-tempered Pekingese. What I simply love about this breeder is that they are open about connecting to other Pekingese breeders to make the best choices regarding their dogs' health and care in general. They are honest and trustworthy Pekingese breeders!
Another amazing fact is that Heather is on the board of the Pekingese Club of America and the Pekingese Club of Central California. You can check out their adorable puppies on their Instagram profile as well.
Address: Martinez, Ca
Phone: +1 925-200-4697
Website: MonTai Pekingese
7. Justluvem Pekingese, Stigler, OK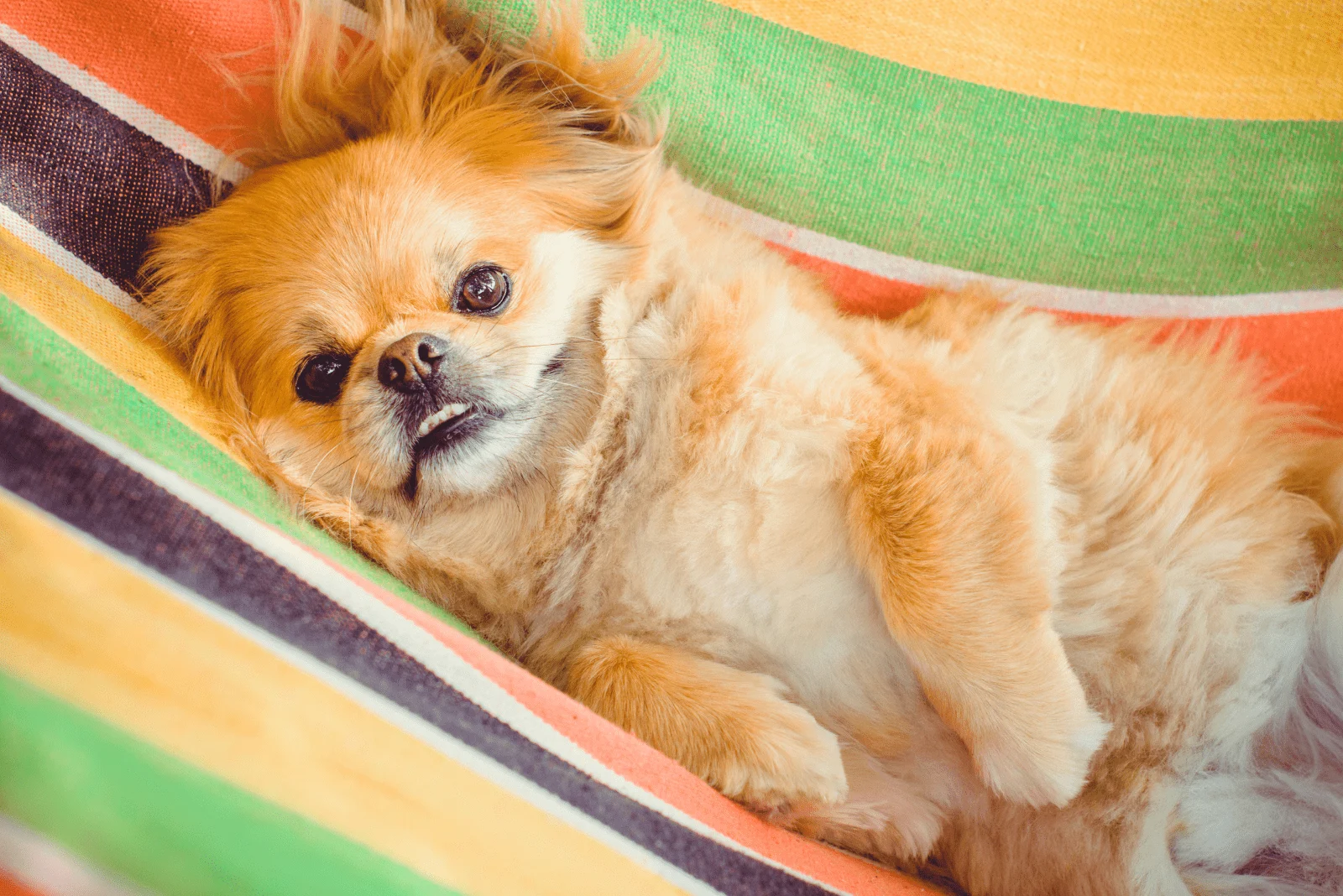 Another highly professional Pekingese breeder is Terry Lee from Stigler Oklahoma.
She is open, transparent, and clear with what she wants from new families and what the new families can expect from her. And, they can expect all the best! Terry Lee is a nationally certified and licensed breed inspector. She is also a member of the Humane Society of the United States and the ASPCA! Now, that has to say something about her lovely Pekingese dogs.
You can always text her for fast responses or call directly to ask any questions you might have regarding the Peke pups.
You will definitely not go wrong if you choose to buy a puppy from the positively energetic Terry Lee!
Address: Stigler, OK
Phone: +1 909-754-6338
Website: Justluvem Pekingese
8. Millennium Falcon Kennels, CO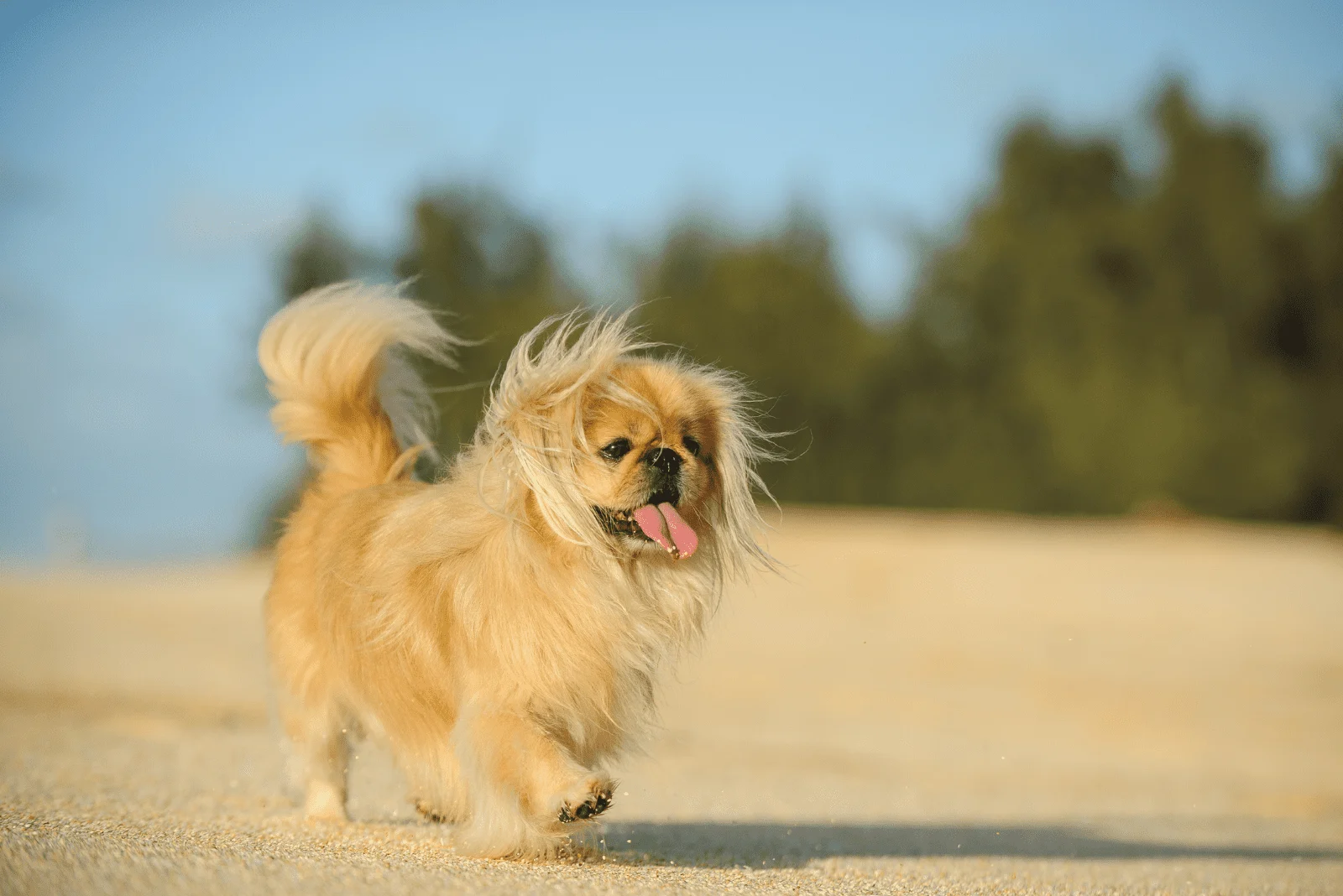 The name behind Millennium Falcon Kennels is Monica Kleinschmidt. She knows what it means to have a dog in a family and she truly thinks it's a blessing.
That's why she takes good care to find a good family for her Pekingese puppies. She will ask you for various information to find you the best puppy and to see if you fit her picture of a good home for her dogs.
They offer a one-year health guarantee and are open to providing information about the tests the dog's parents have taken, like hip, eyes, and heart evaluations.
You can see the photos of the puppies and the mom Zephee and dad Woogie (such a cool name!).
They also breed other toy dogs, the Maltese and Shih Tzus. They are AKC-registered breeders.
Address: Colorado Springs, CO 80916
Phone: +1 719-243-6795
Website: Millennium Falcon Kennels
9. Imperial Pekingese, Cumming, GA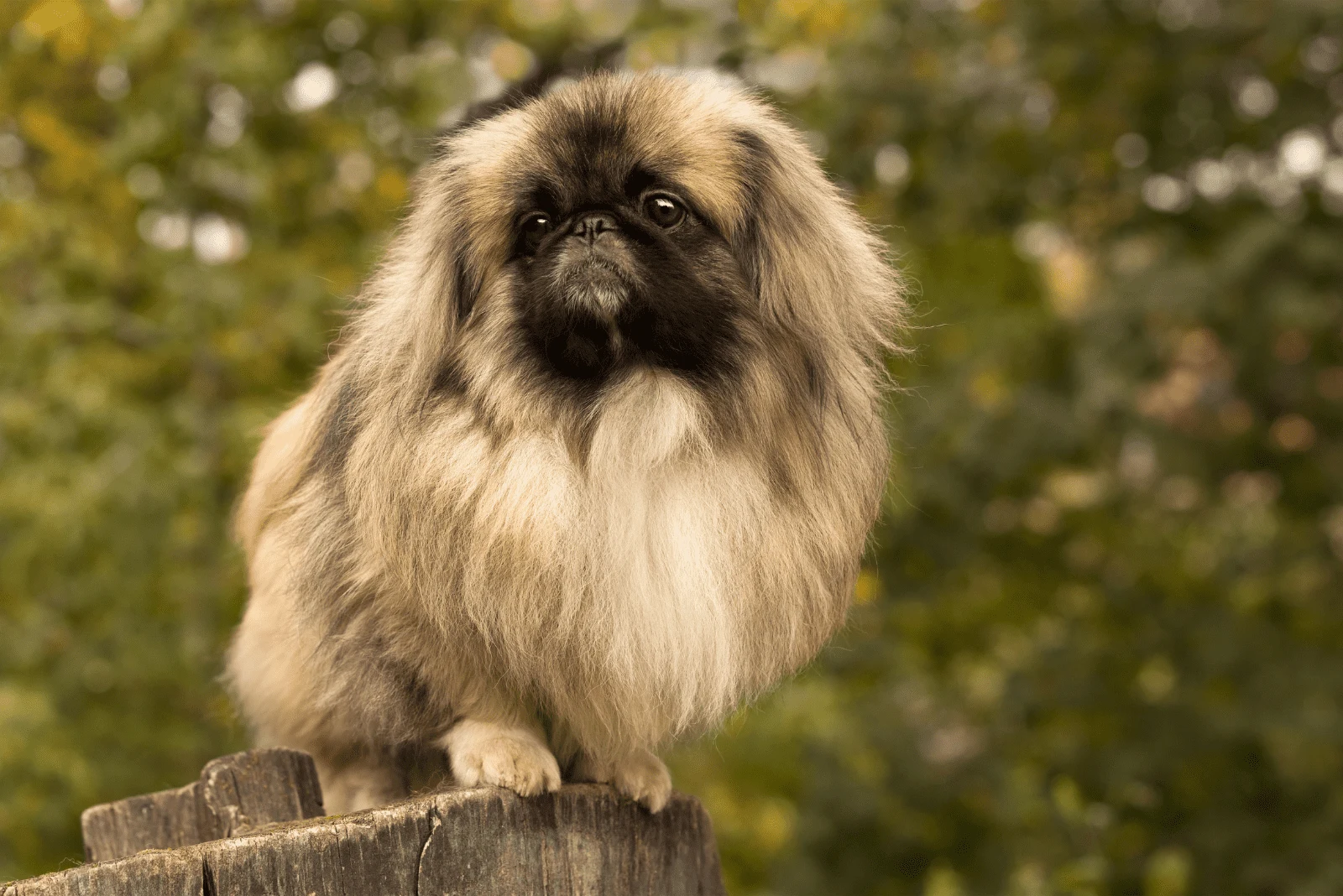 These amazing Pekingese breeders are true animal lovers! All of their dogs are like family members and are treated with such love and affection! The name behind this breeder is Shelly Daniels, and she is one of the people giving her best to make sure the puppies and all dogs in their home have the best possible lives!
That means they make sure the puppy parents are healthy and have good temperaments, and that the new pups go through proper socialization and proper daily care! Of course, the final step and the one they pay great attention to is placing the puppies in loving new homes.
They breed AKC registered puppies, and they offer a one-year health guarantee. But, you'll get more than that if you buy a puppy from them. They give a real send-off basket to make sure their puppies are well-taken care of. The "basket" includes a bone, a toy with the puppies mom's scent, a puppy starter kit, a food starter bag, a blanket with the puppies mom's scent, and even an AKC registration.
All of their dogs are genetically tested and went through an eye examination, cardiac evaluation, hip evaluation, and DNA testing.
Besides Pekingese, they breed Shih Tzu dogs and Poodles.
Address: Cumming, GA
Website: Imperial Pekingese
10. Graceland Pekingese, Clinton, TN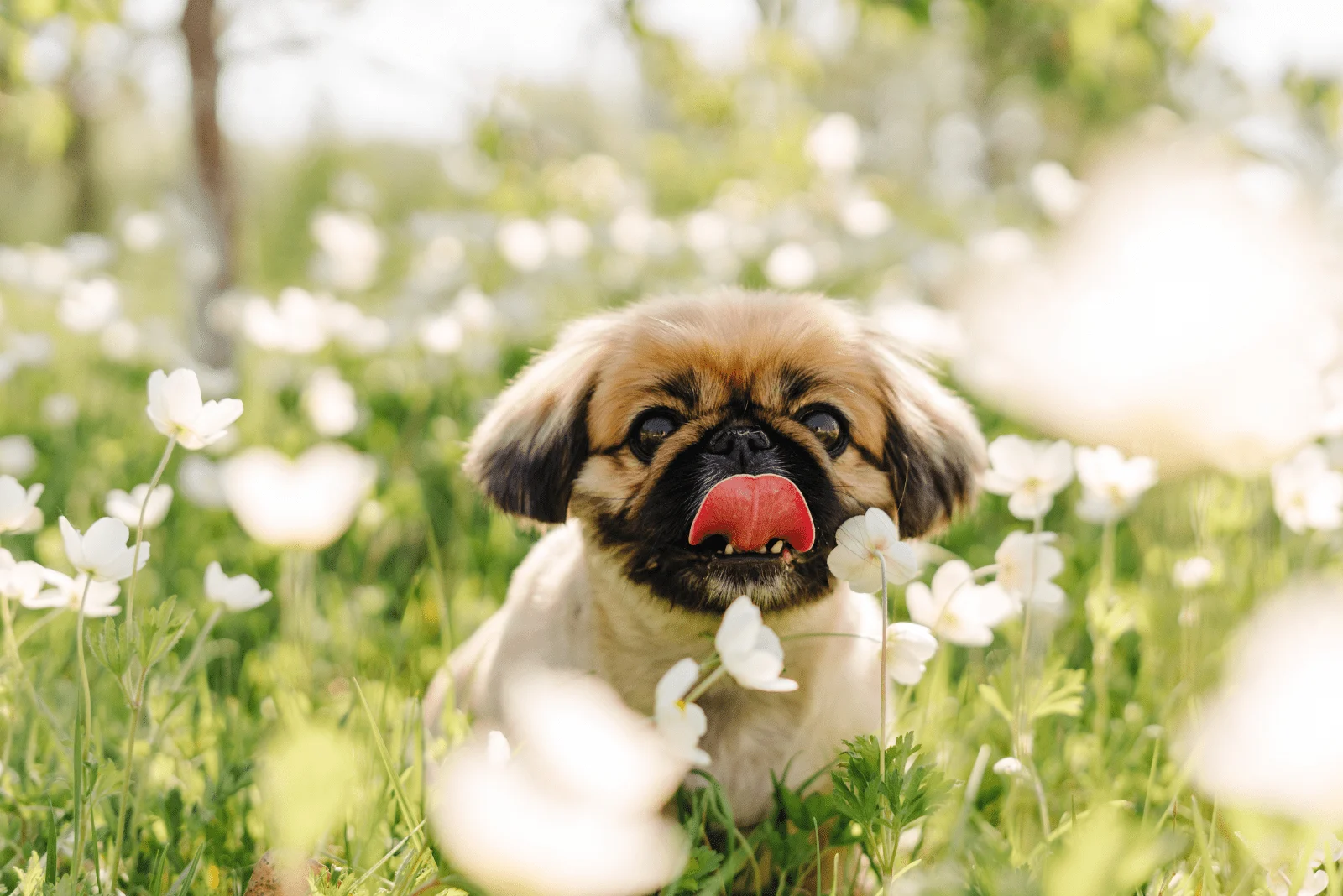 Sabra Fielden is the person responsible for taking care of the Pekingese puppies in the Graceland Pekingese breed club. She is making sure the puppies are treated as a part of the family and as she says "pre-spoiled". And, she has been doing it since 2015.
Her puppies grow up around young children, making it a big plus in the socialization process, especially if you are already having a child or planning to.
Not only do the pups grow up around the children, but around other dogs and Sabra utilizes enrichment methods like noises, crate training, outdoor training, toys, strangers, etc.
You can be certain that the new puppies are well socialized from the very first paw step.
Her puppies are vaccinated, and dewormed, and they come with a one-year health guarantee. When you do get a puppy from this amazing Pekingese breeder, you will get a food starter bag, a Certificate of Health, and AKC registration.
Address: Clinton, TN
Website: Graceland Pekingese
11. Jenn's Pekingese Gems, Paragould, AR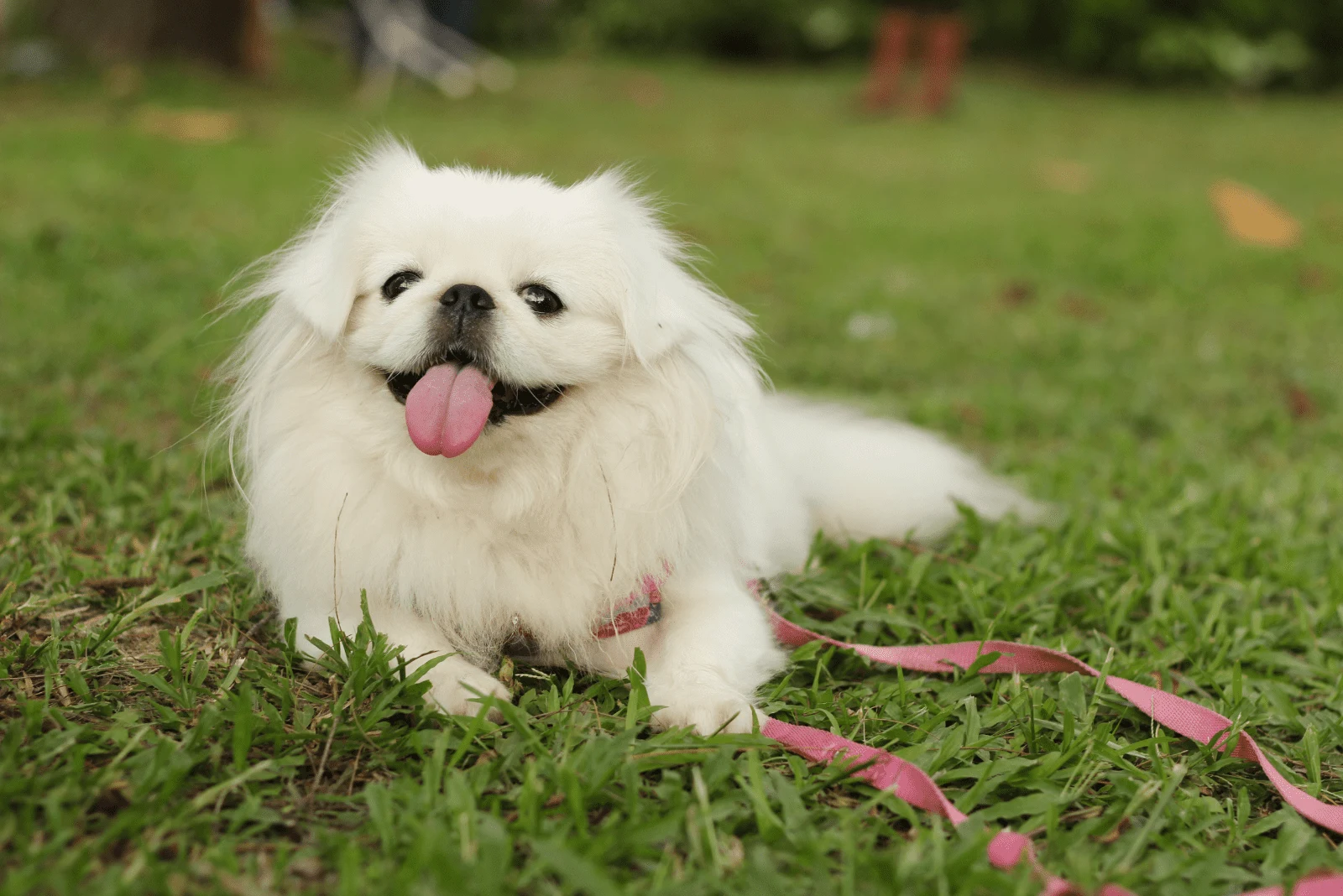 Jenn Binkley has cute puppies! She is taking care of them in her own home, making sure they are loved and cherished. Of course, they are healthy too!
She does everything she can to make sure they have the best of all! Jenn does a great job in preparing them for the big world, making sure they are used to bathing, grooming, and nail trimming. They are introduced to toys, household noises, and adult dogs, and she makes sure the puppies are used to human contact and interaction with humans in general.
Jenn also sends a blanket with the puppies' mom's scent, a food basket, and a breed club registration. She has been taking care of the Pekingese dogs for the past 20 years, and I am sure you can find the right Peke pup at her home!
On top of that, Jenn is a professional dog groomer and she is a member of AKC and CKC (Continental Kennel Club). You can check her Facebook group page to see all the new information about the upcoming puppies.
Address: Paragould, AR
Website: Jenn's Pekingese Gems
The Pekingese Breed Standard
They have a flat face (brachycephalic group of dogs), very dark eyes set wide apart, and a small but stocky body, putting them in the smallest dog breeds group. They can grow up to 9 inches in height and weigh up to 14 pounds. But, they can come in a teacup size too.
They have a long-haired, double coat which is responsible for their recognizable looks. The Pekingese can come in many coat color variations, of which the sable color is the most common one with a black mask on the face.
The Pekingese dogs are extremely affectionate, playful, and adaptable which makes them amazing companion dogs. They might be small dogs, but they are brave like little lion dogs, making them a good choice for watchdogs.
They have their own club called the Pekingese Club of America, which is responsible for the regulations of the breeding programs and for providing information about upcoming dog shows.
They are trainable and, with a lot of positive reinforcement, you can be sure they will be obedient and ready to do as they are told.
The Pekingese Health Issues
The Pekingese dog breed is a brachycephalic dog which means they have a flat face, similar to another Chinese dog breed – the pug. That means they can have some breathing problems. Also, due to their short snout, the eyes are left unprotected, so it is important to make sure that your Pekingese dog is in a safe environment where nothing can irritate or jab their eyes.
They love the cold weather, so even if you go on a regular car ride, make sure they have an ice pillow or make sure the AC is on.
Besides their health problems resulting from their natural flat faces, these are healthy dogs, and they have a lifespan of around 14 years. The health issues are more common in older dogs.
When it comes to the health of their lovely coat, make sure to groom them regularly to avoid any possible tangles. It is recommended that you groom your Pekingese for at least one hour once a week, to make sure the lush double coat stays shiny and healthy.
The Pekingese Puppy Price
Most Pekingese Puppies are between $1000 and $3000. Of course, these prices can be as low as $400 and as high as $6000! But, it all depends on where and why you buy the puppy.
The puppies you buy to show where you request all the necessary papers and the lineage of the Champion's blood in your puppy will cost you more money!
But, if you are not interested in going to the shows and you do not care about the famous dog's parents, then the average price is much lower. But, still, it is around $1000 if you want to get a puppy from a reputable breeder who will make sure the puppy is healthy and without possible future genetic problems.
They might be pricey, but they are definitely worthy!
The Conclusion
We finished with the list of the top 11 Pekingese breeders in the US. All in all, they are all very professional and reputable. What I love the most about all of them is that they share the same trait: they love their dogs and they want to make sure they are happy in their new homes too!
Also, all of the breeders are open about their puppies' health, history, and all the tests that have been done. You will get a health guarantee, and even a basket of scents to make sure the puppy is adapting to a new home easily.
Whichever breeder you choose from this list, you will make a good choice and you will find a furry friend for the rest of your life!