So, you live in the state of Wisconsin and you're interested in adopting a Cane Corso puppy.
You must be interested in seeing a list of the best Cane Corso breeders in Wisconsin, aren't you?
Well, I hate to break it to you, but there is no such list.
Trust me, I did my homework on the subject and only one name showed up as a result. One breeder, but one hell of a breeder!
This small state has a lot to offer, but no reliable and reputable Cane Corso breeders. But, having such a good source like the one you'll see down below will prove that quality always tops quantity.
Let's see what the state of Wisconsin has to offer to all Cane Corso lovers!
Cane Corso Puppies For Sale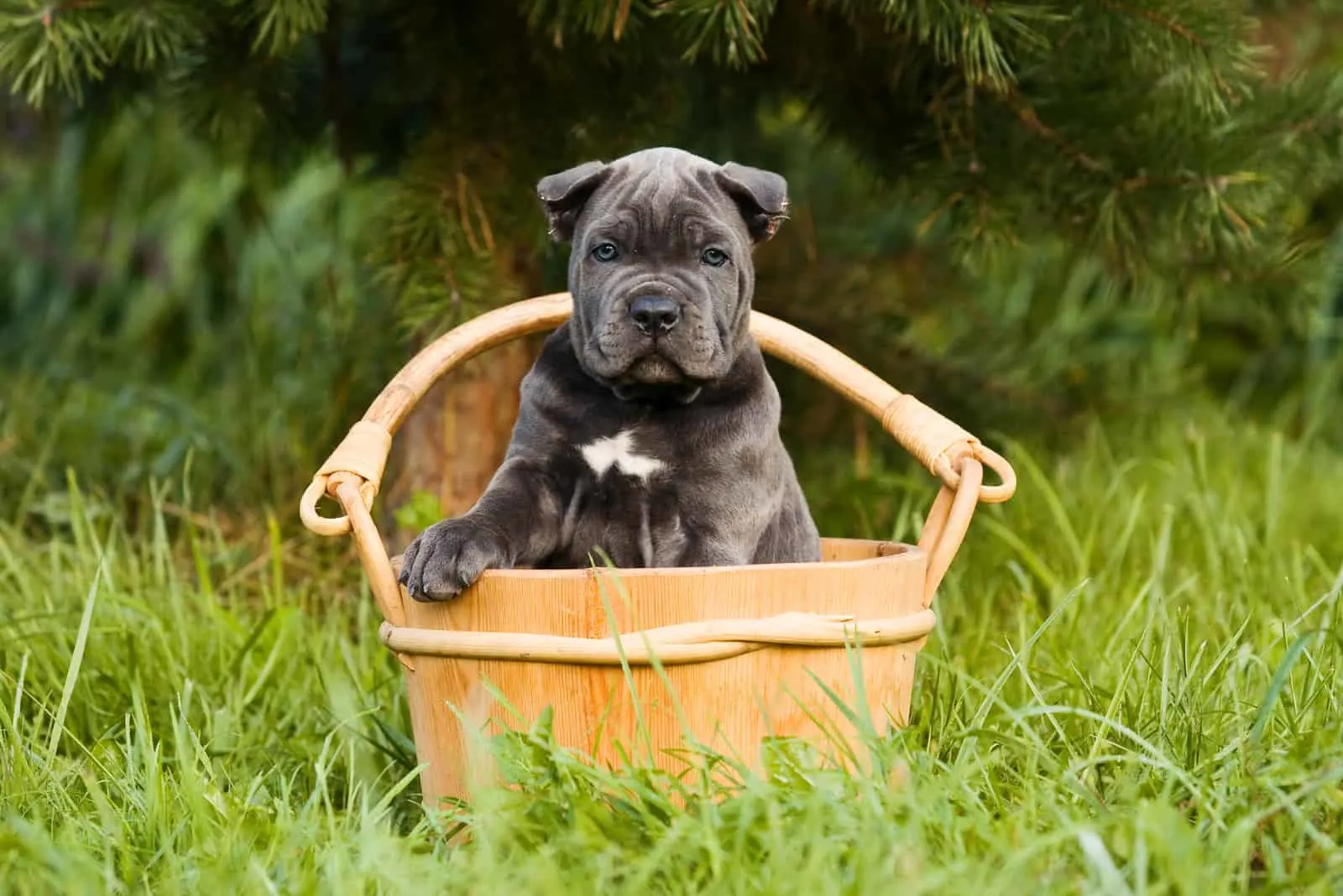 I promise you won't be disappointed with the "non-existent list" list of Cane Corso breeders in the Badger State. The breeder you're about to meet will immediately knock you off your feet with their exceptional quality.
Supremo Cane Corso
Whenever I'm trying to find you a list of great dog breeders in the USA, I do thorough research. Let's face it: the United States has more dog breeds and breeders than you can imagine. Usually, I have no problem finding reputable breeders of certain breeds.
Well, up until now.
When it comes to people who breed Cane Corsos, only one name pops up on the radar. At least, a name worth checking out.
Believe it or not, Wisconsin doesn't have many Cane Corso breeders. There are a bunch of pet shops, and a few unreliable kennels that sell all kinds of pooches, but no real Corso breeders!
Supremo Cane Corso is the only Cane Corso breeder in Wisconsin you can trust. And, just like their name says, they're truly supreme examples of this ancient breed.
The story behind Supremo Cane Corso began 15 years ago. It took a lot of time, devotion, learning, and knowledge to get these guys where they are today: the best Cane Corso breeder in Wisconsin!
What makes this breeding team even more special is the fact that they're focused on breeding and raising only antique, rustic-style Cane Corsos. Supremo Cane Corso wants to extend the line of 100% purebred antique Cane Corso dogs in the United States.
Since the early days of Supremo Cane Corso, their goal has been to become a premium Cane Corso breeder in the entire USA. The goal is almost met. Supremo Cane Corsos are of superb intelligence – they're muscular, bulky, and eager to work. What else can you wish for from a dog?
Oh, right! Loyalty! They've got that covered, too.
Your new Cane Corso boy or girl will either be a fierce protector or a superstar of the conformation shows. But, there will be differences in terms of price.
Companion Cane Corsos are a bit cheaper. You'll need to pay $4,000 for a pet-quality Supremo Cane Corso. The deposit is mandatory, and it's $1,000.
Show-quality dogs always cost more. They go for $5,000, with the same deposit amount.
Supremo Corsos will be sold to you under an agreement that they will never be used as breeding stock. You are not obliged to spay or neuter the puppy once he's older, but you are obliged to follow their no-breeding rule.
All puppies come with their tail docked and their dewclaws removed. They're also vaccinated, dewormed, microchipped, and come with a 26-month health guarantee.
If, by any chance, you want a Supremo Cane Corso with full AKC rights, you will have to pay the hefty amount of $7,500, with a $2,500 deposit.
I know these amounts are pretty high, but with this dog breed, it's "go big or go home". At least you know that when you get a Supremo Corso, you're getting the best possible quality.
With Supremo Cane Corsos, you don't have to worry about anything. Just pick a cool Corso name!
Breeder's Details
Website: Supremo Cane Corso
Address: Little River Road, Marinette, WI 54143
Phone: (920)-228-1593
Email: [email protected]
FAQs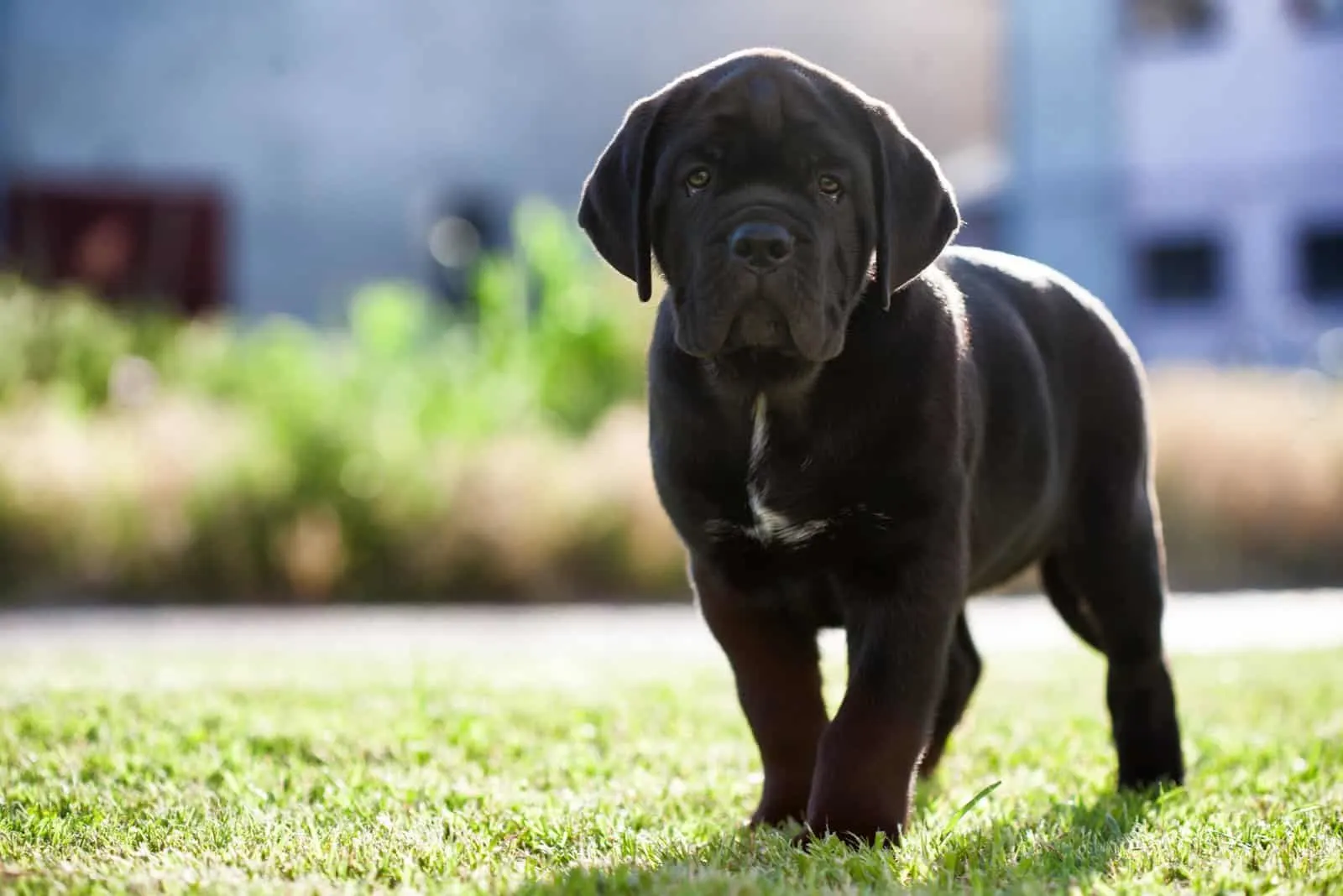 How Much Should A Cane Corso Puppy Cost In Wisconsin?
This is where things get tricky.
As a relatively small state, Wisconsin doesn't have many good Cane Corso breeders I can recommend to you. As a matter of fact, there's only one breeder worth mentioning that actually cares about their dog's well-being.
Supremo Cane Corso puppies are expensive. But, that's the case with this dog breed in the entire country. This is an expensive dog breed that you won't see in your local doggy park all the time. It's natural for a Cane Corso to cost over $3,000!
To be specific, a pet-quality Cane Corso will cost you $4,500, while a show dog goes for $5,000.
There's always a significant difference in terms of price between companions and conformation dogs just because conformation dogs have to meet certain standards required by judges. And, let me tell you something: not every dog can meet them.
All in all, if you want a Cane Corso puppy and you live in Wisconsin, you will have to be generous with your money or simply try your luck elsewhere.
How Do You Spot A Breeder You Can Trust?
Sadly, I've seen so many unreliable breeders, kennels, and pet shops in my life that I know how to spot one in the blink of an eye. And, I'm going to teach you how to spot them yourself.
The first thing you should know is that I, personally, will never recommend you buy a puppy of any breed from a hobby breeder, a pet shop in a mall, or someone who sells only for the sake of profit.
I've seen many people recommending Petland Racine as a good source for buying Cane Corso pups. They cover everything in Wisconsin from Milwaukee, to Kenosha, Madison, Green Bay, Janesville, etc.
I don't know what to think about this place. I get that they do vaccinate their animals, they're free of parasites, and they are checked by a vet. But, what about health guarantees? Who can vouch that a Cane Corso puppy you buy today won't end up with severe genetic issues?
Take my advice and better save some cash for someone who actually knows what they're doing.
Here is some of my other advice on how to know if a breeder can be trusted or not.
One Breed Only
Reputable breeders of the Cane Corso Italiano will breed and raise only Cane Corso puppies. No other dog breed like Cockapoos or Dachshunds will be available with such breeders. I mean, it's nonsense to mix the breeding of completely contrasting dog breeds.
Next time you see a bunch of other dog breeds listed on the website dedicated to the Italian Mastiff, think twice before you pick up the phone!
Questions And Answers
A reliable breeder should ask you questions. A good breeder will expect questions from you, too.
Think of this as small interviews you two must pass in order to get a new canine family member ready for adoption.
First, you should ask your chosen breeder all sorts of questions about the puppy's parents, its health screenings, guarantees they have for the puppy, what kind of treatments they conduct on their puppies, how their puppies are raised, are they socialized, etc.
Basically, ask everything you want to know about your puppy.
Not providing you with information, denying health certifications, or simply not allowing you to visit their facility are huge warning signs. I suggest you don't choose such people.
Of course, a good breeder wants to make sure you're a good fit for their puppies. No honest breeder would like to see their puppies end up with someone who doesn't care about them, their health, or even their eating habits.
So, questions and answers coming from both sides are more than welcome – keep that in mind.
Waiting List
When it comes to adopting a puppy, seeing these two words together is the worst thing anyone can see. Or, is it?
I know you can't wait to get your hands on your new puppy, but being on a waiting list isn't necessarily a bad thing.
You see, reputable breeders breed only a few times a year. This gives them only a handful of litters. A female Cane Corso can't carry too many puppies. There are only four to six little ones in a litter.
That's a really small number of available puppies. If you want one, you will have to pay a deposit and wait until the litter is available.
The high demand may put you somewhere on the list, but if you stay patient, you'll soon get your new puppy.
Top 5 Reasons Why You Need A Cane Corso In Your Life!
The American Kennel Club classifies the Cane Corso as a working dog / guard dog. But, these lovely doggos are so much more than that.
The first reason why you need a Cane Corso in your life is because they have a heart of gold!
Along with their golden heart comes an intimidating look that makes them perfect guardians.
Cane Corsos are very quiet dogs, even though they're so huge.
These dogs are super confident and are a delight to live with. Well, especially since they shed minimally and are so easy to take care of.
As you can see, these are pretty valid reasons why a Cane Corso is the right dog for you. Don't worry… they only look dangerous. With proper socialization, these big doggos are as sweet as Poodles!
Top 5 Reasons Why A Cane Corso Might Not Be For You!
Okay, not everything is so sweet with a Cane Corso. Of course, there are some downsides you must be aware of!
First things first – Cane Corsos are simply big dogs that require lots of space. So, adopting one into a crowded apartment without a backyard isn't a brilliant idea.
Cane Corsos are very energetic pups. They need their space and they need their exercise time!
Do you know what happens when they don't get enough exercise? Corsos become bored, and thus, destructive.
The worst possible outcome of boredom and destruction is aggression. Even though Corsos are not aggressive by default, they are still pretty much prone to it if not trained well.
Lastly, I want to warn you that you're getting a dog breed that can be very stubborn! What is worse than a stubborn dog? Nothing!
These are only warning cues that shouldn't scare you away from adopting a Cane Corso. Just think these through and don't make decisions too easily. Take your time to see if this is the right breed for you.
Cane Corso Breeders In Other States
I'm really sad there are no more good Cane Corso breeders in Wisconsin, but it is what it is. Luckily, the neighboring states have a pretty good choice of Cane Corso breeders. If Supremo Corsos are too expensive for you, or if they simply have no puppies available, try the following breeders:
Cane Corso breeders in Illinois
Cane Corso breeders in Pennsylvania
Cane Corso breeders in Florida
Cane Corso breeders in California
I hear Ontario Cane Corso breeders are also quite good, as well as Corso breeders in the UK. A little trip across the pond won't hurt if it will bring you closer to your canine soulmate.
To Sum Up…
So, that's really all, folks!
We may not have tons of Cane Corso breeders in Wisconsin, but we do have one terrific source we can trust. The one and only Cane Corso breeder in this state is a breeder that will 100% do their best to make you satisfied with their services.
Supremo Cane Corso is focused only on being the best, and, truth be told, they really have been the best for the past 15 years! Their ICCF Cane Corsos are not only supreme conformation pups, but they're excellent guard dogs, loyal buddies, and even better family members.
From brindles to gray or black Corsos, no matter what they look like outside, Cane Corsos are all undeniably wonderful dog friends!
Related Articles:
• Cane Corso Breeders in Arizona
• Cane Corso Breeders in Minnesota