Choosing to become a pet owner is a big decision. However, when you decide to buy a dog as large and intimidating as the Cane Corso, things get all the more tricky.
The Cane Corso is a big, strong dog breed, which is why not many people dare to take these pups on. However, with proper training and socialization, these canines can make great family companions.
These Italian dogs are loyal and protective, and they'll do whatever they can to make sure their owners are safe from harm. They make amazing guard dogs, and their loyalty is the main reason they are adored by dog lovers.
However, if you live in TX, one way to ensure you get the best dog possible is to buy from reputable Cane Corso breeders in Texas.
Cane Corso Puppies For Sale In Texas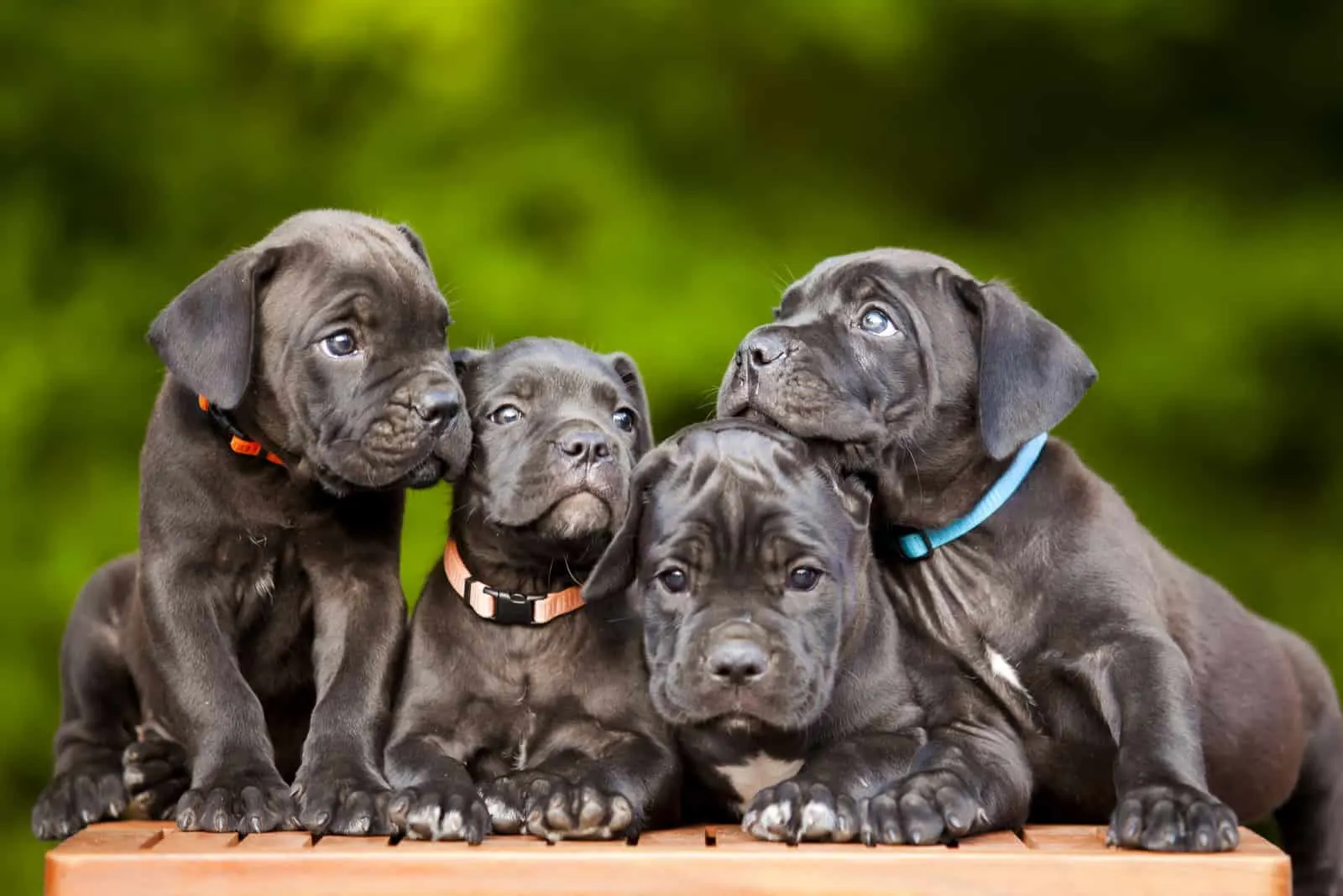 When looking for Cane Corso puppies for sale, chances are you'll run into several listings. You will likely spend more time looking at affordable ones, and there is nothing wrong with that.
Still, we urge you to wait and read the rest of the article, as there is a reason you shouldn't want to go cheap on pets. Buying from the right breeder can ensure you have a healthy, well-behaved dog.
However, picking the right breeder can be a challenge, especially if you don't know what you're looking for. Many aspiring dog owners think that breeders aren't important and that they only want to take your money for something that seems to be very easy.
Despite what these people think, breeding Cane Corsos isn't an easy task, and not many breeders can do it right. This can have dire consequences for the dogs and their owners alike. Because of this, choosing a responsible breeder is of utmost importance.
There are many Cane Corso breeders in Texas, but not all are equally professional. To help aspiring owners out, we've done some research and compiled a list of the best breeders in your region.
If you're planning on becoming the owner of a Cane Corso puppy, this is what you need to know:
7 Best Cane Corso Breeders In Texas
According to the American Kennel Club (AKC), the Cane Corso dog is tall, heavy, and strong, making it a great family protector.
These dogs have ancestors from the time of Ancient Rome, and they are related to the Mastiff breed. In fact, some people even call them Italian Mastiffs.
Due to their size and history as battle dogs and guard dogs, they are difficult for hobby breeders or inexperienced people to breed properly. No matter what state you live in, from Arkansas to California, you have to look for reputable breeders who know how to deal with such powerful dogs.
We've compiled a list of many good Cane Corso breeders in Texas to help people in this area find a great puppy for their household.
Here's what we've found:
1. Cane Corso Breeders In Houston, Texas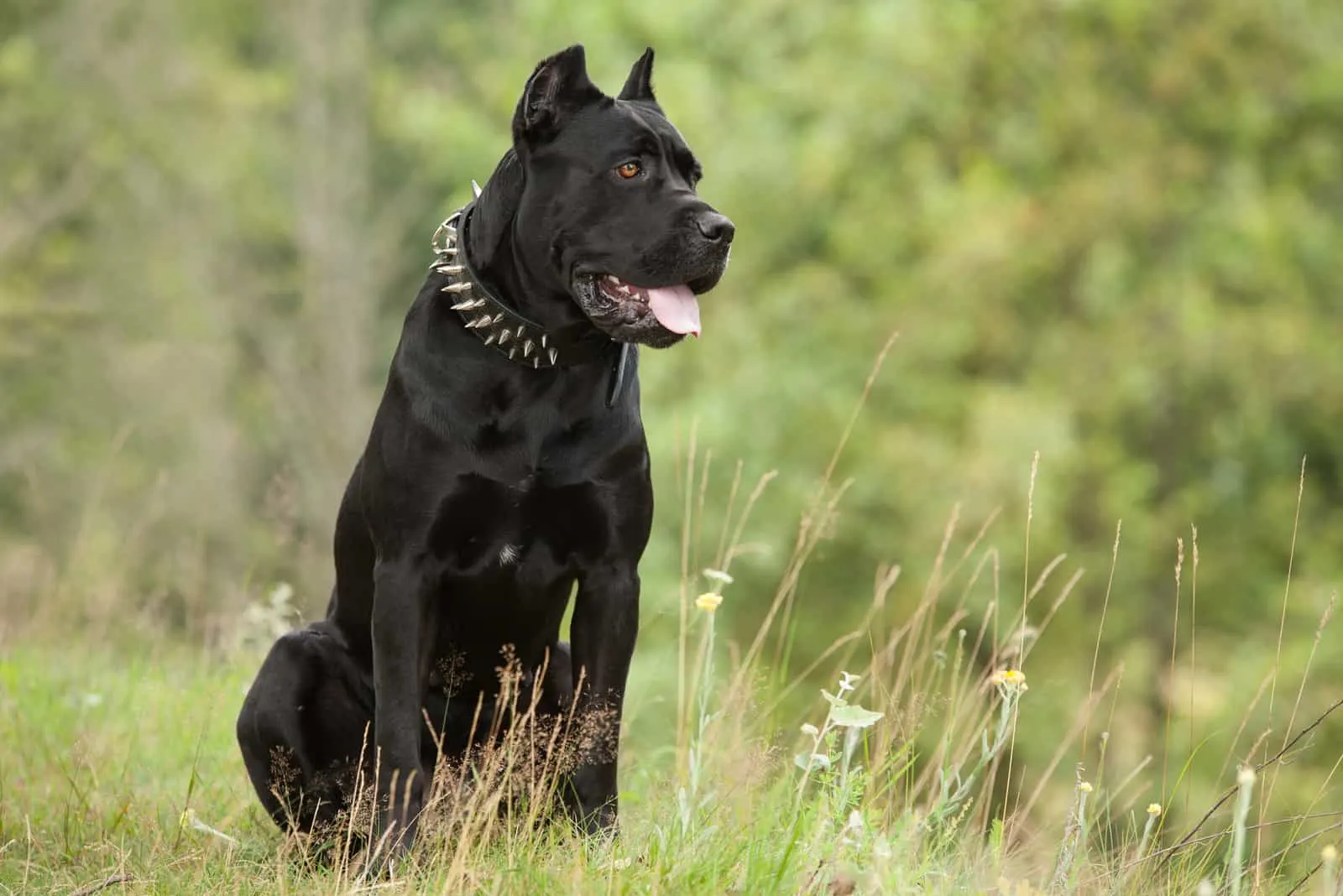 If you are looking for Cane Corso breeders in Texas that are located near the Houston area, you might want to check out Star Cane Corso. This breeder has more than 20 years of experience in breeding Cane Corso puppies.
They carefully choose all of their male and female Cane Corsos, making sure all of their dogs follow a strict breed standard so they can deliver top-quality Cane Corso puppies.
Many of their male Cane Corsos have been champions in the show ring, so if you're looking for a show-quality dog, look no further. At the same time, they make sure their pups can be devoted family pets, so they are a great choice no matter what kind of Cane Corso dog you're looking for.
All of their dogs come with a health guarantee, are dewormed, and are up to date with all necessary vaccinations for their age. They also make sure all of their puppies are socialized and familiar with various different environments, sounds, and smells. This helps them deal with transitioning to their forever homes easier.
Email: [email protected]
2. Cane Corso Breeders In Montgomery, Texas
If you're from Montgomery county in Texas, then you might be interested in Royal Guardian Cane Corso breeders who are located in Willis.
They are a family kennel that is in the breeding game for the love of the breed. They think of their dogs as family members and even have their young son involved in raising their dogs and taking care of them.
They are very selective about their breeding stock because they want to stay as true as possible to the original Cane Corso Italiano or Italian Cane Corso bloodlines. Many of their retired females live at the kennel as family pets, and they shower them with love and care.
In fact, when writing this, Royal Guardian Cane Corsos only had two breeding females. As you can guess, this means they only produce a few litters per year, which is why the waiting lists are fairly long.
Other than waiting for your Cane Corso puppy, every prospective owner has to go through the adoption process. This starts with a phone consultation, where someone from the kennel will ask you some basic questions that will help them determine whether you are prepared for a new puppy.
Not just that, but during the consultation, they'll try to build a relationship with you, so they can see what kind of dog might be a great fit for you.
If this goes well and both you and the breeder decide that you want to go on with the puppy purchase, you'll be asked to pay a deposit. This will place you on the waiting list. Once the Cane Corso puppies are born, you'll be able to choose a puppy – with another consultation with the breeder, as the goal is to find the best puppy possible for you.
If you live in Texas or the surrounding states, you can arrange for home delivery. However, this will cost you extra.
Website: Royal Guardian Cane Corso
Social Media: Royal Guardian Cane Corso Facebook
Email: [email protected]
3. Cane Corso Breeders In Dallas, Texas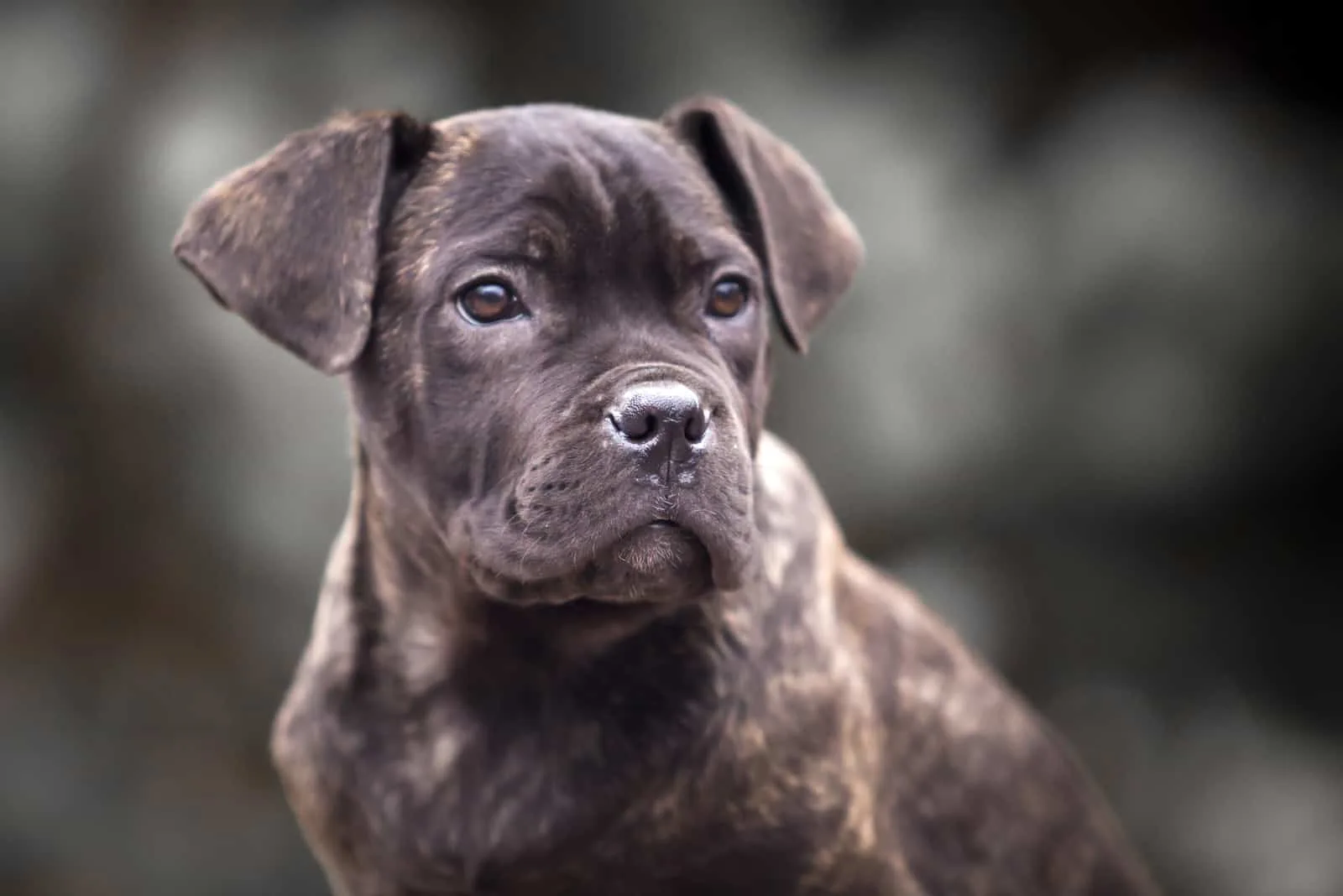 Dallas is home to one of the biggest Cane Corso breeders in Texas: Phantom Corsos. In fact, this might be one of the most reputable Cane Corso breeders worldwide. Their dogs have won many championships, including even the Westminster Best of Breed.
They are a breeding operation serious about breeding top-quality Cane Corsos that are true to the breed standard followed by European, most notably Italian, Cane Corso breeders.
However, following body conformation isn't the only thing they are thinking about. They also take the dog's temperament into consideration, so their dogs can be fit for most family environments.
Not just that, but having a well-behaved dog is the best way to ensure these dogs live long and healthy lives and fulfill their purpose, which is to protect their owners.
They have several males and females in their breeding stock. Thanks to this, they usually have a litter or even two with puppies available for purchase. Despite this, they can have waiting lists, although they are usually not as long as some smaller Cane Corso breeders.
All of their dogs come vaccinated, dewormed, with pedigrees and confirmation of health tests that have been done to prove their dogs are healthy and free of most health problems that this breed can struggle with.
Just like most other breeders we'll mention further on, they have the right to deny any application if they don't think you're the right fit for their dogs.
Website: Phantom Cane Corsos
Social Media: Phantom Cane Corsos Facebook
Email: [email protected]
4. Cane Corso Breeders In Austin, Texas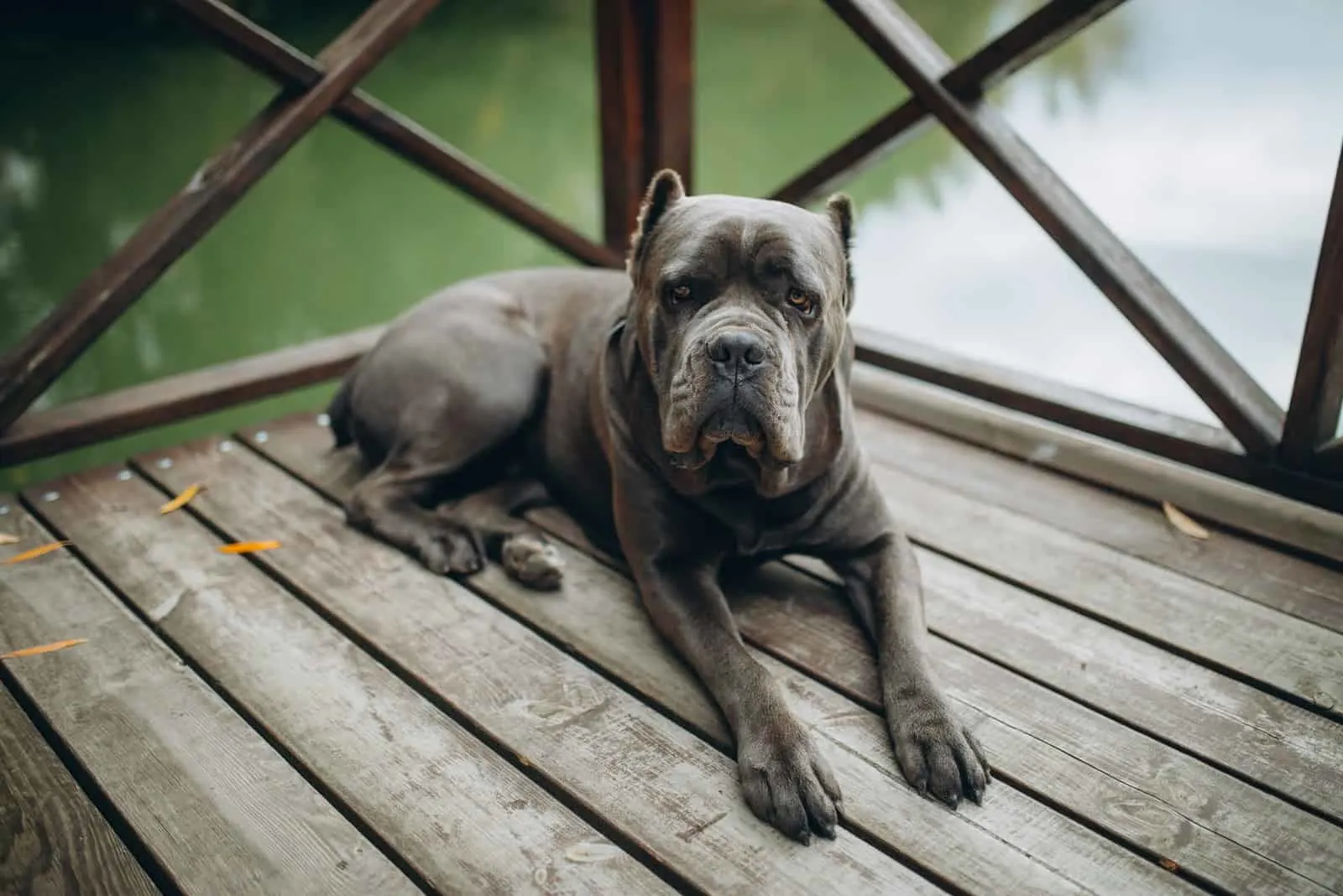 If you live in the Liberty Hill area near Austin, then you'll be glad to hear that one of the best Cane Corso breeders in Texas can be found near you: Senza Tempo Cane Corso Texas.
While the founders of Senza Tempo Cane Corso proclaim themselves as a hobby breeder, most Cane Corso kennel clubs consider them to be among the professional breeders in the region. This is because they have outstanding breeding programs and do all they can to produce high-quality puppies.
They have sourced their Cane Corso female dogs and studs from various other reputable dog breeders in Texas but also from other states. Their goal is to preserve the original Cane Corso bloodlines and give them the best health and temperament possible.
In fact, their biggest desire is to produce dogs with a stable temperament, ideal for the family environment. Many potential dog owners hesitate to buy Cane Corsos because they fear that these dogs won't do well in a family setting, but this doesn't have to be the case, and Senza Tempo Cane Corso helps with this.
At the same time, they don't want their dogs to lose their muscle tone and breed conformation. They also want them to stay as protective as their ancestors so they can be great guard dogs. To do so, they ensure their dogs are trainable.
Because of all of this, the Cane Corso puppies from this kennel are very loyal and easy to train. If you'd like to participate in dog shows, this is also possible, as all of their dogs follow the show dog breed standard.
To adopt from Senza Tempo Cane Corsos, you have to fill in an application form to let the breeders know that you are a good enough owner for their dogs. The application is very detailed, and you can be denied. In other words, even if you can afford the dog, you might not be able to get one if the breeder doesn't deem you responsible enough.
At the same time, the breeder wants to make sure that none of their puppies come with breeding rights. You won't be able to legally breed their dogs.
As for picking the right dog, you'll be able to pick the puppy in the order they receive the deposit. However, the price of the deposit, as well as the price of their Cane Corso puppies for sale, isn't disclosed, and this is something they'll tell you if your application is approved and you are eligible to buy.
Website: Senza Tempo Cane Corso
Social Media: Senza Tempo Cane Corso on Facebook
Email: [email protected]
5. Cane Corso For Sale In El Paso, TX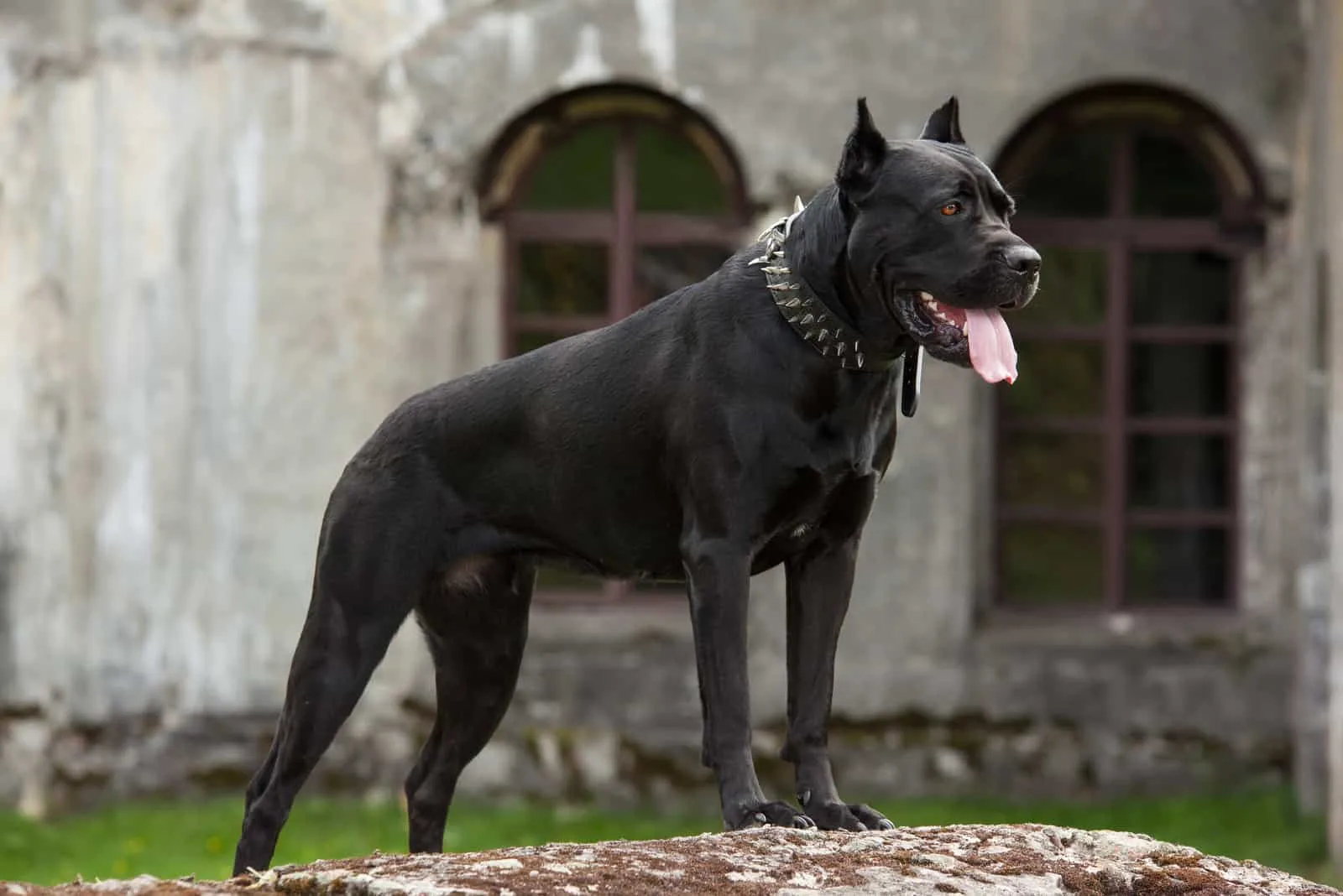 Many people from El Paso are wondering where to find Cane Corso puppies for sale. Overall, their best option might be to look at PuppySpot.
PuppySpot is a beginner-friendly website dedicated to aspiring dog owners that contains lists of ethical and reputable Cane Corso breeders. They are a great place to start looking for Cane Corso puppies for sale.
PuppySpot helps you search for your desired dog based on many filters, including not just location, but things such as the dog's age (puppy, adult, or senior), color (black, brindle, fawn, everything is possible), and other factors that might be of interest to future owners.
You can also choose between purebred dogs, such as Cane Corsos, or mixed breeds, such as the Cane Corso Husky mix. You can even search for hypoallergenic dogs, although don't expect to find Cane Corsos on this list.
If you're worried about running into puppy mills or backyard breeders, rest assured that PuppySpot requires all breeders on the platform to go through a screening process and be on the AKC and USDA-approved listing.
6. Cane Corso For Sale In East Texas
East Texas doesn't have many reputable breeders in the area. However, this doesn't mean you cannot find Cane Corso puppies for sale here. Your best option is to look online on sites that help owners buy dogs from well-known places that have been verified.
Fortunately, there are several sites to find Cane Corso breeders in Texas that will ship dogs to your address. This includes:
• Adopt-a-Pet: This is a reputable website that helps you search for various pets for adoption and to buy. It has helped many dog owners connect with their future pets.
• AKC Marketplace: This is the official listing of breeders and puppies held by the AKC. All breeders are AKC verified, so this is as safe as it can get for people wanting to buy healthy and purebred Cane Corsos.
• PetFinder: Yet another reputable source for finding pets for sale. Its search results are used by many third-party sites.
• PuppyFind: This website contains lists of breeders that fall into the criteria you'd like. For example, you can look for the Cane Corso breed and breeders located in Texas. However, other than providing you with the breeder's information, the site doesn't help with the purchase.
7. Cane Corso For Sale In North Texas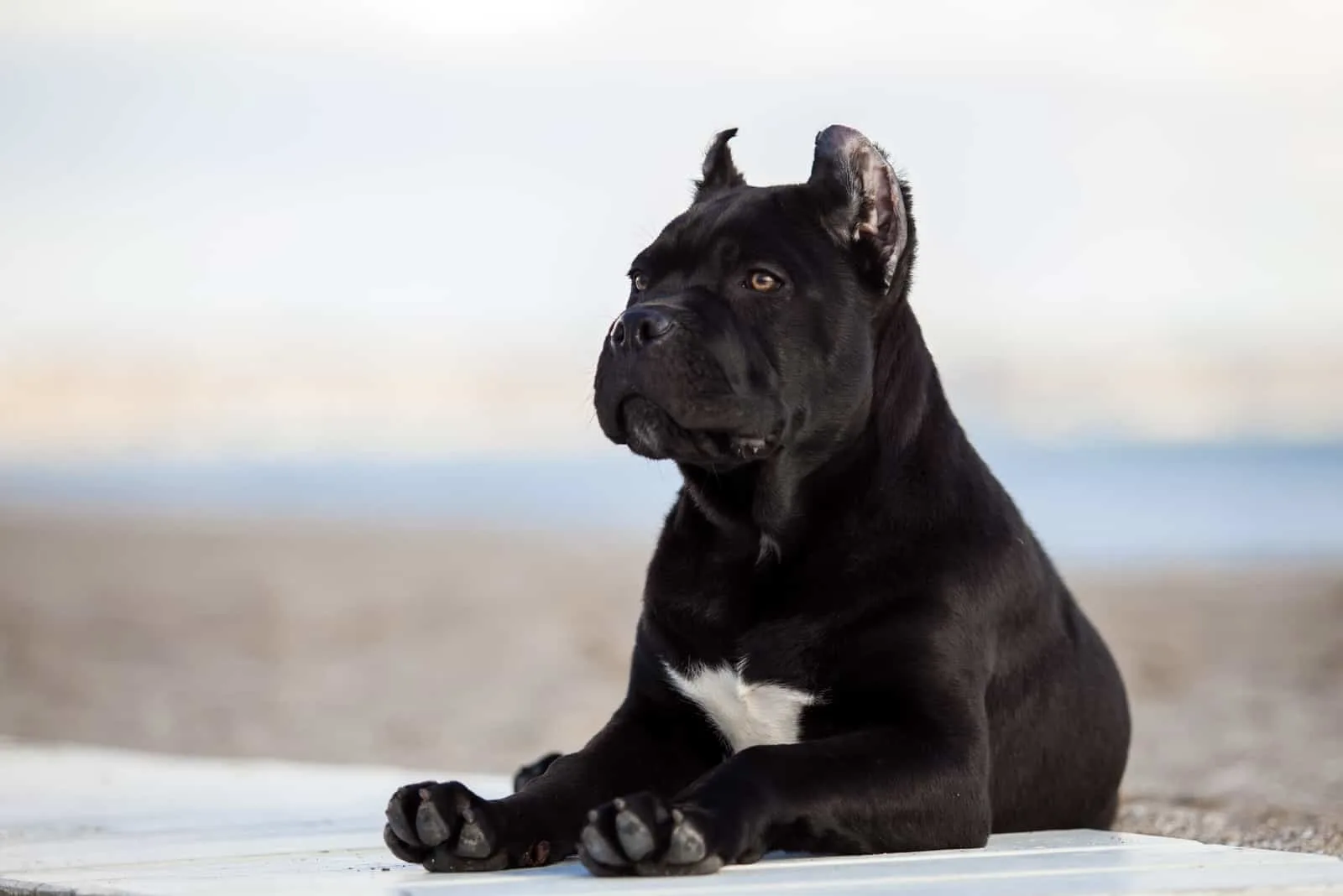 While there are many Cane Corso breeders in North Texas, if you live near the border, your best option might be to buy Cane Corsos from Corinthian Corsos in Oklahoma.
These breeders are anything but hobby breeders. In fact, they are easily some of the most professional breeders you can find. They are very active on the show circuit and produce show-quality dogs that leave everyone breathless, and they have produced several grand champions.
Corinthian Corsos have a very selective breeding program and try to better this breed by producing Cane Corso pups of the highest quality. Their goal is to follow the breed standard of the original Italian Cane Corsos.
To adopt from Corinthian Corsos, you'll have to fill out the application form to make it onto the reservation list. However, you can still be denied, even if you fill out the form.
The breeder has every right to deny you if they deem you unfit for their dogs based on the information you provide them. This is because they want their dogs to be part of your family, and they won't sell just to anyone.
Cane Corsos are powerful dogs that are often misunderstood. As such, if they go to unfit homes, they are likely to end up in a shelter, rescue, or even on the street. In fact, Cane Corsos are one of the dog breeds that are most likely to end up abandoned.
Not just that, but Texas is one of the states with the highest euthanasia rates, and so-called dangerous breeds are among the dogs that are most commonly put down.
To prevent this, many Cane Corso breeders in Texas – including Corinthian Corsos – don't allow people they don't think can handle this mighty dog breed to purchase from them. Their goal is to find families that are the right fit for their dogs so they can make sure none of their dogs end up abandoned.
The details about the price and requirements for adoption are available once you fill out the application form or get in touch with them via the contact form on their site.
Website: Corinthian Cane Corso
Where To Find Cane Corso For Sale In Texas?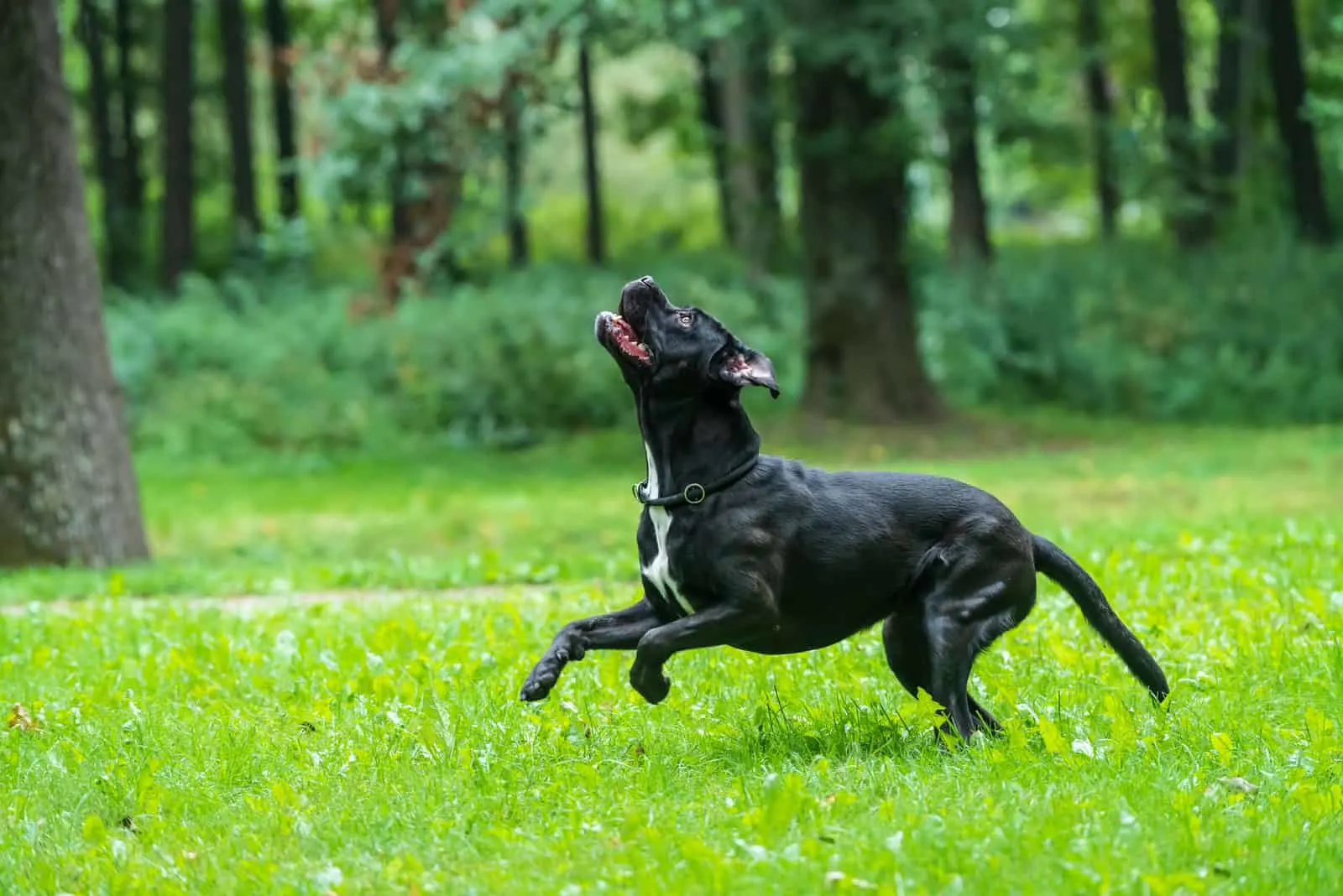 We've listed Cane Corso breeders in Texas that might interest you. Many of them sell their dogs at a high price, but don't let this fool you. There is a reason behind their high price.
All of the breeders we've listed are not only reputable in buyer and Cane Corso lover circles but all are also recognized by at least one major canine club, such as the AKC or Italian Cane Corso Federation Registry (ICCF).
You can always buy from backyard breeders, but there are many risks that come with such a purchase. This is because backyard breeders usually don't have any experience with breeding dogs. In fact, most have ended up with an unwanted litter they now want to sell.
While backyard breeders sell their dogs at a low price, they don't conduct any health tests on their dogs. In fact, there is even no way of knowing whether you are getting a purebred dog or a mixed breed!
While this might seem unimportant, not knowing the health background of the dog you're purchasing can have dire consequences. In the end, what you don't pay for the initial purchase, you might end up paying in medical bills.
Another option is to buy from pet stores or puppy mills. Pet stores are a great place to buy dog food, dog beds, collars, toys, and similar dog essentials. However, they are a terrible place if you are looking for Cane Corsos for sale.
Puppy mills don't care about the health of their dogs. They see puppies as a way to earn money, which is why their only concern is to produce as many puppies as possible in the shortest amount of time. This can cause many health problems for both the puppies and the mother dog.
Pet stores get their dogs from puppy mills, which is why both should be avoided.
Are Cane Corsos Illegal In Texas?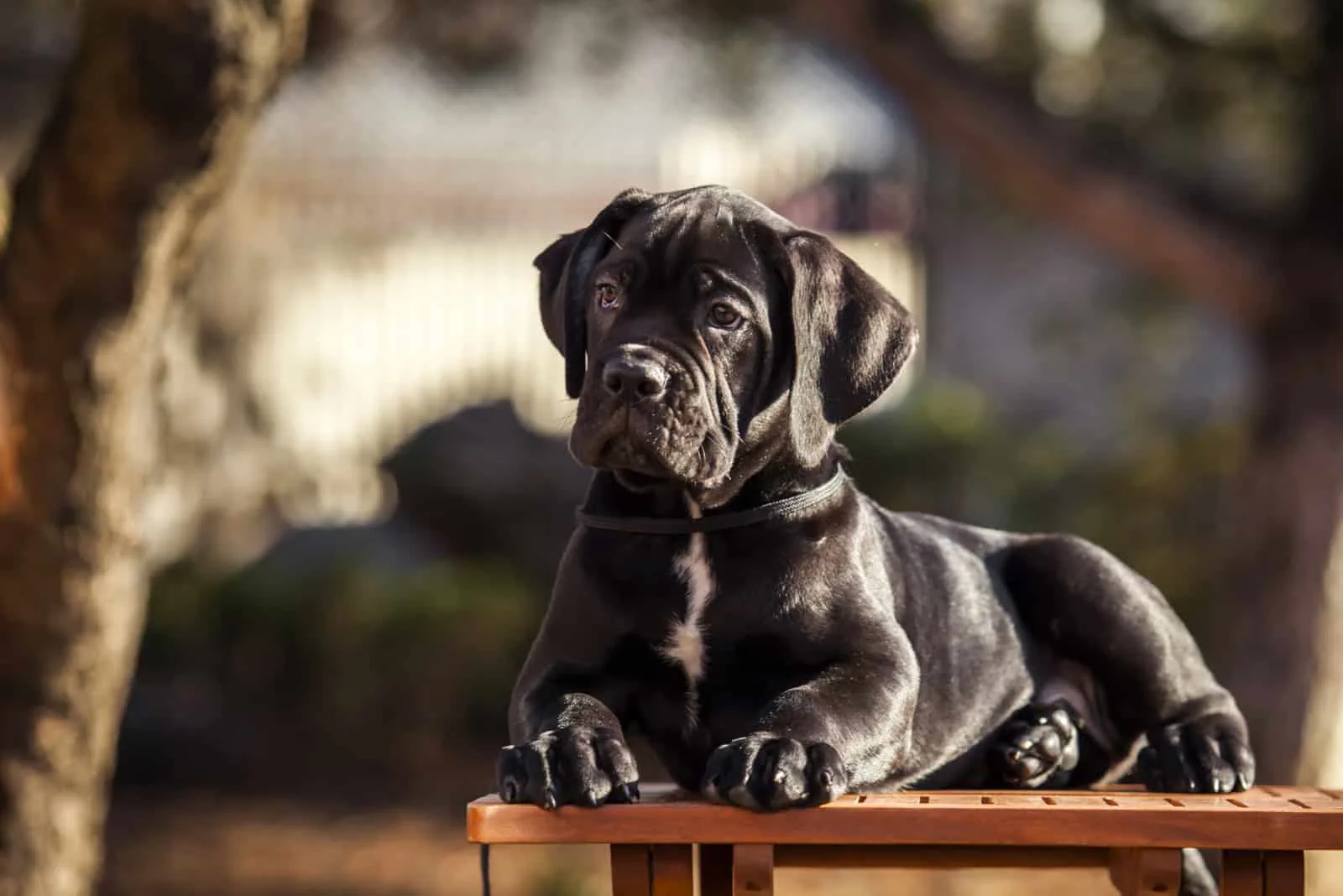 Due to their reputation and background, Cane Corsos are among the most banned dog breeds in the US. Similarly, Texas is among the states with the highest number of banned dog breeds according to breed-specific legislation.
Fortunately, Cane Corsos are not banned in Texas, making them a perfectly legal dog breed to own. There are no specific regulations considering Cane Corsos, which is great news not just for Cane Corso breeders in Texas, but for all aspiring Cane Corso owners.
Why Are Breeders Important?
Many dog lovers have prejudices against dog breeders. They consider them organizations that are only looking to earn money by overbreeding and selling highly-priced dogs, which is why there are so many dogs on the streets and in shelters.
However, this couldn't be further from the truth. Quite the opposite – reputable breeders can help keep dogs off the street. Many are a part of charitable organizations and participate in fundraisers to help not just the dog breed they sell but other similar canines.
At the same time, most responsible Cane Corso breeders in Texas care so deeply about their dogs that they'll take back the Cane Corso they've sold if that owner can no longer take care of their dog. By doing this, they make sure not one of their dogs ends up abandoned.
Breeders help the betterment of the breed by making sure all of their dogs are healthy and socialized. By doing this, they'll produce only the best dogs and even eliminate some common health problems that might've plagued the breed for generations.
Of course, this only goes for reputable, registered breeders. These breeders have proved time and time again that all they do is help both dogs and their owners.
Many dog owners opt for adoption, as this is the more humane way to become a dog owner. While this is true, there are a few things you need to know when considering adopting a mighty dog as the Cane Corso Italian Mastiff.
When you adopt a dog, you won't know its medical history. This is the same as when buying from backyard breeders, and it's the same no matter the dog breed.
More importantly, most Cane Corsos that have been abandoned have gone through some form of trauma, whether that is dealing with the loss of their owner or even abuse.
Unfortunately, this might leave them with behavioral problems inexperienced dog owners cannot deal with.
Because of this, we would always advise first-time Cane Corso owners to buy from a breeder who has already taken the first steps to socialize their dogs and help them achieve their best possible potential.
Related Articles:
• Cane Corso breeders in Ontario
• Cane Corso Breeders in New York