This post contains affiliate links, and I will be compensated if you make a purchase after clicking on my links.
Large dog breeds (German Shepherd, Great Dane, Doberman, Bulldog, Pitbull, Rottweiler, Cane Corso Mastiff) need sturdy collars that will last them through everyday games, and serve as dog training collars or as handy options for working dogs. They should be highly functional and usable in many situations. Most importantly, collars should be comfortable!
Although the Cane Corso can appear intimidating, we don't want to put something limiting on them like a dog muzzle. Dogs need their freedom, and they need to feel good all the time. Cane Corso dog owners often make mistakes by buying chains or prong collars. They're uncomfortable and even cause harm, especially if your dog is a puller.
Why don't we look together at our list of bestsellers on Chewy? We've got the top 13 choices, and one of them is the best collar for the Cane Corso sitting right next to you.
Country Brook Paisley Collar
Key Benefits:
Martingale style collar

Limited closure stop prevents the collar from becoming too tight

Adjustable tri-glide slide

Smooth polyester doesn't pull the dog's hair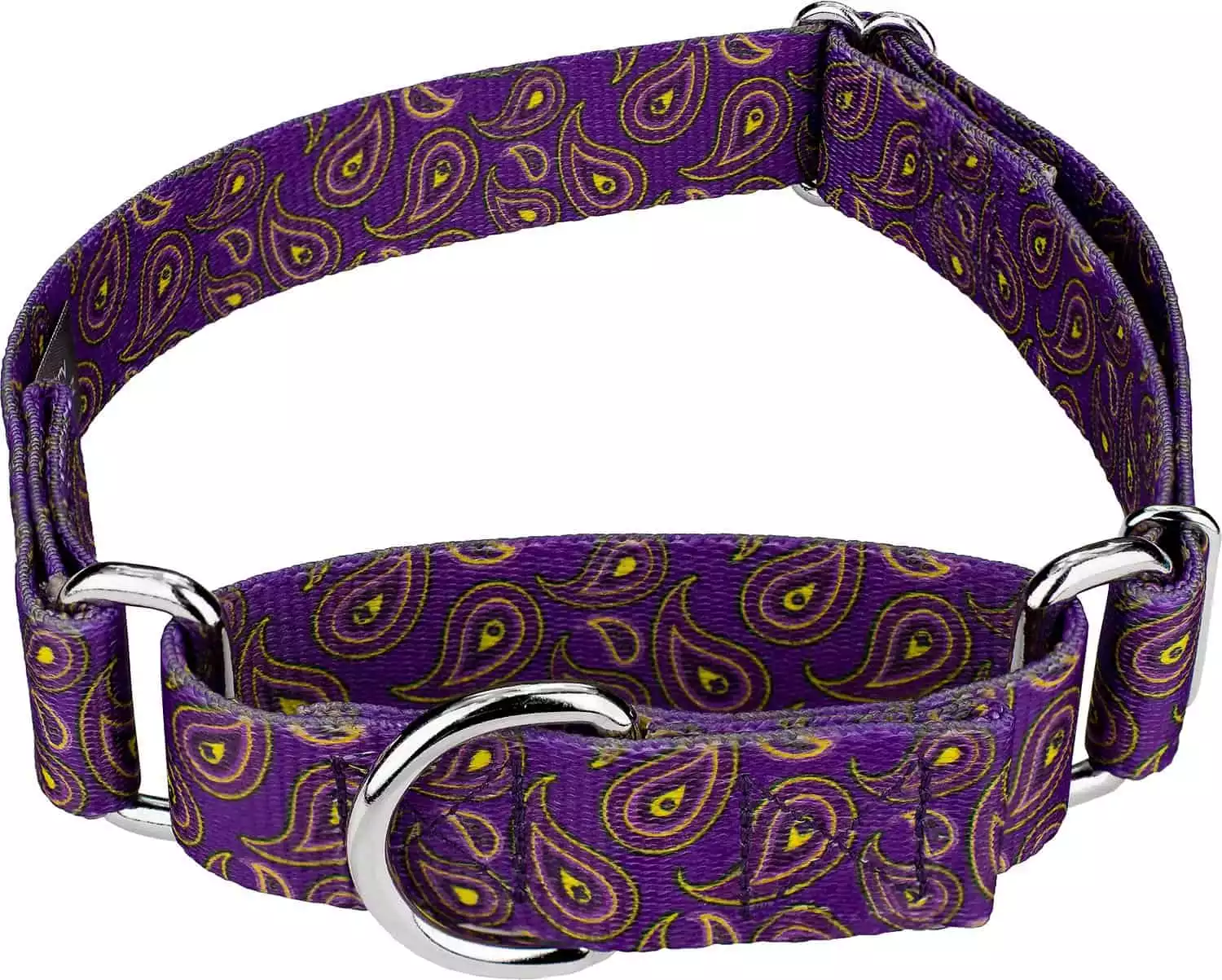 Who says the Cane Corso is a tough dog that doesn't need pretty things? Of course, they do, especially if you have a female Cane Corso! Then, this paisley collar, by Country Brook, would be the finest choice. This Martingale collar is more than a pretty accessory, and here's why.
For the cheap price of only $13.95, you get a Martingale collar that won't let your dog slip away or take it off easily. These collars become tighter when the dog pulls, and they only loosen up when the dog stops. This way, your stubborn Cane Corso will learn how to walk on the leash properly. The limited closure stops the collar from becoming too tight and hurting your dog. Together with an adjustable tri-glide slide, this Martingale just slips over your dog's head and stays there. There are no additional buckles or hardware.
The material used in the marking process is a smooth polyester that doesn't pull hair or irritate your pup's skin. The D-rings are covered in nickel, and are made to last. You can add your dog's ID tag by hooking it on a leash and you'll be ready to turn heads at the dog park.
Pet First NFL Collar
Key Benefits:
Features NFL teams and their logos

Adjustable size on a nylon-webbed collar

Strong and durable plastic buckle

Even comes in your team's colors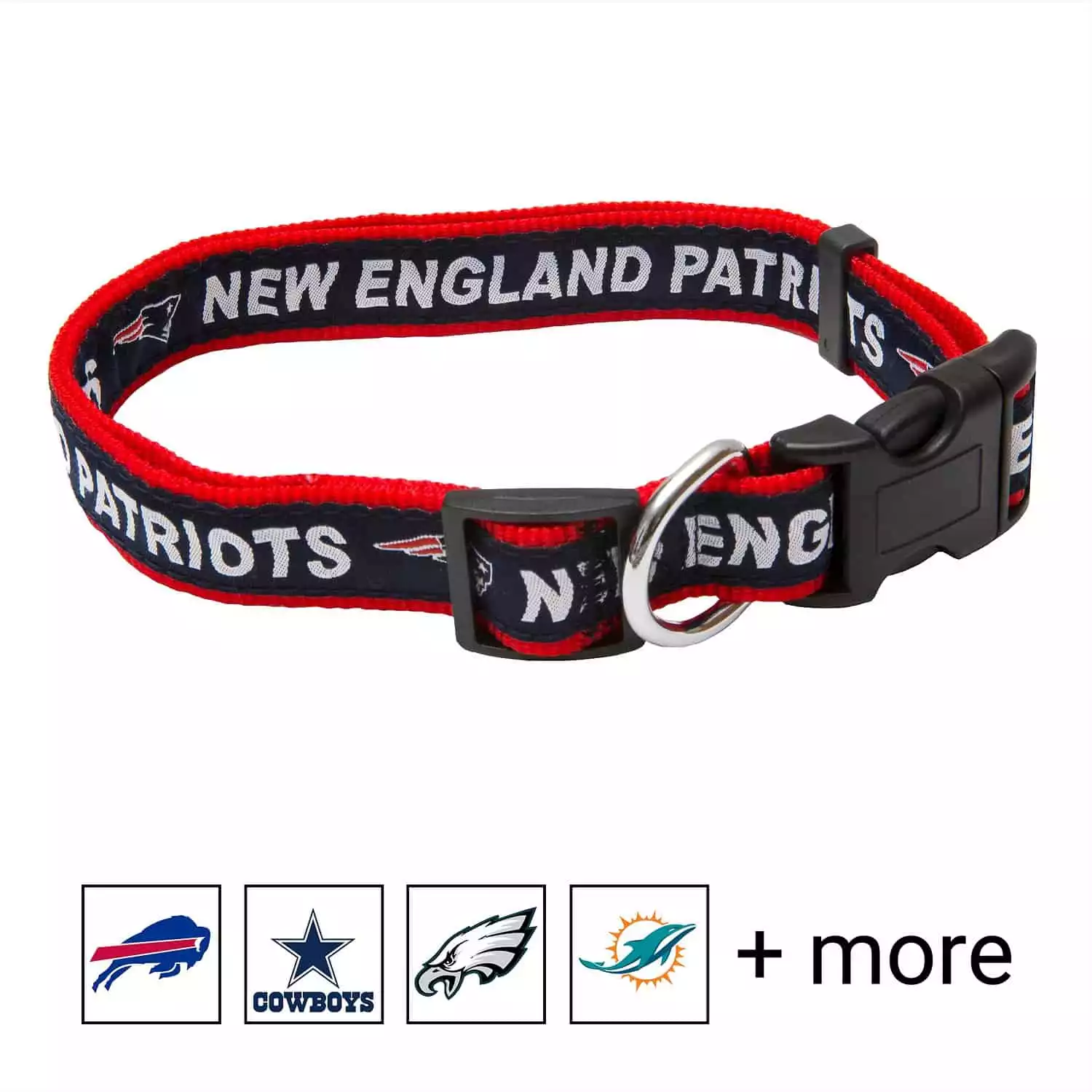 No matter if you love the Broncos, the Bears, or the Dolphins, chances are you will find the coolest collar for your Cane Corso on this link. Chewy presents to you the NFL collar, by Pet First – a dog collar every NFL fan must own!
This nylon-webbed collar is adjustable, and it carries the name of your favorite team, along with a sewn-on team logo. Now, your Fido can watch the game with you and cheer for his favorite team, too! The Pet First NFL collar comes with a plastic buckle for easy opening. The buckle is durable and strong, just like the silver metal D-rings. Each collar comes in your team's color, so the veracity is 100% true.
Just snap on a leash and head to the park. This collar is an excellent conversation starter… just make sure you don't talk to your team's rivals.
OmniPet Leather Bone Collar
Key Benefits:
100% genuine leather

Pretty bone studs

Nickel-plated hardware

Low price, extra quality, and durability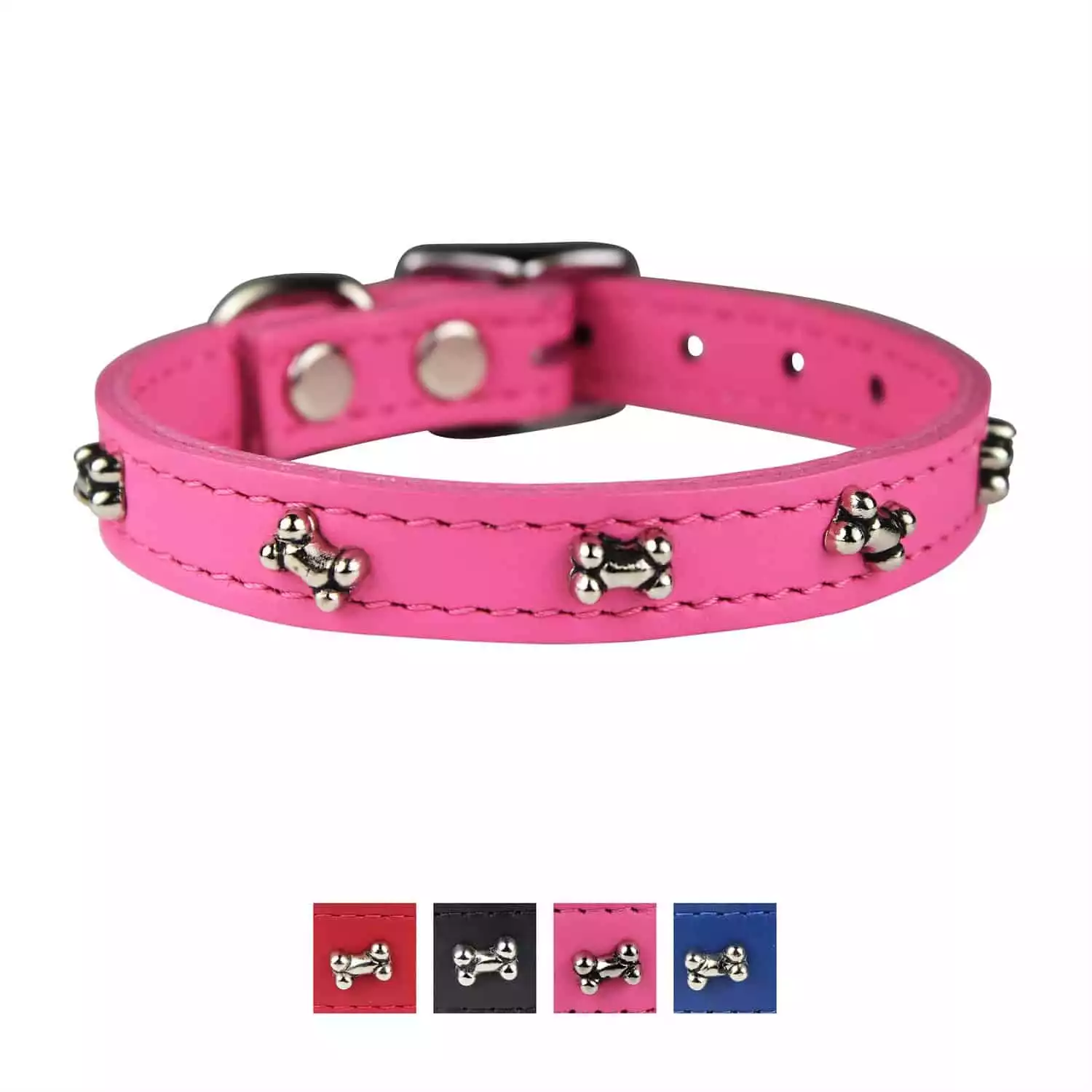 Cane Corso dogs and studded collars? Yes, please! Cane Corso dogs are intimidating at first, but once you see them wearing these adorable collars, you'll see they're quite approachable. The Cane Corso is as sweet as any other dog, especially if it's wearing the OmniPet Leather Bone Collar.
Large dog breeds need a high-quality collar, preferably a flat one. Why don't we make a simple leather collar a bit fancier and add little bone studs? Designed in four colors: pink, black, red, and blue; this OmniPet collar comes in 7 sizes, and it is the pawfect fit for your Cane Corso. The collar is made of 100% genuine leather. It's durable, with sturdy edges for everyday use.
The collar's hardware parts are nickel-plated, durable, and ready for you to put on your dog's ID tag and leash, and head out for new adventures. OmniPet sells high-quality collars for the ridiculous price of only $12.99. It won't hurt to give them a try!
Road iD The Rock Solid Collar
Key Benefits:
Ultra-strong woven nylon

High-visibility stitching

Laser-engraved silicone ID mold

Comes in four colors and three sizes

Let's face it: ID tags can be quite annoying, and they can get lost quite easily. That's why personalized dog collars are the innovative accessory that both owners and dogs need. The Road iD Rock Solid collar is made to last you a lifetime.
This collar is made of ultra-strong woven nylon and high-visibility stitching. You don't have to worry about your doggo being invisible to other people and dogs in low-visibility settings. For example, if you're on a walk and it's raining, wearing collars with Hi-Vis stitching will keep your dog safe.
As for the personalization part, the Road ID collar comes with a laser-engraved silicone seat molded to keep the ID firm and jingle-free. Your dog's name, your phone number, and all the other important information will stay put, and will never get erased. The collar comes in three sizes and four colors, including black, pink, green, and blue. There's a combination for every dog breed and size!
OmniPet Signature Collar
Key Benefits:
100% genuine leather

Sturdy stitching for everyday use

Comes in four colors and seven sizes

Pretty design featuring silver heart studs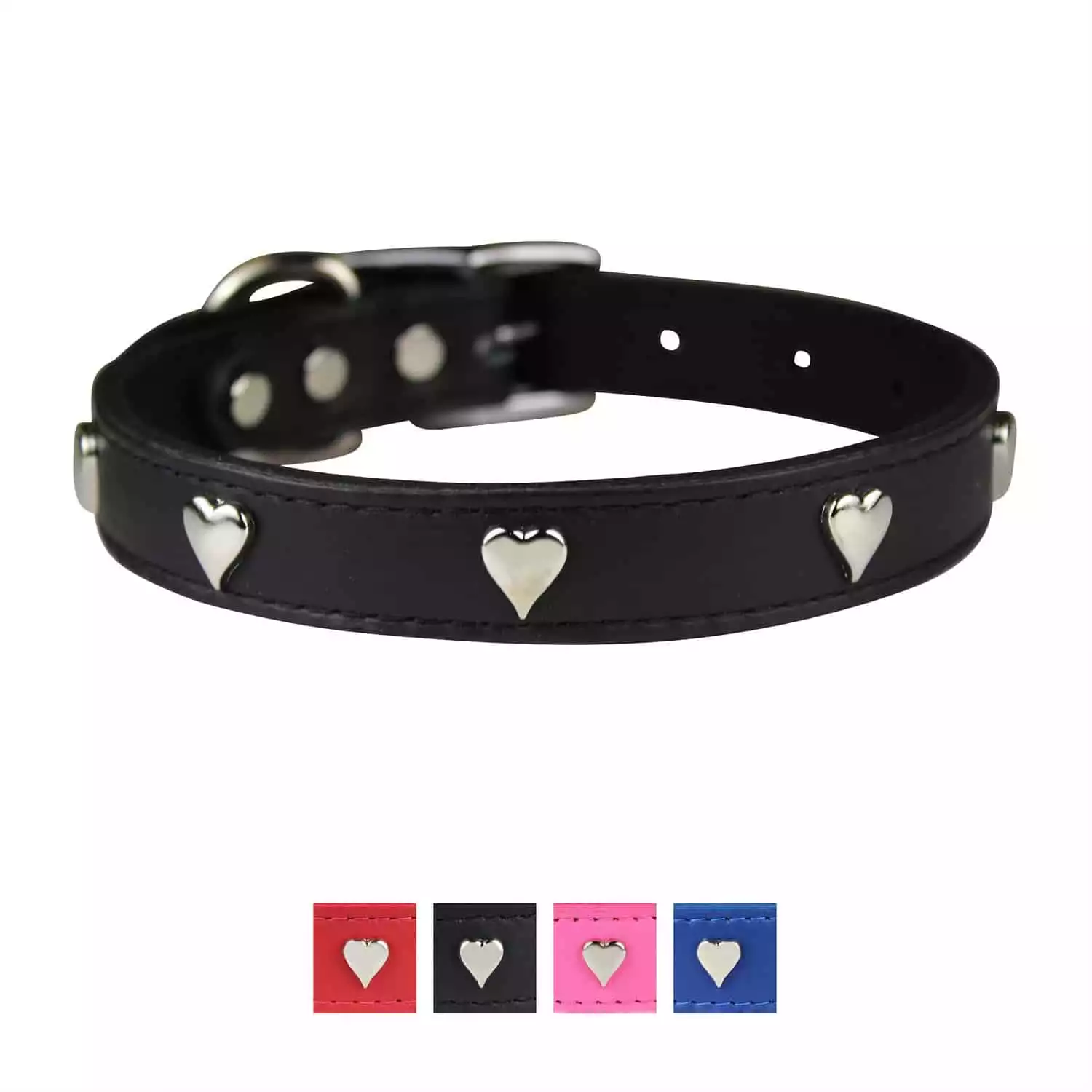 We've had little bone-studded collars… now, we have little heart-studded collars because Cane Corso dogs, especially females, deserve to feel pretty. With OmniPet's Signature collar, they'll feel more than just pretty.
This leather collar comes in black, red, pink, and blue… all fancied up with little silver hearts. It's suitable for all dog breeds and sizes since it comes in 7 amazing size variations. OmniPet makes its collars by using 100% genuine leather and durable, heavy-metal hardware. The collar's stitching is done with high precision and quality, made to last through everyday adventures.
This Signature collar will cost you $17.99, but every penny spent on it will be justified. You want a collar you won't have to change every few months. That's why OmniPet should be your #1 choice.
Nylon collars are extra durable, and should be everyone's first choice. They're also easy to clean and keep that way for a long time. GoTags know the true value of this material. That's why they've come up with a nylon reflective collar that can even be personalized.
The GoTags nylon reflective collar comes in black, blue, orange, pink, and red. There's a color option for everyone's taste. Choose the main color, then one of fourteen available thread colors, and add up to 25 characters as your dog's identification. The collar features a reflective strip, so your pup will be visible even in low-light settings or in heavy rain. Thanks to the side-release buckle, putting the collar on and off is a piece of cake. Pawfect for dogs that simply can't stay calm for a second!
Best of all, the nylon material is not only durable, but it's also machine washable and easy to stay clean. It's soft, it won't chafe or pull on a dog's hair, and it will fit comfortably on every neck size.
Editor's Pick
Red Dingo Vivid Collar
Key Benefits:
Comfortable PVC-coated webbing

Comes in 5 bright neon colors

Lightweight, but durable

Chrome-plated D-rings and hardware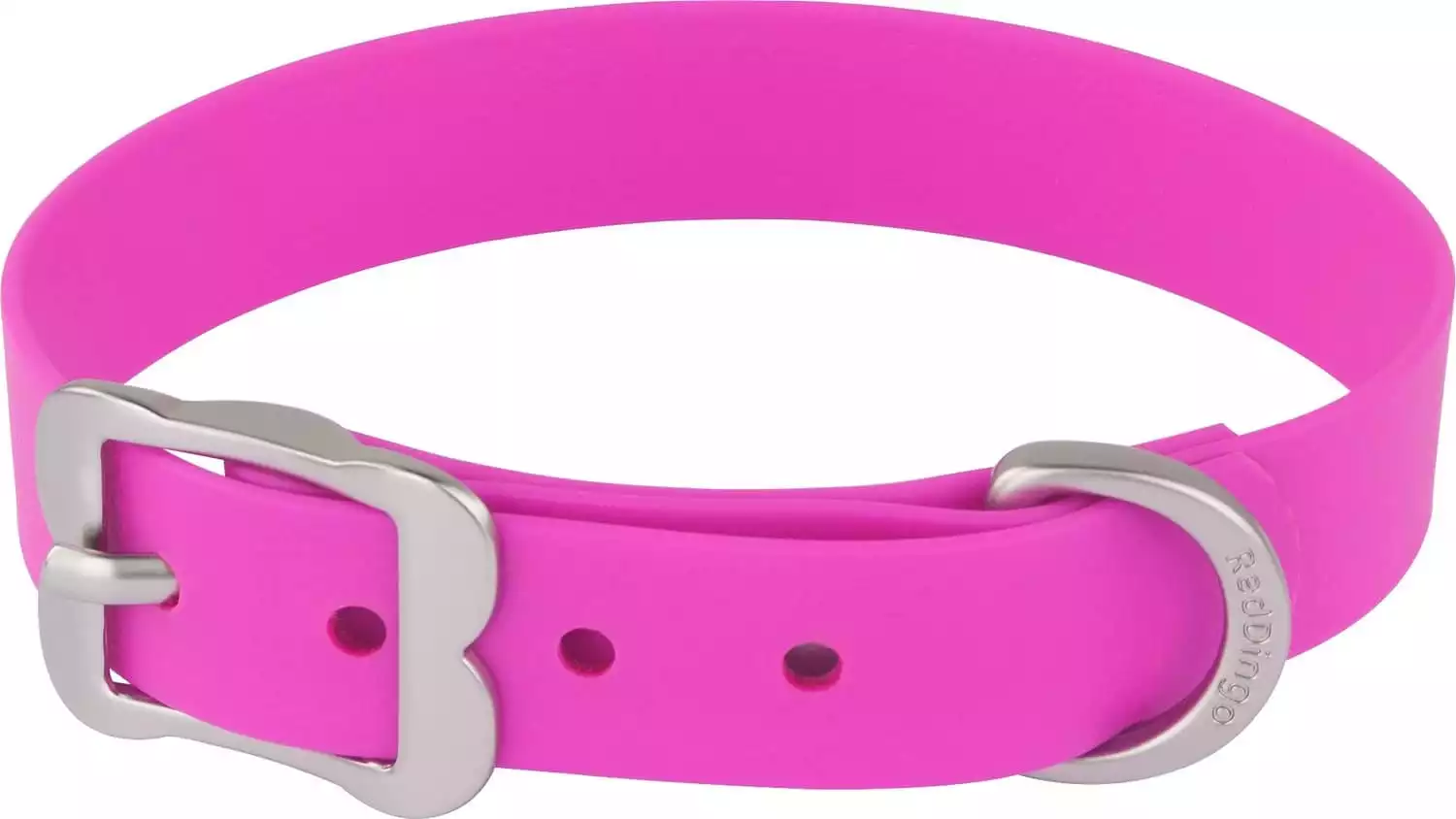 Enough with plain and simple collar colors. A dog with a dark coat like a Cane Corso would look amazing wearing vivid-colored collars! With Red Dingo Vivid collars, your Cane Corso will turn heads at the dog park.
This waterproof collar is a delight to own and wear since it's so easy to clean, AND it doesn't trap any odor. Just wipe it clean and your Cane Corso will have a collar ready to take on new adventures. The Red Dingo collar is made by using durable PVC-coated webbing that is perfect for all weather conditions, including heavy rain. It's lightweight, but still durable, and made to last for years. Besides the comfortable PVC collar, Red Dingo used chrome-plated hardware for D-rings that won't stain your dog's coat or change color.
Speaking of color, the Red Dingo Vivid collar comes in 5 neon colors, including pink, blue, orange, purple, and lime. These vivid neon colors are not only fashionable, but they make your dog visible in every condition.
Alcott Adventure Collar
Key Benefits:
Durable nylon threading and soft neoprene padding

Reflective stitching

Sturdy plastic buckle

Comes in 7 neon colors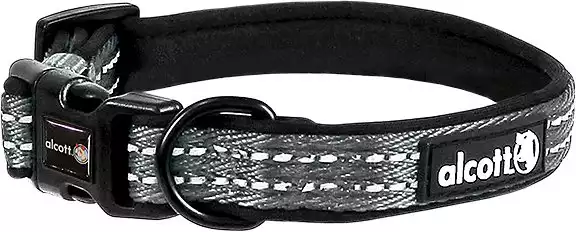 Nylon collars with soft neoprene padding is Alcott's signature sign. Their Adventure Collar is the next level in dog gear. Even though it looks simple like any other collar, the Alcott's Adventure Collar is more than that.
Made by using nylon threading and soft neoprene padding, this collar provides ultimate comfort for everyday use. But, that's not all! Take it on your next adventure, go on a hike, or go for a swim. This collar will take it all. It comes with a sturdy plastic buckle for easier trying on, but once you put it on your dog's neck, it will stay.​
The collar has reflective stitching for good visibility in low-light situations. Choose from one of the seven main colors, including grey, black, blue, green, red, purple, and red. Clip on your pup's dog tags, hook on a leash, and you two are ready to tackle every obstacle while looking pretty.
Editor's Pick
Soft Touch Padded Collar
Key Benefits:
100% real sheepskin leather

Comes in 5 colors variations

Soft and padded inside for premium comfort

D-ring for leash is easy accessible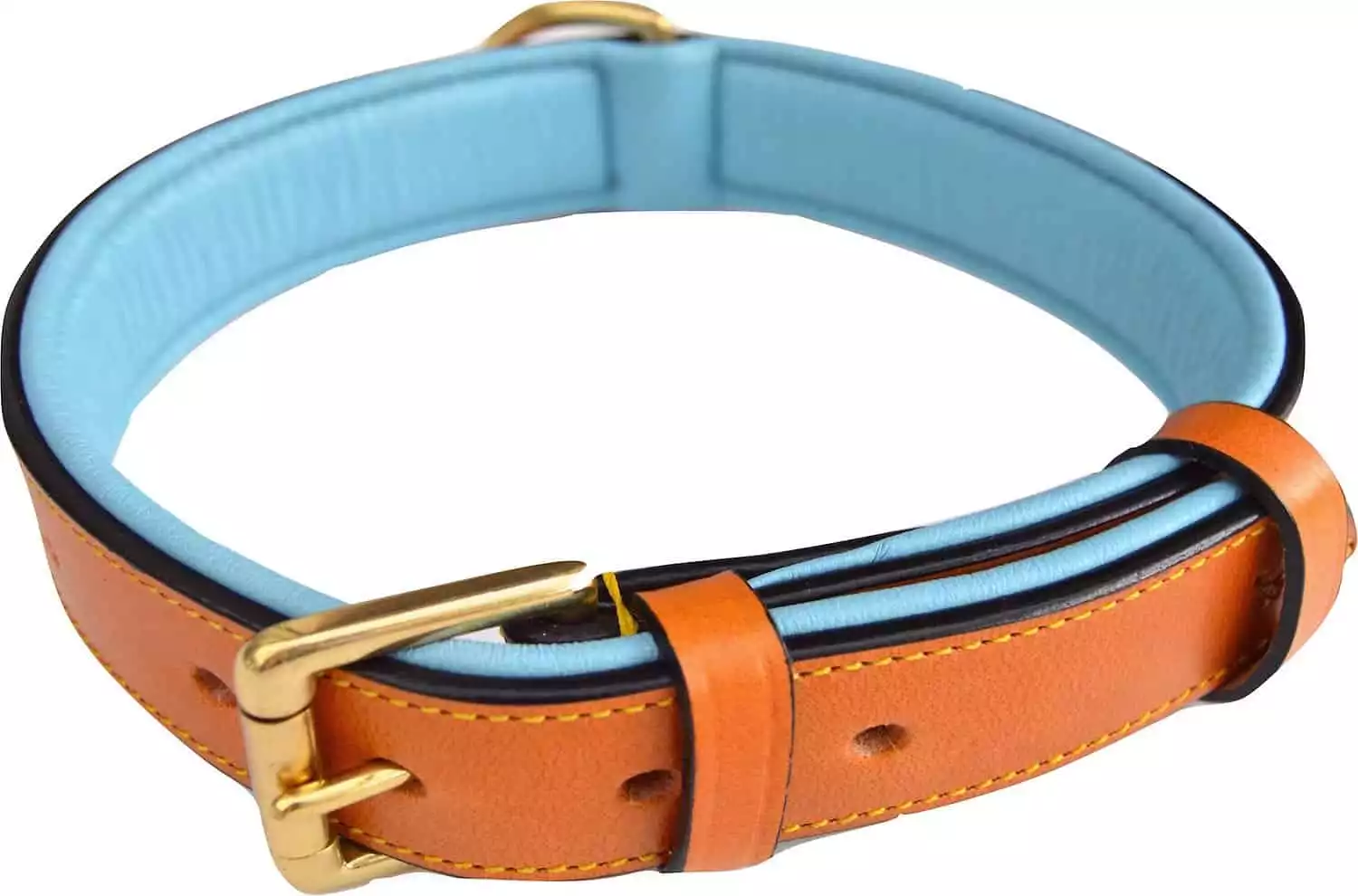 Wide, leather collars are simply made for dogs like the Cane Corso. They provide premium support and safety while your doggo looks cute. The Soft Touch Padded Collar is both durable and comfortable.
Handcrafted by using 100% genuine sheepskin leather, this collar comes in five colors and color combinations, including brown, black, tan & teal, tan & coral, and brown & pink. Only handmade and hand-stitched leather collars with sealed edges can be produced by the Soft Touch brand. The collar won't cause irritation or pull on the hair. Your Cane Corso will be thankful for you buying such a quality product.
As for the hardware parts of the collar, they're made of solid brass, and are placed for your convenience. For example, the leach D-ring sits opposite the buckle, on the back of your dog's neck for easy access.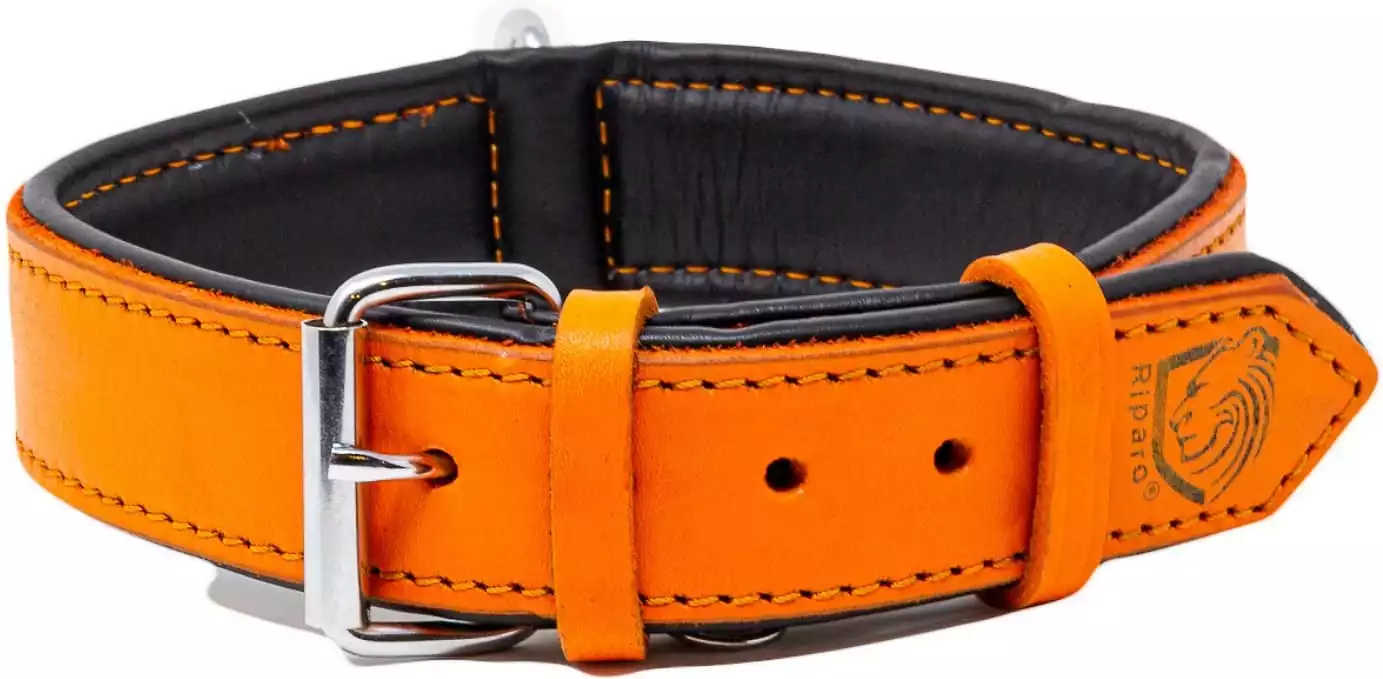 Riparo's Heavy Duty K9 collar is more than your everyday fancy accessory. It can be used in dog training, military K9 training, and during your play sessions since it's made to last through thick and thin. The name really says it all: heavy duty all the way!
Riparo uses only 100% nappa padded leather for their collars. This K9 collar comes in 7 amazing colors: brown, black, black & orange, black & red, red, orange, and camel. The coloring does not stain or cause allergies and irritations, making this collar perfectly suitable for all dogs, even those prone to skin allergies. It's also completely free from harsh chemicals and dyes.
If your dog is a puller, you can rest assured your Cane Corso will stay right next to you. The collar comes in several size options, from S to XXL, so every dog can get a chance to prance around wearing such a lovely and comfy collar.
C4 Colorblocked Collar
Key Benefits:
Medical grade thermo-elaster

Waterproof and easy to clean

Antimicrobial, stain-free, and odor-free

Hypoallergenic material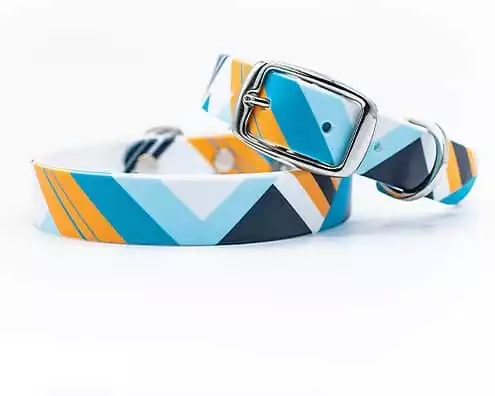 You can never have enough of the vivid-colored collars. The C4 Colorblocked Waterproof collar is the best example of why we love such lively color combinations. Besides it's fashion factor, this C4 collar has other values you're gonna love.
The collar is completely made in the USA by using medical-grade thermo-elastomer. This material is waterproof, and it is easy to clean with soap and warm water. It's antimicrobial, stain-free, and odor-free, pawfect for dogs with sensitive skin and those prone to allergies. It's even hypoallergenic!
Active dogs that don't mind getting dirty will appreciate you buying this C4 Colorblocked collar.
And, you… You're gonna love how pretty the blue and yellow combination looks against your Cane Corso's dark coat.
Yellow Dog Design Collar
Key Benefits:
100% polyester

Machine washable and odor-free

Durable plastic buckle

Features a real artwork design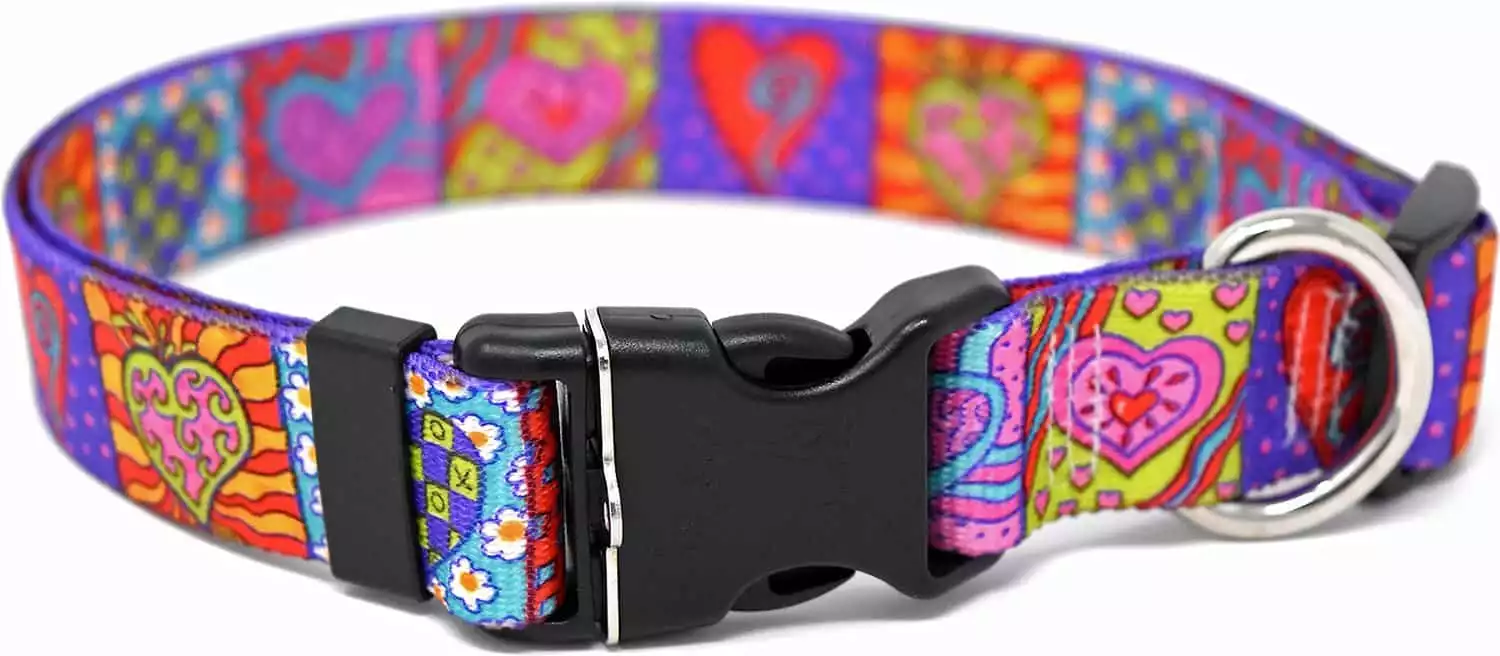 The Yellow Dog Crazy Hearts collar is completely crazy… Crazy because of how good it looks on your dog! This unique design is featured on the collar that's both fashionable and functional. A talented team of designers has come up with a dog collar that will satisfy both you and your pupper.
Made of 100% polyester, the Yellow Dog Design collar is a true artwork made to fit every dog and bring a lifetime of satisfaction. The collar is machine washable and easy to clean, so your dog will always look tidy. However, you don't have to worry if the colors will fade with multiple washes. They'll stay vibrant and pretty forever.
The collar also features a durable plastic buckle that will make putting it on easy for everyone. It comes in 4 sizes: large (1 inch wide) being the best collar for the Cane Corso. Just clip on a dog harness and you and your Cane Corso can go for a walk, a vet visit, or simply learn new tricks at the dog park.
FAQs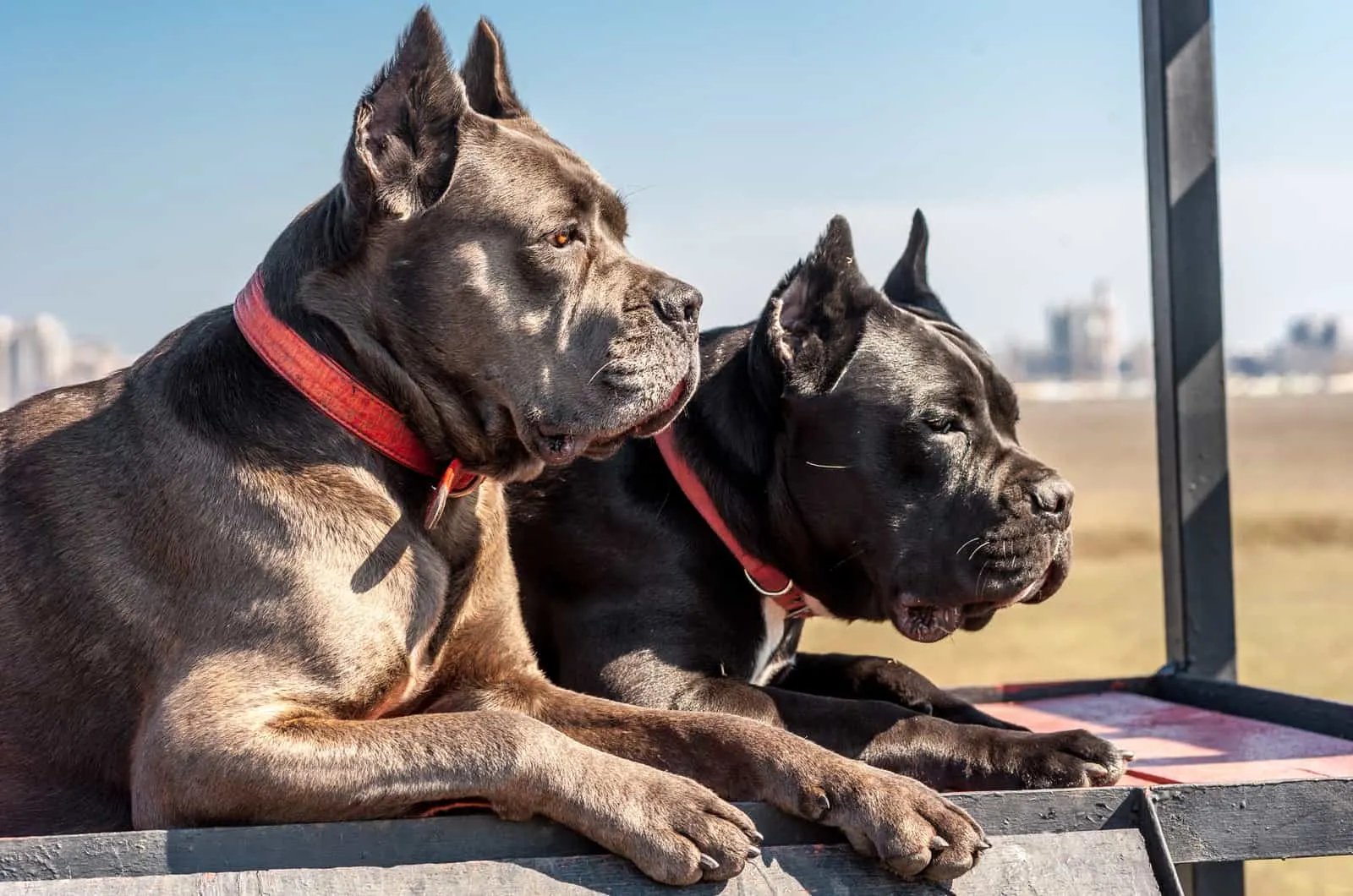 1. What's the best collar for a Cane Corso?
Generally speaking, there are four types of everyday collars for dogs, but the question is: Which are the best for your Cane Corso?
Large breeds need extra-quality collars that fit snuggly and don't cause irritation or chafing. Choke collars might not be a good idea, especially not for everyday use. Such collars are used mostly as training collars for aggressive dogs. They should be handled only by professionals in order to avoid the dog being hurt.
Also, simple chains or prong collars, as well as shock collars, aren't the best Cane Corso collars. They serve for obedience training, and can cause more harm if you use them too often.
The best dog collars for a Cane Corso are flat collars made from different materials, Martingales, and smart collars. Simple collars made of nylon or ply leather are often wide enough for big dogs, which makes them the best fit for dog walking, that is, unless your dog's a puller. Wide leather collars should keep your dog calm and prevent pulling.
What else prevents pulling is Martingale collars. They close snuggly on your dog's neck, but they don't squeeze your dog or cause pain. Simply, when the dog pulls, the collar becomes tighter, and when the dog stops, it becomes loose again.
Whether you're choosing a leather dog collar, a waterproof nylon one, or a practical Martingale, make sure all the leash attachment parts (the o-ring, the D-ring) and ID patches are sturdy enough for your large Italian Mastiff cousin.
2. What collar size is the best for my Cane Corso?
Cane Corso is a big dog with a wide neck. As you can assume, they need extra large collars with extra comfort. This breed's neck size varies from 22 inches up to an incredible 30 inches!
Make sure you always measure first and then place your order. Many brands don't even carry collars that big. Luckily, you've got our list of best collars for the Cane Corso, so shopping will be a breeze for you.
3. What collar size does my Cane Corso puppy need?
The best thing you can do for your Cane Corso puppy is to buy an adjustable collar that can be fitted to the puppy's true size. Measure their neck, add a bit of extra space, and choose your size range.
Chances are you will need another collar when your Cane Corso grows up, but that's completely normal. However, you should ensure that the collar is comfortable, and that it has some sort of fur protection plate to prevent hair pulling.