When two terrier breeds mix together, the end result has to be one energetic puppy.
The Jack Russell Yorkie mix puppy is a hybrid you didn't know you needed. Except, you do!
The Jack Russell Terrier is a typical terrier dog, while the Yorkie doesn't usually act too terrier-ish. They're more calm and cuddly.
So, which side will prevail? How will the puppies turn out: feisty and energetic, or calm, loyal, and protective?
How about: all of the above?
The Yorkie Russell is proof that contrasting breeds can make something wonderful together.
Today, I'm super excited to present the Jack Russell Yorkie mix to you, and I'm absolutely pawsitive it's gonna be love at first bark!
What Is A Jack Russell Yorkie Mix?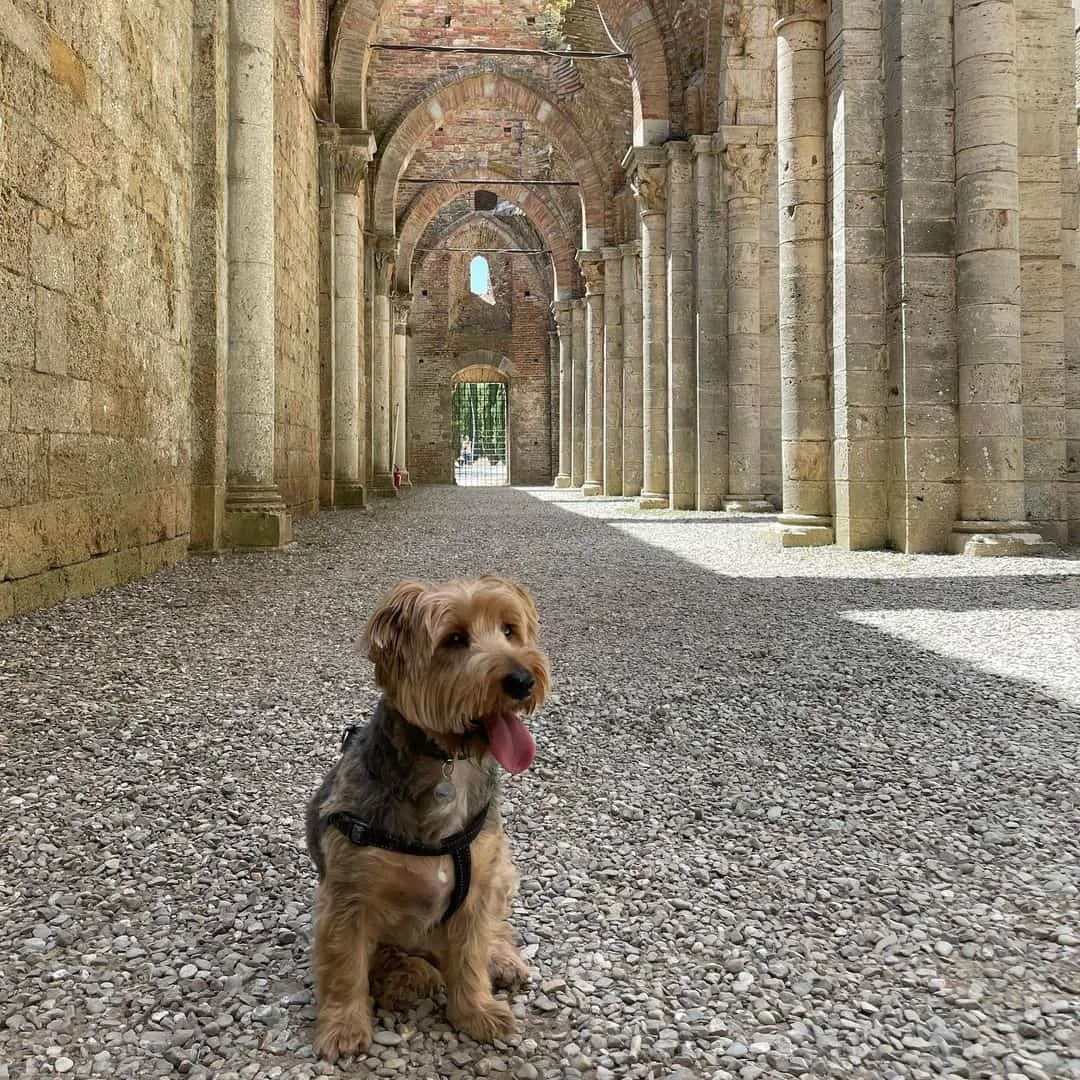 Photo from: @hugo_theyorkierussell
A Jack Russell Yorkie mix is an unusual crossbreed dog because you're combining two contrasting, and yet so similar, species. The Jorkie or the Russell Yorkie is one of the rare Yorkie mixes.
Just as the name says, it's across between a Jack Russel Terrier and a Yorkshire Terrier.
This lovely crossbreed dog is one of those canines you can't stop staring at and thinking: Wow, I wish my dog was a Jorkie!
Background Story: Where Did The First Jack Russell Yorkie Mix Appear?
Figuring out the origin of a hybrid dog is always difficult, unless that dog is a Cockapoo or a Labradoodle. We have precise information on the first designer dogs, but rarely any clues about the origin of a Russell Yorkie.
Since the boom of designer dogs started back in the 1990s, we can assume our Jorkie was first bred some thirty years ago. This was the time when dog breeders loved to experiment and create new species. At some point in this adventurous decade, a Jorkie was born.
As you can conclude, this is a fresh – still unknown – hybrid species. We don't know if we'll ever find out more about their origin, but we do know something else. The background story of a Jack Russell and a Yorkshire Terrier is quite familiar, so let's remind ourselves of where the parent breeds come from.
Jack Russell Terrier Origin
Jack Russell Terriers have come a long way from hunting duty to being beloved pets for active humans.
It first started back in the 1800s in England, when a breeder named Jack Russell invented the homonymous breed. Mr. John Jack Russell bred his Terriers to get the ideal small hunting dog, a menace to small birds, rabbits, and foxes.
First Jack Russell Terriers were a combination of British White Terriers and Fox Terriers. But, they were too big. Mr. Jack Russell has mistaken them for foxes several times during the first fox hunt and decided it is time to improve the breed. The same mistakes couldn't happen again.
For the next couple of decades, Jack Russell Terriers were worked on. Many breeds were introduced to the breeding process including Rat Terriers, Miniature Fox Terriers, Brazilian Terriers, and Japanese Terriers.
At last, the first modern Jack Russell Terriers appeared in the early 20th century and finally stuck around.
Today's specimens of the breed are playful pooches with an abundance of energy stored in their little bodies.
Yorkshire Terrier Origin
The Jack Russell Yorkie mix is a cross between two British dog breeds.
The area of the Yorkie's origin is pretty self-explanatory. These pups come from the northern part of England, Yorkshire, and Lancashire. These doggies have been around since the 1800s. They're a mixture of lots of Terrier breeds, including Scottish Terriers.
The first Yorkies in the USA appeared at the end of the 19th century. Further, the first Yorkies were registered by the AKC in 1885.
Yorkie boys and Yorkie girls were bred to hunt small animals, mostly mice and rats. Who would've thought Yorkies were once a staple part of any mill or mine back in the mid 1800s!
Modern day Yorkies are simply loving pets and valuable companions.
Natural Good Looks: The Appearance Of A Jorkie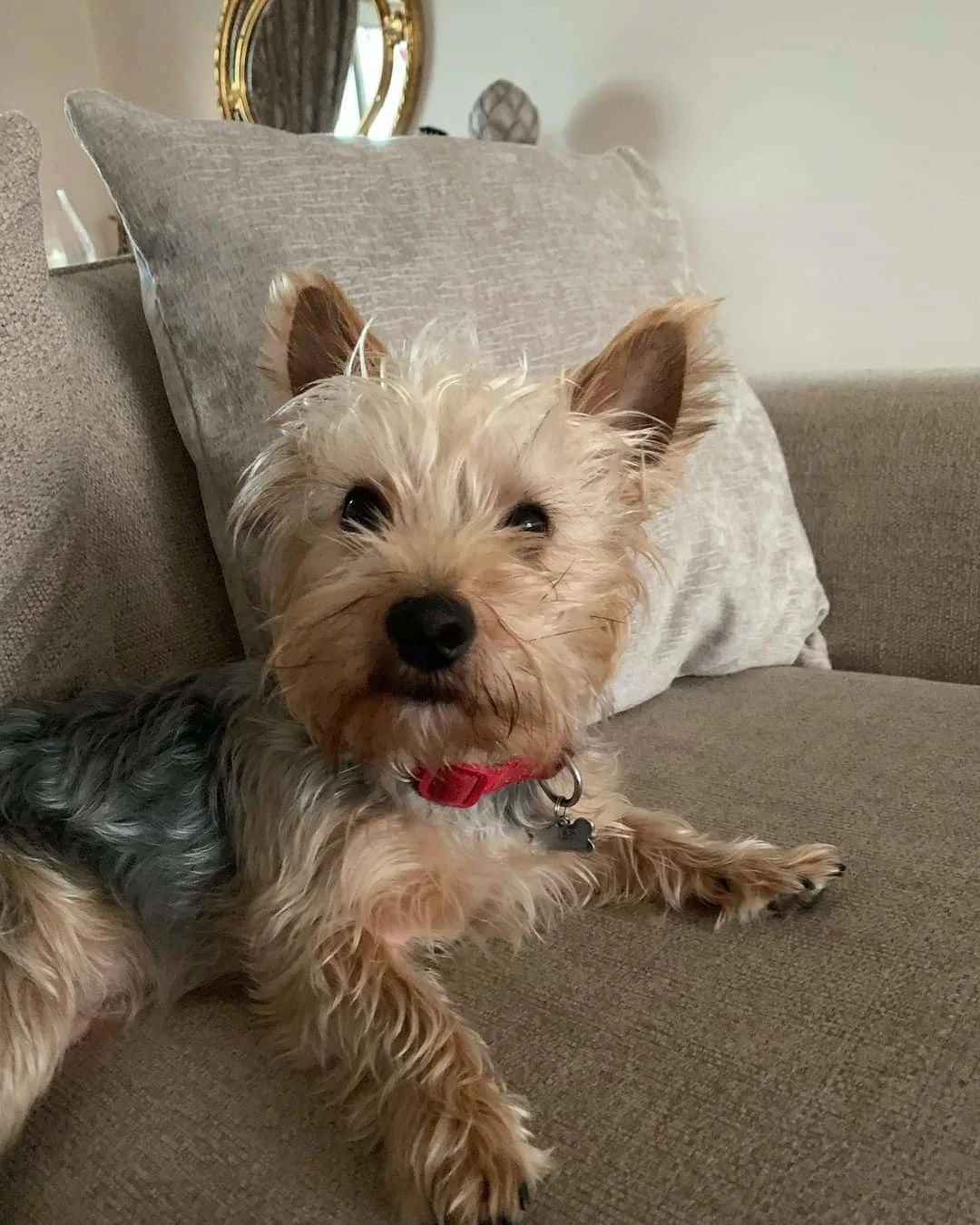 Photo from: @bailey_the_yorkie_russell
Every mixed-breed dog comes with an issue in terms of their appearance. They don't have a standard. No hybrid dog will ever have a standard because they're a result of a mixture of genes. However, we do notice a repeating pattern with cross breeds that have been here for a while.
Jorkies haven't been here for too long, but since they come from Terrier parents, we can notice lots of similarities between puppies. Of course, there's always a chance puppies of the same litter may look completely different.
Still, an average Jack Russell Yorkie mix is a small dog. Everything about them is small, but their heart. With a tiny, rounded head and black button eyes, Jorkies look like teddy bears. Well, especially if they resemble the Yorkie parent.
The most significant difference between Jorkies that look like Jack Russells and Jorkies that look like Yorkies is the muzzle. If it's short and small, it will remind you of a Yorkie. But, if it's elongated and rather pointed, it will remind you of a Jack Russell.
All Jorkies have the same coats. They can be one of two fashionable options: medium long or long coats. It's silky to the touch and comes in lots of colors, like black, tan, white, etc.
Usually, they will inherit hypoallergenic traits from the Yorkie parent.
A well-groomed Jorkie is a beautiful pup, no matter which parent it resembles.
Read Also: 12 Jack Russell Terrier Colors And Patterns For Everyone
How Big Do Jack Russell Yorkies Get?
Since Jack Russells and Yorkies are members of the smallest dog breeds group, you can expect their puppies to be small too!
However, these are one of those dogs that don't really perceive how small they are. Both parents and their hybrid puppy have egos that are much bigger than their bodies. But, more on that later.
Before you hear about the size of the Russell Yorkie, you should hear about the precise size range of the parent breeds.
Jack Russell Terriers range from 10 to 15 inches at the withers. Naturally, females are smaller than males, and they usually stand tall at 10 or 11 inches, while males are closer to the highest mark.
As for the weight of these dogs. We don't normally ask ladies how much they weigh but, in this case, we do. Jack Russell females weigh no more than 13 pounds. Their male counterparts are only a pound heavier.
The other side of the family, the Yorkie, is significantly smaller. On average, they weigh from 2 to 7 pounds, and don't grow past the 7 inch mark. Just imagine how small a teacup Yorkie is!
The love puppy of a Jack Russell and a Yorkie will grow up to be around 9 to 13 inches at the withers, and weigh from 10 to 15 pounds.
As you can see, a Jorkie's size is much closer to the size of a Jack Russell parent. Despite being so tiny, Jack Russell Yorkies are pretty fit and agile. They're sporty dogs and love being active all the time.
Frantic Or Mellow: What's A Jorkie's Temperament Like?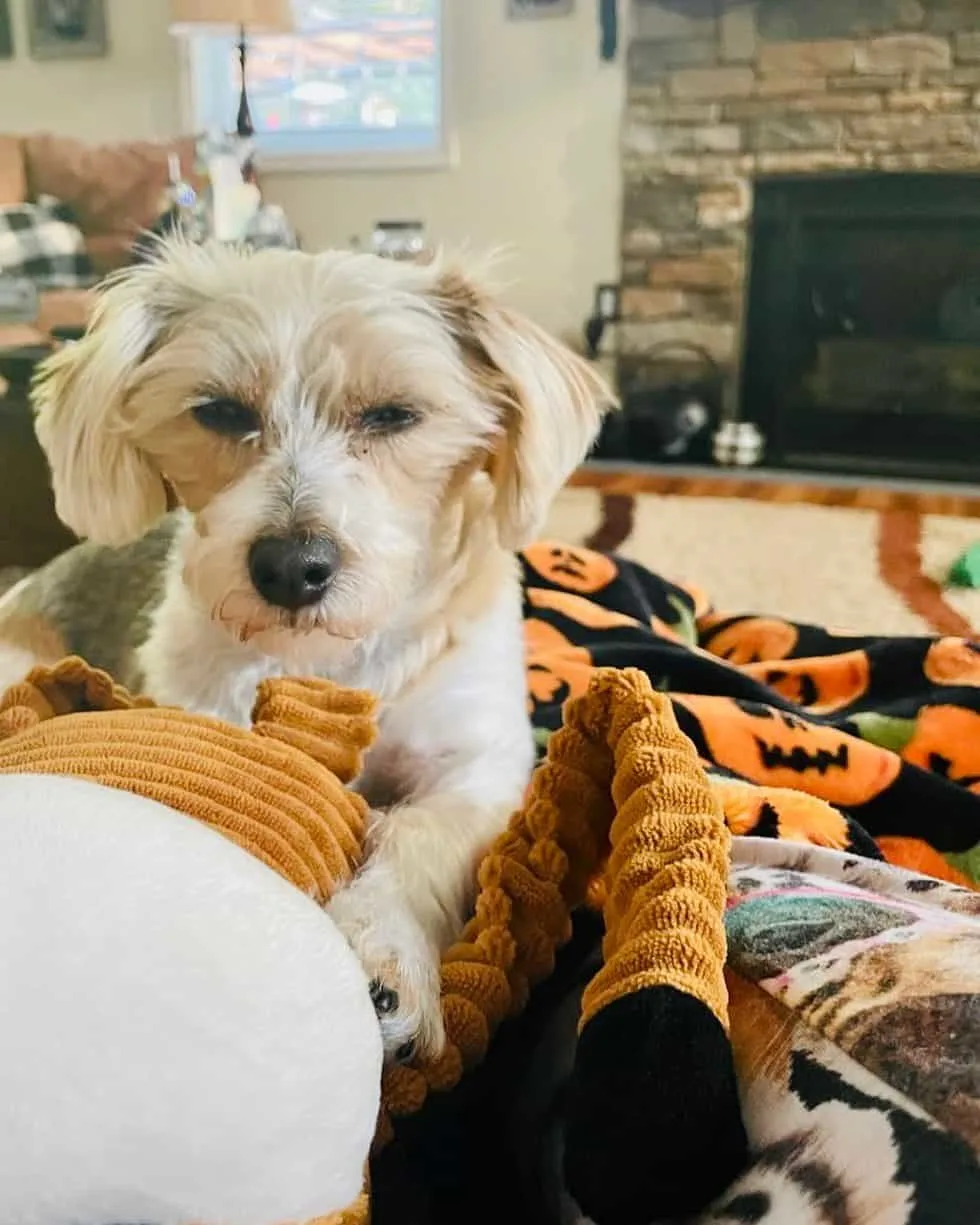 Photo from: @silas_the_boy_who_loves_toys
The thing with all hybrid dogs is that their temperaments vary. There are no two hybrids of the same temperament. Every dog has something that makes it different from other hybrids.
In fact, there are no identical Jorkies in terms of their temperaments or appearance. It's really a lottery with such dogs because you never know what you'll win. You may wish for an energetic pup, but end up with a rather calm Jorkie.
However, Jorkies are usually a bit over the top with their energy. It's not enough to say they're just energetic dogs. They're playful, super-excited to be around people, and more into playing than any other hybrid dog.
This type of temperament is really similar to the temperament the parent breeds have.
Some might call Jorkies feisty dogs, and they couldn't be more right. They're bold dogs, despite their small size. These little dogs suffer from apparent small dog syndrome. Jorkies like being leaders. They want the world to revolve around them. And, yes, they get the final say on everything.
But this doesn't mean Jorkies don't care about their family members. In fact, Jorkies are quite overprotective dogs and care a lot about their humans, no matter if they're adults, seniors, younger, or older children.
So, yes, this entitles them to be one of the best family dogs of all mixed breed dogs. Still, I would be careful with young children and untrained Jorkies because of their strong prey drive and a history of vermin-chasing in the family.
The Yorkie Jack Russell mix is one of the cutest watchdogs. They may be cuddling with you on the sofa, but they're more than snuggle buddies. These dogs are always alert, keeping an eye on the family and making sure they're all fine.
Since this is a small breed, you can imagine how fragile Jorkies are. Just like their friends the Maltese, Chihuahuas, and toy Poodles, Jorkies don't go well with bigger dogs like Pitbulls or Retrievers. It's not because their temperaments differ, but because they can get hurt unintentionally during play time.
The same applies to young children too.
Are Jack Russell Yorkies Intelligent Dogs?
The Yorkie Russell Terrier puppy can't only brag about having high energy levels. There's something else that's in abundance with these dogs, and that's their high intelligence levels.
Their Yorkshire Terrier pawrent is blessed with an incredibly high intelligence ranking. Every year, the American Kennel Club comes up with a list of the smartest dog breeds, and Yorkies are ranked 27. Jack Russells are in the top 100, placed 84th. This is still pretty incredible.
Man, these pups are smart!
This Jack Russell Terrier mix is one of the most intelligent dogs out there. Even though they're no longer used as working dogs, it doesn't mean they don't have a purpose. They still have their mental needs to satisfy.
Mental stimulation is even more important than exercise with the Yorkie Russell puppy. This hybrid dog doesn't need lots of exercise on a daily basis, and they can get hurt easily. What they need are puzzle games and toys that will make them exercise their brains.
Jorkies that enjoy apartment living need mental stimulation more than any other family pet. This stops them from feeling bored and thus depressed.
But, the area where Jorkie's intelligence really shines bright is in dog training. Jorkie's are characterized by high trainability. They can master pretty much any task you give them, whether it's potty training, or obedience lessons.
What's so special about Jorkies is that they can learn lots of fun tricks. They're hilarious clowns trapped inside small bodies. A good old laugh therapy session is guaranteed with these doggies.
Taking Care After A Jorkie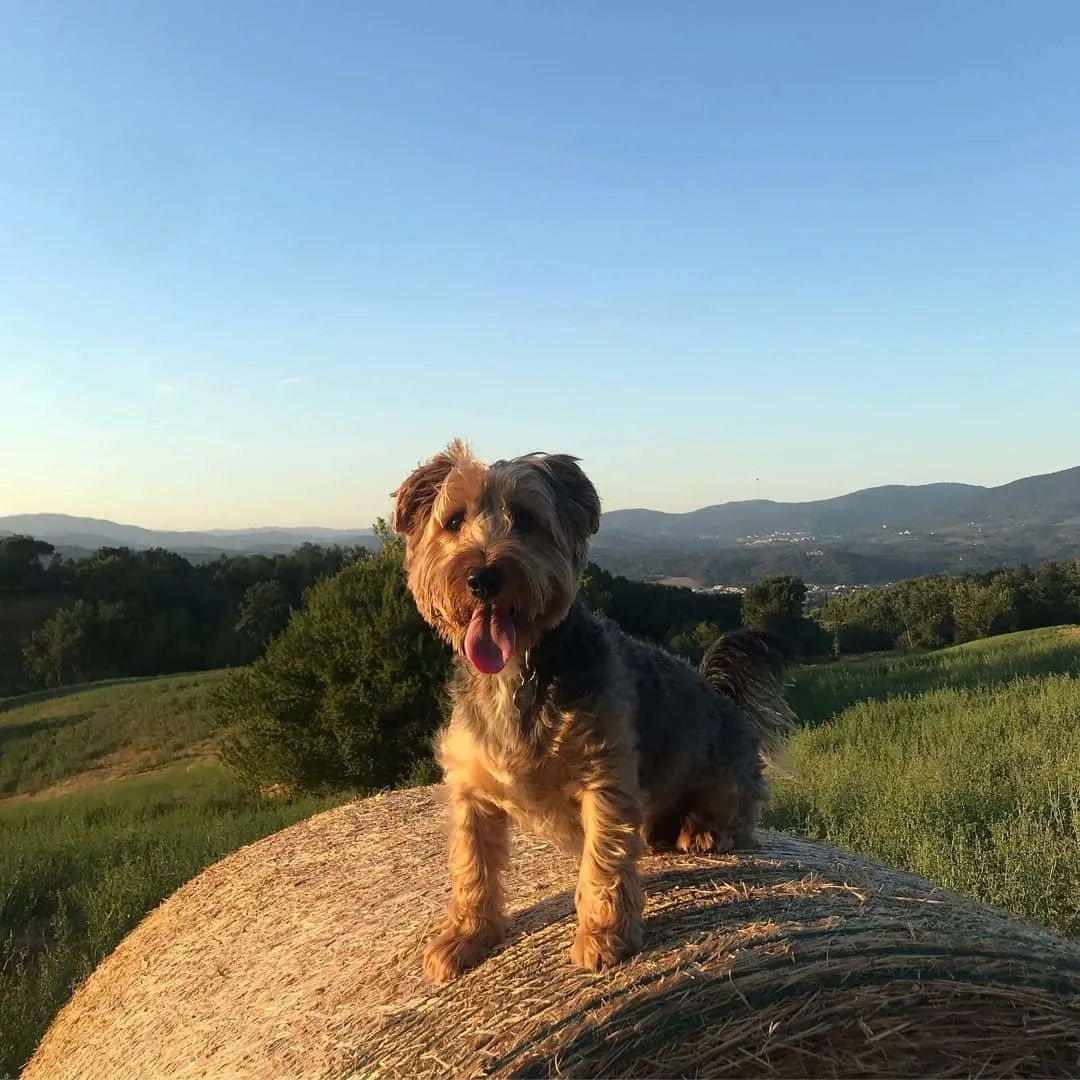 Photo from: @hugo_theyorkierussell
Bringing a dog into your life doesn't mean you should just bring them home and that's it. Dogs are living creatures. Everyone needs love and attention. Even a plant will die if you don't nurture it, to say nothing of a dog.
That's why, before adopting a canine buddy, you should be aware of what kind of duties are expected from you.
Maybe a Jorkie will be a handful for you. Or, maybe he'll be quite easy to handle.
How about I let you in on what are the musts when it comes to taking care of a Yorkie Russell?
Grooming 101
The biggest issue with all Yorkshire mixes is grooming.
I mean, have you seen the Yorkie parent? They're silky, spectacular, and apparently troublesome. Grooming a Yorkie is simply hard and time-consuming, especially if you want to achieve the incredible, long and silky Yorkie haircut.
The Jorkie, our Jack Russell and Yorkie mix, isn't too far behind the Yorkie. While Jack Russells are generally easy to groom, Yorkies aren't. This makes their love puppy somewhat tricky to groom. The level of grooming difficulty depends on which parent the puppy takes after.
Yorkie Russells that take after the Yorkie parent will need daily brushing to keep the coat nice and smooth. You can try using the best Yorkie brushes for your hybrid. The thing with Yorkies is that they don't have fur – they have hair and it makes them hypoallergenic.
You shouldn't have any allergic reactions around Yorkie Russells, but still watch out.
The hypoallergenic traits depend on which side of the family prevails. Jack Russells don't have the hypoallergenic trait.
I highly recommend you buy some good brushes meant for Yorkies, so your brushing sessions will be eased.
How Healthy Are Jack Russell Yorkie Mix Dogs?
Jack Russell Yorkie Mix dogs are blessed with a normal health status. They're not the sickest puppies in the canine world, but they're also not the healthiest ones either.
I mean, what is a healthy puppy anyway? At some point in their lives, puppies can develop some sort of a condition that may or may not affect their health significantly. The thing is, there's no dog that's 100% healthy. At least a minor health issue will mess up the pawfect percentage.
Hybrid dogs, in this case our Jack Russell Yorkie mix, come from two parents. Your mixed puppy can either pick up all the good traits from both parents and be of outstanding health, or may pick up all the potential illnesses and be quite sick.
Usually, Jack Russells and Yorkies are fairly healthy, so their puppies will be too.
However, it won't be too bad to know which illnesses are most likely to strike your pooch.
The following conditions are considered the most common ones with Jack Russell Terriers and Yorkshire Terriers:
PRA or Progressive Retinal Atrophy
Hypoglycemia
Hypoglycemia is a condition where a dog has low blood sugar levels. Yorkies are highly prone to it, so your Jorkie puppy is highly likely to inherit it.
Hypoglycemia usually occurs at a certain life stage, puppyhood, when puppies are from 5 weeks to 4 months of age.
This condition is normally caused by a poor diet and infrequent meals, but stress can also cause it too. It's not unusual and most toy dog breeds have it.
The clearest signs of hypoglycemia are general weakness, disorientation, seizures, and/or blackouts.
Your canine buddy will need immediate veterinarian help and medication in case it happens again.
Legg-Perthes Disease
Dogs with Legg-Calve-Perthes Disease limp on the affected leg, so you can easily spot something's wrong with your Jorkie. When a dog has some minor issues with one or more legs, the pain usually goes away within a few days.
But, when you notice the limping getting worse, that's a sign your dog didn't have a bad landing or a running accident. It's a sign of something severe.
Legg-Perthes Disease can happen all of a sudden. It's pretty rare, but dogs like the Yorkie or the Jack Russell still get it often.
Periodontal Problems
Another quite common health problem with Jorkies are periodontal problems in general.
From discolored gums, inflamed areas, to discolored teeth, and bad breath. Yes, they all fall under periodontal diseases. The easiest way to prevent periodontal diseases is to brush your dog's teeth regularly and feed them good stuff packed with lots of minerals for stronger teeth.
Brushing a dog's teeth is as important doing the same with ours. You'll get rid of tartar buildup and bad breath, which will result in shiny teeth and zero problems.
Life Expectancy: How Long Do Jorkies Live?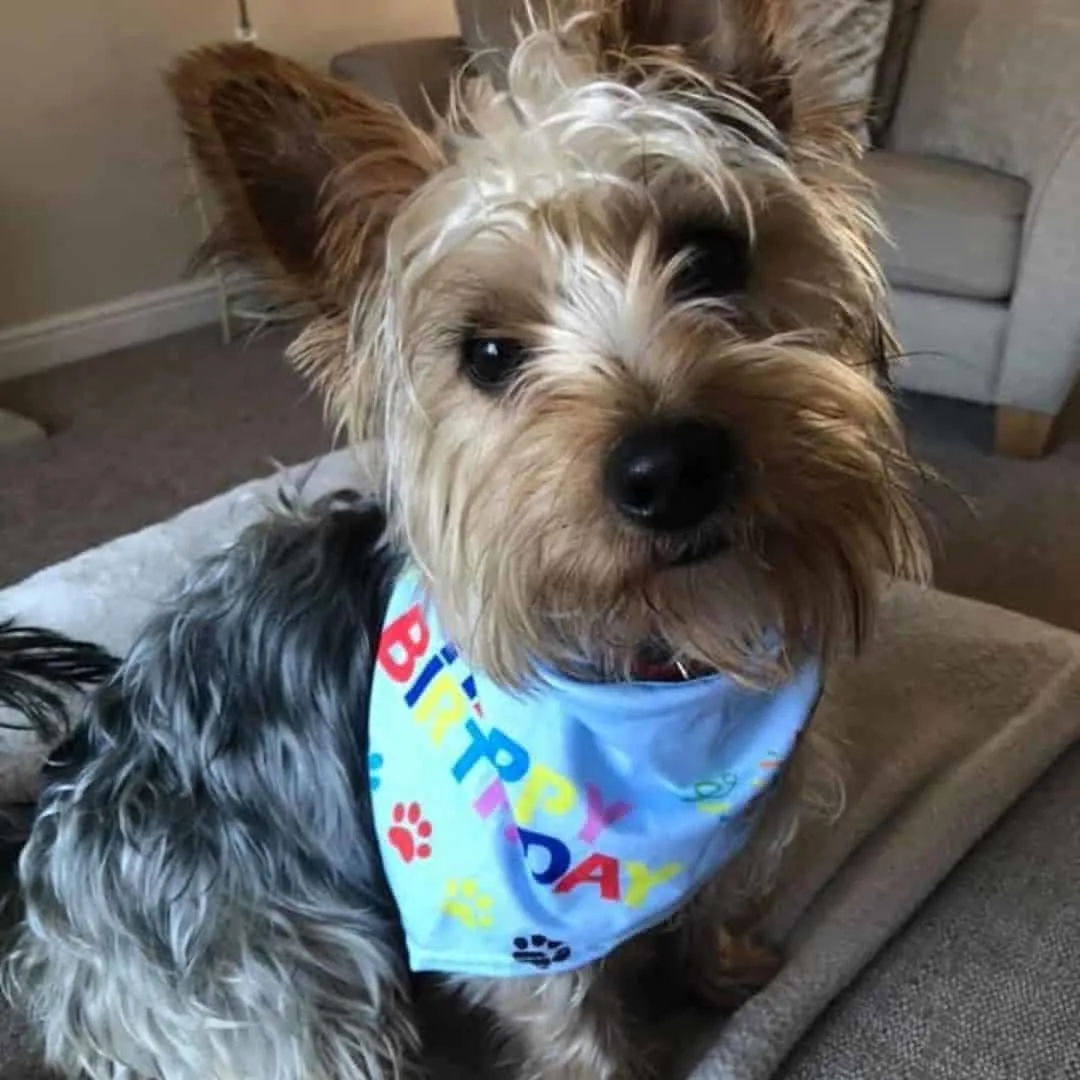 Photo from: @bailey_the_yorkie_russell
Our Yorkie Russell buddy is a lucky boy or girl. Why?
Because they're destined to live a long and happy life.
If everything goes by the book, your average Yorkie Russell is expected to live 12 to 16 years. A lot of these dogs reach their maximum years. Tiny dogs live longer than big or giant dogs, and that's an unwritten rule.
Considering how long it takes for a small dog like a Yorkie to reach maturity, the long lifespan is absolutely justified.
Both parent breeds, Yorkie and Jack Russell, are known for having long lifespans. Yorkies and Jack Russells also live from 12 to 16 years.
But, even though the breed is destined to have a long lifespan, it can still live significantly shorter if not treated right.
All dogs need to have a proper diet so they can grow into healthy adults. If you neglect your Jorkie, it's more likely to suffer from some health conditions and thus have its lifespan shortened. Anything can have an impact on the dog's life expectancy, especially stress.
Do your best to create the best possible environment for your dog so it can spend lots of long, happy years with you.
Pricey Or Not? How Expensive Are Jack Russell Yorkie Mixes?
Even though the Jack Russell Yorkie is a fashionable pooch with an excellent outer appearance and a sweet temperament, that doesn't mean they will be expensive dogs. Jack Russell Yorkies are designer dogs, but even designer dogs can be affordable.
Of course, you'll save lots of money if you decide to adopt a Yorkie Russell from a shelter. Still, the odds of finding one in your area are pretty low. The Russell Yorkie mix isn't a common one. We don't have any famous breeders of this hybrid so far.
However, I hope the future will bring lots of popularity to this designer dog, and thus some reliable breeders.
If you are lucky enough to find a Jack Russell Yorkie mix puppy, you can expect to pay under $1,000 for him or her. Usually, these mixed puppies are priced at around $800. Some may charge more or less, but that depends on the breeder.
That's quite a bit lower than the price of a Yorkie parent, for example.
What's tricky about hybrid dogs is finding a healthy one. When you pick a puppy from an unknown breeder that doesn't have much information on the parents, you can expect some medical issues with your puppy.
Most often, such puppies end up having severe health issues that occur at some point of their lives.
That's why you should prepare a special budget for unexpected costs.
If you're happy to read on, I'd like to discuss the additional costs of owning a Jack Russell Yorkie.
Additional Expenses
The biggest chunk of your money will go to veterinary bills and medicine. Unexpected costs are one thing, but regular check-ups and treatments are another.
After you adopt your Jack Russell Yorkie, you should continue with deworming treatments and vaccinations. Your new puppy will need them for a while, so don't forget they're mandatory. Also, if the breeder doesn't include it, microchipping is also a must, and it usually costs around $50 or so.
I can't put a number on the cost of veterinary bills because each puppy is different, and each vet has its own prices. The products you opt to use also vary from one area to another. That's why it's safe to say that a couple of hundred dollars is a good starting point.
Moving on, we have pet supplies and accessories your pooch can't live without. Luckily, your new puppy will grow up to be a small dog, so you won't end up spending lots of money on big dog beds, extra strong leashes or collars, etc.
The Russell Yorkie mix is a feisty, but still fragile pup in terms of its size. They don't even need a lot of food, so a big bag will last you a while. Roughly estimated, you'll need around $200 or so for the first year with your pup. Of course, this excludes veterinary bills and treatments.
Lastly, if you can't train your dog on your own, you'll need professional help. Obedience lessons with a professional dog trainer can cost approximately $20 a lesson, but lots of them offer discounts if you buy the whole program.
Where To Find The Yorkie Russell
Photo from: @silas_the_boy_who_loves_toys
As I mentioned earlier, finding a Jack Russell Yorkie will be a tough task.
Imagine what this was like in the past, when the first Jorkies appeared! Things get even more complicated if the mother is the Yorkie parent, because Yorkie moms don't give birth to many puppies in one litter.
Well, the situation isn't much different today, but at least we do have some great Yorkie and Jack Russell breeders. Maybe some of them could help you with finding the ideal Jack Russell Yorkie mix puppy.
Even though most reputable breeders are not pro-crossbreeding, there's a big chance some of them want to try mixing breeds to make their own more interesting.
Sadly, PupVine has no trusted Jack Russell Yorkie mix breeders to recommend to you, but we do have some highly-valued Yorkie breeders from all over the States:
It won't cost you a thing to contact some of the listed breeders to politely ask if they breed Jorkies or if they know someone that does. Reach out and you might be surprised.
Lastly, I want to point out some traits that every reputable breeder has!
How To Spot A Good Breeder
The most obvious signs you're dealing with a good breeder are its dogs.
You can tell if a puppy is healthy or not by looking at its behavior and general appearance. Neglected puppies look a particular way: their hair is sad-looking, they're thin, and not so playful. You can absolutely tell they're not being treated the right way.
When a breeder treats their puppies right, they look well-fed, their coats are shiny, not scruffy-looking, and they're playful creatures. The breeding stock looks pretty much like this too.
I highly appreciate when the breeder has all their dogs on a raw diet. Personally, I find it highly beneficial for dogs, and this type of feeding proves to me that the breeder is doing a good job.
Another sign of a reputable breeder is their professional approach. When a website is detailed, up to date, and clear with all the necessary information, then the breeder is to be trusted too. Scammers, puppy mills, and unreliable breeders often don't have an address on their websites, so no one can come over and check the puppies in real life.
When a breeder avoids giving you additional information, providing further contact details, or doesn't have parent or puppy health records available, that's a big no. Reputable breeders are always transparent and happy to answer all your questions.
The last sign may or may not be a warning, depending on the breeder and the situation you see in-person. Normally, I'm against kennels, but some breeders are so professional they have special, state-of-the-art kennels with nurseries and all the necessary items for breeding and raising puppies well.
A clean, friendly environment is all we ask from a breeder's home, isn't that so?
Top 3 Reasons Why A Jack Russell Yorkie Is The Dog For You
When deciding which dog breed to bring home, I recommend future dog owners make lists of pros and cons. You should be aware of all the good and bad sides of that specific dog.
But these lists are pretty individual. What's a downside for one dog owner might not be for another.
These are the general pros of owning a Jorkie. It's up to you to decide whether you like them or not.
Good Temperament
Jack Russell Yorkie mix dogs have good temperaments. They may be energetic and a bit frantic, but name a Terrier which isn't!
This means your Jorkie is simply looking for some fun and activity. The energetic approach doesn't mean it's too pushy or aggressive.
Jorkies are very friendly and get along with pretty much everyone, from little kids to small animals. If you train them the right way, and control the high prey drive, your Jorkie will be the best dog among all Terrier pooches.
Small Size
The small size can be either a pro or a con. It depends on your preferences and living situation. If you're in a big city and don't have lots of free time to walk your dog and exercise regularly with them, then a small dog is the way to go.
Jorkies are small, compact, and ideal lap dogs. However, their tiny size means you shouldn't put them through extensive workout sessions or let them go up and down the stairs. These pups have tiny, fragile bones prone to injuries.
Handsome Boys And Purdy Girls
Jack Russell Yorkie mix puppies are extremely good looking dogs. How could they not be, when they have such gorgeous parents?
Yorkies are known as one of the most beautiful purebred dogs of all times. Jack Russells aren't that pretty, but they are beautiful in their own way. However, the combination of these genes always results in lovely puppies.
No matter if they have wiry or silky coats, or if they show off Yorkie colors or not, Jack Russell Yorkies are truly something special.
Top Reasons Why A Jack Russell Might Not Be The Dog For You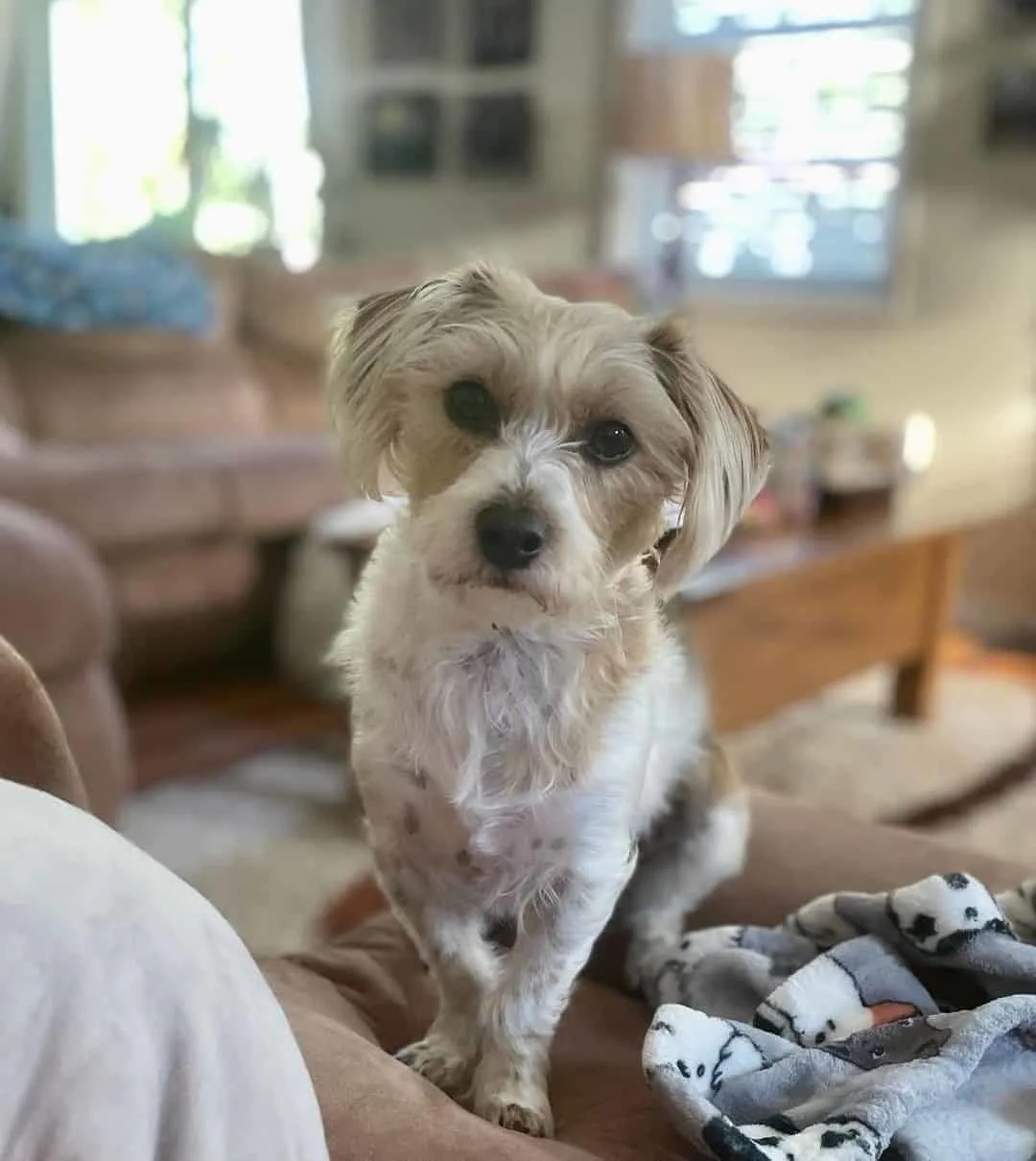 Photo from: @silas_the_boy_who_loves_toys
The following downsides aren't meant to scare you away from adopting a Jorkie. I always believe a person should look at both sides before they get a dog of any kind, especially if they're a first time owner.
As I mentioned, maybe someone won't think of these general downsides as cons. Maybe someone will actually enjoy them!
Lots of Energy
All Terrier dogs are the same. They're way too energetic and ecstatic about everything. But, I like to say they're playful and eager to stay happy and make everyone happy.
Jack Russell Yorkies don't need much exercise time, but you still need to take them outside. The good news is they can just enjoy some running time at the park and they're set.
Prey Drive
Both parent breeds are known as dogs with a strong prey drive. Jack Russells have it to a higher degree than Yorkies. Still, if you don't have their love puppy trained and socialized, you might end up with a doggo that chases everyone around, from little kids to other pets.
While Jorkies are generally friendly and get along with the entire family, including animals, unsocialized Jorkies may show signs of aggression and poor socialization. We must not allow that to happen to a sweet little pup like our Jack Russell Yorkie.
Availability
Even though the Jack Russell Yorkie mix is accepted in the ACHC, American Canine Hybrid Club,, it's still difficult to find these pooches. Like all designer dogs, the Jorkie is wonderful, but not many people want to experiment and breed them.
And, especially if you're a fan of adopting dogs, instead of buying, you'll have a rough time finding Jorkies in your local shelters. People don't give up on them easily because they're so friendly and cheerful.
Another issue with Jorkie's availability is the fact no one but a well-experienced breeder can guarantee you a healthy pup. Jorkies are hybrids, and thus their parents can come from different sides. The mother's breeder may be responsible and care for his dogs, but the father's might not be.
You can't play safe here.
What I can recommend to you is to be patient with your wait. It's better to wait for years to get a healthy pup, than to buy a Jorkie with a suspicious background.
Conclusion
That's all, folks! Now you know everything about the Jack Russell Yorkie mix. This hybrid was born to amaze people and make them fall in love immediately. It's one of those dogs that's beautiful from the inside and outside.
Both feisty and cuddly at the same time, the Jack Russell Yorkie is the dog for everyone who wants an active companion during the day, and a sweet cuddler to warm up their bed by night.
If you're lucky enough to find a superb quality Jorkie, don't hesitate for a moment. Grab that pooch and adopt it asap! Jorkies are difficult to find. No wonder, people are apparently aware that living with Jorkies is a blessing!
Read Next: The Basenji Jack Russell Mix Is Not For The Faint Of Heart