Disclosure: This post contains affiliate links, and I will be compensated if you make a purchase after clicking on my links.
The best brushes for Yorkies come in the form of pin and bristle brushes, as well as combs. But what about the rest of the grooming tools?
Are they not the best dog brushes for your Yorkie?
Actually, no. Some of the remaining dog brushes aren't that safe for a sensitive Yorkie, like razor tools (sorry, Andis!) The Yorkshire terrier has hair instead of fur and needs extra care when grooming. The good news is, no matter if your Yorkie has long or short hair, it's still a low-maintenance dog in every way.
A teacup-sized dog with teacup-tiny needs!
To help you keep your good boy or girl looking show-ready, here's what grooming tools you're going to need!
Yorkshire Terriers are dogs with hair instead of fur. Dogs with such coats don't have a double coat. It's only their hair and skin underneath.
With this being said, you can now understand why choosing the best brushes for Yorkies isn't such an easy task. You need to find a good brush that won't hurt your dog. Pin and bristle brushes work best.
Hartz's double-sided pin and bristle brush is definitely the best combo! The brush features a side of stainless pins with covered tips used to remove tangles and loose hair. The bristle side consists of nylon bristles placed to distribute natural oils evenly and leave the coat smooth and lustrous. We love double-sided brushes because you don't have to waste time and money on multiple brushes.
Not only does this brush do a great job for your Yorkie, but it's also made to make the job easier for you. The plastic handle is ergonomically designed, so your wrist won't strain while you brush your pooch. It's proven that this brush reduces the amount of shedding if used frequently. Not that your Yorkie sheds like crazy, but still, it's a nice feature.
Frisco's popular bristle brush is a staple for any dog owner, including professional groomers too! There is something about simple brushes that just do the trick better than fancy grooming tools. Here's why this plain ol' bristle brush is so many people's favorite.
The brush comes with soft and flexible bristles that distribute the natural oils evenly throughout the coat and make the hair look shiny and feel soft to the touch. The brush is easy to handle and clean, making it one of the best choices for everyday use. The handle's ergonomic design supports a better grooming experience and offers more effective brushing.
The Frisco bristle brush is not only meant for your Yorkie, but it can be used for all dog breeds and sizes. Every coat deserves to be luxuriously lustrous. With Frisco's Bristle brush, that is guaranteed.
A double brush means double the fun and double the efficiency. Petkin knows this all too well. That's why they've come up with a soft grip double brush that features two sides made to brush your Yorkie gently.
The brush features two sides, one with stainless steel pins and the other with soft bristles. The side with pins works out tangles and matted coats. Loose hair gets removed easily without having to put too much pressure into grooming or hurting your dog's skin. The bristles provide a great finishing touch by redistributing natural oils in the dog's coat, leaving the coat looking sparkling and shiny.
The third best feature of this brush is the comfortable, soft-grip handle that will fit snugly in your hand and won't slip out. The brush is lightweight and won't tire your hand, even if you're working on the most stubborn knot ever. The Petkin Soft Grip brush is definitely one of the best brushes for Yorkies with medium to long coats.
You already know how much we love Frisco brushes. Actually, we see no reason not to love them. They're sturdy, of great quality, and most importantly, they do the job. The Frisco pin and bristle brush is one of the best brushes for Yorkies and our editor's pick. Why don't we see what's so amazing about this dog brush?
For starters, nothing beats the double feature this brush has. You don't have to waste time finding other brushes and handling them. This Frisco brush will be the only brush you'll need to groom your Yorkie. Thanks to its pin side, no more tangles or matted coats will bother you or your dog. Gently go through your dog's coat, down the hair, and work that mess out. The bristle side is there to make the coat look super shiny and soft as a feather.
With regular use, you will see how your dog's coat condition improves. Even though Yorkies don't shed that much, you will notice less hair around the place if you use this double brush.
As for the handle, it is ergonomically designed with an anti-slip rubber handle that will help you control the brush better and stay in your hand no matter how tangly those tangles are. With a price of only $12, this is a steal!
If you ask dog grooming experts, they would say that boar bristles are the ultimate choice for grooming Yorkshire Terriers. They're soft, flexible, and provide amazing results in the form of a super glossy coat. We love our Yorkies with glossy coats, don't we?
The BIOSILK brush is quite innovative and comes with soft bristles that not only distribute natural oils but also remove loose hair. Bristle brushes usually aren't that efficient at removing hair, but the BIOSILK one is! This brush is gentle and won't irritate your dog's skin or pull on its hair. That's why many Yorkie owners love it! Besides the awesome brushing function, this tool is special for some other reasons too.
As you may notice from its title, this is an eco-friendly brush made using plant-based materials to support sustainability. Brands that go green and take care of the environment always get bonus points. We applaud BIOSILK for taking care of the world we live in and our dogs' coats.
Besides bristle brushes, combs are also what you need to have if you plan to groom your Yorkie yourself. How else can you solve those nasty knots? Your fingers can detangle most of them, but what are you going to do about the tough ones? Well, spray on some conditioner and grab the Li'l Pals double-sided comb!
This grooming comb is made of stainless-steel and features 32 closely-spaced teeth on one side and 17 teeth on the other. Not only that, this comb solves matted coats and leaves your pup looking great, and it can also be used to comb around the face.
This is a sensitive area for many dogs, including Yorkies. You need to keep your Yorkie's face nice and tidy; otherwise, your dog may just look sad.
Besides combing the coat for a neat finish, the Li'l Pals dematting comb also gets rid of fleas easily. If your dog gets those nasty parasites, grab this stainless steel comb and lift the dog's hair. All the fleas and their eggs will be gone for good!
It is proven that regular use of such combs promotes natural oils production, massages the skin, and supports good blood circulation. The 3-inch handle is anti-slip and fits snuggly into your hand, giving you better control when brushing small dogs or toy-sized pooches.
Not every slicker brush is good for your Yorkie, but the Li'l Pals coated tips slicker brush is A-okay! In fact, when you look at the features this brush has, you'll see it's more than okay. The Li'l Pals brand produces high-quality grooming tools that will last you a lifetime. If you're a proud Yorkie owner, you won't need another slicker.
The brush consists of a pad of flexible wire pins that follow the contours of the dog's body, leaving the coat looking freshly groomed. This brush has a triple function: to detangle knots, pick up loose hair, and leave the coat looking lustrous.
If you use it regularly, you will stimulate good blood flow and the production of natural oils. This will lead to new hair growth and a healthy coat. Use it without fearing you'll hurt your Yorkie. All the bristles have plastic tips to prevent scratches and irritation.
This brush is specially designed for petite dog breeds like the Yorkshire Terrier. However, you should not overdo it since bristle brushes are safer for grooming a Yorkie. If you're an inexperienced groomer, you might harm your dog with a slicker, and that's exactly what we're trying to avoid.
Although its purpose is to ease the shedding season, the Safari shedding-comb can be used for brushing Yorkies because of its other functional traits. Safari makes excellent grooming tools, and it's no wonder this comb is on our list.
The comb features a skip tooth design that picks up dead hair. No hair gets left behind with this magic steel wand! The comb's teeth are smooth and rounded, so you won't risk any injuries.
This comb was designed for dogs with an undercoat, but even though the Yorkie doesn't have one, it can still be used for daily brushing. Regular use of this comb can solve issues with shedding. Also, as you comb, you massage the skin and stimulate good oil production and blood circulation.
For your convenience, the handle is ergonomically designed, wooden, and durable. If you drop it accidentally, you can rest assured it won't break! The Safari shedding comb was designed for dogs with medium to long coats. If you have multiple dogs besides your Yorkie, this comb will be a good addition to your grooming kit.
Most grooming products you see on Chewy and Amazon are made for dogs with an undercoat. Well, here's one that would work best with dogs without an undercoat, just like our Yorkie. The Bissell FURGET IT brush will make you fur-get about matted fur and knots.
This grooming tool features two sides, one for solving painful mats and the other for deshedding an undercoat. As you can see, you can use the Bissell brush if you have dogs of different breeds besides a Yorkie. It's efficient, pays for itself quickly, and will become your favorite even faster!
The brush is designed with rounded-edge teeth, so you can offer your dog a pain-free grooming experience. With its triple function (dematting, deshedding, and brushing), the FURGET IT brush will prep your Yorkie pup for any dog show in the neighborhood!
The brush is made with an ergonomic, non-slip handle for your convenience. It's lightweight and doesn't tire your arm, so you both can enjoy the grooming session. The brush even works great on both cats and dogs, and it's fit for all coat types, including long, curly, coarse, or wire-haired.
Small dog breeds often have problems with tear stains. The Yorkshire Terrier has reddish-brown stains as a result of porphyrins. It's highly important to keep their face hygiene at a good level. A dog with tear stains looks untidy and neglected. A cute little pup like the Yorkie doesn't deserve this.
The PetPost tear stain remover is a nifty little grooming tool all Yorkie owners should have. It cuts the grooming time in half and results in a tidy-looking dog. This is an extra-fine tooth comb with 65 stainless steel teeth that remove the crust around the eyes efficiently and fast.
These teeth have blunt tips that won't harm your dog's face. The comb is the perfect size to reach small areas other combs simply can't. Daily use of this comb will reduce tear buildup and remove the crusty mucus that causes stains and may even lead to eye infections.
If your dog doesn't have any crust, you will need to grow out the stained hair and trim it. After that, continue using the PetPost tear stain remover regularly.
No matter if you're a professional groomer or a Yorkie parent, you will love having this comb around. It's recommended by veterinarians and approved by all pooches out there that struggle with tear-stains.
Pin grooming brushes are an innovation all brands should consider making. Even though they look a bit harsh, these wire bristles are, in fact, quite useful. The Bass Brushes Bamboo Brush is one of the finest pin hair brushes that will ease your Yorkie grooming.
The brush is designed for medium to long-haired dogs. Its premium alloy pins run smoothly through any type of coat, making it look healthy and shiny.
Since Yorkies have sensitive skin, you don't have to worry about hurting your pup with it. The pins are actually rounded pins, so ultimate comfort is guaranteed. Not many brushes reduce dander aside from loose hair, but this type of brush does.
This brush comes with a luxuriously finished bamboo handle. It's eco-friendly and comfortable in your hand. This Bass Brushes Bamboo Brush can also be used on cats too, which is always a nice bonus.
Last but not least on our list, we have another slicker you can use on your Yorkie. The GoPets slicker brush is becoming as popular as its famous relative, the Hertzko self-cleaning slicker brush. But, let's see why the GoPets slicker is special and how it made it onto our list!
Like any other slicker brush, this GoPets one removes tangles, matted hair, dirt, and dander. This slicker can be used for dogs with or without a double coat. It offers ultimate results and leaves the coat looking sparkling and shiny.
Of all the Yorkie brushes on our list, this is the only one with a self-cleaning function. Just press the button, and the bristles will retract, leaving you with a clump of hair ready to toss away. The Yorkie's hair is similar to human hair, so you won't have many clumps of hair. Still, it's the right brush to have when you start grooming.
The brush is sturdy and durable. It comes with a soft silicone handle, so it won't slip off. Thanks to it being lightweight, you won't strain your wrist or feel tired after grooming. The GoPets brush for dogs grooms, massages, and comforts your Yorkie.
FAQs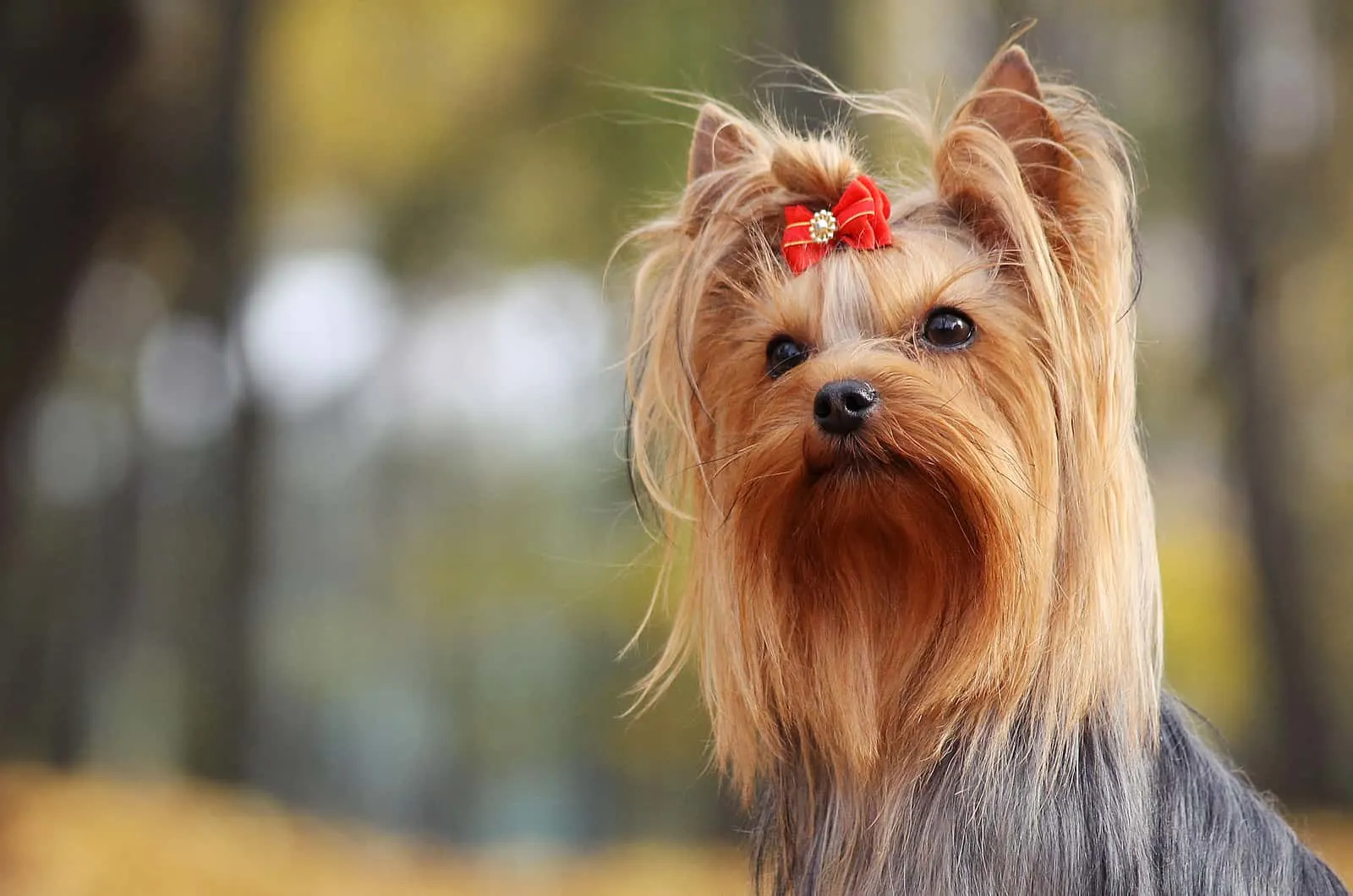 1. What's The Best Brush For A Yorkie's Coat?
Although it may seem like Yorkies can be brushed using any kind of brush, that is absolutely wrong. You should never brush a Yorkie using grooming rakes, deshedding tools, or slicker brushes.
These tools will only damage the dog's skin and coat since they're meant for thick, fluffy, double coats.
Instead, go with pin brushes and bristle brushes. They will get rid of any debris as well as style your pup's hair so it looks super shiny. Yorkshire Terriers can have medium to long coats, so it's best to use a pin brush. When they sport a short or shaved coat, use a soft bristle brush, preferably boar bristles.
A comb will come in handy, no matter if you use it around the face or for detangling the coat. Either way, make sure you buy a good one!
2. What Kind Of Coat Does A Yorkie Have?
The reason Yorkies can't be brushed with slickers or deshedding tools is that they have hair, not fur. These little pups have hair similar to ours. It's silky, soft, and grows to become long, so it needs a trim or shaving every now and then.
The good news is that Yorkies are low-shedding dogs, perfect for people prone to allergies. There is no such thing as a 100% hypoallergenic dog, but the Yorkie comes pretty close.
You will find hair from time to time, but it won't be near the amount of loose hair a dog with fur sheds.
Yorkie puppies have a different coat type than adults. Their coats are short, thick, and soft to keep them warm until they grow up.
Adult Yorkies can sport two coat varieties: silky and wiry. The silky coat is according to the AKC's standard. The hair is long, straight, and shiny, almost with a metallic sheen. Hair must be floor-length with a long-flowing muzzle and head hair tied back with a cute little bow.
Wiry Yorkies or wooly/wavy coat Yorkies (just like Poodles) have a thicker and wavier textured coat. Their hair is only a few inches long and appears as if it has a double coat. The bad news is, these Yorkies are more prone to matted coats, so you will have to brush them every two or three days.
3. How Often Should You Bathe A Yorkshire Terrier?
Generally speaking, Yorkies are low-maintenance dogs. They can be bathed every two to three weeks, depending on how dirty your pooch is.
Of course, if he rolls in the dirt between baths, you can wash him and proceed with your usual grooming routine. Long-haired Yorkies need bathing more often than short-haired pups to get rid of dirt and natural coat oils.
4. Can I Have Some Grooming Tips For Brushing A Yorkie?
No matter if you have a long-haired or short-haired Yorkie, the important thing to know is never to brush a Yorkie if its hair is dry. You risk breakage and hair flying everywhere. Also, dry brushing will create frizzy coats, and that's just sad.
As you brush your Yorkie, use a mixture of water and conditioner. You can spray the entire coat or spray as you brush. If you run into mats or tangles, spray some more conditioner and work them out.
Combing always comes before brushing. It will untangle the coat and prepare it for deeper brushing. Use line brushing when grooming a silky coat Yorkie. Start near the bottom third of your dog's body and work your way one horizontal section at a time. Your pup's coat should be fluffy after brushing.
A wire-haired Yorkie should be brushed two to three times a week using wide-toothed steel dog combs and pin brushes. If you run into mats or knots, work it out with your hand. Stubborn mats can be trimmed using clippers or by a professional groomer.