With its petite size but loud personality, it is hard to miss the feisty Yorkie. The Yorkshire Terrier breed, also known as the Yorkie, is known for its lively, spunky, and joyful temperament, making it a great addition to any family.
According to the American Kennel Club (AKC), Yorkies currently sit at a comfortable 9th place when it comes to breed popularity in the United States.
If all of this has convinced you to take on the challenge of owning one of these dogs head-on, you should know that finding the right breeder is a crucial step in the process.
To help you on your quest for Yorkie ownership, we have compiled, in no particular order, a list of the best Yorkie breeders in Texas. We did our best to exclude all known puppy brokers, puppy mills, and backyard breeders to provide you with a clean list to start your search for a Yorkie puppy.
Yorkie puppies for sale in Texas
1. Texas Tiny Yorkies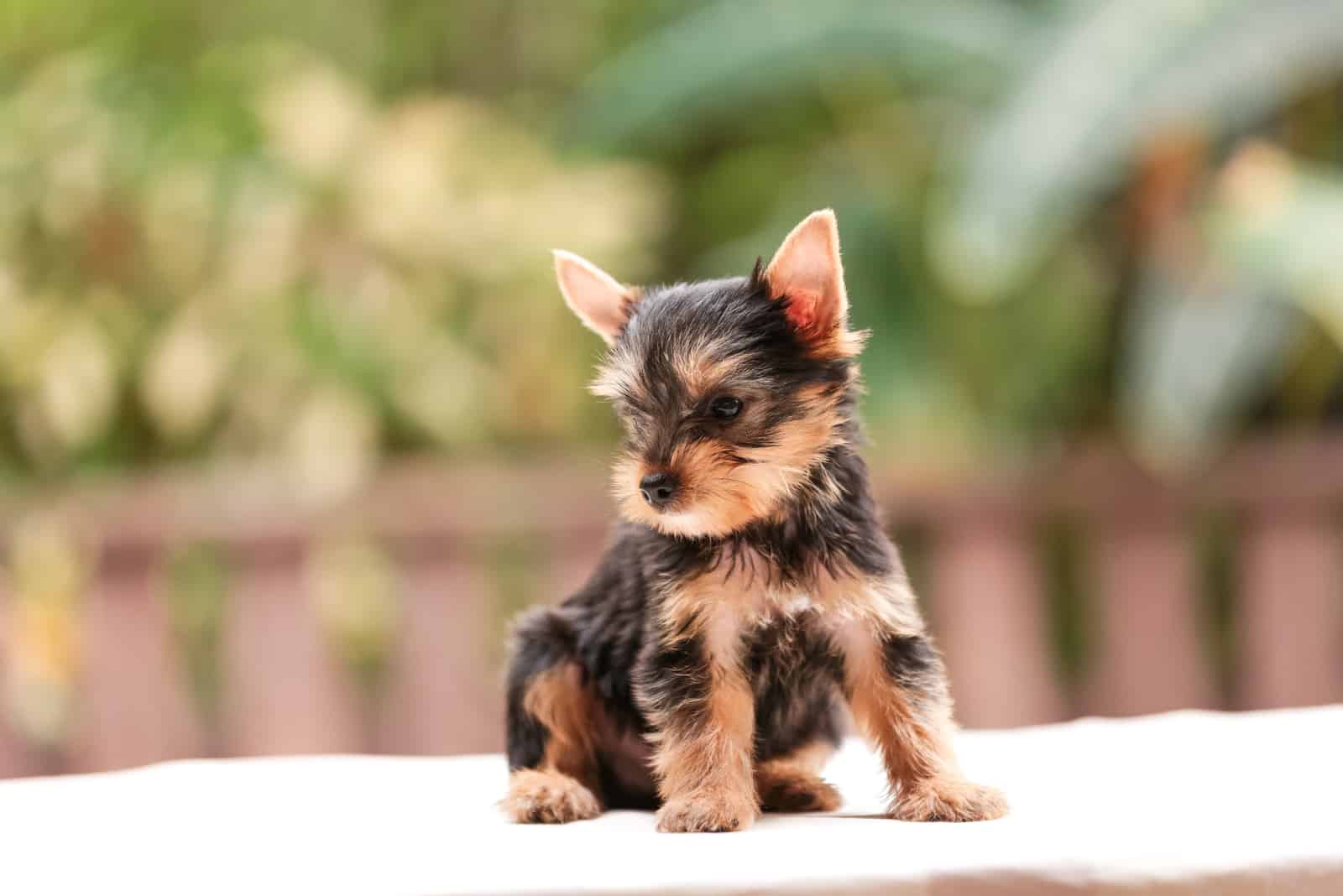 For the breeders at the Texas Tiny Yorkies breeding outfit, everything revolves around Teacup Yorkies. These mini versions are arguably even cuter than their standard-sized relatives, with their petite size of only four pounds.
Each of the Yorkshire Terrier puppies that comes out of Texas Tiny Yorkies' breeding program comes with a health guarantee, health records, and an overload of cuteness.
The puppies they produce are given lots of space to roam around, exercise, and engage in any activity they can think of. They are also provided with lots of early socialization with children, adults, and other dogs.
Each puppy is given the time and attention it needs to develop and thrive before being sent to its new home. In addition, each puppy is bred for conformation and temperament according to the breed standards set by the AKC, so you can rest assured that the Teacup Yorkie you are buying is of the highest quality.
If you are interested in getting a Texas Tiny Yorkie for you and your family, the main breeders of this breeding operation will gladly answer all of your questions and help you figure out if the Yorkie breed is right for you. Each puppy they sell is guaranteed to be a happy, healthy, and well-socialized pooch, and there are dozens of satisfied customers who can back that up.
Yorkshire Terrier breeder details:
Location: Abilene, Texas
Website: Texas Tiny Yorkies website
Phone: 325 370 1038
Email: [email protected]
2. Wendy's Yorkies Texas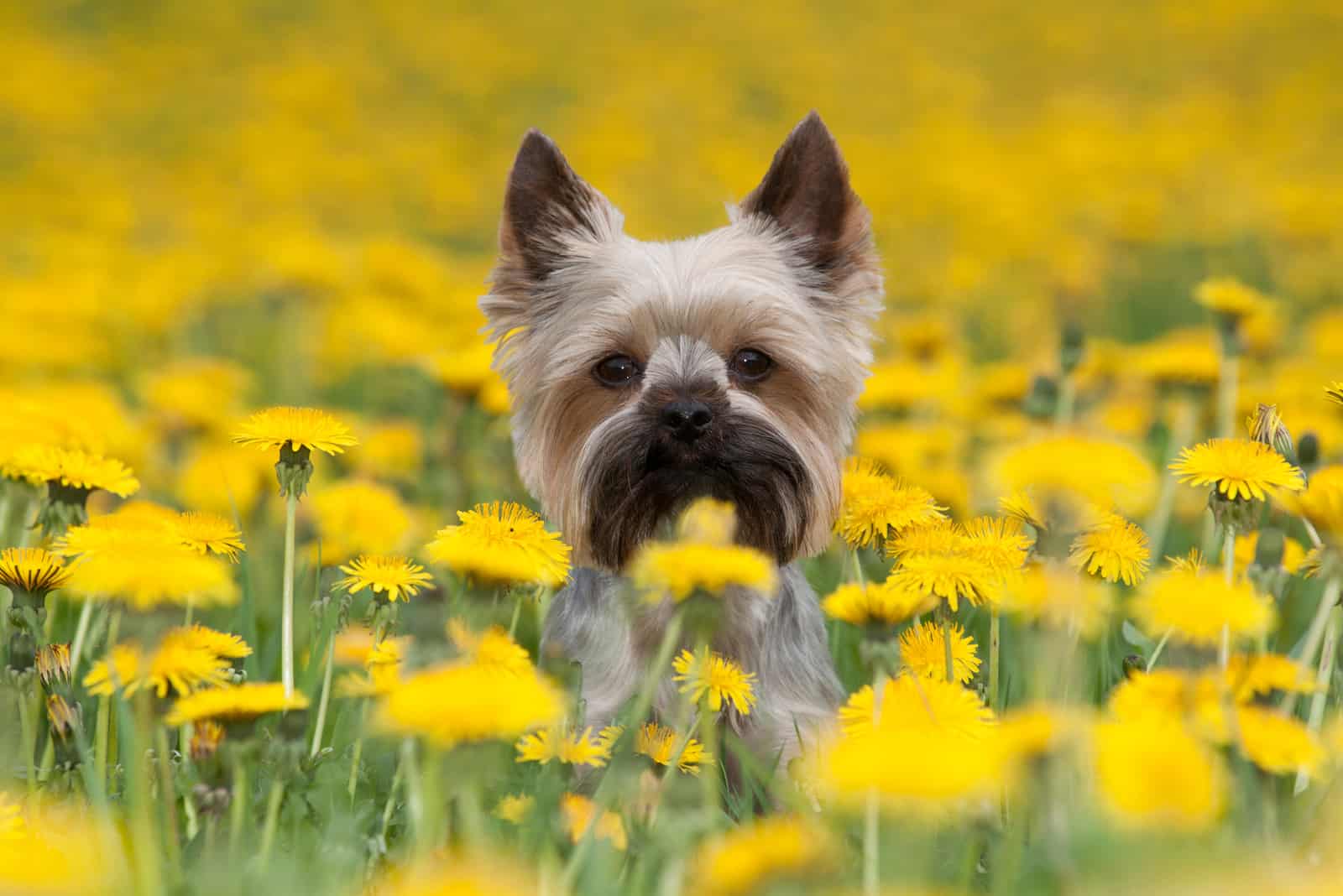 The owner and main breeder of Wendy's Yorkies is fully dedicated to her full-time hobby of breeding top-quality Yorkie puppies that are ready to be put into loving homes.
Alongside a quality experience and health guarantees, Wendy also offers custom training to her customers to help them and their puppies get better acquainted before they start a new chapter in their lives together.
Each of the puppies born at Wendy's Yorkies breeding facility is raised by Wendy in her own home. Each puppy is also socialized daily and goes to its new family with the necessary vaccinations and deworming so you can be confident that you are getting a healthy puppy both physically and mentally.
Bundled in with your new furry family member are the puppy's health records, samples of its favorite food, and other resources that will come in handy as you train your new furry friend and make it a part of your family.
If this is one of the Yorkie breeders in Texas that have piqued your interest, you can put down a deposit to secure a spot on their waiting list. Wendy offers a variety of payment options and can even help safely transport your cute furball to your doorstep if you are located outside of Texas.
Yorkshire Terrier breeder details:
Location: Powderly, Texas
Website: Wendy's Yorkies Texas
Phone: 903 249 9360
Email: [email protected]
3. Texas Star Yorkies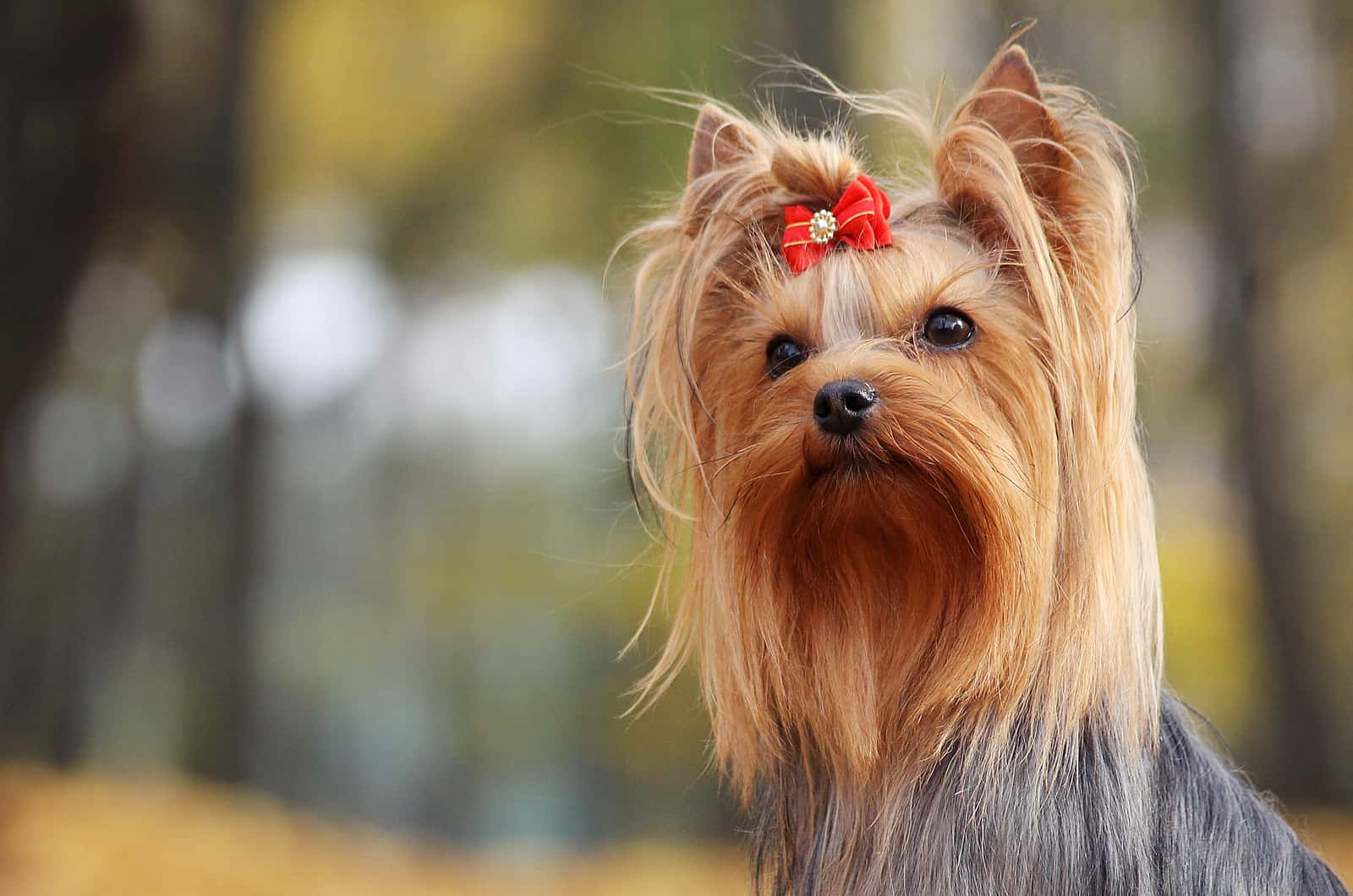 As a small-scale breeding facility, the team at Texas Star Yorkies fully invests in treating each puppy they raise with the love and attention it needs.
They have a variety of colors and styles of Yorkies for sale in Texas, including traditional, parti, chocolate, and blonde. With all of the different coat colors available, you are bound to find one perfect for you!
All of the Yorkshire Terrier puppies they produce receive special care from a licensed vet and come with health guarantees. In addition, if any health issues do crop up, Texas Star Yorkies offers a full refund of your purchase, and you can return the pooch as well.
The breeders at this breeding outfit truly care about each of their Yorkie pups and do everything they can to ensure none of them end up in dog rescues or shelters. The owners, Larry and Teena, are passionate about breeding and raising healthy, joyful, and active canine companions and putting them into loving homes.
If you are interested in getting a Yorkshire Terrier puppy from Texas Star Yorkies, you will be required to submit a deposit to reserve a spot on their waitlist. After a short inquiry form, the owners' will get in touch with you and inform you about the next steps in the process.
This is one of the most reputable Yorkie breeders in Texas, and the team goes above and beyond to help you select a Yorkie that fits your lifestyle and preferences.
Yorkshire Terrier breeder details:
Location: Montgomery, Texas
Website: Texas Star Yorkies website
Phone: 936 597 7034
4. PJ Yorkies Texas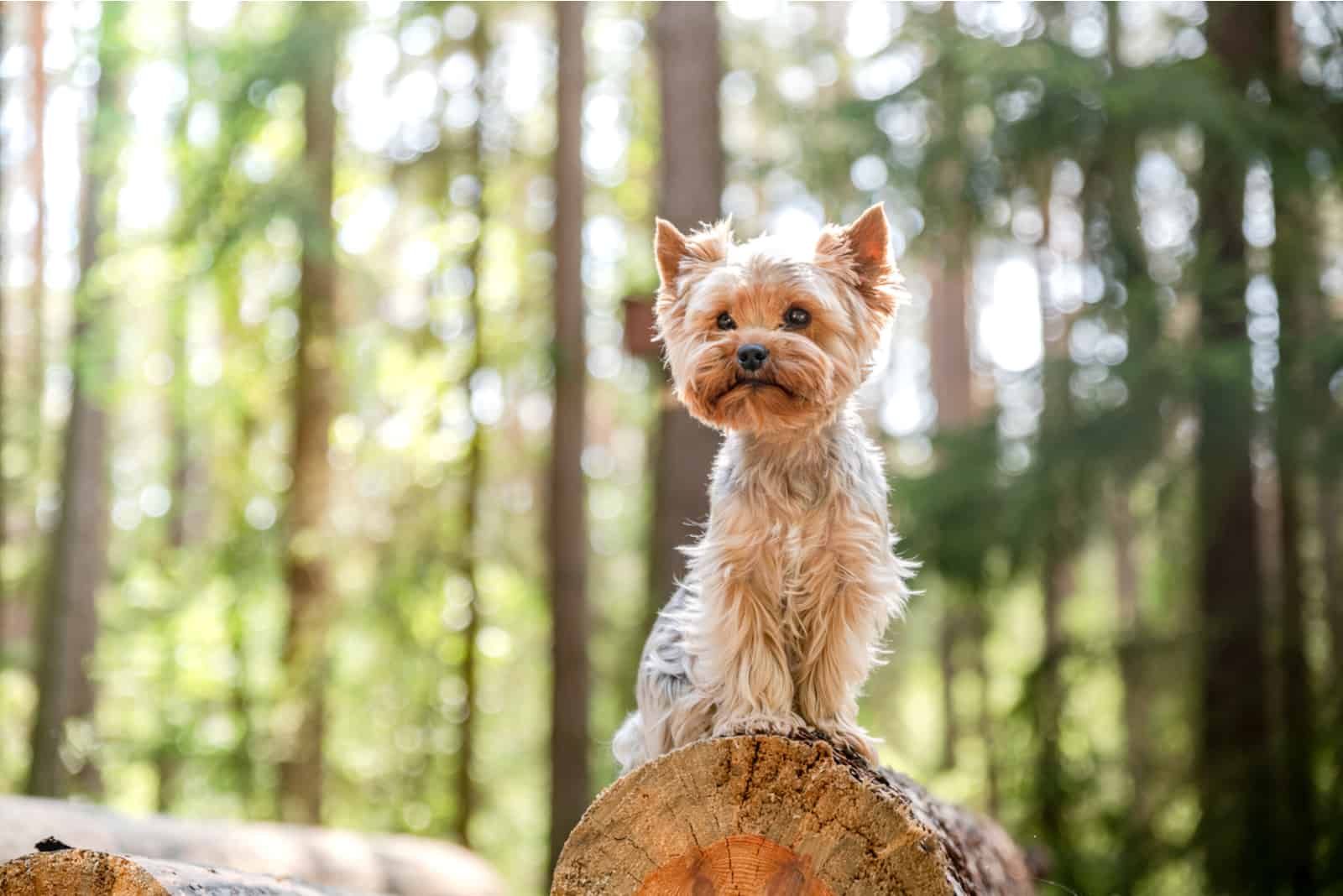 PJ Yorkies Texas is located in Holland, Texas, and focuses on producing Yorkies of various colors. Aside from the traditional coat color, they have parti, chocolate, merle, sable, blonde, golden, and midnight black Yorkies.
All of the puppies from PJ Yorkies are AKC registered and come with a one-year health guarantee. With a passion for improving the Yorkshire Terrier breed, they breed their puppies at the highest quality and provide the attention and love they need to easily adjust to any new environment.
Furthermore, the breeders at PJ Yorkies provide each of their clients with guidance to determine whether a dog of this breed is the right choice for them. They also share their knowledge on Yorkies, including the best practices for training and caring for them.
If you are interested in introducing a PJ Yorkies' pooch into your life, feel free to browse their website to see pictures of available puppies and find out more about their breeding dogs. You can also fill out their contact form to express your interest in becoming a proud owner of one of their puppies and get in touch with the team.
Note that even though the breeding facility is located in Holland, Texas, PJ Yorkies also offers the opportunity of purchasing one of their dogs to people in surrounding areas like Round Rock, Georgetown, Walburg, Temple, Austin, and Killeen, Texas.
Yorkshire Terrier breeder details:
Location: Holland, Texas
Website: PJ Yorkies website
Phone: 254 931 7143
5. Red River Yorkies Texas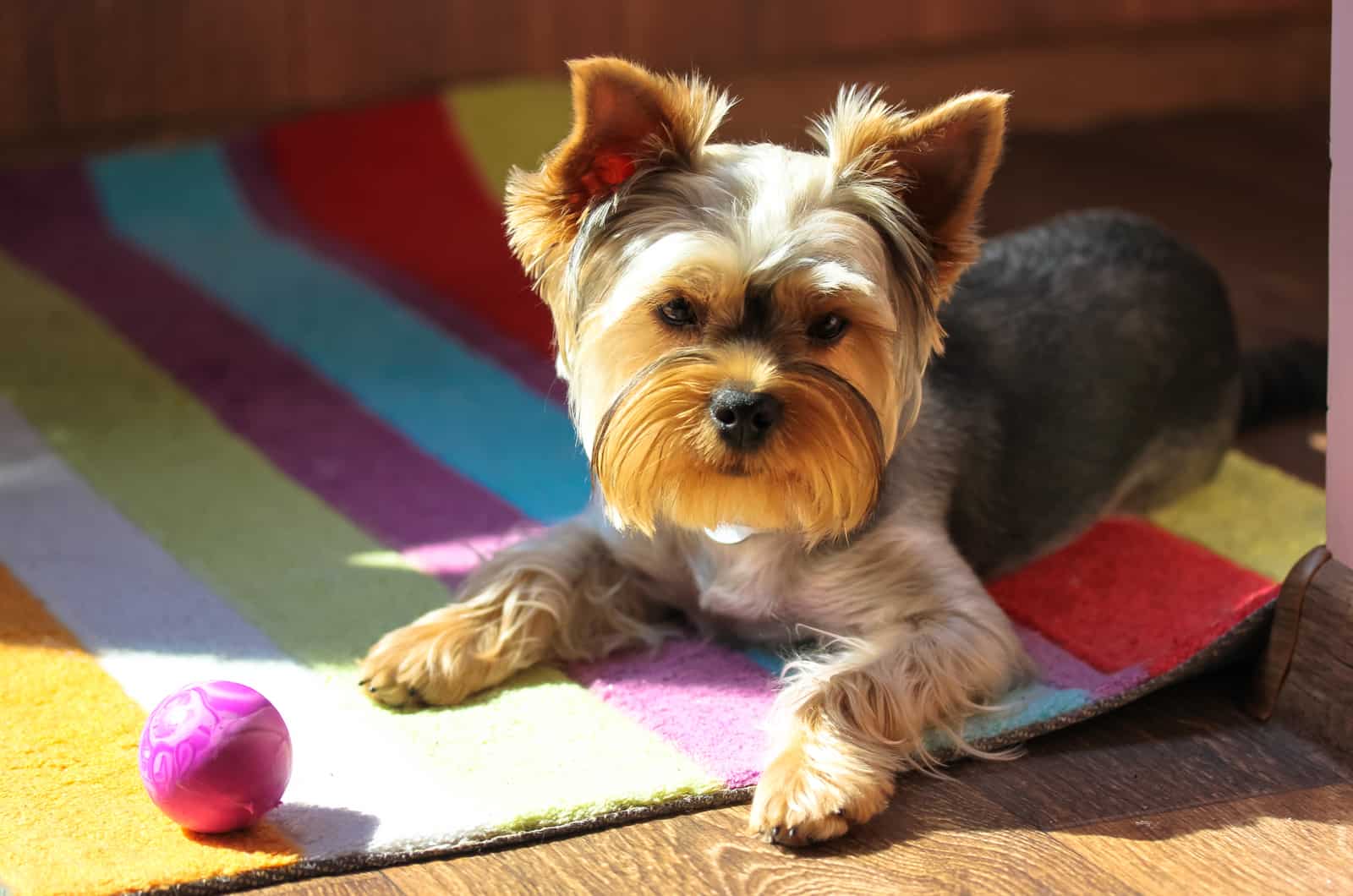 The thing that distinguishes Yorkies from other toy breeds like the Maltese or the Shih Tzu, is their beautiful coat. The coat is precisely what the breeders at Red River Yorkies specialize in.
With a wide range of gorgeous-looking coat colors, including the more rare and exotic color combinations, there is no doubt that you will find a Yorkie puppy that matches your preferences.
As you get ready to bring your new puppy home from Red River Yorkies, keep in mind that it will come microchipped, dewormed, pre-spoiled, and with a one-year health guarantee.
The owner and main breeder, Vona McDougal, has been breeding high-quality dogs of this breed for many years, so you can rest assured that you will get a healthy, happy, and obedient pooch from her breeding program.
On top of her experience in dog breeding, Vona is also an expert in animal sciences and the medical field, so she knows the ins and outs of taking care of all dog breeds, especially Yorkies. On top of all of this, Vona is also an active member of the Professional Pet Breeders of Texas as well as other notable organizations, which is further proof of her knowledge and credibility.
Note that the Yorkie litters they produce come only at select times of the year, so the best thing to do is to reserve a spot on the breeder's waiting list. If you are interested in welcoming a Yorkie from Red River into your life, make sure to schedule an appointment with the team so that they can get to know you and your lifestyle and preferences a little bit better.
You can take this a step further by putting down a deposit and filling out the contract that contains the information on what exactly you can expect when bringing your new Yorkshire Terrier puppy home. Red River Yorkies is located in Avery, Texas, which is about two hours east of Dallas, Texas.
Yorkshire Terrier breeder details:
Location: Avery, Texas
Website: Red River Yorkies website
Phone: 903 219 1863
Email: [email protected]
6. Yorkies of Houston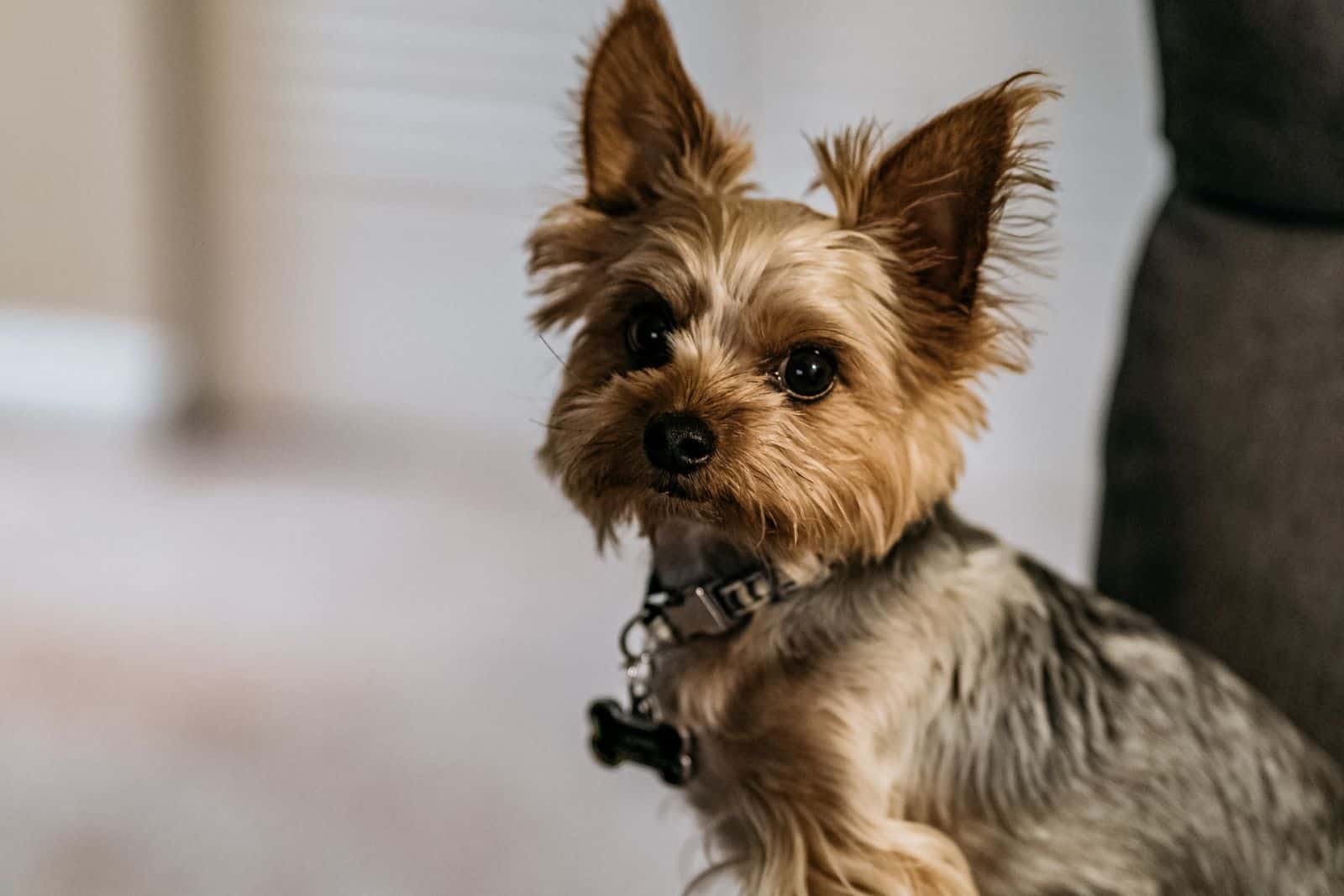 The founder and main breeder of the Yorkies of Houston breeding facility, Ekiria, became a registered, reputable breeder back in 2007.
Fourteen years later, her precious little furballs are still her children. Ekiria's family have joined her in producing top-quality, well-socialized, healthy, and happy Yorkie pups, and her network has grown to include trusted customers and friends from all over the country.
Yorkies of Houston has even been featured on Fox News, KHOU, and Associated Press. They are truly one of the finest Yorkie breeders in Texas and provide prenatal parent visitations before their puppies are delivered.
In addition, they offer their customers scheduled visits for puppy training and bonding in the first few weeks of their new puppy's life.
All of the puppies produced at Yorkies of Houston are vaccinated and dewormed. They are raised in a loving family home environment and are pre-trained, pre-spoiled, and allergy-free.
If you are interested in becoming a proud owner of one of the pups from the Yorkies of Houston breeding program, you should be prepared to submit a deposit of 25% of the purchase price. Note that the breeder has five options for financing, which makes taking your Yorkie puppy home a bit easier on the wallet.
Yorkshire Terrier breeder details:
Location: Pearland, Texas
Website: Yorkies of Houston website
Phone: 713 332 9773
The price of Yorkie puppies in Texas for sale
The cost of a purebred Yorkshire Terrier pup with AKC registration rights varies drastically based on several factors. However, on average, you can expect to pay between $1,200 and $1,500 for a Yorkie puppy from one of the AKC licensed Yorkie breeders in Texas.
Additionally, most reputable breeders will request a non-refundable deposit of around $200 to $400 during the application process to ensure that you are serious about buying a dog from them.
Note that the price of a Yorkshire Terrier can reach a whopping $10,000 in some cases. However, this is usually associated with the most elite bloodlines that are used as show dogs in the most exclusive competitions or champion-line breeding.
More information about Texas Yorkie puppies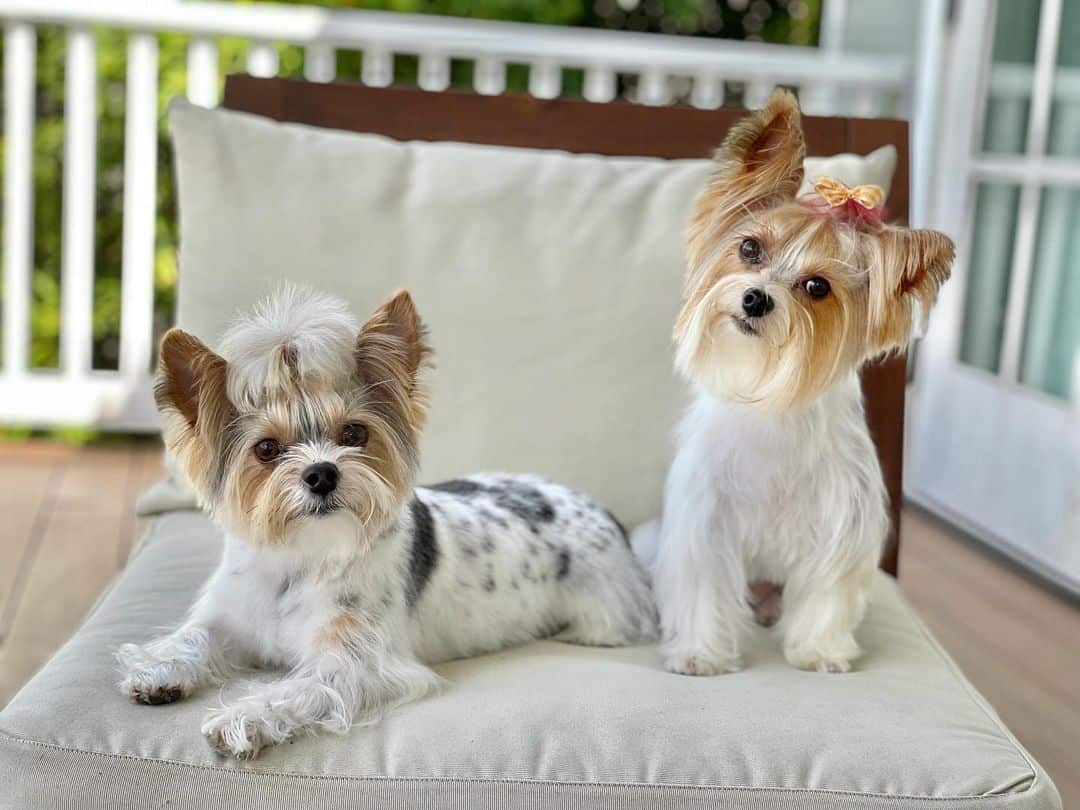 Photo from: @ruby.and.bodhi
• Being one of the toy dog breeds, Yorkies weigh only five to ten pounds and reach a height of eight to nine inches in adulthood.
• Because of their delicate structure and small size, these pups aren't recommended for households with toddlers or small children.
• Some dogs of this breed can be a bit "yappy," barking at everything they see or hear. Regular training from an early age can help fix this.
• Some Yorkies can have very delicate digestive systems and may be picky eaters. Other reasons for eating problems can be teeth or gum problems. If your Yorkshire Terrier shows discomfort during or after eating its meals, have him or her checked by the vet.
• The number of puppies in a Yorkie's litter is around four. This can vary, of course, and you can expect anywhere between one and five pups to be born in a litter.
• Both male and female Yorkies make great watchdogs. Even though they see themselves as big dogs, they aren't that great at guard or protection work.
• Yorkshire Terriers are one of the best dog breeds to get if you or someone in your family suffers from dog-related allergies. Their human-like hair has hypoallergenic traits that make them suitable for people who suffer from mild allergies caused by dog dander and hair.
Texas Yorkie breeders: conclusion
Yorkshire Terriers can be a great source of joy and energy in life. If you wish to introduce one of these four-legged cuties into your life, feel free to check out any of the Yorkie breeders in Texas on our list.
With many of them offering Yorkies of different colors as well as additional resources and assistance in choosing the right dog for you, you can rest assured that you will find a high-quality Yorkie pup in no time!
Go through each breeder on our list of best Yorkie breeders in Texas and do your own research before putting down a deposit. By doing so, you will be sure that the breeder you are dealing with has a high-quality breeding program, and you will have a higher chance of finding the perfect puppy!