This post contains affiliate links, and I will be compensated if you make a purchase after clicking on my links.
It's that time of the year again — time to dress up. Of course, we are talking about Halloween… everyone's favorite holiday – the only time when you are allowed to be someone else.
Cute, innocent, creepy, or scary… everything is allowed, and that's why people love it. However, what's in it for dog lovers? Well, kids love it because of the candy, and dog owners love it because they get the perfect chance to put some cute dog costumes on their favorite little pooches.
When the weather starts to get a bit chilly, and the first leaves start to fall, you know it's time to start looking for your Halloween costumes. Dogs can be a little bit tricky for finding the right costume because not all of them are that cooperative or like having something on.
German Shepherds, in particular, are larger dogs, which makes it a little bit difficult to find the right-fitting dog Halloween costume. But, don't you worry – we've got you.
We have searched the market and found the best German Shepherd Halloween costumes that your pooch is going to love and look super cute in. Plus, watch out for some cute and interesting DIY costume ideas that you can easily do if you are a bit pressed for time.
Let the Halloween magic begin!
German Shepherd Halloween Costumes: Top Three Picks!
Best German Shepherd Halloween Costumes To Dress Up Your Pup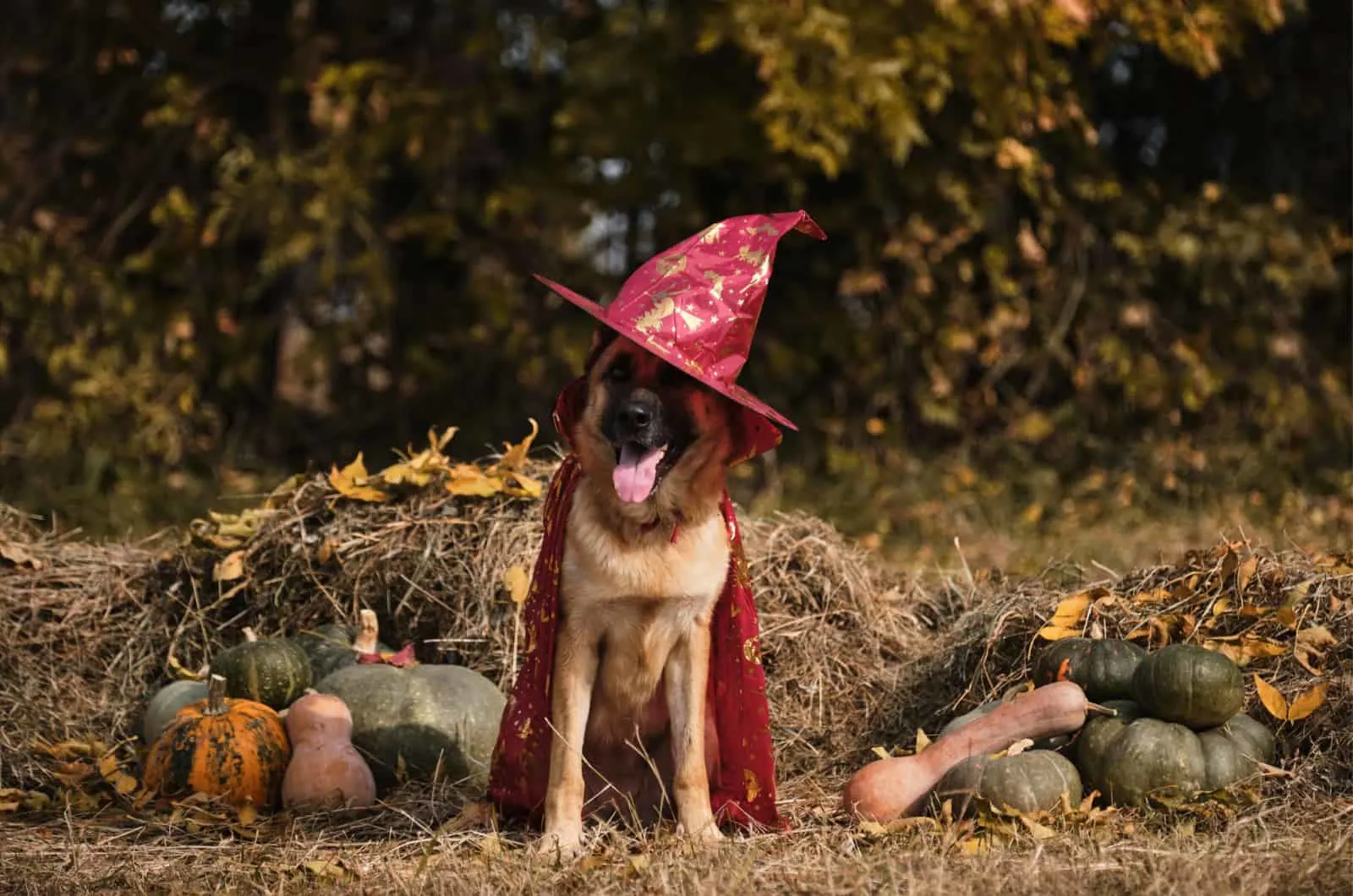 First on our list of German Shepherd dog costumes, we have one that will definitely make your pup look very dashing and cute, and it might also cause a few giggles and "awwwws" from passersby.
Perfect for a Halloween party or if you have a wedding in the plan – it can serve both purposes. Make sure to properly measure your dog beforehand, and choose the appropriate size according to their size chart that you can find online.
Don't forget to take lots of pics because the sight of your pup in the dapper suit is something that you'll definitely want to remember.
Wait… a German Shepherd puppy in a shark costume? Say no more! This beautiful and extremely cute Casual Canine shark costume will make your pup look adorable and keep him warm during the cold October nights.
They recommend the X-Large size for German Shepherds and Golden Retrievers ( 22″ neck; 34″ chest; 24″ length), but you should always pre-measure your dog just in case.
The material is so soft, shiny, and stays on. Your dog is bound to get many compliments on Halloween for how cute he looks, and as a bonus, you can always use it afterward just for fun or for keeping your doggo warm during winter walks.
One of the staples of Halloween costume parties is definitely pet bat wings. You can't go wrong with this one. These adjustable Legendog bat wings are perfect for dressing up your German Shepherd and making him look more adorable.
It offers you a very nice touch to the simple bat wings, with two pumpkin bells that are perfect for trick or treating. This costume is very quick and easy to put on, your GSD doggy will not mind it, and he'll get lots of compliments (and treats also).
If you are a DC Comics fan, this costume is perfect for you and your furry friend. Let's face it… who doesn't want to see their doggy in a Wonder Woman costume? It's so easy to match with your own outfit, and it can be the perfect family-group costume look.
It is very colorful and fun, and it will definitely make your GSD look more adorable than ever. This costume company offers various sizes for all dog breeds, but they recommend checking the size chart, and preferably watching a measuring video before ordering one.
Depending on how big your dog is, the skirt and the cape may be a little bit too long, but it is a very easy fix with a little bit of pinning up.
This is another one of the extremely popular DC Comics pet costumes (Amazon's #1 Bestseller), but this time for our male German Shepherds (although who says that your female dog can't wear it).
READ ALSO: Male Vs Female German Shepherds: How To Choose Your Perfect Pet
Look for matching human costumes (like Superman, Batman, Robin, The Joker…) for perfectly matching outfits with your beloved furry friend.
The costume is tied on by strings, which makes it easy to adjust and customize to your own dog's sizes. Great product for a great price.
Do you have your favorite UPS driver that your dog also loves? Well, if you do… we have something for you that I am sure everyone will love.
With this UPS dog costume, even your GSD can become a UPS canine courier. The costume comes with a shirt, a cap, and a box that you have to cut out and assemble yourself (either with tape or glue).
It's not difficult (it should take you approximately five minutes), but it is good to know before you purchase the costume. Other than that, it is very adorable, and the perfect opportunity to take an awesome picture of your dog with a UPS truck.
German Shepherds are highly intelligent and trainable dogs that are most often used as police dogs because of their amazing working qualities. So, what's better to dress up your pup than a police dog T-shirt?
READ ALSO: Are German Shepherds Aggressive? How to Deal With Such Behavior
This product is great because it is very versatile and can be used on various occasions (even after Halloween). It comes in various sizes as well, ranging from XS to 5XL, but they do state that their sizing runs small, so be aware of that before you purchase.
Other than that, it is made from very soft, breathable, and high-quality material that your dog will not mind wearing even daily. Check their store for more cute and funny dog clothes.
Where are our Harry Potter fans? You are going to love this for sure. This extremely adorable and super funny dog costume will transform your pup into a little wizard that came straight from a wizarding school — Dogwarts.
It can be used daily for walking, for normal wear, for a Halloween party, a photoshoot, or any other occasion. It is very breathable, lightweight, and easy to put on, and it will fit your dog pawfectly.
The glasses might not stay on for too long (if your dog doesn't like them, obviously), but it is a great addition, and it makes a very cute picture.
Next on our list, we have a great dog tuxedo suit and bandana set that is great for any formal occasion such as a wedding, Valentine's day, New Year's Eve, and, of course, a Halloween party.
It features a bow tie and decorative buttons that will make your pup look even more dashing. The suit is made from high-quality, premium fabric, the velcro is secure, and the bow tie sits well. All in all, it is a very good product that will not disappoint you.
It comes in various sizes that will fit small dogs like Poodles, medium-sized dogs such as Corgis, Bulldogs, and Pitbulls, and larger dogs such as German Shepherds, Labrador Retrievers, and Rottweilers.
This is probably one of the funniest and cutest dog Halloween costumes that we have on our list. This Rubie's Big Dog Prince costume will make your GSD look cute and very pretty.
The costume includes a pink dress, a pink hat, and leg ties. It is made from stretchy material that will offer your pup a very comfortable fit. The hat might not stay on your dog's head for too long, but it is good for a quick picture.
Other than that, it is a very cute, low-fuss, and adorable costume that will definitely attract attention wherever you go.
If you want an adorable dog Halloween costume that is going to be a little bit different than usual, and one that will catch lots of people's attention, this NACOCO Cowboy Rider dog costume is definitely the perfect choice for you.
It offers you a convenient and adjustable design, with an easy hook & loop attachment that can be easily adjusted to match your dog's size perfectly. This costume is friendly for various dog breeds and sizes, so it should fit your German Shepherd just as well.
The high-quality, breathable, and soft material will guarantee that your dog feels good and is comfortable in it. It doesn't cost much, and it is definitely worth the fun and giggles you'll get by watching your pup run around with it.
You didn't think that we would forget the great Batman, did you? Of course not, so here is DC Comics Classic Batman pet costume.
It is made from soft, stretchy, and comfortable material that will stay on well, look amazing, and be quite comfortable for your dog.
The only downside is that it has lots of strings, and the ears do not stay on, but other than that, it is a great Halloween costume.
Gimilife Stitch pet costume is the perfect dog hoodie for dressing up (for Halloween or Christmas) as well as for everyday use in the winter, and sometimes cold autumn days. Because it is made from high-quality shorn velvet and fleece material, it will easily keep your dog cozy and warm.
It will look super cute, and your dog will definitely get many compliments. It also works great as a gift for your little furry friend that you can match with your kids' onesie. Just imagine those cute pictures.
When you think of autumn and Halloween, what is the first thing that comes to your mind? For me, it is pumpkins, and what is better than seeing your dog dressed as a pumpkin while also having pumpkins all around your house?
Coomour Halloween Pumpkin Hoodies offer you various sizes that can fit all dog breeds, ages, and sizes. There is so much variety that some can even fit your cat, which is perfect if you want to match the outfits for all your pets.
RELATED: Are German Shepherds Good With Cats? A Guide You Need To Read
It is made from soft and natural material that is very comfortable, easy to put on, and clean. You can hand-wash it or simply put it in a machine washer. Besides pumpkins, there are so many other equally cute designs that you can choose from.
Rypet Dog Bat Wings offers you a cool bat wings design that is suitable for various occasions such as Halloween parties, masquerades, birthday parties, or pretty much anywhere that you want to have a little bit of fun.
It has a great velcro design that is convenient, adjustable, and very flexible, which is what we all look for. Due to its soft and lightweight fabric, it will be comfortable enough for your pet to wear without causing a fuss.
If you are looking for a fun Halloween outfit for your pup that will garner a lot of giggles, then this is definitely the one. Prepare yourself for this amazing and hilarious Holy Hound dog costume because this is probably one of the best things that you have seen.
It comes with a red cape that has a printed gold cross, a detailed stole, and a headpiece with little gold paw prints printed on it. Overall, it is one of the best costumes that you can easily match with your own fun Halloween costume.
If you want to make your German Shepherd look scarier and more ferocious, then this TOMSENN dog lion mane is exactly what you need. You can use it by itself or as a great costume complement for various other costumes.
It is made from high-quality and durable faux fur that is easy to clean and maintain, and it will last you a long time. With just a small step, you can turn your dog into an impressive, full-maned lion. For a more realistic look, fluff it a little bit and it will look even better.
For the end of our German Shepherd Halloween costumes, we have something for our Star Wars fans. This Darth Vader dog harness can be a great costume for those dogs that do not like dressing up, but you still want something remotely fun for Halloween.
It is great because you can either use it throughout the whole year or save it for Halloween. It is made from lightweight and stretchy material that will be comfortable and easy to wear.
Besides Darth Vader, they also offer a Chewbacca-styled one, which is also made from itch-free polyester that will not irritate your dog.
DIY German Shepherd Halloween Costume Ideas
Sometimes, all you need is a good DIY idea to create the magic yourself. DIYs are a great solution for when you are in a bit of a time crunch (even if you have ordered something online, it hasn't come in time) or if your existing costume does not fit right.
Therefore, you need something that is quick and easy, looks stylish, and won't break the bank. Don't worry – we've got you covered!
Gangster Dog
German Shepherds are great dogs to turn into gangsters, and most importantly, it is very easy to do. All you need is one cool bandana, dog glasses, and some gold chains.
Tie the bandana around your dog's neck and put some lightweight gold chains on if your dog doesn't mind. If he is cooperative, you can also try to put on some (preferably) black dog glasses that will make your pup look like a true canine gangster.
A Ghost
What's spookier and more perfect for Halloween than ghosts? So, why not turn your beloved dog into a scary white ghost?! All you need is a pair of scissors and a white sheet.
Just cut the holes in the sheet where your dog's nose, eyes, and ears will go, and simply put it on your dog…… a quick and easy fix for your dog's Halloween costume!
A Mummy
We've all tried this look on ourselves, but wait… can it also work on dogs? The answer is yes! All you need is some medical gauze, white dog pajamas, and brown tea water.
Simply soak the medical gauze in this brown tea water, rinse, let it dry, then just adhere it to white pajamas.
Paint Your Puppy
Don't be scared because for this project, we are using only pet-safe colors, and we strictly advise you to do the same. You can find them in any pet store, and they should have various color options.
With these colors, you can do anything you want, but some of the most popular choices are definitely zebras, tigers, ladybugs, skeletons, and much more. The sky is the limit.
What To Look For In A Dog Halloween Costume
Before you start searching for the perfect Halloween costume for your furry friend, there are some things that you need to take into consideration in order to find a costume that is going to fit and be comfortable.
So, let's see what those important factors that you need to pay special attention to are:
Sizing & Comfort
Like with any piece of clothing, you need to ensure that the costume is the right size for your dog because if it is either too small or too big, your pup will not feel comfortable in it at all. Always check the brand's size chart before purchasing, and look for any notes as to whether the product runs big or small.
Please try to put your dog's comfort first. We know that some costumes can be really fun and cute for you, but if any part of the costume interferes in any way with your dog's normal lifestyle, trust us… it is not worth it.
Your dog should be able to see, hear, walk, and move without anything bothering him, even on Halloween.
Quality & Safety
Quality is a very important factor in every dog's Halloween costume. Try to choose a product that is made from very high-quality and pet-safe materials that are not going to fall apart or be destroyed by your dog in just a couple of minutes.
You know what they say: "safety first", and this is exactly what should be your #1 priority. Besides choosing a product made from only pet-safe materials, try to choose one that does not have any small part that could be a choking hazard.
Additionally, look for costumes with bright, reflective colors so that it is easier to recognize and catch him just in case your dog somehow gets lost or runs away.
Design & Personality
Lastly, please take into consideration your dog's personality and the design of the costume. Some dogs don't like having anything on them, and they get very nervous if you try to put something on them. So, please don't force your dog to do anything. That is not the spirit of Halloween, and it should never be.
If you are looking for a GSD puppy, the finest German Shepherd Breeders in America is definitely something that you should read. For those who live in the UK, check here, and for the best German Shepherd breeders in Canada, check here.
Spook-tacular Final Thought
Halloween is the perfect opportunity for you to try some fun dog costumes, and our list of 18+ best German Shepherd Halloween costumes is definitely something that you need if you are struggling to find the "right" one.
We've tried to find the best ones on the market that you and your dog might like, and we sincerely hope that we have succeeded, at least just a little bit. If you follow our guidelines on how to choose the perfect costume, there shouldn't be any problem.
Great DIY ideas are a lifesaver in moments when you need some quick and easy solutions for fun costumes. If you have any pictures of your pup in one of these outfits or if you have made one by yourself, please send them to us because we would love to see them!
At the end of this article, PupVine wants to wish you a Happy Halloween, a night full of frights, and a bag full of delights!
Related Content:
15 Best Dog Food For German Shepherds: Top Yummy Choices Your GSD Will Adore!
13 Best Shock Collars For German Shepherds: Training Your GSD Like A Pro
13 Best Collars For German Shepherds: Top Choices For A Fancy Walk In The Park
17 Best Brushes For German Shepherds: PAWsome Choices For Your GSD
12 Best Dog Beds For German Shepherd Dogs: Comfy Choices For A Good Night's Sleep