German Shepherd dogs… what is it that makes them so valued and extraordinary?
The German Shepherd, also known as the Alsatian, might be what you think of when you hear the word 'dog'.
It is by its sheer nature loyal, smart, devoted, obedient, quick to learn, and eager to please.
The GSD is a working dog, a herding dog, a police dog, an army dog, a guard dog and, first and foremost, a true friend.
So, have you set your sights on getting a German Shepherd puppy for yourself or someone you love? Maybe you want it for security and personal protection?
Maybe you want some quality company… someone pure and incorruptible?
Well, look no further for we have compiled a list of German Shepherd breeders in the UK boasting the most quality German Shepherd specimens overall… the only one you will ever need.
And, at the end of this article, you might just feel the urge to give in and treat yourself to the pup you've always wanted.
Spanning the United Kingdom, here are some of the finest GSD kennels and breeders and, who knows, your dream dog might be waiting there for you as we speak.
These kennels are legitimate, transparent, and kennel club registered, and their puppies are some of the best that the breed has to offer overall. You can't go wrong deciding on one of these; it is merely a question of choice.
What in particular are you after in a pup?
Later on, we will discuss some common questions and issues regarding the breed, but for now,
The Best German Shepherd Breeders In The Uk:
1. Marinita German Shepherds Kennel.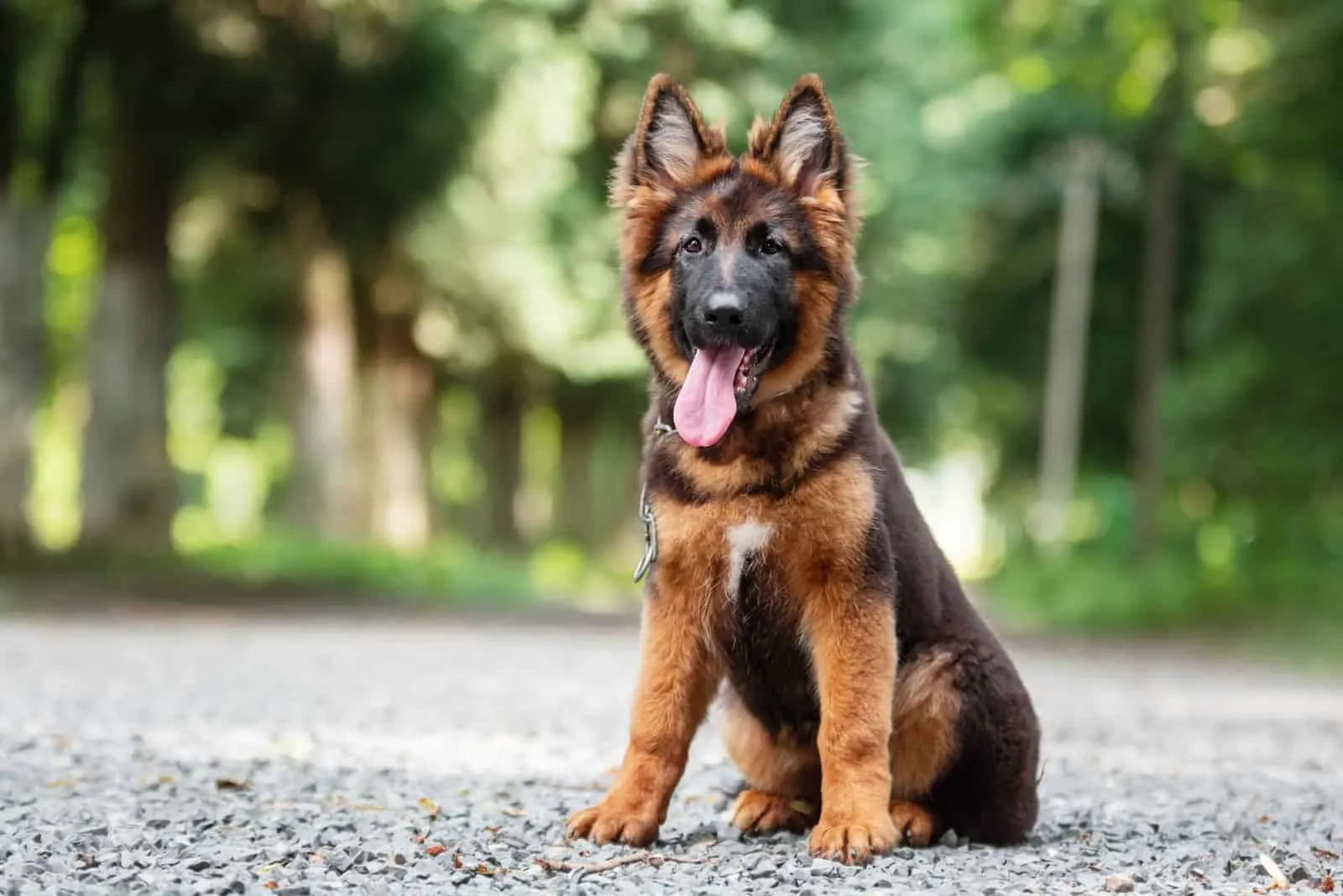 Starting out as a jockey, Ms. Anita, the owner, suffered an unfortunate injury while competing in 1990. Two years later, she decided to give up competitive horse riding and turn her attention to her other great passion, the German Shepherd.
The kennel's name is a portmanteau of her own name and the name of her prize-winning horse at the time, Mariner's Lad.
The Marinita kennel boasts having bred two show champions, a BRG Gold Medalist, CC & Res CCs, and several dogs earning BH and IPO qualifications… a major feat among German Shepherd breeders in the UK.
This kennel values quality over quantity, and claims to 'aim to breed and rear the very best they can regarding construction, temperament, color, show potential, soundness, and workability.' They do not manage a lot of dogs, and therefore, they put out only a few litters each year.
If you are interested in a Vom Marinita GSD pup, you should apply as soon as possible because there might be a waiting list already filling up for the next litter.
The kennel is a member of The British German Shepherd Dog League and the GSDL Working Branch, along with Cheshire IGP.
Obedience, IPO, and agility training of German Shepherds are also provided in this institution.
This kennel obviously places a great deal of importance on the sport and protection training part of rearing GSD pups. If you are looking for a highly trained guard dog, then this might be where you should set your sights.
The property from which they operate is located on Sefton Road, Orrell, Wigan, Lancashire, UK.
CONTACTS:
• Location: Wigan, Lancashire, UK
• Website: https://www.marinita.co.uk/
• Email: [email protected]
• Phone: 07828993649
2. The Glebe Von Wood Kennel.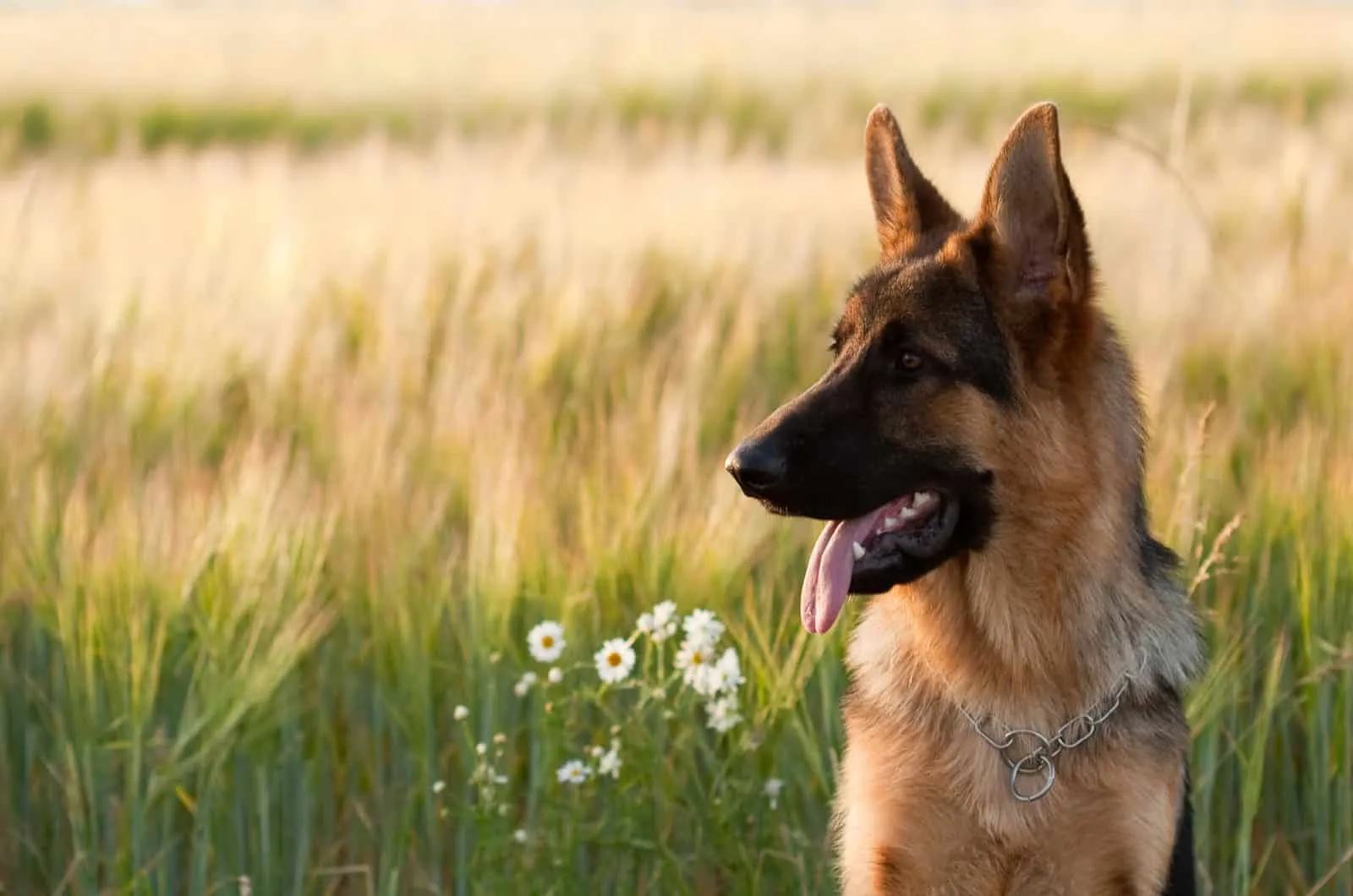 This reputable kennel dealing primarily in GSD's is located on a great 15-acre property near the peaceful village of Whitwick, Leicestershire, in the heart of the English midlands.
They make for some of the finest German Shepherd breeders in the UK.
Apart from breeding quality German Shepherds, this facility provides boarding kennel and day creche services to all those who might need them.
On their website, you can find both their boarding license and breeding certificate, which is a great indicator of whether a kennel is legitimate or not.
They also boast a large number of quality litters, and you can see the bitches and stud dogs, with pictures of said dogs and all their relevant statistics such as hip scores, elbow scores, and health tests. DNA tests for hereditary diseases, such as hemophilia, are made available to the general public on their website.
Transparency and honesty are definitely the markers you should be looking for when choosing a kennel to buy your pup from. Buying from someone who withholds information is a very dangerous game.
The Glebe Von Wood kennel also provides aging dogs with new homes where they can be safe and happy. If adopting an older dog is something you'd be interested in, by all means contact them!
They also sell a variety of premium dog food free of gluten and grain, and made in regard to all the healthy, organic nutrition your dog might need.
CONTACTS:
• Location: Whitwick, Leicestershire, UK
• Website: https://glebevonwood.com/
• Email: [email protected]
• Phone: 07970 104756
3.The Kesyra German Shepherds Kennel.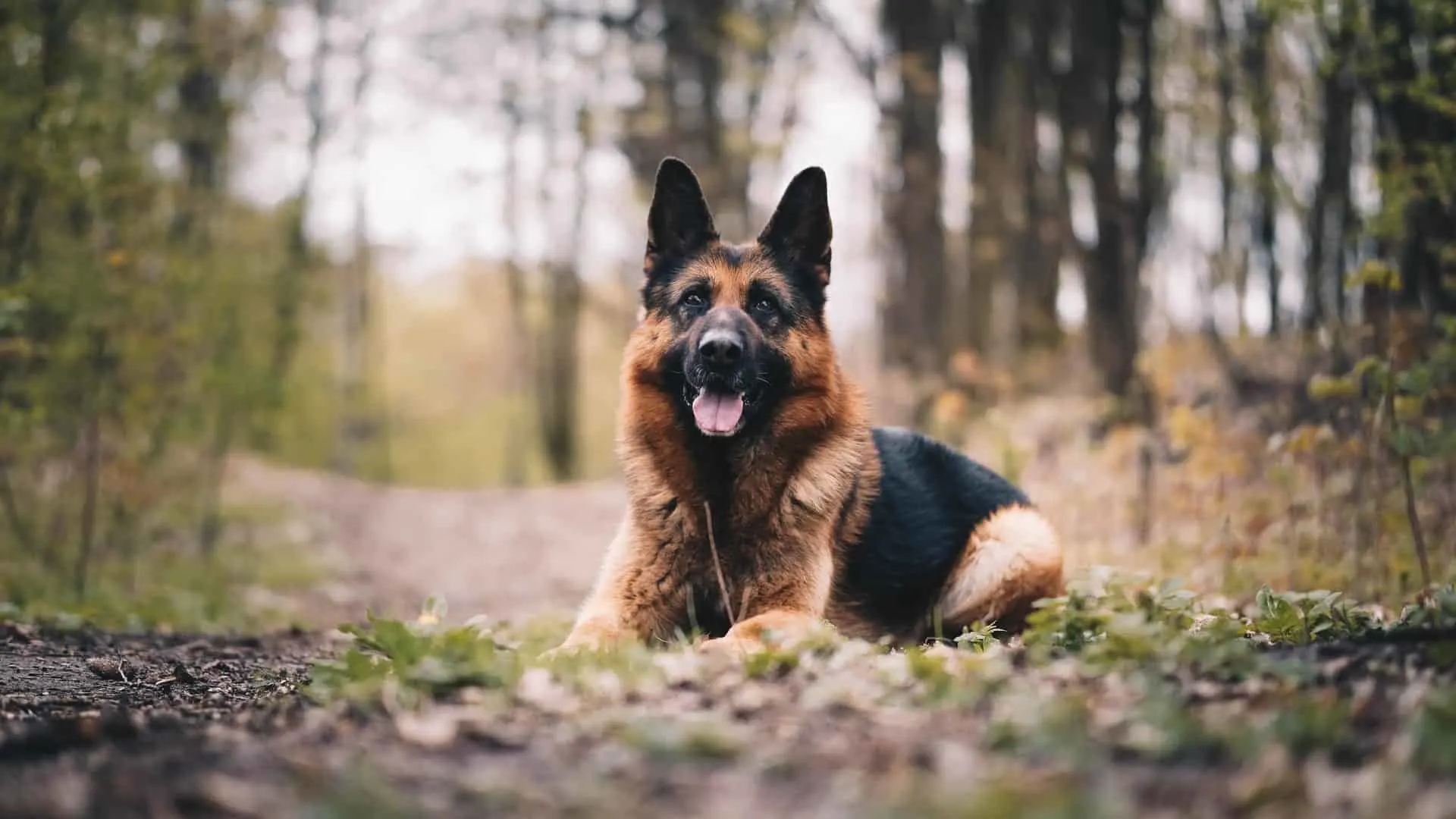 Katrina Stevens is the name of the proud owner of the Kesyra GSD Kennel and breeder, with years of experience bringing about and rearing German Shepherd pups.
Involved in German Shepherd breeding since 1975, this breeder boasts decades of experience, and many successful litters as well as satisfied owners.
Along with her prized dogs, she was the victor of many dog shows, and the Kesyra Kennel brought about a number of champion specimens.
Ms. Stevens is also a certified Breed Judge, having passed the GSD League Judges exam.
She has served on several Breed Council committees, including the GSD League, and authored a book on the German Shepherd breed called 'The German Shepherd Dog – Breed Basics.'
With credentials such as these, and being a recognizable name in the industry, it comes as no surprise that Kesyra puppies only come to those who wait.
The waiting list seems to be full, with the next litter of puppies scheduled to be born around February 8th already reserved. I believe the high demand is what speaks for itself in regard to the quality of Ms. Stevens's pups.
This kennel's administration cares deeply for the well-being of each and every one of their puppies, and as such, requires every buyer to fill out a form and a contract, and Ms. Stevens insists on meeting every future owner just in case, along with staying in contact for whatever help you may need with your new pet.
The puppies are microchipped, wormed, and subjected to both preventive and regular health checks to ensure that the house has done its part. It is only natural that they ask the same prudence of the buyers.
This Kennel does not usually sell puppies to customers outside of the UK.
The Kesyra kennel breeds Sable or Black and Gold German Shepherd Puppies, and sometimes they have dogs with long coats available as well as those with standard coats.
If you value transparency, openness, and a hands-on approach, this may be the right kennel for you!
The Kesyra kennel is located in Wiltshire, South West England, close to Somerset.
CONTACTS:
• Location: Wiltshire, UK
• Website: https://www.kesyragsd.co.uk/index.php
• Email: [email protected]
• Phone: 07766 521515
4. The Sagaro GSD Kennels.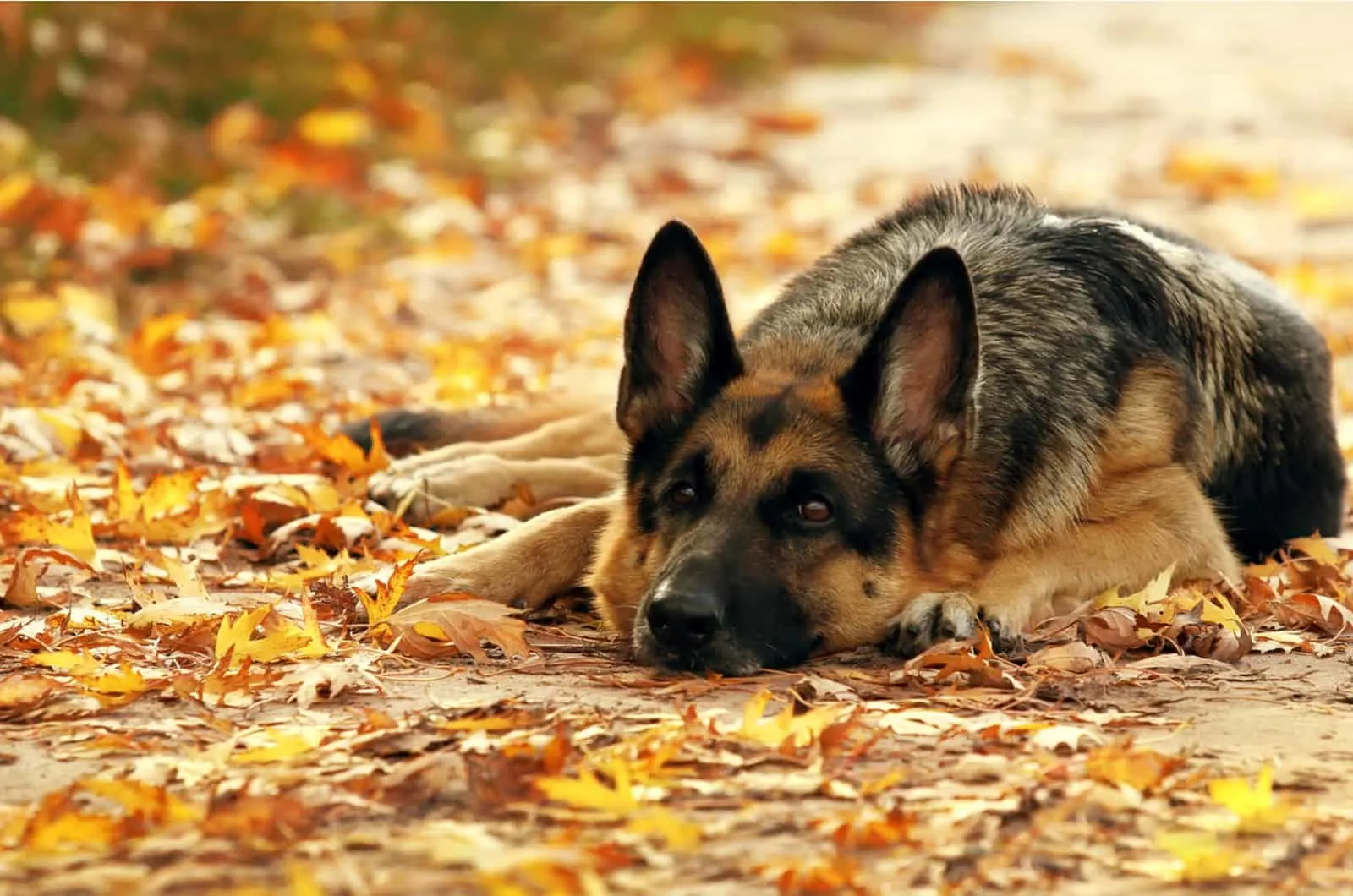 Sagaro was established in 1983 by breeders Adrian and Jill Miller.
The pair reaped the true benefits of their effort in 1990 when they bred their first champion dog. That proved to be just the beginning, however, because just four years later, in 1994, the breeders' stud dog-to-be won three consecutive Championship Shows, and another bitch of theirs won her own championship title the same day.
This feat was unheard of previously, and it led to them being declared as top German Shepherd breeders in the UK for 1994 as their stud was proclaimed top dog.
They claimed the title yet again in 1995; the following year.
This marked the beginning of great things to come as all of the dogs that they bred thereafter originated from the fabled champion pair, bolstering their bloodlines when needed with bitches of quality stock imported from Germany.
On their website, you can find pictures of the stud dogs and bitches bred in the kennel as well as the contact telephone numbers of Adrian and Jill.
Their estate, out of which they work, is located in Newington, in the proximity of Kent.
CONTACTS:
• Location: Newington, Kent, UK
• Website: https://sagarogsd.com/
• Email: [email protected]
• Phone: 01795 842663
5. The Eagleriver Dogs Kennel.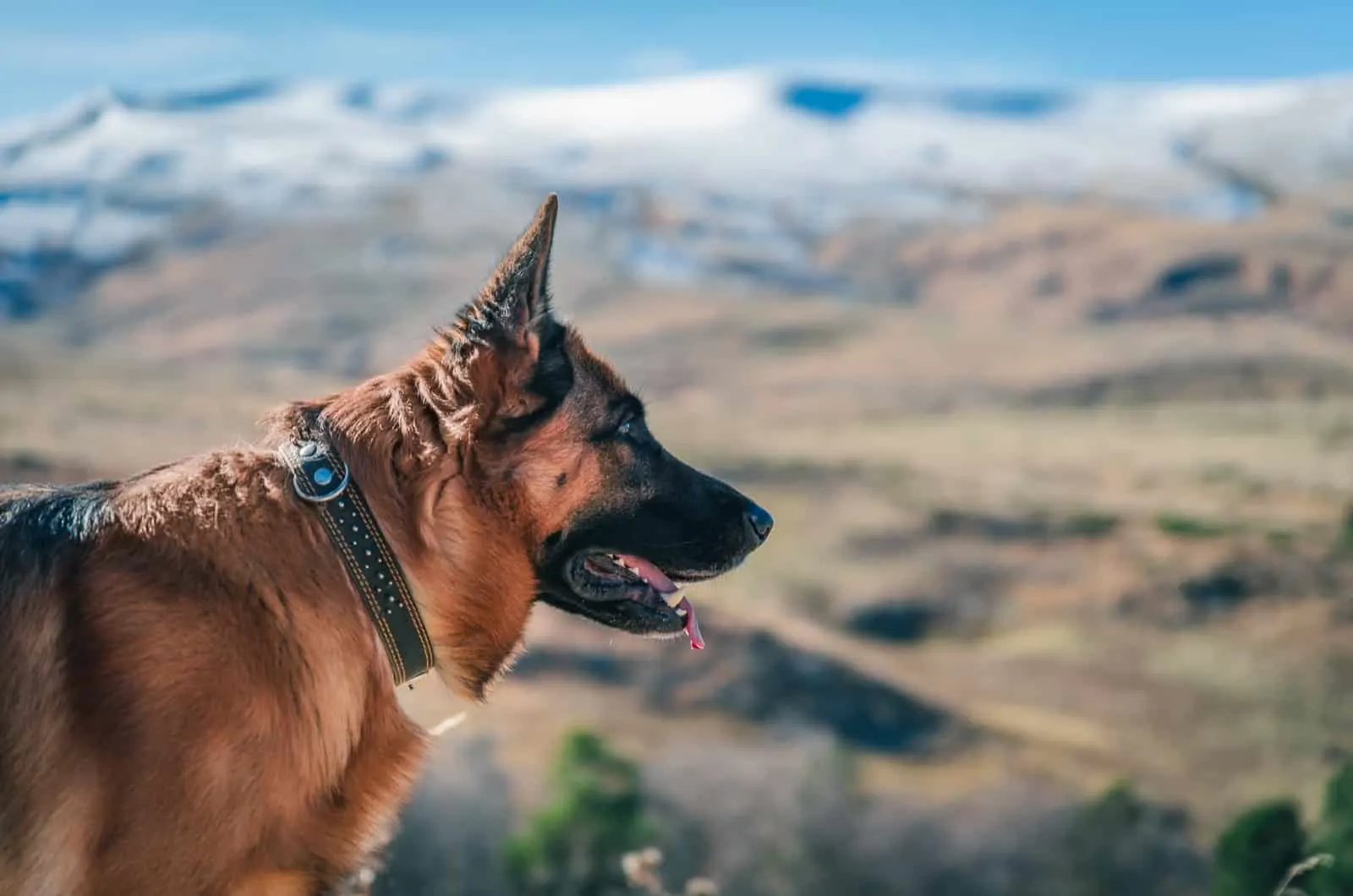 This kennel operates in Cambridgeshire, which is located in the East of England.
Unlike some other German Shepherd breeders in the UK, they specialize in breeding exclusively straight back German Shepherds. On their site, you can find pictures and profiles of both their studs and bitches, as well as some info about their establishment, their beliefs, and their method of work and guidelines for applying for a puppy.
If you're looking for a dog for protection or one to compete in events such as the Sieger Championship, you should consider a pup from one of the Eagleriver's bloodlines.
Transparency and honesty is so very important in this line of work, and this kennel seems like an open book.
Being a kennel club assured breeder is convincing enough by itself, though.
They are very strict in regard to the quality of their litters, and they subject their breeding dogs to a test scanning for nearly 190 genetic diseases.
These dogs will only be bred from if they pass the Eagleriver Dog Kennel's health testing requirements and have a sound temperament to ensure they produce healthy, well rounded, and good-natured puppies suited for becoming wonderful family pets.
Of course, a great deal of importance is also placed on meeting the traditional breed standards, so elbow scores and hip scores are listed and monitored closely for faults and irregularities.
As with many German Shepherd breeders in the UK, there is, however, a waiting list as well as an application to fill out before you can proceed. This kennel is very particular about future owners, and you need to qualify first, agree to their terms, and only then can you pick out a puppy… if you pass, of course.
This is done to ensure that the dog is in safe hands, with a person who knows their worth, and is capable of taking care of them in the best possible way.
Eagleriver Dogs is run by Charlotte Freeman, with the help of her husband, Dan.
Breeding is a lifelong passion of Charlotte's, and she is also a certified microchip and ultrasound technician. Apart from ever expanding her knowledge on everything breeding related, she says she did this because some of her dogs were afraid of going to the vet.
You can learn more about this by checking out their site or reaching out to them personally.
CONTACTS:
• Location: Cambridgeshire, UK
• Website: https://eagleriverdogs.co.uk/
• Email: [email protected];
[email protected]
• Phone: 07710 054049​
The variety in stock and approach between just these five German Shepherd breeders in the UK is amazing. It sure gives a lot to think about!
Now that you have some info readily available on how to get in touch with some of the kennel club registered breeders across the United Kingdom, let us answer some frequently asked questions that typically interest new and would-be owners of a GSD.
These might help you decide on one of the above-listed providers in your search for your new pup.
FAQs: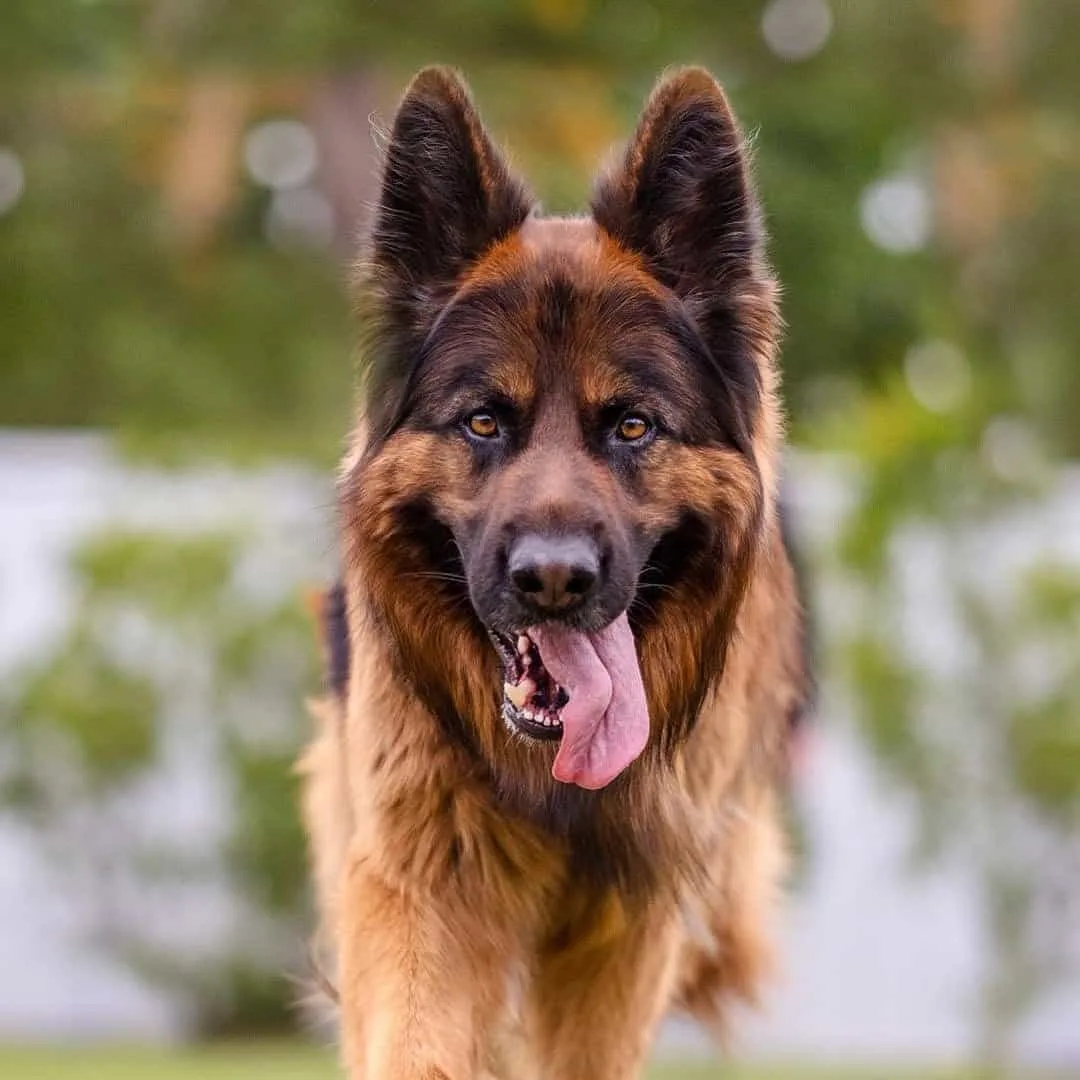 Photo from: @gsd.space
Are There German Shepherd Puppies Up For Adoption In The UK?
So, you don't feel like spending money on a pup? Maybe you don't want to wait for your pick of the litter? Maybe you believe that adoption is the right, more honorable choice, and you should adopt rather than buy your best friend?
Either way, finding a purebred puppy that's in need of adoption is unlikely. GSD's are in high demand, and even German Shepherd breeders in the UK are struggling to catch up to the demand. A puppy, sadly, is not likely to just be waiting for you on some website catalog or be left on your doorstep.
On the other hand, if you want to do a good deed, rescue sites such as Adoptapet are full of grown GSD's with no place to go. Whether they are pups that made the cardinal sin of growing too big for their apartment, or decommissioned service dogs whose service is no longer needed, there seems to be a lot of German Shepherds in dire need of a friend in the UK and continental Europe alike.
It is retired service dogs that often have it the hardest when it comes to integrating into society. These poor dogs require a lot of care and affection to move on from their past life of discipline, violence, and duty above all.
Keep in mind that they may require some patience and effort. If you are not willing to put in the work required to rehabilitate one, you should not ideally adopt an ex-working dog.
If you don't mind its age, and you let the dog into your heart, it could prove to be everything you've ever wanted.
Saving a dog is a noble deed, and a sharp one like the GSD will know full well what happened, showering you with affection and gratitude at every chance it gets.
Oh, and it's totally free.
How Much Is A German Shepherd Puppy In The UK?
If you are looking to treat yourself to a dog of quality breeding stock from a kennel club assured breeder (as you should, in all honesty), the price is going to amount to around £500 to £2500 for a puppy.
It further depends upon the GSD puppy's bloodlines, pedigree, and whether you are out to get yourself a show-ring specimen or just a family pet. Maybe a dog for personal protection?
Or, in the end, who says it can't be all three at the same time?
Straight Back German Shepherd VS. A Sloped Back One
Those GSD's straight backs are more natural, and therefore, less prone to certain medical issues. They make for much better working dogs as they have higher endurance and greater physical capabilities.
The sloped back is a purely aesthetic attribute, and it contributes to nothing other than making the specimen look more elegant and wolf-like while hindering its hind legs and rendering it, in many cases, unfit for the labor that the German Shepherd was intended for in the first place.
This also causes a number of issues for this unfortunate dog like arthritis, hip dysplasia, etc.
Some people prefer the arched-back variants, and they are commonplace at dog shows where the perfect arch is seen as a beautiful and defining feature of the German Shepherd Dog.
If you are looking for a guard dog or a service dog, it would be best to steer clear of sloped back dogs and opt for a straight back one.
Are Working-Line German Shepherds Good Pets?
Some German Shepherd breeders in the UK excel and take pride in breeding these sturdy working dogs. Are they suitable for family life or just to be worked to their full potential until they give out?
The German Shepherd dog is an amazing pet bound by unwavering loyalty and an inborn sense of duty towards its owner. The breed has served as a best friend and guardian angel to millions of people throughout history. This eerily sharp and intelligent breed will read your every emotion, console you when you are down, be happy when you are happy, and protect you at all costs.
The bond between man and man's best friend is not lost on the working-line GSD.
Just think about it… how would they trust and obey a human in doing a serious and important task if they didn't have the capability to be loving and loyal… everything a pet should be.
They do tend to have a mind of their own, and they require more training and commitment, but some people find that endearing. The working-line GSD can make a wonderful family pet while also being incredibly capable and powerful.
In conclusion
We hope this short guide and list of German Shepherd breeders in the UK we put together has helped you somewhat in deciding which way to go in regard to your German Shepherd Dog.
Ultimately, we are all different. We have different dreams, different hopes, different things drive us forward, and different ones put us down, but there are a couple of things we all agree on.
For one, nobody likes to get cheated. There are many puppy mills and shady breeders out there that use gimmicks, unusual colors, cheap prices, or just flat out lies and deceit to make a profit.
They breed subpar dogs that are prone to disease, not caring about whether they will suffer or their owners along with them.
Check everything… ask about health checks and examine the bloodline because good dog breeders should have nothing to hide. If possible, only deal with kennel club registered sellers.
The waiting list might be long, but it's more often than not worth the time.
Related Articles: