This post contains affiliate links, and I will be compensated if you make a purchase after clicking on my links.
We're used to seeing brands like Purina or Royal Canin advertised all over the place. But, with so much publicity, we can't help but wonder: Are they really THAT good?
Chances are, many of them are not even close to being good. The best dog food for German Shepherds must contain high-quality proteins without much fat content, grains, and by-products. Sadly, a lot of advertised dog kibble contains only by-products and no real proteins at all.
We're here to put an end to it. German Shepherds need protein to grow up and function normally. These large dogs are highly active, so they need a full energy bar. What better way to get that than with a bowl full of delicious, nutritious kibble?
A good start is always important. That's why we suggest investing in good dog gear and high-quality dog food to all future German Shepherd owners. Puppies are growing creatures. They need nutrients to become the mighty German Shepherds we all know. What better kick start than with the American Journey Active Life formula?
This puppy kibble offers a well-balanced diet to all puppies, especially little heroes like German Shepherd puppies. The formula is developed using real salmon as the first ingredient, followed by Menhaden fish meal, brown rice, peas, blueberries, cranberries, sweet potatoes, kelp, etc.
American Journey kibble is rich in antioxidants that support a healthy immune system. Omega fatty acids are also added, ensuring good coat and skin health.
What all growing puppies need is a healthy dose of minerals. Balanced calcium and phosphorus intake will make sure the dog's bones develop properly, and its joints remain free of injuries. In addition, ARA and DHA acids are there to tick the sharp vision and intelligent brain boxes.
We love American Journey for its many nutritious ingredients, but we love it even more because it lacks fillers like corn, wheat, soy, meat-by products, artificial flavors, and artificial colors. Your puppy will love it too!
It's one thing to go online and buy a random bag of dog kibble, but it's completely another to go on Chewy and find only the finest ingredients for your growing puppy. Let's be honest: many dog food brands on the market are full of harmful ingredients and poor nutrients.
Puppies need high-protein food. They need fresh fruits and veggies, minerals, and fatty acids to grow up. Not every bag of dog food contains all of the listed musts.
But Nulo Frontrunner Ancient Grains puppy food has it all and more! Each bag of Nulo kibble is made using real deboned chicken and turkey. Besides 77% real proteins, this dog food contains low-glycemic grains, omega-3, and omega-6 fatty acids, taurine, and probiotics. This dog kibble will make sure your puppy has lean muscles, a shiny coat, and great digestive and immune systems.
True dog experts will appreciate that Nulo Frontrunner was designed to meet the AAFCO dog food nutrient profiles for maintenance. Some dog foods don't help with puppy weight gain at all. But, with Nulo Frontrunner, your German Shepherd puppy will grow up to be a healthy and happy dog.
What do German Shepherd puppies do all day? They play! A lot. And they need the energy to do that. Not every dog food provides an equal amount of energy. Only top-quality ones keep the glucose levels in the body steady.
German Shepherd puppies need high-protein and low-glycemic dog food. They need good carbs to keep their energy bar full. So, do the standard dog food brands satisfy this demand?
No, but Merrick does! You won't see this dog food advertised on TV, but it doesn't mean it's no good. In fact, Merrick is an excellent choice as your puppy's first kibble!
The recipe is made using real chicken as the first ingredient, followed by barley, brown rice, oatmeal, fish meal, carrots, apples, chicken liver, etc. As its full name states, this is freeze-dried dog food enriched with DHA acids for proper brain development.
A blend of the above-mentioned grains will ensure a good working digestive tract. Merrick Freeze-Dried kibble also contains omega-3 and omega-6 fatty acids, important nutrients for a healthy coat and skin.
Since we're talking about growing puppies, we all know they need good bones and joints for growing up. Nutrients like glucosamine and chondroitin are there to take care of that.
Puppies will enjoy every bite of Merrick Freeze-Dried dog food because every bite is a delicious bite of fresh ingredients.
Sure, dogs can eat anything, even their own spit-up. But that doesn't mean they should! If dogs could speak, they'd say Orijen is one of their favorite puppy foods. Besides being extra delicious, this dog food has proved to be extra nourishing too. Let's see what the Orijen guys have put together for our German Shepherd puppies!
The first ingredient of this puppy kibble is chicken, followed by turkey, turkey giblets, chicken liver, and fish like flounder, mackerel, and herring. As you can see, they're all premium protein sources.
Besides being 85% protein sources, Orijen dog food is full of vitamins and minerals from red lentils, pinto beans, chickpeas, pumpkins, butternut squash, collard greens, pears, apples, kelp, and cranberries.
Each raw ingredient is frozen at the peak of its freshness. This method of preservation ensures the optimal dose of vitamins and minerals.
The whole prey diet Orijen uses features the most succulent parts of the chicken, turkey, or fish, including organs and bones. Every bite of Orijen puppy food is freeze-dried and coated raw for the ultimate delicious flavor.
A puppy-tailored diet doesn't have to be expensive or designed by a vet. Some dog food brands have done that work for you. Instinct Raw Boost Puppy Food is a great example of perfectly tailored puppy food. Let's see why dogs and dog owners love it!
Instinct's first ingredient is chicken, followed by chicken meal, and ingredients like menhaden fish meal, chicken liver, lamb meal, pumpkin seeds, etc.
This high-protein dog food has the benefits of raw food in every bite, and it's designed especially for large breed puppies. Besides the high protein count, Instinct Raw Boost is rich in natural DHA from chicken brains and eggs for proper brain development.
Instinct uses only natural ingredients. There's no such thing as corn, wheat, soy, grains, potatoes, artificial flavors, or colors in a bag of Instinct Raw Boost puppy food. Your puppy will appreciate the fine bites without even knowing how much benefit it brings.
Taste of the Wild High Prairie dog food really brings all the best from nature to your puppy's bowl. That's why this adult dog kibble is our editor's pick! What makes this dog food better than all the rest?
For starters, this is not poultry-based kibble like many others on our list. Sure, poultry suits most dogs, but large breed dogs like German Shepherds need more protein from natural ingredients.
Protein from bison and venison make up 32% of this food, and they support lean muscles and good bone and joint health. Superfoods used in this formula, like tomatoes, blueberries, and raspberries, supply extra vitamins and minerals, as well as omega-3 fatty acids for a healthy coat and skin.
What's so unique about this dry dog food is that it contains species-specific K9 Strain Proprietary Prebiotics for a healthy immune and digestive system. There are no fillers in the bag like soy or wheat or artificial colors and flavors – all-natural ingredients for great overall health.
As a close relative of the wolf, satisfy your German Shepherd dog by getting him Blue Buffalo Wilderness chicken dog food. With Blue Buffalo food, your GSD will channel its inner wild animal and eat like one too. But, can you blame him? This food is delicious!
With real chicken as the first ingredient, enriched with chicken meal, menhaden fish meal, and fruits and veggies like peas, blueberries, cranberries, parsley, kelp, turmeric, and more, Blue Buffalo is one of the best dog foods for adult German Shepherds on Chewy.
Each bag contains enough omega-3 and omega-6 fatty acids to ensure a healthy skin and coat, as well as good carbohydrates to keep the energy bar full. But that's not all, folks! Blue Buffalo has another trick up their sleeve.
A blend known as LifeSource Bits is packed with antioxidants, vitamins, and minerals carefully selected by vets to ensure proper immune system health, life stage requirements, and healthy oxidative balance.
We love Blue Buffalo for this and for steering away from fillers, meat-by products, artificial flavors, and preservatives. Howl if you love 'em too!
As you can already tell, German Shepherds are pretty into raw food diets. It has a lot to do with their past, but it also has a lot to do with the fact that raw food, especially freeze-dried, is delicious!
Sure, we haven't tried it ourselves, but the amount of Instinct Raw Boost Mixers that's been eaten proves our point. If your Fido loves nibbling on something other than meat, here's your top pick!
Don't get us wrong, Instinct Raw Boost Mixers is still a high-quality protein dog food, but it's only enriched with yummy fruits and veggies to satisfy all your dog's nutritional needs.
This premium adult dog food contains pumpkin, sweet potatoes, chicory root, apple cider vinegar, and probiotics. If your dog has a sensitive stomach, he'll be thankful for Raw Boost Mixers. But what about that raw part?
Well, this dry kibble consists of freeze-dried raw bites to preserve the optimal amount of fiber and natural probiotics. Your dog's digestive system will be thankful, and its immunity, stronger than ever!
Instinct Raw Boost is free from all the bad supplements, and no artificial flavors were used in the process, so dogs with any kinds of food allergies or sensitivities can eat it.
Of all animal proteins used in the dog food industry, lamb is probably the most underrated. But, we see no reason why. Maybe, it's just poor advertising. Do you know who aced the advertising game the right way? The Hound & Gatos crew! Here's why their lamb kibble is so special!
This exceptional dog food is made using only quality ingredients and consists of an amazing 84+% animal protein. Only fresh lamb meat is used in the production process, supported with ingredients like cranberries, blueberries, broccoli, dandelion greens, vitamin E, A, and B12 for ultimate flavor and numerous benefits.
No plant-based protein content is used in the process. There are no fillers or artificial flavors. Only the finest and freshest lamb, fruits, and veggies from the USA are a part of the Hound & Gatos Lamb kibble. We guarantee you, this grain-free recipe will easily become your dog's favorite pet food.
Has your German Shepherd already challenged its inner wolf? No? How about now with Blue Buffalo's Wilderness Salmon food? The fresh taste of this salmon kibble will make your dog feel like he's in the wilderness of the Great North, along with grizzly bears and then Northern Lights.
Real, deboned salmon is used in the production process, followed by chicken meal, peas, menhaden fish, and complex carbohydrates like sweet potatoes to satisfy your dog's energy levels.
This grain-free dog food is rich in omega fatty acids and something the dog food industry calls LifeSource Bits. Those bits are actually carefully blended antioxidants, vitamins, minerals, and other nutrients necessary for well-functioning digestive health and a balanced dog's diet.
Like all the other Blue Buffalo recipes, this one is also 100% natural and free from chicken by-products, grains, fillers, artificial flavors and colorants, and preservatives. Only wholesome and tasty ingredients make the final cut.
Our senior pups need more of everything: more care, more love, and more nutrients. Their older years are an open invitation to many health problems. It's the time when their bone and joint health is extremely important. To keep those bodies in perfect condition, Nulo has come up with extraordinary dog food recipes.
The Nulo Freestyle trout dog food has fresh deboned trout as the first ingredient, followed by turkey meal, salmon meal, and supplements like sweet potatoes, chickpeas, peas, dried carrots, blueberries, and apples.
This is a completely grain-free formula rich in glucosamine and chondroitin for those fragile hips and joints. Since senior dogs are more prone to becoming obese, added L-carnitine in the recipe will make sure the metabolism works like a charm.
Your old fellow will enjoy every bite of Nulo Freestyle because it will provide him the much-needed energy and still be light on the stomach.
The recipe is packed with pure probiotic strains for proper digestive function. If your dog suffers from food-related allergies, Nulo Freestyle dog food will be a suitable choice. It's gluten-free, grain-free, but full of flavor and nutrients.
Just because your German Shepherd is now a senior doesn't mean he won't be your sidekick anymore. German Shepherds are active doggos. The only thing that can stop them from spending time in the action is health conditions.
To keep your GSD active, you will need good dry food and plenty of energy. Orijen knows exactly what your old pal needs.
The first five ingredients of this formula are poultry and fish proteins, used fresh and frozen right at the peak of their freshness. Orijen uses whole prey animal ingredients, meaning 85% quality animal ingredients (organs and bones too) were used in the production process.
Besides the high protein count, Orijen Senior grain-free food also contains superfoods like pumpkins, blueberries, cranberries, apples, pears, kelp, collard greens, butternut squash, etc. Your dog will have a diet rich in fiber he'll be thankful for.
We love Orijen's senior food because it's grain-free, gluten-free, wheat, soy, and corn-free, as well as completely natural and safe for dogs with sensitive stomachs. If your Fido needs to lose a few pounds or stick with its current weight, this dog kibble is the right choice.
Every senior dog wants to feel rejuvenated and young. The senior years don't really allow that feeling. But, to help you out, there's Annamaet Re-juvenate senior formula. It gives your senior dog the feeling of being young again. Let's see what else is inside the bag, except the elixir of eternal youth!
The first ingredient of this dog food is wild-caught sustainable carp, which is an amazing source of protein and something you don't see on every dog food label.
Carp is low in fat, but there is turkey meal and chicken fat to satisfy those needs. Annamaet's formula contains omega-3 fatty acids for the excellent cognitive function of your senior GSD. Also, it was created using turmeric and coconut oil as anti-inflammatory nutrients rich in medium-chain triglycerides.
Also, this dog kibble is packed with L-carnitine, taurine, probiotics, and prebiotics for great overall health. Each bite of Annamaet's Re-juvenate formula brings back one lost day of your dog's life. No, seriously, your dog will feel fresh as a puppy again!
Even though German Shepherds have a relatively long lifespan, you never know when your GSD buddy will cross the rainbow bridge, especially if it's a senior pupster. Why don't we make their final days a whole lot better?
Let's give our senior canines more love in their old days than they've ever received! Wellness Core has a great way of showing how much they care about old fellows. They've invented the Wellness Core turkey senior food.
So, what's so great about this dog food? What makes it better than all the others? For starters, this is an all-natural, grain-free kibble packed with antioxidants, taurine, and probiotics for optimal health.
Their premium protein source is turkey, supported with superfoods like kale, spinach, and blueberries. In addition, you can find glucosamine and chondroitin in the bag for good hip and joint health, as well as omega fatty acids.
There's no way your senior German Shepherd won't feel better after eating Wellness Core dog food.
For over 100 years, Wellness Core has been producing excellent-quality dog food, free from gluten, grains, corn, wheat, soy, and artificial flavors. If you want natural, go with Wellness Core.
Every meal for a senior dog should be tasty because you never know when it'll be their last. It's a hard pill to swallow, but it is the truth. That's why we opt for the best. That's why we choose dog food like Merrick Healthy Grains.
This widely-known dog kibble consists of deboned chicken as the main protein source, followed by chicken meal, brown rice, oatmeal, barley, turkey meal, quinoa, apples, carrots, salmon oil, etc. This recipe contains high-quality protein, whole, and ancient grains, which can only be tasty and healthy.
Dogs have recognized it. Merrick Healthy Grains is one of the most beloved dog foods for its many nutrients. With Merrick's kibble, the dog's digestive system remains healthy, the immune system stronger, and hips and joints unbreakable.
Merrick claims their senior food is suitable for dogs with sensitive stomachs as well as dogs with food allergies. We couldn't agree more!
FAQs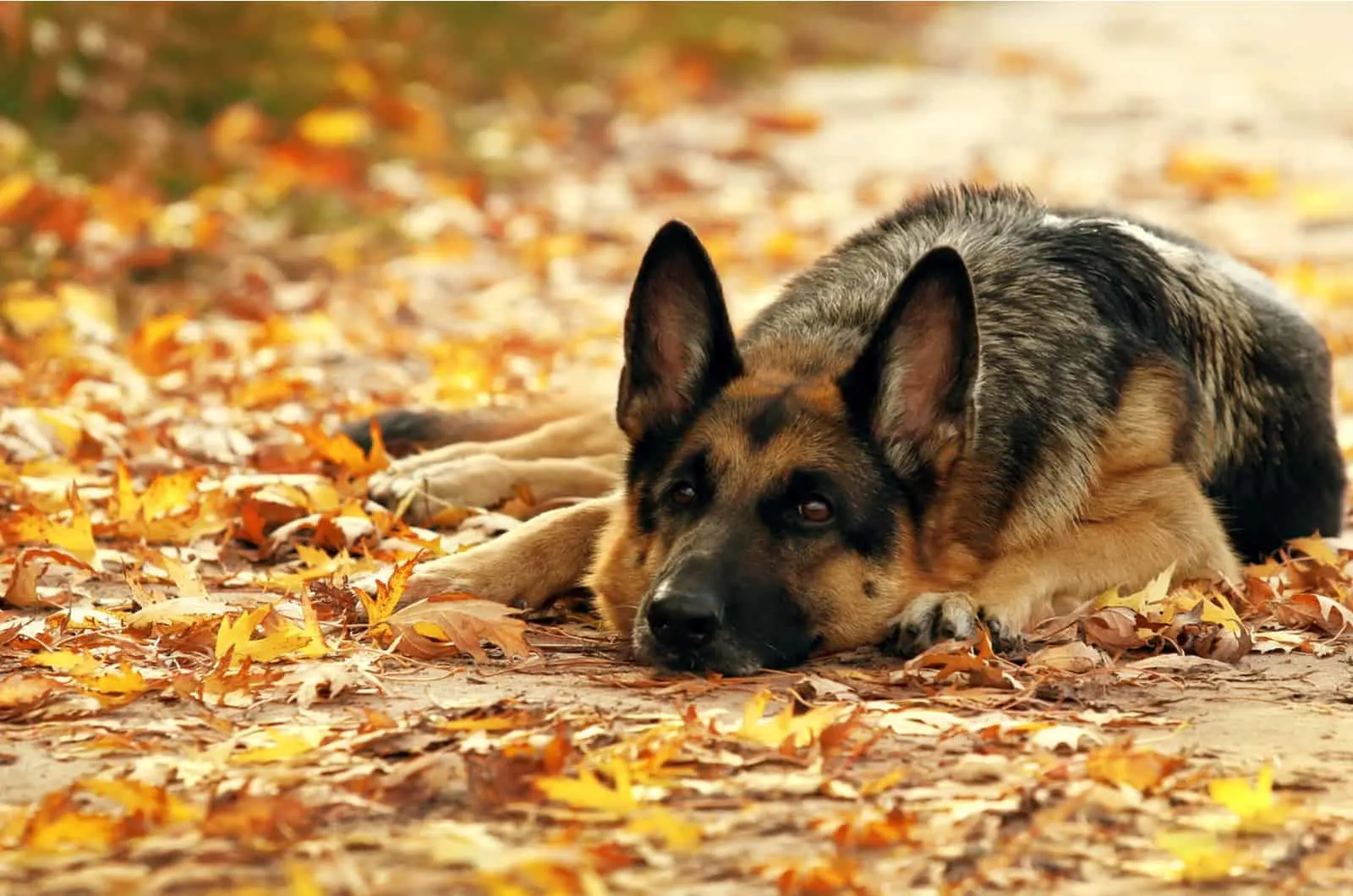 1. Does The German Shepherd Dog Require A Special Diet?
Your German Shepherd should be on a diet designed specially for large dog breeds. Of course, puppies should eat puppy food, adult GSDs should eat food for adults, and senior buddies should eat kibble designed just for them.
If your dog has a sensitive stomach or is prone to food allergies, it should be on a special diet approved by your vet. Otherwise, there are no restrictions, and a healthy German Shepherd may eat either wet food, dry kibble, or a combination of both.
2. Are German Shepherds Healthy Dogs?
Generally speaking, German Shepherds are healthy dogs. But, since there's no such thing as 100% healthy dogs, German Shepherds are still prone to certain health conditions. Many of those diseases are congenital, but a lot of them can be controlled by you. With a proper diet, regular vet checkups, and plenty of exercise, your pup may avoid conditions like obesity or bloat.
The most common health issues that strike German Shepherds are perianal fistulas, hip dysplasia, elbow dysplasia, food allergies, food intolerance, osteoarthritis, inflammatory bowel, disease, and bloat.
A lot of health conditions can be improved with the use of the right food, but many can also become worse if your dog eats poor-quality kibble.
3. What Classifies Some Dog Food Brands As High-Quality Ones?
Every high-quality dog food should have protein listed as the first ingredient. Whole protein sources like chicken, beef, lamb, or fish are the best options.
The fewer carbohydrates the food contains, the better for the dog. Dogs, and puppies too, need good proteins for healthy growth. What they don't need are artificial flavors, colors, and preservatives. Avoid foods containing them at all costs!
No dog food contains 100% pure protein, and that's absolutely okay. Meat meals are excellent fillers. They're slightly better than meat by products, but it's important to know where they come from.
4. What Kind Of Diet Does The German Shepherd Need?
German Shepherds are large dogs, and they need a high-protein diet, at least 18–22% protein. Meaning, if chicken, turkey, beef, venison, fish, lamb, pork, or other animal proteins are the first ingredients, that dog kibble is suitable for German Shepherds.
Animal meals or meat by products and fat content (chicken fat, turkey fat) should not be listed as the first ingredients. Instead, they make good supplements. Speaking of supplements, they too provide excellent nutrients for your dog.
Such supplements contain a significant amount of chondroitin, glucosamine, fish oil, omega fatty acids, antioxidants, and more for good bone and joint development, a shiny coat, healthy skin, and a well-functioning brain.
The best dog food for German Shepherds is well-balanced with no grains but with plenty of fiber for proper digestion. For example, brewers rice is a poor choice. Instead, go with brown rice or other whole grains if you really must.
5. How Many Meals A Day Should A GSD Have?
A hungry, fast-growing German Shepherd puppy should eat as much as possible, but meals should be limited to 3 a day. After 12 weeks, your German Shepherd should have two meals or 3 to 4 cups of dog food a day.
However, many adult German Shepherds don't eat two meals a day. Just watch closely how your dog behaves and if it needs those two meals or not.