This post contains affiliate links, and I will be compensated if you make a purchase after clicking on my links.
Don't confuse shock collars with your everyday collars. Everyday collars are meant to be comfortable and look cute. Shock collars, not so much. The sole purpose of these dog collars is to ensure your dog stops unwanted behavior like barking, biting, jumping, running away or digging.
They're meant to serve you for a certain period of time, and then you're supposed to lose them. That is, if you've trained your dog the right way.
The German Shepherd dog breed is intelligent and requires proper dog care to ensure it reaches its maximum potential. However, only obedient German Shepherds can reach it.
Aggressive dogs and dogs with behavioral issues should be trained immediately! If you can't afford a professional trainer or simply want to spend more time with your dog and train him, then you need some help in the form of shock collars.
​But, what are the best shock collars for German Shepherds? Do they all work the same? We've done the research for you, so you don't have to test all of the shock collars on Chewy. Pick one, and you won't make a mistake!
PATPET P320 Training Collar
Key Benefits:
8 levels of vibration, 16 levels of electric shocks, plus irritating sounds

The remote warns you if the sensation is too strong

Fast-charge lithium-polymer batteries

300-meter range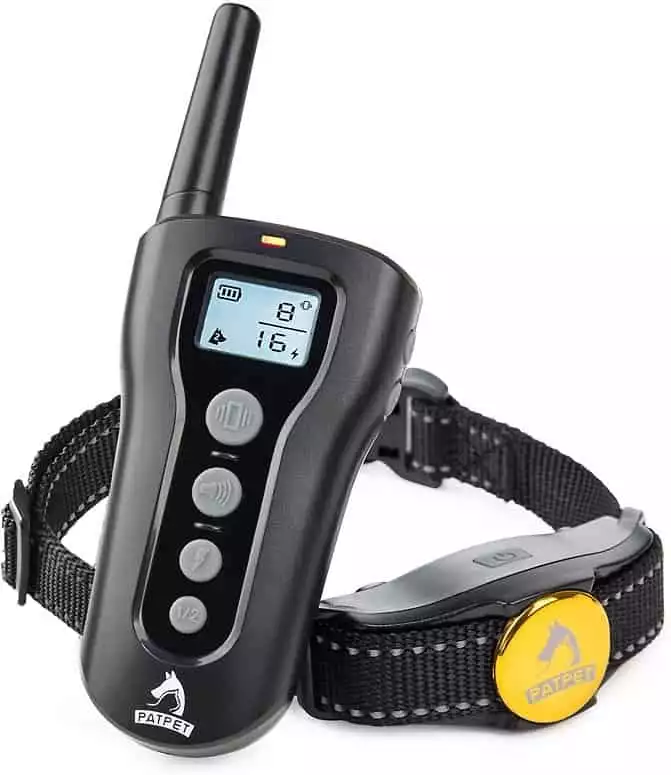 When we need training collars, it's often because our Fido or Fiona isn't behaving like they're supposed to, or it's only starting to learn how to behave. Training collars can be of great help, and here's one that's been proven to be top-quality!
The PATPET P320 300m collar sends a clear message to your dog to stop what he's doing immediately. But, how does the PATPET tell your dog to stop?
By using three different kinds of stimulation: vibration (8 levels), irritating sounds, and electric shocks. Don't worry about the electric shocks because they come in different intensity levels, 16 of them to be precise.
Besides, the remote controller even warns you if the sensation is too strong for your dog. Both the collar and the remote controller can last for two hours and are powered by lithium-polymer batteries that charge fast in only 2 hours. However, you should not use it for more than 12 hours a day.
The collar part of this package is soft and comfortable. The transmitter is rainproof and the entire collar is waterproof. The PATPET P320 has a 300-meter range, perfectly suitable for small yards.
PATPET P301 Training Collar
Key Benefits:
Three shock modes, including vibration, beeps, and static shock

Long-lasting battery life

Water-resistant collar and transmitter

300-meter range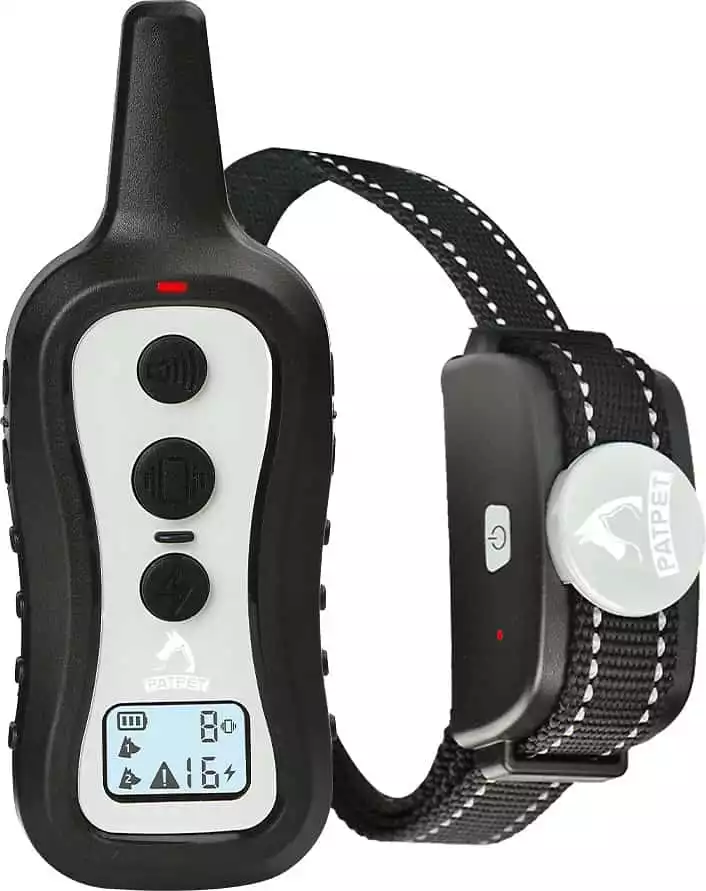 German Shepherds are genuinely smart dogs, but even they need obedience lessons once in a while. If your GSD has issues with excessive barking or even aggression towards strangers, he needs training and a remote dog training collar.
The PATPET P301 comes with three different stimulation levels, including irritating beeps, 8 vibration modes, and 16 shock levels. The reflective collar features long prongs with silicone covers, so your dog gets the message but doesn't end up with irritated skin.
This shock collar for dogs has a rechargeable battery and a remote controller that can last up to 11 days. Despite the long battery life, you should not use the e-collar for more than 12 hours a day, and you should switch the collar's position every two hours. PATPET P301 is a water-resistant collar with a rainproof transmitter.
This training tool is suitable for small yards and has a yard range of 300 meters. It's suitable for medium and large dog breeds, meaning it will fit your German Shepherd. The collar can be used from 6 months up, so you can start different training methods in time.
SportDOG Yard Trainer
Key Benefits:
Yard range of 300 meters

Tone and static stimulation

8 levels of correction

Long-lasting battery, up to 40 hours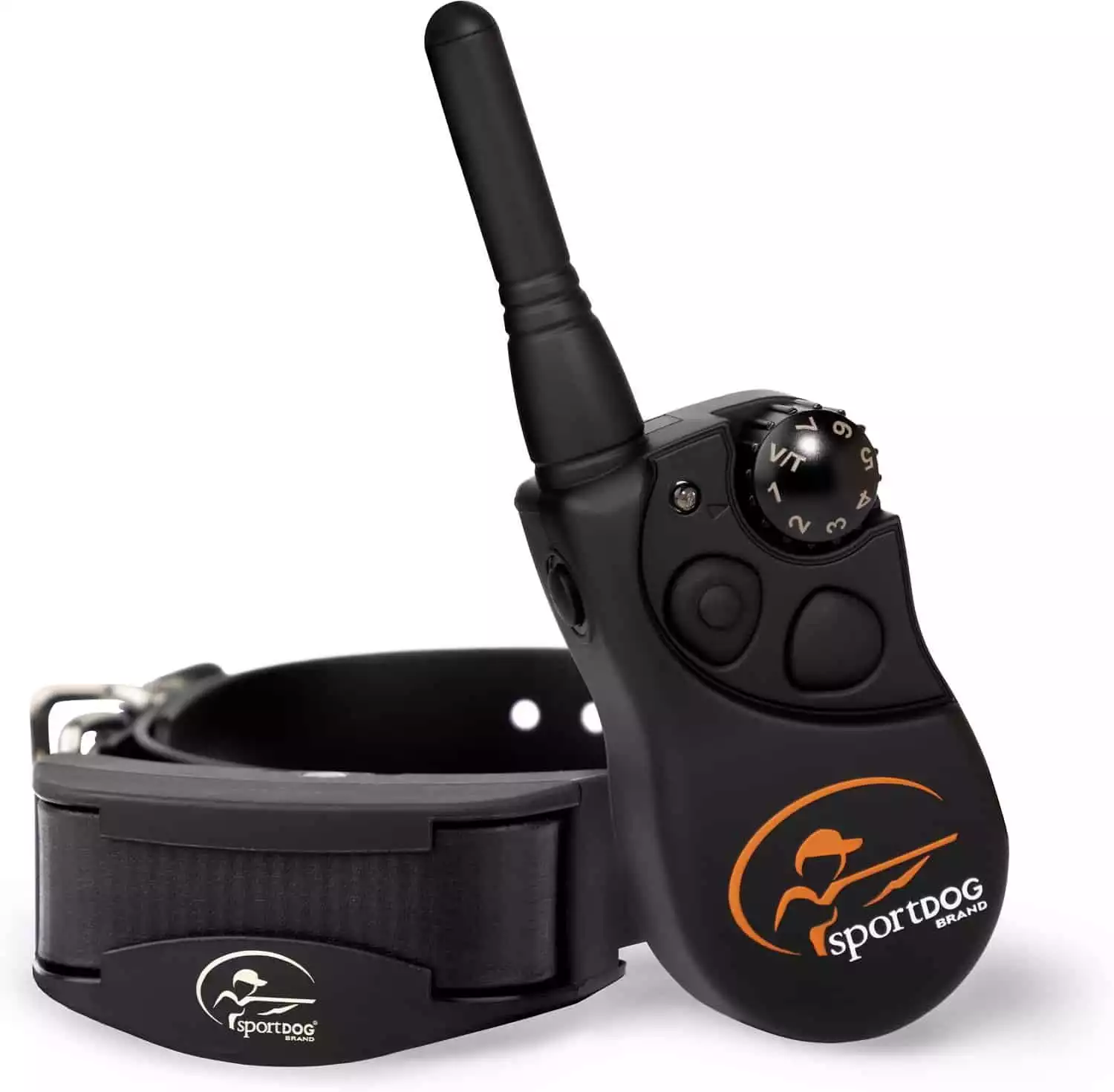 The SportDOG Yard Trainer is an expensive electric collar, but the price is completely justified. For $179.99, you get one of the best shock collars suitable for numerous training modes. The SportDog dog training e-collar combines the standard e-collar training system and the more advanced sporting dog trainer.
This collar is suitable for all dog breeds over 8 pounds. It has a yard range of 300 meters, perfectly suitable for all homes. Getting stubborn dogs to listen is a challenge, but not with this high-quality remote trainer.
The SportDOG collar comes with a tone and static stimulation with 8 levels of correction. Also, this collar strap comes with a tone-only button. The SportDOG brand carries low to moderate power trainers, perfectly suitable for beginners.
This is a rechargeable dog collar with a long-lasting battery life of up to 40 hours for the collar and 40 to 60 hours for the remote. The SportDOG Yard Trainer is one of the top picks among the dog training shock collars on Chewy.
Educator By E-Collar
Key Benefits:
1/2-mile range

Lock and set stimulation levels from 1 to 100

Nighttime tracking light

BioThane collar material for durability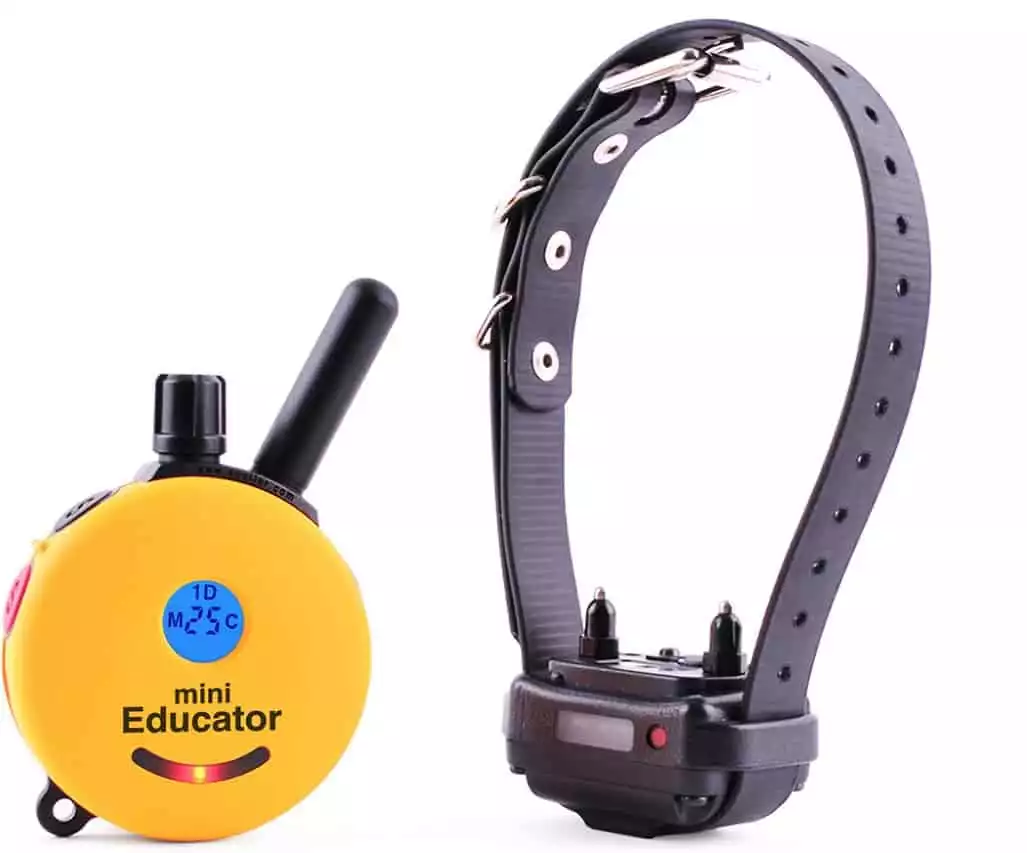 With Educator By E-Collar, your dog will be obedient within a 1/2 mile range and stay that way even after taking off the collar. This brand has come up with an innovative technology when it comes to training your German Shepherd puppy.
The nylon collar features "lock and set" stimulation levels from 1 to 100 and a boost level from 1 to 60 to match your dog's personality.
Along with a 2.4-ounce receiver, this training collar will suit any dog over 5 pounds. Meaning, training puppies with this collar is possible. Besides vibration mode and sound stimulation, this collar features a nighttime tracking light, especially important in low-visibility settings.
This dog shock collar will suit most large breeds, including your adult German Shepherd dog's neck. The band is made of BioThane, or polyester webbing coated with polymer.
It's durable, easy to clean, and, best of all, waterproof. Use the Educator By E-Collar for one or two of your dogs that need obedience lessons.
Petdiary B600 Waterproof Collar
Key Benefits:
No accidental shocking

Silicone covers on prongs

Waterproof collar with reflective band

Vibration or electric stimulation mode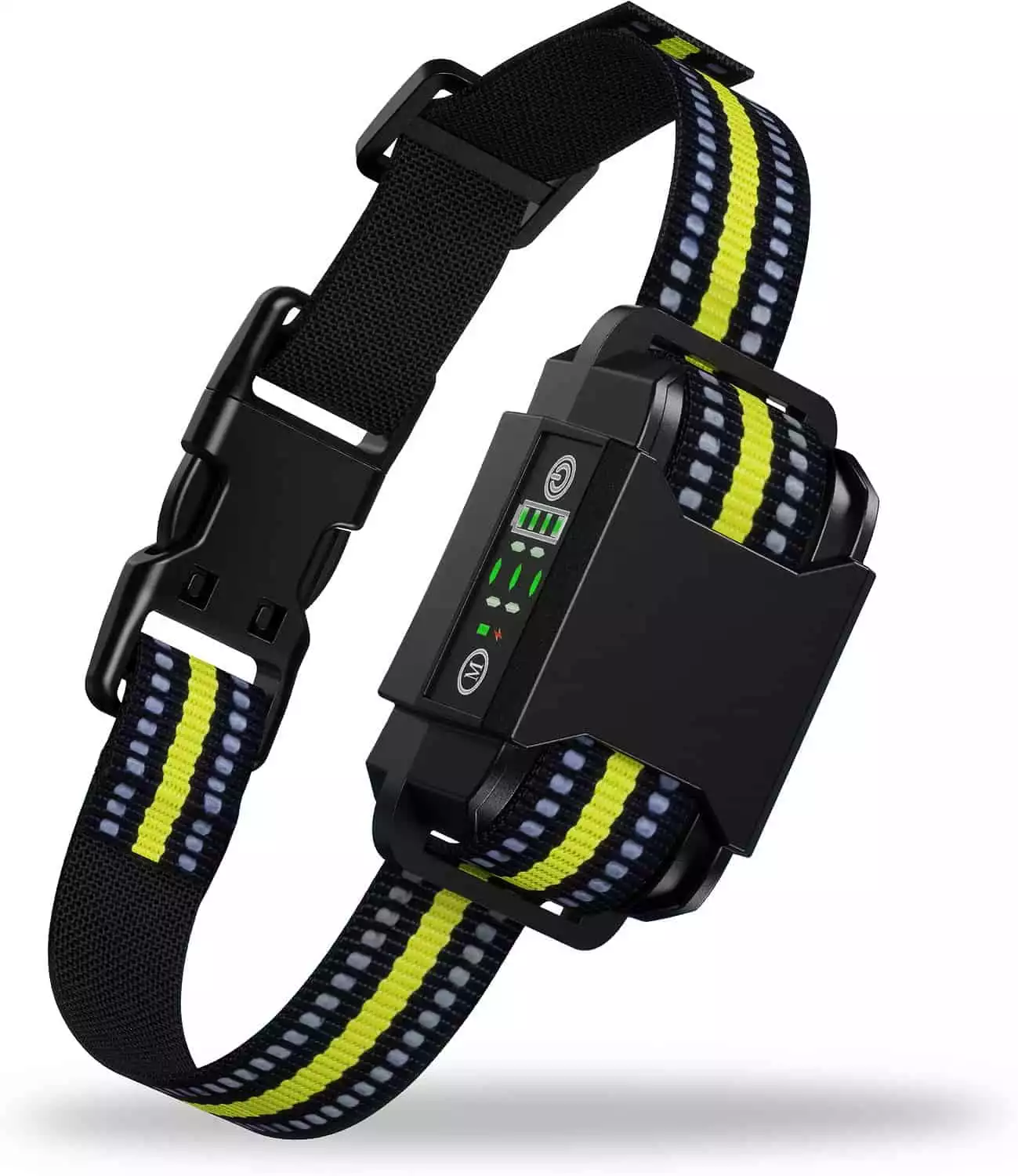 Bark control collars are lifesavers if you own a yappy dog. No matter if your neighbors are complaining or you just can't stand all that barking, the Petdiary B600 collar will teach your German Shepherd what's right.
This shock collar clearly distinguishes dog barks from other sounds around him, so no accidental shock will frighten your GSD! Protective mode is always on.
You get to decide whether vibration or electric stimulation are used to correct your dog and steer it away from misbehaving. But, the corrective stimulation isn't painful at all. This collar even has silicone covers on the prongs, so your dog's skin won't become irritated.
What's so great about the Petdiary collar is that it suits all neck sizes, from small dogs to large ones like your German Shepherd. The collar is waterproof and comes with a reflective band for visibility in low-light situations.
Although the fashion factor doesn't usually play much of a role when it comes to the best shock collars for German Shepherds, we have to say this collar comes in standard black and camouflage – for the ultimate adventure seeker in your dog!
Editor's Pick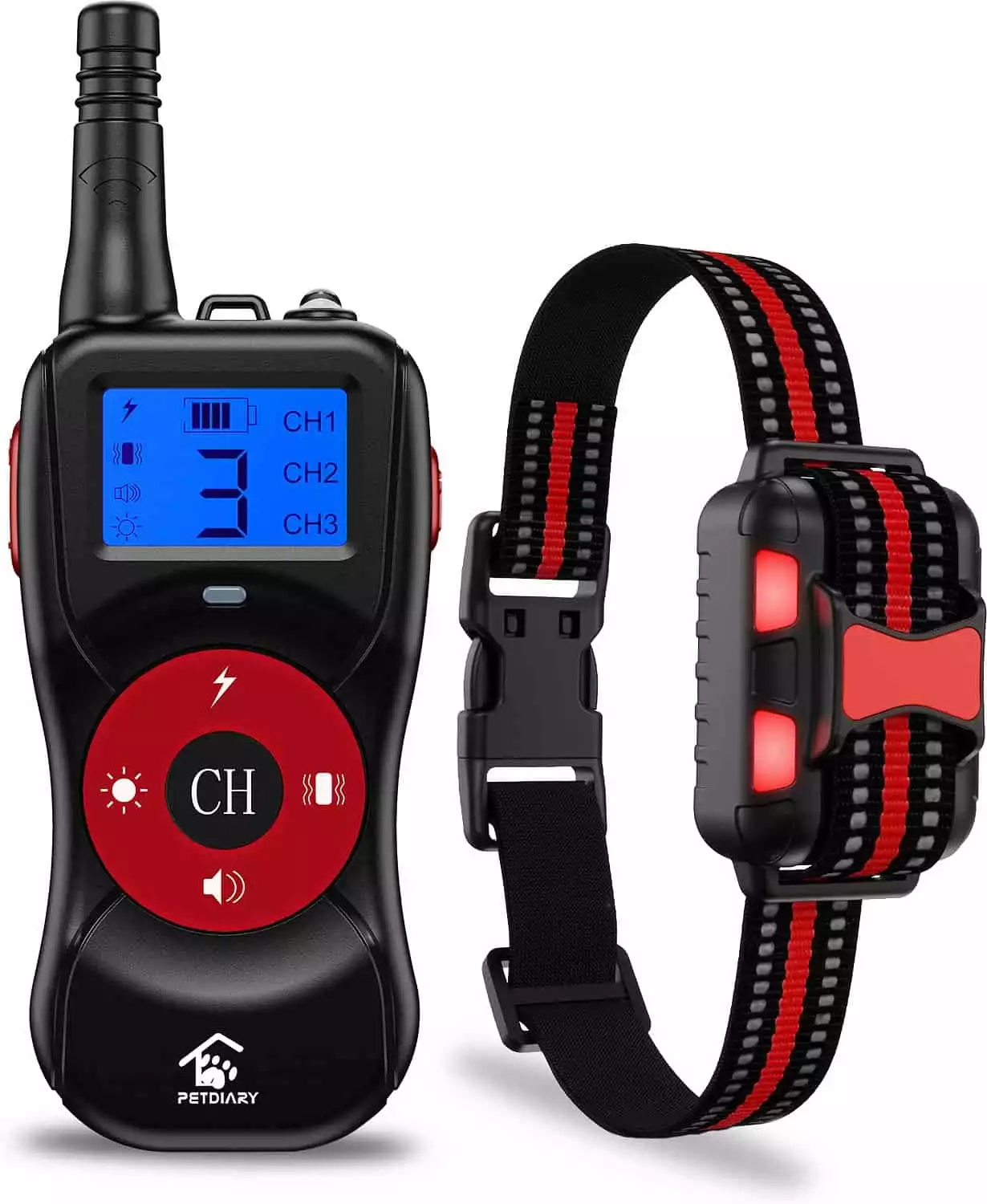 Dogs are one of the sweetest creatures in the world, but, boy, can they be annoying! There's nothing worse than barking at 3 AM. Your neighbors agree, and so do your ears. But what do you do with dogs like this? You train them to curb such behavior.
Petdiary P502 dog collar to the rescue! With this shock collar, your dog will never think of barking without reason at ungodly hours. This collar features four different modes, including vibration, beeping sounds, shock, and LED.
Watch your dog closely and see which method he responds to the best. Also, you can train up to three dogs at once, which makes this collar one of the best e collars for multiple-dog homes. The LED lighting comes with 3 modes and provides you more visibility in the dark.
Petdiary's collar is waterproof and covers up to 500 yards. Your dog can run free, and you can completely control him as long as there's nothing in your way.
Dogtra iQ MINI Remote Collar
Key Benefits:
Lightweight and easy to wear

100 stimulation and vibration levels

400 yards range

2-hour rapid charge batteries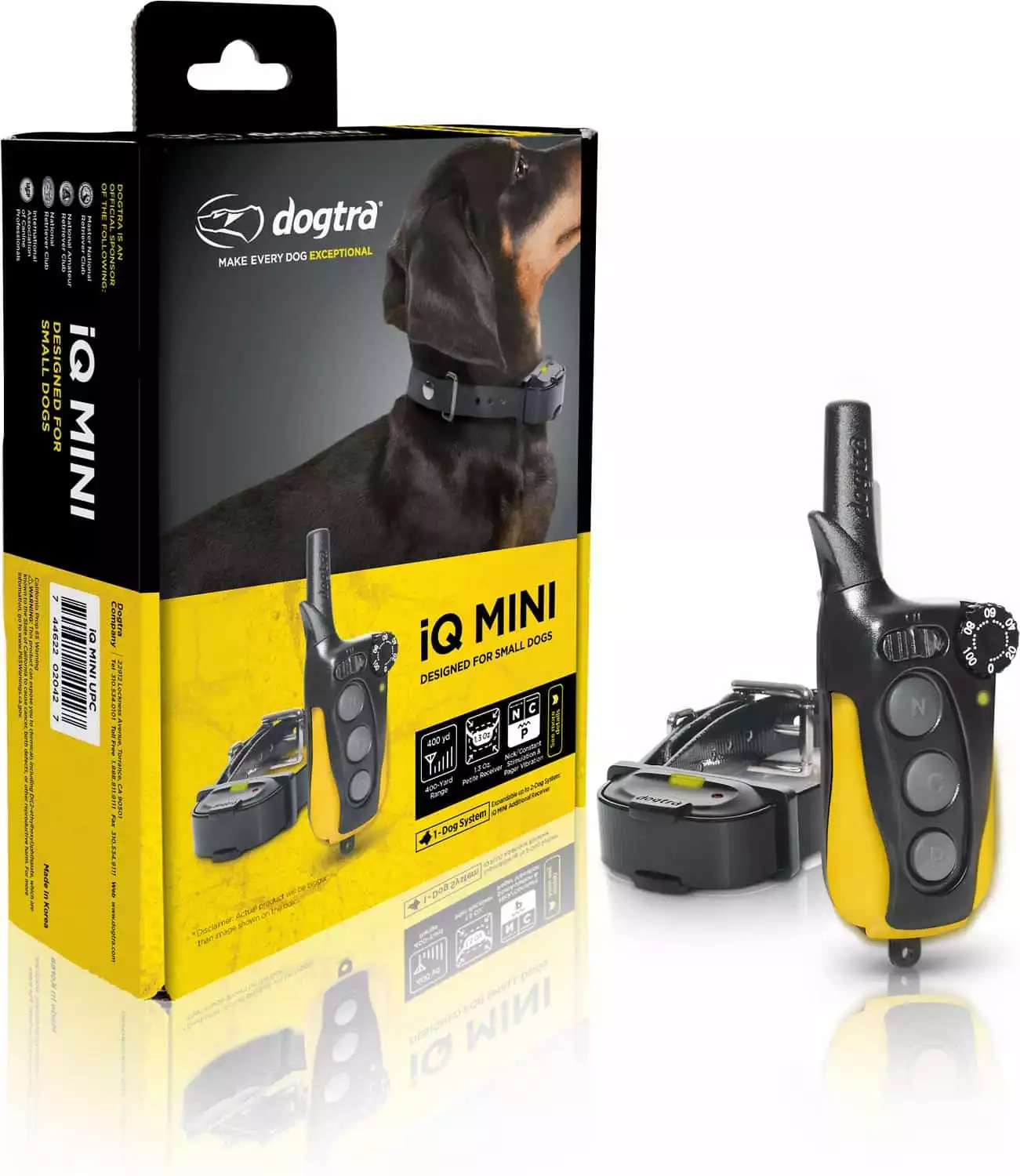 Fit for both small pooches and extra-large canines like German Shepherds or Cane Corsos, the Dogtra iQ Mini collar is specially designed to pack the best of e collars into a small package. The collar is quite light, weighing only 1.3 ounces, so your dog almost forgets he's wearing it. That's until he gets corrected for doing something wrong.
The iQ Mini collar has 100 stimulation levels, including vibration mode. There's a front-facing dial that can support two dogs at the same time.
This Dogtra collar operates within a 1/4-miles range, perfect for outdoor expeditions. The brand is supported by professional trainers, hunters, and Navy Seal handlers, which only speaks to the collar's high-quality and reliability.
You don't have to worry about being left without any battery. Dogtra has super-fast 2-hour rapid charge batteries that will never leave you hanging. But make sure you don't leave your dog wearing the shock collar for too long.
The contact points feature an ergonomic design, but even then, switch positions every two hours and take it off after 12 hours max.
Editor's Pick
PATPET P630 Collar
Key Benefits:
More than 8 levels of vibration and tone stimulation

600 meters range

The transmitter and the collar are waterproof

2-hour rapid charge lithium polymer batteries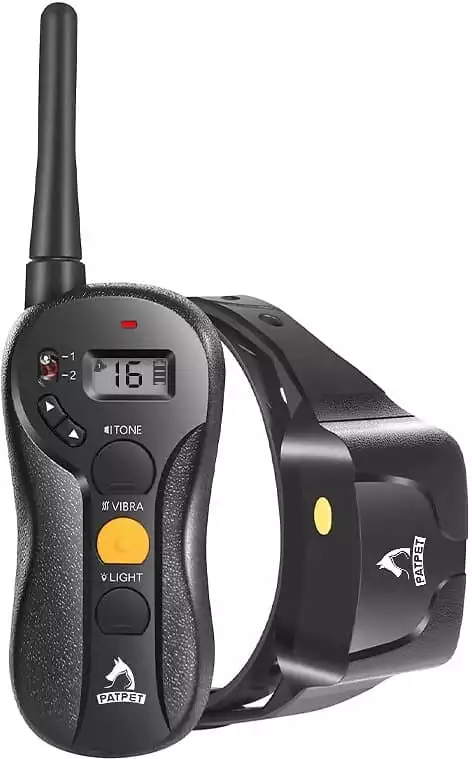 The PATPET P630 turns every bad boy into a little angel. German Shepherds are not aggressive by default. They just need some training to correct unwanted behavior. These intelligent dogs are fast learners, and chances are you won't need any of the electric collars for too long.
But you gotta start somewhere, and what better choice than the PATPET P630? This collar features more than 8 vibration levels and tone stimulation. Also, it tells you when the stimulation may be a bit harsh for your dog. No accidental hurting at all costs! The collar operates within 600 meters and is a great fit for small and medium-sized yards.
Both the transmitter and the collar are waterproof and work on 2-hour rapid charge lithium polymer batteries. The collar itself is made using thermoplastic polyurethane, making it perfectly comfortable and discreet.
Petdiary Smart Bark Collar
Key Benefits:
No accidental shocking

Vibration, irritating beeps, and electric shocks

​Features a small LCD display

Fully charged battery that can last up to 18 days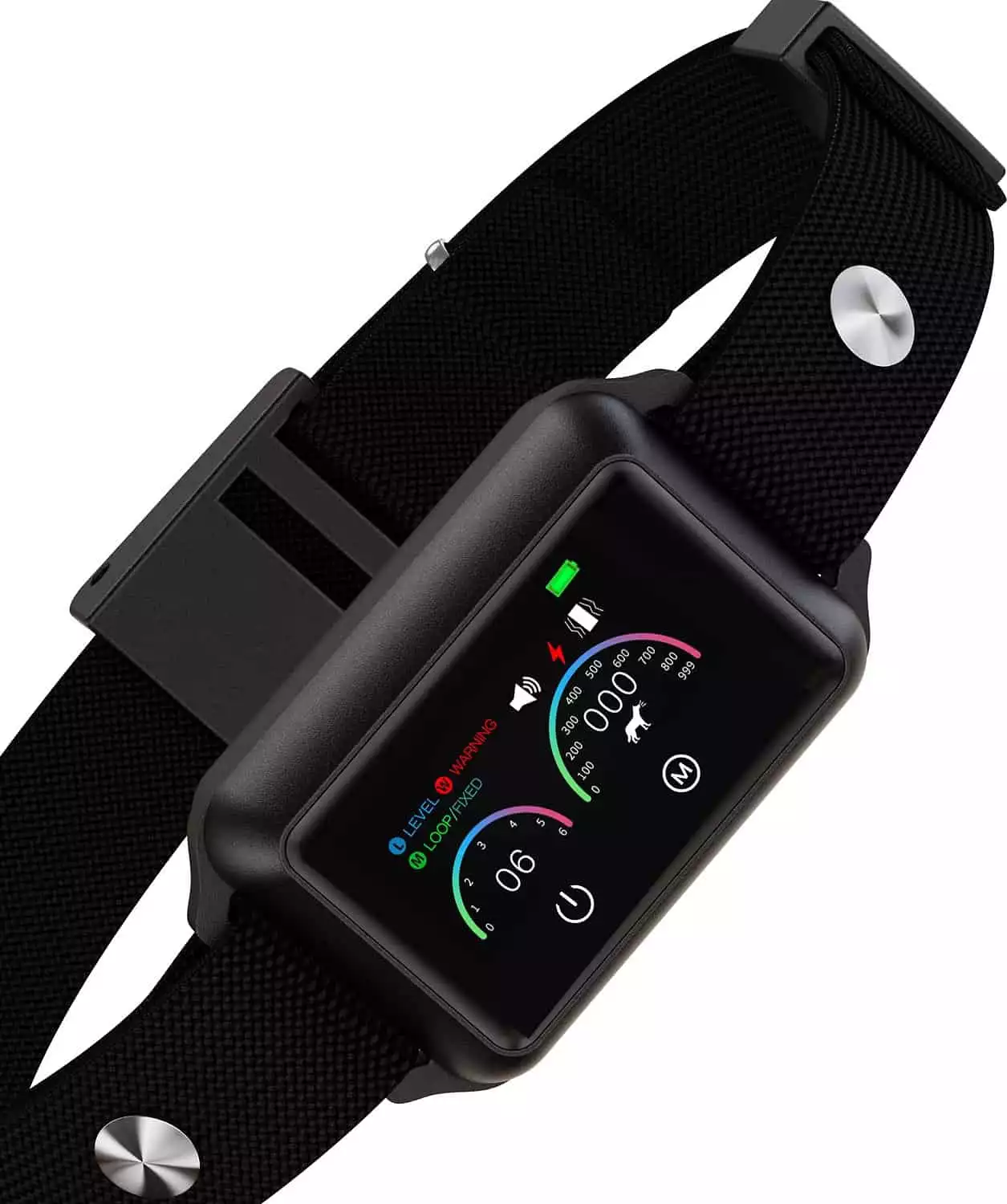 We love collars that know how to distinguish your dog's bark from other sounds. That's how accidental shocks are prevented. Not every collar has this function, but the Petdiary Smart Bark collar does. This training collar is truly worth every penny, and here's exactly why.
The Petdiary Smart Bark has three stimulation modes, including vibration, annoying beeping, and shocks. You can completely personalize the training experience and choose the right stimulation according to your dog. Some dogs don't react to beeps, while others don't even react to electric shocks. It's up to you to figure out what makes your GSD stop.
The whole collar is waterproof, which is always a nice bonus, and it contains a small LCD display, so you're aware of the level of stimulation at all times. The collar charges using a simple magnetic USB charger, and the battery can last up to 18 days. That's amazing!
GroovyPets 650 Collar
Key Benefits:
8 levels of vibration and static pulse stimulation

650 yards range

Stops chewing, digging, biting, barking, and jumping

Features an LCD display and a bright indicator light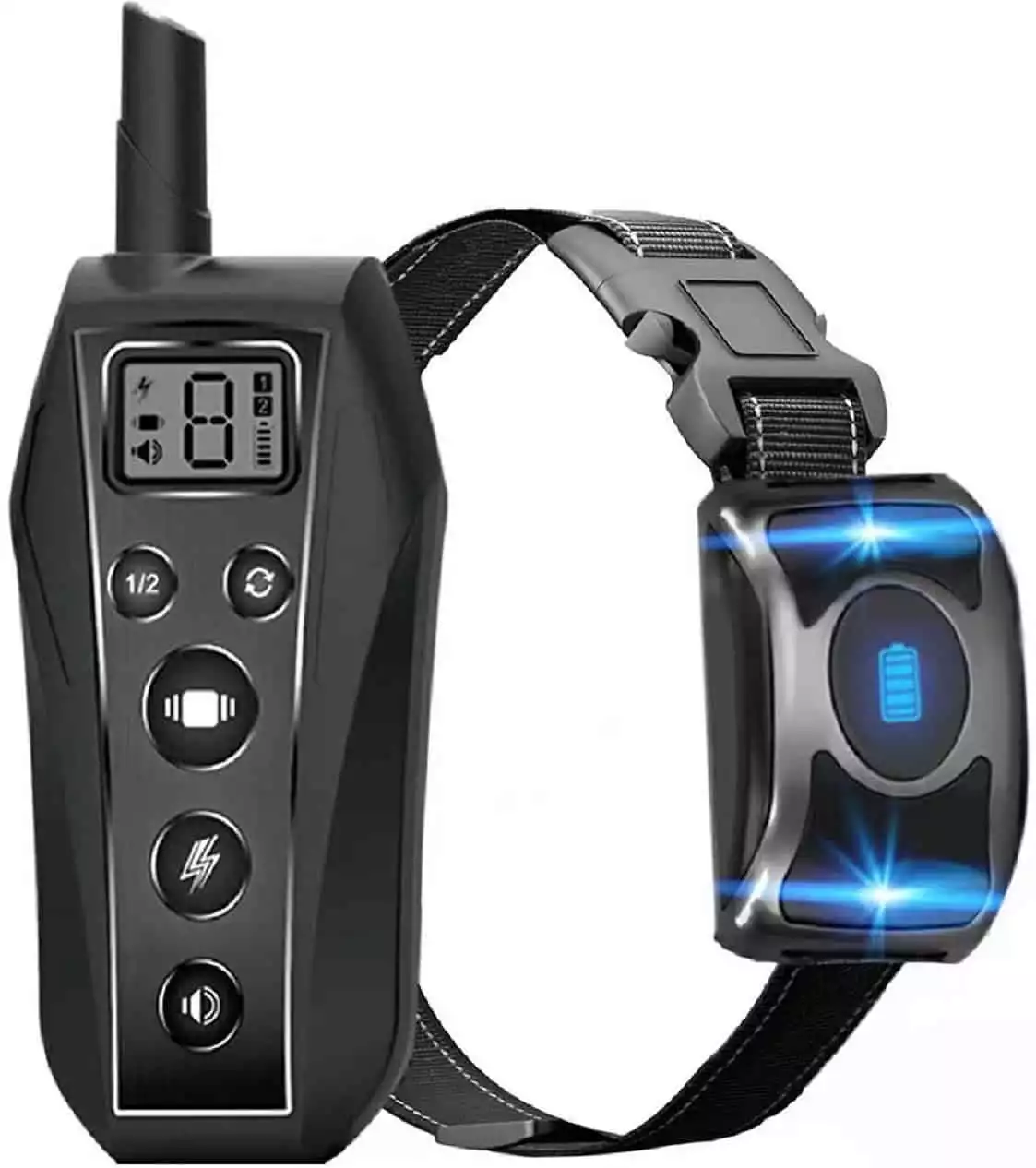 Most of the listed collars curb bad behavior like barking at random things at 3 AM. But, the GroovyPets 650 collar is there to teach your dog that chewing, biting, jumping on people, digging in flower beds, as well as barking are a big No-No!
The collar operates using 8 adjustable levels of vibration and static pulse stimulation. Also, there's a warning tone, so you'll know if it's a level your dog can't handle.
The GroovyPets 650 collar is quite simple to use and comes with a rechargeable remote controller and a large LCD display. It can work within the 650 yards range. What makes this e collar different from the others is the bright indicator light, so you'll always know where your dog is, even if it's pitch dark.
The collar is completely waterproof and made to last in all conditions, no matter if you're training indoors or outdoors. The point is, the GroovyPet collar will last you a lifetime, but we all hope you won't need it for too long.
PetSpy M686 Premium Collar
Key Benefits:
4 training modes

Rechargeable and waterproof device

Intuitive button layout

1100 yards range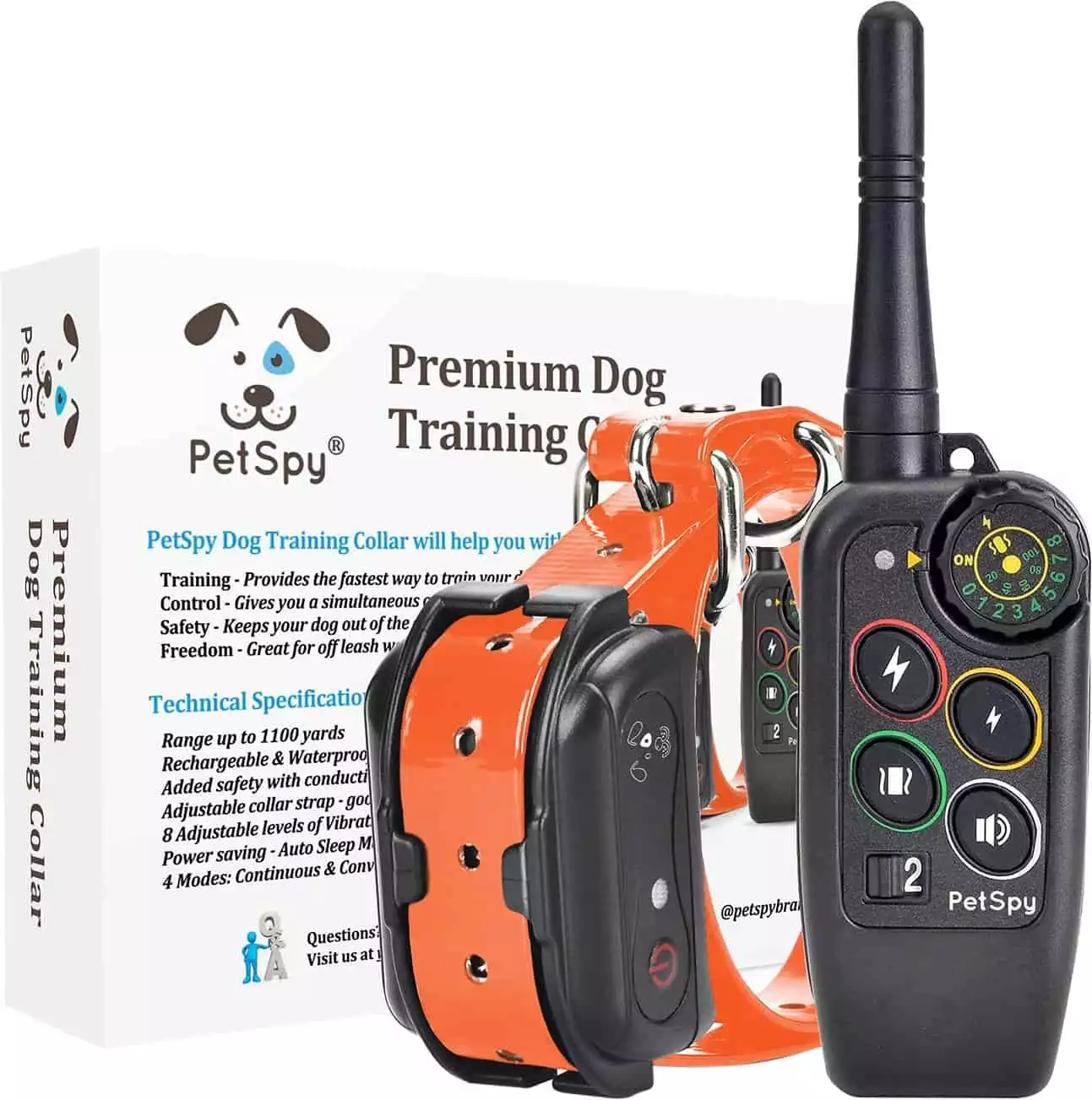 When it comes to dog training, you only want the best. You know, something that will last and prove its efficiency immediately. Nobody has time to buy 10 different e-collars and test them all. The good news is, you don't have to! Not with the PetSpy M686 collar.
This premium training collar teaches your German Shepherd that excessive barking, leash pulling, and wandering off is not good. The collar features four training modes, including continuous and convulsive shock, vibration, and tone stimulation.
There are 8 adjustable levels of stimulation, so you can find the right one for your dog. The whole device is rechargeable and waterproof. The best part is, it contains a power-saving movement sensor, so your battery doesn't drain when the dog's not active.
The PetSpy M686 Premium Collar features an intuitive button design for "blind" operations. You won't have to look at the remote. It's simple to use, and it's proven its efficiency within the amazing 1,100 yards range. With PetSpy, all your dog's behavioral problems will be swept away.
SportDOG No Bark Collar
Key Benefits:
Proprietary Silent Partner technology

3 programmable modes and 10 levels of static stimulation

Waterproof and submersible up to 10 feet

Battery can last up to 200 hours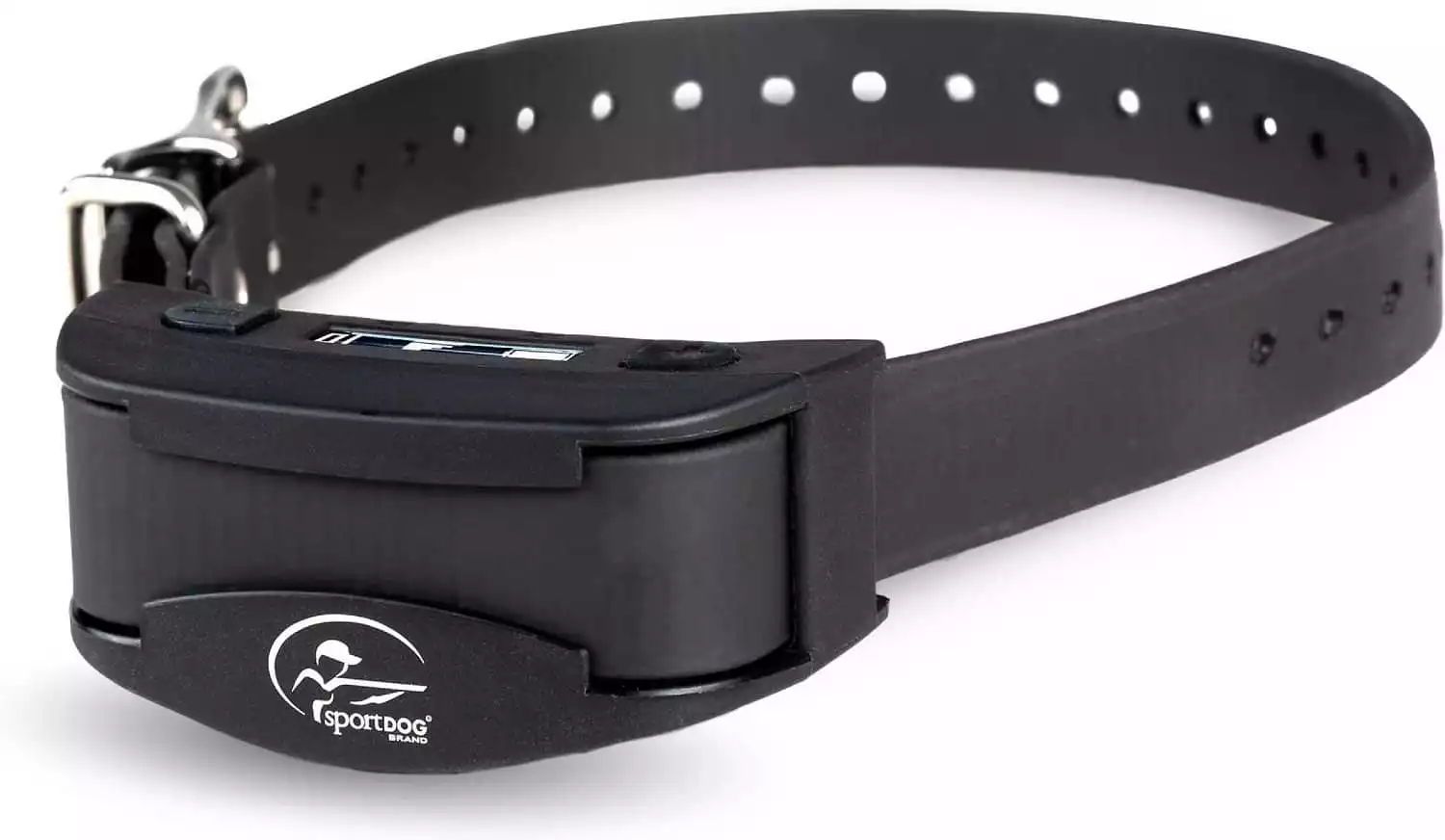 The SportDOG brand knows how important it is to avoid accidental shocks. They can stress out your dog and cause major setbacks in its training.
That's why the SportDOG No Bark Collar has found a way to exclude all other sounds (including other dog's barking) but your dog's bark. It's called Proprietary Silent Partner technology, and we couldn't be more thankful for it.
The collar comes with 3 programmable correction modes and 10 levels of static stimulation. Start at level 1 and increase if the dog starts barking within 30 seconds from the previous bark. It's up to you to see how far up the levels you can go for your dog to learn without hurting him.
What every dog owner will appreciate about this collar is that it's waterproof and submersible up to 10 feet. The collar is sleek and discreet, operating on a Li-ion battery that supercharges within 2 hours and can last up to 200 hours. No more interrupting training to charge!
PETSAFE Waterproof Dog Collar
Key Benefits:
15 levels of static correction

Shuts off after 15+ barks within 80 seconds

Premium-coated nylon collar

Temperament learning technology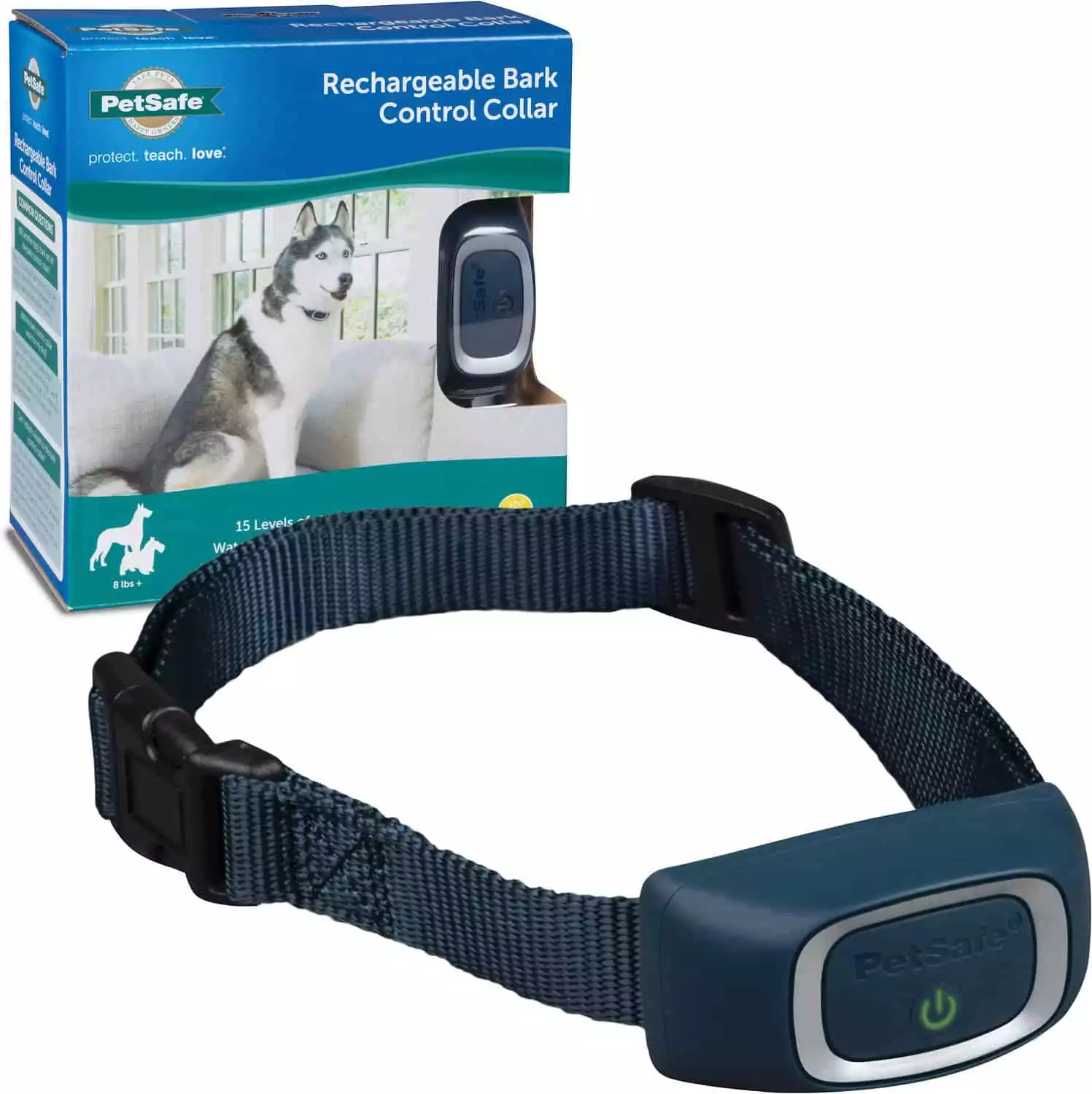 Remember when your German Shepherd was your best friend? Well, he's still your best friend, but he's a friend that barks a lot. It's time to introduce another buddy into your life, and it's called the PETSAFE Waterproof dog collar.
This shock collar comes with 15 levels of automatically adjusted static correction. The temperament learning technology adjusts the correction based on the number of times your dog barks. This technology won't allow shocks if another sound other than your dog's bark triggers it.
When your dog starts barking, the collar will turn on and start sending low-level shocks. As the barking intensifies, the shocks will intensify, too, until the barking stops.
Also, if your dog barks more than 15 times within the 80-second period, the collar will automatically shut off, and the stopwatch will count three minutes.
The collar itself is adjustable and waterproof, made of premium-coated nylon, suitable for small to large dog breeds. The PETSAFE Waterproof dog collar is fully rechargeable and will never leave you with an empty battery in the middle of the training.
FAQs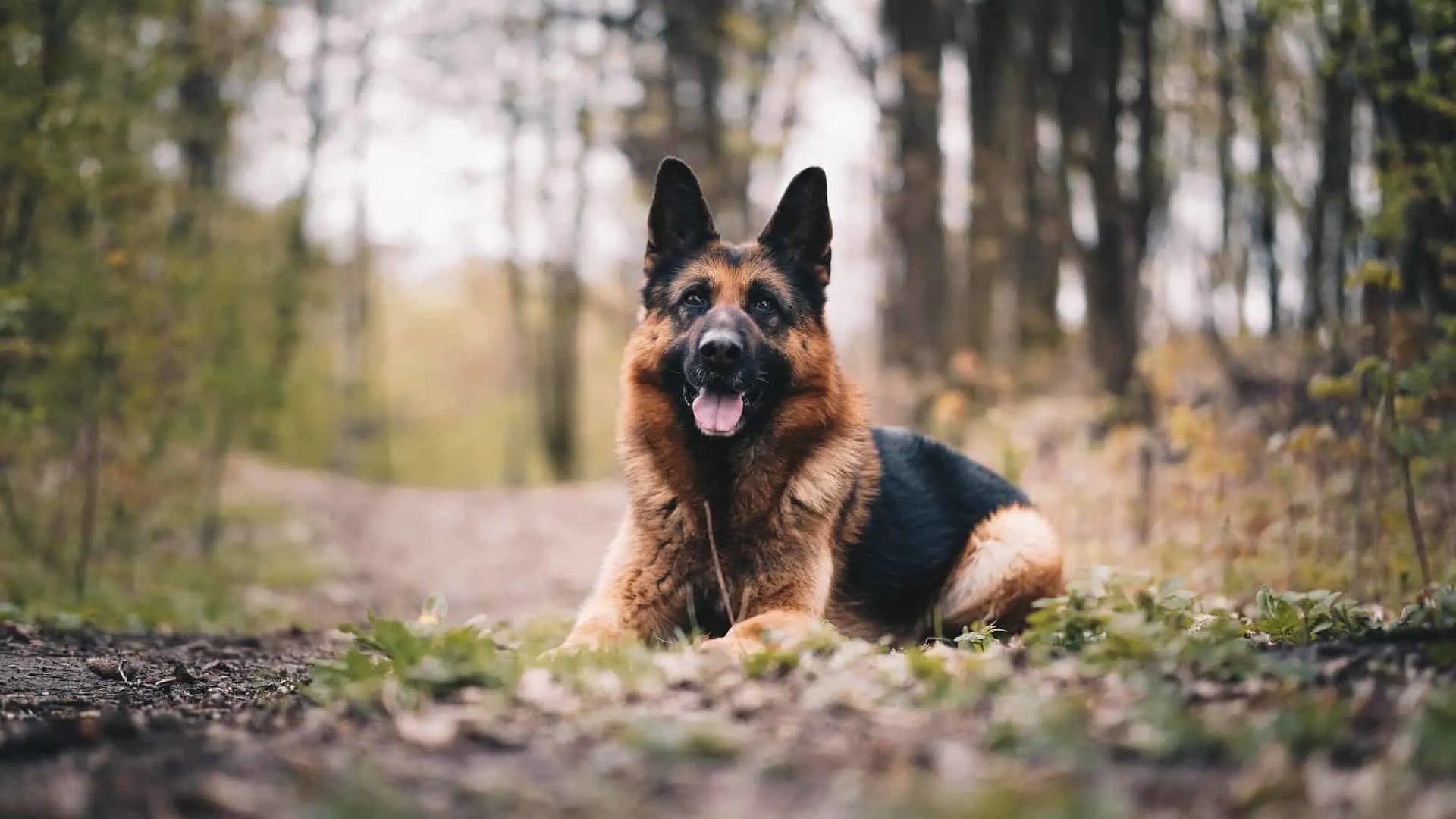 1. What Is A Shock Collar?
A shock collar is actually a training collar invented back in the 1960s with the sole purpose of training hunting dogs. Punishment methods in training weren't such a big deal back then, but we know better now.
Today's shock collars are used only for a certain period of time, that is, until your dog learns that certain behavioral patterns aren't appropriate.
2. How Do Shock Collars Actually Work? Do They Harm The Dogs?
Shock collars aren't supposed to hurt your dog. If they do, then turn down the intensity and use only levels suitable for your dog. These collars don't always use static stimulation as a method of correction. Instead, vibration and beeping sounds can also be used to deter the dog from doing something bad.
Many dogs respond well to high-pitched noise and drop the bad behavior immediately. The collar sends one of the mentioned stimuli when your dog is barking or howling and teaches it every time he does something like that, he'll receive a light shock or hear unpleasant tunes.
3. What Kind Of Shock Collars Are Out There?
We can differentiate three types of collars out there, but they all have the same purpose: to teach the dog something's wrong.
First, we have training collars most dog owners use. They're meant to send different kinds of stimulation (static shock, vibration, sound, and light) when the dog does something he's not supposed to. These collars can cover up to 1 mile, so you can train your dog from a distance.
Moving on to anti-bark collars. Barking is a big issue with German Shepherds, and they're known to be notorious barkers. While many of them are smart enough to know that barking late at night is bad, some of them still can't fight this urge.
That's why you put an anti-bark collar on them. The collar will deliver shocks until your dog stops barking. As easy as that!
Lastly, we have boundary shock collars, the best choice for dogs that tend to wander off. If you live in a house with an unfenced yard, you will need one of these collars if you own a runner.
Set the distance area, and if your dog crosses it, the collar will automatically send a buzz and make it turn back.
4. Is There A Buying Guide For Shock Collars?
When buying a shock collar, first, you need to identify why you need it. Is your dog a barker? Does he tend to run away? Does he show aggression towards other dogs when dog food is served? How big of a yard do you have? Most training collars are from 300 yards to 1 mile, so find your range.
Shock collars are suitable for both indoor and outdoor training.
Besides being able to cover long distances, the collar should sit comfortably on the dog. Collars that are too tight may chafe your dog, and collars that are too loose may not even work. Measure your dog's neck and make sure you choose the right size.
It's always best to choose a waterproof collar with multiple stimulation levels and modes. Four modes would be ideal. You start off with light stimulation, and if it doesn't work, you move on to the irritating sounds.
Many dogs will respond immediately to annoying beeps. If that still doesn't work, use the vibration mode. The static shock mode should be your last option.
Lastly, choose a collar that's easy to use and comes with a long warranty. You never know when that will come in handy. Extensive use may cause malfunction, so be careful and don't hurt either your dog or break the device.
​5. Will A Shock Collar Be Efficient For My Misbehaving German Shepherd?
Absolutely! All of the listed collars on our list are suitable for large breeds, including German Shepherds. The collars are size-adjustable and will fit any neck size.
As for the efficiency, the collars have proven they work since many German Shepherds have kicked their habits of barking or jumping on people. Shock collars are helpful tools, but they're all meant to be ditched at some point.