This post contains affiliate links, and I will be compensated if you make a purchase after clicking on my links.
The best collar for a German Shepherd isn't a fancy one that costs almost a hundred dollars or a halter or headcollar limiting your GSD. Some of the best collars are simple, cheap, and efficient. Professional trainers may offer you something like choke collars or e-collars, but we won't do that.
We will offer you 13 of the finest dog collars, so you don't have to go to the store and "accidentally" buy everything, from extra dog food to unnecessary accessories. Let's see what's on Chewy for your German Shepherd!
Editor's Pick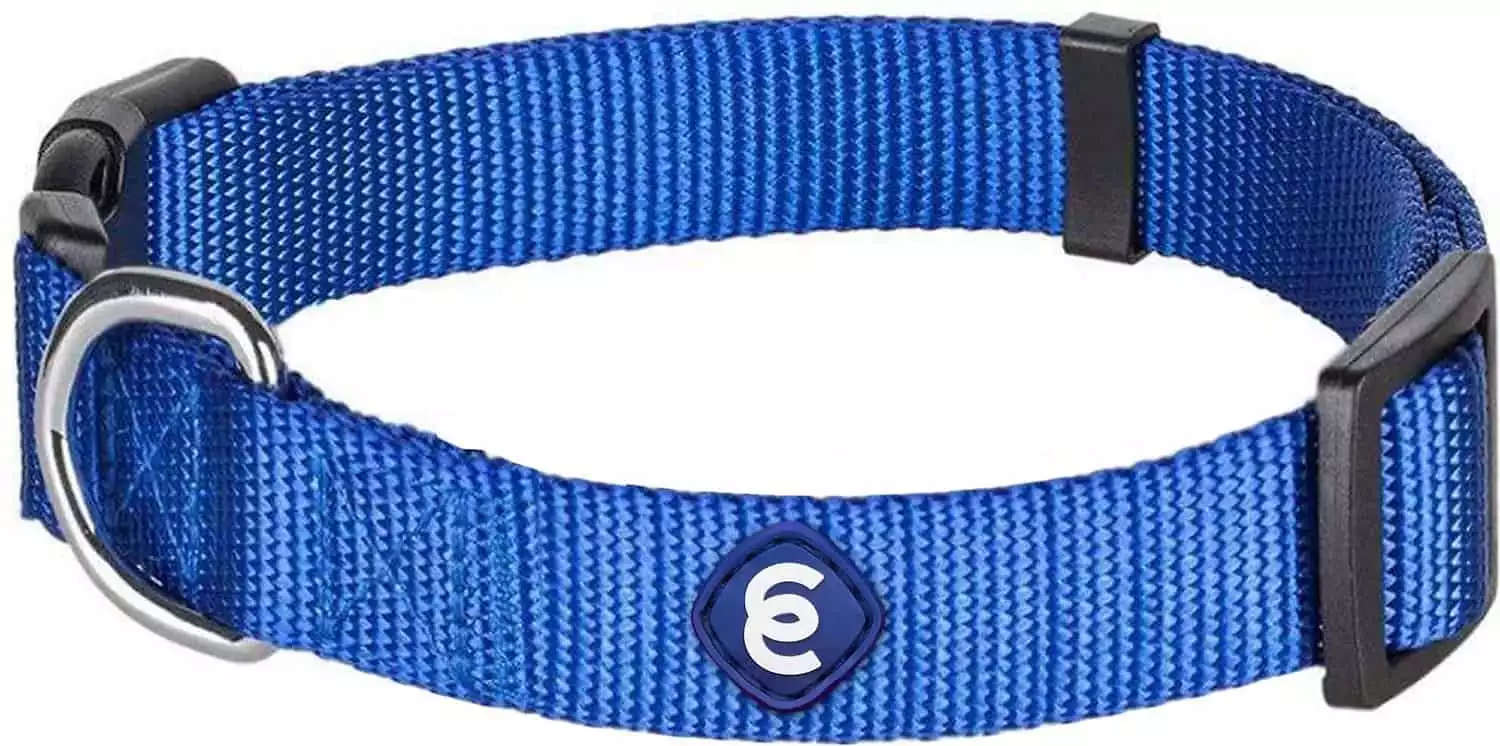 The simplest choice is sometimes the best. To be honest, dogs don't need fancy collars. Many of them are even uncomfortable for our pooches. But, the Blueberry Pet nylon collar is simple and not uncomfortable at all!
The design features a simple, solid color collar that's still pretty enough for our dogs.
These collars come in a variety of colors, including Florence orange, turquoise, royal blue, dark orchid, neon green, French pink, emerald, and blazing yellow. This classic design with a modern twist of colors comes in four sizes, XS being the smallest and L being the largest.
The largest size, L, would be a good fit for your German Shepherd since it suits dogs with 18 to 28-in necks. The collar is 1 inch wide and made from high-density webbed nylon fabric and features an eco-friendly plastic heavy-duty buckle and a chrome-coated D ring for easy leash attachment.
What we love about this dog collar is that it's machine washable. No more dirty and stained collars you can't wash! With Blueberry Pet, your German Shepherd boy or girl will always look tidy and… stylish!
PetSafe Quick Snap Buckle
Key Benefits:
Durable nylon thread and easy quick-snap buckle

Tightens when pulled on, loosens when the dog stops

Doesn't cause bald spots or a matted coat

Comes in five sizes and colors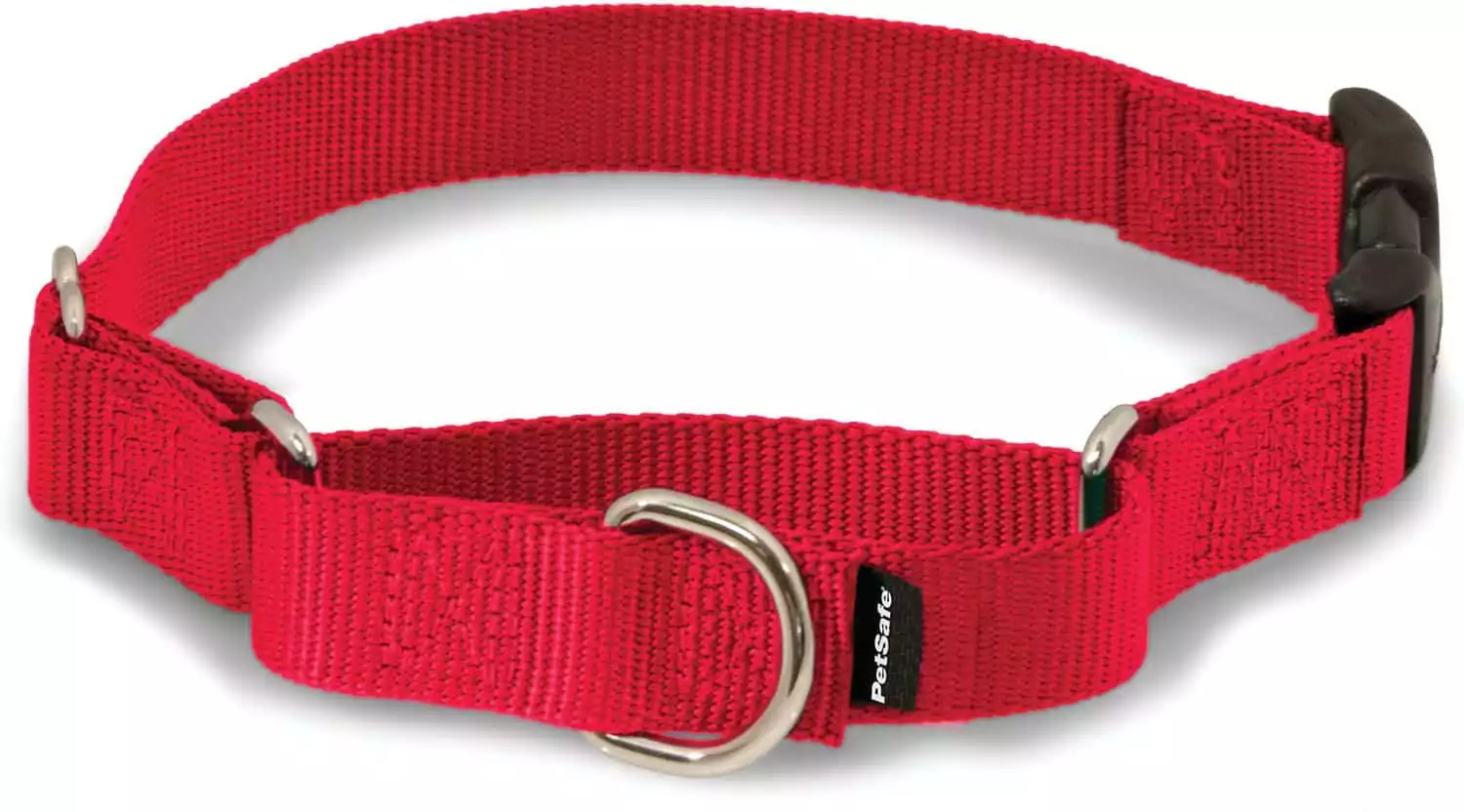 Some dogs are simply escape artists. They will wiggle out of every dog collar, leash, or harness. Nothing can stop those bad boys and girls. Well, they probably haven't come face to face with PetSafe's quick snap buckle collar.
This is a collar that will keep your Fido put, no matter how hard he tries to escape.
Designed to tighten when the dog lunges and become looser when he stops, this collar will quickly become everyone's favorite. Although the collar doesn't allow escaping and accidental slipping out of it, the PetSafe collar doesn't cause matting and bald spots. It's gentle on your dog's coat but firm enough to keep them secure.
The material used in the manufacturing process is a durable nylon thread combined with a quick-snap buckle made of high-quality plastic.
The PetSafe collar comes in five sizes and five colors, including raspberry, royal blue, red, black, and deep purple. It's the ultimate collar for your female German Shepherd!
CollarDirect Tribal Aztec Collar
Key Benefits:
Soft and flexible nylon material

Durable side-release buckle and carbon-plated D-ring

The pattern and colors will stay vibrant

Doesn't cause skin allergies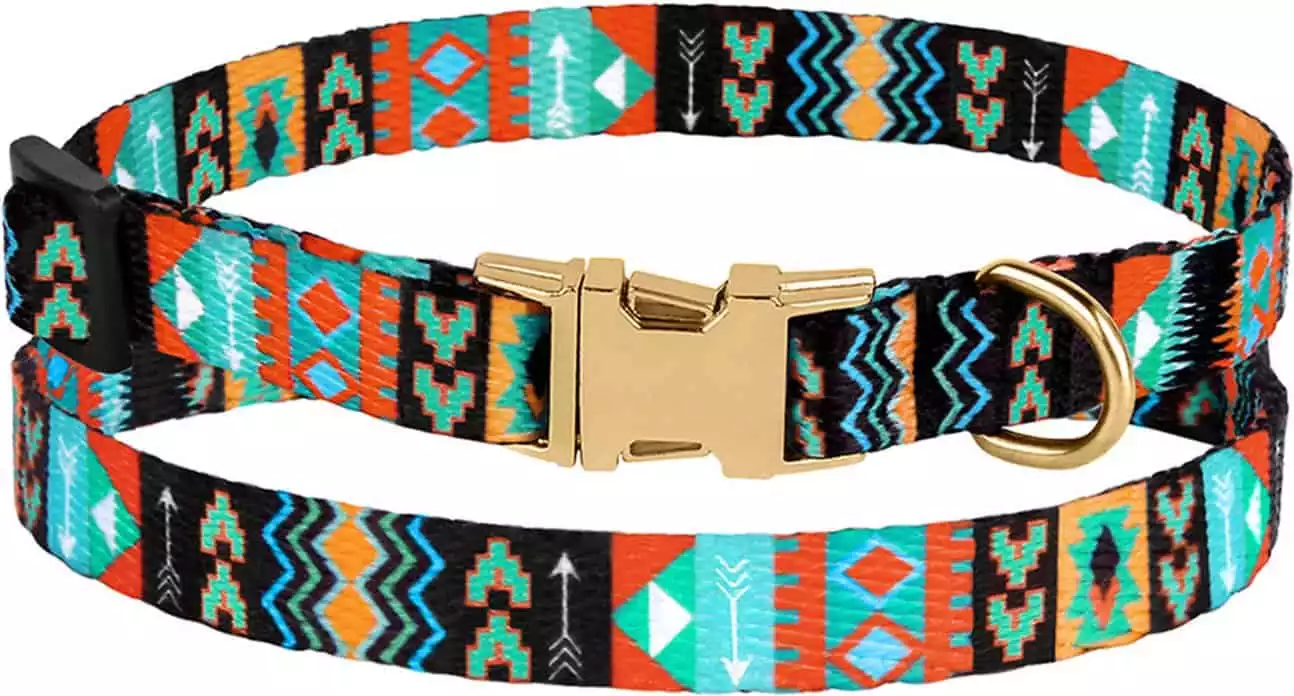 Pups deserve a fashionable accessory like this CollarDirect Tribal Aztec collar. You never know when your Fido or Fiona wants to impress another dog. With this collar, becoming the star of the doggy park is guaranteed. But is there more to this collar than the print itself?
Absolutely! CollarDirect comes in five sizes and three different Aztec patterns. There's a size and color choice for every dog out there!
For only $14.99, you get a collar made of flexible and soft nylon material combined with a durable plastic side-release buckle and a carbon-plated metal D-ring. It's made to last a lifetime and keep your pup safe and stylish on your adventures.
Besides being so pretty, the CollarDirect Aztec collar is lightweight and easy to clean. The best part about it is that you don't have to worry about the color fading.
It's made to last and stay vibrantly colored as long as the dog wears it. Okay, okay, the best part may be that it doesn't pull on the hair and is anti-allergic, but you get why the pattern is so important to us!
OneTigris Nylon Military Collar
Key Benefits:
Soft cushion padding on the inside

Durable nylon material with a heavy-metal D-ring

Five adjustable points with two parallel holes

Comes in two sizes and three camo colors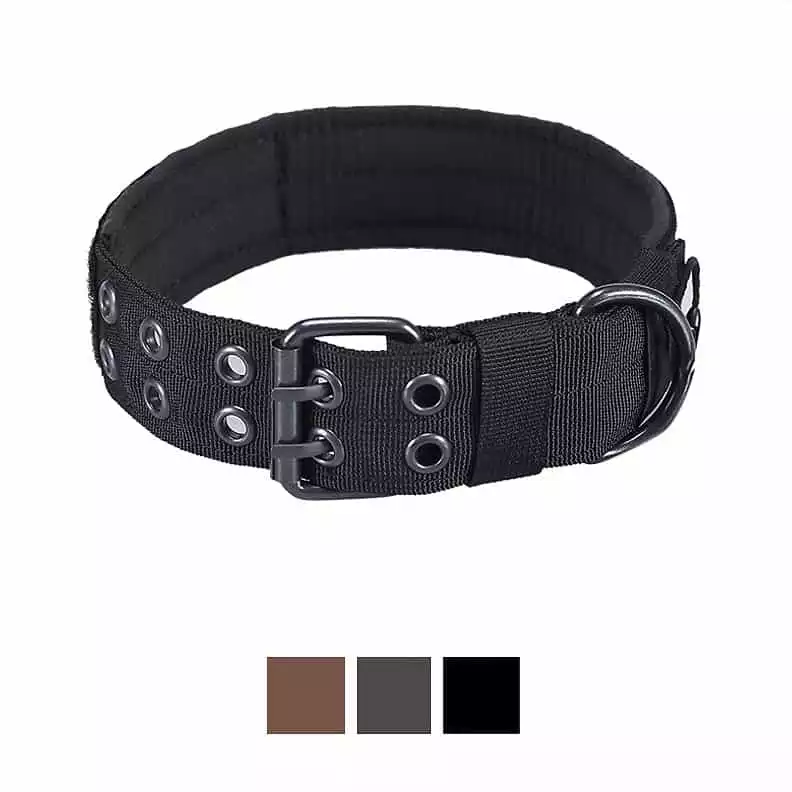 We have to take care of our military pups! If you're a German Shepherd lover, then you definitely know how valuable this dog breed is to military and police forces.
They make some of the best soldiers and officers out there. Well, a proper soldier must have a proper color that will keep him safe on his missions.
The OneTigris Military Collar is the ideal collar choice for such pups! Made with a soft cushion padding on the inside, the OneTigris nylon collar features one hook and a loop panel for your canine's military patches.
You won't see the classic plastic buckle on this collar. Instead, there are five adjustable points with two parallel holes to ensure maximum safety. Also, a heavy duty metal D-ring is there for you to attach the dog's harness and go for a walk. Maybe one of the OneTigris harnesses should be your pick!
This military collar comes in two sizes and three colors, including black, coyote brown, and ranger green. It's perfect for any camo outfit.
The second best thing about this collar, besides being ultra-safe, is the easy-clean factor. Just use mild detergent and dry it carefully afterward. Your canine pup will soon be ready for their next mission!
Road iD The Rock Solid
Key Benefits:
Durable woven nylon material

Comes in neon colors and three sizes

Laser-engraved and silicone covered dog tag

The name won't fade away or wear off

The Road iD collar may be on the expensive side, but you'll soon understand why. If you're looking for a unique collar to last your dog a lifetime, then the Road iD The Rock Solid collar is for you. Which dog wouldn't love a personalized collar?
The Road iD The Rock Solid collar comes in black, pink, blue, and green. The collar can be bought in three sizes. When it comes to the material used in the manufacturing process, the durable nylon thread is there to make sure this collar lasts for years to come.
What we love so much about this collar is that it can be personalized. No more lost dog tags! This collar comes with a laser-engraved dog tag, covered with a molded silicone seat that keeps the id tag in place. Your dog's name won't fade or wear off.
Being durable is one thing, but being practical is another. The Road iD collar is both! The fact this collar comes in neon colors, visible in the dark, makes it even more awesome. Now both you and your German Shepherd pup will be safe on your late-night walks.
Soft Touch Collars
Key Benefits:
Handcrafted using genuine leather

Soft-padded on the inside

The D-ring sits opposite the buckle on top of the dog's neck

Comes in five pretty colors and four sizes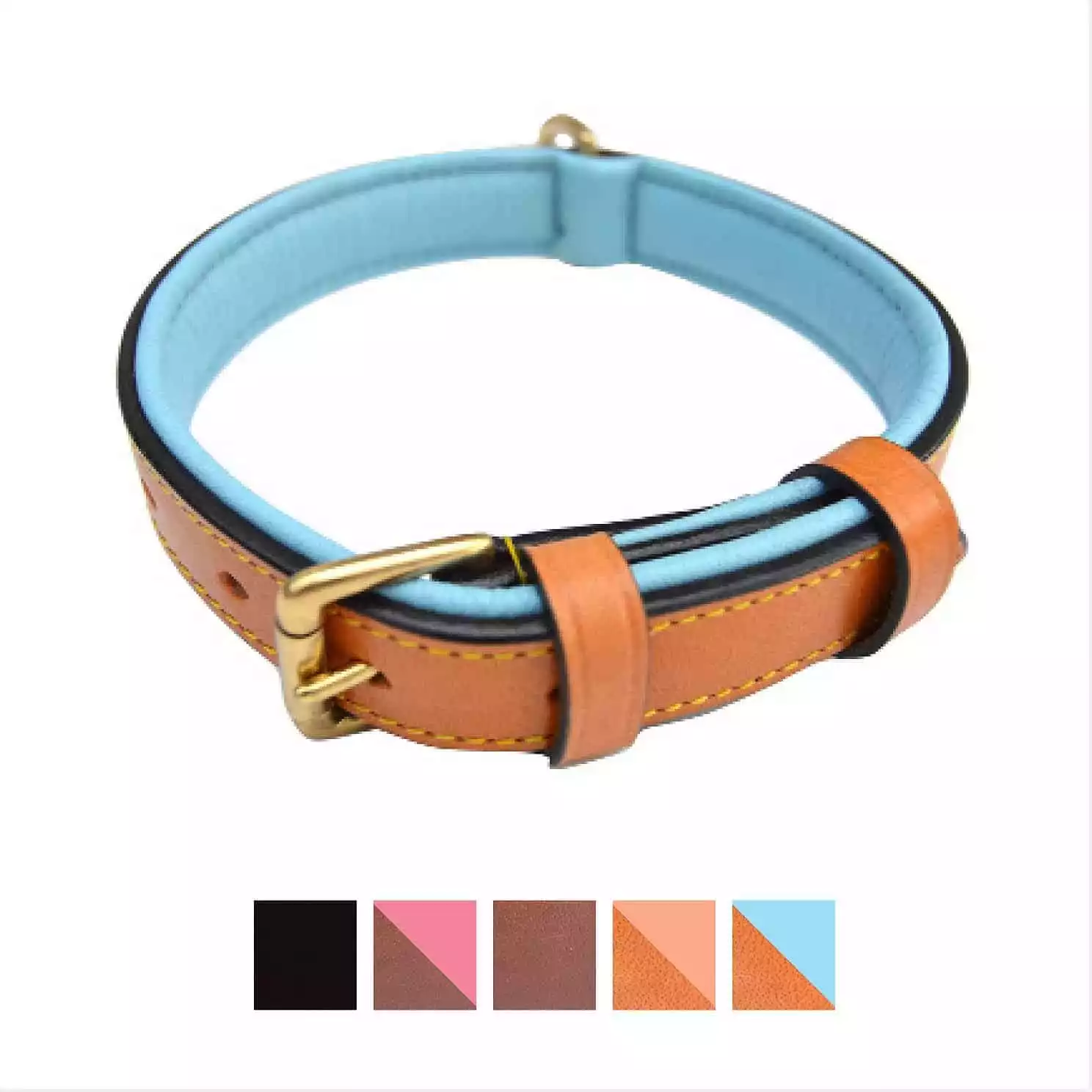 So far, we've had some practical dog collars that are more on the sporty side. But now, we've got something extra fancy for your dog's neck! This leather dog collar from Soft Touch is a combination of style, quality, and longevity.
The collar is luxurious and made of genuine leather and is hand-stitched for ultimate quality. This is not your standard collar. It's one of the best collars for your GSD's neck on Chewy!
Besides being practical and safe, the Soft Touch collar is exactly what it sets out to be: soft and comfortable! The lining inside is a soft-padded sheepskin that doesn't cause skin irritations or matted fur.
Its edges are seal-covered and made to last as collar edges are highly prone to wearing out. The leash D-ring sits on the opposite side of the collar's buckle, so you don't have to look for it when going for a walk. Just snap on that harness, and you're ready to go.
This premium leather collar from Soft Touch is suitable for most dogs, from small dogs to large breeds and extra-large dogs. It comes in two standard colors, black and brown, and three color combinations, including tan teal, brown pink, and tan coral.
OmniPet Spiked and Studded
Key Benefits:
Comes in 8 neck sizes

Durable leather and nickel-plated hardware

Can be used as a training collar

Timeless spikes and studs design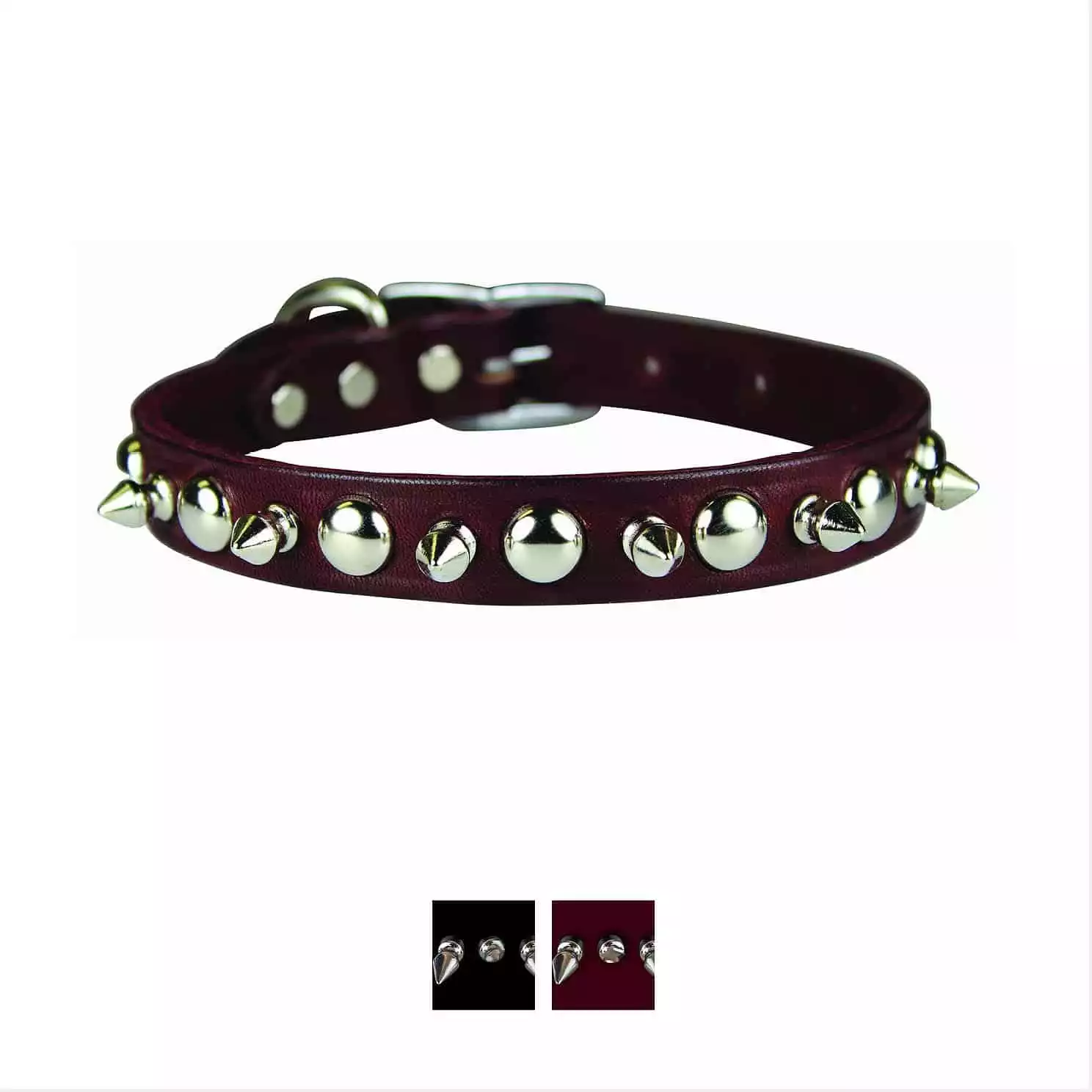 Speaking of fancy collars for your German Shepherd dog… Aren't you a bit tired of the regular, flat collars made of neoprene or nylon webbing? Yeah, us too! That's why when we found out about the OmniPet Spiked and Studded collar, we had to give it a try. And you know what? It's amazing!
At first, this leather collar may not look suitable for strong dogs, but it's actually made for all sizes, from small pooches to big dogs. The color choice is a bit poor (only black and brown), but there are 8 sizes, perfect for any German Shepherd puppy out there!
The spiked and studded design is an iconic look. It makes every dog look tough, even though he may be a gentle leader. Made of supple leather and nickel-plated hardware, this OmniPet collar will last no matter how big of a puller your GSD is.
The Spiked and Studded collar is not just pretty, but it's practical as a dog training tool. Even though it's not listed as a dog training collar, you can still use it while teaching your pooch how to walk on a leash. This sturdy and beautiful design can be yours for only $12.58. What an offer!
We love reflective collars for their practical use, but we love GoTags even more! Why? For the many awesome features this collar has! Many nylon dog collars are just simple and standard. There's nothing special about flat collars anyway. But the GoTags collar is more than that!
This GoTags collar is made of durable BioThane coated webbing and reflective stitching, perfect for night walks. There's a traditional metal buckle that ensures safety and a non-corrosive D-ring for your tag and leash. Actually, scratch that!
The D-ring is only for your leash because you won't need a separate id tag if your pup's wearing this collar. GoTags offers you personalization and laser-engraving up to 25 characters (with spaces), so your dog's name and your phone number are always visible in case your GSD gets lost.
Another excellent thing about the GoTag collar is the innovative BioThane material. The collar is easy-clean and resistant to dirt, oils, moisture, and odor. Your German Shepherd will be stylish, safe, clean, and recognizable when wearing this dog accessory!
Buckle-Down Polyester Collar
Key Benefits:
Adjustable collar with a quick-snap buckle

Durable polyester material

Lovely black and red plaid pattern

Comes in three sizes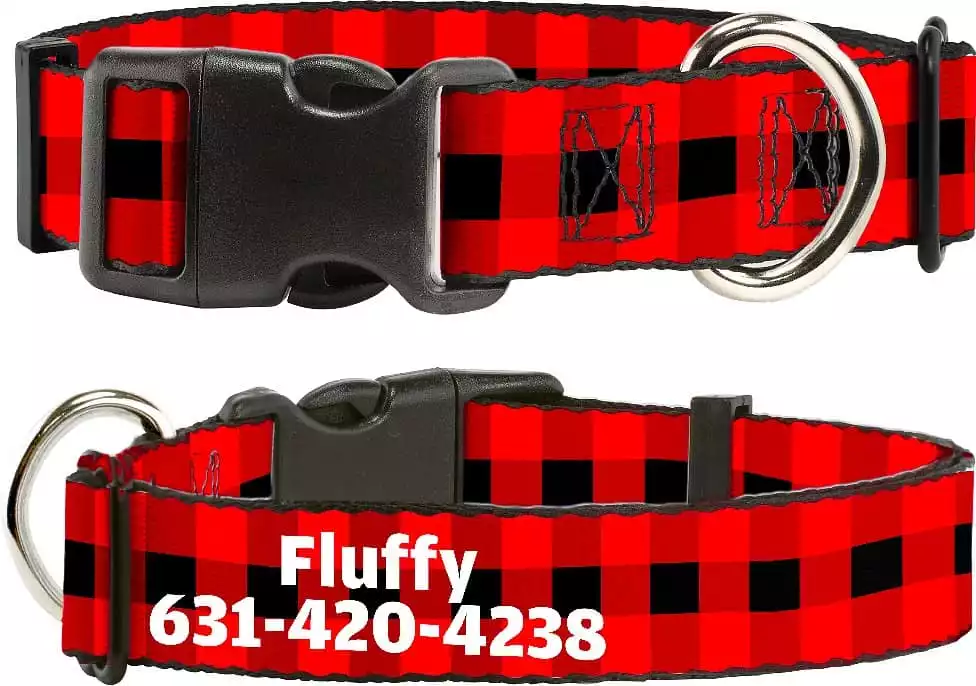 Quick-release buckles are our favorite. Okay, one of our favorites! Finding the best dog collar for your German Shepherd is a tough task since there are so many different types of collars on Chewy.
Adjustable collars with quick-snap buckles are at the top of our list. This one from Buckle-Down is set to become everyone's favorite. Let's see what's so special about it!
The Buckle-Down personalized polyester collar is more than your average German Shepherd collar. This sturdy collar will last you until you decide you're tired of it and want a new design. Even then, the Buckle-Down collar will be as good as new.
Some even say it may outlive your dog! The collar is completely made in the USA, featuring a durable polyester material, a heavy-duty D-ring, and an over-engineered plastic buckle.
This adorable red and black lumberjack pattern comes in three sizes and fits most dogs. Your German Shepherd will always be noticed when wearing this design. It even complements their coat style!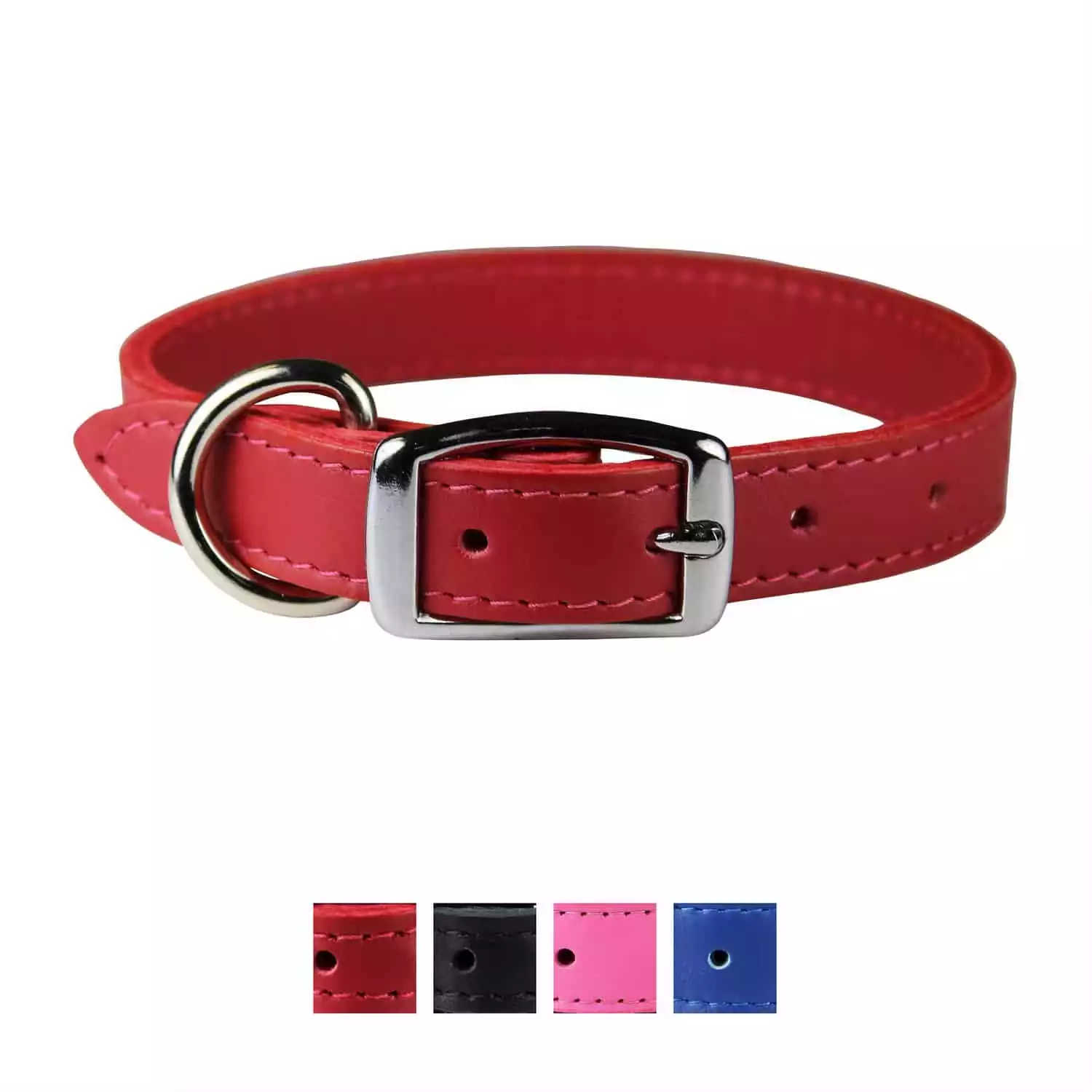 Finding a good leather collar is no longer an issue. Well, not when there's OmniPet, one of the finest brands of leather collars. The German Shepherd dog breed is quite a large one and needs a high-quality collar. That's why many dog owners opt for leather. Sure, nylon is durable, but leather is more comfortable.
OmniPet's Signature Leather collar features 100% genuine leather with sturdy stitching and a durable, nickel-plated D-ring. The collar is made by seasonal weather crafters for ultimate quality and wearability.
The color choice is standard, including black, red, pink, and blue. But, it comes in 7 different sizes for dogs with 12-in to 24-in necks.
The OmniPet Signature leather collar is truly this brand's signature piece. Get it for only $16.99 and combine it with the harness from the same line. They say both work best when paired.
Riparo Heavy Duty K9 Collar
Key Benefits:
Soft leather and gentle padding on the inside

Stainless steel buckle and D-ring

Free from harsh chemicals and dyes

Comes in 5 sizes and 7 color options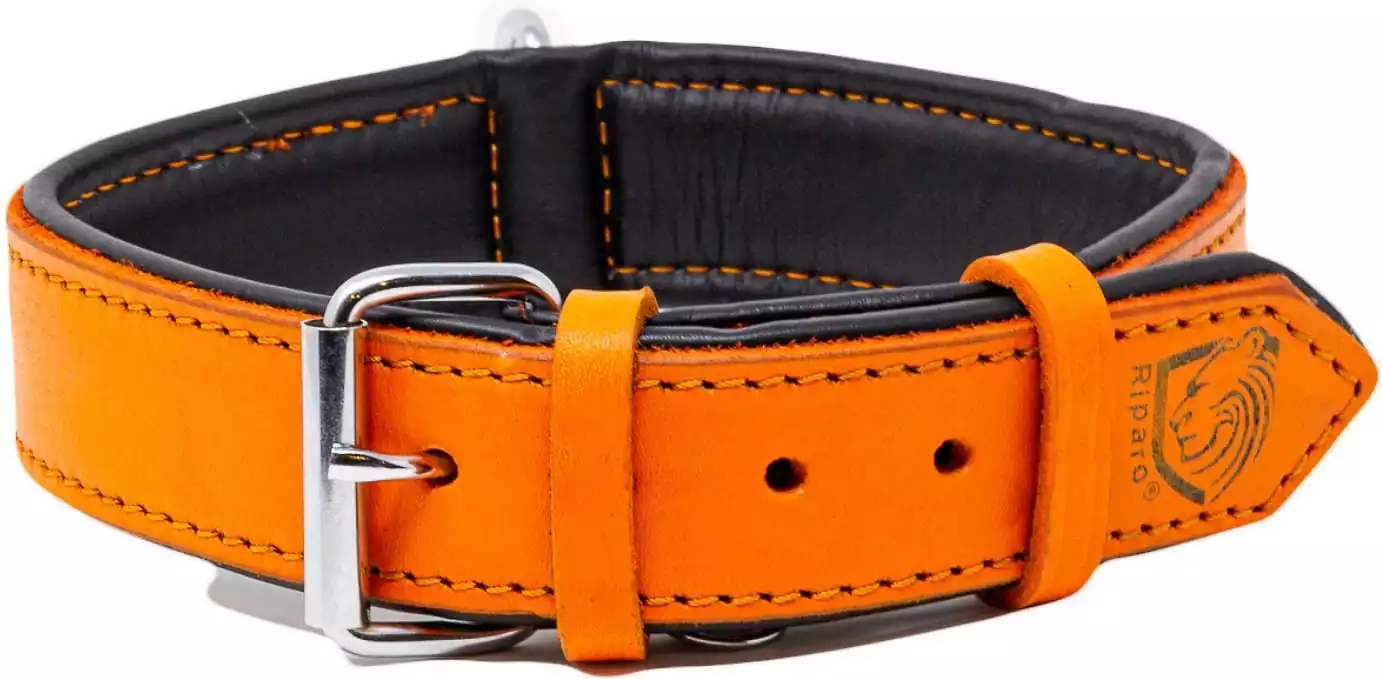 German Shepherds are made for heavy-duty collars. While many of them are calm puppers, there are still some that might test your limits. Well, they might test the limits of everything, including their collars!
The Riparo Heavy Duty K9 collar is a premium collar for your canine. Its soft and sturdy leather is gentle on your dog's skin and doesn't cause injuries if the dog is a puller.
The collar features a stainless steel buckle and a D-ring safe from rusting. The sheepskin padding on the inside makes sure the collar is comfortable for your GSD.
The Heavy Duty K9 collar is free from harsh chemicals and dyes. It comes in 5 sizes and 7 colors, including brown, black, black & orange, black & red, red, orange, and camel. A superb dog collar in every way for every dog!
Editor's Pick
Frisco Solid Nylon Collar
Key Benefits:
High-quality woven nylon with Ultra Weld seal

Can withstand up to 7 times the max. recommended weight

Durable plastic buckle and nickel-coated hardware

Affordable price, good quality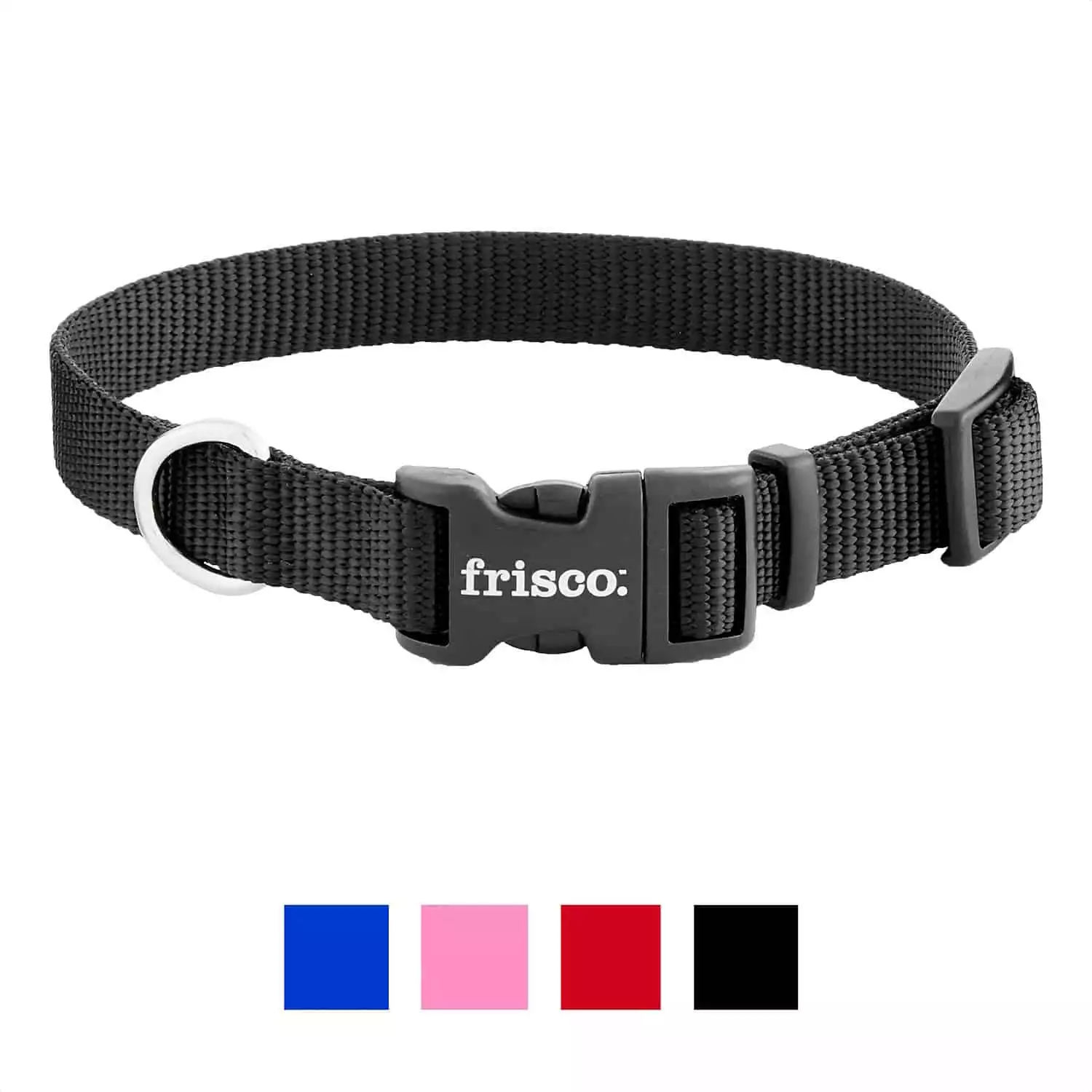 Cheap doesn't necessarily mean poor quality. In the case of the Frisco nylon collar, it means affordability! This simple collar will make you think: Why did I spend all that money on no-good collars? Here's why Frisco makes special collars.
First of all, the collar comes in four standard colors (red, black, blue, and pink) and four sizes. We recommend the largest size for your GSD with a 1-inch wide collar.
This classic design is made using high-quality woven nylon with an Ultra Weld seal for extra strength and comfort. This nylon was even tested and proved to withstand up to 7 times the maximum recommended weight for each size.
So, no worries, your GSD won't break it easily, no matter how strong it is. What else is strong is the nickel-coated D-ring, which is made to last.
It may look cheap. It may be cheap. But Frisco Solid Nylon collar is not cheap at all! This is a high-quality product that should cost more than the regular $7.22. However, being a good fit for any pocket is what makes Frisco such an amazing brand.
PetSafe Nylon Martingale
Key Benefits:
Durable nylon material

Affordable price

Won't slip off your dog's head

Keeps the dog put but doesn't choke or pull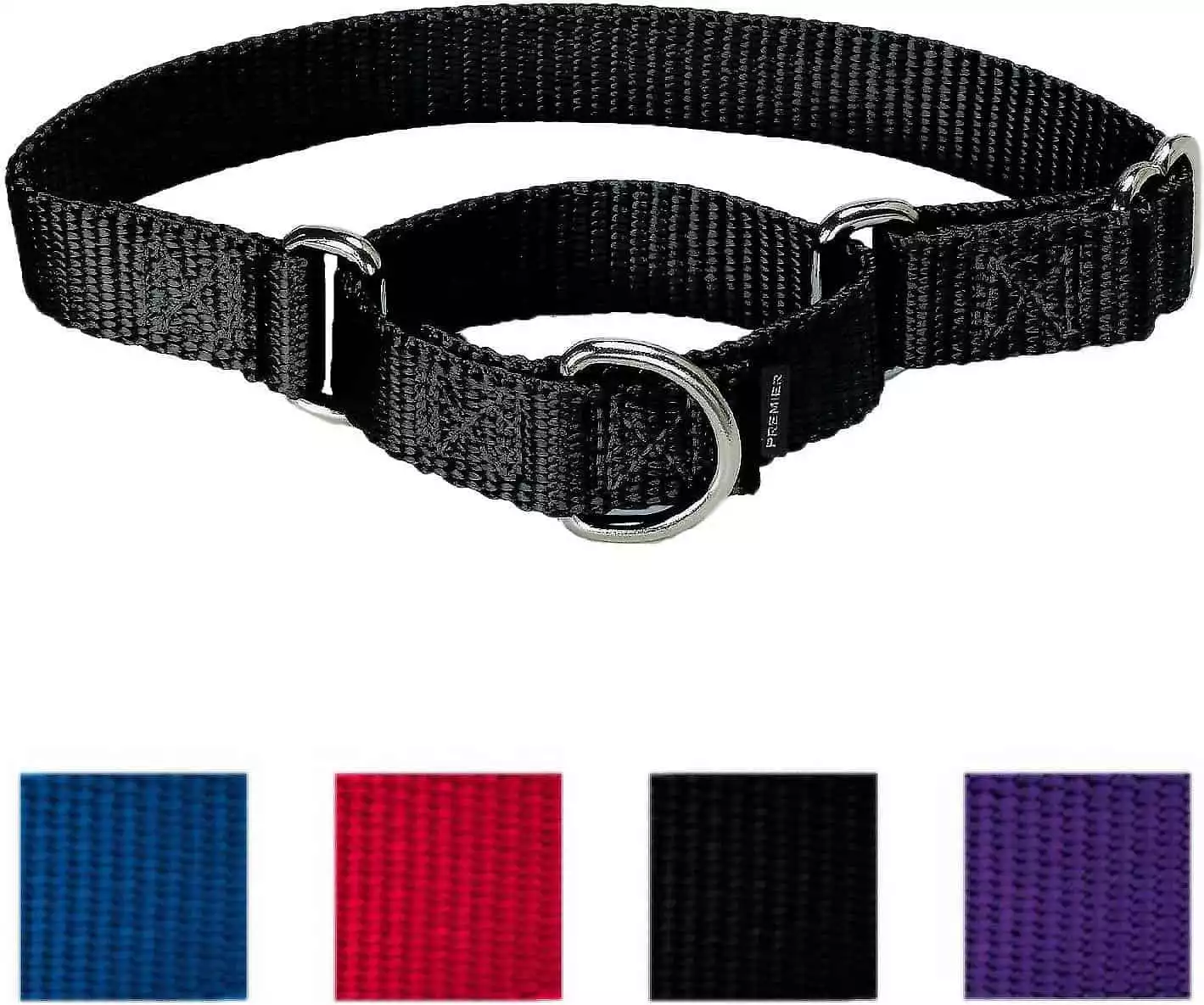 Last but not least on our list, we have a martingale dog collar fit for all dog sizes and breeds. The PetSafe nylon martingale collar gives you control and safety for only $8.49, and it's always on sale! How amazing is that?
This PetSafe collar makes sure your escape artist doesn't perfect their art. Your German Shepherd will stay put, and the collar won't slip off your dog's head. The PetSafe martingale collar will keep the dog secured, but it will never pull on the hair or cause bald spots. Martingale collars are always a better choice than standard choke collars or chains.
This durable collar is made of extra-quality nylon that can be washed with mild soap and won't stain. Also, the collar comes in 5 sizes, so even your German Shepherd puppy can wear it and grow up using it.
How To Use Martingale Collars
Martingale collars are one of the best choices for growing puppies and dogs that escape easily. The whole point of these collars is to become tighter if the dog pulls and to loosen when the dog stops.
In other words, it teaches the dog how to walk properly on a leash. The principle is simple and efficient, which is why a lot of dog owners (dog trainers too) choose martingales!
Best Shock Collar For German Shepherd
We use shock collars to improve our dog's behavior and get rid of some nasty habits like barking or howling. It is efficient in dog training, but we prefer more natural methods.
You want your dog not to fear you. You want trust. Long-term use of shock collars is not a good idea. If you really must use one, here's our list of the best shock collars for German Shepherds.
FAQs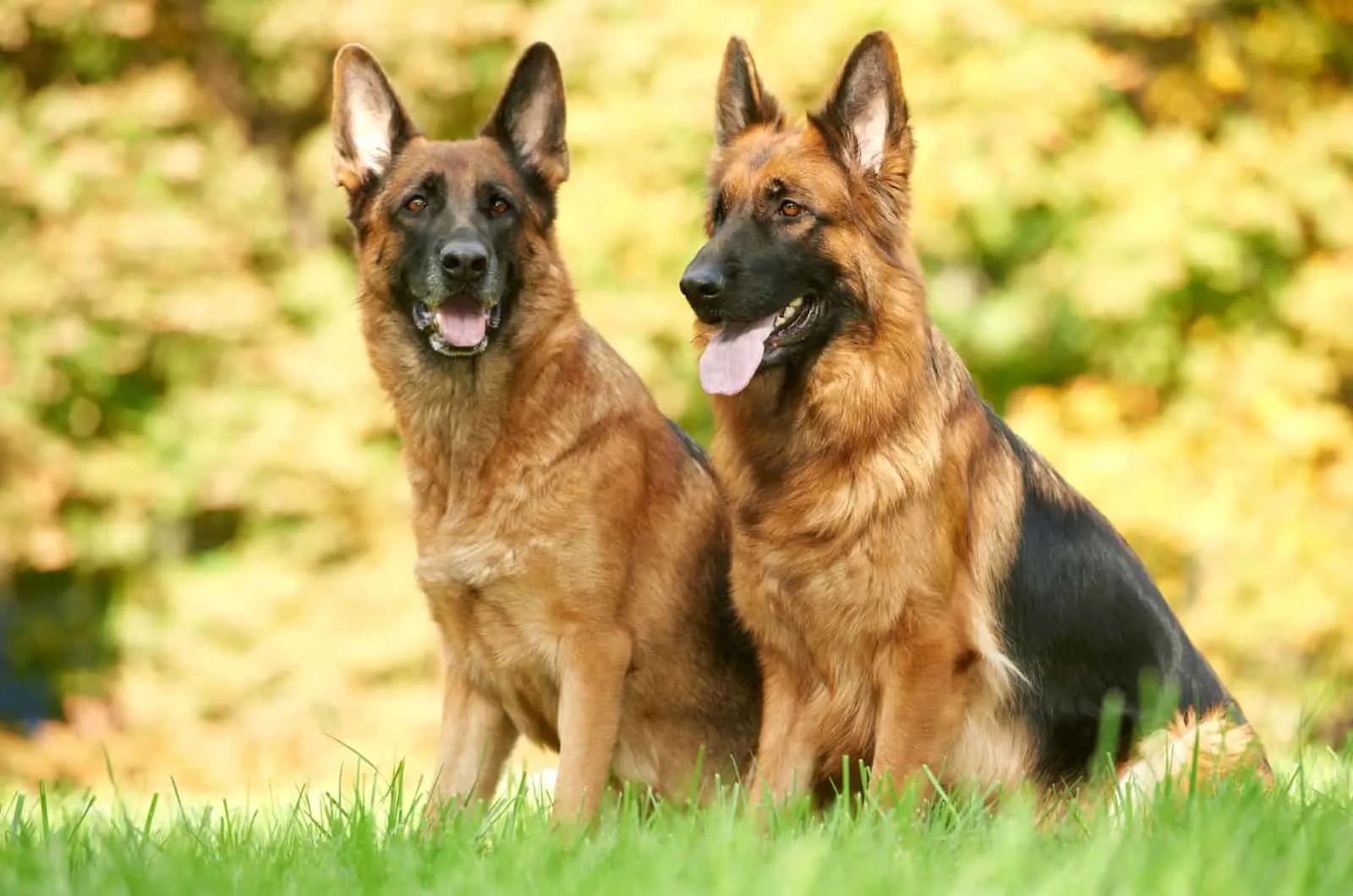 1. What Are The Best Collar Types Out There?
There are several great dog collar types out there, but there are also some you should avoid. Standard martingales and belt-like collars are always a good choice. Most of these collars fit German Shepherds without any problems.
However, you should avoid choke chains since they can cause more damage to your dog's neck than any other collar. When it comes to e-collars, shock collars, prong collars, or pinch collars, they're all alright, but they have a purpose. None of them are meant to be used as an everyday, casual collar.
2. What Kind Of Materials Should I Look For?
Most people go with leather and nylon collars or collars made of similar materials like polyester. They're easy to clean and will last for years. Leather collars are more comfortable and fashionable.
However, their biggest downside is they're often too expensive. But, it's better to save money for a leather collar or buy a nylon one instead of buying a faux leather dog collar. They don't last long and are often treated with harsh chemicals and dyes.
If your budget is tight, go with nylon or similar materials. Nylon collars will last you a lifetime, and they also come in adorable patterns and colors. Your dog can still look pretty!
3. How To Find The Right Size
A collar that's too small might choke your dog, but a collar that's too large will slip off easily. You need the exact collar size for your GSD; otherwise, it won't function properly. Getting the exact measurement is not that difficult at all.
Just grab a tape measure and wrap it around your dog's neck, then add extra space for two fingers. For a growing GSD puppy, always stick with an adjustable collar. You should be able to fit two fingers between the collar and your dog's neck. If you can't, your dog needs a bigger collar.