If you live in Ohio and want to become a French Bulldog owner, you're probably looking for reputable French Bulldog breeders in Ohio. Not many people are willing to travel out of state to look for a new puppy, which is why it's better to stick to reputable breeders close to you.
French Bulldogs are among the cutest dogs you can find. With their flat noses, bat ears, and bobtails, they look like little walking toys from another planet. While they don't bark, they are known for their snoring and snorting, which only adds to their weird charm.
These small dogs are great for apartment living due to their size and good temperament, which isn't like most other toy breeds that tend to be rather grumpy.
If you're planning on becoming a dog owner and you'd like to provide a loving home to this specific dog breed, it's important to look for French Bulldog breeders in Ohio that know what they're doing.
We'll explain why, and we'll also give you a few examples of good French Bulldog breeders in Ohio, so you can know who to contact.
Let's get started!
French Bulldog Puppies For Sale In Ohio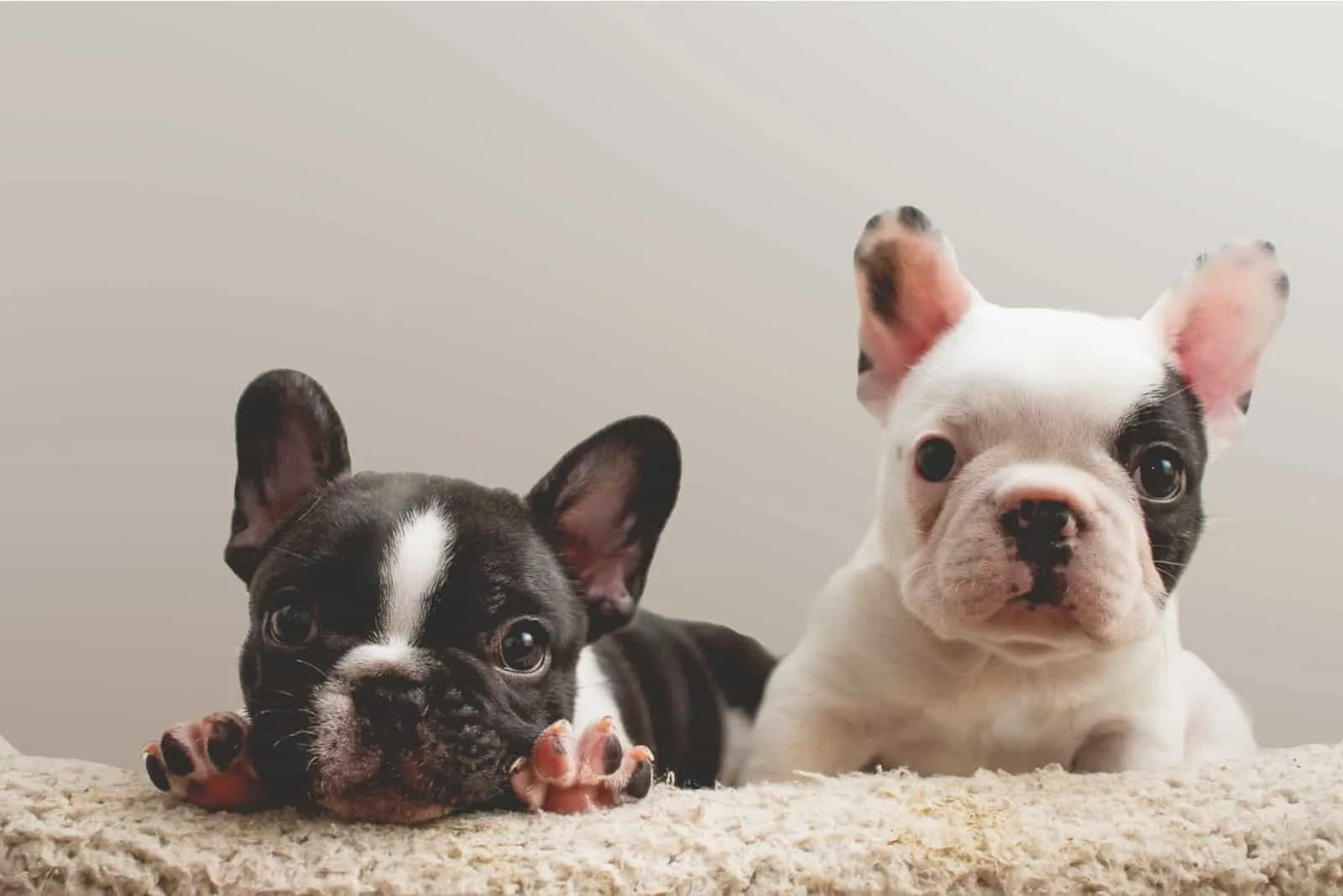 While looking at listings of French Bulldog puppies for sale in Ohio, there are a few things you need to consider.
You should only look for dogs in places that are transparent and that you have references to. Just because a dog has been listed for sale doesn't mean that they are healthy or even purebred, so you don't want to risk it.
While far from rare, Frenchies can be hard to get their hands on sometimes. This is because they produce rather small litters, so don't expect anyone to have plenty of dogs listed for sale.
Also, never agree to take home a Frenchie younger than 8 weeks. These dogs are rather delicate, and they require specific care and to be close to their parents for as long as possible. This is not only good for their health, but also for proper socialization.
When buying your French puppy, you need to be certain you'll be able to provide them with all they need in order for them to have a healthy, long life.
They do great in apartments, but also in houses with back yards as long as they are properly fenced. However, while Frenchies do require some exercise to deplete their energy levels, they are prone to overheating, so you should also provide them with plenty of rest.
They don't drool, and grooming them is effortless. They have short, thin coats that don't shed very much, so all you need to do is give them a quick brushing every few days.
However, you'll need to trim their nails often, and make sure their face wrinkles are clean.
Still, the best thing you can do to make sure you get a healthy and happy dog is to buy from French Bulldog breeders in Ohio that you can trust.
Best French Bulldog Breeders In Ohio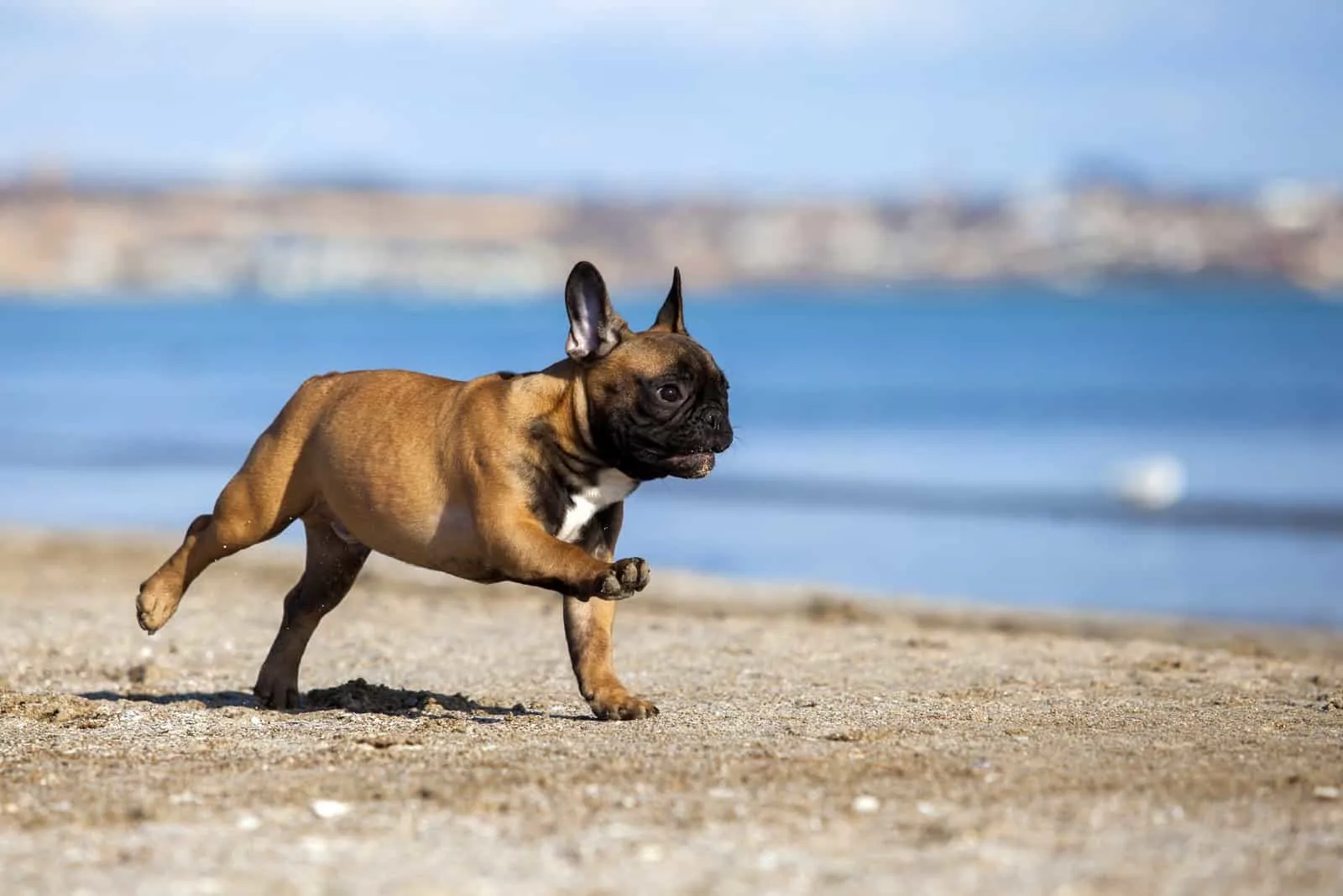 Frenchies are brachycephalic dogs. Their flat noses and big eyes give them that cute, alien-like appearance that people love. Unfortunately, this also leaves them with some genetic conditions that can be challenging to manage.
To lower the chances of your dog developing these health issues, it's important to buy from a breeder who conducts all the necessary health tests.
A good breeder will make sure to only breed healthy dogs that are free of genetic defects. This way, they'll help improve the breed and remove some health conditions from the bloodline.
While all Frenchies will have certain breathing problems due to their flat nose, the goal is to reduce them to a minimum, so the dogs can have healthy lives regarding the shape of their skull.
Not just that, but most French Bulldog breeders will ensure their dogs are up to the American Kennel Club (AKC)'s standard, or up to the breed standard of some other major clubs, such as the UKC or the FCI.
This will not only allow you to participate in conformation shows, but it will ensure the pups are healthy and purebred.
Reputable French Bulldog breeders in Ohio will produce healthy puppies that will be able to serve many purposes, including being amazing family pets. Keep in mind, though, that these dogs could never make great watchdogs or guard dogs due to their calm nature and quiet barks.
Responsible French Bulldog breeders in Ohio will also ensure their dogs always have a place to come back to, even after they have been bought. In other words, if you can no longer take care of your Frenchie puppy, a good breeder will take them back and find them a new home.
​Finally, all good breeders will allow you to meet at least the mother dog, if not both parents. This can give you an insight into what type of dog you can expect your Frenchie pup to become once he grows up.
Without further ado, here are 15 great French Bulldog breeders in Ohio you can always contact for a new puppy:
1. French Bulldogs For Sale In Columbus, Ohio.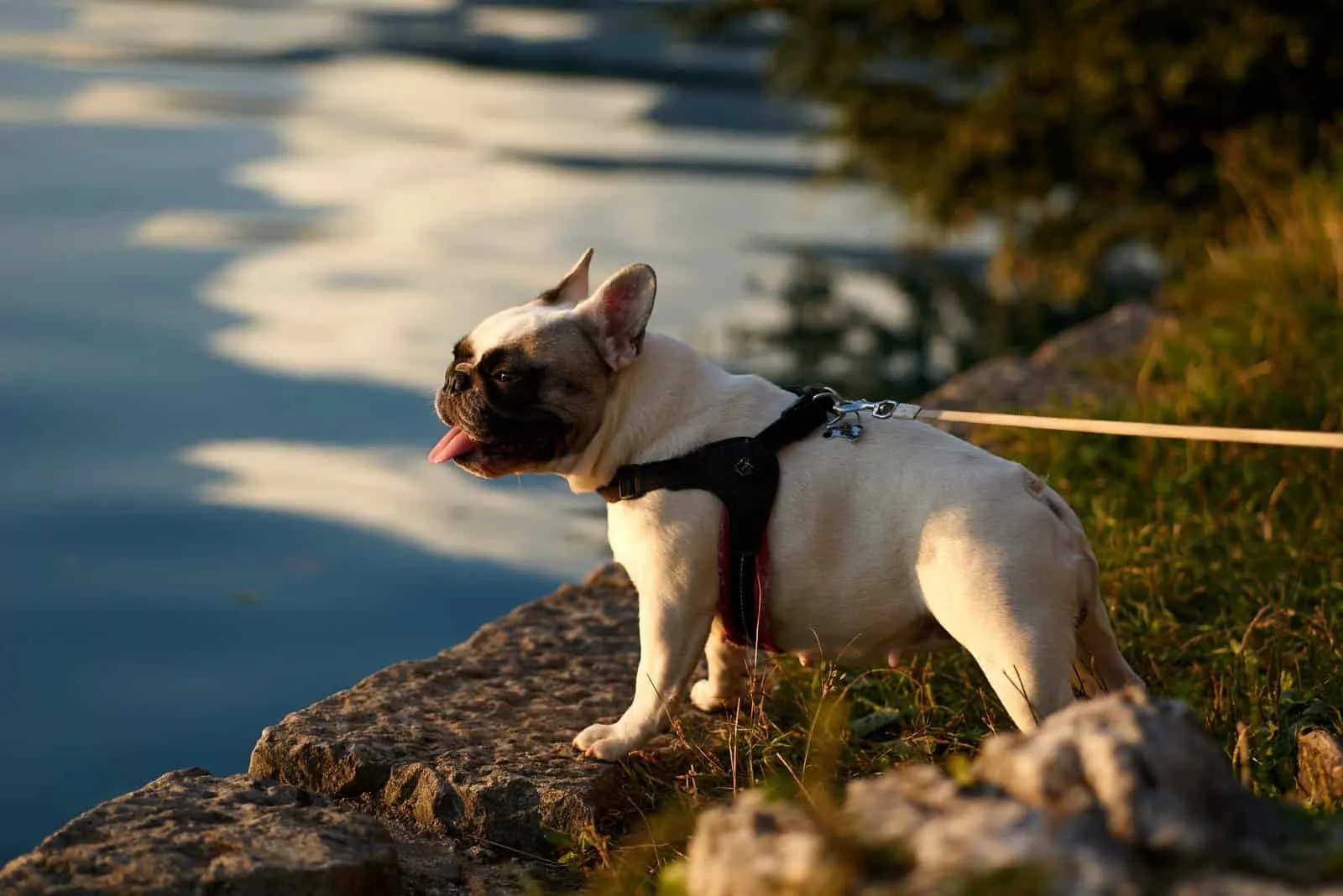 If you live in Columbus, you might want to order from Czar Frenchies. This is a reputable breeder that sells high-quality French Bulldogs that can be a great choice for everyone.
As unusual as this might sound, the breeder started by producing English Mastiff puppies, but wanted to expand to a smaller breed. When they got their first Frenchie puppy, they decided that this was the perfect breed for them.
Keep in mind that this breeder won't sell to just anyone. They have a questionnaire on their website that you need to fill. If you are eligible, they'll allow you to buy a puppy from them – but first, you have to pay a deposit.
Once the deposit has been paid, they'll allow you to come and visit the puppies in person. They don't allow visits from people who aren't serious about buying their dogs. Video calls are perfectly fine because they are afraid for the health of their puppies if they have too many visitors.
They make sure that all of their dogs are of the best behavior and up to the breed standard. If a dog happens to fall out of the standard, they'll significantly lower the price and let you know that in advance. While this rarely happens, they want to be entirely transparent about their dogs.
They will let you bring your new puppy home once it turns 12 weeks old. By this time, he'll already have two shots and several vet check-ups.
For the dogs that are up to standard, the breeder offers a 100% health guarantee for all hereditary conditions.
Website: Czar Frenchies
2. French Bulldogs For Sale In Youngstown, Ohio.
People from Youngstown can contact French Bulldog Companion if they would like to become owners of this adorable breed.
This small, family-owned kennel has been operating for almost a decade. Everything is operated by a family of six, ensuring that all the dogs are healthy and properly raised.
All of their pups have been checked by a vet, and come with all the necessary certifications. They live in a clean, climate-controlled environment, giving them the best temperament and health possible.
Their pups aren't kept in kennels. Instead, when the weather allows it, they are allowed to roam around their fenced property. At night or in bad weather, they are indoors with other family members.
​This type of raising helps them to be properly socialized and accustomed to both small homes and back yards. By doing this, they produce high-quality, versatile Frenchies that will be loved by everyone.
While they won't disclose their precise location, they ship not just all over Ohio, but across the entire U.S.
Website: French Bulldog Companion
Email: [email protected]
3. French Bulldog Breeders In Akron, Ohio.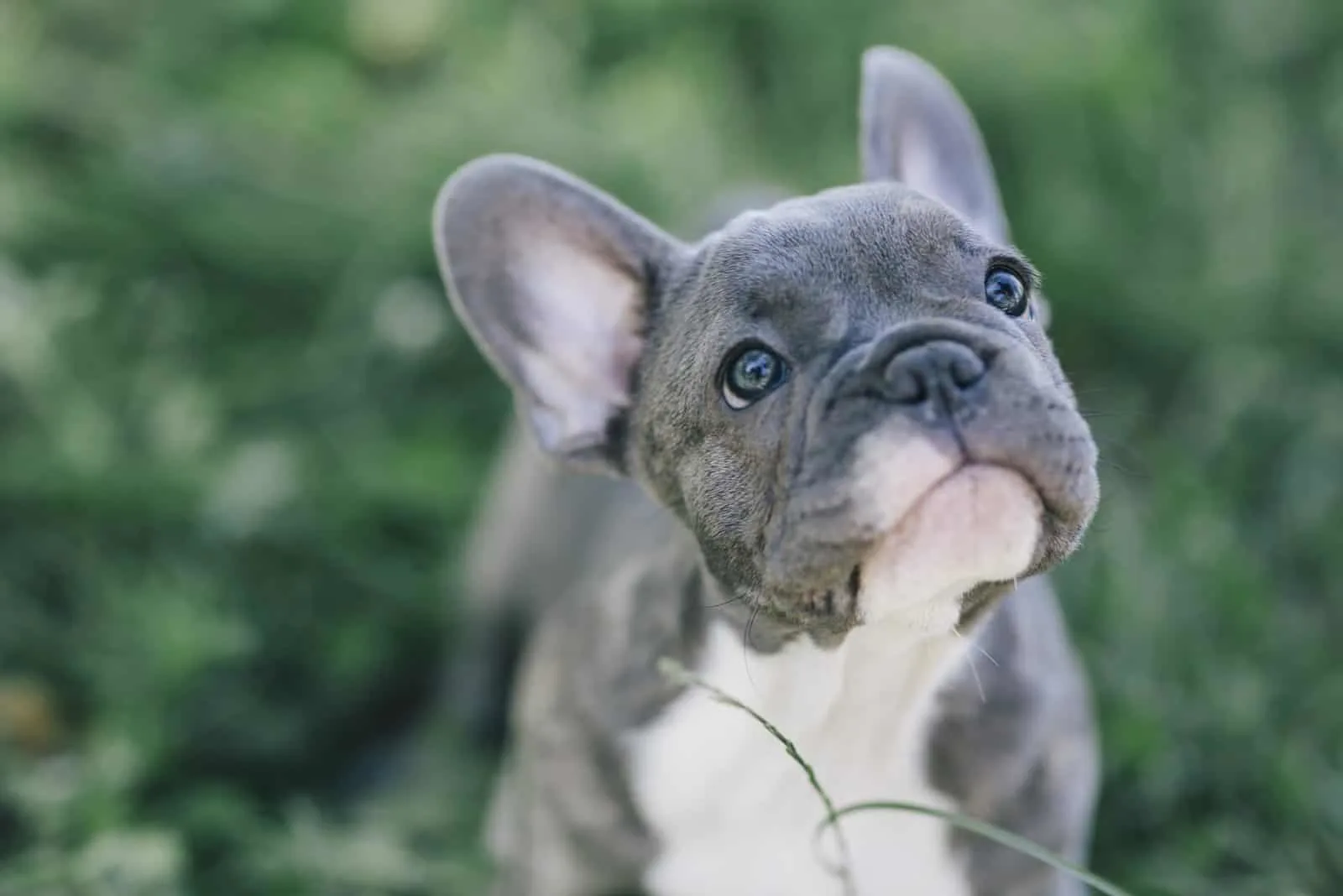 Residents of Akron can contact Unique Frenchies if they want to get their new pup. This is a French Bulldog breeder from eastern Ohio that will ensure everyone gets the perfect puppy for their home.
As their name suggests, they sell Frenchies of various colors and patterns, including blue, pied, or even cream and brindle.
They are a family-owned kennel that raises Frenchies like they are family members. They are surrounded by six children, which means they are accustomed to large families.
They want to find forever homes for all their dogs, and they try to make sure that all their puppies are matched with perfect owners for them. This is why they will help you choose a dog from one of their litters.
All of their dogs come with a 30-day health guarantee to give you an opportunity to go to a vet of your choice and ensure your dog is healthy, up-to-date with its vaccinations, microchipped, and with its dewclaws removed.
They will reserve the puppy of your choice after you've paid the deposit. They'll also be willing to ship your new dog to any part of the U.S.
Website: Unique Frenchies
Email: [email protected]
4. French Bulldog Breeders In Westlake, Ohio.
ShowCase Frenchies is a French Bulldog breeder in Ohio that is located not far from Westlake.
The owner claims that they bought their first Frenchie as a gift for their three children, but the dog quickly became like their fourth child. Not long after, they bought their second French Bulldog. As such, they decided to make breeding Frenchies their passion.
All of their puppies are raised in their family home. They provide their dogs with plenty of attention, love, and 24/7 care.
Before they give their pups to their new owner, they make sure the dogs are accustomed to various sounds that are common in a household. This includes the sound of children playing and running around, a vacuum cleaner, a TV, and even noises that come from outside.
When their dogs reach a certain age, they allow them to play with their little children in order to make sure they are properly socialized and used to being around kids.
This breeder refuses to sell their puppies to pet mills or puppy brokers, and they only sell dogs that will be used as family members. Also, they care about their dogs even after they leave their home, which is why they'll agree to take the dog back if you can no longer care for it.
Website: ShowCase Frenchies
Email: [email protected]
5. French Bulldogs For Sale In Cleveland, Ohio.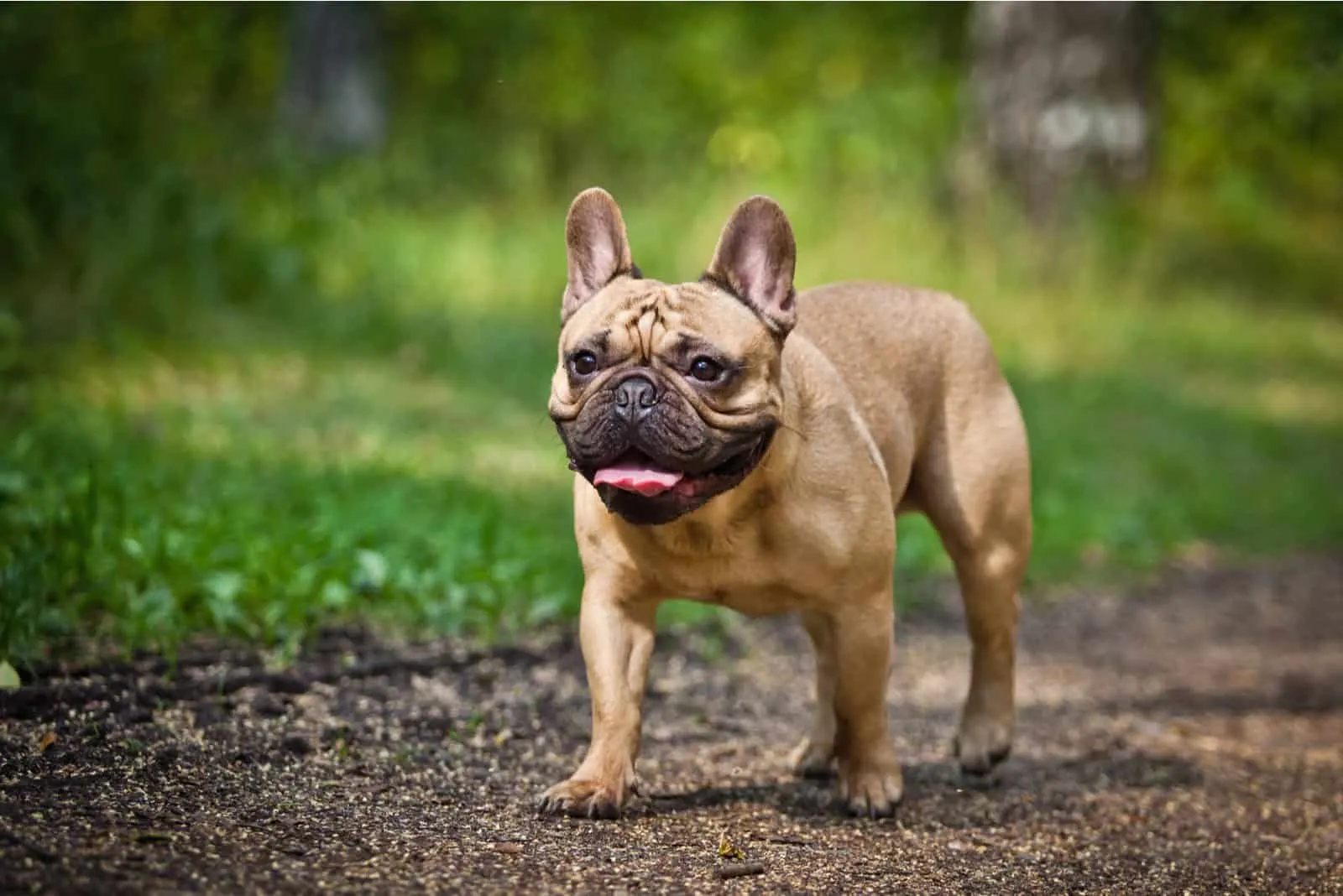 If you live in Cleveland, you might want to contact First Class Frenchies. As their name suggests, they breed high-quality French Bulldog puppies in their family home.
First Class Frenchies is owned by a veterinarian, so you can be certain you'll get the healthiest dogs possible. They care about their dogs deeply, which is why they only produce a few litters each year, and therefore, their waiting list can be long.
Their puppies are properly socialized as they have grown with a family of 8, and they make perfect companions. To the owner, French Bulldogs are family members and they treat them as such.
The breeder is rather transparent about their dogs and their progress before they sell them to you. They want to stay in touch with you from the moment you pay the deposit to after you've taken your new pet home.
They'll do their best to match each aspiring owner with a puppy whose temperament will be the perfect match, and they'll want to know as many things as possible about your lifestyle for this very reason. They'll even provide you with veterinarian advice.
Not just that, but they will be open if you want to breed your female dogs. They are very experienced in this field, and they love to help by giving advice. According to them, this helps make the base of Frenchie lovers larger.
All of their dogs come vaccinated and dewormed. They'll also come with a health guarantee under the condition that you take your dog to a licensed vet 48 hours after the purchase.
If your puppy develops any genetic condition a year after you've bought him, and you get confirmation for this by two licensed vets, the breeder will agree to replace the puppy.
You can see all of their available puppies on their website, and they are very transparent about all of their dogs.
Website: First Class Frenchies
Email: [email protected]
6. French Bulldogs For Sale In Dayton, Ohio.
People from Dayton might buy a dog from Preferred Frenchies. While this breeder is located on the outskirts of Mt. Hope, they'll gladly ship their pups to all parts of the U.S. for a delivery fee that is usually around $400.
They prefer to meet all future Frenchie owners who would like to buy from them, but this isn't mandatory. They are fully aware that not everyone is capable of traveling, so they'll agree to video calls.
They'll also want to stay in touch with all of the people who have bought dogs from them. This helps them stay in touch with their dogs and know that they are in good health.
They follow high-end breeding practices, and they mostly produce puppies in blue, lilac, and merle colors. From time to time, though, they might have pups of different colors.
The breeder prides in providing a luxurious experience to both their young dogs and aspiring dog owners not just before you buy a puppy from them, but also after.
When you buy a dog from them, you can expect to get a bag of high-quality dog food, a puppy collar and a leash, a health certificate from a licensed vet, records of all of their immunization shots, AKC limited registration, and a two-year health guarantee.
Website: Preferred Frenchies
Email: [email protected]
7. French Bulldog Puppies For Sale In Toledo, Ohio.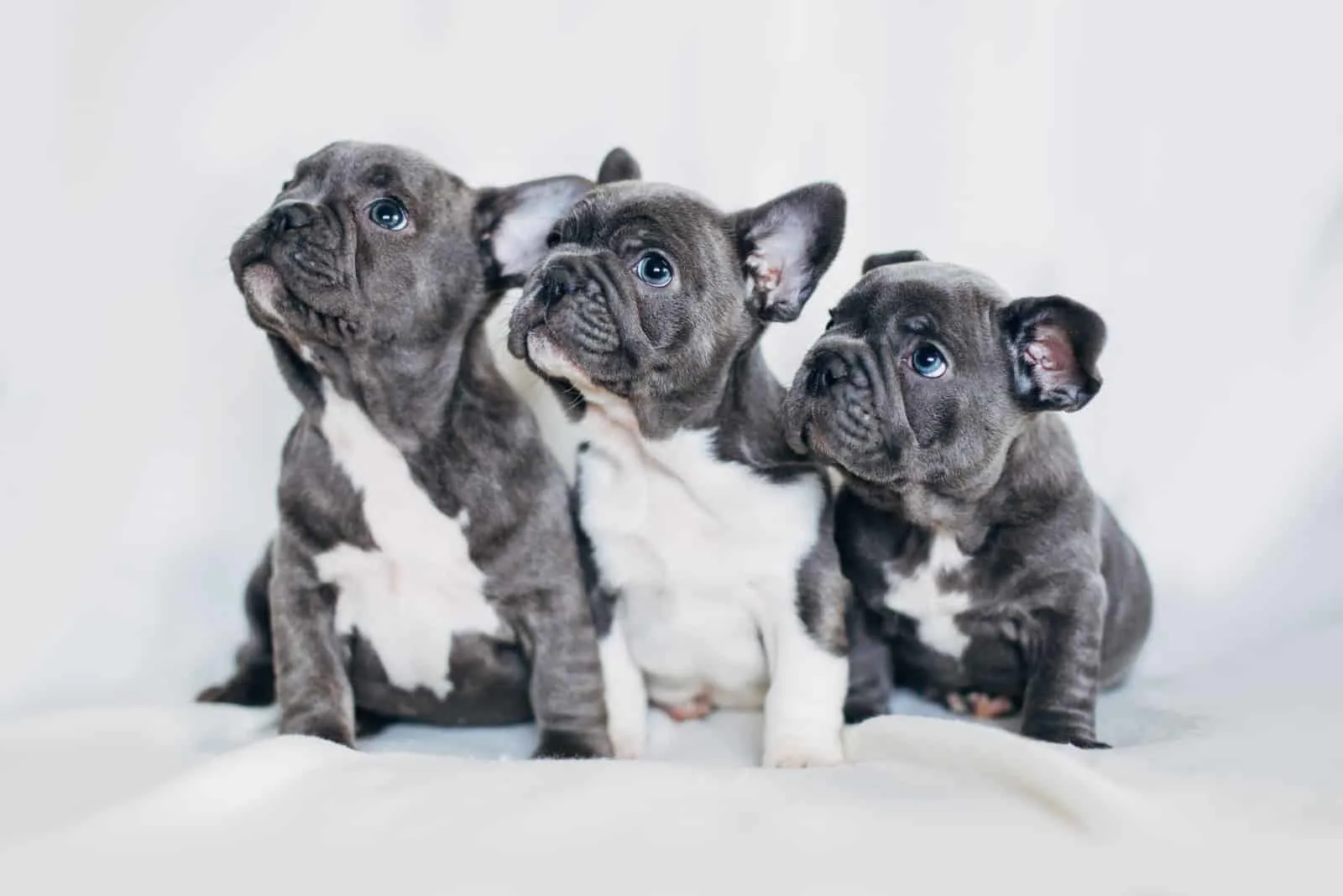 If you live in Toledo, you might want to contact Blossom Ridge Bulldogs, from Sugarcreek, as they commonly ship puppies to the Toledo area.
This breeder has been producing high-quality French and English Bulldog puppies since 2008. They don't keep their dogs in kennels. Instead, they raise them on 13 acres of land in the Ohio countryside and in their climate-controlled house.
They have a strict breeding program, and they make sure that all of their dogs are dewormed and inoculated. They'll provide dog owners with all health records as proof of their care.
One of the things they focus on is spending as much time as possible with their dogs while they are still puppies. This helps them ensure that the dogs are socialized and ready for their new families.
While they prefer owners to come to see their puppies in person, they will ship to people all over the country.
All of their dogs come with a record of vaccinations and boosters, and they will agree to replace a puppy if your vet finds out that it has a genetic defect that will shorten its lifespan.
If you want to get in touch with them or place a deposit on one of their puppies, there is a contact form located on their website.
Website: Blossom Ridge Bulldogs
8. French Bulldog Breeders In Goshen, Ohio.
Frenchies of Sandstone Retreat will gladly sell their dogs to owners from Goshen, Ohio, which is why they might be the ones you'd like to contact.
This kennel is owned by a nature-loving family with many pets, and even a garden with more than 200 plant species on their land. However, they claim that French Bulldogs are their biggest passion because of how loyal they are to their human companions.
While they like to produce beautiful dogs that can excel in dog shows, their biggest goal is to create amazing family companions that will do well with all families. This is why they do their best to provide their puppies with adequate socialization from an early age.
They produce Frenchies of many colors, including some rather rare varieties. Still, they encourage you to pick a dog based on its personality and not just its appearance.
All of their dogs are given healthy food, and they warn all new owners about the dangers of overfeeding their French Bulldogs. Also, their pups come healthy, with records from the vet, and they are up to date with their vaccinations and immunization shots.
You can see all of their past litters on their website, together with many health and nutrition tips on their blog page.
Website: Frenchies of Sandstone Retreat
Email: [email protected]
9. French Bulldog Breeders In Cincinnati, Ohio.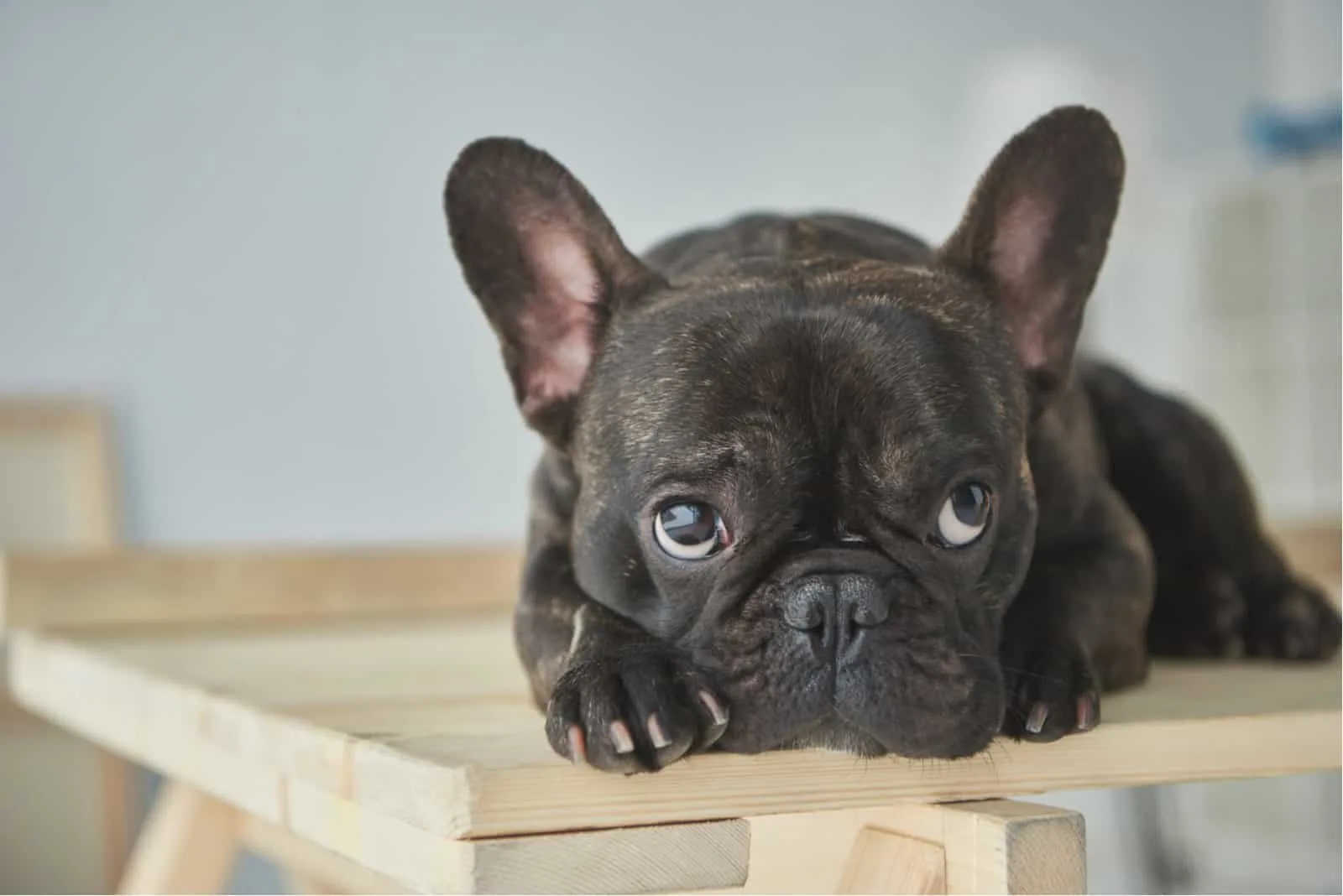 Fayme French Bulldogs is a reputable breeder from Cincinnati. They breed European bloodlines of French Bulldogs, making them one of the more prestigious breeders in the state. One of their dogs, Orion, even became a Gold Grand Champion.
The breeder's goal is to produce healthy and beautiful puppies that are well-adjusted to any possible situation and environment.
All of their puppies are raised like family members, and they are treated as if they are already in their forever homes. This is a tactic they use to ensure that their dogs grow up to have the best temperaments possible.
Website: Fayme French Bulldogs
Email: [email protected]
10. French Bulldog Breeders In Lancaster, Ohio.
Dog lovers from Lancaster can contact Hidden View Farms for many dog breeds, including French Bulldogs. While they don't always have Frenchie puppies available, you might catch a litter or two each year.
This is a group of breeders with more than two decades of experience in breeding Frenchies. They have focused on several breeds they think will be the best match for their buyers based on their temperament and working dog capabilities.
While the staff from Hidden View farms focuses on small dogs, such as Frenchies, they also work with several other breeders that sell mid-size and large breed puppies for them. This is why you can see so many breeds listed, and why not all of them are located on the Farm's property.
They are members of the Ohio BBB, and all of their dogs are approved by the AKC, just like their premises have been inspected by the same kennel club. Not just that, but they are licensed by the state of Ohio and the USDA.
Their dogs undergo various health tests to make sure that they all are healthy and free of not just genetic conditions, but illnesses such as brucellosis.
Website: Hidden View Farm
11. French Bulldog Breeders In Hillsboro, Ohio.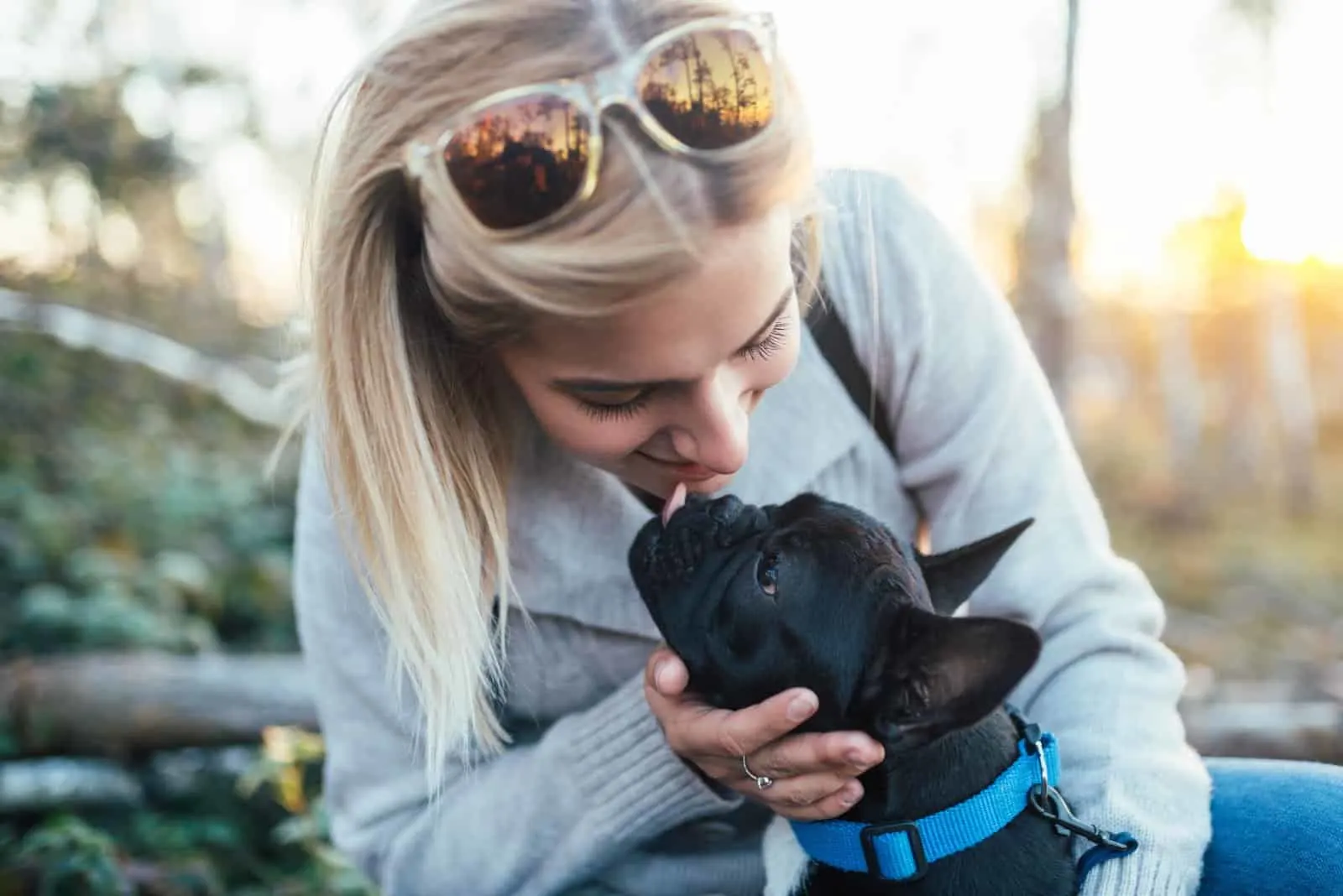 If you live in Hillsboro, you might want to look at Shady Grove French Bulldogs. While they are based in Charm, they'll ship their dogs all over Ohio to make sure they have a loving home.
The kernel was founded in 2004, and helped unite many pet parents with their adorable Frenchies. All of their parent dogs have been approved by the AKC and certified by OFA for their knees, elbows, heart, and eyes.
As additional proof of their health, their dogs come with a one-year health guarantee. If your Frenchie puppy gets any genetic condition during this time, they'll agree on a refund or a replacement dog.
They encourage all aspiring dog owners to visit their farm and see for themselves how their dogs live. Not just that, but they'll offer various financing options that might help you support your new puppy. This is a unique feature that not many French Bulldog breeders in Ohio offer.
All of their dogs come with necessary vaccinations and are dewormed.
Website: Shady Grove French Bulldogs
Email: [email protected]
12. French Bulldog Puppies In Johnstown, Ohio.
Aspiring Frenchie owners from Johnstown can contact Woodland Frenchies as they provide worldwide transportation. This, of course, includes transportation to other parts of Ohio where they are located.
All of their pups are raised on an eight-acre property, together with their six children and farm animals, such as goats and chickens.
The breeder first started producing Toy Fox Terriers and English Cream Retrievers, but switched to Frenchies once they learned how adorable these little dogs are. Also, they love the dynamic relationship these pups have with their kids, which is another reason behind their love of the breed.
Their biggest goal is to provide their pups with adequate breeding and housing environments as they are aware of the specific needs small breeds have.
Before you buy from them, you need to pay a non-refundable $500 deposit via PayPal, and reserve a puppy from the next litter. After this, they'll agree to have you come to visit and choose a specific pup.
Their puppies come with vaccination records from their vet as well as a two-year health guarantee. They'll also be there for any question you might have after you've bought your puppy from them.
Website: Woodland Frenchies
Email: [email protected]
13. French Bulldog Puppies In Millersburg, Ohio.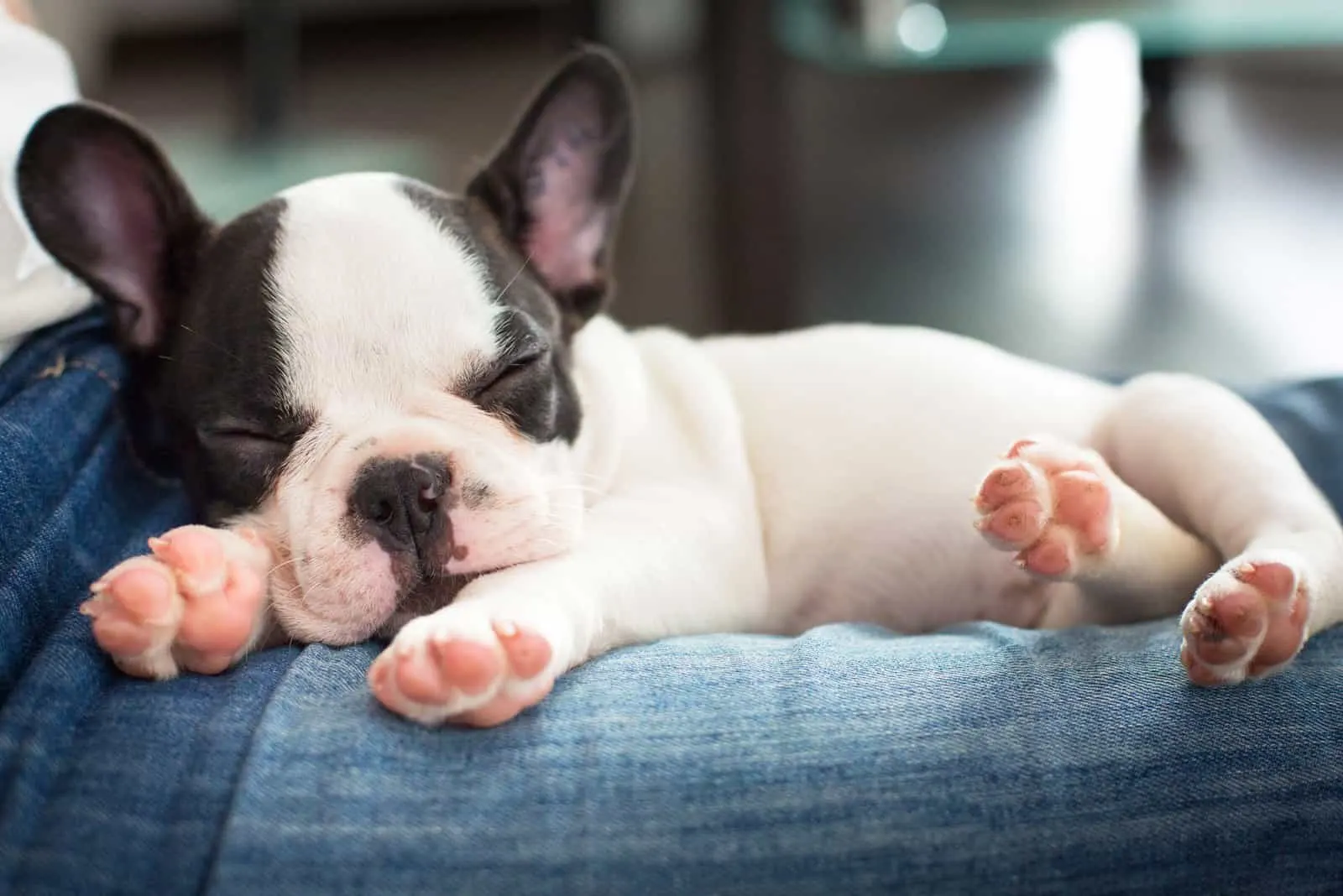 One of the best French Bulldog breeders in Ohio is located in Millersburg. Yes, we're talking about World Class Frenchies of Ohio.
They focus on producing rare French Bulldog colors such as blue, chocolate, and tan. This makes them one of the most reputable breeders in the state.
They require a deposit before you're able to pick your dog, but they'll allow you to choose the puppy you want for yourself.
They'll also sell breeding rights for a fee, which means you can keep on producing your own line of Frenchies – if you have a permit or if you're already a breeder.
Website: World Class Frenchies of Ohio
Email: [email protected]
14. French Bulldog Puppies In Wauseon, Ohio.
If you live in Wauseon, you might want to order Frenchie puppies from Amanda's Frenchies. While Amanda's Frenchies is located in Dublin, they'll ship their puppies to their new home, especially if they think you are a great match.
All of their puppies are raised inside a family home, and are cared for full-time by the owner, Amanda, who is also an animal education specialist who worked at the Columbus Zoo for years.
Their puppies have friendly and calm personalities and temperaments, making them amazing family pets or even support animals. Their dogs are registered with the AKC, so all puppies will come with proper certification.
Not just that, but they'll be happy to help you with any breed information you might require, and they'll help you choose the right puppy for you.
Website: Amanda's Frenchies
Email: [email protected]
15. French Bulldogs For Sale In Medina, Ohio.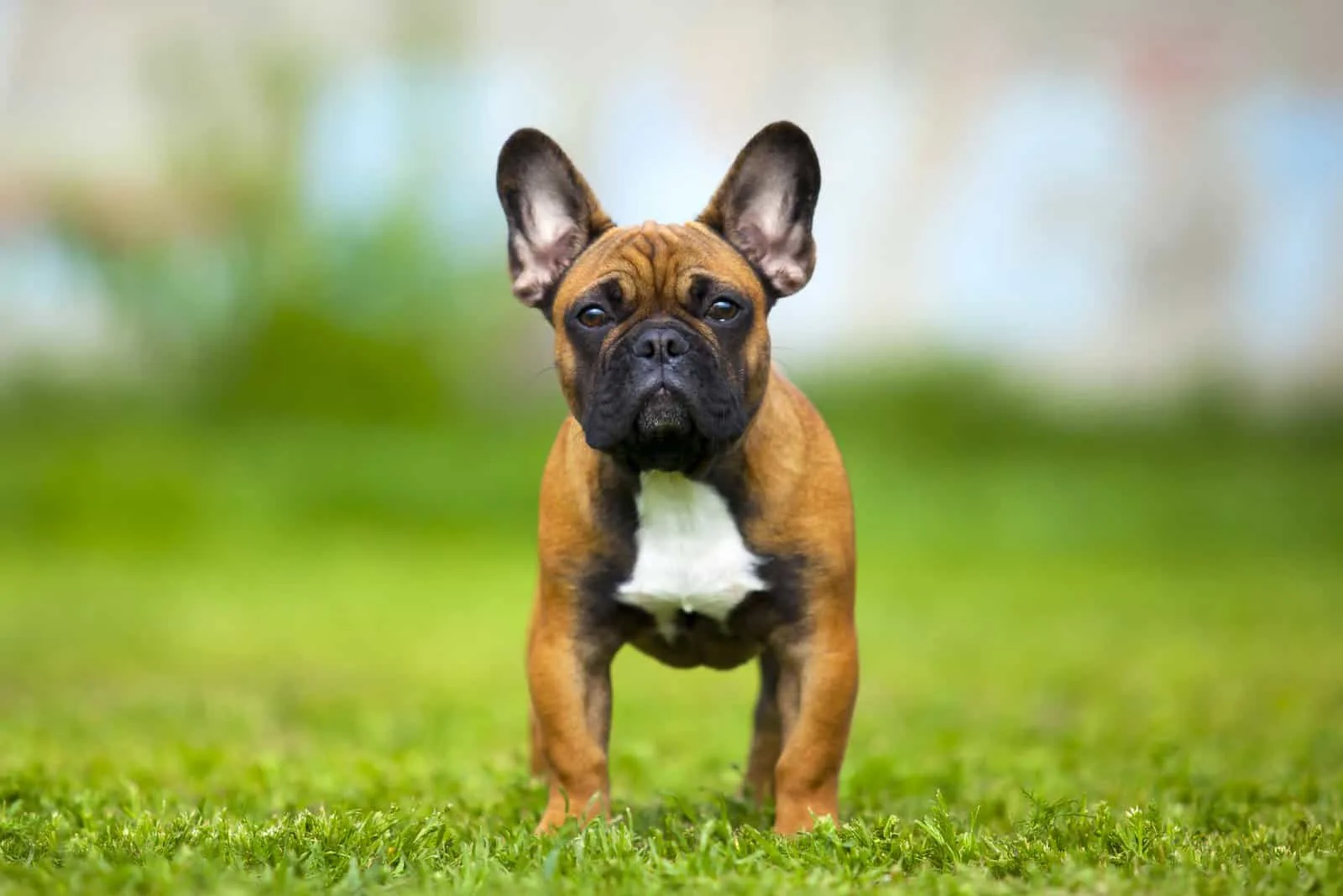 People who live in Medina will be happy to be near one of the best French Bulldog breeders in Ohio, Happy Wags.
Happy Wags has been producing top-quality Frenchies for more than two decades now, making them one of the older names in the industry. As their name suggests, their focus is on creating great, happy Frenchies that will make amazing pets for everyone.
They raise their dogs on their family farm with children, so their dogs are socialized from day one and used to their youngest family members.
All of their dogs come with a complete health record as well as with AKC or ACA registration papers. The pups will be up to date with vaccinations and deworming medicine, so you'll know they are as healthy as possible.
Website: Happy Wags
Email: [email protected]
Cheap French Bulldog Puppies Under $500 In Ohio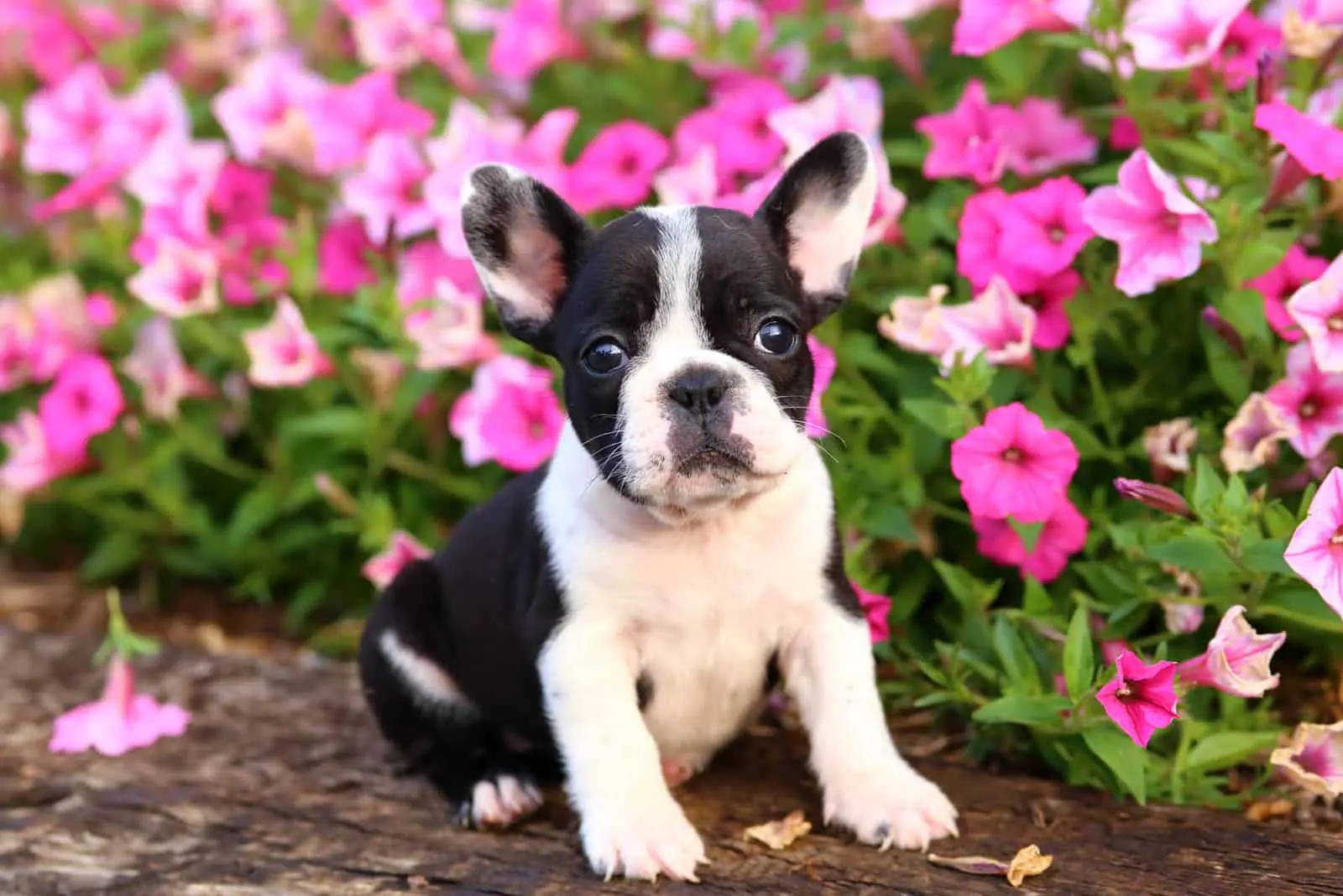 French Bulldogs are not cheap dogs. You can expect to pay anywhere between $1,500 and $3,000 for a French Bulldog pup. However, the prices can be even higher if a dog has a rare color, such as brindle or merle, or if the bloodline is exceptional.
In fact, some of the most expensive breeders sell their French Bulldogs for up to $100,000!
This high price is one of the reasons why many people will try to find more affordable dogs, and will even agree to go to an untrusted French Bulldog breeder in Ohio just to save some money.
However, this could easily be the worst thing you could possibly do not just for you, but for your dog as well.
We've already mentioned that French Bulldogs are prone to many health problems. Many of them are the result of the dog's brachycephalic face, but some are also due to inbreeding or their small size.
If you buy from the wrong breeder, you might get a puppy that isn't as healthy as you might think. This will not only ruin your dog's quality of life and shorten his lifespan, but it'll end up costing you hundreds of dollars in vet bills.
In the end, what you didn't pay in initial costs, you'll pay in medical bills. This is hardly what anyone wants or considers to be a good deal.
You might also be tempted to buy from a puppy mill or a puppy store. This might seem like a good idea at first as they tend to sell cheap dogs. Still, if you look at it a bit deeper, you'll realize that this isn't the case.
Puppy mills don't really care about the welfare of the dogs they are breeding. They are puppy factories in a way, and their only concern is to produce as many dogs as quickly as possible.
Unfortunately, this can result in many health and behavioral problems that your dog might end up having.
Not just that, but they won't care about the mother dogs, and they'll breed them excessively, especially due to the small number of puppies that come in a French Bulldog litter.
Puppy mills continue to sell their dogs to pet shops. The same bad-quality dogs will end up in stores. This is why many dog lovers are opposed to the idea of buying dogs at pet stores.
French Bulldog Puppies; Ohio Rescue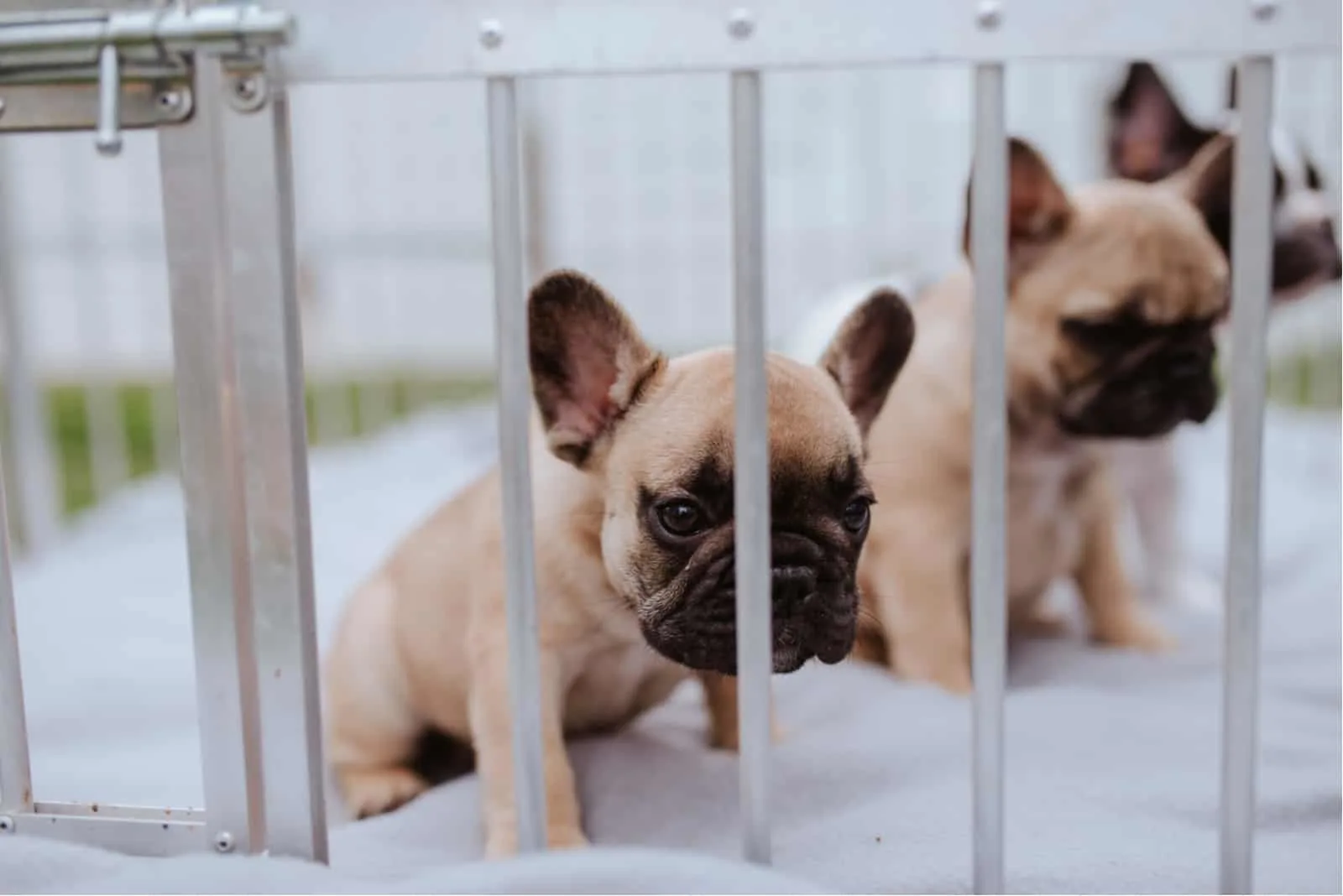 The next option that people who want to own French Bulldogs have is to adopt a dog from a rescue. This is a humane idea, and certainly the most ethical way in which you can get your dog.
However, while we are not opposed to this – quite the contrary – there are a few things worth noting.
When you adopt a dog, you won't know much about his past life, including his or his parents' health records. You might be getting a seemingly healthy dog that will end up with lots of health problems in just a few months!
Not just that, but many abandoned dogs have been abused or not trained properly at an early age. This can lead to severe behavioral problems.
Sure, Frenchies are small dogs that are easy to handle. However, you might have to work much harder to get an adopted French Bulldog to be well-behaved and to stop expressing aggression.
If you are ready for these things, then we would encourage you to help an abandoned dog find a new home. However, if this sounds like too much work for you, then it might be better to simply buy from a reputable French Bulldog breeder in Ohio.
Why French Bulldogs?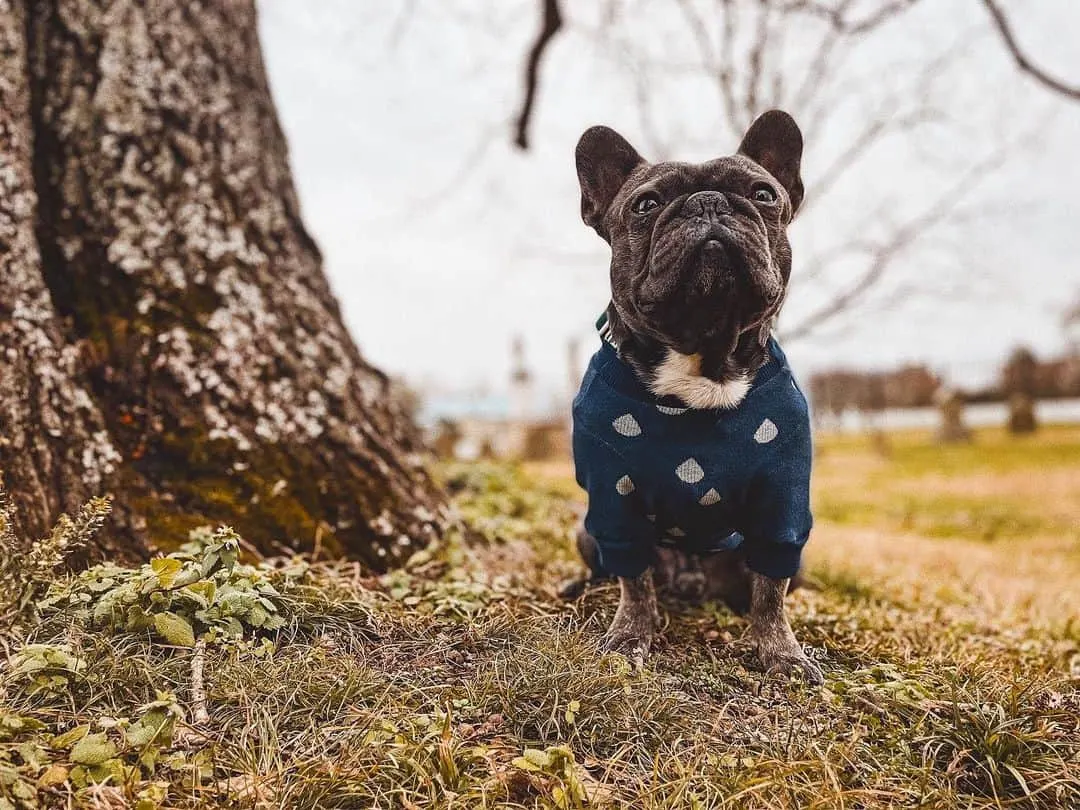 Phot from: @itssulleythefrenchie
Frenchies are one of the most popular family pets, and it's easy to see why.
They are cute, affectionate little dogs that will make wonderful best friends for all family members. They will love being around kids and other pets, and they do great in apartments and small homes, which means everyone can afford the space to keep them.
At the same time, they aren't as delicate as many other small breeds, so they can do well in homes with a back yard as well. The most important thing is to give them enough shelter and a place to rest and cool down as you wouldn't want them to suffer from a heat stroke.
They are loyal and intelligent dogs that would do anything for their owners. At the same time, they are rather quiet. While this means they aren't great watchdogs, they won't disturb your neighbors, which is another reason why they are great for large cities and small apartments.
No matter what type of family you have, Frenchies will make amazing pets. To make sure they are happy and live long lives, you should buy only from the best French Bulldog breeders in Ohio.
This way, you'll save on vet bills, and also give your new dog the best life possible.
Read Next:
Shih Tzu Breeders In Ohio: Top 8 Breeders Of 2022!
French Bulldog Breeders In Illinois: Best 9 Frenchie Breeders In This State