Disclosure: This post contains affiliate links, and I will be compensated if you make a purchase after clicking on my links.
Step away Royal Canine, we've moved past you. Now, every dog owner wants only the best for his puppies, adults, and senior French Bulldogs. These sweet-tempered dogs need premium quality and high-protein kibble that will support their well-being and healthy weight.
But, where do you find such dog food brands?
On Chewy and Amazon, of course! We've created a list of the best dog food for French Bulldogs you can imagine. Just scroll down and pick your favorite! You can't make a mistake with our amazing brands that actually care about your Frenchie's well-being.
The first choice of the day is the Instinct Raw Boost Puppy Food; a fine choice for your little ball of happiness. Frenchies are small-breed dogs, and they need a special diet because of their many allergies. That's why dog food brands like Instinct make the perfect choice.
This puppy food recipe features real chicken meat from cage-free chickens as the first ingredient, supported by lots of goodies like blueberries, apples, cranberries, carrots, and pumpkin seeds.
The bag contains whole-grain kibble and freeze-dried meat parts for the ultimate flavor your Frenchie puppy will enjoy. This way, your puppy will get the much-needed protein and still have a delicious meal.
Besides real chicken protein and other poultry and fish meat, this formula is enriched with DHA from chicken eggs for proper brain and vision development.
Since Instinct promotes only natural ingredients, you can expect each bag to be free of corn, soy, wheat, peas, lentils, meat by-products, artificial flavors, or colors. The Instinct Raw Boost is for puppies enjoying that raw flavor that once was every dog's favorite choice.
Even puppies can experience a walk on the wild side. With Stella & Chewy's Wild Red Kibble for puppies, that walk is possible. This puppy kibble is packed with great nutrients. You'll even wonder if it is really dry dog food in that food bowl or a fresh meal.
The Wild Red recipe has chicken and turkey meat as its first ingredients, supported by chicken meal, sweet potato, and 100% organic fruits and veggies like carrots, beets, broccoli, cranberries, blueberries, squash, and spinach. The Stella & Chewy brand uses a whole-prey approach, and it creates a full meal by using all the goodies like muscle meat, organ meat, and cartilage. In fact, 92% of protein used in this recipe comes from real animal sources (chicken, turkey, quail, guineafowl, geese, and duck).
The recipe is low in carbs, and it contains no fillers, artificial flavors, colors, or preservatives. The Wild Red kibble is also suitable for Frenchies with food and skin allergies since it doesn't use corn, grains, soy, or peas. Each bite of the Wild Red kibble is a delicious bite that makes a difference.
It's important to teach your puppy good habits from day 1, and those good habits include eating healthy meals. If you get your puppy used to nibbling on your table scraps and junk food, you will end up with an ill dog suffering from many food-related allergies and conditions. Hence, why we recommend Nature's Recipe kibble, the recipe with plenty of natural nutrients for a happy puppyhood.
This formula features real lamb meat (an excellent source of protein) along with chicken meal, barley oatmeal, turkey meal, fish oil, etc. The Nature's Recipe Lamb formula has a specific taste no puppy can resist.
High-quality ingredients and sources of DHA will support good muscle development, healthy brain functions, and sharp vision. Not only will your dog feel good, but it will fashion a healthy coat and appear shiny. Ingredients such as barley, oatmeal, and rice are rich in fiber, which promotes well-functioning digestion.
We're glad to recommend Nature's Recipe Lamb dog food because it contains no fillers, corn, soy, wheat, or artificial flavors… only natural goodies that will suit your growing puppy.
Every puppy parent wants only the best for their little ball of fur and joy. So, why are you looking at those generic food brands? Don't you know that puppies need real proteins, good fats, and healthy fibers in abundance for healthy growth? Well, now you do. So, better check out brands like Orijen.
Orijen puppy kibble features raw poultry and fish as the first five ingredients. They're frozen at the peak of their freshness by using refrigeration as the only method of preservation. No additional preservatives are used in the making process.
Only real proteins and fats from natural sources, followed by vitamins and minerals needed for healthy development. Orijen uses a whole-prey approach when making their dog food, meaning only the most succulent parts of the prey make the cut, including organs and bones.
In case you couldn't figure it out, this is premium puppy dry food consisting of an incredible number of 85% of proteins. Your puppy will have a delicious meal every day, and he will be sure he doesn't eat fillers that may cause allergies.
Merrick is always a favorite of ours. They've got excellent dog kibble for pups of all ages, sizes, and breeds. Their formula, designed specifically for small breed dogs like French Bulldogs, will become your favorite choice in no time. So, why is Merrick Healthy Grains so special?
For starters, this recipe has proteins from real chicken, supported by chicken and salmon meal, brown rice, oatmeal, salmon oil, and barley.
This kibble is enriched with DHA for healthy brain development. What this recipe lacks are fillers like peas, lentils, and potatoes. With every bite, your puppy will get freeze-dried kibble that not only tastes great, but gives a boost of protein, minerals, and vitamins. Let us tell you something: all dogs love that raw flavor. This preference has stuck in their DNA ever since their primal days. We recommend Merrick
Healthy Grains for its healthy dose of omega-3 and 6 fatty acids, chondroitin, and glucosamine. With plenty of mentioned supplements, your Frenchie puppy will have good bones, joints, and a shiny coat.
Since many Frenchies are prone to food allergies, you can rest assured buying Merrick Healthy Grains or any other of their dry dog food will solve the sensitivity problem easily. Dogs that eat proper dog food packed with good nutrients don't suffer from allergies, or at least they minimize their intensity.
Raise your hand if you've heard of the Purina dog food brand. Well, of course you have! But, did you know that not every Purina kibble is the right choice? Indeed, some of their recipes are not so great. But, we can't say a word against the Purina Beyond Superfood Blend.
This formula was designed by pet nutritionists by using real, freshly caught salmon as the first ingredient. Other ingredients include barley, chicken meal, oatmeal, pumpkin, and supplements. As you can see, there are not many ingredients since this is a limited-ingredient recipe.
However, this kibble is still nutrient-dense and rich in goodies like probiotics, antioxidants, and omega fatty acids. An incredible number of 2000mg of omega-3 and omega-6 fatty acids are inside every cup of Purina Beyond.
This kibble contains no allergens, corn, wheat, soy, gluten, or artificial flavors. Dogs love nibbling on this dry kibble for its yummy flavor and the boost of energy it gives. Who knew Purina would go so far and make such amazing dog food?
Blue Buffalo Wilderness Chicken is one of the most popular high-quality recipes on Chewy. Every bite of this dry kibble will bring your Frenchie one step closer to the wolf inside them.
Back in the days when dogs were more similar to wolves, they enjoyed that delicious raw flavor. Blue Buffalo knows their needs. That's why they've created the Wilderness recipe.
This recipe features a high protein count coming from real chicken for a lean muscle structure. Healthy carbs from potatoes and peas are there to give your dog the much-needed energy. Omega fatty acids are there to support good skin condition and help your Frenchie sport a lustrous coat.
The Blue Buffalo recipe contains LifeSource Bits for premium flavor as well as benefits coming from a blend of antioxidants, vitamins, and minerals. Your Frenchie will receive full protection and build a strong immune and digestive system.
Blue Buffalo doesn't use fillers, preservatives, artificial flavors, corn, soy, or wheat. They only use 100% real meat to wake up the sleeping wolf inside your dog. Don't be surprised if your once quiet dog starts howling!
Slowly but steadily, Castor & Pollux is taking over Chewy and Amazon. This dog food brand has so many amazing recipes, it's no wonder why they're so popular. The same goes for the ORGANIX recipe. This is why dogs (and us, too) love this dog food brand!
This formula is created by using organic chicken as the primary protein source. Every ingredient used in this recipe is organic! Step away, hipsters, we dog owners also care about how organic the food is. We love that ORGANIX contains all the goodies necessary for adult French Bulldogs, especially glucosamine and chondroitin. This recipe is completely GMO-free, and it contains no grains, corn, soy, or wheat, and we all know what kind of health issues those can cause.
The ORGANIX adult dog food is suitable for dogs with sensitive tummies. In case your Frenchie is suffering from poor digestion, go and buy a bag of ORGANIX. You'll notice an improvement in no time!
Nature's recipe is really a natural recipe giving your dog fuel in order to spend its life with quality. Good taste is not enough. Adult dogs still need nutrients to keep their weight at a satisfying number, as well as their health in perfect condition. Hence, Nature's Recipe Salmon and Sweet Potato Formula.
This dog food features real salmon meat, followed by an excellent superfood… sweet potatoes. It's a completely poultry-free recipe, packed with goodies that will support the dog's overall well-being. Instead of wheat and corn, Nature's Recipe kibble uses sweet potatoes and pumpkins for extra carbs, fibers, and well-functioning digestion. If your dog uses this kibble, you can rest assured it will have all its needs satisfied.
You don't have to think twice before buying this dry dog food. We know you want only the best for your Frenchie, and Nature's Recipe is definitely one of the best dog foods for French Bulldogs. Many owners and pups approve!
The last dog food specially designed for adult Frenchies on our list is Taste of the Wild Pacific Stream formula. We couldn't make a better choice. The TOTW dog food brand is known for its excellent quality and premium flavor.
The first ingredient used in this formula is real salmon, smoked for premium flavor. The protein count in this recipe is as high as 32%! You can be sure your French Bulldog will receive all the nutrients needed for healthy bones, joints, and cartilage.
The recipe is completely grain-free, and it contains fresh fruits and veggies like sweet potatoes, blueberries, raspberries, and tomatoes. Vitamins and minerals from these ingredients, along with omega-3 and omega-6 fatty acids, take care of the dog's skin and provide a shiny coat.
Besides grains, the Pacific Stream recipe contains no corn, soy, wheat, artificial flavors, or artificial colors. Instead, it's packed with species-specific K9 Strain Proprietary Probiotics; a blend of antioxidants and prebiotics. Dogs consuming this kibble will have good digestion, and an immune system strong enough to fight any disease!
We can't start the list of senior foods without the Blue Buffalo brand. Their Life Protection Formula really takes care of your dog's life, eases health issues, and improves its overall life quality.
This kibble was specially designed to support the dog's well-being. With deboned chicken as its first ingredient, this formula uses nutrients from whole grains like barley, and vitamins and minerals from fresh fruits and veggies like carrots, blueberries, and cranberries. In fact, the
Life Protection kibble contains LifeSource Bits, a blend of nutrients supported with a Super 7 combination of antioxidant-rich ingredients.
The good news is that this dry food contains a lot of glucosamine and chondroitin from natural sources for good bones and healthy joints that are ready to face any obstacle. With L-carnitine-rich ingredients, you can be sure your dog will get plenty of energy instead of stacking up unnecessary fats.
We care about which dog food makes our list. You will never see us recommending food enriched with fillers like corn, soy, or wheat. The Life Protection formula supports our criteria. Only top-notch kibble makes the cut.
Embark on your final journey together and make your senior Frenchies' last years memorable. Unfortunately, dogs can't live forever, but they will stay in our hearts forever. It's up to us to do everything we can to have our dogs live a healthy and happy life.
With American Journey senior chicken food, that happy life is guaranteed. This formula is crafted by using real chicken as its first ingredient, along with a blend of nutrients from sweet potatoes, pumpkin, blueberries, carrots, and kelp. What many dog food brands don't use is coconut oil. If everyone knew how many nutrients it carries, they'd be using it all the time.
For example, medium-chain triglycerides found in coconut oil support a healthy brain in senior dogs, and have an impact on overall cognitive wellness. For healthy bones, joints, muscles, and cartilage, dogs get their daily dose of glucosamine and chondroitin.
American Journey dog food brand never uses grains, wheat, corn, soy, or any by-product meals. They're a high-quality brand that actually takes care of what your dog eats. Do you care about your dog's nutrition? Then, go and buy a bag of American Journey Senior kibble!
Wellness Core Grain-Free dog food takes care of your dog's well-being by hitting it right in the core. This senior kibble covers all the nutritional needs an aging dog might have. Senior Frenchies still need good carbohydrates, amino acids, good protein sources, and healthy fat content.
Wellness Core has them all! This recipe was made by using turkey as its 1st ingredient, followed by some chicken meal, turkey meal, chicken fat, apples, carrots, spinach, broccoli, blueberries, parsley, and kale.
This is high-quality dog food enriched with essential nutrients like omega-3 fatty acids, taurine, glucosamine, chondroitin, and antioxidants. It was specially designed to combine premium protein and superfoods for the ultimate, nutritious, and savory meal that all dog breeds love, especially Frenchies!
Wellness Core Grain-Free dog food is made in the USA, and the company follows strict guidelines of not including the following ingredients in their recipes: corn, wheat, soy, grains, gluten, artificial flavors, and preservatives.
Name a dog food brand with a cooler name… we'll wait! Chicken Soup For The Soul is a dog food brand with the most unique name ever, and their yummy recipe doesn't fall far behind. It's one of our top picks for a delicious but nutritious meal.
This recipe features real chicken and turkey as its first two ingredients, supported by brown rice, peas, oatmeal, barley, apples, broccoli, blueberries, etc. It contains omega-3 and 6 fatty acids, along with lots of L-carnitine, glucosamine, and chondroitin, and we all know what these goodies are for.
Chicken Soup For The Soul is a recipe that contains chicory root; a great ingredient for good digestion and less flatulence, along with a special blend of vitamins (E, A, D3, and B12), minerals (calcium and phosphorus), and antioxidants. It's entirely made in the USA, and it contains no grains or fillers.
This dog food feels like a warm hug and a bowl of hot chicken soup after a long day. Doesn't it sound wonderful? Your Frenchie will surely agree with us!
Here's a little help from the Canidae dog food brand for our old buddies. When the senior years kick in, it's important for a Frenchie to stay in shape and avoid obesity. Obesity is a condition that can trigger many other health problems, and we don't want that. Were you aware that proper pet food might stop all issues?
Canidae Grain-Free Pure Senior kibble has real chicken as its primary protein source, followed by sweet potatoes and garbanzo beans. This is a limited-ingredient kibble designed for seniors with stomach sensitivities and food allergies.
The recipe is enriched with all the goodies that a senior Frenchie needs, including Canidae's HealthPLUS blend of probiotics, antioxidants, and omega-3 and 6 fatty acids.
Canidae Pure Senior kibble was created by using only 9 real food ingredients, making this kibble one of the best dog foods for French Bulldogs. Dog owners agree: Canidae is worth every penny!
FAQs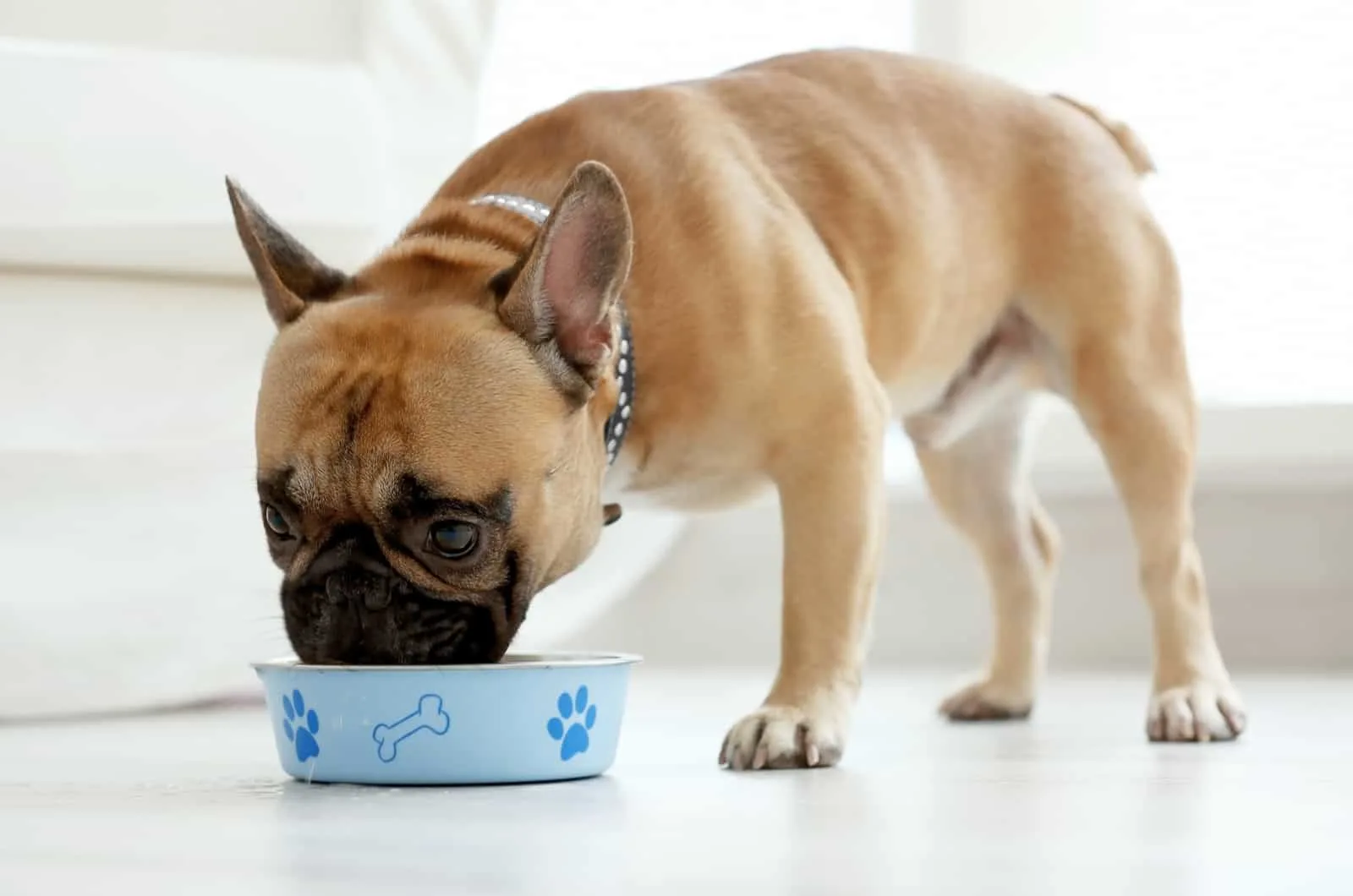 1. What Are The Basic Guidelines When Buying Dog Food For Frenchies?
When buying dog food for your Frenchie, you can't go online and order any brand you see first. The back of the bag is more important than any front, no matter what it claims to be.
Look for the following ingredients in every bag of dog food. That's how you know it's a high-quality one:
• wholesome ingredients (chicken, turkey, venison, lamb, fish meat)
• no by-products, artificial flavors, colors, or fillers
• healthy fats (in low to moderate percentage)
• omega 3 and 6 fatty acids
• moderate calorie count
Any kibble designed for small breeds that follows the guidelines above would be a great choice for your Frenchie.
2. What Is The Best Food For French Bulldog Puppies?
French Bulldogs are a bit larger dogs, but they are still classified as small-breed dogs. This may be confusing at first, but once you see a Frenchie in person, you'll understand.
If your Frenchie weighs more than 20 pounds, and your vet thinks his weight is not an issue, he can have an all-breeds formula. Otherwise, stick with the small-breed formula and scroll up to check our list once again. We've got some pretty pawesome best food choices!
A French bulldog puppy should always have food with animal protein as the first ingredient, packed with DHA and EPA acids for a strong immune system and good overall health. Puppies grow fast, and they need nutrients to support that growth. Make sure your chosen dog food for your Frenchie puppy is rich in nutrients and high-quality ingredients, so your pup doesn't lack anything.
3. What Is The Best Dog Food For French Bulldogs With Skin Allergies?
Not all French Bulldogs are prone to allergies, but most are. You can never go wrong with a limited-ingredient diet based on real meat proteins and fresh fruits and veggies, and no fillers like corn, wheat, or soy.
All Frenchies seem to be allergic to corn, so your food of choice better not have this ingredient; otherwise, it may trigger skin allergies and other food-related allergies.
4. What Is The Best Dog Food For French Bulldogs With Gas?
Frenchies with sensitive stomachs and susceptibility to gas formation need a special diet. They need a formula that is made by using only premium-quality ingredients that are rich in fibers to support fast bowel movement.
This way, the gas buildup can be avoided. Foods that contain ingredients like fennel, cardamom, peppermint, fenugreek, and chamomile also help reduce gas. However, the most important ingredient for dogs with a sensitive stomach is probiotics.
Probiotics are microorganisms that put all the good bacteria in your pup's stomach for proper digestion, and there is no gas buildup.
5. What Is The Best Wet Dog Food For French Bulldogs?
Wet dog food is a terrific option, especially for dogs with digestive issues, senior dogs, and a pup's chewing difficulties. It provides enough fibers, it keeps the dog hydrated longer, and it's easier to digest. Almost all brands on our list produce wet food, too. However, wet dog food is a bit less economic than dry kibble. If your budget can take it, you can opt for wet food only.
6. What Are The Best Dog Food Brands For French Bulldogs?
We've not one, but over a dozen excellent dog food brands that have proven to be the best dog food brands for French bulldogs. We're sure that there's a brand here that will suit your Frenchie.