Disclosure: This post contains affiliate links, and I will be compensated if you make a purchase after clicking on my links.
Are you overwhelmed by all the different dog brushes on the market and are confused about which one is the best for your dog?
French Bulldogs have a unique and adorable look that comes with a charm only their owners understand. However, these pups still need to be groomed regularly to maintain healthy hair and skin.
This is where our 'best brushes for French Bulldogs' guide comes into play!
We know that choosing the right brush for your Frenchie can be somewhat tricky. For instance, getting the wrong one can irritate your dog's skin and lead to various other health problems.
Furthermore, there is matting, tangling, loose hair, and your dog's natural body oils to keep in mind. But, don't worry, we are here to help.
In this article, we go over the best available options to help you choose the most suitable grooming tool for your furry friend. Each product we feature here will come with a pros/cons list as well as a detailed review.
On top of this, we will go over a buyer's guide so you have a clear picture of what each type of brush does and how you should use it. Once you've read this article, you will be armed with the knowledge you need to find the perfect piece that will please both you and your furry bestie. So, let's get into it!
Best brushes for French Bulldog: ratings
French Bulldog Brush Rating
What Is The Best Brush For French Bulldogs? Product Reviews
Slicker brushes are one of the most comfortable grooming tools for French Bulldogs but they require regular cleaning so they don't cause any problem to the pup.
Cleaning the brush after cleaning your pooch can quickly become a tiresome task. Luckily, with Safari Self-Cleaning Slicker Brush for Dogs, you don't need to worry about additional cleaning!
This best brush for French Bulldog consists of retracting pins that get rid of all the stuck hair, dirt, dander, and dust without any effort on your part. It is as convenient as pushing a button!
This feature will come in handy throughout the year, but it will save you an incredible amount of time during the shedding seasons. However, this is not the only thing this product has to offer.
The pins are made from stainless steel and the brush comes in multiple sizes. So, you can easily pick the size that fits your Frenchie's coat the most.
On top of this, the brush comes with a padded grip handle that allows you to hold the brush without any cramping. And lastly, the teeth of the brush are wide enough so they won't create any discomfort during your grooming sessions.
Pros:
Cons:
• Easy to clean and maintain
• Has wide teeth
• Comes in multiple sizes

• Might not be able to get the toughest grime out
• Choosing the wrong size may cause problems

For small dog breeds like French bulldogs, you need to have a compact brush at your side. This is where the ConairPRO dog & cat Pin Brush stands out.
Not only does this dog product have compact bristles but it also comes with a soft memory foam handle that smoothly fits into your hand and doesn't slip out of it!
The pins on this awesome pin brush from ConairPRO are made from stainless steel and are rounded at the top. This means you will be able to get rid of all of the deep dirt and loose hair without causing any discomfort to your four-legged bestie.
Another plus of using this soft bristle brush is that you won't have to struggle while brushing your pet. Rest assured your Frenchie will comfortably sit by your side throughout the grooming session!
Furthermore, the pins will help you remove any kind of dust, dirt, or mud keeping your pup's coat clean and skin healthy. And, in case you find the brush's size uncomfortable, you can simply pick a larger or smaller one as there are several sizes to choose from!
Pros:
Cons:
• Easy to grip
• Compact design
• Rounded, stainless steel pins
• Multiple sizes
• The gel-filled handle can leak in some cases
Although the design of this slicker brush resembles a human hairbrush, its angled bristles combined with its small size make it one of the best brushes for French Bulldogs.
While the cushioned and ergonomic handle keeps cramps away from your hands the compact design keeps the brush comfortable for the pet.
This means you can operate the product for a long duration without causing any harm to you or your pet.
Even if you use the product on a daily basis, it will keep its form intact for longer due to its highly durable design. It also features soft bristles that won't cause irritation to your Frenchie's skin. With all things considered, you can easily use this slicker brush to make your French
Bulldog look well-groomed all the time!
Pros:
Cons:
• Comfortable ergonomic handle
• Highly durable
• Soft bristles ensure that your dog's skin doesn't get irritated
• Angled bristles

• Cleaning can be a bit tricky
• A lack of different sizes

In most cases, French Bulldog owners opt for multiple types of brushes to maintain their pet's coat. This not only makes it difficult to handle the different brushes but also increases the overall expenditure.
Furthermore, it requires additional effort on your part as you have to find a couple of brushes that suit your pup. However, all of these issues can be solved just by getting the Furminator Dual Grooming Brush as it consists of two sides.
On one side of the brush, there are pin bristles, while on the other there are nylon bristles. This makes grooming your Frenchie a breeze!
The nylon bristles help distribute the natural oils found on your dog's skin and fur, making your pooch look shinier. On the other hand, pin bristles are there to help you remove the loose hair even before it sheds.
These two awesome features make this product an excellent choice for French Bulldogs because of their two-layered fur. On top of this, the small size fits perfectly for dogs of this breed while the rounded tips of the pin bristles don't let the brush damage your pup's skin.
Pros:
Cons:
• Comes with nylon bristles for grooming and pin bristles for cleaning
• Small size is ideal for French Bulldogs
• Properly distributes the natural oils in the fur
• Pin bristles come with rounded tips to prevent scraping the skin

• The handle doesn't provide a sturdy grip
• The brush isn't durable

When you first lay your eyes on this product it may strike you as a harsh brush made for long-haired dogs. However, you shouldn't judge a book by its cover, nor a dog brush by its appearance.
Thunderpaws Best Professional De-Shedding Tool and Pet Grooming Brush is one of the most popular choices for French Bulldogs amongst veterinarians and professional groomers.
The brush consists of a four-inch stainless steel comb that lets your Frenchie's grooming sessions go smoothly and without any irritation on the skin.
One of the best things about this brush is that it comes with a protective cover. This means you can cover the comb while you are not using it and make it last for years!
Moreover, the rubber handle doesn't let the brush slip out of your hand and the ergonomic design lets you hold it steady for longer.
But, the main reason why this brush made it onto our best brushes for French Bulldogs list is the fact that it removes almost all shedding hair from your pooch. Therefore, you can easily keep your house and your furry friend clean!
Pros:
Cons:
• Sturdy, ergonomic handle
• Comes with a protective cover which increases its durability
• Removes high amounts of shredded hair
• Soft on skin

• Can be tricky to maintain
If holding a brush puts too much strain on your hand or wrist, then the Pet Grooming Glove – Enhanced Five Finger Design – for Cats, Dogs and Horses might be the best solution for you.
It is also a great option if your French Bully doesn't exactly sit in one place during your grooming sessions and you have a hard time grabbing it while holding a brush in one hand.
You can conveniently wear this product just like any other glove and hold the dog without any trouble. Another plus of this grooming glove is that you can even reach the areas where a pin or bristle brush may be harsh, such as the tail, ears, and around the eyes.
The rubber bristles on this five-finger glove are small enough to get to hard-to-reach places and soft enough to keep your Bully's skin from irritating.
On top of this, you can adjust the pressure more precisely compared to regular brushes so that you don't cause harm to your pooch's fur or skin.
But, the biggest advantage of this type of grooming tool is that the glove feels much more comfortable on your hands, avoiding any cramps in your hands or wrist. This means you can use this grooming glove multiple times a day without worrying about your or your dog's well-being.
Pros:
Cons:
• Comfortable on hands
• Perfect for short-haired dogs such as French Bulldogs or Pugs
• Features small and soft bristles
• Easily reaches hard-to-groom areas
• Great for everyday use

• Doesn't remove all the dead hair
• Hard to clean and maintain

The JW Pet Gripsoft Small Pin Brush is one of the best products on our list because it keeps away both major problems of French Bulldog grooming: fatigue on your hands and irritation on their sensitive skin.
The ergonomic, anti-slip handle and the product's small size make it convenient to hold and use. Additionally, the metal bristles are rounded at the top so that you can safely comb your dog's fur without damaging the skin.
The oval shape of the head makes this pin brush stand out from others in its category. This type of design fits perfectly with the tiny build of a
French Bulldog and allows the brush to reach places other brushes have a hard time getting to.
Keep in mind that this isn't a brush you will be taking out every once in a while for proper pampering and grooming your pup's short hair.
Instead, think of it as a sofa-side brush that will be your best ally in dealing with French Bulldog shedding every day!
Lastly, the price tag of this product is quite affordable so you won't have to save a fortune to buy it!
Pros:
Cons:
• Great for everyday use
• Features an oval-shaped head
• Soft on your French Bulldog's coat
• Affordable

• Not the best choice for highly sensitive skin
In all honesty, a self-cleaning dog brush is not something you want to avoid if your Frenchie tends to shed a lot! If you don't opt for a self-cleaning brush, be prepared to undergo the hassle of cleaning the bristles after one or two grooming sessions.
In case you don't get rid of all the hair that's caught up in the grooming tool, it will just lead to further problems. However, with Hertzko Self-Cleaning Dog & Cat Slicker Brush, all you have to do is press a button and it will automatically get rid of all the stuck hair!
The pins of this brush dig deep into your Frenchie's fur and remove all the dead hair, dirt, and dust that accumulated in between your brushing sessions. This ensures that you won't find dead hair everywhere around the house.
The bristles don't bend easily and you can use this dog product for a longer duration. Even everyday grooming won't damage this slicker brush from Hertzko as it is made of highly durable materials.
With all things considered, this slicker brush is highly suitable for your French Bully with its compact design, easy-to-hold handle, and self-cleaning feature.
Pros:
Cons:
• Removes dead hair efficiently
• Bristles don't bend
• Self-cleaning technology
• Compact size

• Can be a bit expensive

You may have heard other dog owners talk about how dog brushes are superior to combs due to their soft bristles. But, we wouldn't exactly agree with that statement.
There are specific brushes on the market that can irritate or hurt your dog's skin as well as combs like the Chirpy Pets Dog & Cat Brush for
Shedding that prove to be exceptionally soft and beneficial for them.
This product comes with a detachable comb covered in an anti-rust layer. This makes storage a lot easier and you don't have to worry about the blades rusting away. Moreover, the handle comes with a hole so you can hang the product anywhere in your home.
The comb works exceptionally well even during shedding seasons. The product is easy to hold and handle with the rubber anti-slip handle and you can clean the comb easily by detaching it from the body.
Pros:
Cons:
• Soft bristles
• Gets rid of almost all dead hair
• Easy to store and can be hung on the wall
• Features an anti-rust, detachable comb

• Requires extra care while handling
A grooming routine shouldn't consist of just brushing your dog's fur. You also need to bathe your French Bully once in a while to keep it properly clean.
Luckily, the KONG Dog ZoomGroom Multi-Use Brush has got your back! This product not only gets rid of all the dead hair on your Frenchie's coat but also helps you shampoo your pup's body during bath time.
This makes it highly versatile as you can use it on both dry and wet coats. Moreover, the product comes in multiple sizes so that you can pick the one that best suits your Frenchie's grooming needs.
The bristles are spaced out which helps improve the blood flow and the distribution of natural oils. This ensures your pup always has a shiny coat without any worries about damaging the skin.
Along with all of these amazing qualities, by purchasing this brush you also get KONG Zoom's trust, as this manufacturer is known for making great dog brushes, toys, and other products!
Pros:
Cons:
Can be used to distribute the shampoo evenly during bath time
Efficient in removing loose hair
Comes in multiple sizes
Features broader bristles for comfort and blood circulation

High price tag
Best Brush For French Bulldog Puppy
The Burt's Bees Puppy Double-Sided Pin & Bristle Brush is both efficient and affordable. It is made by a reliable, well-known, and well-loved brand that always leaves its customers with a sense of satisfaction.
The double-sided bamboo feature provides you with everything you need to remove dirt and debris from your pup's coat while leaving it soft and lustrous.
One side of the brush features rounded pins which are great for removing dirt, knots, and tangles, while on the other side you will find soft bristles that are efficient in removing dead hair and keeping the coat looking shiny.
It is easy to use and suitable for almost all dog breeds including French Bulldogs. Another cool thing about this puppy brush is that it is made from bamboo and other recycled materials making it environmentally friendly.
Bamboo is a strong, durable material, and rest assured that the brush will last for many years to come!
Pros:
Cons:
• Efficient and affordable
• Reliable brand and eco-friendly product
• Two sides for different uses
• High-quality and highly durable
• The handle can sometimes slip out of your hand
How To Pick The Best Brush For French Bulldog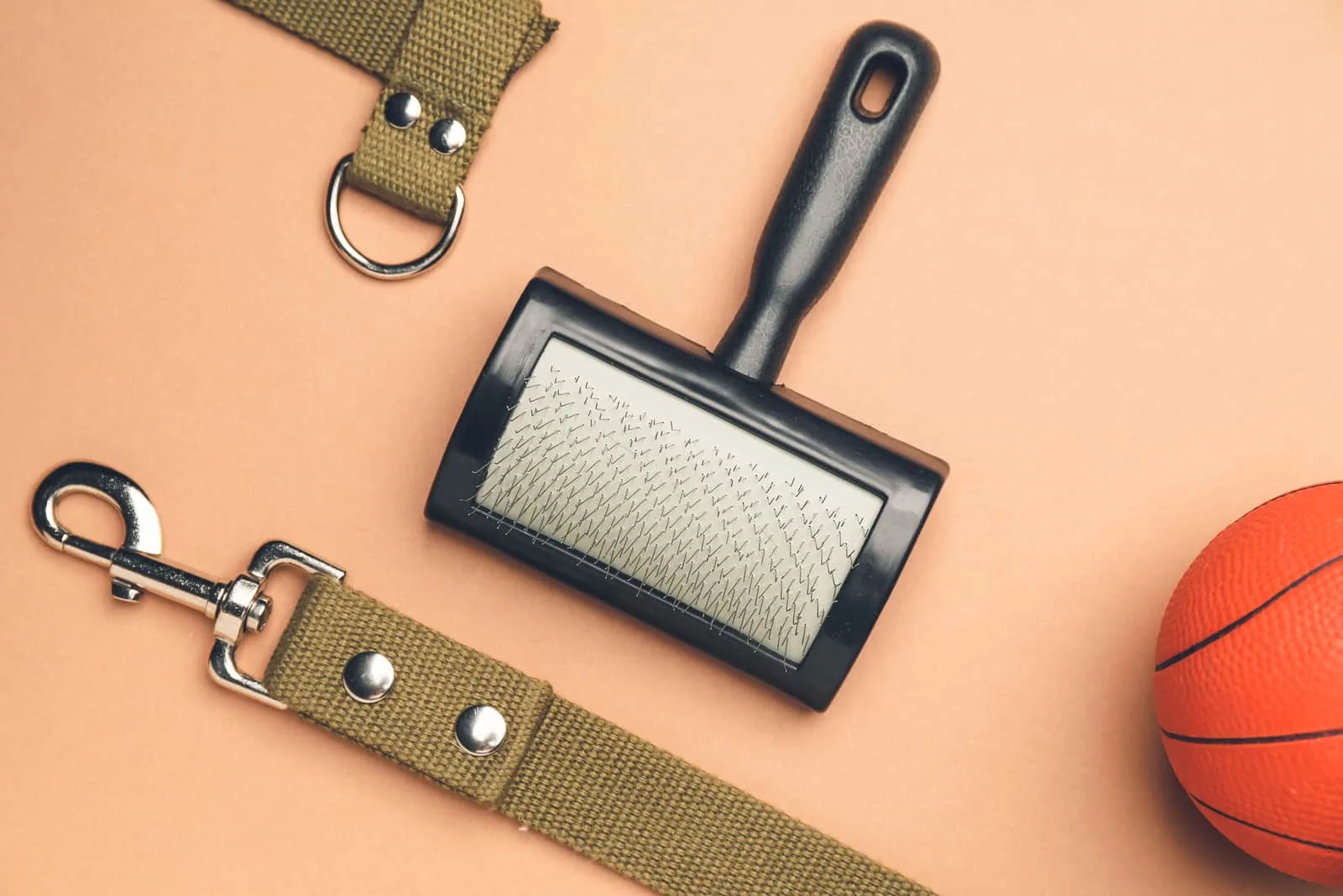 French Bulldogs are unique pups in many ways. Because of this, their grooming needs are different compared to most other dog breeds. On top of this, our beloved Frenchies lack underskin making it easier to harm or irritate their skin than you can imagine.
To prevent this, you need to consider several factors while choosing a suitable grooming tool for your French Bully. Luckily, we have prepared a comprehensive guide so that you have less chance of making any mistakes while buying.
Step 1: Know The Types
The very first thing you need to know when buying a brush for your canine companion is what types of brushes are there to choose from.
When you are aware of all the available variants, you will have an easier time picking out the most suitable one for your pooch. Here are a few kinds of combs and brushes recommended by professional groomers and veterinarians:
• Slicker brush: This is the most common type of brush used by Frenchie owners. This type is rectangular in shape, has a handle to hold, and usually comes with densely packed wire pins.
In general, slicker brushes are recommended for thick coat dogs but they can also be used to remove debris and dirt from your Frenchie's fur.
Slicker brushes suited for the latter one are the ones that have angled bristles due to their ability to protect your dog's skin while eliminating most particles and dead hair.
• Pin brush: This brush type is usually made from wire bristles with rubber tips on top to reduce the harshness. The primary purpose of a pin brush is to get rid of dirt and excess hair. You can choose this type of brush if you often have to deal with the debris on your furry friend's coat.
• Bristle brush: Unlike pin and slicker brushes, the bristle type doesn't provide much of a cleaning effect. However, their main purpose is to clean the fur of small and fine hair dogs and can be used for finishing touches so that your pooch will look shinier.
• Gloves: Even though this type of grooming tool might not be the best choice for dogs that have a thick coat, you can use them with great effect on your French Bulldog.
Grooming gloves provide the benefit of convenient wearing and easy handling while their soft bristles provide the best massage and grooming for your dog. If you pick up the right grooming glove, you might be able to solve almost all of your pup's brushing needs.
Step 2: Check The Gentleness
Most dog breeds have multiple layers of fur that protect their skin during grooming sessions. This means you can plow through their thick fur without any worries!
However, this is not the case with French Bulldogs and Bully breeds in general, since they lack the undercoat. These dog breeds have a thin single-layered coat that can be pierced even with a little harsher brush.
Therefore, you need to ensure that the dog grooming tool you choose is exceptionally gentle. Otherwise, you might cause problems like irritation or redness to your Frenchie's skin.
Step 3: Effectiveness
French Bulldogs shed their hair heavily twice a year during shedding seasons, just like most other breeds. However, you can tackle the problem of excessive shedding during shedding cycles by choosing the right brush for your French Bulldog.
An effective grooming tool will help you remove loose hair from your pup's fur while preventing any additional hair loss. Some of the additional advantages of choosing a suitable brush for your furry friend include:
• A shinier coat
• Proper oil distribution
• Improved blood circulation
• Proper exfoliation
• Overall improvement in skin health
With all of this in mind, you should check how efficient a brush is before making the decision to buy it. A non-effective grooming tool will not only cause problems for your pooch but will also be a waste of money for you.
Step 4: Find The Brand
What is the first thing people check while buying something for themselves? For the majority of us, the first thing we check is the brand or the manufacturer.
It is easy to rely upon and trust the names that are popular in a certain industry for a long time, especially those that you may have tried and tested.
The same thing goes when choosing a suitable brush for your little furry buddy. You should always check who the manufacturer of a certain product is to make sure you are not wasting your money and time on a low-quality product.
Best Brushes For Frenchies: The Importance Of Grooming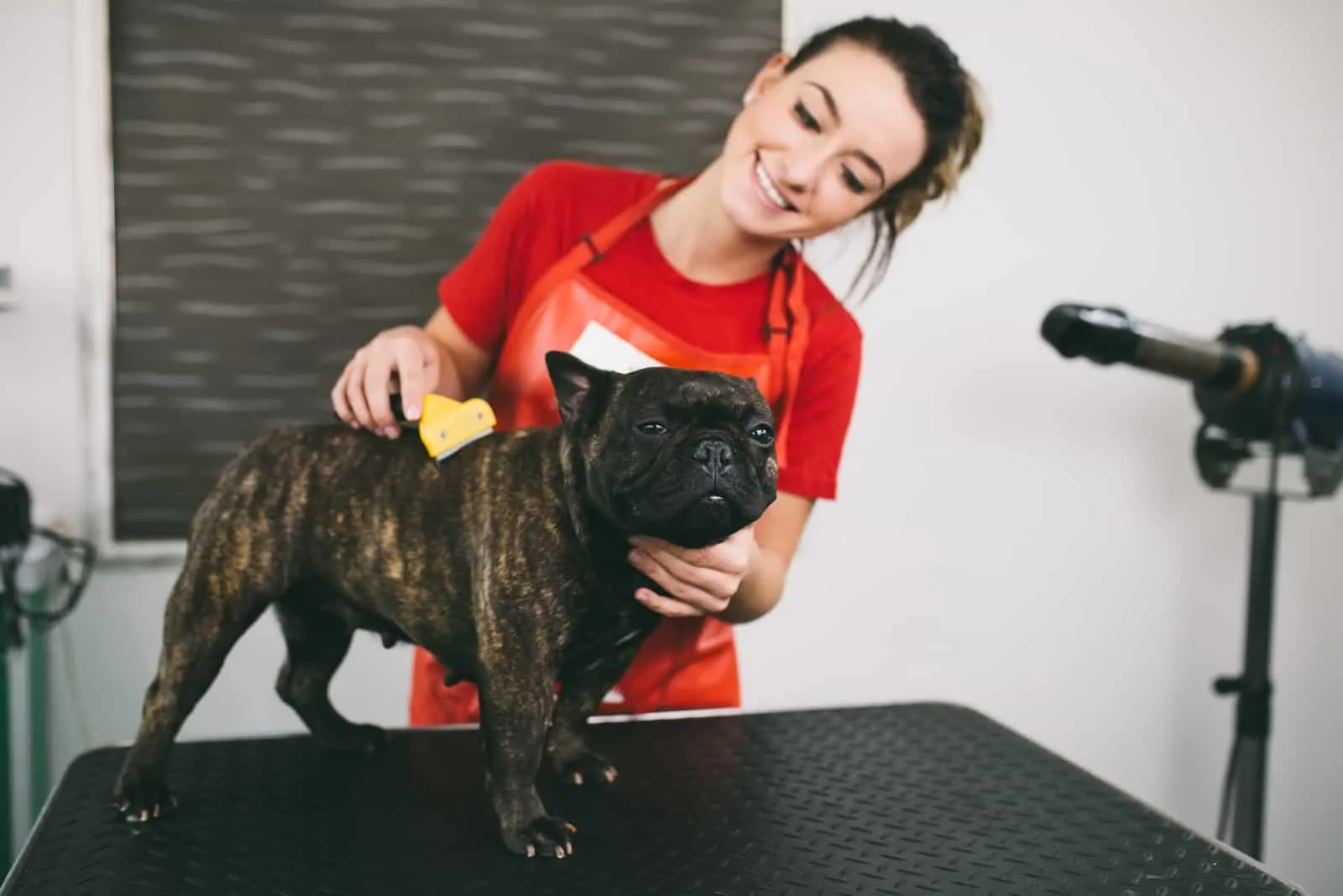 Many dog owners don't realize how important regular brushing is for their canine companions. If you are one of these owners, you should read the following benefits of brushing your pup regularly.
• Shedding: French Bulldogs sport a short coat with fine fur. This is one of the main reasons why owners don't mind the loose hair flying around their homes. Sometimes, the hair is really hard to notice.
However, this doesn't mean that these pups don't shed. It's quite the opposite, actually, they can discard a high amount of hair daily. Brushing your dog's coat regularly ensures that you remove the loose hair from their body before it reaches the ground or your furniture.
By having regular grooming routines, you can make sure your pup doesn't carry any unnecessary weight. Furthermore, the combing movement will help improve blood circulation and aid in new hair growth meaning no more bald patches on your pup's fur.
• Bathing: Unlike some other low-maintenance breeds, French Bulldogs aren't easy to clean, especially around their wrinkles and folds.
But, you can make this task a lot less challenging by picking out one of the best brushes for French Bulldogs we listed above. Combing your pup's fur during bath time will ensure that the dog shampoo gets all the way down to their skin and properly remove dander and dirt.
• Cleaning: Even though cleaning their folds and wrinkles isn't an easy task, French Bulldogs are still considered one of the more cleaner breeds around. This means you don't need to scrub or bathe your pup often.
In fact, if you create excess friction on a French Bulldog's skin, it can lead to irritation or other skin problems. This is where combing and brushing come in handy.
This little grooming step will ensure that any underlying dirt, mud, or debris in your pup's fur gets efficiently removed without worrying about skin problems.
• Grooming: Most dogs love when they are petted and groomed by their owners every once in a while. Brushing your French Bully's hair will not only ensure its well-being but can also be a great bonding experience!
Tips For Grooming Your French Bulldog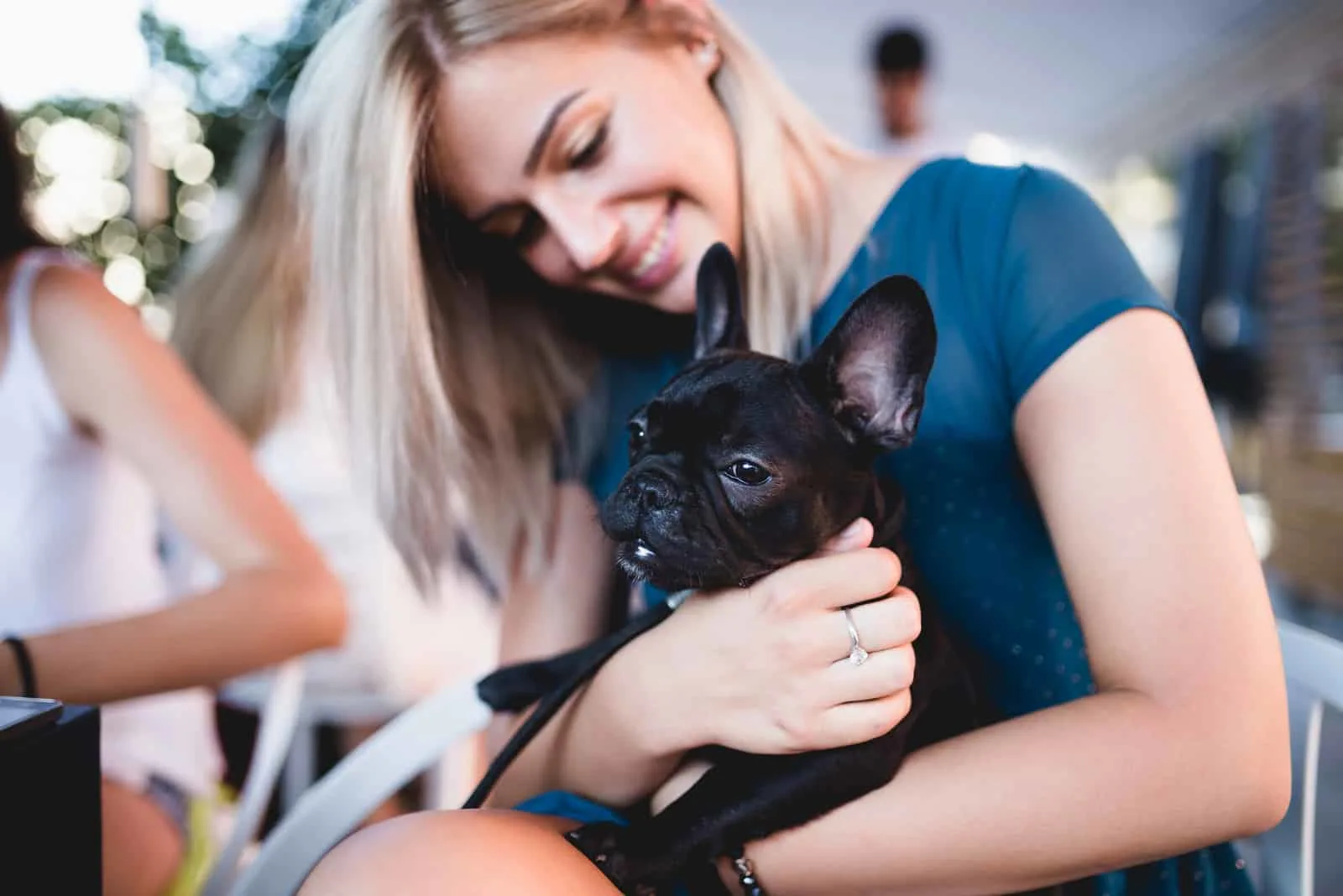 We've already mentioned that French Bulldogs have highly sensitive skin but it can't hurt to repeat it. Sometimes, owners don't even realize when they are causing harm to their furry friends.
If you don't want to cause any health or skin problems to your pup, you should follow these instructions on how to brush your dog's fur.
• If your pup is in a healthy condition, you can brush its coat once a week. However, in case they have some skin allergies, or other medical issues, you should consult with your vet and follow his or her advice.
• Expert groomers and veterinarians don't recommend brushing the same area more than three times as it can lead to irritation or the development of sore spots.
• Make sure you always use a sweeping motion from head to toe. This not only promotes the healthy distribution of natural oils but your Frenchie also finds it much more comfortable.
• If you have never brushed your Frenchie's coat before, you might be a bit concerned when you see how much they actually shed. To avoid any mess inside the house, you should do the grooming process either outside or somewhere where you will be able to easily collect hair.
• The best way to get your dog used to a regular grooming routine is to start brushing it from a young age. The earlier you start the more likely it is for your pet to develop the habit on time and don't create problems for you later on.
• Keep in mind that you should remain gentle throughout the grooming session. Try to avoid short and brisk strokes and instead take longer and smoother ones. Short and brisk strokes can only lead to damaged fur or skin.
• If your Frenchie gives you a hard time brushing and doesn't sit in one place, you can try the rewarding technique. Every time your pooch allows you to brush its coat, give them a treat! This might help you in making your pet sit for longer and you might be able to actually do some grooming on your wriggly pooch.
Frequently Asked Questions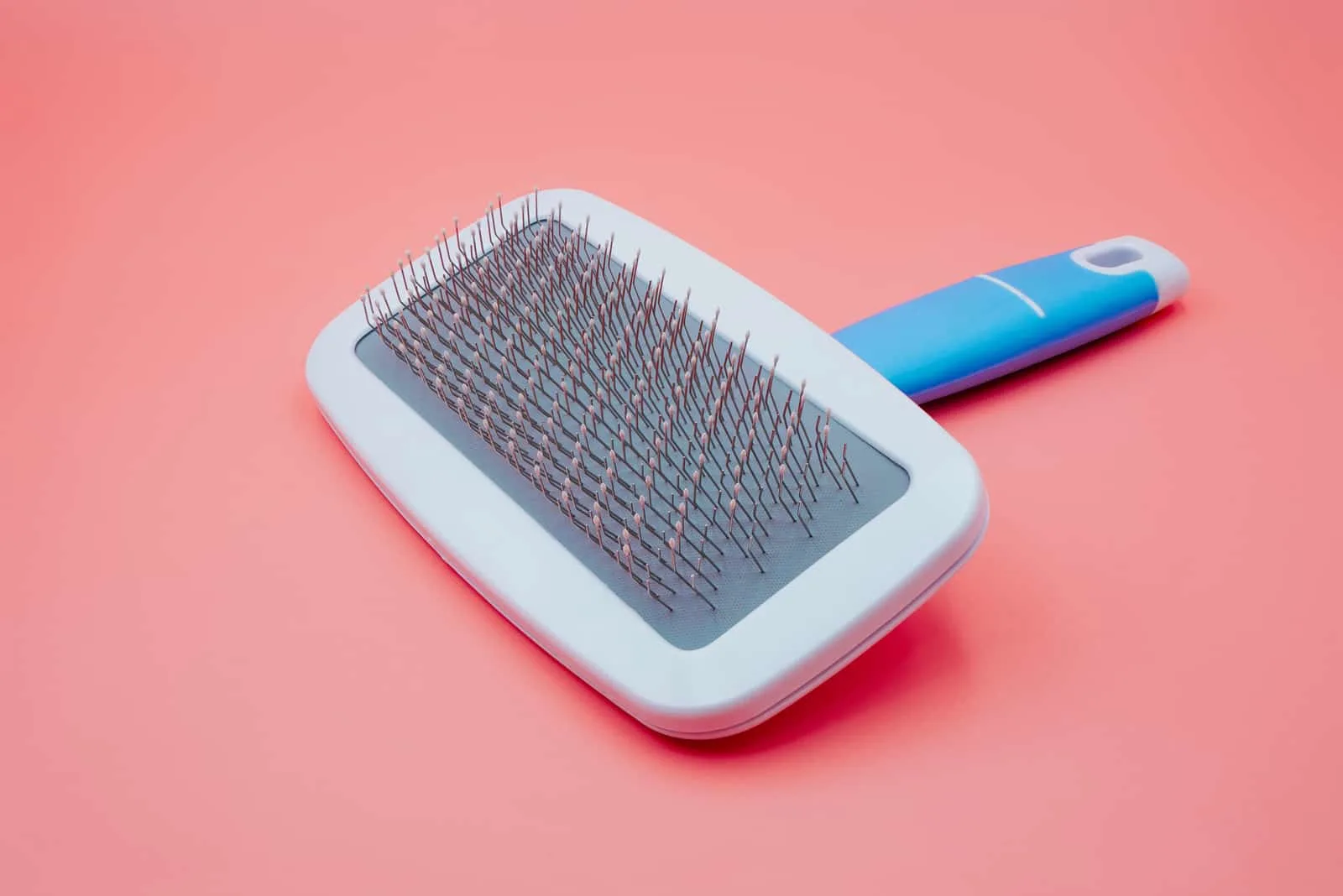 Do French Bulldogs Shed?
Even though you might not notice it because of their fine hair, French Bulldogs do shed. Like most other breeds, Frenchies shed some hair daily and shed quite a lot of hair during the shedding seasons.
How Should You Deal With A Dirty Coat?
If your French Bulldog loves to play in puddles and mud, its coat will sometimes be quite dirty. To tackle this problem, you should wipe your dog's coat with a soft, dry cloth before brushing. This will remove much of the grime and allow the grooming tool to do its work.
What Kind Of Brush Do You Use On A French Bulldog?
As we've seen in this article, there are several types of brushes suitable for this breed. However, which one of them will be the most efficient depends on your pup.
You might want to get a slicker brush if your pooch's fur mats often. On the other hand, you might want to opt for a pin brush if your pup's coat is often covered in dirt.
How Often Should I Brush My French Bulldog?
Even if your French Bully isn't experiencing the usual coat-blowing twice a year, it will still need a regular brushing routine. This is important to keep its coat clean, shiny, and smelling as pleasant as possible. To accomplish this, you should brush your Frenchie at least once a week.
Is It Possible To Brush A Dog Too Often?
Yes, it is possible to over-brush your pup's coat and it can actually be a painful experience for your beloved Frenchie.
Brushing too often can cause brush burn which can lead to skin irritation and redness. This is why it is recommended to only brush your pup once a week.
Summary
Grooming is an inevitable task for all dog owners. Because of this, you need to consider various factors that come into play when it comes to brushing a French Bulldog.
As this breed has highly sensitive skin, you need to brush as carefully as you can to avoid hurting them. To help you in this endeavor we have listed out the best brushes for French Bulldogs for you to choose from.
There is no doubt that one of the products on our list will perfectly fit your dog's needs. Also, we hope that our tips for brushing and a buyer's guide will provide you with the knowledge you need to figure out what type of brush you should use on your pup!