So, I heard you're looking for the best Shih Tzu breeder in Ohio?
So, it must be time to finally enrich your life with a Shih Tzu dog. Well, congrats! What were you waiting for? Oh, right, probably a good Shih Tzu breeder!
If you live in the state of Ohio and you're dying to get your hands on a brand new Shih Tzu puppy, then you have to check out our top 8 Shih Tzu breeders.
These breeders are all AKC Shih Tzus with pedigrees, exceptional health, and sweet temperaments. Maybe some of these breeders don't have available puppies at the moment, but it will absolutely be worth the wait.
You will get not only a new puppy, but a new best friend too!
Without further ado, let's see which Shih Tzu breeders in Ohio you can trust!
Shih Tzu Puppies For Sale In Ohio
I know you want only the best, reputable breeders. That's why I have excluded sources like puppy mills or pet stores. The only online source you can really trust is the AKC Marketplace. But, still, I'd recommend checking out some of the Shih Tzu breeders in Ohio listed down below first.
1. Miracle Shih Tzu Pup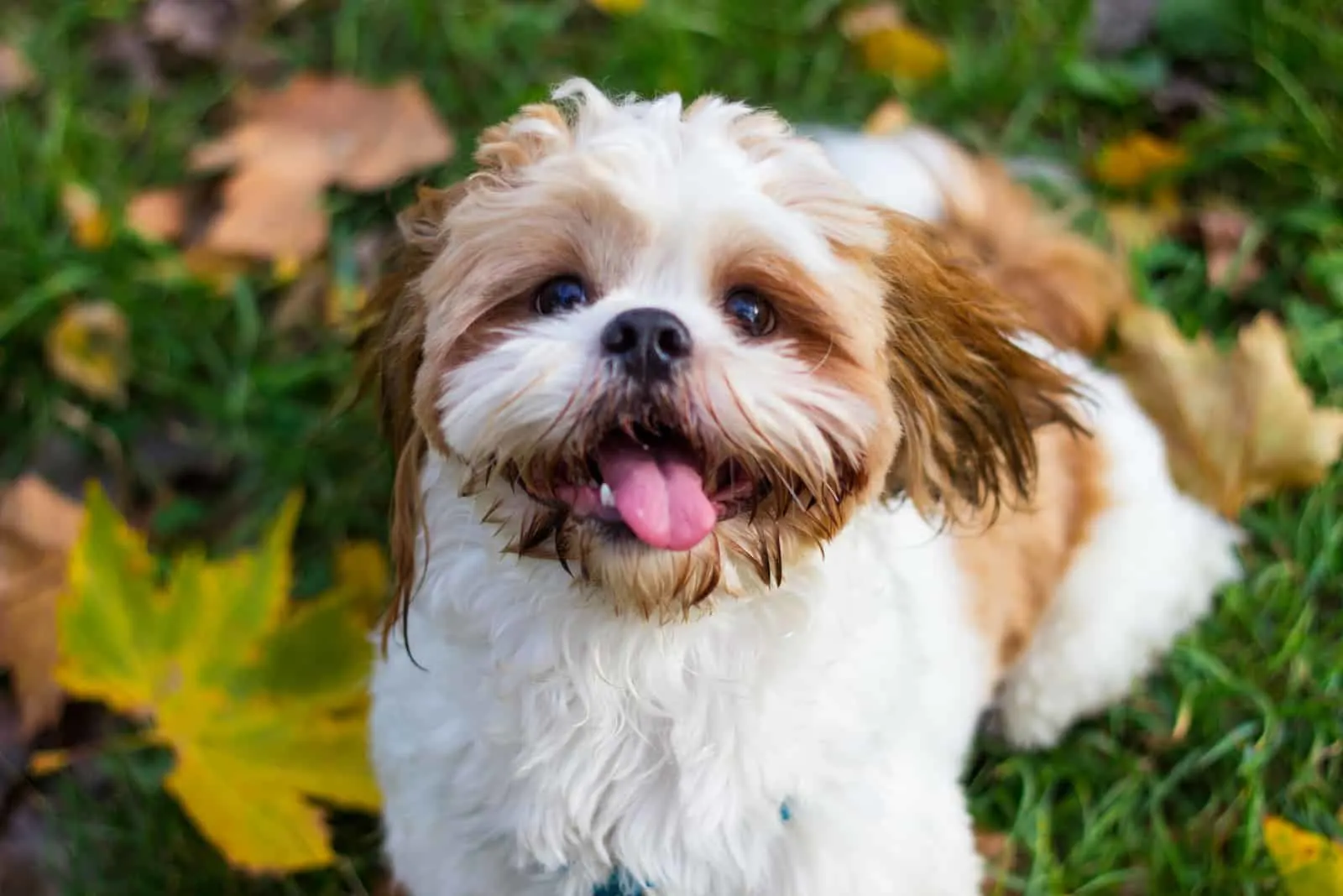 Want a perfect puppy? Go visit Miracle Shih Tzu Pup! It's the place where miracles do happen!
This is an AKC-approved breeder that really knows what breeding dogs is all about. It's not about the profit for this breeder, and it's not about becoming popular either. Breeding Shih Tzus here is about enriching the dog breed with new examples of the breed, and finding ways to improve it.
Shih Tzus are a really old dog breed. The modern era has made some pretty significant improvements to the breed. Dog breeders throughout the years have worked so hard to bring Shih Tzus one step closer to perfection.
Miracle Shih Tzu is one of those hard working Shih Tzu lovers!
They're not a kennel or a professional facility where puppies just pop out of their mommy. This is a family business that really treats all of their dogs as equal family members. And, trust me, Shih Tzus really want to feel like valued members of society.
When I found out that Janice, the breeder and owner of Miracle Shih Tzu, was a caregiver and a teacher for over 30 years, I immediately thought, she really knows how to raise kids and pups with the utmost care! No wonder Miracle Shih Tzus were given the title of AKC Bred with Heart breeders!
There are only a couple of litters each year, so contact Janice in plenty of time to have her put you on a waiting list.
Breeder's details
Website: Miracle Shih Tzu Pup
Email: [email protected]
Social media: Facebook
2. TwaNas Place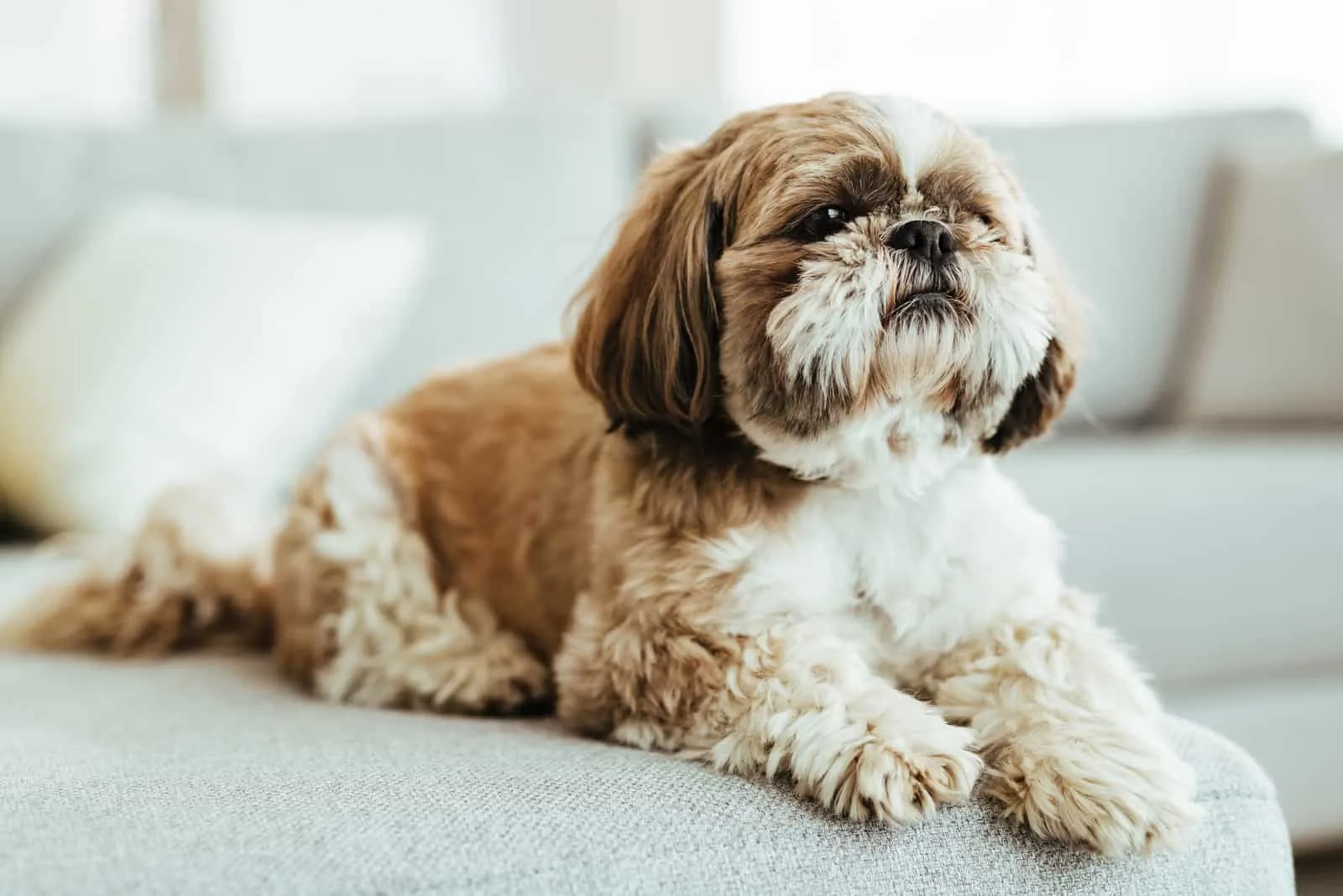 When I saw that TwaNas Place was a breeding program run by a woman with over 24 years of experience in both the breeding and grooming business, I just knew these Shih Tzu pups would be terrific.
And, they truly are!
Meet Twana Sue and her pawmazing Shih puppies!
Twana makes sure that all her Shih Tzu babies receive the same amount of love. Her puppies are born inside the house and they stay there until they get adopted. This is not an outdoor kennel. This is a loving home for true Shih Tzu friends!
I admire Twana's dedication, since her pups are completely dewormed, up to date with all their vaccinations, bred according to the Shih's breed standard, as well as possess a kind temperament.
Twana will never agree to sell her puppies to puppy mills, pet stores, or puppy brokers. She wants to know where her puppies end up, so expect a little interview and an evaluation.
These Shih pups are ready for adoption at the age of 9 weeks. You will need to prepare a budget of $2,000 to $2,500. The price can be discussed with Twana, as no Shih Tzu puppy will have the same price.
Shipping is not welcome, but you are, so feel free to reach Twana through her phone number and ask to come by and see her lovely Shih babies!
Breeder's details
Website: TwaNas Place
Address: Lima, Ohio 45801
Phone: 419-228-8302
Email: [email protected]
3. Penny-Stitcher Manor Shih Tzus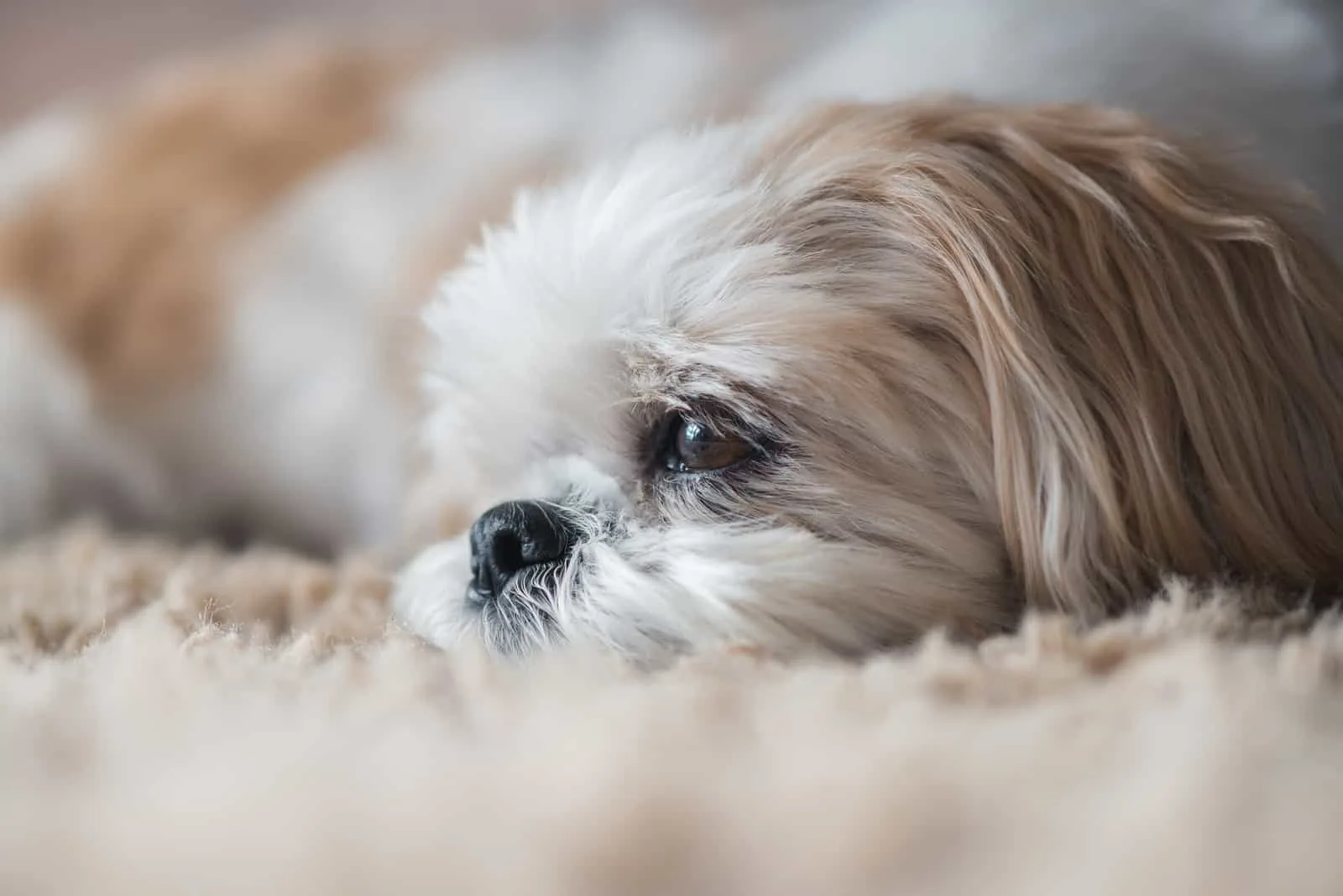 The fact that most customers of this breeder are return buyers and buyers from referrals tells you a lot!
Meet the Penny-Stitcher Manor Shih Tzus! This breeding business was founded by two sisters, Nancy and Anna. Sadly, Nancy is now all alone in the breeding business, but that doesn't mean she's not doing her job the right way.
Penny-Stitcher Shih Tzus come with a one-year health guarantee for any possible health issues that could be transferred from the parents to the puppy. They're also clear from parasites and up to date with their shots.
Nancy won't ask for a mandatory deposit to be placed on her waiting list. The only thing you have to do to get a Penny-Stitcher Shih is to contact Nancy and wait for the puppies to be born. I know it may take a while, since she is not a serial breeder, but the wait is absolutely worth it!
Breeder's details
Social media: Facebook
Phone: +1 937-286-0100
Email: [email protected]
4. Jackson Ohio Chapter Of "Breeder Of Shih Tzu Puppies"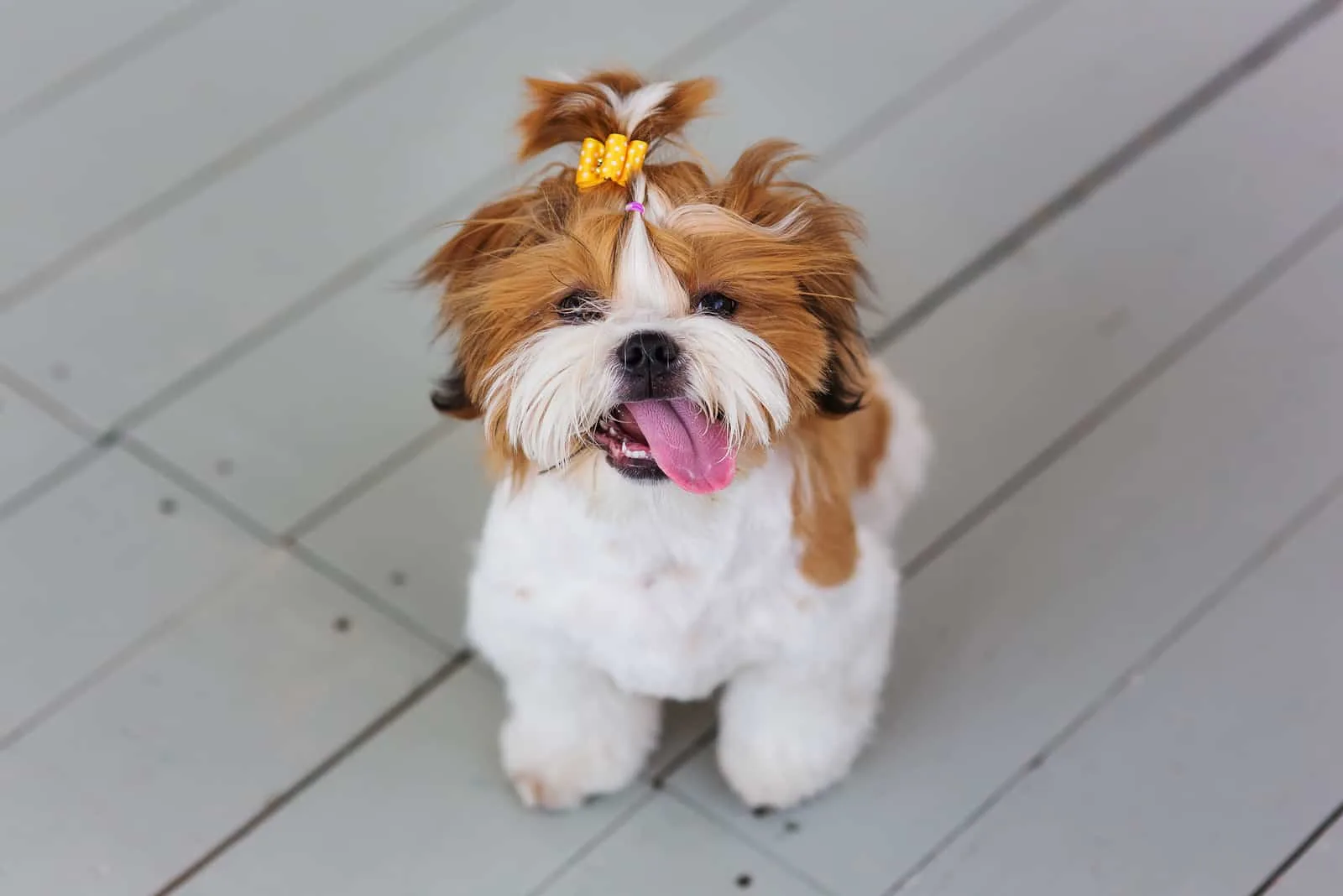 Sandy is another breeder with great experience. It's been over a decade since she began breeding dogs, and making the world a better place with her Shih Tzus.
This breeder doesn't have one of those old-fashioned websites. Sandy is into Facebook and keeps her Shih Tzu page up to date all the time.
You can expect to see her new, upcoming litters posted on Facebook.
Her Shih Tzu puppies are all handled with the utmost care. The puppies stay with Sandy in her home. She treats them like her babies. No one lacks love or care in this home!
Once you come to pick up your puppy, Sandy will give you a little puppy package for a safe trip. I always find these little puppy packages lovely. Not every breeder has them, but they surely mean a lot for the puppy, since many of them have litter-scented toys or blankets included.
I won't talk about Sandy's good work anymore. I'll let her wonderful Facebook photos and posts do the talking and prove to you that she's really worth your trust!
Breeder's details
Social media: Facebook
Email: [email protected]
Phone: 740-395-6756
5. Richmond Kennel Shih Tzus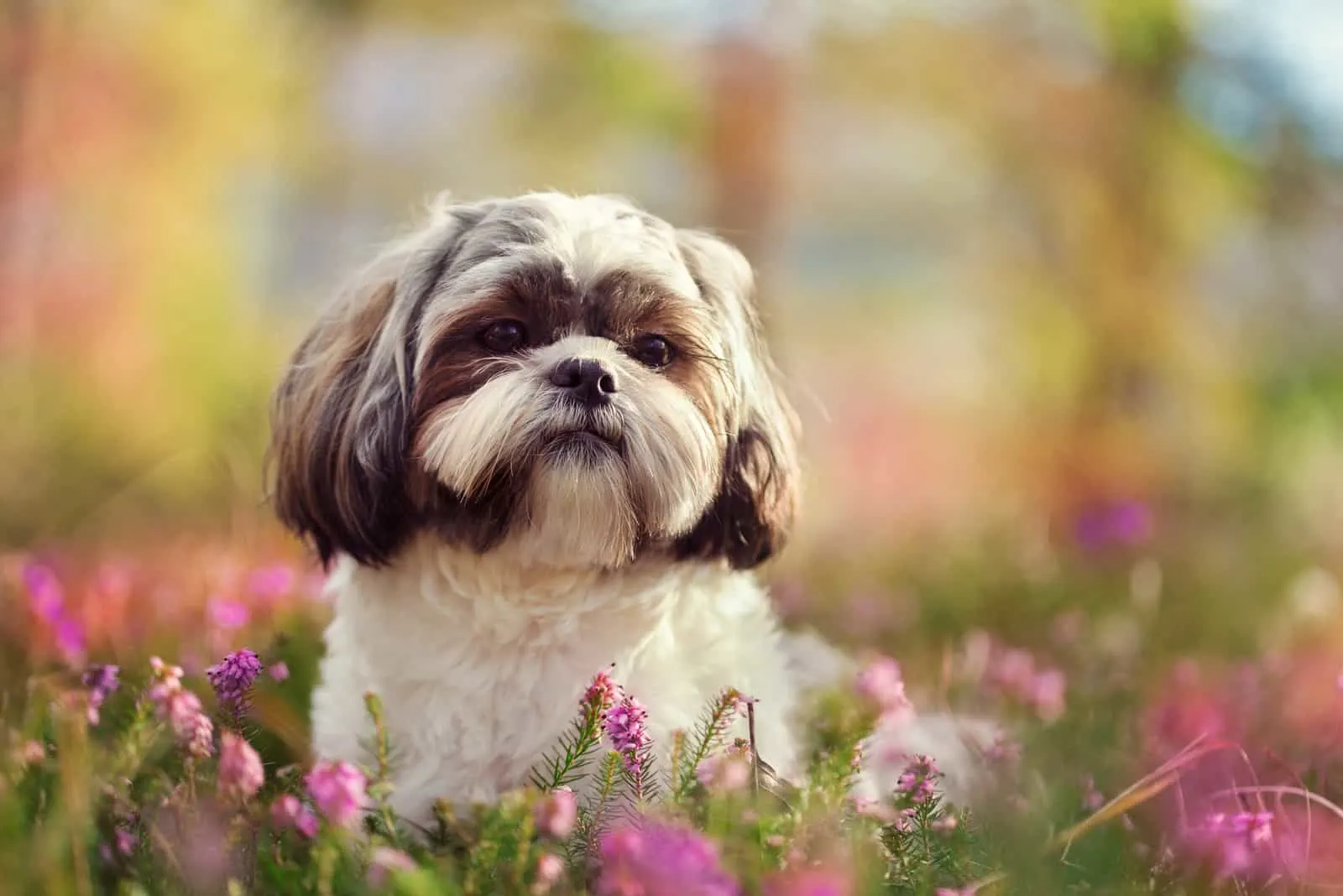 The American Kennel Club (AKC) refers to Shih Tzus as flat-faced dogs. This isn't just a physical characteristic. It's what makes Shih Tzus special, and the guys at Richmond Kennel know that!
All jokes aside, Richmond Kennel breeds Shih Tzus for many reasons. Their flat face is just a trait we all love.
The true reason why Richmond Kennel breeds Shih Tzus is because of their lovely character and compact bodies that can endure a lot.
They're madly in love with Shih Tzus and consider them a part of their family.
You won't find a Richmon Shih Tzu sitting in a cage. This is not that kind of facility! All puppies are free to roam around the house and play outside anytime they want. The puppies are free, socialized from birth, and ready to make your life better once you adopt them.
Richmond breeds three Shih Tzu sizes, small, standard, and the Imperial Shih Tzu. You should contact them to see which puppies are available and state if you have any preferences.
Also, you should call to make an appointment first. It's better to meet the puppies this way!
Breeder's details
Website: Richmond Kennel
Address: 395 Old State Route 56 NW, London, Ohio 43140
Email: [email protected]
Phone: 740-852-2793 or 740-837-6550
Social media: Facebook
6. Hidden View Farms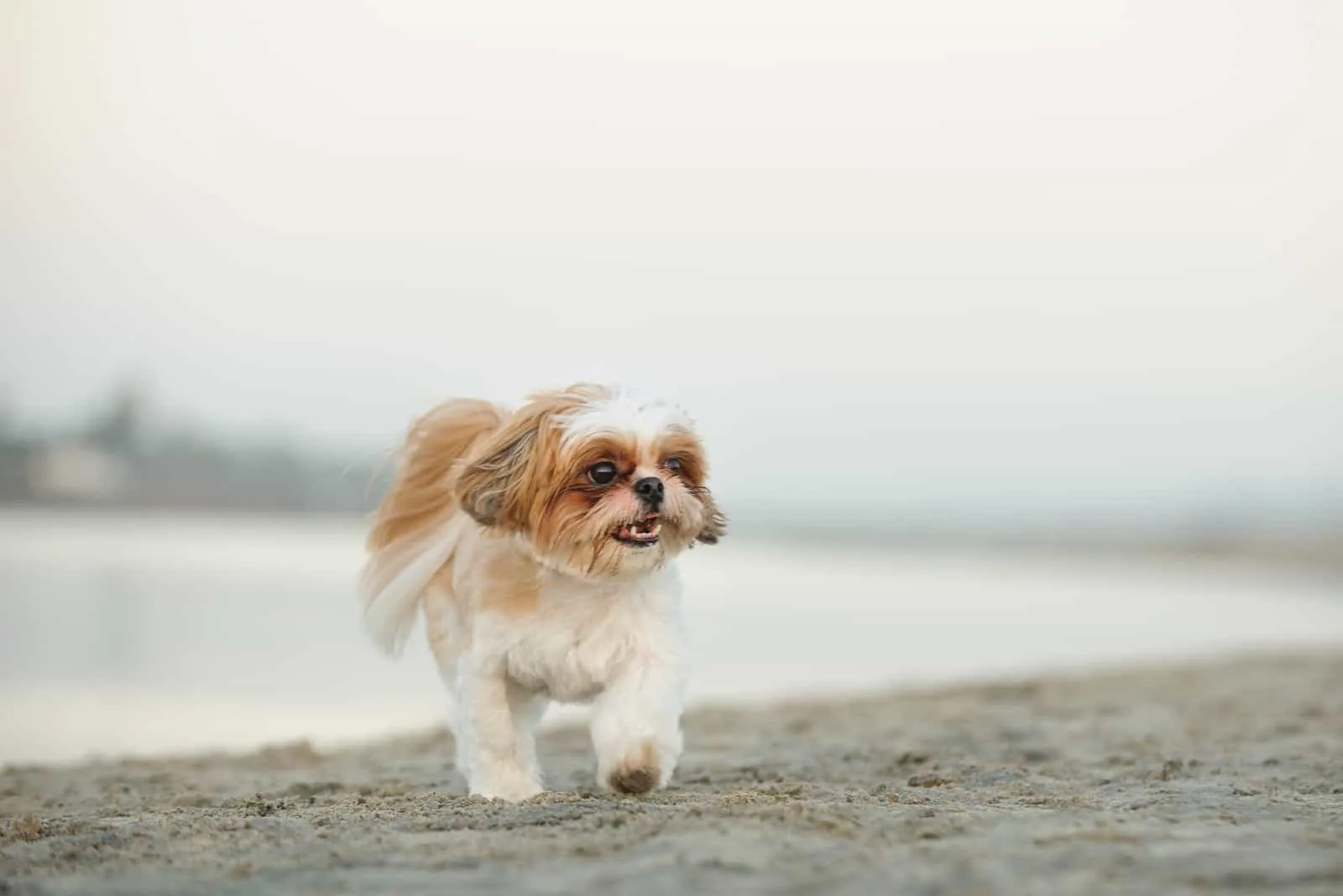 Hidden away from all the noise and crowds, there's a lovely little farm in Lancaster. It's called the Hidden View Farm, and they've had experience breeding dogs for over 22 years!
Dave, Cole, and Teana Gordon take care of not only their Shih Tzu puppies, but other babies too! The Hidden View Farm's got Poodles, Poms, and Dachshunds too!
Before you come and pick up your Hidden View Shih Tzu, I want you to know that these people are seriously devoted to their puppies, no matter the breed. I know, they have multiple dog breeds, but I wouldn't recommend them if I wasn't sure of what they're doing.
Hidden View Shih Tzus are completely free from hereditary diseases and are certified with OFA and Embark. They're sound creatures with kind temperaments. The only thing they're missing is a hooman, someone to come in and take them to their forever home.
Once they turn 8 weeks old, the puppies are ready for adoption. If you go through their website, you'll see that the starting price for Hidden View Shih Tzu puppies is around $1,500. This depends on the puppy. The breeder will carefully evaluate the puppy and set a price.
This is pretty reasonable for a pet-quality Shih. But, trust me, they're so much better than just pet-quality pups!
Breeder's details
Website: Hidden View
Address: 7575 Bremen Rd SE, Lancaster, Ohio 43130
Phone: 7409748618
Email: [email protected]
7. Glamorous Shih Tzu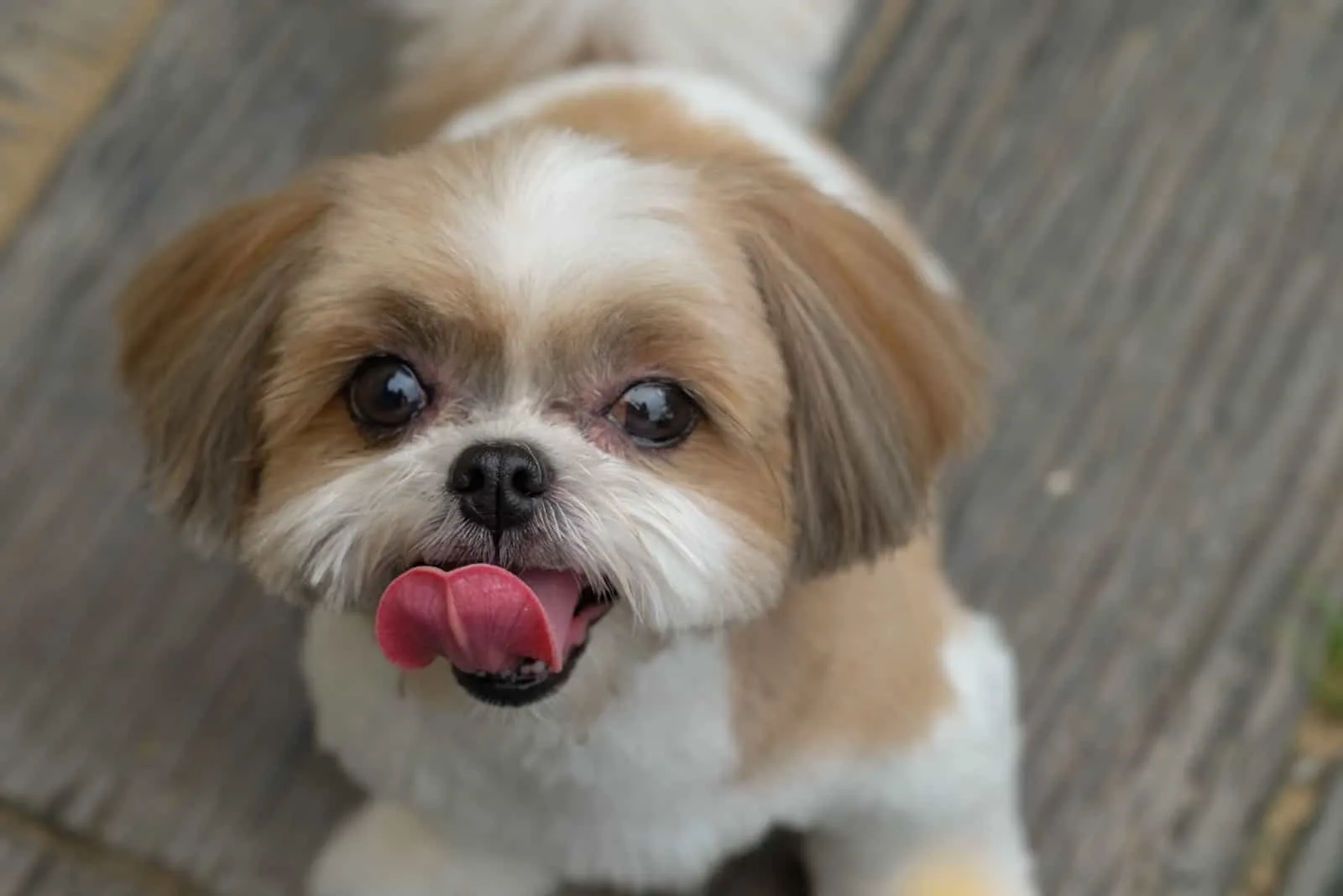 I always support small, home-based breeders because they really show love and dedication for a specific dog breed. Glamorous Shih Tzus is one of those breeders.
If you're looking for a small, standard, or Imperial Shih Tzu, now you know where to come!
This is the loving home of AKC-approved Shih Tzu puppies. And, let me tell you something: I was truly stunned with the beauty of the Glamorous Shih Tzus. They're absolutely glamorous and wonderful!
All Glamorous Shih Tzu puppies come with their first set of shots. They're clear from parasites and worms, and ready to go to their furever homes at the age of 8 weeks.
You will need to put down a mandatory deposit of 50% of the puppy's price. Also, I recommend that you contact the breeder for the Shih Tzu cost, as it depends on each individual puppy.
If you live far away from Mechanicstown, you can arrange shipping, no matter if you're in Cincinnati, New York, Cleveland, Michigan, or even North Carolina! No place in the States is too far away for a true Shih Tzu lover.
I recommend that you check out what Tyra and her fantastic pups have to offer you. Besides their wonderful appearance and great socialization skills, Glamorous Shih Tzu pups will steal your heart with their friendliness.
Breeder's details
Website: Glamorous Shih Tzu
Address: Mechanicstown, Ohio
Email: [email protected]
Phone: 330-205-2373
8. Jazzy's Shih Tzu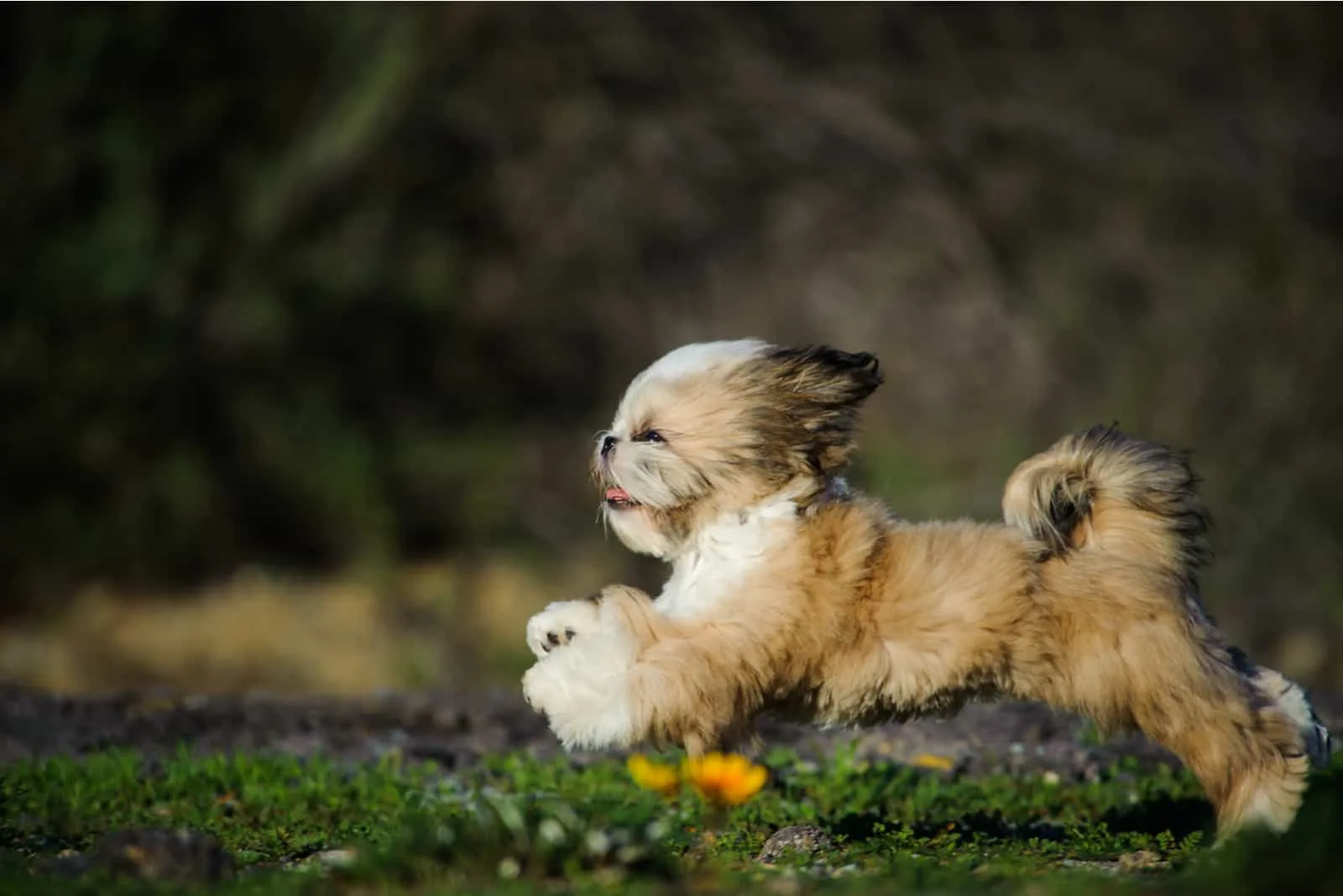 When a breeder thinks of her puppies as her babies and always puts her pets first, then you know you're dealing with a person that knows how to raise puppies. Rhonda Caryer is a true expert in breeding Shih Tzu puppies.
After all, Rhonda's been in the business for over 35 years! I find that beyond impressive!
This breeder really knows what to do with puppies. They're stationed inside her home, and are submitted to early socialization and stimulation. This makes Jazzy Shihs tremendous pets!
Jazzy's Shih Tzus are all healthy. They come with a health guarantee that can be extended for 2 years if you take good care of your puppy and take him to regular vet check ups.
One of the conditions you must sign before you get a Jazzy Shih Tzu is to never keep your Shih Tzu outside. These are indoor dogs and are equal family members. You can't expect such puppies to live outside, no matter how mild the climate is.
If you can't commit to keeping your Shih inside, right next to you, then you don't deserve one.
Lastly, I want to point out a reason why buying from Jazzy's Shih Tzus is a good idea. If by any sad occurence your puppy passes away, Jazzy's Shih Tzus will offer you a replacement pup. That's something most breeders won't agree to, but also something I truly value.
Breeder's details
Website: Jazzy's Shih Tzu
Address: 207 W. Edgerton St., Hicksville, OH 43526
Phone: 419-487-1908
Email: [email protected]
FAQs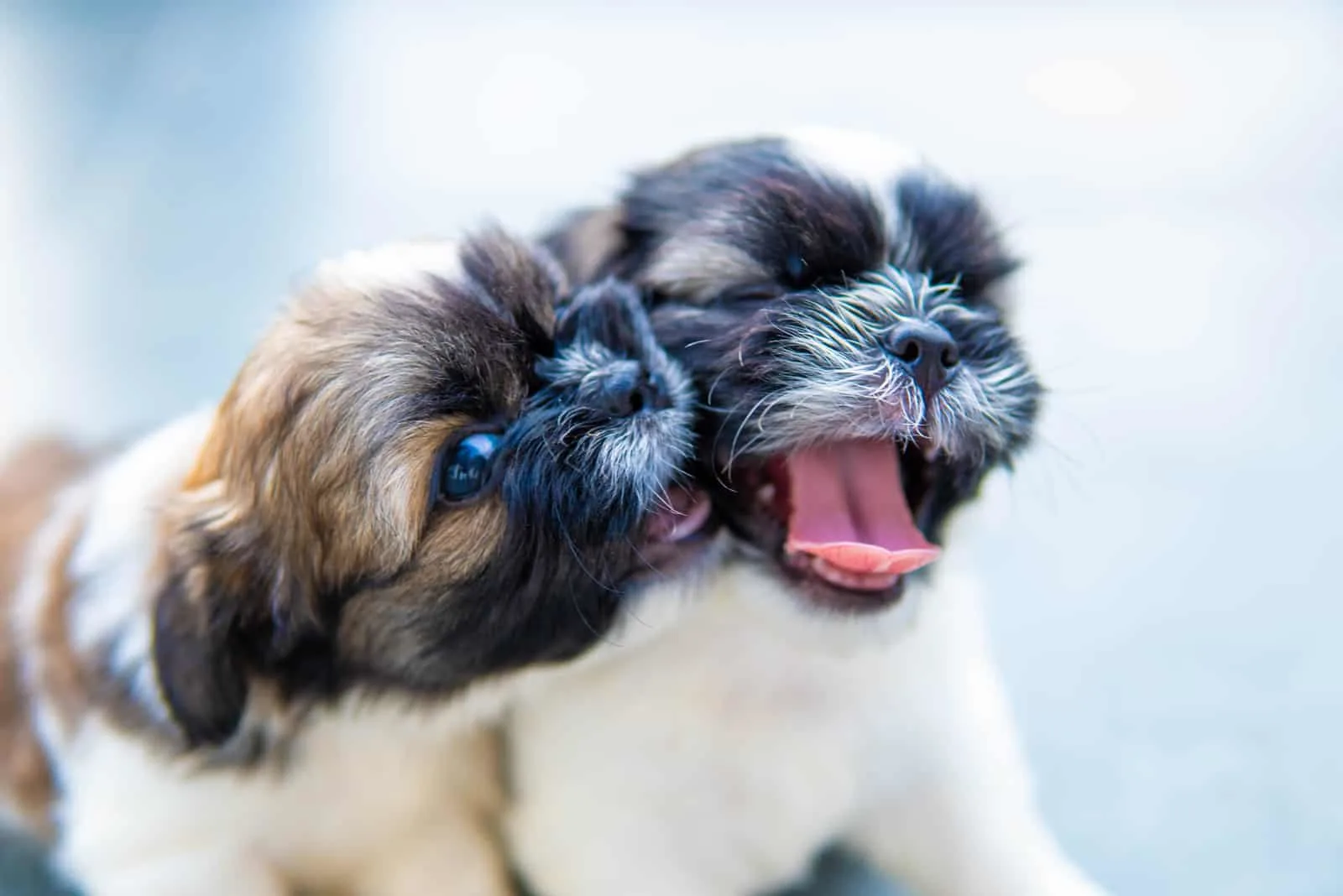 How Much Is A Shih Tzu Puppy In Ohio?
If you Google Shih Tzu prices in Ohio, you'll come to a hilarious conclusion. Seems like Mr. Google thinks Shih Tzus are cheap puppies.
Well, I'd like him to think everything through again, because Shih Tzus aren't cheap at all!
Their price should not drop below $1,500, otherwise, it is considered fishy and unreliable.
But seriously, even $1,500 is a low price for this dog breed. You can only imagine how much a pet-quality Shih Tzu costs!
These pups go from one extreme to another. Show Shih Tzus will require you to add a couple of thousand dollars more!
So, before you think: Oh, I wish I had a Shih Tzu, they're so adorable! Make sure your budget can handle the new family member.
What Is The Average Shih Tzu Lifespan?
Shih Tzus are one of those dogs that generally have a long lifespan, but the range from the minimum to the maximum age of the dog's expected years is pretty big.
A sound Shih Tzu should never live for less than 10 years. If you take great care of your dog and have some good fortune, your Shih puppy may live up to 16 years! That's pretty incredible.
I want you to do your best and give your dog the life he deserves. You'll get plenty of love in return!
What's Good About Owning A Shih Tzu?
Shih Tzus are honestly one of the sweetest dog breeds in the world. These small, cuddly buddies from Tibet have come a long way to become what they are today: a firm favorite lap dog!
Shih Tzus aren't as weak as they look. They're tough little guys and you'll love them for their energetic behavior, and many other things.
Here are the top three traits that make Shih Tzus excellent pets, even for first-time owners!
Low Exercise Needs
Even though they're very energetic, Shih Tzus have low exercise needs. They love brisk walks and light exercises like ball throwing or playing roughly. They're not meant to work hard for several hours.
Make sure you provide them with their daily walkies for around 45 minutes and you'll be set. This is a great dog for busy people that have no extra time to spend playing in the dog park.
Low-Shedding
This is one of the main reasons why Shih Tzus are a favorite small dog. They shed only a little. They won't disperse dead hair all over the place. So, if you're allergic to dog hair, you can try being around a Shih Tzu. Many allergic people have reported zero reactions to Shih Tzu hair.
While there aren't any 100% hypoallergenic dogs, Shih Tzus are pretty close to being hypoallergenic.
Super Friendly
When you look at a Shih Tzu, the first thing you'll notice is their adorable, smushy face. It looks like these pups have a permanent smile stuck on their faces! No wonder Shih Tzus are one of the friendliest breeds of them all!
They're super sweet with the entire family, including other pets. Also, they seem to tolerate strangers quite well.
I like to say that Shih Tzus are not conflict dogs either.
What Are Some Downsides Of Owning A Shih Tzu?
Although Shih Tzus are super kind and friendly, some of you might not like their personality traits, or even their size.
And that's absolutely fine!
Shih Tzus are great, but we have to face the fact they have some downsides too. You're about to see the top three of them.
Hard To Housebreak
To be honest, housebreaking is one of the toughest things you'll have to go through with your dog. Sadly, Shih Tzus are terrible at housebreaking. You're gonna need tons of patience to teach them what's okay and what's not.
Health Issues
Well, of course health issues are considered one of the biggest downsides of every breed. But, Shih Tzus are classified as a type of brachycephalic dogs, meaning their muzzle is short. This gives them many troubles with breathing and functioning normally.
Frequent Grooming
Although they're not big shedders, Shih Tzus still need to visit the groomer quite often. These dogs need to have their hair clipped and trimmed so they look nice.
Scruffy-looking Shih Tzus are not a pleasant sight to the eyes.
If taking your dog to the groomer is too expensive for you, you're gonna have to learn how to groom your Shih Tzu on your own.
Other Shih Tzu Breeders In The States That You Can Trust
If by any chance none of our chosen Shih Tzu breeders in Ohio have a puppy for you, you can easily find one in another state. PupVine's got many great Shih Tzu breeders from all over the USA (and Canada!). Let's meet some of them!
Shih Tzu breeders in States (top 15 of them)
Relatable Shih Tzu Content On PupVine!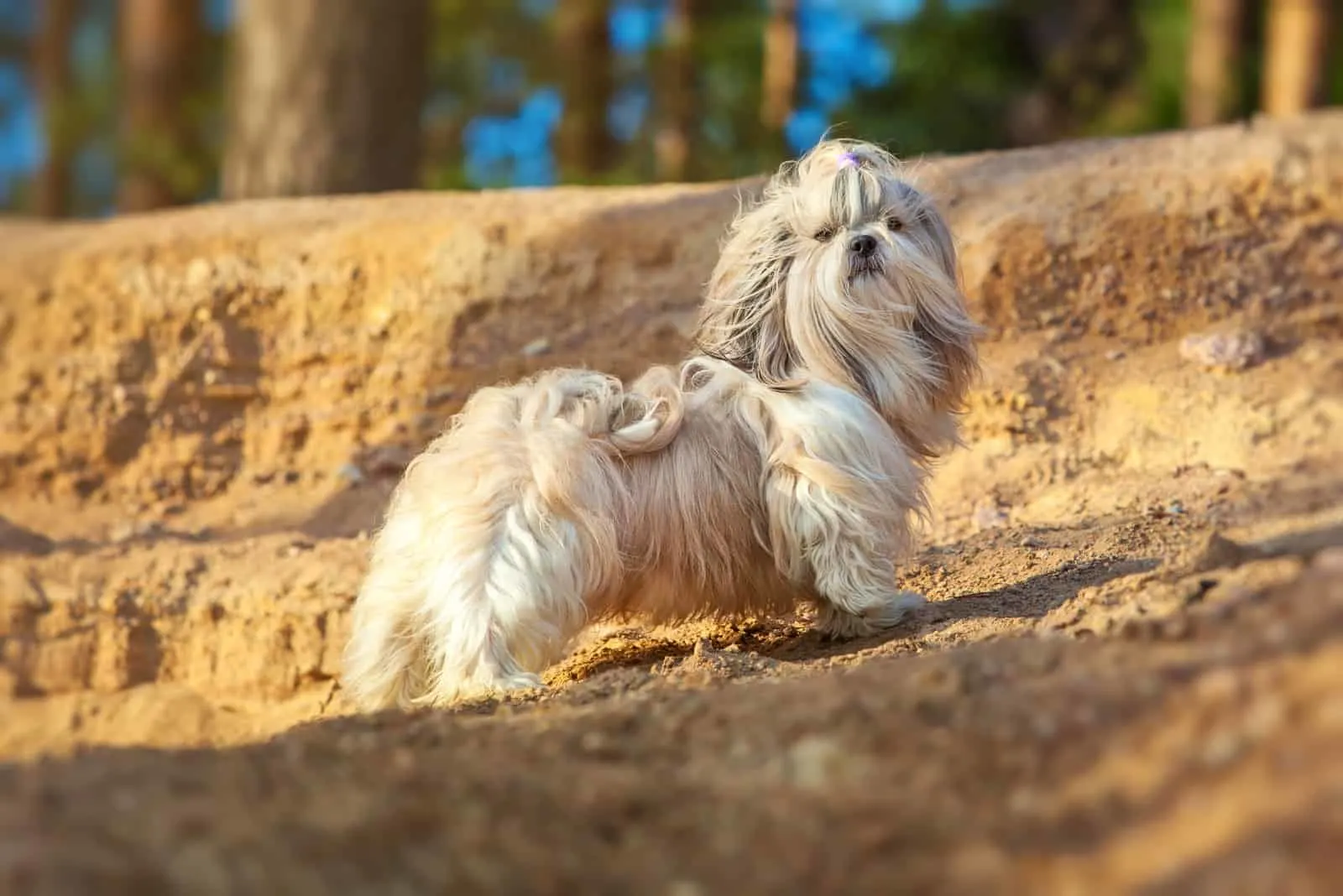 Every future Shih Tzu owner must learn a lot about this dog breed before they adopt one. Only then can you be ready and a little Shih Tzu puppy will end up in a happy home, showered with love and care.
PupVine's done some pretty pawsome articles on the Shih Tzu breed. Yup, they're one of our favorite babies!
Get up to date with your Shih Tzu reading with the following topics:
Conclusion
Well, that's all folks!
I hope you liked this list of the finest Shih Tzu breeders in Ohio.
These puppies are waiting for their new homes, and I sincerely hope you'll be able to give them a furever home with you.
Shih Tzus aren't just happy puppies. They're a part of the family, and they truly sense that. Any dog breeder that believes in the same philosophy, is a breeder you can trust with your future Shih Tzu pups!