Disclosure: This post contains affiliate links, and I will be compensated if you make a purchase after clicking on my links.
Before we dive deep into our best collars for French Bulldogs guide, let's first take a look at this fascinating dog breed.
Originating from France and England in the 1800s, French Bulldogs are amongst the most popular breeds, ranked #6 in the USA, #1 in the United Kingdom, and #3 in Australia! They can also be quite expensive.
As a breed of style and sophistication, and a hint of a royal vibe around them, it is always a pleasure seeing a Frenchie walking on pavement, running around dog parks, and peeking over a table in Cafes.
But, what is the best way to walk these pups? Is it enough to attach a leash on the collar of your Frenchie and be ready to go?
Or, are there perhaps other things to take into account such as their comfort, health, and behavior? Furthermore, if you do opt for a collar, what type should you choose, and what is the difference between the types?
This article will go over the basics of collars for French Bulldogs. Also, we will discuss our tried and tested reviews to help you choose the best French Bulldog collar.
In addition, we will explain the difference between a dog collar and a dog harness, along with their pros and cons when it comes to this breed.
Best collars for Frenchies: ratings
Best collar for a French Bulldog – Editor's choice
Editor's Choice
Frisco Patterned Polyester Collar
Key Benefits:
Made from high-quality durable polyester webbing

Great for everyday wear and fun outdoor activities

Comes with a D-ring that lets you easily attach a leash

The collar is made with nickel-coated hardware that gives a clean, polished look

Features a separate ID ring

Comes in multiple sizes and adjustable slides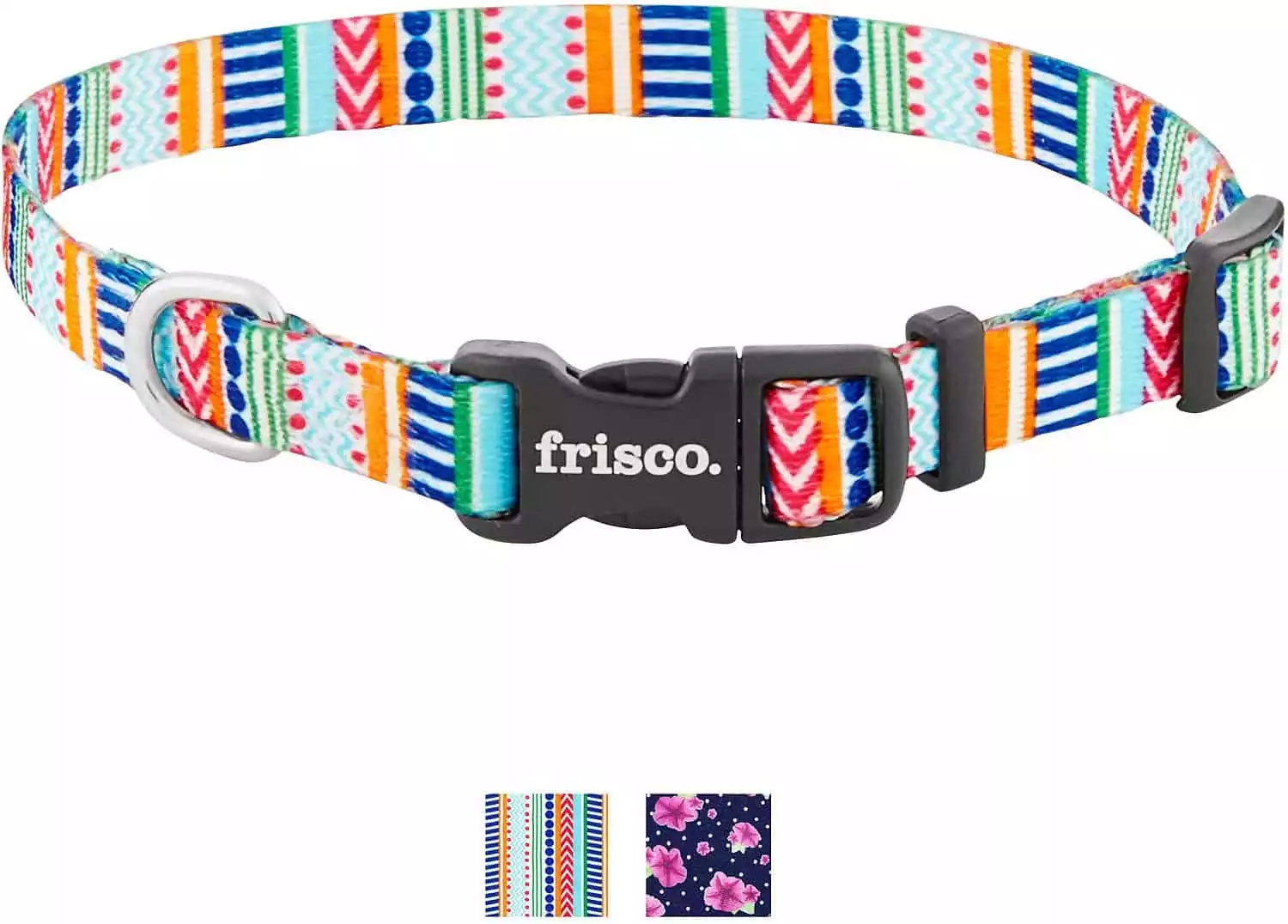 If you want a collar that can support your French Bulldog throughout its daily activities, your best bet would be to get the Frisco Patterned Geo Print Dog Collar.
With its unique design, your pooch is sure to be the most fashionable dog wherever you take it. On top of being highly adjustable, this Frisco collar also uses polyester webbing and nickel-coated hardware for extra durability.
If you are concerned about your pup getting lost, you can attach an ID pendant or tag on the collar's ring. The collar is easy to clean and maintain, too. If your Frenchie manages to get the product dirty, and the chances are it will, don't worry as the collar is easily washable with a mild detergent.
What is the best bark control collar?
PetSafe Elite Bark Collar
Key Benefits:
Features an automatic safety shut-off

Comes with 10 levels of static stimulation that adjust automatically to your pup's temperament

Perfect bark vibration and sound sensors only stimulate when your dog barks, not your neighbor's

The collar is durable, water-resistant, and made for dogs up to 55 pounds

The product uses a PetSafe-188 battery (included)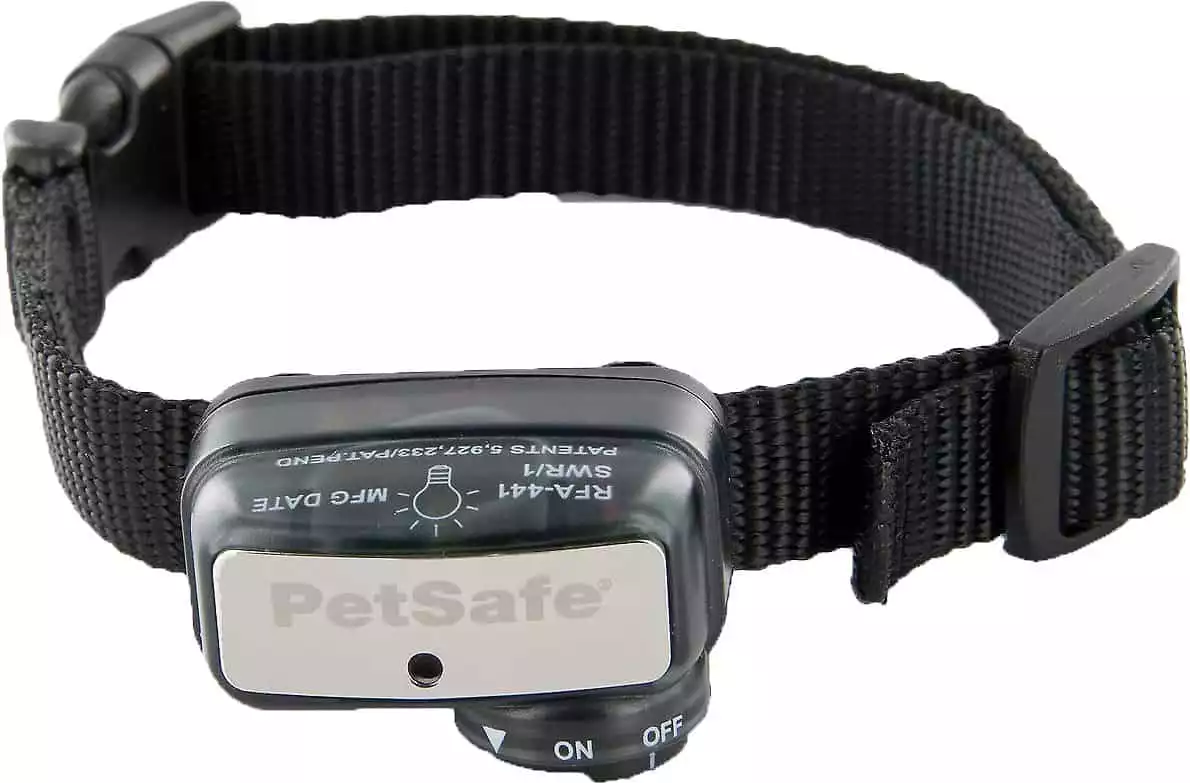 Even though shock collars aren't usually necessary when it comes to this breed, they can come in handy in certain situations.
For instance, if your Frenchie has issues with excessive barking, the PetSafe Elite Little Dog Bark Control Collar may be worth investing in.
Every time your pooch barks, the collar will emit a harmless form of static shock. The static shock is not strong enough to hurt your furry friend, but it will certainly be enough to make it pay attention and realize that the barking needs to stop. This type of collar can also be useful during potty training.
You can easily turn the collar on or off whenever you need it, but to ensure your pup's safety, the collar also comes with an automatic safety shut-off. On top of this, the product is fully waterproof so you don't need to worry about inclement weather or conditions.
What collar is best for a dog that pulls?
Country Brook Martingale Collar & Leash
Key Benefits:
Features a twin-loop collar design that prevents unwanted slips

This unique design also allows gentle control by adjusting to your Frenchie's movements

Comes with a matching, wonderfully crafted leash

Handcrafted in the United States with super-strong, but smooth polyester that won't irritate skin or pull hair

The product is available in various colors and sizes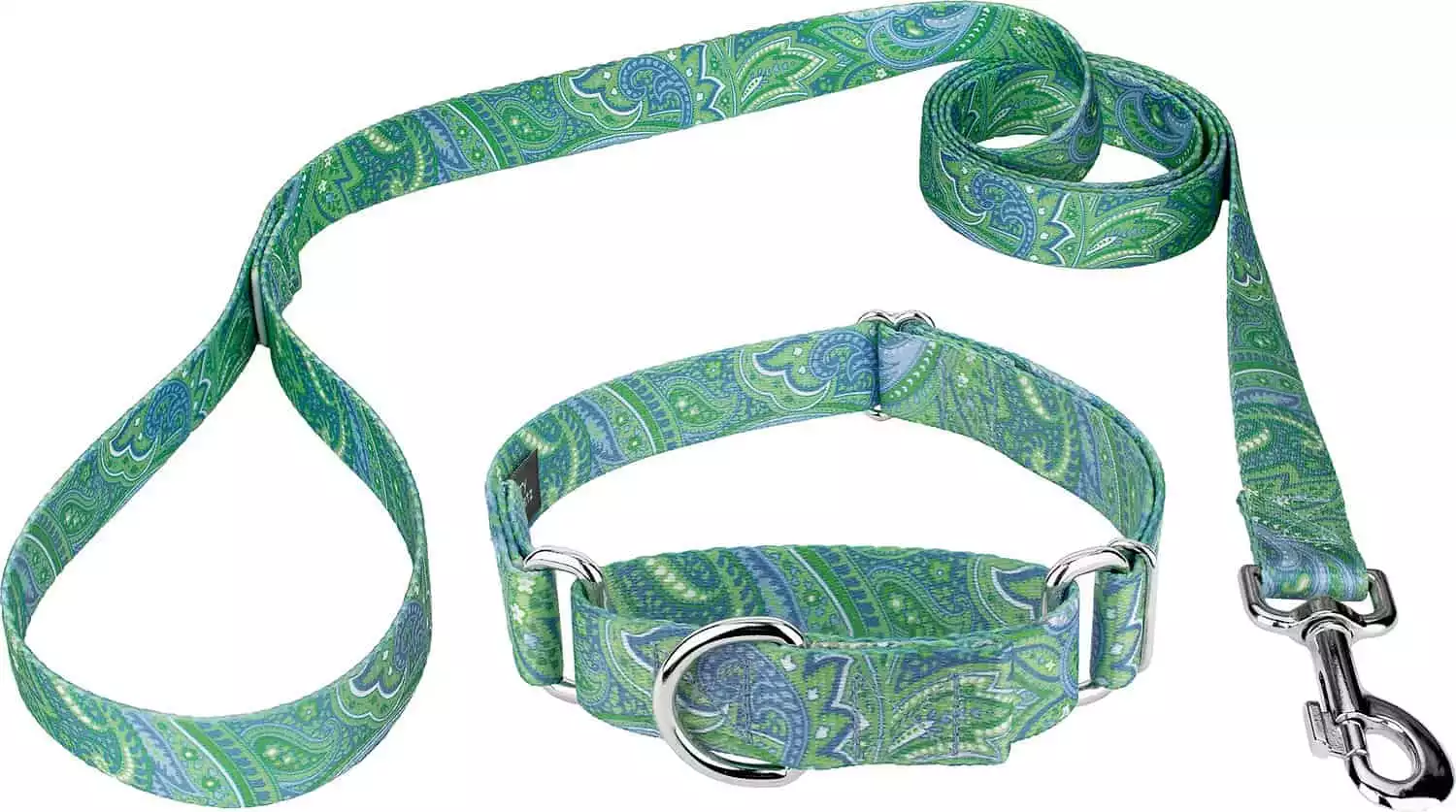 If your French Bully refuses to stop pulling on the lead, you might want to get a Martingale collar like the Country Brook Design Paisley Martingale Dog Collar & Leash.
This training collar comes with a dual-loop design that keeps your pup from slipping out of the collar while also preventing it from pulling. In addition, the limited closure prevents the product from getting too tight around your dog's neck.
Not only is this wonderfully handcrafted collar made in the United States with durable polyester, but each one also comes with a matching leash! This means the next time you take your Frenchie out for a walk, you can rest assured that your pup will be both comfortable and stylish.
What is the best reflective collar?
French Bulldogs are one of the smaller breeds around, and they may not always be visible during nighttime. But, this doesn't mean your dog should not go out at night; it just means you might need to get a reflective collar like the GoTags Personalized Reflective Dog Collar.
Not only does this product come with a reflective strip that reflects headlights, but it may also be a great tool if your Frenchie happens to wander off.
Due to the fact that you can personalize the collar with up to twenty-five characters, dog owners can add their phone number along with the pup's name. A thing to keep in mind is that this collar comes in five different colors, fourteen thread options, and three different adjustable sizes!
What is the best light-up LED Collar?
Illumiseen LED USB Dog Collar
Key Benefits:
Your canine companion will be seen from all angles, even at night

The illuminating strips provide optimal visibility

Comes with a rechargeable battery that provides five hours of illumination, and takes only one hour to charge

Easily adjustable light modes

Well-constructed, sturdy design for long-lasting use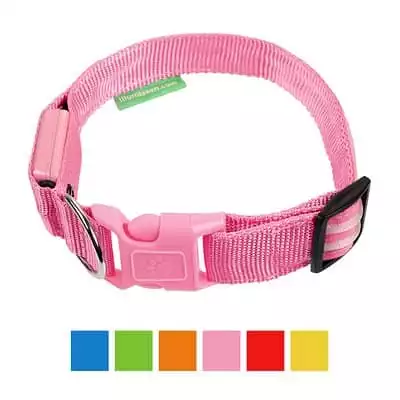 Whether you live in the middle of nowhere or the heart of a big city, there should be no problem taking your pooch for a walk whenever you feel like it.
If a reflective collar doesn't seem to be providing enough visibility for your liking, you might want to opt for the Illumiseen LED USB Rechargeable Dog Collar.
Not only does a one-hour charge provide up to five hours of strong illumination, but you can also choose between slow and rapid flash as well as steady lighting modes. Once you and your pup return from your adventure, you can always easily recharge the collar with a designated USB slot.
What is the best leather dog collar?
OmniPet Leather Dog Collar
Key Benefits:
Made in the United States with high-quality materials, and designed for heavy-duty activity

Each collar is handmade with genuine leather for added comfort, durability, and style

Includes durable nickel-plated hardware that keeps your dog's ID tag safe and sound

Comes in a variety of sizes and colors, with matching leather leashes available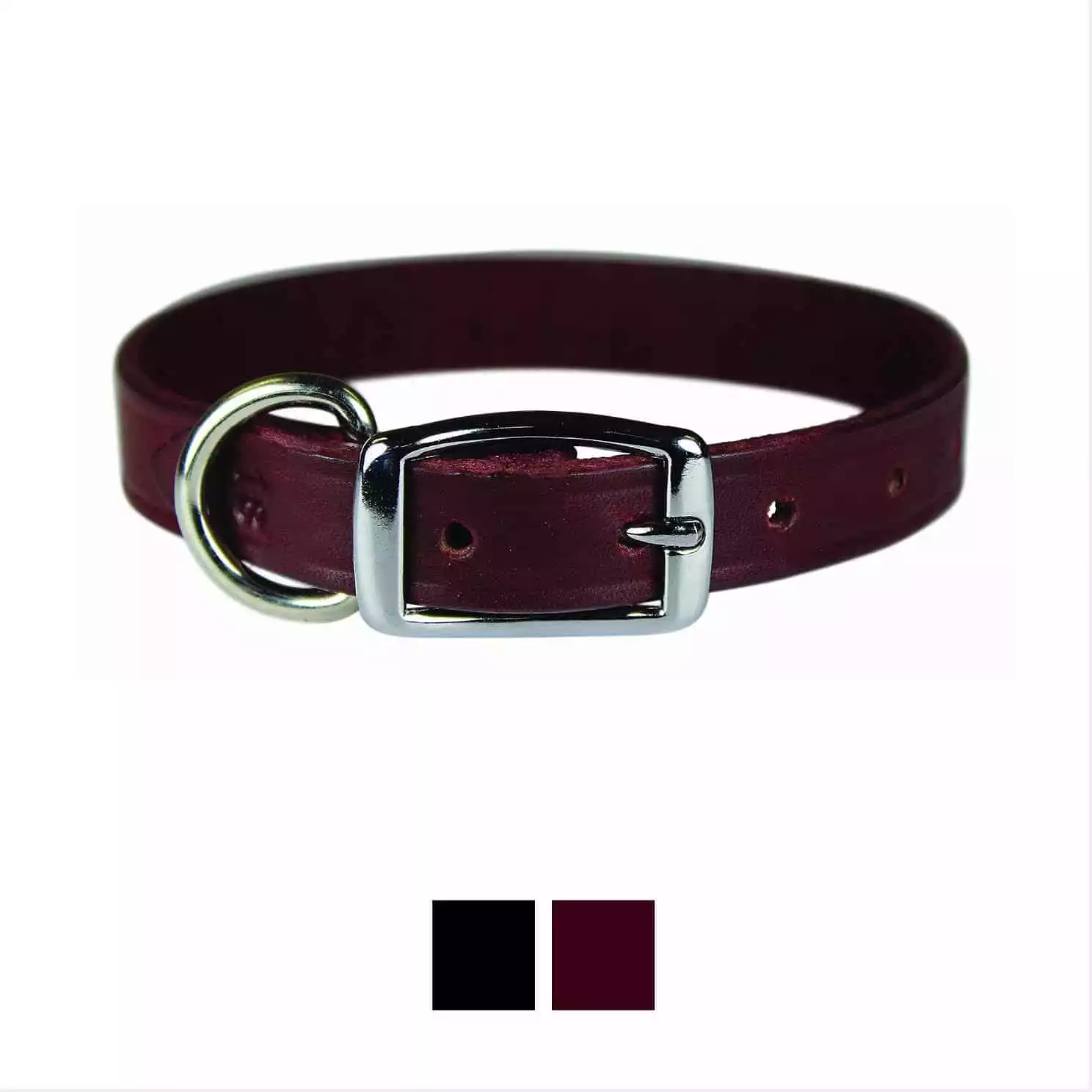 If your French Bully doesn't tolerate polyester or nylon webbing on its collar, then you might want to consider getting a leather one.
The OmniPet Latigo Leather Dog Collar has a classic design that is handcrafted with genuine leather, and it includes nickel-coated hardware for added durability.
Even if your Frenchie tends to pull on the leash, it shouldn't be able to unfasten or break off the collar. It is also worth noting that this product from OmniPet comes in a variety of different sizes and two colors to choose from.
What is the best GPS collar?
Link Activity & Monitor Dog Collar
Key Benefits:
Gives Frenchie owners complete peace of mind by tracking their dog's exact location

Notifies whenever your pup leaves home and tracks it via GPS

Includes a remotely-activated LED light that provides extra safety during nighttime

Comes with remote sound functionality, which allows for quick and effective positive reinforcement training

The durable, impact-resistant housing is waterproof up to three feet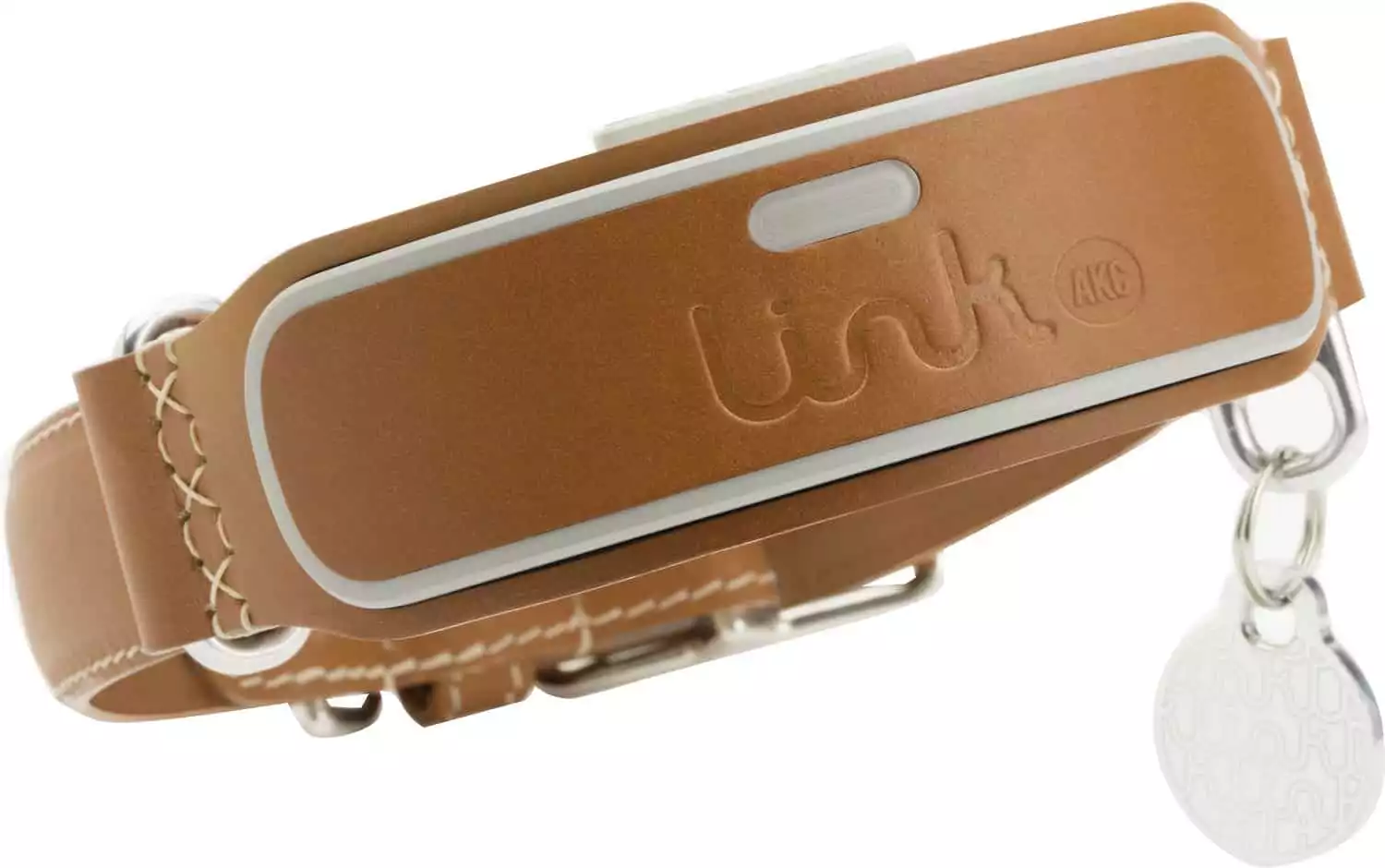 Given the popularity of this breed, it is only natural that you would want to keep track of your precious pup. Not only do these small pooches easily wander off and get lost, but they are also the perfect target for those who want to snatch them away from their owners.
Fortunately, with the Link AKC GPS Activity & Monitor Dog Collar, you don't have to worry about your dog's location since you can keep tabs on it easier than ever!
The best thing about this collar is that you don't have to call the security company or use complicated logins. All you have to do to locate your French Bulldog is tap a few times on your smartphone.
However, you should know that you will also need to purchase a monthly subscription from AT&T along with the collar. This may cost you around ten dollars per month.
Best collar for a French Bulldog puppy
Sassy Dog Multi Stripe Collar
Key Benefits:
The stripes add some adorable style to your pet dog's everyday look

Made with sturdy nylon webbing

Features a quick-release buckle that allows for easy on/off

Comes with a D-ring, which allows for secure leash attachment

Comes in a variety of sizes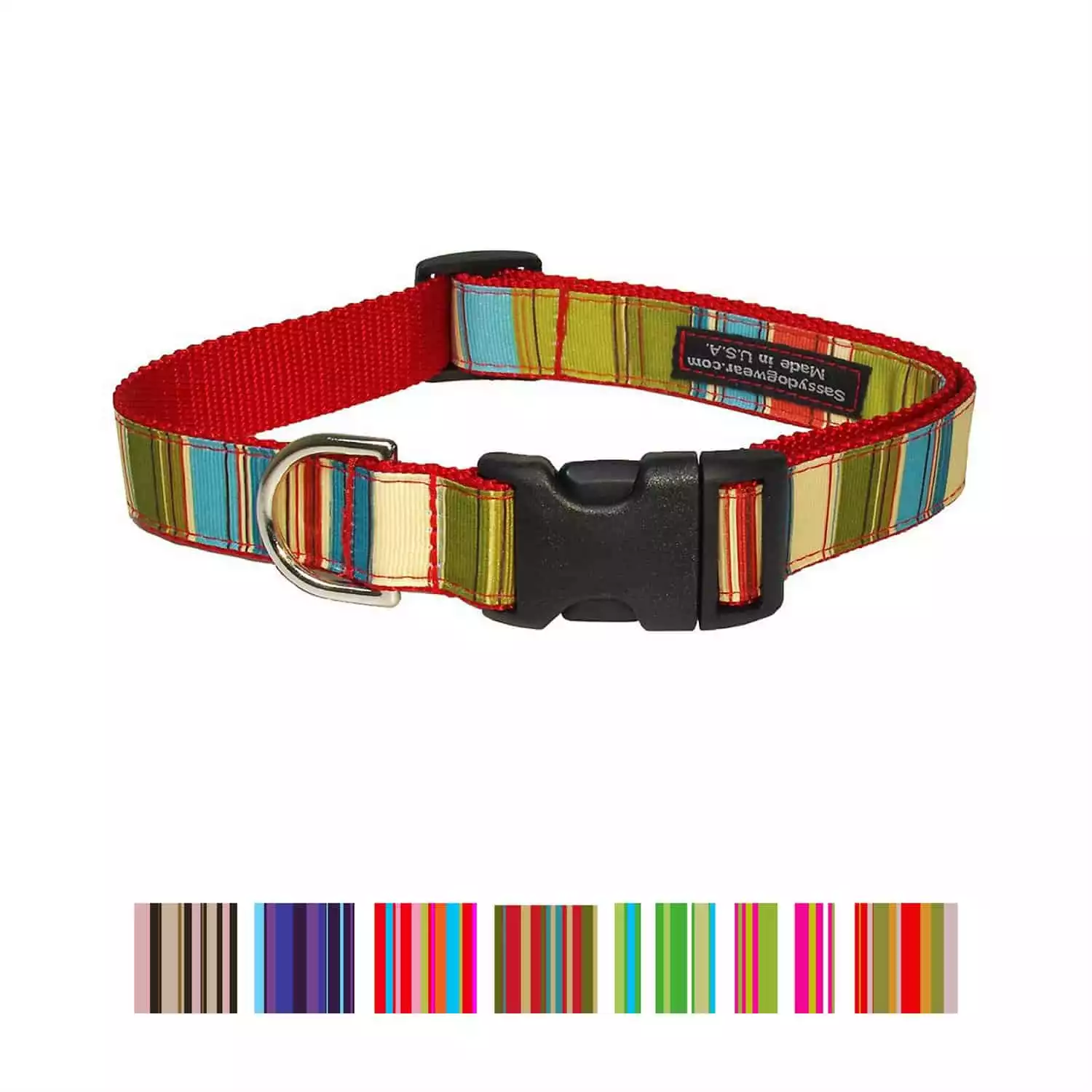 On our best collars for French Bulldogs list, we highlighted some of the best collars you can find on the market. However, just because these collars are great for adult French Bulldogs doesn't mean they are a good option for a growing puppy.
But, don't worry… we got that covered, too! The Sassy Dog Wear Multi Stripe Dog Collar may be an excellent choice for growing Frenchies.
With tough, non-irritating nylon webbing that is built to last, this product from Sassy Dog is designed to withstand the playful nature of a young French Bully. In addition to being handcrafted in the United States, the collar also comes in a variety of different sizes and colors for you to choose from!
What is the best dog harness for French Bulldogs?
Chai's Choice Front Clip Harness
Key Benefits:
Comes with a three-meter long reflective material making it perfect for nighttime strolls

Has padded chest and belly straps

The built-in handle on top is perfect for buckling dogs into the car for safer and easier road trips

The leash can be attached to the O-ring on the chest

Comes with easily adjustable straps

Available in nine colors and a variety of sizes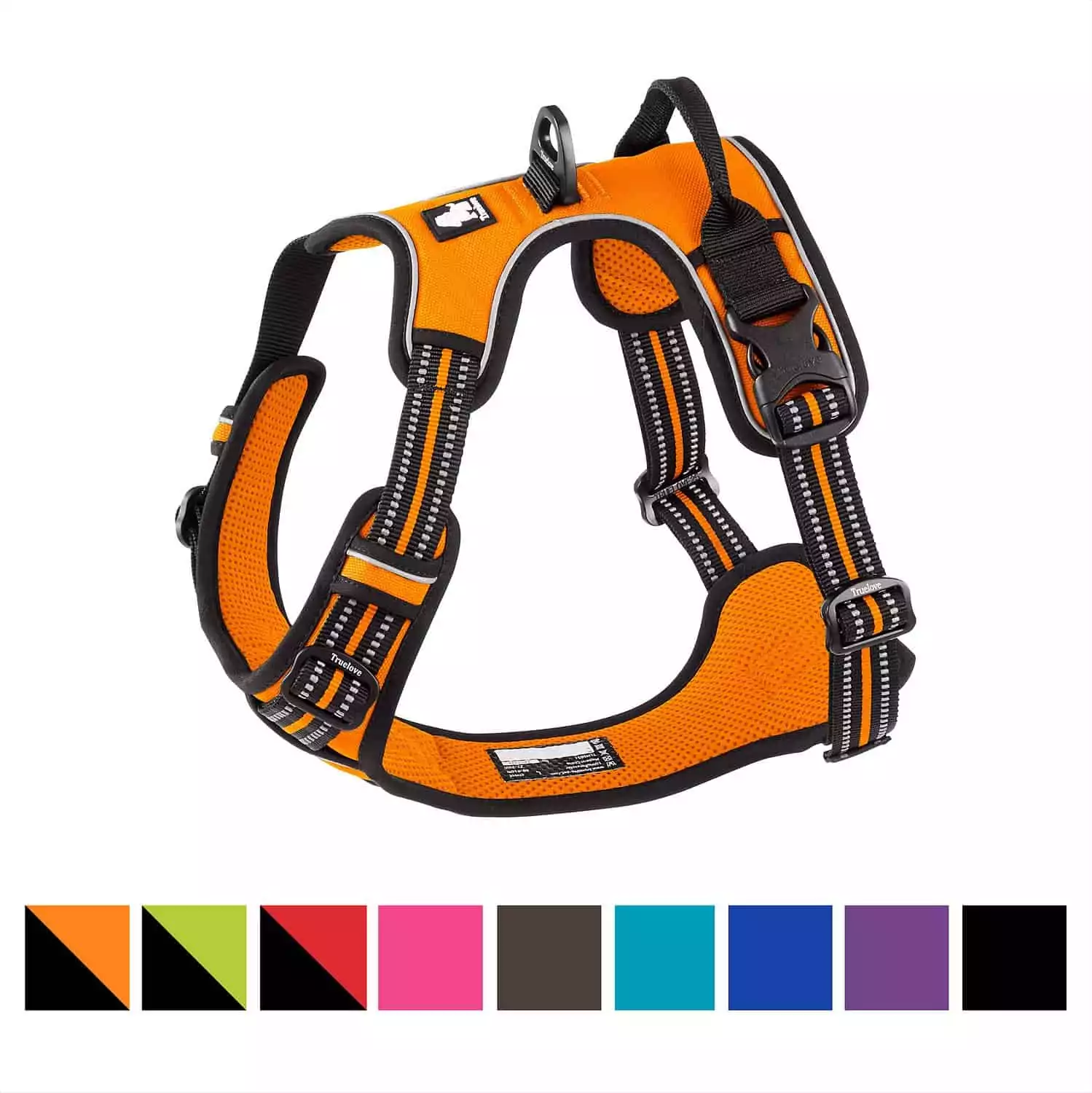 The Chai's Choice Premium Outdoor Adventure 3M Polyester Reflective Front Clip Dog Harness is available in a range of neon colors, and it has a reflective trim throughout. For added durability, this French Bulldog harness utilizes a few different materials.
The outer layer is made from Oxford material that has a high tensile strength rating, and is also scratch resistant. Additionally, nylon webbing is used for the chest and steps portion.
To keep your pooch cool during hot summer days, the inner layer of the harness is made from breathable nylon mesh, and it is accompanied by light neoprene padding.
The harness is fully adjustable, and it comes with zinc alloy rings. And, on top of all this, there is even a handle strap that can be used as a seat belt loop for safer car rides.
What is the best harness for a French Bulldog puppy?
Puppia Back Clip Dog Harness
Key Benefits:
Features an adjustable chest belt with a quick-release buckle

Comes with soft air-mesh padding for superior comfort

Made from 100% polyester

Durable and lightweight enough for dogs of all shapes and sizes

Comes in a variety of stylish colors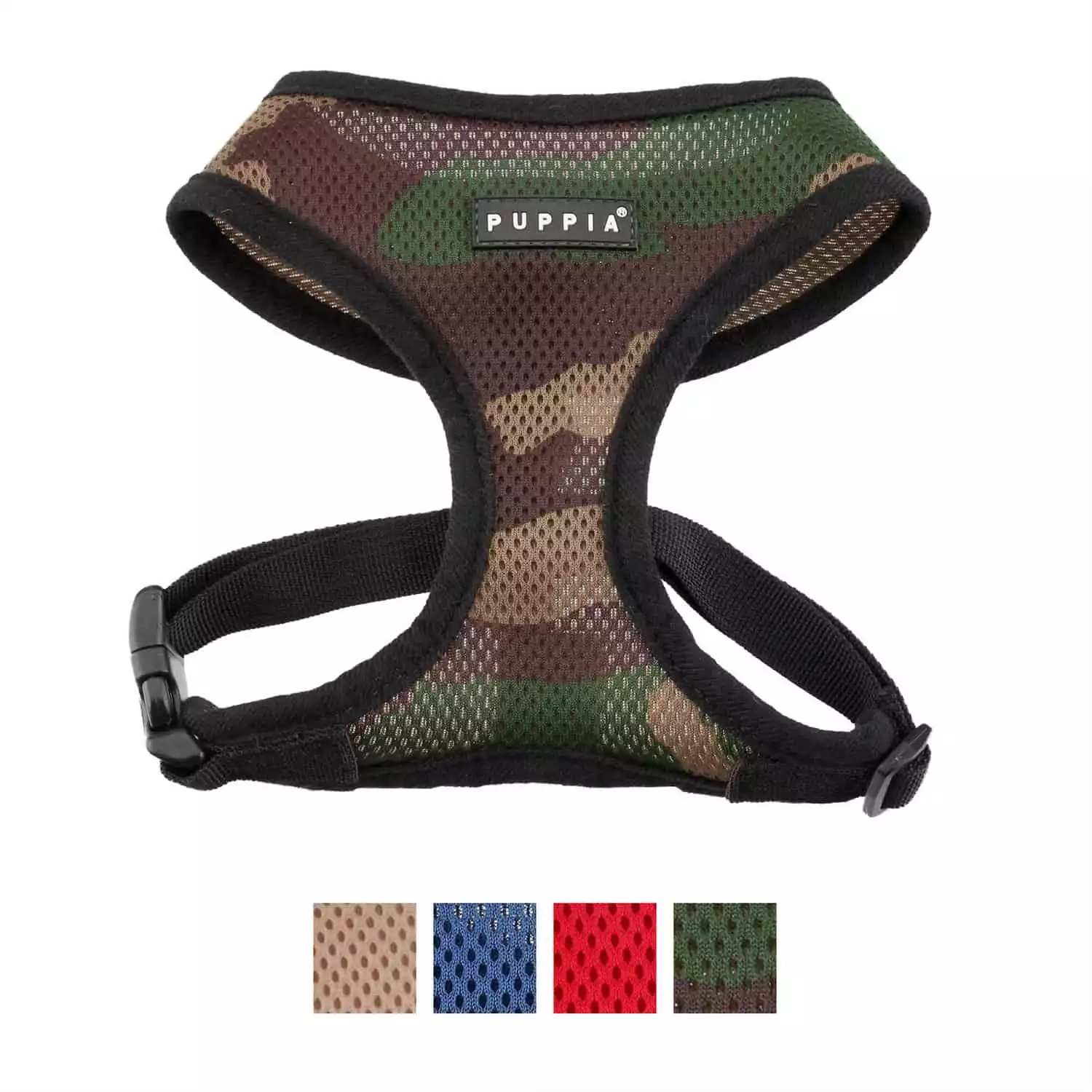 The Puppia Black Trim Polyester Back Clip Dog Harness has an elegant design that is perfect for French Bulldog puppies. It is a no-pull harness that doesn't come with any uncomfortable neck straps.
Instead, this puppy product features a wide chest piece made from Oxford cloth. It also comes with a mesh inner lining to prevent overheating and chafing.
The straps that go around your pup's body are made from strong nylon webbing with reinforced seams throughout.
The harness is designed for easy attachment, and it is available in numerous reflective colors for visibility.
Best dog collars for French Bulldogs: what types are there?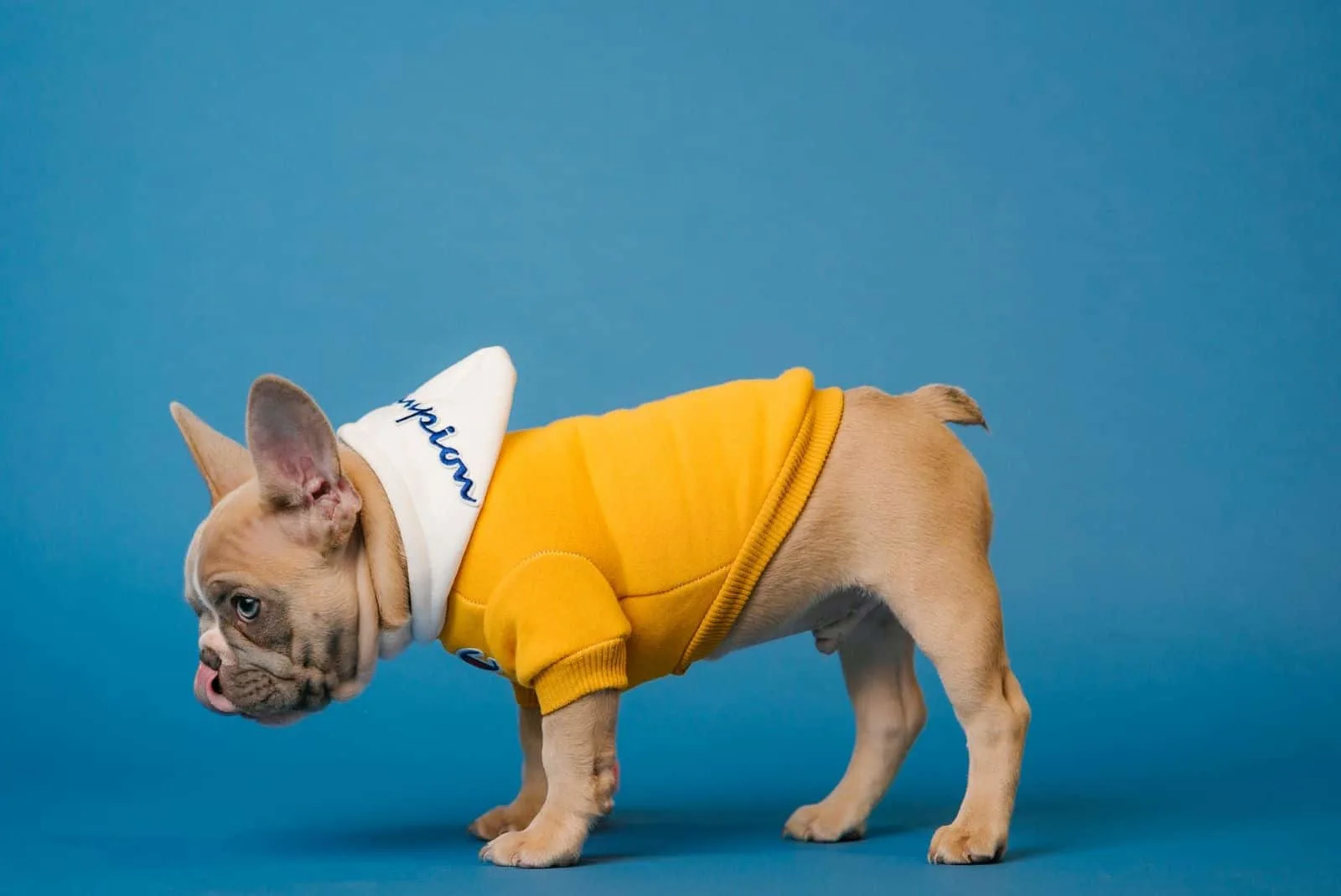 There are a few different options when it comes to buying a dog collar for your pup, and each of them has its place in dog training and walking.
Apart from aesthetic quality, collars have practical qualities, too. This means that both style and type will be two of the determining factors when it comes to picking out the right collar for your precious pooch!
Flat collar
This is your standard type of collar, and every dog owner should have at least one. For the vast majority of well-behaved dogs, the flat collar is the only type you need.
It just as well may be the only type of collar you will ever need if your dog doesn't pull or if you have a harness that you think will be beneficial for longer walks.
This type of collar comes in many styles, and it is made from many different materials. The most popular ones are leather collars and nylon collars.
Flat collars can also have funky prints, be studded with jewels, or even allow you to attach a bow-tie or some other novelty for special occasions like birthdays or Christmas.
Safety collars
Safety collars are quite similar to flat collars in appearance and functionality. The only thing that is different with safety collars is that they have a quick-release buckle that can be triggered in an emergency.
You might think that this is a bit over the top, but consider the situation where your dog is pinned to the ground by its collar during play. Or, even worse… your Frenchie shoots off and gets caught around a moving object.
If these situations occur, you can quickly grab the collar and pull the quick release buckle to detach it from your dog's neck and prevent choking.
Headcollar
This type of collar slips over your Frenchie's snout, and it works by the principle that where your pup's head goes, its body is sure to follow.
Headcollars are not advisable for prolonged use, and there aren't many French Bulldogs that would benefit from this type of collar.
However, some dogs find headcollars comforting. This is usually the case when the dog hates collars that go around its neck. So, if you are struggling with putting different types of collars on your pup's neck, you might consider trying a headcollar!
Just keep in mind that when you are using one of these collars, you should never jerk the lead as you would directly shake your French Bulldog's head.
Slip lead/choke chain
These are highly controversial, and we doubt a French Bully would ever need one. Slip leads and choke chains essentially act as a noose – the more your dog pulls, the more they tighten around its throat.
This can lead to dangerous situations, and these leads are only suggested for correcting dogs that have been mistreated or improperly trained. For instance, dogs that are rescued from abusive owners might need to be put on a choke chain to learn how to properly behave while walking.
With that said, there is a chance that your Frenchie is over-eager on the lead and you might think that a choke chain is a solution. However, in the majority of these situations, it is better to turn to a Martingale lead first.
Choke collars are designed to close in on your pup's neck whenever they pull on their lead. In all honesty, this is a terrible idea, especially for brachycephalic breeds such as French and English Bulldogs, Boxers, Pugs, Pekingese, and many others.
GPS and tracking collar
GPS leads (or smart collars, as they are also referred to) are trackable by using GPS technology. This means you can track your French Bulldog by using software installed on your smartphone, PC, or Mac.
GPS tracking collars have quickly become cheaper, more effective, and more reliable, and they don't have many downsides to them. Being able to track an escaped or stolen dog is a wonderful asset that provides peace of mind for French Bulldog owners as they are able to track down their pets before they get too far.
Martingale collar/lead
Martingale leads are slowly but surely replacing choke chains, which we think is great! They are relatively safe, and are somewhere between traditional flat collars and slip leads or choke chains.
Note that Martingale collars also have the slip function and will close in around your dog's neck when it pulls, but the main difference is that these collars have a built-in limitation that prevents the lead from actually choking the dog.
However, the collar needs to be properly adjusted in order to cause only slight discomfort to the dog and not choking or pain. With all things considered, Martingale leads and collars can help discourage barking and pulling when used patiently and carefully.
What do you look for when buying a collar for a French Bulldog?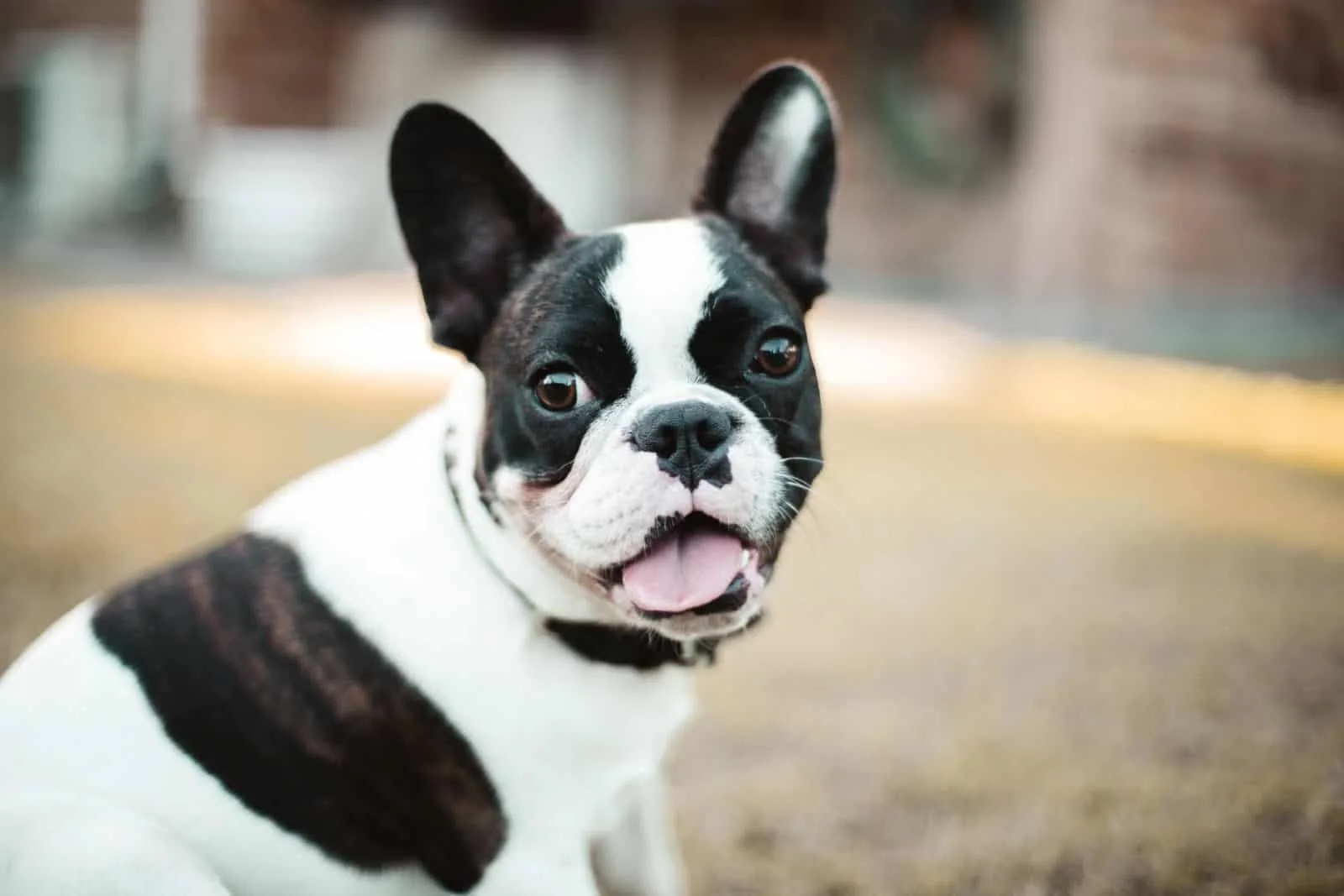 Although some collars might have a similar appearance, you should know that not all collars are the same. Unfortunately, this can be a problem if you aren't careful as you may end up wasting money on a collar that is breakable or uncomfortable for your pup.
The best way to find the right collar for your pooch is by understanding the specific traits that make up a good collar. Whether you have a large dog breed like a Pitbull, a Golden Retriever, or a Great Dane – or a small one such as a Chihuahua or a Pug, you should always aim to get a durable collar.
We know it can be challenging to determine a product's lifespan before purchasing and actually using it, but what you can do is look at the materials used in making it. In most cases, the more durable collars are made from sturdy polyester or non-abrasive nylon. Additionally, you can look for collars that the manufacturer specifies were handcrafted or handmade.
Another thing to consider is adjustability. Even if a dog collar claims to be your French Bulldog's size, it doesn't necessarily mean that it will be the perfect fit. In most cases, it will need some adjustment.
So, the more adjustable the collar is, the more room you will have to maneuver when putting it on your pup's neck. If your pooch is still growing, then choosing an adjustable collar has even more merit to it. Also, keep in mind that collars with multiple straps or sliders tend to be more adjustable than the ones that have neither.
Last, but certainly not least, comfort should always be a consideration when shopping for a collar for your dog. Even if you purchase a highly durable and adjustable collar, it won't make much of a difference if your pup can't stand to wear it.
In some cases, it can be difficult to know which materials will irritate your pup's skin; therefore, you can try looking for collars that use leather or soft padding on the interior. Keep in mind that if a certain collar causes matting or leaves bald spots on your pup's fur, it is probably uncomfortable for your Frenchie to wear.
Can French Bulldogs wear collars?
Generally speaking, collars are never a bad idea for any dog breed. There are several different types to choose from; many with pros and cons.
A well-fitting collar will not only provide an excellent place for your dog's name tags, but will also make your pooch look dashing!
But, the problem can come when the collar is too tight or when all of your walks are done by using the collar and a lead/leash. French
Bulldogs are a brachycephalic dog breed, meaning they have short snouts.
Due to the restriction of the airflow caused by their short-nosed skull, respiratory problems are quite common in these dogs.
An elongated soft palate and stenotic nares (narrowed nostrils) are also some of the problems that these dogs face. On top of brachycephalic airway syndrome, these pups can suffer from other respiratory issues, such as frequent wheezing and snoring, which you might already be familiar with.
We will cover more about the implications of this on walking your Frenchie in the next section. But, before we continue, it is worth noting that collars are completely fine for well-trained Frenchies and day-to-day usage. But, if your French Bully tends to pull on the leash while walking, you might want to opt for a harness.
Should a French Bulldog wear a harness or a collar?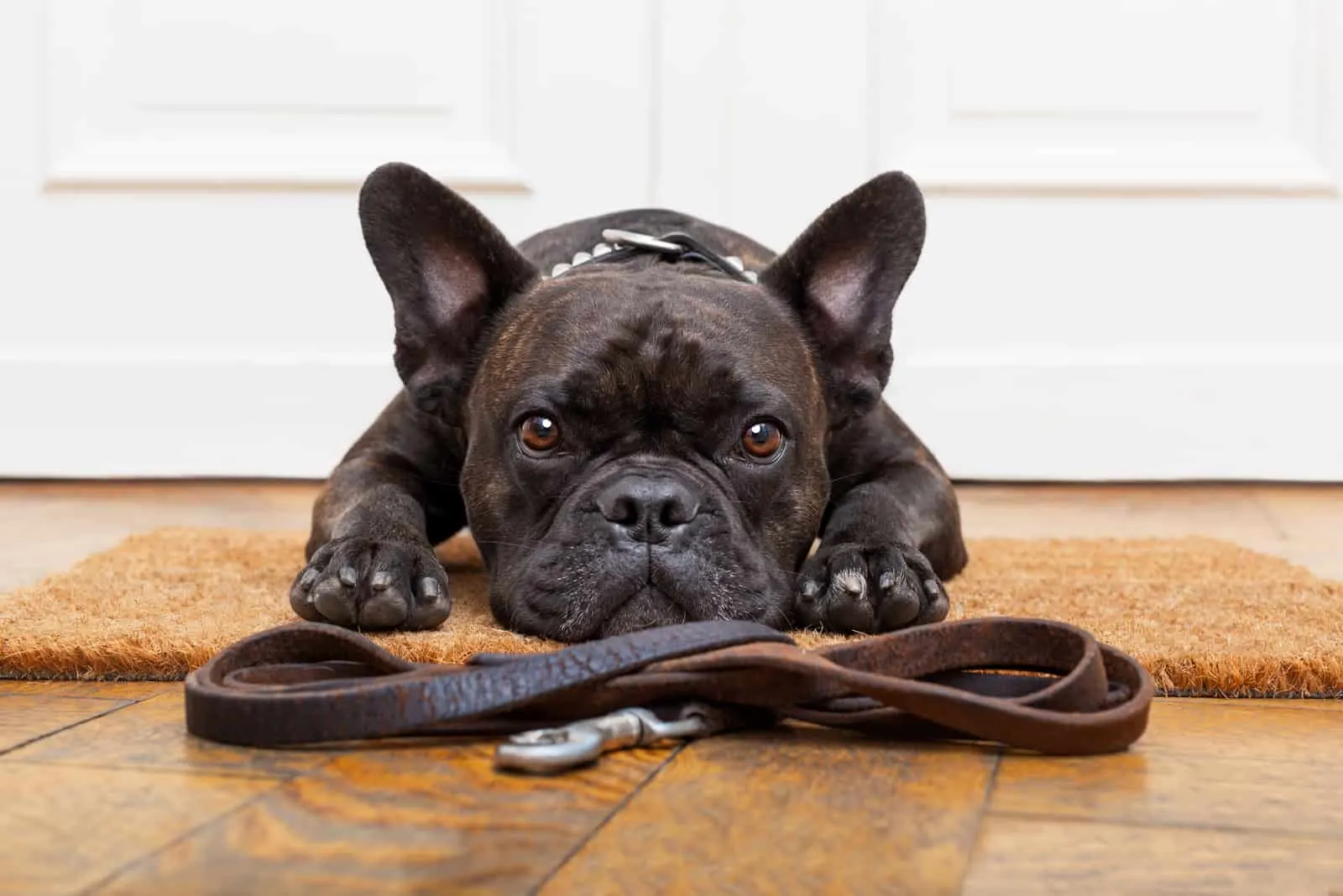 In short, many dog owners choose to use both dog harnesses and collars for their French Bulldog pets. Collars are great for everyday use, for storing a dog's name tag, and for pups that behave well and don't pull on the leash.
However, when on a leash, many dogs regardless of the breed tend to pull. This can be tiresome and quite difficult to fix, but with a combination of patience, proper training, and a well-designed harness, nothing is impossible!
Excessive pulling on their lead while wearing a dog collar can cause serious damage to your Frenchie's throat, including trachea collapse.
This is particularly dangerous for a French Bully where restrictions of the airway can be a huge issue.
So, keep in mind that you must not put pressure on your Frenchie's throat, particularly if it tends to pull on their lead. And, even though it is fine to put on a collar and lead for a short toilet trip, for longer walks, we would suggest wearing a harness as it reduces the risks and is much safer for your four-legged friend.
Frequently asked questions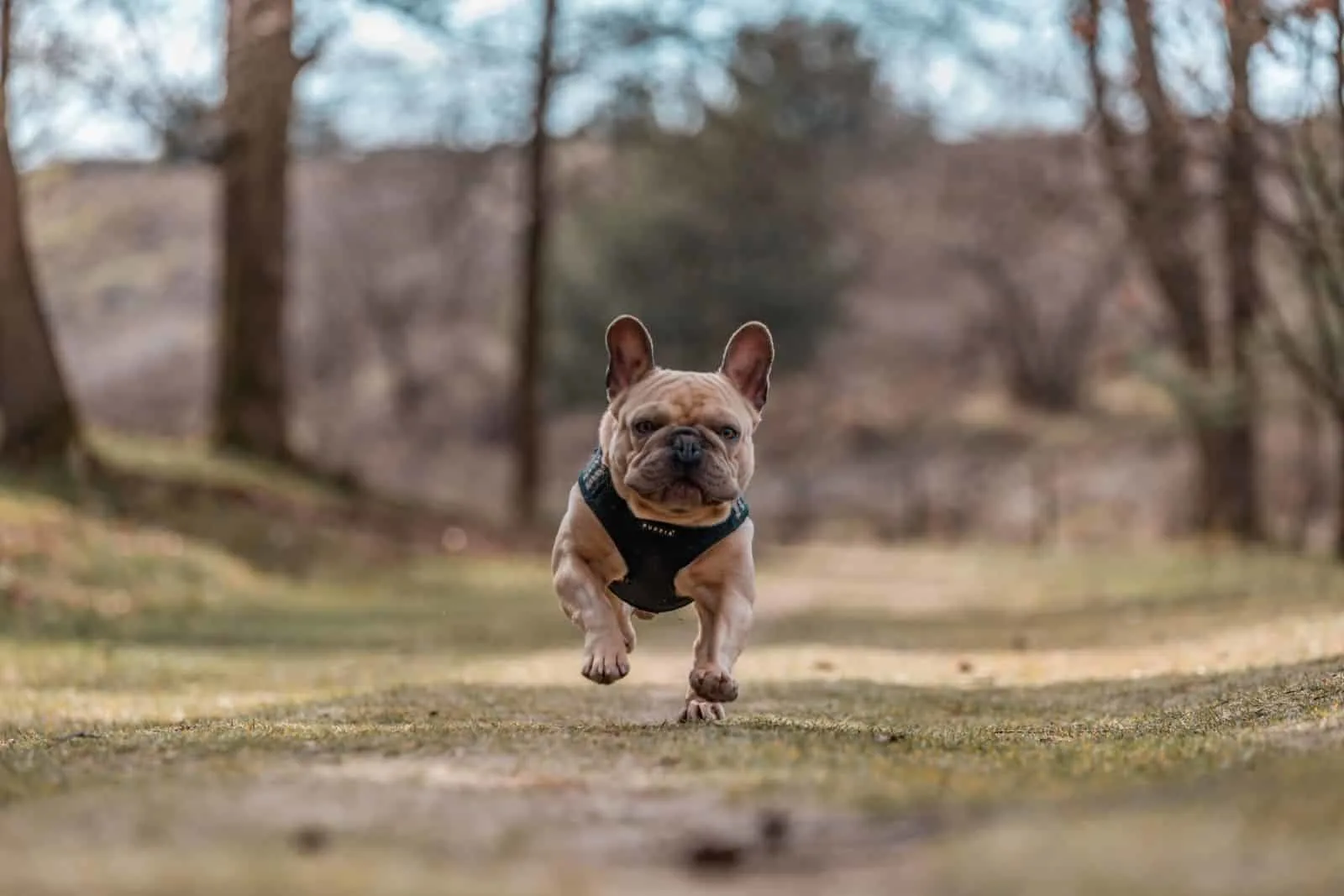 What size of collar should I purchase for an adult French Bulldog?
Unlike an American or an English Bulldog, the French Bulldog has quite a slim neck compared to its foreign counterparts. Generally speaking, most adult Frenchies will have a neck size between twelve and sixteen inches when fully grown.
Because of this, you should aim to get a small- or medium-sized collar, but make sure to double-check the sizing chart before you purchase.
Since every brand has slightly different size charts, your Frenchie may wear a medium-sized collar in one product and a small one in another.
Is it legally required for a French Bulldog to wear a collar in public?
Even though it is usually not a legal requirement for small dog breeds like French Bulldogs to be collared outside of your back yard, you should check with a local official before you take your pup out for a walk.
This is simply because local governments are usually the ones that make dog-related laws rather than state or federal governments, and they may be able to give you more information.
Also, in case of travel plans, before making the trip, make sure to call your destination's local government and ask about specific collar or leash laws.
What size collar does a French Bulldog puppy need?
Generally speaking, a French Bulldog puppy will need an extra-small or small collar, but this depends on the dog's age.
The best way to know which size will best suit your Frenchie puppy is to measure its neck and compare it to the sizing chart of the brand you are interested in.
Note that an adjustable collar might be a wise choice so you don't have to replace the collar as your furry friend grows.
How do I know if the collar is too tight on my Frenchie's neck?
Some dog owners don't know this, but the best way to check if a collar is too tight on your dog's neck is to try sliding two fingers underneath the collar. If you are unable to slide your fingers between the collar and the dog's neck, the collar is too tight for the pup.
On the other hand, if you can easily slide two or more fingers underneath the collar, you might want to make it a little tighter if it is an adjustable one, or get a smaller sized collar otherwise.
Conclusion
French Bulldogs are as equally adorable as they are stubborn. These dogs are not likely to pull hard on the lead to cause any significant issues, and when trained properly, they will remember to accept collars and walk nicely.
Frenchies are one of those breeds you might want to indulge with a cool lead. If you opt for a collar and a lead, make sure to place comfort and fit first. Always remember – safety first, fashion later!
We hope that our Best Collars for French Bulldogs guide gave you a clear picture of what you should look for when buying a collar or a harness for this breed. The key thing to remember is to measure your Frenchie's neck and pay special attention to it when out walking.