So, you've decided to get yourself a cute little Dobie puppy, but you don't know exactly where to look? Well, it's a good thing you came to Pupvine, because we are bringing you a list of the most esteemed and reputable Doberman breeders in Minnesota.
Due to their portrayal in the media, Doberman Pinschers frequently get a poor rap for being "vicious" or "nasty," when in fact they are the complete opposite. Dobermans get along well with children and families, are outgoing around new people, playful, and tolerant of environmental changes.
Doberman Pinschers were utilized as therapy dogs, search and rescue dogs, and other kinds of service dogs when this breed was first developed. On a brighter note, they are excellent competitors in a variety of dog sports.
These Doberman breeders in Minnesota know this, and they put a lot of effort into raising their pups the right way in an attempt to get rid of the stigma. There are no puppy mills or similar organizations on this list.
Doberman Puppies For Sale In Minnesota
The most crucial step in selecting a Doberman puppy is choosing the most reputable breeder, and that can sometimes seem like a daunting task.
There are numerous Doberman breeders in Minnesota, the majority of whom hold AKC certification, so we have put together a list of the top Doberman breeders in Minnesota, in order to make your search as easy as possible,
We have thoroughly researched each breeder and found that they are committed to producing happy and healthy Doberman Pinscher puppies who are ready to leave for their new forever homes.
To find the ideal puppy for you, look through our selection of Doberman breeders in Minnesota.
1. Roxy's Dobermans — Jordan, MN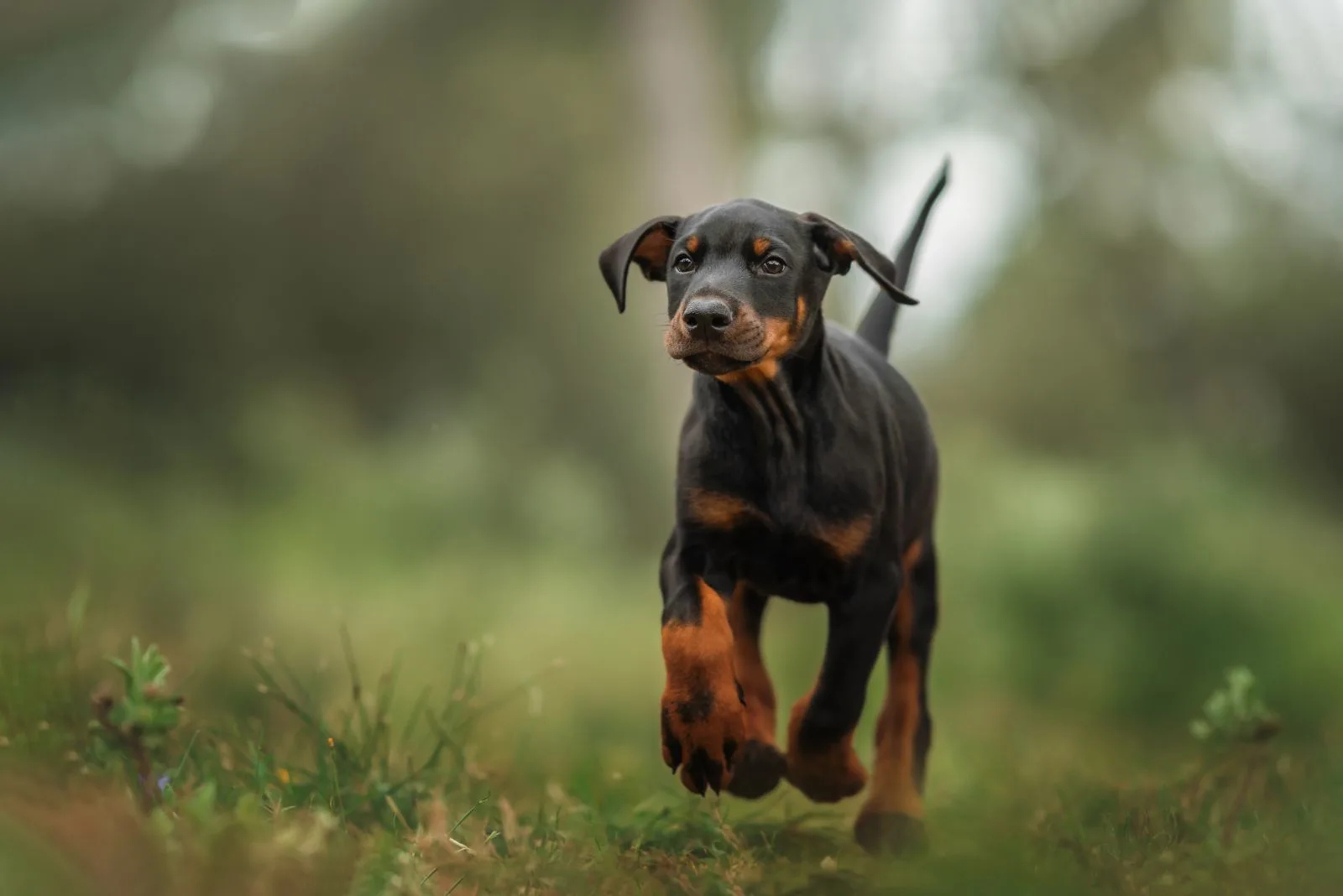 The aim of this Roxy's Dobermans is to make sure that every puppy is given to a caring family. Each of their puppies is assured to have the following items: AKC registration papers, dew claws, docked tails, required vaccinations, deworming, and for an extra fee, you can have your puppy's ears cropped.
Additionally, they can make every dog adapt to the family-style environment needed for a puppy because they have four children in the house, and they are all puppy lovers who socialize with them from a young age.
Numerous reviews on the internet speak to the wonderful interactions these delighted puppy owners had with Roxy's Dobermans.
Roxy's Dobermans Contact Info
Website: Roxy's Dobermans
Phone: 952-594-2872
Address: 788 Copper CT, Jordan, MN 55352, United States
2. Oak Ridge Dobermans — Rushmore, MN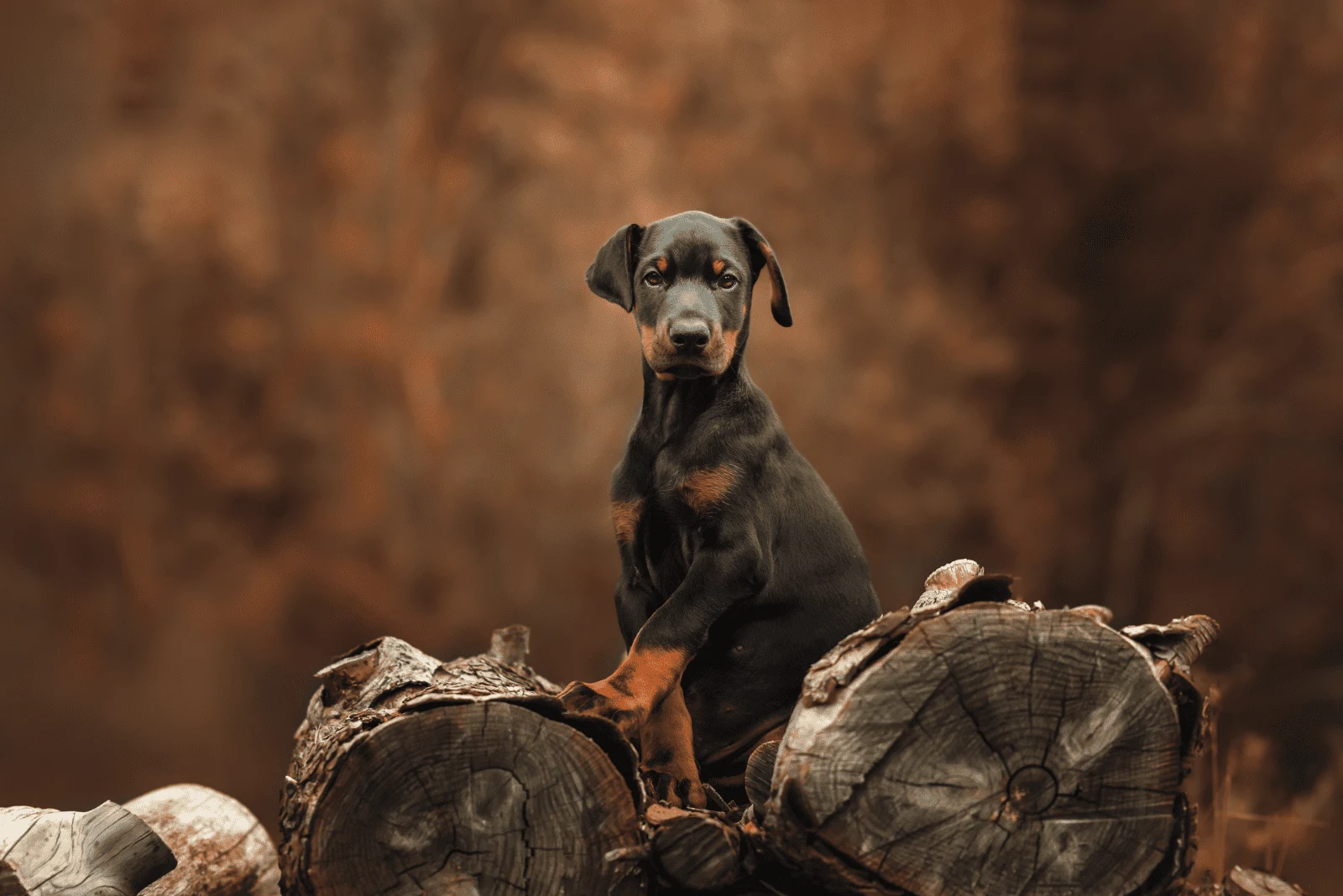 The goal at Oak Ridge Dobermans is to grow the best puppies possible and bring them up to the highest standards. Their puppies are smart, athletic, kind, and devoted.
Over the past 30 years, they have won a number of awards based on their breeding practices.
All of the family members at Oak Ridge are always there for the little Dobies, to hold, pet, and cuddle them as much as they need. They are truly considered family members at this estate.
On the weekends, they take them for a walk in the park, where they can play around and interact with other puppies, making them more sociable and accustomed to the company of other animals.
Up until they receive a license from the American Kennel Club Limited Registration Department, their puppies are permitted for general use.
Oak Ridge Contact Info
Facebook: Oak Ridge Dobermans
Email: [email protected]
Phone: 507-421-3207
3. Northland Dobermans — Evansville, MN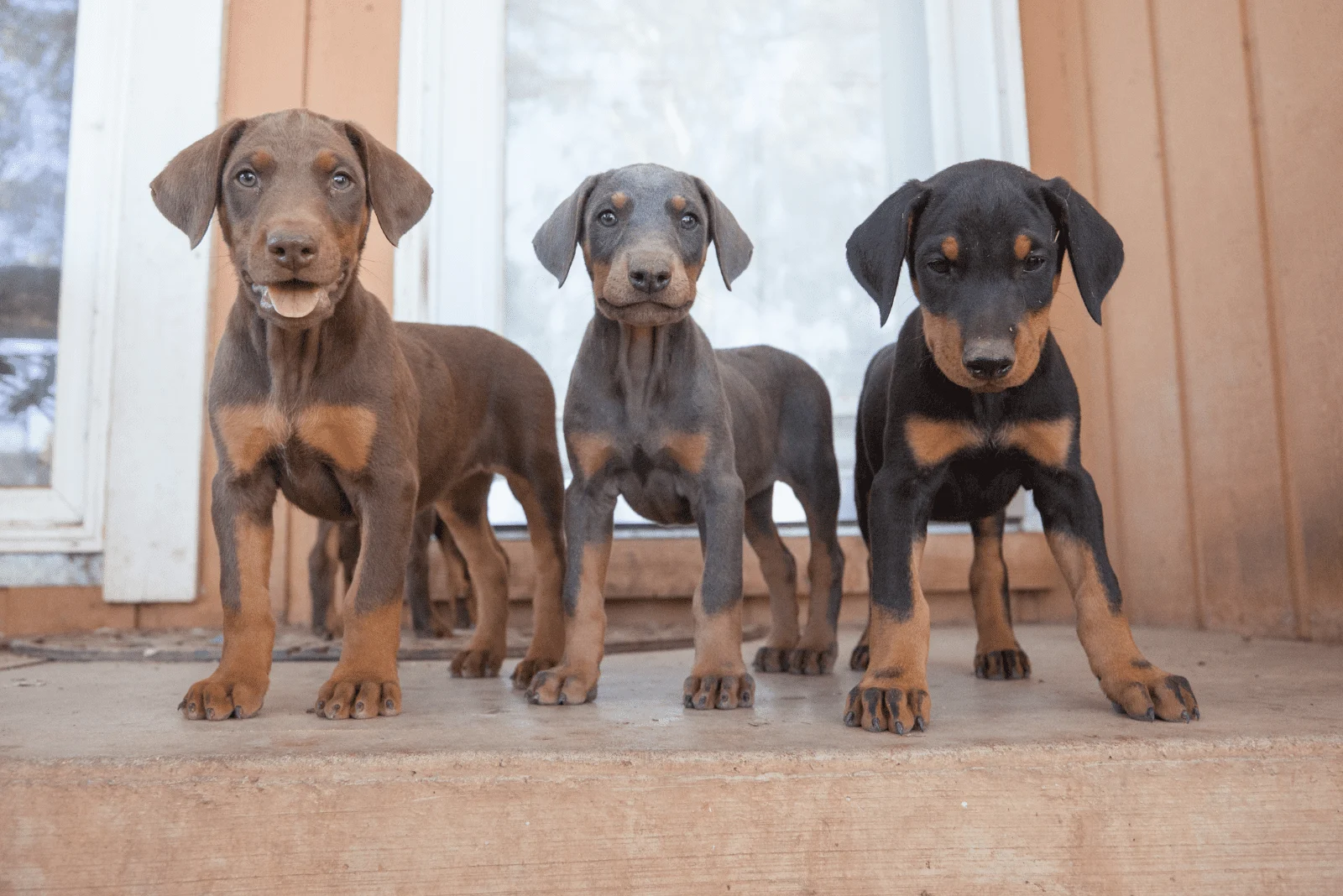 The breeder in Evansville strives to produce the greatest and smartest family dogs in the region.
Their kennel works to breed the best family and working dogs, as well as dogs that are stunningly beautiful and elegant enough to turn heads. They only use sires and dams with the best bloodlines, whether they find them locally or in Europe or South America.
Related reading: European Doberman Breeders: Who They Are And Where To Find Them
They give extra attention to the health of their Doberman Pinschers, which is why they are confident enough to offer a two-year congenital health guarantee.
Northland Dobermans Contact Info
Website: Northland Dobermans
Phone: 320-766-1255
Address: 435 State St NW, PO Box 157 Evansville, MN 56326, United States
4. Front Street Dobies — Claremont, MN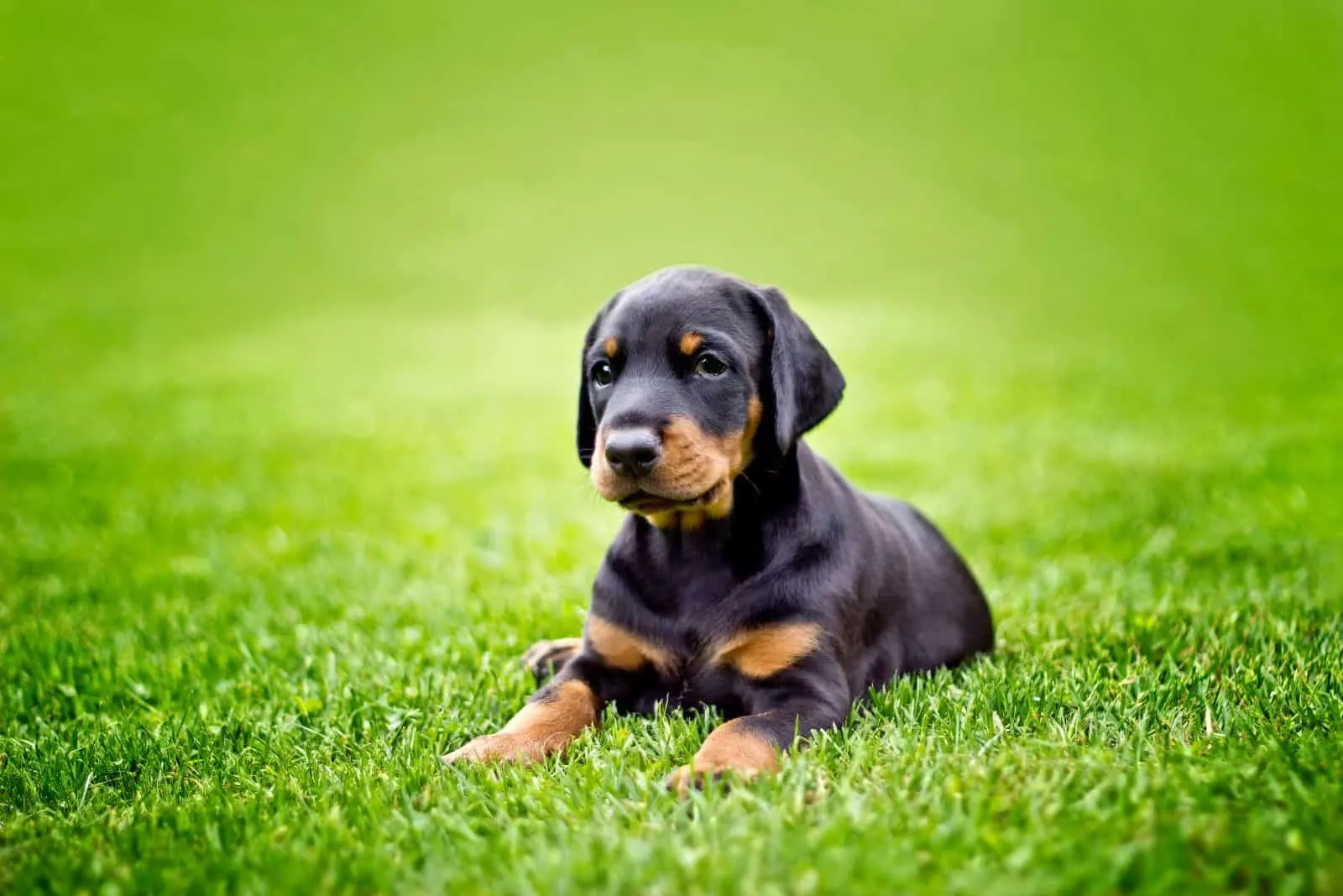 Twenty years have passed since Front Street Dobies first started breeding dogs, and this massive experience has made them really good at their job.
All of their Doberman puppies come out with an outgoing personality and an attitude that suggests they want to become their new family's companion and guardian.
Their goal is to nurture and produce dogs with sound temperaments that can fulfill the needs of their owners. Dobies need to move around and walk a lot as puppies in order to exercise their bodies and expend their energy.
They don't like being constantly restrained, and this breeder allows them enough freedom to flourish.
Front Street Dobies Contact Info
Website: Front Street Dobies
Phone: 507-460-2668
Address: 140 E Front St, Claremont, MN 55924, United States
5. Rockhill Dobermans — Caledonia, MN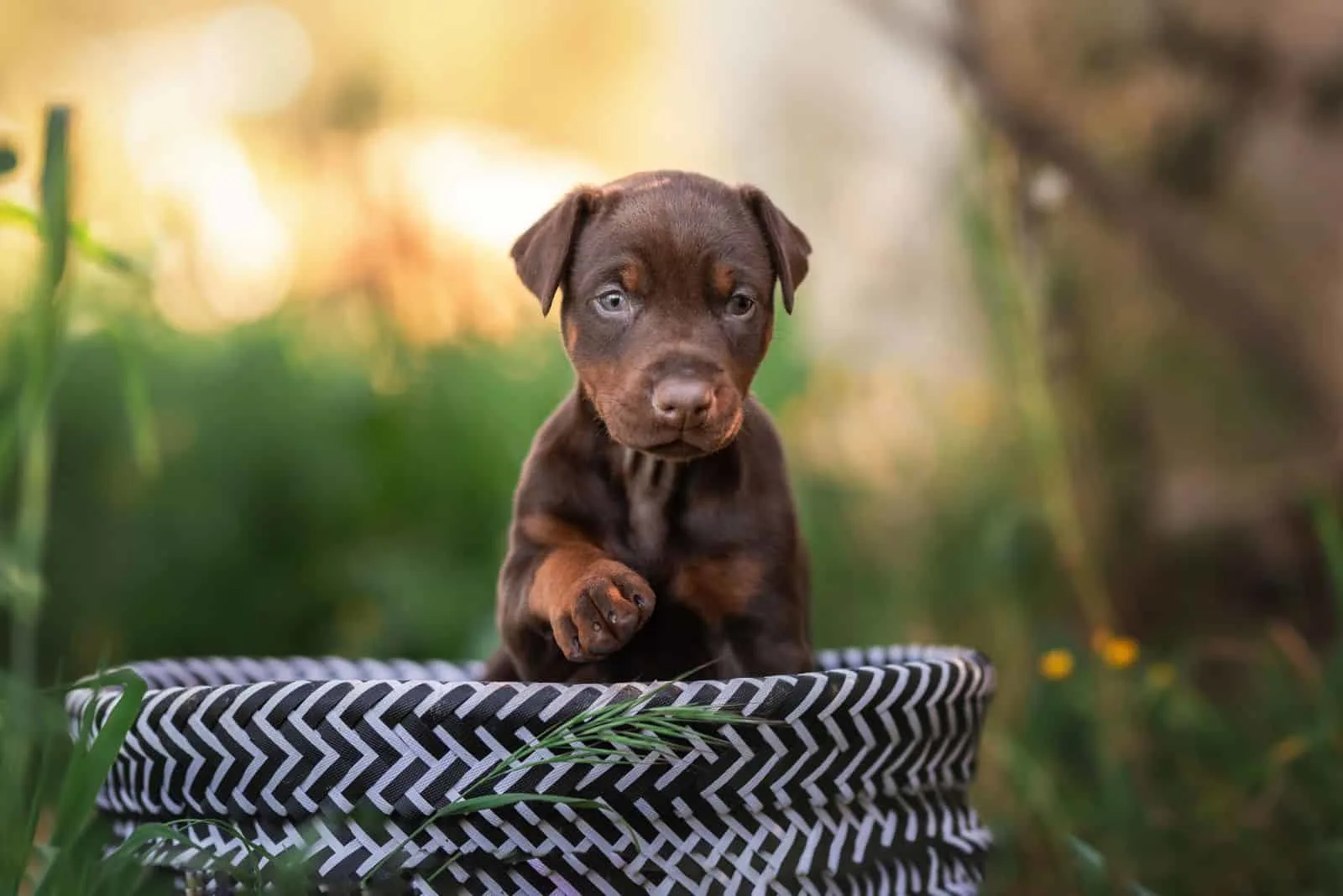 You can be confident that these puppies were raised with affection at the Caledonia-based Rockhill Dobermans breeding facility.
Rockhill Dobermans' owner Linda Vinson has won numerous accolades for her ethical and responsible breeding methods.
She has received two awards, the "AKC Breeder with H.E.A.R.T." award and the "Good Dogs Responsible Breeder Program," both of which demonstrate her sincere affection and love for these puppies.
You can get in touch with Linda and ask her any questions you may have via Facebook and email, or by calling her at the phone number provided below.
Rockhill Dobermans Contact Info
Facebook: Rockhill Dobermans
Email: [email protected]
Phone: 507-450-1715
6. Taylor Made Dobermans — St. Paul, MN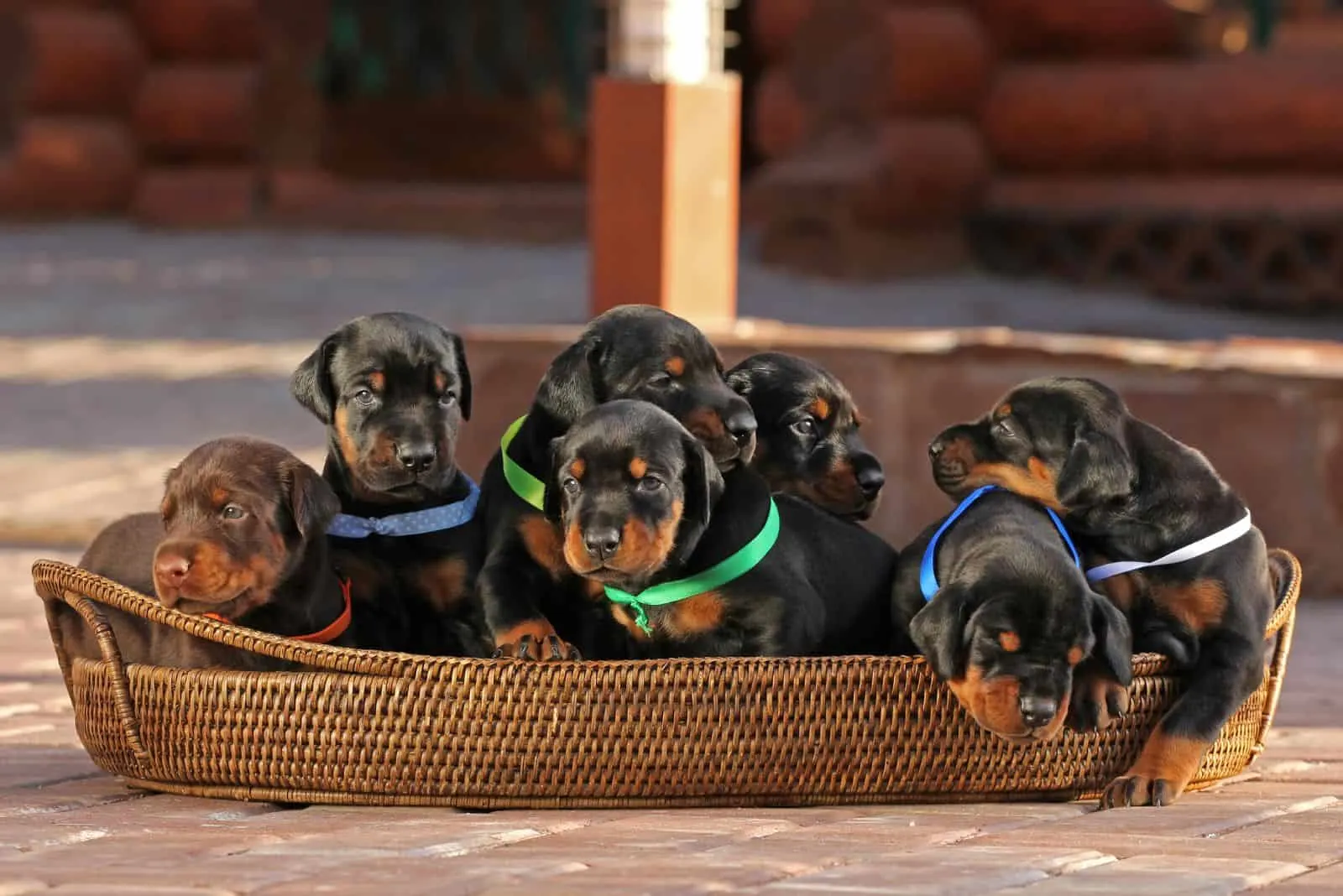 Lester Cannon is the breeder behind Taylor Made Dobermans, and they are based in the St. Paul area of Minnesota.
Lester and his team carefully and deliberately constructed their breeding practice at every stage, because they have a genuine concern for the welfare of the Doberman breed. They are meticulous in their care for their dogs and take responsible breeding extremely seriously.
Every puppy is given the individualized and group attention it needs to thrive, and every effort is made to get the puppies ready for their future responsibilities and families.
Read Next: The 20 Best Doberman Breeders In The U.S. You Never Knew Existed!
Taylor Made Dobermans Contact Info
Website: Taylor Made Dobermans
Phone: 612-308-2703
7. Doberman Gardens — Hartland, MN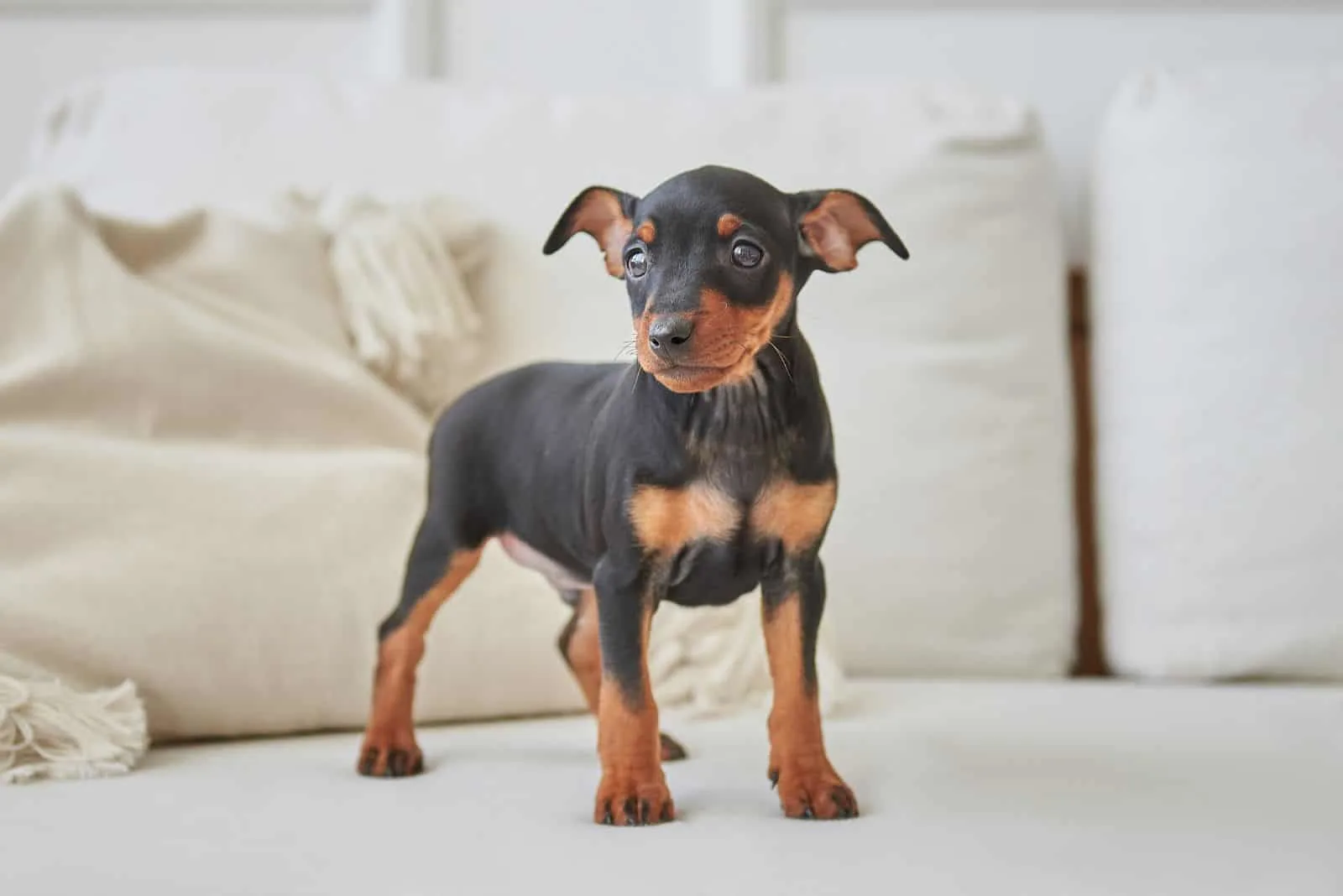 These breeders have a strong passion for Dobermanns and think everyone should have the opportunity to own one of these stunning canines. The owners of Doberman Gardens, Mike and Holly, are fantastic individuals to buy your adorable new pet from.
They provide their customers with the following services: AKC-registered certificates, the first set of shots, dewclaw removal, tail docking, and deworming. They also offer both American and European Dobermans.
Customers looking to purchase puppies are more than welcome to tour the lovely, orderly facility where their Dobies are kept in Doberman Gardens.
They assess their adult canines for Canine Dilated Cardiomyopathy (DCM) and Von Willebrand's disease (VWD) using the VetGen labs' DNA test. They even perform hip inspections through the Orthopedic Foundation for Animals (OFA) to ensure that none of the dogs have hip dysplasia.
Doberman Gardens Contact Info
Website: Doberman Gardens
Phone: 507-383-8197
Address: 31679 640th Ave. Hartland, MN, 56042, United States
8. Puppy Paws, LLC – Finlayson, MN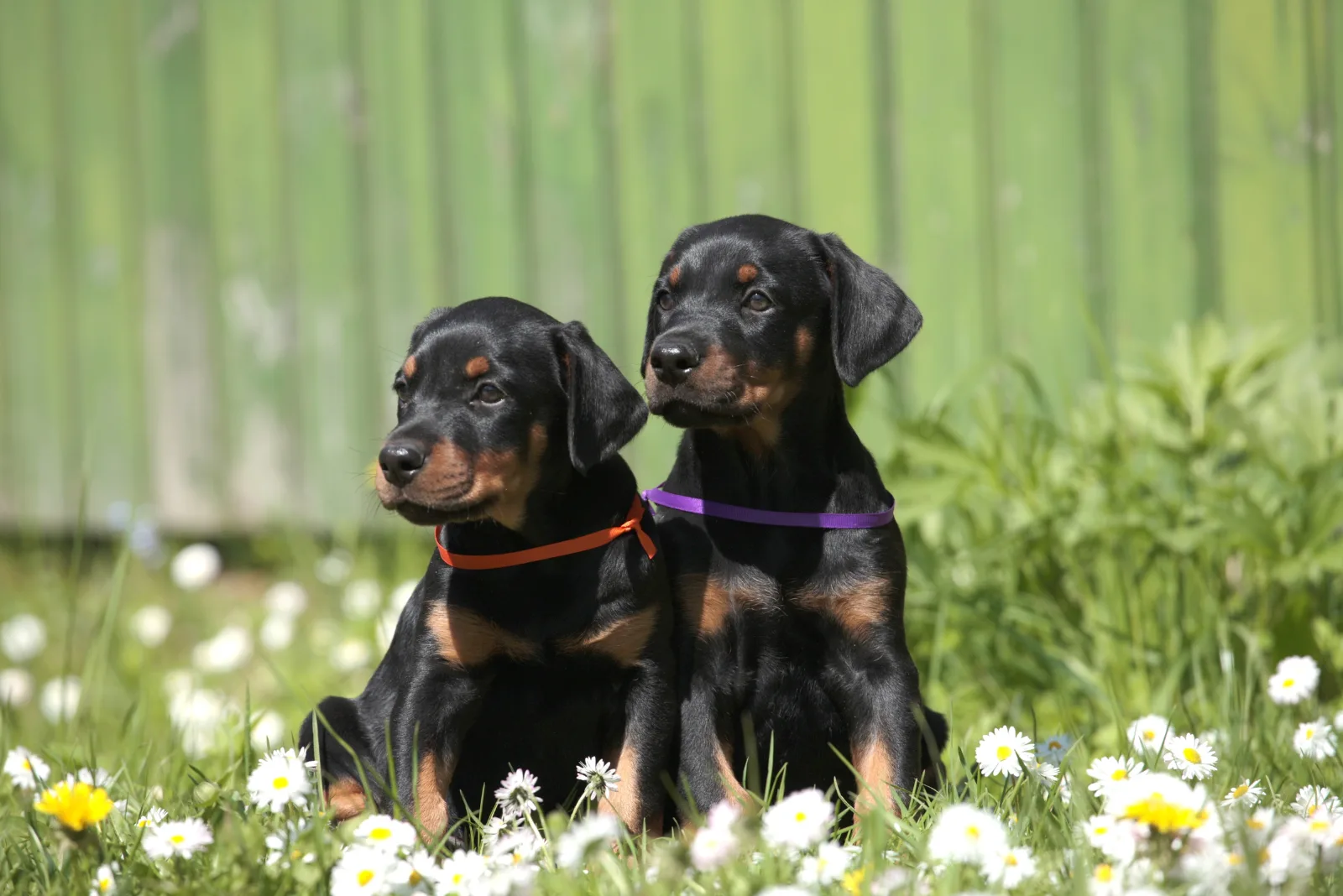 The dogs at this facility live their best, most fulfilled lives because they experience socialization with different breeds, such as English Setters, Saint Bernadoodles, Poodles, and Rottweilers.
In order to provide lifelong care for your new addition, the breeder also provides Doberman grooming and training services. Speaking of grooming, you can learn how to make your Dobe smell really nice with these eight Doberman shampoos!
We strongly advise seeing the gallery on their website to see all of the gorgeous puppies they have previously raised.
Once you're on their website, you might as well reach out to them and talk about their practice. They are happy to answer any queries, whether you contact them via email or phone. You have all the necessary details listed below.
Puppy Paws, LLC Contact Info
Website: Puppy Paws, LLC
Email: [email protected]
Phone: 763-260-3883
Address: 14268 Dahlstein Rd, Finlayson, MN 55735, United States
9. Doberman Rescue Minnesota — Minneapolis, MN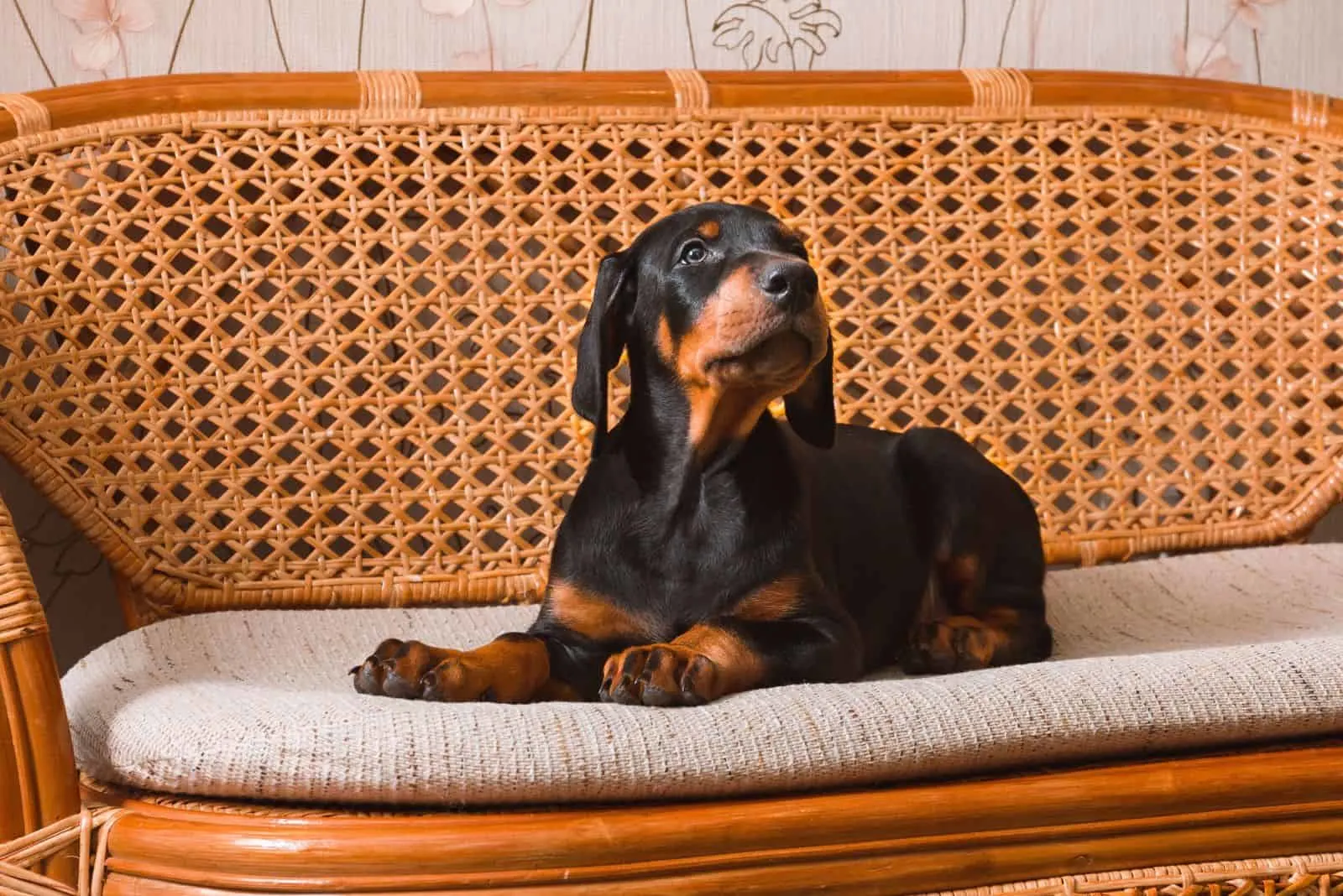 Doberman Rescue Minnesota (DRM) was established in 1999 as an all-volunteer, nonprofit organization.
They are committed to placing every Doberman that enters their adoption program in the finest possible home.
You can be confident that all the decisions they make regarding giving up or adopting a Doberman are mostly focused on what is best for the dog and are influenced by many years of expertise with this unique breed.
They are just as concerned about the well-being of every Doberman in their program as they are about their own dogs.
They never kennel the Dobermans in their program, instead, they let them live in private homes with foster families who assess their temperament and behavioral characteristics in order to recommend the ideal kind of home for the dogs.
Be sure to check out their official website to learn more about the great work they do, and also to see if there are any puppies up for adoption. If you wish to inquire about any available Doberman puppies, it would be best if you reached out to them via email.
While we are on the topic of Doberman Pinscher rescue centers, we also have a great article about the many rescues in Michigan.
Doberman Rescue Minnesota Contact Info
Website: Doberman Rescue Minnesota
Email: [email protected]
Phone: 651-256-2294
Address: Minneapolis, MN 55403, United States
How To Choose The Best Doberman Breeders In Minnesota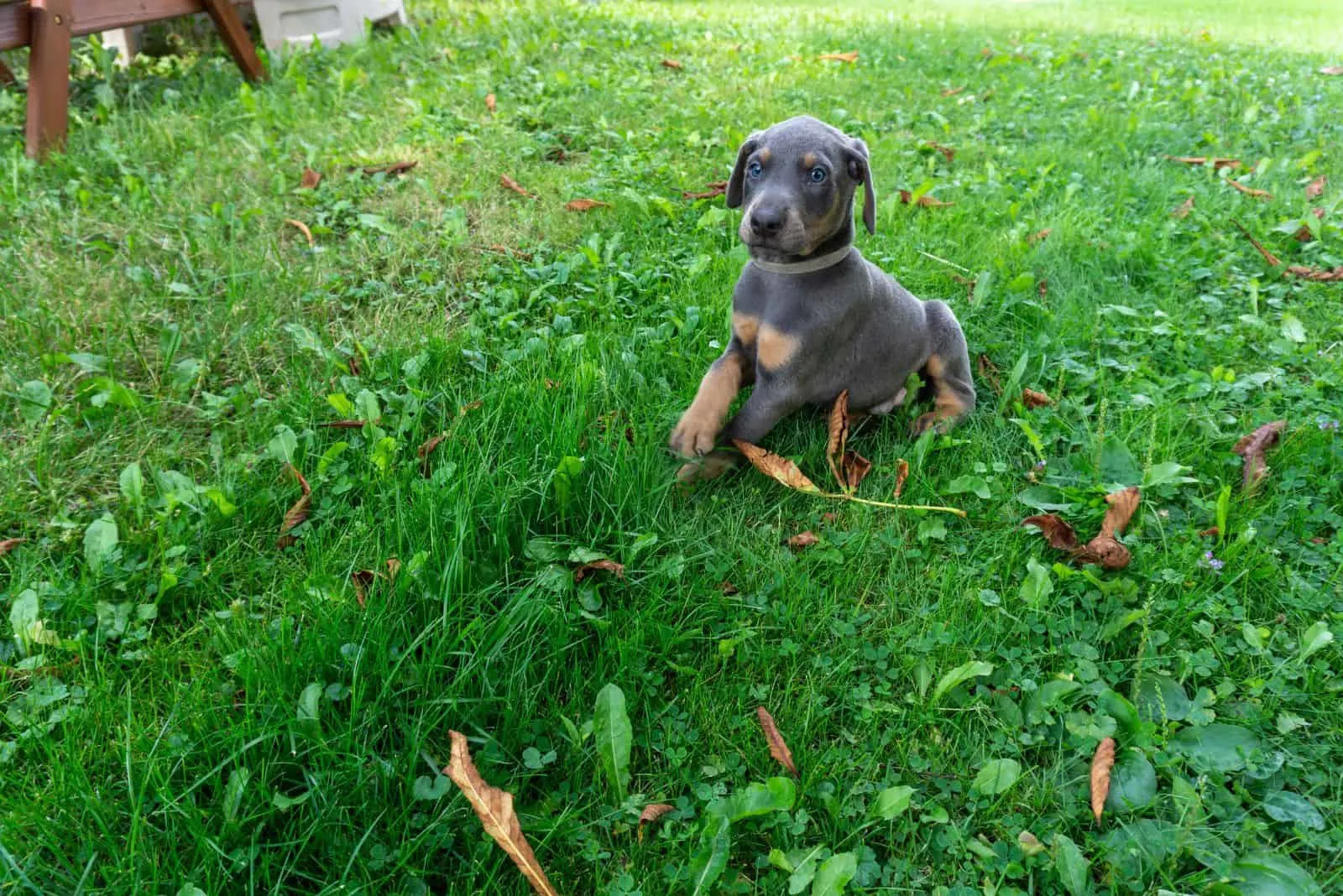 Whether you live in New Jersey, Missouri, Minnesota, or any other state, when looking to buy any breed of dog, it is necessary to do some research about the people you are buying it from.
When it comes to Dobermans, that might be even more relevant, as this breed needs a lot of special care and training in order to become well-behaved.
With that in mind, here are some general pieces of advice that you should have in mind when choosing a Doberman breeder in Minnesota.
Look For Referrals
Getting a recommendation from a trusted source is the best way to identify a trustworthy Doberman breeder. This can be your neighbor, a friend, or a member of your family.
If you don't know anyone who recently bought a Doberman puppy, you can look it up online and reach out to people to ask them for advice. Word of mouth is generally the best way to check a breeder's reputation.
Do Research Online
Speaking of going online, one of the most important things that you can do to prepare yourself before communicating directly with a breeder is to look them up on the internet.
Visit their website and their social media channels. Pay attention to how their content is presented and how much detail they give away about their practice and their dogs. Most importantly, look for reviews and comments left by their customers.
Related read: Top 10 Doberman Breeders In Texas: Best Pups In Texas!
Ask Questions
Make sure to ask the breeder a lot of questions when you get in touch with them. Learn how long the breeder has been breeding Doberman dogs, how many litters they have annually, where the puppies are raised, what kind of health tests they perform, which vets do they work with, and what their return policy is.
Visit The Facility In Person
You ought to go to the breeder's facilities in person if at all possible. This will give you the opportunity to meet the parents and view the surroundings in which the pups are grown.
At the end of the day, seeing it with your own eyes will be the best way to get a feel for the breeder and their pups. If you can't seem to find a breeder worth giving your money to, maybe consider finding a Doberman rescue shelter.
Final Thoughts
Choosing the right Doberman Pinscher breeder is no small task. With a breed that has such a reputation, it's important that you find the best possible people to work with in order to receive a healthy and well-behaved puppy.
This list of Doberman breeders in Minnesota contains several breeding programs that have their priorities right and are determined to only produce the best possible Doberman puppies.
We are confident that if you choose to buy from any one of them, you will be a satisfied customer and a happy pet owner with a cute little Dobie puppy that will grow into a loyal adult dog.
Read next: Top 8 Doberman Breeders In Arizona